Coleman injured on international duty
Sunday, 5 September, 2021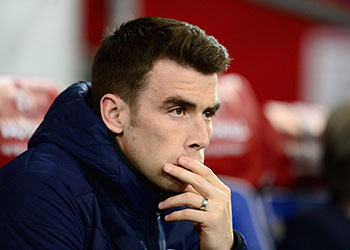 Seamus Coleman will have sparked concern at Everton after he was ruled out of the Republic of Ireland's third World Cup qualifier of the international break.
The Irish and Toffees skipper's injury means that the looming threat of a right-back crisis at Everton might have become reality within days of the closure of the transfer window.
The club failed to recruit further cover for Coleman in that position despite reported moves for the likes of former PSV defender Denzel Dumfries and young Rangers full-back Nathan Patterson and Rafael Benitez must now battle on until January with the squad he has unless a free agent is signed in the interim.
The Spaniard has Jonjoe Kenny and Mason Holgate as back-up options at right-back but privately neither are regarded as long-term options in that position. Indeed, Kenny was reportedly on a list of players made available for sale by Everton during the summer transfer window and there were suggestions made that Holgate was offered to Newcastle United but nothing came of the speculation.
The extent of Coleman's injury has not been officially revealed by the Irish FA although it's been reported as a "muscle complaint" but it is enough to keep him out of the upcoming game against Serbia.
---
Reader Comments (161)
Note: the following content is not moderated or vetted by the site owners at the time of submission. Comments are the responsibility of the poster. Disclaimer
Lee Courtliff
1
Posted 05/09/2021 at 19:56:58
Unlucky for Seamus, especially at the age he's at but this could be a good thing for Jonjoe Keny. I'd rather him play there than Holgate, anyway.
Phil Smith
2
Posted 05/09/2021 at 19:58:42
Jonjoe Kenny enters the building!
Pat Kelly
3
Posted 05/09/2021 at 20:00:34
Coleman felt his hamstring towards the end of the game on Saturday. A third game so soon would be too risky. But this highlights the mistake in not getting cover for him.
Shane Corcoran
4
Posted 05/09/2021 at 20:03:44
Good to see some early balanced comments before the storm.
Chance for Jonjoe Kenny if of course Seamus doesn't recover for Saturday.
Danny O'Neill
5
Posted 05/09/2021 at 20:08:20
Step up JonJoe. Here's your chance.
Prove me wrong and I'll be delighted, not just pleased.
Sam Hoare
6
Posted 05/09/2021 at 20:22:29
Hmmm. The fates mock our dubious decision to not buy a new right back! Kenny was reportedly offered to a few clubs this summer so it seems Rafa doesn't rate him but perhaps he might have opportunity to prove himself but I hope Coleman is back soon. Even at almost 33, he's still comfortably our best right-back.
Adrian Evans
7
Posted 05/09/2021 at 20:34:24
Who sanctioned James wage,deal???
Did Carlo, tell club I want him regardless of a £10million a year deal??£200k+after tax, agent ect.Still £4.5million in wages.
So Kenny on peanuts and he might play Sat.
Good luck againt Burnley.Dyche will target our right flank.
Any accountability for James.
Ben Godfrey cant be thrown in agains Burnley.
Attack them so hard, every minute, do them 3-0 by half time.
We gonna have to be so good they wont get a chance to expose our defensive weaknesses.
Digne wont see the ball, Burnley if they get a chance will hammer our right side.
The cliche, attack is best defence.Richy, DCL, Gray, Townsend,Iwobi, Decor, Rondon going to have to put Burnley to bed.
Go get Orie.
Kean a fart away from giving a goal away.??i heard said.
3 points anyway we can.Attack!!!
David Bromwell
8
Posted 05/09/2021 at 20:53:37
I am sorry, but I don't think Seamus should be risking himself playing for Ireland at this stage of his career. He clearly struggles when he plays too frequently and I do not think it fair to his employers, Everton, that he puts himself at risk of injury. We all know that footballers earn ridiculous salaries, and if they wish to continue to do so the needs and requirements of their employers need to come first.
Andrew Laird
9
Posted 05/09/2021 at 21:00:22
There should of been a term written in to his recent contract extension that he retired from international duty in order to receive it.
Alex Kociuba
10
Posted 05/09/2021 at 21:06:45
Feels like the consensus was that we needed a new RB for the last two or three transfer windows. Someone should be held accountable for this not happening.
Gary Smith
11
Posted 05/09/2021 at 21:17:17
Everyone expected him to be a backup only this year…..why would a backup be expected to retire from International duty? I hope JJK proves everyone wrong and makes it his own, else Brands has to fall.
Andrew Laird
12
Posted 05/09/2021 at 21:22:18
Everyone except Everton football club Gary.
Ben Howard
13
Posted 05/09/2021 at 21:23:00
Well I didn't see that coming!
Alex Gray
14
Posted 05/09/2021 at 21:29:25
After not signing a much needed right back, who didn't see Seamus getting injured before we even play another match?
David Pearl
15
Posted 05/09/2021 at 21:40:16
Seamus ended the season behind Sidibe a few seasons ago and we are still in this position. Fingers crossed he is fit but otherwise either Aurier on a short term contract or its Holgate/kenny.
Maybe, hopefully it's not too serious but in any case Seamus needs to look after himself. Perhaps unfair to expect him to retire from being the captain of his country. It would extend his playing career though.
Paul Birmingham
16
Posted 05/09/2021 at 21:54:23
Step up JJK, and prove a point and take your chance.
Forget the Celtic loan, and focus on Everton and this is your chance of resurrection of your Everton and football career.
Do it lad for Kirkdale, and smash this challenge, for Everton.
Eddie Dunn
17
Posted 05/09/2021 at 22:07:50
That's football! Come on Jonjo.
Richard O'Shea
18
Posted 05/09/2021 at 22:18:14
As an Everton Irish supporter Coleman is one of few Irish players playing in Premier League. He clearly enjoys playing for Ireland so should play for Ireland as long as he wants. Unlike England we don't have the luxury of replacing him with another premier League player.

This injury was very predictable the responsibility of Brands and the recruitment team to recruit a right back for last 2 yrs at least a back up. Shouldn't be up to Coleman to retire playing internationally due to Everton lack of recruitment.
Mark Ryan
19
Posted 05/09/2021 at 22:27:30
Cometh the hour, cometh the man, Jonjoe Kenny, NSNO, UTFT... get well soon, Seamus.
Tony Everan
20
Posted 05/09/2021 at 22:34:40
I think it means the world to Seamus to captain his country so he'll do it as long as they want him. It's down to Everton to build that into calculations.
Its a great opportunity for Kenny now to stake his claim, I think he is a player that will benefit from Benitez's coaching. He will try to make him more disciplined in his positional play. Benitez seems a more round pegs in round holes man, so I'd bet Kenny will get the call before one of the CB's.
Mike Gaynes
21
Posted 05/09/2021 at 23:00:26
"...the needs and requirements of their employers need to come first."

Truly silly to think that Seamus -- or any other international player -- would cease captaining their country's effort to reach the World Cup just to please their club's fans.
Ain't happening. Get over it.
Nicholas Ryan
22
Posted 05/09/2021 at 23:16:20
As to Jonjoe Kenny, can I refer people to the 'Everton sign Rondon' article, comment No 135.
Andrew Keatley
23
Posted 05/09/2021 at 00:21:26
Andrew (9) - Do you really think that a football club can decide to enforce a player's decision to retire from international football? And if they could do that would you want to support a football club that placed such draconian restrictions on a player's freedoms? I'm agog.
Derek Knox
24
Posted 06/09/2021 at 03:13:11
There has been a Club v Country debate for as long as I can remember, and which self respecting and patriotic player doesn't want to play for both. What irks me, or 'grinds my gears' as Peter Griffin often says, is the amount of International Breaks there are now.
The new season has barely gotten under way and here we are 3 games in, and the first of probably many interruptions to the 'bread and butter' job. Maybe it's my age but I don't recall so many breaks before, I just wish they would get their acts together and be more sympathetic with the timing of these Breaks and Fixtures, and be more compatible.
Of course as in Seamus' case, the possibility of injury always exists in these diversions, which hopefully won't deprive us for too long of his services being very light in that department for cover anyway. It is even more annoying, to us fans at any rate, when a key player gets injured, and could be out for a length of time, and it is only a 'Friendly' (not this time, I know).
Andy Peers
25
Posted 06/09/2021 at 03:18:40
Mike Gaynes... I always agree with your posts...The only reason these players get exposed to international football is through the club team. And yes, club before country is a given.
Alan J Thompson
26
Posted 06/09/2021 at 05:01:14
Burnley will target Kenny if he plays at right-back? It's not that long ago that it was reported that they would have signed him but couldn't agree the price.
If there is to be World Cup Finals, then there will be breaks for international games but three games in eight days is a bit much. You'd think that they could plan 10 or 12 games over three (out of the four) years a little better.
Jay Harris
27
Posted 06/09/2021 at 05:13:33
With what Seamus gives to a game at 32 years of age you would hope that someone is looking out for him.
Unfortunately the international set up is not geared up to look after players' best interests so someone like Seamus, and James McCarthy before him, who put their heart and soul into a game will always be likely to pick up a knock.
Very bad planning by the club not to have got decent backup in 3 years, similar to Lukaku going and not being replaced for a long time.
Bill Gienapp
28
Posted 06/09/2021 at 05:31:10
I don't particularly rate Kenny, but I wouldn't mind seeing him get a run of several matches, in the spirit of "last chance saloon."
That being said, it wouldn't shock me if Holgate actually got the nod over him.
Alan McMillan
29
Posted 06/09/2021 at 06:59:35
The problem isn't an injury to Seamus, it's Jonjoe as backup.
Coleman has started the season looking like his old self. Very fit and attack-minded for Everton in the first 3 games. He was incredible against Portugal in that gut-wrenching defeat.
Anyway, hopefully it's nothing too serious and a week or two to rest and recover will be enough.
Any player good enough or lucky enough to represent their country shouldn't be asked to prioritise their club. Seamus owes us nothing at this stage.
Danny O'Neill
30
Posted 06/09/2021 at 07:15:46
I'm always a bit suspect when players pull out of internationals. Hopefully this is a precaution and Seamus is choosing club over country. That's from a selfish Everton perspective obviously.
If genuinely injured and out for Burnley and whatever beyond that, this could be a telling and defining moment for Jonjoe Kenny.
If Benitez opts for Holgate or Godfrey, then he's another on the books that many Everton managers haven't rated. Schalke liked him but didn't fancy a permanent move. There was, in hindsight, financial issues there in fairness. Celtic sniffed but said No Thanks.
I hope he gets his chance. I hope he proves me and several Everton managers wrong. I so want him to succeed and to do so in an Everton shirt. I'm just not convinced he will.
Colin Glassar
31
Posted 06/09/2021 at 07:26:19
Can Brands play RB? He might do a better job than DoF.
Jerome Shields
32
Posted 06/09/2021 at 07:46:50
Hopefully he will recover quickly. At his age in football, with previous injuries, an injury can take longer to recover from, if ever. I think Kenny will do okay, but if Godfrey is available, I can see the shuffling of the back four positions being more likely.
Andrew Ellams
33
Posted 06/09/2021 at 07:48:03
When international teams play so many games (England played their 22nd in exactly a year yesterday) clubs need to be given more say over the involvement of their players.
Why are England having their busiest year ever in a world of COVID restricted travel? It's the same in cricket for those that follow that game too.
Christy Ring
34
Posted 06/09/2021 at 07:55:43
Seamus is a proud Irish man and captain of his country for comments to say he shouldn't be playing international football are over the top.
Danny O'Neill
35
Posted 06/09/2021 at 08:05:59
Similar to when many slate the South American boys for seemingly prioritising playing for their country, Christy.
Seamus will, I imagine, have more affinity and connection with Everton, but even then, blind-sided Evertonians like me, who have no interest in international football other than watching it, shouldn't underestimate how much players want to represent their country.
It could spark off the club-v-country debate but, keeping it on topic, I hope he's looking after the ageing body. If not, I await Benitez's decision on right-back cover with interest.
Gerard Carey
36
Posted 06/09/2021 at 08:24:02
I think our game against Burnley is on the Monday so there may be time for our captain to recover if it's only a slight knock.
If not, it'll probably be Holgate at right-back for now.
Christopher Timmins
37
Posted 06/09/2021 at 09:07:41
At his age and given that Ireland's hopes of qualifying for the World Cup are gone already, I was hoping that Seamus would focus solely on his club commitments for the remainder of his time at Goodison.
I hope Jonjoe Kenny takes his opportunity if Seamus does not make it back for the weekend.
Eddie Dunn
38
Posted 06/09/2021 at 09:12:29
Surely a player of his age should be spared the 3 games in 8 days only to come back to a full Premier League calendar.
Alan @29 "Seamus owes us nothing at this stage." I would disagree.
Seamus picked-up his terrible injury playing against Wales and it was the club who helped get him fit again, and paid his wages.
It cuts both ways. Players want to play but the coaches should bear in mind the player's age and injury record when asking them to put in 3 performances in such a short period.
The argument that Everton should have cover is the same as Ireland using another player from the Championship instead.
Niall McIlhone
39
Posted 06/09/2021 at 09:29:03
Some posters have been writing Coleman off consistently on here for over 5 years. For me, there isn't another player in our squad who embodies the spirit of Everton FC more than him, and he has served both club and country with great distinction.
It is not his fault that our DoF has failed over several seasons to solve the problem of who succeeds Coleman when he is finally done. Jonjoe Kenny is the incumbent if Seamus is unfit to play against Burnley and, as such, I feel he needs support and encouragement. I don't know how the lad can develop his confidence without the oxygen of game time when the club captain is injured.
Brian Harrison
40
Posted 06/09/2021 at 09:42:44
Players can pick up injuries on the training ground just as easily as playing in a match, so the fact that he picked up the injury playing for his country is just unfortunate. Let's hope Seamus isn't out for too long, and let's not forget last season we played Holgate there and went on a run of unbeaten games.
Obviously that's not Holgate's position but he can play there, as can Kenny, as can Godfrey, so I am sure Mr Benitez will come up with a solution.
Andrew Laird
41
Posted 06/09/2021 at 09:54:16
Andrew @23,
I support Everton Football Club first and foremost and will be fully behind any player who plays for them. I want Everton to do what is in the club's best interests.
I think players get away with far too much these days so I couldn't give a monkey's about their "freedoms" especially as the majority, after their 10- to 15-year top-flight careers, will be able to do anything they or their family could ever dream of, purely because of how their club rewards them financially.
Look at James and his social media use, for instance, his recent cretinous utterings are in no way a good reflection on the club, airing his dirty laundry to random bedroom dwellers and wannabe stalkers just so he can get another "like"… it's nauseating. You can insert a clause in a contract, do you honestly think you can't? Have a look at AC Milan as an example.
International managers and coaching staff are happy to flog a player who might not be in top physical condition before they send them back to their employers and the Republic of Ireland have shown down the years that they couldn't give a toss about the physical well being of Everton employees. I don't expect any of the clearly jingoistic posters to agree but I think it's about time clubs started protecting their assets far better.
Of course any player can get injured at any time but it's fairly obvious that, the older you get, the less your body can cope with the physical demands, so you need to cut your cloth accordingly.
Dennis Stevens
42
Posted 06/09/2021 at 10:32:44
I've long felt International football, if it has to happen, should be scheduled for the close season. We have a major International tournament every other summer, why not play the qualifiers in the summers in between?
Danny O'Neill
43
Posted 06/09/2021 at 10:52:52
You make an interesting point Andrew Laird @41.
It made me think though, is it any different? Or is it just in a different social setting and more accessible and more visible to many in comparison to previous generations?
It just made me think whether the social media usage and wanting to be popular is any different to George Best's behaviour in the 70s (as an example)? The now infamous images of him orchestrating champagne pyramids and drink fountains in London nightclubs, surrounded by people claiming to be his friends and him enjoying the limelight and popularity. Then turning up pissed for training. Not good reflections or respect of his club.
Just a thought. The means and technology may change. But has the mentality??
Barry Rathbone
44
Posted 06/09/2021 at 10:54:46
It's hard for us English to reconcile the patriotism and pride of other countries who still "strive" because we have been there and more or less invented the t-shirt. The English inspired a global empire continually defying subservience (post 1066), regardless of odds, resulting in a feeling of we have nothing to prove. The fact we now live in an era of self loathing about all things "English" has made patriotism of all kinds a slightly naff concept.
Everton come first is the underlying ethos simply because we are an English club. Players like James, Coleman and others committed to their national sides can therefore be castigated as traitorous nob'eads if your boat floats in that direction.
Steve Brown
46
Posted 06/09/2021 at 11:04:12
Our inability to build long-term depth in our full back positions has always baffled me. We have quality starters in Coleman and Digne, then very inexperienced squad replacements who constantly get sent on loan to gain playing time.
As a result, we constantly have to play centre-backs like Holgate and Godfrey out of position as cover, then criticise them when they don't overlap to ping crosses into the box. Given the way Benitez wants to play this season, it is just daft that we don't have good quality back-ups in the squad.
Andrew Laird
47
Posted 06/09/2021 at 12:16:27
It's a fair point Danny. I would hazard a personal guess (I'm not a clinical psychologist) that George Best used alcohol as a coping mechanism to begin with (alcohol was the drug of choice and socially accepted as such all the way through his life just as it was to me at age 41 now) which then turned to dependency with the ludicrous amount of media hounding, fame and spotlight he endured which would have been ridiculously stressful much like Alex Higgins another genius of his profession. I don't know about you but the more alcohol/ drugs you consume you tend to act more of an exhibitionist, today's players barely touch the stuff.
I didn't know George Best but from the majority of documentaries I've seen about him and his life the consensus is overwhelmingly that he was quite a shy/quiet person when sober, certainly no Paul Gascoigne (who had demons to cope with at an incredibly young age onwards).
I think today's footballers (clearly not all) with their entourage, their agents, their sycophants, their hangers-on in their ear 24 hours a day, the marketing opportunities are absolutely different and narcissism in particular is far more prevalent in this age perhaps because of the technology which allows this and prevents players "escaping" from the lime light. Have a look at the drivel Fabian Delph has spouted since he moved here on his platforms, not withstanding his moronic COVID stance, what about his egotistical outbursts claiming fans would ask him for a photo if they ever saw him? at best its contemptible and way out of touch.
I would suggest the mentality now is to make as much as possible from their short careers endorsing, as much of, any old shit while maintaining a "presence". Back in the day you would have a few sportsmen and women on a few adverts but today fingers are in every pie, it's hard for them not to become so self absorbed and out of touch with reality.
None of the above can be labelled at Coleman by the way, so completely off point.
Robert Tressell
48
Posted 06/09/2021 at 12:16:43
Steve # 46. It baffles me, too. The RS have recruited and sold two teenage RBs in Ki Jana Hoever and (?) Camacho in recent seasons. Modest outlay, good profit. Man City have, I think, 3 young RBs out on loan in Aguilar, Couto and the West African player whose name I forget with Mechelen. Again, very modest outlay in each case.
This helps with succession planning and cashflow even if some don't work out.
Better than recent practice of spending a fortune on average players.
Hopefully we will start to pick up these sorts of players more and more along with younger British talent. Obviously we attempted something along those lines with the lad from Alkmaar but Brexit / work permits scuppered it.
John Pickles
49
Posted 06/09/2021 at 12:42:47
Calling Cuco Martina.
John Raftery
50
Posted 06/09/2021 at 12:57:50
I hope this is precautionary but it will be no surprise if Seamus has strained a hamstring. He had that problem last season. Playing two games inside a few days is almost guaranteed to trigger a reaction in a player susceptible to that type of injury.
How quickly he will be fit return obviously is dependent on the grade of the strain. Caution must be exercised but this episode should serve as another warning that a player who is thirty three next month should only be playing once a week if he wants to maintain his fitness and form.
Peter Warren
51
Posted 06/09/2021 at 12:59:50
What confuses me is that we had decent cover at left back and loaned him out. If Digne gets injured, it's even worse than Coleman getting injured!
John Raftery
52
Posted 06/09/2021 at 13:38:03
Godfrey was preferred over Nkounkou as cover for Digne last season. The same would have applied this season which is why Nkounkou is spending the season in Belgium.
Alan J Thompson
53
Posted 06/09/2021 at 15:11:53
Somebody has to arrange to sit down with each and all of the continent's ruling Football Associations to stop the rivalry that seems to exist about who has the biggest competition. If each has it's own competition then why can't the qualifiers or final four for those competitions be the qualifiers for World Cup Finals and if necessary have a knock out qualifying competition for those who might be needed to make up the numbers. That might at least halve the number of international matches presently being played.
Frank Sheppard
54
Posted 06/09/2021 at 15:31:26
Crisis? What crisis? Am I missing something here?
We have Kenny, Holgate and last but not least Godfrey who can play right-back.
Drew O'Neall
55
Posted 06/09/2021 at 15:36:21
Exactly Frank.
And I think that's the way EFC look at it. It's far more impactful to lose your centre forward than a right back and we've addressed that situation this window.
Centre midfielders usually make good fullbacks and we were most effective last year when we played with four CB's across the back!
Tom Bowers
57
Posted 06/09/2021 at 15:53:09
No problem. What's all the fuss about. We will get by and survive without Seamus. He is still a very strong player but we have to expect he will get injured at his age and miss games.
I believe Everton have the defensive alternatives to cover his loss adequately.
Iakovos Iasonidis
59
Posted 06/09/2021 at 16:52:44
Serge Aurier is still free...
Karl Graham
61
Posted 06/09/2021 at 18:24:23
I don't think Coleman should retire from international football. However someone at the club should have realised him being first choice at both club and country would ultimately lead to him breaking down more frequently.
If he was back up here, I don't think he would have broken down. Or if he had retired, he would be resting a bit this week. When you get to 32, you can't do it all. Unfortunately, Everton have tried to get him to and the inevitable happened. I'm hoping he was rested as a precaution and doesn't miss too many games.
Kenny is a similar level but, given how his last few seasons have gone, his confidence is likely to be low. He will know he's not ultimately wanted but he is a blue so that may give him extra determination to succeed.
Jerome Shields
62
Posted 06/09/2021 at 18:49:10
I have had the same opinion as most regarding Seamus playing International football at this stage in his career. But it ain't going to happen. If selected Seamus is going to want to play. Thats Seamus. He will be working hard on his recovery for sure and disappointed he is not playing against Serbia.
Eddie Dunn
63
Posted 06/09/2021 at 18:49:27
Let's not forget that he is also our captain, our leader on the park. Not just our rightback. We are a better team with a fit Seamus Coleman. Sometimes players need protecting from themselves, and 3 games in 8 days is, in my opinion asking for trouble.
Brian Wilkinson
64
Posted 06/09/2021 at 18:56:35
This is just the tip of the iceberg. We were really solid on our left side; since then, Small has left and Nkounkou strangely allowed to go out on loan, leaving us no natural left-back as cover for Digne.
If, and as sure as hell when it happens, Digne picks up a knock, we are back to slotting a player out of position on the left.
At least on the right we have Kenny for cover.
I think we dropped a big one, letting Nkounkou go out on loan.
Lev Vellene
65
Posted 06/09/2021 at 19:00:03
B-team w/ Townsend and Kenny vs the rest of the A-team in training. Throw everything at them, then give them points for link-ups and crosses. Then pile on some more... Evil, me???
Tony Everan
66
Posted 06/09/2021 at 20:17:49
It's been confirmed as a hamstring injury, they don't say how long he will be out for.
Danny O'Neill
67
Posted 06/09/2021 at 20:24:12
It's been our problem for years Brian. Depth of squad.
Forget who the manager's have been and I was calling it last year even though I was happy Ancelotti was our manger. It doesn't matter who the manager is if the players aren't good enough and most importantly in the modern game, the squad doesn't have depth.
This has been a problem with Everton for decades. We haven't moved on from when you only needed 2 subs. We've tried to live off 14 or 15 core players.
On the full back situation, we've (again) done that for a while. Remember the season we pretty much played Lescott at left for an entire season?
Danny Broderick
68
Posted 06/09/2021 at 20:49:33
I think Kennny is an able deputy to Coleman. But for the game against Burnley (a big, direct, physical team), I don't think it would be the end of the world to play one of our centre-halves at right-back (Godfrey or Holgate). Godfrey, in particular, could be able to nullify McNeil.
I'm not overly concerned with losing Coleman for a few games with Kenny, Holgate and Godfrey able to cover.
Justin Doone
69
Posted 06/09/2021 at 23:13:36
Gutted for him but not overly surprised.
Godfrey or a change in formation.
Yep, we allowed know we missed a trick but stay positive and deal with it.
Danny O'Neill
70
Posted 07/09/2021 at 07:07:36
Possibly a good shout Justin. 3-5-2.
Mina & Keane as the markers / attackers of the balls coming in. Godfrey effectively sweeping.
That allows Kenny to play as more of a wing back, which I've seen him do for Schalke and in honesty, where I think his natural game is. Still a bit kick and rush, but he's what we've got. Digne is a good attacking left back too, so that could work. Didn't he player higher for France in the Euros?
Sam Hoare
71
Posted 07/09/2021 at 08:04:14
Aurier on a 1- to 2-year contract could be an option depending on how Benitez rates Kenny. The Frenchman is not great but also not as bad as some would have you believe. He's decent on the ball and relatively athletic, could offer a similar level to Sidibé; very much a short term plug if Rafa feels Kenny lacks the dynamism.
Ed Prytherch
72
Posted 07/09/2021 at 14:54:12
I watched former Everton right back Gethin Jones play a great game for Bolton Wanderers yesterday. He was constantly making runs, he put in good crosses with both feet and he brought out a good save from the Burton GK. I wonder how close he was to being retained for our first team squad.
Justin Doone
73
Posted 07/09/2021 at 14:58:21
I to think Aurier is a good player, but the wages and game time he would want I don't think warrants signing him as a short term replacement.
I'm not sure Digne played much for France in the Euros as he got injured. But he was deployed at left back, with better quality to cover the full backs attacking runs.
James Flynn
74
Posted 07/09/2021 at 15:22:38
21-years old in November, Nkounkou hasn't held down a starting position at any level.
Looking at his career stats starting with the 2017-18 season until right now, Niels has made a total of 45 league appearances.
He appears to have big-league athleticism, which is good. Then what? He needs to compete for and nail down a starting 11 position somewhere.
So we loaned him out. The right move, I'd say. And good luck to him.
Tommy Carter
75
Posted 07/09/2021 at 15:25:13
Jonjoe Kenny just isn't good enough at this level. Defensively, he is lacking the ability to anticipate, position and read the play. Attackers at Premier League level simply have too much for him.
I do not question his dedication or commitment. But a willingness to 'get stuck in' at this level will not cut it. He will be identified as a weakness and targeted as such.
I have said this for years on ToffeeWeb and I know it seems to anger a lot of Evertonians on here. But for those who disagree with me, why has he made absolutely no progress at the club into now the early stage of his mid-20s???
For me, Holgate in as cover for Seamus for now. A chance for him to rediscover some form in a position he has covered for us before. He broke into the first team by playing this position.
Aurier would be an expensive punt and not one that I would like us to take.
Identify someone for January. My preference would be someone young and hungry, from a lesser league at home or abroad. Doesn't have to be the finished article. Doesn't have to be Cafu. Just a good steady defensive player who can improve and develop.
Tommy Carter
76
Posted 07/09/2021 at 15:26:35
James @74,
Completely agree, James. Had this out with a few on here last week.
A full season in Belgium will do him the world of good compared to a season waiting for Digne to get injured.
Christy Ring
77
Posted 07/09/2021 at 16:13:57
Eddie #38,
As far as I know, if a player gets injured on international duty, the country pays his wages until he's fit to play for his club again, because they have to have insurance liability whenever they represent their country.
I saw on a different site where James was in Ibiza with friends during the International break, and it said he has to isolate for two weeks? If it's true, shouldn't he be docked his wages?
Dave Abrahams
78
Posted 07/09/2021 at 20:39:06
Tommy (75),
You may be correct in saying Jonjoe Kenny isn't good enough at this level; however, I don't think Jonjoe has had a consistent run of games at any time during his time with Everton. I think, if he gets a good run under Benitez, he will surprise a few people and even earn a new contract.
I'm not saying you are wrong, just let's see how the season pans out in the right-back position. Seamus is not going to play every game because of his age and fitness. I don't think Kenny is that much of a gamble.
Tommy Carter
79
Posted 07/09/2021 at 21:38:41
Dave @78.
I concur. Kenny is not a gamble at all. Because he's a nailed-on certainty to never be a Premier League football player.
You can't argue about a consistent run of games. There's a reason why some players never get one.
Stuart Barlow never got a consistent run of games. Ask yourself why...
Andy Crooks
80
Posted 07/09/2021 at 22:54:29
"Nailed-on certainty", Tommy? Really? There are reasons why players don't get a consistent run of games.
I guess you have thoroughly researched them, looked at why some have done quite well elsewhere, and then produced Stuart Barlow as your argument clincher.
Who knows how Jonjoe Kenny will do? Not me, only you.
James Flynn
81
Posted 08/09/2021 at 02:12:24
Andy (80) - "'Nailed on certainty', Tommy? Really? There are reasons why players don't get a consistent run of games..."
In Jonjoe's case, he was loaned out to two clubs, we all hoping for that "consistent run of games". Both sent him back. Neither made an offer.
Tommy Carter may have been a bit dramatic in his description. In general, though, he's right. 6 months from his 25th birthday, Kenny is a minor-leaguer and that's that.
Even in our current financial difficulties, his final year of Everton wages are chump change. He'll ride this last season out collecting them.
I'm sure you Andy and others will be able to follow his career progression at whatever Championship or League One club signs him.
He's not been and will never be a big league player. Not a knock on him. He's simply not good enough.
Don Alexander
82
Posted 08/09/2021 at 03:00:28
And James, that's a brutally honest assessment of the inadequate standard of player at England and Everton Youth level, to the detriment of their teams, and the credentials of scouts and coaches of course.
James Flynn
83
Posted 08/09/2021 at 04:03:27
Don (82) - "And James, that's a brutally honest assessment of the inadequate standard of player at England and Everton Youth level"
It's no such thing.
I'm American; indifferent to the "standard of player at England". Matter of fact, at the "Everton Youth level" Kenny was excellent.
Our first-team right-back, Seamus, is down. His fellow, presumptive, right-back replacement is Jonjoe. He's not that good.
Nothing to do with the state, at any level, of football in England. Just this one player.
Speak for yourself.
Tommy Carter
84
Posted 08/09/2021 at 07:50:59
Andy @80.
He's going to be 25 this season. He made his first-team Everton debut over 5 years ago. In 2018-19, he made 25 first-team appearances.
A point already made, Celtic and Schalke had him on loan and neither wished to sign him. We haven't signed a player since the emergence of Kenny to challenge Seamus Coleman for the right-back position. Coleman has suffered a horrendous injury since Kenny made his debut. He is one of only 2 right-backs in the first-team squad.
There has been ample opportunity since 2016, when he made his first-team debut, for him to cement a first-team place for himself.
Since Kenny made his debut, Idrissa Gueye signed for us, played over 100 games, won our Player of the Year award, and left 2 years ago.
Don, as for your point about the youth system. Very few players at England youth level become established Premier League players. Even less from the Everton youth system. Although Kenny's credentials at that level were impressive, he no longer plays youth football.
Sam Hoare
85
Posted 08/09/2021 at 07:56:07
It's probably worth remembering that we had one of our best runs of last season with Godfrey at left-back and Holgate at right back. Not that I think either of them should be playing there in the long- or even mid-term but they are capable and would not deplete us defensively, even if it limits us a bit going forward.
Brands has not been keen to buy in January but may have to break that habit to find a right-back, especially if he wants a younger one who'll need time to settle in. We really need to be starting next season with a right-back able to challenge and preferably better Coleman.
Tony Abrahams
86
Posted 08/09/2021 at 08:40:28
Marcel Brands has just tried to sign Maitland-Niles, a player Kenny saw off at every single level coming through the ranks at international football.
Is Kenny good enough? Well, he was deemed better than the kid we would have probably signed only for our finances, but he hasn't progressed like expected, similar to his mate Tom Davies, because Everton has been a basketcase of a football club for years.
Davies has played for five managers since he made the breakthrough, all playing him a little bit differently. Kenny did okay at Schalke, but had to come back to Everton and stagnate, simply because they've wanted more money for the kid than any team has been prepared to pay.
He could have gone to Burnley and made Everton around £6million, but Brands wanted more, and he went to Celtic instead, to play for a team who had destroyed their fans' dreams of ten in a row; in other words, he couldn't have gonr at a worse time.
I think we will need Kenny if Coleman is injured, so it will be interesting to see if Benitez selects him.

Danny O'Neill
87
Posted 08/09/2021 at 08:57:09
I think Don's point is valid in that the standard of our (English / British) grass roots is not consistently providing the academies or the national team with the standard of player that I genuinely believe is out there. I could be here all day on this but I won't bore people more than I already have.
Now, I know on the back of the Euros I've likely put myself in the firing line but I'll counter ahead of any potential incoming flak.
I said consistently. I'll give that I can see improvement when I look at the likes of Sterling, Grealish and the young Chelsea players. But it's still a "hit & hope" so called strategy that just crosses its fingers on a bunch of players coming good together at the right time. There's no plan and that isn't unique to Everton. It's nationwide.
And let's be honest, a pretty average England had a very kind passage to the final. It was akin to avoiding all the big clubs in the FA Cup.
Anyway. On topic. From what I've seen so far, I'm not as concerned with the right-back situation as I was in the summer. We have more pace and width ahead of the midfield now and although only 2 games in and not getting carried away, we are playing more on the front foot because of this. Allan is loving it.
I've given comment on Kenny, largely based on what I saw at Schalke. I still hope, but I'm not optimistic.
Holgate and Godfrey can cover and we've done it in the past with Lescott. You never want that long-term, but it seems that our underwhelming signings in the summer have suddenly meant replacing Seamus is not as much a priority as it was. And in Digne, we have a great modern full-back who is a supply line to Calvert-Lewin.
Still early days, but how you spend. Not what you spend. Within reason obviously.
Kevin Prytherch
88
Posted 08/09/2021 at 09:04:52
Kenny, as Tony says, epitomises the difficulties of having so many managers. From a youngster who was solid at the back but also decent going forward, and a regular captain throughout all ages, he now appears to be lost on how to play.
He seems in two minds constantly about whether to go forward or stay back, whether to tuck in or stay out wide, whether to play direct or play short. As a result, he doesn't do a great deal at anything.
He's had the potential and obviously had some ability. He needs a settled manager now to see if he will ever become more than just an understudy.
I wouldn't write him off as not being Premier League standard; however, I'd say he's probably only good enough to play regularly for a struggling Premier League side at the moment.
Tommy Carter
89
Posted 08/09/2021 at 09:10:55
Tony @86,
It will be interesting indeed. I hope he doesn't pick him, I'm not sure he will.
As for where he's capable of playing, the proof will be in where he goes next after Everton. He won't get a new deal with us.
My guess is a lower level Premier League team where he'll quickly fall out of favour. Then Championship, either with that club having been relegated or a move to a Championship club. He'll be playing in the Championship or below at the age of 30. He'll never play for England.
That's my prediction and my opinion. I've put it in writing here and this can be revisited by anybody who wishes to call me out on it.
Tony Abrahams
90
Posted 08/09/2021 at 09:12:52
I think that is a much more realistic and also a much simpler and better assessment, Kevin.
That's why we come and spend so much time on these pages, Tommy, to give our opinion, and I'd say yours is probably a 60/40 in your favour.
I don't think Everton have done the kid any favours by not letting him move down the road to Burnley, especially because it's also cost us a few million pounds, when we have really needed it because of this FFP.
Danny O'Neill
91
Posted 08/09/2021 at 09:19:43
That's a fair assessment of Kenny, from what I've seen, Kevin, and probably why Schalke often played him as wing-back.
Also, as with Tom Davies, it must be difficult for these young players with the managerial merry-go-around. I don't think the loan system is a problem as long as they know there is stability at "mother ship"; something we've not provided. I wonder if some of them view a loan as an escape from the madness?
The one game I felt for him was when he got absolutely schooled and was at fault for 2 of the goals. But then that was against a very good RB Leipzig team and facing Man of the Match Sabitzer who just roamed and drifted. Good learning experience...
But I could see how gutted he was as he trudged off the pitch. Regardless of result (and that was a 5 - 0 home defeat that could have been worse), the Schalke team are always made to go and face the fans on the Nordkurve (think Gwladys Street) before doing a mini lap of appreciation. You could see Jonjoe just wanted to get off the pitch.
Back to your point about him not knowing when to go forward or back. When he did play wing-back, I noticed he was too eager to go forward, which ate up the space of forwards making diagonal runs. He ended up on top of them, congesting the space and making it easy for defenders.
I still hope for him and he definitely has a career in the top 2 flights of English football. Without sounding harsh, a full-back equivalent of Shane Duffy or John Lundstram in terms of standard?
Tony Abrahams
92
Posted 08/09/2021 at 09:29:16
There's a lesson for everyone reading the last ten posts of this debate, Danny, and this was something that Roberto Martinez spoke about whilst Everton manager.
The age where people stagnate in this country is between 18 and 21, and I'd argue it's because of the physical nature of the way football is played in this country.
Dowell and Kenny, both Under-20 World Cup winners, both sent on loan from pillar to post. I'd select a few clubs and I'd send our younger players there for a couple of seasons, which would help them continue their development in a more settled environment.
I don't know how many games either of these kids have played but, if they'd been in a League One club playing regularly, they would have both played a lot more first-team football, and when you are young, this is the best environment in which to learn.
Dave Abrahams
93
Posted 08/09/2021 at 09:57:27
Tommy (various), I understand many of your points and while you remain positively negative about Jonjoe Kenny's future as an Everton player, I will watch and wait.
Sorry about the latish reply, I played some music after I posted last night, including one of my favourites "Waiting for a Friend" by The Rolling Stones... I think Jonjoe has found that friend in Benitez, I sincerely hope I am right. A nice debate, Tommy, anyway!!
Robert Tressell
94
Posted 08/09/2021 at 10:08:02
Tony #92. I think the physicality is an issue. I also expect it might be:
1. The wealth of the clubs (or willingness to spend) meaning that often average foreign players block the path to the first team. Because those foreign players often came from a weaker league, they had the chance to play 50 to 100 top flight games before age 22. This gives them an advantage over the academy counterpart.
2. The strength of the league (a similar point) means that you need to be as good as seasoned internationals to get into and stay in a Premier League side.
In combination, it means only a few absolute diamonds – like Greenwood and Foden – are good enough to make it age 19 and most, even very talented players like Mount and James, need to get their 50 to 100 games at places like Vitesse, Derby and Wigan.
Davies, who is good but not an absolute diamond, for example, has had to play his 50 to 100 games in an Everton side that is a complete mess. It's probably not done him any favours.
Like you, I think the solution lies in better use of the loan system but not necessarily in the lower leagues. It might be better to tie up with a club in a weaker league – like Scotland for example. As Chelsea have done with Vitesse and Leipzig do with Salzburg on a much more formal basis.
Tommy Carter
95
Posted 08/09/2021 at 10:09:06
Tony @92,
The club need to stop giving long and lucrative contracts to youth prospects who've yet to establish any kind of footing in the first team.
Kenny and Dowell were delighted to sign huge contracts. They didn't want to move. Do you think Kenny wants to take a pay cut to join Burnley or Schalke? No chance.
They won't pay a fee and his wages. But they might pay his wages without a fee. I'm sure Kenny and his agent are well aware of this and know what the incentive will be to see out his Everton contract whilst playing little to no football.
Fair play to someone like Ryan Ledson, who knocked back a deal and went and found himself first-team football. Same age and nearly twice as many games for nearly half the amount of clubs.
Making a good solid career for himself at a good level without taking a wage or space up at Everton FC. I think we even got a few for him so a great example of how transfer business should work with youth players. However, this was all initiated by the player himself, not the club, who appear terrified to move a player on just in case – from nowhere in their mid-20s – they become an elite Premier League player.
Danny O'Neill
96
Posted 08/09/2021 at 10:33:46
Kabak (defender on loan at Liverpool last season, now on loan with Norwich) took Kenny off the pitch that night, Tony. He was half-roasting him, half-putting his arm around him, but talking to him. As you probably know better from me, you learn from those type of experiences just as much as you do when you are Man of the Match.
He faced one of the best attacking midfielders in Europe, now lining up for Bayern Munich. I really want to see Jonjoe Kenny given another roll of the Everton dice and prove me wrong.
On Kabak, I thought he was a good prospect, to be honest, and he's still only 21, so very young for a centre-back. Obviously the German managers fancy him and I wasn't surprised to see Klopp move for him as cover last season. To my point above, captain in the making.
Your point about the 18 to 21 age bracket resonates. I know I'm from a different age, but's it's why we shouldn't judge players too early. I still recall when players didn't really break through until they were 22 or 23 and that was considered young.
You'll always have the odd freak or special talent like Rooney and I suppose Colin Harvey before my time, but most take time to adapt to the physicality of the men's game after coming out of the academies or youth system. It shouldn't be underestimated and some are still physically growing.
Your point about choosing a club or clubs for loaning. We're back to talking about satellite clubs and maybe even the B Team concept that Martinez also called out. I'd be in favour of either. Get these young players playing competitive football in some sort of stable environment over a period of time. Not bouncing them around between U23s, the bench and other clubs for 6 months whilst managers at their parent club rotate through the turnstile and they don't know what they're going back to.
David Hayes
97
Posted 08/09/2021 at 11:16:09
This will be interesting. I really don't believe that the club has totally failed to address the right-back situation, but rather they believe Jonjoe Kenny is a direct cover replacement option, based on what they see during training.
When given pitch time, nothing I have seen in his brief appearances has confirmed that he is going to get better at the basics essential to hold down a first-team slot. I believe the club think that he will cover right-back, now that we have real wingers who can cross accurately, meaning Kenny just needs to defend and pass the ball forward to those who can do what he cannot.
Realistically, Jnjoe Kenny is arguably the worst crosser of a ball we ever had. Let's hope he can defend as per instructions. I am not at all sure that he is up to this level.
Tony Abrahams
98
Posted 08/09/2021 at 12:28:33
I agree with a lot of what you say Tommy, but I also think Everton have blocked Kenny moving a couple of times when the kid was wanting to move to get on with his playing career.
You're correct because I'm sure Jonjoe will make a lot more money for himself once he becomes a free agent, but it's a fact that Everton wanted more money than Burnley were prepared to pay, so whoever blocked that deal has cost Everton at least £5 million.
Jay Wood
[BRZ]
99
Posted 08/09/2021 at 12:32:49
Oh! And on the question of Everton full backs, I await the day with bated breath the day we take the field with Tommy Carter's suggested full back pairing of Alex Iwobi on one flank and Andros Townsend on t'other.
Marvellous.
Tommy Carter
100
Posted 08/09/2021 at 14:00:25
Robert Tressell
101
Posted 08/09/2021 at 14:23:21
I wouldn't be overly worried about Townsend and Iwobi as wingbacks in a 5-3-2 (or variant). It's not ideal.
But, if Digne and Coleman are ever injured at the same time, it might be better than Holgate and Godfrey as full-backs in a back 4 – especially against weaker opposition.
I'd be a lot more worried about both our attackers being injured at the same time than both our full-backs.
Jay Wood
[BRZ]
102
Posted 08/09/2021 at 15:09:32
Tommy, you know the history of your own posts and your promotion of playing Alex Iwobi at
full-back
, not wing-back, as he did in that single game v Fulham, and for an hour of the next game v Leeds before he was hooked because he was totally ineffective, both offensively and defensively. It is an experiment that has not been revisited. Alex has never played as an out-and-out full-back, as you once advocated.
Similar can be said of your recent notion (and erroneous claims) of Andros Townsend's 'experience' of playing left-back, thus now being first cover for Digne in your opinion.
In that Fulham matchday thread, your vanity came to the fore. Going to the trouble of (selectively) quoting your historical posts on the topic and the responses you received.
You went as far as claiming you had 'wiped the eyes of people' by being proven 'right'. And now you post this absurd link of a single pundit comparing Iwobi to the likes of Maicon and Cuadrado based on one single game.
This rather ignores that in that game Everton was schizophrenic. Totally dominant in the first half and leading 3-1 at the interval, where Iwobi spent more time in and around the Fulham penalty area and half than he did in his own. His defensive duties were virtually nil.
In the second half, it was backs-to-the-wall stuff and there was no outstanding full-back display in the defensive arts from Iwobi, at all.
This was confirmed by Iwobi himself in his post-match comments:
'I played right wing-back a couple of times with Arsenal, they wanted me to bomb on and, like I was doing in the first half at Fulham, get crosses in and run down the line with the ball.
'Ben [Godfrey] and James [Rodriguez] and Doucs [Doucouré] were talking to me and made it more comfortable.
'Sometimes, with my defensive position, I wouldn't know where to be but with them helping and talking it was a lot easier.
'I will take the positives but there are still things I have to learn if I am going to play in this position, especially defensively.'
You are perfectly entitled to express an opinion on a player's potential to adjust to a new position he has not been primed for Tommy. To date, that opinion has not been vindicated as much as you try to claim it has been.
Tony Abrahams
103
Posted 08/09/2021 at 16:27:24
I'd probably hate someone doing that to me, Danny (what Kabak did) but only because it was in front of thousands of spectators. I'd have been questioning if he had an ulterior motive, but that's just my own personality. I probably wouldn't have been able to take anything in under those circumstances.
That's not to say I couldn't take stick (every footballer has to learn to take stick) but I didn't mind getting roasted off someone that I knew genuinely cared, rather than listen to someone who I thought wasn't so genuine, because there is definitely a time and a place for everything imo.
Having feeder clubs does seem to make a lot of sense though, especially if we are going to start using the Under-23s to give our 17- to 19-year-old players more experience.
Billy Roberts
104
Posted 08/09/2021 at 17:02:16
Friggin hell, there is some serious fortune-telling going on here by some posters.
Nothing wrong with having an opinion of a player, of course, but it all seems a bit over the top and final in the assessment of Jonjoe Kenny.
I have a lot of respect for the various posters' knowledge but I think we shouldn't just write off a player so easily... there have been many examples of late bloomers, players changing position, and excelling or just plain kicking on.
Jonjoe Kenny has the right attitude, professional approach and physical strength to prove at least one smartarse Nostradarmus poster wrong.
Brian Williams
105
Posted 08/09/2021 at 17:17:40
Iwobi at full-back?
A man who "would walk a thousand miles, and would walk a thousand more, just to be the man that avoided every tackle."
Derderderder!

Darren Hind
106
Posted 08/09/2021 at 19:56:54
I cannot get my head around the stupidity of knocking the guy who will replace Coleman. What is it with our fans?
There is another thread running at the moment about the madness of squandering half a billion on mainly foreign dross, and yet here we go again, hammering an academy player just when he is about to be thrown into the front line.
Like Calvert-Lewin, Davies and Holgate before him, Jonjoe Kenny will be pursued by those who deemed him not good enough as a kid in a desperate attempt to show they were right all along.
Seamus Coleman is revered at this club. Virtually every manager has lauded him as a great captain. Few youngsters in the world could have dislodged him from that right-back position.
Kenny has featured in four Premier League games in the past three seasons, So what are these footballing Einsteins basing their opinion on? Games he played while learning his apprenticeship?
Something radically wrong with the judgement of people calling for Iwobi and Townsend to play full-backs whilst kicking the arse out of Jonjoe Kenny at every opportunity.
Pinch of salt

John Chambers
107
Posted 08/09/2021 at 20:06:51
Darren, I agree entirely with you. He is clearly a Blue through and through and I'm sure he'll respond a lot better to support and encouragement rather than people slagging him off.
Mike Gaynes
108
Posted 08/09/2021 at 20:12:44
Horrified as I am by the prospect of agreeing with Darren ;-)....
Jonjoe will do just fine. He is a competent professional right-back. Granted, he will not do anything to win us the game, but he will also not do anything to lose it -- something that cannot be said of recent occupants of the right-back position, namely Holgate and Sidibé.
Kenny will cover his position, make responsible passes and not fuck anything up. And for Burnley, at least, that's all we need.
David #97, have you actually seen Kenny play at any time in the past two seasons for Schalke? He's actually not a bad crosser at all. In fact, on driven crosses, I'd say he's even a bit better than one Seamus Coleman.
Tommy Carter
109
Posted 08/09/2021 at 20:21:32
Jay @ 102
Please post me an article of when Jonjoe Kenny has been praised by a pundit and with whom he's been compared.
My point with Iwobi is not that he's going to be the answer to our right-back position but that he's so far a better option than Kenny, it's not even true.
Mike @108 thinks he'll do the things that he is especially poor at: anticipation, cover, reading the game. He won't cover his position, Mike, because positionally he is absolutely atrocious.
A familiar sight is one of Jonjoe with his hands on his head and it's one that I don't want to see at Goodison Park unless he's playing for the opposition.
Clearly criticism has angered a few on here and I'm not sure why. It's almost reverse xenophobia and proud scouser syndrome, if he was foreign he'd have no support at all.
Mike Gaynes
110
Posted 08/09/2021 at 20:35:31
Tommy, if you really, truly believe that Iwobi would be better at right-back than Kenny for "anticipation, cover, reading the game" (none of which I actually mentioned), then have a nice stay at the pretty white building with the soft walls.
Dale Self
111
Posted 08/09/2021 at 20:38:58
We haven't seen Jonjoe Kenny in the Rafa system. Rafa knows the situation and can set it up to minimize Kenny's weaknesses and may get a response that will impress us all. UTFT!!!!!!
Chris Williams
112
Posted 08/09/2021 at 21:14:02
Tommy,
Must we base our opinions on those of pundits? Which ones do you favour? Perhaps Paul Merson or Agbonlohor?
I suspect many people on here are more than happy to base their views on the evidence of their own eyes. Iwobi And Townsend at fullback? In your fevered dreams. I suspect they may both offer a bit more in other positions.
If Rafa picks Jonjo, then I guess we'll all see the outcome. We'll see soon enough
David Hayes
113
Posted 08/09/2021 at 21:20:03
Without the ability or gift to read tea leaves or be seized by visions, anyone can read the player stats from the premier League to see not divine or third eye the number 23% cross target accuracy for Jon Joe. That's 2 in 10 that hit a target player. So let's see if he can defend.

Mike Gaynes
114
Posted 08/09/2021 at 21:37:05
David, do your tea leaves say anything about the fact that your 23% statistic is three years old? Jonjoe spent the past two seasons in the Bundesliga and the SPL. May have improved a bit.
And when you have a chance, cast your third eye on the career statistics for one S. Coleman. You'll find that his cross target accuracy is...
...drum roll please...
21%.
(And those numbers aren't horrible... both Digne and Baines, two of the best we've seen in recent years, are at 26% career.)
David Hayes
115
Posted 08/09/2021 at 21:41:45
I'll get my coat.
Jay Wood
[BRZ]
116
Posted 08/09/2021 at 22:03:33
You are a funny fellah Tommy. Pity it's not intentional.
Now you are suggesting that your linked article in which one hyperbolic pundit made inflated claims about Iwobi's - ahem! - 'qualities' as a full back some how 'affirms' your opinions on both Alex, plus your evident disdain for JJK.
I recall how you once went to extreme lengths to attribute virtually every single goal Everton conceded when JJK was in the team to an error he made.
It was such an extreme hatchet job that even if JJK wasn't in the match day squad but sat at home in his Everton-themed jimjams supping hot chocolate whilst watching the game in a Liverpool post code, you would have contrived a way to make him responsible for any goal the Blues conceded.
Sorry to break it to you Tommy, but Mario Zagallo you ain't.
Tommy Carter
117
Posted 08/09/2021 at 22:10:47
@ jay & chris. Pundit quote is simply proof of someone who agrees with me. That's not to say that either of us are correct. It's mine and his opinion after all.
Jay. You're being dramatic. I never said that Jonjoe Kenny was at fault for any goal that Everton conceded when he was not on the pitch. If I did, please quote me and I will apologise.
What I did do is give my opinion on a number of goals I felt he was at fault for when he played. My interpretation and opinion. Both of which I'm entitled to and also entitled to share.
It's obviously unpalatable for you and others and I don't know why but there you go.
Perhaps some fans gave lower expectations and standards than me
Mike Gaynes
118
Posted 08/09/2021 at 22:15:20
No need, David. Finish your beer.
Andy Crooks
119
Posted 08/09/2021 at 22:24:40
Tommy @109, you are actually saying that Alex Iobi is a better option at right back than JJK? You are in all seriousness saying that?. Now, I have defended Iwobi, I think he is a good player who has been played out of position. Frankly, it never entered my mind that right back was the position that he was crying out for.
Tommy, you have an issue with Kenny. You don't rate him, fair enough. However, your strident dismissal of him and your startling claims for Iwobi, suggest to me that you want to be proven right at all costs. We all get it wrong on here Tommy, it's okay to be wrong. People will forget your claims that Alexi Iwobi is a better option at right back than Kenny, and some day you will be taken seriously again.
Tommy Carter
120
Posted 08/09/2021 at 22:34:21
Andy. It's a simple as this.
Take a right back from league 1. Play him right back in the premier league.
For me he won't be as good as Iwobi playing there.
Jay Wood
[BRZ]
121
Posted 08/09/2021 at 23:01:12
Tommy, you (if you are being honest) and I know full well what you once claimed about converting Alex Iwobi to a full back.
NB: NOT merely 'as cover' as you state in this thread, but full-blown conversion.
You went as far as listing a number of players - some from 40-50 years ago - who had made successful positional conversions as if (false presumption) that somehow supported your 'conversion claims'.
It didn't then. It still doesn't today.
As for fully hanging your hat on the single hyperbolic pronouncement based on a single game by an excitable pundit, doing what pundits do to appear 'interesting', that only affirms the shallowness of your claim.
'One other person made an observation that vaguely aligns with my position, therefore I am validated.'
No, Tommy. This is a myth the herd mentally of social media encourages. All are entitled to an opinion. Just because someone else shares your opinion is not confirmation that it is a valid one. And your opinion on converting Alex Iwobi to a full back has been legitimately challenged and shown to be ill-considered.
As for me being dramatic, I'll leave the wronged, back-of-the-hand-to-the-brow posturing to you Tommy.
You evidently have difficulty in identifying and separating ironic teasing from the literal.
And finally Tommy, spare me your spurious claims of superiority that your 'standards and expectations are higher' than those who challenge you.
Derek Thomas
122
Posted 09/09/2021 at 01:16:20
Somebody has found the dusty little corked bottle, the one that has a faded peeling label with copperplate writing that says "Drink Me - to play Stones in Midfield"
Darren Hind
123
Posted 09/09/2021 at 06:03:52
Andy Crooks
You nail this. Tommy carter has an issue with JJK. has done since he was an apprentice. The only time I see him post repeatedly is when JJ's name gets mentioned (this thread being a classic example).
I've seen hundreds of youngsters come through our academy and I've said, "unfortunately he is not good enough". Who hasnt done that ?. but to post about one young man so often in such a vindictive manner goes beyond criticism. It says far more about Tommy Carter than it does about JJ.
While JJ was prepared to go to Germany to play and hold his own, Seamus went to Blackpool at the same age It didnt turn out too bad for him did it ?
Tommy shows his colors when he ignores the 86 games JJ has already played in the Bundesliga and the EPL to label the lad a "league 1" player (presumably) based on his seven games when he went out on loan as a teenager.
It's astonishing that think anybody would post so often about a boy who has only played four league games for us in the past three seasons and I think we have a pretty firm grasp on Tommy's ability to understand the game and his desperation to be right.
As for JJK ? He is at a crossroads right now. He has been in a top mans shadow for far too long. He has followed the ball an awful lot for such a young man. Not many have played in Germany, England and for an old firm team at 23.
This his his chance. He is 24 now and if he doesnt establish himself as Seamus's successor this time, he probably never will. I think anyone who has seen him play will know if he doesnt pull it off. It wont be for the lack of trying. We can always try Iwobi there.
I believe JJK will have the very best wishes of majority of Evertonians if Rafa gives him the nod, but down the years I have learned to accept there will always be an element who sit patiently and wait for his first error to rip him an academy player to shreds.
Actually scrap that last paragraph. I can accept criticism, but I will never come to terms with the fact that people can be so desperate to be right about the youngster they so stupidly dismissed as an apprentice
Tommy Carter
124
Posted 09/09/2021 at 06:04:23
@121 Jay
Yes my posts on that occasion were about attempting to convert Iwobi into a right back.
This was within the context of completely giving up on him and allowing him to become a Bolasie, Besic or Tosun - rotting away on the bench for 4 years on massive wages. Also within the context of him not being good enough for a place in the starting XI in his specified and preferred position.
Mike Gaynes
125
Posted 09/09/2021 at 06:16:40
Y'know, maybe we should be more open-minded about playing guys out of their apparent positions.
For example, if Digne is injured and Nkounkou is on loan, we need left back cover.
We've got a guy who's quick, strong, has a powerful left foot for crosses, and deeply understands a fullback's positional and coverage responsibilities. Plus he has a tremendous record of accomplishment -- 40 England appearances -- and as VVD can tell you, he can really put in a tackle.
Yep, Pickford for LB. It's so obvious I wonder why nobody else ever thought of it.
Danny O'Neill
126
Posted 09/09/2021 at 08:47:54
Interesting overnight debate on this one.
I'll throw more to my thoughts on JonJoe into the ring. Maybe, just maybe, and hopefully, he's just going to be someone who comes good later than what most seem to crave these days. The polished article at 18 years old.
I've called out what I saw watching him play for Schalke, but I admittedly looked through critical lenses. Genuinely that's because I want him to succeed. Talking to Schalke fans in the bars of Gelsenkirchen after matches, they loved him for his attitude and commitment, but also rated him. It was a great experience for him and he will have learned a lot from playing at a big European club that had a fantastic start followed by an implosion in the "Ruckrunde" (second half of the season), in front of a very passionate localised support (sound familiar??!!!!).
Defensively, pretty solid. Particularly in recovering positions, although has a tendency to go to ground to early in my opinion. But that can be coached and he's still young enough to learn.
On the crosses thing, I agree with several of the comments above. Firstly, with the players in front, there's not as much emphasis on him to do this in the way there has been on Digne on the other flank.
Secondly, he's got a bullet of a shot on him and I remember one game in particular where he scored a screamer for Schalke from the edge of the box, drilled across the goal. It instantly reminded me of Gary Stevens. To the point about drilled crosses. Maybe he is more of a Gary Stevens type of right back.
Solid in defence, don't need him down the flanks if you have a good wide player in front (e.g. Trevor Steven) and if he does support the attack, either get it to the wide player or cut in and pull the trigger.
9 days now to my 50th, so please correct my ageing brain on my recollection of Gary Stevens and the comparison.
Let's give JonJoe a chance. It's his opportunity and he's one of us, so it would be great if it comes off. The time is right for him to do it and take that opportunity.
Tommy Carter
127
Posted 09/09/2021 at 09:00:36
Danny I think he's extremely poor defensively and whether he can drill the odd cross in is neither here nor there for me.
Some exceptionally gifted attacking full backs can be forgiven defensive shortcomings in what they provide the team.
I would definitely even consider Tom Davies as cover at right back ahead of Kenny.
If Burnley know him well and have scoured him well then they'll recognise acutely what his shortcomings are. Dyche is the kind of manager who will look to exploit that as an advantage to be had. Therefore I sincerely hope he doesn't start at right back on Monday
Danny O'Neill
128
Posted 09/09/2021 at 09:19:41
Tommy, you've just put a thought in my head.
JonJoe will play a part in Everton's season as he's here. But for Burnley, I can now see Benitez option for one of the centre backs to cover because of what you say; Dyche.
Some years ago now, but I remember an away match against Portsmouth when they tactically and purposely targeted our short full backs with diagonals to get dangerous knocks into the box.
Kenny is good defensively. But, to my point above, my concern is that he is sometimes too often on the recovery and goes to ground a bit too early. Great when it comes off as it looks like a full blooded slide tackle. But miss it and you get skinned. I always like to see a bit more anticipation so you don't get to that stage.
In terms of comparisons, if we look at Seamus and are all honest with each other, many were not convinced to start with either. I didn't know whether he was a full back or winger and often thought he was a bit kick and run. The loan at Blackpool helped him and he was of a similar age (possibly older) than Kenny is now before he established himself at Everton?
Let's hope a Blackpool loan helps out another up and coming Everton player!
Jay Wood
[BRZ]
129
Posted 09/09/2021 at 15:07:28
Tommy @ 124.
Seriously, for your own benefit, stop. Just stop.
Either that or get your JCB in which you are digging an even deeper hole for yourself down to BMD and put it to good use.
Mike Gaynes
130
Posted 09/09/2021 at 15:57:17
Danny #128, Seamus had two things that Jonjoe doesn't have. Excellent pace and a great teacher in David Moyes.
It's an oft-repeated legend here that the loan to Blackpool made Seamus, but people forget that long after returning from that loan in 2010, he's was still 4th choice at RB behind Hibbo, Pip and even Jags. He spent the 2010-11 season at right mid, and to the best of my recollection only got his first start at RB in the autumn of 2012 because of a string of injuries in front of him. His fundamentals were still rough even then. But he was an assiduous student at The Moyes Defensive Institute, and that's what made him IMO, not the loan.
Back in those early days Seamus was often able to make up for his mistakes with searing recovery speed. JJK doesn't have that. When he makes a mistake, it's often fatal. At Schalke he didn't make many mistakes, but from what I've read he made a bunch of them last season at Celtic. He'd better be at his Bundesliga standard on Monday (assuming he gets the call).
Andy Crooks
131
Posted 09/09/2021 at 18:46:26
Mike, you are right, the loan at Blackpool did not make Seamus. After his return, I was dismayed at the criticism he got on this site. Much more than Kenny has got, by the way. I think it is worth mentioning that playing for Ireland played a big part in making him the player he became.
Mike Gaynes
132
Posted 09/09/2021 at 18:54:58
Andy #131, as one of his critics back then, I can tell you he had some of the worst defensive fundamentals I'd ever seen in a Premier League full-back. He was a ball-watcher, constantly out of position, couldn't mark or use his body, couldn't track runners.
By Christmas of that season, however, his improvement was obvious -- and exciting. I don't recall seeing him with Ireland during that time, so I'll take your word that his national team experience accelerated his development as well.
Tommy Carter
133
Posted 09/09/2021 at 19:22:45
@ Andy and Mike.
2012-13 was the first time he was considered ready for the right-back spot. That is correct and it was a very good season for him but importantly one of his finest qualities was to adapt and learn. He had a bad day against Reading away in 2012 but he picked up from that and was faultless for the rest of the season.
He did indeed have a full season in 2010-11 as a right-sided midfield player and, in all honesty, I didn't think he was good enough for that position.
I think fundamentally he was just a far superior talent than Jonjoe Kenny but admittedly he was rough around the edges when he joined.
We'll never know if he was ready to play right-back prior to autumn 2012 because Moyes didn't ever trust him enough to put him in. He may have adapted more quickly.
But he was good enough for Moyes to throw him on against Spurs very early in his Everton career when he came in and showed some of his raw quality. He was excellent that day and I have to say he inspired the entire team. Something that I don't think Jonjoe Kenny will ever be capable of and I'm sure we can all agree hasn't done so far in his 6-year senior Everton career.
Martin Mason
134
Posted 09/09/2021 at 19:26:10
Our manager, correctly, has good confidence in Jonjoe Kenny as a partner for the right-back slot. I sincerely hope that he makes it, which he could very well do.
I watched him in that famous derby where he was simply top class and I thought he was one of the best products seen from our youth system. For anybody to knock him is disgusting. He is what he is or what we make him.
Lee Courtliff
135
Posted 09/09/2021 at 19:49:57
Tommy #133 Seamus was nominated for the PFA Young Player of the Year award for his performances on the right side of midfield during the 2010-11 season. He did very well for us in that position.
But it was obviously a stop-gap, he was always going to end up at right-back eventually. And it wasn't just the Reading game he struggled in either, if I remember correctly, he gave away goals in 4 successive games around that time.
Think it was Fulham, Norwich, Reading and someone else but Moyes kept him in the team and, by the end of the season, it was obvious who our first choice right-back was.
Danny O'Neill
136
Posted 09/09/2021 at 20:05:26
Just read my comments back so let's be clear. I said the the loan spell at Blackpool helped Seamus. It didn't make him. Plenty of other factors done that.
Helped. Not made.
He's our captain and a fine one who I adore. I know the name for my next dog.
Kristian Boyce
137
Posted 09/09/2021 at 20:07:34
Ironically talking about playing players out of position. Wasn't one of Coleman's first games for us was when he was filling in at left-back, and we got absolutely twatted in Europe 5-0?
Ian Bennett
138
Posted 09/09/2021 at 20:27:37
Think his first game was Spurs. He played like Cafu that game. £60k, wow what a signing.
Dave Abrahams
139
Posted 09/09/2021 at 20:39:15
Mike (130), Jonjoe might not have Seamus's pace but he will have the benefit of a great coach and teacher in Benitez, who, in my opinion, is a better coach than Moyes!!
Danny O'Neill
140
Posted 09/09/2021 at 20:42:45
I'll echo that Dave.
I so want Jonjoe Kenny to come good.
I think he can. I hope he can.
Darren Hind
141
Posted 09/09/2021 at 20:50:31
Some drivel being spouted here. from people who clearly don't know what they are talking about.
Nobody ever claimed the short spell at Blackpool was the making of Coleman. He wasn't there long enough. I bet the number of league games he played for Blackpool didn't even get into double figures.
I remember Moyes being slaughtered by Evertonians in a famous bust-up in Lisbon Airport. One of the reasons for the fans' anger was he played a young Irish boy who looked for all the world as if he had never played the game. A short while later, Moyes was down to the bare bones again and trailing to a good Spurs side when injuries meant he had to send on the young Irish boy again. Seamus was raw alright, but he stole the hearts of the faithful with his fearless swashbuckling style. We pulled it back and a beautiful mutual love was born... for the record. That was long before he went to Blackpool.
The reason Coleman went to Blackpool for their end-of-season push for top-flight football, could be summed up in two words: Tony Hibbert. Hibbo was the Kenny of his time. An academy boy who was vilified for not being Carlos Alberto, but Moyes trusted him. He was a natural-born defender.
There was no place for Seamus and Blackpool needed a full-back in a hurry. It made perfect sense for all concerned.
After that, there was a huge clamour for Seamus to replace Hibbert, but it wasn't happening. Moyes appeased many of the fans by playing Seamus in front of Hibbo... but for an entire season???
Seamus eventually claimed the right-back spot but that was not down to a dozen games he played at Blackpool. It was down solely to the man himself and his will to succeed.
Those who think Coleman navigated his way into the first team without having major set backs must have been looking the other way. His debut was the stuff of nightmares. That's what happens to young full-backs who come into poor teams.
Seamus stared down and overcame the ill-informed cranks who wanted to dismiss him as a youngster and he became one of the finest captains we have had.
I have no doubt whatsoever he has already told Kenny that he must do the same.
Tony Everan
142
Posted 09/09/2021 at 20:57:19
Seamus's injury isn't as bad as first thought but still a doubt for Burnley, according to the EvertonNews on the club YouTube channel. I am deaf so I go by the subtitles, who say we are playing Bayern Lee.
The training vid shows Rondon, James, Yerry all happy and posing for a photo before getting into the training session.
Tommy Carter
143
Posted 09/09/2021 at 20:59:30
Darren @141,
Jonjoe Kenny couldn't lace the boots of Tony Hibbert, I'm afraid, and I was never a massive Hibbert fan.
Hibbo had massive physical shortcomings that were repeatedly targeted by the better and more powerful teams. Culminating in the 2009 FA Cup Final when all of this was exposed down a sunny patch of Wembley turf on our most important day in years.
Repeatedly in derby games (orchestrated by Rafael Benitez), Hibbo would be the victim of the diagonal play on him. He coped well most of the time but they never gave up on this as their source for opportunity.
However, despite all of this. Hibbo would walk into the team ahead of Kenny, there is no doubt about it. A superior defender in all aspects.
How many times did you see Hibbo beating the turf following an exposure for a goal? How many times did he make a mistake rather than being bettered? Hardly ever.
Darren Hind
144
Posted 09/09/2021 at 21:15:36
PTommy
You are making a complete fool of yourself.
You come on here telling us that Dyche would have seen all of Kenny's supposed faults and will target him... Remind me again: Who was the Premier League manager who wanted to sign Kenny this year and would most definitely have done so if his board backed him and paid the asking price?
Here's a couple more little facts to educate you. Tony Hibbert may have struggled without protection against what was just about the best left side in world football at the time, but at no stage where we behind when he was on the pitch.
We lost that final because Chelsea had midfield players that were on a different planet to people like Phil Neville and for the second half of the game enjoyed almost total possession.
People like you make me laugh. the only Everton player who was never losing in that final... err, cost us the game?
Andy Crooks
145
Posted 09/09/2021 at 21:18:30
Tommy, I admired Tony Hibbert. You got what you paid for, a right back.
To me, Jonjoe Kenny has already shown that he offers more than Tony. What Tony lacked could never be taught. What Jonjoe lacks, in my view, can. How about giving him a chance?
Don Alexander
146
Posted 09/09/2021 at 21:18:39
Seamus Coleman himself says of his time at Blackpool;
"I couldn't have gone to a better club. I think we were just outside the play-offs and we were doing really, really well and I had a manager there in Ian Holloway who said 'enjoy yourself, no pressure'.
"We played a very attractive style of football actually and we galloped over the line. We came on really strong in the end and to get to the play-off final against Cardiff was amazing, it was such a brilliant game as well.
"I'd done well at Blackpool so I went back to Everton with a lot of confidence from that, knowing that I could play at that level and it really did help kick-start my career at the club."
Still, what does he know when compared to our Dazza?
Darren Hind
147
Posted 09/09/2021 at 21:25:10
You really don't have the brains for these debates, Don.
I said it was a great move for all concerned. You are simply backing me up.
I also said his league appearances for Blackpool didn't even reach double figures. I just checked. He played 9 games.
David Pearl
148
Posted 09/09/2021 at 21:27:24
I thought Tony Hibbert was a very underrated player. He was strong in the tackle and his passing and crossing improved with age. Unfortunately he became injury prone... which of course led to a 2-year contract extension.
And thankfully he only scored that 1 goal... or else there would have been carnage at Goodison Park.
Tommy Carter
149
Posted 09/09/2021 at 21:27:43
You joking Darren? He went off at half time with sun burn and was replaced by Lars Jacobsen who'd hardly had a kick of first team football and suddenly, their left hand side, albeit awesome, was nullified.
Don't forget that the equaliser came from their left hand side.
Are you related?
Tommy Carter
150
Posted 09/09/2021 at 21:30:27
@Andy,
Every time I make the point about Jonjoe Kenny, it's within the context of my more prominent point: stop offering long-term lucrative contracts to young players who aren't good enough in the hope (more fear) that they'll end up developing into a player in their mid 20s just because Leon Osman did once upon a time.
Chris Hockenhull
151
Posted 09/09/2021 at 21:33:38
Through the work I do, I learnt a couple of weeks ago about the health issues that Tony Hibbert had whilst playing for us. Don't knock him. He was an unsung hero. Especially when I see James poncing about taking the piss. Tony Hibbert was the last of a dying breed.
Don Alexander
152
Posted 09/09/2021 at 21:42:32
Dazza, you say above, "Nobody ever claimed the short spell at Blackpool was the making of Coleman".
Seamus says, "I'd done well at Blackpool so I went back to Everton with a lot of confidence from that, knowing that I could play at that level and it really did help kick-start my career at the club."
Arguing with you is rather like arguing with a petulant child, as many have told you on many threads. You're at it again lad.
Yes, Seamus has balls, integrity and skill but for him to speak as he does of Blackpool, with so few games there, translates to most sanguine readers as Blackpool being the catalyst for Coleman becoming what he became.
In other words it was the making of him. Simples!
Brendan McLaughlin
153
Posted 09/09/2021 at 21:43:11
Don #146,
Players accentuate the positive. If that's gonna inform your view... you're a bit naive?
Darren Hind
154
Posted 09/09/2021 at 21:50:26
Don,
He says he thoroughly enjoyed his dozen or so games at Blackpool and they gave him great confidence but he still had to come back and oust Hibbo. Establish himself at a much bigger club. He had to sweat blood to do that.
Twist and distort his words all you want, but he is a clever articulate man, able to say what he thinks.
He is nowhere near stupid enough to say those few games were the making of him. I guess he is leaving that sort of nonsense to those who are.
Andy Crooks
155
Posted 09/09/2021 at 21:50:38
Tommy, we absolutely must take a chance on these players. I do see your point on long-term contracts, also "lucrative" is different for most supporters.
I would suggest that Jonjoe Kenny was and is most certainly worth taking a chance on. At the very worst, he is borderline.
Do you think we should find a young player with an established record at every level he has played at and then offer him a shit short-term contract?

Tommy Carter
156
Posted 09/09/2021 at 22:04:02
Andy. Just no. I cannot believe it that other Evertonians can't see what I am seeing when it comes to Jonjoe Kenny.
The best I can equate it to is a striker who can't score a goal. It's why I mentioned Stuart 'Jigsaw' Barlow which was met with ridicule.
Jonjoe Kenny is the Michael Branch / Tony Grant of his day. Everyone wants him to do well but his level is so far beneath Premier League elite, it is untrue.
Why do Evertonians want him to succeed so much more than, say? Cuco Martina?
As for Darren @ 144. A fool of myself, I'm making. Apparently. If you had any understanding of modern scouting, then you'd understand it involved a critical analysis of the player. Most scouting that takes place is in fact about the opposition, what they do, how they play, patterns, weaknesses to exploit etc, etc.
My point, although lost on you, was obviously that Dyche will be well aware of the shortcomings of Kenny when we face them. The fact that he wanted to buy him just speaks to the fact that he thinks in their system he will be able to set the team up to not expose his shortcomings.
Either that or he thought the shortcomings were enough to warrant the extra expense on his transfer fee that apparently Marcel Brands wanted and is being rammed down our throats on this forum.
Mike Gaynes
157
Posted 09/09/2021 at 22:06:51
Dave #139, I never thought I'd see the day that the truest Blue I've ever known would compliment Benitez like that! The world sure has changed, hasn't it?
Darren #147, Seamus played 12 games at Blackpool. The extra three were the promotion playoffs, which were the most valuable -- they proved that he could perform superbly in the highest-pressure games imaginable. He returned to Everton a quality player, if not yet a quality defender.
Andy #145, we part company on that one, mate. Hibbo had pace, fierce physicality and the ability to deliver a truly brilliant tackle under pressure. Kenny has shown none of that. Yes, he's a better passer. He is not a better player. Not even close.
Darren Hind
158
Posted 09/09/2021 at 22:19:29
Yeah, Tommy,
Dyche thought he had so many short-comings he decided he wanted to sign him to iron them out... Sigh.
We have players like Yerry Mina and Keane in our team do you really think Dyche will spend all week planning to target a man who may not even be playing? Really?
And no, other Evetonians are not seeing what you are seeing. Do you know why? He hasn't been bleeding playing for us. He has had four games in three seasons. and you have posted hundreds of times about him... Think that's rational? Think we don't have a load of other players who have been playing and letting us down? Why are you not slagging them off?
Do you realise what you are doing? Our club has been in absolute disarray for years. we have witnessed shit-show after shit-show and you are coming back time and time again to single out the guy who hasn't played.
Danny Broderick
159
Posted 09/09/2021 at 22:56:57
Some of the best teams I have seen have had 'average' squad players who were dependable and who could come in and do a good, solid job for the team without being a world beater. In the 80s, Alan Harper is a classic example of this for us, as well as someone like Paul Power.
Liverpool had them as well - Craig Johnstone, Gary Gillespie. Arsenal always had a Perry Groves or a Steve Morrow. Man Utd always seemed to have a John O'Shea or a Phil Neville or a Ronny Johnsen.
No-one is really expecting Jonjoe Kenny to go and cement the right-back position for himself for the next 10 years. But there is no reason why he can't be reliable cover and a valuable squad man. It's always good to have local lads in the squad also.
I have heard Evertonians dismiss players as rubbish after a few games all my life – and some unbelievable players by the way! Baines! Jags! Rideout! Dave Watson! Osman!
It's best not to make sweeping statements and just get behind the lads trying to make it. Coleman himself would never have played for the club again after Benfica away if some people had had their way.
Let's hope Kenny can do a decent job for the team – he achieved a lot as a youth player for the national team. He has some really good attributes, he simply has to take his chance this time if he wants to make it at Everton. If he doesn't take this chance, we do have alternatives such as Godfrey or Holgate. Let's just wait and see!
Danny O'Neill
160
Posted 10/09/2021 at 07:17:20
It's the previously discussed principle of not needing 11 superstars to make a team, Danny B. A team needs balance and ingredients. A bit of stardust mixed with a bit of graft.
On Hibbert, I thought he was underrated and unfairly berated by many. Like Osman, who for me is one of the most technically gifted players we've produced in recent years. Who was running the academy when they both came through?
The Chelsea FA Cup Final. Yes, they targeted our right-hand side, but that's no slate on Osman and Hibbert. Firstly, Osman was not a wide player and shouldn't have been played there as often as he was. Secondly, that was a great Chelsea team; sometimes you're just beaten by a better team.
If you want me to pick fault, I spent most of that evening spitting feathers at Lescott. He was so far off Drogba for that equaliser that the guy almost had a 50-m run onto meet the cross to easily out-power the almost static Lescott. Exaggeration I know, but he gave him way too much space.
To counter that, you can argue great centre-forward play as he "cheated". Always a dilemma as a centre-back when a forward drops deep. Do you stick or twist? In a Moyes team, I guess the emphasis was to keep the shape. In a German team, it would be man mark and stick tight; the sweeper will cover the space.
Again, harsh. Drogba was a top striker and centre-forward.
Dave Abrahams
161
Posted 10/09/2021 at 10:57:21
Mike (157),
No, the world hasn't changed that much, Benitez is still the same coach now as he was years ago when he had a go at Everton; he was just defending his club at the time.
I think he understands football and will be doing his very best, with his hands tied, to make Everton a good squad, and I honestly think the longer he prevails here, the better it will be for Everton FC and us fans.
But it will be a very bumpy ride with bad times mixed with plenty of good ones. Unfortunately, there are no guarantees in football, illustrated by the last manager's time here.
David Hayes
162
Posted 10/09/2021 at 12:10:20
I believe that the scepticism about Jonjoe Kenny extrolled by many, including myself, has two root causes.
Firstly, having been at the club all that time and on the fringes of the first team, why only four appearances in three years? Surely there is a doubt as to his ability to complete on level terms with Seamus?
Secondly, why the almost constant loans? It's not learning his craft etc, because at stage and age he was at, if he isn't there or close to it, then he is unlikely to greatly improve.
I am sure we will find out soon. I hope he will prove to be serious competition for a regular start.
Danny O'Neill
163
Posted 10/09/2021 at 12:33:51
Without getting carried away too early, Dave Abrahams, and from someone who was "disappointed Danny" on the poll when we appointed him (not gutted or outraged), I think Benitez could go on to become very popular with Evertonians.
Okay, maybe that's too far for some. But respected I think. The early signs are good.
John McFarlane Snr
164
Posted 10/09/2021 at 13:12:33
Hi Dave [161] and Danny [163],
I have posted on a couple of occasions that, if the fans of Manchester United in 1945 were of the same attitude as fans of today, Matt Busby would never have been welcomed at Old Trafford. He committed the 'Cardinal Sin' of playing for both Manchester City and Liverpool.
My experience has taught me that a player or manager can be successful at one club and a complete failure at another, but he must be judged over a period of time, and not dismissed as a failure before he has had a chance to implement his plans as a manager, or skills as a player. Hoping to meet you both on the 25th.
Marc Hints
165
Posted 10/09/2021 at 14:06:31
Looks like he is available for Monday.
---
Add Your Comments
In order to post a comment, you need to be logged in as a registered user of the site.
Or Sign up as a ToffeeWeb Member — it's free, takes just a few minutes and will allow you to post your comments on articles and Talking Points submissions across the site.