Brazil won't censure Richarlison over missed qualifiers
Wednesday, 8 September, 2021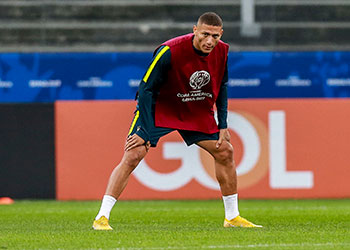 Everton's decision to allow Richarlison to play for his country at both the Copa America and Tokyo Olympics this past summer may be paying dividends after Brazil elected not to ask Fifa to enforce a five-day suspension on the forward.
Due to the good relations between Everton and the South American country, the Blues will have Richarlison available when they face Burnley on Monday but players from the likes of Liverpool, Manchester City and Leeds, who blocked their stars from travelling this international break over Covid-19 concerns, won't be as fortunate.
Though the restrictions are described as automatic and would cover the period between 10th to 14th September, they have been waived for Richarlison based on Everton allowing him to play throughout the summer when he helped Brazil to the final of the Copa America and to Olympic glory in the Gold Medal game.
Clubs that insist on fielding the banned players could be forced to forfeit the fixture in question 3-0 under article 22 of Fifa's disciplinary code.
---
Reader Comments (34)
Note: the following content is not moderated or vetted by the site owners at the time of submission. Comments are the responsibility of the poster. Disclaimer
Karl Masters
1
Posted 08/09/2021 at 17:23:51
If relations are that good, could they possibly force Neymar to sign for Everton and forego his £400k a week 'not being a naughty boy' bonus he gets from PSG for keeping out of controversy on and off the pitch?
Mike Gaynes
2
Posted 08/09/2021 at 17:25:29
I had no idea that a national team program could force a club to suspend a player. That is bizarre.
However, letting Richarliosn play in the Olympics continues to look like a good decision thus far. He's been in top form for our early games and both he and Brazil are clearly grateful for Everton's permissiveness.
Jerome Shields
3
Posted 08/09/2021 at 17:28:37
Good decision, Everton.
Neil Copeland
4
Posted 08/09/2021 at 17:31:52
Nice to see the club making good call on this one and, for once, getting something working in our favour.
Bernard Dooley
5
Posted 08/09/2021 at 17:40:10
Mike #2,
My understanding is that it is FIFA who are suspending the players rather than the clubs.
A moot point maybe, but the world body sanction players where an international agreement has been broken.
Steavey Buckley
6
Posted 08/09/2021 at 17:46:08
What's going to happen in October and November when World Cup qualifiers are to take place in Central and South America? Will Everton allow Richarlison, Mina and Rondon to link up with their respective countries?
Everton could lose them for 5 days if they refuse to send them... or, worse still, 10 days in quarantine. It's about time the UK government, UEFA, FA and the Premier League make their decisions and advices for the right decisions for clubs affected by 'red listed countries'.
Gerry Morrison
7
Posted 08/09/2021 at 18:10:25
Some players got into trouble, and the match was abandoned, because they arrived in Brazil from England.
Other players got into trouble, and got suspended, because they didn't arrive in Brazil from England.
Am I missing something?
Ian Burns
8
Posted 08/09/2021 at 18:17:12
Come on, Gerry @7 – the rules are crystal clear.
Neil Tyrrell
9
Posted 08/09/2021 at 18:25:46
The good faith Everton showed Richarlison in letting him go to Tokyo was repaid when he turned up for our first match without a break; seems it's paying off even more now. Better to keep him happy (even if he rarely looks it) than pissing him off.
I'm a bit confused about these 5-day suspensions though, didn't the Premier League ban players from traveling to red list countries? If so, it seems off that the individual clubs can now be punished for not releasing them.
Andrew Ellams
10
Posted 08/09/2021 at 18:41:05
Gerry, the players that caused the disruption where from Argentina, not Brazil, although the game that never was did take place (or didn't) in Sao Paolo.
Ian Horan
11
Posted 08/09/2021 at 18:42:04
Steavey, I actually disagree. The pandemic should override all footballing matters. Irrespective of what team you support. The pandemic has cost families members their lives.
Football? It's only a game!!!
Mick O'Malley
12
Posted 08/09/2021 at 18:44:01
The Red shite are going mad on the Echo comments page: "How come Richarlison can play?" they are all bleating. "It's not fair, how come Everton get away with it?"
Well, do a bit of reading, thick Kopites, and you will see why Richarlison can play and your 3 Brazilians are suspended.
Dale Self
13
Posted 08/09/2021 at 18:47:42
Good spot, Mick, you read it so we don't have to – thanks for that, always calls for a shower after visiting that lot.
Ajay Gopal
14
Posted 08/09/2021 at 18:50:35
Is FIFA punishing only the Premier League clubs or clubs from other leagues as well? Such as Neymar from PSG?
Dale Self
15
Posted 08/09/2021 at 18:59:53
ESPN laid it out fairly well. Federations can restrict players appearing for clubs when they are not released for international duty. Brazil invoked a FIFA rule here once players' travel was restricted by the Premier League based on the red list.
Bill Gienapp
16
Posted 08/09/2021 at 19:03:54
Mick (12) - yep, they're having a meltdown on Twitter too. Ranting about how corrupt this is. Yes, because if there's one club that always benefits from unfair advantages, it's Everton, LOL.
Mike Gaynes
17
Posted 08/09/2021 at 20:00:34
It's not just Brazil and Argentina. Paraguay wants FIFA to suspend Almiron at Newcastle. Mexico wants Raul declared ineligible at Wolves. And Chile made the same request for a couple of its players.
The Brazilian federation is a rampantly corrupt and thoroughly despicable organization -- hosting the Copa at Bolsonaro's instigation was only the latest of their money-grubbing adventures -- but I have to admit that they've handled this situation pretty well. Even if it was kinda bizarre to see that chubby little Brazilian health official stopping the game and shoving Otamendi the other day.
Justin Doone
18
Posted 08/09/2021 at 22:23:17
So FIFA.
They never advise or make a proactive decision but love to threaten clubs and dish out punishment.
I doubt anything will happen because it's too many big rich clubs that will take legal action.
Brian Wilkinson
19
Posted 09/09/2021 at 01:30:48
Pretty sure those players will be playing over the week end, they will find a way, trust me on that.
Bobby Mallon
20
Posted 09/09/2021 at 16:43:01
They will all play Brazil will get a load of fish and that will be the end of it. Just like the super league fiasco. Corrupt bastards the lot of them.
Bobby Mallon
21
Posted 09/09/2021 at 16:45:47
Dosh
Barry Hesketh
22
Posted 09/09/2021 at 16:57:28
Bobby @21,
I quite like the idea of being bribed with fish:) but seeing as it was purely a spell-checking error will the dosh be COD?
Brent Stephens
23
Posted 09/09/2021 at 17:07:56
Bobby, I thought your "load of fish" was actually intentional but you'd meant to say "just like the supper league" not the super league.
Brian Murray
24
Posted 09/09/2021 at 17:54:17
Just trawling through these texts. Looks like we have Frank Mackerel Vennie making a comeback
Mike Gaynes
25
Posted 09/09/2021 at 18:01:12
No fish puns. That's for the Forum only.
Brian Wilkinson
26
Posted 09/09/2021 at 18:16:25
Say it as you see it Bobby, spot on.
Des Farren
27
Posted 09/09/2021 at 18:23:13
Don't wanna carp, Mike, but were you not floundering over whether Richarlison should even be allowed to go to the Olympics? Or was that a red herring you threw in?
Mike Gaynes
28
Posted 09/09/2021 at 19:02:37
No, Des, actually I thought he shad be allowed to go... in fact I was beating the drum for him, because I figured it cod be the bass thing for him and he'd really be on the bream when he got back. But there was a large grouper here that opposed it, and I did tuna out on the argument after a while.
Brian Harrison
29
Posted 09/09/2021 at 19:13:22
I think this rule has been around for some time, but it will be interesting to see if these players who have been told they can't play for their clubs this weekend actually play. I don't know what happens then as I can't see FIFA wanting to get involved in this argument, seeing they have Wenger fronting their stupid campaign to have the World Cup every 2 years.
And the only other option is countries banning these players for a number of games but surely I can't see them doing that.
Des Farren
30
Posted 09/09/2021 at 19:29:11
Brill explanation, Mike, you're one slippery eel!
Albert Perkins
31
Posted 09/09/2021 at 19:33:40
OK, enough of that. I was fishing through the Guardian and saw an article by Wilson about Ronaldo back at Utd. and saw some similarities with us and Ancelloti.
"Put a plan in place now and it could be years before it comes to fruition. Far easier to sign a big name for the immediate dopamine hit that leads to inane talk of winning the transfer market and is why many fans seem more excited by signing players than winning matches. There are those who see Juve's signing of Ronaldo as indicative of Serie A regaining its mojo; on the contrary, it was emblematic of its decadence, a superclub being lured on to the rocks by the siren call of celebrity."
Ancelotti and James, the celebrity signings for the superclub Everton. A bit fishey comparison, true, but I'm struggling a bit with not having more frequent games to comment on. And I'm missing Steve Ferns.
Brian Wilkinson
32
Posted 11/09/2021 at 01:51:11
Going back to my post@18, not one bit suprised, those players and clubs, would find a way round it.
Corrupt and bent as hell for for the big guys, yet again.
Is anyone else least suprised those players would be able to play, this weekend.
Kieran Kinsella
33
Posted 11/09/2021 at 02:55:53
Brian
Not surprised at all. There goes our good will bonus though we are going to have to rest him at some point regardless. Real power battle right now with four competing powers: EPL, UEFA, FIFA, and the three bankrupt super league teams who refuse to let go. Interesting to see who comes out on top.
Brian Harrison
34
Posted 11/09/2021 at 10:22:40
So all the South American countries who wanted players not turning up for recent Internationals banned from their clubs league games have now relented and withdrew their objections. I think most thought that this would be the outcome.
But there is an ongoing problem about players playing in red-list countries. Infantino is suggesting that players be given a special exemption to having to quarantine when returning from playing in a red-list country.
Having read the story of Karl Darlow, the Newcastle reserve keeper, who contracted Covid and was hospitalised and put on an intervenous drip, he also said he was really scared of what might happen. He was due to get his first jab the day after he went into hospital. He said many of his team mates who had not bothered to get vaccinated soon changed their minds when they saw what happened to him.
The problem with allowing unvaccinated players to travel in and out of red-list countries is a problem for the players and their contacts. Maybe Infantino would be better running a campaign to encourage more footballers to get vaccinated, as I am sure he wont want his qualifications to the World Cup to be derailed.
---
Add Your Comments
In order to post a comment, you need to be logged in as a registered user of the site.
Or Sign up as a ToffeeWeb Member — it's free, takes just a few minutes and will allow you to post your comments on articles and Talking Points submissions across the site.