Pickford denied clean-sheet record at the death
Poland 1 - 1 England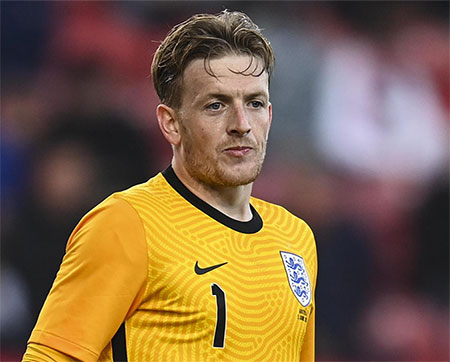 After recovering from a poor clearance that so nearly gifted Poland a goal, Jordan Pickford was helpless to stop Szymanski's late header that gave Poland a draw in Warsaw tonight.
And with media articles talking up Pickford's chance to outdo a record for clean sheets held by Gordon Banks since 1966, the Everton goalkeeper came so close to achieving that accolade.
England had done well to control a difficult game and battled hard to secure the lead through a brilliant strike by Harry Kane. But Poland refused to give up and, in added time, that man Lewandowski chipped up a brilliant ball to the far post, too far out for Pickford to intercept, and Szymanski rose well above Walker to power his header beyond Pickford and deny England's 100% record in the group.
Elsewhere, Moise Kean scored 2 goals in Italy's 5-0 win over Lithuania.
---
Reader Comments (42)
Note: the following content is not moderated or vetted by the site owners at the time of submission. Comments are the responsibility of the poster. Disclaimer
Ian Horan
1
Posted 08/09/2021 at 21:56:16
Let's see if Walker, Mount or Shaw get hammered for the goal like Pickford normally does
Christine Foster
2
Posted 08/09/2021 at 22:16:46
Nope, it will be Southgate because he didn't use any subs...
Justin Doone
3
Posted 08/09/2021 at 22:41:23
It's harsh to blame any individual but the closing down and marking needed to be tighter.
I also called 20 mins earlier for subs. Saka for Sterling was a no brainer.
But.. it will have little impact on England qualifying.
Moving on to Ireland.. that is a team going nowhere but backwards. Its tuff being an Everton fan but watching Ireland is unbelievably hard.
Great we are blooding youngsters but there was several truly awful performances yesterday. Like Everton of a few seasons ago, defenders being asked to play out from the back look out of their depth. A poor midfield that lacks pace, skill and creativity.
1 pass forward, 2 passes back. They need to realise their strengths and play to them. Mix it up, go long at times, get the ball into the danger areas and stop messing around with the 'hot potato' on the edge of your own box.
Rant over.
Bill Gall
4
Posted 08/09/2021 at 23:20:15
2 Goals from Kean should improve his value.
Paul Kernot
5
Posted 08/09/2021 at 23:28:46
Of course, we move Kean out and...
Colin Glassar
6
Posted 08/09/2021 at 23:51:59
Once again Gormless Gareth showed he doesn't do game management. Croatia, Italy and now Poland show he's a nearly man who can't bring home the bacon.
Brian Wilkinson
7
Posted 09/09/2021 at 01:26:42
Interesting Grealish now getting game time, after his move to Man City, while I have no doubt Calvert-Lewin when fit, will be a very small bit-part player, who will play in mediocre games, but as soon as the World Cup comes around, he will not get a sniff, unless he signs for the so-called elite.
Brian Murray
8
Posted 09/09/2021 at 01:54:01
Brian @7. Everton and England connection has never ended well. Probably starting with Harvey getting one cap and hit-and-miss players like Hudson and Currie getting preference. Then the big joke of Kendall getting ignored altogether.
Move on to Lescott and Barmby getting their ears bent by big time players when in the Blightey camp. Lineker and Rooney to a degree the same.
This all stems from our inferiority complex that, if we have players good enough to get capped, surely we are just a stepping stone... (Thanks to the Moyes and Kenwright double act.)
Charles Brewer
9
Posted 09/09/2021 at 05:23:00
Didn't bother watching this pointless interruption, but from what I can gather from the press, Pickford was the worst player ever to put on an England shirt.
By making an error from which he recovers with with no consequence, he caused England, who were winning by the equivalent of 5-0 at the time, to lose catastrophically 1-1 around 10 minutes after the error because the England defence was too tired to stop a Polish attack.
Pickford's error, which caused the 9-0 defeat, which was recorded as 1-1, caused Sterling to play with his usual lack of intelligence, and made Kane miss all but one of the chances which came his way.
Pickford also made Southgate fail to take off players who were completely knackered and to repeat all the errors against Italy which meant that three incompetent players missed penalties.
Pickford should never play for England again. England should reinstate Joe Hart who can regularly let 5 in for a well-fought 1-1 win on every occasion.
Jerome Shields
10
Posted 09/09/2021 at 06:47:25
Southgate has a fear of not having cover for his back four, which stifles creativity going forward and invites pressure as the team tires. Poland's media are just looking for a scapegoat.
Tony Abrahams
11
Posted 09/09/2021 at 07:52:48
Haven't read any reports but, if certain sections of the media are blaming Pickford, it tells us two things. One: they have an agenda, and two: they know fuck all about football, and are not even worth listening to.
An enjoyable hard-fought game, but one-nil is never enough. If you don't get tight the chances are you are going to get punished, which is exactly what happened to this very good England team. They played some good football but didn't get enough men running into the area, looking to get on the end of the cross.
Martin Nicholls
12
Posted 09/09/2021 at 08:18:56
Charles#9 - brilliant!
Incidentally, early in second half, the ITV expert commentary team were busy telling us that England would take advantage as Poland tired toward the end of the game!
Peter Warren
13
Posted 09/09/2021 at 08:31:05
Only watched second half, England dominated without looking great. The equaliser one of those things, nothing to do with lack of substitutions but with the amount of attacking talent England should be going for the kill.
Wish he would play Bellingham.
Eddie Dunn
14
Posted 09/09/2021 at 08:41:52
Also only watches the second half. My main gripe was Sterling beating his man, sometimes twice only to fail to cross or pass. It seemed that Grealish and Shaw were in each other's way and there was a tendency to overplay allowing Poland to regroup.
I thought the ref let Poland get away with too many fouls and finally Southgate was undone for not pushing for the win and tiring players giving away possession on the halfway line.
How does Kean (A) get into that Italy team and (B), score a brace?

Danny O'Neill
15
Posted 09/09/2021 at 09:08:23
I'll admit to getting bored with this last night so didn't watch much of it. I've just caught up on the highlights.
On Jordan, initially, he impressed as a shot-stopper for me, but his game has matured no end this calendar year. His anticipation to meet Lewandowski in the first half demonstrated great awareness of the danger. A bit of a blooper second half but at least he was alive to recover the situation. Mistakes happen – he fixed it.
And no way was he to blame for the equaliser. No-one was. Peach of a cross from Lewandowski and great centre-forward play, totally bulldozing the centre-back who was caught out by the quality of the cross and on the back foot. That's not a criticism.
Lewandowski. What a player. Like Ibrohamovic before him, he seems ageless. At 33, and even if we'd have had a sniff of a chance of him coming to Everton, I'm convinced half of our fan base would have been up in arms at signing a player with no sell-on value, past his best and not aged 19 etc, etc.
Kane's goal. We've said before, that's the difference with him and why he's more of a complete striker. You don't get that from Dominic and that's the difference. Kane can do what Dominic does but more of what he can't or doesn't.
On Kean. Well, I maintain my view that he's going to be a top striker. Too many judged a 19-year-old kid in a foreign land and league too early. He's still only 21 and developing. But technically, still an Everton player, so who knows? I said on another thread, had he been from Kirkby or Kirkdale, would some have been kinder and more patient with him?
Danny O'Neill
16
Posted 09/09/2021 at 09:22:01
Eddie @14, just read your first paragraph. You've made me think of Peter Beagrie. Gifted but infuriating.
Steve Brown
17
Posted 09/09/2021 at 10:14:03
Danny @ 15, the posters who wrote off Kean tend to be the same voices who relentlessly criticise Richarlison and James. Parochialism definitely plays a part in that.
Barry Hesketh
18
Posted 09/09/2021 at 10:35:20
Whether Kean turns out to be a useless muppet or the next Messi, we must remember the kid never ever wanted to be an Everton player. I'm not even sure why he came to England, he obviously didn't want to... and, to be honest, I wish he hadn't come here, because forever and a day people will continue to berate the club if he gets success elsewhere.
I have similar views on James; I want to see him play at Goodison in an Everton shirt but, if he doesn't want to put the effort in or only wants to get away as soon as possible, then I'd prefer someone else gets chosen for the first-team squad.
England did quite well last night albeit against a well-organised but fairly ordinary Polish side, but against better opposition, they will have to find a way of creating more chances more often and of course taking them.
If Sterling had have concentrated on making chances rather than trying to prove a point by scoring himself, England would have won comfortably.
Barry Rathbone
19
Posted 09/09/2021 at 10:40:12
Regarding the redemption of Kean - Italy were playing Lithuania.
Danny O'Neill
20
Posted 09/09/2021 at 10:46:20
I still hope he considers Everton Steve. I doubt it, but hope.
By the time he finishes his loan at Juventus, he'll have played for 2 of Europe's biggest current names, played 3 seasons in the Champion's League and no doubt played for the current European national champions and 4 x World Cup Winners countless times.
And will have scored goals along the way.
Some are rightfully calling out the role of Brands. But this in my opinion was a Brands signing. Young potential, up and coming star that was highly rated. A signing that caught headlines and one for the future.
But we expected him, at 19 years old having been uprooted from his surroundings, to deliver in 3 weeks. Rather than wait and watch him develop into the player I think he will become in the next 2 to 3 years.
Okay, it was Dunfermline, not Turin, but I remember a certain 20 year old Graeme Sharp not exactly hitting it off at Everton straight away.
Danny O'Neill
21
Posted 09/09/2021 at 10:53:08
He was sold as a commodity / asset Barry. In my opinion obviously. But I agree, the kid (that's what he was) probably didn't want to leave home or the club he supported and played for given his own choice.
Kevin Prytherch
22
Posted 09/09/2021 at 11:15:08
Kean is the type of player we should be taking a risk on. Okay, so he didn't work out here but, because of his age and potential, we should recoup most, if not all (once loan fees are taken into account) of our money.
I'd rather a couple of Keans not working out than a couple of Bolasies or Schneiderlins.
Allan Board
23
Posted 09/09/2021 at 11:27:21
Too many forward players on the pitch, getting in eachother's way, leaving Rice and Philips to man half of a pitch. No wonder they are knackered after an hour!
A Southgate speciality which is flawed against decent opposition. It happens all the time, but he can't see it, bless him. And somebody tell bloody Sterling to just cross the bloody ball.
As for Grealish, stop moaning fella and play quicker and move – nobody likes a smart arse on a football pitch.
Good job Kane's goal wasn't against us as Pickford would have been hung out to dry!
And confirmed, Lee Dixon is a knob!
Anyway, can we now have proper footy back now for a few weeks?
Robert Tressell
24
Posted 09/09/2021 at 11:30:52
I agree Kevin @ 22.
Along with Richarlison, he looks like he'll end up with Lukaku and Stones on the list of players we thought were rubbish but who win trophies for elite Champions League teams.
The only possible learning point is that, since we're not exactly awash with cash, we might limit our outlay on teenagers to about £20M (which is what Leipzig do).

Danny O'Neill
25
Posted 09/09/2021 at 11:55:33
Robert,
John Stones. You mean that player who arsed about with it too much? Too fancy to be a centre-back? Should get rid of the ball rather than keep it?
Okay, there's a time and place but that's decision-making and you need options in front of you. Stones's instinct is to keep the ball, which is why he fits into the Man City team & Guardiola's concept. And why he's won shit.
The most similar footballing centre-back I've seen to Alan Hansen in my lifetime yet the Park End hounded him.
I can only think certain elements of our supporters are scared of footballers and would rather have kickers and chasers.
Robert Tressell
26
Posted 09/09/2021 at 12:28:20
To be fair, Danny, he didn't kick it long because Lukaku would have been too lazy to run after it...
Andrew Keatley
27
Posted 09/09/2021 at 13:10:58
Decent finishes from Moise Kean - albeit against the minnows of Lithuania. As a centre-forward in the opponent's penalty box, with the ball being crossed or threaded through, he can be very effective as he has a good nose for a chance. But I think his all-round game is still very lacking, and because of this he will ultimately fall short of being in the top group of players.
Danny (15) - That sort of insidious comment that your post closes with - which is basically a think-veiled allegation of xenophobia - is lazy, convenient, and completely devoid of evidence to back it up. There are plenty of voices on here who similarly argue that there is a bias against local players on the basis of their origins. Why must everybody be so susceptible to their alleged bias? I prefer to think that people will criticise a player on the basis of how they rate their performance and ability, and in the absence of any proof otherwise then I think that is the more generous assumption.
Robert Tressell
28
Posted 09/09/2021 at 13:20:17
To be fair Danny he didn't kick it long because Lukaku would have been too lazy to run after it...
Danny O'Neill
29
Posted 09/09/2021 at 13:38:45
Andrew, don't mistake my view. I really don't care where a player comes from. Never have.
It was a cheap shot (admittedly) at some who often tell us that if some of the foreign players we had didn't have exotic names and came from places like I do, we'd treat them different. A bad attempt at reversing the argument.
To repeat. I don't really care where the player comes from as long as he performs and delivers for Everton. And I come from a generation when the Gwladys Street used to chant stuff that shouldn't be repeated here and, quite frankly, was disgraceful. I judge players by footballing ability, not by locality, regionality, nationality or race.
I still need to declare Burnley and Monday as it's going to be an over-nighter. I'll break the news on Saturday with some flowers.
Danny O'Neill
30
Posted 09/09/2021 at 13:49:18
Options Robert. We can criticise defenders and midfielders alike, but if they don't have options in front of them when they look up, they'll pause and hesitate.
Unless we want them to go Row X, which achieves little.
Robert Tressell
31
Posted 09/09/2021 at 14:38:01
Best of luck declaring Burnley Danny. I think you know I'm being daft about Lukaku and Stones. Martinez has plenty of faults but he also assembled a cracking first 11 in next to no time.
Brian Wilkinson
32
Posted 09/09/2021 at 15:18:37
Just a quick change of subject, I heard a few ToffeeWebbers, were planning on a meet up for one of the home games, can anyone remember which match it was planned for?
Tom Bowers
33
Posted 09/09/2021 at 15:36:47
Southgate proving once again how inept he is.
Defending his decision not to use subs. yesterday. is stupid.
When you have a lead and they have Lewendowski you need fresh legs to see out the game. Southgate failed !
Luckily England's group contains teams who are no better than Sunday league.
Peter Warren
34
Posted 09/09/2021 at 15:42:53
I won't cry over Kean, he couldn't head a ball, didn't try, sulky, pre Madonna and in my view highly overrated. If he does well elsewhere great for him.
Someone mentioned because he's not from Kirkby some view / treat him differently. Actually I consider the opposite is true, because from abroad he's given leeway as young kid, away from home. I see a lot more people unforgiving on young local lads throughout the years.
However, some of woke brigade coming out to deter others from criticising a player because he's foreign or maybe people just can't express their opinion and has to think everything is rosy.
Loads of people criticise Kenny. Some stick up with him, same as Kean. Loads criticise Richarlison (although mainly cos he's sulky, dives and selfish over the penalty - not many criticise his play)
As for comment about James - I don't think anybody criticises his ability / he is unbelievable. We would all be made up if he procured the goods like he did in first half a dozen games for us. But his speed, fragility and fact some people see him as sticking two fingers up to club at back end of last season and beginning of this means some fed up and want him gone.
Compare contempt for James by some to that of his compatriot, Mina (black so heaven forbid if he dare get criticised) who cost loads more, has been injured and regularly made errors - he comes off relatively unscathed, why is that? I would put that down because he's always seems delighted to play for us and tries his best and says nothing but good things. If you're 100% you get loads of leeway - The Argentinian forward we signed under Moyes strings to mind - Straq?
People on here criticise what they see as sulky behaviour and rotten antics - has nothing to do with somebody's nationality.
Brian Williams
35
Posted 09/09/2021 at 15:43:10
Brian#32
It's after the Norwich game on Sept 25th, at the Bramley Moore pub.
James Flynn
36
Posted 09/09/2021 at 17:14:34
Charles (5) - Good one. Well-written.
Brian Wilkinson
37
Posted 09/09/2021 at 17:43:45
Nice one Brian, I am at the Norwich game so will try and get over the Bramley moore pub,for an hour or so, after the match.
Just out of curiosity is there a bus route close to the Bramley, if taxi is hard to come by.
FRED CHARTERS
38
Posted 09/09/2021 at 18:23:30
Haven't read all the posts but does anyone else recall the first pass that started the move from which England scored? It was an overarm throw from Jordan to the half way line to Grealish, I believe. Then following some other passes Kane scored. All the papers talked about was how wonderful the finish was. And he never gets more than 6.5 from newspaper pundits Good job Southgate has complete faith in him.
Peter Warren
39
Posted 09/09/2021 at 19:49:00
Hi Fred - yes the throw out was v good and done quickly after being alert to pick up and Poland through ball.
Danny O'Neill
40
Posted 09/09/2021 at 20:20:27
I'll give it my best, Robert, but she knows Everton is the other woman and a different type of love. It won't go down well but will happen.
I haven't even mentioned Norwich on the 25th yet. But she knows I'll always come back. My Everton. Our Everton.
Peter, I guess I'm being sympathetic of young lads leaving home at a young age. I did at 16 and was put into an environment I didn't like for years, but had to get used to it. I was sent abroad (6 years initially, then more in later life) and to places that I'd rather not have been in.
It often takes you a while to settle, so I have sympathy with Kean. Sometimes it just doesn't work out. He will grow and become a good player. I'd like that to be for Everton but it won't happen.
Derek Knox
41
Posted 10/09/2021 at 05:02:14
Danny @29,
"I'll break the news on Saturday with some flowers. "
I trust they will be blue!
May I suggest one of the Myosotis family? Otherwise known as 'Forget Me Nots'. :-)
Danny O'Neill
42
Posted 10/09/2021 at 11:18:30
Thanks for the tip Derek. Wish me luck.
I might have to go for claret and blue to appease her Villa roots.
---
Add Your Comments
In order to post a comment, you need to be logged in as a registered user of the site.
Or Sign up as a ToffeeWeb Member — it's free, takes just a few minutes and will allow you to post your comments on articles and Talking Points submissions across the site.