Rodriguez omitted due to 'muscle concern'
Saturday, 18 September, 2021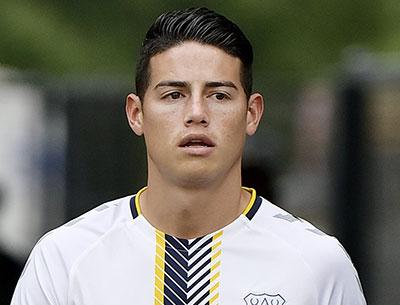 James Rodriguez's latest absence from the Everton squad appears to have been down to a concern the Colombian had over a muscle issue.
Rafael Benitez explained after today's 3-0 defeat to Aston Villa that James didn't travel despite training normally with the squad at Finch Farm this past week.
The former Real Madrid star was said by his manager to have expressed concern over his muscle, perhaps the troublesome calf complaint that has plagued him for three years now and sidelined him for a number of matches last season.
Rodriguez hasn't played a minute of Everton's season so far but after pictures emerged of him in training yesterday, it was hoped that he would be part of the party that went to Villa Park today.
Unfortunately, his name was once again absent from the squad and Benitez only named eight of the permitted nine substitutes.
"For this game, he was a little bit concerned about his muscle," Benitez said. "He was having a little problem and we decided we have to wait, so he was not available. That's it. We will see if he's fit for the next game and then we will decide."
---
Reader Comments (101)
Note: the following content is not moderated or vetted by the site owners at the time of submission. Comments are the responsibility of the poster. Disclaimer
Pat Kelly
1
Posted 18/09/2021 at 21:17:52
He can't move his gluteus maximus
Habib Erkan Jr
2
Posted 18/09/2021 at 21:33:35
James is toxic, the sooner he is off the payroll, the better.
I want to know what the hell happened to Gbamin? 90 minutes at Huddersfield and then he disappeared with a toothache. Hope he is available for QPR.
David Mosses
3
Posted 18/09/2021 at 21:46:52
Pay this fella off, he is a drain on our resources, he just doesn't want to play football you can tell from his so called problems. He likes the limelight but can't hack the day to day rigours of professional life.
Clive Rogers
4
Posted 18/09/2021 at 21:51:14
Wasn't Gluteus Maximus the guy in Gladiator who had to fight a tiger? Get him in the 9 shirt.
Colin Challinor
5
Posted 18/09/2021 at 23:02:16
Must have strained that muscle lifting his wallet. Complete waste of space. Get shut.
Jerome Shields
6
Posted 18/09/2021 at 23:15:55
He was assessed for fitness and it was decided that he needed more time to recover.
Barry Hesketh
7
Posted 18/09/2021 at 23:25:40
Jerome @6,
The manager stated that "For this game, he was a little bit concerned about his muscle." Why do you insist on placing your own narrative above what is actually said?
Now I understand that managers sometimes spin things to fit their own agenda and maybe the boss was being economical with the truth – if he is found guilty of spinning the story to suit himself, it will come out in the wash; until it is proved otherwise, we have to accept what he has stated.
I do sometimes wonder if you are a distant relative of Enid Blyton or even to the author of the Harry Potter series.
Jerome Shields
8
Posted 19/09/2021 at 00:26:39
Barry #7
The player would have input, but the medical team and the manager will, you would hope, decide whether the player was fit enough to play. They decided with him that he needed more time.
I am fully aware that some players do take advantage of a weak medical team and have attacked Everton's medical team on various threads for that reason. But that is not what Rafa is saying, he is saying that it was a joint decision. I am just taking the manager's word for it and trying to be positive.
I know where you are coming from and could have the same opinion, given media reports on James, which give a bad impression and maybe are true. . . but they also may not be, and are being perceived wrongly.
The critical thing, as you have said on another thread, is how Everton will recover in coming games? We have not played any Top 6 opposition yet; our good run against bottom-half sides finished today and Rodriguez will be needed. Better hope he recovers.
Barry Hesketh
9
Posted 19/09/2021 at 00:45:44
Jerome @8
Does the Norwich game now become a six-pointer? I think Villa is a decent side, as shown last Saturday when they gave a good account of themselves at Stamford Bridge, but didn't get the rub of the green; today, they did. I'm not pressing the panic button just yet, but these injuries are testing my nerves.

Dave McDowell
10
Posted 19/09/2021 at 01:41:44
Counting down the clock, banking his £200k a week.
He wouldn't pull his tripe out for a manager who pandered and indulged him so he ain't going to risk a big toe for Rafa.
Hoping it's more evidence (if needed, see last season's list) that those backing James as some kind of prodigal need to get real.
James is about James and he doesn't give a toss about the club or indeed the fans – the quicker this faux hero worship ends the better. The guy's career is exhibit number 1 in demonstrating lack of commitment when needed.
Unfortunately, the loss at Villa will now be the catalyst for the "if only…" and "Rafa needs to get over himself" let the "James the martyr" campaign officially begin.
For those who say he was instrumental in what we achieved last season, we finished 10th; if he'd not taken winter off or feigned injury to stay fresh for Colombia, we might have made Europe... how can any Blue defend his actions?
Our big mistake was not saying to "il Snake", you can go to Real Madrid – but only if you take James with you.
Jim Jennings
11
Posted 19/09/2021 at 07:02:26
And there was I thinking he was still self-isolating…
Colin Glassar
12
Posted 19/09/2021 at 07:32:22
I heard he injured himself playing fifa2021 on his Xbox.
Eddie Dunn
13
Posted 19/09/2021 at 07:49:41
Jerome @8.
"He is saying that it was a joint decision."
I thought it was just a muscle problem! :)

Alan McGuffog
14
Posted 19/09/2021 at 08:01:45
Self-isolating? Not heard it called that before. Wonder which hand?
Andy Walker
15
Posted 19/09/2021 at 09:01:59
Our very own Mesut Ozil.
Jerome Shields
16
Posted 19/09/2021 at 09:18:51
Barry #9,
Villa certainly got the rub of the green, scoring twice, having three shots on target up to that point. Cash's goal, with his stupid hairband, being his first for the Club. Up till then, I thought that Everton had played better than they had done against Burnley before the 6-minute blitz.
Two points stuck out for me: Everton adopted a narrow central defensive shape, Benitez knowing that Villa's attack would be direct and central. There were few threats from their crosses and Everton largely contained them. They got too much room in midfield, since Allan and Doucouré played deep and Everton found it difficult to push up and compact the midfield. It is hard for Mina and Keane to move the defensive line up in support anyway and Allan and Doucouré would not want to make gaps. Everton were better at this than they had been against Burnley.
Going forward, Gray was targeted by Villa and was subdued as a result. This was going to happen anyway as teams would counter his threat as the season went on.
Iowbi was poor and headless, seeking support rather than challenging the Villa defence. Both Godfrey and Digne did not get forward enough, though Godfrey was better in providing overlaps than Digne. Digne had been woeful against Burnley, the worst on the pitch, but seemed to be sufficiently competent; under the false dawn, he was exposed. Rondon was promising: got little supply but looked off the pace. Gomes was an improvement but, against a tails-up Villa, disappeared into insignificance.
Would Calvert-Lewin and Richarlison have been better? Maybe or maybe not. I did think that Everton would have came into dominance as Chelsea had done as Villa tired, but two Digne howlers put paid to that. Even McGinn going off didn't help, being a scourge the last time they met.
There is no doubt Everton are thin in depth to play in three competitions. You can speculate on the reasons: Medical Services not up to the job; players taking advantage; Benitez not helped in the transfer window; previous poor recruitment – is Brands DOF or just a dof and taking chances on injury-prone players, and FFP rules? All possible valid reasons, but meaning that nothing should be done about them.
The good thing from the game was that work and effort were evident and we did not get the normal cave-in down-tools Everton. Benitez was talking in the dugout to a still on board Everton. After the goals, Everton did lose shape and Keane missed a sitter, both which prevents any more positives.
So Benitez has to keep the work and effort going and adjust to counter the now worked out subduction of Gray and the problem of a defence drifting deep and not supporting midfield.
I did raise concerns regarding the loaning out of players (including Digne's back-up) and any recognisable depth in youth as so many were shipped out, suffering the irk of my nemesis Michael Kenrick. But all these are valid points for consideration when Everton are faced with three games in quick succession.
Ken Keale agreed with me that the first game after the International game would be a test to see what Everton would turn up; we both got a positive answer, which was different than what we had got for years. He also correctly stated that the Everton that turned up after a defeat in the next game would be another indication. We are both getting to find out quicker than we would gave liked.
Of course everything is great when Everton are winning and Plan A appears to be working, but it is the blood and guts of preparation and recovery to keep momentum going that determine a season's progress. Benitez is facing that before the end of September, a month earlier than Ancelotti did last year. Ancelotti played players in different positions to get out of it and big signings; hopefully Benitez has recovered players to count on and can adjust.
These next three games are important and need to be taken seriously. Everton have had a good run of fixtures without Top 6 opposition. Tests.
Eddie#13
Real helpful. Thanks.
Jerome Shields
17
Posted 19/09/2021 at 09:34:56
Jerome #16
Not meaning that anything should not be done about them.
Rennie Smith
18
Posted 19/09/2021 at 10:05:56
I don't buy this at all, you can see from his comments since he joined that he doesn't fancy James, for whatever reason. He's training normally; if he's "on strike" he'd be sent to train with the kids.
I can bet you he's fitter than Rondon right now.
Mark Andrews
19
Posted 19/09/2021 at 10:12:32
I think it's an issue with his spine. The lad should be in prison, he's stealing £1M every month.
Who will touch flakey Jim now?
Tony Everan
20
Posted 19/09/2021 at 10:13:43
In his 24 games for us, he has scored or created a goal in 11 of them. It's a crying shame he's not fit enough to be on the pitch doing the damage he can. A player of this quality should be on show.
The question is: can he ever get fit enough to perform in the Premier League that has become even more physical this season? The referees are letting far more dark arts and bad tackles go unpunished.
Barry Hesketh
21
Posted 19/09/2021 at 10:13:51
Rennie @18,
I think I'm fitter than Rondon right now – and those who know me will say that's not very fit at all. As for James, there does seem to be more to the story than we are being told.
Is he on a pay-as-you-play bonus package and as he's so filthy rich he decides when and if he bothers to turn out? If he's not selected in the squad, does the club save a few quid by leaving him at home?
Or is it like you say the history between James and Benitez is so soured that this situation will be ongoing for the remainder of James's contract?
Tony Abrahams
22
Posted 19/09/2021 at 10:19:47
It might even be that Rodriguez has been doing extra work, and this is the reason for his muscle pain? Well that's what I'm hoping for, obviously.
One thing is certain and that every game that James, is not in the squad, then the speculation will grow, that it's because of Benitez.
Barry Rathbone
23
Posted 19/09/2021 at 10:38:49
Good player, crap pro - been that way for years.
Patently obvious why no serious offers come in for him and wouldn't mind betting the daft get deluded himself Carlo would be on the phone saying "fancy coming back to Madrid?"
Anyone still supporting this charlatan needs a bang on the head
Dave Williams
24
Posted 19/09/2021 at 10:52:55
Barry- well said! I cant see him fancying Loftus Road on Tuesday either!
Clive Rogers
25
Posted 19/09/2021 at 11:19:56
It has become clear that the situation is that he doesn't want to be here and the manager doesn't want him here. Don't hold your breath waiting for his name on the team sheet.
Tom Harvey
26
Posted 19/09/2021 at 11:20:14
If I remember correctly, when he was kicked out of the Columbian squad for the Copa, the players issued a statement along the the lines the team is now united and can concentrate without distractions.
Reading between the lines, they were glad to see the back of him, the statement to my thinking said the "The prima donna has gone!"
Martin Nicholls
27
Posted 19/09/2021 at 11:20:38
Some pathetic attacks on James above. Maybe if we hadn't played Seamus on Monday, he would not have had a recurrence of the hamstring injury which he sustained on International duty which we told had been scanned and had cleared up. We took a risk with an injured player Monday and will now be without him for weeks - it seems that many on here think that is the right approach. Or does that only apply in James' case?
Danny O'Neill
28
Posted 19/09/2021 at 11:32:28
Thin squad exposed us yesterday. Whether it is Carlo Ancelotti, Benitez or Duncan Ferguson, we have a good 11 - 14 but not a lot of genuine quality beyond that of similar standard.
Let's get this player fit and player. He'd have made a difference yesterday and he will do once he's back wearing a blue shirt again.
Barry Hesketh
29
Posted 19/09/2021 at 11:32:33
Martin @27
Coleman and James are chalk and cheese, Seamus would play on one leg if he was asked to, James wouldn't take the risk if he didn't want to. I too don't like having players in the team that aren't 100% fit, as has been shown by Dominic another honest bloke who'll put his team first, and unfortunately, he too is out for a prolonged period of time.
Whether the new manager has asked too much of his less than fit players, during the opening weeks of the season and James isn't willing to honour his requests is at the minute open to debate, but it's always a two-way street and different players will have their own reaction to it. I'd prefer Dominic and Seamus to be in the trenches battling for the team rather than a player who appears to be only looking after himself for his own selfish reasons.
Only time will tell what the accurate situation is and the manager will be found out if he's taking unnecessary risks with any of his players.
Rennie Smith
30
Posted 19/09/2021 at 11:32:47
I agree Martin, it's not the lad's fault we signed him on whatever wage, and just because you're earning X apparently that makes you a shithouse. Pathetic as you say.
It's a criminal waste of talent, we can't fill a bench but one of our only true class players is excluded. So what if he doesn't hare around like a headless chicken, I'd take his skill and vision over bringing on a right-back and holding midfielder when we're losing the game any day.
Steve Shave
31
Posted 19/09/2021 at 11:38:16
So many apologists on here for James, I know you want to believe he will play for us again. I know you want to believe he is invested in us and desperate to fight for the shirt. I too want to believe this but show me some evidence that he wants this because to the objective observer things don't stack up too positively for ol' "Hames" from where I'm standing.
Martin Nicholls
32
Posted 19/09/2021 at 11:58:52
Barry#29 - of course I'm well aware of the different attitudes of players like Seamus, DCL on the one hand and James on the other. I think we're generally on the same wavelength but we can all name players who've "played through the pain barrier" and wrecked their careers. I don't want to see that happen to any player.
What gets me is the number of posters (and matchgoing fans) who are so quick and willing to turn on our own players. As an example and whilst I appreciate that he sometimes goes down easily, on Monday night I was subjected to cries of "fuck off Richarlison, you fucking wanker" from the idiot who sits behind me in Upper Gwladys - with support like that, is it any wonder that referees like Atkinson are encouraged to allow full blooded assaults on Richy like that by Tarkowski? Contrast with how the red shite react to the merest touch on their serial diver Salah, on whom the merest touch is greeted by howls of outrage that can be heard back home in Oslo. Result of contrasting levels of support for ones' own players? Richy gets kicked off park and out of games - Salah is awarded soft freekicks and penalties galore. Moral of story and my attitude is that support for your own players works to advantage of player, team and club. Get behind our players - if you feel like slagging them, wait until they've moved elsewhere.
Rennie - thanks for the support - I agree wholeheartedly with all you say and in particular your final paragraph.
Steve - no apologists for James, just people who prefer to support rather than criticise our own players.
Danny O'Neill
33
Posted 19/09/2021 at 12:15:24
I really don't get the apologist calls because we back our own players.
As I said on another thread, if Richarlison was named Jack and had a peaky blinders hairstyle, he wouldn't be called a diving, sulking cheat and would get way more protection from referees. He'd be targeted and the most fouled player in the league. That would have been a red on Monday had it been Grealish or Salah.
On work rate. Yes, as Danny the player, I appreciate that first and foremost, you have to work hard. Ability is nothing if you don't have fitness, desire, commitment and a willingness to put a shift in. But conversely, hard work without ability takes you into "Graham's Grafters" territory. Remember that England team? Carlton Palmer? Huff and puff, no end product.
One of our so called legends, Duncan Ferguson had a dodgy injury record and questionable attitude; some of a certain generation may not like that, but that's how I saw it. Kind of turned it on when he wanted to and never played a full season. But when he did, it gave us memorable moments. They weren't as often as we'd have liked, but we still remember them. We weren't Duncan apologists then, we just recognised the talent we had and wanted to see more of it.
James is our player. He's arguably our best player. We need to get him fit and use him as often as we can.
Steve Shave
34
Posted 19/09/2021 at 12:16:11
Martin I am a supporter mate, I live and breathe my club. I am definitely not one to just jump on the backs of players and try to ghost them out of the club like some (though I admit to having a historical bee in my bonnet about Gylfi, though that's more directed towards the hierarchy who paid what they did rather than the player himself).
I am not a scapegoater, I frequently advocate on here for praise where it is due to those who are so often lambasted regardless of what they do.....ala Davies, Iwobi and Pickford.
What I am though is a supporter who expects at the very least for any player who plays for my club to even want to fulfil their contractual obligations and show some desire to pull the jersey on each week. Show me any scrap of evidence since the final weeks of last season where James has shown or indicated that desire?
Martin Nicholls
35
Posted 19/09/2021 at 12:53:42
Steve - didn't mean to infer you're not a supporter! I too live and breathe our club as a supporter, but I'm not an apologist, or for that matter, a scapegoater!
Steve Shave
36
Posted 19/09/2021 at 13:50:41
Martin,
I would love the James story to work out, I really would. I think he is an incredible talent and it is a crime for him to be sitting out matchdays. It is also a crime to be available but not fit enough to partake. Let's hope the whole sorry affair is resolved asap.
Michael Kenrick
37
Posted 19/09/2021 at 13:54:29
Jerome (#16),
Answering your own posts with cryptic messages (#17) to yourself may be one of the many signs of madness. Just sayin'.
The last howler I felt strongly enough about was your claims about loan players, although I'm not sure I actually posted anything. Now I'm not at all impressed with the loan system. I don't think it generates the end product claimed — certainly not in Everton's case. And buying in youngsters only to then loan them out seems complete madness to me.
But you have told us authoritatively that the most promising youth players are being loaned out to reduce the wages. That raises two questions: (a) Do you know how much these youth players are actually paid? And (ii) Can you be certain that fully 100% of those paltry wages are being picked up by the loaning club??? And really... does that make a significant difference to this multi-million pound business enterprise? Sorry, three questions.
And then you harping on about what you called "the long list of loans out"... I'm just curious if you even know how many players we have out on loan? How many players do we have out on loan so far this season?
And how does that compare to previous seasons? Perhaps that's actually what you were looking at – our loans out in previous seasons...
And how many do you think we should have out on loan? What would be the optimum number? And why?
Jim Bennings
38
Posted 19/09/2021 at 14:16:42
Such a shame that James just doesn't want it enough because you feel the fans would have idolised this fella especially with crowds back.
Sadly Rodriguez will never bust a gut to get on the pitch and in all likelihood he will not wear the blue shirt again.
It's got all the hallmarks of the final months of the Ross Barkley departure.

Brian Wilkinson
39
Posted 19/09/2021 at 15:02:06
Dark and colder nights coming up, anyone hoping for the second coming to appear in an Everton shirt better hope it is sooner rather than later, before the clocks go back in October and he takes his winter leave.
We will find out against QPR, if James will play anytime soon, I will not hold my breath.
Stan Schofield
40
Posted 19/09/2021 at 15:09:05
Jim, Re Ross Barkley, I considered Koeman to have been very unprofessional in the way he criticised Barkley in public. A good manager, in any profession, criticises behind closed doors, and supports their staff/players for public consumption.
Poor managers criticise their staff openly, often diverting attention from their own inadequacies. If Koeman has done that to me, an Evertonian, I'd have taken the approach "Sod you, Koeman, and sod you, Everton, for allowing him to get away with it".
Benitez has essentially criticised Rodriguez in public, and there are parallels with Koeman's approach to Barkley. Benitez is a paid employee of EFC, and has a duty to behave professionally, but it seems to me that there is a high likelihood of personal issues between him and Rodriguez undermining a professional approach. As a lifelong Evertonian, it pisses me off. I expect, and demand, managers to act professionally.
Perhaps Benitez's current employer needs to get a grip of the situation.
Brian Williams
41
Posted 19/09/2021 at 15:24:30
When did Benitez crticise James in public?
What did he say to criticise him?
Chris Hockenhull
42
Posted 19/09/2021 at 15:29:09
Can anybody clarify Benitez negatively slamming James at all?? Because I can't.
Danny O'Neill
43
Posted 19/09/2021 at 15:36:46
In fairness, Brian, I've never liked that "Stoke on a Tuesday night" argument. It's almost like we think there aren't winters in other countries.
James played for Bayern Munich. If you've ever spent time in Munich or Germany in the winter, they are way more severe than anything we can serve up. Ours may be wetter, but that's about it. In terms of cold and harshness, ours are tame. We don't have the monopoly on winter.
Anyway, Loftus Road on Tuesday. Hopefully I get to see him play for Everton. And then against Norwich next week. A few questions being asked by the better half, so I think she knows my plans!
Darryl Ritchie
44
Posted 19/09/2021 at 16:05:25
He's ours until his contract runs out, because no-one is going to come in for a 30-year-old, always injured, uninterested, ex-galactico on huge wages.
I doubt he will play for anybody ever again. I try not to bash our own players, but he's not actually ours is he. He's Ancelotti's.
Rennie Smith
45
Posted 19/09/2021 at 16:45:36
Come on Brian (41) and Chris (42), you don't need to be a genius to read between the lines of what Benitez is saying. He may not be directly saying he's a pain in the arse, refusing to play etc but you can see he's got issues with him, again, for whatever reason.
Apart from the stupid Leeds comment, James has also never slagged the club or Benitez off either.
It seems like Benitez is digging his heels in to me, although again, who knows the real story? But I don't care about petty feuds, and I don't care how much we're shelling out for him, the club is bigger than the both of them so get him on the pitch.
Brian Williams
46
Posted 19/09/2021 at 17:13:50
Rennie #45.
There's a not so subtle difference between "reading between the lines" and Benitez criticising James. If you have to read between the lines, then the fact is that he's not criticising him.
"For this game, he was a little bit concerned about his muscle," Benitez said. "He was having a little problem and we decided we have to wait, so he was not available. That's it. We will see if he's fit for the next game and then we will decide."  
No criticism there at all. Benitez just informed those that asked that the lad himself felt he wasn't fit.
Barry Rathbone
47
Posted 19/09/2021 at 17:22:03
No reading between the lines at all. James has not disputed the manager's comments one iota, meaning Benitez is telling the truth or the player is not arsed about how it looks.
Neither option a good look.
Geoff Cadman
48
Posted 19/09/2021 at 17:49:50
To be told you are not in the manager's plans and to find another club – does that not border on criticism?
Joe McMahon
49
Posted 19/09/2021 at 17:56:07
His muscle concern didn't seem to be bother him when on his yacht with his bikini babes. I agree with Andy @15, we have another Ozil draining us. I just want him out of our club.
Stan Schofield
50
Posted 19/09/2021 at 17:57:14
Look at Benitez's presser before the Burnley game. His comments about Rodriguez are not
explicitly
slagging him off, but there is
implicit
criticism in both the content and tone of Benitez's response to the questions about Rodriguez.
There are ways to answer questions from journalists, and there are other ways, some of which are readily interpretable as criticism and hardly give confidence to a player when he's currently an Everton player under contract.
Brian Williams
51
Posted 19/09/2021 at 18:05:52
I think the one thing NOT lacking in Rodriguez is confidence. Let's face it, we don't know if Rodriguez is coming the cunt with the club, Benitez in particular. If he is, then he can expect no favours from Benitez.
If it's a game of brinkmanship they're at, there'll only be one winner.
I expect to see Rodriguez in the squad for Tuesday, if his muscle problem has abated.
Barry Rathbone
52
Posted 19/09/2021 at 18:26:58
I just don't get why fans are tolerating James any more after the revelation he cried off after seemingly doing okay in training.
A loathsome comparison I know but the much publicised rift between Benitez and Gerrard ended in a Champions League trophy because "slippy G" was committed and the manager happy to use his skills for the benefit of the team. Therein lies the problem with James: he appears not arsed.
It's not personal; if the reincarnation of Pele turned up here and looked to be arsing about, I'd want the manager to ship him out.
Everton are bigger than any player.
John McFarlane Snr
54
Posted 19/09/2021 at 19:09:53
Hi Brian [51],
I think that it's not clear where the blame (if there is blame) lies. We're not privy to what goes on behind closed doors. I would however say that James Rodriguez hasn't challenged the reasons that Rafa Benitez has put forward for not selecting him for matches, and as you rightly say, there can only be one winner. With a bit of luck, we can discuss this and other issues, at The Bramley Moore next Saturday.
Stan Schofield
55
Posted 19/09/2021 at 19:13:13
Barry@52: Everton are not only bigger than any player, we're also bigger than any manager.
I hope this business of Rodriguez not being played by Benitez is not personal, otherwise I will be absolutely furious that yet another manager can act in a way potentially detrimental to us.
Even if Rodriguez were taking the piss and Benitez consequently wanted him gone, Benitez's press statements are contrary to getting the best price for the player and getting him shipped out ASAP.
Benitez has a duty to act in Everton's best interests, including business interests, and, as far as I can see, in the case of Rodriguez, he hasn't carried out that duty.
Barry Rathbone
56
Posted 19/09/2021 at 19:21:46
Stan 55
What has Benitez said that the football world isn't aware of?
Pat Kelly
57
Posted 19/09/2021 at 19:54:39
Other than some rumoured interest from Turkey, there appears to be no interest in James. Apart from self interest.
Stan Schofield
58
Posted 19/09/2021 at 20:08:04
Barry@56: The details of his answers to the questions of journalists at pressers, particularly the pre-Burnley presser.
Those answers are such as to give the impression of a dysfunctional player who is currently difficult to manage, an impression that did not exist for the wider football world prior to Benitez joining Everton. Hardly conducive to generating interest in the player and getting the best price for him if sold.
Brian Wilkinson
59
Posted 19/09/2021 at 20:33:29
Will be fun in the Bramley,after next Saturdays game, when us Brian's turn up.
I,m Brian, I'm Brian, will leave it open for someone to throw in the punchline.
Barry Rathbone
60
Posted 19/09/2021 at 20:47:34
Stan 58
I'm sure that's what you think he said but was after something more specific like a quote or two detailing stuff the football world wasn't aware of. Plus Burnley was after the window and therefore incidental to the failure to move James on.
Look forward to the quotes
Stan Schofield
61
Posted 19/09/2021 at 21:03:13
Barry, I've already referred to the bloody presser, you'll have to do a bit of work and look at it yourself. It's only about 10 to 20 min! That's quite specific surely?
Barry Rathbone
62
Posted 19/09/2021 at 21:47:29
Stan 61
But the Burnley interview came after a window where we couldn't give him away suggesting perception about James is well established in the world of togger. Obviously this means the interview is irrelevant re your assertion about Benitez words impacting on a potential James sale - simply not true.
Paul Hewitt
63
Posted 19/09/2021 at 22:10:38
Probably the biggest waste of money this club has ever spent. Has totally no interest of playing for this club again.
Stan Schofield
64
Posted 19/09/2021 at 22:16:51
Barry@62: Rodriguez is currently an Everton player, and was an Everton player during that presser, but despite that Benitez has presented an impression of a dysfunctional and difficult-to-manage player.
We don't know that dysfunctionality or difficulty of managing were reasons for Rodriguez not being sold in the last window. The reason could, for example, have simply been a high wage demand by the player. We simply don't know.
What we do know is that Benitez presented a negative impression of the player as described. It is clear to me that such a presentation is contrary to Benitez' duty to promote Everton's best interests.

Brian Williams
65
Posted 19/09/2021 at 22:19:50
Stan that's just your interpretation of the presser, just your opinion.
Raymond Fox
66
Posted 19/09/2021 at 22:24:42
If Benitez thought James would improve the team he would be in the side, he would be daft not to.
I think this injury story is the the player giving the club two fingers, he has us over a barrel and knows it.
You can take a horse to water but!
Stan Schofield
67
Posted 19/09/2021 at 22:28:18
Brian, you're right, that's my interpretation of the presser, a very clear one. Benitez' comments at that presser made me wince, they were so 'undiplomatic' and 'unbecoming' of a professional manager. He reminded me of Koeman. As a result, I'm concerned.
Barry Rathbone
68
Posted 19/09/2021 at 22:29:09
Stan 64
As Brian 65 says that is opinion which you seem to be presenting as fact when quite clearly it isn't
Dave Abrahams
69
Posted 19/09/2021 at 22:32:21
I think the wages Rodriguez is getting, whether they are £80,000 a week or any higher are more than any other club in the world are prepared to pay for what they are going to get from him in terms of how often he is going to play, through injury, his game time is evident during the last few years and he's not getting any younger.
Christine Foster
70
Posted 19/09/2021 at 22:37:44
I know I have said this before as I took the time to read up the comments and numerous articles on the first time they met at Real Madrid when he dropped James in his first game in charge, after again taking over from Ancelotti. The phrases used by Benitez are almost identical in his justification of not playing James, not match fit etc, fit with the team etc.. in fact it reads almost identically, James must be cursing his luck and wondering if he has woken up in 2015. Also of note, is the fans, fickle bunch aren't they?, Real Madrid fans believed the manager and his media support, they booed James on his return!
Of course it's bad blood! Of course it's personal, it's two human beings who don't like each other. Benitez set the tone at the start by telling him before he had kicked a ball in anger, that he was not in his plans. This guy is costing the club millions, yet in waltzes a new manager, looks at the biggest star in the team and says you are not playing for the club again. That's beyond stupid. Then the media are given unnamed reports then pics are produced of a good time Charlie, an orchestrated attempted at riling up fans. It's good paper fodder.. but then supporters believe it, and the tide turns.
Much like dear old Boris and Brexit..what a spiffing idea that was, just intime for a pandemic.
. Surely not playing James is dumbing down our squad? I could understand if we had several players of equal class in the team, but we haven't got one, not one who comes anywhere where near his ability or class. Yet we have a manager who doesn't want him and wanted him out the club immediately.
Barry Rathbone
71
Posted 19/09/2021 at 22:38:49
dave 69
It really is that simple.
No one is paying for a guy who doesn't play Benitez words don't impact on that fact one jot
Barry Rathbone
72
Posted 19/09/2021 at 22:41:12
Christine 70
James ruled himself out of the Villa game not Benitez
Kieran Kinsella
73
Posted 19/09/2021 at 22:44:15
Stan
I get your point, it's tough to se someone if you don't praise them. But at this point it's not just Rafa. Colombia didn't want him in the summer when he was "fit." It's been reported he was shopped all over Italy with no takers. Meanwhile Asprilla and the other pundits are questioning his attitude. Personally if fit I'd at least have him on the bench but he has this knack of making himself unavoidable when wanted. It's almost like he does it to get Rafa back for leaving him out when he wasn't needed
Stan Schofield
74
Posted 19/09/2021 at 22:47:43
Barry@68: As I say, I am concerned. And I don't get concerned without good reason.
Kieran Kinsella
75
Posted 19/09/2021 at 22:48:29
Jerome
Instead of loaning out young players to save wages couldn't we just not give them contracts? Surely that would be easier
Christine Foster
76
Posted 19/09/2021 at 22:51:34
Dave, your right, but at the same time we have a manager who couldn't be bothered to try to get the best from him, before even trying, that twice by the way..
He may be a waning star, but he is ours and we should try to get the best from him. That's man management, team management. Especially when our squad looks like they xhould be playing in league one!
We as a club have a history as fans of disparaging our high profile players, Rooney, Barkley James, Stones, the list goes on. I unashamedly love the players, they could turn a game with 1 minute of class and do nothing for the other 89, but that's why they were there.
Today only the teams with the deepest pockets can afford to carry them, but more often as not, it's no longer about the skill you have but the engine you posses. For me, the endless romantic, it's a poor game as a result.
Christine Foster
77
Posted 19/09/2021 at 22:53:39
Barry, not talking about the villa game, talking about the situation in general.
Jerome Shields
78
Posted 19/09/2021 at 23:14:06
Kieran #75,
I agree. There was something out of joint with the loans policy and the amount of young players let go. Even Simms on the bench injured. It does not give the impression of a youth policy to build recruits for a first-team from. Clearly no help to Benitez
Even the transfer policy consisted of Benitez's loyal recruits and Brands walking his dog on the last day of the transfer window. Clearly no use to Benitez. .
Medical Services and recovery. Loan term injuries are the norm. Coleman played when not recovered and now taking longer to recover. With the addition of Calvert-Lewin and Richarlison, crisis point is reached. Clearly no use to Benitez.
These three areas are not performing at anything like the capacity they should be.
Last season, Allan and Mina were out for extended periods. Everton are in danger of not being able to field a team at some stage this season, if others get injured. That should not be a problem any manager should be facing.
Don Alexander
79
Posted 19/09/2021 at 00:06:05
Whilst I've had next to no faith in the lackadaisical culture for decades embedded in (USM) Finch Farm under the, ahem, leadership of the-greatest-ever-Evertonian (and they're his arrogant words), I can only assume from what I've thus far seen this season that there is now one bloke there who's intent on rectifying the place - namely Benitez.
So, picture the scene, we know from what some of our youngsters have reportedly said pre-season that this guy is a VERY demanding trainer at Finch Farm. He actually physically distressed them, poor luvvies, likely causing anguished calls to sympathetic spongers, aka agents.
It's his way or no way (are you listening Farhad?) so I can easily understand why such a hard-nosed manager such as Benitez is way more than reluctant to have a player like James anywhere near the training ground or team as he imbues hard graft as a basic into one and all, one-and-all being the core necessity of a team. James' inclusion would undermine all of the work Benitez has done just to get our squad fit, never mind co-ordinated, and that's a pitiful indictment of those who've created Soft-Soap Central for decades.
Paul Birmingham
80
Posted 20/09/2021 at 00:42:47
Back to basics and Rafa is instilling the best practice in football coaching techniques and managing Everton players.
Each to their own on James, for me he's a genius but no soul, heart and spine so, no good in a fighting situation.
Everton perses, for a lifetime, effectively padding out the numbers in the EPL,
The lack of fight from James to earn a position in the team, is not helping.
Play him as an impact substitute, and now in view of the creative crisis, start him at QPR, but no player can wax, wane and hope to remain at Everton, with no heart or care for the club.
I respect his skill but in terms of his attitude, his career, laments and his plight.
Each to their own respectfully, but facts and data prove James, demise since that great goal in the 2014 Brazil World Cup,
Make your own view but emotions and sympathy and rose tinted gigs, don't cut any more.
But every player deserves, one last chance.
QPR.. tomorrow night?
Steve Brown
81
Posted 20/09/2021 at 01:05:34
Christine @ 70, I agree Benitez has badly mismanaged the situation with James from the off. He has pleasantly surprised me in some aspects since he took over, but it this case he is reverting exactly to type.
Stan Schofield
82
Posted 20/09/2021 at 09:17:56
Don@79 & Paul @80: Well, a similar level of positivity for change was apparent this time last year under Ancelotti, who was being given rave reviews on here. You might be right that there will be substantial changes to Everton's culture, but in reality we've been here before so many times before, and although it's nice to be so positive about Benitez, it is very early days. Let's see how it all pans out.
I am concerned about some aspects of Benitez' public statements as I've said in earlier posts. If we win lots of games in good style, with or without Rodriguez, my concerns will probably disappear. But at the moment, there is concern, and we've been bitten on the arse too many times not to justify some concerns at this stage, and some caution so early on.
Ron Sear
83
Posted 20/09/2021 at 09:46:52
The word that comes to mind is 'effete', don't jump to a mistaken conclusion look it up.
Dave Williams
84
Posted 20/09/2021 at 09:58:18
Paul # 80,
I totally agree – he has only regressed since 2014.
Looks like he may be on his way now – UAE this morning!
Jim Bennings
85
Posted 20/09/2021 at 11:13:37
Looks like he's off to Qatar anyway.
All I can say is it's entirely up to James if he wants to waste away the last few years of his career milking money from the desert.
Maybe he just doesn't think he's up to the rigours of the Premier League anymore.
Tony Abrahams
86
Posted 20/09/2021 at 11:53:57
Because I never ever liked Benitez, I don't think he's a man I ever have listened to before. I listened to his interview the other day though and I thought he spoke a lot of sense.
He came across as a man that knows what he wants, he came across as a genuine football man, and he came across as a man who is only interested in trying to improve every player and, even more importantly, the team.
Brian Williams
87
Posted 20/09/2021 at 12:08:58
Stan #67,
I've just watched that Burnley presser again (how bored must I be?) and I can honestly not fault Benitez on his answers to questions regarding James.
I can honestly not understand which comments made you "wince"?
Danny O'Neill
88
Posted 20/09/2021 at 12:17:52
I know Tony. Now I was in the fairly disappointed category versus the the wildly frothing at the mouth one, when he got appointed.
But there's a rather strange acceptance of him creeping in because he keeps talking realistic sense. And despite the result, you can see the change in the players. I still can't use the "R" word though. Not yet. I'd feel dirty.
Condolences for your family's loss Christine. God bless.
Michael Williams
89
Posted 20/09/2021 at 13:30:28
Nobody in Italy Wants James - Even at half the salary - ExpressUK Sept 15 2021
"During the [World Cup] qualifiers, in Barranquilla I met an agent," Asprilla said. "We met in a restaurant. He speaks very good Spanish, he is Italian, he works with the people of Manchester.
"He told me a story that James, right now in this market, was offered to all the teams in Italy and nobody wanted to take him because of the problems of talking on Twitch. They were even being offered half the salary.
"He is a very important agent, and without me asking him, told me that. Nobody received him and he is the top player of a World Cup."
Stan Schofield
90
Posted 20/09/2021 at 13:32:06
Brian@87: I list below the statements from Benitez that give me concern. Everything else he said is fine, and he comes across generally very well.
After saying "The players, they understand what we want to do" (which is good), he says about Rodriguez, "He has to adapt to the team", with an emphasis on 'has'.
He also says, "He has to improve, he has to show his commitment", "We have to be sure that we have players playing for 90 min" (again referring to Rodriguez), and "He has to show his commitment, his desire".
I would say that it's acceptable to say such things behind closed doors, but it's not acceptable to be saying such things in public. Why? Because although he hasn't explicitly criticised Rodriguez, he has implicitly criticised him, implying, in public, that he's dysfunctional and difficult to manage. Hardly likely to motivate any player who is subject to such comments.
Such comments are certainly readily interpretable as criticism of the player. A manager has to craft his words to avoid such impressions publically, otherwise he's either careless or playing politics, in my opinion. Given the apparent history between the two, those statements made me wince. I see them as lacking diplomacy, and lacking true leadership of the player in question, by virtue of the public nature of them.
We've had a number of stubborn managers, who don't seem to be able to make best use of the players we have, seeming stubborn in their system and tactics. It's been a common theme on this site. Currently, I have little confidence that Benitez is any better, particularly given what I've said above.
Brian Williams
91
Posted 20/09/2021 at 13:38:29
Well, Stan, you must be a sensitive soul because, to me, he's merely stated what's required of the player.
To say that those comments imply James is dysfunctional and difficult to manage, for me, is a stretch!
If I were you, I wouldn't visit The Saddle for a pre-match bevvy because, if Benitez upset you, Maureen will have you in bits!
Jerome Shields
92
Posted 20/09/2021 at 13:43:22
Rodriguez is now in Qatar to negotiate a move – just reported on the BBC. They also report he is on £200k a week at Everton.
Seems to be looking away. Don above has called it right regarding him not fitting into a work and effort regime.
Wages getting close to the absurb £250k pw reported earlier this week.
Stan Schofield
93
Posted 20/09/2021 at 13:43:31
Brian, I don't give a fuck what anyone says to me, it's water off a duck's back, but I object to supposedly professional managers criticising staff or players in public. It's not a matter of my sensitivity, but rather a matter of professionalism.
Brian Williams
94
Posted 20/09/2021 at 14:04:19
Stan, again just your opinion of what was said, which I, and others disagree with, but in the interest of not boring other ToffeeWebbers to death I'll say no more. COYB.
Tony Abrahams
95
Posted 20/09/2021 at 14:11:25
Actions speak louder than words, and after saying he didn't know who Everton were playing the other week, I was wondering if James went to Goodison last Monday night for the Burnley game?
Stan Schofield
96
Posted 20/09/2021 at 14:13:07
Brian, OK we've probably done it to death anyway. 👍
Paul Niklas
97
Posted 20/09/2021 at 15:26:55
Lies over muscle injury. Flown out to Quata for talk. 200k per week will fund a few players. Shame we never really seen him and still believe he could offer something but was never used properly for me.
Graeme Beresford
98
Posted 21/09/2021 at 12:00:36
To be honest I'm very disappointed at this. To me, he's one of the best players Everton have had in my lifetime. Not just because of his name, but what he did on the pitch and how he did it was in my opinion brilliant.
The way he could gracefully turn, find a man with a cross field pass, and I will never forget his ball through for Richy in the derby and his goals against Spurs and United.
I get he comes with baggage. However, if you are telling me he couldn't play a part this season then I think you are crazy. The game against Villa was crying out for an Everton attacker to get the ball and find a man. Yes, he may only last 70/80 mins, yes he is on big wages, but we surly knew this when we signed him. Yes he may of also came just because of Carlo but honestly Everton should of done more to keep him and keep him happy.
However it does say a lot when teams like Sevilla, Atalanta, Roma, Betis, Arsenal, Spurs, teams who are decent and always on the fringes haven't come in for him and he's expected to go to UAE. That to me does say one thing which is, maybe the guy has called time on his career and will most likely retire in a year or two. Sad really.
Would of loved to of seen him at Goodison just once, proper.
Rob Dolby
99
Posted 21/09/2021 at 12:58:16
Frustrating reading some of the comments above.
It's like he is being made a scapegoat for the club's incompetence.
Getting him off the books only moves the focus to Delph, then Gomes then gbamin etc etc.
His wages have been negotiated by the club 12 months ago. A player with his background demands a salary.
When contract negotiation come around for DCL or Richarleson, what do we offer them? Full international strikers demand top money.
All this nonsense about him not caring about the club, not knowing fixtures and the like can be levied against lots of players from generations not just a modern day galactico. Has anyone noticed how bored players are sitting on the subs bench?
Bottom line is the club have pulled the purse strings in which has cost them the most honoured manager in modern day football and set us right back to the Moyes days of treading water.
New ground or not, without backing and proper leadership we could be the new Derby County or Sunderland playing in a new stadium against Tranmere rovers.
Utft
Barry Hesketh
100
Posted 21/09/2021 at 13:23:35
Ron @99
I understand that most Evertonians want to see great players and star names don the blue shirt, I want that too, but the problem with James and it's not his fault, is that he was brought to the club in order to raise the profile of the club and to help 'sell' itself to a whole new audience in South America and beyond.
Therefore, it wasn't purely for footballing reasons that the club bought him, and it would appear it's not for purely footballing reasons that he's being allowed to leave.
Too many decisions in the last few years have been based on 'financial' reasons. lots of small bets - but not insignificant sums - being made on players who might increase in value over time and a few high-profile signings who were probably past it but taken a chance on as they might increase interest in the club and perhaps raise its profile to attract customers and sponsors.
The fact that the club has gotten it wrong so often in the last few years means that we find ourselves with an inadequate and unbalanced group of players which is purely down to the decision-makers at the club and we find ourselves having to start over from a worse position player-wise than we started out with.
Any other real-world business would have seen a cull of the executives for such gross mismanagement, but it seems that football has a completely different set of rules to any other business, and the chances of the people at Everton FC making the same mistakes in the future, albeit on a much smaller scale, are incredibly and sadly very high.
Peter Neilson
101
Posted 21/09/2021 at 14:02:01
Similar comments from coaches about James's focus and fitness have been made at Monaco, Bayern and his national team. I don't think Zidane commented but he didn't fancy him either. Seems to be a very talented player who mainly wants to play for Ancelotti and now wants out as it's no longer what he signed up for. I don't blame Benitez for this.
I do wonder, when Ancelotti signed, was the iceberg of FFP even considered or was it only discussed afterwards, helping to leave us in this state?
Kim Vivian
102
Posted 22/09/2021 at 11:29:31
He's gone. Agreed today.
---
Add Your Comments
In order to post a comment, you need to be logged in as a registered user of the site.
Or Sign up as a ToffeeWeb Member — it's free, takes just a few minutes and will allow you to post your comments on articles and Talking Points submissions across the site.