Manchester United vs Everton
Friday, 1 October, 2021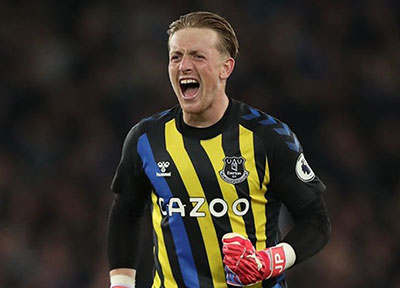 Jordan Pickford is expected to play despite being troubled by a shoulder complaint of late
Everton face arguably their toughest test of the season thus far as they travel to Old Trafford to face a Manchester United side high on talent but who have exhibited some weaknesses in recent weeks.
The Red Devils sit above the Blues in the Premier League table on goal difference but have only won two of their last five games in all competitions and it took a very late goal by Cristiano Ronaldo to take the points against Villarreal in the Champions League on Wednesday night, a match they were fortunate to win.
Prior to that, Ole Gunnar Solskjaer had overseen successive home defeats, to West Ham in the Carabao Cup and Aston Villa in the League last weekend, results that will give Rafael Benitez hope that his men can bring a result back down the M62 from the lunchtime kick-off.
The Spaniard looks likely to have a similar pool of available players from which to choose as Dominic Calvert-Lewin and Seamus Coleman return to individualised training but neither will be available until after the international break. Likewise Richarlison who has been pictured doing gym work as he continues his recovery from the knee injury he sustained against Burnley.
Article continues below video content
Jean-Philippe Gbamin was shown training with the group at Finch Farm, suggesting that he could available to make his first League fixture of the campaign but he is an unlikely starter, particularly given his shortage of match fitness.
Indeed, barring some unforeseen news on the injury front from Benitez's press conference, the midfield and attacking positions will probably remain unchanged, which would mean Salomon Rondon continuing up front supported by Demarai Gray and with Alex Iwobi and Andros Townsend in the wider roles.
In defence, Ben Godfrey is the likely deputy again for Coleman and although he needed some treatment during the win over Norwich last time out, Jordan Pickford looks set to take his customary place in goal.
Everton may be going to United without two of the players who scored in last season's six-goal thriller — Calvert-Lewin is out and James Rodriguez is gone — but they will travel in confidence despite having lost their last two games on the road.
As Doucouré admitted to the Official Site earlier this week, the Blues' players know that the loss to Aston Villa was a much closer-run thing than the 3-0 scoreline suggested and that the squad will have learned from the experience.
That will stand them in good stead against a United side that is brimming with talent and has a match-winner in the form of Ronaldo but who have not been all that convincing of late.
That means that of the Toffees can get under their skin early and use the space in transition that will inevitably open up given the way Solskjaer's men play, there will be opportunities to get something from the game. A point would be more than satisfactory; a win would be a massive confidence-booster and lay down a marker, perhaps, for what this team can do under Benitez despite its and depleted numbers.
Kick-off: 12:30pm, Saturday 2 October, 2021
Referee: Michael Oliver
VAR: Stuart Atwell
Last Time: Manchester United 3 - 3 Everton
Predicted Line-up: Pickford, Godfrey, Keane, Mina, Digne, Allan, Doucouré, Iwobi, Townsend, Gray, Rondon
---
Reader Comments (142)
Note: the following content is not moderated or vetted by the site owners at the time of submission. Comments are the responsibility of the poster. Disclaimer
Mike Allison
1
Posted 01/10/2021 at 07:20:21
It's rare that I disagree with anything Lyndon writes, but I don't agree that Everton "have lost their last two games on the road". One of those games was a draw. There's enough negativity created around Everton from the outside without us generating more of our own.
Marc Hints
2
Posted 01/10/2021 at 07:51:44
I think we will compete with Man Utd but I do think it will be the subs that make the difference, they will have match winners on the bench as we will struggle
Jerome Shields
3
Posted 01/10/2021 at 07:56:33
Good record against lower-table sides. Won first game after the international break. Rebounded after losing in the next game.
Now we take on the next marker: a Top 6 side. Then Arsenal can't be far away. Everton's barometer of progress will show us where we really are. . errors permitting.
Eddie Dunn
4
Posted 01/10/2021 at 08:18:12
I have to echo Mike's sentiments as I was scratching my head trying to think where else we lost!
With Shaw and Maguire withdrawn from the England squad, I presume that they will not play tomorrow. This surely improves our chances.
My worry is that when we have been put under pressure we have usually conceded. Mina and Keane need to play deep, as Darren keeps reminding us, making the space for Allan and Doucoure bigger to fill. Old Trafford is a big pitch and they have quality midfield players.
This is usually a game where Fernandes gets plenty of space and Ronaldo will be licking his lips at our lack of concentration at the back.
Our only hope is to score at least twice because I just don't see us keeping a clean sheet.
Hopefully the midweek game will have taken something out of their legs.

Tony Abrahams
5
Posted 01/10/2021 at 08:20:04
I think if we play this team, then that little horrible fucker who missed the penalty for Man Utd last week, will get in between the lines (hole - between deep back 4 and midfield) and have a field day.
He already loves playing against Everton, possibly because this is his favorite area of the pitch, an area where good players only need a little bit of space, and an area where Everton always concede space, because we defend on the back foot. I just hope I'm pleasantly surprised tomorrow.
Robert Tressell
6
Posted 01/10/2021 at 08:32:22
Tony, hopefully we go with a midfield trio and condense that space. Otherwise it will be attack v defence for 90 minutes.
If we can congest the midfield then we might, with a bit of luck, come away with a point or more but the injuries esp mean Utd will be odds on to get a comfortable victory.
I don't think there's likely to be much learned from the game that we don't already know.

Brian Murray
7
Posted 01/10/2021 at 08:41:13
Simms should've been well integrated before now as Rondon has shown nothing and it's like playing with 10 men.
If it's tight and tactical, we have a big chance because Ole is clueless in that respect. Especially compared to Benitez.
Danny O'Neill
8
Posted 01/10/2021 at 08:47:47
I saw a "3 losses out of 4" shout on another thread, which had me scratching my head. As far as my admittedly ageing memory serves, we've only lost against Villa.
If we bring the League cup into it, QPR, but that was on penalties. We didn't lose the game of actual football. Have I missed something?
Anyway, tomorrow. I agree, it's going to be a long 90 minutes. We are likely to defend deep, which will mean the midfield sitting deep too. We might not even get the benefit of Doucoure's new found lease of life. And with a not quite fit, immobile striker, I see our only outlets being Gray and snatching something from a set piece. I anticipate a very isolated striker and us camped around our own box doing Native American war dances.
And Fernandes. He is developing into a graduate of the Ian Wright "loves playing against Everton" academy. He takes that penalty against us, you know where it's going. And it isn't row Z of the Stretford End.
Long 90 minutes ahead and, as it stands, I'll be watching surrounded by London United supporters clad in their number and named shirts. Wish me luck.
Derek Knox
9
Posted 01/10/2021 at 09:05:59
Had United not had a couple of blips, and showed that despite the vast amounts they have spent on players, they are beatable on the day, I wouldn't have had a great deal of optimism for this game. I am hoping Rafa can translate and instil that belief in our arguably inferior squad, that a win is possible or even a respectable draw reluctantly.
Beware the 'Wrath of Rondon' sounds like the title of a Sci-Fi book, but he has to come good some time surely (who am I trying to convince here ?) and put them to the blows of his Valyrian Steel ! I'll settle for the winner going in unawares off his more than ample derriere.
COYB
Phil (Kelsall) Roberts
10
Posted 01/10/2021 at 09:25:19
Mike #1 - I am in agreement, I also disagree with something Lyndon has written.
Surely the Richarlison's injury was not sustained - the correct phrase is "recovery from the knee injury inflicted upon him by the Burnley defence".
I'll take the draw tomorrow. Question is the mindset. We know ours will be what we have we (hope to) hold. Will they be up having scored in Fergie time, will they be knackered by having an extra game and it being an early kickoff?
The real question for Rafa is what does he want from his striker? I think the answer is hold the ball up to take pressure off the defence and bring in the midfielders. Rondon has the experience to do that but maybe not the fitness so does he go for a more fit less experienced option. I suspect not, especially as he knows better than me.
Tony Abrahams
11
Posted 01/10/2021 at 09:25:54
I agree with that last sentence Robert, especially because of what Derek, describes as the Wrath of Rondon, (it's hard playing with ten men, but if he backed into defenders, we might be able to play it into his feet) but I'd be pleasantly surprised if we pushed up as a unit, and could still stay compact, and I'd be very pleasantly surprised if Iwobi, really began to believe in himself by being braver, although I'd take us pushing up as a defensive unit over anything else really, because I do feel it's the way forward?
Brian Harrison
12
Posted 01/10/2021 at 09:35:28
I watched their game in the Champions League against Villarreal and I am sure Unai Emery would have been very disappointed to lose that game. I think without Maguire, Shaw and Wan-Bissaka at the back they looked very vulnerable, and they are all likely to miss the game tomorrow.
I think a lot depends on how we set about the game, if we sit back and give their attackers room to get their heads up then there will only be one outcome.
I am sure after losing at home to Villa then anything other than a win tomorrow and Ole will come under enormous pressure from fans and media alike. Just a pity that it looks like we will still be without Richarlison and Calvert-Lewin, as I am sure they would have asked a lot of questions of Man Utd's makeshift defence.
Not sure Ronaldo will start but probably Cavani will play instead and probably Lingard will start. Aso, as has already been said, Fernandes loves playing against us. We must make sure someone stays close to him and denies him having the space he has had in our last couple of encounters.

Paul Hewitt
13
Posted 01/10/2021 at 09:43:14
We don't stand a chance. 3-0 Man Utd.
Sam Hoare
14
Posted 01/10/2021 at 09:58:13
A good chance to see where we are in our first game against one of the 'bigger' teams. Lack of possession and the chance to counter-attack seems to suit the way Benitez has them set up though of course we will miss Richarlison and especially Calvert-Lewin.
I think we'll see a conservative approach with us conceding possession and territory but looking to catch them on the break.
Pogba and Fernandes are adept at picking the sort of gaps that our defense seems to have afforded lately but they are also prone to shipping a few goals so it could be an entertaining game! I'd be happy to get a 2-2 or similar.
Jerome Shields
15
Posted 01/10/2021 at 10:11:33
The lack of pace Mina and Keane make a compact unit moving forward less likely and a deep defence with gaps more likely.
Darren Hind
16
Posted 01/10/2021 at 10:18:46
Lyndon is absolutely spot on when he says we lost two.
Many sports have a deciding factor when two opponents can't be separated. A tie break, a shoot-out, some even have judges at the end to give an opinion.
A boxer and his corner may convince themselves that he won a world title fight but, when the judges award the fight to the other guy and he walks away with the belt, the rest of the world knows he lost.
When Jagielka slotted his penalty to beat Man Utd at Wembley. I had no doubts whatsoever that we had won and I knew that they had lost. I was coming back a few weeks later for the final. The guys wearing the red scarves weren't...
QPR are in the next round. We are not. They did not beat us in the boardroom. They did not beat us on the toss of a coin, nor were they awarded the game by judges. They beat us on the pitch by demonstrating better skills on the night. Let's be honest here: We were lucky to even get to penalties.
A team has to take a defeat on the chin and learn from it. You'll learn nothing by denying it.
Andrew Merrick
17
Posted 01/10/2021 at 10:20:26
I can't see Rondon providing any threat, aerially or on the ground, we will really miss Dom for this one.
With no target man as such, I hope to see more creative play on the floor, short crisp passing and runs into the box.
They may be missing Shaw and Maguire which could be a plus for our attacking play, but a resolute defense is a must against a side boasting Ronaldo and Bruno... coyb
Tony Everan
18
Posted 01/10/2021 at 10:27:54
A tough game where our full backs will get tested to the maximum. Digne's a bit below par and Seamus is out, this may be our undoing tomorrow. If we can keep it tight and scrappy we can definitely nick a goal or two, especially a headed goal from a set piece.
United, like the RS milk the ref when things are not happening for them. I just hope all our hard graft is not undone by a very dubious decision. I'd fancy our chances of at least a draw with Richarlison, Calvert-Lewin and Coleman fully fit, but without them this is a more tentative prediction.
Man Utd 1 Everton 1
Kevin Prytherch
19
Posted 01/10/2021 at 10:31:30
I feel that a change from 4-2-3-1 is needed for this one. I would bring Davies in to sit in front of the defence where Fernandes likes to play, he performed very well there last season. Then use Townsend, Gray and Doucouré to drive forward on the counter. Keep the space compact in our half and play most of the game between our 18-yard box and the half-way line.
It might be a dangerous game if we concede early, but we were very successful last season playing on the counter.
Danny Broderick
20
Posted 01/10/2021 at 10:32:40
Man United aren't going too well. There are rumblings about Solksjaer, they've got Maguire and Shaw injured. And they don't know their best team yet. Their midfield is either too defensive or too attacking, whichever combination they select. Plus, they've had a tough game midweek in which they had to give it everything for 95 minutes to win. They will not fancy this early kick off tomorrow.
We need to play like I always imagined Benitez would set us up. Compact in midfield and defence, looking to counter attack when we can. In Gray and Townsend, we have got players who can trouble United.
I can't say I'm confident we will win. But we can keep it close and stay in the game. We are capable of nicking a winner or a point. I just hope he doesn't go for 3 centre halves. That never works for us. Play 4-5-1 and we should be fresher than them. I'm gonna say 1-1.
Danny O'Neill
21
Posted 01/10/2021 at 10:37:02
But someone said we lost 3? Maybe a typo I guess.
I don't like penalties. I get it. That's the rule, we know before we enter the game and it's the same for everyone, so ultimately the result is decided on penalties and we lost on the night.
I preferred it when they toyed and experimented with the idea of golden goal. At least then, the game is being decided in open play, not something akin to a end of training fun session. Although under pressure, there's not much fun about it for players and fans alike.
I'd just rather see the game won in open play, even if that means a replay or two. Remember those epic Sheffield Wednesday and Middlesborough encounters? They seemed endless.
Derek Thomas
22
Posted 01/10/2021 at 10:37:58
A star team is better than a 'team of stars' and that's what Man Utd are at the moment. They're good, but not the total real deal.
Where and what we are is a bit of a movable feast though. Benitez has shown, well to me at least, that he's not a total dummy and FSW... or Hercule Poirot-esque as David Squires has him... and ex-RS notwithstanding, he still knows the cries.
Which United and which Everton will turn up on the day is anybody's guess... much like the result.
Dave Williams
23
Posted 01/10/2021 at 10:38:21
Kevin and Robert – spot on!
Davies sat deep flanked by Allan and Doucouré with Iwobi on the bench. We cannot allow them a load of space in midfield.
Robert Tressell
24
Posted 01/10/2021 at 10:46:29
I think Rondon is in the team to provide height at set pieces - both offensive and defensive.
If Maguire isn't fit then I'm not sure we need height particularly.
Personally, I'd play without a striker and pack the midfield.
Pat Kelly
25
Posted 01/10/2021 at 10:46:47
With our threadbare squad, we're going to take a hiding sometime. And tomorrow could well be that day. Unfortunately, relying on Rondon gives us nothing to offer up front. Pickford will be busy.
Allen Rodgers
26
Posted 01/10/2021 at 11:04:11
We will give them a game but concede a dodgy penalty late on. We rarely get the rub of the green at Old Trafford.
David Hayes
27
Posted 01/10/2021 at 11:20:46
Kevin #,
"Put Davies in where Fernandes likes to operate." Now is that to contrast or compare, a world class midfield attacking player to a still juvenile totally ineffective stroller about who tries and mainly fails to get in the way?
Or is it so Tom can match and emulate Fernandes whilst nullifying him at the same time?
I think if you are going to affect Fernandes, then Allan is the only option that comes close that we have.
Danny O'Neill
28
Posted 01/10/2021 at 11:32:10
When I played, I went into every match thinking I was going to win. When I watch Everton, I go into every match hoping we can win.
So, I think and hope we can win. But my instinct tells me a score draw. I'll place the cheese on the park tomorrow and see which way the dogs go.
Peter Neilson
29
Posted 01/10/2021 at 11:37:17
They have star players but the criticism of Ole is that he lacks the tactics to use them. Let's see if Benitez can out manoeuvre him with the slim squad available. Also they have injuries in defence so some hope there. I think United will invite us to go toe to toe in a open game but we don't have to dance to their tune.
Rob Hooton
30
Posted 01/10/2021 at 11:57:24
I always worry when we play a team that had a midweek game and we didn't and our players should be 'fresher' as inevitably our players look like they have just run a marathon to get to the stadium and the other team run rings around us!
Heart says draw, head says we are going to struggle with little attacking threat. 2-1 to the blues then please lol
Matthew Williams
31
Posted 01/10/2021 at 12:00:55
Tough one this,but we if we pack the midfield and dig in then who knows?.
Hopefully our coaching staff showed the lads last week's Villa game & said...give us & the fans the same application eh lads!.
Score draw for me... COYB
Jerome Shields
32
Posted 01/10/2021 at 12:10:48
Davies is okay defending, but he is often robbed of possession going forward, which would play right into Man Utd's hands. To get robbed of possession going forward against Man Utd is an absolute no-no.
Terry Farrell
33
Posted 01/10/2021 at 12:27:53
I'd add Davies alongside Allan and Duke leave Rondon out and play Gray upfront and look for him to get in behind and turn them. Think it's going to be a long afternoon if we start with the same 11 and formation as last weeks.
Ajay Gopal
36
Posted 01/10/2021 at 12:51:39
Agreed Kevin (19), I was thinking along similar lines - I would play Davies instead of Rondon. We can't afford a lumbering player whose only purpose in the match is to occupy space. A 4-3-3 of:
Pickford
Godfrey Mina Keane Digne
Doucoure Davies Allan
Townsend Iwobi Gray
is our best option to close the gaps and keep the midfield tight.
Rondon can come off the bench to give their defenders something new to think about. Apart from Rondon, we would have only kids on the bench: Holgate, Kenny, Branthwaite, Gordon, Simms, Dobbin. I don't think Gbamin is match fit to play, and sadly, I have lost hope that we will see him play in a competitive situation. Similarly, Delph. Given this situation, it would be a minor miracle if we get anything out of this fixture. In fact, I would be relieved if we don't embarrass ourselves. Sorry to be pessimistic - I normally am not!

Darren Hind
37
Posted 01/10/2021 at 13:03:51
wouldnt be at all surprised to see Rafa put Holgate in front of the central defenders. Worked a treat for Big Dunc when he went there
Tony Abrahams
38
Posted 01/10/2021 at 13:09:36
He's more mobile than any of our midfielders bar Doucouré, Darren, and it's why I've also had a similar inkling lately, although Benitez hasn't done it up to now.
Alex Gray
39
Posted 01/10/2021 at 13:29:47
So am I right thinking that Iwobi is out and gbamin is now fit? Tomorrow will be a graft.
Kieran Kinsella
40
Posted 01/10/2021 at 13:30:45
It's good that Rafa was able to deliver on his promise of improving our injury problems
Kieran Kinsella
41
Posted 01/10/2021 at 13:32:55
David 27
Haha cruel but true
Danny O'Neill
42
Posted 01/10/2021 at 13:35:19
Never been a fan of playing centre backs in defence Darren, but I can see that. I think I'm still scarred from when we tried Alan Stubbs there for about 3 minutes in an FA Cup match against Norwich just after half time. I don't think I was breathing properly until Moyes quickly changed it.
Holgate is different though. In a way, although not identical, similar to Heitinga, who could play that role too.
Think I'd prefer Davies as a deeper sitting midfielder with Allan & Doucoure in front of him.
But I agree, wouldn't be a surprised to see Holgate in the hole performing a traditional sweeper role
Danny O'Neill
43
Posted 01/10/2021 at 13:43:49
**playing centre backs in midfield I meant to say
Bill Gall
44
Posted 01/10/2021 at 13:54:58
With still missing DCL, Richarlison and Coleman this is going to be a back,s to the wall struggle and I believe we are capable of a point but 3 would be nice. I never expected that this season would be easy, but Benitez is showing he is a manager who respects but is not afraid of other teams and will not be taking a knife to a gunfight. But in the end it is not only his training and tactics that will get the points, it is the performance of the players he picks to start.
Danny O'Neill
45
Posted 01/10/2021 at 14:01:10
Bill, I agree with your sentiment. No knife to gun fight mentality, but backs to wall likely. Benitez will also most likely have an eye on getting one over United on a personal basis.
Early kick off tomorrow. I might need to start early. The coffee might not be coffee as I walk the dogs!!
Michael Lynch
46
Posted 01/10/2021 at 14:01:23
Iwobi out as well now, so we're going to struggle to have any creative players on the bench. As far as I can see, the only creative midfielders left are Townsend, Gray and Gordon, with the only fit forward being Rondon. I say "fit", but I should really say "less unfit than Simms".
Gbamin might be on the bench, but there's no way he'll start in such a big game after being out for about fifteen years, so I'm guessing :
Pickford, Godfrey, Keane, Mina, Digne, Allan, Doucoure, Davies, Townsend, Gray, Rondon.
Bench: Begavic, Gordon, Branthwaite, Gbamin, Dobbin, Simms, Derek Hatton, and Bill Kenwright.
My heart says a hard-fought 1-1 draw, but my head says we're going to get battered here. Hopefully get a full squad again after the international break.
Pat Kelly
47
Posted 01/10/2021 at 14:24:25
So Gbamin is fully fit ! Just don't let him drive the coach.
Jim Potter
48
Posted 01/10/2021 at 14:33:17
A tough ask for sure. We'll need a fighting, disciplined performance to come away with something positive.
The injuries are sadly to our key players. I think DCL could have given them big problems, especially as Maguire is out.
I'd give one of the young strikers a chance. Nothing ventured.
Fingers crossed. COYB.
Steve Brown
49
Posted 01/10/2021 at 14:33:30
Big challenge for Benitez, as we beat Spurs, Arsenal, Liverpool, West Ham and Leicester away last season. It will be interesting to see what tactical set up he chooses.
We need a central defensive midfielder sitting in front of the defence - probably Davies. I would also play Gray as a false number nine to drop into midfield and play them on the break.
Tough game.
Graham Mockford
50
Posted 01/10/2021 at 14:42:40
It would be tough enough under normal circumstances but without our two strikers I'm expecting nothing. I'd take a spirited display and Godfrey clattering Ronaldo into the hoardings
Gary Smith
51
Posted 01/10/2021 at 14:51:46
Good chance for Gordon if Iwobi is indeed out. Hope Rafa doesn't go in too defensive, because if they score early we'll get a drubbing like we did pre-season. Hit them fast on counter, and in numbers, and make sure they're nervous about pushing too many players up to support their front line.
For me:
Pickford
Holgate Mina Godfrey Digne
Doucoure Allan
Townsend Gordon Gray
Rondon

Dennis Stevens
52
Posted 01/10/2021 at 15:00:10
I think I'd rather play Keane upfront than Rondon, it's a win-win! ;-)

Brent Stephens
53
Posted 01/10/2021 at 15:06:18
While I usually travel in hope rather than expectation to our away games, this time it's hardly even in hope. The injuries really are galling.
Derek Knox
54
Posted 01/10/2021 at 15:19:38
Brent, I am surprised your Doctor is allowing you to even attend with such galling injuries ! :-)
Mick Roberts
55
Posted 01/10/2021 at 15:21:10
I hate any team in red if we sit back we ara not good enough defensively to stop them from scoring for 90 mins especially that goofy twat fernandes get at them not too optimistic tho
Bill Gall
56
Posted 01/10/2021 at 15:23:00
please keep my family name out of this
Jay Evans
57
Posted 01/10/2021 at 15:42:25
Would bite your hand off for a draw tomorrow looking at our options but you never know, they just might surprise us ?!
I fear Ronaldo running us ragged and will no doubt see that in my nightmares tonight but if we are still in the match late on, who knows. I saw our 'performance' in the pre season friendly in August meaning my prediction (sorry) is a heavy defeat for our boys in blue.
Regarding the early comments on this thread about us drawing at QPR, erm, we lost. We do not have a replay at Goodison, we are not in the hat for the next round, we lost.
Full support.
Onward Evertonians 💙
Derek Knox
58
Posted 01/10/2021 at 15:47:16
Bill @ 56, it wasn't me, it was Brent that started it! :-)
Martin Mason
59
Posted 01/10/2021 at 15:54:00
My home town was a mix of scouse immigrants (like my family) and the locals who all supported United. My old man was a Koppite who funnily enough stopped going to watch them when they came into the first division. As a result my biggest games are versus United not Liverpool. I can't call tomorrow's game as, although United, are struggling as a team they have some amazing individuals especially in Fernandes and Ronaldo. I hope for the best and for sure we are in with a chance but I fear the worst because of our weakness at R back, lack of fire power up front and an inevitable mistake that their individuals could exploit. It only needs a mistake at the back which would normally be unpunished and there is Ronaldo
Tony Abrahams
60
Posted 01/10/2021 at 15:58:59
Talking of galling injuries, those Arabs waiting to see James Rodriguez make his debut, are going to have to wait at least another week, because he's got a slight calf-strain, although I suppose that's no longer got anything to do with Everton.
Jerome Shields
61
Posted 01/10/2021 at 16:01:05
I agree Holgate would be a better option than Davies.
Frank Thomas
62
Posted 01/10/2021 at 16:04:58
Only two things I want in this game and all that follow.
1. An honest ref who actually awards us fouls and is not afraid to send players off. In the Burnley game they should have had a red card and another yellow for two appalling hits ( not tackles) on Richarlison. In the Aston Villa game the RB held Gray and stopped him getting away until the ball was too far away for him. The RB was the last man and nobody could catch Gray when he was goal side. The ref saw it, paused and bottled it because it would had to have been a red. Minutes later the LB tripped Gray when he was away from from him. Not one card in all 4 incidents.
2. Playing the fittest players not your old mate Rondon. In the games Rondon has played in the forwards stop passing to him after a while, it is just a waste of a pass and a chance.
Have you seen the speed of Ellis Simms and I think he has never been played for us in the premiership.
I like the idea of Keane in the CF position because we have very accurate crossers in Gray and Townsend and Keane is very good in the air and has reacted very quickly to loose balls when up for corners. He also has a very powerful shot. His presence would keep two Man Utd players on him.
I like Gary's (51) team selection with Keane instead of Rondon leading the attack.
Do you remember the game against Arsenal when Lukaku was played on the right instead of the centre for a good proportion of the game it completely confused the Arsenal tactics.
Jay Harris
63
Posted 01/10/2021 at 16:13:23
Its a great shame that Utd came back to win that midweek game as the crowd were beginning to get impatient with them and they would have been under pressure tomorrow.
But that sums them up in a nutshell. Unlike us they have goals all over the team and win games they don't deserve to.
Without Richy and DCL we struggle in forward play but I am hoping for a real belief among the players that we can hold out undefeated.
This will require 100% concentration (Please note Michael Keane) and togetherness together with a bit of devilry to wind them up.
My heart says we will get a draw and almost steal a win but my head says we will get tonked.
Lets hope the heart wins.
Brent Stephens
64
Posted 01/10/2021 at 16:14:51
Derek #54, I'm taking my boots again, just in case.
Mike Gwyer
65
Posted 01/10/2021 at 16:25:43
Jay #57.
There is no such thing as a friendly at Old Trafford, the Manc media don't allow it, so lets ignore that preseason result.
With results so far this season we have got to give this Everton side support, so lets go to Old Trafford and support them. Rafa has got this team looking well drilled and we break with speed and purpose, something that the red Manc's DO NOT like.
By the way, the QPR result means jack shit tomorrow, I mean the Manc's lost at home to Villa last week, so does that have any bearing on tomorrow result? Nope.
For me, if Everton can keep hold of Fernandes then we will give as good as we get.
Christy Ring
66
Posted 01/10/2021 at 16:45:11
The defence and midfield need to put in a massive shift with our best two attackers missing. I'd agree with Davies instead of Iwobi, but the last time Holgate played in midfield under Dunc, he did a superb holding role, it would definitely disrupt the Utd finesse in midfield.
Kieran Kinsella
67
Posted 01/10/2021 at 16:47:36
Tony Abrahams
Haha that's hilarious. I was wondering if he would actually be playing for them yet. Though I favored keeping him, his continued "calf issue" is making me feel better about it
Dale Self
68
Posted 01/10/2021 at 16:50:49
We don't have anyone who can stick to Fernandes so we will likely be compact. This may workout with Iwobi out and United needing to get back in form. I can see Rafa setting it up for a counterattack but we could end up stuck in our half with no real ability to possess and link up, they'll be all over us.
Should we survive without United scoring in the first 15 opening it up to allow Doucoure to find Gray or Townsend on the break will depend on his ability to lose McTominay. We got a chance but it will take some serious discipline and determination. Another good test for the Rafa era.
Bill Gall
69
Posted 01/10/2021 at 17:11:27
Derek #58
Not a problem even I had a problem with a family member had to have my Gall Bladder removed, now that's galling.
Definition of galling. Very annoying or exasperating; most irritating. That does not apply to me personally, it might my brother who supports Liverpool though.
Just kidding Rob.
David Hayes
70
Posted 01/10/2021 at 17:18:11
The score board from Old Trafford Cricket ground will be required. I just hope they declare at 9.
Roger Helm
71
Posted 01/10/2021 at 17:24:51
There is no point playing Rondon if he is not fit. Keane as a centre-forward? I remember Mike Lyons playing there from time to time. Like Keane, he was slow and not that skilful, but full of heart and endeavour, and his physical presence and aerial prowess kept the defenders honest. I can't see that tactic working in the Premier League, however.
Kieran Kinsella
72
Posted 01/10/2021 at 17:38:27
Jay @63,
I agree on your point about concentration. Man Utd under Solskjaer effectively have five forwards. If they never get the ball, no problem. But if balls are pinging around the box and we have Calamity Jane moments, Ronaldo will lap those up.
Paul Tran
73
Posted 01/10/2021 at 17:43:17
Man Utd are a hotch-potch of a team that is suspect defensively with a load of players who can score goals to get them out of trouble.
We're going to have to concentrate tomorrow. Can we do that for 90 mins? We can counter-attack well and will have to take the chances that come our way.
The obvious punt is a Man Utd win, but I suspect it'll be closer than whatever the bookies & pundits think. We could be good value tomorrow...
Simon Dalzell
74
Posted 01/10/2021 at 17:51:00
Spot on, Brian (7) The absence of a centre-forward is a real problem. Nothing personal, but Rondon must be the least effective player I've seen in 50 years, and that's saying something.
I'm not without hope tomorrow, but it's hard to see us getting a point. Prove me wrong, men.
Raymond Fox
75
Posted 01/10/2021 at 18:02:22
Even with my blue-tinted glasses on, I can't see us getting anything out of this game. Obviously I hope we do, but they have too many danger men in attack for me to fancy us.
Benitez knows Rondon better than us, so I prefer his opinion to experts on here.
Simon Dalzell
76
Posted 01/10/2021 at 18:03:53
Raymond. We've seen Rondon. (or not seen him, more like). The definition of 10 men. Great if he shows different tomorrow. It's fact rather than opinion that he's been appalling.
Steve Shave
77
Posted 01/10/2021 at 18:10:36
Simon @76, give him a chance man, he hadn't played for months when he arrived. We should judge him only when fit, we were unlucky with Calvert-Lewin's injury so early on in the season.
Phil (Kelsall) Roberts
78
Posted 01/10/2021 at 18:12:05
Keane playing centre-forward.
The modern day Mick Lyons. Mick Lyons at centre-forward. In comparison, Duncan Ferguson was a kitten.
ps: Only joking, Dunc – but I don't think there is a centre-half in existence who would want to have faced both of you.
Danny O'Neill
79
Posted 01/10/2021 at 18:12:21
Simon, I would politely counter that and give you Ian Wilson or Brett Angell.
We're going to win tomorrow. That's my start point and I'll work back from that.
Tom Bowers
80
Posted 01/10/2021 at 18:13:46
It goes without saying that Manure on any given day could put out a second eleven that would get a result against Everton and even more so against this Everton side weakened on the offensive side of things.
Everton are also coming off an uninspiring win against a poor relegation bound Norwich side after dismal defeats to Villa and QPR.
All in all it looks like another miserable day is on the cards but Manure have not been exactly doing great things and the knives are out for Ole. We can but hope they have another bad day tomorrow which may be our only chance and then we need to be at the races when it matters especially in the middle of the park.
Luckily the World cup break will allow more time for DCL to get fit as It's hard to see Rondon doing anything special as a starter.
Kieran Kinsella
81
Posted 01/10/2021 at 18:30:34
Danny,
Ian Wilson... makes me cringe every time I hear his name. How did we go from Sheedy and Steven to Ian Wilson on the wing?
John Kavanagh
82
Posted 01/10/2021 at 18:33:51
This would be a hide behind the sofa fixture even without our extensive injury list. I just hope that everyone in the team that goes out (and those coming in off the bench) gives 100%.
I agree that a third man in midfield would be wise. Tom Davies will hopefully do a good job if he can put his poor QPR performance behind him (assuming that Gbamin isn't risked and is put on the bench). Rondon is a bigger problem because he simply isn't up to putting in 100 minutes (including the 10 minutes additional Fergie/penalty time usually granted to ESL outfits if they're not winning). If fit, I'd bring Simms on early in the second half because he is a natural finisher and has the knack of being in the right place at the right time.
Right back will perhaps be our biggest problem and every opponent has targeted this known weakness. I just hope that Godfrey's fitness has improved and that he's got his footballing brain back.
They have too many good players able to exploit our weaknesses, but hope springs eternal that we can get a shock result.
COYB.
Bill Gienapp
83
Posted 01/10/2021 at 18:42:07
We've walked away with a draw on our last two trips to Old Trafford, but I'd feel a lot better if we were full strength - or, at the very least, had either Richarlison or Calvert-Lewin in attack.
However, even if we don't get anything out of this match, we're still in a pretty good position going into the break, assuming we can get everyone fit upon return. West Ham is a tricky tie, but then we get Watford and Wolves before the schedule really starts to stiffen up.
Danny O'Neill
84
Posted 01/10/2021 at 18:53:33
I always shake my head when I think of the transition from Sheedy to Ian Wilson Kieran.
I feel like a silent voice here. We're going to win. Ticket didn't come through so I'm arming up to take on the London Mancs in the pub tomorrow. I think I'll take the blue Ridgebacks as back up.
Mike Gaynes
85
Posted 01/10/2021 at 19:07:47
Any truth to the rumor that Everton and FC Copenhagen are trying to work out a one-game loan deal for Bryan Oviedo?
(OK, so it's my rumor, what the hell.)
Re Michael Keane up top... let me offer two words:
Dave Watson.
Michael Burke
86
Posted 01/10/2021 at 19:11:45
Didn't Steve Watson play up front for us in the early 00's? I've convinced myself he did!
Chris Williams
87
Posted 01/10/2021 at 19:14:41
He did Michael, and scored a hat trick, although I can't remember if that was from midfield
Ed Fitzgerald
88
Posted 01/10/2021 at 19:21:16
Michael
He got the hat-trick from midfield at home against Leeds in a 4-0 win. He did play upfront against Leicester City in the worlds worst 0-0 draw away. If my memory serves me right, we had centre-halves in most positions.
Mike Gaynes
89
Posted 01/10/2021 at 19:22:44
Michael and Chris, thanks for the correction... it WAS Steve, not Dave. 2003 against Leeds. A rare TV appearance for Everton here in the States.
Bill Gall
90
Posted 01/10/2021 at 19:30:09
Steve Watson was played in midfield in place of Rooney who was on the bench. It was September 2003, only remember this as it was one of the occasions I went back home and we always went back at the end of September and the beginning of October.
Robert Tressell
92
Posted 01/10/2021 at 20:11:44
When we start speculating about Keane up front or Godfrey in midfield etc, it means we've hit rock bottom again. We have a mediocre squad that gets worse when injuries hit.
Man Utd have such a good squad it doesn't matter that Solskjaer is the manager.
There's a chance that Benitez (a much better manager) will do a job on him tomorrow but it's only a very small chance.
Tony Abrahams
93
Posted 01/10/2021 at 20:21:49
Good point Robert because that's exactly how I felt in the Walter Smith days, watching Steve Watson playing up front.
John Boon
94
Posted 01/10/2021 at 20:34:49
The best and most unexpected Everton victory that I ever witnessed was in October 1956. United had not been beaten that season and were on a big run from the season before. We won 5-2 and George Kirby scored two. I was with two mates and we went appropriately "Nuts"
What made it more memorable was that we had gone on our bikes. But the long cycle home made it all worth while.
5-2 tomorrow would be fine !!!! COYB
Paul Birmingham
95
Posted 01/10/2021 at 20:35:33
Rafa will we up to counter United and this with the players available can be done.
Granted the dirty rat antics of Fernandez whose eclipsed the RS forward trio of diving cheats in over 2 seasons, as the no1 cheat in the EPL.
But Everton should be wise and if Everton believe from the start then they will get chances, and cause an upset.
United crowd will be expecting to win, Everton, have turned them over in the past, and why not tomorrow.
Pickford will be a boost if he plays.
De Gea, is prone to more unforced errors than he did a few years back, I fancy a couple from Townsend, a 25 yard screamer and Demari, to take the piss, and set up Rondon for a couple of tap in's!
Delirious no, been on the ale, not yet, but a sense of, opportunity tomorrow.
Everton play to their potential and don't give away any daft goals, then it's game on.
Rafas got more guile and guts than out last manager, and tomorrow let's see, which Everton, turns up.
James Flynn
96
Posted 01/10/2021 at 20:37:06
Attack them. They can be got at.
"I would bring Davies in to sit in front of the defence where Fernandes likes to play". Bruno Fernandes vs Tom Davies. My God! I hope your tongue was punching a hole in your cheek with that one.
Against that array of attacking talent, Tom Davies needs to be doing what we'll be doing; sitting and watching.
And, again, attack them. They can be got at.
David Pearl
97
Posted 01/10/2021 at 21:10:51
l kind of agree and think it would do Davies good to play that position and have a definitive role instead us watching a headless chicken. I don't want to see Doucoure have to change his game and Allan might need some help so it makes sense to me.
At the other end can Rondon cause Utd any trouble? Perhaps with the right service but he hasn't half started slow. Other than that perhaps Iwobi and Gray can switch positions. And l want to see Digne trying to get into better crossing positions.
Last week l thought Doucoure was brilliant and Utd can be got at through the middle. I think they are a holding midfielder or two away from being able to challenge for the league. Looking at the games so far this season we have a left footed player on the right that will always cut back to cross or shoot. Same thing on the left and its a bit samey. Perhaps thats why Gray has the freedom and not lwobi as he has the pace.
What l am saying is we are very limited. Still no idea why James was sold when he plays an almost identical role to Townsend. I just don't think we have anything near enough to beat them. Hope to be wrong.
Phil Smith
98
Posted 01/10/2021 at 22:41:14
Iwobi is out, I think. Have an outside bet on J-P Gbamin playing in this one as he was heavily involved in training the other day and Benitez mentioned him specifically in the press conference.
Dale Self
99
Posted 01/10/2021 at 22:49:04
I like Gbamin in the middle of Allan and Doucoure but have questions about his ability to stay focused for the full 90 given his time out. I'd love to see him show up and stuff Bruno F to get back into gear. We are so low on numbers that I think Rafa gets a chance to experiment slightly here without too much downside. If Gbamin can cover when Allan gambles on pressure we may have enough to at least frustrate Utd in the early going. Stay in it for 20-25 minutes and who the hell knows what could happen. UTFT!!!!!! 4:30am, I'll be ready.
Kieran Kinsella
100
Posted 01/10/2021 at 23:24:17
Rafa damning Gbamin with faint praise "we need bodies"
Andy Crooks
101
Posted 01/10/2021 at 23:26:27
Dave,@97, off topic, but how's your back mate? Mine got written off today!! Hope to write a piece about last Saturday soon.
Laurie Hartley
102
Posted 01/10/2021 at 23:36:14
I am a bit nervous about this one. Without DCL and Richy we will just have to frustrate them and try to hit them on the break. Gray and Doucoure are capable of that.
4 4 1 1
Pickford
Holgate, Keane, Mina, Godfrey
Townsend, Doucoure, Allan, Digne,
Gray
Rondon.
Up the Blues!!
Geoff Lambert
103
Posted 01/10/2021 at 00:01:21
Lambs to the slaughter I think, We can put 3 or 4 past this lot tomorrow just got to keep CR7 quiet. COYB
Jamie Crowley
104
Posted 02/10/2021 at 02:12:53
I am usually not, not even close to, the Negative Nancy.
But tomorrow I think the "good start" will end.
We've played no one up and to this point, and reality is about to bitch-smack us in the face. Without DCL, Seamus, and Rich, I fear we will get absolutely tonked.
Hope I'm wrong.
Si Cooper
105
Posted 02/10/2021 at 02:13:46
Tactics will be key for this one. Get them wrong and we could get embarrassed if their attacking stars are on song.
Don't think we can just sit and absorb pressure so there has to be outlets who can allow us to play the long ball over the top when needs must. With Maguire out can Rondon operate as a target man with Gray and Townsend looking to get onto glanced headers? If not then it does seem best he is benched so that Gray and Townsend can look to time runs behind their defence. If they choose to keep their defenders relatively deep to deny any sort of mobile counter-attacking would we have any likelihood of tippy-tapping it far enough forward for some clever player to slip in the speedsters on 10 yard dashes into their box?
We need absolutely everyone clicking and no silly giveaways to get the result we want. COYB!
Mike Gaynes
106
Posted 02/10/2021 at 03:04:26
Geoff #103, weren't you the investment advisor who touted me onto real estate stocks in 2008?
Love your optimism, but excuse me if I don't wager on it.
Kieran Kinsella
107
Posted 02/10/2021 at 03:49:54
Jamie
I am the negarive Nancy not by choice but through experience. I'll up the ante and call it a retirement match. If we win I'll retire from ToffeeWeb
Darren Hind
108
Posted 02/10/2021 at 04:31:12
Cloughie didnt mind putting Center halves up front, He did it often with Kenny Burns who he signed because he thought he could cover both roles. He would also send Larry Lloyd or Dave Needham up top if they were in need of a goal.
If such an experiment was to be tried, I would not risk Keane up top. He would only offer an areal threat. He certainly wouldnt be running away from defenders onto ball over the top. I would be far more inclined to go with Big Yerry. he may take a few strides before he is flying, but he is a powerful runner once he has gone through the gears - 200 rather than 100.
His "different" approach to the game would certainly have the United CH's wondering what the fuck they are up against.
On a serious note.
Tony A. Yes Holgate has the lateral movement others in our team lack. Many thought he was MOTM when Ferguson played him as DM in for this very fixture.
I know they have re-signed Ronaldo, but this Man United team are no great shakes. Jammy win in mid week was preceded by a defeat at home to Villa and an embarrassing defeat to Young Boys.
Anyone fancying our boys to pull of an unlikely, but not impossible, result can get 7/1 this morning. I'd be surprised if you could still get that come kick off time.
Drew O'Neall
109
Posted 02/10/2021 at 07:10:12
Quick reality check to preempt the whinging on these pages this afternoon by ToffeeWebbers with their hopes up because they see a chink in Manchester United's armour..
They have at least 8 players in their SQUAD who would walk into our depleted starting line up (Ronaldo, Martial, Cavani, Rashford, Greenwood, Lingard, Sancho, Fernandes plus Wan-Bisakka, Maguire, Varane..)
We have Saloman Rondon (I'm not knocking the acquisition but his level has been West Brom and Newcastle United so far) or a few kids to choose from to play up front and we have a centre back at '70% fitness' playing at right back.
These issues, while not catastrophic individually, accumulate to make us far from the best version of ourself we need to be to go and take points off Champions League contenders in their own back gardens and whatever you think of Solskaer, he has nothing like these kind of problems to deal with.
If we get anything from Old Trafford it will be a minor footballing miracle so just bear that in mind before you come on here later saying 'Benitez is negative', 'Iwobi this and that', 'Rondon blah blah blah'.. yes we can get something but it will be bloody hard earned if we do!
Kim Vivian
110
Posted 02/10/2021 at 07:11:57
I love all the optimistic comments on the thread but with our depleted squad and MU looking for a bounce back after their ONLY league loss this season I'm afraid I'm expecting a walloping today.
I shall watch, as always, with hope in my heart but today with my feet on the ground, and if we get anything from the game I will be breaking a bottle out early - (I may be doing that anyway).
Whatever the result we must compete to the last man but it is the games we expect to win and fail to turn up for that do my head in. Today I can just hope for an early surprise Xmas present.
Bobby Mallon
111
Posted 02/10/2021 at 07:19:18
I won't be watching the game today taking my boy to new forest wildlife park for birthday. I predict we will win today 1.0. COYB.
Danny O'Neill
112
Posted 02/10/2021 at 07:29:43
Playing a decent footballing centre back as a holding midfielder or sweeper I can understand.
Playing a centre back as a centre forward smacks of desperation and, as mentioned above, takes us back to dark times.
And Michael Keane? If we use his mobility as a defender as a bench mark, we might as well play a lamp post up front.
Sorry, I'm usually more diplomatic.
Just back with the dogs. No matter how much I tried to sway them, they gave me a score draw.
Fran Mitchell
113
Posted 02/10/2021 at 07:44:46
We shouldn't try and be too defensive, basically because that will play into their hands and even if they struggle, Ronaldo will eventually get a chance.
I think Grey should play down the middle, and have Gordon and Townsend on the wings. Then a midfield three of Gomes, Doucoure, Allan.
Iwobi is useless. And Rondon is a long, long way from match fitness.
Hopefully Benitez can win the tactical battle over Solskjaer and that will be enough for a positive result.
Neil Cremin
114
Posted 02/10/2021 at 07:45:19
Talked to a Newcastle fan during the week and he has great time for Rondon. He believes Rondon will come good with 14-15 goals.
Hope he's right and he will start today.
Brent Stephens
115
Posted 02/10/2021 at 07:46:23
Drew #109, yes the difference between the two clubs in the number of quality players is stark, even before injuries. A point today would be very acceptable! But Rafa is up against it with the players at his disposal.
Bobby Mallon
116
Posted 02/10/2021 at 07:48:01
My team
Pickford
Godfrey
Mina
Kean
Digne
Doucourér
Allan
Gordon
Townsend
Rondon ( only because Rafa likes him, I'd have Simms more legs)
Gray.
Sam Hoare
117
Posted 02/10/2021 at 07:53:32
DCL, Richarlison, Coleman, Gomes, Iwobi, Delph, Tosun out with Rondon not fully fit, Godfrey still suffering long COVID and Gbamin nowhere near match sharp. Considering our lack of depth it's a long list.
But sometimes we play our best when up against it. Gonna need some heroic performances but this United side definitely has fragility, equally if they score early it could turn into a rout. Hard one to call but I'm think a draw would be decent.
Steve Brown
118
Posted 02/10/2021 at 07:54:37
My Team, 4-3-3 with Gray as a false number 9, Townsend and Gordon tucking in and Davies showing the same discipline he did last season in the CDM role:
Pickford
Godfrey
Mina
Keane
Digne
Davies
Doucoure
Allan
Townsend
Gordon
Gray
Derek Knox
119
Posted 02/10/2021 at 07:59:18
Danny, sounds like you are overfeeding those dogs, they are not HUNGRY enough, like Mr Bumble said in Oliver " Meat, Danny, meat. You've overfed the dogs. It has raised an artificial spirit in the dogs unbecoming to their station (getting Everton's scores correct in life). This would never have happened if you kept them on gruel ".
Doesn't seem like a week when we all met outside The Royal Oak, then into the game and on to Bramley Moore. Tempus Fugit indeed. Realistically looking for a decent, but gritty performance, think a lot depends on which Man U turn up on the day, and of course which Everton too.
David Greenwood
120
Posted 02/10/2021 at 08:45:31
Let's get in about this shower.
They are just a name, no longer a relevance when it comes to winning trophies. They're on the way down and hopefully we're on our way up.
Guaranteed dodgy penalty for them, and at least 8 minutes added on if we're ahead. But that's what we're up against and that's what we have to beat.
Lets do this people. COYB
Tony Waring
121
Posted 02/10/2021 at 09:07:52
Talking of penalties I raised a point recently when it was reported that Fernandez has scored 22 out of the last 23 penalties awarded to the Mancs. The guy has only been there 5 minutes and yet they'v been awarded 23 penalties ? What's going on with the refereeing decisions ? How long did it take Everton to get that many favourable awards ?
Fran Mitchell
122
Posted 02/10/2021 at 09:15:44
Tony, Utd do get a large number of penalties, more than the average team. However, their style of play does lend to that also. Often couner-attacking with pace, their is a bigger chance of poor tackles in the box. Add to that how often smaller teams 'panic' when playing Utd, and the obvious big-club bias, it explains why they get so many.
The key to this game is the midfield. Utd are a better team when both McTominay and Fred (60+ win %), but often Solskjaer bends to the pressure to play the 'stars' and plays just one of them (dropping their win % to 50ish). Hopefully he again bows to pressure. With just one of them, Doucoure, Allan, and an other can dominate the game from the middle, thus frustrating the star-studden attacking players. In Allan and Doucoure, we have the tenacity and energy to win the midfield battle.
Graham Mockford
123
Posted 02/10/2021 at 09:26:39
Tony 121
He's scored 14 of 16 penalties in all competitions for United. The vast majority were last season where he scored a staggering 13 of 14 in a single season.
Paul Smith
124
Posted 02/10/2021 at 09:39:03
Not expecting much today apart from 100% effort. Danny says it all for me. Looking forward to seeing Rondon causing their shit back 4 problems.
James Marshall
125
Posted 02/10/2021 at 09:46:13
It's a myth than Man Utd get more penalties than anyone else - this site proves the point: https://www.myfootballfacts.com/premier-league/all-time-premier-league/premier-league-penalty-statistics/
Also, we've had more pens than anyone else so far this season, so...
Dave Abrahams
126
Posted 02/10/2021 at 09:46:15
Fran (122), interesting you mention McTominay, he's the one player I hope doesn't play against us today, I think he plays for the whole game, busy all the time, winning tackles, linking up, always ready to receive the ball and scores a few goals, in other words a player I wish we had, very underrated in my opinion.
Andy Crooks
127
Posted 02/10/2021 at 09:52:55
This is a chance for someone to be a hero. Get fucking stuck right into them.
Tony Smith
128
Posted 02/10/2021 at 09:54:11
Will battle for 1/2 an hour then concede due to defensive lack of concentration, heads will go down and more goals will follow cue Ronaldo media wank fest. 4-0.
Ken Kneale
129
Posted 02/10/2021 at 10:05:54
Andy - well said. I hope the manager is saying the same
James Marshall
130
Posted 02/10/2021 at 10:12:03
I can't see it myself. Man Utd were indeed jammy in midweek, but Villarreal are a better outfit than we are, albeit draw specialists of late. We're depleted, and we haven't played anyone decent yet have we? Utd losing 2 on the bounce at home in the league doesn't happen often, nor does them arsing up a penalty to draw the game in the last minute.
If we get anything out of this game it'll be a minor miracle in my view. Rondon up front offers little other than target man status so far, and despite Utd being a bit hit & miss, their team & squad knocks ours into a cocked hat.
A draw would be a good result.
Mick O'Malley
131
Posted 02/10/2021 at 10:14:57
Darren@108,
Ian Marshall was a centre-half turned centre-forward who had a good spell with Oldham and Paul Warhurst at Sheffield Wednesday also converted to a striker. I also remember Dave Watson going up front on occasions if we needed a goal. Good shout on Yerry, he'd be a right handful!
Raymond Fox
132
Posted 02/10/2021 at 10:34:27
The betting on Betfair is 1/2 Utd 6/1 Everton 7/2 Draw.
Looks like the layers are not sure about Utd being a good thing, I thought they would be shorter.
Brian Harrison
133
Posted 02/10/2021 at 10:37:30
I can't see Benitez putting a defender up top, he will definitely play Rondon who must surely be getting fitter by now. I am not keen on defenders playing up top.
There is a team who have won the league on quite a few occasions lately and I doubt if any of their forwards are above 5ft 8ins. So that shows you can win without big strong forwards playing up top. Pace is what really worries centre-backs... so maybe Gray as a false Number 9.
Dale Rose
134
Posted 02/10/2021 at 10:44:43
Bobby 111.
You can throw stones at any squirrels wearing a Ronaldo shirt.
Martin Mason
135
Posted 02/10/2021 at 10:50:40
What I'd be happy with today is a good performance allowing for our injuries with the likelihood that we'll be better when we have a full side available and after the next transfer window. I do acknowledge though that how we play to day reflects the strength of our squad compared to MU's who also have injuries. The real worry is that today shows that the good start to the season was another false start. It's he hope that kills you isn't it?
Brian Murray
136
Posted 02/10/2021 at 10:53:32
Still shudder at Mad Mick Lyons getting thrown up front in the bad old 70s. Very rarely works.
Brian Murray
137
Posted 02/10/2021 at 10:56:24
If he persists in starting his mate Rondon I hope he's big enough to admit if it's another disaster and throw Simms on at ht.
Danny O'Neill
138
Posted 02/10/2021 at 10:56:28
It's been a long week Derek! How's the collection going?
Maguire out apparently, which I'm indifferent about. Always view him as an expensive Michael Keane.
Brian Murray
139
Posted 02/10/2021 at 11:00:11
Danny. Good luck watching the game with a load of mouthy cockneys. Release the hounds on em if it gets too much unless your sure the mutt is right and we get a Desmond !
Brian Murray
140
Posted 02/10/2021 at 11:03:20
Martin post 135?. Regardless of today we are fitter and have a game plan with a manager who can switch things and doesn't just sit there saying and doing nothing. Il say his name if we win a derby ha ha
Danny O'Neill
141
Posted 02/10/2021 at 11:04:23
Going in Brian!
Good luck blue boys. See you on the other side!
Paul Randall
142
Posted 02/10/2021 at 11:10:49
Having to rely on Rondon, as well as having other key players missing is simply a nightmare travelling to Old Trafford. I pray for a win but be made up with a point.
Jerome Shields
143
Posted 02/10/2021 at 11:12:14
Just noticed Michael Oliver in charge. Going to need some luck. Man Utd will get the split decisions.
I do have confidence in Rafa's craft ability, as long as the players measure up.
Martin Mason
144
Posted 02/10/2021 at 11:16:57
Brian@140, for sure, I just hope that we don't get too much negativity. The likelihood is that we'll lose.
Craig Walker
145
Posted 02/10/2021 at 11:41:16
Don't give us much hope today. Would love to be proven wrong. I just think they'll have too much up front for us.
---
Add Your Comments
In order to post a comment, you need to be logged in as a registered user of the site.
Or Sign up as a ToffeeWeb Member — it's free, takes just a few minutes and will allow you to post your comments on articles and Talking Points submissions across the site.