Digne back in training ahead of Spurs clash
Friday, 5 November, 2021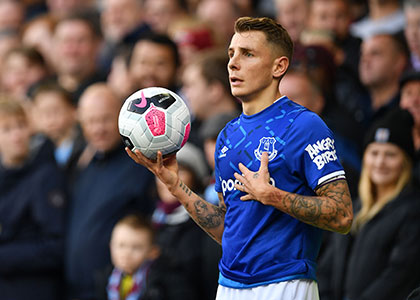 Everton have been handed a boost with the news that Lucas Digne has been training again with the first-team squad along with Jarrad Branthwaite and Ellis Simms.
The Frenchman was forced to miss Monday's defeat at Wolves with a muscle complaint but looks likely to be available for this weekend's clash with Tottenham who will travel to Merseyside with new manager Antonio Conte at the helm.
Simms has not been involved for the senior side yet but Branthwaite started the Carabao Cup win at Huddersfield in August and also made one appearance off the bench in the League before succumbing to injury.
While Dominic Calvert-Lewin has reportedly resumed running as he patiently works his way back from toe and thigh injuries, there was no sign in the photographs shared from Finch Farm of André Gomes or Yerry Mina who, it seems, are set to be unavailable again this weekend.
Branthwaite's return adds depth in defence and a possible stand-in at full-back in case either of the first-teamers pick up knocks on international duty.
Seamus Coleman has been called up to the Republic of Ireland squad for their forthcoming World Cup qualifiers against Portugal and Luxembourg while Digne has also been selected in the French squad.
However, their inclusion will have Everton's medical staff on edge given that both players have already returned home early from their respective national team's party this season with injuries.
---
Reader Comments (117)
Note: the following content is not moderated or vetted by the site owners at the time of submission. Comments are the responsibility of the poster. Disclaimer
Derek Knox
1
Posted 05/11/2021 at 03:59:50
Be just like a new signing, how desperate is that? Not sure what it is with Lucas, but he has not been the player we all know and love, whether it is the coaching or having poorer players around him, or players playing out of position. Those trademark crosses and free-kick specials seem to be a thing of the past!
Paul Hewitt
2
Posted 05/11/2021 at 05:46:22
It's the Everton curse, Derek. Doesn't matter how good a player you are, in the end, it drags you down.
Bill Rodgers
3
Posted 05/11/2021 at 06:25:18
When people talk about the EFC "curse" or "it drags you down" – what do they mean?
I think it is the Everton coaching system which survives manager after manager and produces half-hearted teams – regardless of the players.
Jim Bennings
4
Posted 05/11/2021 at 06:41:41
Coleman been called up for international duty?
I mean seriously is this really necessary?
33 years old, can't play to full capacity at club level every week now, and our only right-back option (I don't even class Kenny now as no manager seems to think he's good enough).
Coleman I understand is a proud Irishman and wants to represent his country but this is hardly beneficial to Everton Football Club.
What the hell is wrong with Yerry Mina?
Such a shame that we can't get this guy on the pitch 30 plus games a season anymore, nearly always seem to be injured with something.
Gaute Lie
5
Posted 05/11/2021 at 07:00:32
Why Coleman doesn't retire from the Irish National team to focus on Everton is beyond me. He is 33. Everton pay his wages, and are in real distress.
He is our captain. But he doesn't show captain material at all, IMO.
Good News Digne is back. Let's hope he can show us he's still the player he was 2 years ago.
Graeme Beresford
6
Posted 05/11/2021 at 07:31:06
Got to go good old 4-4-2 against Spurs. Direct football.
Pickford
Coleman Keane Godfrey Digne
Townsend Allan Davies Gray
Richarlison Rondon
Just go direct and get the left-back and right-back bombing forward, over-lapping. Get balls into the box early for Richarlison and Rondon, who are both good in the air. Davies to play more forward and Allan to sit deep and spread balls to the wing.
We have to change something. The formation and shape hasn't worked for weeks. If we come out with one up front again against Spurs, I fear we are sitting ducks.
Danny O'Neill
7
Posted 05/11/2021 at 07:39:59
I said against West Ham, Graeme, with what we have, 4-3-3. Shore up the midfield and without Calvert-Lewin, just play on the deck with Gray, Townsend and now Richarlison.
I'm an 80s kid, so grew up on 4-4-2. But in the modern game it exposes you in midfield and you get overloaded in my opinion.
Lee Courtliff
8
Posted 05/11/2021 at 07:41:18
Harry Kane is 7/5 to score anytime with Sky Bet. 14/1 to score a header.
We as well benefit financially from this inevitability.
Tony Heron
9
Posted 05/11/2021 at 07:52:04
Have to agree with Jim @4. "What's wrong with Mina?"
I think this guy is taking the piss. Can you see this situation being accepted elsewhere?
Always okay for Colombia but seems to get injured getting out of bed when it comes to playing for the club that pays him.
Martin Nicholls
10
Posted 05/11/2021 at 08:04:23
Tony #9,
Brings back memories of a certain Slaven Bilic, who had no trouble rising from the treatment table to put his Croatia shirt on.
Danny O'Neill
11
Posted 05/11/2021 at 08:16:33
Interesting call out on Bilic, Martin. A really good player but just didn't seem to want to, or be able to, do it for Everton as you say.
I remember reading an article at the time that it (he) was one of Everton's last rolls of the dice of trying to be a big club.
As I said on another thread, it's not the transfer fee that kills you, it's the sustained wages over 4 or 5 years. And as I understood, we were paying him a King's ransom.
Gary Smith
12
Posted 05/11/2021 at 08:19:01
Unfortunately, whilst Seamus has ZERO competition for the first team place he has ZERO incentive to want to quit risking himself for Ireland. For me, this is still the number one issue to address in January, as it has been for the last 3 Windows+.
In terms of Sunday, I'd like to see a 4-3-3, but defence has got to be brave and push up or Son and Moura will just occupy the same space Wolves did and we'll be dead and buried before half time. We need pace here to do it.
Pickford
Coleman Holgate Branthwaite Digne
Townsend Allan Delph
Gray Richarlison Gordon
Formation can easily switch to 4-2-3-1 if it needs to (ie, defence again not being brave, and therefore need to cut off space in front of it).

Mick Roberts
13
Posted 05/11/2021 at 08:22:56
Graeme,
I would rather put a Number 9 on a traffic cone and put that on the pitch rather than Rondon – at least the Spurs defence would have to run round it, I say let Simms show what he's made of.
Jim Bennings
14
Posted 05/11/2021 at 08:46:08
No doubt Kane will be revitalised, new manager and playing against his favourite opponents.
Not to mention he's up against Mason Disaster-gate and Michael Scream too doesn't bear thinking about.
Kevin Prytherch
15
Posted 05/11/2021 at 08:50:39
If we play 4-4-2 or 4-2-3-1 then we need the wide players to put in a shift defensively and effectively be wide midfielders the second Spurs are in possession. In these situations this can't be Iwobi or Gray, they just aren't cut out enough defensively.
Personally, I would prefer a 4-3-3, with Delph in front of the defence and Allan and Davies as the other midfielders. They're all decent as part of a midfield 3, but all regularly get exposed when there's just 2 of them there.
I feel this is a game for a low block and counter attack, so in the absence of Mina then it has to be Keane and Holgate again. These games are suited to Keane, regardless of how he has played in previous games, and Holgate is the next best option currently.
Danny O'Neill
16
Posted 05/11/2021 at 09:00:29
In my opinion, you go with what you have, Kevin. And with what we have, I think our best option is 4-3-3.
We all have our preferred options, but the reality is you play the system that suits the players you have available. Not play the system you want regardless of the players you have available.
My preferred attacking formation is 3-5-2, but you really have to have the right players to play that. My ideal formation is 4-2-3-1.
But ultimately, to my previous, you have to look at the players available and play a formation that suits what you have. Not pick a formation and try to make the players you have available fit that.
Eddie Dunn
17
Posted 05/11/2021 at 09:02:52
Have to agree that Seamus should retire from international football. He is on the wane and should have the sense to preserve his legs for EFC. We simply can't afford any more crocked or semi-crocked returnees from international duty.
Mina should never have played 3 games in 8 days for his country. The guy just can't take it.
As for Digne, I presume he is biding his time for an impending departure.
For the Sunday game, can we just start the game at full speed, as apart from the Davies goal, we have taken half the game to wake up.

Robert Tressell
18
Posted 05/11/2021 at 09:18:06
It's got to be Delph, Allan and Davies as a trio to clog up the midfield, gain a foothold in possession, protect the defence (flanks and centre) and release the 3 forwards.
4-4-2 can work but needs very particular personnel – which we don't have. It just exposes the limitations of our centre mid players and nullifies our wingers by having them track back all the time.
Graham Mockford
19
Posted 05/11/2021 at 09:54:45
If Iwobi is again preferred over Gordon and the result goes against us, I think the tide will turn against Rafa with the fan base.
Tony Everan
20
Posted 05/11/2021 at 10:08:20
Re Mina, It was madness by Columbia playing him for a full 90 mins in three games within 8 days. That must have taxed his body. Within days, he was injured upon his return to Everton. Colombia should rotate and protect players with so many games in a short time frame. We are suffering defensively without the big feller.
Son and Kane will fancy their chances against our shaky defence, we have to be a lot stronger and more organised. It worries me with Mina out, there doesn't seem to be a confident pairing beyond Keane & Mina.
There's no easy answer, Godfrey needs time to properly recover, Branthwaite is young, inexperienced and just returned from injury, Holgate is error prone and has looked a lot less a defender than I was expecting him to develop into.
Because of the health and injury factors, and because Holgate and Keane did very well against Brighton (unbelievably back in August), I would reluctantly go for that pairing.
With a more compact midfield, that could help with our defensive stability too, so for me also, it has to be a 4-3-3:
Pickford
Coleman Keane Holgate Digne
Allan Davies Delph
Townsend Richarlison Gray
Gordon on for Townsend in the last 30 minutes.
Iwobi and Rondon shouldn't be starting matches until they are showing far more. Rest Godfrey until after the November international break.
Hold on to your hats and clench the buttocks when Tottenham have a corner or free-kick near the box.
Alan J Thompson
21
Posted 05/11/2021 at 10:18:14
If Digne is ready to go then that's it, 3 across the back with wing backs and Gomes, fit or not, just to run alongside Son and whisper in his ear.
Mark Ryan
22
Posted 05/11/2021 at 10:28:47
Nightmare scenario. Spurs will be over-enthused having Conte in the dug-out. Kane will be on a happy hunting ground and up against a nervy defence.
Like treading water for me at the moment. I want to so desperately stay up but I have a sinking feeling. Not Rafa's fault in my eyes. Shit show of a squad and who can hope to dream of a win when you have Iwobi, Holgate and Rondon in your team?
Normally over-optimistic and thought we'd beat Wolves but, when you see Allan and Keane arguing on the pitch, Godfrey out of sorts, and with Calvert-Lewin, Digne, Mina and he who shall not be named all out... well, you have to worry. I am.
Could be an appalling scoreline. Hope he plays Gordon from the outset. Everything crossed.
Dave Abrahams
23
Posted 05/11/2021 at 10:37:12
Don't know where else to put this Lyndon/ Michael, you are advertising GrandOldTeam website but when I punch it in it comes up as " Page not found"have you sacked them?
Kevin Molloy
24
Posted 05/11/2021 at 10:38:40
Branthwaite if he's fit has got to be a better bet than Godfrey at the moment surely. He's coughing up over a goal a game. But the one thing that must not happen is Keane and Holgate against Kane.
Can't believe Seamus is making himself available for Ireland at this time. He's 33, and got a dodgy hammy, and we've got no cover. The club must have spoken to him about it, but it looks like our captain has told them to Foxtrot Oscar. Speaks volumes for the spirit down there.
Rob Halligan
25
Posted 05/11/2021 at 10:39:22
Alan # 21, I make no apologies for posting this, and if it were up to me, I would put up on the Spurs changing room wall the two pictures of the injury to Gomes, the one showing his foot pointing the wrong way (in-between an Everton players leg), and the one showing the dislocation. We need a Ben Godfrey crunching tackle on that gobshite Son and I hope the crowd on Sunday give him absolute hell.
https://m.youtube.com/watch?v=hmfySwmpHew
Michael Kenrick
26
Posted 05/11/2021 at 10:59:58
Dave @23,
Thanks for spotting that. I checked a couple of links to GOT that are buried on our Fans pages... they seem to be working okay.
Any chance you can recall which ToffeeWeb page you were on when you saw this problem, Dave?
Cheers.
Colin Malone
27
Posted 05/11/2021 at 11:26:24
If we have got to play Iwobi, it's got to be behind the front man. That's his preferred position, so give him a chance. If it doesn't work out, then he's gone in January.
Peter Neilson
28
Posted 05/11/2021 at 11:49:02
Hopefully Iwobi sticks to his best position, 10 miles away at Finch Farm.
Michael Lynch
29
Posted 05/11/2021 at 12:04:57
Can't entirely blame Seamus for wanting to play for Ireland. It's not like he's a plastic, he's as Irish as they come. And it's not his fault that our useless club haven't got any cover at right back.
On the other hand, we do pay his wages, and it is a huge risk for him to play international football with Everton in the situation we currently find ourselves in.
If I was him, I'd retire from club football and become player-manager for Ireland at the end of this season. I doubt if he'll want to be playing Championship football at his age.
Dan Johnson
31
Posted 05/11/2021 at 12:30:18
One thing we have to do on Sunday is fill our midfield. Our two central midfield players are always outnumbered, so spend most of the game chasing shadows. We can't afford to play high up the pitch as Spurs' pace will kill our central defenders.
I just hope we don't sit back from the start and allow Spurs to dominate. I want us to get in their faces from the first whistle; we are far too passive. COYB
Bobby Mallon
32
Posted 05/11/2021 at 12:40:40
The team I would pick is:
Pickford (Why did we let two good goalkeepers leave?)
Coleman
Keane
Branthwaite
Digne
Delph
Townsend
Alan
Gordon
Gray
Richarlison
In a 4-1-4-1 with Delph just in the pocket between midfield and defence, instructed to not go over the halfway line.
But Rafa will pick:
Pickford, Coleman, Keane, Godfrey, Digne, Iwobi, Allan, Davies, Townsend, Tosun, Richarlison.

Mike Keating
33
Posted 05/11/2021 at 12:59:39
Colin @27,
I'd also love to see the back of Iwobi in January but where would he go?
Arsenal couldn't believe their luck when we took him for over £30M and I'd be surprised if we could get half that from another bunch of mugs.
Brian Murray
34
Posted 05/11/2021 at 13:08:56
With at least four of this useless squad gone in January (Tosun, Gomes, Delph, Kenny etc), there is no reason we should be making plans to get the two full-backs, a midfielder and a striker we need to really push us up the table.
Sounds easy but, sooner or later, we have to act like pros and have a Plan B and Plan C.
Dave Abrahams
35
Posted 05/11/2021 at 13:13:13
Michael (26), well it happens when the GrandOldTeam page is advertised on the bottom right-hand side of the page. Just tried it now and "Page not found" came up.
Brent Stephens
36
Posted 05/11/2021 at 13:17:25
Michael, Dave, I clicked on the Rafa link under From Grand Old Team and it said "Page Not Found".
Robert Leigh
37
Posted 05/11/2021 at 14:21:05
So difficult to pick a side that is short of confidence, quality, and depth. I'm no fan of Rafa, but Pep, Klopp, anyone you care to mention would do well with this lot. Go for a 0-0 and try and nick a goal is the only thing I can see...
Given the mobility of Regulion, Moura and Son, I'd change it a little and put more mobile people in those positions, regardless of whether or not they make our 'best team' or not. Keane man-marks Kane and doesn't leave his side.
That looks like (IMO):
Pickford
Kenny - Coleman - Keane - Holgate - Digne
Allan - Delph - Davies
Richarlison - Gray
Subs: Begovic, Godfrey, Branthwaite, Gbamin, Iwobi, Townsend, Gordon, Rondon, Tosun.
Funny, listing it out, we have a huge squad just short on quality. Of those 20, I'd swap in of our players either injured, unavailable, or on loan:
Mina, Nkounkou, Doucoure, Calvert-Lewin, Sigurdsson, Gomes.
Stu Darlington
38
Posted 05/11/2021 at 14:40:37
Significant that none of the the proposed team selections even mention Iwobi! I wonder why??
Bobby @32
I like your team selection but I agree: Benitez won't go for it.
Joe McMahon
39
Posted 05/11/2021 at 14:51:47
Such a dreadful squad, with a striker and left-back out on loan that we could do with now.
I've no hope for this at all, and Coleman, as much as we have all loved him, like Baines, has been kept 3 years too long. What a pathetic set-up this club is. Obsessed with decades old history, and Bill who still bangs on about Howard's Way.
Brian Wilkinson
40
Posted 05/11/2021 at 15:06:31
We may have Tosun on the bench, but I will be very surprised if he gets more than a couple of minutes.
Everton will be trying to offload him in January, to save on wages, so cannot see us risking another injury, scuppering an exit.
Iwobi has got a free pass with scoring at Wolves, his only contribution, but enough to justify Rafa starting him yet again, even though Gordon should be getting a start in his place.
With the exception of Digne returning, I see a similar line up,to the one that started v Wolves.
Kieran Kinsella
41
Posted 05/11/2021 at 15:17:05
Stick Kenwright in the "hole" between Keane and Allan. Give it 10 minutes and, if we play like we did last week, then just say someone has Covid and forfeit for the 0-3.
Robert Williams
42
Posted 05/11/2021 at 15:49:56
MK26. GOP - Home page bottom right click link. - Not found!
Derek Knox
43
Posted 05/11/2021 at 15:55:12
Dave and Brent, I have just tried it too, and guess what?
Page not found came up! :-)
Denis Hignett
44
Posted 05/11/2021 at 16:22:38
I'm sure Heung-Min Son will get a warm Goodison welcome!

Allan Board
45
Posted 05/11/2021 at 16:56:53
Just seen Rafa's presser. Nothing of note other than he has the look of a man who now realises the classic car (EFC) he's bought is a heap of shite, and rotten to the core, but looked okay at first because it had shiny new paint on it and it seemed to go alright!!! Plus the salesman was like Swiss Tony!!
Same shit, different weekend, same outcome... We need 12 new players or 10th place again.
How boring is it being mediocre?!
Michael Kenrick
Editorial Team
46
Posted 05/11/2021 at 17:15:44
Okay, so I was clicking on the section heading 'FROM GRAND OLD TEAM'. straight there, licketty-split, no problemo.
But, yes, the embedded links to each of their thread titles listed below are broken.
Unfortunately, because of Covid and Brexit, we are short of competent coders, so you will have wait for remedial action to be completed. In the meantime, please do not panic and feel tempted to use other websites.
John Boon
47
Posted 05/11/2021 at 17:16:05
Allan (45),
10th place. Wow!! That is too much to expect with the present bunch.
Allan Board
48
Posted 05/11/2021 at 17:32:07
John @47,
I know, but it's Friday and, after a hard week building, I am feeling generous, upbeat and a bit daft!
Bring on the beer!
But Iwobi is still really shit!
Jeff Armstrong
49
Posted 05/11/2021 at 17:32:37
Doesn't Delph's contract run out at the end of this season? Maybe I'm being cynical but his best 45 minutes in a blue shirt coincided with the realisation that, if he's going to get a new contract anywhere, he'd better start playing, and playing like he's bothered.
He's taken the piss for 2½ years.
If he becomes Player of the Season for the next 6 months, I'd still fuck him off for that reason alone.
Brent Stephens
50
Posted 05/11/2021 at 17:47:14
Anthony Gordon's first U21 call-up is great news. Well deserved.
Brent Stephens
51
Posted 05/11/2021 at 17:52:51
The U21 games are to be televised by Sky so hope to see our Anthony. v Czech on 11 November and v Georgia on 16 November.
And "Elijah Campbell, meanwhile, is selected in an England Under-18 squad that will participate in the four-nation Pinatar Tournament in Spain". Also well deserved.
Rob Halligan
52
Posted 05/11/2021 at 17:59:30
Jeff, yeah, June 2022 is when Delph's contract is up. We only paid £8M for him, so no great loss... other than 3 years of paying him wages for next to no return. 😠😠😠
Tony Cheek
53
Posted 05/11/2021 at 18:10:03
Can someone please tell me why Digne is everyone's blue-eyed boy?
Slow, weak, gives away free-kicks all the time, can never get a corner past the first man, and maybe gets to put in two good crosses a game.
Jesus, I miss Bainesy on the left.
John Kavanagh
54
Posted 05/11/2021 at 18:19:11
Congrats to Gordon on his Under-21 call up. I'm sure Lee Carsley will make use of his talent and will get the best out of him.
I've already given up on Sunday as the propensity for our centre-backs to provide assists to Kane, combined with the lift their new manager will give them, is likely to overwhelm us.
I'd give Branthwaite a start. Even though he was guilty of one bad error in his previous appearances, the present pairings are making 2 or 3 howlers per match.
If Iwobi and/or Rondon start, it will be game over. I cannot think of anything more likely to deflate the atmosphere at Goodison than those two names being announced before the kick-off. Things could get very nasty very quickly on Sunday.
ps: Has anyone been spotted in a shirt with Rondon on the back yet? There's always someone willing to take on a daft bet.
Jeff Armstrong
55
Posted 05/11/2021 at 18:35:25
Tony #53,
He's not everybody's blue-eyed boy. Plenty on here don't rate him, including me, but he's all we've got at left-back so it's him or Godfrey. I'd say Digne just edges it.
Joe McMahon
56
Posted 05/11/2021 at 18:36:14
John @54, most probably not, but I don't remember seeing a shirt with Hibbert on the back either, over many years.
Tony Abrahams
57
Posted 05/11/2021 at 18:40:32
Baines was brilliant, Tony, and was criminally underused once Digne came to the club IMO.
But those corners might not be so bad if Everton just put a player at the front post? It's one of my biggest pet hates in football, and something that I find really hard to understand.
Jeff Armstrong
58
Posted 05/11/2021 at 19:08:00
Joe 56,
I recall many a time (probably too many) where the blue Hibbert shirt was worn around Goodison, and even away from home. Unfortunately, Tony was wearing it.
To be fair, we could do with the 2007 version right now, Seamus is done, imo.
Darren Hind
59
Posted 05/11/2021 at 19:36:08
Some understandable reticence being expressed here but, if we don't beat this fucking crew, I'll be found sitting at the foot of our stairs.
11/5? Not a big gambler, but that has to be worth a nifty...
Dave Abrahams
60
Posted 05/11/2021 at 19:38:09
Michael (46), thanks for the info, no panic and ToffeeWeb is still the best website on the football scene!!
David Bromwell
61
Posted 05/11/2021 at 20:16:58
Seeing the teamsheet prior to the game is always a big deal for me and I like it best when the manager appears to have selected his best available team.
So, for Sunday, Rafa, please, please no Iwobi – the guy has had numerous chances and sadly, for the most part, has been a miserable failure.
Secondly, can we please have three central midfielders who can win and retain possession? It's really no fun for anybody when we allow the visiting team to dominate games by allowing them the freedom of the midfield.
Not for me to say who those three should be and you may win Manager of the Month if you can find three who can play for 90 minutes. But, if you manage to do this, you will have my full support. Good luck as I expect we will need it.
Brian Wilkinson
62
Posted 05/11/2021 at 20:21:05
John @54,
I will quite happily wear a donated Rondon top.
I have only ever had 5 players' names on a shirt over time: Rooney, Ferguson, Speed, Kanchelskis and Fellaini – all five had left Everton the very same season I bought the tops.
Barry Hesketh
63
Posted 05/11/2021 at 20:28:30
Brian @62,
Seeing as it's close to Christmas, could you buy an Iwobi shirt to go along with the Rondon one?

Brent Stephens
64
Posted 05/11/2021 at 20:38:03
Breaking news – Everton shop sells 35,000 Rondon shirts in 24 hours. A measure of his popularity.
Kieran Kinsella
65
Posted 05/11/2021 at 20:39:36
Brian & Barry,
You're both on to something. Chuck in another 30 shirts to clear the dead wood and the board. You're going to need a bigger closet!
Joe McMahon
66
Posted 05/11/2021 at 20:50:11
Brian, I've only had one, Limpar. Your Speed one is pretty awesome. He was a great player but unfortunately came at the wrong time, and I was miffed like mad when he left.
Tony Everan
67
Posted 05/11/2021 at 20:54:49
I'll add to the congratulations for Anthony Gordon, the lad is doing very well this season, a deserved call-up.
The positive contribution he made when he came on last week will get Benitez thinking. He looked proactive and confident. Really trying to make something happen rather than be passive and choosing the easy option.
It is the sign of a quality player when they have this attitude and the natural talent to back it up. It wouldn't surprise me too much to see him starting on Sunday, he can't be far away.
Rob Halligan
68
Posted 05/11/2021 at 20:54:51
Lee Carsley picking Anthony Gordon for the England U21 squad, may be a subtle hint to Benitez to start picking him from the start. If Carsley thinks Anthony Gordon is good enough for the England U21s, then he's good enough to be selected before Iwobi.
Good selection, Lee Carsley!!
Justin Doone
69
Posted 05/11/2021 at 21:03:15
All well and good talking about formations and team selection but Rafa needs to get them fired up from the start and we fans need to get the stadium rocking from when the players enter the pitch.
I expect a brilliant noisy atmosphere and an "up for it" fighting performance. Let's enjoy a win before the international break.
Bobby Mallon
70
Posted 05/11/2021 at 21:32:00
Goodison will not be rocking
Si Cooper
71
Posted 05/11/2021 at 21:53:48
I think Digne gets too much stick.
He might not be rapid but he ain't slow either and he is always looking to do both his defensive and offensive duties.
Sometimes it's about who you are operating with. If he's expected to get forward as often as possible then someone has to be aware at the times he will be caught out of position.
Whoever he is linking up with going forwards will make a big difference too. Demarai likes to carry the ball inside and doesn't all that often look at the overlap from what I've seen.
Was Bainesey ever any better than when he was playing with Pienaar?
Tom Bowers
72
Posted 05/11/2021 at 22:04:57
Will he make any difference? I don't think so.
This squad, at least those that are fit, are just average and the last three games showed that in a big way.
Most of the team that get's on the pitch is way too slow in closing down the opposition and frequently leads to excess pressure on the back line which is also a tad slow. Our quickest man used to be Seamus but he is now past his best.
Kenny is quick but not really up to the task and they let a good prospect in Nkounkou go for this season.
Spurs, as we know, are very dangerous and they now have a new manager they all want to impress
Our players have gone past their grace period and have slunk back to what they were previously.
I will be very surprised if they can avoid defeat again.
Brian Murray
73
Posted 05/11/2021 at 22:08:38
We was all envious of Villa beating us to the likes of Bailey and Ings but sometimes it doesn't pan out. If we can get our players back soon as and the FFP limits will be loosened in January, when we surely get buyers for Tosun, Sigurdsson, Delph, Kenny and Gomes which will let this boss do some more clever business. This season might not be as disastrous as it seems. New hope, new chairman, coyb.
Tony Gallagher
74
Posted 05/11/2021 at 22:09:39
Hi there, just wondering if there is any spare tickets for the Tottenham match on Sunday?
07932 488887 Thanks.
Dale Self
75
Posted 05/11/2021 at 22:14:47
No Si, the Bainaar was the apex of 21st Century Everton football possession. Those two were the proof of what you are saying about speed and were the epitome of running to create space. Telepathic.
Michael Kenrick
76
Posted 05/11/2021 at 22:18:48
"In January, when we surely get buyers for Tosun, Sigurdsson, Delph, Kenny and Gomes"
Thanks for that, Brian @73. Biggest laugh of the weekend so far. And it's only just begun. Keep 'em coming!!
Kieran Kinsella
77
Posted 05/11/2021 at 23:43:12
Brian @73,
With that lot, I feel like I'm doing a stretch at Strangeways and counting the days down until my freedom from them. But then I remember I've got three more years of Iwobi and Gomes for bad behavior.
Mike Gaynes
78
Posted 06/11/2021 at 00:44:53
Brian, is it a nice day on whatever alien planet you are orbiting?
Dan Parker
79
Posted 06/11/2021 at 01:48:22
I'm not watching the game. It makes me sad but I'm still incredibly angry and disappointed at the players' attitude in the last couple of games.
I don't blame Rafa (beyond playing Rondon). Completely unprofessional display. It's the worst back-line I've seen in my lifetime. Not in talent, but attitude and spirit.
Beyond Mina, an utterly spineless defense.
For my own mental health, I just can't watch it. I hope we stick with Rafa and let him clear out the dead wood, and the rot is pretty deep beyond the surface layer of Tosun etc.
I'm sure the U23s would show more spirit but heck we're protecting them before we flog them off as not good enough to the Championship…
You can't tell me Cenk Tosun and fucking Rondon are better than our youth. Let me ask you this, who would you want to go over the top with in the trenches – Lewis Dobbin or Rondon?
That's it, I'm out for a while. Likely only a week or so but I wish I'd was bloody longer.
Dan Parker
80
Posted 06/11/2021 at 01:56:01
Sorry, lads, I don't mean to rant. I lost my cousin who was a year younger than me a week ago and the club means so much to me, I'm at a complete loss to the last couple of performances. I've always had hope for the future but it's all a bit lost at the moment.
Steve Brown
81
Posted 06/11/2021 at 02:15:12
Maybe we get rid of them in a January sales Buy One Get One Free deal. We would have to pay 50% of their wages though!
Bill Watson
82
Posted 06/11/2021 at 02:41:18
Rob # 52.
I'm not a Delph fan but, when he came on for the second half v Wolves, he sat in front of the back four and provided the link to the midfield which had been totally absent in the first 45 minutes. He transformed the game and, with better finishing, we'd have got at least a point.
If he's fit, he'll start on Sunday.
Okay, I'll get my coat!
Mike Gaynes
83
Posted 06/11/2021 at 03:05:12
No need, Bill. We're all still in shock at the display Delph put on after playing only 7 minutes since last May, but the quality of his contribution was undeniable, and clearly he has earned a start.
Kieran Kinsella
84
Posted 06/11/2021 at 03:22:18
Bill & Mike,
I've never questioned the ability of Delph from his Leeds Utd days through Aston Villa and into Man City. The issue has been his fitness. If he's fit, okay, play him. He's a decent player and, Seamus apart, the one guy in our squad with some character.
But, even if he's awesome for the next 6 months, do not give him a new contract as his wages versus appearances is not worth the cost.
But, while we have him, if fit: use him!
Phil Smith
85
Posted 06/11/2021 at 04:22:06
Sorry but Godfrey should be no way near the first team at the moment. Constantly making errors leading to goals this season.
Darren Hind
86
Posted 06/11/2021 at 04:59:47
Dan
I always smile when I see people attempting to leave or resign from his post of being an Evertonian.
This is the fuckin Hotel California, mate.
You can check out any time you like......
Darren Hind
87
Posted 06/11/2021 at 05:00:25
But you can never leave...
Mike Gaynes
88
Posted 06/11/2021 at 05:07:21
Phil, okay, Godfrey shouldn't be "near the first team"?
Fine. So, out of the squad? Okay. Replaced by whom?
Mina? Recurrent leg problems.
Holgate? Incurable brain problems.
Branthwaite? Hasn't played a Premier League minute for a year and a half.
Gibson? On loan and injured.
Astley? Welch?
We're a little short on decent alternatives at the moment.
Dan Parker
89
Posted 06/11/2021 at 06:15:14
Darren. It is Halloween. A true curse that can't be shaken, just pretend it doesn't exist for a couple of weeks is the best I can do. Moshiri as Bela Lugosi and Kenwright as Renfield.
Danny O'Neill
90
Posted 06/11/2021 at 06:26:18
I like that analogy, Darren.
Although the sad thing is most of us can't even check out. We sometimes walk towards the reception area with our bags.
But then go back to the bar for more.
Bobby Mallon
91
Posted 06/11/2021 at 07:37:00
I love that analogy, Darren – bloody brilliant. We all love this Everton.
Tony Everan
92
Posted 06/11/2021 at 09:05:48
On a slightly different tack, it was good to see Ellis Simms back in training. It was no mean feat for a young player going to Blackpool, scoring plenty of goals, having a successful spell and helping them to promotion. A valuable learning experience and good advice from their manager Critchley helped his game.
He's still young, learning and likely improving and it will be interesting to see how Benitez treats him. Will he be used as back up or from the bench for the rest of the season or sent out on loan again?
It will probably come down to how he is perform training, but I am looking forward to see if he can take his opportunities when they come along and put a marker down.
Steve Shave
93
Posted 06/11/2021 at 09:48:54
Totally with you on that, Tony, Simms has dropped below Dobbin in the pecking order despite his physicality making him more Premier League ready than our Lewis. I hope that this was down purely to the injury and that Ellis can impress.
I've held high hopes for him in the past (the Everton curse probably). The lad is a natural finisher and hopefully with the right coaching could offer decent back-up one day; only one way to find out.
Derek Knox
94
Posted 06/11/2021 at 10:06:55
Darren @ 86&87 Touché Dazza !
As they say in the French Quarter, of Scottie Road ! :-)
Danny O'Neill
95
Posted 06/11/2021 at 10:07:29
Interesting to get a view on Dobbin, Steve.
He looked tidy when he came on against Norwich, but seemed to get placed out on the left from what I saw.
I know a lot have been talking about Simms. I don't think it would do any harm to give him 20 minutes.
In the absence of Calvert-Lewin, it would give Gray something to hit other than the lamppost he's been aiming for in recent weeks.
Ray Roche
96
Posted 06/11/2021 at 10:11:57
Danny, did you see the message I sent you yesterday?
Geoff Lambert
97
Posted 06/11/2021 at 10:39:02
Could we not loan Rondon out for a season to a League Two outfit?
I think we are burning him out at the moment.
David Pearl
98
Posted 06/11/2021 at 10:44:41
Spurs ticket available £19 oap or £30 07368456214
Michael Kenrick
99
Posted 06/11/2021 at 10:49:57
I've tried to track what's going on with Simms and Dobbin so far this season, in terms of them providing first-team cover at centre-forward.
At the start of the season, Simms was still carrying that injury from his last days on loan at Blackpool. However, he seemed to recover enough to be training with the first team and then get named on the bench for games against Aston Villa, QPR, and Norwich City. But no sign of him for the last four games – and he has not been involved in any way with the U23s this season, suggesting he is firmly considered to be in the first-team squad now.
So, if he is back in training with the first team, then I guess his injury flared up again, or something else kept him sidelined for the last four games. I would expect him to be on the bench tomorrow; it would be nice to see him actually get a few minutes. 20 minutes, Danny, would be unprecedented under this manager – and as for starting instead of the lumpen Rondon... don't get me started.
Through all this time – from the beginning of the season – Lewis Dobbin has been as fit as yer proverbial musical instrument. He started the season firmly with the U23s, has been involved in all their games bar 3 which coincided with his first-team involvement.
I'd like to say he played with the first-team but that's just a sick joke. Entering the play at the 89th minute against Norwich, then the 90th minute at Old Trafford... what is the point? Then sat on the bench for the next 2 games, watching The Incredible Hulk strut his stuff... how galling must that be? So for the last game, to be dropped off the bench entirely must actually have been something of a relief, all things considered.
But this would suggest that Dobbin is very much borderline between the U23s and the first-team, and thus is actually behind Simms in the pecking order, fitness on the day notwithstanding.
And that was my point. Somewhat long-winded. But I just cannot see why the pathway to the first-team has to be so tortuous. And why, in the name of all the Greek gods, do we have to suffer watching Salomon fucking Rondon every week, instead of one or other of these young fit lads...

Michael Kenrick
100
Posted 06/11/2021 at 11:09:16
And I'm reminded that
The Athletic
has pointed out that both players (Simms and Dobbin) will be out of contract in June of 2022, and therefore both able to talk contract terms with other clubs from 1 January 2022 – unless Everton get them signed up on new contracts pronto.
The Athletic reckons that Dobbin has been weighing up his options, and contract talks have been going nowhere. After the example set by Thierry Small in terms of his impatience to progress, it's all too tempting to think he might already have one foot out the door. And all the more reason why Rafa should play him instead of that useless lump.
Robert Tressell
101
Posted 06/11/2021 at 11:12:02
I too would like to see Simms get minutes to help him acclimatise at this level. He would ideally be back on loan at Blackpool now continuing his education at a higher standard. He's a very good finisher but still a work in progress.
Dobbin is not ahead of him as such, in my view, he's just match fit and also offers something a bit different with his pace and mobility. That's why he's had minutes while Simms has not.
Branthwaite and Gordon are the two I'd like to see us develop into proper first teamers right now. Possibly Onyango too.
Jim Lloyd
102
Posted 06/11/2021 at 11:32:45
I'm glad to hear that Ellis is on the road to fitness, as he seems to have taken a good while getting over his injury. Good news indeed. I think our major problems though, are centre of defence; and midfield with Doucouré being injured. However, it'd be brilliant to see either or both of these lads get a game and see how they get on.
The lads who go to the under 23's will have a great idea of how both might fit in and any others, like Robert suggests.
Sometimes, it isn't fair to throw the lads into a struggling team; but I think it'd be a great morale booster to the fans to see hungry young lads eager to get on the pitch.
I feel sorry for Rondon, as I'm sure he was bought as the cheapest option, because of the injuries to Richarlison, DCL (who's back in training) Tosun and Ellis. It seems now, that Tosun will be sold (given away!!!) if we can, during the January window and save on wages. So my view is they won't risk him getting an injury tying his shoe laces.
The great thing about the kids coming on, is the opposition haven't had the chance to work them out yet.
It's unfortunate though that we're coming into a match with the chickens boosted by Conte being brought in. It's midfield that concerns me though. Now that Richie's fit, we need at least one in midfield who can try and emulate the new Doucouré and get charging up the pitch with the wingers and CF.
I'd certainly go along with Robert and have Branthwaite joining Tony Gordon in the first team. A big lad, athletic...and he's got a brain, which would be a massive improvement!
Mark Taylor
103
Posted 06/11/2021 at 11:33:22
What have things come to when so many on here are pushing for Delph's inclusion in our first team?
David Midgley
104
Posted 06/11/2021 at 12:19:46
Dan #79.
Rondon, he's that slow he'd draw all the fire.
Tony Abrahams
105
Posted 06/11/2021 at 12:27:16
Michael K, playing Dobbin, would probably just give him the bargaining tools to just get another 5/10K a week, wherever he decides to ply his trade imo.
Mike Gaynes
106
Posted 06/11/2021 at 12:27:27
I can't decide which I liked more in this thread... the Hotel California reference or the description of Rondon as "lumpen".
In both cases, cruel but irrefutably accurate.
Brian Murray
107
Posted 06/11/2021 at 13:01:21
Re hotel California. There's a reference to our manger and happier times. I said to the waiter please bring me my wine ! We haven't had that spirit since 1969 albeit tenuous 🙄👌
Billy Roberts
108
Posted 06/11/2021 at 13:01:49
Michael 99+100
Spot on, what on earth is the point of our under 23s if the best they produce...currently Ellis and Dobbin cannot be trusted in this desperate time?
We have a finishing school that can't produce the finished article.
By finished I mean finished with the apprenticeship and ready to cross over to the big world of top flight football.
It seems all we hear now is they aren't ready to cross this gulf as if we were talking about league 1 players playing in the Champions league.
If the gulf is so stark something fundamental is going wrong at Finch Farm, there can't be any other conclusion.
I have to resort to the old cliche...how will we ever know? How will they get the experience?
There will always be young players who burst into life when given the platform, maybe Ellis or Dobbin will?
If our under 23s isn't providing this essential link I don't know what it's purpose is? EFC doesn't exist to win the Premier league 2 or whatever its called.
Considering the amount of wasted chances we have had in the transfer market it makes it even more crucial we start producing players ready to compete, otherwise just shut it down.
Jerome Shields
109
Posted 06/11/2021 at 13:15:38
Jim#4
I agree Coleman taking chances with his twilight club career, is a unnecessary risk. As for Mina he is rehabitating alone overseas.
Pete Jeffries
110
Posted 06/11/2021 at 13:59:00
I agree Godfrey has had 2 really poor games and I am sure he knows it.
But at Man U he was my man of the match full of energy and some great tackles.
I don't think the manager is with the fans with his team selections eg why Rondon and Iwobi and its getting to the better players who must be a bit demoralised when they see the team sheet.
Whatever he said to them at half time at Wolves needs emphasising on the double.
Lets face it more of that is all we can expect from the quality of the squad ?
Adrian Evans
111
Posted 06/11/2021 at 14:56:35
Hi any Toffee.
Got one of my two season tickets not being used now.
I am going, can't jump ship; be tough but be there.
It's £19 if you're over 65, like me. £30 if under.
Just meet at ground about 1pm.
07972 351685. Text if interested.
I always go thinking we going to win regardless, same tomoz.
Ashley Roberts
112
Posted 06/11/2021 at 15:11:48
The problem that we have at the moment is we have lost the spine of our team in Mina, Doucoure and DCL. Any team will struggle when you lose the spine of your first team. The big question is how to compensate for that. I like the idea of having 3 in midfield and what we have available I would go for Allan, Delph and Davies. Iwobi and Gnabian should be no where near the first 11. Iwobi is not good enough and the other guy is not match fit and should never have started the game against Wolves. Unfortunately until we get the spine back we are going to struggle as the replacements are just not good enough. The squad is just too threadbare. Now we hear we have no money to spend in January. We will as a result be a bottom half of the league team this year.
Brian Wilkinson
113
Posted 06/11/2021 at 15:49:42
I feel for Godfrey, he is the Swiss Army knife Everton defender, he never knows what position he is playing, from one week to the next, can be used anywhere.
He is paying the price of having to cover in various positions, I know someone will think well Alan Harper did it, yes he did, but he was backup to slip in anywhere, the likes of Ratcliffe, Stevens, psycho or Mountfield all, played regular in their rightful positions, never had Psycho playing as right back, or Rats as left back.
Godfrey for me is in my opinion, our best centre half, for that we need to leave him in that position regular.
I also think it is time to give Dobbin or Ellis a go, Rondon has had a fair crack, now let's see if one of the youngsters can do it.
I would have also started with Gordon, did well til he got hooked, Iwobi scoring now ensures he gets a deffo start, even though it was the only thing he did all evening.
If both Iwobi and Rondon start, Goodison could get very toxic early doors, unless we somehow for once start on the front foot.
Tough one to call tomorrow, if we go bold, then certainly fancy Everton, it is all down to the team that starts.
Paul Jones
114
Posted 06/11/2021 at 18:13:10
I would agree with giving Dobbin or Ellis a start.
Playing Iwobi and Rondon will just kill the atmosphere and advantage of playing at home.
Brent Stephens
115
Posted 06/11/2021 at 18:16:39
Paul, Dobbin played almost 70 minutes for the U23s today so at best I can only see him on the bench tomorrow. But I would like to see that!.
Brian Wilkinson
116
Posted 06/11/2021 at 18:32:47
Seen that, Brent, think we can forget about Dobbin for tomorrow.
Brent Stephens
117
Posted 06/11/2021 at 18:46:59
Brian, I'd like to see Rondon travel to White Hart Lane tomorrow!🤣
Derek Knox
118
Posted 06/11/2021 at 09:57:30
Brian W @ 113, " I feel for Godfrey, he is the Swiss Army knife Everton defender, he never knows what position he is playing, from one week to the next, can be used anywhere."
Let's hope he's 'sharper' today !
---
Add Your Comments
In order to post a comment, you need to be logged in as a registered user of the site.
Or Sign up as a ToffeeWeb Member — it's free, takes just a few minutes and will allow you to post your comments on articles and Talking Points submissions across the site.