Pickford clean sheet as England put 5 past Albania
Wednesday, 8 July, 2021
England 5 - 0 Albania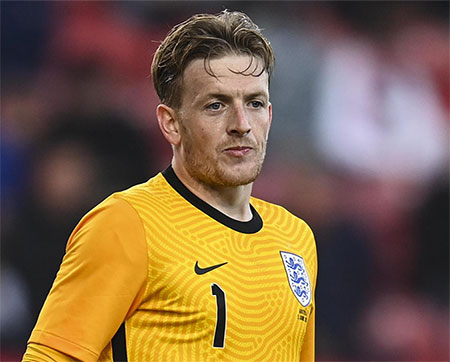 Jordan Pickford kept a clean sheet in goal for England on Friday night as they defeated Albania at Wembley Stadium with 5 first-half goals in a qualifying game for World Cup 2022 in Qatar in a year's time.
Recent punditry tittle-tattle has included the rising challenge of Arsenal's Aaron Ramsdale as competition from Burnley's Nick Page has faded. But Pickford retains the England goalkeeper's shirt as his own performances have become more mature and less erratic over the last season or more.
After Maguire had put England on the scoresheet early with a good header off a free-kick, Pickford saved Walker's blushes for an abysmal backpass that Unzi pounced on. But Pickford was out quickly to force and then save the goalbound shot by the Albanian.
Harry Kane was then set up for a simple header by Henderson, to equal Wayne Rooney's record of England goals. Kane went on to score a 'perfect' hat-trick (header, left foot, right foot) before half-time.
Article continues below video content
England eased off in the second half without conceding and now need 1 point to qualify for Qatar.
England: Pickford, Walker, Stones, Maguire, Chilwell, James, Phillips, Henderson, Sterling, Foden, Kane.
---
Reader Comments (170)
Note: the following content is not moderated or vetted by the site owners at the time of submission. Comments are the responsibility of the poster. Disclaimer
Jay Harris
1
Posted 12/11/2021 at 17:45:17
Just watching Scotland v Moldova.
Patterson having a decent game and just scored. I didn't realize how many good Scottish players there are.
Gilmore, McGinnis, Adams, Armstrong, Robertson, Tierney, McTominay etc.
David Pearl
2
Posted 12/11/2021 at 19:04:50
Southgate to sign contract extension. 2 additional years of hurt.
Kieran Kinsella
3
Posted 12/11/2021 at 19:11:49
3 full-backs, 3 centre-backs, 2 defensive midfielders... I realize we have a few injuries but surely we could have gone a bit bolder with the line-up. We are playing Albania after all?
Michael Kenrick
4
Posted 12/11/2021 at 19:22:20
Sterling, Foden, Kane... with Phillips behind them, feeding?
Doesn't sound too bad to me, Kieran, but this is England – under-performance is the norm, so no great expectations.
Barry Hesketh
5
Posted 12/11/2021 at 20:06:50
Lee Dixon just can't give Jordan Pickford any credit, it was possibly an easy save to make from the Albanian forward, but would it hurt Dixon just once to focus on what Jordan has done right, rather than 'blaming' the save on the lack of talent of the striker?

Barry Hesketh
6
Posted 12/11/2021 at 20:17:54
Just in the middle of shouting 'great goal' for England and then I realised it wasn't Grealish or Foden but bloody Henderson, to be fair it was a decent goal.

Graham Mockford
7
Posted 12/11/2021 at 20:36:17
Not sure what the record is for England caps won whilst an Everton player. Maybe Ball or Wilson but I suspect Jordan Pickford will smash the record.
I think it's easy to forget he wasn't an international when we signed him.
Tony Abrahams
8
Posted 12/11/2021 at 20:37:30
Kane didn't look up to much last Sunday, but has only needed 45 minutes tonight to show genuine class. 👏👏
Rob Halligan
9
Posted 12/11/2021 at 20:38:42
Four good goals and a shit one from a gobshite.
Paul Hewitt
10
Posted 12/11/2021 at 20:40:32
Pointless game.
Graham Mockford
11
Posted 12/11/2021 at 20:41:32
Tony
Very true, I'd rate him higher than Shearer or Lineker because of his all round game.
Tony Abrahams
12
Posted 12/11/2021 at 20:41:51
This is his 42nd cap tonight I think Graham, and if he keeps a clean sheet, this will take him to 21, meaning a 50% ratio.
Rob Halligan
13
Posted 12/11/2021 at 20:44:42
Why is it a pointless game? It's a competitive game that England still need to win to qualify for the World Cup.
Graham Mockford
14
Posted 12/11/2021 at 20:45:00
Paul 10,
Not that pointless given it's a World Cup qualifier.
Tony Abrahams
15
Posted 12/11/2021 at 20:50:11
I thought Shearer was a very good all-rounder, whilst Lineker was just an out-and-out goalscorer who also had very good movement, Graham.
But for the whole package, I'd have to agree with you: Harry Kane is an exceptional footballer.
Bobby Mallon
16
Posted 12/11/2021 at 21:01:51
Tony Abraham and Graham Mockford,
Kane may be the best striker out of them 3 named but, let's be honest, none were better than Rooney. He was just phenomenal.
Bobby Mallon
17
Posted 12/11/2021 at 21:03:38
Also, Tony @8, it's Albania and that's like Everton playing Scotland. 😂
Andrew Ellams
18
Posted 12/11/2021 at 21:07:04
It's about time UEFA introduced a tiered qualifying system like other associations have. For England to play Andorra and San Marino in the same tournament is farcical.
Graham Mockford
19
Posted 12/11/2021 at 21:17:20
Bellingham is going to be some player.
Dave Abrahams
20
Posted 12/11/2021 at 21:18:54
Graham (7),
Pickford has already broken the record but you were close with Alan Ball 39 caps and Ray Wilson with 34 or 36, just checked it but have forgotten Ray Wilson's total already!!
Rather have Shearer than Kane to be honest but it's just opinions.
Graham Mockford
21
Posted 12/11/2021 at 21:23:03
Dave
Cheers, funny he's not really that appreciated in these parts.
Dave Abrahams
22
Posted 12/11/2021 at 21:25:54
Graham (21),
I was talking about Shearer the footballer; not fussy on the boring man myself!!
Graham Mockford
23
Posted 12/11/2021 at 21:28:44
Dave,
Was talking about Pickford.
Tony Abrahams
24
Posted 12/11/2021 at 21:35:18
I thought Rooney played his best football for England whilst he was still an Everton player, Bobby, but yes he was probably the best English footballer I've ever seen play.
I'd say it was a toss-up between Kane and Shearer, Dave, and wouldn't be surprised if more people actually rated the Geordie, who was as tough as old boots, and was also very instrumental in helping Blackburn to win the Premier League.

Chris Leyland
25
Posted 12/11/2021 at 21:49:13
Dave (20),
Don't forget Phil Jagielka – 40 caps.
Kieran Kinsella
26
Posted 12/11/2021 at 21:49:36
Tony,
I liked Shearer but his injuries took a toll. By the time he went to Newcastle, he was pretty static but could score from anywhere inside the 40-yard mark. When he was in his early 20s, I'd say he was Kanesque.
Dave Abrahams
27
Posted 12/11/2021 at 21:50:43
Graham (23),
Yes, with you now. I was comparing the merits of Kane and Shearer. I understand why Jordan is not appreciated by some Everton fans!!
Jeff Armstrong
28
Posted 12/11/2021 at 21:53:50
"Pretty static but could score from anywhere inside the 40-yard mark."
Wow, must have been decent at Blackburn then.
Tongue firmly in cheek, Kieran?
Dave Abrahams
29
Posted 12/11/2021 at 21:58:07
Chris (25),
Yes, Jagielka with 40 caps. I seen his name but never looked at his number of caps, just dismissed him as not having played that number of games for England.
Seems such a lot for a whole-hearted and committed player... I mean Dave Watson was similar in style but much better than Jags, to me anyway.
Mark Murphy
30
Posted 12/11/2021 at 22:10:17
Alan Ball only got 39 caps??
How the fuck?

Graham Mockford
31
Posted 12/11/2021 at 22:12:28
Mark,
Only 39 playing for us. He got 72 in all.
Michael Williams
32
Posted 12/11/2021 at 22:45:50
Dave 27,
"Yes with you now, I was comparing the merits of Kane and Shearer, understand why Jordan is not appreciated by some Everton fans!!"
Because Pickford is playing for Everton.
Chris Leyland
33
Posted 12/11/2021 at 23:08:18
Dave,
Jagielka being our most capped English outfield player is a bit of a surprise. He was a good but never a great player. It probably shows the shortage of really top quality English centre-halves during that period of time.
Kevin Prytherch
34
Posted 12/11/2021 at 23:21:38
Talking about the most capped English players while playing for Everton…
Another interesting stat is that Calvert Lewin is 3 goals away from being our 4th highest England goalscorer in our history, and 6 away from being our second highest England goalscorer.
That's a pretty sad statistic.
Kieran Kinsella
35
Posted 13/11/2021 at 03:25:35
Kevin 34,
The problem is that, in the last 50 years – outside of 3 years under Kendall and 1 year under Royle – we've been pretty mediocre or crap. That era also coincides with the boom in international games.
Dixie Dean got 18 in 16 games but, back then, all we had were sporadic home nations games. He never got the chance to play endless qualifiers versus Andorra and San Marino. If he had, he'd probably have 100 international goals.
The positive (?) is that, if you look at the all-time top scorers, one was Everton-bred (Rooney) and another (Lineker) won the golden boot and made his mark while at Everton. Maybe not as impressive as Spurs with Greaves, Kane and the aforementioned Lineker but, at the same time, when did Spurs last win the league?
1961 – Before color TV, when dinosaurs ruled the Earth. And for all their goals, the only time England won anything was when a fellow from West Ham got a hat-trick, ably supported by an Evertonian full-back.
Mike Gaynes
36
Posted 13/11/2021 at 04:05:34
Dos a cero. Again.
U-S-A!!!!!!!!!!!
U-S-A!!!!!!!!!!!
U-S-A!!!!!!!!!!!
Jim Bennings
37
Posted 13/11/2021 at 06:09:35
I think the lack of quality in these groups does need addressing.
We have to keep breaking up club football, then get an overload of games at Christmas, just to see these frankly glorified training sessions for the big European nations.
There's no level playing field and it's not entertainment for fans anymore.
Then you have Seamus Coleman making himself available at 33 and not exactly fully fit in a dead rubber game for the Republic of Ireland, so annoying.
Michael Kenrick
38
Posted 13/11/2021 at 08:00:28
Yes, Jim, you gotta wonder why anyone would turn up and watch them.
That's, er, 80,366 people on a wet and cold Friday night in November who have given their opinion on the lack of entertainment provided.
Joe McMahon
39
Posted 13/11/2021 at 08:40:21
For what it's worth, my vote is Shearer. Also, he didn't get that many goals for England but I've always thought Ian Wright was sharp and clinical in and outside the box.
Ralph Basnett
40
Posted 13/11/2021 at 08:44:45
Points to note about Pickford playing for England or Everton:
For England his distribution is excellent, nearly brilliant.
For Everton it is shit.
For England he ever shouts at the defence when they make mistakes (Walker).
For Everton he constantly moans at the defence (I realise he has more to moan at but seems to show other teams players more respect).
For England he commands his box.
For Everton he couldn't command a match box.
I think what I'm trying to say is can we have the England Pickford and not the egotistical dick we get.

Bobby Mallon
41
Posted 13/11/2021 at 09:14:28
Ralph @40, well said.
Tony Abrahams
42
Posted 13/11/2021 at 09:54:36
What a run and proper cross from Timothy Weah, and how calm was McKennie, once he knew he was in on goal, Mike G!
Niall McIlhone
43
Posted 13/11/2021 at 10:42:09
The USA v Mexico game was reported as being a bit feisty, Mike G. I see that Pulisic came off the bench and scored. He has not had a very good time at Chelsea.
They just seem to vacuum up any upcoming talent without developing the players. Pulisic, Ziyech, Loftus-Cheek, Hudson- Odoi, all would be better advised to move on and reinvigorate their careers.
Danny O'Neill
44
Posted 13/11/2021 at 10:49:16
I didn't watch last night, Ralph, and to be honest, I didn't realise England were playing until I saw it here.
Maybe with Jordan, he's more comfortable playing for England with what's in front of him.
With Everton, he's got a defence that pins him into his 6-yard box, rarely venturing too far from his own goal line. Subsequently, most of the time he just wants to "get rid" and get it away from danger rather than distribute more effectively. Which he can be good at.
Jim Bennings
45
Posted 13/11/2021 at 11:55:46
Michael
Still a waste of time in my eyes.
There's no contest in them, take the San Marino match, every man and his dog knows England will win comfortably by five goals and that the opposite team will most likely not get a corner.
Not my cup of tea these games but that's just my opinion.
Danny O'Neill
46
Posted 13/11/2021 at 12:02:02
Jim, England in the Euros. Relatively easy path to the final, but once they come up against decent opposition, got found found out.
I'm an England cynic so caveat that on opinion!
Phil (Kelsall) Roberts
47
Posted 13/11/2021 at 12:02:08
Kieran - the great stat about Spurs is that their last league title was won on 17/4/1961.
That is 22,125 days ago.
And when was 22,125 days before 17/4/1961?
19th September 1900 - when Victoria was queen of England! So their last league title is already nearer the Victorian Age than today. 😊
And roll on 3rd August next year. At that point we can say their last league title is nearer the 19th century than "today" 🤣🤣.
And the answer to all the above about goals and appearances? England have now played 1027 matches (https://www.myfootballfacts.com/england_footy/england_national_football_team/england-football-record/)
The World Cup Final was No.409. Half way is June 1977. So England have played as many games in the last 44 years as they did in the first 105. We have played over 250 games this century. No wonder modern players have more caps than the older guys.
Ray Robinson
48
Posted 13/11/2021 at 12:05:03
Pointless comparing an International match with the Premier League. I can't think of a single international side that plays remotely like Burnley or Brentford where the ball is launched into the box at the first opportunity. Now if Dyche ever managed an international side…
Mike Doyle
49
Posted 13/11/2021 at 12:54:14
Danny & Jim.
Not my cup of tea either. What seems like years of endless qualification matches against much weaker teams and small nations. Doubtless the usual protocols will be observed. Qualify with ease, get through the group stage. Go out in quarter or semi-finals.
Dennis Stevens
50
Posted 13/11/2021 at 12:55:10
Phil #47
1900 was the last year of the 19th century. 1901 was celebrated as the start of the 20th Century by Victorians.
Unfortunately, 99 years later, the world seemed to have forgotten how to count – I blame computers!
Dave Abrahams
51
Posted 13/11/2021 at 12:56:16
Kevin (34),
Another poor statistic re Everton players getting capped by England. I think Brian Labone was the first Everton player after the Second World War to be capped by England, in a full international, around 1962.
Steavey Buckley
52
Posted 13/11/2021 at 13:55:32
Dixie Dean 16 caps 18 goals
Tommy Lawton 23
Ray Wilson 63
Pickford 42
Allan Ball 72
Gary Stevens 46
Jagielka 40
Trevor Steven 36
Leighton Baines 30
Danny O'Neill
53
Posted 13/11/2021 at 14:11:04
As many on here will know, I care little for the English football team, but I do care for English football.
It says a lot when Jagielka played 40 times for England. That has actually shocked me but also confirmed my thoughts. If he played in an Everton team that won nothing, what does it say about the standard at the international level if he played that many times?
There is a generation that reveres Jagielka, my brother included. I saw a half-decent centre-back who won us a semi-final with a penalty, yet was mostly passive on the pitch. Not a winner, not a captain. Go with the flow and "It's okay, Ross, don't listen to the nasty men shouting at you".
Be rid of this passive mentality.
Apologies. Been home for the the weekend and amongst the tribes. Yes both colours!!
Brian Murray
54
Posted 13/11/2021 at 14:27:38
Danny. Case in point carraghers pre derby comments about nice guys like jags. Plus the mirralas penalty farce that stronger captains and leaders would of nipped in the bud. Like the other month Richarlison petulance grabbing the ball for a pen. Quickly shown it's not on by Allen etc.

Barry Rathbone
55
Posted 13/11/2021 at 14:45:21
Danny 53
It says a lot when Jagielka played 40 times for England. That has actually shocked me but also confirmed my thoughts. If he played in an Everton team that won nothing, what does it say about the standard at the international level if he played that many times?
Thanks! I now have a stiff neck from nodding so vigorously.
The England team has been in the toilet since the misnomer of the "golden generation" conned people into thinking we had more than bog ordinary types in the form of Beckham &co.
Mike Gaynes
56
Posted 13/11/2021 at 14:53:08
Tony #42, I just woke up smiling. What a night.
Niall #43, these games are always fierce. It's an intense border rivalry with lots of taunting on both sides. Historically Mexico has dominated, but currently it's the US and that's agonizing for the Mexicans.
However, I'm gonna disagree with you on Pulisic at Chelsea. He's missed a boatload of games with injuries, but both Lampard and Tuchel have played him whenever he's been available. And he has developed superbly there. He's tougher, more professional, more efficient with his skills than he was at Dortmund. And he's the unquestioned leader of the US having just turned 23. His time at Chelsea has grown him immensely.
Phil (Kelsall) Roberts
57
Posted 13/11/2021 at 14:55:55
Dennis, I blame my wife. They talk about the 19-talet in Sweden, being the years starting with 19. I wonder if it is only the Brits and their decedents who talk about the 20th Century?
As for Jagielka getting 40 caps. Remember those wonderful days in the late '70s when Ipswich signed Mühren and Thijssen and Jonny Metgod signed for Cloughie in the '80s and the Danish scouser across the park. You could count the number of non-Brits and Irish playing in the first division on the fingers of one hand.
I would suggest that, if we had not had the influx of overseas players (and money) as a result of Premier League, then Jags would either have been in an Everton team which won something or been sold to a Premier League team which would win something.
As it was, he was behind the likes of Desailly, Toure, Hyypia, Kompany so no wonder he was in a team which won nothing but was first choice for England. All the rich clubs bought in the best of overseas players.
Mike Gaynes
58
Posted 13/11/2021 at 15:07:24
Danny #53, whaa??? Not a leader, not a captain?
Passive???
Disagree strongly. Jags was a quiet, modest leader, but he was an outstanding one, and that clutch pen wasn't his only great moment by a long shot -- this remains one of my favorite goals ever:
https://www.youtube.com/watch?v=Gcu_CXukkDE
I jumped OVER the sofa.
And then, on the occasion of my first visit to Goodison, the captain flies highest for the gamewinner, and then flies again to flick on for Rom's clincher:
https://www.youtube.com/watch?v=lnFk7DNlq90
Not our most talented centre-back by a long shot, but well-deserving of the appreciation of most Everton fans.
Danny O'Neill
59
Posted 13/11/2021 at 15:30:57
Mike, we agree on many things but it isn't a problem disagreeing on some things.
Jagielka was indeed the best centre-back we had in a generation. But a generation that never won anything. Or ever hoped to.
He was a passive and accepting captain in a passive and accepting generation in my opinion. That culture has unfortunately defined our club.
6th is best to hope for...
Not me. We're taking the Cup and League to Bramley-Moore Dock!!
Tony Abrahams
60
Posted 13/11/2021 at 15:44:01
Are you still in Liverpool, Danny, because someone has just given me a few tickets for Ant Middleton, who is on in the Echo arena tonight, with his Mind Over Muscle tour.
Barry Hesketh
61
Posted 13/11/2021 at 16:17:46
Jagielka helped many an Everton centre-back to improve alongside him. He wasn't the best we've ever had, a bit Michael Keane-like in many ways, but he was effective and reliable for Everton for nearly 12 years and appeared 322 times, following over 250 appearances for Sheffield United.
Mike Gaynes
62
Posted 13/11/2021 at 16:53:28
I guess it depends on your perspective, Danny.
Ask yourself. Would we have won more with a different captain?
And could things have been even worse with a different captain?
Passive and accepting? Not the guy I saw.
I saw a fierce commitment to the shirt that shamed some of the guys he played with.
I'll take Phil Jagielka. All day long.
Don Alexander
63
Posted 13/11/2021 at 17:00:12
Jagielka would never have been sought after by a club determined to win trophies. Hence he was comfortable at Everton, with the rest of them never quite willing or able to achieve Top 4 with all the ramifications for their place in the team that Champions League success would have had.
Cold Comfort Farm has been for us fans to endure as the Kenwright clan made themselves comfortably well-off whilst achieving nowt at the ass-kissing haven that is Finch Farm.
Barry Hesketh
64
Posted 13/11/2021 at 17:11:47
Wouldn't Follyfoot Farm be more appropriate, Don?

Barry Rathbone
65
Posted 13/11/2021 at 17:19:03
If you think we have problems, just look how cack the All Blacks have become – absolutely mullered by one-dimensional Ireland!!
Barry Hesketh
66
Posted 13/11/2021 at 17:25:45
Just seen one of the most ridiculous sendings-off I have seen in many a year, during the Turkey v Gibraltar game, just a run-of-the-mill tackle that perhaps warranted a yellow card... but a straight red? No chance.
Jeff Armstrong
67
Posted 13/11/2021 at 17:26:29
Jagielka was a fine player for us for years: reliable (no regular Keanesque blunders), quick (Keane, anybody?) – he was never a ferocious in-your-face captain but he did his job in a professional manner.
He was selected for England whilst with us, and at his peak, was better than any of our current options. He would be the first name on the teamsheet if he was still here.
Roger Helm
68
Posted 13/11/2021 at 17:37:00
Ireland may or may not be one-dimensional, but the game was a good example of how working your socks off, constant pressure and good discipline can force even a good side into making errors, thus winning the match. Something the Everton players would have benefitted from watching.
Tom Bowers
69
Posted 13/11/2021 at 17:59:06
Does anyone else get tired of these one-sided ''international' qualifiers when the likes of England and Germany are playing the likes of Albania and Lichenstein etc, etc? Southgate could easily pick a team from the Championship or League One and get good results.
They are simply money-spinners and I for one wouldn't waste a penny to attend one of these games. The World Cup and Euros are only worth watching when they get to the finals. They are just not competitive enough and quite honestly become so boring as the opposition are so far behind in quality.
Barry Hesketh
70
Posted 13/11/2021 at 18:13:00
Tom @ 69,
Many would agree that most of the match-ups are one-sided in the qualifiers, however, this argument is one that the elite clubs and the power brokers are making for European club football. and their call for a Super League.
I would prefer to see a seeding system that pits the minnows against each other with a couple of them qualifying for the finals, but that won't happen because there would be more chance of a top tier Nation finding themselves out of the finals and FIFA definitely don't want that to happen.
The big nations, similar to the big clubs, want all of the rewards but none of the risk.
Mike Gaynes
71
Posted 13/11/2021 at 18:16:48
Tom #69, that's only true in Europe. Qualifiers in the Americas and Africa are competitive even when it's the top team in the standings versus the bottom. No 7-0 blowouts over here.
Dennis Stevens
72
Posted 13/11/2021 at 18:37:06
Prior to England's convincing victory, were Albania in a position where they could have actually overtaken England, depending on results? They didn't seem to have done too badly with just a couple of matches to go.
Graham Mockford
73
Posted 13/11/2021 at 19:32:33
Barry 61
Jags was a far better player than Keane. An absolute steal at £4m. 12 years of service in the Blue shirt, one of the good ones
Ken Kneale
74
Posted 13/11/2021 at 19:59:07
No doubt Jags was an excellent servant.
That should not be confused with being a leader on the pitch - that he most certainly was not - he perfectly adopted the Moyes/Kenwright narrative of 'plucky Everton - let's do what we can but likely we will lose'
In my view, he would have benefitted from playing alongside a strong leader himself - something we badly need and have done for a long time
Phil (Kelsall) Roberts
75
Posted 13/11/2021 at 20:13:59
I think pitting minnows v minnows is what the Nations League is all about. You know that mickey mouse competition we think UEFA is using to get rid of stupid friendlies and make even more money.
Barry Rathbone
76
Posted 13/11/2021 at 20:56:43
Wasn't it Jagielka who started laughing when Rom suggested aiming higher than 4th during the epic Martinez first season? Incredibly shit reaction from any Everton player – let alone the captain.
He was another "nice guy" but bang average footballer and founder member of the Moyes comfy crew who enjoyed "big club" trappings without having to do "big club" things. We're still suffering from that decade of non-ambition as managers of all types fail to reverse the trend.
Jim Bennings
77
Posted 13/11/2021 at 21:10:29
I always thought Jagielka was a fairly competent defender, to give him his due.
I do think the outstanding (at the time) Joleon Lescott and then Sylvain Distin made life far easier for Jagielka's lack of overall athleticsm.
One thing I'd say is, if we had Jagielka, Arteta and Yakubu in that 2009 FA Cup Final, we just might, just might have rumbled Chelsea that day.
Peter Mills
78
Posted 13/11/2021 at 22:06:51
It was quite an afternoon at College Road, Crosby, where Marine took on Dunston Town in the FA Trophy.
A very tight first half yielded few chances. 5 minutes into the 2nd half, the floodlights failed, the ref took the players off, an announcement said he was going to give it 20 minutes before abandoning the match.
A Dunston midfielder turned out to be a sparkie and had a go at fixing the problem, but he didn't have the necessary tools with him! So the Marine CEO drove an electrician watching the match home to get his gear, the lights came on after a 50-minute pause in the game.
Marine went 2-0 up. Dunston pulled one back when their centre-forward appeared to punch home a cross. Then they equalised. Then Marine had a man sent off, but withstood great pressure to gain a 2-2 draw.
Straight to penalties. 4-4, 8 great pens, then over the bar from Dunston, Niall Cummins stepped up to win it 5-4 for Marine's fifth shootout win over the past 2 seasons, scoring 25 out of 25 in the process.
My young grandsons loved it,
Brent Stephens
79
Posted 13/11/2021 at 22:32:40
Peter #78 - cracking report! A sparkie midfielder almost to the rescue. Step up the CEO to drive somebody home to get the necessary tools. Another world!
Brent Stephens
80
Posted 13/11/2021 at 22:35:19
Or should I say, Peter, that that is the real world? Premier League stuff is hardly real world. All an act, with an impresario here and there.
Peter Mills
81
Posted 13/11/2021 at 22:50:04
Brent #80,
That's my take on things these days. I love Everton, can't give them up for so many reasons, but I enjoy the Marine games more.
I love footie; for that reason, I loathe the wasters who steal a living in the "top flight", and I particularly hate meaningless international games. We all know who those wasters are, the managers and players who are fortunate enough to make a fortune, coasting through their careers, not arsed whether they win or lose, some of them actually incentivised to lose so they will get sacked and paid off.
There was plenty of will to win at Marine today.
Mike Gaynes
82
Posted 13/11/2021 at 22:58:33
Marine supporters... unite!
Danny O'Neill
83
Posted 13/11/2021 at 23:21:41
No Tony. Travelled back rather dishevelled this morning after a typical Liverpool family bash. I'm heading out to the States tomorrow. From Speke to San Antonio (Texas) in 48 hours. Back for Brentford away, but will have to watch us against Man City next week at some ungodly hour! It doesn't matter where you are, Everton never leaves you!!
I get what you say about Jagielka, Mike Gaynes, and often have that discussion with my brother, who admires him as one of the best defenders he's seen. But for me, the benchmark was Kevin Ratcliffe, who I saw arguing with Peter Reid, other winners and lift trophies for Everton. Jagielka was a fine servant, an honest and committed player, but not where I wanted or want to see Everton. Better than what we've got today? Not sure. He probably played in a better team, I would say.
On Marine, not my end of the city. I did look out as I was at Liverpool South Parkway station this morning, looking at the car park that used to be the South Liverpool ground. I know it's been reformed, but what a shame that folded. When we talk of feeder clubs, image if Everton invested in local football and the likes of Marine or South Liverpool?
Kevin Prytherch
84
Posted 14/11/2021 at 00:46:13
Phil Jagielka might not have been a leader, but for a while, before his big injury, he was one of the best centre-backs in the country. Wasn't it Howard Kendall who scoffed at Man City when they bought Lescott and declared they'd bought the best centre-back in England? "Best centre-back in England? He wasn't even the best centre-back at Everton".
Jagielka was a quality player who would walk into today's team. He was, in his prime, hands down better than Keane, Mina, Godfrey or Holgate. I would say he is the best centre-back we've had since Dave Watson.
Did he win trophies? No. That doesn't make him a bad player.

James Flynn
85
Posted 14/11/2021 at 01:40:02
"Jagielka's lack of overall athleticism."? Hahahahaha.
One of the best athletes in the entire league. In Jags and Distin, we didn't just have (far and away) the paciest centre-backs in the league, we had two of the paciest players in the league regardless of position.
If Jags was 3 inches taller, he'd have been another player Moyes had to sell for transfer cash.
Danny O'Neill
86
Posted 14/11/2021 at 06:41:05
I wouldn't say 'paciest', James. He had decent pace on him, but his biggest attribute, in my opinion, was his reading of the game. and anticipation. Michael Keane – take note.
As with any player, especially centre-backs, he got better as he got older. Supporters – take note. Centre-backs develop and peak later. Be patient with young centre-backs. I'm in the centre-back union so excuse me.
Alongside Distin, that was a good partnership.
I remember though, didn't we originally buy him as someone who could also play the holding midfield role? I think that lasted all of 3 games! Those calling for Holgate to play that role – take note! And, yes, I broke to public opinion in giving that a go last match.
Still not as bad as when we tried Stubbs there in the FA Cup match against Norwich years ago. I think Moyes gave that 2½ minutes before changing it!
Steve Brown
87
Posted 14/11/2021 at 07:16:27
Jag's pace in his prime:
David Pearl
88
Posted 14/11/2021 at 07:31:17
Kevin Ratcliffe is my benchmark. Jags may have been short of that standard but had heart, a desire to win the ball, put his body on the line, and in my opinion a fine captain. The players looked up to him. Scored a few too
It surprises me that Digne is our reserve captain when Seamus is out. Why not Keane?
Jags was written off a few times once he reached 30 after a few slow starts to the season but, once he got going, he was totally dependable and formed excellent partnerships. The teams he was involved in over the years had enough desire and belief but the odd injury here and there meant we couldn't reach the line because we always lacked those couple more quality players.
I've said a few times on here that those partnerships are what make a team. That's what's lacking in our current squad. Injuries haven't helped us and have disrupted our rhythm and shape. 3 out of 6 midfielders usually injured is the crux – along with some poor and bewildering signings.
We still can't say who our best centre-back pairing is. Two players haven't dug in and become the rock-solid base we've needed. Jags would walk into this team.
Jim Bennings
89
Posted 14/11/2021 at 07:37:34
Can't help but feel we should have flogged Holgate about 2 years ago and just bought some dog like Shane Duffy or Connor Coady – someone who just seems to do nothing but just defend.
We had players that were hard wall defenders over the years but seem to lack them now. Even names that don't instantly spring off the tongue, the likes of David Weir – he was an outstanding defender – and Richard Gough who, even at 37, schooled Michael Owen in the derby.
I think we have lost track of what makes a good defender these days.
Ken Kneale
90
Posted 14/11/2021 at 08:07:27
Peter
I'm glad you and your grandsons had an enjoyable day. We get regular updates on Marine in the Isle of Man media as Niall Cummins hails from here – his cousin is a TT motorcycle racer.
I guess what you say about modern football rings true with many on here – it certainly strikes a chord with me. As you say, seeing a good game with both teams going for the win is a highly enjoyable, if often heartbeat-rising occasion.
Peter Mills
91
Posted 14/11/2021 at 09:16:29
Ken #90,
As has become customary, Niall netted the final penalty.
He's a canny player, not the most mobile any more, but he knows the game and a few tricks of the centre-forward's trade. He's a nice guy too, I had a chat with him on the way home after the last round, something that doesn't tend to happen when I'm returning from Goodison.
Tony Abrahams
92
Posted 14/11/2021 at 09:44:07
I liked Jagielka. I think he was playing some of his best football for Everton when he got that very unfortunate injury against Man City, because he couldn't really pass the football.
He was athletic and could also be aggressive, especially when playing against Torres, who he usually matched stride for stride, but I thought Suarez, used to play on Jagielka's blindside, causing him untold problems. But I went off our captain when he done the ice bucket challenge on Roberto Martinez out the balcony at Finch Farm.
More than a bucket said Roberto, with it being obvious right then that his captain had no respect whatsoever for his manager.
This probably started after Martinez had kept him on the sidelines towards the end of the previous season even after his captain had recovered from injury, and possibly because the young ball-laying John Stones, suited our style more around this time.
Dave Abrahams
93
Posted 14/11/2021 at 10:06:27
I liked Jagielka but, when he had the ball with plenty of space around him, he'd stop, go one way with the ball, then stop, and go the other way... he didn't have a football brain.
I constantly screamed out "Don't fuckin' think, Jags!" because, at the end of the move, he'd just whack the ball up the field and the ball could go anywhere. Same applied to Tony Hibbert, a very good defender but not very good going forward.
Danny O'Neill
94
Posted 14/11/2021 at 10:18:38
The Jagielka clip I used to call that Dave A! Pointless punt to nowhere other than giving the opposition a throw in!
Dave Abrahams
95
Posted 14/11/2021 at 10:36:24
Danny (94), he did it game after game after game, that's why I was surprised he played so many times for England, but overall he did a good job for Everton.
Ken Kneale
96
Posted 14/11/2021 at 10:56:43
Thanks, Peter,
That is good to know about his character. I know the cousin through business and motorcycling and he too is a very pleasant and modest person despite having a high local profile in a small community and no small amount of talent in his chosen sport.
I will look forward to my 'local' sports paper on Tuesday to get their update on Marine's centre-forward.
Darren Hind
97
Posted 14/11/2021 at 12:51:20
I never understood why Jagielka was so revered. He was often accused of playing hoofball, lets face it He, Thats because hedid.
A decent defender - No more, who for me dined out on his performance against a clearly not fit Torres in the Gosling derby for far too long. Easy meat for the cleverer strikers.
He will always have a special place in the hearts of Evertonians because of his goals against Liverpool at Anfield (still one of my favourites) and the penalty against the Mancs in the shoot out... but let's not re-write history here.
Still mystifies me why John Stones was was hounded by the Park End Panic Merchants. And Jagielka is so revered.
One of them was always destined to poached by a massive club, become England's first choice centre-back, and win loads of trophies... The other attracted zero interest from the big boys and only played for England when first choices claimed they were injured.

Tom Bowers
98
Posted 14/11/2021 at 12:51:22
Jags generally was a good steady defender. We miss his kind of composure at present. Give me one Jag to three Holgates anyday.
Darren Hind
99
Posted 14/11/2021 at 12:53:28
Peter @78
If TW decide to have a vote for post of the month I think you just secured mine.
Enchanting stuff
Jerome Shields
100
Posted 14/11/2021 at 13:18:14
Barry #76,
I find myself in full agreement with everything you have posted regarding Jagielka. He shied away from any committment as a defender, often viewed as lack of leadership. He really did have a cushy time at Everton and his regular International selection says al lot about the England team of that time.
Ray Robinson
101
Posted 14/11/2021 at 13:22:57
Darren, Jagielka was a better defender than Stones, at least during the latter's Everton days. Stones was the better footballer always likely to be poached by a team whose emphasis was on ball retention rather than committed defending. There is no inconsistency there. Both suited their respective side's playing styles at the time.
Kieran Kinsella
102
Posted 14/11/2021 at 16:43:00
Back on England, 5 or 6 years ago, you'd have looked at the age and talent of young England players and thought for 2022 World Cup we'd have a whole group in their prime years: Alli, Wilshere, Lingard, Chamberlain, Barkley, slightly younger Winks. Funny how it hasn't gone to plan for any of them.
Peter Mills
103
Posted 14/11/2021 at 17:13:36
Cheers Darren #99,
I wasn't sure whether to make a post about Marine, I thought it might attract Michael's red pen, but he has generously let it stand. So thanks to him, too.
David Pearl
105
Posted 14/11/2021 at 17:33:26
Peter, l will second the nomination, wonderful post. Great little report.
Paul Tran
106
Posted 14/11/2021 at 18:45:16
Peter, as a exiled native of Crosby, I'd love to see you do more posts on Marine. Between you and Barry Lenton on Twitter, I'd be sorted.
Re Jagielka, I know Arsenal were sniffing around him at one point and were told he didn't want to go there. A good, solid defender. Stones is a better footballer who needs a strong partner.
Brian Hennessy
107
Posted 14/11/2021 at 18:53:52
Seamus Coleman picked again for Ireland tonight against Luxemburg after playing the full 90 minutes on Thursday against Portugal
Seems like madness for him to be playing two matches in the space of four days given his age, history of hamstring problems and the fact that the game is pretty meaningless.
Most of the Irish media expected him to be rested tonight.

Brian Hennessy
108
Posted 14/11/2021 at 19:01:44
Strange moment during the Portugal game on Thursday when Michael Keane's twin brother Will Keane came on for Ireland in the second half.
Wonder has there ever been an occasion when two brothers played against each other at senior international level, although unlikely with Michael Keane's recent form.
Kieran Kinsella
109
Posted 14/11/2021 at 19:26:05
Brian,
Didn't those Boatengs play for Germany and Ghana?
Mike Gaynes
110
Posted 14/11/2021 at 21:03:41
Ray #101, exactly.
Jagielka never could pass a ball, long or short. His skills were lacking. But he was superb defensively, especially in the air, and he scored big goals. And his mental toughness never wavered.
Stones was clearly the superior all-around footballer, but he made mental mistakes defensively, and he still does. Man City found that out after they bought him from us, and he's still not a full-time starter for them after more than 5 years.
Mike Gaynes
111
Posted 14/11/2021 at 21:18:14
Brian #108, just a couple months ago Cristian Roldan of the USA went up against his younger brother Alex Roldan of El Salvador in a WC qualifier, which ended 0-0. They even fouled each other once or twice after Cristian came on as a sub. They play together for Seattle Sounders in MLS. Their respective national teams meet again in January.
Both Roldans were eligible to play for the US, El Salvador and Guatemala, but Alex never had a prayer of making the US squad and was recruited by El Salvador manager Hugo Perez, a former US international.
(Way off topic, I once was assigned to mark Perez in an over-35 exhibition match in San Francisco. I never stayed close long enough to even tell him what a big fan I was. Mercifully, I was pulled at HT.)
Brian Wilkinson
112
Posted 14/11/2021 at 21:21:01
Jagielka, what the hell, he was one of our best modern Day centre halfs, would throw his body in front Of any danger, none of this turning his back on a shot, or hands behind his back, there is nothing Jagielka would not tackle.
He lacked the bit of footballing skill of say Bobby Moore or John Stones, who had that calmness on the ball to pick out a pass, but other than that, he gave every ounce of effect on the pitch, so so unlucky to get the injury and to miss out on an f a cup final appearance.
When others came knocking and taking our best players, Jagielka stayed loyal and turned Arsenal down, even when his legs finally caught up with him he still gave us that last finale, with that screamer of a goal, in front of the Kop.
For that, some of you should remember the guy, not for his lack of skills, but for putting his body on the lines for our football club.
Mike Gaynes
113
Posted 14/11/2021 at 21:34:16
What a crushing moment for our old friend Robin Olsen. Just made the save of his life against Spain, but his mates didn't react to the rebound and Morata did.
Spain goes back to the World Cup.
Mike Gaynes
114
Posted 14/11/2021 at 21:58:28
Kieran #109, spot on, the Boatengs played against each other in a World Cup game.
David Pearl
115
Posted 14/11/2021 at 22:02:45
Well here's a Jagielka assist.
https://m.youtube.com/watch?v=beOgcp2VM9k
Peter Mills
116
Posted 14/11/2021 at 22:33:10
David #105, Paul #106,
I'd be quite happy to post more, but I have to respect that this an Everton site. I mean, if I were to mention that the Man of the Match yesterday was David Raven, an ex-Red Shite, it might just fry Michael's brain!
David Pearl
117
Posted 14/11/2021 at 22:56:48
Kieran Kinsella
118
Posted 15/11/2021 at 03:54:31
Mike,
Wasn't it in South Africa 2010? Bad news for Scotland and Wales with Portugal heading to the playoffs.
Serbia seem to have finally abandoned their 1950s Italian ultra-defensive style and went on the attack today in Lisbon. I've never understood why they've been ultra-defensive since — not sure 'independence' is the word as everyone wanted independence from them — but they've wasted some good talents down the years with that approach.
I remember back in 1992, they were favourites to win the Euros with a very attacking mostly Serb Yugoslav team before the civil war and being banned from football. Amazing really that the smallish (population wise) former Yugoslavia has spawned two World Cup qualifiers, and a third in the playoffs. Plus Bosnia and Slovenia have qualified for major tournaments in recent times.
Each of these nations bar Serbia having populations of just 3 or 4 million. Makes the old Soviet States look bad with only Russia (150 million people) and Ukraine (40 million) ever having even made a major tournament final.
I guess we should be glad though that neither Germany nor Italy have devolved into the multiple 19th Century states or we'd have another 20 odd teams punching above their weight.
Jerome Shields
119
Posted 15/11/2021 at 13:44:58
Brian #107,
Seamus was, you probably know, queried regarding retiring from International duty at a recent press conference. He said he had no intention of retiring.
I agree with you regarding his schedule, but wonder why Everton have not prioritised a back-up or replacement for the right-back position for these past 3 years. It is obvious to everyone they should have been.
Everton are not good at having difficult conversations with players.

Danny O'Neill
120
Posted 15/11/2021 at 14:34:01
I'd use Croatia in that former Yugoslavia mix too, Kieran. Population of just over 4 million (slightly less than Scotland), but seem to regularly produce players and occasionally teams of a high standard.
Darren Hind
121
Posted 15/11/2021 at 19:06:24
John Stones finished last season with more clean sheets per games than any player in the world. He was injured at the start and had to bide his time to get in, but his personal clean sheet record was 16 out of 24.
He was a colossus producing "arse pocket" performances against some of the world's best. He also went through the group stages in Europe with England without conceding a goal. Then past the Germans. Then the Croats,
When England eventually conceded in the semi-final against Denmark, it was directly from a free-kick. Some record for a clanger merchant.
Just like last season, he came back injured and has had to bide his time, hoping Dias or Laporte drop off in form or get injured; that happens at Man City.
He is 27 now, an age when many a good judge say a centre-half really start to blossom. He probably has 5 years to keep on adding to his medal haul and the 54 caps he already has.
He is not just a vastly superior footballer to Jagielka. He is light-years ahead of him as a defender. I don't care if he stubbornly refused to welly it when he was learning his trade. That's how you get to be a top footballing centre-half.
Robert Tressell
122
Posted 15/11/2021 at 19:16:22
Darren, completely agree about Stones. I loved Jagielka as a player for us but Stones is a different league altogether. He is a Champions League / Top International player.
We've not had enough of them at the club, and we hate them of sorts for having the temerity to move on to bigger things – like Lukaku.
But an absolute class act.
Dave Abrahams
123
Posted 15/11/2021 at 19:28:00
Peter (91),
Did Niall Cummins play centre-forward for Marine last season when they played Spurs in the FA Cup?
I had him down as a bit of an auld arse, in a nice way, if it was him. He was trying to wind the Spurs players up and won two or three fouls that were not really fouls but put his hands up and gave a smile when he never got the fouls on another couple of occasions, a bit of a character on the field?
Peter Mills
124
Posted 15/11/2021 at 19:33:02
I loved watching John Stones, he was an absolute gem in the making. He needed better management, someone to tell him "I can see what you are trying to do, the time to do that will come, for now you may need to welly it occasionally". Or words to that effect.
It's frustrating to watch such a player make his learning errors with us before moving on. I fear Dominic Calvert-Lewin may follow suit.
Peter Mills
125
Posted 15/11/2021 at 19:52:28
Dave#123, that's the guy. He's a real auld arse, about 34, around 20 years younger than you, I suspect.
He really enjoys the game. He came on as sub a fortnight ago, and was booked after 10 seconds. I spoke with him afterwards and said it must be some kind of record, he replied "I hope not, it was unfortunate, I went up early and their guy jumped into my elbow".
When he prepared to take the crucial penalty on Saturday, never for a moment did I fear he would do a shimmy, a stutter, and tap the ball. He just did a nice short run-up and kicked the ball hard to one side of the goalie, who never stood a chance. If Tony is on WhatsApp I'll send him a copy of the video I took of it, followed by my 2 young grandsons celebrating like we had just won the Cup.
Dave Abrahams
126
Posted 15/11/2021 at 20:11:15
Peter (125), yes you could tell he'd been a decent footballer, he has played with a few clubs before he came to Marine.
Not sure if Tony is on WhatsApp, I'd like to see the penalty, and also your young grandsons letting themselves go and enjoying Marine's winning goal!!
Mike Gaynes
127
Posted 15/11/2021 at 20:15:04
Darren and Robert, your exalted view of Stones does not appear to be always shared by his manager. Injuries and squad rotation are not the only reasons that he sits. This season, he has started only two of 11 league games, and one game in four in the Champions League. And, if memory serves, just last season he was benched for seven consecutive games at one point for poor play.
Yes, he was mostly brilliant for the first half of this year (I notice Darren mentions Germany and Croatia, but ignores Poland). However, one hallmark of a "top international player" is consistency of performance level. And Pep clearly doesn't share your opinion that Stones has achieved it. At least not yet.
John Pickles
128
Posted 15/11/2021 at 20:57:54
Can anyone fill us in on the latest goings on at Carshalton Athletic or Haybridge Swifts.
David Pearl
129
Posted 15/11/2021 at 21:01:52
Mike, l think he's had some niggly injuries this season. I'd expect him to play a lot more very soon for City. At the moment l don't think he'd be a good fit for the way Everton play. We'd have to change half the team.
Mike Gaynes
130
Posted 15/11/2021 at 21:15:51
I think it that was true even five years ago, David. I would guess that's one reason he couldn't wait to leave for the big City. Can't blame him a bit.
I still remember that cheeky chip on the penalty in San Francisco. He was just a teenager. Damn, that was fun.
Michael Kenrick
131
Posted 15/11/2021 at 21:30:08
England banging in goals against poor little San Marino to secure their place at the Qatar World Cup. Pickford on the bench with Ramsdale in goal.
10 - 0 with 5 minutes to go.
David Pearl
132
Posted 15/11/2021 at 21:31:54
Mike, yes l remember it well. Such a shame that core group from Martinez's first season couldn't stay and grow together.
Of course Jonjoe Kenny repeated that penalty this year. Don't think we will get £50M for him though!
Joe Corgan
133
Posted 15/11/2021 at 21:31:55
For comparison, San Marino has the same population as Huyton.
These qualifiers really are a waste of everybody's time.
David Pearl
134
Posted 15/11/2021 at 21:48:52
Joe, my old Whiston Juniors team would give San Marino a beating, 9-0.
Brian Wilkinson
135
Posted 15/11/2021 at 22:52:16
David, I think the ToffeeWeb meet up gang would give San Marino a beating.
What I cannot figure out is why put in a different goalkeeper, who will not be tested one bit? Makes no sense at all, probably did more movement on the previous stints on the bench, scratching his nuts, than he did tonight.
David Pearl
136
Posted 15/11/2021 at 22:56:44
Brian, got me thinking l might move to San Marino and try out for their international team.
Darren Hind
137
Posted 15/11/2021 at 23:05:52
I think we have two choices when talking about Stones and his place in the City and England Teams. We can take the word of his managers – Southgate has told us he is top class – or we can listen to Mike Gaynes who goes out of his way to claim Pep doesn't share my opinion of Stones... It was actually Pep's opinion I was posting.
"He arrives late then gets injured. Aymeric (Laporte) and Ruben (Dias) play so good. Like John did last year. Sometimes you have to wait, like Aymeric had to wait when he played so good last year. Now Ruben and Aymeric play so good."
So there you have it. Straight from the horse's.
Kieran Kinsella
138
Posted 16/11/2021 at 02:01:52
Scotland.
Good news: they ended Denmark's 100% record, got to a World Cup Playoff for the first time in decades, suddenly seem to be "back" as it were as a force of sorts.
Bad news: after a moderately difficult playoff game at home, they may have to play Italy or Portugal in the playoff final. I hope they dodge those two. Yes, they made the Euros... but so did 31 other teams. Only 13 European teams make the World Cup so it's much harder and more prestigious and they are overdue for a visit. Come on Scotland!
And a word of praise to both Irelands. New managers, transitionary teams (ie, young kids, lower division journeymen) both got off to a terrible start in qualifying but both ended strongly offering hope for the Euros.
Oh yeah and then there's that other team to the west of England kind of East of Isle of Man, I guess they're not doing too badly.
Mike Gaynes
139
Posted 16/11/2021 at 02:33:45
David, if you make it, I'll be in the stands asking for your shirt. Autographed.
Joe #133, agreed, but what's the alternative? Tell San Marino and Gibraltar and Malta and Liechtenstein they can't play because they're too small? I have no idea what their budget is, but a big chunk of it must come from these games. They might just cease to exist without it.
Danny O'Neill
140
Posted 16/11/2021 at 03:14:21
I've thought there should be a tiered system too, Mike. But I don't know what it could or should look like or how it would be implemented. No easy answer.
Rugby Unions now 6 nations? But that is effectively a closed shop and I don't see anyone coming along to make it the 7 nations soon, but I'd need someone more qualified on Rugby than me. I doubt that is a good model.
A preliminary qualification round? But then you're talking qualification to play in the qualifiers.
Maybe something like the FA Cup format, but leading to the group based actual qualifiers? But then how do we seed and determine who should play in the earlier rounds? Criteria & thresholds would need to be established. It can't be on population, because what do you tell the likes of Scotland, Denmark & Croatia?
Possibly run an A & B tournament in parallel, with promotion & relegation between the 2 for the next one? That's effectively a league system but in tournament format.
Like I say, I don't know, and it's a difficult one for the reason you state. But I just think these matches achieve little other than guaranteed points for the likes of England. And as much of an honour it is for the San Marino players to represent their country, and claim to have played against some of Europe's best players, surely they get frustrated and demoralised?
Either way, these nations will mostly eventually be on the end of some serious hidings. But a different format might just allow them to enjoy the journey better and feel like they've achieved something along the way.
Mike Gaynes
141
Posted 16/11/2021 at 04:32:42
Danny, from what I've read, they are anything but "frustrated and demoralised"... on the contrary, despite the final score, they are ecstatic to represent their little countries against the best in the world.
I read an article long ago about San Marino specifically, about how the guy who scored the early goal against England still gets free drinks and autograph requests, and how the bank accountant who got called into goal at the last minute against Sweden still savors the moment he stopped Ibra point-blank in the box.
No two-tiered system is ever gonna fly. Small countries have lots of votes in Fifa. And besides, that abortive Super League idea from the Stupid Six has probably made the idea poison for all time.
My thought is... live with it. It's best this way. So Gibraltar gets pummeled a lot. They get to play in Wembley, the Bernabeu and Allianz, kick a $100 million player in the shins once in a while, and then go home to their teaching jobs and barbershops. What's so horrible about that?
Danny O'Neill
142
Posted 16/11/2021 at 05:14:48
Nothing wrong or horrible with that sentiment Mike, just a different view on it.
I don't believe for one minute it will change, it's just something I often think about.
I'm on Central time until next Wednesday, so will join you early doors for City! If I recall, you're Pacific?
Peter Gorman
143
Posted 16/11/2021 at 08:02:00
Let the little ones play, anything is possible in this beautiful game we call football.
After all, in my lifetime I have seen an Everton side littered with international stars, knocked out of the FA Cup by a bunch of Liverpool kids.
The old romantics.
Andrew Ellams
144
Posted 16/11/2021 at 08:52:34
Mike Gaynes,
I sort of agree as I'm a football romantic who will argue the right for non-league teams to compete in the FA Cup all day long etc but your part of the world starts qualifying off with the lower ranked teams playing each other, does it not, the same as in Africa and Asia, and this really is how Uefa needs to go. Maybe they could use the Nations League format as a pre-qualifier.
As for Gibraltar, they play their home games in Portugal as they don't have adequate facilities and Spain, their next door neighbours, won't allow them to play there. (The Uefa qualifying draws are actually weighted to prevent Spain and Gibraltar being paired together.)
Dave Abrahams
145
Posted 16/11/2021 at 10:22:44
Yesterday it was reported in the papers a quote from the England manager Southgate regarding the game versus San Marino. " We are taking this game very seriously" You couldn't make it up, he must have been the only man in England who was taking this game seriously.
I watched the first half because my young great grandson was staying over with me and he wanted to see the game, McGuire pumping his chest after scoring the first goal, I like to think he was taking the piss out of himself, but doubt it, Kane screaming for a penalty when England were winning 4-0 against a team who, when it came to football, had learning difficulties, fuckin' embarrassing by both these players, play these these teams by all means but don't pretend that they are real matches because it is patently obvious that they are far from it.
Tony Everan
146
Posted 16/11/2021 at 10:37:44
Dave, the term "Shooting fish in a barrel" comes to mind. Hardly entertainment but for commercial reasons, it is a requirement for it to be portrayed as such.
Dave Abrahams
148
Posted 16/11/2021 at 11:13:12
Tony (146), yes. commercial reasons, very true Tony, I hope the players understand that.
Danny O'Neill
149
Posted 16/11/2021 at 11:26:28
There's a respect thing, Dave. There comes a point where the game is won, so control the game but ease off the pedal. I know it's difficult, but there comes a time when game management can be applied. Respect to the opponent and to preserve your own.
Dave Abrahams
150
Posted 16/11/2021 at 13:29:12
Danny (149),
To be honest, I think a good proportion of today's players are too much in love with themselves to care about anybody but themselves – never mind their opponents.
Tom Bowers
151
Posted 16/11/2021 at 14:00:07
There is no Kudos for winning games like this.
As I said earlier, people shouldn't be paying at the gate to watch them. These teams are not even Third Division standard.
Barry Hesketh
152
Posted 16/11/2021 at 14:26:52
This will probably come back to bite me on the backside on Sunday, but I've never understood why a superior team should ease off the gas in any game?
Surely the name of the game is to win by as high a margin as possible; anything else is cheating in my opinion. I'm not only talking about the likes of England versus San Marino but I've seen a number of professionals saying "We had the game won, but we didn't want to humiliate the opposition." Why?
Same way as a talented player is frowned upon if they decide to take the mickey out of the opposition with flicks and tricks etc... again, why?

John McFarlane Snr
153
Posted 16/11/2021 at 15:11:45
Hi Danny [149],
I'm afraid that I don't agree with your view on showing respect to your opponents. In my opinion, there is more respect shown by playing completely to your strengths; if that results in a 10-0 drubbing, so be it.
Hi Dave [150],
As you no doubt know, I'm of the old school and I think that today's footballers are yesterday's film stars, and I think that you may share my view.
I have often said on this site that there are more important things in the world than Everton's results, and my claim was reinforced last week when Josh, while playing for his college team, suffered fib-and-tib fractures which required surgery. Ironically he scored the only goal in a 7-minute game.
I have no idea how many Everton matches he will miss and match days won't be the same without him sitting beside me. I bought him his first season ticket when he was 6; he's 17 now.
Andrew Ellams
154
Posted 16/11/2021 at 15:48:50
England are damned if they do and damned if they don't in these games. Win 3-0 they're below standard, win 10-0 it doesn't mean anything.
Danny O'Neill
155
Posted 16/11/2021 at 15:55:43
Sorry to hear about young Josh, John, sounds like a nasty one. I hope his recovery goes well so he can get back to Goodison as soon as possible.
Mike Gaynes
156
Posted 16/11/2021 at 16:04:17
Danny #142, yes, I'm Pacific, welcome to the early morning coffee klatch! (Hint: set up the coffeepot the night before.)
John Sr. #153, condolences to your Josh... please share my best wishes for a seamless recovery and return to the pitch.
Barry #152, it's called sportsmanship, but as Dave #145 says, it's somewhat out of fashion these days.
Dave Abrahams
157
Posted 16/11/2021 at 20:34:02
John (153),
Very sorry to hear about Josh's injuries, especially as he seemed to be doing well this season. I hope he makes a speedy recovery and gets back to running the midfield for his team. It will be like losing your right arm without Josh sitting next to you.
On the other topic, I think if you know the strength of your opponents are completely and utterly below the strength and ability of your own, then there is very little merit or joy in giving them a thrashing, especially when you know the massive difference before the game.
Peter Mills
158
Posted 16/11/2021 at 20:57:46
John #153.
I'm sorry to hear about Josh, and wish him a speedy recovery. I've found the club to be very helpful in the past under similar circumstances, if you make contact they may find a seat for Josh in an accessible place while he is unable to take his normal seat next to you.
Kieran Kinsella
159
Posted 17/11/2021 at 04:03:22
Ecuador, despite being sans stars, are looking good for the World Cup. My closest friend is Ecuadorean so I have to root for them but must admit James, Alexis, Cavani etc look pretty poor when they're six points behind these lads.
Oh and James, the private jet-flying skiver, was back in the Colombia team tonight despite his season highlight thus far being him getting red-carded for assaulting his Qatari league teammate. Guess what? He did sweet fuck-all and got subbed. What a waste of talent he is. So much God-given talent... so little heart.
Mike Gaynes
160
Posted 17/11/2021 at 04:21:32
Interesting how perceptions differ, Kieran. I didn't see the Colombia game, but a Colombian friend who did just emailed me to say that the only good attacking stuff they produced tonight was from James. And he was subbed out in minute 80, exhausted. Also, that Paraguay's only decent attacker tonight was Almiron of the Barcodes.
Derek Thomas
161
Posted 17/11/2021 at 08:23:39
Mike G @141;
As someone who has, at various stages of his amateur career, player and coach, been on both sides of a double-figures result, I have to agree.
The biggest pleasure I ever got was managing to scrape together 10 men for a mid-week evening last game of the season... always tricky with finishing work, traffic and stuff and holding NELTEC to 10, when they needed 11 goals to win the league – jeez, it was hard work, but to see their sad faces... and receiving the grudging handshake / 'well played' after winning 10 - 0 made it all worthwhile.
Kim Vivian
162
Posted 17/11/2021 at 09:51:33
At the end of the day you can only play what's put in front of you so the 10-0 result is what it is. If England had gone all out for 90 mins, risking injury, tiredness etc it could easily have been 20 -0.
Personally I am no big fan of England – the current crop of players and manager having about as much charisma as a bag of nuts and bolts – so I don't really bother to watch these games which have little purpose other than to mess up our weekly league fixtures and provide a platform for the gawping Harry (Ghostface) Kane to coast into the all-time records books.
(I was horrified to see him even mentioned by the dreadful Phil McNulty in the same sentence as Dixie Dean a couple of days ago.)
Pointless letting these teams play at the same elite level – there should be a qualifying tier system to filter the worst of them out. It wouldn't be hard.
Tony Abrahams
163
Posted 17/11/2021 at 11:27:34
Looking at the USA group, I see its now the dark horses, Canada, who are topping the group, Mike G. (What are they like?)
You must be glad they beat the Mexicans, but also very disappointed that USA could only draw with Jamaica; I just hope you're doing enough to qualify for Qatar.
Jay Wood
[BRZ]
164
Posted 17/11/2021 at 12:59:11
Any body else watch El Classico, Argentina v Brazil last night?
In the face of extreme provocation both on and off the pitch Brazil stood tall and matched and bettered Argentina's physical approach. They were technically superior also and deserved a win. All without the injured Neymar.
THE big talking point was 30 minutes into the game when City's Otamendi blatantly elbowed Leeds' Raphinha, who went down in a pile. The brazen Otamendi immediately tried to haul Raphinha to his feet...with blood pouring from the latter's mouth.
This link shows the incident. It's not even the best view of the incident, but it is clear what happens.
VAR looked at it. Result? No action taken. Not even a yellow card. Raphinha remained on the pitch for the remaining 15 minutes of the half with a wad of gauze to control the continued bleeding. His shirt was splattered with blood at the interval. Whatever happened to blood protocols in this game?
The Brazlian coach Tite was justifiably livid post-match. 'It is impossible - IMPOSSIBLE! - to look at that on VAR and not issue a red card.'
I guess the ref and his team just wanted to get out of the stadium alive.
Danny O'Neill
165
Posted 17/11/2021 at 13:20:35
Just read a good piece on Richarlison in The Athletic, Jay, and how he's becoming increasingly popular with the Brazilian fans. And how he, even more than most Brazilian players, can't stand Argentina.
Apparently after the Olympic Gold win, he tweeted "Rival wanted in South America"!!
Jay Wood
[BRZ]
166
Posted 17/11/2021 at 13:49:52
In Richy's absence Danny in the previous set of internationals Raphinha impressed, but in this pair of fixtures v Colombia and Argentina he was almost anonymous.
I fully expect Richy to be re-installed as first pick on his return to the national team.
And yes. To many Brazilians he is an icon. Many identify much more with Richy than they do with Neymar, not least of all for the social and environmental issues he campaigns for, never mind his footy.
John McFarlane Snr
167
Posted 17/11/2021 at 14:55:13
Hi Danny, [155] Mike, [156] Dave, [157] and Peter [158] on behalf of Josh I would like to thank you for your kind words in relation to his injury. I believe that it was the result of a nasty tackle and required the insertion of a plate and pins, but knowing next to nothing of such procedures I can only assume that it was considered a major operation.
I put the blame on the modern technique of tackling, in my footballing days tackles were made with the inside of the foot or the instep, while the ball was within playing distance, this method included the sliding tackle. These days players launch themselves from a distance with studs showing, it's therefore no surprise to me that the youngsters who witness these acts on television are following the example of the professionals. I also believe that it could be rectified by the clubs themselves in their coaching process, assisted via a clampdown by the lawmakers and referees.
Danny O'Neill
168
Posted 17/11/2021 at 14:58:25
I used to shout at my lads for tackling with the outside of the foot, John, and explain they risked injuring themselves as much as the other player. And you're right, you see professionals doing it; definitely something that's crept into the game.
Jay Harris
169
Posted 17/11/2021 at 15:21:53
Hi Sir John,
I hope Josh makes a speedy recovery and puts a smile back on your face.
Tackling as an art has gone out of fashion as ball retention is pushed these days meaning the youngsters can only emulate what they see the big boys do and that in the main is very poor with studs showing and little care about the danger to fellow players.
John McFarlane Snr
170
Posted 17/11/2021 at 21:08:32
Hi Jay [169],
Thanks for your good wishes, time will tell how Josh deals with the situation, hopefully he will make a full recovery and maintain his love of football.
I'm speaking as a football fan and not a Granddad, when I say that he is a good player, he spent a spell at Finch Farm but didn't make the grade.
I feel that if the powers that be (the FA and the football clubs) don't address the problem, what Josh has endured will become a common occurrence. At the moment, I think they are turning a blind eye which doesn't bode well for the safety of players at any level.
I will let Josh know that there are some on ToffeeWeb who have extended their best wishes to him. Once again thank you for your comments.
Stan Schofield
171
Posted 18/11/2021 at 00:14:14
John @167:
In my opinion, you are absolutely spot on. I can remember Howard Kendall being able to do a slide tackle, and come out of it with the ball apparently glued to his foot, whilst the poor player who lost out to him was left flailing but arose from the turf completely unharmed. What happened to such skill?!
Barry Hesketh
172
Posted 19/11/2021 at 15:35:00
Whilst looking for something else, I came across a piece of trivia that I had either not known about, or had forgotten, namely that Phil Jagielka is the only Everton player to captain England whilst at Goodison Park. It's extraordinary that Everton FC has failed to produce a regular England captain at any point in its history.
After a full season with Rooney in charge, there were four different captains in the first five matches of 2015-16. Rooney in charge of the first two, then Gary Cahill earning his first honour, and the fiftieth to do so since the war, when Rooney was injured. Then, on 12 October, when both an injured Rooney and a rested Cahill missed the match against Lithuania, the captaincy was handed to Phil Jagielka. The first Everton player to receive the honour
---
Add Your Comments
In order to post a comment, you need to be logged in as a registered user of the site.
Or Sign up as a ToffeeWeb Member — it's free, takes just a few minutes and will allow you to post your comments on articles and Talking Points submissions across the site.