Everton vs Liverpool
Tuesday, 30 November, 2021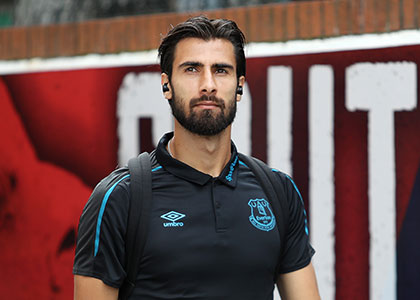 André Gomes is back training with the first team but is not expected to start
Once it became clear that Rafael Benitez was Farhad Moshiri's choice to succeed Carlo Ancelotti as manager, this fixture, the first Merseyside derby of 2021-22, was the one Everton fans were dreading the most. Having already sullied the club's name with the hiring in 2018 of Sam Allardyce, the appointment of a Liverpool FC hero was always a tough ask of Evertonian patience and grace; that the Toffees go into this fixture at such a low ebb and with the reds in such good form makes the whole build-up to the game incredibly difficult to take.
Sunday's depressingly limp defeat at Brentford means that Everton begin a daunting run of five matches against Liverpool, Arsenal, Crystal Palace, Chelsea and Leicester nervously looking over their collective shoulder at the relegation zone just six points below them. Benitez badly needed three points from West London this past weekend to both arrest a worrying six-game sequence without a win and give some hope to an increasingly concerned fanbase heading into this difficult-looking December.
Instead, the Spaniard presided over what was the Blues' fifth defeat in six matches — relegation form no matter which way you slice it — and his players were left under no illusions at the final whistle about what their committed travelling fans thought of what was another dreadful, toothless performance. It's difficult to think of worse circumstances under which to prepare for the visit of your local rivals.
Yet prepare Benitez must, hopefully with the knowledge that Abdoulaye Doucouré and Demarai Gray, two players rushed back from injury for Sunday, will be fit enough to start. Gray was particularly missed at the Brentford Community Stadium until he stepped off the bench with 20 minutes to go and did his best to fashion an equaliser for a desperately blunt Everton attack. His pace and invention combined with Richarlison's return from a one-match suspension should provide a huge lift in quality over what was on show from the likes of Salomon Rondon and Alex Iwobi.
Article continues below video content
The further addition of one or both of Dominic Calvert-Lewin and Yerry Mina would have been a massive psychological boost as well but neither will be able to make it for Wednesday evening. Calvert-Lewin only returned to light training last week as he works his way back from a serious thigh injury and will need more time as will the Colombian.
Much will be made of how Benitez approaches an opposition team with one of the most prolific attacks in the Premier League and which has scored two or more goals in each of their last 17 games in all competitions. Given that Everton scored just once in the month of November, it feels like a harrowing mis-match — Everton have opened as 13/2 underdogs for this game, according to Sports Betting Dime and a draw is 17/4.
It's a match-up that could prompt the manager into a more defensive posture than normal, though. Benitez has been pretty stubborn about his chosen formation but he has used Andros Townsend in a more central role to protect the central midfield pairing and it could be that for this game that he drafts Fabian Delph in alongside Allan and Doucouré to simultaneously provide greater cover for the defence and give the latter license to push forward in a way that he didn't against Brentford, perhaps due to a lack of match fitness.
In that instance, Anthony Gordon might be the one from Sunday's starting XI deemed expendable, with Townsend and Gray tasked with providing the width either side of Richarlison and Rondon dropping back to the substitutes' bench. André Gomes is back in full training but is not expected to be in the starting XI but Tom Davies continues to be sidelined with a knock.
For his part, Jürgen Klopp will have the same five players missing as he did at the weekend, including defender Joe Gomez, midfielder Naby Keita, forward Roberto Firmino and longer-term absentees Harvey Elliott and Curtis Jones but the depth of his squad means that he has plenty of alternatives at his disposal.
While Everton broke a 22-year hoodoo back in February by beating Liverpool at Anfield, their winless run in home derbies is itself over a decade old and there are few Evertonians expecting it to end on Wednesday evening. Indeed, most Blues are just hoping to avoid the kind of massacre that would turn Goodison Park into a seething cauldron of ire aimed not at the dark horde from across Stanley Park but the dugout and Directors Box.
This being a derby, though, strange things can happen. This Everton side showed against Tottenham that they can be spirited, determined and difficult to break down and if the fans' frustrations are channelled into turning the Grand Old Lady into a bear pit, the possibility for a competitive encounter and a positive result will always be there. But, boy, it's hard to shake the feeling that damage-limitation will be the order of the day.
Kick-off: 8:15pm, Wednesday 1 December 2021 on Ammazon Prime in the UK
Referee: Paul Tierney
VAR: Michael Oliver
Last Time: Everton 2 - 2 Liverpool
Predicted Line-up: Pickford., Coleman, Keane, Godfrey, Digne, Allan, Delph, Doucouré, Townsend, Gray, Richarlison

---
Reader Comments (151)
Note: the following content is not moderated or vetted by the site owners at the time of submission. Comments are the responsibility of the poster. Disclaimer
David Hallwood
1
Posted 30/11/2021 at 19:59:17
So almost a full squad, who know our luck maybe turning. Rafa, please,please play 3 in midfield as they've got 3 workaholics in midfield and they'll swarm all over 2 in midfield
Bill Gall
2
Posted 30/11/2021 at 20:02:24
Yes Gomes is back in training but as Benitez says it will take a while to get up to match fitness so we may see him after Christmas.
Kieran Kinsella
3
Posted 30/11/2021 at 20:05:45
Lyndon,
"His pace and invention combined with Richarlison's return from a one-match suspension should provide a huge lift in quality over what was on show from the likes of Salomon Rondon and Alex Iwobi."
I was going to question this statement until I read the last five words "Salomon Rondon and Alex Iwobi." I guess everything is relative so even with his limitations his return does offer a "huge lift" relatively speaking.
Phil Whittock
4
Posted 30/11/2021 at 20:08:16
___Gray__Richarlison__Townsend___
_____Allan_Delph_Doucoure_____
Digne_Godfrey_Keane_Coleman
___________Pickford___________
Liam Mogan
5
Posted 30/11/2021 at 20:17:31
Whilst realism suggests a tough evening ahead, I refuse to allow myself to be pulled into the position of no hope before a ball has even been kicked. I am an Everton fan and will be with my family of both young and old Everton fans. I will back and support the team with everything I have for the 90+ minutes irrespective of the outcome. I will not give any of the orcs and goblins of mordor the satisfaction of seeing us turn on ourselves in their presence. The implications and analysis can wait. I am an Evertonian.
Christy Ring
6
Posted 30/11/2021 at 20:24:11
Phil, that's the team I'd pick, as for Gomes, love to see him back and fully fit.

Andy McNabb
7
Posted 30/11/2021 at 20:28:38
I see Pep has a "player emergency" with only 14 or 15 world class players currently at his disposal.
Oh for such a problem at Everton.
Andy Peers
8
Posted 30/11/2021 at 20:32:31
I wish I could be optimistic, let's face it, Rafa said he was happy with the effort from the team against Brentford. If he thinks that is 100% commitment and effort then we will get beat 7-0 against the Shite. That team gives that effort every minute of every game.
Sam Fitzsimmons
9
Posted 30/11/2021 at 20:32:51
Spot on Liam
Faz Bhayat
12
Posted 30/11/2021 at 20:59:39
Spot on Phil! That's the team I would pick! Not looking forward to this at all! They say form goes out of the window in derbies. Let's see if this is the case.
Kieran Kinsella
13
Posted 30/11/2021 at 21:02:50
Phil/Christy
I would go with that team also. My worry is that in the presser Rafael Benitez is talking about being strong defensively. That's obviously important but I hope it doesn't equate to parking two busses. I watched the RS at Brentford, and not for the first time the RS ran into trouble when their opponents actually attacked them. With Rich, Gray, Townsend and Docuore we could do likewise. If we sit back and try to quell the storm it's a bit like the Battle of Britain. You might survive through the night if their bombs are misdirected but you can't win the battle if the Luftwaffe are overhead and you're hankered in the Elephant and Castle underground station. Best case a few mortars knock out some of their flyers (e.g. Pickford on VVD) but if you want to win, you have to get bomber Harris airborne and take the fight over to Dresden.
Graeme Beresford
14
Posted 30/11/2021 at 21:15:21
Can see this being 4/5 to Liverpool. We go a goal down and everyone's head drop. As per usual the first goal is dead important but I just can't see past how well they are playing, they have a full strength team, and they will want revenge for last year. Can see this being a big score and bye bye Rafa afterwards.
Feel sorry for me though fellas. I'm currently off work with Covid. So is my wife, who is a Liverpool season ticket holder. Which means tomorrow is just me and her, watching it together at home. Oh the joys.
Tony Hill
15
Posted 30/11/2021 at 21:34:05
We need more asthmatics in the squad.
Bill Gall
17
Posted 30/11/2021 at 22:15:33
I thought they said that Mina was close to playing against Brentford?
Mike Gaynes
18
Posted 30/11/2021 at 22:16:22
Best game I ever saw Gomes play was at Anfield, December 2018. He was so good I thought I might have been wrong in my pessimism about our acquisition of him from Barca.
Unfortunately.....
Mike Gaynes
19
Posted 30/11/2021 at 22:17:43
Graeme, feel better, mate.
Tony Everan
20
Posted 30/11/2021 at 22:39:07
Graeme is right about the first goal is critical tomorrow, I'm praying it comes from us.
If there is a god, a Liverpool player gets a red card, we get a deflected goal, we fight like lions, the woodwork is on our side, and the crowd scream the boys home to a desperate and famous narrowest of wins.
🙏 COYBlues, do us proud, us Evertonians deserve it.
Bill Gienapp
21
Posted 30/11/2021 at 22:54:52
This will be an interesting match. We've certainly had our share of hidings at the hands of the RS, though rarely at Goodison. I think of the last eight Merseyside derbies at Goodison, seven have ended in a draw and the one RS win was when Mane scored in like the 95th minute.
Phil (4) is spot on. Unless Mina or Calvert-Lewin were to make a miraculous, last-moment return tomorrow, there's no other lineup Rafa should even think about putting out there.
Tony Abrahams
22
Posted 30/11/2021 at 22:55:10
I'm putting my money on Rondon for the first goal, just as long as Benitez is brave enough to play him.
Tony Twist
23
Posted 30/11/2021 at 23:07:06
Don't think it matters who scores the first goal unless it is us in the last minute, er, half minute of injury time in the second half! I think we will get tanked tomorrow, like the RS at Old Trafford recently. They probably hardly get out of second gear and then we will end up forth from bottom by the time we play Arsenal. We are in deep sh*t.
Brian Wilkinson
24
Posted 30/11/2021 at 23:07:21
Well said Liam, we have to get behind the team tomorrow, those who do not know the words, just hum but be vocal tomorrow night.
Kieran Kinsella
25
Posted 30/11/2021 at 23:07:44
John Aldridge in The Echo talking of revenge and VVD.. .
Brian Wilkinson
26
Posted 30/11/2021 at 23:52:08
Is this the same Aldridge who said Dalglish shit on him from a sky scraper for the treatment under the Redshite.
And the same Aldridge, even in an emotional FA Cup semi-final in 89 replayed, ruffled and took the piss out of Brian Laws after scoring an own goal, shithouse.
Derek Thomas
28
Posted 30/11/2021 at 00:01:18
Christy @ 6; Yeah, me too, we might be able to sell him.
Mike @ 18; He ran the show then, he was on loan playing for a contract though.
My rs bro in law, who is one of the very few semi sensible ones, said at the time...if you don't buy him - we should.
Imagine him on (alleged) Klopps east german 'magic juice' and an inhaler.
Don Alexander
29
Posted 01/12/2021 at 00:42:27
I can't really imagine Klopp re-setting any plans even if our Andre was fully fit.
I can imagine a few of their sprogs starting, with a very potent bench having a rest.
It's what he does after all, to good effect from his point of view, and why not – given the crippling inadequacy pervading our club under the owner/boardroom we've been cursed with for decades?
Mike Gaynes
30
Posted 01/12/2021 at 01:34:11
DT #28, it wouldn't make any difference. He could be pumped up like Adama Traore and air-fueled like a Boeing 767 and it wouldn't fix the problem, which is located squarely between the elegantly shaped beard and the luxuriant coif.
He will never, ever have the confidence or assertiveness to match his natural skills.
Ernie Baywood
31
Posted 01/12/2021 at 05:36:15
Another vote for Phil's player selections. I'll add that Delph sits deep and Allan and Doucoure get tasked with creating absolute mayhem. Run, tackle, win the second ball, give them something to worry about rather than worrying about anchoring the midfield.
The defence don't worry about playing out. Go direct and early to the pace up top and force the opposition back that way. No-one wants to see our centre backs and Doucoure trying to pass the ball in the face of their pressing.
Townsend and Gray behind Richarlison. Richarlison causes hell and the other two plus Doucoure get close and support him at every opportunity. Win the second ball.
A fitting 4-3-2-1 Christmas Tree.
But I don't know what to actually expect. Can Benitez get any kind of positivity into this club for one day? I'd suggest not and he wouldn't have been the one preparing for this fixture if it was up to me.
Tony Everan
32
Posted 01/12/2021 at 05:44:32
I would agree with Phil's @4 team selection too, probably the strongest one we can put out with the players available. We have to battle like hell all over the pitch for every blade of grass. Also, can Coleman and Digne get close enough to stop the crosses coming in? The answer to that may decide the game.
Derek Knox
33
Posted 01/12/2021 at 06:04:16
What a sad state of affairs when we are loosely pinning faint hopes on the return of a Portuguese 'one-trick donkey'... so this is what half a billion gets us?
Okay, we have been unfortunate with injuries, and the loss of a player many on here said was 'Championship at best', seems to have totally left us devoid of any vestige of attacking threat.
No matter how good a player is, no team should be dependent on one player. Again, they will be missed, but this should be where someone gets a chance to stake a claim of being under serious consideration, or a reserve, if they ever get a chance from the bench, to do so.
Right time for the others, if they can muster a backbone between them, to start playing like professional footballers and not like a bunch of pensioners who have just taken up 'walking football'. Nothing wrong with being a pensioner by the way, I am one myself, but hopefully most will get the analogy.
If we can start on the right foot and take the game to Liverpool, we are the home side after all, like Corporal Jones used to say to Captain Mainwaring "They don't like it up 'em, Sir" in Dad's Army.
Jim Bennings
34
Posted 01/12/2021 at 06:30:06
When is Mina ever fit? Such a shame because I like the fella but we are definitely going to need to be in the market for a new centre-half soon.
Gomes will not be anywhere near the pitch because, again, he's another one who's never fit, even when he actually is available.
Our midfield will likely be swarmed, Doucouré not fully up to speed and Allan just not in games at the moment to have any real impact.
Sad thing about it though is another manager will get sacked if we lose heavily tonight in all probability and another new victim will be chosen by the bungling owner of the club and be expected to take charge of these same meek disinterested players and produce different results.
It's naive for us to think that the return of Calvert-Lewin will make any real difference; both he and Richarlison played in home games that were lost last season to the likes of Sheffield United, Newcastle and Fulham and eventually finished in 11th.
I don't know what the answer is to solving Everton anymore because there are too many questions to begin asking and issues to be resolved just to expect a new manager to change the club's ethos and dynamic.
Dave Lynch
35
Posted 01/12/2021 at 06:58:01
Klopp's arrogance may go against him tonight. Play a weakened team and we may have them.
It will depend on our fight and determination though, along with a strong ref. They will scream, moan and dive all over the park.
I fully expect Van Dijk to try and exact some revenge, he's an arrogant self-centred bastard and I hate him.
Frank Sheppard
36
Posted 01/12/2021 at 07:12:06
I am absolutely dreading tonight. I am unable to see any glints of optimism.
I really worry about 0-5.
Duncan McDine
37
Posted 01/12/2021 at 07:32:41
I haven't enjoyed the thought of a derby for many years, but I don't think we've ever been such an underdog as we are right now. There is a lot to dread, but you never know.
Gary Smith
38
Posted 01/12/2021 at 07:33:50
Unfortunately the team suggested in the article is likely nailed on. Look through it and tell me where the goals are? 1 maybe 2 players? Now look at the shite, and there are 4-5 likely to bag one.
That's so worrying it's unreal, because Rafa has already stated "defend as a unit and counter" as the strategy. The problem is though, like with Man City, you just won't stop that many goalscorers. The only way to beat them is to be brave and go at them (like Brentford and Brighton did). Make sure they are cautious of throwing too many forward and playing with their high line.
It's not in the Rafa's DNA to do it.
Personally, I'd go 4-3-3 with pace and goal threat – and, if Gomes genuinely fit, I'd have him in ahead of Delph, but too big a risk for his first game back.
Pickford
Coleman Godfrey Keane Digne
Allan Doucouré Delph
Dobbin Richarlison Gray
Sam Hoare
39
Posted 01/12/2021 at 07:50:16
I think trying to go toe to toe with this Liverpool side given our fragility in defense and midfield is tantamount to jumping in a shark tank wearing a sealskin bikini.
That's not to say we should be passive. We need to be intense, compact, determined and to make the right decisions as to when to counter with speed and men. We also need to be excellent at set pieces which has been an issue all season.
We often do our best when people expect the worse and I would not be that surprised by a valiant draw.
Ralph Basnett
40
Posted 01/12/2021 at 07:54:58
I never like derbies as we have them and the ref to face but this one is going to be the worst yet!!!!!!
A red in my pub has offered a bet that, if they win, I wear a shoite shirt to the next home game (can cover it up), and if Everton win, he will get an Everton tattoo.
Fingers crossed!!!!!!!!
Danny Baily
41
Posted 01/12/2021 at 07:56:08
Do yourselves a favour and take the night off.
Ernie Baywood
42
Posted 01/12/2021 at 07:58:45
Sam, we don't have a choice but to be in the shark tank. It's fixtured.
As surfer Mick Fanning will tell you, you have to punch the shark to stop it attacking you
That would be my approach. Not for one second am I suggesting we attack, attack, attack. I'm saying we have to land a punch to even be in the game. Be horrible, give them something to worry about. The cliches work sometimes, that's why they're cliches.
Jerome Shields
43
Posted 01/12/2021 at 07:59:18
Mina would not want to play anyway. He is more a player for teams that are winning. There are a few others like that as well.
I am optimistic that Everton will put on a show tonight. They will be motivated and at least have a defence with defenders with some games under their belt. I just hope there is not a tendency to play too deep, they need to push up into midfield and hopefully get lucky.
Hopefully Rondon will give them some problems but I don't think he will score.
I was talking to a friend that just watches football. He said, "I never liked Rondon, he never looked like scoring for Newcastle. "
That's probably why we got him for nothing. Though he is good at giving Everton shape, which is what is needed this evening.
Ernie Baywood
44
Posted 01/12/2021 at 08:01:28
And I'll add that I would target Van Dijk and Henderson straight away. You know those two will be looking for us... get your retaliation in first. Show some balls.
John Keating
45
Posted 01/12/2021 at 08:02:19
Whatever team either side puts out, it's damage limitation for us.
Benitez said early doors, when we were getting a couple of wins, that he knew what the supporters wanted: 100% effort and commitment. Well we haven't seen much of that the last few weeks.
We are in freefall and the rot has to stop very soon or we really will be in the shit.
Only another 25 points!
Tony Abrahams
46
Posted 01/12/2021 at 08:04:11
It's called the basics Sam, and it's the most important thing in any sport.
I can understand Gary's frustration with Benitez, but he himself is the one who points out how many goal scorers Liverpool have got throughout their team compared to Everton, so to go toe to toe would be folly in my opinion.
Fight, defend as a unit (we have only done this really well against Spurs), stay in the game, get the crowd going, and then start getting after them a bit more once we have got these basics right, is my own view, because I don't think we can afford to lose an early goal tonight.
Sam Hoare
47
Posted 01/12/2021 at 08:06:39
Ernie, as with a shark, you have to choose your moment carefully!
An open game will suit them more than us but, as I said, we have to counter quickly and aggressively at the right time. As always, a lot will come to good decision-making.
Brian Murray
48
Posted 01/12/2021 at 08:09:10
Ralph post 40. Tell that daft kopite to forget about the tattoo, he's probably already used to feeling a little prick. As for wearing his yellow budgie shirt, swerve that as well.
Brian Murray
49
Posted 01/12/2021 at 08:13:49
Ernie. Van Dijk targeted Rodriguez in the last Goodison derby and chopped him in two. Been a long time since we have gone after a player and done likewise. We are not streetwise or nasty enough. Even the £60 grand fella can't wait to shake their hand. Oh for a Reidy just once…
Jonathan Tasker
50
Posted 01/12/2021 at 08:25:16
LFC 4/11 to win tonight. That says everything about the state of Everton under the current owners.
Prediction. A bit more effort than in recent matches, buoyed by a rabid crowd. We may even still be in touch at half-time. But an inevitable loss. I'm going with 1-3.
Jim Bennings
51
Posted 01/12/2021 at 08:29:52
Fair to say we'll see Seamus toddling over to the fans as usual at the final whistle with his hands up apologetically as usual.
I'm not picking out Coleman here either but it's the club's fault for keeping him on as first-choice right-back when he's 3 years past his best.
Eddie Dunn
52
Posted 01/12/2021 at 08:31:07
Of course they have threats all over the place but the biggest worry for me is our flanks. Seamus might be able to rouse another display from his past but even if he can keep tabs on Mane and Robertson we have the woefull Digne on the other side.
My only hope is that over the years we have been underdogs as they have lorded it in the Premier League, but we have come away with draws.
If this lot have anything about them, this is the game to show some professional pride.

Paul Burton
53
Posted 01/12/2021 at 08:48:22
Good morning, if anybody can face this evening my ticket is posted on the resale site. Unfortunately the resale part of the web site is a bit of a mess and tickets don't seem to appear. The club has assured me it's listed! Good Luck
Barry Hesketh
54
Posted 01/12/2021 at 09:02:11
I'll be there tonight along with the other thousands of Evertonians, hoping that somehow the team can put in one of those memorable performances and manage to overturn the odds to come away with three points.
Regardless of the result and or performance, judging by two articles in the Echo this morning, I can't see Benitez being removed from his seat of power at Goodison in the near future, as it looks increasingly certain to be the case that Moshiri has hired the Spaniard to oversee a period of austerity due to FFP and that star players will be sold as and when required.
Rafa Benitez insists Everton must 'learn' from other clubs who have sold players and improved their squad with the proceeds.

In answering a question about Farhad Moshiri's backing, Benitez said the club needed to manage their transfer budget better by 'selling some players at a profit'.

Asked to then expand on his comments, the Everton manager said financial fair play regulations have to show the club that player sales must become a more important way of generating cash if they are to find the money to improve their squad.
Benitez believes that "stability" is at the forefront of Moshiri's thinking.

"I am in constant communication with the board and Mr Moshiri so I have this feeling that that they realise that they were changing managers in the past - even changing the profile of the managers in the past - and it was not working," Benitez said.

"So they know that we need stability and they know that is really important for changing things in the future so you can't blame the owner for spending a lot of money.

"It is just that we have to be sure we do things right in the future and the reason why we can't spend now is because the Premier League rules don't allow us to do that.

"So hopefully we can manage in a better way, we can sell some players at a profit and we can use this money to improve the squad and to ensure we are stronger.

"I think they [the board] realise the over the years that changing managers, changing the way to do things is not right, it is not productive, and hopefully we can keep this stability."
Benitez is either a very arrogant person who has misread the runes or he is in the most powerful position as Everton manager since David Moyes left Goodison. If it is the latter, we can only hope that he manages to get more out of his team in the coming months than he has in the last couple.

Rennie Smith
55
Posted 01/12/2021 at 09:14:04
He's doing the usual thing of "it's not me, it's them" speech, covering his arse. Done the wrong thing in the past – slagging off the previous manager (who he already has a problem with because he was shit at Madrid following Carlo) –fans didn't like it (we'll make up our own mind, thanks, mate).
Be gone, you dull kopite.
Rennie Smith
56
Posted 01/12/2021 at 09:18:33
By the way, as ever, I'm still going positive tonight and I think we can drive them on to get a draw. Come on, under the lights against the screaming blue wave, they'll shit their red pants.
Derek Cowell
57
Posted 01/12/2021 at 09:21:24
I know it is good to have hope going into games and fans like to appear optimistic but it always amazes me how people can be so optimistic given all the evidence to the contrary provided by our club, week-in & week-out.
How can we expect our weak-willed players to show the necessary bottle and fight in this game when they have performed so abysmally up to now?
We need Mike Lyons, Joe Royle and the ghosts of Dave Hickson and Howard Kendall to give the pre-match team talk as none of our pussies even know or care what this game (or any game, it would seem) means to the fans. Seamus Coleman is an exception but sadly he is past his best.
Reidy and Cahill were not natural Evertonians but they were professional with a high degree of personal integrity. They took to the pitch and played for us! This bunch of pussies cannot even do it for their own reputations. They are a collective joke.
If we get anything out of tonight's game, I will be amazed. In fact, I will be amazed if it is less than 0-4. I am just going on the available evidence of our games up to now!
I expect Rafa's name to be shouted to the rafters at Goodison tonight – but it won't be by Evertonians!
How has it come to this, Bill?!
Yours, from behind the sofa.
Andrew Ellams
58
Posted 01/12/2021 at 09:21:31
I see Sky Sports are running two stories on their website. How Pickford attacked Saint Virgil and an interview with Corporal Klopp on how brave Saint Vigil was dealing with injury.
Derek Cowell
59
Posted 01/12/2021 at 09:28:45
I also do not think we will finish the game with 11 players on the pitch given all the furore over Van Dijk. The ref will definitely have been influenced by it, even if subconsciously!
Brian Harrison
60
Posted 01/12/2021 at 09:31:52
I will be there tonight, hoping rather than expecting a result. I have to agree with Rennie, this is Benitez doing what he always does, and that's to pin the blame on others and never take any responsibility himself.
We all know there are many faults running right through the club, but the first job of a manager is to sort out the team. If he wants to fight other battles, then at least wait till you have the team winning games and away from a relegation battle.
Seems like the rumours about Mina moving to Italy in January could be true. Seems ironic he played the full 90 minutes for Colombia 3 times in a week but comes back and has a hamstring problem that's kept him out for a couple of months.
I also found Benitez comment about there being a better connection this season between players and fans than there was last season – really?
Judging by his comments, it seems he feels very confident that Moshiri won't pull the plug on him despite us being in 14th place. Normally, Moshiri has sacked his previous managers if the team has been in 13th spot.
Unless we can get something from tonight or a win against Arsenal, we may find ourselves even further down the Premier League table before our trip to Crystal Palace.
Peter Neilson
61
Posted 01/12/2021 at 09:45:51
Kind of dreading tonight, has the high potential of being a walkover. Hopefully we all get behind the team but, even so, I'm not convinced they have the heart, fight or nous in them.
Please prove me wrong. Benitez's "better connection between fans and players than last season comment" – for fuck's sake, we weren't in the ground!
Bill Fairfield
62
Posted 01/12/2021 at 09:45:53
How on earth has it come to this. The worst squad of players in living memory and a board of directors that haven't got a clue. It's going to be a tough watch tonight, with the gloating red hoardes chanting our manager's name… nightmare.
Mark Dunford
63
Posted 01/12/2021 at 10:24:58
The first of three games against Benitez's old teams in December. Coupled with the balance of the fixtures across a really difficult month – December is clearly going to be a time that defines the season.
Every team we face will be fancy their chances and Newcastle have ominously yet to win a single game. Still, expectations have been lowered so far by the combined forces in play that not losing will be deemed success by most of us.
Dave Williams
64
Posted 01/12/2021 at 10:39:23
I dread every derby, so nothing new – apart from the likelihood of a sound thrashing if we roll over for them.
I think we are pretty much all agreed on the team and they really must get out there and fight like never before. They will be after Pickford at corners and we need a very strong unbiased referee.
The crowd has a huge part to play in this game and really can be the 12th man. Richiarlison – everyone else, for that matter – is due a goal.
We can't go out and attack them because our attack is not good enough and we would leave too many holes for them to break which plays into their hands as their front three would have a field day. This is a game for dogs of war – Ebbrell, Horne and Parkinson were no great shakes individually but, as a unit all revved up by Joe, they gave anyone a game and not even Roy Keane enjoyed playing against them.
At the very least, we deserve a flat-out performance of fight, grit, determination and guts and any player who does not crawl off the pitch absolutely shattered should never play for us again.
Get stuck in boys!!
Anthony A Hughes
65
Posted 01/12/2021 at 10:41:51
As much as I want to be positive, I think the best we can hope for tonight is to turn it into a war and try to not concede.
Benitez may get away with a defensive performance tonight. If we go after them, I think they'll cut us apart, far too much pace of passing and movement up top for the Shite.

Paul Randall
66
Posted 01/12/2021 at 10:53:17
I fear a real tanking tonight, with the redshite fans teasing us re Benitez. There is nothing in our current form to suggest we can get anything from this game sadly.
But, I'm an optimistic blue and will be cheering my team onto a hopeful 3 points.
Peter McEvoy
67
Posted 01/12/2021 at 10:56:40
I just want to see 100% commitment from every player in a blue shirt tonight. That's really all we can ask for as we are miles behind them in class.
You would always want local players playing against them but unfortunately, Tom Davies and Anthony Gordon are nowhere near good enough for us and both are very lightweight.
We just need to compete but I'm not looking forward to it.
P Ron Wells
68
Posted 01/12/2021 at 11:08:29
Agree with Bill at 62.
I feel more miserable about the prospects tonite than I felt when Dave Hickson went to Anfield.
Jim Bennings
69
Posted 01/12/2021 at 11:17:30
Anyway, moaning aside at how shit we are, all I can say for teamtalk is...
Get into these fucking melts... Come On!!!!!!!!!!!
Eddie Dunn
70
Posted 01/12/2021 at 11:19:10
I wouldn't be surprised to see us cash-in on Mina to provide funds. Although our centre-back pairings have been problematic at times, we do have plenty of them.
With the addition of Gray and Townsend and young Gordon getting game time, it also opens the exit door for Richarlison. This would enable us to hang on to Calvert-Lewin.
As for tonight, I expect reprisals on Richarlison after he put Thiago out last season. The thug Van Dijk looks to me to be jogging about, and despite the plaudits from the red media, I don't think he has recovered fully from the injury.
Their team is full of snakes, Robertson, Mane, Salah, Henderson and Milner. Jota and Arnold are also up there in the echelons of fuckwittery.
Please let us get stuck-in and leave them bloodied and bruised even if we don't get the result. Also, I hope we have some restraint towards Benitez. To turn on him would just make the Koppites even happier.

Rennie Smith
71
Posted 01/12/2021 at 11:22:02
I can already hear Klopp whining post-match about bully-boy tactics and how his delicate little flowers were assaulted and how they need protection from the nasty men. In the first minute, we need to see that weasel Robertson put into the stand by Seamus. That will set the tone and it will be a free-for-all 90 minutes.
Tony Abrahams
72
Posted 01/12/2021 at 11:25:14
I'd only have a problem with Benitez saying what he's saying if it wasn't 100% true... except about the better connection between the players and the fans, because that simply isn't true. Although tonight would be a great time for those players to show us how much they really care, by proving it with their actions.
John Kavanagh
73
Posted 01/12/2021 at 11:43:30
Andrew and Derek @58 & 59. Yes, I blew a fuse at the Sky 'coverage' yesterday. Everything is being set up for the Blessed Virgil to exact 'justice' for his getting injured last season after yet more shroud waving features like it had happened last weekend.
I fully expect us to get one bad injury and/or a sending off. Richarlison and Pickford are likely to get special treatment with no obvious errors spotted. Van Dijk and Robertson will (as usual) be allowed to get away with murder and we will get carded for going anywhere near Salah and Mane (who will both be in full-on diving mode).
I hope that we have a real bear pit atmosphere for tonight's match, but I fear nothing can save us. An especially warm Goodison welcome needs to be given to the fourth official; namely fatty Jon Moss, who will intervene at any given opportunity on behalf of Herr Klopp and the RS to emulate his 'no obvious error' interventions on Sunday. He is there to ensure that Tierney referees the match 'fairly'.
Referee: Paul Tierney. Assistants: Constantine Hatzidakis, Adam Nunn. Fourth official: Jonathan Moss. VAR: Michael Oliver. Assistant VAR: Sian Massey-Ellis.
I think I'm gonna need a bigger settee to hide behind, but COYB and deliver one of the biggest shocks in donkey's (Rondon) years.

Derek Moore
74
Posted 01/12/2021 at 11:49:54
I thought Palace were absolutely robbed last night, an important result as it now moved Leeds level on points with us.
Norwich picked up their eighth point in four games to move within two wins of us with a draw against the battling Barcodes.
The Geordies look to be trying to build a foundation for a second-half escape act. The point against Norwich was a credible one, they played 70 minutes with 10 men, and really battled hard.
With results going against us, our recent form line, the gaffers personal history – it's all pointing one way tonight isn't it. Pains me to predict it, but Liverpool by plenty.
Gary Borrows
75
Posted 01/12/2021 at 12:00:26
Sorry to say but after the Watford debacle, me and my best mate Bradders haven't been able to go near the place... We've been season ticket holders for years and have never felt so dissatisfied with this team.
I could go through the team and pick most of them to pieces but, when I realised that I was booing players on (Iwobi against Watford), I've decided to stay away for the good of my mental health. I realise that you should get behind our team but feel that it's all take and very little in return.
I've given my Rednose son my ticket for tonight so that at least one of us can enjoy a game at Goodison, obviously nothing is set in stone and should the 1% chance of us actually turning up and putting a performance in, I will be the first to ''eat a massive humble pie''. COYBS
Barry Rathbone
76
Posted 01/12/2021 at 12:04:12
Didn't know we were playing this lot till I tuned in here so that's footy out the window for a few days. Drubbings by the red peril really are my least fave part of the season.
Ignorance is bliss.
Michael Lynch
77
Posted 01/12/2021 at 12:11:01
Best RS team in living memory against the worst Everton team in recent memory - what could possibly go wrong?
Anyway, at least until kick off, I'll be dreaming of a 3-2 to the Mighty Blues, last minute winner from Rondon, the roof comes off.
Mick O'Malley
78
Posted 01/12/2021 at 12:18:00
Klopp at it again trying to referee the game before it's started. Van Dijk's injury was 12 months ago yet he regurgitates it whenever he can.
I notice he never mentions the Dutch gobshite's assault on Rodriguez (who was flying and was never the same after) or his players flopping to the ground under minimal contact, and the way he constantly berates and screams in the 4th official's face if the referee dares give a free-kick or foul against his holier-than-thou players.
The way he runs on the pitch, I can't stand the two-faced bastard. Please, Blues, do us proud tonight and give us a performance to be proud of. The fans will back you to the hilt tonight if you are aggressive. Goodison is brilliant under the lights. COYBs!!!
Nick Page
79
Posted 01/12/2021 at 12:18:48
We'll get absolutely snotted by these playing around us but, if our lot have anything about them, they'll be straight into that pointy-eared prick Henderson and the horrible rat at left-back from the off.
Have to credit Klopp though for turning a pretty average bunch into serial contenders… and that's what football is really all about; having a plan which gives players that confidence and belief (coupled with some dodgy nutrition on their part, lol). UTFT
Paul Gallagher
80
Posted 01/12/2021 at 12:22:58
I fear a sending off and a 0-5 hammering. It may all depend on the RS's. desire to settle for 0-2, 0-3, or push for more goals.
I believe the RS have a chance of making history tonight and eclipsing Sunderland's record of scoring at least 2 goals in all of their first 14 league games. This was set in 1927 by Sunderland; what's the odds that the RS will overtake Sunderland's record tonight?
Even worse Everton teams in the 1990s had a decent record against the RS. I was thinking about the derby that Carsley scored the winner in 2004-05, Benitez was in charge of the RS that day. That was a poor enough squad on paper that defied the odds on that day and that season.
I don't think the current crop have the character to get a result tonight. Hoping to be proven wrong.
John Hall
81
Posted 01/12/2021 at 12:34:46
Rondon scores, we riot!!!
(Actually, any blue scoring, we riot!!) :)
Mark Ryan
82
Posted 01/12/2021 at 12:40:29
Got a strange feeling that this could turn our season around. 2-1 to the Toffeemen.
Hail Richy, full of grace.
Our Lord is with thee.
Blessed art thou among players,
and blessed is the fruit of thy womb, Rondon
Holy Mary, Mother of God,
pray for us ToffeeWebbers,
now and particularly at 2015 tonight,
Amen.

Anthony A Hughes
83
Posted 01/12/2021 at 12:54:45
I hope Benitez remembers to go to the right dugout :)
Christy Ring
84
Posted 01/12/2021 at 13:04:08
Hope Seamus has help on the left; last time, he had to deal with Robertson & Mane as James never tracked back. As for Iwobi, I wouldn't even have him on the bench.
Dick van Dijk should have been yellow-carded for the double assault on Rodriguez. If he had, he probably would never have injured himself with his high-foot challenge on Pickford.
A 1-0 win, a penalty in the 94th minute converted by Richarlison would suffice, and show Klopp's true colours and sicken Aldridge!

Tom Harvey
85
Posted 01/12/2021 at 13:07:00
Lyndon,
"But, boy, it's hard to shake the feeling that damage-limitation will be the order of the day."
The sad thing for this derby the "Bear-pit", "Dogs of War" mentality is damage limitation, if we turn up hyped for this, we might get a draw or 0-1 if Lady Luck feels pity on us.
"Dogs of War" is the only way we can approach this – and that's just to keep it respectable.
Matthew Williams
86
Posted 01/12/2021 at 13:08:18
I'm sure if Colombia were playing this week then Mina would be fit... shithouse.
As for tonight... the Brentford defeat told me everything, another huff-and-puff display tonight with little end product, I fear. The RS won't need to get out of second gear.
0-3... followed by another search for a new gaffer methinks. Sigh, the joys of being a Blue!
Howard Sykes
87
Posted 01/12/2021 at 13:12:35
Klippitty will only play his U23 and academy team for this. His first team will have the night off.
Neil Lawson
88
Posted 01/12/2021 at 13:21:30
Just maybe we will be surprised tonight, but in reality, it is highly unlikely. We are a poor team, poorly organised, tactically naive, and short of real fighting spirit.
Much has been written about possible change of manager again. From my perspective, it is hard to see where our next points will come from. Unless there is a dramatic and unexpected upturn in performances and results, we are heading directly to the Championship.
Hence, if tonight does produce the expected outcome, I really cannot see what further detriment there will be by disposing of Benitez. Whether it be Lampard, or Ferguson, or some other manager who will get his team organised and scrapping, it cannot be any worse and hopefully, it will improve.
Yes, we need reform from the core but that is not going to happen any time soon, but trundling miserably down the Premier League with no ounce of true grit and fight, is just not an acceptable option.
Andrew Ellams
89
Posted 01/12/2021 at 13:23:09
Anybody else expecting Rondon to keep his place and Gordon to miss out to accommodate Richarlison or Gray?
Tom Harvey
90
Posted 01/12/2021 at 13:31:05
Kieran Kinsella @13
Rorke's Rift comes to mind for this one.
This time around though, none of the Zulus will be carrying spears, they'll all have Martini-Henry rifles...
Also, they won't be charging head-on into a hail of bullets, they'll be very cunning in their approach.
Over the hills ... I can hear that train approaching!
Jonathan Tasker
91
Posted 01/12/2021 at 13:34:46
Rondon and Iwobi won't start tonight.
Rafa is a stubborn bastard but he's not entirely clueless.
David Bromwell
92
Posted 01/12/2021 at 13:42:12
I remember the days when the derby was a great occasion: both sets of supporters were close and sensible, and there was little difference between the teams.
How much things have changed with a potential disaster ahead of us this evening. Rafa needs to earn his money tonight, we have picked the team for him and he needs 100% commitment from the 11 on the pitch. To a man, they all need to stick together, no histrionics and keep it simple by getting the ball into their half quickly and as often as possible.
If we keep our heads and, with fans supporting, we might just sneak a surprise. The 1st of December has always been my lucky day, so no worries!!!
John Belshaw
93
Posted 01/12/2021 at 13:50:24
Things are bad when some are anticipating the return of André Gomes to the Everton midfield soon. Like Salomón Rondón, Alex Iwobi, Allan Marques Loureiro, Jean-Philippe Gbamin, Mason Holgate, Michael Keane, etc, Gomes has been abysmal. Ponderous in midfield, poor tackler/ball winner, wayward passer with no real goal threat.
Good luck if Marcel Brands and Rafael Benítez hope for reinvestment money by selling any of the above!
Neville Wellings
94
Posted 01/12/2021 at 13:50:56
Let's hope we have a Cadermarteri derby and not a Glenn Keeley one.
James Head
95
Posted 01/12/2021 at 13:55:01
A quick local report from L4: it's grey, it's wet, it's windy. Let's hope it gets worse and flowing football is difficult to play (I know it's difficult for our players on the sunniest calmest of days).
I think we should just go long every time we can and hope Richarlison, Gray or Townsend can pick up any bits. Desperate tactics, I know but, let's face it, we are unable to play constructive football and there's no way our players have the bottle or ability to play through the RS press.
Excuse the language but please could the officials just let us get stuck into these cunts without blowing up every time we go near them.
Dan Johnson
96
Posted 01/12/2021 at 14:05:53
Definitely not looking forward to tonight. It would seem now that we only have Mina and Calvert-Lewin missing, so this will be almost our strongest 11. We are woefully far away from the top sides, so all I think we can hope for us to have a go and do whatever we have to do to get a result.
I have always thought that things will get worse before they get better, it's not the fault of the current manager, just a sign of how poor this squad is. I hope I am proved massively wrong. COYB
Jay Wood
[BRZ]
97
Posted 01/12/2021 at 14:06:47
Just to add a touch of levity to the thread, for those of you nostalgic for the days of the 'protest by the Goodison cushions', we evidently aren't even very good at that compared to a local club of mine here in Brazil.
On Sunday, Remo needed to win their final Division 2 game of the season to avoid relegation, at home to the already-relegated penultimate team in the league on a dreadful run themselves.
With 12 games left, Remo had been comfortably mid-table, but could only win one of those games. They could only manage a tepid 0-0 draw. The only other team that could overhaul them did so with a win. Remo relegated.
The teams got off the pitch under a barrage of thrown objects. Bottles, cups - and this is where it gets very Brazilian - trainers (aka sneakers), flip-flops and...a crutch. An adult-sized aluminium crutch. I'm intrigued to know how some of them limped home.
Video evidence here:
Joe McMahon
98
Posted 01/12/2021 at 14:09:21
Jay, they would still turn and move quicker than Keane and Rondon!
Kieran Kinsella
99
Posted 01/12/2021 at 14:10:13
The impenetrable Maginot Line of Keane and Godfrey will be ready to rebuff the blitzkrieg.
Derek Cowell
100
Posted 01/12/2021 at 14:14:59
Gary at 75, I know where you and Bradders are coming from mate. Desperate times to be a blue!!
Tony McNulty
101
Posted 01/12/2021 at 14:16:44
To read some on here, you'd think we were the Latvian women's team.
(Here's hoping I don't have to defend my remark tomorrow morning)
Joe McMahon
102
Posted 01/12/2021 at 14:19:28
Micheal @77, Goodison is so dilapidated that, even if someone dared the horrors of the toilets for a dump, the splash would make the roof come off, nevermind Rondon's last minute winner.
Sean Roe
104
Posted 01/12/2021 at 14:23:52
I'm just hoping it never ever gets any more embarrassing than when our first team got beaten by their Under-18s.
Hopefully given that it's a derby, form will go out of the window and we can scrape something.
I shall be watching it on Amazon Prime in the warm.
Shane Corcoran
105
Posted 01/12/2021 at 14:30:18
I don't think things are so bad. The team on paper will look okay tonight.
The problems are that Liverpool are in form, we've very little on the bench to chase the game and it would appear that Benitez knows that.
We need Doucouré and Richarlison to have big games and Keane, Godfrey and Digne to have their balls front and centre. Also, Pickford could do with a set of headphones, à la Steve Collins.
I'm going for 3-3.
David Hayes
106
Posted 01/12/2021 at 14:30:20
Getting bored now with Benitez trotting out the," We need to improve" bollocks and the wins against Burnley and Southampton as some kind of major achievement. What has happened since is purely down to him.
The squad is appalling, but a manager / coach of his alleged status should be capable of constructing a well-drilled and organised unit out of what he has available. What is clear is this squad is not only well below that, but has become unable to play basic football when they have the ball and function at all when they don't.
This was always going to pan out this way with Benitez becoming the villain. The real culprits are hiding behind him. No problem for Benitez: just collect the fat pay-off on the way out.
So, as Toffees, what do you do?
1. Get angry and rant on forums.
2. Get behind your team no matter what.
3. Stop caring.
How long do you really need to be taken for a mug before you wake up? It's time to go into hibernation, hope we don't get relegated because of even worse teams than us exist.
Let's see if we are still in the Premier League when the new stadium at Bramley-Moore Dock opens, I don't think we will be. What a stadium for the Championship.

Bill Gall
107
Posted 01/12/2021 at 14:30:24
Just realized I have a dental appointment today...
I don't know what will be more painful: that or watching the game?
Nick Page
108
Posted 01/12/2021 at 14:31:46
Jay, I think Bill banned cushions at the AGM. And flip flops…
Great story by the way.
David Pearl
109
Posted 01/12/2021 at 14:33:20
Ancelotti got it right last season but we have a couple of centre-backs out so Benitez has to find his own way.
You'd think that the team kind of picks itself. Although l wouldn't be surprised at all if Rondon was up top with Richarlison and Gray either side. He would offer a presence, allow an out-ball. Richarlison comes too deep looking for the ball sometimes leaving, a big hole.
Let's face it, if Rondon and lwobi hadn't been so bad, maybe more eyes would be on the contribution of Gordon.

Mike Doyle
110
Posted 01/12/2021 at 14:35:08
Jay #97,
I'm firmly in the 'nostalgic for protest by cushion' group. As I recall, all the cushions were identical thus looked impressive as a group when in flight. Similar to a flock of Canadian geese taking off and moving in formation.
( Plus I'm sure the consistency of branding would appeal to the marketing specialists on the forum.)
David Midgley
111
Posted 01/12/2021 at 14:39:19
Wish we'd got Christophe Galtier and Luis Campos before Benitez. Campos would still do as head scout.
Ah well.

Bill Hawker
112
Posted 01/12/2021 at 14:46:15
5-0 to Liverpool. Just please, no more injuries or cards.
Alan J Thompson
113
Posted 01/12/2021 at 14:56:56
I sincerely hope I am wrong but I can't see there being any change in the set menu and, like the Man City game, it will be more about losing by less than actually trying to win it.
Jay Harris
114
Posted 01/12/2021 at 15:00:11
David,
The problem is, Rondon comes so deep when we are defending – he can't get into the box in time.
We need aggression in midfield and pace up-front, together with 100% concentration from the back 4.
That's it then, game over.
Kieran Kinsella
115
Posted 01/12/2021 at 15:02:59
We can raise funds from player sales if we get creative and launch a synthetic index investment fund tied to transfers. Just attach values to players based on arbitrary values set by optimists (eg, Tom Davies – £15 million). Then sell bonds attached to the fund to Icelandic pensions funds.
If we sell the players for the proposed price or more, then the Icelandic pensioners get the money; if we don't, then they have to pay us the proposed price. We would clean up.
It worked brilliantly for Goldman Sachs and Co in 2007.
Justin Doone
116
Posted 01/12/2021 at 15:03:14
It saddens me to type this but I go into this game thinking anything but a mauling will do, then quickly move on.
Them, Man City and Chelsea are more than capable of spanking the best teams in the world.
The few times we have had a better team for the derby and outplayed them, we often failed to win. So I don't let the derby affect me, just another game that I'll be gutted to lose.
This isn't Rafa's fault, it's a multi-decade-long mess that will take a few seasons minimum to fix – if we are brave enough to stick together and back a manager long enough to progress rather than hit the panic button and restart the whole project again.
Good luck, Blues, it's a funny old game.
Luke Welch
117
Posted 01/12/2021 at 15:07:53
I think Richarlison and Gray on the wings and give one of the youngsters a go up-front. If Rafa starts with Rondom and it goes tits up, I just don't see how he can come back from that.
If again the players look uninspired and the basics are not there, something will have to change.
Tony Abrahams
118
Posted 01/12/2021 at 15:21:48
It would be a massively brave decision to play Rondon (some would say very stupid)... but that's what I hope our manager does.
Andy Walker
119
Posted 01/12/2021 at 15:22:14
As an aside, hasn't Brands got a great gig? One of his main, fundamental responsibilities, is to be in charge of recruitment, at a club which can't afford to recruit anyone anymore.
How much is he taking out of our club a year? Even if he was any good at his job, he couldn't even do it properly. As far as I can tell, he should be laid off due to lack of demand for his apparent 'skills'.
Mick O'Malley
120
Posted 01/12/2021 at 15:23:37
Bill @107,
Watching the Blues at the moment is like getting teeth pulled, painful!
John Kavanagh
121
Posted 01/12/2021 at 15:32:19
Andrew @89.
Tonight is enough of a foregone conclusion as it is. He might well keep Rondon and Iwobi in reserve for when we have to lose against lesser outfits like Brentford.
If he starts either tonight, then they'll need extra digits on the scoreboard – and a P45 for the manager.
Mark Rankin
122
Posted 01/12/2021 at 15:42:08
I always instinctively want to defend Brands; he didn't oversee the worst period of business that is ultimately the root cause of where we find ourselves (the signings of Walcott, Bolasie, Tosun, Schneiderlin, Klaassen, Sigurdsson etc).
But how he must rue the signing of Iwobi. We still had some cash at that point and how much might our fortunes be different now if they had brought in an attacking player of real quality?
Can't win em all, COYB – let's have a miracle tonight!
Jim Bennings
123
Posted 01/12/2021 at 15:42:16
There was never any chance that Calvert-Lewin was going to be remotely fit for tonight. He's been out with a complex foot injury since August and his game is all about jumping four feet off the ground.
I personally don't think he'll be fully fit until Spring in terms of the level he reached early last season.
Kim Vivian
124
Posted 01/12/2021 at 16:03:36
I was somewhat speechless on the Everton for Sale thread yesterday but today I can, in my more deluded moments, see us somehow grabbing a draw. But I would bet my lifetime's remaining pension it will not be 3-3 (Shane). Only scored 3 in 5 weeks!
Score 3 in 95 mins?... you're having a laff.
0-0 and a whining, whinging Klopp at full time... à la Pep: "If only one team wants to play... blah blah" – even if we do get up and at 'em. That would suit me.
Bill Gall
125
Posted 01/12/2021 at 16:03:42
The only thing I want for this season is for Benitez to get the club stabilized, even if it's in 12th position, have a system with the DoF that a new manager will be able to follow, without being left high and dry, to try and sell the deadwood in the club and then see if it is worth keeping Benitez for another season.
Today is not a test of where Everton are as we are well aware of the state we are in, and there is no need to turn a blind eye to it; we are one of the worst teams in the Premier League, and playing against a team that turned over Man Utd – a team that most of our players wouldn't get a game in.
I am going to hope for the best but expecting the worst today and seriously thinking of watching Man City v Aston Villa instead, and just watch minute by minute on my laptop to avoid getting my blood pressure too high.
I don't expect to get much more of an effort from our players just because of who we are playing but, if they do, they should be fined for not putting the same desire and energy in previous games.
Mike Owen
126
Posted 01/12/2021 at 16:07:15
22, Tony, I've basically stopped my football betting cos I got so fed up with the antics of the gambling industry.
But I thought I'd have a punt on Rondon first goalscorer. The coupon said 10-1. The slip said 9-1... the price is coming down!
Made me smile.
John Zapa
127
Posted 01/12/2021 at 16:07:21
How to win:
1: Don't cut the grass so the ball doesn't roll.
2: Flood the pitch so that everyone without the right studs slips.
3: Reduce the length and width of the pitch to the legal minimum.
4: Turn on the air conditioning to the maximum in the away dressing room, make the floor polished and slippery.
5: Start a melee at the beginning of the game and sneak on a 12th player and hope nobody notices.
6: Install hydraulic goalposts that can instantly reduce in size with the incoming shots from the opponents.
Or: Just go out and be fearless, fight for everything, never give up, don't hold back and create your own luck and story.
Jonathan Tasker
129
Posted 01/12/2021 at 16:07:37
Mike @110,
I'm a marketing specialist. I totally agreed on the cushions.
The first cushion I bought was 2s/6d!
Are we the only club that ever did cushions?
Colin Malone
130
Posted 01/12/2021 at 16:09:56
Please don't play Richarlison as a lone striker.

Christy Ring
131
Posted 01/12/2021 at 16:11:34
Mina played 3 games in 10 days for Colombia, but hasn't featured for us since because of a hamstring injury, and he's a big loss.
It kind of makes you think of his commitment to Everton.
Howard Sykes
132
Posted 01/12/2021 at 16:25:01
Just think: when we are relegated, we will get the parachute payments and buy a new team.... lol
Charles Brewer
133
Posted 01/12/2021 at 16:26:33
I really don't think I can watch tonight's match.
John Keating
134
Posted 01/12/2021 at 16:29:41
Christy,
It's not just Colombia. I think a lot of Blues have great antipathy to all national teams that feature our players.
I can remember hearing lots of moaning in the early 60s when it was more or less only Home Internationals. Club or Country has always been an issue – especially when we lose players to injury. Remember all that shit from Roy Keane regarding Coleman?
Personally I'd only be interested in England if we got to a final. For me, the less players we lose to national teams, the better.
John Hall
135
Posted 01/12/2021 at 16:35:38
Looks like the players and all fans should be wearing adult pampers tonight when we see the red machine rolling towards our goal!
Let's form a square and not let anything past us – Rorke's Drift it'll be!! COYB!!!
Charles Brewer
136
Posted 01/12/2021 at 16:35:47
If I were Benitez, my tactics would be:
1. Rotation fouling on Van Dijk from the kick-off. Iwobi could become a hero tonight. The objective is to end his season (again).
2. Same on Henderson.
The only RS I don't want to see leaving on a stretcher is Salah, who seems like a nice enough lad.
Joe McMahon
137
Posted 01/12/2021 at 16:36:48
Likewise when Coleman keeps playing for Ireland and Tim Cahill kept flying the globe to play for Australia when they needed to look after themselves for Everton.
Sky 4 teams regularly have their players not available with a slight strain. Club has to come first.
Kieran Kinsella
138
Posted 01/12/2021 at 16:39:41
Charles,
If we rough them up, we will end up with 8 or 9 players. The best option would be for Rafa himself to run onto the pitch and knock a few of them out. That would put a stop to their fans singing about him and win him some support among the Blues while sparing our players from being sent off.
Dale Self
139
Posted 01/12/2021 at 16:43:38
As frustrated as they all are on our side, if somehow Rafa (or Dunc) can just get that fully directed at anything wearing red, you never know what could ensue after five minutes of successful aggression against that lot.
As long as it's 0-0 any whining to the referee by Red Shiters will be taken as a lead. Get in on them early and make it difficult for the ref to show cards. UTMFGDT!!!!!
Mick Appleyard
140
Posted 01/12/2021 at 16:44:17
A microcosm of the world in general – very difficult circumstances but, as hard as it is today, do we have any choice but to hold our nerve while continuing our demand for something better? They really need us tonight; c'mon, you Blues!
Denis Hignett
141
Posted 01/12/2021 at 16:47:19
We must play three in the midfield.
The worry is down our left side. Double-up on Salah, don't give him any room and don't let him dive.
Please, no red cards!

Matthew Williams
142
Posted 01/12/2021 at 16:49:20
I agree, Keiran, our record for derby sendings-off is shocking... having said that, Canos and Sterling should be marked men at Goodison Park from now on 'cos Refs are doing us no favours. We need to stop the divers and shithouses ourselves... it's what Reidy would've done!
Dale Rose
143
Posted 01/12/2021 at 17:07:04
Charles #136. Totally unacceptable, I would like to see Dunc headbut Klopp, just to finish it off.
Darren Hind
144
Posted 01/12/2021 at 17:21:34
Intimidate them frighten them.
We won't out-play them and truth be known we won't out-fight them. We have to out-psych tem.
They have convinced themselves that St Virgil's injury was deliberate. So why not play on it? Sow the seeds of doubt. Let them know that we don't care if any of their players' season ends tonight. In fact, let them know in the tunnel that we are intent on it!
The South African Rugby team have been doing it for decades... Unlike us. They have a title to contend realistic chance of competing in cup finals.
Some of their players will be prepared to risk that for the sake of three points, but not all of them. Virgil won't. Let's find the chinks in their armour. Let them know we don't care what action the ref takes - he will probably red card someone in Blue for a minor offence anyway. Sow the seeds of doubt!
They know our players are not hard enough to outfight them fairly. So let's make them know we are crazy and spiteful enough to put in career-threatening tackles. They have spent the last 12 months claiming as much anyway.
Yeah the RS Media will scream their outrage but they will do that if they don't win anyway.
I'm sick of seeing our players getting sent-off against these twats for minor offences. Let's at least make sure someone gets hurt. Fight them, bite them. Stamp on the fuckers. Leave no dirty stone unturned.
I'm a football lover and I can't believe I feel this way. I would love to see us play this crew off the park and beat them, but the chances of beating them fairly and squarely are slim.
If we are telling the story of the Blues, we are rapidly approaching the point where we have nothing left to lose. Let's bully the bullies. Let's overstep the mark (because they will). Let's employ the dark arts (because they definitely will). The fucking last thing we need to see tonight is "nice" Everton.
Do whatever it takes to ensure they leave Goodison tonight with nothing more than pain and further amo to fuel their permanent and ridiculous sense of injustice.
Steve Boardman
145
Posted 01/12/2021 at 17:26:46
Jay (97) I will swear I saw a crutch thrown onto the pitch at Maine Rd during a cup tie in the 66 season. I think the Manc bobbies were cutting up rough with our away fans and all sorts got thrown at them. The good old days.
Tom Bowers
146
Posted 01/12/2021 at 17:40:44
No point doubling up on Salah as RS have scorers everywhere.
We have two, DCL injured and Richarlison who is useless at present.
Those on the bench are very poor and the midfield have no firepower except Doucoure who will be overworked as an extra defender.
If we had a fully fit DCL and Mina we may have had a shot at something as they could have been invaluable at both ends of the pitch.
RS fans can be forgiven for thinking this is another whitewash given Everton's current form and injury predicament.
Our back four is very shaky and the tackling from those in front of them is not good enough.
A miracle would be very welcome at this time but Everton never get them.
Allan Board
147
Posted 01/12/2021 at 17:50:07
Whatever happens, don't cower back from this lot.
Make sure that afterwards, they physically feel damaged in some form or another. And I mean every tosser in red.
If I see that, then I will be OK with any result.
No holds barred approach please.
Good luck Blues!
Anthony Jones
148
Posted 01/12/2021 at 17:59:20
Benitez the pragmatist will send them out to prevent a blitz. We really need anti-football in the style of Mourinho to get even a draw.
Des Farren
149
Posted 01/12/2021 at 18:01:27
I watched a Women's World Cup Qualifier last night: Ireland v Georgia, result was 11-0 and I can't recall the Ireland goalie handling the ball even once.
So...there is always someone worse off than you..

Mike Doyle
150
Posted 01/12/2021 at 18:12:08
Jonathan # 129,
If you can remember 2s/6d for cushions you must be the same age as our 2 x reserve goalkeepers (okay, slightly younger).
James Hall
151
Posted 01/12/2021 at 18:23:48
Well I'm worried we will get destroyed, but, while there's hope, let's get behind them, this might just be a famous night! Where there is life, there is hope!
Andy Walker
152
Posted 01/12/2021 at 18:46:35
If we can start well and keep it tight and competitive for the first 20 minutes then the crowd will start to believe and we could have a game on our hands.
On the other hand, concede early and I hate to think what could happen.
Justin Doone
154
Posted 01/12/2021 at 19:08:57
I wonder why Rafa is stoking the flames by saying how important this game is.
I would do the opposite, at least in public, to simply show that win, lose or draw, there's plenty of games left to play.
Tom Bowers
155
Posted 01/12/2021 at 19:11:08
Don't matter if we start well, they have so much firepower. Our defending is so porous even against teams like Watford. Hard to see us keeping them out for long unless they go down to nine men early and we score in the last minute. We can but dream !!
The season has turned into a mess already and like last season we started half-decent, results wise at least. We may have to wait until the new year to see any change in our fortunes.
Andrew Ellams
156
Posted 01/12/2021 at 19:16:02
Sky Sports still pushing the Saint Virgil angle. Klopp thinks Goodison Park may haunt him for the rest of his career.
Rob Hooton
157
Posted 01/12/2021 at 19:55:09
Thanks for those who have provided positive contributions, you've only gone and given me a smidgen of hope! Anything can happen in football, we have the worst current form in the league against a team scoring for fun. It never seems to be us but maybe we are that bad we could do it!
And Virgil should have been sent off for his double fouls on James before his injury. I wish every player and manager would just keep repeating this. Robertson also got away with an awful challenge, just hope we turn up tonight.
Bobby Mallon
158
Posted 01/12/2021 at 19:59:32
No fucking banners – nothing that I can see anyway.
---
Add Your Comments
In order to post a comment, you need to be logged in as a registered user of the site.
Or Sign up as a ToffeeWeb Member — it's free, takes just a few minutes and will allow you to post your comments on articles and Talking Points submissions across the site.