Calvert-Lewin unlikely to play before Christmas
Friday, 3 December, 2021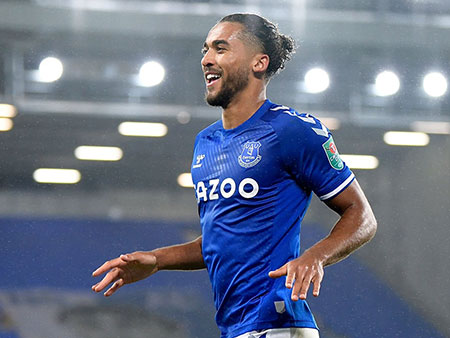 Everton will have to make do without Dominic Calvert-Lewin for at least another fortnight as the England international works his way back to full fitness.
Calvert-Lewin has missed the last 12 games due to a broken toe and a serious thigh injury and the Blues have won just twice in his absence, with his deputy, Salomon Rondon, struggling to make an impact on his return to the Premier League following stints in China and Russia.
However, Rondon could himself miss the next match against Arsenal after straining a hamstring in Wednesday's Merseyside derby defeat.
Manager Rafael Benitez said in his pre-match press conference today that the club's medical staff are still assessing the Venezuelan to see if he can play any part on Monday evening.
Calvert-Lewin is still a "minimum of two weeks" away from seeing action according to the Spaniard. The striker has been working training individually building up his strength but the club are taking every precaution given the relapse he suffered in his rehabilitation in October.
Benitez also explained that Yerry Mina took part in some of the sessions with the main group at Finch Farm and the staff will "see how he reacts" but the indications are that the Colombian will be a doubt for the clash with the Gunners.
Tom Davies, who has missed the last three matches, is ruled out again but André Gomes continued his progress with more full training.
---
Reader Comments (103)
Note: the following content is not moderated or vetted by the site owners at the time of submission. Comments are the responsibility of the poster. Disclaimer
Tom Harvey
1
Posted 03/12/2021 at 14:57:56
We're as blunt as a baby's spoon, can it get any worse?
All my venom goes towards the Board of Directors for creating one of the weakest threadbare squads in the Premier League.
Even if we do call a taxi for Benitez after Arsenal, all our fundamental problems will still be waiting to overwhelm the next poor sod.
Paul Hewitt
3
Posted 03/12/2021 at 15:28:23
He needs to stop advertising skirts and handbags. And concentrate on getting fit.
Tony Everan
4
Posted 03/12/2021 at 15:29:34
Trying to figure out a team and formation with goals in it.
I don't like to see Richarlison playiing centre-forward as I think he is more involved and dangerous playing on the left.
How about a 4-3-1-2, Richarlison paired with Gray?
Pickford
Coleman Keane Mina Godfrey
Allan Delph Gomes
Doucouré
Gray Richarlison
Eddie Dunn
5
Posted 03/12/2021 at 15:33:19
Derek Knox
6
Posted 03/12/2021 at 15:44:42
Paul H,
Just cos you bought them and they don't fit or suit you, no need to be like that!
You do have a point though. :-)
Tom Harvey
7
Posted 03/12/2021 at 15:54:44
I'll go right off him he starts selling sensual underwear and 'Mens' perfumes.
John Keating
8
Posted 03/12/2021 at 16:13:12
If he's in the team for the Newcastle game, it means he misses another 5 games.
As we have witnessed with Doucouré it appears these days the longer you're out, the longer it takes to be able to pass to a team member – let alone run.
We've got a crap April so fingers crossed he gets up to speed by then to model the summer collection.
Kevin Prytherch
9
Posted 03/12/2021 at 16:14:43
I got told a few weeks ago that Calvert-Lewin is playing on his injury because he wants a January move away and doesn't want to get injured beforehand, and that he'd constantly have set backs to make sure he doesn't play before then.
I dismissed it at the time… I'm wondering now whether it has any legs?
Brian Wilkinson
10
Posted 03/12/2021 at 16:27:51
More legs than Calvert-Lewin, by the sounds of it, Kev.
I am not too sure about that though, Kev; he was scoring early doors, more chance of a move if he plays and carries on his goalscoring.
Nick Page
11
Posted 03/12/2021 at 16:41:53
Incredible how poor our injury record is. Absolutely stunning… since as far back as I can remember, and including Heath, Southall (cost us the double to the RS) and Bracewell amongst others.
It's still inexcusable that we don't have a squad, another sign of the total lack of planning and mismanagement of funds.
Anyone got any idea what the average points is for 17th place since the Premier League started and in the last 10 years?
Dan Johnson
12
Posted 03/12/2021 at 17:07:38
The big concern is the lack of goals. Rafa will come under more scrutiny in the next few games as we are only missing two players, so his selection and tactics need to improve. We are constantly outnumbered in midfield. We know they are not his players but, if he can't stop the rot, we are in deep trouble.
Michael Lynch
13
Posted 03/12/2021 at 17:47:09
No Calvert-Lewin for now, probably no Rondon, and Richarlison doesn't convince as a centre-forward. But we have a young lad, Ellis Simms, who must surely be ready to be thrown on for the first 60 minutes of a game?
Rafa's Plan A, Plan B and Plan C is to hit on the break, get down the wings, and get crosses in early doors for a big, mobile centre-forward to get on the end of. Doesn't that sound suitable for Simms?
Sit deep against Arsenal with Delph protecting the back four, Allan and Doucoure just in front of him, and get Gray and Richarlison bombing down the wings, pinging balls into the box for Simms.
Stephen Gottschalk
14
Posted 03/12/2021 at 17:56:20
Good evening everybody, I've just signed up and it is so refreshing to find a genuine website free of kopite vermin.
I am in full agreement that Calvert-Lewin should not be posing for 'fashion shoots' at a time when the team is struggling and he is not available to play. Not very intelligent imo.
When he returns, he is unlikely to hit the ground running after such a long layoff. He has become a good goal poacher more than a good goal creator and will only thrive if he gets the right service.
Maybe Arsenal see him as another fox in the box!

Clive Mitchell
15
Posted 03/12/2021 at 18:03:46
Have just read the comments on Moshiri's 'vote of confidence' in the manager.
Simple point: on Wednesday night, Benitez clocked up the club's worst run of results since 1994. Let that sink in. Which Premier League manager would survive presiding over his club's worst results since 1994?
We are desperately poor. Those who were there know we were poor in the wins against Sothampton, Burnley and Norwich.
We have to roll the dice because that might change things. What else will? Norwich, Newcastle, Watford, Aston Villa, Man Utd, Spurs have all made the change. Which of them made a mistake?
Tom Harvey
16
Posted 03/12/2021 at 18:08:50
Clive,
Who would you bring in?
John Kavanagh
17
Posted 03/12/2021 at 18:17:59
Minimum of two weeks? Remember these are Everton weeks, ie six months.
I'm beginning to think this is Gbamin Mk 2 and we won't see him again, except on the catwalks. Similar injury, same outcome.
If we continue with Rondon, we will be relegated. Tosun will almost certainly be used if Rondon isn't fit.
Simms should have left rather than sign a new contract as he won't be used under the present regime until he's 32.
The odds on getting a result against Arsenal are lengthening by the hour.
Brian Hennessy
18
Posted 03/12/2021 at 18:39:15
Anyone else hearing these rumours that a meeting is being called and Brands could be getting the bullet?
Brent Stephens
19
Posted 03/12/2021 at 18:44:10
Where was that Brian?
Liam Mogan
20
Posted 03/12/2021 at 18:46:40
We are absolutely garbage with piss poor players. But if those morons who spent the majority of the night shouting 'Happy now are you, Rafa, you fat Spanish cunt' think they are helping, then they are even more moronic than they seem.
The state of our club brings me to tears but bellends unleashing continuous bile and regurgitated nonsense makes me sick. I honestly thought we were better than that. We could well be relegated and this type of carry-on makes that prospect more likely.
Brian Hennessy
21
Posted 03/12/2021 at 18:51:56
Brent, my eldest son said he saw it on Twitter, so it could be garbage. On the other hand, sacking Brands could be seen as the club taking some sort of action for the recent results.
Brian Hennessy
22
Posted 03/12/2021 at 18:54:12
Danny O'Neill
23
Posted 03/12/2021 at 18:54:31
I said elsewhere yesterday. I read that either Brands or Benitez could be gone before Arsenal.
Paul Kossoff
24
Posted 03/12/2021 at 18:56:01
Apparently, he's re-hurt his toe through wearing schoolgirls' shoes and putting too much make-up in his handbag.
I maybe wrong but having a glance at the form table over the last five or more games, we are bottom of the league. Can we get more than three points out of the next five games? Coyb.
Dave Lynch
25
Posted 03/12/2021 at 18:57:42
I've heard Kenwright has called an emergency board meeting to dicuss the state of affairs at the club.
The teary twat is trying to cover his back and probably absolve himself of any blame.
Clive Mitchell
26
Posted 03/12/2021 at 19:00:01
Tom, 16,
This sounds like a stupid thing to say – some will say that's because it is stupid – but it almost doesn't matter who replaces Benitez; what matters is that we have to replace him.
Many people's answer to 'Who's the luckiest person in Britain not to have been sacked years ago?' would be 'Duncan Ferguson'. But the Board could give him a go as a free shot.
I'd go for someone young and thought to be talented and hungry – a manager, not a Duncan Ferguson, and not someone with a name, eg, Lampard, Rooney etc.
Brian Murray
27
Posted 03/12/2021 at 19:03:43
The only one who should be getting the Rudi Gullet is the Panto Piss-taker. We can't move on in any way shape or form until he's removed, no matter who the manager is.
Stephen Gottschalk
28
Posted 03/12/2021 at 19:04:51
Liam, you are spot on... but where do we go from here?
Dave Lynch
29
Posted 03/12/2021 at 19:07:41
Clive @26.
Wayne Rooney... for fuck's sake, mate, give your head a wobble.
Dale Self
30
Posted 03/12/2021 at 19:10:23
Yeah, I saw that, Brian, thanks for informing. Anything is appreciated right now, it's all very exciting.
If true, does our situation improve with Rafa's strengthened hand? I think I believe that.
Dave Abrahams
31
Posted 03/12/2021 at 19:10:46
Dave (29), Clive is saying: not someone like Rooney!!
Tony Gavin
32
Posted 03/12/2021 at 19:11:24
Liam @20,
Football is all about opinions and passion. You are out of order calling people who are passionate Blues "bellends" as they don't share your opinion.
Personally, I can't stand Rafa, his football is from the dark ages, he is never ever spoken about highly by ex-players, he's done nothing for years and, in my humble opinion, was an atrocious appointment.
I've seen this coming miles off. We should stand together – not decide some Blues are "bellends" as they dare to voice their beliefs.
Tony Twist
33
Posted 03/12/2021 at 19:20:53
I think Rafa's days are numbered. Brands might get a stay of execution due to being on the Board and it will be time for the prodigal son's return. Brands will get backing from Kenwright. Kenwright will say big Dunc as manager (coach really) and will, in one fell swoop, get the crowd back on side,
Brands does all the purchasing and, if that fails, they may bring a "specialist" in below Brands as he stays at Board level.
Stephen Gottschalk
34
Posted 03/12/2021 at 19:23:44
After all the success Liverpool have achieved in the last 50 years, it never ceases to confound me why the current generation of kopites are still obsessed with putting Everton down. It's as if a deep rooted inferiority complex has been passed down.
Brian Hennessy
35
Posted 03/12/2021 at 19:34:22
Maybe rather than watching the match on Wednesday, we would have been better served with a camera on Brands, Barrett-Baxendale and Kenwriight all night to watch the body language.
Are Kenwright and Brands as close as ever and willing to throw Rafa under the bus or are cracks appearing?
One thing we all know is that Kenwright will do anything to stay involved. If Moshiri is as set on Rafa as we are led to believe, Brands had better watch his back.
Tom Harvey
36
Posted 03/12/2021 at 19:38:07
Clive @ 26
It does matter who replaces Benitez!
Give us a name?
I personally can't come up with one and many on here also can't and it also looks like the board will struggle too.
Who would want to come to our basket case club?
Who is this young and talented manager you speak of? The chances are there's other clubs looking at him and he won't want to come here.
Dale Self
37
Posted 03/12/2021 at 19:39:56
I'm not sure anyone gains from having Bill back them. The gig is up. I think they are trying to figure out where to take the hit because they cannot get through this by rearranging deck chairs.
The journos will rip on any amateurish attempt to deflect blame and keep the comfy seats undisturbed. These types aren't good at taking their share of the blame and so there is a real test of character here.
Not sure Moshiri has any good ideas at this time.
Brent Stephens
38
Posted 03/12/2021 at 19:49:09
Tom #36,
I think there's been a curious (or telling?) absence of names as potential replacement for Rafa. It would need to be somebody who was available, better capable than Rafa, willing to come, for the salary on offer, knowing the squad deficiencies and the limitations of funding replacements (replacements needing to be of better quality than the current crop and also willing to come, in January), with the prospect of little time to turn things around with this squad and get us away from the relegation zone.
Would love to hear names...

Christine Foster
39
Posted 03/12/2021 at 19:53:29
Moshiri to Benitez: Can you do this?
Benitez to Moshiri: But of course, the team is right behind me and I think we played well in the derby except for some silly mistakes.
Moshiri: we lost 4-1you said it would not happen.
Benitez: No.. I said it should not happen, but what can I do?
Moshiri: The fans are losing belief now and blaming me!
After all I have done and all the money I have spent!
Benitez: That is not my concern, I have only spent 1.7 m and most of the fans are not blaming me, it was the same at Newcastle, they loved me there! If you are looking for someone to blame, blame Marcel!
Moshiri: Thats difficult
Benitez: Why?
Moshiri: Because he didn't actually buy most of the squad
Benitez: Well who did?
Moshiri: Well Bill and I sort of picked who we thought we should have
Benitez: Did you not discuss it with Marcel first, he is the DoF?
Moshiri: No no, Bill makes all the team purchases most of the time, well every now and again I get offered a player..
Benitez: So what does Marcel do?
Moshiri: He reviews videos and looks for players we cannot afford or ones Bill doesn't like.
Benitez: This is crazy! I will chose the players then you can get rid of Marcel, I will get the praise, Marcel will get fired and we can all blame it on Marcel. never liked him anyway!
And it takes the heat of you!
Moshiri: Yes the perfect fall guy!
Benitez: Well not the perfect one..
Moshiri: You mean Bill? I cannot, we have an agreement.
Benitez: What sort of agreement?
Moshiri: He has compromising pictures
Benitez: Oh.. that sort..
Moshiri: I am afraid so.. I didn't know he was a journo from the S*n. I should never have given that interview. Besides bill has a sunset clause.
Benitez: What is this sunset clause?
Moshiri: Well although I own the club, I agreed in the contract that any decisions to do with the actual football would be his to make without review.
Benitez: But that is crazy, how long for?
Moshiri: Thats just the point, I did not understand what "in perpetuity" meant. I have already tried paying him off but..I am sure he is wanting me out, he is all smiles to me.
Benitez: This club is a basket case, but the fans love me! They chanted my name at the derby!
Moshiri: That was the other lot, they were being sarcastic
Benitez: What is this "sarcastic?"
Moshiri: You are a great manager.
Dave Lynch
40
Posted 03/12/2021 at 20:05:51
Apologies Clive.
Misread the post, all the best mate.
Liam Mogan
41
Posted 03/12/2021 at 20:28:23
Tony @32,
I couldn't agree more that we need to stand together. Like you, I'm no particular fan of Rafa Benitez and didn't want him. However, my problem is not with anyone whose opinions differ from mine but bellends who shout comments like 'Fuck off, you Spanish cunt' and make stupid comments that the manager is happy we got beat.
If you want to object, it's your prerogative but personally, I believe that you should do so in an acceptable manner and one which doesn't send parents and young children scurrying for the exit.
Tim Welsh
42
Posted 03/12/2021 at 20:31:36
I'm not sure we'll ever see Calvert-Lewin in our blue shirt again... injured or protected?
Tony Gavin
43
Posted 03/12/2021 at 21:13:31
People get passionate Liam 41 and there is always choice words at football, always has been always will. Personally I don't have an issue with how people shout, I doubt people would be running for the exit for the C word or any other abuse. People have to get their point across and do so in different ways. Everton have a huge working class following who will never hide what they feel, and use word they see fit. Again, calling people bellends. Stop looking down your nose at people and if you don't like it, maybe you should run for the exit too, or maybe, just maybe, instead of posting on line, call them bellends and see how that lands. I'm pretty sure you're not brave enough to.
Liam Mogan
44
Posted 03/12/2021 at 21:28:59
Tony - I witnessed 3 seperate families where I sit with young children below 10 leave due to the ferocity of the language and the hatred behind it. What has being working class got to do with it? I couldn't care less what class people are - do you know that the people who were shouting were working class? I don't. Although how you classify that in this day and age I don't know. I'm not immune to using industrial language myself.

But to spend 60 (for the other 30 a number of these individuals spent mostly bevvying before and after half time) minutes spewing a stream of foul invective and bile at a man who has had a fairly non-existent role in our demise is pathetic and unwarranted. As for the bravery shout? Yes you got me in that one. Not prepared to have my head stoved in by an angry mob for calling them bellends whilst they call people fat c*nts from 100 foot up in the air. Especially in front of my kids.
Tony Gavin
45
Posted 03/12/2021 at 21:43:14
Well maybe stop calling them it on here. Very hypocritical that you call people bellends for swearing in my opinion. People are passionate about our football club, I definitely gave Rafa stick 2 or 3 times using similar language. So, I take huge offence at you calling me a bellend. The club are in the shit, we are in grave danger of going down, people get angry and upset. Would you prefer they wrote a strong worded letter? Personally, I think your condescending attitude is far worse that the language used while being tonked 1 - 4 at home to your rivals.
Bobby Mallon
46
Posted 03/12/2021 at 21:44:45
Tom Harvey @36 I'll give you a name. Now this is right out of the left field. This person has won 4 league titles. EMMA HAYES the Chelsea woman's manager. Yes she's female but so what, she knows football and would be a revelation IMO. There you go a name for our next manager.
Sean Kelly
47
Posted 03/12/2021 at 21:47:45
We have to look beyond DCL He's on the catwalk with hairdo Tom. That's their dream
Tony Graham
48
Posted 03/12/2021 at 21:54:36
Personally, I don't want to see Calvert-Lewin in a blue shirt again, I don't think he's that good, and certainly not our saviour...
Brands has to go, revert to the manager, whoever it is, picking the team and transfers without boardroom interference… and Kenwright's retirement would help.
Liam Mogan
49
Posted 03/12/2021 at 21:54:57
Tony - I've got no problem with people swearing. Got a problem with people issuing unrelenting and foul personal attacks which have no possible upside. Is getting called a bellend worse that calling someone a 'fat Spanish c*nt' ad nauseum? For someone who is willing to give it out you seem very sensitive? My issue is with the use of language and the way it is directed. You seem to have the same issue with me using the word bellend? I take it back and I apologise for offending you.
Tony Gavin
50
Posted 03/12/2021 at 22:21:53
Liam, couldn't care less about the language. It's calling people bellends that I take offence to in terms of what you are saying about fellow blues who are passionate.

Anyway, the way it's going it'll all soon be over as if the poor run continues he'll be out on his ear. Up the white socks.
John Kavanagh
51
Posted 03/12/2021 at 22:32:13
Well, if the rumours above are true, we now know why Brands was appointed as the Director of Football and board member with (based on what evidence there is) only limited or no involvement at all in most signings, which were down to previous managers, Kenwright and Moshiri?
His role is to sit in the school book depository while Blue Bill and Moshiri make their getaway from the grassy knoll. You'd have to have Kopite levels of gullibility and stupidity to fall for this one.
Brands, if he had any self respect or professionalism should have walked months ago, refused any non disclosure agreement and spilled the beans on what really went on e.g. with the managerial appointments, three no.10s, Our Wayne, Iwobi et al.
I will be happy only with a full and open account of what's gone on in the Moshiri era, not a token sacking to appease a justifiably angry fanbase (that applies to Benitez too).
Brendan McLaughlin
52
Posted 03/12/2021 at 22:33:45
Tony#50
I'd rather be called a "bellend" on a internet site I opt to visit rather than the other obcsenities when I'm going out to do my day job.
Bobby Mallon
53
Posted 03/12/2021 at 22:35:10
John 51 great post 👍
Ernie Baywood
54
Posted 03/12/2021 at 22:50:45
As soon as I saw DCL injured I said it was a quad and a long time out.
I don't know if anyone on here has experienced it before but it's a terrible injury in terms of getting back on the pitch. After a few weeks you feel fine and can do everything, run, jump, turn and then you try to play football and it just goes again with the first unnatural movement and you're back to square one.
You'd think DCL would be getting more care than I did, but the fact he had a 'setback' last month indicates that maybe he's not. It took me three or four months to realise that it needed three or four months of rest. Pretty much took a season from me and you don't really know if you're back until you're back.
Someone's got to decide whether we can go into the market or trust a kid... because I wouldn't be banking on DCL not breaking down again.
Tom Harvey
55
Posted 03/12/2021 at 23:10:54
Bobby Mallon @46,
"I'll give you a name. Now this is right out of the left field. This person has won 4 league titles. Emma Hayes, the Chelsea woman's manager"
Why didn't Chelsea put her in the dugout after Lampard left? They'd have been guaranteed more Premier League titles.
Sam Hoare
56
Posted 03/12/2021 at 23:33:50
There's not an obvious glut of good, available managers around but there's always options. Sometimes the best ones may be tricky to see. Not that many had heard of Bruno Lage but I've been quietly impressed by the start he's made at Wolves.
How about someone like Urs Fischer who has taken a very average Union Berlin from a decade in the Bundesliga 2 to a decent mid-table team in the top German division to now occupying 4th place after beating Leipzig tonight; all with minimal budget and some decent football.
I'm not necessarily advocating for sacking Benitez (who, whilst not my choice, has not had much time) but there are always options out there.
Tom Harvey
57
Posted 03/12/2021 at 23:39:36
Sam,
For the first time in our position, I don't favour rolling the dice. My decision feels strange even to me. I didn't want Benitez, but I agree with most of what he's done.
The squad is fucking useless, this has been proved by every manager we've had since Moshiri came.
Better the devil we know...
Tony Gavin
58
Posted 03/12/2021 at 23:56:38
Brendan #52,
He is very well paid for his day job and deserves the flak in my humble opinion. Personally, I find it highly offensive to be called a bellend because of my, or similar peoples views. But, if you don't think zero wins in eight is bad or worrying or deserves any stick, I'm happy for you both to be worried how poor Rafa feels.
You and Liam and fans like you are why we as a club accept absolute mediocrity.
Ian Bennett
62
Posted 04/12/2021 at 08:13:41
The chickens have come home to roost. Our plight is highlighted by only having:
1. One centre-forward.
2. One decent centre-back who is always injured.
3. Only one left-back on the books.
4. No right-back worthy of playing at this level, week-in & week-out.
5. One mobile centre-midfielder.
You'd probably add a back-up keeper to that list as well, as the drop-off from Pickford to Begovic is significant also.
£300M spent, and Brands is still there. What a joke.

Gerard Pauls
63
Posted 04/12/2021 at 09:01:47
Have we now reached the comical situation in that certain players don't want to play for the team any more and are using 'injuries' to keep away from the fans anger?
Sounds daft. Mina plays 3 games in 10 days for his country but 'picks' up a slight strain and can't play for the club that pay his wages and has been out for several weeks.
Calvert-Lewin – the wannabe male model, catwalk star and fashion icon – seems fine wearing fashion accessories but not getting fit to play for the club who pay his wages. Does he really want to be a footballer?
He has now been out for 4 months with an initial 'niggle' that we were told would only keep him out for a couple of weeks. Now we hear rumours that Arsenal are looking to buy him – ideal for a fashion star currently masquerading as a professional footballer! The bright lights of London, fashion capital, Carnaby Street, West End... Eeh, Boys Pen Billy, is it really paved with gold?
Tongue-in-cheek but could there be a nugget of truth and reality in the above??
Steve Brown
65
Posted 04/12/2021 at 09:32:07
This 'Who would you hire? Give us a name' line is getting a bit embarrassing for the posters who write it. Is that your only line of defence for retaining Benitez given the collapse in form and disastrous results? It reads like desperation.
At least try to make a coherent argument based on the manager's competence. Six Premier League clubs have managed to replace their manager this season without the pre-requisite of having the fans verify the name of the new hire before the decision was made.
Imagine applying that logic to other businesses. Nobody would ever get fired. If you are going to make a coherent case for Benitez, then focus on that. Nobody wants another managerial change, but the results are forcing it.
Perhaps start with this question: How many more defeats would be acceptable before the January window opens?
Brent Stephens
66
Posted 04/12/2021 at 10:17:11
Steve, I think if somebody says we'd be
better
off without the current manager, then by definition they must have a comparison in mind. "Better" is a comparison.
So who qualifies as "better"? Who are you comparing the current manager to?
I don't think anybody is saying it's up to the fans to make the final decision, to "verify the name of the new hire before the decision was made". That's the club's decision, as you say. It's just that, if you say there is better, then who is better (and available)?
Ciarán McGlone
67
Posted 04/12/2021 at 10:27:02
Can we not just play Rodriguez or Kean up front...
Oops.
Tom Harvey
68
Posted 04/12/2021 at 11:01:02
Ciaran @67
Rodriguez might just sit down in the middle of a relegation game and decide not to play.
If you're going to play Kean upfront, why not just play Iwobi? They're both cut from the same cloth.
We've just got Kean off the books for no loss, just pretend Iwobi is Kean! They both dawdle around the pitch and flatter to deceive.

Ciarán McGlone
69
Posted 04/12/2021 at 11:15:12
Thanks for that insight.
Mike Kehoe
71
Posted 04/12/2021 at 11:44:30
I didn't want Benitez but he is the only manager other than Carlo who has been a proven winner. Yes, with an outdated system and way past their best, but proven winners nonetheless. Getting shut of Koeman, Silva, Martinez and Allardyce was absolutely essential, and all have continued to underwhelm in their various settings since.
Getting rid of Benitez now would be a huge gamble and is a roll of the dice far beyond the risk averse accountant. I would love to think Ferguson could be our saviour, but that kind of romantic thinking seems more akin to an exciting musical production than the evidence offered by reality.
The soul of the club has been dying for a decade. The current situation is critical with a potential exodus of players likely, severe financial impositions, and very little (other than money?) to attract quality players. We are now managed by an ex-RS manager and I feel he is our only viable option to avoid the unthinkable.
The club has been so badly managed from the boardroom for far too long and that is where change must be made. As much as it would be devastating, relegation may well be the awful medicine needed to rid the club of the poison at its heart.
Mark Andrews
72
Posted 04/12/2021 at 12:10:36
Imagine how bad Tosun feels, not being good enough to displace Rondon?
Marcel Brands is a footballing genius.
Danny O'Neill
73
Posted 04/12/2021 at 12:22:24
John K @51. That's the opinion I've had for some time. Brands is taking the flack and acting as a form of body armour to those above him. Not allowed to do his job, I too would have walked. As it happens, he could end up being the fall guy in yet another attempted act of self-preservation at boardroom level.
Ernie @54. I was the same. Quad injuries are a nightmare in terms of recovery. I'd go as far as to say the worst I had and I came back from breaks and ligament damage over the years. Just when you think everything is okay, you break down as soon as you try full training or playing. Well, that was my experience. I appreciate everyone's body is different.
Sam @56. That is a good shout and I was of a similar mind in the summer. I wanted Rangnick with a younger coach under him. Pretty much what he will now implement at Man Utd.
I fancied Terzic, who was assistant coach at Dortmund. He was made interim first-team coach last season following the sacking of Favre, turned their season around and won the German cup. He is now back on the coaching staff. He was also assistant to Slaven Bilic for a period at West Ham for those who insist on understanding of the Premier League (not I).
I know I bore everyone with my talk of German football, but look at it. Chelsea, Liverpool, Man Utd now have German coaches. The last 3 Champions League winners were managed by German coaches. If I was Everton King for a day, that's where I be looking to find the next hidden gem.
I'm not one of those calling for a change right now, by the way, but if it comes, that's the type of change I'd like to see and suggested in the summer. Be different. Be bold. Restructure the footballing side of the club top to bottom. It needs it.
Mark Ryan
74
Posted 04/12/2021 at 12:38:25
Brands is now a board member, isn't he? He won't just walk.
Barry Robson
75
Posted 04/12/2021 at 13:02:19
I suspect Calvert-Lewin has played his last game for us and will join Arsenal in January.

Jim Bennings
77
Posted 04/12/2021 at 14:39:13
I think DCL could be on to a real porn shop brand eventually, imagine it.
Fem Dom..
Seriously, if anyone thinks he's going to be anything like fully fit this season then dream on folks.
The guys game is all about jumping high for headers, foot injury like he's had then it's gonna be in the back of his mind that any landing could set him back another six months.
We need a striker in January, absolute fact!
Tony Everan
78
Posted 04/12/2021 at 14:52:27
Jim, Whatever next? …a blow-up Dominic?
And, fully agree about the goalscorer requirement in January. First week of January at that. Too important to overlook.
Alan J Thompson
79
Posted 04/12/2021 at 16:33:48
I think most of us suspected that it would be a couple of weeks until Calvert-Lewin resumed training, never mind getting match fit, but the bigger problem is the manager having some idea of how to replace him as presently his one idea isn't working.
Dave Abrahams
80
Posted 04/12/2021 at 16:41:13
Alan (#79),
I think Dominic will be ready for the 3rd Round of the FA Cup, for which the draw will take place on Monday 6 December at 7:00 pm.
Adrian Evans
81
Posted 04/12/2021 at 16:55:19
Well, I've been a physio for 40 years, 60 supporting us. I won't bore anyone with what I know, but nearly 30 years in the Armed Forces, four wars, a few skirmishes. Plenty of world class sport, footy.
Calvert-Lewin is going to struggle, as it has been pointed out. His game relies on physicality, aerial battles, 90 minutes of running. It will be Easter at the earliest before he is anything near what he was.
This manager hasn't got a clue. Think back, folks, Duncan took charge, in his first game he sorted us out, played to our strengths. Route 1, Pickford was brilliant. But we ain't got a No 9 to do that now.
We are seriously in the poo. Love him... hate him... indifferent as long as he keeps us up. Big Sam has many ways of playing depending on the cards he is dealt. Pick the phone up, Mr Moshiri, eat humble pie, get us out of this mess.
I think Newcastle just won, bonus it was Burnley. Southampton won too. We are deep in it. Leeds will beat Brentford.
Not panicking yet, but Rafa cannot be in charge come Monday. He will set us up to get beat.

Tony Abrahams
82
Posted 04/12/2021 at 16:59:45
Do you think this type of quad injury might have been caused by Calvert-Lewin playing with, and trying to protect, a broken toe, Adrian?
Adrian Evans
83
Posted 04/12/2021 at 17:10:13
I think Calvert-Lewin was asked a huge amount of. He wants to be a world class No 9 and was developing into one.
Rafa has dispensed with the club's medical director. Not professional to say, but something hasn't been right for a long time.
Rafa has had a reputation for having some of the best treatment, rehab, and sports science in football.
I was part of the revolution in the '80s that pointed out to football it had to have professionally trained people. Wow, it has now, clearly our club has, it was behind the curve in so many areas.
A deeper squad. Why didn't we buy Keiffer Moore Wales, he was at Wigan. He gave the Cezch back two a nightmare. He's at Cardiff.
My god, the No 9 at Stockport County is better than Rondon. Did you see it stick to his foot.
Why do we have just one No 9? Go get Andy Carroll, game by game. There are players who would duplicate Calvert-Lewin. Not as good... but Rondon??
Answer: he is such a willing lad, he's paid a price, we paid a price, a terrible price. Simms is Calvert-Lewin 2.0. Rooney was 16 years and 262 days old, Moyes played him. Are we going to wait till Simms is 24??
Rafa has brought this on himself. Stubborn, tactically niave in the modern game, or he ain't got a clue... Did he play Spanish Sunday League??
Big Sam for me; I was delighted with what he did for £5million. I'll have another £5million worth.
Alan J Thompson
84
Posted 04/12/2021 at 18:42:08
Dave (#80); Awwrr, get off, Dave, they won't let Calvert-Lewin make the Cup draw.
Derek Moore
85
Posted 04/12/2021 at 19:47:05
Yeah foot injuries are tricky. Desperate news for this group though.
Dave Abrahams
86
Posted 04/12/2021 at 20:16:33
Alan (84), yes they will and he'll have a nice suit on from George (Asda) or even better – T J Hughes!!
Rick Tarleton
87
Posted 04/12/2021 at 20:36:22
I don't give a damn about Calvert-Lewin's fashion career. Whether he earns money from modelling or not is irrelevant. The kind of work involved is not likely to affect his toe, his thigh, his mental health or whatever it is that has kept him out for the best part of 4 months.
Why has he been out so long? Is there no detailed report because the board do not want to risk his transfer value when they sell him in January or in the close season?
For him to have been out this long really does beggar belief that we have a professional set-up and a knowledgeable medical entourage.
Answers on a postcard as to Calvert-Lewin's problem(s), but let us hope we see him soon – and not in an advert, but on the pitch.

Neil Lawson
88
Posted 04/12/2021 at 21:09:46
It is delusional to think that Calvert-Lewin's return, whenever it may be, will have an instant impact. It will take him time to get to real levels of fitness but, more importantly, he will be rejoining a poor team, playing without purpose and tactically naive. Does anyone seriously think that he is so good that one new player (effectively) will turn our season around?
Look at the service Rondon gets (yes, he is shite); Calvert-Lewin is not going to thrive in those circumstances, hard as he may try.
Would anyone blame him if, having watched the drivel served up since September, he fancies playing somewhere else – and escaping a future in the Championship???
James Newcombe
89
Posted 04/12/2021 at 21:14:17
This is what I don't get, Neil. Dom is very capable of a hot streak of form, but can just as easily go cold for a number of consecutive games.
In any case, it's going to take more than a striker to sort this out.
Will Mabon
90
Posted 04/12/2021 at 21:18:06
That probably-best-in-the-league leap of his requires everything to function perfectly, so that important aspect of his game may be absent for some time.
Phil Bickerstaff
91
Posted 04/12/2021 at 21:37:00
Imagine if the Fat Spanish Waiter would've encouraged Jimmy Rodriguez to stay.
Things would be a lot more special...
Get rid of this red useless tit, please.

Sean Kelly
92
Posted 04/12/2021 at 22:16:34
DCL is too inconsistent to be our saviour. You can never tell which player turns up.
Mike Keating
93
Posted 04/12/2021 at 23:06:37
Our current predicament has nothing to do with the availability of England's #2 striker.
Liverpool just pulled off their usual last gasp winner against Wolves thanks to a third choice striker off the bench.
Meanwhile we persist with Rondon and refuse to give any of the youngsters a go.
The root of the problem is to be found in the boardroom - what a bunch of useless twats!
And a walk out at 27 minutes against Arsenal will make no difference.
Mike Keating
94
Posted 04/12/2021 at 23:27:04
Adrian @ 83 - " Big Sam for me; I was delighted with what he did for £5million. I'll have another £5million worth."
Are you serious?
That clown lumbered us with Walcott and Tosun for £45m plus wages.
Paul Hewitt
95
Posted 04/12/2021 at 23:42:52
Phil@ 91. FSW how disrespectful. Rodriguez couldn't be arsed playing for us useless he wanted. Give it a rest
David Pearl
96
Posted 04/12/2021 at 23:49:08
Mike, with a back four of Kenny, Williams, Holgate and Martina he also got us to 8th. We have also been lumbered with Sandro, Bolasie, Besic, Iwobi and many more. I don't think Allardyce chose the buying price.
However, even if Allardyce tightened the ship it would be another toxic appointment. This is all on Moshiri. He signs the cheques. Did he really think he could splash the cash without any strategy?
Benitez got rid of the classiest player we had in a personal vendeta. I want him gone but l also want stability. I can't have both, for now. So we support the team and hope we can bring in some players. I want some ball players, Bernard but better.
Arsenal game, l'd put Holgate next to Keane and have Godfrey at right back to give Seamus a break. Delph also needs to play. Our manager needs to think outside the box. If that's possible.
Danny O'Neill
97
Posted 04/12/2021 at 23:55:52
Allardyce. No. Just no.
John Cook
98
Posted 05/12/2021 at 01:32:36
The Star. saying we are looking at Mourino as a replacement for Benitez.,you couldn't make it up !
Saying that.

Kieran Kinsella
99
Posted 05/12/2021 at 01:36:53
John Cook
I missed that story reading the Daily Star today but I did read "shopper stunned as nude Roman statue is missing bollock." I kid you not. Quality newspaper.
Jim Bennings
100
Posted 05/12/2021 at 07:45:47
Phil 91
As much as James Rodriguez was a class player, he didn't want to be at Everton.
He was only here because of Carlo and even Ancelotti had a hard enough time towards the end getting any consistency from him, a pure luxury player.
If James still thought he could cut it do you really think he'd be plying his trade in Qatar at 30?
Steve Brown
101
Posted 05/12/2021 at 08:44:19
Paul @ 95, you don't know whether James only wanted to play for us when he wanted or not at all. Pure opinion written as fact. He left because Benitez told him he was surplus to requirements.
For a team with zero creativity, his six goals and four assists would come in useful this season. When added to the six and five assists that we lost with the suspension of the the nameless one, that has had a big impact on the team.
It was another muddled decision from the manager who has led us on our worst run since Mike Walker in 1994.
Mark Andersson
102
Posted 05/12/2021 at 11:30:36
Always love the diversity of oppinion on this sight.. lots of food for thought.. some humour and a touch of well conconstructed shite haha...
Robert Tressell
103
Posted 05/12/2021 at 15:08:10
Jim #100. To add to your point, Rodriguez has only played 3 league games since joining Al Raayan in September. He's contributed 2 goals (one scored, one assist).
He was never going to be a difference maker this season. Indeed the biggest difference may well be that the £7.2m fee and saved wages allows us to buy a right back or some other reinforcement January.
The bigger miss is Sigurdsson, since he may well have played every game this season - adding more materially to our goal contributions.
Christine Foster
104
Posted 05/12/2021 at 19:18:36
Jeez, my post at 39 was not meant to be the script for the conversation between Moshiri and Benitez but, by God, every word of it has come to pass!
Barry Hesketh
105
Posted 05/12/2021 at 19:25:33
Christine @104,
I can only claim a free go on the lottery, you have the ability to transcribe a conversation almost three days in advance. I think you should copy and paste it onto the Brands thread but claim it as an exclusive scoop!

Adrian Evans
106
Posted 05/12/2021 at 19:51:00
Mike Keating, he wasn't perfect, but look what he was given to start.
Tosun, Brands,??? £45 million peanuts compared to what was wasted. 8th sacked or paid off.
Seriously, you wouldn't take 8th at the end from the mess we are in.
Championship for us at this rate.
I'll go pick up Sam's lot.
Christine Foster
107
Posted 05/12/2021 at 20:48:58
Barry, I wish I could tell you the lottery numbers, then again, I can't win an odds on bet! I wonder if Moshiri reads ToffeeWeb.. I will expect his call then..
Alas though Barry, it makes little odds, because Kenwright should follow him out the door. I suspect it will be his last season and he will step down. (forced to by Moshiri ands paid off)
James Marshall
108
Posted 06/12/2021 at 11:35:10
As an aside – he never actually wore a skirt, those were shorts he was wearing with the little satchel.
Not my cup of tea, given that I'm pushing 50 but he could wear a mini skirt on matchday for all I care, as long as he scores lots of goals.
Justin Doone
109
Posted 06/12/2021 at 16:54:49
Flicking through comments I saw the name Sam.. SAM!
Think about that. We get rid of Rafa to bring back Sam. On so many levels no, no, no!
If we want a battling, long ball, anti-footballing team with very little entertainment or chance of silverware or continued success we should at least get the younger modern version in Sean Dyche.
He may save us a few pennines too.. thanks but no.
We have started to recruit player's that can actually play football. Player's with pace, technically better, more direct, attacking football.
But we have a small squad and still need several key positions to be upgraded. Our recruitment of players and manager's need to stayed aligned to how we wan't to play football.
Quick, athletic, technically good attacking team players to play counter attacking or high energy style of play.
The DCL injury reads similar to Gbamins. That is a huge worry. 2 crucial positions that we need to bring in first team players for.
A top class commanding midfielder and an athletic goalscoring forward.
Not easy, but if Rafa can find a few gems I could warm to him.
I have a feeling he is waiting for Gomes to play the deep playmaker role ie an Alonso or Shelvy ball player.
I'm not sure Gomes is good enough or will stay injury free long enough to be the player he wants.
I think it's Christine who is writing the script. So, Christine, without giving the game away, is it worth me booking a train ticket and accommodation in London for 14th May?
Tom Bowers
110
Posted 06/12/2021 at 17:10:36
Do we have a lot of underachievers at the moment or a manager who is stymied by injuries and/or mediocre players.
We all have our opinions but either way the situation is dire and needs some positive action. We are 5 points from the drop zone which can evaporate very quickly and then every game becomes so much more of a desperate battle.
We would all like to think that when DCL comes back that things will change. Without the support from midfield and some better defending he will be hard pressed to make a difference to the results.
We have not been a competitive force in any department since September and a couple of scrappy draws against Manure and Spurs just doesn't cut it.
Today would be a good time to stop the rot !!!!
---
Add Your Comments
In order to post a comment, you need to be logged in as a registered user of the site.
Or Sign up as a ToffeeWeb Member — it's free, takes just a few minutes and will allow you to post your comments on articles and Talking Points submissions across the site.