Digne plays down talk of spat with Benitez
Wednesday, 8 December, 2021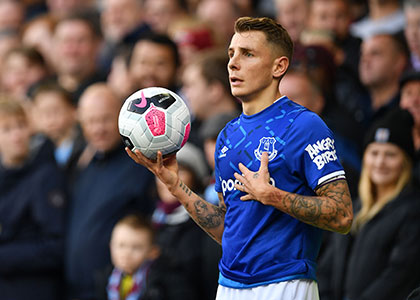 Lucas Digne has urged Evertonians not to "believe everything you read" after he was left out of the squad to face Arsenal on Monday evening, reportedly due to a disagreement with the manager.
The French midfielder was a surprise absentee when the starting line-ups were announced an hour before Everton's pulsating victory over the Gunners and further confusion was sparked when Benitez confirmed that Digne was not injured.
Speculation in the media and on Twitter the following morning swirled around rumours of a training ground bust-up between the defender and his boss, with The Athletic claiming that, "he had made his frustrations clear in conversations behind the scenes with Benitez, challenging his new manager with growing regularity."
Digne's specific beef was supposedly over the more defensive role he is being asked to play by Benitez, one that is limiting his influence over the team going forward.
Digne sought to play down the talk, however, with a post on Instagram where he said:
"Don't believe everything you read. Only one thing matters: The club.
"What a fight — what a win against Arsenal, guys!
"I was sad not to play. I was looking forward to be playing for Everton as always. The manager chose not to select me. That's football."
---
Reader Comments (120)
Note: the following content is not moderated or vetted by the site owners at the time of submission. Comments are the responsibility of the poster. Disclaimer
Jason Leung
1
Posted 08/12/2021 at 22:50:51
I don't believe there was a disagreement between Digne and Benitez.
I reckon it was a message sent from Benitez to the players that anyone can be dropped if they don't play well. Benitez has stated a few times we need competition for positions.
Digne has been nearly guaranteed a spot since Baines left with no competition. Now, Benitez is saying, play well, or be dropped from the squad, even if there is no direct replacement.
Dale Self
2
Posted 08/12/2021 at 23:06:16
This was while the media was looking for anything, a cluster of blue seats, a pissy look on Bill's face, the long faces of Blues in the stands while down 0-1, etc. It is a good statement and should be taken at face value. If this one comes back into form and adds to our quality on the pitch, we may be past the worst of it. UTFT!
Shane Corcoran
3
Posted 08/12/2021 at 23:08:16
Good to hear his response but leaving him out of the squad completely suggests to me that it was him being disciplined for some reason, or perhaps there was a personal reason he couldn't play.
Tom Bowers
4
Posted 08/12/2021 at 23:10:41
It was a surprise that he was left out but Rafa wanted to put Mina in but not leave out Godfrey or Keane despite neither of them being at the top of their game, but then neither was Seamus!
Godfrey's height was probably a factor, especially with no Rondon to help out at the back with set-pieces.
All turned out good in the end despite some heart-stopping moments.
Digne will still be an asset, I'm sure, but the gutter media will always sensationalize situations.
Mike Gaynes
5
Posted 08/12/2021 at 23:15:46
Tom #4,
I don't think height was a factor. Digne is only 2 inches shorter than Godfrey, and he is way better in the air. If they went up for 10 balls together, Digne would win 8 of them.
Paul Birmingham
6
Posted 08/12/2021 at 23:31:29
No smoke without fire but, with the communications at EFC, who knows?
But let's see the feedback this weekend from the respective first team and U23s players involved.
The result vs Arsenal doesn't dilute the issue at the club but let's see how this one plays out.
Selhurst Park away was in the time for the pub with the stairs you walked under inside the pub and for getting in, it was a great era for me and many others. Great days.
Same again, à la Thomas Gravesen's best Everton game, August 2004 if I recall: Everton played Palace off their park.
Ciarán McGlone
7
Posted 08/12/2021 at 23:38:15
Dropped completely. Not even on the bench. Not injured. Benitez sheepish when asked about it.
Definitely no spat (rolls eyes).
Matthew Williams
8
Posted 08/12/2021 at 00:02:14
Sell Digne and bring back young Nkounkou from his loan spell. We should start putting a young back four together. I would also like to see Branthwaite getting game-time at some point soon enough.
Kieran Kinsella
9
Posted 09/12/2021 at 00:05:40
I suspect it's the start of Rafa trying to engineer his exit. He's the most saleable player we have who doesn't fit into Rafa's style of play. He also will have an eye on the World Cup. If he's not playing to his strengths, his France spot may be in jeopardy.
Mike Gaynes
10
Posted 09/12/2021 at 01:39:55
It's already in jeopardy, Kieran. He hasn't started at left-back for France since September. Deschamps is playing mostly 3 at the back these days and Digne increasingly looks out of contention.
He did play 90 minutes at left-midfield in their last qualifier, but they've got plenty of wide midfielders better than him.
Mark Andersson
11
Posted 09/12/2021 at 02:01:41
Footballers, managers and owners are like Boris Johnson – they lie. One rule for us, another for them.
Great win against The Gooners... but will they turn up at Palace or revert to being shite again?
Rafa looked very happy at the end of the game... interesting times ahead.
Bill Gienapp
12
Posted 09/12/2021 at 02:02:58
Hopefully an isolated incident that's since been rectified. While we may not miss Digne as much as you might think on current form, we can't afford to remove yet another key player from an already threadbare squad.
Steve Brown
13
Posted 09/12/2021 at 02:51:03
Playing a centre-back at left-back is never a realistic solution, unless forced to by injury. Godfrey did well on Monday, but he isn't the answer.
We haven't managed to sign back-up to Coleman over the last 3 years and we sent Digne's cover out on loan. So, I hope common sense prevails on this spat.
Lee Howard
14
Posted 09/12/2021 at 02:59:38
Midfielder?
I thought he was a left-back...
Do you think he is playing badly because Rafa said he has to defend as well as attack? So now he gets the ball and passes back every time just to spite the manager.
Le Sulk?
Kieran Kinsella
15
Posted 09/12/2021 at 03:33:30
Lee Howard
On the last day of last season, after we lost to Man City, Digne's Twitter (probably not him but his PR people, but regardless) posted a picture of him and boasted about his great season with 7 assists and how he's one of the best assist creators. Tone-deaf? Yep. But I think it shows how he sees his role as a creator, not a defender.
Ajay Gopal
16
Posted 09/12/2021 at 03:34:31
Already there are rumours swirling around that Chelsea are trying to sign him in January. If that could fetch us upwards of £25 million, would that be a bad thing? It would help us strengthen in a couple of positions, notably right-back (Patterson) and midfield (Ramsey?). Godfrey can play left-back until the end of the season.
Remember Moyes played Lescott at left-back for almost a full season after signing Baines? Then, Lescott was moved to centre-back and the rest is history.
Just saying – there are ways for Rafa to wheel and deal to add a bit of depth to the squad.
Paul Melling
17
Posted 09/12/2021 at 04:56:11
Digne has been caught out of position way too often this season and it has led to goals being conceded. His position is left full-back which means that his primary role is to defend. His defence (and attack) has been very poor for some time now and a kick up the backside has now been delivered.
His free-kicks have also been a joke, as have his "feigning death" antics trying to win free-kicks. Benitez will not tolerate him rolling around on the ground whilst the opposition attack down his flank, and he is correct.
How he responds will determine whether he gets back into the Everton team either sooner or later. Hopefully he will knuckle down and graft.
Jonathan Oppenheimer
18
Posted 09/12/2021 at 05:03:26
While Digne at his best has been a bright spot the past few years, if in fact this is the beginning of the end for him, I'm alright with that — provided he plays hard the rest of this season, increases his value, and isn't sold until the summer.
We're far too thin on the bench to lose him in January, and despite his struggles the past year, he seems to work hard for the shirt. But, in order to rebuild, we need to get younger, and his value only goes down from here.
If we can turn his sale of £30 million into 2 younger players at right-back, left-back, back-up striker, central midfielder, etc... shit, we need to rebuild everywhere!
Point is, we have to keep Calvert-Lewin, and we can cross our fingers Richarlison stays. But assuming he doesn't, then he and Digne equal £100 million or so, which gives Rafa 4-5 solid buys. And he can't mess it up any worse than we've done the past 5 years with 5 times the amount.
Lester Yip
19
Posted 09/12/2021 at 05:43:20
Digne's form drop-off is clearly seen. His cross attempts most of the time got blocked off. His set-pieces are really hit and miss, no consistency. I think Benitez is right to drop him and see if he's got a proper reaction.
Digne is a pro and I'd expect he'll work hard to get back to the team, like Pickford did.
Darryl Ritchie
20
Posted 09/12/2021 at 06:20:02
There's a definite odour about this.
Everyone involved aren't saying much. Probably not much going on. Perhaps just a managerial wake-up call to an under-performing player, but then again it wouldn't be much of a surprise if he was shipped out in January either.
Alan J Thompson
21
Posted 09/12/2021 at 06:20:36
Yeah, probably just thought we had an away game in France. Dropped from the team is one thing but not making the match day squad while your position is filled by somebody playing out of position doesn't quite sound right.
Duncan McDine
22
Posted 09/12/2021 at 06:46:37
It has to be a dressing down from the manager… can't be anything else.
Last season, Ancelotti stumbled upon a back 4 consisting of centre-backs. That period of Coleman and Digne being absent coincided with possibly our best run of results and points. The football was hard to watch, but we were defensively much more solid without our attacking fullbacks.
Now this isn't the way forward (long term), but I wonder if Rafa is having a similar realisation.
Jeff Armstrong
23
Posted 09/12/2021 at 06:57:46
For me, Digne could go if we could get £25-30 million, he's not been good for 18 months so, if we could manage with Godfrey until the end of the season, and use funds to strengthen elsewhere, then he would be good collateral damage in our current situation.
Derek Knox
24
Posted 09/12/2021 at 07:08:56
Like many other posters, I would like to see Nkounkou brought back, but not necessarily as an out-and-out left-back. I think the lad showed brilliant turns of speed, control and crossing ability in the few games he has played for us, but his defensive ability is very questionable.
Like many have said above, had it just been a rotational change, you would have expected him to be named as a substitute at least. Evidently he wasn't injured, although he did take a battering in the derby match, so it does raise serious questions.
I am not party to any media platforms, Facebook, Twitter etc, but a few people have said there have been photos recently posted of him being in Paris with his wife or girlfriend.
How true that is however, remains to be proved or verified, there are that many phone apps these days that even the amateur can easily create through photoshop or whatever, seemingly convincing pictures, which could also be a fabrication of clever compilation to gain the maximum amount of 'hits'. It does however seem bizarre that resting a player of his undoubted quality, and him not being injured, that he is completely left out of the matchday squad.
Again, being the Devil's Advocate, Digne has not been the player we first saw when he arrived from Barca; those runs to the bye-line, pinpoint crosses and trusty left foot in set-piece situations, all seem to have evaporated.
Andrew Ellams
25
Posted 09/12/2021 at 07:50:37
I know Godfrey was a lucky boy to stay on the other night but I also think his presence at full-back with more licence to charge forward was a big part of the performance the other night.
He just needs to work on his composure a bit more.
Danny O'Neill
26
Posted 09/12/2021 at 08:15:34
I had an interesting discussion with my son last night. It depends how you look at this and other recent developments, as well as your view on Benitez.
I was of the opinion "Good on the manager – imposing his authority" and not bowing to any player (or anyone in the club) it would seem, no matter who they are or how good they think they are.
But my son countered me with an interesting slant. Benitez imposing ultimate power. Transfers (in and out), seemingly influencing the removal of the DoF and now apparently dropping key players who could now probably be sold next month. When does it stop?
Depends which side of the fence you sit on I suppose, but what does seem obvious is that Benitez is tightening his grip on the club.
Take the name and history away and some would welcome that. Keep the name and history in mind and others will shudder at the thought.
Divided we stand, I guess, until, ironically, Benitez delivers our first trophy since 1995.
Hope. It's the hope.
Sam Hoare
27
Posted 09/12/2021 at 08:18:55
I really like Digne. 2 years ago, there was a decent argument to be made for him being the best left-back in the Premier League. But he's not been as effective since his injury.
Given our FFP position, we really need to bring some money in and, if the likes of Man City or anyone else could be tempted to pay £25M+ for him, then it should be considered. He is one of our few sellable assets.
Having said that, I'm really not sure Godfrey is a full-back. Defensively of course he is solid enough and his pace is helpful but he cannot run with the ball, he's not a great crosser, and his passing is so-so.
Nkounkou is doing okay in Belgium from what I've heard without setting the world alight, not sure he's ready to step up full-time to being our full-back.
If we sold Digne, we'd probably need to bring in another left-back for half the price. Given our apparent difficulty finding a right-back, I don't feel overly confident.
The ideal is probably that Digne stays for another 18 months and returns to his previous very high form. During that time, his replacement is bought in to learn from him and then Digne gets sold for a decent price as he's about to turn 30. This is the sort of model well run clubs aim for... so I won't hold my breath!
Peter Neilson
28
Posted 09/12/2021 at 08:19:01
His form was poor last season and this. About time the nailed-on starting place for him was challenged. Maybe by chance Godfrey was well suited to the gutsy approach on Monday but not the answer long-term. It would be good to see that being dropped sees a return to the sort of form we used to see from him.
Colin Glassar
29
Posted 09/12/2021 at 08:24:20
Benitez is probably making a statement to the rest of the players along the lines of, "The party's over – either get stuck in or get out!"
I hope that's the message anyway.
Danny O'Neill
30
Posted 09/12/2021 at 08:47:45
Godfrey in some ways reminds me of Lescott.
And I don't necessarily mean in terms of ability or playing style. We played Lescott at left-back for almost a full season, if I recall, prior to him settling in to become an accomplished centre-back.
All part of the development, which takes longer with defenders and centre-backs in particular. Young Ben is, well, very young for a centre-back (23) and has a lot of time before he matures in that position. We have to remember that. How many young players make an instant impact only to have the expected and inevitable 2nd season syndrome? Be patient with him. I think he will come good. As John Stones did.
Right now, I personally feel he would look good in a back 3 with a traditional sweeper protecting them.
Robert Tressell
31
Posted 09/12/2021 at 08:56:13
Danny, I felt that our CBs are best tailored to a back 3. Keane / Mina plus Godfrey and Holgate either side.
However the arrival of Gray and Townsend (and loss of Sigurdsson) means its hard to set the team up that way now.
Agree that Godfrey is undergoing a Lescott like learning exercise at LB.
However, I don't think he's so young as a CB. I think he's more immature / rash. He's got so much potential though if he can add maturity to the pace and aggression.
Richard Nelson
32
Posted 09/12/2021 at 09:08:57
...The Goodison Park "rest home" gets its first shake up...!
Andrew Ellams
33
Posted 09/12/2021 at 09:09:12
I remember a young Kevin Ratcliffe being played at left back but not with any great success.
Godfrey will end up in the middle but if a riproaring performance at left back is what we need short term then let's see.
Danny O'Neill
34
Posted 09/12/2021 at 09:21:34
Which will come in time Robert.
Very good point and one I've made many times. You have to play the formation / system that best suits the players available.
Rather than try and fit the players available into a system you want to play or insist on playing. As many stubborn managers have done.
I know you follow the youth teams and this goes back to implementing a system and way of playing from top to bottom.
Bobby Mallon
35
Posted 09/12/2021 at 09:22:38
He should not be sold, he's a bloody good player and we should be adding decent left back to push him to be better. That's our problem for yrs. players have a dip and fans want him out always the same. Who may I ask can we replace a French international with. The fans did it with Lukaku ( he's lazy, doesn't run sell him ) well that worked out didn't it, NOT.
Like someone said above let's not forget how shire we have been. Let's see how we do Sunday.
Robert Tressell
36
Posted 09/12/2021 at 09:48:56
Bobby, ordinarily I would totally agree.
But we're in a fix financially - and I expect we could bring in a decent left back + AN other with the proceeds of sale for Digne (who has been out of sorts for a while now).
Given our financial situation the only way to bring in competition right across the squad is to pick up Branthwaite and Okoronkwo type signings and develop them over a period of years. We've been heavily linked to Connor Pye of Morecambe for the LB slot.
Although that does no good immediately - if you keep doing it (and investing in the youth team generally) you should have one or two players on the books maturing all of the time and putting pressure on the first teamers ahead of them.
Some will fail, of course, but the outlay is very small.
Tony Everan
37
Posted 09/12/2021 at 09:59:36
Latest rumour is Chelsea's considering Digne. I can't see it though as that would mean we've cleared out our left back department Digne, Nkounkou and Small in 6 months with no cover apart from Godfrey being switched.
If Chelsea or Man City come in with a serious offer, as Sam above says, 25m+, though we may be tempted to get a specialist loan in and continue to use Godfrey there.
FFP means we are going to have to be creative with the transfer business.
It's very risky business for us though as we're hardly in a comfortable position, despite Monday's win. It would make better sense to keep him until the summer and just concentrate on strengthening the squad in this window with a couple of shrewd buys or loans.
Danny O'Neill
38
Posted 09/12/2021 at 10:14:24
We could sell Digne (I'd rather not), but I'd be looking to the continent to get an up and coming but more ready made replacement at better value than shopping in the over-inflated English market place.
Liverpool have been doing it for years. Not afraid to sell their best players at profit but then replace them with equal or better quality at lower cost. And over time improving their team to the point of winning European & Premier League titles.
I think Coutinho was the best example, but they've had a few others that has given them funds to reinvest and improve the squad.
Apologies for using them as an example, but sometimes you can't hide from the blatantly obvious.
Our recycling of transfer dealings is nothing short of shocking.
Dave Abrahams
39
Posted 09/12/2021 at 10:25:06
I was surprised Digne was dropped on Monday but not disappointed, he's been poor for a good season and a half, with Godfrey to come in and take his place was a good move, Ben has played well there in the past and was more than good the other night.
Digne can be very, very good maybe this affair will shake him up and get him back to the way he was.
Mike Price
40
Posted 09/12/2021 at 10:37:54
Danny #38 Spot on about our selling policy, it's almost as bad as our buying policy! I heard RB mention how important it is to sell at the right time as well as to buy the right players, which was encouraging because I've been banging on about it for years. Unfortunately, Liverpool have clearly been the best at getting this balance right over the past 5years or so.
Personally I think Digne would be a very acceptable player to sell but worry that the new contract with his increased wages will force his sale price down below what we'd be hoping for. As a player I think he's too slow and lacks physicality, he's not added much going forward for ages too, so I don't think that's the type our manager would be favouring.
Brian Harrison
41
Posted 09/12/2021 at 10:38:18
Had this been a purely football decision then I would totally agree with it, I have been saying on here for many weeks that Digne hasn't played well. And although Digne is trying to defuse the situation, by saying don't believe everything you read, something has gone on. He has started most games since Benitez arrived then all of a sudden despite our lack of numbers he isn't even in the squad. I tend to believe that some senior players approached Benitez about the style of play he was trying to implement, and maybe Digne was the easiest target or maybe he was the most vociferous.
Benitez is stubborn and thinks he is right with everything he does, but when you have been on a bad run of results then that would suggest he is getting most things wrong. Only when Gomes came on and he played a 3 in midfield did the shape of the team look right, I along with many other T/Ws have been asking for this formation for weeks. Do I think Benitez will play 3 in midfield from the start against Palace, no I don't he will revert back to the system he has played in every game.
While I like everybody else was up on my feet inside Goodison on Monday when Demarai Gray scored that spectacular goal, I think in the cold light of day this could have turned intothe same sort of result that Watford got here had keitah and Aubamayang had put there chances away.
I think most on here know I don't like Benitez, I will give him massive credit for bringing Demarai Gray to the club the lad is a real talent, and even if he had cost £20 million he would still have been a bargain.
Brian Hennessy
42
Posted 09/12/2021 at 10:38:56
If Digne was complaining about not being allowed to push forward, why then did we see Godfrey get forward several times on Monday when the opportunity was there?
I am glad Benitez gave him a kick in the arse if that was what this was. That 50/50 tackle that Godfrey flew into in the first half, those are tackles Digne has been going into half heartedly the past year and then rolling around on the floor as if he has a serious injury.
He needs to return to being the player we had two years ago, if not he should start looking for a new club.
Barry Hesketh
43
Posted 09/12/2021 at 10:59:30
I like Digne, but even he will admit that his performances for a good while before Benitez arrived haven't been up to scratch, compared to his performances at his best in the early part of his Everton career. The concern I and many others have with Benitez given more of a say over transfers is exemplified by the tweet below, which probably indicates how the Spaniard will operate in the market in the future. In relation to the two right-backs under consideration, we may not have been able to afford them either.
Denzel Dumfries and Tino Livramento were both suggested as potential transfer targets by Marcel Brands' recruitment team during the summer transfer window, but Rafa Benitez wanted to sign an experienced right back, preferably with Premier League experience. (Source: The Athletic)
Sam Hoare
44
Posted 09/12/2021 at 11:19:37
Barry @43, the idea that Benitez passed up on Dumfries and possibly Livramento is plausible and terrifying. This is a manager who got rid of Ivan Toney and Adam Armstrong at Newcastle because they lacked 'experience'.
If Benitez is given free rein over our transfer policy, I fear it will end badly. Increasingly it looks as though our awful transfer record over the last 5 years is because the managers and indeed the chairman were given too much leeway to buy who they wanted.
John Pickles
45
Posted 09/12/2021 at 11:23:39
Everton Premier League assists 2020-21
1. Lucas Digne
2. Gylfi Sigurdsson
3. James Rodríguez
If we Sell Digne without bringing in a creative genius, we should start calling ourselves 'The School of no Science'.
Richard Nelson
46
Posted 09/12/2021 at 11:40:13
...maybe, just maybe, now that Benitez has won the "power struggle" with Marcel Brands, & if its true about Iwobi & others, he can influence Moshiri to take a back seat on player recruitment...fingers crossed..!
Tony Abrahams
47
Posted 09/12/2021 at 11:54:32
I like Digne, he's a very good footballer, but seems to have struggled firstly with Ancelotti, and now with Benitez, and possibly because their teams play more without the ball, than they play with it?
Barry Rathbone
48
Posted 09/12/2021 at 11:56:58
The idea a coach would risk losing the dressing room by victimising a senior pro immediately prior to a game vital to his own survival beggars belief.
I think the vernacular is - "Give your head a wobble"
Matthew Williams
49
Posted 09/12/2021 at 12:19:09
I can't remember the last time he had a decent game?...we need to be more ruthless,players on fucking easy Street season after season,27 years without a pot is a fucking disgrace and we have to find a way to rectify it fast.
Be creative and brave and go with a young back four that can grow and learn together and BUILD a new Blues side that can finally compete,my choice for next season would be... Williams,Godfrey, Branthwaite & Nkounkou at long last...a BALANCED back four!.
Robert Tressell
50
Posted 09/12/2021 at 12:22:57
Brian #41, it's fair to say we could have lost against Arsenal but, for perspective, also fair to say with a bit of luck we'd have beaten Watford and not lost to Villa. Had everyone taken chances in the Arsenal game it would have been about 5 - 3 to us. We're generally neither as good nor bad as the last few results might suggest.
In terms of transfers, short termism seems to have won the day. Unfortunately that's nothing new for us. Given how bad the squad has become it might be a necessary step to steady the ship, before doing something more progressive.
Let's see how January goes. There's a good chance of a new RB and maybe one or even two others (loans, frees or bargain basement).
Ray Robinson
51
Posted 09/12/2021 at 12:32:26
Matthew #49 your "balanced" back 4 for next season might well be competing in the Championship the following season! Who is Williams by the way? You couldn't play such a young and unproven back 4 in the Premier League and hope to survive. "Balance" also means a blend of youth and experience.
Brent Stephens
52
Posted 09/12/2021 at 12:37:39
As Shane #3 says, surely if this wasn't a disciplinary dropping, then he'd have been on the bench (unless an injury is behind this).
Andrew Keatley
53
Posted 09/12/2021 at 12:44:33
Sam (44) - The parameters under which Brands and Benitez found themselves working within this summer must have been incredibly debilitating. The fact that we only spent £1.7 million on four new players, coupled with the delay in getting James Rodriguez (or anyone else) out of the club, suggest that the financial constraints we were under then (and seemingly still are now) left us completely unable to compete in the transfer market.
Obviously there are a lot of moving parts when it comes to recruitment, and multiple contingencies in place should anything substantial happen. Players are lined up in the event of other players moving on - so maybe the interest in players like Luis Diaz, Matheus Nunes, Denzel Dumfries, and even Livramento, were only ever likely to be options if one of our more saleable assets like DCL or Richarlison were to end up leaving the club. It's easy to pitch up with a list of players that have been identified as potential transfer targets, but I suspect the reality was that we were never in a position to sign any of those players as FFP rules meant that the option just wasn't there.
While Brands dreamed of signing players that we were never actually going to be able to buy, Benitez was practical. The acquisitions of Townsend and Gray have both been excellent, and for negligible outlay. Maitland-Niles on a free was a decent possibility until the final day of the window. I suspect that, in financial terms, we were running on fumes at this point, and that only when James Rodriguez finally left were we able to have enough budget to cover the wages or loan fee for another player - but by then the window was shut.
Considering the extreme limits of what was possible I'd guess that Benitez bailed us out with his ability to attract a couple of decent players on the cheap, while Brands floundered about wishing things weren't as prohibitive as they clearly were. The transfer in and out (please God) of Kean is another black mark against Brands, and one that might even end up getting us in trouble if the current police investigations into Juventus transfer dealings end up bringing the other clubs under the spotlight.
Danny O'Neill
54
Posted 09/12/2021 at 12:44:59
Plausible view on Digne Tony.
He is more comfortable on the ball and getting forward. A more modern full back. That was evident in the promising period early last season, when he was providing assists and opportunities to Calvert-Lewin.
That could be a factor right now. Who has he had to supply or aim at for the majority of this season? As well as being asked to sit deeper.
Good point. It's not always the player or individual form, and if there is any truth in the alleged outburst, maybe it is personal frustration?
Danny O'Neill
55
Posted 09/12/2021 at 12:49:51
Ray @51 & Matthew @49,
A balanced defence is always a necessity. But a key aspect of a balanced defence is leadership, experience and maturity. And more specifically in your centre back pairing.
More than any other area of the pitch in my opinion. It's what we lack in that part of our team and squad.
Brent Stephens
56
Posted 09/12/2021 at 12:50:27
Danny #26 "!But my son countered me with an interesting slant. Benitez imposing ultimate power. Transfers (in and out), seemingly influencing the removal of the DoF and now apparently dropping key players who could now probably be sold next month. When does it stop?"
Danny, my fear is that the coach who is here today looks to be shaping the whole structure of the club in terms of playing style, signings, youth development etc. But when he's gone tomorrow, what then for continuity of overall, integrated strategy - with a new coach, with different preferences, and no DoF?
Frank Crewe
57
Posted 09/12/2021 at 12:56:04
Brent # 56
No club plans for the manager after the manager they already have. While Benitez is in charge he should be allowed to manage as he sees fit. Otherwise what is the point of having a manager at all.
Brent Stephens
58
Posted 09/12/2021 at 13:02:30
Frank, I think maybe I've expressed myself poorly. I'm not saying that a club will plan for which particular manager will follow the present manager. Rather, that with a DoF, as I understand it, we'd have an overall philosophy of organising football maters, dictated by the DoF, so that a new manager, whoever that is, would need to fit in with that.
Sam Hoare
59
Posted 09/12/2021 at 13:10:58
Andrew@53, Livramento cost £5m so he would have hardly broke the bank!
Unless you have an inside friend then we have no idea what the actual financial parameters and limitations were. Benitez' preference for experience over youth is well documented and it may have cost us an exciting young right back here.
If you believe The Athletic (who presumably do have inside sources) then Brands was after Gray before Benitez arrived. But yes Townsend was presumably a Benitez signing. So was Rondon.
Matthew Williams
60
Posted 09/12/2021 at 13:12:18
Ray#51...Nico Williams, currently not getting game for "them across the park",playing for his country though (Wales), always Impresses me and can play at L.B too,I see where still linked with young Pattison at Rangers, another good option imo as a long term replacement for Seamus.
I take the point that a back four needs some experience but haven't we tried that now for Donkey's years and look where it's got us!...be brave try something new,you never know it might just work!...and I also see young Godfrey as a future Captain too btw.
Robert Tressell
61
Posted 09/12/2021 at 13:16:54
I think a lot of well run clubs do plan for the next manager, because they know managers come and go. By adopting a particular approach they find it easier to slot in a new manager who fits that approach.
Some very successful managers would not work at other clubs.
Take Ten Hag at Ajax, he works on a development and sale basis that revolves around their youth system.
But I wouldn't fancy his chances as the next Man Utd manager.
Equally, I'm not sure how well Mourinho would do at Ajax.
I think Danny's concern is that we're dismantling everything that was supposed to give us some longer term direction, to accommodate Benitez.
Given we haven't hung onto a manager for more than 18 months recently, you have to question the wisdom.
At some point we have to look at the longer term, otherwise we will always be lurching from one short term approach to another - and wondering why we can't find a decent manager to reverse our fortunes.
Danny O'Neill
62
Posted 09/12/2021 at 13:22:11
Which goes back to my well-worn points on the DoF model, Brent, which I won't bore you with until Sunday!
Get it right and you can accommodate managerial or head coach changes more smoothly.
Well said, Robert. That sums me up. We have to put a strategy in place.
The Ajax model is interesting. I love it and for a long time, it was my German Everton (Schalke) approach. A very impressive academy that not only serviced a first team that hit the heights of Champions League, but also made them money. But it's a balance and they went too far down the selling path. To the point they are now in the 2nd tier of German football. Hopefully short-lived.
I draw a lot of comparisons between Everton and Schalke, but I can't do so with the academy. Theirs, over the years, has been world class. We won't fall into the trap of over-selling as we don't have anything worthy of selling.
I will counter myself there in that maybe there have been some foundations laid and there are some gems, like Lewis Warrington, about to come good. These things take time and years to materialise.
Peter Neilson
63
Posted 09/12/2021 at 13:28:07
There's no certainty that Benitez will recruit any better than we've seen previously under Moshiri's rule. Looking at the list of 60 or so players he signed for the RS for £230M, it's more miss than hit. However, he also offloaded 72 players and got back £162M. Some level of coming and going in 6 years, busier than Lime Street Station.
Andrew Keatley
64
Posted 09/12/2021 at 13:58:17
Sam (59) - I can only assume that £5 million was beyond our reach this summer, in the absence of any major cash injection from transfer outgoings (or anything else). The excellent probings of Paul The Esk and others suggest we are already well beyond our means, and I suspect this January will see more of the same; negotiations with soon-to-be out of contract players, six-month loan deals, or anyone else who will cost precisely no immediate beans beyond their wage packet.
As for the assertion that Brands was after Demarai Gray prior to Benitez getting here, I would hope that is true. But to what extent? He had him on a list? He was actively pursuing him? He had transfer negotiations underway? All I heard when Gray signed was how Benitez had been tracking him for years, had kept in contact with the player, and that Gray himself referenced Benitez as a big reason why he signed - a manager who believed in him.
Michael Kenrick
65
Posted 09/12/2021 at 14:06:15
So Danny,
Tell me if I get this wrong: you're advocating that we emulate a club that established a go-ahead Academy model that proved to be so good that they sold too many of their best players, so much so that their first team was presumably starved or not prioritized... to the rather embarrassing ultimate result that they were relegated from the top flight and now must bide their time in the second tier???
Correct me if I'm wrong, but that doesn't look like a very good template to me. Because I'm of the opinion (expressed by many) that relegation of Everton FC would absolutely destroy it.
Yet you do keep harping on about Schalke...
Sam Hoare
66
Posted 09/12/2021 at 14:10:25
Andrew, of course neither of us know the reality of the purse strings this summer though there were strong rumours that we made bids around that amount and more for Nathan Patterson. If we had got Livramento though we'd now have a £20m player on our hands instead of a £5m one.
Whoever was responsible for Gray and Townsend deserves credit. More of the same may well be required but Benitez's transfer record overall makes for pretty mixed reading.
For the last 5 years we have made mostly very poor moves in the transfer market and the reports that are surfacing in the wake of Brands' departure suggests that a lot of that may be due to managers and chairmen going over the dutchmans head. These reports may or may not be true of course but they ring true to me. We have got in a mess by allowing managers (and the chairman) to dictate transfer policy, which leaves us with an unbalanced squad every time the manager gets sacked and needs replacing. My concern is that we are not learning from these mistakes.
Robert Tressell
67
Posted 09/12/2021 at 14:13:07
Andrew, it's hard to know what the position on transfer kitty really was.
You might well be right.
Certainly there was no money to buy Luis Diaz unless Rodriguez was part of the deal.
Less sure about RBs because we seem to have bid up to £8m for Patterson - with suggestions of late bids for Maitland-Niles (about £10m) and DeBeek on loan being knocked back by their clubs even though the players wanted to come.
Maybe there was some slack. Or maybe it was smoke and mirrors with complex / delayed payment terms.
Whatever the case, with Rodriguez now gone I expect we'll get a RB in January (Maitland-Niles probably) and maybe one or even two others.
Barry Jones
68
Posted 09/12/2021 at 14:21:28
On the positive side, his attitude sounds good now with what he said. He has had a poor season by his standards, but I think its premature to talk about selling him. He has been an excellent player for us and he has quality. We need to give him a chance to get back to his best.
Brian Wilkinson
69
Posted 09/12/2021 at 14:38:58
While we are on the subject of players incoming or out coming, did anyone read the bbc write up of Moise Keans winner.
The report stated ex Everton player, have I missed something and that he is no longer our player.
I have been visiting the hospital these last two weeks so asking as as far as ai am concerned, he is still an Everton player.
Kieran Kinsella
70
Posted 09/12/2021 at 14:55:42
Brian
I saw that too. Technically it's a two year loan with a requirement to buy but they said that about Tasharaj or whatever his name was and he ended showing back at FF
Roger Helm
71
Posted 09/12/2021 at 15:04:48
Peter 63, interesting figures. A net yearly spend of £10m doesn't sound that bad, if it ends up with the sort of success Liverpool has had.
John Keating
72
Posted 09/12/2021 at 15:06:29
Brian
He scored but missed a couple of sitters
Regarding Digne. I think it's Benitez just showing everyone who's boss.
Digne was probably the first to question Benitez so he got it
Could have been anyone
Mind you every manager has their favourites and whipping boys-same as us

Bill Hawker
73
Posted 09/12/2021 at 15:27:52
A few on here saying "sell" if we can get good money for him. That's all well and good but our recent track record of buying has been piss poor. Furthermore, we need a right back before we need a left back. I'm not about to put Digne out to pasture just yet but calm it with the "sell him" shouts.
What we need to do is buy several more key players so that we have close to two good players per position. When was the last time Everton had anything close to that? The 80's?
If we have to sell to buy right now, then we're in real bad shape and that means selling Digne out of an already thin squad would be the definition of insanity.
Robert Tressell
74
Posted 09/12/2021 at 16:23:45
Bill # 73. You're right we need a lot more quality players. Unfortunately we cannot afford to buy the sort of first team ready quality we need, especially in the volume we need it.
So, if we sell an out of sorts Digne to buy, say, Gomez (the Anderlecht LB we're strongly linked with) and Maitland-Niles then it might make sense.
There's no easy answer to any of this due to financial constraints.
One way or another though, we need to figure out a way to get two good players for each position in spite of financial constraints. Some of that will necessarily involve sales in order to reinvest.
So we also need to buck the trend of buying high and selling low.
Danny O'Neill
75
Posted 09/12/2021 at 16:38:10
No, Michael,
I'm saying that Schalke, a team that has many parallels with Everton, and a team I have followed from a very young age, had and has a very good academy over many years. One that has produced genuine top drawer players, not just also rans or unrealised potential.
Search and compile a first eleven of Schalke academy graduates and it will impress most. They don't get the praise of the likes of Ajax, but they have produced consistently. And it is mostly local to the city of Gelsenkirchen where they are deeply rooted.
Apologies. My point was actually critical of my adopted second team, Schalke, a club I spend time and money on to go and watch at least once a season. They went too far down the route of using the academy as a cash cow rather than balancing it between that and servicing the first team squad. That was my point about the academy; it's a balance.
Everton's academy is nowhere close to doing either right now. We don't make money, but neither do we produce for the first team.
Sorry to "harp" on. But I have enjoyed the allowance to watch the Schalke youth teams train and play first hand in the shadow of the stadium on a match day. I wish we had that open approach rather than the closed gates of Finch Farm. Last time I was there, the latest of the Sane brothers was happily mingling and chatting with the fans watching one of the U16s teams play.
Mike Gaynes
76
Posted 09/12/2021 at 16:39:23
Brian/John, correct on all counts. He is still technically and legally ours. His gamewinner was excellent but he did, as usual, have an up-and-down game. Still no consistency there.
Bill and Robert, agreed. Those calling to sell Digne are assuming we'll use the money to get someone better back in to replace him, and we have absolutely no recent record of doing that.
It was odd watching Barkley play a dominant game yesterday. He was Chelsea's MOTM, no contest.
Tony Abrahams
77
Posted 09/12/2021 at 16:40:22
I personally think Jonjoe Kenny, is a better player than Nico Williams, and think his career has really stagnated, because he hasn't really found himself a home, after not being helped by Everton, one little bit.
Burnley were prepared to pay around £5/6 million for him last January, and Brands, apparently wanted another million, which is probably what it has cost to keep the kid at Everton for another season, with this being another decision that hasn't done anybody any favours.
Danny O'Neill
78
Posted 09/12/2021 at 16:42:02
I still want it to happen for Jonjoe, Tony.
I don't know why, maybe it's sentiment, but I just think there is one roll of the dice left in that one.
Joe McMahon
79
Posted 09/12/2021 at 16:43:20
Bill and Robert it crazy the lack of quality given rhe Mosh Money that has been spent. Potential such as Vlasic Lookman and Kean not given proper chances and Lukaku's replacement being a gassed out Rooney on 160k per week. To think we even would have been better with King rather than Rondon.
It's just hard to believe the sums of Money being blasted, without a strategy and governance model. Its unheard of in professional sport or any business surely. When Rooney came back he was on 70k per week more than Salah, who I think netted over 30 PL goals that season, its incredible isn't it.
Phil (Kelsall) Roberts
80
Posted 09/12/2021 at 16:46:29
These two mails (#73 & #74) highlight the point I made in my article about buying at Sainsburys not Harrods.
Most responses were along the line of needing to buy the right players. But the chances of getting a dud is far higher in the £20-£25m range than in the £40m-£50m range.
Looking at the purchases in the Moshiri years we have spent enough to have 8 players in the £50m bracket, along with 3 home grown (DCL, Seamus and Tom Davies - with the other 10 he would be OK). Problem is we have spent the money on the 14 of the £20-£25m and quite a few have been duds and so it has been wasted.
We can name names, but only players who have left or about to leave - Tosun, Walcott, Schneiderlin, Klasssen, Kean, Bolasie. Let us not be vitriolic to those still here.
Rob Halligan
81
Posted 09/12/2021 at 16:54:05
Danny, I was speaking to a close friend today who happens to know a first team squad player. This first team squad player told my friend that JJK is the hardest trainer on the training ground, whilst the laziest trainer is Rondon. WTF Rondon is doing at the club god knows? Despite being given an opportunity to "Stake a claim" to being a first team regular, he has failed miserably. We just got to hope that DCL returns ASAP and Richarlison stays fit.
Dale Self
82
Posted 09/12/2021 at 17:00:45
Good breakout Phil, I was thinking that we should stay focused on the decent footballers that just didn't settle into their teams' plans like a Gray or Naitland-Miles. Your point has me hesitating on that position.
Geoff Williams
83
Posted 09/12/2021 at 17:05:49
Benitez is interested in Ramsey aged 30 and Trippier aged 31 so short-termism is now the order of the day. He really shouldn't have sole responsibility for transfers
Paul Jones
84
Posted 09/12/2021 at 18:09:52
With regard to Benitez given his managerial record he obviously prefers experienced players that are the finished article. I remember when he was Liverpool manager seemed to be always linked with Gareth Barry.
Both the Directors of Football we have had aid over the odds for players that had no significant resale value apart from Gueye. Brands was a poor appointment, in his role in Holland his preferred market seemed to be South America and former Dutch colonies. The UK has far stricter/different immigration policy so young footballers cannot no be imported as a commodity from the third world. There is a significant number of young players both in the UK and Ireland to recruit at that level. It is obvious to me that given the likelihood of BREXIT no serious consideration was given to the impending changes in the law with regard to recruitment.
With regard to Ramsey given the problems we've had with injuries does not seem to be a sensible buy. Trippier is over thirty would want a long contract so would be an expensive short term solution.
Bobby Mallon
85
Posted 09/12/2021 at 18:10:45
I say Rafa out. We are going in the wrong direction with transfers. There shouldn't be anybody bought who is over 28 yrs old. We need a younger squad.
Bobby Mallon
86
Posted 09/12/2021 at 18:18:34
Micheal 65, I agree with Danny that's the route we should follow but not sell all the players. It makes so much sense. Let's be honest we could easily get relegated this season without any strategy.
Will Mabon
87
Posted 09/12/2021 at 18:23:53
Geoff - disappointing to hear the rumours, albeit they are still rumours. Despatch James, becoming-older player with injury history, and replace with Ramsey... OK.
Trippier has always been a good, committed and determined player, but as you allude, not the kind of signings we need long term. Maybe Benitez has immediate concerns about the position.
Danny O'Neill
88
Posted 09/12/2021 at 18:37:20
There is no doubting Jonjoe Kenny's effort and commitment, Rob. I've seen that in him for both the clubs I've seen him play for first hand.
I was and remain doubtful of his ability based on where I want or expect Everton to be. But right now, I would be inclined to give him another chance.
He might just take it and prove me wrong.
Christy Ring
89
Posted 09/12/2021 at 18:55:32
Digne has been very poor all season, especially in defence, and having no other left back he was definitely complacent. He deserved to be dropped, and hopefully he'll knuckle down and show himself to be a model professional.
Benitez transfer record isn't great but I think Ramsey would be a good addition, but Trippier no thanks, ok going forward but a poor defender.
Tony Everan
90
Posted 09/12/2021 at 18:55:40
Rob 81, I am hoping that Benitez is brave enough to admit his mistake with Rondon and moves him on in January or at the most June. Turkey, China, Dubai, MLS? We need to readdress the back up striker position urgently as DCL will need some time and we need to be strong if he suffers a reoccurrence. We can't risk having Rondon as back up for the rest of the season.
Apart from that fluffed chance vs Brentford? he's never looked like getting on the end of anything in 12 games and that's worrying. OK his work rate was admirable v Liverpool, but that's not enough to justify his inclusion as we need first and foremost someone up front who can score.
Peter Neilson
91
Posted 09/12/2021 at 19:19:10
I think we signed Rondon on a 2 year contract with an option on a 3rd. Can't see him going anywhere if the contracts we typically hand out have been repeated. Bright side is he was on over £170k a week in China so maybe we got a bargain!!
Robert Tressell
92
Posted 09/12/2021 at 19:39:52
Longer term, I don't think we should be signing players over about £20m or over about age 23. We need to develop players to replace those who will, inevitably, move on. Any high cost player prepared to join us is unlikely to be good enough to get us to the next level (eg Sigurdsson).
For the short to medium term we need to pick up low cost, high value players wherever possible - ideally in the 23 to 26 age group. Ideally no more than about £10 to £15m.
There will be exceptions, of course.
But this will generally avoid us saddled with deteriorating assets on high wages, being precisely what has left us in the shit.
Whilst this sounds impossible it is enabled by the post(?) Covid market which sees an unusually high volume of young / quality players nearing the end of their contracts (and a few firesales to make ends meet)
Shane Corcoran
93
Posted 09/12/2021 at 19:53:04
I'm after getting an ad on my social media page for Digne 12 third strip jersey reduced from £ 75 to £ 52.50. I shit you not.
Peter Mills
94
Posted 09/12/2021 at 20:20:14
Jonjoe Kenny will be a good player for someone. He's got ability and a good attitude. I can see why Dyche would want him at Burnley.
I don't know whether he can make it at our club, but I'd love to see it.
Dave Abrahams
95
Posted 09/12/2021 at 20:52:39
I too wonder about Jonjoe Kenny, how much football has he played this season? Hardly any for the first team and absolutely none for the U23s.
If he was suddenly needed for the first team, he would go straight in and give 100% for the team and the club he loves, or he did do from when he joined the club until he came back from being on loan in Germany.
It would be hard to imagine how feels for the club, seeing how he has hardly been helped since making his debut a few years ago. He's never had a consistent run in the team, stop-go all the time...
I'd love to see the lad get a proper good run in the team to prove he can do the business... or not, as the case maybe, although a good majority of fans have written him off long ago.
Christy Ring
96
Posted 09/12/2021 at 21:05:13
Dave #95,
I agree with you about Jonjoe Kenny. Since coming back from Germany, he's never been given a consistent run to see if he he's up to the challenge. Celtic fans were 50/50 about his performance in Scotland.
Andrew Keatley
97
Posted 09/12/2021 at 21:07:46
Robert (92) - Rather than be prescriptive about age, transfer fee, wages or anything else I'd prefer the recruitment strategy to revolve around identifying players who can actually help us be competitive on the pitch. Let's face it, our squad needs players who can hit the ground running, and players that are 26+ are probably more likely to provide that. Yes, they might not have significant resale value but if we are able to identify them and acquire them - as we managed with Andros Townsend - for little to no fee and on relatively reasonable wages then right now that is arguably what this club requires most.
There are always going to be factors that prohibit who can be brought into a football club - size of transfer budget will be a key factor, as will the status of the club and of the player - but right now, and for the foreseeable future, I expect that our finances will preclude us from being able to compete for the potential stars of tomorrow. There is such a premium on young talent, precisely for their potential resale value, and at present we seem to be sufficiently short-stacked that it's going to be an uphill battle to be able to trade well in that market. Right now we need to steady the ship, and if it means signing two or three more senior players (26+) that can give us greater strength in depth for the second half of this season then that short-term benefit is what we chiefly need. The obvious caveat is that they need to be the right players - which is the perennial challenge with recruitment. I fervently believe those players are out there - but will Benitez be able to find them and sign them on reasonable terms; who knows?
Jay Harris
98
Posted 09/12/2021 at 22:53:27
Personally I would like us to take more advantage of the loan system which enables us to take a Better look at a player and determine his suitability Age is a consideration but should not be the driving factor. Look at BArry and Milner as examples.
David Currie
99
Posted 10/12/2021 at 02:59:26
Rob 81,
Thank God Rondon got injured and let's hope he is out for a long time. The manager has given him enough chances now and still no goals. He is Rubbish.
Bob Parrington
100
Posted 10/12/2021 at 07:06:06
Getting back to the original theme, it seemed logical to use the speed of Godfrey on our left side to cover for Sacha's pace and skill. So use the chance to rest Digne.
Let's face it, the media will hype anything up to get a story. Such a load of overpaid cretins!
Sam Hoare
101
Posted 10/12/2021 at 08:55:14
Andrew (97) and Robert (92) - Clearly budget is going to have big impact on what we can do in January and possibly the summer too. This winter I expect we will be restricted to freebies and loans, which may be no bad thing as it gives us a chance to take a better look at players before comitting and obviously the likes of Pienaar and Arteta came in the January transfer window under loan and did well.
But beyond that I'd agree with Robert that in the medium term where possible we should be looking for players aged 23-26. Yes, many younger players can be overpriced but there are usually bargains to be found and arguably four of the best PL transfers this year fall into that age category or younger. Our own Gray is aged 25 and costs £1.7, Livramento at Southampton is 19 and cost £5m, Emmanuel Dennis at Watford is 24 and cost £3.4m and Maxwell Cornet at Burnley is 25 and cost £13m. All these players have (so far) proved very useful additions and will have doubled in worth (if not a lot more in the case of Gray and Livramento).
Currently there are only 6 older teams in the league, with an average age of 26.9, so I would not say we are lacking in experience.
I'm not saying there should be hard and fast rules and clearly a transfer like Townsend (or Gareth Barry in the past) makes a lot of sense but keeping one eye on resale values and future growth is essential, short termism (and bad scouting) is how we got into this current mess.
Obviously the hard bit is in getting the right players and perhaps it is easier to make that evaluation if the player is more experienced but conversely it may be easier to shift a player, who has not settled, in his mid 20's rather than early 30's; plus his wages would possibly be lower. Every case is different of course so it all comes down to good scouting and decision making, two areas where we have not excelled in recent years!
James Head
102
Posted 10/12/2021 at 09:35:54
Not one for pedantic rambling, get Nkounkou back from loan and sell Digne who looks weak as the proverbial and constantly on the verge of tears.
He's a poor defender, a liability around our own box and now he's stopped delivering near the oppositions' box and is constantly on his arse and out of position, he should be fine getting a part in a French drama with that constantly pained kipper.
Tony Everan
103
Posted 10/12/2021 at 10:32:12
Sam, I agree with that plan and the acknowledgment for the need to be flexible to a degree. It's isn't easy, when we do find the right player, their agent can make life even more awkward.
Now Newcastle will be lurking, offering the agent and player more money and Tottenham miraculously always seem to register an interest in every player we are interested in.
I too expect loans and maybe an end-of-contract deal In January. An interesting one today is Idrissa Baba, 25-year-old Ghanaian midfielder being mentioned again. He won't be cheap… what do you make of him?
Andrew Keatley
104
Posted 10/12/2021 at 11:27:18
Sam (101) - We can all cherry-pick success stories and/or flops to give a chosen argument a more impressive veneer, but knowing who is likely to turn out to be a member of the former or latter category, ahead of time, is incredibly difficult. And there lies the rub.
I seem to be engaging with you and Robert on recruitment issues fairly regularly, and I think it generally comes back to us having fundamentally different estimations of the job at hands; you both think it's much easier than it looks, and I think it's much harder than it looks.
Sam Hoare
105
Posted 10/12/2021 at 11:59:44
Andrew (104), I certainly don't think it's easy. It's definitely hard. But it is possible. Some clubs do it better than others and recently we have done it poorly. As I said in my post it all comes down to good scouting and decision making; it's the only way (that I know of) that a club with lesser resources will come close to competing with better resourced clubs.
Tony(103), what I've seen and read of Babu is very encouraging but very unlikely we can afford him anytime soon I'd guess. I still wish we'd bought Sangare for £8m.
Robert Tressell
106
Posted 10/12/2021 at 12:26:57
I don't think it's easier than it looks either. One of the main purposes of being fairly strict with the profile of players you bring in is to acknowledge and guard against the high risk of failure.
Alternative approaches rely solely on good judgement, which we've seen a severe lack of.
The 23 to 26 age range (and low cost) is basically the strategy Moyes used to build the core of his squads - being fairly experienced players where you know what you're going to get with some room for development (but probably never world beaters).
The up to 23 age range is less predictable but gives a better chance of a club with modest budget to acquire, probably with patience and development, a top class player. More along the lines of what Martinez did. But you need a decent side before you can go down only this route and we've probably deteriorated too far and need to rebuild now.
Whatever the case, we just can't buy ready made top class players.
Derek Thomas
107
Posted 10/12/2021 at 21:27:06
Benitez gives Digne another, more public bollocking, maybe Pour encoutager les autres? Me Organ Grinder – you Monkey. But doesn't slam the door.
I like it.
David Connor
108
Posted 10/12/2021 at 22:34:04
Get rid, the lad's been shite for too long. It looks like Rafa may be laying down the law. He may not be a Brian Clough, but I'm hoping he's a manager that won't take any shit from prima donna footballers. Put them in their place.
If they don't take too kindly to any criticisms, show them the door. Some players have taken the piss for too long out of our once-great club while being paid a fortune. Time to get ruthless.
Jerome Shields
109
Posted 11/12/2021 at 10:56:26
Just think that Benitez thought he should be dropped, like most of the Everton faithful. He thought he was secure because there is no direct backup for his position. Now he finds that is not the case, and he is naturally upset because he is going to have to work extra hard to get his position back and even harder to get International Football.
Michael Kenrick
110
Posted 11/12/2021 at 16:07:56
According to
Fichajes
, Atletico Madrid are considering an approach for Everton defender Lucas Digne in the January transfer window.
Which is funny because, when you translate the article, all it does is blather on about
el diario británico 'Express'
reporting that he's going to Chelsea in January.
David Pearl
111
Posted 11/12/2021 at 16:32:30
Sell him and bring in who? I hope Trippier isn't part of the deal. Good player but 31.
I'd prefer to keep him and he comes back into form... same with Gomes.
Ashley Roberts
112
Posted 11/12/2021 at 19:57:38
Just watched Aarons against the Man Utd. He gave away the penalty which resulted in their loss. He is definitely not the player we need to succeed Seamus. Norwich wanted silly money for him.
I would definitely be looking elsewhere. Maybe Trippier on a loan but he is already 31 and so would be a silly purchase. Maybe we should go back to Rangers for the young lad now that Gerard has departed.
Danny O'Neill
113
Posted 11/12/2021 at 20:11:04
I put something similar on the Premier League thread about Aarons, Ashley. I'll give him the benefit of a combination being inexperienced and star struck as it was Ronaldo.
It's always the case. You get far better value casting the net further than the Premier League.
Anthony A Hughes
114
Posted 11/12/2021 at 20:37:36
How about Benitez gets dropped for a couple of games? He's been shite for the last 9 games or so, if only eh?:)
Si Cooper
115
Posted 11/12/2021 at 23:28:35
I thought Livramento was tied to Chelsea with an automatic buy-back clause if they decide to trigger it? If so, any talk that we missed out on him is wide of the mark; we would have just been developing their asset for them which most on here would be up in arms about.
On Lucas Digne, I think it's hard for him to get back to his best form, which is more as a wing-back than a full-back, when he's partnered mainly with Demarai Gray who prefers to use an over-lapping player as a distraction and carry the ball inside looking for an opportunity to shoot.
No-one can complain if he regularly gets results but he definitely cramps Digne's style and I doubt he really enjoys being restricted to a more defensive role. Complaining that Digne ain't as capable as Ben Godfrey of covering ground is pretty harsh because who isn't? What is the solution? I'll leave that to the manager.
Alan J Thompson
116
Posted 12/12/2021 at 06:01:42
Here's a thought, the Cheeky Chavs offer us a swap: Digne for Barkley, but Benitez turns it down owing to the player's lack of defence.
Alternatively, we could offer Kean and Digne to Juventus for Ramsey, Weston and Arthur, who it is rumoured they prepared to let go, and a cash adjustment to us, say £10M.
Giz a job, Lah, I cud do DoF.
Mick O'Malley
117
Posted 12/12/2021 at 08:43:05
I don't think Digne has been the same since his partnership with Bernard went down the drain. They linked up quite well in their first season and, whatever your thoughts on Bernard are, I thought they complimented each other.
Anyway, there is no denying he has dropped his output so, if Benitez thinks there's a better solution, I'm okay with that.
Ian Riley
118
Posted 12/12/2021 at 20:14:33
Need everyone pulling together!!
Eric Myles
119
Posted 13/12/2021 at 08:16:41
Ajay #16, Danny #30, Robert #31, Lescott played at left back because Baines was injured when we bought him from Wigan, nothing to do with training Lescott. As soon as he'd recovered and was match fit Baines took the left back spot and Lescott reverted to his favoured left-centre back role.
Matthew Williams
120
Posted 14/12/2021 at 13:07:14
I simply can't understand why some of my fellow Blues love this bloke,he's been dogshit for two seasons now,started well but went downhill faster than an Olympic Skier,I would rather have Nkounkou back in Jan,the lad Kean too and pair him Richy and make a move to bring Barkley back on loan too,as we have zero creativity in central Midfield,it least change things up and try something new or time to accept the unthinkable folks!.
---
Add Your Comments
In order to post a comment, you need to be logged in as a registered user of the site.
Or Sign up as a ToffeeWeb Member — it's free, takes just a few minutes and will allow you to post your comments on articles and Talking Points submissions across the site.