BMD construction continues apace into year's end
The first section of the concrete super-structure of Everton's new stadium has been erected at Bramley-Moore Dock, rounding off a year of progress at the site of the club's future home.
The giant pre-cast concrete panels and pillars installed this week, just prior to the enabling and construction works breaking for Christmas, are the first structural elements of the North West core, which will incorporate the entrance turnstiles to the North Stand and create support for the entry and exit stairs up to the concourse areas.
Three twin-wall sections and one structural column, delivered from the contractor Laing O'Rourke's pioneering off-site manufacturing facility, have been meticulously housed on one of the first completed foundations on the north quayside of the waterfront development.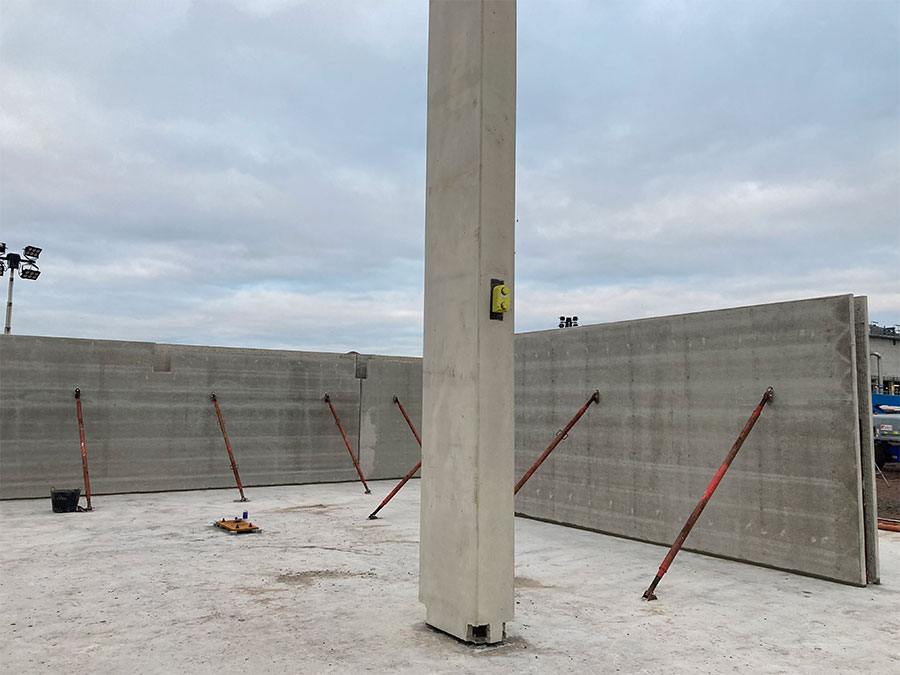 The club and contractor has made steady progress since securing planning permission from Liverpool City Council in late February 2021, with enabling works beginning in the summer after the club took control of the site.
Article continues below video content
The dock, which is now infilled with approximately 480,000 cubic meters of sand, will also see the completion of the sand compaction process this week.
Colin Chong, Director of Stadium Development at Everton Football club, said: "We are ecstatic to see the first signs of the stadium appear above ground level before Christmas.
"This is a symbol of the progress we have made to date and is very much a statement of intent for the future. Less than six months ago we were still infilling the dock and now that process is complete.
"We have also been able to bring forward an important milestone of building above ground for the first time as the section of stadium's North Stand core structure is in place.
"We are looking forward to 2022 where we'll continue piling, putting in place the foundations for our new home, while also continuing to erect the stadium structure in the North and eventually the Southern wharfs."
---
Reader Comments (49)
Note: the following content is not moderated or vetted by the site owners at the time of submission. Comments are the responsibility of the poster. Disclaimer
Joe O'Brien
1
Posted 21/12/2021 at 15:13:30
Exciting times. Massive milestone in the history of our club.
Kevin Prytherch
2
Posted 21/12/2021 at 15:23:36
All well and good, but has anyone actually been spotted with a spade yet?
Tony Abrahams
3
Posted 21/12/2021 at 15:54:32
Imagine using a spade for 480,000 cubic metres of sand Kevin.
James Flynn
4
Posted 21/12/2021 at 17:01:42
3-4 years of pictures of the water-filled dock. Now this. Exciting.
Kieran Kinsella
5
Posted 21/12/2021 at 17:21:44
Who's paying for this? Did we ever secure financing or is the club paying for the foundations and then seeking financing for the actual stadium build?
John Wilson
6
Posted 21/12/2021 at 19:46:56
Massive *millstone*
Dale Self
7
Posted 21/12/2021 at 19:54:36
Nicely played John.
Mike Hayes
8
Posted 21/12/2021 at 19:58:35
Here's the smoke and mirrors to redirect from the real issues at board level 🙄
Billy Bradshaw
9
Posted 21/12/2021 at 20:01:20
Just keep building boys, I don't mind waiting and sitting in it watching a match until they tell us who paid for it.
Peter Mills
10
Posted 21/12/2021 at 20:04:57
Well, I'm delighted to see the stadium start to appear out of the ground, always a cause for celebration in any construction project. Congratulations are in order to those who have brought it about.
I have no idea how this is going to pan out financially, whether it will cripple the club or prove to be a catalyst for a successful future. But it's better than going to Kirkby, and it's better than watching our beloved Goodison Park slowly fall into ruin. It's exciting, it's historic.
I'm going to watch the development with great interest and hope to see a few matches there, although I've promised my ticket for the first game to my grandson.
Dave Abrahams
11
Posted 21/12/2021 at 20:12:53
Billy (9), I'll tell you paid for it Billy: The Goose that laid the Golden Egg, but hopefully he will get everything back that he paid for because he will have deserved it and Everton will have become a successful club again.
Billy Bradshaw
12
Posted 21/12/2021 at 20:28:39
Nice one Dave 11,maybe that goose can lay us another golden vision while he's at it.
Dave Abrahams
13
Posted 21/12/2021 at 22:45:40
Billy (12), now wouldn't that be a treat, along with three or four more blasts from the past!!
Mike Hughes
14
Posted 21/12/2021 at 23:26:32
The RS will be worried sick about what has happened to all the great crested newts they kept spotting at BMD not so long ago.
Maybe we can put their minds at ease by telling them they have been rehoused behind that Victorian dock wall that English Heritage treasured so much?
Brian Wilkinson
15
Posted 21/12/2021 at 23:51:03
Dave@11, if he can lay an egg the size of his bullshit, we will have all our money problems sorted for the new stadium, the other half of the liver buildings bought, and still have a transfer budget bigger than City.
Jerome Shields
16
Posted 22/12/2021 at 11:09:27
The most expensive part is up to ground level. So the money is coming from somewhere.
Good to see.
Tony Abrahams
17
Posted 22/12/2021 at 11:42:14
Interesting Jerome, just like it will be interesting watching those twenty metre piles, getting smashed so far into the sand, to help create the base for our wonderful new stadium!
Bill Watson
18
Posted 22/12/2021 at 12:13:19
Moshiri is personally funding the initial preparity work with £50m and Liverpool City Region is chipping in with £15m (thanks all you RS council tax payers!).
When that work is complete (it more or less is) the club hope to put funding into place to build the actual stadium.
Here's hoping it all goes to plan!!!
Derek Taylor
19
Posted 22/12/2021 at 12:43:24
'A spade in the ground' is a RS quote of their former owners Higgs and Gillette. Not appropriate to appear here !
Jerome Shields
20
Posted 22/12/2021 at 14:17:59
Bill #18
The actual build of the stadium will be clear cut to fund. It is the actual fitting out and the finishing work where the real add-on costs are normally.
Tony #17
All we need now is Rafa to turn the corner into the New Year. A lot didn't give him a chance of getting that far.
Paul Hughes
21
Posted 22/12/2021 at 14:19:49
There are several YouTube channels showing regularly updated drone footage of the progress. The filling in of the dock is pretty staggering to my untutored eye.
No spades in sight, but several substantial bits of earth moving machinery, and a 50 foot piledriver can be seen - does that count?
Rob Halligan
22
Posted 22/12/2021 at 15:00:09
Paul # 21.
Any space is better than the hammer and nails needed to knock together the flat pack from IKEA to make another loft extension at Anfield? Or are they using screws and a Phillips screwdriver? 😁😁😁
Neil Copeland
23
Posted 22/12/2021 at 20:39:55
Tony #3, might need at least 2 spades I reckon
Paul Hughes
24
Posted 22/12/2021 at 22:08:54
Rob #22. They're probably using one of those horrible little Allen keys!
Tony Everan
25
Posted 22/12/2021 at 22:49:24
Rob, I've read it's KFC Construction (UK) have won the contract.
Tony, Neil, I'll raise you Two spades and a wobbly wheelbarrow.
Nicholas Ryan
26
Posted 23/12/2021 at 03:03:03
The football will be played where the column is; and the concrete walls are there, so the fans don't have to witness it!!
Barry Hesketh
27
Posted 23/12/2021 at 12:33:39
Whilst there is nothing new to learn for Evertonians from Joe Strange's piece on the new Everton stadium, it is good to see a national news outlet writing about the progress made so far.
James Flynn
28
Posted 23/12/2021 at 19:38:35
Barry - Thank for the link.
So, if no unforeseen difficulties arise (fingers crossed), the 2,500 pilings will be in by June/July? And installing, "the stadium's steel and concrete sub-structure." will begin.
Exciting times.
Drew O'Neall
29
Posted 23/12/2021 at 23:45:41
Mike 14
I think we packed all the Great Crested Newts off on a cruise on the 'small ships'.
Derek Knox
30
Posted 25/12/2021 at 22:24:41
And to think some on TW, said it would never happen ?
Drew, funnily enough I got a Xmas Card from the Great Crested Ones they were having a wonderful time, in fact they said " they were as pissed as Newts ". :-)
Mark Andersson
31
Posted 26/12/2021 at 09:51:44
Will Rafa lead us into the new stadium... somehow I don't think so...
I hope that one day a ex blue will mange and bring back the glory days. My choice would be Rooney Tim Cahill and big Dunc...
Gerry Quinn
32
Posted 28/12/2021 at 08:30:28
Duncan McDine
33
Posted 28/12/2021 at 08:50:31
Steady progress but I don't know what's taking them so long. Reminds me of the groundwork I had to do in order to build a small shed in my back garden. Instead of having to relocate fish, I had to relocate (massacre) a family of rats, but it was all done in the space of a bank holiday weekend. They're all slackers McFly!!!
Alan McGuffog
34
Posted 28/12/2021 at 09:01:17
Does anyone know what type of sea life was relocated from the Dock? And I don't mean Dunlop Trout etc.
Paul Birmingham
35
Posted 28/12/2021 at 09:55:07
Alan, good call. As an angler, I'd be interested to see or hear of the species extracted and returned to the sea.
The fishing so far this winter hasn't been that good on the Mersey compared to recent winters.
Danny O'Neill
36
Posted 28/12/2021 at 10:00:06
I know there have been many who associate release of stadium updates as a deflection, but when I see articles like those posted in the links, it makes it real. It makes me genuinely hopeful for the future. That, despite the past 30 years and the current situation, the club is finally heading in the right direction long term. Our day(s) are coming, starting in May 2022.
When I look at the images, I still love the way the architect has captured modernism but incorporated the City's dockland heritage and seemingly used the site to that advantage. It's going to be stunning.
Built on a Dock filled with sand. Maybe that's going to add to the effect as the Stadium could literally be swaying and rocking on a good day!! Best we get our sea legs ready and maybe some traditional sea shantys adapted into Everton songs!!!
I guess we have a history of filling in docks and "pools" to build the City and it's landmarks. Wasn't the Pier Head, the site of our new club HQ that will look over BMD built on a disused dock? Over to the more wise historians amongst us to confirm that as fact or urban myth.
I'd still love to see a monorail implemented along the river front connecting Brunswick & Sandhills stations with stops along the way as part of the transport infrastructure. Again, modern, but a reflection of the Docker's Umbrella.
Gerry Quinn
37
Posted 28/12/2021 at 11:27:57
Alan (34) - Does anyone know what type of sea life was relocated from the Dock?
Had-dock!

Alan McGuffog
38
Posted 28/12/2021 at 11:46:34
Don't tell me Gerry...you're here all week!
Gerry Quinn
39
Posted 28/12/2021 at 11:50:16
Couldn't resist - Have a great New Year, Alan...:)
Paul Turner
40
Posted 28/12/2021 at 12:04:31
Danny # 36 - we've already got a seafaring folksong (okay, it's not a shanty)...
Johnny Todd (Z-Cars)
Jim Lloyd
41
Posted 28/12/2021 at 12:19:03
Well said, Paul! (40),
Johnny Todd he took a notion, for to cross the Liverpool sea...
Danny O'Neill
42
Posted 28/12/2021 at 13:26:04
Whisper it quietly, but wasn't one of the composers of the modern version of Johnny Todd (the Z Cars theme tune adopted by Everton) an Austrian who ended up in Liverpool and had a season ticket at you know where??
Brian Wilkinson
43
Posted 31/12/2021 at 01:58:51
Heard a rumour Danny that Hitler had family connections in Liverpool, so you could be onto something there, all adds up when you think that bombs hit the Gwladys street and one just outside the Park end, but none on Anfield.
No wonder the Evertonians sang the song to the bridge on the river Kwai, about only having one ball.
I believe his great great grand son, was no other than the Kop badge man.
Maybe he is using Hitlers old season ticket.

Eric Myles
44
Posted 31/12/2021 at 03:59:42
Jerome #16, do you have a breakdown of the various elemental costs of the stadium that you are referring to? Because I'd be very surprised if the major cost was the substructures.
Rob Halligan
45
Posted 31/12/2021 at 19:50:38
A new piece in the red echo about BMD. Apparently there are thousands of structural elements manufactured and stored off site waiting to be delivered to BMD. Hope Brent has got his pedalo in ship shape condition. Brent is now taking bookings for anyone who lives in the south end of the city, as he will be doing transports to BMD from Garston docks!!
https://www.liverpoolecho.co.uk/sport/football/football-news/everton-new-stadium-bramley-moore-22615637
Brent Stephens
46
Posted 31/12/2021 at 19:58:48
Rob, I traded up to a four-seater over xmas. Now need to test it's sea-worthiness and reapply for my captain's ticket.
Danny O'Neill
47
Posted 31/12/2021 at 20:09:59
I believe his nephew (a few times removed) through a half brother who ended up in Toxteth Brian. I haven't looked it up but it's covered on one of the historical documentaries you can look up on Netflix or Amazon (can't remember which one).
Eric Myles
48
Posted 01/01/2022 at 03:17:00
BMD is "the biggest and most complex" project Colin Chong has been involved in during 40 years of construction?
What was he doing before??
Eric Myles
49
Posted 02/01/2022 at 03:42:51
@ Tom Hughes
Any comments on the new Inter & AC shared stadium? I thought they had decided sharing was no longer an option?
And what's wrong with the San Siro that they feel the need to move? Albeit only 100 metres away!
---
Add Your Comments
In order to post a comment, you need to be logged in as a registered user of the site.
Or Sign up as a ToffeeWeb Member — it's free, takes just a few minutes and will allow you to post your comments on articles and Talking Points submissions across the site.