Burnley game joins the list of Covid postponements
Thursday, 23 December, 2021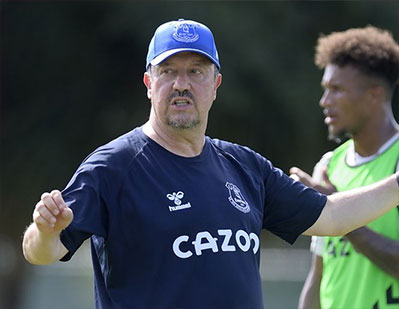 Updated
Everton's Boxing Day clash with Burnley is now not going ahead after the Premier League agreed to a renewed request from the Blues that the match be postponed due to a spate of positive coronavirus tests among the squad.
Rafael Benitez had expressed his surprise that Everton's Boxing Day clash with Burnley was going ahead as he says that he has just nine senior outfield players available.
One of them was Dominic Calvert-Lewin who could have made his long-awaited return from injury with the manager also needing to turn to youth players after the club returned five positive Covid results after the Chelsea game.
That had compounded a lengthy injury list that includes Richarlison, Allan, Seamus Coleman, Yerry Mina, and Tom Davies.
It meant that Benitez would like not have been able to name a full substitutes bench. He may also have needed to bury the hatchet with Lucas Digne who has been frozen out for the past three games following a reported disagreement over tactics.
But after asking the Premier League again to have the match postponed, the league agreed on Christmas Eve to call it off, with this statement:
"The Premier League board has this morning regrettably approved Everton's request to postpone their Boxing Day away fixture at Burnley.
Everton were due to travel to Turf Moor to play on Sunday, at 15:00 GMT. The Board reviewed the club's request today to postpone the match following further injuries to their squad. They concluded that the club will not be able to fulfil their fixture this weekend as a result of an insufficient number of players available to play due to COVID-19 cases and injuries.
"They concluded that the club will not be able to fulfil their fixture this weekend as a result of an insufficient number of players available to play due to Covid-19 cases and injuries.
"The board this morning was able to make its decision in advance of Boxing Day to give clarity to clubs and their fans. We apologise for the inconvenience and disruption caused to those supporters' festive plans.
---
Reader Comments (431)
Note: the following content is not moderated or vetted by the site owners at the time of submission. Comments are the responsibility of the poster. Disclaimer
Robert Williams
1
Posted 23/12/2021 at 14:39:41
Burying the Hatchet sound ominous! - sell him and get some money in for a new look team.
Paul Birmingham
2
Posted 23/12/2021 at 14:44:52
What's the standard and protocols set by the EFL, for seeking match postponement due to Covid19?
If Everton are denied their request for postponement, then I I hope the club takes out an official complaint against the EPL.
All other teams cough and sneeze and the game is postponed.
The season of goodwill, my arse, in context of the EPL.
All take care and enjoy!<
UTFT!

Alan J Thompson
3
Posted 23/12/2021 at 14:51:29
Nine senior outfield players and a goalie makes ten. Add either Begovic or Lonergan and were home as the bench is rarely used properly anyway. I'm sure we've all heard, "You're the Manager, manage".
Or replace the medical team, or have we done that already?
Kieran Kinsella
4
Posted 23/12/2021 at 14:58:26
I imagine the EPL are reluctant to cancel another Burnley game as they've three games in hand already but it's farcical that Leeds last week had nine fit senior players and had to play, others with bigger squads and fewer absentees did not. Presumably the teams cancelled for Boxing Day won't have magically healed by the 28 so more postponement. It doesn't make for a very equitable situation in terms of scheduling. They should just cancel the season and share the title equally
Ray Roche
5
Posted 23/12/2021 at 15:00:37
I'm sure I read that you need only 14 fit first teamers for a game to go ahead. I suppose it depends who you are and if the game is scheduled to be televised. Dear God, don't dare stop the cash cow that IS Sky!
Alan J Thompson
6
Posted 23/12/2021 at 15:08:20
Is it really that much of a problem? After all, a few days after postponing our game Leicester lined up in a League Cup quarter final.
Who was it they played?
Gary Willock
7
Posted 23/12/2021 at 15:23:31
Assuming the 5 of the 6 injuries are: Coleman, Mina, Richie, Townsend, and Tom. Be intrigued to know who the extra injury and 5 Covid cases are.
Can appreciate that it's maybe tactical not naming them, but makes it hard for us to judge as fans if this is right or not.
Personally I think the premier league should be allowing any club to request a cancel or no club to, but looks like we agreed the "14" rule too, so our own fault for reporting DCL as fit (and Gbamin / Tosun as 'ever' fit).
Hopefully it's 5 from the poorer players, and not another 5 'starters'. For all we know it could also be 5 defenders, or 5 attackers. In either event that's not acceptable.
Some more info please Everton.
Paul Richardson
8
Posted 23/12/2021 at 15:34:26
As I understand it, you have to produce proof (via positive covid tests) that a certain percentage of your first team squad is unavailable. Injuries have nothing to do with it. So the higher the number of first team squad members, the more positive covid tests are required to postpone the game.
Maybe the EPL should follow the NFL who, I believe (American cousins please correct if not), are obliged to produce evidence of fitness a few (specified) days before each game and thereby rule out that player for the fixture.
It would save all the silly cat-and-mouse gamesmanship and mean clubs like Everton (who I believe are very fair when it comes to these things) will be treated the same as everyone else. For a change.

Jay Harris
9
Posted 23/12/2021 at 15:39:44
I thought I read recently that they would consider postponement if at least 7 players had Covid but I guess it all depends on what the rich six demand.
Kieran Kinsella
10
Posted 23/12/2021 at 15:49:45
So we have 26 in our first team squad according to the Official site (excluding Sigurdsson). Rafa says we have 12 fit, and 11 injured. Even though they are in the first team squad he must be counting Branthwaite, Gordon and Simms as among the "And then we have to bring five new young players into the team, who are not even 21 years old." Even though Gordon has been virtually ever present, and the other two have played.
But we know Richarlison, Townsend, Mina and Davies are injured. So two more injuries, maybe Delph? whose absence hasn't been explained. and maybe one of Rondon, Gray and Tosun who missed the Chelsea game., which means 2 of them are fit. But he says that they tested the players before Chelsea and none had covid, but five tested positive after. Presumably then since it was "after the game" he means six of the squad who played Chelsea, excluding goalies who we know are fit. So 6 from the remaining group, but we know from the earlier Math he is regarding Gordon, Simms and Branthwaite as "youngsters" and presumably the same goes for Dobbin and Onyango, Which leaves us with 10 suspects for covid exposure of whom half are likely positive:
Coleman
Kenny
Gbamin
Allan
Holgate
Keane
Godfrey
Gomez
Doucoure
Iwobi.
He then says we will have to play players out of position but knowing that we have these players fit:
3 goalies
Digne
Gordon
Simms
Branthwaite
DCL (who he says can't play 90 minutes)
So presuming these players play in their actual positions, the absentees are at right back, one central defender and or midfield, which ties in with my lists of suspects.
But we have four players in the suspect list (Coleman, Kenny, Godfrey, Holgate) who can play right back. So it's unlikely all of them are among them are among the five, and we have three CBs in the suspect list to fill one spot alongside Branthwaite, so odds are they aren't all injured. So my money is on Gomez, Docoure and Allan as we have fewer options to cover them, (Gbamin and Onyango only) which would necessitate playing a kid or someone out of position. Also it reinforces the notion Delph is one of the injured five as he is a midfielder.
So our fit players are:
Pickford
Digne
Branthwaite
Gordon
2 from Gray, Rondon and Tosun
DCL
Simms
plus 5 from the 10 covid suspects. So pretty much almost half are fit players are strikers/forwards, and we set up defensively with one striker. This is a problem.
Lee Courtliff
11
Posted 23/12/2021 at 16:10:18
If this means we start Branthwaite, Dobbin, Gordon and Kenny then I'm quite happy with it.
Save Calvert-Lewin for the last 20-30 minutes and play Godfrey at left-back again or ask Lucas to "do us a favour" and actually play.
We can't keep postponing the odd game and allow others to play. The backlog will probably lead to even more injuries. Let's be honest, most of us have been crying out for the youngsters to play anyway and we're not exactly up against the best team in the country.
My cousin has got me a place in the Executive Box for this game so I'll be surrounded by deluded Burnley fans. Spare a thought for me if we get beat as they are relentless when they win. And it's the ref's fault if they lose.
Phil (Kelsall) Roberts
12
Posted 23/12/2021 at 16:23:52
Could we not get a couple to fake positive tests - like Tosun and one of the spare goalies or one of the injured players. Then we have 7 and hey-ho game is cancelled.
Call it the Optimum variant as in the Nil Satis Nisi Optimum variant.
Andrew Keatley
13
Posted 23/12/2021 at 16:25:04
After the encouraging showing of the mend-and-make-do eleven that we put out against Chelsea, I'm intrigued to see who will start the game against Burnley. Opportunities for more players to grasp the nettle.
Pat Kelly
14
Posted 23/12/2021 at 16:31:29
It's now akin to a lottery. There goes our chance of the title this season. Covid has wrecked another season.
Kieran Kinsella
15
Posted 23/12/2021 at 16:34:00
Phil
Just ask Tosun and Lonergan to deliver a food package to one of the infected.
Mike Connolly
16
Posted 23/12/2021 at 17:28:14
We are far too nice of a club, which goes against us.
Oumar Niasse was the only player to get done for simulation. Did not here much from the board defending him. Even down to the financial fair play. with all the cash in the club, is there no-one capable of manipulating the books?
Barcelona who were on their arse, magically found investment to purchase a player. with teams crashing out with Covid, perhaps the Premier League should take a trip to Finch Farm to look at why the Everton players are not suffering.
Danny O'Neill
17
Posted 23/12/2021 at 17:36:31
I wonder how much of this is becoming driven with the influence of foreign managers used to having and therefore wanting a winter break?
I don't think it will be long before we see it introduced to be honest.
Dale Self
18
Posted 23/12/2021 at 17:44:26
After last performance I'm thinking that we should use this episode to provide our up and coming talent as much exposure as possible without freaking the fans out. We could struggle as teams make adjustments against a youth heavy squad but let's take this season as a runout for the ones who are fully with the badge.
Ian Bennett
19
Posted 23/12/2021 at 18:01:39
Key bit is Newcastle and Co playing and losing pre transfer spending. Tactical covid? Don't rule it out.
If Newcastle are still on 10 points after 20 games, it'll be hard to see them getting to 40 points in the remaining 20 games.
Barry Hesketh
20
Posted 23/12/2021 at 18:39:06
Ian @19,
If the Magpies are still on 10 points after 20 games, I'll be gobsmacked if they take a further 30 points from another 20 games as that means they'll have played 2 more games than anybody else – or have Everton been lined up to play the Magpies four times this season?
Phil (Kelsall) Roberts
21
Posted 23/12/2021 at 19:03:06
Ian @ 19 Don't you just loathe a smartarse?
Just to tell you that they are currently 13 points down on last season. Burnley are down 7, as are we.
Last season, the Toon picked up 22 points in the 18 fixtures they still have to play.
But 40 points will be more than enough. 36 should be safe this year. Last time a team went down with 40 points was 2003. 2011 was 39 and last season was 28.
Paul Birmingham
22
Posted 23/12/2021 at 19:28:37
I'm all for the Everton youth getting a fair chance to play in the first team, but the tactical bluff by certain teams which we saw this time last season, and which have been seen again this week, makes my blood boil.
The Premier League is taking the proverbial by having floating standards on the application and translation of the rules for a club not being able to put out a team. The integrity of the Premier League.
The so-called Top 6 take the piss and the Premier League let them dictate and placate them on most occasions.
Hopefully, the Everton spirit will get a result at Turf Moor.
Barry Hesketh
23
Posted 23/12/2021 at 19:40:42
Phil @21
Do I get a prize for your 'smart arse' award?

Alex Gray
24
Posted 23/12/2021 at 19:45:02
Not being funny – I'm all for youth getting a chance but having five covid positives plus our injury list should mean this is called off. I love Boxing Day footy but the double standard is unbelievable.
Eddie Dunn
25
Posted 23/12/2021 at 19:56:17
It's probably very close to being called off. Burnley's close geographical proximity might mean the authorities can wait until the eleventh hour to consider the latest tests. A fixture pile-up won't benefit us. Small squads suffer the most. Calvert-Lewin does not need to be thrown in the deep end.
I would have liked Rafa to make a fuss about Tarkovsky and his terrible assault on Richarlison without as much as a free-kick. We lost him for several games. About time our manager put the ref under pressure and make Tarkovsky ultra-aware of his actions. Imagine if he had done Salah. What would Klopp be saying about it?
Gerry Clarke
26
Posted 23/12/2021 at 19:59:17
I seem to remember that Man City had a game against us postponed last year because they had a few missing from their huge squad due to Covid. Why does the same not apply for us? Oh yes I forgot they are one of the big 6.
Paul Hewitt
27
Posted 23/12/2021 at 20:16:46
Can't see this game going ahead. A few more cases and it will be cancelled.
Danny Baily
28
Posted 23/12/2021 at 20:20:01
I'm sure it will be cancelled yet. Ludicrous decision from the Premier League today nonetheless.
Dale Self
29
Posted 23/12/2021 at 20:22:09
I'm so sick of cancel culture! ;)
Fran Mitchell
30
Posted 23/12/2021 at 20:48:38
Well I've got Covid and am self isolating on me bill I really can't do with the football being cancelled, no matter how shit of a team is put out, I need something to occupy my mind for at least those 90 minutes
Brian Wilkinson
31
Posted 23/12/2021 at 21:49:36
Gerry@26, was just going to mention that, City got the game called off 4 hours before kick off against us because they had just two players showing up positive and two staff members, yet we have 5 players positive and forced to play.
Everton wanted answers for last years postponement, they should certainly be asking questions, this time round.
Brian Wilkinson
32
Posted 23/12/2021 at 21:55:02
I've nothing planned Boxing Day, so if anyone has a spare pair of size nine footy boots, I am more than happy to turn up at turf moor and run my Xmas dinner off if we are still short on numbers.
Mike Gaynes
33
Posted 23/12/2021 at 22:05:48
You can borrow mine, Brian. There's a boatload of goals still left in them. Size 10 but you can stuff the toes with newspaper like I used to do with my dad's ice skates.
Dale #29, in this case we need all the cancel culture we can get. Call it off already.
Tom Bowers
34
Posted 23/12/2021 at 22:11:54
Just the latest chapter in an ugly season for the Blues so far.
Just how bad do the numbers have to be before you can have the game postponed ?
I always recall when they had to play a game with 11 reserves after most of the regular players went down with flu and guess what, Everton got fined by the League.
Then RS did the same thing and got a slap on the wrist.
I really don't want DCL to start this game if he is in any way not 100%. Better to make sure he will be good to go in the new year rather than have him break down again.
Playing some of the youngsters may not be such a bad thing at the moment.
Andy Crooks
35
Posted 23/12/2021 at 22:46:17
Brian, I have a pair of boots that I got from Billy Dane. You can have them for the game and we will get three points, no doubt.
Derek Knox
36
Posted 23/12/2021 at 22:57:35
Brian W, @ 32, if you were the guy at the Grafton that had to leave (sober-ish) before midnight, BPB has a pair of Glass Football Boots, and is searching Newton-le Willows for a suitable candidate ! 😂🎅💙
Fran Mitchell
37
Posted 23/12/2021 at 23:08:14
Being forced to put the youngsters in could work out as a blessing in the long run.
Too often managers are too conservative - too focused on short term (as they know they're likely only short term incumbents themselves), that they don't 'risk'.
Even if the results are not what we desire, if any of Dobbin, Simms, Branthwaite, Onyango, Kenny and whoever else manage to make an impression and step up and show they are capable, it could save us millions.
Dobbin was very impressive at Chelsea. As was Kenny imo. Branthwaite of course was excellent. Onyango had almost no time but looked up for it. Simms had a thankless task (and has always needed bedding in time when stepping up). Add that to Gordon's already cementing his place in the reckoning.
They won't all make it. But if a couple do, and it saves us wasting money like we have, it could point to a better future.
Derek Thomas
38
Posted 23/12/2021 at 23:31:34
When in Rome...do what other teams do when it suits them
Fudge the numbers !
Jeez, if Benitez was still at the rs, he'd be all over it, is there valium in the water at Finch Farm or something
Dale Self
39
Posted 23/12/2021 at 23:45:26
Get well Fran! We need you at full strength this season. Like Fran I'm really needing some football but I guess I could play FIFA to get through it.
BTW, every time I see a Grafton reference I laugh and then shudder.
Bill Watson
40
Posted 23/12/2021 at 23:52:19
Not postponing this and similar games is diminishing the integrity of the PL.
I'm sure Newcastle won't be too thrilled if Burnley turn over a depleted Everton side.
Bill Watson
41
Posted 23/12/2021 at 23:52:19
Not postponing this and similar games is diminishing the integrity of the PL.
I'm sure Newcastle won't be too thrilled if Burnley turn over a depleted Everton side.
Jerome Shields
42
Posted 24/12/2021 at 00:11:49
A day is a long time as far as Covid is concerned. God knows what will happen over three days.
It would be interesting if Rafa has to put out a side. It would be even more interesting if they did better than expected.
I did expect a different Everton to resurface in January, when the progress of young players, recent transfers and Benitez still in place would change the narrative and dependency on certain players.
Phil Gardner
43
Posted 24/12/2021 at 06:21:56
Eddie @25…spot on mate. The club is amateurish. From the lack of pressurising the ref, hounding the 4th official, appealing for/against everything, tactical fouls and even manipulating the covid situation until we get some of our 1st choice players back…we're too honourable and shite. I'd be all for being 'gentlemanly' if it got us anywhere…EVER! The fact is it never does and we just end up suffering as a result. The howling out of the shite after they were the wrong end of poor refereeing (for once) at Spurs will guarantee some type of refereeing reimbursement in the near future, for as long as I can remember (80's side & Peter Reid) we simply do not have the nous or know-how. At least Rafa is having a pop in the press but why the fuck Big Dunc isn't more intimidating and vocal on the touch line is beyond me…don't tell me that that wouldn't pay dividends, noble or not. Wise up Everton.
Niall McIlhone
44
Posted 24/12/2021 at 06:53:33
If this game goes ahead, we might just have the extremely rare spectacle of Cenk starting up front, Gbarmin in defensive mid, and Jonjo at RB? There's also the possibility of Digne making his final appearance in a blue shirt?
I agree with the views on here towards the inconsistency of the PL as regards cancellations, but they are also "between a rock and a hard place" in regard to Burnley already 3 games behind, I expect that is the deciding factor in their decision for the fixture to stand.
Best wishes for the season to all Toffees worldwide, and of course, many thanks to Michael and Lyndon for keeping ToffeeWeb our "go to" site for daily therapy!

Derek Knox
45
Posted 24/12/2021 at 10:10:48
I would like to echo Niall's Best Wishes and a Merry Xmas to all on, or concerned with ToffeeWeb and beyond.
We haven't as a team, had a lot to shout about, and Covid has played it's part, plus injuries and poor form, in ruining things as far as games are concerned, but here's hoping the coming Year and the remainder of this season, sees an upturn in fortunes for us. Yo Ho Ho !
Rob Halligan
46
Posted 24/12/2021 at 10:12:33
Sean Dyche thinks yesterday was a bit early for Everton to ask for the game to be postponed. So I can only assume that he will have no problems whatsoever if we ask for the game to be postponed three or four hours before kick off.
Kevin Prytherch
47
Posted 24/12/2021 at 10:22:21
Just read the premier league guidelines. Games will not be called off if a team has 13 fit outfield players, that includes "appropriately experienced U21 players".
If we have 9 fit senior players, and Branthwaite, Onyango, Simms and Dobbin count as "appropriately experienced U21's", then we're right on the cusp.
Brian Harrison
48
Posted 24/12/2021 at 10:23:57
Rob
Burnley have already had a game called off a couple of hours before kick off against Watford so I guess he wont be overly upset if it happens again. Surely the whole point of the managers and captains meeting with the Premier league was to stipulate what criteria will be used to get games called off. But it doesn't include teams having injuries only excess covid cases will allow a game to be called off. So why Benitez mentioned the injured players I don't know he knows that's not part of the criteria.
And as for all this nonsense about player welfare, heaven knows what Klopp would have made of when we played games on Christmas day and had another game 24 hours later on Boxing day, I don't know. They also didnt have 26 man first team squads back then either.
Derek Knox
49
Posted 24/12/2021 at 11:12:08
Brian @ 48, you are right what you are saying, about Dyche or any other other Manager, not being overly upset about a game being called off two hours before, but what about the fans, many who have travelled probably 200 miles or more ?
In some extreme cases, fans have flown from wherever to watch 'their team' many Hundreds/Thousands of Air Miles, only to be let down two hours before. As usual the fans who are, or used to be, the lifeblood of the game, are of little consideration !
Kevin Prytherch
50
Posted 24/12/2021 at 11:32:07
Brian 48 - it does include injuries and illness as well. If you have 13 outfield players plus 1 goalkeeper from the senior squad and from appropriately experienced U21's, and you can safely prepare the players, the game goes ahead.
Matt Traynor
51
Posted 24/12/2021 at 11:38:04
One of the bus operators (Han's Tours) posted on Twatter an hour ago that the game could be off, and they'd roll tickets over to the re-arranged date. Make of that what you will.
Merry Christmas to Blues everywhere.
Derek Knox
52
Posted 24/12/2021 at 11:39:25
Sky Sports News just reported that the game is now off ! At least it gives the travelling fans fair warning, they must have read my post at 49. 🤔😜💙
Brian Hennessy
53
Posted 24/12/2021 at 11:39:28
Burnley game now officially called off.
Dave Abrahams
54
Posted 24/12/2021 at 11:39:40
Matt (51) They must have been reading ToffeeWeb at the Premier League, the game is now postponed.
Jim Bennings
55
Posted 24/12/2021 at 11:39:59
Game has been called off anyway.
Another fixture pile up on midweek nights in April and May on the horizon.
Again it maddeningly frustrates that we waste THREE blank weekends before Christmas watching England slap some pub teams from Eastern Europe when we could be having games from the domestic league.
Instead of that managers will moan about fixture congestion at Christmas but nothing is ever taken to task with FIFA for the amount of international breaks we suffer.
God knows when Everton will next play a game, the Newcastle and Brighton games will no doubt be affected by more "Covid" cases and the Hull game you'd imagine another reason will be brought up to cancel that.
One time I used to love the Boxing Day football and festive games, but it seems now with the way life is that football will lose the festive fixtures permanently before long, of course next year (Covid variant 155) we have the worst World Cup in history invading the Christmas season.
Tom Bowers
58
Posted 24/12/2021 at 12:03:17
Can only be a good thing for Everton and the fans.
The priority is the health of everyone and the situation is bad.
The U.K. should have implemented the Winter break many years ago although it was always nice to have the Boxing day games.
Brent Stephens
59
Posted 24/12/2021 at 12:16:57
Called off at the club's request, it seems.
Mark Rankin
60
Posted 24/12/2021 at 12:18:44
Glad it's called off, solely as it's an important game not to lose and it's likely to be an advantage to EFC to be played post Jan transfer window with a more compete squad to draw on. All the best!
Tony Abrahams
61
Posted 24/12/2021 at 12:24:35
I'm still waiting to hear what Klopp thought about players welfare, after that absolutely horrible tackle one of his young kids got away with the other night Brian. No wonder he's only got a problem with one referee.
Danny Baily
62
Posted 24/12/2021 at 12:45:42
Should see us through to January! Big headache for the Premier League though. If this continues we could be into null and void territory (not that that would ever be allowed to happen).
Brian Harrison
63
Posted 24/12/2021 at 13:45:48
Merry Christmas to everyone on T/W. I am just going to settle down with a box of tissues and watch the best Christmas film ever Wonderful Life starting on channel 4 at 2.00pm.
Rob Halligan
64
Posted 24/12/2021 at 13:55:25
So Mr Dyche, is that early enough for you!!
Michael Williams
65
Posted 24/12/2021 at 14:03:59
Happy Holidays to every one here!
Kieran Kinsella
66
Posted 24/12/2021 at 14:07:20
Derek
My sister emailed me early this morning heading up from London with her two young boys for the weekend to see the game. They're probably arriving just about now. Ah well I guess Rafa can have Christmas at home instead of FF. Really it's the right thing to do but this was obvious a few weeks they should have just stopped games for a few weeks
Brian Wilkinson
67
Posted 24/12/2021 at 14:08:33
Not wrong there Brian@63, best Xmas film by a Country mile, and just after it we have the Snowman as well, I remember the first showing on Channel 4 back in 1982, which was actually shown on Boxing Day.
Strange how our minds in time thinking it was shown first on Xmas Day, but instead find out it was actually Boxing Day.
Martin Reppion
68
Posted 24/12/2021 at 14:23:23
Jim #55 Share your views on meaningless international breaks.
Following the model of the cricket T20 World cup where after their own qualifying groups the 'minnows' played groups with the lower ranked test nations to reduce to 4 the number joining the big boys, would make sense. We've said it before on here. Let The Faroes, Luxembourg, Scotland and San Marino earn the right to get to the qualifiers. If they then finish in the top 3 of a group they are automatically into the main draw next time. The bottom 2 clubs go into the slog. WHOEVER they are.
As for Sunday's postponement. This was obviously coming. I am assuming that SKY have tried to ensure enough games play to sell their advertising.
Kim Vivian
69
Posted 24/12/2021 at 14:25:57
Shall miss Boxing Day footy, and to echo Jim's sentiment. International breaks are a pain but competitive ones are unavoidable I guess. It's all the "friendly" breaks we lose that do my head in.
Happy Christmas one and all. See you in the New Year. Cheers!
Bobby Mallon
70
Posted 24/12/2021 at 14:26:08
I'm not having this winter break and klopp moaning about to many games. If him and pep are that worried then tell them to ask Eufa to get rid of the group stages of champions league and just take it back to a straight knock out competition.
The same for the Eufa league and the Eufa conference league. Just leave our domestic competitions alone. If they want less games then don't enter the FA cup or League cup. Just fucking leave the rest of us to get on with it. Merry Xmas rant over.
Derek Knox
71
Posted 24/12/2021 at 14:41:55
Bobby @ 70, that wasn't a rant, it was the truth, unfortunately, but one I second, all boils down to greed and dominance at the end of the day !
Dave Abrahams
72
Posted 24/12/2021 at 14:45:55
Brian (63), I agree with you about that film, It's on The Philarmonic Hall twice today, once with a meal, in fact it is shown every year at ' the Phil' on Christmas Eve, yes I agree about the tissues, seen it over twenty times and always shed a tear at the end no matter how hard I try to hide them.
Alan J Thompson
73
Posted 24/12/2021 at 15:02:39
Jim(#55); And shortly that will double when it becomes an every other year World Cup. Does anyone doubt that it is all about the money, and at all levels?
Mark Stanley
74
Posted 24/12/2021 at 15:04:24
Match postponed, will be good to give the injured a chance to get fit'ish. Will miss the boxing day fixture though.
John Keating
75
Posted 24/12/2021 at 15:18:39
See the statement said due to further injuries, not covid.
Rob Halligan
76
Posted 24/12/2021 at 15:33:53
So, according to SSN, the premier league "Regretfully Approved" the postponement of our game. So sorry about that, maybe next time we'll try not to have so many players with covid should we need another game postponing. I don't recall the premier league saying they regretfully approved postponing the RS game tomorrow.
Kieran Kinsella
77
Posted 24/12/2021 at 15:34:20
Dave 72,
How have you only seen it 20 times? I must have seen it 200. Never gets old. Brian, The Snowman -- another classic -- with the David Bowie opening. That apart, when I was a kid they used to show the same films every single Christmas though none were actually Christmas related: The Great Escape, Chitty Chitty Bang Bang, Wizard of Oz, Mary Poppins. Nonetheless, we watched them every year, and recorded them so we could watch them through the year before watching them "live" again the next Christmas.
Kieran Kinsella
78
Posted 24/12/2021 at 15:36:35
Rob
I think they can't care less about Everton, they just don't want Newcastle whining that Burnley will now have four games in hand heading into the January transfer window.
Dave Abrahams
79
Posted 24/12/2021 at 15:45:16
Kieran (77), yes I most probably have seen that film a lot more than twenty times but not as much as I've seen " Casablanca ", love the scene where the Free French supporters out sing the Nazi soldiers, and I like Bogie in nearly film he ever made.
Kieran Kinsella
80
Posted 24/12/2021 at 15:48:46
Dave
My favorite Bogart is The Treasure of Sierra Madre. Shows how greed drives you mad. The football authorities should watch it
Alan McGuffog
81
Posted 24/12/2021 at 15:55:51
Good bloke Humph. Think he fell foul of McCarthy...not the one we got from Wigan.
Love James Stewart although prefer him on a horse shootin up the bad guys
Dave Abrahams
82
Posted 24/12/2021 at 15:56:30
Kieran (80) yes I'll give you The Treasure of Sierra Madre and raise you The Maltese Falcon which had the brilliant Sydney Greenstreet adding his outstanding talent along with Peter Lorie.
Alan McGuffog
83
Posted 24/12/2021 at 15:59:00
The African Queen was always a regular at Xmas. Its about a boat by the way
Allen Rodgers
84
Posted 24/12/2021 at 16:06:21
What chance the Barcodes game being called off too ? I'd rather play them now than when they get reinforcements.

Dave Abrahams
85
Posted 24/12/2021 at 16:08:20
Alan (83) " It's about a boat by the way" Go way!! Didn't Bogie win an Oscar for this film? Or was it Kathleen Hepburn?
Brian Wilkinson
86
Posted 24/12/2021 at 16:08:48
We're no Angels, another good one and some great one liners from Bogart.
Much as I like Bogart, hard not to rate Clint Eastwood as the finest actor ever.
Alan McGuffog
87
Posted 24/12/2021 at 16:21:41
Dave...it was for the benefit of some people ( like me ) with puerile senses of humour.
Reminds me of being in the St Hilda after the match years ago.
Pub had thinned out at 6.30 ish and ITV were showing Jaws. Barman came round and said to a local, sat on his own " hey Billy this is Jaws "
Billy, totally laconic..." and I thought it was a programme about fuckin fishing "
Mike Gaynes
88
Posted 24/12/2021 at 16:25:58
Yep, Dave, that was Bogie's only Oscar.
Brian, I think you're all alone on that one. He will, however, go down as one of America's greatest directors.
Mick O'Malley
89
Posted 24/12/2021 at 16:27:29
I can't stand the likes of Klopp and Guardiola moaning about 2 legs in semi final of league cup, I notice he doesn't moan about playing unnecessary group games or dead rubbers in CL, why doesn't he ask UEFA to turn that into a knock out comp if he is worried about fixture pileups, now there'll be no replays in cups disadvantaging lower league teams who earn them, I hate the way football is going, I notice he got off Scot free again over calling out another ref and confronting him on the pitch
Bobby Mallon I wrote my post before I read yours so sorry for repeating it but I agree 100%
Bill Gienapp
90
Posted 24/12/2021 at 17:07:04
Mike (88) - agreed, I don't think Clint was versatile enough to hang with someone like Alec Guinness, but he's had a heck of a career both in front of and behind the camera... and the fact he's still directing and starring in movies in his 90s is pretty insane.
Derek Moore
91
Posted 24/12/2021 at 17:10:59
Fixture congestion imminent. Burnley looks as if they'll have a few games in hand. Advantageous to know what you need to do or does it merely ratchet up the pressure?


Don Wright
92
Posted 24/12/2021 at 17:19:27
Sorry guys I have to go with Mr.Marion Robert Morrison Rio lobo/Donovans' Reef/The longest Day / True Grit and The Quiet Man to name a few of his 84 ish films
Dave Abrahams
93
Posted 24/12/2021 at 17:21:06
Alan (87), No Alan I got the humour, it was me being slightly sarcastic.
Mike (88), with you on that regarding Clint Eastwood being a very good director of films rather than being a great actor.
Brian Wilkinson
94
Posted 24/12/2021 at 17:25:30
Come on guys westerns the man with no name, war film Kelly's heroes, where eagles dare, cop, Dirty Harry, comedy right turn Clyde, Grand Tourino, the guy can play any part, be a sad loss when we lose Clint.
Kieran Kinsella
95
Posted 24/12/2021 at 17:28:26
Don
I am a fan of The Duke also (not the Everton one though he's not bad) but I feel it's more because of exposure to his films as a kid (nostalgia) than because of his actual acting ability.
Martin Mason
96
Posted 24/12/2021 at 17:33:30
i think that the best decision would have been a 3 week break. The Omicron virus seems to spread very quickly whilst making nobody ill like a cold. I'd normally say just let it spread but the extra cases would make the government panic and introduce restrictions. Would have been great to see Everton get all of their players fir too.
Phil (Kelsall) Roberts
98
Posted 24/12/2021 at 17:41:37
Can't believe we have got this far on Christmas Films and nobody has mentioned Die Hard.
Christmas officially started just before 2am yesterday morning when Hans Gruber fell from the Nakatomi Tower.
Bill Watson
99
Posted 24/12/2021 at 17:46:54
Bobby #70
I fully agree. In normal (non Covid) times clubs have squads well able to cope with the Christmas/New Year games.
I'm sick and tired of foreign managers complaining about fixture overload when, as Bobby says, the very same managers don't raise a peep about meaningless preliminary European games or nonsensical International breaks.
If they don't like it they can always F off back to whichever league they've come from!
Andy Crooks
100
Posted 24/12/2021 at 17:47:58
Oh, how sentimental are blues. Nothing beats gathering the family together and watching the Exorcist.
Dale Rose
101
Posted 24/12/2021 at 17:52:27
Andy Crooks. Perfect choice . Myself it has to be Goodfellas. Perfect viewing for the whole family.
Brian Wilkinson
102
Posted 24/12/2021 at 17:53:26
Before the snowman, does anyone remember the selfish giant that used to be on each year, where he stops children playing in his garden, then all he gets is snow hail and the North wind, one of Oscar Wilde's I think.
Colin Glassar
103
Posted 24/12/2021 at 17:55:43
This is good news as it gives us a bit more time to get players back.
Scrooge (Alastair Sim) is my must see crimbo film.
Bill Watson
104
Posted 24/12/2021 at 17:57:56
Tom #58
What weeks would you choose for your winter break? What happens if the weather is atrocious before and after the break but fine during it?
It reminds me of the old insurance tale of the farmer who insured his herd of 100 cattle against being struck by lightening. On average he lost about one, each year, so he told the insurance company that in future he'd just insure for the loss of one. Fine, replied the company. Which one would you like to insure?
Mike Gaynes
105
Posted 24/12/2021 at 17:59:01
Brian, although certainly more versatile than John Wayne -- who essentially played the same character over and over for decades -- Clint's range is/was limited. He's been a powerhouse presence in lots of great movies, but in the Dollars movies, for example, the bad guys (like Eli Wallach) were way more interesting than Clint. Kelly's Heroes and Where Eagles Dare are two of my favorite movies of all time, but Donald Sutherland stole the former and Richard Burton buried him alive in the latter. His greatest performances have been late-in-life characters like The Unforgiven, The Mule, Million Dollar Baby.
Very good actor, no question. But finest ever? Uh-uh. Give me Poitier, Hanks, Streep (Bridges of Madison County was an acting mismatch), Hepburn, Stewart, Fonda, Steiger, Hackman, Freeman. People who can put actual emotions on screen.
Dale Rose
106
Posted 24/12/2021 at 18:00:24
Very surprised at your choice Colin. I thought it would have been Alex Iwobis golden football moments on betamax.
Robert Tressell
107
Posted 24/12/2021 at 18:03:47
Scrooged with Bill Murray is my personal favourite. And Bad Santa of course. Must try and watch Die Hard and Casablanca again though.
Eddie Dunn
108
Posted 24/12/2021 at 18:03:51
And Dale- you have to have pizza watching that.
Joe McMahon
109
Posted 24/12/2021 at 18:06:55
Not really Christmas films as such, but at this time of year I like Willy Wonker, The Railway Children and The Italian Job.
Eddie Dunn
110
Posted 24/12/2021 at 18:08:06
Got my daughter and partner here ad they have been picking films off their netflix account. I managed to get them all to watch "Deliverance" last night. What a great film.
Unfortunately my other choice "Female Trouble" got short shrift despite it's wonderful xmas morning scene. "I wanted Cha-cha heels".
Brian Wilkinson
111
Posted 24/12/2021 at 18:11:51
Probs on my own on this one but trading places, yeah.
Matt Traynor
112
Posted 24/12/2021 at 18:15:07
Martin #96, without wishing to re-open the debate about vaccines etc., a 3 week break would really only work as a circuit break as an almost total lockdown.
The problem is as economic activity resumes, especially international travel, the virus will thrive.
I speak as someone who should actually be 4,000 miles away, but when doing my fit-to-fly test last week, got a result that means I'm spending my first Xmas with family since 2012 - silver clouds and all that.
And I'm normally in a country that had lockdowns, curfews (passes secured via an app to go shop), and is about half the size of UK population-wise but has had fewer than 9k deaths.
I've no love for politicians of most colours, certainly not the incumbents here, but I also wonder how else they could've / should've dealt with things.
Strange times we live in.. To a brighter, less virulent future.
Brendan McLaughlin
113
Posted 24/12/2021 at 18:21:22
Even at this very sentimental time of year, I much prefer gritty, hard-hitting, "warts & all" social commentary...so it's ELF for me, every Christmas.

Kieran Kinsella
114
Posted 24/12/2021 at 18:25:06
Joe
The Railway Children never really explained why "Daddy," had to go away for a while leaving Dinah Sheridan to play at "being poor for a while," even though their country digs were luxurious compared with the tenement slums real poor people were living in. Was the Dad a commie? or something. Whatever it was he got out pretty sharpish after all the drama with the fat controller Bernard Cribbins and all.
Brian Wilkinson
115
Posted 24/12/2021 at 18:29:46
The one great mystery we will never know is what Maureen O,Hara whispered in John Wayne's ear, at the end of the quiet man.
All we know is it was very rude and the director insisted she said it, to get the shocked looking face, from the Duke.
Brent Stephens
116
Posted 24/12/2021 at 18:33:03
Lots of fav films I could mention but it's She Who Must Be Obeyed who controls the remote control.
Would love to have seen Chaplin in Modern Times. One day maybe.
Brendan McLaughlin
117
Posted 24/12/2021 at 18:35:00
Brian#115
Apparently it was..."All Kopites are Gobshites"
Not sure why it was considered rude...
Mike Gaynes
118
Posted 24/12/2021 at 18:35:47
We don't observe Christmas, but I have an odd weakness for holiday movies. Trading Places, Sleepless in Seattle and the old Burl Ives Rudolph movie always snag me. And my choir sang the Charlie Brown Christmas music this season. It was fun.
Brian, assume it was a particularly off-color variation on making children, but Maureen insisted that the Duke and Ford never disclose it, and they were faithful to her wishes.
Did you know she broke her hand when she belted Wayne after that first kiss in the cottage?
Brian Wilkinson
119
Posted 24/12/2021 at 18:43:47
Nice one Brendan.
Here's one for you all, at the end of the Italian job, Michael Caine says I have a plan, it was then going to start the scene, in the next Italian job, but because it flopped in America, they never made a follow up.
Anyway his plan was to keep the engine running, until the fuel ran out, making it lighter at the back of the coach so they could then get the gold.
Darren Hind
120
Posted 24/12/2021 at 18:47:26
I gave the arl films a miss today and Watched a sky doc about Leonard Cohen. Never took much notice before
How the fuck did I let this absolute genius sail under my radar for so long ?
Already started correcting my remissness - If thats a word
Robert Tressell
121
Posted 24/12/2021 at 18:48:12
Brian & Mike - Trading Places is truly brilliant. Sadly, because of all the swearing and (artistic) toplessness, I'll be giving it a miss with the family tonight and watching a Narnia film (while daydreaming about the rumour that Holgate is off to Newcastle).
Merry Christmas all. Have a really good one (or festive period generally since you don't observe, Mike).
Brian Wilkinson
122
Posted 24/12/2021 at 18:57:28
Certainly not a family film Robert.
Jay Harris
123
Posted 24/12/2021 at 18:59:42
Thanks to Dave A for reminding me of my all time favourite movie The Maltese Falcon"
and special mention to "Great expectations" and "The Thirty Nine Steps". Great books and great movies.
Peter Mills
124
Posted 24/12/2021 at 18:59:52
Darren#120, listen to "Alexandra leaving".
Kieran Kinsella
125
Posted 24/12/2021 at 19:03:06
The Third Man is another great. Probably my favorite. Not really a Christmas regular though. Orson Welles in the limelight, Joseph Cotten in his Columbo outfit.
Gerry Quinn
126
Posted 24/12/2021 at 19:09:21
Begovic sent a hilarious message out today...quote "Was looking forward to playing up front"
Even we know that would have been an improvement on Rondon!
Danny O'Neill
127
Posted 24/12/2021 at 19:17:24
I'm not a big TV or film person, but all this talk spiked my interest.
Kelly's Heroes and Where Eagles Dare are great shouts. I can and have watched both countless times. Give me a better theme tune than Burning Bridges or a character better than Oddball?
Not very Christmasy but sticking with the war theme, a more modern film I like is Lone Survivor.
Bobby Mallon
128
Posted 24/12/2021 at 19:22:00
Best movie for me is the wild geese
Chris Jones [NZ]
129
Posted 24/12/2021 at 19:33:35
Just walking the dog on a hot sunny Christmas morning. Still can't get used to it after living in the southern hemisphere for 20-odd years. Just want to wish you all a great Christmas Blues.
And go and watch Jim Broadbent in Get Santa.
Terry Downes
130
Posted 24/12/2021 at 19:34:19
Not a family film but 'Bad Santa' cracks me up!
Brian Wilkinson
131
Posted 24/12/2021 at 19:37:12
Danny, have you seen hacksaw ridge, based on a true story where he refused to carry a rifle into battle, because of his beliefs, but saves 75 men.
Brian Wilkinson
132
Posted 24/12/2021 at 19:39:31
Watched wild geese just last week Bobby, great film, got to say I do like a good world war 2 film as well.
Danny O'Neill
133
Posted 24/12/2021 at 19:43:32
Wild Geese and Hacksaw Ridge. There are 2 strong shouts Bobby & Brian.
I know what you mean Chris Jones. I had that when in Cyprus and even Italy. Strange feeling doing Christmas in sunglasses and 20 degree celcius. Much prefer those frosty mornings like yesterday with the low sun rise coming up and the flask keeping my hands warm this time of year. The dogs? Well they're somewhere!!
Dave Abrahams
135
Posted 24/12/2021 at 19:56:12
Mike (105), Re John Wayne: " Who essentially played the same character over and over for decades" you literally took the words out of my mouth, in fact I would have wrote them words but I've been out to " Midnight Mass" at 6-00pm.
This thread has been like a Monday night out with my mates and we get on the subject of films and film stars or music and the different songs and singers, with films because of our ages Black and White films get a good per cent age of the conversation, mostly because they were very good films, one of my favourites was " Detective Story " with Kirk Douglas,most of the action takes place in a police station, it's been on TV recently onTalking Movies channel 81 which shows a lot of shite but some very good old movies like. " On The Waterfront".
Brian Wilkinson
136
Posted 24/12/2021 at 19:58:16
The big Red one and a bridge too far high up on my fav war films.
Ray Roche
137
Posted 24/12/2021 at 19:58:39
The Godfather trilogy. Incomparable.
Barry Hesketh
138
Posted 24/12/2021 at 20:02:38
The Daily Star of all media outlets, reminds us how hectic things used to be around Christmastime.
Up until 1955, football was as much of a Christmas tradition as Turkey, Brussel Sprouts, and frighteningly embarrassing attempts at charades.

Thousands of spectators would put all festivities on hold to flock down to the stadiums to watch the finest football teams compete against one another.

And on Christmas Day in 1888, Everton travelled to their pre-Goodison Park home; Anfield, to take on Blackburn Park Road in the Lancashire Cup, before regrouping to face Ulster FC straight after.

In what considered to be typical Everton tradition, the Blues did not make things easy for themselves as they fell behind to Blackburn in their opening match.

However, they came roaring back to win 3-2 and send their supporters into a brief interval happy.

Their victory over Blackburn was just half of their working day, as they had to then face Ulster FC in an exhibition match. Fortunately, this affair was a lot easier, as they cruised to a 3-0 victory against the Northern Irish side.

While Premier League managers have hissed over the prospect of playing two days later, Everton were barely given 24 hours of rest, before they had to pull on the famous blue jerseys and take to the field once more.


And if lining up for another tough match less than one day after playing two matches was hard enough, their fixture against Bootle was played amid a furious hailstorm.

The contest was as drab as a Christmas Cracker without any toys or jokes inside, as the Toffees' 0-0 draw against Bootle meant they were unable to secure their third victory in 36 hours.
Merry Christmas and Happy 2022 to all who contribute to this site, let's hope that Everton's fortunes change for the better in the coming year.

Danny O'Neill
139
Posted 24/12/2021 at 20:03:45
Brian, you take it to another level. A Bridge too Far. I was at Arnhem 3 years back. Very moving, as is Ypres / Iper.
One of the most British quotes ever when the Paras where asked to surrender:
We don't have the proper facilities to take you all prisoner. Sorry, but we can't accept your surrender.
Now there is a potential challenger to the Kelly's Heroes theme tune.
Dave Abrahams
140
Posted 24/12/2021 at 20:07:51
Darren (120) Leonard Cohen, brilliant with " Dance Me To The End Of Love" a very moving song about Jews in the concentrations camps playing the music as their fellow Jewish friends are taken to the gas chambers.
He also wrote and sang some other brilliant music, genius is often too quickly given to a lot of people but not, in my opinion, to Leonard Cohen, he wrote a lovely essay about Jesus Christ, which I copied and have it somewhere in the house.
Pete Cross
141
Posted 24/12/2021 at 20:13:13
How about Master and Commander,great film
Brian Wilkinson
142
Posted 24/12/2021 at 20:17:23
Danny how about the scene when the escaped lunatics are laughing at them and Sean Connery says, do you think they know something we don't.
Mike Gaynes
143
Posted 24/12/2021 at 20:18:28
Darren #120, I never heard of him either until I heard k.d. lang sing Hallelujah at the Vancouver Olympics. I now have five different versions of the song on my phone. And Cohen's biography on my bookshelf.
Dave #140, yes, an incredibly powerful Cohen song, especially sung in that gravelly bass. Have it on my phone.
Ray #137, the first two were magnificent. I found the third depressing.
Brian #136, yes, and I'll also nominate Longest Day, Guns of Navarone, Midway, Enemy at the Gates, Dirty Dozen, Great Escape and Inglorious Bastards. And parts of Private Ryan are extraordinary.
Paul Birmingham
144
Posted 24/12/2021 at 20:18:35
The Burnley game, is off, the right descision in my view, but really questions the EPL, and what they stand for and what they do?
What took them so long?
Peps mention of a strike?
SFA?
On to war films as is the subject, I like military history, 1917, Hell and Back, Beau Gest- Garry Cooper, Cross of Iron, All Quiet on The Western Front, Four Feathers, Battle of Britain, A Bridge Too Far, Waterloo, and more.
Not always factually accurate but good entertainment.
All have a Ball tomorrow.
☘️🙏🏼🍺🥃🥃
Tony Everan
145
Posted 24/12/2021 at 20:20:16
The Big Lebowski is one of my favourites, I haven't watched it for about 10 years so I'm overdue.
Dave Abrahams
146
Posted 24/12/2021 at 20:24:23
Pete (141) " Master and Commander" come on Pete give us a brief description about who is in it and the plot.
Danny O'Neill
147
Posted 24/12/2021 at 20:24:41
The madness of conflict Brian. Very apt.
Cross of Iron. What a call Paul.
It's in Russian with subtitles, but 9th Company in another one. The Russians is Helmand Province decades before we went there.
John Boon
148
Posted 24/12/2021 at 20:25:46
My Christmas Memories are not really of Songs and Movies but of going to watch Everton.
It was a tradition to play the same team twice over the Christmas Period. I do NOT remember players complaining about too many games. Mind you they didn't have any choice.
On Dec 26 th 1956 I went with my mate Alan Clare on the train to Birmingham to see us lose 6-2'
On Dec 27 We went to Goodison to see Everton win 5-1 against the same team Birmingham City
What a Christmas Teenage memory that was. I think there would be a Player Protest if they tried that today. The double fixture Christmas games were always fun and lots of suitable refreshments both home and away
Duncan McDine
149
Posted 24/12/2021 at 20:27:23
Bit late to the party - a mate just told me the Burnley game is now off… he followed it up with the sarky comment "so you can enjoy Christmas now". On the Xmas films, I never get tired of Home Alone, but regarding the proper films, Gran Torino is a beaut. I watched it in the cinema and felt a bit choked up at the end, looked to my right and a big fella was wiping a tear from his eye, saw me and said "the fucking hay fever in here mate"!!!
Brian Wilkinson
150
Posted 24/12/2021 at 20:27:38
Going to play my trump card and throw das boot in.
The lost battalion is a decent film but set in World War One, the main guy in the film wearing glasses, is the kid that played in the film the Champ.
Colin Glassar
151
Posted 24/12/2021 at 20:28:18
Dale 106, Iwobi would be more suitable in a remake of Victory. He could play the Stallone part as Sly didn't have a clue about how to play the game either.
Brian Wilkinson
152
Posted 24/12/2021 at 20:31:27
Mike@143, now your talking some great films there, great shout for Cross of Iron.
Dave Abrahams
153
Posted 24/12/2021 at 20:34:21
Mike (143), " Inglorious Bastards " I enjoyed that film but at the same time I was disappointed in it because I thought it was based on fact but it was a spoof on what might have been.
I saw that on the Philarmonic Hall, enjoyed those film nights there but apart from " It's a Wonderful Life " being shown today they seem to be finished because of the virus epidemic because no films are shown on the brochure for the first three months of next year.
Oliver Molloy
154
Posted 24/12/2021 at 20:34:26
Darren, you obviously were not mixing in the right circles all those years ago - what were you listening to !..lol.
I was fortunate enough to witness this genius perform live over here in Ireland a few times.
He was a master of his trade, the likes the world will never see again.
Javier Mas ( played in Cohens band ) who plays a variety of string instruments including the banduria, laud, 12-string acoustic guitar etc is another genius - born with magical fingers !
I found his shows very moving, the lyrics travel deep into your soul, like Morricone's music, emotionally it gets to you.
Cohen recited "1000 kisses deep" - the poem in it's entirety at one of the gigs and I was sitting beside a woman who was in bits - she had just lost her husband through suicide.
If you haven't already, I think you might like "searching for sugarman", great music documentary about Rodriquez.
Happy Christmas ye all, hope its all good.

Oliver Molloy
155
Posted 24/12/2021 at 20:39:37
It's a Mad, Mad, Mad, Mad World.
Brian Williams
156
Posted 24/12/2021 at 20:40:17
Typical ToffeeWeb testosterone ruling over level headedness when it comes to choosing the greatest films.
Yes we all love a good action film, and you really can't beat violence a plenty, but for cinematic classics that had a huge effect I'm afraid ( but not of your disdain and mocking laughter) that The Wizard of Oz and The Sound Of Music are stand out works of pure cinema gold.
Now all fuck off Bah Humbug coz I've got Covid and am in isolation for at least another six days.
So "Merry Christmas yer filthy animals."
Duncan McDine
157
Posted 24/12/2021 at 20:41:15
John Boon - I love that story. I had no idea about that tradition of Christmas time back to back games against the same team. From those score lines, playing at home was obviously a massive advantage compared to nowadays. Thanks for sharing, have a Merry Christmas one and all.
PS - Brian Williams. Hilarious! Get well soon
Paul Birmingham
158
Posted 24/12/2021 at 20:43:28
Great Film, that one Danny, they don't make them like that any more.
The Europeans have over time made epic battle films about the Napoleonic wars, brilliant battles, but not the same in sub titles.
John Boon, that's a citation award and fantastic support, epic, and what memories.
1994- German preseason and Mike Walker, that was some tour, great memories.
Paul Birmingham
159
Posted 24/12/2021 at 20:45:44
Dave, @153, very apt film, and sums up to a degree the best part of the last 30 years at Everton.
Tony Abrahams
160
Posted 24/12/2021 at 20:49:07
Brilliant nostalgia coming from all quarters tonight, and I don't know why but it took me back to the night that Liverpool lost a final against Seville, and somebody put LOS TIEMPOS VAN CAMBIANDO, on this fantastic website. (Tony Draper, maybe?)
I wish I could download it for all you beautiful Evertonians, but I'm just not technical, so enjoy Christmas everybody, especially Lyndon and Michael (who hates anything nostalgic!) and let's hope that someday soon, the times are going to change for Everton, so our younger generations get to feel real joy🙏🙏
Bill Gall
161
Posted 24/12/2021 at 20:49:46
HI John #148.
Talking about those Xmas games. I seem to remember the games against Burnley in 1970 where we went to Burnley first and got crushed in the crowd even trying to get in, and then the return game was at Goodison around Boxing Day with just normal queuing up to get in and was surprised when I read there was over 70,000 in the crowd, and that is why I remember that one, but as you say it was part of Xmas tradition that you looked forward to.
Tom Harvey
162
Posted 24/12/2021 at 20:51:17
On the subject of John Wayne, his best film for me was his last film, The Shootist.
There was a geniune grittiness about this film, all the gloss and bravado of his previous westerns was gone. He'd had a miserable time with cancer by the time he made this fim and fully understood how to act his part.
Bill Watson
163
Posted 24/12/2021 at 20:52:45
I'm out of my depth with all this film stuff so I'll settle down to watch Pink Floyd in Pompeii.
I googled 'Best of' Iwobi but it was only a couple of minutes long!
Paul Tran
164
Posted 24/12/2021 at 20:56:51
Darren #120, you'll spend a lot of good times acquainting yourself with the great Leonard Cohen. Better late than never!
Have a Merry Christmas all Blues everywhere!
Bill Gall
165
Posted 24/12/2021 at 20:58:13
My Film would be Kingdom of Heaven that ends with the saying.
After 2000 yrs they are still fighting over Jerusalem.
Dave Abrahams
166
Posted 24/12/2021 at 21:03:00
Oliver (155), definitely thumbs up to that one mate, literally fell off the couch watching some of the scenes in that film ' It's aMad, Mad, Mad World ' including Spencer Tracy as a bent detective.
One film I watched on The Philarmonic left a lasting impression on me was " 21 Grams" the star was a South American actor who I'd never heard of, before or since, he was simply outstanding, Sean Penn was in it as well, the film starts at the end and works it's way through the story,makes you concentrate on the story, it's about a man, Sean Penn plays that part, waiting for a heart plant operation, which brings the title of the film into operation, because they reckon when a soul leaves the body it is 21 grams lighter.
I think this film is well worth watching.
Don Alexander
167
Posted 24/12/2021 at 21:10:33
In the pantheon of great movies two that stood out to me at the time were "In The Heat of The Night" and "Mississippi Burning". From yesteryear "Angels With Dirty Faces" tops all of the fabulous Jimmy Cagney's other memorable psycho roles. The last five minutes are cinematic heaven from a genius actor.
Merry Christmas to one and all - and, yes, even Mr Hind!
Darren Hind
168
Posted 24/12/2021 at 21:11:52
Dave A
"Dance with me to the end of love". I sobbed. Thought I'd forgotten how to do that
Peter. As ever lad. As ever
Mike G
There may only be a few days left in of the year but we. finally got on the same page.
Oliver
Bit of John Kay and Steppenwolf, bit of Syd Barett, bit of Richie Blackmore, I can always make room for another genius. I will check out Javier Mas too
Toney Everan
You. My old china plate, need to check in to see what condition your condition is in. Brilliant film
Dave Abrahams
169
Posted 24/12/2021 at 21:13:11
Bill (163) they must have made some of it up!!
Darren Hind
170
Posted 24/12/2021 at 21:22:33
Paul T.
Andy Crooks offered the latest word, but much as I like his posts. I have long since I realised that when it came to picking winners. He is as shite as I am.
I have waited for the Inverness shark to surface and there you are
King George ?
Brendan McLaughlin
171
Posted 24/12/2021 at 21:22:43
"One Flew Over The Cuckoo's Nest"...not a million miles away from a fansite I often visit!
Obviously Ruane is McMurphy...Mike Gaynes, Chief Bromden. Nurse Ratched...has to be Blue Pill..see what I did there!!!
Allen Rodgers
172
Posted 24/12/2021 at 21:23:02
Oliver @155. A great movie. The big dubya.
Brian Wilkinson
173
Posted 24/12/2021 at 21:26:21
Good job we never got onto Ealing films.
Dave Abrahams
174
Posted 24/12/2021 at 21:32:27
Don (167), three great films there Don with " Mississippi Burning " the stand out for me because it was a true story about the racial issues in the Southern part of the USA, although " In The Heat of The Night " had in part racial issues combined with great performances from Sydney Poitier and the much under rated Rod Steiger who played the lead role in " The Pawnbroker" another tear jerker of a film, while Sydney Pointier was in the brilliant " The Defiant Ones " with Tony Curtis.
Kieran Kinsella
175
Posted 24/12/2021 at 21:41:50
Paths of Glory Kirk Douglas WWI film about unjust court martials is my favorite war film but the Longest Day (what a cast) and The Great Escspe (what a cast) are up there
Dave Abrahams
176
Posted 24/12/2021 at 21:43:30
Brian (173),true, we'd have spent from now to New Year's Day just talking about the films Sam Kidd appeared in!!
Dave Abrahams
177
Posted 24/12/2021 at 21:48:09
Kieran (175), a film about the army but not a war film " Tunes of Glory" was a mentally violent film, brilliant with great performances, as ever, from Alec Guinness and John Mills.
Jay Wood
[BRZ]
178
Posted 24/12/2021 at 21:55:17
On 'Saving Private Ryan', a true story.
If there has ever been a more authentic portrayal of the brutalities of war than the opening 30 minutes of the D-Day landing, or any war scene, I've yet to see it.
There are many stories of cinema audiences leaving at the end in complete silence. Such a one was my mate's Uncle Pat.
Pat lived into his 90s. A huge Irish man who lit up any and every room or pub he walked into which would soon be reeling with laughter at his presence.
He was on Omaha Beach that fateful day. He watched the film with one of his sons. Untypically of Pat, he was silent, without words even in the pub they stopped in after the film, for nearly an hour, until he softly spoke: 'That's how it was.'
Remembering it was an army of extremely young conscripts, not a professional army, made up of butchers and bakers and candlestick makers. Farm hands and thatcher's and smithies. Pat was wounded and placed in an American field hospital with all the wounded survivors. Missing limbs. The blinded. The traumatized.
Pat was Pat and day long had them laughing. Then came an order from on high. As a Brit, he had to be transferred to a British field hospital to free up space for a Yankie service man.
The chief medic point blank refused to obey the command with the following words.
'I heal their bodies. He heals their souls.'
Merry Christmas, one and all.
Paul Tran
179
Posted 24/12/2021 at 21:57:04
Darren #170, at the moment I'm leaning towards Chantry House. Unexposed good jumper, slightly under the radar.
The real excitement is the 11.57 at Fontwell, where my new recruit Boreen Boy makes his debut over hurdles. Looks exciting, though not betting value
With a bit of look we'll see Trump going back over hurdles on Wednesday and Blue Stello building on his winning debut.
Mike Hughes
180
Posted 24/12/2021 at 22:02:01
I just checked in here and came across the off-topic subjects.
Re: Clint Eastwood - "Gran Torino" was great. Brilliant ending.
Re: John Wayne " The Searchers".
Re: Christmas movies - "Groundhog Day" if it counts (it was snowing) and represents every season for the past 25 years for us. Bill Murray.
If we're talking non-Christmas movies I'll throw in my 3 - "Heat" (actually a re-working of LA Takedown), "The Shining" (there is also a TV version) and "Taxi Driver" (Travis Bickle would have been in the Park End).
Re: Leonard Cohen.
Back in 1984, I came back to my Mum and Dad's in Walton for Christmas (I was at Sheffield Poly). After a few beers out with my Dad I broke into "Famous Blue Raincoat" which, despite my ale house rendition, became a family favourite. I had it on cassette (it got nicked from my car in Gateshead), vinyl (left in my mate's attic in Sheffield when I went to work abroad) and CD.
Just love that song.
"If it be your Will" - will be played when I clog it, just before Z-Cars comes on.
"The Future" is a good album from the 90s.
LC would have been a blue.
On the footy, I'm glad it's postponed. Get back to full strength.
All the Best to all Blues.
Boxing Day -
City, Chelsea and The Arse to win. And Kempton races.
Mike Gaynes
181
Posted 24/12/2021 at 22:04:32
I haven't seen Cross of Iron... probably the only Coburn film I've missed. I'll have to find it and see it.
In The Heat of the Night is one of my ten best ever... brilliant by the two leads but also some superstar supporting actors there... Lee Grant, Warren Oates, Anthony James (later whipped to death by Eastwood in High Plains Drifter), Matt Clark, Beah Richards and Scott Wilson (the US ambassador in The Last Samurai).
Darren, we always agree on something once a year. Left it late this year. Like an 89th minute Tim Cahill header.
Jon Harding
182
Posted 24/12/2021 at 22:08:42
Great thread. Interesting that passionate football fans go mostly for war films and westerns. What about comedies? I'll start you off with
Blues Brothers
Life of Brian
National Lampoon's Animal House
Merry Christmas
Brian Wilkinson
183
Posted 24/12/2021 at 22:10:12
Unusual film Mike cross of Iron, have parts of it in slow motion, but sure you will enjoy the Russian ladies scene.
Brian Wilkinson
184
Posted 24/12/2021 at 22:11:11
Blazing saddles.
Brent Stephens
185
Posted 24/12/2021 at 22:13:41
The Shawshank Redemption. One of the few films I've watched more than once.
"Obtoos" - wonderful.
Kieran Kinsella
186
Posted 24/12/2021 at 22:18:43
Brian Wilkinson
Just the thought of Gene Wilder brings a smile to my face. A manic comic genius
Brian Wilkinson
187
Posted 24/12/2021 at 22:19:13
Good shout Brent, been some great prison films, shawshank redemption, the Green mile, Papillon, cool hand Luke, brubaker, Alcatraz.
Paul Birmingham
188
Posted 24/12/2021 at 22:20:59
As there's no Everton game, Ill be checking the KP KGVI, card.
Does any one have any tips?
Thank you.
Brendan McLaughlin
189
Posted 24/12/2021 at 22:25:33
Loved "Dog Day Afternoon" and "Midnight Express"...not to be confused with "Midnight Run" although that's a good call on the comedy front.
Jeff Armstrong
190
Posted 24/12/2021 at 22:27:32
The Big Lebowski, or ANY Coen brothers film, (Millers Crossing, superb.)
ANY Wes Anderson film.
Seasonal... It's a Wonderful Life., Bad Santa.
Brent Stephens
191
Posted 24/12/2021 at 22:28:37
Oh, Brian, Papillon. Wonderful. The book was good, too.
The Magus - crap film, great book.
Paul Tran
192
Posted 24/12/2021 at 22:31:32
Paul, I quite like Danny Kirwan in the novice chase & Chantry House in the big one.
Paul Birmingham
193
Posted 24/12/2021 at 22:33:04
On the War film theme, also Major Dundee, Tunes of Glory, Glory, The Viking's, Gettysburg, and the Errol Flynn Charge of The Light Brigade..
Brian Murray
194
Posted 24/12/2021 at 22:35:57
Brian Wilkinson 184. Mel brooks blazing saddles. A classic. Town mayor to new sherif. I give you a laurel ( wreath ) and hardy welcome to our town. Would never get through censorship today that film mores the pity. Gene wilder great lines in it as well.
Tom Harvey
195
Posted 24/12/2021 at 22:40:21
The Last Detail?
Remember Jack Nicholson, Randy Quaid and Otis Young? Nicholson and Young, two Military policeman taking a young sailor to a military jail for a long stay, take their time and have few beers along the way.
Paul Birmingham
196
Posted 24/12/2021 at 22:40:32
Cheers Paul T, Ill be studying Boxing Day, the beers, whiskey and ggs!
Alan McGuffog
197
Posted 24/12/2021 at 22:42:02
Tom an absolutely brilliant film. With a really sad ending.
Drew O'Neall
198
Posted 24/12/2021 at 22:48:26
Withnail and I.
I am I and Everton is Withnail.
Tom Harvey
199
Posted 24/12/2021 at 22:48:59
Alan,
It's one of those all time films that somehow goes under most peoples radar.
What a film! The story and the reality brought to it by the actors.
Brian Murray
200
Posted 24/12/2021 at 22:49:48
Bill gall post 166. Burnley always seemed a bogey side in the 70s. The bald Peter noble always seemed to score v us although we made anyone look like gerd muller from 71 onwards.
Jeff Armstrong
201
Posted 24/12/2021 at 22:51:20
Good shout Drew, we won the league that year, 1969-70
Mike Hughes
202
Posted 24/12/2021 at 22:52:11
Jeff 190
Fargo with William H. Macey.
"You should have seen the other guy."
Brilliant.

Jeff Armstrong
203
Posted 24/12/2021 at 22:55:40
Mike, The Big Lebowski,
Dude, "the Rug, kinda brought the room together "
Brendan McLaughlin
204
Posted 24/12/2021 at 22:56:59
"The Man Who Would Be King"
Suprisingly not a Blue Bill biopic but an excellent film featuring both Michael Caine & Sean Connery.
Alan McGuffog
205
Posted 24/12/2021 at 22:58:00
Tom...mid 70s I was living and working in Hulme, Manchester. Concrete jungle but there was a brilliant 4 screencinema called the Aaben.
Showed all those sorts of films...remember Scarecrow..Al Pacino and Gene Hackman. Steelyard Blues with Donald Sutherland and Jane Fonda. Don't Look Now...Sutherland and Julie Chridtie. Still can't watch the final scene in that one.
Paul Birmingham
206
Posted 24/12/2021 at 22:58:01
Brendan @204, yep a great film.
Brian Wilkinson
207
Posted 24/12/2021 at 23:01:23
Two film that seems to get better with every viewing is a clockwork orange and the warriors.
Tom Bowers
208
Posted 24/12/2021 at 23:04:22
Saw Blazing Saddles on the Odeon with a bunch of workmates. LMAO along with everyone else. Mel Brooks is just a brilliant mind. I remember well his Friar Tuck in Robin Hood Men in Tights--another laughter classic.
Tom Harvey
209
Posted 24/12/2021 at 23:05:28
Alan,
Don't Look Now?
I couldn't remember that one offhand, I've just looked it up and little bits of it are coming back to me. I'll watch that again.
One thing is for sure I very rarely want to watch any modern fims again
Jeff Armstrong
210
Posted 24/12/2021 at 23:06:00
Wow Brian, did you go to the Plymouth cup tie in 75?
Mel Brooke's, made 2 jokes in his entire life!imo
Drew O'Neall
211
Posted 24/12/2021 at 23:08:03
Glengarry Glen Ross is another with great performances of incredible dialogue (Jack Lemmon, Al Pacino, Alec Baldwin, Ed Harris, Kevin Spacey)
James Flynn
212
Posted 24/12/2021 at 23:08:24
Blackadder's A Christmas Carol.
Drew O'Neall
213
Posted 24/12/2021 at 23:09:17
Brian 207
'War-riors, come out to play-yay'
Jeff Armstrong
214
Posted 24/12/2021 at 23:11:29
Drew, never watched that, even though I know it's an Oscar winner, will deffo watch this in coming weeks as I've got a load of time off.
Alan McGuffog
215
Posted 24/12/2021 at 23:12:05
Tom...and the lesser known Nicholson ones I loved King of Marvin Gsrdens, The Passenger, Five Easy Pieces.
Happy Xmas to you and all TWs
Tom Harvey
216
Posted 24/12/2021 at 23:15:09
Warriors was a bit of wierd film, if you ask anyone who lived in NY at the time, they'll tell you there were no mixed race "United Colors of Benetton" gangs in NY, they were formed on racial lines.
Don Alexander
217
Posted 24/12/2021 at 23:26:14
On the subject of funny movies "La Cage aux folles" takes some beating. It's a farce about "gayness" versus "straight-laced", and its wit, pace and acting is off the page, even though it's in French with English subtitles.
Brent Stephens
218
Posted 24/12/2021 at 23:30:28
The Crying Game.
Brendan McLaughlin
219
Posted 24/12/2021 at 23:36:02
Aw Brent #218
Just got me thinking Irish..."My Left Foot"
Alan McGuffog
220
Posted 24/12/2021 at 23:36:12
Don...its bloody hilarious
Brent Stephens
221
Posted 24/12/2021 at 23:38:48
Yes, Brendan - superb.
Not a film but the TV series Normal.
Tony Abrahams
222
Posted 24/12/2021 at 23:39:02
What about Evil Roy Slade? Midnight Run, brought a smile to my face Brendan, because The Duke, is definitely one of my favorite ToffeeWeb characters, and Dog Day afternoon, was also a very funny film, and can still make me laugh, until they shoot poor Sal.
James Flynn
223
Posted 24/12/2021 at 23:40:28
One of the greatest war films never mentioned: Breaker Morant
Kieran Kinsella
224
Posted 24/12/2021 at 23:51:28
Drew
We need the men from downtown to send Alec Baldwin on a mercy mission to Finch Farm. He can show Tom Davies his brass balls and snatch the coffee from Rondon. Then break the bad news: you're fired.
Brendan McLaughlin
225
Posted 24/12/2021 at 23:55:11
Brent #221
"Normal People"...brilliant. Have you watched "Derry Girls" on Channel, 4?
PS
Michael& Lyndon must be in the festive spirit the night, allowing us to talk this much non-football s****!
Nearly time..happy Crimbo all!
Brent Stephens
226
Posted 24/12/2021 at 23:57:29
Yes, Brendan. Derry Girls. Great mix of different characters.
Jeff Armstrong
227
Posted 25/12/2021 at 00:12:52
Succession
The White Lotus
Fantastic TV
Brian Murray
228
Posted 25/12/2021 at 00:15:22
Jeff @210,
Yes I was at Plymouth in '75. Mick Lyons finest hour as a Blue. Should've been our year as two 2nd division sides got to the Final. The next round, the curse of Clive Thomas even then, 2 years before the FA Cup semi. Lyons scored a perfectly good goal when it was one each vs Fulham.
Lots if nearly moments in the 70s and, as Latchford said, we was only a decent goalie away from winning the league twice.
Kieran Kinsella
229
Posted 25/12/2021 at 00:15:46
Jeff
I enjoyed both. Love Tom and Greg's dynamic.
Mike Gaynes
230
Posted 25/12/2021 at 00:16:02
'Von Ryan's Express'. Sinatra really could act a little. Trevor Howard could act a lot.
Jeff Armstrong
231
Posted 25/12/2021 at 00:18:56
Kieran, Tom and Greg, Bill & Farhad... pair of complete idiots.
Laurie Hartley
232
Posted 25/12/2021 at 00:21:10
Some movie scenes you never forget:
https://youtu.be/-PdHtWmP-Vw
Jeff Armstrong
233
Posted 25/12/2021 at 00:21:44
Brian, I was at Goodison when Busby scored the winner, total travesty that, Thomas had in for us long before 77, . Twat
Brian Murray
234
Posted 25/12/2021 at 00:23:01
'The Godfather', Al Pacino's famous line. "Just when I got out, they pulled me back in." Sounds like a closet blue 😂💙
Brian Murray
235
Posted 25/12/2021 at 00:31:36
Jeff. We need the idiot with the money. The other one is surplus – I hope he's told that soon as. That's my wish for the New year. He should be nowhere near the club, never mind hovering about for the new stadium at Bramley-Moore Dock unveiling.
Don Alexander
236
Posted 25/12/2021 at 00:51:26
The thing about that bent bastard Thomas in '77 is that in his next match at Goodison, when his name was announced to massive boos around the ground, he just stood there with a stupid grin on his face and clicked his fingers to mock us all.
I sometimes think he's been adopted as the patron saint of so-called referees ever since when it comes to us Toffees.
Brian Murray
237
Posted 25/12/2021 at 00:56:31
Don. A terrible fatal mix of a totally bad ref and a big ego and we got the brunt of it. We have lost or cost us about 7 derbies in my lifetime due to iffy refs but he was the worst by far.
Brendan McLaughlin
238
Posted 25/12/2021 at 01:01:37
So Don and Brian,
In terms of films... you're going for "Thomas, the Wank Engine"?
Tony McArdle
239
Posted 25/12/2021 at 06:30:09
The Victors – execution scene
https://www.youtube.com/watch?v=_N2o6MAxecA
Surely one of the most moving scenes in a war film with a Christmas theme.
Alan J Thompson
240
Posted 25/12/2021 at 06:43:45
A few of my favourite movies got a mention but two I rate very highly barely ever get a mention and seem difficult to find, "Paris, Texas", what Wenders might have made had he not run out of money.
The other, for me, one of the greatest comedies, Woody Allen's "Annie Hall", I see another few jokes every time I watch although can't seem to find it online these days.
Mike Gaynes
241
Posted 25/12/2021 at 07:13:25
Bedtime after a quadruple feature on a rainy Xmas Eve in Seattle: The Bishop's Wife (Sarah loved Grant and Niven), Trading Places, the original 1938 Christmas Carol (Reginald Owen), and McLintock! with Wayne and O'Hara.
And so to bed.
Alan McGuffog
242
Posted 25/12/2021 at 09:07:43
Agreed Tony no dialogue just Sinatra ( ?) Singing Have Yourself A Merry Little Xmas
Dave Abrahams
243
Posted 25/12/2021 at 09:20:14
Mike (230, yes I loved Sinatra the singer and he could act a bit but he robbed the best supporting actor Oscar off Jack Palance the gunslinger in Shane and the actor, can't remember his name, who played a comic part in Stalag 17 who were both up for the Oscar that year.
It just shows you how many brilliant films have been made with hundreds not mentioned on here but I'll leave it there with thanks to Michael and Lyndon for letting us indulge ourselves on Christmas Eve, thank you both very much.
Dave Abrahams
244
Posted 25/12/2021 at 09:25:17
Brian (237),
Yes Thomas was a bit of a Roger Hunt but Clattenburgs refereeing when he had a very big part in helping Liverpool to beat us 2-1 was pathetic, unforgettable and definitely unforgivable.
Brian Williams
245
Posted 25/12/2021 at 09:25:55
Merry Christmas all! Counting the days to a negative test!
Mike#241. I watched a trilogy of classics myself last night to get into the Christmas mood, finishing off with her best one of all – "Debbie does Dallas".
Ah it brought a tear to my eye.

Dave Abrahams
246
Posted 25/12/2021 at 09:31:52
Forgot to mention @ 243 Sinatra got the award for his part in "From Here To Eternity" which was a great film and a great book.
Jonathan Tasker
247
Posted 25/12/2021 at 09:44:40
Happy Xmas all.
'North by Northwest' was shown yesterday but you can probably get still on iPlayer.
Cary Grant may just about be the coolest man who ever lived. Clint Eastwood is not bad either.
Ray Roche
248
Posted 25/12/2021 at 09:52:40
Brian @245,
Yes Brian, very moving.
I bet you needed a box of tissues.
Merry Christmas to Blues everywhere. 💙
COYB
Derek Knox
249
Posted 25/12/2021 at 09:57:03
Brian W @245
"Debbie does Dallas."
Ah it brought a tear to my eye.
I believe the entire (well almost) population of Dallas cried too !
No-one will ever come here again. :-)
Dale Rose
250
Posted 25/12/2021 at 10:34:05
Brian W. 245. Great minds another Xmas favourite.
Stan Schofield
251
Posted 25/12/2021 at 10:35:35
Films I just find myself watching repeatedly are 'Where Eagles Dare', 'The Sound of Music', 'Master and Commander', 'It's a Wonderful Life', 'Saving Private Ryan', 'Scrooge', 'Henry V' (Laurence Olivier version), and 'JFK'.
Also, most Clint Eastwood films. Mike Gaynes mentioned 'The Bridges of Madison County'. I think Clint is great in that. He's a great 'screen actor', brimming with charisma and larger than life.
Tom Hanks is a great actor, everything he does is utterly convincing. He also does a good impression of Eastwood being a Director.
Tony Dunn
252
Posted 24/12/2021 at 10:53:21
Even in relatively recent times – 1977 – I can remember betting battered 6-2 at home by Man Utd on Boxing Day then going to a snowy Elland Road the next day and falling to a 3-1 loss. Our first losses since the opening 2 games of the season I think.
'Once Upon a Time in America', if only for Morricone's soundtrack

Billy Roberts
253
Posted 25/12/2021 at 11:06:31
Oh, I have to join in with this thread,
One underrated war film: 'Attack' with Jack Palance, he's playing against type as well.
Kieran chose 'Paths of Glory' brilliant but no-one has mentioned Dunkirk or 1917? Both superb.
Xmas film sort of: 'The Princess Bride'... not what you may expect.
'Oliver' the musical, the horror classic 'Chitty Chitty Bang Bang'!!
Top American actors not yet mentioned: Marlon Brando, Steve McQueen, Dustin Hoffman, Paul Newman, strangely underappreciated... Jeff Bridges, Michael Douglas, Denzel Washington, Harrison Ford … just off the top of my head.
Derek Moore
254
Posted 25/12/2021 at 11:14:38
Seconded for Steve McQueen.
Billy Roberts
255
Posted 25/12/2021 at 11:16:59
Denzel Washington!! Even auto correct doesn't appreciate him!
Tony Heron
256
Posted 25/12/2021 at 11:33:09
Only just turned in to read the comments regarding the postponement of the Burnley game and found that it's turned into the best films of all time review!
Have to say I'm a sucker for the old black-and-white movies so have to go along with the nominations of 'Angels with Dirty Faces' and 'On The Waterfront', classics with icons like Gagney and Brando.
Can I also give a shout out for any of the Flash Gordon films I watched on Saturday morning matinees in the '50s. Of the more "modern" films I'm surprised, no one has mentioned 'Dances with Wolves', brilliant in my book.
A Merry and safe Christmas to all.

Alan McGuffog
257
Posted 25/12/2021 at 11:43:17
My Xmas award for the most boring, over-hyped film ever. I give you...
'Citizen Kane'
Dave Lynch
258
Posted 25/12/2021 at 12:00:24
Greatest film ever made:
'Night of the Hunter'
Robert Mitchum and the only film Charles Laughton ever directed.
Still gives me chills to this day.
Barry Rathbone
259
Posted 25/12/2021 at 13:09:49
"COMPANY, SHUN!
COMPANY, ENGUARD!"
"North rampart fall back!"
"Clear the line of fire!"
"Front rank - fire!
Rear rank - fire!"
"ADVANCE"
**
"INDEPENDENT, FIRE AT WILL!"

Zulu 1964 - absolute epic
Stan Schofield
260
Posted 25/12/2021 at 13:17:54
Barry, yes, brilliant. The scene with the Zulu warriors doing their battle chant, and the British soldiers responding with Men of Harlech is truly epic cinema.
Paul Birmingham
261
Posted 25/12/2021 at 13:31:48
Tony that's one of my favourite films of all time for the story and soundtrack.
Enio Morriconi, was a music genius and his sound tracks Shaghetti Western music and to the Mission, are outstanding.
Barry great shout for 'Zulu' and also for 'Zulu Dawn', and 'Spartacus' – Kirk Douglas.
I reckon by this thread there's a good call for a TW Film addicts club as well. Lol.
All have a great day and enjoy!
Paul Birmingham
262
Posted 25/12/2021 at 13:33:25
I forget, how could I, 'The 300 Spartans', the 1960s version, a battle that changed history.
Shaun Robinson
263
Posted 25/12/2021 at 13:42:38
Greatest comedy must be 'Duck Soup'. The Marx Brothers at their very best.
Stan Schofield
264
Posted 25/12/2021 at 13:44:03
Paul, also '300' with Gerard Butler.
Alan McGuffog
265
Posted 25/12/2021 at 13:46:02
Stan,
I have posted this before: There is a B-movie called 'Apache Drums'. A bunch of hardened cowboys are besieged by Apaches. For some reason, there is a Welsh pastor who gets them all singing, in Welsh, 'Men of Harlech'. The film was made in the early '50s.
Micky Norman
266
Posted 25/12/2021 at 14:14:59
Great Aussie film "Malcolm" is available on YouTube.
Mike Doyle
267
Posted 25/12/2021 at 14:17:27
Billy #253,
I agree that Chitty should be classified as a horror film. The child catcher is, without doubt, the most convincingly menacing character ever seen on film – ahead of Oliver Reed in Oliver and SIr Ben Kingsley's brief appearance in 'Sexy Beast'.
And for the avoidance of doubt 'Die Hard' is a Christmas film. It takes place of Xmas Eve and John McLean's wife is named Holly!
Paul Birmingham
268
Posted 25/12/2021 at 14:18:03
Stan yes, that was an epic film, as well.
Shaun @263, spot on, the best, reminds me of my job, some times.😁
Paul Birmingham
269
Posted 25/12/2021 at 14:23:04
Also 'The Blue Max'.
Those were the days.
Barry Rathbone
270
Posted 25/12/2021 at 14:31:36
'Blazing Saddles'.
The only film I ever saw twice in a week because the dialogue was drowned out by audience laughter it was the living embodiment of rolling in the aisles.
"REVERAN!!"
Larry O'Hara
271
Posted 25/12/2021 at 15:06:21
How about Ingmar Bergman 'The Seventh Seal'? That scene where the knight plays chess with Death amazing. And the impromptu hillside dance at the end, thrilling too.
And then John Boorman's 'Excalibur', exemplary in its portrayal of magic and the thin line separating this world from the next.
Or that wonderful US film 'The Warriors', where the journey of a small gang back home parallels that of Odysseus back to Ithaca from Troy?
Or 'The Mission', where the ending never fails to bring tears to my eyes…
Bringing it all up to date, as one familiar with Baudrillard, I loved the Matrix Trilogy and am looking forward immensely to 'Resurrection'…
And so on… better stop there a turkey is waiting – and no I don't mean Iwobi!
Andy McGuffog
272
Posted 25/12/2021 at 15:20:16
The talk of soundtracks to films, and in particular Westerns, reminds me that, when I was in Mexico, I read that Mexicans call North Americans 'Gringos' because, back in the 19th Century, all those raiders, baddies and general no-gooders from the North used to sing 'Green Grow The Rushes-O'! Hmm…
I can just imagine the scene. Hardened desperadoes, possibly played by some of Hollywood's best heavies... Jack Elam, Lee Van Cleef, perhaps Ernest Borgnine, sitting round the campfire. Lee suggests a sing-song.
"How about 'One Man Went To Mow'?"
Jack Elam is not up for this. "That's better done as a 4-part harmony. Now if Strother Martin was here... he's just wonderful in those higher registers." P>"Audie Murphy's good." <>"Yeah, but he likes to sing rounds. He had a bunch of us doing 'Frère Jacques' in Dodge City. Timings were all wrong. We got run out of town."
Borgnine is pulling faces over his food. "Do any of you actually like Mexican cuisine?"
"Well it is a bit samey. For example, these tortilla chips. Wouldn't some sour cream 'n' chives improve them. And tamales. Tamales! They're just Spotted Dick except you can't be sure what you might find in them."
Lee Van Cleef can hardly contain himself. "Spotted Dick! Did I ever tell you about the time he nearly got shot for cheating at a capella in Abilene?"
"Yes!"
"Anyway, what shall we sing tonight? We've got a busy day tomorrow razing that Mexican village to the ground. The least they deserve is for us to rehearse a song before we massacre them." Jack Elam was a man of principle.
Lee thought for a moment. He put one finger in his ear. Hummed to himself.
"I think we should sing those Mexicans something we'll always be remembered by…"
Stan Schofield
273
Posted 25/12/2021 at 15:42:01
Larry @271:
I watched 'Excalibur' again recently. The use of established music for the soundtrack is incredibly well done, especially Siegfried's Funeral March from Wagner's Ring Cycle at the end when Percival throws the sword onto the lake, the hand rises from the lake to grasp it, and Arthur is taken on a boat into the sunset. Again, great cinema.
It's music good enough to accompany a Ball-Harvey-Kendall one-touch passing move through midfield in the late 60s.
Sam Barrett
274
Posted 25/12/2021 at 16:04:24
Kes
Derek Knox
275
Posted 25/12/2021 at 16:05:06
Barry @ 259, and all those who didn't have the name 'Will' breathed a sigh of relief!
Allan Board
276
Posted 25/12/2021 at 16:14:31
Ah, Gene Wilder! Tell you a little Everton related story also in relation to 'Charlie and the Chocolate Factory'.
Our Uefa Cup campaign 2007-08, Nuremburg away. Myself, my nephew, a couple of lads from Liverpool we used to see at the games, and about 8,000 bluenose had filled the city for a couple of days prior to kick-off. We met and shared a pint with Kevin Ratcliffe the night before in some bar (he was co-commentator on Channel 5), anyway I digress!
After the game (we won 2-0 – Arteta penalty and a solo from big Vic), the city Council had put on a curfew of I think midnight. Knowing this, and wanting to carry on drinking, we holed up in a tiny bar somewhere in the city off the beaten track. There were a few locals in there, but mostly bluenoses all having a crack.
I seem to remember there being a couple of 'ladies of the night' in there and I warned my nephew off the idea after one of them made a bee line for him.
It was a freezing night, the bar had a velvet curtain across the main door, which you had to pull to behind you. We are all in their getting merry, and some lads were asking the barmaid to lift her top up, which she refused. Then, after they offered money, up she did!
As it was past curfew, we were told by the staff that, if the old bill walked in, to say we were invited as guests etc so we sort of kept an eye on the velvet curtain.
Then the door went, we all spun round, velvet curtain is slung back, we expected the police to stroll in, but no, it was a local guy with receding ginger hair wearing a deep red-coloured velvet jacket! He instantly shat himself looking at the gathered throng, but he needn't have worried because as quick as lighting some sharp bluenose at the bar said "Fuckin hell – it's Willy Wonker!"
Cue mass hysteria, the poor bloke didn't know whether to turn tail or not, but we ushered him in and up to the bar, where he spent the night laughing, trying to understand scouse, a bit bemused by it all amongst good lads out for the crack. Incidentally, I don't think he had to pay for a drink all night!
When we trudged back to our hotel, it was full of more bluenoses, all needing food. The hotel kitchens were closed (it was probably 3am by then) so they hastily but very calmly organised a take out from McDonald's for what seemed a 100 blokes, all inebriated to different degrees.
I remember it all turned up in a small white van about half-an-hour later! German efficiency!
What a fantastic night though!
Pete Clarke
277
Posted 25/12/2021 at 16:29:58
G'day, fellow Evertonians and a Merry Christmas to you all.
I've just watched a really good film now called 'Lion' (Nicole Kidman)
Most of my favorites have been mentioned already like 'Blazing Saddles', 'One Flew Over The Cuckoo's Nest', 'Midnight Express' and 'Warriors'. There was a film around the same time as 'Warriors' that I went to see and It's one that stuck with me as being great but never wanted to watch it again in case I spoilt it for myself. 'Rollerball', which had James Caan in.
Good British film doc that I saw was 'Touching the Void'. I always love a good true story.
Best wishes again to you all and let's hope we're in better shape as a team whenever we get to play next.
Tom Harvey
278
Posted 25/12/2021 at 17:29:38
Debbie does Dallas, never seen it.
Did I miss something?
Mike Gaynes
279
Posted 25/12/2021 at 17:36:20
Barry #259, amen. I haven't seen it in 20 years now and I can still remember certain facial expressions. Caine, Hawkins and the magnificent Nigel Green.
Larry O'Hara
280
Posted 25/12/2021 at 17:36:56
Stan I thought the Carmina Burana music was fantastic too.
Boorman very under-rated: did you see the bit in Insignificance I think where Marilyn Monroe uses a trainset to explain Einsteins theory of relativity. It really works!
Pete Rollerball is every bit as good as you remember: indeed anticipates European Super League…
Tom Harvey
281
Posted 25/12/2021 at 17:37:10
Pete Clarke,
Touching the Void
It's "so far out there" what happened to those two I'm surprised Hollywood didn't jump on this.
I can only advise everyone on here to watch it, grab a beer and be prepared to curl up and wince with pain.
P.S. The book is worth a read, I did this after the film and really enjoyed the extra detail and examination of the characters and situation they were in.
Dale Rose
282
Posted 25/12/2021 at 18:11:43
Tom Harvey. Google it, but not on a shared or work machine.
Andy Finigan
283
Posted 25/12/2021 at 20:25:39
Nina van Palante, I did it My Way on The Morecambe and Wise Show. That must've been a one-hit wonder but wow. Ant and Dec nowhere near them.
Brian Wilkinson
284
Posted 25/12/2021 at 22:19:33
Good advice Dale@282.
Was there a sequel to 'Debbie does Dallas', sure it was called 'Bill shafts Everton'
Nice to see the film themes still going strong, have a great Xmas fellow Blues.
Stephen Vincent
285
Posted 25/12/2021 at 22:28:16
'Nashville', best musical ever. Amazed no one has mentioned Indiana Jones, best franchise by a mile.
Best movie: 'Mulholland Drive'.
Stephen Vincent
286
Posted 25/12/2021 at 22:30:14
Best sports-related movie 'Remember the Titans' or maybe 'Tin Cup'.
Brian Wilkinson
287
Posted 25/12/2021 at 22:31:47
Considering it was made in 1982, 'The Thing' stands the test of time for special effects.
A little trivia on the theme of films, the actor that has appeared in most films is Christopher Lee with over 300 films.
Mike Gaynes
288
Posted 25/12/2021 at 22:59:31
Stephen #286, both very good but well off the pace of 'Hoosiers', 'Chariots of Fire' and 'Field of Dreams' IMO. And for golf, I'll take 'The Greatest Game Ever Played', about the 1913 US Open.
Mike Gaynes
289
Posted 25/12/2021 at 23:02:23
Bit off target there, Brian... he's the busiest English actor ever, but he trails several Yanks -- Oliver Hardy, John Carradine, Mickey Rooney, Danny Trejo -- and some Bollywood actors.
Stephen Vincent
290
Posted 25/12/2021 at 23:26:56
Mike, I happen to think that 'Hoosiers is Gene Hackman's best movie. 'Field of Dreams' really good but doesn't remind you of Bramley-Moore Dock 'build it and they will come'. Now 'Remember the Titans has it all. Overcoming racism, disability, an underdog story and the scene at the site of the 'Battle of Gettysburg' is quite brilliant.
That reminds me: 'nomination for best war movie - 'Glory'.
Laurie Hartley
291
Posted 25/12/2021 at 23:28:39
Billy # 255 - Denzel Washington is a great actor. I think his best movie out of so many great ones is 'Man on Fire'.
Warning – there is a great deal of violence in it so don't watch it if you are averse to that type of movie. The paradox for me is that it is a wonderful story of love and redemption.
Billy Roberts
292
Posted 25/12/2021 at 00:05:59
Laurie @291,
I have to say Denzel was tearing up the screen in 'Training Day', he was sensational not for the first time.
'Devil in a Blue Dress' is a very good underrated film.
Brian Wilkinson
293
Posted 26/12/2021 at 00:59:50
What about 'Raging Bull' for sports films? And a lesser known one: 'This Sporting Life', starring Richard Harris.
Can I also throw in one on t he TV only, 'The Fix', about Tony Kay.
Brian Wilkinson
294
Posted 26/12/2021 at 01:03:39
Mike @289, apologies quite right, I should have mentioned in the UK.
Alan J Thompson
295
Posted 26/12/2021 at 03:17:24
Tom(#278); "Debbie Does Dallas, did I miss something?"
The answer might be the leading lady who, I believe, was never seen or heard of again and this a movie said to be financed by criminal elements and may, at the time, have been the biggest grossing movie ever.
Ray Roche
296
Posted 26/12/2021 at 10:09:15
Alan, whatever you do, avoid the Poundland remake, 'Tracey does Toxteth'.
It's minging.
Dave Abrahams
297
Posted 26/12/2021 at 10:15:27
Stephen (285), best musical ever, for me, 'The Jolson Story', saw it as a boy long ago. I watched it again last year, still moved me a lot, although the story wasn't anything like Al Jolson's real life, but Asa Yolson livened up the music industry and inspired many future singers.
'The Jolson Story' had a sequel, 'Jolson Sings Again', which was another good film. I think both films were massive hits at the box office.
An Everton player was named after Jolson: Asa Hartford.
Tony Abrahams
298
Posted 26/12/2021 at 10:31:40
Anyone into golf, would love 'Seve', which is about the life of the great Spaniard, Ballesteros.
For a good laugh, although it also has a touch of sadness towards the end, then try 'Kaiser', a story about a Brazilian footballer who tricked his way into professional football and managed to have a very successful career without ever really kicking a ball.
Danny O'Neill
299
Posted 26/12/2021 at 10:43:39
How did we get to Dallas on the film suggestions?!!!
Back to the Burnley game and other fixtures, I appreciate they were postponed for the right reasons in the current climate, even though I'm disappointed at not getting to see Everton today.
Now, this decision could play in our favour, but for me it raises the winter break debate. Listening to some of the language from some of the managers, is this now being used as a lever to seek a permanent and extended winter break being introduced in future?
I'm on the fence with that to be honest. Personally, I love the festive fixtures but I've also seen the benefits of it in Germany. It quite literally can turn a season around. That said, sometimes the wrong way after a promising start!!
UK and / or England? I could see a break from around the 20th December through to mid or late January being agreed. But the traditional Boxing Day and 3rd round FA Cup fixtures breaking that up as some sort of balance between traditionalists and those who have been calling for a winter break for many years.
One thing though, we would need to look at the structure of the league. Countries like Germany can facilitate it, but have less teams, therefore less fixtures as a start point.
Brian Harrison
300
Posted 26/12/2021 at 11:05:16
Tony 298
I think Seve along with Jack Nicklaus and Tiger Woods have been the most iconic golfers ever, and Seve and Nicklaus were responsible for the Ryder Cup being the event it is today.
Danny 299
I think to be able to incorporate a winter break we would have to reduce the league from 20 to 18. Maybe just have 1 team relegated and 1 team promoted each year after we get to 18 teams.
Hugh Jenkins
301
Posted 26/12/2021 at 11:20:58
Brian (300).
The problem then is that the league structure below the Premier League will also have to be revamped to accommodate the reduction in team numbers percolating down from the Premier League.
Geoff Lambert
302
Posted 26/12/2021 at 11:26:23
Laurie! 'Man on Fire' — that's a great film!
Films I can watch over and over: 'Bladerunner', 'Harrold and Maude', 'Caddyshack' (what you eat shit for breakfast), 'One Flew Over the Cuckoo's Nest'. And another Jack Nicholson one: 'Easy Rider'.
Hope you all had a good Christmas and hoping for a Blue New Year.
Brian Wilkinson
303
Posted 26/12/2021 at 11:32:10
Danny, a lot of the clubs have been asking for a winter break, I am with you on the traditional Boxing Day fixture, would hate to lose that fixture.
I am not too sure about a winter break, a lot of clubs in the past, have used free weekends to go to America and the likes to keep in with their sponsors, or in Evertons case, after having no cup game would call it a winter warmer exercise.
I have a feeling it will eventually come, but hopefully not at a cost of teams travelling half way across the world.
Anyway with no game today, anyone who has not seen the fix about Tony Kay starring Jason Isaacs, it is well worth a watch on YouTube, hopefully some other poster with better technology skills than myself, might be able to put the link on here, for people to watch.
Phil Sammon
304
Posted 26/12/2021 at 11:36:04
Geoff @302,
I think you've mixed up your golf films mate. That line is from 'Happy Gilmore'.
An absolute classic, I might add.
Dale Rose
305
Posted 26/12/2021 at 11:49:39
Seve was a great golfer. Many moons ago, my late brother-in-law and I followed him as he played a practice round at the Royal Lytham Course. There were about 30 following him, and he was just enjoying the golf and interaction with the small band of followers.
My other memory of the day was a half of bitter and a ham roll for 50p each. Good old days.
Geoff Lambert
306
Posted 26/12/2021 at 12:30:43
Phil! Yep you are correct.
Tony Abrahams
307
Posted 26/12/2021 at 12:32:41
The legend has it that they were smoking real cannabis during one of the scenes Geoff, but the rumours about taking LSD were supposedly wide of the truth.
'Seve' was truly awe-inspiring, Brian, and was quite possibly the most natural golfer to have ever graced the game.
Not being a golfer myself, I like to listen to the people who know a lot more, so maybe the likes of Derek can start educating me about the golfing greats of yesteryear?
John Chambers
308
Posted 26/12/2021 at 13:24:39
Danny #299, my thoughts on a winter break is to hold it over the two weeks between the 3rd and 4th rounds of the FA Cup. I would also get rid of all FA cup replays – not sure why we have kept them for rounds 3 - 5 but dropped them from quarter-finals on.
Kunal Desai
309
Posted 26/12/2021 at 13:43:24
I imagine our fixtures against Newcastle and Brighton will be in grave danger of falling foul to further positive cases.
Need a serious review of European football as we will need to learn to live with the virus and variants. Too much football is crammed inside a 10-month calendar as it stands. Shorten the Champions League format (remove two legs, reduce to one tie on neutral venues) and scrap the Carabao Cup, awarding a further extra place in Europe for the team that finishes 8th.
A 3-week winter break from mid-December.

Danny O'Neill
310
Posted 26/12/2021 at 13:51:21
That's not a bad call at all John, especially on the replays.
You've sent me down memory lane remembering those epics we had with Middlesbrough and Sheffield Wednesday in the late 80s. I'm not going to check, but I think I went to Hillsborough about 2 or 3 times in the space of a few weeks in January that season if I include the league fixture, which was New Years day and involved a very early and sleepy start to travel across the Snake Pass.
Brian H & Brian W; agree on both counts. It would need a reduction in teams to work effectively and also, that change would have to filter down the levels. But I've made my views on that a few times on other threads. Not something I think would be entertained as it would entail a massive re-structuring, but I'd explore that personally.
No films today. Off out to watch the football. Villa v Chelsea later, so I'll need to give the wife some backup here in west London!
Danny O'Neill
311
Posted 26/12/2021 at 13:59:21
Kunal, your post about too much football being crammed into a relatively short period and the need to re-think the calendar made me think of another aspect to this that could be considered.
The increasing impact the international fixture lists and breaks have on the domestic calendars and the players involved. Especially in this age of a most leagues being multi-national, therefore requiring players to often travel literally thousands of miles and back to represent their nation and clubs.
And also as a lot of those games are pretty meaningless in my opinion.
Alan J Thompson
312
Posted 26/12/2021 at 14:05:30
Ray (#296); Wasn't that a remake of Mary and Vera go gin and orange?
Dave Abrahams
313
Posted 26/12/2021 at 14:07:53
Brian (300), where does Ben Hogan rank in the list of great golfers, he made a cameo appearance in The Caddy, a Dean Martin/ Jerry Lewis movie, not a great film but most probably famous by Dean Martin singing " That's Amorae" a song every one knows, even if I've spelt the title wrong!!
Clive Fletcher
314
Posted 26/12/2021 at 14:31:08
Ben Hogan is top 3.
Chris Hockenhull
315
Posted 26/12/2021 at 14:39:59
For those moaning on about fixture pile up (Klopp etc) and wanting Winter Break (Klopp etc), this is what you will have to put up with when the games will have to be played somewhere. And wait till we see how the idiotic World Cup in Qatar impacts on the fixtures.
I'm of an age of remembering 3 games at Christmas and Easter and they were highly attended and played with smaller squads just fine until Johnny Foreigner managers came along to take the money and then call the shots!
Dave Abrahams
316
Posted 26/12/2021 at 14:49:31
Clive (314) thanks, appreciated.
Mike Keating
317
Posted 26/12/2021 at 15:13:56
Brian #303,
Good – let's escape all this golfing guff and get back to football. You're right – The Fix is a pretty accurate recreation of the early 60s and the events surrounding the lifetime ban awarded to Tony Kay (who would otherwise have collected two medals at Wembley in 1966 instead of going to jail).
It also puts a lot of things in perspective when we see players arriving at the ground on public transport alongside the fans and £60 per week being talked of as a top wage – and not an agent to be seen anywhere!
I looked for a stream but could only find some dopey TV series on Netflix starring Jimmy Carr. Seems like you can watch the film on YouTube but, like you, I'd be pleased to learn of an alternative.
UTFT
Danny O'Neill
318
Posted 26/12/2021 at 15:29:43
Thanks for the tip on The Fix - I believe it's in 4 installments.
Not related, but love this clip and great to hear the young blues belting this out at Stamford Bridge last week, banging the hoardings between the lower and upper stands.
Paul Birmingham
319
Posted 26/12/2021 at 17:43:00
Danny, hopefully that's a sign and of better times for EFC, and the Everton youth of today embracing the sacred good times for Everton in the 1960s.
John Boon
320
Posted 26/12/2021 at 18:14:24
Dave Abrahams (297).
I have read so many of your posts and I must say I am always on the same page. However, I was confused when you put "The Jolson Story" as one of your favourite films. The movie came out in 1946 and I also saw it and enjoyed the music and the story. I was about seven at the time and did not realise the future implications of "Black Face".
Today it would be deemed as racist and an insult to the black population. Unfortunately in 1946 and for quite some time after it was considerd as acceptable because the Blacks in the USA were not allowed to even participate as equal citizens. They could not vote and were mainly portrayed in movies as buffoons.
From further investigation, it seems that Al Jolson himself was not racist. Being Jewish shortly after WW2, he could hardly afford to look down on any other race. I am also positive, Dave, that you yourself did not consider the movie as anything other than a fun Musical
The cancellation of the Burnley game seems to have relegated football posts to a minimum. Evertonians are obviosly suffering from a lack of football. I wish posts could somehow forget about their favourite golfer, singer, or Christmas present and get back to deciding why we need some good footballers to ease the suffering of frustrated supporters. I must sound a bit like the Grinch but I only care what others think about Everton and I don't really care if you prefer "Jam to Marmalade". However, I do care what any of the Abrahams think about football.
Dave Abrahams
321
Posted 26/12/2021 at 19:26:05
John (320),
As a young boy, I never thought about the implications of white people blackening up and insulting black people or coloured people as they were called then.
Growing up, I actually idolised Mohammed Ali and before him Jack Johnson who never ever thought of himself as being lesser than other persons, whatever colour they might have been.
As for myself, colour never bothered me, there are some black people I would give my last penny to and trust them with my life, and other black people I wouldn't give the time of day to, but honestly John colour wouldn't have anything to do with the way I react to them.
Louis Armstrong obviously knew about how black people were treated as he grew up but he also knew how Jewish people were looked down upon when, as a young boy, he worked for a Jewish couple delivering groceries.
John, I also enjoy your posts and agree with most of them, maybe because we are round about the same age and, certainly, when it comes to The Blues, we live our lives round them, unfortunately most of the time.
Kunal Desai
322
Posted 26/12/2021 at 21:04:07
Danny @311.
Yes 100% agree. International fixtures and the travelling logistics for players certainly impacts preparation for the bread and butter which is the Premier League.
I know the 'meaningless friendlies' got scrapped in favour of the Nations League, but could we do without this competition? Of course we can, likewise with the qualifiers, is there a real need to play home and away, find a way of seeding games at home or away and reduce the number of teams in the qualifier stages.
Do Premier League footballers really need to conserve their energy and time to pit their wits against part-time footballers?
The footballing structure needs reviewing at every level, but governing bodies won't do anything.

John Boon
323
Posted 26/12/2021 at 21:46:40
Hi Dave (321)
When I read your response the first thig that came to my mind was, " I hope he doesn't think I was accusing him of being racist." In fact I smiled to myself when I wrote my initial response because I myself had watched the movie, enjoyed it and at the time just treated it as any young lad would in those days. The actual implications of "Blackface" only came about seventy plus years later. I grew up in Liverpool but now live in the Niagara area of Canada.
Just recently, a teacher at a local school was fired because at Haloween he showed up in "Blackface". He protested that he wasn't a racist and he may not have been. In this day and age, he should have been charged with "Stupidity" because it can offend a large portion of the population.
So please don't take any offense. None meant. I still hope all Evertonians on ToffeeWeb get back to posting about Everton. Something we can all boast about being experts on. Well at least until our next bit of TW wisdom is shot down in flames by someone who knows even more about Everton than I "think" I do.
Don Alexander
324
Posted 26/12/2021 at 22:21:28
Growing into adulthood as I did watching (there was no real alternative in those days folks) the Black & White Minstrels regularly on TV it never occurred to me that all the blokes in it were doing anything other than making dicks of themselves on purpose (a bit like Mr Boon's TW bete-noir! - but can I still say "bete-noir"?!)
Racism by today's standards would have had many of us, myself included, in the stocks for unwitting racist transgressions way back. The fact is though that by personal reflection most of us, but sadly only "most" as yet, have re-educated ourselves so that any inadvertent racist comment is no longer voiced.
Children don't see "race" and there's a big clue there for so-called adults.
Stephen Vincent
325
Posted 26/12/2021 at 00:12:19
Dave, #297,
I suppose it depends on the genre of music you enjoy. The Jolson Story was certainly a huge box office success and I think Larry Parkes was nominated for the best actor academy award, which definitely wouldn't happen today.
I was brought up on Count Basie and Coltrane but also on The Black and White Minstrels on TV on Saturday nights. Never crossed my mind for a moment that it might be considered racist and I'm sure it never occurred to my parents either.
Different eras mate.
Mike Keating
326
Posted 26/12/2021 at 00:25:52
Don #324,
I agree with you and hopefully most of us have grown up over the years – the problem with the current 'cancel culture' is that, apologies notwithstanding, you're held to account for misdemeanours long after the event with no room for forgiveness.
Luckily this only seems to apply to silly teenagers who became sports personalities or celebs of some sort, otherwise we'd all be in the shit for things we thought, said or laughed at when we knew no better.
Eric Myles
327
Posted 27/12/2021 at 05:33:33
A Simple Plan - Billy Bob Thornton
Very Bad Things - Cameron Diaz
One a dark drama, the other a dark comedy that don't get much recognition.
The Usual Suspects is a great movie, as is Shawshank Redemption and Spirited Away, a Japanese movie.
Kim Vivian
328
Posted 27/12/2021 at 09:30:44
Late to the thread here, but surprised no-one's mentioned "The Departed".
Great cast, great story, great score, one of my faves. "I smell a rat !"
Also "Sexy Beast" - Ben Kingsley, what a legend...
Stan Schofield
329
Posted 27/12/2021 at 09:46:43
Don@324: I was born in 1954. My first school was Bolar Street, off Shield Road. One of my school friends was black. I don't recall any odd comments against him, he was just one of the kids. As I grew up in Liverpool, the vast majority of people were just normal, not particularly making comments about blacks. A very small minority did, but they were invariably disagreed with by others including myself. This pattern has carried on well beyond Liverpool.
To me, most people want to just get on with their lives, and are cynical about those in power who seek to divide and rule and exploit ordinary people, whether those ordinary people are black or white, and whether those in power are black or white.
Divide and rule, and conflict. Black v white, Catholic v Protestant, male v female, Christians v Muslims, and so on. Political manipulators are good at this, and ordinary people can be susceptible to it. The media thrives on it. Social media tends to get quickly polarised by it.
People have never changed. But what does change is the way people are organised and herded.
Dave Abrahams
330
Posted 27/12/2021 at 10:17:45
John (323), John no offence taken whatsoever.
Stephen (325), Larry Parks who did a great job miming the Jolson songs later became a victim of the McCarthy purge against many people in Hollywood of being communists and left acting and made a fortune as a landscape Gardner.
I think racial discrimination will never end simply because you can't stop people thinking the way they do although it helps that they don't act upon their thoughts.
Christine Foster
331
Posted 27/12/2021 at 10:52:30
Dave, found this and thought of you and Tony! It's from the lost tribes of Everton, great read, the picture in this article was taken at the top of Sylvester Street, with the Eagle Vaults across the road, the two women gossiping the one on the right was my Auntie Mary (Davies) of Portland Gardens, taken about 1963 I think.
Great stories and a list of all the pubs, a great read, brought it all back. I realized Darren was right, I am still a Scottie girl.
https://losttribeofeverton.com/histories/a-legendary-night-on-scotland-road/
Dave Abrahams
332
Posted 27/12/2021 at 11:22:20
Christine (331), of course you're still a Scottie girl, you never lose your roots and the many brilliant, marvellous memories you can bring back in an instant.
I've been re-reading that book recently and just picked it up off the floor and looked at that list of pubs in and around Scottie, Vauxhall Road and Greaty ( Great Homer St.), and all those pubs created the environment we lived in until a lot of that was broken up with the big upheaval in the sixties that took the "Townies " out to Kirkby, Skemetsdale, Halewood and other places.
I've been in Norris Green much longer than I lived in Town but I've always done my serious drinking in Town, including your dads pub The Wedding House, many a good night in there, so Christine you'll be a proud Scottie girl forever, a proud Blue Scottie girl!!
Christine Foster
333
Posted 27/12/2021 at 12:13:22
Funny thing is, Dave, the first few years of my life we lived with my Nan at 20 Beversbrook Road, Norris Green, when it had lovely front and back gardens and trees in the streets!
Mum and dad got a house in Netherton when I was about 4, and eventually a few years later, Nan got a corpie transfer back to Virgil Street, off Scotland Road..
Growing up, I spent more time with the rest of the family on Scottie as mum and dad worked. I moved when I got married, but I just never left!
The Wedding house was a great little pub, many characters, many laughs and some of the cons we fell for...
Dave Abrahams
334
Posted 27/12/2021 at 13:58:34
Christine (333), strange but true, Beversbrook Road. now I bet I know where that is but It would have to be pointed out to me. My wife often says to me "You knew where Scarisbrick Road was because that took you to the bus stop that took you into town but you never knew where anywhere else was in Norris Green" and I couldn't argue with the truth!!
Growing up, I lived in Everton Brow, Chaucer Street just off St Anne Street, then back up the Brow to Shaw Street, then to Northrop Street. which led onto Great Homer Street and all in relatively the same area, more importantly none of them more than a 10-minute walk to Goodison Park and where I live in Norris Green is the same distance to Goodison.
Anyway, Christine, when you finally make it to The Bramley Moore pub after a great win by the Blues, we'll have a good natter about the "Olden days" before we get onto the team we love. See you then!!
Bill Gall
335
Posted 27/12/2021 at 15:12:54
Born in Scarisbrick Road, Norris Green, in 1940. Local: The Broadway, friends lived around The Strand, drank in the Western. The girlfriend moved from the 4 Squares to Croxteth so went a lot to the Oyster and the Lobster.
Got married, moved to Kirkby. Thought our final move was when we went to Saskatchewan, Canada, in 1976 but moved from there in 1985 to Sussex, New Brunswick. Still there, no more moves planned.
Jay Harris
336
Posted 27/12/2021 at 16:01:17
I was born in Rolo Street just off Scottie Road and lived in Gerrard Gardens till I was about 7, then we moved to Birchfield Street just up from Soho Street.
Used to go to Shaw Street park a lot. It was the first time I had seen grass!!
Don is spot on with "Children don't see "race" and there's a big clue there for so-called adults."
I remember as a kid my uncle married a "half-caste" woman who became one of my favourite aunts but all the adults at the time were disgusted and commenting on it and I couldn't understand what the fuss was about.
I believe that all those families who grew up together over generations didn't need police or control because the communities policed themselves. They knew who the bad kids or "strange" kids were and just made sure they were watched out for.
Then as Dave said, the "New" towns were created and uncles and aunts who had lived in the same street for years were moved out and their new neighbours were strangers so suspicion and envy replaced the previous community spirit.
Dave Abrahams
337
Posted 27/12/2021 at 16:13:11
Jay (336),
Gerard Gardens a very lively place along with Gerard Crescent and 2 minutes away from the Four Squares which was less than 2 minutes from Birchfield Street, and across the road from Birchfield Street in Islington was an ice cream parlour, remember them? Italian name which I've forgot at the moment where I spent many hours, Happy days!!
Jay Harris
338
Posted 27/12/2021 at 16:35:18
I remember it well, Dave. It was next to a petrol station ( also owned by one of the Perselli's I believe) and I think the Perselli family owned it. There was a Threllfalls pub on the corner next to the petrol station which had a snooker table and was a popular local.
They used to have milk shakes there too.
Dave Abrahams
339
Posted 27/12/2021 at 17:11:06
Jay (338), yes Perselli's and the petrol station with the Threllfalls pub on the corner of Gildhart Street and another local pub, The Dart, further along just before you came to London Road. Turn left and you came to The Falkland pub which was frequented by Irish workmen who knew how to sip a pint but didn't know when to stop. It made for a very lively pub, a stop over on the way to a stay behind at The Goblin, more happy days and nights.
Just remembered, I think the name of the man who ran the ice cream parlour was Alex.
Stan Schofield
340
Posted 27/12/2021 at 17:26:01
I lived in Norris Green from '63 to '68, in Mentmore Crescent, near Beversbrook Road. When I was 13, we then moved to Robson Street, near both footie grounds, so I could then walk to Goodison with my dad.
Drank in the Westminster on Westminster Road, coz my mate served behind the bar. We often had stay-behinds there.
But mostly in The Standard on Thirlmere Road, and The Sefton, and Hare and Hounds in West Derby Village.
Moved from Liverpool in 1979, because of my job. Now live in Stonehaven, just South of Aberdeen, and don't get to Goodison very often.
Billy Roberts
341
Posted 27/12/2021 at 17:35:02
Bill @335,
I had a little laugh (don't be offended) when you said you were from Norris Green and your local was The Broadway!!! And the alternatives within Norris Green were?
One of the strangest anomalies within Liverpool was Norris Green, one of Britain's biggest council estates, had to my knowledge, one pub?
Clear it up for me Bill, Dave, Christine was it because you didn't like drinking? Haha!!
Andy McGuffog
342
Posted 27/12/2021 at 17:48:50
As an erstwhile denizen of Parthenon Drive, I always understood that most of Norris Green was built on Methodist owned land that had a covenant banning the sale of alcohol. This lead to very large pubs (The Crown, Western Approaches) being built on the periphery.
Stephen Vincent
343
Posted 27/12/2021 at 17:51:27
Any of you guys remember The Jamaica on Vauxhall Road, known locally as the Rat, as allegedly the largest rodent ever found in Liverpool was discovered in its cellar. My Auntie Eileen, who ran the pub, had it stuffed and put on the wall in the bar. Scared the living daylights outta me.
Christine Foster
344
Posted 27/12/2021 at 17:51:56
Billy, actually no pubs was intentional, see excert from wiki below:
'To say that no public houses have been built within the boundaries of Norris Green is not entirely correct. Initially this may have been the case, as the Corporation wished to encourage temperance and abstinence. However, for may years there has been several licenced bars in the estate: The Conservative Club and the Broadway Club (both in Broadway), The Norgreen (Townsend Avenue - now closed) and the Green Peppers (Parthenon Drive).'
Billy Roberts
345
Posted 27/12/2021 at 17:57:23
Thank you, Christine, I had heard the Temperance story from an old friend from Norris Green but I thought I would ask the locals first,
If you include Church clubs etc, there was a few options. I still think it would have benefited from a few proper pubs and may have saved the likes of Dave thousands in cab and bus fares!!
Bill Gall
346
Posted 27/12/2021 at 18:07:22
Christine, That is correct but there were no pubs in Norris Green. The Broadway Club at the top end of Broadway shops was where Joe Royle's dad played on the organ.
Billy #341, The Broadway Pub was outside the Norris Green Boundaries.
Billy Roberts
347
Posted 27/12/2021 at 18:12:49
Stephen @343,
Great story, I have/had lots of family from the area and I remember people referring to the pub "The Rat" but I can't remember The Jamaica.
I have most probably walked past it a hundred times.
Billy Roberts
348
Posted 27/12/2021 at 18:27:25
Bill @346, again I thought I'd let the locals tell me but I thought that, but didn't want to upset the Nogsy soldiers!! So the Broadway pub is in Clubmoor?
And to go full circle and still avoid the non- existent football chat.
Wasn't the Albert Finney film Gumshoe filmed in the Broady club?
Dave Abrahams
349
Posted 27/12/2021 at 18:57:10
In later years, Harold Hughes a very well known fella from Scottie opened a pub right by the Broadway Bridge which was called The Bridge Inn but that also is just outside the perimeter of Norris Green, it's in L4 and just around the corner is L11.
Billy (345), I still wouldn't have got into the habit of drinking in Norris Green no matter how many pubs were there, all my mates were in town, in fact when we drank in the Clock, Salisbury St or The Goblin there might have ten of us in the company but only two or three lived in town the rest of us lived in Norris Green, Huyton, Page Moss, Kirkby and one from Birkenhead whose wife said she lived on The Wirral and she was born in The Bull Ring, didn't half make the big time didn't she !! Mrs Bleedin' Bucket !!
Alan McGuffog
350
Posted 27/12/2021 at 18:58:05
Christine...its full name was the Green Peppers Country Club. I ask you !
Another dodgy little place that opened in the 80's (?) was the Bridge, by the bus terminus at the bottom of Broadway. The site had been a Sally Army base.
Brian Williams
351
Posted 27/12/2021 at 19:25:44
Dave#349.
😡
Billy Roberts
352
Posted 27/12/2021 at 19:30:48
Dave @349,
I have had a drink in The Bridge, not sure Harold had it then but it was lively for a Sunday night.
I had many drinks in the Crown, once or twice in the Lobster and Oyster, Dog & Gun and all them on Carr Lane but sadly never Quo Vadis!!! I liked the Broadway Pub.
But Dave if your neighbourhood had loads of good pubs your mates would have came to you!!
I know what you mean though, I moved to Knotty Ash / Huyton but never felt a part of it even though it then had loads of good pubs. I went home to Old Swan – all of 1 mile away.
Mike Doyle
353
Posted 27/12/2021 at 19:31:52
Billy, Bill & Christine.
I read an article recently (written by a former Speke resident) which was of interest as I had relatives who lived there. It made the point that when Speke and other similar estates were built, the focus was on the housing element – with schools and churches next on the list. It suggested that pubs, shops and other amenities appeared much lower down the planner's priority list (or not even on it). I recall older cousins complaining how far they have to travel to shop and drink.
I also had cousins that lived on the Croxteth Estate. They only mentioned one pub (The Lobster) and were regular users of mobile shops until they moved out in the 1970s. Not sure if mobile shops were a Liverpool thing, but the only other place I have ever seen one was on Brookside!

Nicholas Ryan
354
Posted 27/12/2021 at 19:32:04
The way Everton have been playing recently, could we please have a winter break from August to May!
Jay Harris
355
Posted 27/12/2021 at 19:34:43
Dave, there's not much wrong with your memory. It was Alec Perselli.
Remember big Harold very well. His reputation preceded him. Do you remember Sadie who used to run the pub next to the Adelphi (Also a fearsome character) Then there was the asshole Eddie Palmer who met an appropriate end.
The joys of growing up in 50s/60s Liverpool.
Darren Hind
356
Posted 27/12/2021 at 19:51:39
Harold came from a bit further down. Stanley Road.
Remember him having a very public stand-off which drew a crowd with be Abe Young who had the second-hand shop between Athol and Hankin Street.
Only one fella going to win that fight... But there was only one fella going to end up keeping the money.
Billy Roberts
357
Posted 27/12/2021 at 20:02:56
Mike @353
Speke, although almost a council estate island it is surrounded by dual carriageways mostly and borders on a lot of industrial sites, it must be similar in size to Norris green.
Speke though had quite a few pubs spread around and was definitely in the design of the estate off the top of my head.
The Orient, The Fox and Barrell, The Flying Saucer( brilliant name) and at least another 4 massive. proper pubs that's before Church clubs etc.
As for Croxteth, it's really a small district but I think was well served with pubs and social clubs like...the Oyster, the Lobster, the Western, the Dog + Gun, the Farmers??? But there was a few for a small district.
Dave Abrahams
358
Posted 27/12/2021 at 20:04:33
Billy (352), fair enough over y mates coming up to see me if there were more pubs in Norris Green but when you lived in town you had the best of both worlds, drinking in town and coming back to the pub on your doorstep, same with cinemas ( that could be the next topic for a close season) we had all the local ones and the boss ones in town, except The Palau's de Luxe which despite the name was falling to bits with upstairs condemned, you wouldn't even bunk in there !!
Jay (355) Sadie worked in various pubs around the town, his bark was worse than his / her bite, he copped for a heavy smack one night off a customer he had barred out of The Dart next to The Dive where Wetherspoons is now on the Precinct and the tears started rolling with Sadie saying " They're even hittin' woman now, he might have been a woman but he was no lady!! Definitely a very funny person though with a wicked sense of humour, one of the many dozen characters who livened up the city centre years ago.
Danny O'Neill
359
Posted 27/12/2021 at 23:26:11
Interesting reference to Speke. Most of my family originated from Garston but largely settled in Speke. Apart from my Northern Irish Grandfather and Scottish Grandmother, who ended up there. That's the British mongrel in me. But it's still where I go back to and where I call home.
In terms of pubs. I always recall my Grandad telling me there were limitations imposed on Liverpool council when they bought the land in Speke in terms of how many pubs they could build.
And now, even though the area has benefited from investment, many of the traditional pubs I remember from childhood are gone. The Dove and Olive, the Fox and my all time favourite, the Pegasus (the Peg). My Dad's local. I'll never forget those characters even though I had to sit on the wall outside with a bottle of pop and bag of crisps waiting for him. I remember there being a terrible one near the Parade shops; the Ponderosa?
Freddie the Ferret (he kept Ferrets). Billy the Bin (he was a binman). Careful Kevin (he was tight and kept his pockets closed). Wonderful characters.
No I go back and I can stay in the Hampton Inn, the Holiday Inn or the Crowne Plaza. Or Premier Inn if I'm on a budget! But then there's always family!!
Definitely a council estate island on the far south of the city, so slightly different from Norris Green in my opinion, which was built more on the inner ring and the north of the city.
But similar in some ways. My experience of Norris Green was mostly passing through it when living at my Aunties on Middle Way in Croxteth for a while. And in his later life, my Grandad lived on Arkles Lane, so we often went to the shops on Norris Green Broadway. The areas where kind of similar in design but a bit different. North and south if that makes sense to those who understand??
I took and passed my driving test in Norris Green first time around by the way!
Christine Foster
360
Posted 28/12/2021 at 02:07:09
Now I'm going to get into trouble if I'm not careful, but Danny's post got me thinking. Because I remember as a kid, my Nan could tell which part of Liverpool they came from by their accent and words used. 99% of the time she got it spot on.
Funny but I can still hear the difference between North and South Liverpool, never mind Birkenhead! The differences are subtle and even within areas like Crosby and Litherland... or Speke and Aigburth. Anyone else notice, or is it just too many Guinnesses?
Then there is the other lot across the park, never could understand them, different breed.
Christine Foster
361
Posted 28/12/2021 at 02:25:06
Which brings me around to the difference between us and the other lot. Now I was always brought up being told, quietly, that we were a class above them, and that was when we were in the driving seat! We would always conduct ourselves well, gracious in both victory or defeat, not like the other lot.
We have had to endure the bitterness of the past 27 seasons under the guardianship of con-men and buffoons and still they actually hate us! Which begs the question: Why? Two tribes go to war?
They have had enough success to last a million lifetimes but still they call us Bitter Blues! If we are bitter, it's because of how we are run and how we have been used to feather others' nests.
But, like a fighter taking the punches, we have been unable to fight back, they can't and never will be able to deliver a knock-out blow and they know it. Because they can't kill our dream, they know they are still second class and the palace is being built. It's called envy. It's called fear, because we are coming for them.
Brian Murray
362
Posted 28/12/2021 at 04:16:38
Christine.
It's impossible for us to even think about rising again as a football force when our owner still gives Bill Kenwright the time of day. Tragic but true.
Big H (Harold Hughes) ran the bridge pub in Nogsy for a time in the '90s. He played for my dad's Sunday league team (Hermitage) in the '70s. I have pics of the great Dixie Dean himself as guest of honour at the pub with my dad, Major Jim Murray – no army connection, just his well-known nickname.
Dixie said he could reach up and head the massive light bulb in the Hermitage Lounge. As a kid, you remember these conversations lol. This was before he was wheelchair-bound of course.
Mark Andersson
363
Posted 28/12/2021 at 05:21:30
I agree Christine about the subtle changes in accents accross Liverpool..
I was born just off Scottie Road and we moved to Kirkby when I was 3.. but I consider myself a true scouser.
All the above-mentioned pubs I ended up playing most of them as a singer in various bands and duos.
I now live in Perth, Australia – been here 20 years and was shocked the last couple of times I came back to see many of the clubs and pubs closed down and the once-thriving music scenes reduced to mostly open mike nights.
My daily read of ToffeeWeb keeps me entertained informed and brings back many memories of my childhood and the culture of the scouse way... so thanks to you all.
Eric Myles
364
Posted 28/12/2021 at 05:33:15
Stan #324, I grew up on Shield Road just round the corner from Bolar Street school, most of my mates went there or St. Margaret's at the bottom end of Shield Road.
There were no black kids in the area when I was a lad (born 1959) but around the corner on Prescot Road there were a couple of "chinkies" (back in that day, it meant a fish and chip shop rather than anything racist) and a bit later on an Indian newspaper shop.
I remember thinking how exotic and interesting they looked, which probably sowed the seeds to me moving to SouthEast Asia.
Regarding Norris Green pubs, when I visited a mate in that area we always went to drink in The Jolly Miller along Queens Drive if it was daytime, or the Conservative Club (spit!) of an evening.
Most of my early drinking years were spent in The Moonstone in The Precinct where you could get in underage and where the aforementioned mate used to play with his band.
Alan J Thompson
365
Posted 28/12/2021 at 05:35:20
I too now reside in Perth and had my first drink in The Pegasus in Speke although born and raised in Woolton which at one time could boast 51 pubs. The oldest was the Coach & Horses which started as not much more that a front room but believe it is now some sort of gardening centre.
Don't get back often enough these days and especially now thanks to that ne'er do well (no, not Dowell) cricket team.
Derek Thomas
366
Posted 28/12/2021 at 07:08:51
Christine @ 360: Re accents; it was very much so...if you had an Henry Higgins-esque 'ear' to listen with. The South Liverpool and into Garston was 'softer' less gutteral with the Welsh influence.
All almost gone now as the local accent has morphed into the almost comic parody of its self you hear all over now... yes, you, John Bishop, you RS twat.
Accents used to change slowly if at all... 7miles away from the old 'centre of Liverpool' it was (and still is up to a point) a different linguistic world... (Wools and Welsh).
But with today's mass communication, even the Queen is not immune to it, listen to the 50s version and now... and the 40s version is even worse.
Not just here, 50 years ago, there was no such accent as the Corri- Manc-Oasis-Citeh whine you have now... it was all variations of T'ellins wool fading into ee by gum rolled 'Rs' of pure David Lloyd proper Lancashire.
I hope somebody had the foresight to record it all before it went. But I doubt it, more's the pity... too late now.
Danny O'Neill
367
Posted 28/12/2021 at 07:30:30
You're right about the subtle shift in accent across the city, Christine. I moved my family to Woolton and we lived there for several years, Alan. Great part of the city. A village within a metropolis!
Mark @363, you'll start me on my cultural rant about our City. When I lived in Woolton, I could walk 100 yards from my house in L25, cross the road (L26) and be in Halewood.
Halewood, Huyton, Kirkby, Bootle, Crosby; all Liverpool to me and no invisible council boundary or change in the colour of wheelie bins will change that view. Embrace the Greater Liverpool notion; the very independent London Boroughs and independent towns of Greater Manchester have done it to good effect over the years.
And yes Christine, we are coming for them.
Ray Robinson
368
Posted 28/12/2021 at 09:55:59
Eric #354,
Your mention of the Moonstone in St John's Precinct reminded me of my misspent youth drinking in the Sportsman – also in the Precinct, nearer to the Royal Court. Anyone else remember that place with the upside-down racing car hanging from the ceiling as you went in?
I remember they charged you a nominal fee on entry so that it could be classed as a club and serve till later. Some good up-and-coming bands used to appear there. Everton were also a force then. Ah, memories!
Eddie Dunn
369
Posted 28/12/2021 at 10:12:28
Ray, yes went to the Moonstone to see local bands around 1977 or so. Also popped into the Sportsman occasionally. A lot of patchouli oil worn by the clientele as I recall.
Mike Keating
370
Posted 28/12/2021 at 11:00:33
Newcastle game now in doubt after Wilson and Maxima injuries leave Howe with no proven strikers and a bench full of kids.
Jim Bennings
371
Posted 28/12/2021 at 11:05:02
If the Newcastle game does get called off, especially after the way we limply bowed out of playing Burnley on Boxing Day, then it just proves to me that football has gone to the dogs.
Years ago you would have to field the second string and like it or lump it. It seems now an injury crisis means you can get games called off.
How many more games are we going to get cancelled through injury or Covid in the coming weeks?
I can well foresee another June finish to the season, which will be an absolute disaster in a year of a ridiculous winter World Cup.
Colin Glassar
372
Posted 28/12/2021 at 11:13:52
Spot on Jim. A few years ago, torn ligaments and broken legs were treated with a sponge and a bucket of cold, dirty water.
What's the point of having a squad if you don't use it?
Danny Baily
373
Posted 28/12/2021 at 11:18:02
That statement from Howe is pretty clear. They've already decided they're not going to play.
David Pearl
374
Posted 28/12/2021 at 11:23:09
Exactly Colin,
Not a lot of people know this but that fella Jesus didn't perform any miracles at all. He just had a sponge. And a bucket of wine.
Jim Lloyd
375
Posted 28/12/2021 at 11:26:56
Ray, regarding the Sportsman. We used to have a drink in there, purely to see the barmaid, as the beer was a bit on the rubbish side!
Tony Abrahams
376
Posted 28/12/2021 at 11:34:57
Using words that sight envy and fear, is something that would make those phoney bastards, start mocking you Christine, but you're 100% correct though, because those superior fuckers are horrible, and won't be able to take it once we rise again🙏🤞

Paul Hewitt
377
Posted 28/12/2021 at 12:13:36
Newcastle have 4 new covid cases. Can't see this game going ahead. Brighton will probably get called off if they ask for it too be. It's getting crazy now.
Jim Bennings
378
Posted 28/12/2021 at 12:51:31
At some point in the future, they have to decide on the value of all of the "Covid testing".
I grew up in an era when you were sick if you actually were sick, now you've got a test (not always a reliable one either) dictating whether or not you have to sit at home in a bubble for a week, even if you are fighting fit physically. Can you imagine this during the years when men were needed on the frontline?
Fit fella gets a positive test, shows no symptoms at all, but has to sit on his arse and do nothing for over a week? It's become farcical frankly and the sooner some new way of "existing" is found, the better.
Jim Bennings
379
Posted 28/12/2021 at 12:56:40
You also have to question as well really, why the hell are so many footballer's testing positive for Covid anyway?
Correct me if I'm wrong they aren't using public transport, they arent standing in Aldi or Lidl in queues with all walks of society two yards behind them and basically in this era, have agents practically wiping their backsides for them.
Yet there's so many coming down with Covid?
Clearly they aren't living up to the restrictions then eh?
Andrew Ellams
380
Posted 28/12/2021 at 13:01:05
The other question is Jim why are there so many in the Premier League compared to other divisions?
Paul Hewitt
381
Posted 28/12/2021 at 13:05:35
Jim@378, I recently had covid, I only got tested because my son had it. I felt absolutely fine but had to stay off work for 10 days.
Danny O'Neill
382
Posted 28/12/2021 at 13:17:43
The more I'm seeing this, the more I'm thinking of 2 agendas:
1. Clubs using the current situation to cherry pick when they play if they suffer injuries. Ourselves included for the sake of impartiality. Everyone has a squad; if the threshold is genuinely broken then fine, but don't manipulate the system and use your squad.
2. Calling for a winter break to be introduced. We've discussed earlier and previously on here, but after this season, that's where I think this is going.
Nick Page
383
Posted 28/12/2021 at 13:21:52
Chanting tack slightly, apologies but has anyone else seen anything on this mooted strategic review requested by Moshiri?
https://www.goodisonnews.com/2021/12/28/farhad-moshiri-requestions-wide-scale-everton-review-this-season/
Apparently there is a piece in the Athletic. I worry that unless external consultants are brought in then BPB et al will fiddle the findings to point the finger elsewhere. Starting with Koeman, it's easy to forget he had Lukaku sold from under him yet no replacement to this day has ever been forthcoming. But BPB brought in Rooney on astronomical wages. This kind of unprofessional meddling has to be a main topic surely as this was a catalyst for the overspending debacle (lack of long term planning).
Darren Hind
384
Posted 28/12/2021 at 13:24:08
Danny 373
What did Howe say ? I cant find it.
I worry Newcastle will have more say in the grand scheme of things than they used to
Jim Lloyd
385
Posted 28/12/2021 at 13:28:13
Hopefully Nick (383) He'll be the first to get the noble order of the boot.
I also hope it will compare our setup in finch farm with successful clubs both in bringing young talent in and teaching them how to play "proper" football.
Ray Roche
386
Posted 28/12/2021 at 13:29:58
Talking of pubs, I remember in the late sixties Liverpool had Sunday opening times which meant that they stopped serving at 10-00, so if you stepped over the Liverpool city boundary into Roby or Huyton you got an extra half hour, because Lancashire Sunday opening hours were 10-30.
Ian Horan
387
Posted 28/12/2021 at 13:30:32
Going forward any winter break must accompanied with a strict line that no club is allowed to fly off to play high profile friendlies.. the sly 6 will all be thinking so sunshine training and a quick commercial opportunity!!! The continental managers constantly moaning about fixture congestion need to resign and freck off back to the leagues with the break. How about if you in Europe you don't play in the league Cup but the winner of the league Cup still gets a place in Europe the following season. One final thing to piss the sly 6 off, only the top 3 go into the champions league the 4th place is decided by a play off between the league Cup and FA Cup winners. As you can tell I am bored with to much time on my hands ✋
Danny Baily
388
Posted 28/12/2021 at 13:30:42
Darren, it was on the sky sports site. This bit sums it up:
Asked if he expects the game with Everton to go ahead, Howe later said: "I don't know. We'll see what the situation is with the players that we have."

Danny O'Neill
389
Posted 28/12/2021 at 13:30:54
Here you go Darren. Quotes from the BBC report:
Newcastle boss Eddie Howe said his side are "dangerously close" to not being able to field a team for their Premier League game at Everton on 30 December.
"These are difficult moments for us. I believe it's 13 plus a goalkeeper [to have enough players for a game]. We're going to be dangerously close to that number."
And to your point about potential favouritism, our own Pat Nevin in the same report:
"Eddie Howe needs time to get these players back and also to bring in other players."
In case I'm being overly biased and paranoid, here's the link:
Jim Lloyd
390
Posted 28/12/2021 at 13:31:59
PS, I think Koeman would have known that Lukaku wanted to go, as I seem to remember asking Lukaku to stay for one more year. But we have been criminallly short of forwards (top class forwards since he went)
Nick Page
391
Posted 28/12/2021 at 13:40:25
Agreed Jim. I think we all knew he would go but they should have tried harder to get one more year and/or had a long list of replacements lined up. We're still paying for that mistake now. So so amateurish and so so Everton.
Mark Taylor
392
Posted 28/12/2021 at 13:44:22
Ian 387, I really like that idea on the 4th CL place. There needs to be a possibility of breaking the current oligopoly, otherwise this game will cease to be a sport.
Stephen Vincent
393
Posted 28/12/2021 at 14:09:03
Really interesting to read the comments about subtle accent changes across the city. As a family we are strictly South Side. Mum from the Swan, Dad from Mossley Hill. Wife's family from Speke and Garston. You could throw a blanket over us all now in Woolton.
But didn't the city centre clearances of the 50s confuse the issue. I remember the Jackie And Bridie song.
'Don't want to go to Kirkby, Skelmersdale or Speke.
Don't want to go from all I know in Back Buchanan Street'.
We are all mongrels really.
Don Alexander
394
Posted 28/12/2021 at 14:22:15
Nick (#383), thanks for the link you provided but Jesus wept, Moshiri thinks he needs a review NOW??!!!
Truly bizarre, and the more so in that the review is quoted as "Requested by Moshiri and implemented with the help of the board, the strategic review is set to go right through every aspect of the football side of the club."
You really couldn't make it up with these clowns in charge.
Nick Page
395
Posted 28/12/2021 at 14:40:49
Lol, Don - exactly. Strategic review should have been started on Day 1. But BPB sold him the snake oil and he was (stupidly) happy to comply. If the strategic review doesn't suggest preventing the Chairman from engaging in any/all commercial decisions and that EiTC should be legally separated from EFC along with all of its staff including the CEO and replaced with experienced professional teams with commercial backgrounds in sports/sports entertainment then it has failed. Shameful.
Brian Murray
396
Posted 28/12/2021 at 14:42:02
Don. I wonder if this review has bk squirming at the back of his panto horse. Now that would be a best belated Xmas present ever. Don't rate this manager any higher than the last few but he's our big chance because of his big mouth and admirably says what he sees.
Brent Stephens
397
Posted 28/12/2021 at 14:50:09
Don, I think the questions to ask are about how this review fits into the existing strategic planning and review processes, and who is to conduct the review.
I don't think there's necessarily anything inherently wrong with having a strategic review of an organisation. Organisations I worked for had a rolling 3-year strategic planning / review process: setting a strategic plan for the next 3 years; and reviewing annually (and, if necessary, updating it), given the rate of change in the external environment.
And occasionally you need to step back from a rolling strategic plan and make a root-and-branch review of your strategic planning processes. Asking questions about how we do strategic planning, including who we involve in that. I think many probably feel that Moshiri might need external guidance and support in applying whatever strategic planning insights he has from previous organisations to a football context.
My concern would be if Everton weren't regularly reviewing their strategic plan. Assuming they have a strategic plan!

Derek Moore
398
Posted 28/12/2021 at 14:51:39
I'm from Wavertree, just off Picton Road. I used to drink in the long-since-closed Belle Vue as it was literally a stone's throw from our kid, now when I visit from New Zealand these days usually end up in the Welly.
First ever proper session was in another now-defunct establishment, the Irish Club on Derby Road. The arl fella's lot are the blue half of the family and hail from Bootle way.
Mum is a red and her family are still mainly congregated around Broad Green. Me, Dad and my elder brother Ashley were literally the only non-reds in the street!
Darren Hind
399
Posted 28/12/2021 at 15:08:51
Thanks Danny/s
Seems "Blue" Eddie only want to play when he is good and ready.
The rhyme was unintentional
Gerard McKean
400
Posted 28/12/2021 at 15:12:19
Danny 359: the pub near The Parade was the Noah's Ark aka The Animal House, Alan Rudkin ran it for a while. The Ponderosa, so called because all the cowboys used to go there, wasn't far away but was the British Legion. I think all the pubs you mention in Speke are gone now but for The Peg. My own favourite was picking my old fella up from St Christopher's Parish Club on Sunday lunchtimes. He'd be in the snug with his mates, all good men who kept Speke safe in the 50's and 60's, all of them had seen war service and almost to a man all Evertonians and they could belt out some great Everton and Irish songs!
Christine: I agree, I've always noticed a clear difference in the accents to the North and South of the city. One is not superior to the other, they just differ slightly.
Don and several others: a review? Sounds more like the self-styled "executive team" getting ready to mark their own homework. I feel another article coming on….
Tony Abrahams
401
Posted 28/12/2021 at 15:36:34
We have just got to hope that after wasting so much money, that Moshiri is going to be different in the future, and in the case of Mr Kenwright, all good things for himself, but bad things for Everton, have eventually got to change?
John Boon
402
Posted 28/12/2021 at 17:35:34
Tony (401) So True, but your words "We have just got to hope"is such an indicator of Everton's situation over the last 26 years. It really is a shame that "Hope" is really just hanging on to a sinking life boat. There were times when "New Seasons" were looked forward to with positive expectations. Today we just "HOPE". Just hope to avoid relegation. I will ALWAYS be an Evertonian but it is getting more difficult and even more "Hopeless"
Danny O'Neill
403
Posted 28/12/2021 at 19:35:43
I do remember the Nohas Ark Gérard. To the far side of the Parade from my Western Avenue perspective. The Ponderosa was somewhere down the middle in-between the Parade and Hale Road right? I wasn't a regular there!!!
A lot of my family gatherings were traditionally held at the Metal Box, including the most recent, a 60th wedding anniversary last month. The factory has gone, but the Social Club is still there!
I was Christened in St Christopher's, it was where my parents were married and my son's first nursery school before he went to Much Woolton.
Christine Foster
404
Posted 28/12/2021 at 19:43:20
Stephen 393, I think you're right, multiple generations grew up in the same streets but all that was good was destroyed with all that was bad in slum clearances. The facicious arguments against the regeneration around BMD is insignificant compared to the social cost done to the heart of Scotland road, Vauxhall, Everton Brow etc.. there were awful, truly awful slums that needed to go. I had close family from the Burlington courts, Oswald street and Roscommon street who lived there in the 40s in the 50s and early 60s until they were demolished. Instead of the new roads, tunnels, and industrial areas, new homes in bigger numbers should have been built instead of shipping on masse to the fringes and newtowns. I truly doubt anything would ever be attempted again in the UK. It was the right thing to do after you take the rose tinted specs off. Sad but thankfully true.
Tony Abrahams
405
Posted 28/12/2021 at 19:52:45
My hope is burning strong John B, simply because Mr Kenwright's high marks, are "hopefully" only going to be a true reflection of how that man himself, has unfortunately seen things for so long.
I was driving my car before and there was a Coldplay concert on the radio. "Fix you" came on, and being a sad/mad blue, my thoughts instantly went to Bill Kenwright (how sad, I know) because I always feel he helped break Everton.
It's an upbeat song for me though, and the lyrics got me thinking about the future, and although it's going to be a massive, massive (I could write that word a thousand times) wrench leaving Goodison, maybe then, once Kenwright leaves us, we might just begin to be fixed🤞
Dave Abrahams
406
Posted 28/12/2021 at 20:04:50
Christine (404)I sometimes tell people about the slum conditions that went on until the late fifties and early sixties in the courts and terraces you speak of with eight houses sharing one toilet and a communal tap, sounds ridiculous and part of Charles Dickens stories, I felt posh just two minutes away from that with our outside toilet and tap all to ourselves.
Then again all the closeness of knowing your neighbours even streets away went with that regeneration, now it is entirely different, I got off the bus too early a couple of years ago, going to a funeral at Our Lady's Eldon St. and asking my way to the church no one had a clue where it was, they were all strange to the area,until I bumped into an old mate who was born around there and he walked me down to the church.
Christine Foster
407
Posted 28/12/2021 at 20:23:04
Dave it's ridiculous. It's like the Monty python sketch..we were so poor...
Telling or trying to explain what it was like then people look at you as if you are from a different planet or cannot believe it was just a generation ago.
In the museum of life in liverpool is an 8ft x4ft Pic of my Nan in Burli washouse Cate Ruth. Nee Hughes, a reconstruction of the house her family lived in the courts, is also there as a reminder or eye opener. I am proud of her and every kid that made it out of those slums. It instill in many the drive to leave it behind and make a life but never forget who they are and where they came from.
Danny O'Neill
408
Posted 28/12/2021 at 20:29:43
As someone who was born in Liverpool, lived abroad as a young kid, came back as a youngster, traveled with the Army, came back with my family and now lives in London, you never forget your roots or where you come from Christine.
Jack Convery
409
Posted 28/12/2021 at 20:47:26
Newcastle game off. Typical - Wilson and Saint Maxim both injured.
Eric Myles
410
Posted 29/12/2021 at 05:56:26
Eddie #369, my Moonstone days ended in August 1977 when I went to Newcastle to become a student and it was gone by the time I returned. Was there a couple of night a week for the 2 years previous though.
Incidently the mate who I used to go see play is still gigging around Liverpool in a band called Swingology.
Gerard McKean
411
Posted 29/12/2021 at 15:18:23
I must know some of your family, Danny. Too many points of reference! My Dad worked in Metal Box for 30 years. We lived in Hale Rd opposite Dunny's and I often met my mate from "the new part of Speke" in The Peg. I think the name of the road where the Ponderosa was is Little Heath but I could be wrong on that.
Bill Gall
412
Posted 29/12/2021 at 15:49:11
Christine #407
As you say it is hard for people today to realize what conditions that some people had to endure before and after the war. My wife's family lived in Queen Anne Place in the 4 Squares before they were moved to Croxteth with the redevelopment around that area. She reads some of the comments on here and when someone mentioned about an Italian family she said there was an italian family on the same landing that they lived on The Muscatellis. ( apologies if I spelt it wrong ) she said they had 5 boys and 2 girls, and along with other families they struggled after the war but at the same time everyone helped each other, your door was always open and the kids could leave their toys anywhere and new they would be returned.
Danny O'Neill
413
Posted 29/12/2021 at 15:57:31
My Grandad (Dad's side) lived on the corner house on Hale Road (junction with Tewitt Hall Road Gerard. Just across from Dunlops and the Fox. I still remember the old Off Licence window in the Fox as a child when he used to go and fetch bottles of Guinness. Johnny O'Neill; he scared the shit out of me and was apparently a bit of a local Billiards champion back in the day.
My Dad's best mate and my Godfather (god bless him), Vinnie Morrison lived on Western Avenue. His dad (Paddy) was as ferocious as their Staffordshire Bull Terrier, who also terrified me. He allegedly was part of the 1916 uprising in Dublin and I'll never forget his other son, Vinnie's brother telling me in the Peg the week before I joined the Army that I was okay, but he hated the British Army!!
I still have cousins and Aunties dotted around the area. My mum (bless her soul) grew up mostly in the Prefabs, which she spoke of fondly. When we came back from Germany, she eventually settled on School Way before moving to the new houses on Colworth Road (Dymchurch estate), where she sadly passed away, almost on the site where she had grown up.
Dunlops. Now there's a memory. Home on leave but no ticket and parental responsibilities. That's where I watched the 1995 FA Cup Final with my best mate Dave (god bless him too), my youngest brother (only 5 at the time) and my son (aged 5 months). So technically my son has witnessed Everton win something, but he needs to (and will) see and remember it.
Dave Abrahams
414
Posted 29/12/2021 at 16:04:24
Christine ( 407), Burli washouse,got me going there Christine, as a young boy ten or eleven, my job was to mind the maiden to dry the clothes for my Auntie Ann until she brought them over, imagine a young lad telling women they couldn't use that maiden because it was my Aunties!! Luckily no one challenged me and my reward was a large cup of tea and a thick toast buttie before we walked home with the washing, she even learned me to carry it on my head making sure it never dropped on the ground !!
Explaining to my grandson how we used to make the fire on a cold winters morning is another story, part of which is Sonny saying " You used to have a fire in the house? a real fire? They don't the half of it.
Dave Abrahams
415
Posted 29/12/2021 at 16:16:30
Bill (412), I used to envy the people who lived in the 4 Squares, I thought they were dead posh with their own bathroom and electricity, I lived in Everton Brow but spent a lot of time with my Nin ( grandma) and Auntie Ann and they had gas mantles for lighting and had to go down to the cellar to get water from the only tap in the house, with entertainment coming from the wireless which needed a battery and an accumulator, no wonder I am very easily pleased !!
Tony Abrahams
416
Posted 29/12/2021 at 16:24:01
Tellin us how you carried washing on your head without dropping it will be the hardest thing to explain Dave, because nobody is going to believe how you managed to do that!
Christine Foster
417
Posted 29/12/2021 at 16:25:31
Bill, it's hard to pinpoint when things changed, the break up of communities certainly was a factor but I remember when we were shipped out to Netherton, the community was still pretty strong. Subsequent generations did not carry it forward and the children of the slums joined the chase for a better life.. By the 70s they had strong unions and better working conditions but like a pendulum the swing when it happened swept away unions and replaced it with Thatcherism. In my view the single most socially destructive government this country had seen. It's all history now, but it was the final nail in the coffin of many communities replaced with the yuppies and individual winner takes all ethos. Liverpool didn't fit into the plan, it's people could see what was happening and didn't want it, so hence the "managed decline" strategy of Thatcher. Yes change has to happen, people embrace change but often the many good things you have are lost.
Christine Foster
418
Posted 29/12/2021 at 16:39:01
Dave, the washhouse at the top of Burli was almost the community center, prams lined up outside to carry the washing home, or folding it all into a sheet, tied and plonked on top of your head, God they were heavy Dave, a long line of women in black shawls, respect for loss of loved ones. Worst bit? Carrying it up the flights of stairs in Portland Gardens..
Coal fires, come home to a real fire, buy a home in Wales. Welsh Nationalists... but a coal fire heated the water, warmed the room. I miss them but not clearing out the ashes or putting a newspaper and poker in front of it to draw air in, how dangerous was that?
Dennis Stevens
419
Posted 29/12/2021 at 16:42:36
If it hadn't been written already, there'd be enough material in this thread for the Python's Four Yorkshiremen sketch!
Christine Foster
420
Posted 29/12/2021 at 16:46:19
Dave, my Nan had a sister who lived in Oswald Street behind Wilberham House on Scottie Road, the fire had a range for cooking, the gas mantle, how could I forget that? The coal hole, nutty slack...
Dave Abrahams
421
Posted 29/12/2021 at 16:51:54
Christine (418),
What about the coalmen having to carry those hundredweight bags of coal up them stairs as well? Yes remember them newspapers in front of the fire, blowers, to get the fire roaring.
Oh and Christine, talking of those black shawls, I've had my shawl on this afternoon gabbing away. I'll be the talk of the washhouse, especially if that bleedin' (excuse the French, Christine) Brian Williams from Birkenhead reads these posts!!
Christine Foster
422
Posted 29/12/2021 at 17:10:42
Dennis, yes indeed there would but as funny as it was, but I was always a tad uncomfortable with it too, because real poverty leaves scars. The sketch would have been better suited to four scousers rather than 4 Oxbridge fellows making fun of the poor!
Christine Foster
423
Posted 29/12/2021 at 17:33:40
Haha Dave, those poor coalmen, I still remember the calls from the landings shouting their orders! "One bag of good with a nutty slack lad.." gossip could spread faster than a coal fire on the landings Dave, arguments would take place as a shouting match with many spectators. Some things are not missed! Oh and that expression, I use it myself Dave, "excuse the French" where did it come from?
Brian Williams
424
Posted 29/12/2021 at 17:51:14
@421.
👀
Dave Abrahams
425
Posted 29/12/2021 at 18:15:05
Christine (423), got my shawl back on, urged by those arguments on the landings of the tenaments in the 4 Squares, two woman were having a right go at each from one side of the square to the other with various members of each family joining in. all verbal, went on for minutes on end when an auld fella started singing. " dah, dah, dah, darra dah " to the tune of Coronation Streets theme music, that stopped them, for a few minutes then on it went.
Then there would be the fisty cuffs during and after the card schools, dice and toss schools or during the endless games of football with the bizzies doing their visits every so often, making them quick and glad to be out of it and letting the residents get on with it.
Darren Hind
426
Posted 29/12/2021 at 18:29:39
The main coal merchants round Woody and Ashy Gardens were the Donevan's from Eppy - Epsom way.
Those boys could graft.
John Keating
427
Posted 29/12/2021 at 19:04:43
In the Friary and Netherfield Road later on, half my mates were from the four squares the other half from "my side" of the Brow, the Friary side.
I always thought, although the squares were posh compared to our side of the Brow we were of a much better level.
Might be 6 in a bedroom, but our mice, rats and certainly the bed bugs were far better fed and of a more sophisticated demeanour.
When they did start shipping us out we were one of the few lucky lot in that we just moved over the Brow to Salisbury Street - an underarm stone's throw from the Clock!
The only disastrous downside was that it was in SFX parish! Worse than being an RS

Billy Bradshaw
428
Posted 29/12/2021 at 19:20:03
Hope that this does not offend, talking about coal fires in the house, I lived in Eastbourne Street off Shaw Street, Islington. I never forget 1963 when John F Kennedy got assassinated, the news came over the radio while I was in the tin bath in front of the fire having a wash. True story, by the way.
Eric Myles
429
Posted 30/12/2021 at 07:14:31
Christine #418,
You reminded me of a time I was working in Saudi and travelling back to Liverpool for Christmas, with a stopover in Paris to meet up with some old uni friends.
They had just moved from a luxurious central-heated apartment in the centre to a cottage in a village on the outskirts, made famous by the invention of Bernais Sauce, I was told.
Anyway, they had a coal fire and, until I turned up, had got it going by spraying paraffin on the coal and standing well back when lighting it! I showed them the knotted newspapers under the coal trick, and the poker and newspaper in front to create the draught.
A lot safer than the way they'd been doing it.
Gerard McKean
430
Posted 30/12/2021 at 18:11:18
Danny, next time you're up we must have a pint. I remember your Grandad; he lived about 5 doors away! A hard working man, I recall.
I don't think I know Vinnie but I certainly remember Paddy. Now there was a character! He was an old man by the time I used to see him out and about. You'd see him walking along Western Avenue or occasionally in St Christopher's Club.
He was a lovely old guy but somehow you knew even at his age you would not want to cross him. He knew I was the grandson of a woman from Athlone so I was always in his good books!
Danny O'Neill
431
Posted 02/01/2022 at 09:27:21
Small world Gerard!
I don't know if you knew my dad, Charlie O'Neill, as he never really lived there. That side of the family grew up in the Garston Tennements before my Grandad moved to Hale Road.
We'll go for that pint in what ever non-hotel based pubs still exist in Speke!! Then there's always the Childe of Hale.
Brian Murray
432
Posted 02/01/2022 at 09:33:48
Alright Danny. Are you going straight to gods little acre area or in town for a while. Just getting train from Formby. See you in the crown before or after. Hope it's a great day for you.
Danny O'Neill
433
Posted 02/01/2022 at 09:44:04
Crown after the match Brian to keep me close. But I'll be in town before, arriving Lime Street around 11am. Was going to head over to the Post Office as Dave Abrahams put the idea in my head
Rob Halligan
434
Posted 02/01/2022 at 09:56:28
The Childe of Hale, Danny. Been there many times with the missus for a scran. Followed by a walk down through the village to the path that leads down to the lighthouse. We actually walked along the top of the cliff that overlooks the Mersey one day, and almost ended up at the back of the runway at Liverpool airport. We ended up walking back along the main road back towards the Childe of Hale pub.
Just some useless information for you!!
Danny O'Neill
435
Posted 02/01/2022 at 10:18:15
Church Lane and the Shore (Hale / Oglet) is a fine walk Rob. Especially if you have dogs.
---
Add Your Comments
In order to post a comment, you need to be logged in as a registered user of the site.
Or Sign up as a ToffeeWeb Member — it's free, takes just a few minutes and will allow you to post your comments on articles and Talking Points submissions across the site.