Reports: Everton 'close in' on Patterson deal
Sunday, 2 January, 2022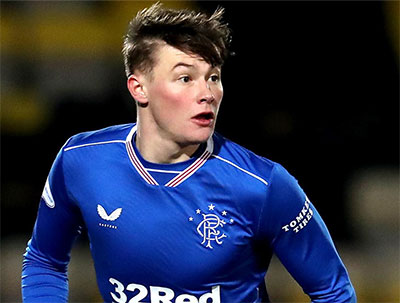 Everton are set to sign Nathan Patterson from Rangers in a deal that could ultimately be worth £16m according to reports.
Suggestions from the likes of Sky Sports' Alan Myers and Paul Joyce of The Times have it that a deal has been agreed with the Scottish club that would see the 20-year-old move south to Goodison Park for an initial fee of £9m £12m.
Should the transfer come off it would represent the culmination of a months-long pursuit of Patterson whom the Blues tried to sign for £9m before the summer transfer deadline.
Those negotiations ultimately failed due to disagreements over the payment terms and a sell-on clause but Everton now appear to have ironed those out and hope to rubber-stamp the deal in the next few days.
---
Reader Comments (126)
Note: the following content is not moderated or vetted by the site owners at the time of submission. Comments are the responsibility of the poster. Disclaimer
Kunal Desai
1
Posted 02/01/2022 at 20:35:03
£17 million on Mykolenko and £12 million on Patterson. Assuming a big sale is going through and by that I don't mean Digne.
Richarlison or DCL funding these deals together with a touted CM I wonder.
Brian Ronson
2
Posted 02/01/2022 at 20:45:48
Great that the cavalry are coming but why play Coleman at left back when Godfrey has done a decent job in recent games? I have not been anti- Benitez because of his previous association with Liverpool but some of his tactics and selections are incomprehensible.

Jim Bennings
3
Posted 02/01/2022 at 20:48:16
Must surely now mean that Coleman will only be backup understudy for what's left of his dwindling career.
Pat Kelly
4
Posted 02/01/2022 at 21:25:55
Slowly assembling a team for the Championship.
Barry Rathbone
5
Posted 02/01/2022 at 21:32:27
Pat Kelly @4,
We've been on that track for years.
Barry Ferguson
6
Posted 02/01/2022 at 21:56:48
Can't get my head round how I feel about this (Mykolenko + Patterson) at the moment.
Pros:
- right age and potential profile
- don't feel like Rafa signings
Cons:
- unproven in the Premier League
- lot of money for potential FFP situation
- if it ain't Rafa, who the hell is it?
- if it is Rafa, why the fuck are we backing this horrific, failing, fan dividing, dinosaur with money???
My core hope is Moshiri has someone lined up who's giving a yes to the signings and will soon be replacing Benitez. My worry is in 3 weeks Rafa will say "weren't my choice" and drop them for Coleman and Godfrey (latter back in as left-back) and we have the same disjointed shit we've had since Koeman and Walsh bought 4 shit Number 10s.

Dave Lynch
7
Posted 02/01/2022 at 21:58:44
I've been told by a lad who is usually reliable that Coutinho is on the cards as well.
Sam Hoare
8
Posted 02/01/2022 at 22:05:23
Patterson looks a very decent prospect but, like Mykolenko, he is very raw and untested in the Premier League. I very much hope the final deal is nearer £9M than £16M – otherwise, we are overpaying once again.
Even £9M would seem a lot for a right-back with only a handful of starts in the Scottish Premier League. For context, Lamptey cost £3M, Livramento cost £5M and Coufal cost £5.5m
I like the idea of targeting young dynamic full-backs who can get up and down their sideline but these fees seem a bit inflated to me; hopefully they prove worth it.
Paul Smith
9
Posted 02/01/2022 at 22:06:15
I don't believe we're selling our big players to fund this, it's hysteria.
We have money.
Its FFP that's the issue and getting James off the books and Digne going will be more than enough.
As for the signings I no longer get too excited, most have been shite over the last few years.
Barry Hesketh
10
Posted 02/01/2022 at 22:12:34
Sam @8,
The Glasgow Times report that Everton will pay Rangers around £12million for the services of Patterson with add-ons taking the deal to £16million.
It is also understood that the Merseyside club will pay almost all of the initial fee up-front.
Tom Bowers
11
Posted 02/01/2022 at 22:18:31
Two new fullbacks in the door which is good but we are crying out for another class act going forward who can score.
The first priority however is to get this mob motivated. Only one last minute win against the Gooners is what we have to show for most of the miserable efforts of the last 2 months.
Going behind so quickly today shows what a shambles the defensive strategy appears to be and Rafa and the coaching staff must shoulder the blame.
Who thinks the return of several injured players will make the difference? Not me. They have looked a jaded team for too long and I am no longer sure Rafa can change that.
Tony Abrahams
12
Posted 02/01/2022 at 22:26:42
A commanding centre-half and another energetic midfielder are also needed now.
Colin Battison
13
Posted 02/01/2022 at 22:31:44
It would not surprise me if Benitez plays Patterson at left-back and Mykolenko at right-back...
After today's debacle, anything is possible.
Tony Everan
14
Posted 02/01/2022 at 22:37:09
We'll find out soon enough if the scouts and Benitez have made the right call. These young full backs will be rigorously stress tested for their defensive ability in the Premier League.
I can't help thinking it's a big gamble on them both being a success in the Premier League. At the same time, I'm happy we have bought young and hungry players who are happy to be here. They'll bring energy and enthusiasm and play without fear.
The fans will love a bit of that and it will be infectious to the rest of the team. If the scouts and Benitez have vetted well, then these two players will give us a big lift.
We could have a very youthful back four lining up soon – possibly our long-term one?
Patterson Godfrey Branthwaite Mykolenko
Vijay Nair
15
Posted 02/01/2022 at 23:35:30
Finally addressing the gap at right-back is a step in the right direction but long overdue. The defence (if I can even call it that) needs a total overhaul. Personally I would get rid of the lot of Keane, Mina and Holgate and bring in two proven centre-backs, preferably under 30. Though I can't see anyone worth his salt wanting to join this shit-show. Kenny out as well as he's not good enough, period.
While we're at it, let's just have a fire sale of all the passengers in midfield and attack, like Gbarmin, Delph, Gomes, Tosun and Rondon (yes I know I'm dreaming).
We just need to start again with a good young core of hardworking, hungry players in the mould of Gray and Gordon in the last match.
Rob Halligan
16
Posted 02/01/2022 at 23:43:44
Seems he's had, and passed his medical sometime today, so should be formally announced tomorrow.
Mark Andrews
17
Posted 02/01/2022 at 23:50:11
Benitez will play him up front or in goal.
Kieran Kinsella
18
Posted 02/01/2022 at 23:52:29
Barry Ferguson
Every time you post, I have flashbacks to when Kenwright made a phantom bid for your namesake for much less than Blackburn had already agreed to pay Rangers. Caused quite a stir on ToffeeWeb.
That's assuming you're not that Barry. I do recall someone randomly posting on here in a response that implied the poster was Danny Williamson.
As for Patterson? Who's signing is this? Was he a Brands target? If so, why are we going back in? Or was he a Rafa choice? In which case, why's he paying so much based on his rating on Rafa's Championship Manager database?
Either these two jokers have exactly 2 weeks to prove themselves before they are branded as 'deadwood'. Good luck, boys.
Vijay Nair
19
Posted 02/01/2022 at 23:54:08
Add Iwobi to my long list of passengers above. Can't believe I forgot the worst one of all!
Kieran Kinsella
20
Posted 02/01/2022 at 23:55:37
Vijay,
That's the sad thing. When our right-back search started 4 years ago, that was the priority. Since then, everyone else has had time to turn to shit… so now it's more like plugging a dam.
John Raftery
21
Posted 02/01/2022 at 00:01:42
If Patterson proves not to be a success, presumably we can blame Marcel Brands for pursuing him in the first place. At 6 ft, he should be able to help us defend set-pieces and crosses better than we have in recent months.
I hope he is ready to hit the ground running in the Premier League because we badly need him to. His lack of experience in terms of regular league action leaves me feeling slightly nervous. Paying this amount for potential seems like a gamble for a club in our situation. Fingers crossed it all works out.
Gary Carter
22
Posted 03/01/2022 at 00:11:03
It really doesn't matter who we sign while we have the clueless dinosaur that is Benitez at the helm. He has proven in nearly every single game this season that he doesn't get us, he doesn't get the Premier League and that his outdated "tactics" belong in the '90s.
Gavin Johnson
23
Posted 03/01/2022 at 01:36:35
Based on Lucas Digne's form for the whole year of 2021, bringing in 2 lauded young exciting full-backs that could serve us for the next 10 years with the money we bring in, looks good business.
The worry is how long are these 2 going to take to settle in?! We need them in the first XI now!
Jay Harris
24
Posted 03/01/2022 at 04:24:04
We need a hard nosed bastard in MF and a CB who can get the defence organizec not go missing every time the ball comes into the area like Keane and Holgate.
We need a strong spine and we havent got it. I welcome the signing of 2 new full backs but they are not for the battle that we have here and now.
Phillip Warrington
25
Posted 03/01/2022 at 04:30:08
Shit, I thought we needed a decent striker not a back-up for Calvert-Lewin but someone who would challenge him. Can we recall the lad from Juventus and send them Rondon? But so far two full-backs with no outgoings as yet.
Andrew Brookfield
26
Posted 03/01/2022 at 08:02:20
So much negativity.
Benitez signings have so far been a success, even Rondon now he is getting fit looks ok for a striker signed on a free, I'm not sure there were any better target men available for nothing in later summer.
Two new full-backs should give us more pace, height, and grit. We're not going to get relegated this season, so they have six months to learn the Premier League and bed in ahead of a serious push up the table next season.
I agree other areas need fixing, a tough tackling midfielder and a bit more creativity, but this rebuild was always going to take a number of windows. What we need is stability, so we have to back Rafa and his signings.
From what I can see, he is operating very shrewdly in the transfer market at least. Selling our underperforming left-back and replacing him with a left-back and right-back for the same money looks like good business to me.
Eddie Dunn
28
Posted 03/01/2022 at 08:33:19
Andrew, you must have had some great Xmas presents and too much sherry in your trifle if you think we our going to suddenly start winning and pull clear of the drop-zone. Just watched the highlights and two goals were down to zonal marking. It's the same old mistakes.
Rafa's post match interview just talked about errors costing us. No mention of his strange tactics, or Coleman at leftback, or his hopeless parody of zonal defending.
Any other manager at any other club in any division would have been sacked already. How can you defend Rondon, when Dobbin is sitting on his backside and not signing a new deal?
Sack the incompetant twit and see how these kids can play under Unsworth and Dunc.
Rob Halligan
29
Posted 03/01/2022 at 08:35:52
Andrew…
"Benitez's signings have so far been a success, even Rondon, now he is getting fit, looks okay for a striker signed on a free. I'm not sure there were any better target men available for nothing in later summer."
There was, we let one go!!
Steve Shave
30
Posted 03/01/2022 at 09:00:29
Rob @29,
I don't know what player you were looking at when you mention the words "Rondon" and "fit" in the same sentence.
Personally, I thought he looked well out of shape, for a signing that has been much maligned since his arrival (though actually getting booed yesterday was a smear on our own fans IMO), this is completely unacceptable.
He needs to step it up, if not for the fans, then his own dignity. He looked bloated and fat.
Robert Tressell
31
Posted 03/01/2022 at 09:01:18
What we've lacked now for many years is partnerships around the First XI.
Patterson and Gordon on the right flank looks promising (if that's the position Gordon settles into). Although yesterday was atrocious, it felt a bit like a proper coming of age for Gordon - who took it upon himself to take that game by the scruff of the neck and try to effect the outcome.
Patterson seems to have a similar mentality from what I understand (although haven't really seen first hand).
Hopefully Mykolenko and Gray can form a similar partnership.
Still lacking chemistry at CB, midfield (whether a duo or trio) and attacking midfield support for DCL.
Derek Moore
32
Posted 03/01/2022 at 09:03:27
Very hard to get first XI combinations and partnerships with no managerial stability, though, Robert!
We know that this squad is four or five different managers' players thrown together, and with a few mystery selections (like Iwobi) to further muddy it. Hard to make combinations from players signed with different aims, philosophies and assessment of their talent.
So many of our problems are circular in nature, and for the life of me I just can't see or even imagine a circuit breaker that will change things. Brands was supposed to bridge this gap between managers; instead, we scapegoated him and he's thanking his lucky stars he's out somewhere on the continent.
Steve Shave
33
Posted 03/01/2022 at 09:36:39
I have slept on yesterday's shit-show and have calmed down a little. I want us to give the Benitez more time. He is just about to make another signing and word on the street is he is looking for a centre-midfield enforcer as well (though not sure Kamara fits that description!).
He is ruthless and may just get rid of some deadwood and make some of the tough decisions that have needed to have been made for a long time. He needs to get it together though as I think there is no defending him if we get knocked out of the cup and lose badly to Leicester.
I was going to post something similar to Robert @31 actually, partnerships are key and in Branthwaite, Godfrey and Mina we have some potential there (note the absence of Holgate and Keane from that, the former should be sold this window with any luck). He can play with those combinations but the pace and potential of Godfrey and Branthwaite excites me.
As you mention, Robert, Patterson and Gordon, Mykolenko and Gray also have potential though I see Gray moving more central when Richarlison returns. Think of a fit-again Calvert-Lewin with Richarlison, Gray, and Gordon behind, surely there is some spark in there?
Calvert-Lewin is back and 90 mins under his belt would have done his fitness the world of good, we must start giving Dobbin minutes though or he will be off. Simms should go back to Blackpool on loan and get minutes.
Jason Li
34
Posted 03/01/2022 at 09:38:47
Great stuff if Patterson happens.
Like buses come in threes, any chance someone made a cheeky bid with a swap deal for that midfield dominator Bissouma while he was in the ground?
Select from Iwobi, Delph, Gbamin, even Gomes.
Robert Tressell
35
Posted 03/01/2022 at 10:01:20
Derek,
I totally agree, the managerial chopping and changing has unsettled things. The last time we had partnerships that worked was the end of Silva's last full season. Contrast that with what Moyes left us with.
Steve, I also agree we need to see Dobbin for the last 20 mins of games. Pace and a good attitude will cause trouble. And it would be very poor if we managed to lose both him and Small for more or less nothing.
Dave Abrahams
36
Posted 03/01/2022 at 10:20:51
Robert (35),
I think we will get a decent compensation payment for Small but, if Dobbin doesn't accept a new contract, there is a danger we could get robbed off by a European club where the compensation will be for less than nothing – even though he has been with us since a very young boy.
Joe McMahon
37
Posted 03/01/2022 at 10:32:18
Carrying on with transfer disasters, which seems to be very much the Everton Way, is anyone else thinking surely Tavernier is the one we need, the first choice for Rangers, and not Patterson?
Paul Smith
38
Posted 03/01/2022 at 10:36:05
Patterson has only played twice for Rangers first team right ?
It's a risk.
Dave Williams
39
Posted 03/01/2022 at 10:40:12
Rafa has been very resistant to blooding youth, as was Carlo. It therefore surprises me that we are laying out some decent money on two young full-backs – it just doesn't seem like they are Rafa deals.
They are actually exactly what we wanted from Brands – young, ambitious, aggressive and both are tall which will be very useful in sorting out our problems at set-pieces. Hopefully both will increase in value.
Now Rafa needs to give Dobbin the assurances he wants concerning first-team opportunities. Having lost Small, we cannot lose another of our brighter young players – especially if it is because we prefer to use Rondon!
Neil Copeland
40
Posted 03/01/2022 at 10:57:53
Joe, funny you should say that as I was thinking along the same lines. Apparently, Patterson can't get into the Rangers team due to the form of Tavernier. I appreciate that Tavernier may indeed be very good but he is playing against mid-table Championship and League One level opposition most weeks which makes it difficult to judge. But, surely against that level of opponent an up and coming star like Patterson would have been allowed more game time than he has?
I have seen the lad play a few times for Scotland when he had looked very good albeit a little raw. Those games were World Cup qualifiers though, which are not the best standard and a different type of football to the Premier League.
Having said all that, it is good to see us bringing in up-and-coming younger players. I would expect him to be here as a back-up for Seamus initially; I wouldn't be surprised if he plays against Hull though.
Anthony Hawkins
41
Posted 03/01/2022 at 11:01:06
@Joe,
It's interesting that Patterson hasn't played much this season and appears to feature mostly in Europe with Tavernier and Barisic as fullbacks for the league.
Hopefully Benitez has spoken with Gerrard before putting in an offer.
Paul Tran
42
Posted 03/01/2022 at 11:03:51
Taverner is club captain, solid & reliable at that level. Patterson is a good young player with a future. We've been scouting him for a long time. We neglected to buy Van Dijk, Robertson, Tierney & Edouard from Scotland when we had the chance after watching them.
I think he'll prove a good signing.
Paul Tran
43
Posted 03/01/2022 at 11:10:53
Taverner is club captain, solid at that level. Patterson is a good young player with a future, the kind we should be signing.
How many young players did we throw into our teams that were challenging for the title?
We scouted and regrettably didn't buy Van Dijk, Robertson, Tierney & Edouard from Scotland.
I'm glad we're buying this lad.
Simon Harrison
44
Posted 03/01/2022 at 12:07:45
The Ibrox news has reported that Patterson has left Glasgow already, and s heading to Everton for his medical, and to finalise his T&C's.
According to F. Romano, the deal is £12m plus upto £4m in add-ons. Announcement is imminent this week; lets hope so.
Kevin Prytherch
45
Posted 03/01/2022 at 12:17:40
Something that baffles me, we are quite willing to spend around £35m on 2 x 20 year olds, but are unwilling to ever trust anyone under the age of 23 who has come through our youth ranks.
Is it that these 2 have simply been exposed to first team football already and are therefore more developed than that of our youth academy?
If so, at what point do we look at this and think "if we give some of our promising young players an actual chance, maybe we could end up with a few £20m 20 year olds?"
Also, how have we, in the space of 2 first team starts for Rangers, gone from not meeting the £10m asking price to paying £16m for a player? Are we quite possibly the worst negotiators in the league since Moshiri has come in?
Oliver Molloy
46
Posted 03/01/2022 at 12:30:39
The former Rangers manager " Everton or anyone else need to pay a lot of money for this outstanding young player with a massive future ahead if him - he's going to be top class ".
Why is he nor in for him?
I know nothing about Patterson, but it seems we are the only club after him!
Simon Harrison
47
Posted 03/01/2022 at 12:37:28
I agree Kevin. There seems to be no rhyme or reason to this lot?
Just with regards Mykolenko and Patterson, I believe that they are the last vestiges of Brands tenure. As I can't see Benitez going for these player types. However, in saying that, they are both full international players, and have demonstrated on the international stage that they have ability, along with potential (Till they move to EFC of course!)
Regards the fee, again Kevin, I know it's January and prices go up; but why 20% higher than Summer, and why the additional 33% in add-ons? This wouldn't have happened under Brands, and it smacks of a 'panic' buy. Or is it the usual BK thinking we've got, or are getting money for Digne, and he just can't stop his largesse with other peoples money? Either way it smacks again of bad business.
Why didn't we meet Thierry Small's demands and save that £17m+, obviously offset by Small's demands; instead of buying Mykolenko?
I hope we can keep hold of Dobbin, but with Benitez's insistence to play Rondon, will surely play on his mind.
It is just business as usual in the boardroom methinks; clueless, inefficient, and unable to adapt to changing circumstances.
Plus ca change
Joseph Terrence
48
Posted 03/01/2022 at 12:37:56
10m for a right back that doesn't start in the Scottish League. I hope he will be a success but this is pure Everton
Tony Abrahams
49
Posted 03/01/2022 at 12:45:11
Good point Kevin, but Kenny, has been exposed to first team football, and is getting deemed to be not good enough, although someone at Everton must have rated the lad, otherwise he would have been sold to Burnley, this time last year for a few million pound.
Derek Moore
50
Posted 03/01/2022 at 12:50:44
Along with Robert Tressell, Sam Hoare knows more about transfers than anyone I've ever spoken to. Online or in person. If he believes this is a large overpay - and in view of our recent transfer dealings under Moshiri ownership - then I'm concerned.
I've been convinced that Moshiri has been getting relieved of his money by some of the biggest chancers in the sport. (Fat Sams Tosun and Walcott buys for example, Sigurddson ridiculous fee et al)
This does little to change any of those impressions. Just hope the boy can deliver on the pitch. At the end of the day, any fee is a rip off if the player can't do the business right?
Clive Rogers
51
Posted 03/01/2022 at 12:50:58
Paul, #38, no he has made 13 appearances for Rangers and 6 full international appearances for Scotland.
Paul Smith
52
Posted 03/01/2022 at 12:54:42
Thanks Clive. If he turns out half as good as Tierney he'll be a steal. Now that's a player.
Robert Tressell
53
Posted 03/01/2022 at 13:09:50
I've never seen this guy play so can't really comment - but he seems very highly regarded and not just by Everton.
The fee seems a lot given Edouard was only £15m after scoring consistently in League and European football for Celtic (but maybe his contract was close to up - can't remember). And Patterson has barely played so £9m seems high but, I suppose, could prove to be a bargain if he holds that position down for 5 to 10 years which he could well do.
The add ons probably get triggered in stages with appearances, trophies and Champions League football - so if we end up paying £16m it will be because Patterson has helped take us to new heights. Again that would mean £16m is a bargain.
Can't really think of another credible RB who would cost less. Maitland-Niles probably about the same, Aarons certainly more. And we're getting desperate, too. So I'll be relieved once he signs and look forward to seeing him in the first
Hopefully there might be one or two others too - probably on loan or nominal fees, but anyone in this bracket likely to materialise late in the window after weighing up all options.
Kevin Prytherch
54
Posted 03/01/2022 at 13:23:31
And another thing, whilst it's good getting transfers done early, does this not severely weaken our negotiation with Digne?
Any team coming in for Digne now (unless there's a bidding war) will simply offer less money for him. They'll say "we know you need the money, so you either accept £10m less or have him sat in your reserves for 6 months, whilst risking FFP regulations", or failing that "we'll take him on loan to save you the wages".
Do we actually have the money for these transfers or is it a calculated gamble that players are leaving?
Rob Dolby
55
Posted 03/01/2022 at 13:23:54
It's a long overdue signing. Making him Rangers most expensive sold player. I can still see Coleman being the number 1 whilst the lad gets adjusted to life in the prem.
It's a big step up from Rangers reserves to our first team. I hope too much expectation isn't placed on his shoulders.
Digne looks to be history so Mykolenko will have to hit the ground running otherwise Godfrey is back there. Nkounku like Kean must be deemed surplus to requirements.
As for the calls to replace the entire defence I would look more towards energy and aggression in the midfield before going anywhere near the centre backs. Allan and Doucoure don't really have any competition for their places. I would like us to try 5 in the midfield every so often to compete with 99% of the other teams that have been using that formation for the last 10 years or so. City and the shite do ok by winning the midfield battle every week. I wonder if our manager will try that?
The same defence has proven to be competent at defending set pieces last season when coached differently than this season.
Last year we packed the midfield which also helped out the defence.
This year we surrender midfield which automatically puts the defence under more pressure hence the results. Training ground set piece defending has reverted back to Roberto's days. Imagine if Keane told both full backs to mark a post and to go big for big during corners whilst leaving gray on the halfway line! Poor old Keane would get slaughtered for disobeying the manager.
Danny O'Neill
56
Posted 03/01/2022 at 13:36:02
It does make you wonder.
Was the owner suffering from burned fingers in the summer, so the FFP smoke screen was just that?
Was the FFP mask genuine?
If this goes through, we seem to be planning, so the manager isn't going anywhere too soon?
Too many questions rather than answers or even an opinion.
Mike Hughes
57
Posted 03/01/2022 at 13:50:29
Knowing the incompetence of the Everton hierarchy, we'll probably sign disgraced Tory MP Owen Patterson. He'll fit right in with our lot!
Tony Everan
58
Posted 03/01/2022 at 13:56:59
It's worrying Mike, especially as he is a right winger.
Mike Hughes
59
Posted 03/01/2022 at 14:03:06
Tony -
He's also crap at football and has a bad attitude.
Ticks all the boxes.
😀
Stephen Vincent
60
Posted 03/01/2022 at 14:03:28
Danny, following last year's accounts we were £35m shy of FFP safety. I can't believe that this year's accounts, due pretty soon, will improve the situation.
I think Digne will definitely go and maybe Richy, if M'Bappe goes to Spain. Or maybe we have just employed City's lawyers!!!
Brent Stephens
61
Posted 03/01/2022 at 14:07:29
Kevin #54 "whilst it's good getting transfers done early, does this not severely weaken our negotiation with Digne? Any team coming in for Digne now (unless there's a bidding war) will simply offer less money for him."
I see what you're saying, Kevin, but on the other hand selling Digne before we buy lets a selling club know we have more money available.
I think I'd rather buy a new fullback and risk not being able to sell Digne yet, than sell Digne and risk not being able to buy a replacement. Have we been there before?
Tony Abrahams
62
Posted 03/01/2022 at 14:10:50
Rob, some good points until you said that about Michael Keane would get slaughtered for disobeying the manager, because surely that would be better than doing some of the things he did yesterday, which only helped make him look like an embarrassment, imo?
There was a funny post doing the rounds yesterday about Neville Southall talking about his old team, and why they would only beat the current team one-nil. Because we are all nearly 70 was the big man's reply!They were a team of men though.
If something is not working, then it needs sorting out on the training ground, and if that means disobeying the manager, then surely that's got to be better than looking like a team of amateurs, who just shrug their shoulders, look at the turf, and wait for the same thing to happen again?
Danny O'Neill
63
Posted 03/01/2022 at 14:24:37
I think you are right and in a much more informed way than me Stephen.
Either the outgoings will follow the incomings (especially Digne).
Or we're taking the 2-fingered approach and there is a team of legals busily working their way through the accounts and paperwork. He is an accountant right?
Out of my lane here, so I can only guess and speculate.
Michael Williams
64
Posted 03/01/2022 at 14:30:12
From the Guardian on this transfer: "Patterson is not a regular starter for Rangers but was identified by Rafael Benítez as a target when the manager took over last summer. "
Robert Tressell
65
Posted 03/01/2022 at 14:46:29
Danny, the £8m we got for Rodriguez (and saved wages) frees up some spending. It is also possible that the new full backs are being paid for on the drip, to make spending easier. An imminent Digne and maybe Holgate deal will help too.
I doubt we're looking for loopholes in Premier League spending rules - and indeed hope we're not since those rules remind us just how huge and worrying our losses are.
Marc Hints
66
Posted 03/01/2022 at 15:13:39
I like the look of both these two new full backs and good age too. I'm sorry but the Digne is overrated in my eyes this season, his defending especially has been really poor.
Yesterday I think the two centre backs were awful, Holgate needs to go and Keane is just not good enough. I think if Mina wasn't injured so much he and Braithwaite woukd be Rafas first choice.
He has been dealt a bad hand and although agree yesterday's tactics were wrong but I will judge Rafa after a summer of transfers.
There are so many players still needing to go, Iwobi, Gomes, Delph etc.. And we need to replace them.
I for one these two new signings are great, another top centre half and that's the defence looking good.
Just need to add quality midfielders.

Derek Knox
67
Posted 03/01/2022 at 15:16:31
While I am equally as baffled as Kevin @ 45 in that we are getting (hopefully) two really good and long awaited (RB) Full Back additions, which I wholeheartedly welcome, and am past worrying about the Fiasco that is called FFP.
I am also curious as is Dave W @ 39, in wondering just how much involvement Rafa had in both of these Transfers if any. If he values youth so much, I couldn't believe that when our backs were against our own wall in yesterday's match against Brighton, with DCL freshly back, but seemed to be misfiring in all departments, he then brings a bumbling Rondon on, and leaves both Dobbin and Simms benched.
Brian Wilkinson
68
Posted 03/01/2022 at 16:09:13
The only conclusion I can come to is the Manager is looking to give Dobbin and Branthwaite a start in the cup game on Saturday, with the short turn around for the Leicester game in mind to give the others a kick up the backside.
If both come in and do a job, they will then hopefully carry on and play against Leicester.
I do not agree with it, we certainly could have done with one of the young strikers given a run yesterday, I would have also put Gomes on earlier than 88 mins, bad as our defence was, our midfield was getting ripped to shreds.
We should know a lot more come the Hull game, if the likes of Dobbin, Branthwaite or Simms get no game time and others again get a game, then we really are in trouble and my backing to give the Manager faith will dwindle.
He messed up big time yesterday, let's see if he can rectify this on Saturday.
The right back is a must and looks like we have finally sorted this out.
Derek Knox
69
Posted 03/01/2022 at 16:29:09
Brian @ 68, good points there mate, I see we have been ' selected ' for Live TV Coverage on Saturday against Hull FC. They obviously sniff a Giant Killing, but who is the Giant ?
Michael Lynch
70
Posted 03/01/2022 at 16:52:50
I'm assuming Patterson is one for the future rather than now. He's barely played at the much lower level of the SPL so he's probably going to start in the U23s more than the first team. Mykolenko, I would guess, is an immediate first team player as Digne will be out the door any minute now. But even then I wonder if he'll alternate with Godfrey until he gets up to the pace of the PL.
Brian Wilkinson
71
Posted 03/01/2022 at 17:10:03
If the two full backs live up to expectations then, for me, the centre-back pairing would be Godfrey and Branthwaite; much as Mina does a decent job, his injuries are too much of a liability.
They certainly do sniff an upset, Derek; however, I think we will turn up Saturday – the manager knows a cup run keeps him onside for now, with the fans.
We just cannot leave that midfield exposed more than a Clapham flasher again, four at the back and get Gomes alongside Allan and Doucouré.
David Hadwin
72
Posted 03/01/2022 at 17:19:48
Keane has to go. At fault for two goals yesterday, and goodness knows how many in the last 12 months. He has slow feet and often gets the ball stuck under them. His positioning sense seems to have gone. There was a reason Man Utd didn't want him back as was their option before we got him.
Love the passion of Digne; yes, he's a modern full-back who likes to attack, but alas I've lost count of the number of times he's be done for pace when tracking back and given away countless fouls outside the area. Will be sad to see him leave but, as a defender, if you can't defend…..
Adrian Evans
73
Posted 03/01/2022 at 17:23:30
Alexander, Robinson, so if we get that then go get Stones, or Phil Jones if he wants to play as No 1 center back.Beast of a leader.
Bradthwait will be a 30,game Plus.
Stones, Branthwaite, Godfrey plus full backs.
Got the No1 plus a back 4and back up.
Idrissa Gueye go get him back.What anyone thinks of Barkley, one of ours wanted better.
5/7years back, trophies, stadium. Everyone deserves a second chance.
That sorts midfield.
Just one decent one up front and we are set as a squad, young ish.
Manager, with that squad Kenwright could get 41points every year🤣🤣🤣
That squad,lets see what Duncan has learnt off £100million of 6 managers brains.
Tell Duncan, its £30million if he delivers Premier League,Every top 4, £5million bonus, Champions League £50million bonus.🤣🤣🤣🤣🤣
Seriously, decent pay, contract with fantastic bonuses.
Give Duncan a go, it's cost us to have him understudy those 6 managers.
Come on Duncan, but we gotta stick even if we went down.
Sam Hoare
74
Posted 03/01/2022 at 17:26:28
I like the look of Patterson though £12m plus £4m in add-ons seems very steep for someone with such limited experience.
Like Mykolenko it would seem we are overpaying by around 30%, it feels indicative of desperation or poor negotiation. It adds unnecessary pressure onto the player and raises fans' expectations.
The good news is that we (belatedly!) have a new right-back. Hopefully two hardworking, dynamic full-backs with many good years ahead of them. Let's hope they adapt quickly but it may well be a year or two till we see the best of them.
Luke Welch
75
Posted 03/01/2022 at 17:29:06
Totally agree about getting rid of Keane, way too long for me slow and ponderous and forever out of position. He was good at Burney because they kept it simple at the back.
Holgate too, but he has the added problem of thinking he's too cool and tries to take everything in his stride, the problem is he can't back it up.
I wonder what the new signings must be thinking regarding the heat Rafa has been getting?
Rob Halligan
76
Posted 03/01/2022 at 17:32:30
Rob Baker
77
Posted 03/01/2022 at 17:50:51
I'm excited at this acquisition. He won't be an U23 player at this price and will immediately usurp the aging Coleman for the RB slot.
Derek Knox
78
Posted 03/01/2022 at 18:08:29
Rob @ 76, only seen the lad a couple of times myself but apart from being a bit raw, looks to have the ability to get better and better. He is quite tall for a Full Back, with some reports saying he is 6' 3", and he still, presumably has a couple of years where he could still add an inch or two.
He may convert to CB if he does grow a bit more, but he doesn't seem short of aggression, but also I hope he knows how to channel it, and how far to go, he'll be of little use regularly suspended for Yellow Card Accumulations. It does seem a lot for an untested (Premiership) player but his age and potential, should it flourish, may (hopefully ) see us to have landed a bargain in today's crazy prices for Footballers.
Neil Copeland
79
Posted 03/01/2022 at 18:17:12
Derek#78, I hope you are well and enjoyed Christmas and New Year. I have only seen Patterson playing for Scotland when as you say he looked good although still a bit raw. Was decent going forward from what I saw.
Didn't realise he was so tall, can only help when defending corners (hopefully!). Assuming he signs in time, I can seen him starting the game against Hul.
Mike Gaynes
80
Posted 03/01/2022 at 18:25:04
DK #78, thanks for the scouting report!
Rob #76, that's a terrific article, thanks for posting.
Sam #74, not sure I agree that the transfer price adds pressure to the player. That would assume that the player reads fan chat boards like this one. I'm skeptical that they do so. As for fan expectations, they couldn't be higher anyway.
Besides, having an enhanced bank balance tends to ease pressure, doesn't it? ;-)
Alan McGuffog
81
Posted 03/01/2022 at 18:25:56
Neil we could have a team the size of the Harlem Globetrotters but if they all decide to bunch in one side of the six yard box leaving the far side gathering tumbleweeds, as happened yesterday, what does it matter ?
Neil Copeland
82
Posted 03/01/2022 at 18:29:12
Alan#81, good point mate!
Mike Gaynes
83
Posted 03/01/2022 at 18:29:51
Good point, Alan. Having watched the Globetrotters these many years, I can tell you that they also suck at defending set pieces.
Neil Copeland
84
Posted 03/01/2022 at 18:32:26
Mike #83, I know nothing about Basketball but do the Globetrotters use zonal marking too?
David Pearl
85
Posted 03/01/2022 at 18:48:30
Neil, not much zonal marking for Brightons 2nd by Keane. No idea why he wondered towards the ball. Bizarre performance from him yesterday.
I look forward to seeing this guy play but also think Jonjoe has been underplayed as he has looked okay the last couple of games.
Mark Frere
86
Posted 03/01/2022 at 18:48:58
Derek @78 Nathan Patterson is 20 years old so it's highly unlikely he will be growing any taller! It really is a pet hate of mine on here that so many people on here think human beings still grow taller in their twenties - they don't. They can of course put extra bulk on which can give them more physicality suited to playing at CB.
I remember many posters on here saying Holgate and Stones were going to grow an inch or two taller when they were the same age as Patterson. Guess what? They never did.
Mike Gaynes
87
Posted 03/01/2022 at 18:52:21
Neil, they use the same marking system we do. More zoned-out than zonal.
Mark, that's your pet hate??
Tony Abrahams
88
Posted 03/01/2022 at 19:00:49
I felt sorry for Jonjoe Kenny, yesterday David, because although he had a poor first half, who didn't?
I also thought he was looking much stronger physically than Seamus Coleman, and had just put in a lovely cross for Gordon's second, and then the manager decided to take him off.
Kenny has only really played for Everton when we have been struggling, and whilst I listen to people who question if he's good enough, I also think he's stagnated, and his own developments has been hindered, by not playing enough regular first team football.
Neil Copeland
89
Posted 03/01/2022 at 19:04:18
David, I agree particularly when considering we were playing deep defensively which is normally Keane's strength.
Justin Doone
90
Posted 03/01/2022 at 19:05:40
Will he sign?
Is he for right now or the future?
Is he a Coleman or a Bale?
Potential yes, lot's of it, but I'm worried about this season, not 3 or 5 years down the road.
A lot of money for an untested youngster especially for a Scottish / Championship team.
Neil Copeland
91
Posted 03/01/2022 at 19:06:28
Mike, ha ha, very good
Neil Copeland
92
Posted 03/01/2022 at 19:06:35
Mike, ha ha, very good
Dave Abrahams
93
Posted 03/01/2022 at 19:16:20
Mike (83), I remember a film about the Harlem Globetrotters in the 1950's, how they originated and remember the catchy music that introduced them but can't think of the title, did they just play exhibition games or were they in a league structure?
Mike Gaynes
94
Posted 03/01/2022 at 19:18:11
What a pleasure to see that sick look on the faces of all those Manure fans.
Tony #88, between Schalke, Celtic and us, JJK has played 50 first team games over the past 2 and a half seasons. I wouldn't say inactivity is necessarily the reason for his failure to develop. Just think that he's reached the limit of his talent.
Simon Harrison
95
Posted 03/01/2022 at 19:19:15
Rob [53] With regards your post, and another credible RB for less; forgetting Calvin Ramsay for now. What do you think about not going in for Fabien Centonze at Metz?
He's only 26 in a week or so, but has the best statistics in the first half of the season in Ligue 1, and has worked his way up the ladder. Although primarily RF'd he can play R/LB and RMF.
Apparently, if I recall correctly, we could have got him for €8-10m?
Cheaper than Patterson, could step up to the plate straight away, and maybe we could have made a pre-contract agreement to buy Patterson in the summer?
I'd welcome your thoughts on that Robert.
Mike Gaynes
96
Posted 03/01/2022 at 19:26:08
Dave #93, the Globetrotters were founded as an exhibition outlet for Black players in the 1930s... briefly a real professional team in the 1940s, but when the infant NBA began accepting Black players in the '50s, they became a full-time comedy/entertainment act. They haven't lost a game to their "stooges", the Washington Generals, since 1971. (I will make no comparisons.)
And that song is called "Sweet Georgia Brown".
Mike Gaynes
97
Posted 03/01/2022 at 19:27:12
Brilliant save. Brilliant. Yeah Wolves.
Eat it, you Manure punks. HaHa!
Simon Harrison
98
Posted 03/01/2022 at 19:34:52
Whilst we're on the subject of defenders, does anyone know if we're still looking at bringing Romagnoli in from Milan for either a swap for Mina, or a player and cash deal? It was first mooted in summer, but the rumour kept surfacing up until early November, if I recall correctly?
Any confirmation of interest from the barcodes for Holgate?
Also according to insidefutbol, Tosun has decided to stay and see out his contract.
Just read, a bit slow I know, that Holgate, Tosun(?), Sigurdsson, and Delph have all been added to Digne's name, for being favourites to leave the club in January.
Apparently, Benitez wants:
2 Full-backs - Check
A game-controlling midfielder – ???
Another striker – So not Simms, Dobbin, or Broadhead then?
Joe McMahon
99
Posted 03/01/2022 at 19:37:53
Mike,
I live 20 miles north of Manchester, so that result suits me fine! That said, full of Liverpool shirts round here (like everywhere).
Wolves manager doing a good job. Just shows what can happen when your board don't go for the obvious and do some research.
Tony Abrahams
100
Posted 03/01/2022 at 19:41:33
Maybe, Mike, but sometimes you've got to lay down your hat and go and play somewhere that you're appreciated.
After having a decent time at Schalke, he came back to Everton and got very little football at a time when he needed to play, before then going to completely the wrong club in Celtic. The fans were already fuming with their players for blowing their 10th title in a row. I personally wouldn't be surprised to see Kenny go on and do better than most of our present defenders in the future. Time will tell…
Dave Abrahams
101
Posted 03/01/2022 at 19:44:42
Mike (96), yes " Sweet Georgia Brown" I know the song has lyrics but the version in the film didn't, just whistling.
Karl Meighan
102
Posted 03/01/2022 at 19:47:50
2 untested fullbacks into a relegation fight alongside the stiff Keane and that defender who can't defend, Holgate, this will only end one way and that's badly.
To show how shite the managers are we have given the job to, 4 or 5 have still not realised how poor Keane and Holgate are and they still get a shirt.
Anthony Gordon on freekicks and corners, if that's not a sign of the lack of quality this squad has, then I don't know what is.
Alan McGuffog
103
Posted 03/01/2022 at 19:48:02
Didn't they have a little(-ish) bald guy? Meadowlark? He was their equivalent of John (Tiger) McLoughlin.
Maybe not...
Robert Tressell
104
Posted 03/01/2022 at 19:51:44
Simon #95, Calvin Ramsay looks good but would probably go back to Scotland on loan to continue his development, before becoming a first teamer for us.
Centoze looks a good player – maybe about £8M would get him? Bit of a late developer. Possibly being unfair but looks like the sort of player Southampton or Watford might buy.
As for the other outs and ins, I'd be surprised if there's a lot of activity. Most on our books will hang on for their bumper wages until contracts end in summer. Maybe Holgate will leave, maybe Kenny… but not sure who would buy.
Benitez's interest in a striker says more about Rondon than Simms & Dobbin, I expect. I could see us getting someone like Satriano as a makeweight if Digne goes to Inter.
Any other incoming players will probably be late deals though to flush out low cost / value deals. I could still see us getting Maitland-Niles given he can play a variety of positions and seems desperate to leave.
Alan McGuffog
105
Posted 03/01/2022 at 19:58:03
Just been informed of some strong rumours about a Crocky lad coming home... any flesh to this?
Des Farren
106
Posted 03/01/2022 at 20:00:13
One point of view, not popular on here I suppose, is that Slippery Steve has fucked us royally on Patterson. No doubt we overpaid but, long term it may not matter if he is good enough for the Premier League.
Mike @ 97, you're spending too much time on the Live Forum if your language is anything to go by!
Dale Self
107
Posted 03/01/2022 at 20:00:54
I think the bald dude was named Curly. Meadowlark was like the MC/star of that show in their heyday.
Nicolas Piñon
108
Posted 03/01/2022 at 20:02:38
Two promising signings, but I loved Gordon's game yesterday. Aggression, ability, courage, and great determination to represent the shirt and show he's a true Evertonian. He doesn't laugh for the cameras, he just seems to be satisfied with getting the 3 points.
Back Rafa, he can't do magic nor get penalties in.
COYB!
Tony Abrahams
109
Posted 03/01/2022 at 20:10:04
I think it's very worrying, Karl, and I will be absolutely terrified if we don't get Branthwaite (a proper inexperienced young kid, I know) and Mina fit, and also bring in another midfielder with more energy.
I remember Silva sitting down, fuming, staring down towards the turf at Bournemouth in disbelief, a few months before he got the sack, when a simple route one ball was hit over the top allowing our opponents to score a simple goal.
He probably knew the writing was on the wall, and his high press tactics were going to be absolutely useless with players like Michael Keane, unfortunately.
Mike Gaynes
110
Posted 03/01/2022 at 20:14:27
Nicolas #108, heartily agree. He grew massively yesterday. (Even though, yes, Karl, his freekicks and corners were appalling.)
Dale #107, his name was Curly Neal, and he was a magnetic, magical dribbler. Passed away in 2020. Meadowlark was a world-class talent and extraordinary clown. Later became a minister of the gospel.
Derek Moore
111
Posted 03/01/2022 at 20:25:35
The only rumours I've seen on a potential Benitez replacement are the usual Murdoch paper bollocks, Alan McGuffog.
There's Murdoch paper talk on the Danish national manager Hjulmand – which really seems to me like a planted "come and get me while my stock is high!" from his agent or similar – and the usual suspects of Rooney, Mourinho, Dunc... If you've heard anything more substantive, I would love to hear it?
One thing I will give Kenwright and the Everton hierarchy credit for: they control the information flow and selected leaks to the press pretty brilliantly. If we played football like they hold information back, we'd be more successful than Celtic, Bayern and the neighbours combined.
Rooney's loyalty to Derby County in the situation they find themselves in is both admirable and a little bit galling. If the finances hadn't been such a mess, we'd have gotten at least a few seasons out of him at Goodison in his absolute playing prime, I suspect. I'll leave Don Alexander to allocate the blame on whose fault it is that sadly ultimately never happened.
Dale Self
112
Posted 03/01/2022 at 20:29:32
Didn't know that about Meadowlark, Mike. Those must be some swinging sermons and hymns.
Tony Abrahams
113
Posted 03/01/2022 at 20:35:06
I'm going to give my own positive slant on things after reading that post, Nicolas, with a promise that I will soon stop boring people once I can get over this ToffeeWeb addiction.
Goalkeeper – Pickford. Defence – Patterson or Coleman, Mina or Godfrey or Branthwaite, Godfrey or Mykolenko.
Central Midfield – Doucouré or Allan with either Gordon, Gray, or Richarlison, playing just ahead, maybe?
Wide players - Richarlison, Gray, Gordon, Townsend.
Forwards – Calvert-Lewin, Richarlison.
Squad players – Keane, Davies, Gomes, Rondon, Holgate, Kenny.
It's still not great, just 20 players (although I expect a couple to leave) but, if we can tighten up our defence and squeeze the space in front a lot better. I think a front three of Richarlison, Gray and Calvert-Lewin could cause most teams problems, although it's safe to say, football is the one of the easiest games in the world... on paper!
Mike Gaynes
114
Posted 03/01/2022 at 20:37:15
Des #106,
I just have to let the real me show through once in a while. Man Utd losing at home is the ideal opportunity.
Derek Moore
115
Posted 03/01/2022 at 20:39:37
Tony mate, you're about as boring as a New Year's fireworks show, followed by Fury vs Joshua and with a Katy Perry appearance and wardrobe malfunction thrown in for good measure.
The day you stop posting is the day I stop skiving off work to read what you and your Dad are writing on here. Don't let that happen!
Oh, and thanks for being magnanimous, Mike. Just shows the sort of person you are, I suppose. I'd hoped you'd hit the 8/1 on offer for Wolves to roll Man Utd, but perhaps just seeing them lose is payment enough?
I did get hold of Mr Crowley and all is well there, just a busy busy man and not enjoying the fare on offer. Between that news, and reading Len Hawkins humbling words, I'm feeling much more positive about that gash performance the other day. As the French might say "Un mal pour un bien."
Tony Abrahams
116
Posted 03/01/2022 at 21:11:26
He hates them, Derek, Andy Crooks is the same.
I was actually sympathizing with what you wrote on the other thread, about how much Everton do our fuckin heads in (see, you're not alone) because I know how much harder it is with you living so far away and not having any like-minded individuals to turn to when the bastards keep letting us down.
I just went to work for a few hours after yesterday's game, got paid and listened to the views of quite a few Evertonians who had been to the match, which was so much more therapeutic than going home or on the ale to watch Liverpool.
I think everyone can be boring sometimes, Derek, but I never get tired of watching fireworks, and I love watching top fighters, but can I swap the Katy Perry wardrobe malfunction for Richarlison scoring the winner on the 14 May, because I've got plenty of memories with some boss birds. But it's been that fucking long, I've actually forgotten how good it was when Everton last won the cup! 😂

Derek Moore
117
Posted 03/01/2022 at 21:36:35
That last paragraph, Tony, is why you must never, ever stop posting.
I've got my own good reasons for spending so much time on here at the moment. I'm self-employed, but I'm stretching this job out as long as I dare, mate – the client's a plastic kopite!!!
"Spose you saw the derby then?" he grinned in that false way they have when he found out I was an Evertonian. I just nodded and thought, "Aye, pal, I did see the derby and it was a shock. But wait til you see the fucken bill!"
Derek Knox
118
Posted 03/01/2022 at 22:26:43
Mike G,@ 110, You have to admit though, that Meadowlark was a bit of a Lemon! :-)
Roberto Birquet
119
Posted 04/01/2022 at 02:51:56
Kunal,
The £29M on the two full-backs are paid over 4 years with a downpayment of just over £7M. Their wages until July 1 – when FFP is calculated – is £3M. That is a total of £10M. The sale of James alone saved Everton £8M, while the Kean loan brought in £5M until July 2022 between wages and initial fee. That £13M has paid for the full-backs and Rondon.
That's not to say Digne won't go. I'm sending my celestial pleas that it is Benitez who leaves this month
Robert Tressell
120
Posted 04/01/2022 at 07:49:29
Roberto #119 - that all makes sense. Where do you get that information from?
And if we do persuade someone to give us £25M for Digne, does that allow £25M to be spent or much less (since we may only receive an initial down payment)?
With talk of Holgate departing, too, I'm interested to know what a realistic spending spree looks like.
Benitez has always bought a lot of players at clubs he's been at. I'm hoping for quality over quantity.
Tony Abrahams
121
Posted 04/01/2022 at 08:32:51
The first thing I think Benitez would have stressed to Moshiri was the wages some very average players were earning at Everton.
He's already signed better for less (Rondon, Begovic? Maybe not...) and they are all probably on a lot less money than, Delph, Gomes, Iwobi and Tosun.
That's a very good first impression to give to any new boss, and much better than the way our Chairman has sat there all glossy-eyed, talking about the man that just keeps giving.
Good people, those Kiwis, Derek, but that doesn't mean you can't rinse a phoney kopite!!
Danny O'Neill
122
Posted 04/01/2022 at 08:44:04
Agree with that last paragraph, Robert. Go for quality. Now we seemingly have sorted out the full-backs, a quality centre-back and an aggressive sweeper / covering midfielder for me. And then play mostly a 4-3-3. With the squad we have assembled and the players we have, that formation makes most sense right now for me. More of a 4-3-2-1.
There will be value for money out there. As we've seen in our recent past, you don't always have to spend the earth to get it if you do your homework and you can find it. If anything, we more than most, know that following the media hype and agent-driven latest buzz-player frenzy, sees you spending a premium and excess for average players.
Spend wisely. To be fair, so far, it seems we've learned that lesson and the transfer strategy has changed. Whether that has been enforced or come from realisation of failure, I don't know. From what you and others have said, most likely a bit of both.
Danny O'Neill
123
Posted 04/01/2022 at 08:50:38
Quick correction on myself.
*I said we had assembled a squad. That would indicate some sort of planning took place. We threw a squad together.
I used the word 'strategy' in a sentence regarding Everton and transfers. To my previous correction; the strategy was more pick and mix from a sweet shop.
Brent Stephens
124
Posted 04/01/2022 at 09:01:13
Roberto #119 "The £29M on the two full-backs are paid over 4 years with a downpayment of just over £7M."
Roberto, I'm no whizz on the financial side. As I understand it, when we buy a player, we might actually pay the full fee upfront but for accounting purposes the books will show the total amount being amortised - spread over the period of the player's contract.
Is the same happening for purposes of FFP then – ie, the assumption is also that the expenditure is spread over the period of the contract?
John Chambers
125
Posted 04/01/2022 at 09:28:22
Roberto #119,
I think you may be confusing the accountancy practice of "writing down" the value of the players in the club's accounts over the period of their contract, which is what you describe, and is how FFP is measured and the payment terms.
The actual amount and timing of the cash transferred to the selling club is down to the negotiation and I suspect considerably more than 25% will have been paid out up front.
Matthew Williams
126
Posted 04/01/2022 at 12:36:29
So pleased that this is finally happening now,we've all known that Seamus needed replacing with a younger player for the long term for years now,as for the new L.B...we wait and see!.
We just need to find a creative,attacking, left footed player to slot into our lackluster Midfield,to operate next to Doucoure (who was poor in the Brighton game),we still need balance in our team and to find a way of starting games on the front foot from the off!.
Derek Moore
127
Posted 04/01/2022 at 15:13:51
Aye Tony. When I quote I always give a best-case price and a worst-case price. Even in the internet age, most of your work will come from word of mouth, so being a shitehawk might make you a few more quid in the short term but ultimately you'll end up mugging yourself.
But this fella... if his mates are anything like him I need their business like a hole in the head. Called him yesterday and told him sadly we were heading towards that worst-case quote I included originally.
He wasn't very happy, so I did a quick renegotiation. I'll end up in the middle of the two prices, but it'll be a bit of a wait because I've got other work on. Or he can pay the piper, and I'll move heaven and earth to get it finished.
He reckons he's prepared to wait. Well so am I mate, so am I. See ya in a fortnight.
Or two.
---
Add Your Comments
In order to post a comment, you need to be logged in as a registered user of the site.
Or Sign up as a ToffeeWeb Member — it's free, takes just a few minutes and will allow you to post your comments on articles and Talking Points submissions across the site.