Patterson completes £11m transfer from Rangers to Everton
Tuesday, 4 January, 2022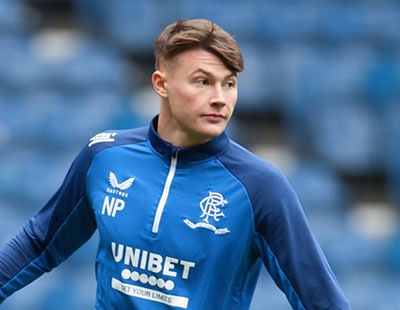 Everton have sealed the capture of Nathan Patterson from Glasgow Rangers in a deal that could ultimately be worth £16m after the formalities on the 20-year-old's move were completed today.
Though the terms of the deal are officially undisclosed, reports indicate that the Blues will pay an initial £11m for Patterson, with a further £5m dependent on appearance-related clauses.
The Glasgow-born full-back has signed a 5½-year contract that would run to the summer of 2027 and arrives at Goodison Park five months after Everton tried to sign him for a reported £9m but the two clubs could not come to an agreement over payment terms.
With the confirmation of the transfer today that follows the signing of left-back Vitalii Mykolenko from Dynamo Kiev for £18m, the Blues appear to have found a potential long-term successor to skipper Seamus Coleman who, at 33, is getting towards the end of his career as a week-in, week-out starter.
"I'm over the moon to sign for Everton and looking forward to getting started," said Patterson, who will wear the Number 3 jersey, on evertontv.
"It was an easy choice to sign. This is a massive club with huge history and the fanbase is tremendous. Obviously we aren't in the place where we want to be right now but we can definitely get there with the talent in the changing room and staff here, and I have full belief we can do that.
"It is really exciting to come to a club that has huge talent in the team. I am going to work my socks off and hopefully I can do well with them in training and in games.
"It was also great for me knowing the manager really wanted me here and that made my decision. When a club really wants you, it makes your mind up early on.
"I wanted to come here from the very start. I'm delighted to be here and really looking forward to playing in front of the fans at Goodison.
Article continues below video content
"Long-term, I want to nail down a starting position and win some trophies to make the fans proud."
---
Reader Comments (172)
Note: the following content is not moderated or vetted by the site owners at the time of submission. Comments are the responsibility of the poster. Disclaimer
Rob Halligan
1
Posted 04/01/2022 at 15:01:53
Patterson signed! 5½-year contract.
Paul Hewitt
2
Posted 04/01/2022 at 15:08:36
Patterson has said" it's his dream to play in the championship".
Barry Hesketh
3
Posted 04/01/2022 at 15:11:53
Welcome to Everton Football Club Nathan, let's hope you and the Ukrainian lad can improve the team and that both of you have long and successful careers for Everton and your respective national teams.
Colin Glassar
4
Posted 04/01/2022 at 15:11:58
Welcome aboard kid. Forget the neeps and tatties, it's scouse from now on.
Jim Bennings
5
Posted 04/01/2022 at 15:15:27
Regardless of the fact he's only 20, at that price he has to displace Seamus Coleman as of Saturday in my opinion.
I've loved Coleman over the years but watching that fella decline on a weekly basis isn't nice at all and the only other alternatives are Kenny who's probably not good enough when all is said and done, or square pegs like Godfrey.
Patterson is highly rated, well if he's anything at all like that Scottish left full back across the park then I won't complain.
Danny O'Neill
6
Posted 04/01/2022 at 15:17:24
Everton sign 2 young up and coming players within 4 days of a transfer window?
More to come hopefully.
I read the BBC article on Patterson today. I didn't realise he was 6ft 3. Seems a bit of a character too.
Not sure about having a right back wear number 3, but that's just the traditionalist in me, linked to my OCD.
Welcome.
Michael Barrett
7
Posted 04/01/2022 at 15:18:17
Dear oh dear... buying Championship players ready for next season.
Julian Wait
8
Posted 04/01/2022 at 15:21:54
Interestingly he will probably be facing off against Mykolenko in March https://www.uefa.com/european-qualifiers/match/2033887--scotland-vs-ukraine/
And, I expect we will see Digne out in the next few days then.
Overall this and Mykolenko seem like good business, and straight into the frying pan and fire for both of them, I would imagine.
Will we also get the mooted midfield reinforcement? And will it be Coutinho or Longstaff or someone else? I can't imagine Newcastle selling anyone right now to be honest -- whereas Barca are desperate to offload Coutinho; not particularly sure I want either.
IRWT?
Bill Fairfield
9
Posted 04/01/2022 at 15:22:10
Welcome Nathan, let's hope you and Vitaliy can help lift the gloom around the place. Good luck.
Michael Kenrick
10
Posted 04/01/2022 at 15:24:29
Danny @6,
Maybe the No 3 shirt is so Rafa won't get so much heat when he plays him at left-back?
Sorry... too soon?
Mick O'Malley
11
Posted 04/01/2022 at 15:25:52
Soft shite Benitez will still probably flog Coleman to death while coming out with the usual shite about Paterson not being quite ready yet for the first team til he's up to speed, just get the new lads in straight away cos we need an injection of youth and energy and to be honest I don't want to see Coleman play again for a long time if ever, it's sad to see his decline and ver the last 18 months
Mal van Schaick
12
Posted 04/01/2022 at 15:28:36
Welcome hope he plays and plays well.
Can we offload some shite now. Delph, Holgate, Iwobi, Gomes, Davies and get one or two better quality players in.
Bernard Dooley
13
Posted 04/01/2022 at 15:34:26
Welcome Nathan, I wish you the very best of luck here at Goodison and subsequently at Bramley Moore.
He is quoted thus;
"This is a massive club with huge history and the fanbase is tremendous."
Bit like Rangers then. Though I prefer Celtic, personal choice.
Should settle in well with fellow Glaswegian Graham Sharp interpreting and Big Dunc from down the road in Sterling.

Bernard Dooley
14
Posted 04/01/2022 at 15:34:27
Welcome Nathan, I wish you the very best of luck here at Goodison and subsequently at Bramley Moore.
He is quoted thus;
"This is a massive club with huge history and the fanbase is tremendous."
Bit like Rangers then. Though I prefer Celtic, personal choice.
Should settle in well with fellow Glaswegian Graham Sharp interpreting and Big Dunc from down the road in Sterling.

Danny O'Neill
15
Posted 04/01/2022 at 15:34:44
At 6ft 3 Michael, he might put him up front, taking us back to Walter Smith and Steve Watson!!
Well, our last right back came from the League of Ireland, so I'll take Championship if he's that good at 20.
Jay Wood
[BRZ]
16
Posted 04/01/2022 at 15:37:49
Yes, Danny. Patterson's height surprised me also. Not that it seems to hinder his athleticism or speed over the ground from what I've seen of him.
Mykolenko I believe is also just shy of being a six-footer full back.
Quite intriguing on many fronts these two signings. Possibly the fee is a little high for both players, but their age, profile and experience for lads so young (full internationals with CL experience) suggests a potentially high return on the investment. Something the club has evidently failed to do with Moshiri's monies.
I expected Brands to deliver more of this type of signing, albeit far cheaper and even less known. Kinda ironic that the manager charged with not giving kids a chance has rolled the dice with these two.
That Benitez is being backed by hard coin in this January window rather suggests Moshiri is determined to stick with him.
I have no qualms if Lucas Digne is sold in this window to help fund purchases. Again, it's something we have failed to do in recent years. Sell an ageing asset rather than retain him on a rolling contract until there is no chance of recouping any monies on a player.
All further evidence, if you like, that Rafa is the sole footy man at the club overseeing all things related to the first team.
Shaun Robinson
17
Posted 04/01/2022 at 15:37:58
What's going on? Only January 4th and two players signed already. Steady on a bit. We're not used to this at all
Martin Reppion
18
Posted 04/01/2022 at 15:39:12
Another good signing.
Strangely he's left a club he struggled for first team action with because the captain played in his position to join another with exactly the same situation.
As only Pickford and Gordon earned their corn on Sunday you have to wonder who will be skipper next time out.
I would be happy now to see what must be the youngest back four in league history, these 2 plus Branthwaite and Godfrey, given the rest of the season to bed in. They'll make mistakes, but long term the prospect excites.
Justin Doone
19
Posted 04/01/2022 at 15:40:48
All the very best of luck to the lad.
He's still young, skill learning and developing.
He needs to understand when to defend properly and when to attack quickly, decisively and do both with quality and consistently.
He's sadly not going to be helped with our ever revolving centre back pairings and our 'a mistake coming' goalkeeper. Between them all it's staggering we haven't gone all out for a new centre back pairing.
I'm hoping to see Braithwaite and the 2 new full backs being thrown in against Hull. Holgate and Keane dropped. All out attack against Hull like a cup game should be.
See which player's have the head, heart and ability to make it work.
Mike Gaynes
20
Posted 04/01/2022 at 15:42:43
Come on in, son! Welcome to your new home!
Shaun #17, spot on. We're usually slow on the trigger, but it seems we've got a fast gun in town now.
Clear and obvious to me that Benitez is going nowhere. The responsibility for cleaning up the mess is being left solely with him.
Sam Hoare
21
Posted 04/01/2022 at 15:44:10
Two full backs who are both fairly tall, pretty quick and seem to have good energy to get up and down the flanks. And both with plenty of time to develop as players.
To my mind we've overpaid for them both by about 30% but nonetheless they seem sensible signings and players who can hopefully lock down the full back spots for a while like Baines and Coleman did.
I expect Patterson to be better going forward (though prone to rash shooting) and Mykolenko to be more solid defensively (he's not easy to dribble past though prone to rash slide tackles).
Rick Tarleton
22
Posted 04/01/2022 at 15:50:11
Two young full backs is not only good business it's sensible business. We need midfielders, wingers even Hudson-Odoi are surplus to requirements.Signing players simply because they are available leads to the chaos of signing three or four number tens as we did in a transfer window which we all remember.
Money must be used wisely.
Rob Halligan
23
Posted 04/01/2022 at 15:55:03
Hilarious Michael # 7. Really funny comment…….NOT!! Yet another pathetic comment on TW.
Michael Kenrick
24
Posted 04/01/2022 at 15:56:58
One of the most potent weapons is to recall the unprovable 'fact' that: "We had no competition when we bought him; nobody else wanted him; no other club was even remotely interested."
Am I to conclude that, this being the case for not just one, but both of our new signings, then their quality and suitability for the task ahead is already compromised? It is interesting to ponder how young players who must be on the active tracking schedules of a great many clubs, are content to deal only with the one club when it finally comes to making a deal.
Where was the auction for these players? How did it shake down? Or was it enough for Everton to have made their interest known, and the competition for their signatures among a host of clubs in the market then simply respected that and they all backed off?
Seems equally hard to believe – especially as we've been groomed to think that the greedy slimeball agents will do anything they possibly can to make the best deal, and the fattest commison they possibly can?
Or is there some sort of gentleman's understanding that is activated (it would have to be through the agent, I would think) that keeps it to just one suitor at a time, until the deal is either made or lost?
Perhaps the lad who worked for Man City could enlighten us on how this auction actually works? Or is it just a case of the keenest club being willing to take the biggest risk at the highest price?
And most important of all – how does this now differ from the host of terrible signings we've made these last 5 or 6 years?
Steven Telford
25
Posted 04/01/2022 at 16:02:55
He is going to be shocked next match when Rafa throws him as lone striker.

Derek Moore
26
Posted 04/01/2022 at 16:04:24
Sam Hoare seems to think we've overpaid a touch for both new arrivals Michael Kenrick. If he's correct is this evidence of an auction process that we actually won?
Did we offer more in wages than other interested parties? Did we offer a more suitable length of contract than other interested parties? Did we pay more money upfront than other interested parties? Did we allow the selling club to slap on a resale clause that other clubs refused? Did we pay an old fashioned bung to ensure that ours was the winning bid?
There's all sorts of unknowns, but I'll decide whether these lads are fit for purpose or not when I've, you know, actually seen them play football for us in the PL.
I don't see what purpose conjecture serves at this stage. Fact is their pictures are in the echo with the scarf above their heads. Something in previous years the club leadership has received plenty of stick for not achieving.
PS - The big difference is MK, both young internationals with potentially room for improvement and with future resale value.
We didn't pay ridiculous money to land them ala he who shall not be named, and the age and talent profile looks like a good fit.
It's not an exact science obviously, but there at least seems to be a cogent strategy behind the January arrivals so far.
John Keating
27
Posted 04/01/2022 at 16:05:16
Big plus is that business is getting done early in the window
Still not sure about getting a left back in this window with both Digne and Godfrey able to play there but with Benitez seemingly adamant Digne is out then it's fair enough
30 million for both full backs mean we need close to that on sales to cover it
Holgate to City for 100 million was mooted at one time?
Hopefully these two new lads slot in with Branthwaite left side centre half and AN Other on the right
Benitez's tactics, team selections and subs may be abysmal but he has brought in players we were crying out for like Gray and Townsend for almost nothing
Anthony Hawkins
28
Posted 04/01/2022 at 16:07:41
@Paul #2 - hopefully Patterson and Mykolenko will both stop the drop.
@Martin #18 - I'd expect both to feature next game either against Hull or Leicester.
I'm hopeful these changes will make a difference although a fundamental change in the team ethos is required, along with other incoming players (and exit of others no longer required).
Ajay Gopal
29
Posted 04/01/2022 at 16:09:25
We have spent 30+ million on 2 full backs - probably the 1st time in EFC history. Knowing the importance of these positions in the modern game, I am glad that we have signed 2 young fast, athletic players. Slightly worried about their inexperience in the PL - so to that extent, a bit risky. But I have a good feeling about these 2 lads. Welcome to Everton, and have a great career.
Rob Halligan
30
Posted 04/01/2022 at 16:13:20
Read into this what you will, but my next door neighbour, also a blue, owns a restaurant not far away from us, which he says is frequented quite a bit by Seamus Coleman. My neighbour told me this morning that Seamus himself doesn't think he should be playing, but as we all know, there has not really been anyone other than JJK to take his place. My own opinion, and it's only my opinion, is that I think Patterson will come straight into the first eleven to establish himself, and give Seamus a breather by sitting on the bench for a few games.
Simon Dalzell
31
Posted 04/01/2022 at 16:13:36
I enjoyed watching his first interview, he seems a sound lad. Good luck to him and Vitaly. At least we've bucked the trend and bought young, energetic players.
Lyndon Lloyd
32
Posted 04/01/2022 at 16:17:53
Patterson has been listed variously as 6' 0" and 6' 1". I don't think he is as tall as 6' 3".
Tony Abrahams
33
Posted 04/01/2022 at 16:21:54
Getting big lads to play at the back, might even help with the infamous Zonal-Marking, although I think getting a commanding centre half in next, would help us a lot more.
Not far off a team of six footers now anyway, and after signing that commanding central defender, hopefully we can go and get an energetic midfielder, especially if he can also pass the ball!
Good luck to both our new players anyway, which is definitely going to be needed, when they go straight into the Lions den.
Paul Birmingham
34
Posted 04/01/2022 at 16:22:54
Got to take the positives and considering the last few days, since Brighton, it's a boost to the moral of Evertonians.
Hopefully Patterson and the Ukrainian lad, will get their chance to debut in the first team, sooner than later.
Patterson has also played as a winger in the past so it will be interesting to see how Rafa sets these full backs up.
Bearing the slow CBs, Branthwaite aside, who will be the next buy?
How these purchases are being funded will be interesting, but hopefully Everton are within the rules and won't get pinched, down the line.

Mark Ryan
35
Posted 04/01/2022 at 16:25:44
Should have signed a right back 2 years ago. Why has the club allowed this position to drift and left us to rely so much on Seamus. Seamus has looked woeful for 2 years. We could all see it but the club showed real lethargy. Welcome young man, we've been desperate. Shame your names not Dan
Brent Stephens
36
Posted 04/01/2022 at 16:27:10
Rob #30 "My own opinion, and it's only my opinion, is that I think Patterson will come straight into the first eleven to establish himself, and give Seamus a breather by sitting on the bench for a few games."
And what better game than an FA Cup game, and against Hull.
I know, I know, many a slip etc.
Robert Williams
37
Posted 04/01/2022 at 16:29:09
Who's next then? That Iranian forward perhaps!
Steve Brown
38
Posted 04/01/2022 at 16:29:10
The search for a right back that began in March 2017 when Seamus broke his leg finally ends!
Good luck Nathan!
Jay Harris
39
Posted 04/01/2022 at 16:35:42
Although patience is in short supply it is important to give these guys a chance to settle in and adjust to the pace of the prem.
Robert Tressell
40
Posted 04/01/2022 at 16:37:43
We hire a DoF with a good reputation in signing / developing younger players.
We don't really sign any such players. In about 3. 5 years just Godfrey, Branthwaite, Kean and Nkounkou - along with a mixed bag of older, quite expensive players.
We hire a manager with a reputation of not developing younger players.
We sack DoF.
We start signing younger players for longer term development of the squad.
We're such a weird club. Anyway, I'm relieved he's signed. If he's remotely successful the fee is a bargain even if it seems a bit high now.
Can't wait to see and Vitaly getting up and down the flanks and kicking the shit out of people.
Justin Doone
41
Posted 04/01/2022 at 16:38:12
He could be the next Bale. Big, strong, fast, fearsome striker of the ball, goal scoring modern fullback cum- winger.
But he reminds me of Sam's ex-Bolton right back Nicky Hunt. Not sure what happened to him but I think injuries played a part in derailing his promising career.
Call it what you want but I wish all our player's the best of luck in their development, stay free from injury and have a long, successful, medal winning career at Everton.
Andrew Keatley
43
Posted 04/01/2022 at 16:39:32
There is an obvious premium for young players, especially when they are full internationals. We need players to come into this club and improve the options for the management team, and hopefully these two players will do that.
Getting business done quickly and efficiently is a notable plus, and being prepared to pay what it takes to get these players in early in the window is a good sign - and it suggests that the club identified their targets and did what was necessary to secure them. Sometimes a buyer must be bullish to get what they want, and for the sake of a few million pounds worth of haggling, which could run the risk of losing those transfer targets to other buyers or antagonising the selling club, I think this business looks very positive indeed. Very clinical.
As for the fees, I'd say it is impossible to know if we've overpaid or underpaid. Sometimes a player is worth more to one club than another, as the need for said player is that much greater. Whether we've overpaid or managed to snaffle a bargain will all come out in the wash as it always does - but the important thing was getting our targets through the door quickly and effectively, and that's been done.
Martin Reppion
44
Posted 04/01/2022 at 16:42:25
Justin #19. Do you work for Sky?
Pickford has been consistently reliable and at times outstanding for us other than for a few games in the re-start season. If all the other players rated as highly as he does week in week out we wouldn't be in the mess we are.
Stop recycling jibes from ill informed southern centric journos desperate for the Arsenal keeper to replace Pickford in the England team and actually watch a game now and again.
Ben King
45
Posted 04/01/2022 at 16:43:34
Really pleased we've finally signed a right back
It concerns me that he couldn't get a first team position at the lofty Rangers but he's deemed good enough for Everton?!?!
Appreciate Ranger's captain plays in the same position BUT so does ours.
Anyway, let's be positive. We have a young, energetic and adventurous right back.
The last time we had a regular right back over 6ft was Matt Jackson and we won a trophy with him in the team!!! (Bodes well!)
Gerry Quinn
46
Posted 04/01/2022 at 16:48:38
DoF must be Kenwright then?????? https://insidefutbol.com/2022/01/04/everton-right-destination-for-nathan-patterson-says-rangers-dof-as-he-hails-toffees-class/542610/
Dan Nulty
47
Posted 04/01/2022 at 16:48:52
Robert 40, these are Brands signings. We tried to sign the left back under when Carlo still here and this guy in the summer when Brands was still here.
At least these two signings are fixing a squad problem, providing of course this kid is better than Jon Joe. Given the number of signings we made under Brands surely the law of averages suggests at least a couple have to turn out decent?
Rob Halligan
48
Posted 04/01/2022 at 16:49:46
Don't you just love the Geordies. I assume the England international player they are talking about is Kieran Trippier they are trying to sign, who at 31 years old, is just 11 years older than Patterson. They will be lucky to get 2-3 years out of Trippier, while hopefully we get a lot more out of Patterson. Oh, and it's £10M plus add ons for Patterson, not the £16M they seem to think it is…😄😄😄
Edited 36 minutes ago by gdm
Tomato Deuce
Member
Tomato Deuce
Posted 14 minutes ago
On 02/01/2022 at 20:54, toon25 said:
Everton signing a Rangers RB for 16 mil.

Where the fuck do they get their money from?

On 03/01/2022 at 07:14, jack j said:
Rangers 2nd choice right back at that...

4 hours ago, jack j said:
A bloke who can't get a game for rangers costing 4 million more than an England International. Love wasting money do Everton

4 hours ago, The Prophet said:

He's much younger like.

40 minutes ago, gdm said:
He's a talent and a half. Was brilliant for Scotland when he played. Don't be silly. Very decent signing for Everton

In case anyone else is curious, the player is Nathan Patterson. Name wasn't mentioned once
Dale Self
49
Posted 04/01/2022 at 16:51:28
Nice move Rob, as disappointed as I am with some of the play Coleman has been a standup guy in what must be a very trying situation in that locker room.
Given how shite we are it shouldn't be a big test to throw them on as soon as possible.
For us to overpay slightly to get the business done is our penance for being in such desperate need. That we have two moves out of the way this early gives us some ability to shop deals rather than chase them.
Tony Abrahams
50
Posted 04/01/2022 at 16:51:51
This is what makes me wonder if it's genuinely true, or just another rumour, that Benitez is in charge of all the transfers now, Robert T?
Barry Hesketh
51
Posted 04/01/2022 at 16:53:33
According to one Tweet, Lucas Digne has a pre-agreement to join Chelsea with the fee supposed to be in the region of £25m - how reliable this is I've no idea. Could we get Lukaku on loan for the rest of the season plus the £25m? Probably not.

Peter Neilson
53
Posted 04/01/2022 at 16:56:02
I think Benitez is in charge of all transfers having managed to outbid lower offers from a Mr Kenwright and a Mr Moshiri.
Martin Reppion
54
Posted 04/01/2022 at 16:56:07
Rob
I lived in Newcastle for 5 years.
That lot wouldn't know a footballer if he danced in front of them in a pink tutu.
They live in the perpetual misconception that they are a big club because their catchment area stretches south to Leeds, North to Edinburgh and west to the USA before they hit another major city. Despite that. They have won sweet FA since the 1950s.
As my old mum used to say. Empty vessels make the most noise.
Brian Williams
56
Posted 04/01/2022 at 17:00:59
Good news. We need some after recent goings on too.
If anybody needs further cheering up go here: https://www.youtube.com/watch?v=l-3nGYY9gro
It'll make you laugh and cry in equal measures but it's absolute Everton legendary gold!
Justin Doone
58
Posted 04/01/2022 at 17:04:24
Both full-backs previously linked to us, that doesn't mean Rafa hasn't approved them.
We will never know the truth but for £20M upfront and £10M in add-ons it's Rafa (the current manager) who should be given final say as ultimately he'll pay one way or the other.
I still want a midfield general. A combined Allan and Doucoure type with pace, can run all day, pass, tackle and play. Gbamin isn't the answer. He's starting to remind me of Besic. Potential ruined by injury. Takes too many risks defensively to be a trustworthy CDM.
Joe McMahon
61
Posted 04/01/2022 at 17:08:19
Barry - Chelsea have paid £98 million for one of Europe's top strikers, they ain't loaning him out. He is playing Champions League football, why would he go to a team in a relegation battle that never plays in Europe?
Martin, don't be too harsh – they have had Shearer, Ferdinand, Speed, Beardsley and Ginola… but yes, a few years ago.
Iakovos Iasonidis
62
Posted 04/01/2022 at 17:08:26
He seems to have potential, he would be good for back-up, just like Mykolenko, both not starting 11 quality yet.
Barry Hesketh
63
Posted 04/01/2022 at 17:10:30
Joe @61
It was meant to be a tongue-in-cheek remark, hence the probably not caveat.
Rob Halligan
64
Posted 04/01/2022 at 17:11:33
Joe, I think it was a tongue-in-cheek comment from Barry.
As for your reply to Martin's comment, fair enough, all good players, but they've still won fuck all!!
Tony Everan
65
Posted 04/01/2022 at 17:13:54
Welcome to Everton, Nathan Patterson.
Well, both full-backs are a gamble, but they are young and on the up and hungry. Both players are happy to be here and will give it all to succeed. They'll bring exuberance and energy, the team needs it. They'll need the fans right behind them to help, and if they give 100% and have a never give up attitude they'll go far and be loved for it.
Lyndon, the height variation is hilarious, one site even has him at 5ft 9, another 6ft 3. We've bought a shape-shifter.
Looks like most days he is 6ft.
Alan McGuffog
66
Posted 04/01/2022 at 17:14:17
Iakovos... most of our starting eleven aren't starting eleven quality.
Brian Wilkinson
67
Posted 04/01/2022 at 17:19:10
What is not to like 2 young defenders and finally a right back.
What I do not get is a few are saying they are inexperienced, yet in the same breath calling for Dobbin and Simms to be played, if Coleman needs replacing at right-back, I see no difference in playing Patterson there, any more than playing Dobbin or Simms in attack, instead of Rondon.
If both full-backs turn out to be decent players and we have Branthwaite and Godfrey in the middle, then we will have a young defensive line-up for years to come.
Good signings for me.
Rob Halligan
68
Posted 04/01/2022 at 17:22:52
Spot on, Brian.
I said yesterday, or the day before, can't remember, that if we were to sign these two, then play them with Godfrey and Branthwaite. Inexperienced back four, probably, but over the next few years, they will hopefully form a defensive wall in front of Pickford.
Christopher Timmins
69
Posted 04/01/2022 at 17:27:10
Best of luck Nathan!
That's two down and one to go, a central midfield general, with presence is next on the list.
The two new full backs, Godfrey, Gordon and Gray are certainly bringing down the overall age of the teams and adding a bit of pace to the side. Maybe with three speedsters at the back we could get away with Keane for the remainder of the season if Mina does not return.
I expect that in a short period of time that both full backs will be first choices.
Maybe we can swap Digne for Rice?
Derek Knox
70
Posted 04/01/2022 at 17:28:24
Great to see Nathan Patterson with us Officially now, can't have too many Scots on either ToffeeWeb or in the Team! (Unbiased of course) :-)
Still can't quite fathom what is going on between, Rafa's reluctance to play our own very good youngsters (in Simms, Dobbin, and Onyango) yet we have splashed out on similar aged players, in two key positions. How long have we awaited an understudy or surper to Seamus? With the recent Digne situation, which doesn't look great, it made sense to get a young International player in, with a lot of experience, albeit though none at Premier League Level.
It will be interesting to see the team selection on Saturday, where I'm sure most of us will want to see, either or both selected against Hull FC. The BBC have us televised, probably hoping for a Giant Killing ?
Slainte Mhath Nathan.
Tom Bowers
71
Posted 04/01/2022 at 17:29:20
A step in the right direction? We all hope so.
When Liverpool brought in Arnold and Robertson we didn't think anything of it but look how they have contributed to their success, especially on offence.
Everton have had problems at fullback since Baines retired, Seamus got older and it didn't help after that bad injury either.
Digne looked decent for a while, Kenny not quite up to snuff and both Godfrey and Holgate looking uncomfortable as full-backs.
Mina's injury problems not going away but Branthwaite looks a real prospect.
The midfield is generally a shambles and there doesn't appear to be a highly consistent performer among them. Some have to be weeded out and moved out permanently.
The problems concerning Calvert-Lewin and Richarlison have been evident and I am not sure they are the duo to drag us back up the Premier League table.
Jason Li
73
Posted 04/01/2022 at 17:33:33
Very happy.
We bought positional players, not whose available that can adapt to a position this time.
That's my position on this anyway!
Joe McMahon
74
Posted 04/01/2022 at 17:37:16
Barry @63, apologies U was reading in a hurry.
If the new guy can pass forward, stop crosses and score more than Hibbert then he's in! Although he looks a lot older than 20. Maybe he shares a birth certificate with Yakubu?
Bobby Mallon
75
Posted 04/01/2022 at 17:39:05
Micheal @24, you would have moaned like a wolf with itchy balls if we hadn't've bought a right-back and a left-back. We have all been winging about transfers and these two tick every box I have wanted. Cheap young with a point to prove. Give the club a break and let's see what proper competition does for the team. I still want Rafa out… but it looks like he's staying.
Brian Hennessy
76
Posted 04/01/2022 at 17:39:28
Maybe Brands was interested in one or both of these when he was here but one thing I would bet on is that, if Brands was still in charge of transfers, we would not have signed two players four days into the transfer window.
In Brands time here every transfer seemed to be left to the last minute, probably as Brands dithered over the fee and/or wages. One thing we know about Benitez is that he is a stubborn, cocky git and made his mind up that he wanted these two players and went and signed them.
If they turn out to be as good a Benitez signing as Demarai Gray, we might start climbing the table soon. If they turn out to be as good as his Rondon signing… we are in for one hell of a relegation battle.
Brian Wilkinson
77
Posted 04/01/2022 at 17:40:09
Christopher @69, stop it the thought of Declan Rice in our midfield is giving me goosebumps.
Will not happen... but with you on Rice.
Andrew Ellams
78
Posted 04/01/2022 at 17:40:28
Joe @74, I've only seen him play once and he scored (against Moldova but you know) so he's already 1 up on Hibbo.
Peter Neilson
81
Posted 04/01/2022 at 18:00:54
Derek, seems like a lifetime ago that we were singing "He's magic you know". Here's to the day when the initial optimism under Martinez returns.
Paul Smith
82
Posted 04/01/2022 at 18:13:27
Haven't we been quick off the mark to sign players recently? We used to dither but not lately. The quality and price have been iffy but not the speed in which we've made our move.
I have no idea how good these two are but I hope they're more Demarai than Klaassen.
Jerome Shields
83
Posted 04/01/2022 at 18:20:04
We have needed a right-back for this past three seasons and have finally got one. Kenny has also put in some reasonable performance recently. With a new left-back up as competition for Digne, all we need is a reliable centre-back.
Seamus has been a great servant to the club, but he is in the twilight of his career as a Premier League player.
Soren Moyer
84
Posted 04/01/2022 at 18:22:04
That's great but why can't we include any of our shite players in these deals as sweeteners!!!?
Danny O'Neill
85
Posted 04/01/2022 at 18:22:05
Derek @79,
Interesting shout and one I'd be pleased with in terms of a returning player. He's not a 90-minuter but, as you say, excites and gets supporters off their seats. Good to have in the squad.
I've read a few comments about not wanting Barcelona cast-offs. If I had ever had the privilege of being labeled that, I'd have retired happy.
Looking forward to see what's coming next and glad we managed to sort out the correct phone numbers!
Simon Dalzell
86
Posted 04/01/2022 at 18:26:51
Lakovos. I hope they are starting quality, the state we are in. I thought that was the whole idea. We need instant improvement.
Robert Tressell
87
Posted 04/01/2022 at 18:27:58
Derek # 42, always a shame when someone who looks like a star in the making goes elsewhere for a good price. Pepi certainly has that about him.
Derek # 70, I'm English (ish) but I particularly don't like it when a rival manages to pick up a young Scot (or Irish or Welsh) player for a good fee. I'd like us to be seen as the natural home for such players.
Danny # 80, unfortunately Gbamin should be our dynamic, powerful holding midfielder but his time is up. I think we'll probably get by for the time being with Allan and Doucouré.
It'll be interesting to see what else, if anything, turns up. And leaves.
Justin Doone
88
Posted 04/01/2022 at 18:30:20
I'll blame Brands for the bad, thank him for the good and I'm still not the wiser what he did, what he was meant to do, and can't really comment on if he did us good or not. But I'm sure if we are successfull in the not too distant future, he'll let us know.
Until then I hope for the best, still look puzzlingly at Rafa, agree with as many comments as I disagree with and can only dream of silverware.
Frustration, confusion, realisation and yet I still believe the good times are not too far off coming around again. I'm a patient man...
Brent Stephens
91
Posted 04/01/2022 at 18:39:45
Soren #84,
"That's great but why can't we include any of our shite players in these deals as sweetener!!!?"
I think your post gives the reason why!!
Barry Hesketh
92
Posted 04/01/2022 at 18:41:59
Andy Hunter gives his opinion on the new arrivals and says that Benitez can't continue to hide behind excuses any longer. Interestingly, he adds:
He [Benitez] was unaware of just how tight the financial constraints would be when agreeing to become Farhad Moshiri's fifth, and most controversial, permanent managerial appointment in June.
Benítez gets his man in Patterson but only wins can end Everton toxicity
Michael Lynch
93
Posted 04/01/2022 at 18:42:21
Very young, very inexperienced, but he has a good reputation so I'm excited about this signing. Having said that, I still think Seamus can do a decent job at right-back and his passion and intensity is second to none in the squad. In fact, even played out of position against Brighton, he was far from the worst player on the pitch.
Okay, I might be biased because he's my favourite Everton player of his generation, but I don't really get the stick that Seamus has been getting on here. Sure, he's not what he was, but I still expect him to be playing regularly this season while the new lad finds his feet at a much higher level than he's used to.
Derek Knox
95
Posted 04/01/2022 at 18:46:37
Brent, Exactly mate, it's like suggesting Pure Lemon Juice as a Sweetener ! :-)
Tommy Carter
96
Posted 04/01/2022 at 18:52:51
I'm not sure that, when you're in the midst of a relegation battle and the future of the football club depends on it, signing a pair of completely inexperienced, unproven but potentially promising full-backs is what is required.
The problem is glaringly obvious. We are in desperate need of a dominant centre-back. Throw the cash in for Tarkowski; he should've been the option selected. I'm not a big fan but he is a vast improvement on any centre-back we have on our books.
This is because if Benitez is insistent that an ultra-defensive and counter-attacking set-up is what will serve us best, you need solid defenders who can hold the line. Tarkowski in for Keane and you instantly have this improvement in solidity.
You'd then likely have instant improvement in performances from Digne and Coleman. Then you have Godfrey who can cover the left- and right-back spots when required. Godfrey in the centre, or Yerry. That would've been the quick fix for me.
But a quick fix only. Newcastle will capitalise on such quick fixes. Watch them. One of them will likely be Tarkowski and watch their form improve. They'll pull clear and build in the summer. Players they bring in this window will likely not be in their first team in a couple of years. But they have to do what is required right now. They will not be signing promising full-backs, I can assure you.
Benitez is attempting to plan for a future when the present is not guaranteed. The latest in a long line of disasters, unfortunately.
Tony Abrahams
97
Posted 04/01/2022 at 18:53:12
Interesting article that, Barry. I've heard that Moshiri has started to become a bit restless because his boss isn't happy. So I think that Benitez might already be in the last chance saloon, and needs some good results to save his job.
The rumours I'm hearing are that this wasn't a Benitez signing, but that's all they are… rumours.
Danny Baily
98
Posted 04/01/2022 at 18:59:47
Two decent players, one should go straight into the first team. Not sure Patterson will be ready right from the off but, with the state we're in, we might not have a choice.
Pleased with the transfer business but I still want to see the back of Rafa.
John Raftery
99
Posted 04/01/2022 at 19:01:26
Strong characters with quality will improve the team and get us out of the mess we are in. If Patterson is half as good as he is reported to be by those who have worked with him, he should make a real difference very quickly.
I hope he will cope with the step up from playing occasionally in a relatively successful team to playing regularly in a team which has struggled for any kind of consistent form for many years. Such is our predicament, there will be little or no opportunity for a bedding-in period. It may well be a case of sink or swim for both Patterson and Mykolenko thrown in at the deep end.
Bringing Barkley back would be a mistake. He brings too much baggage. While we need an attacking midfielder of that type, he has hardly improved as a player since 2013-14 and is highly unlikely to do so now. As for Deulofeu, he was another talented but infuriating player.
We have Gray, Gordon, Richarlison and Townsend to play in the wide attacking positions. We don't need another addition to that list.
David Nicholls
100
Posted 04/01/2022 at 19:01:44
As we have added 2 young talents, unproven in the Premier League, would it be worth a punt on Eriksen with an 18-month deal?
No transfer fee, proven Premier League quality and the unfortunate situation with his ticker means he'll likely get overlooked by the Shameful Six.
Neil Copeland
101
Posted 04/01/2022 at 19:06:21
Michael #10, so that's why Coleman wears no 23, all makes sense now….
Steve Shave
103
Posted 04/01/2022 at 19:10:30
Happy with this signing, I think he will work out well overtime (patience please Evertonians) and it will prove a good investment. Agree with Sam that this price is a little high but it's January. I would really like some players shifted on now.
Above shouts for Tarkowski seem off the mark to me. He is no better than Keane, who might I add looked like a world beater in the deep sitting Burnley side as well. We don't need a centre-back, we need to coach the 3-4 decent ones we have into being consistently good ones.
The current set-up for deadball situations is an absolute shit-show and needs changing fast. Build around Godfrey, Mina and Branthwaite. I am pleased we finally have some options in the full-back positions.
Soren Moyer
104
Posted 04/01/2022 at 19:12:15
Brent (91), It doesn't necessarily mean they can't do a job in SPFL even if they are shite for us!
Derek (95), Has it ever occured to you some might like their "sweeteners" saur!?
Brent Stephens
105
Posted 04/01/2022 at 19:15:37
Soren - you've convinced me!
Derek Knox
106
Posted 04/01/2022 at 19:17:41
Soren, I will keep that in mind, and never go to a Chinese restaurant with 'them' in case Sour (Sweet) and Sour 'X' is on the menu ! :-)
Soren Moyer
107
Posted 04/01/2022 at 19:35:50
Brent, I knew you were too easy to convince 😉.
Derek, Thanks man. I just added that to my "not to do" list just in case 😁.
Martin Mason
108
Posted 04/01/2022 at 19:39:46
What a beautiful transfer in every respect. Time will tell now.
Paul Johnson
109
Posted 04/01/2022 at 19:40:04
Two good young signings for me. We have obviously been looking at both these lads for a while, hence the quick business.
It certainly makes a difference from some of the last-minute debacles that have and still are costing the club millions.
I am hoping that we also have an experienced centre-half lined up. A big no-nonsense eastern European would do just fine. Someone who likes a tackle and can head a ball to one of his teammates.
Mark Andrews
110
Posted 04/01/2022 at 19:44:41
I wonder where tactical genius Benitez will play him?
Billy Roberts
112
Posted 04/01/2022 at 20:02:33
This Rafa Benitez fella?
If it's true (if) he's behind these 'no fucking around' transfers of potentially really good young full-backs and the 'no fuckin around' offloading of Rodriguez and Digne for funds of £30+million? Okay, I know I'm surmising a lot here...
Well, he's shaking shit up behind the scenes but he's shaping up as a shit manager (you can't argue with his record).
I have a crazy dream, TWebbers... Benitez becomes the ball-busting, skin as thick as a Rhino, won't take no shit, fucks Kenwright off into retirement Director of Football?
He finds – hold on, suspend your disbelief for a bit – a fellow (younger) manager who likes him and is fuckin' brilliant and can work with him without being a lapdog.
I've only had 4 cans of Guinness but I think I've just saved our club and put it on the path to years of success!! Thank me later, everyone, and Mr Moshiri – you know I'm right.
Neil Copeland
113
Posted 04/01/2022 at 20:12:25
Billy, sounds good to me - the sooner the better
Derek Moore
114
Posted 04/01/2022 at 20:18:04
Nice one Billy. (#112)
If your liver is up to it, I'd like to see you have another Guinness or four and then hear how the Devils Spawn end up in the conference as well.
Robert Tressell
115
Posted 04/01/2022 at 20:29:19
Tarkowski is more violent than Keane. He has that going for him.
Billy Roberts
116
Posted 04/01/2022 at 20:31:41
No problem, Derek @114.
I'm on to the Kronenbourg 1664 now so anything is possible!! Dare to dream the magic of ale makes anything feasible
I believe the esteemed Times chief sports writer, David Walsh, who got his claws into cheating bastard Lance Armstrong and would not let go. He is investigating LFC Asthma treatment and performance under Klopp.
Do you want me to move on to the strong stuff?
Derek Moore
117
Posted 04/01/2022 at 20:40:11
Billy, I'm torn between wanting to hear even more positive prophecies from yourself and guilt for encouraging a form of active self harm.
I don't wish to encourage you to poison yourself! That said, if you don't need any encouragement...
Do you do Grand National winners, by the way?
Thanks again, mate, made my morning here in New Zealand. Take care of yourself. Or at least try not to do too much damage.
ps: Ribena and paracetamol for the morning after the night before. Never fails.
Billy Roberts
118
Posted 04/01/2022 at 20:54:09
Haha, Derek @117,
I always enjoy your posts, and I noticed yesterday I think you were sort of apologising for your opinions?
Well, absolute rubbish. Keep posting, Derek, you make more sense than the likes of me and lots more.
Grand National winners, I have a very good record based on the lovely colours, the hard-luck story, and the name being like somewhere I went on holiday, relative etc... Come back to me nearer the time and I will get rat-arsed and pick a winner.
Only kidding with the strong stuff, I can't drink any spirits unfortunately... fortunately!!
My recovery fuel is or was Lucozade original, Mars bar, pickled onion monster munch!!
Hope you can get them in New Zealand, Derek.
Christy Ring
120
Posted 04/01/2022 at 21:13:23
Good to see two young fullbacks coming in.
My only worry is that Patterson has played mainly in the Rangers academy, he's only played 6 games this season in the Scottish Premiership, but he has played at senior level for Scotland, and Defoe reckons he's a gem.
I'd love to see Barkley back, for a young man at the time, he always showed for the ball and Koeman hung him out to dry, in my opinion. His attacking threat and killer pass is something we lack, which Richarlison and Lukaku would thrive off.
But, then again, when you see the abuse Coleman has got on this thread, you forgot he's nearly 33 and having to play nearly every game for the last couple of years; what chance would Ross have?
Mike Gaynes
121
Posted 04/01/2022 at 21:22:51
Billy #112, you may have something there. Rafa may be bringing his own managerial career to a deserved end... while beginning another one.
Four cans of Guinness is my usual consumption for a year, but if it confers that kind of perspicacity, I may have to increase my intake.
Christy Ring
122
Posted 04/01/2022 at 21:24:22
Just read where Kenwright was chief negotiator and brokered the Patterson deal for the last few weeks... didn't it work out well for him that Brands was the scapegoat??
Mike Gaynes
123
Posted 04/01/2022 at 21:25:22
Christy #122, where'd you read that?
Barry Ferguson
124
Posted 04/01/2022 at 21:26:31
What I'd like to see Saturday:
Pickford
Patterson Godfrey Branthwaite Mykolenko
Doucoure Gbamin Onyango
Gordon Simms Gray
What Rafa will likely field Saturday;
Begovic
Kenny Godfrey Keane Holgate Coleman
Doucoure Allan Delph Gordon
Gray
Call me a skeptic, but these aren't Rafa signings (his are the Merenga, Coutinho and Ramsey rumours) so get ready for the "not mentally ready yet" excuses for the next month. Might see Mykolenko for Coleman tho…..at least until 70 and chasing the game after slow start.
Derek Moore
125
Posted 04/01/2022 at 21:28:40
I've a grin as wide as the mouth of the Mersey after that, Billy. Really appreciate it!
Come Grand National time, I'm getting an omen tip from you. No pressure mate, just pick the winner!
New Zealand is a beautiful place, and a wonderful country. But they're about as bad at making crisps as they are good at playing rugby. Pickled Onion Monster Munch, I can only dream, they can't even do a reasonable Salt & Vinegar...
The arl fella was a Lucozade for New Years breakfast man, but it's something about the carbonation that messes me about. I'll throw a Mars Bar into the recovery rotation after my next blowout – which will probably commence 10 minutes into our game against the Foxes.
I love having opinions and offering them Billy, and I'll try not to ever stop. My problem mate is belittling and pissing off people whose opinions don't gel precisely with mine. No point making loads of great points when two thirds of the people here see my name and scroll straight to the next post.
I've just got to strike a better balance between the pearls of wisdom and being an online divvy. Hope springs eternal, except where Everton and the League Cup are concerned.
Made my day, mate, you have made my day. Enjoy the 1664, the caviar of hops they reckon and discerning punters like me tend to agree.



Anthony Dove
126
Posted 04/01/2022 at 21:32:52
I'm all in favour of us buying young players and at today's prices, we haven't paid stupid money. However, this lad has only played 12 games for Rangers, and somewhat surprisingly 6 for Scotland. So he is definitely a bit of a punt.
I feel much the same about the Ukrainian. I would probably feel a lot more positive if the hateful Benitez was on his way, and any success we may have with him in charge will always be tainted.
Kieran Kinsella
127
Posted 04/01/2022 at 21:33:25
Mike Gaynes,
After the last game, Rafa said "the board" are handling all the negotiations for the new signings. In the absence of any other members, I took that to mean Kenwright.
Laurie Hartley
128
Posted 04/01/2022 at 21:39:57
We have had a few Scottish full-backs but I can only remember one Scottish right-back ever playing for us. Clue – master of the sliding tackle. I hope he is as good as him???
Welcome to Everton, Nathan.
Paul Kernot
129
Posted 04/01/2022 at 21:41:19
Back line v Hull:
Patterson - Godfrey - Branthwaite - Mykolenko.
I dare you Rafa. I double dare you.
Barry Hesketh
131
Posted 04/01/2022 at 21:43:31
Is Billy really NSNOstradamus or does that moniker belong to Danny with his constant plans for all of us to be at Wembley in May?
On a field of green under an arch, the men known as Toffees will make their mark.
Barry Ferguson
132
Posted 04/01/2022 at 21:44:12
It's a £50M back line Paul, why's it need to be a dare?
Dennis Stevens
133
Posted 04/01/2022 at 21:44:33
Aye, Paul - no need to defend deep with those 4 at the back, imo.
Henrik Lyngsie
134
Posted 04/01/2022 at 21:44:38
David @100.
I would certainly love to see Eriksen in an Everton shirt. He would be a great addition. However, I think he is going to Southampton with their new Danish connection in Rasmus Ankersen.
Brendan McLaughlin
136
Posted 04/01/2022 at 21:54:39
Paul Kernot
137
Posted 04/01/2022 at 21:56:41
Barry #132.
Just that, as mentioned in a post earlier, he's likely to come out with some bull like: 'They need time to settle in'. Then dish up the usual line-up & blame injuries & Covid when we get done.
Colin Glassar
138
Posted 04/01/2022 at 21:57:04
We need a midfield enforcer now. Doucouré and Allan get overrun in midfield so a Fernandinho type (or Gueye) to break up the opposition's attacks is desperately needed.
Dennis Stevens
139
Posted 04/01/2022 at 22:10:10
Hear! Hear! Colin – let's hope Benitez has somebody lined up.
Barry Ferguson
140
Posted 04/01/2022 at 22:15:08
Apologies Paul, gotcha now. Agreed….especially if he feels that playing then is what the nasty fans want him to do.
John Keating
142
Posted 04/01/2022 at 22:20:18
Mike @123,
It's in a fair bit of media over here. Story comes from the Rangers director of football. He says he's been in talks with Everton for a while – led by the World's Greatest Evertonian.
He was full of praise for Bill, reckons he's a real decent True Blue. Obviously unaware of his acting skills.
Kieran Kinsella
143
Posted 04/01/2022 at 22:29:19
Tony Heron
144
Posted 04/01/2022 at 22:34:06
Laurie @ 128.
I presume you're referring to one of my boyhood favourites, Alex Parker. His slide tackles were legendary, but I guess they would be banned in today's game.
God, I've just had a thought, imagine Bruce Rioch playing today!! He'd be up for murder!
Rob Halligan
147
Posted 04/01/2022 at 22:48:20
Laurie # 128. Surely you've got to be talking about John "Tiger" McLaughlin??
Derek Moore
148
Posted 04/01/2022 at 22:52:19
Has to be Alex Parker I think.
It's a shame Justin left, I'd assumed he was here all week? 😂
Brian Wilkinson
149
Posted 04/01/2022 at 22:55:05
Anthony @120.
"I would probably feel a lot more positive if the hateful Benitez was on his way, and any success we may have with him in charge will always be tainted."
I just cannot understand your reasoning, you would prefer Rafa to fail and be on his way, rather than Everton turn a corner but have Rafa tainted, if we have success.
Absolutely no logic whatsoever in that way of thinking.
Granted our results have been poor, but me personally, I would prefer the manager to eventually get it right, than fail, just to get him out of the door.
Dan Parker
150
Posted 04/01/2022 at 23:02:21
Thank you, Mrs Patterson, thank you.
Michael Pennington
151
Posted 04/01/2022 at 23:12:23
Rob #146,
You don't really believe any of that do you? I've just stopped laughing.
Laurie Hartley
152
Posted 04/01/2022 at 23:18:53
Rob, it was Alex Parker I had in mind; however, Kieran has actually come up with one that got under my radar: Alex Cleland.
He was a terrific player Alex. He could slide into a tackle cleanly and fairly and come out with the ball at his feet.
Top row far left – with 4 more of his terrific Scottish teammates. They were the days – I and my peers from those days were spoilt.
Laurie Hartley
155
Posted 04/01/2022 at 23:39:58
Derek # 125 - " I've just got to strike a better balance between the pearls of wisdom and being an online divvy." - got a smile out if that then an erm🤔 - when you figure out how to do that would you mind sharing the secret with us.
Laurie Hartley
160
Posted 04/01/2022 at 00:06:41
I listened to this lad's first interview -
Link
- and a strange feeling came over me that I haven't experienced regarding Everton for a few months now - hope.
Patterson, Mykolenko, Gordon, Gray, Branthwaite. All young guns with something about them and something to prove. Maybe the tide is about to turn?
If we could get a decent midfielder to partner Doucoure and Allan I will be well satisfied.
Rob Halligan
163
Posted 05/01/2022 at 00:24:24
Bob Parrington
165
Posted 05/01/2022 at 01:51:14
Are we just now witnessing the benefit of not using the DoF model? Targeted, smart signings prepared for early window.
I like the speed benefits with both and, of course, the height - must have added several inches to the average Everton defence group (erm - OK, without Mina taken in to account).
Welcome to both new players. Looking' forward to you having long, successful careers with Everton.
Not so sure about Michael Keane. Would like a strong tall replacement who knows to pass to his own team mates.
Alan Moss
171
Posted 05/01/2022 at 07:40:06
Brendan #161...I absolutely agree that he said success under Mr Benitez would be tainted, it's there in black and white. That doesn't mean he doesn't want us to do well.
Brian #162 - both. I do not like Mr Benitez amd that started with his association with the RS. The reason I continue to dislike him is because he's dull, devisive and a dictator. He's inflexible and stubborn which largely resulted in him being unable to get a result when our better players were injured. He couldn't adapt like many other managers would have and refused to try anything different. Let's just hope we don't get any more injuries before the end of the season because those who want to keep him in a job are pinning their hopes on him having a fully fit squad.
You identify that rightback has been a priority for a while and give him sole responsibility for resolving resolving the issue.
Jerome Shields
177
Posted 05/01/2022 at 09:32:19
I agree with all those that posted Everton will not be relegated.
Martin Reppion
178
Posted 05/01/2022 at 09:42:15
Laurie #128,
I seem to remember a Scot called John McLaughlin playing right-back. I think he made his debut at a game my dad took me to against Leeds in the early '70s.
The whole ground cheered when he headed away a Peter Lorimer special. Most players would dive out of the way of one of those.

Christy Ring
182
Posted 05/01/2022 at 10:19:22
Just reading that it was Brands who identified Patterson and Mykolenko, and Kenwright concluded the deals, and he admitted he didn't want Iwobi, so who was behind his sacking?
Clive Rogers
183
Posted 05/01/2022 at 10:27:50
Christy, was he sacked or did he walk? I initially read he'd gone by mutual agreement, but more recently it has become dismissed!
Clive Rogers
184
Posted 05/01/2022 at 10:33:58
Martin, 178, I remember John McLaughlin well. He was a left-back with a bald head. He played 61 games 1971 to 1976, and I'm sure he scored a spectacular headed own-goal against the RS.
Laurie Hartley
186
Posted 05/01/2022 at 10:50:35
Martin #178,
I think he was a left-back but your comment confirms my gut feeling that, when you get a Scot in an Everton shirt, you get commitment.
I am looking forward to seeing these two young full-backs playing for us.
Martin Reppion
187
Posted 05/01/2022 at 10:55:30
Laurie,
To be fair I was about 9 at the time I saw him play! An awful lot of beer has flowed under the bridge in the intervening 51 years!
But right-back? Left-back? I didn't realise there was a difference anymore! Or was that just Sunday's shambles?
Robert Tressell
188
Posted 05/01/2022 at 11:07:07
Christy / Clive - the various different stories strikes me as everyone talking their own version of bollocks to try and come out of a mess with some credit. We'll never know the truth.
Steve Boardman
189
Posted 05/01/2022 at 11:13:47
Clive (184). I think you mean Sandy Brown. Another Scot and all round utility player. He scored that spectacular headed own goal against the RS in the 69/70 Championship season. A great servant to the club but sadly best remembered for that own goal.
Tom Harvey
190
Posted 05/01/2022 at 11:27:22
Patterson and Mykolenko are absolutely the right profile of player we should be looking for; although they're a bit pricey?
When the summer comes we need more of these types. Obviously Rangers had first dibs on Patterson and they'd make us pay. Mykolenko though, is the type of player we need to be scouting before he's played internationals, we might have had him for £4-5m?
If these players develop well, teamed with Godfrey and Branthwaite, I believe I might be smiling in a year or two.
Alan McGuffog
192
Posted 05/01/2022 at 11:31:53
Steve...in the early 70's we were lining up to score og's at Anfield. I recall Tommy Wright, Mick Lyons and one or two others.
I'm always saddened that Sandy is remembered for that incident. Still he was a key part in us winning the league that season so he had the last laugh.
David Pearl
193
Posted 05/01/2022 at 11:39:43
The new kids are the right age and profile but we wait and see how they progress. Big let down vs Brighton but l was more alarmed by the players mistakes than the formation.
Steve Carse
194
Posted 05/01/2022 at 11:42:51
Martin (178),
Tiger McLaughlin was most definitely a left-back.
I don't know whether it was the same game against Leeds, but I recall him preventing the ball from going over our goal line and then standing casually on it as a host of Leeds players rushed in to try and get the ball over the line. Lorimer was the first to try and get there. Tiger didn't flinch. As Lorimer got to within a yard of him he rolled the ball under his left foot and sidestepped him, leaving Lorimer sliding into the empty net.
Couldn't fathom out in that moment whether he was a genius or just a ballsy Sunday league level player. Still hadn't decided by the time he left.
Clive Rogers
195
Posted 05/01/2022 at 11:43:35
Steve, yes may be getting confused, but I thought McLaughlin scored an own goal also.
Chris James
197
Posted 05/01/2022 at 12:05:24
I think both of these deals are great business.
Obviously, like any transfer, they may not work out, but the fees seem reasonable (certainly more reasonable than under previous managers) and they are young international standard players.
I would have loved Digne to be salvaged, but that one is done now and to be fair he's hardly excelled this year when he has played. If we can flog him for decent ££s then that'll be great transfer business all around.
I appreciate the last 10 games have been largely an utter bin fire and Rondon looks utterly pointless, but there are some positive notes to take from the season:
i) Townsend and Gray have both been successful transfers adding pace and an eye for goal to our midfield (when fit)
ii) Benitez has managed to get the best out of a box-to-box Doucouré too (when fit) in a way that Ancelotti never managed.
iii) Two new young wing-backs added to the squad and business done early for once
iv) Gordon is properly breaking through to be a first team player
v) The youth team looked half decent against Chelsea and hopefully a few more will come into contention
vi) DCL is back now, needs a little game time but I expect him to start scoring
vii) Mina and Richarlison should be returning soon and we'll have a more full strength side
With the run of fixtures we have now and players back/regrouped I feel we have the ingredients needed to turn things around. COYB
Steve Boardman
198
Posted 05/01/2022 at 12:07:48
Clive, hi. You may well be right. I just don't remember that one. Another senior moment
Alan, absolutely true about Sandy. In the days of only one sub, he could (and did) play everywhere.

Derek Taylor
199
Posted 05/01/2022 at 12:10:13
Echo just informed us that we can thank Silly Billy for the successful transfer process of the Patterson deal. Rangers top man says what a pleasure it was to deal with our revered Chairman. We are indeed blessed!
Dave Abrahams
200
Posted 05/01/2022 at 12:28:54
Martin (187), right-back or left-back? When it came to John "Tiger" McLaughlin, it didn't make any difference, he played in both positions for Everton. Liverpool had a John McLaughlin at the same time as our one, a wing-half who never made it at Liverpool.
Steve Brown
202
Posted 05/01/2022 at 12:39:08
Chelsea, Newcastle, WHU and apparently Villa interested in Digne.
Assuming we are crazy enough to sell, I think we should take the opportunity to screw Gerrard over on this given he scuppered our bids for Nathan in the summer.
And with 4 clubs in the mix, the price can be pushed above the 25 million that gets mentioned in the press.
Phill Thompson
204
Posted 05/01/2022 at 12:40:14
Derek #199, I haven't seen the Echo bit but read in another paper how delighted the Rangers Director of football was in his dealings with Bill Kenwright, so likely we paid over the odds and more than even Rangers expected. Let's hope Bill is not involved in giving Digne away at a bargain price to show he's such a pleasure to deal with.
I am though hoping that in a short time Patterson will prove to be a bargain.
David Pearl
206
Posted 05/01/2022 at 12:49:12
Phill, do you think we paid over the odds then? Or is the mere thought that Kenwright isn't completely hopeless and has had past success in his dealing pre Brands/Walsh too hard to take?
I will also say if we didn't have ffp restrictions and still Brands involved perhaps we would have splashed another £30m on Max Aarons this past summer. Just sayin :)
Barry Hesketh
207
Posted 05/01/2022 at 13:02:14
I don't care who negotiated any deal, the board as an entity is responsible for all transfers. That's why I'm so annoyed with the whole board and the owner for creating such a financial shambles for themselves... did nobody at any point sound the alarm?
We can only hope – whoever was responsible for bringing them in – that the two additions become useful members of the team in the coming months and years and start to reverse the terrible trends of the last few years.
Tom Harvey
211
Posted 05/01/2022 at 16:05:55
Jonathan Oppenheimer @ 210
Some of those MLS clubs have estimated price tags near as much as Premier League clubs, Galaxy for instance.
It's no longer a cheap and value option.
Derek Knox
212
Posted 05/01/2022 at 17:36:08
David @ 206, If as believed, Kenwright was involved in this and Mykolenko's Transfers, he probably then lays claim to the Agent's Fees, and puts them along with the Arteta Money ! :-)
Mike Gaynes
214
Posted 05/01/2022 at 17:54:18
The Guardian's Andy Hunter on our transfer business and what Benitez must do now:
https://www.theguardian.com/football/2022/jan/04/rafael-benitez-nathan-patterson-wins-everton-toxicity?utm_term=61d5c0022c05f6b3244bb16a516619c1&utm_campaign=TheFiver&utm_source=esp&utm_medium=Email&CMP=fiver_email
Rob Halligan
215
Posted 05/01/2022 at 18:56:15
Michael # 151. Seeing as post # 146 seems to have disappeared, and it was around the time I posted about Ross Barkley coming back to Everton, then I assume your post is directed to me. To be honest, I don't give a fuck what you think. I believe what I posted to be true, simply because of who told me and his source, who I'm told, was present when Barkley decided against the move to Chelsea. Also if you care to look at my post # 163, you will see that I'm not the only one who believes it to be true about Barkley.
So as I say Michael, I really couldn't give a rats arse what you think. If you can provide concrete evidence that says otherwise, then let's see it. I'll still be waiting in twelve months time for that!!!
Iakovos Iasonidis
216
Posted 05/01/2022 at 19:04:58
So true, Alan McGuffog #66, unfortunately...

Phill Thompson
217
Posted 05/01/2022 at 19:51:27
David #206,
From your tone, you obviously disagree with me.
Chairman Bill is a fine person but, if you believe that at 76 he's at the cutting edge in modern transfer negotiations, then I'm happy for us to disagree.

Bill Gall
218
Posted 05/01/2022 at 20:26:27
The best thing about this and the previous transfer announced this week is the age of the players. This is starting to bring the age of the squad down for the future. We still need a couple of more-experienced players and it will be interesting to see if or who else is signed.
January is a difficult month for signing players, as other clubs know; if you really want a player, they can get a better price in January than in the longer summer transfer window.
In saying that, we have a number of players we would like to see transferred, some (if we the supporters were doing the negotiating) would just be given away, but I suppose the club will always try to get something back in return for a player.
Hope we manage to get rid of a number of players to get them off the wage bill, but it would be nice to get some money for them.
The main thing in this short window is to bring in someone that will help the squad early, or if they are for the future keep the age group down.
Christopher Timmins
219
Posted 06/01/2022 at 08:44:04
Brian # 77
What if we added Holgate, Keane and Rondon to the deal, West Ham are looking for a left back, two central defenders and back up to Antonio up front. Unfortunately, they don't need a wide player or a No 10, so Iwobi can't be part of the deal.
Colin Malone
220
Posted 06/01/2022 at 13:10:05
It's been far too long for a football club like Everton FC, who can not bring youngsters through the academy. Nearly 9 or 10 years, Tom Davies and maybe Anthony Gordon. I thought Branthwaite was from the academy, no we got him from Carlisle United.
What's going on?
Derek Taylor
221
Posted 06/01/2022 at 14:14:57
Now that the Board has rid itself of a Director of Football, it appears that Chairman Bill has resumed his long time role as' negotiator in chief 'of incoming transfers. So be it but we are all aware that just as big a job will be the negotiation re the outgoing of at least half a dozen high earners either by sale or loan.
Is this to be another vital role for 'the Chair' or high on the list of jobs for the new director ? Surely our ever-busy manager will not be charged with it as in days of old ?
Dave Abrahams
222
Posted 06/01/2022 at 20:20:29
Looks like we are getting two Patterson's for the price of one, the very highly regarded Crusaders young midfielder Jack Patterson has decided to join Everton when he leaves school in the summer, he made his first team debut last season at age fifteen and West Ham Unt looked likely to sign him with a few clubs interested but he has decided that he will join Everton. Maybe Andy Crooks our Northern Ireland correspondent might have heard of him.
Brian Murray
223
Posted 08/01/2022 at 03:57:33
The original comb over tiger McLaughlin did score in a derby at Anfield along with tommy wright. Own goals in a four nil loss. Another James Hunt of a 70 s player for us.
Dave Abrahams
224
Posted 08/01/2022 at 13:28:22
Brian (223), Bernie Wright came on in that 4-0 game if I'm not mistaken.
Add John Bailey to the lists of own goal scorers, he came in The Goblin the Sunday afternoon after the Derby game he scored in and Billy Livo a red fan said " I saw you on the East Lancs last night" John said " You never saw me I was nowhere near The East Lancs last night". Billy said " Don't be at it John I saw you alright, you were heading for Liverpool". The own goal was another header but not as good as Sandy's.
---
Add Your Comments
In order to post a comment, you need to be logged in as a registered user of the site.
Or Sign up as a ToffeeWeb Member — it's free, takes just a few minutes and will allow you to post your comments on articles and Talking Points submissions across the site.