Graeme Sharp joins the Everton Board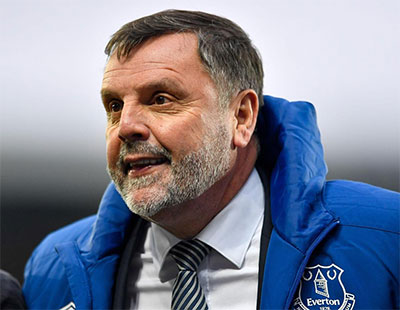 Legendary Everton striker Graeme Sharp has been appointed to the club's Board as a non-executive director it was announced today.
Sharp, 61, first joined the Blues as a player from Dumbarton in 1980 and went on to form an integral part of the club's famous trophy-winning side of the mid-1980s.
In recent years, the Scot has fulfilled an ambassadorial role for Everton but has now been elevated to the boardroom.
"This club is in my blood," Sharp said upon the announcement. "I have enjoyed many great days as a Blue — and joining the Board and being able to play a part in shaping Everton's future is one of the greatest honours of all.
"I look forward to working with my fellow board members and take my responsibility as a custodian of our great Club very seriously."
Club Chairman, Bill Kenwright, said of the news: "We were determined to have someone join us with not only great knowledge of Everton but also extensive football insight and experience.
"Someone who could support and challenge. And in Sharpy's case we've got this in abundance."
Article continues below video content
---
Reader Comments (284)
Note: the following content is not moderated or vetted by the site owners at the time of submission. Comments are the responsibility of the poster. Disclaimer
Danny O'Neill
1
Posted 05/01/2022 at 14:06:12
Grahame Sharpe appointed to the board?
I didn't see, hear or read that one coming.
Bobby Mallon
2
Posted 05/01/2022 at 14:12:11
Just heard Graeme Sharp has been appointed as an Everton board member.
Martin Reppion
3
Posted 05/01/2022 at 14:15:12
Interestingly, just read that Graeme Sharp has been appointed to the board of directors to advise on footballing matters.
I think this is a positive move, with a genuine club legend in a position to influence, veto, or at least add a voice of caution, on future decisions relating to the team.
I think we are turning a corner. Albeit with the speed and control of an oil tanker.
Mike Hayes
4
Posted 05/01/2022 at 14:20:47
Another job for the boys... Kenwright delighted he has another Yes-man on the board, for fuck's sake.
Dave Abrahams
6
Posted 05/01/2022 at 14:26:38
Billy Boy: "Some who could support and challenge. And in Sharpy's case we've got this in abundance.
I look forward to Sharp making a challenge, it will be a long, long wait.
Another one living off the club –100% one of Billy Boy's puppets who says what he is told to.
Barry Hesketh
7
Posted 05/01/2022 at 14:27:00
That'll solve Everton's issues and placate the fans. Well done to those in charge for recognising that an Everton legend will now become a board member, what more could we ask for?
Seriously, I don't know what Sharpy may bring to the table, but if he speaks the truth and dissuades the rest of them from making daft decisions, then that will suffice for now.
There's a rumour that KFC is ready to give the club much needed sponsorship for the next few years, no not the Colenel Sanders chicken outlet rather the Chairman of Everton – aka Kenwright Football Club.
Michael Kenrick
8
Posted 05/01/2022 at 14:28:45
On the face of it, this does seem to be a very introspective, comfortable appointment. His recent years have been spent in football media, not football business.
Other than obviously being an ex-footballer, knowing Bill well, and being "supportive", does he have any real qualifications for the position?
Ian Jones
9
Posted 05/01/2022 at 14:31:28
If the board needs a shake-up, my vote would go to adding Neville Southall. The board wouldn't stand a chance...
Paul McCoy
10
Posted 05/01/2022 at 14:33:18
I seriously have no words. What an utter basket case of a club.
Derek Taylor
11
Posted 05/01/2022 at 14:34:09
Thank you, Ma'am, I wont say a word out of place - promise !
Mike Dolan
12
Posted 05/01/2022 at 14:40:19
On the face of it, I think it is a positive development. I hope he can remain an independent voice and there is no reason not to think he will.
Good luck, Graeme, and do your best for the long-term interests of this long long misdirected club.
Look only forward but always remember that the reason we are where we are will be sitting with you at those board meetings.
Jay Wood
[BRZ]
13
Posted 05/01/2022 at 14:41:48
Why does this have an awful whiff to it to me..?
Paul Hewitt
14
Posted 05/01/2022 at 14:44:04
Another Yes-man for Moshiri's ego. Joke of a club.
Brent Stephens
15
Posted 05/01/2022 at 14:44:28
This might be a blunt appointment.
Time will tell. Or maybe we just won't get to know.
Bobby Mallon
16
Posted 05/01/2022 at 14:45:21
Jay 11. Exactly
Larry O'Hara
17
Posted 05/01/2022 at 14:46:21
What about Neville Southall as Director of Football?
Dave Abrahams
18
Posted 05/01/2022 at 14:48:34
Brent (13), Billy Boy will speak and the puppet will mime.
Jack Convery
19
Posted 05/01/2022 at 14:48:39
Bill Kenwright is really up there with the mightiest of tossers around in this country at the moment, and that really is saying something. I love Graeme Sharp the player but he's a Yesman when it comes to the club.
Bring in Big Nev and do something really useful for a change. Not a chance, is there, Blue Bill, because he'll tell to your face what a disgrace EFC has become under your Chairmanship.
Yes-men at Finch Farm, Yes-men in the Boardroom. What a club. No wonder Moshiri wants you out the loop. Please resign soonest. Cheers.
Barry Rathbone
20
Posted 05/01/2022 at 14:50:30
I guess this bins the DOF model - well done, Everton, it is a load of bollocks.
A man who knows about footy at board level could be useful to the manager and Sharpie strikes me as a cut above in the brains dept compared to most togger practioners. Not overtly ego driven, is Everton through and through, and a good communicator.
I think this is great news and delighted for him personally.
Christopher Timmins
21
Posted 05/01/2022 at 14:50:41
You have got to think at this stage that the only hope of significant change comes from the current manager, how sad a scenario is that.
Hopefully, Sharpy will prove to be a voice for change but his background does not suggest same.
Some individuals outside of the owner still have significant influence at the club.
Barry Hesketh
22
Posted 05/01/2022 at 14:50:56
BK: "Well Graeme, what do you think of the job Benitez is doing?"
GS: "Bill, I'd like to hear your views first."
BK: "I think he's a terrible appointment, doing a very poor job."
GS: "I'd have to go along with that."
BK: "So you'll vote with me, at the next Board meeting?"
GS: "You can rely on me, Bill."
BK: "Good lad, that's what I like to hear."

Paul Hewitt
23
Posted 05/01/2022 at 14:50:56
Top clubs appoint top CEOs, business people, people with financial knowledge.
We appoint an ex-player. That's why we won't ever get anywhere.
Jeff Armstrong
24
Posted 05/01/2022 at 14:52:28
Is this to build up board numbers so Denise Barrett-Baxendale can leave and Kenwright keeps a load of cronies on board?

Joe McMahon
25
Posted 05/01/2022 at 14:53:38
This is just yet another incestuous appointment. He's been one of Bill's many Yes-men for years.
Another example of being The People's Club. We need changes to address the lack of Champions League football and the success-starved decades.
In answer to Bill's quote "What would the Everton Board do" well the answer as usual is: "Keep it in the family". And then we wonder why the football club wins and achieves nothing.
Brian Wilkinson
26
Posted 05/01/2022 at 14:56:56
No chance Southall, Reid or Andy Gray will even get a gig at Finch Farm, let alone on the board.
Another Yes-man, unbelievable.
Dennis Stevens
27
Posted 05/01/2022 at 14:58:14
If the current Chairman was being bumped up to a harmless position, such as non-executive President or such like, and the whole Board being restructured with people of the calibre the club desperately needs, then this appointment would be fine, at least to a degree.
However, it just smacks of an attempt at some kind of gesture of concession towards disgruntled supporters. I think the supporters are likely to remain disgruntled, regardless!
When is Moshiri ever going to get a fucking grip?!
Barry Hesketh
28
Posted 05/01/2022 at 14:59:33
Jeff @22
There may be some truth in what you say relating to Denise Barrett-Baxendale, as Alan Myers has said the appointment of Sharpy to the board has nothing to do with the strategic review.

Pete Clarke
29
Posted 05/01/2022 at 15:02:06
So is he replacing somebody currently employed or is it just to somehow redirect the current shit-show from the club in general? Also, why is Kenwright mentioned again?
As a note, in 1982 we played over in Holland during pre-season so we managed to mingle with a few players. Adrian Heath, Peter Ried, John Bailey amongst others were nice enough fellas but Sharpy was not amongst those players willing to interact.
My brother said the same thing about Sharp when Everton played over in Melbourne a year or so later. He may well have been a great player for a few years but Kenwright is the one who chooses them to work as ambassadors for the club. They toe the line and will not criticize anything so yeah, more jobs for the boys.
If we ever needed somebody to ruffle the feathers, then I would go along with others in saying that Big Nev deserves a chance. He is no intellectual but would certainly get the supporters' message across.
Don Alexander
30
Posted 05/01/2022 at 15:03:22
Can someone make a welfare call to Paul the Esk please?
Barry Hesketh
31
Posted 05/01/2022 at 15:07:58
Don @28,
I wonder if the board had thought to appoint Paul the Esk? That would have been fun, as he tried to teach them all about football finances and good governance.
Christine Foster
32
Posted 05/01/2022 at 15:10:23
The cynic in me asks why there is a need for this appointment? A non-executive director role is generally purely advisory and is not involved in the day-to-day running of the club. So what's the point, other than show? To boost the board's credentials from a football perspective?
Sharp has been an Everton representative for years, so what value is this appointment? It will be a rubber stamp job for those thinking the board would bring in a fans representative.
Welcome, Mr Sharp, your seat alongside Mr Kenwright is ready. Expect to see extensive PR done by this exciting and innovative board.
Entrenchment.
Finn Taylor
33
Posted 05/01/2022 at 15:13:31
Expect 'Snods' and 'Diamond' to be appointed next.
Mark Ryan
34
Posted 05/01/2022 at 15:15:48
Next on the board will be Leon Osman, then Pat Nevin, then Graham Stuart, then any other Yes-man. Tell me we've signed a ball-playing midfielder, tell me we've signed an out-and-out goalscorer.
Underwhelming news. I like Sharpy, but why?
Joe Clarke
35
Posted 05/01/2022 at 15:15:55
I remember him from before, when he had a voice; it was nearly always against the fans.
Another clown onboard. Evertonians deserve much more than this.
Nathan Jones
36
Posted 05/01/2022 at 15:18:16
Larry 15 - Southall is about to be employed as head of Diet and Fitness...
Sharpy on the board – well, that's all the financial governance the club desperately needs taken care of then
Aside from my sarcasm above, it depends what he is there for. I'm guessing he is not going to be involved on the financial side of things but a sort of director of football, a football voice rather than a big business viewpoint.
Not a director of football in the sense that he will direct the style of play – the players we need to play that style and a coach that can implement it. That is what Brands was supposed to do, and I think wanted to do, but was never allowed.
But he can explain:
conceding more goals than you score is bad.
playing 5 at the back against Brighton at home is bad
Playing old right-backs at left-back, while playing a left-back at centre-back is bad.
Rondon is Bad!
Just so those on the board know.

Brent Stephens
37
Posted 05/01/2022 at 15:19:58
Dave #17 "Billy Boy will speak and the puppet will mime."
Dave, yes! I've now got this image of Sharp sat on Bill's knee.
"A gottle o' Chang. A gottle o' Chang. Get rid of Garret-Gaxendale!"
Christine Foster
38
Posted 05/01/2022 at 15:20:00
"An independent director should be independent in character and judgement and there should be no relationships or circumstances which are likely to affect, or could appear to affect this independence."
Rolling on floor laughing...
Bill Gall
39
Posted 05/01/2022 at 15:22:01
I have often read comments on here about the Board. One of the most comments is how can they run a football club, they know nothing about football. Well, they have hired someone who knows about football.
The thing I wonder about, he is a non-executive director, and not an executive director.
Chris Corn
40
Posted 05/01/2022 at 15:23:07
IMO, he is just the clubs response to the idea of having fan representation on the board.
They won't have that, however they can say they've appointed a club legend who has the clubs and fans interest at heart and can act as a "liaison".
Seems quite simple to me. Don't know what it will achieve though.
Peter Carpenter
41
Posted 05/01/2022 at 15:30:57
Just the 'challenge' bit will do, if you can manage that, Graeme.
Alan J Thompson
42
Posted 05/01/2022 at 15:36:09
You said you wanted somebody on the Board representing the fans and this is it – specializing in hospitality.
Barry Hesketh
43
Posted 05/01/2022 at 15:36:52
It's obvious that Graeme has been bought in to act as interpreter for the board when Duncan takes the hot seat at some point in the future.
Christine Foster
44
Posted 05/01/2022 at 15:38:53
After Paul the Esk's expansive reviews of poor governance and the approach going forward, this is a real joke. If one thought the board would change and Moshiri would clear out and put in a strong board seeking only the best for the club, this smacks of Kenwright circling the wagons. A real "Fuck you" response to Paul the Esk.
Never has this club been more in need of strong and decisive leadership. If, for one moment anyone thought Kenwright was displaced by Moshiri, think again. Kenwright is still looking after Kenwright first. Moshiri is not running the club, he just owns it.
Derek Taylor
45
Posted 05/01/2022 at 15:40:59
Bill@ 38;
I believe Sharpey is to be classed as 'non-exec' – therefore not an employee. Nothing to prevent him from collecting 'directors fees' and expenses, though!
So much for Sport England's campaign for 'outside' or independent directors!
Christine Foster
46
Posted 05/01/2022 at 15:43:29
Never going to get back to sleep now..
Brian Harrison
47
Posted 05/01/2022 at 15:49:48
So Graeme Sharp has been appointed as a non executive director, and our 2nd highest goal scorer in our entire history, yet everyone has come on and slagged his appointment. You have made up your minds that he will be a yes man and was only appointed as a sop to Kenwright. Well I would far more be willing to listen to Sharp who has spent many years representing this club, than to an Iranian accountant who knows nothing about the game or the Caldy Clown that he has appointed as manager. We are were we are under Moshiris stewardship were he has appointed not 1 but 2 men who should never ever have been appointed thats Allardyce and the Caldy clown. But seems people on here are more supportive of the clown than our 2nd best ever centre forward, unbelievable.
Paul Birmingham
48
Posted 05/01/2022 at 15:55:56
Time will prove but there could be more to Sharpies role, that is being cracked on.
Time will prove and how and what influence Graeme Sharp in his remit on the board as a non executive board member, let's wait and see.
I believe he gets the football side more than the rest of the board put together, as they are not football people.
But an intriguing start to 2022, all matters EFC, and a positive start to this transfer window.
Jay Harris
49
Posted 05/01/2022 at 15:56:38
What a lazy appointment so typical of Kenwright.
Good organisations identify a need then go and headhunt the best man possible.
Barry you are absolutely right it has been KFC for far too long. Lazy owners and investors happy to take the cream but not prepared to put the effort in.
I used to feel sorry for MOshiri but now he's getting trousered and seems too disinterested to do anything about it.

Marc Hints
50
Posted 05/01/2022 at 15:58:05
Brian #47
Absolutely spot on mate, I think he will be a big asset and will definately have a voice. Our neighbours down the road did the same with Kenny Dalglish and he has an influence on footballing matters
Dave Abrahams
51
Posted 05/01/2022 at 15:58:33
Brian (47), I would rather listen to our best ever goalkeeper but there is no chance of that because he is not a yes man or a boot licker and that is exactly what Sharp is and why he has been appointed, he will challenge nothing, absolutely nothing.
Brian did you want Everton to move to Kirkby? Sharp did because he was told to like the nodding dog he is.
Andrew Merrick
52
Posted 05/01/2022 at 15:59:02
Brian, I think a lot of contributors on here have massive respect for Sharpy, but this stinks, really stinks, Bill is such an egotistic beligerent, and if Moshiri has given this his blessing then we are all well and truly cursed...
Tony Abrahams
53
Posted 05/01/2022 at 15:59:22
Another divisive appointment from the most divisive man in the history of Everton football club.
Steve Boardman
54
Posted 05/01/2022 at 16:01:44
I completely agree with Christine and others. This is a complete failure of governance at board level. I can't wait to read Paul the Esk's views.
In the meantime Everton FC are a case study of corporate incompetence just waiting to be written. Grrrrr.
Eddie Dunn
55
Posted 05/01/2022 at 16:02:23
Oh dear!

Barry Hesketh
56
Posted 05/01/2022 at 16:03:59
I think Phil McNulty has the correct take on this appointment.
"Challenge" is the key word in the announcement of Graeme Sharp's appointment to the Everton board. What will be more telling is if Moshiri/Kenwright actually look outside the old Evertonian bubble & appoint an "outsider" to challenge them on their record of poor decision-making.
I don't believe that people are against Graeme Sharp per se, but his appointment does reinforce the belief that one man steers Everton's destiny more than any other, and that person is Bill.
Sharpy may turn out to be a good appointment but as has been mentioned elsewhere on this thread, what qualifies him for a seat on the board? He was a media guy and a club ambassador, given his long association with Everton Football Club, he is more likely to swim with the tide rather than stand up and question future decisions.
Steve Shave
57
Posted 05/01/2022 at 16:06:16
I'm not going to jump on the obvious anti-Kenwright train here (tempting though it is) and simply ask the question "what on earth qualifies Graeme Sharp to be on our board of directors"? Is it his astute business acumen? No. Is it his years of football experience at management and club level? No. Is it just because he "gets the club"? Almost certainly, agree with an above comment this is an absolute basket case of a club! I'm looking forward to Jonjoe Kenny's appointment as our DOF in 25 years time.
Geoff Lambert
58
Posted 05/01/2022 at 16:06:48
You can fool some of the people all of the time, and all of the people some of the time, but you can not fool all of the people all of the time.
Not fooling us on ToffeeWeb Mr Kenwright.
Bert and Ernie next.
Andrew Ellams
59
Posted 05/01/2022 at 16:09:26
It's time to bring in Jackie Weaver
Allan Board
60
Posted 05/01/2022 at 16:20:58
Yet more proof of Kenwright at work. He is obviously feeling the heat and does what he has always done-promote one of his nodding dogs to divert attention.
A classic move by a classic shiester. And as always,it will be the promoted fella who gets the flak eventually-never his boss.
The shame is that Sharpy was a great player for Everton-the legacy of which could become tarnished.
How much more proof do the fans need of Kenwrights smoke and mirrors?
He cares for know one but himself.

Barry Hesketh
61
Posted 05/01/2022 at 16:29:56
Goodison News reports that
Everton are in talks to sign Barcelona playmaker Philippe Coutinho but the potential deal is causing friction behind the scenes at Goodison Park, according to ESPN.

The broadcaster reports that there is "internal debate at Goodison Park" because majority shareholder Farhad Moshiri wants to sign Coutinho, 29, while Rafa Benitez is "not yet on board".
Moshiri, just come clean and appoint yourself as the manager, you can buy and sell the players and pick the team too, you can leave all the boring day-to-day running of the club to Bill. When will this nightmare ever end?
Tony Hill
62
Posted 05/01/2022 at 16:36:28
In Kenwright's use of the old nickname "Sharpy" to discuss the new Director, you see much of what is wrong. Falsely laddish, patronising, disrespectful and cheap.
What a sad act. It is all so depressing.
Brent Stephens
63
Posted 05/01/2022 at 16:41:07
I've posted my own sceptical thoughts above already.
Let's face it, though. If Moshiri reads ToffeeWeb, he'll know that, pretty much regardless of what he does, he'll get panned on here these days - if he reads TW that is. My guess is that he doesn't read TW and we're wasting our time venting.
Alternatively, he does read TW and doesn't give a toss what we think.
I suspect the former - he doesn't read TW. Doesn't know what he's missing.

Dale Self
64
Posted 05/01/2022 at 16:41:36
Yeah well, this is why Rafa is getting some backing even with the shitty football observed.
Charles Brewer
65
Posted 05/01/2022 at 16:42:04
This is a disaster.
When an enterprise is not functioning properly, the last thing that is wanted is "more of the same", and when we may conclude it is "more of the same" in order to consolidate the "more of the same" management.
I would rather see some corporate pirate from Goldman Sachs, a sports statistician or some former SAS officer-psychopath appointed as a non-exec.
Everton's problems run very deep, maybe fatally deep. A club which in many ways overachieved - given the lack of financial resources - under David Moyes fully rectified this problem when Moshiri arrived, but now underperforms more than any other club with the possible exception of Manchester United, who have similar problems.
Everton has fallen foul of regulations, has been taken to the cleaners by agents wishing to unload players no longer interested in the game but willing to coast to the end of a career on a large contract.
Depressingly, the most successful import of recent years was Sam Allardyce who was brought in with the explicit purpose of saving the club from relegation which he did very effectively.
On the development side, Everton appears better at losing quality prospects (Kean, Lookman, Simms, perhaps Lukaku) than at buying established players (Gbamin, Sigurdsson, Rondon, Iwobi, Walcott) who turn out to be less than useless on the field. Even those who start well (Gomes, Holgate, perhaps Godfrey) appear to lose skill and competence over time. I've little doubt that we'll all be looking at an inept Gray or Gordon in two seasons as this years gem turns into dross, assuming they haven't been crippled by the Finch Farm player destruction programme.
Everton is a basket case. Moshiri is the only man currently in the game who can fix it - by appointing a ruthless and effective CEO.
Andrew Ellams
66
Posted 05/01/2022 at 16:42:52
Imagine being offered a chance to come and work at Everton and have to deal with the crap from Moshiri and Kenwright on a daily basis. No wonder they all demand such high salaries.
Christine Foster
67
Posted 05/01/2022 at 16:43:07
Brent, I bet you a fiver Kenwright and Sharp does!
Paul Birmingham
68
Posted 05/01/2022 at 16:43:13
Alan@ 60, that's a point that I've considered, will Sharpie, be a foil, or will he be operating to be his own man and use his own mind?
Time will tell, let's hope for EFC sake, that there is some integrity in this announcement, and it will bring some credibility and success to EFC. Surely this can't too much to ask, but this is EFC.
Is this going to more of an advisory or consultative role for Graeme Sharp, on just Football matters, let's see by the end of 03/2022.
I've an open mind but time will prove.
Take a temperature check with a Evertonians, right now, on all matters EFC, and it will be a mixed bag of results as you'd expect.
But this could become one disemboweled football club, in view of the prevailing performances this season, and going back decades.
Point, purpose and why, and with the on field performances and results, this season, don't improve dramatically and very soon, this season could be another one of transition.
At the moment every week is a transition, in terms of the first team and tactics.
Hope eternal.
Peter Neilson
69
Posted 05/01/2022 at 16:44:14
I respect Sharpy as much as any blue but this does seem strange. If it's to tap into his football knowledge why does that necessitate an appointment to the board? On that basis alone this looks like a Kenwright move. On a more positive note at least there is now someone from the football world to potentially challenge Benitez in his quest to takeover the club.
Brent Stephens
70
Posted 05/01/2022 at 16:45:09
Christine #67 - I think you'd be right on that.
Danny O'Neill
71
Posted 05/01/2022 at 16:48:25
I haven't read all the posts, but will. I just wanted to give my own view.
We're doing the same thing again.
One of my favourite players of all time. Just behind Sheedy and Trevor Steven.
But really we are repeating what we continue to do?
To quote my son's message to me this afternoon:
"Restructure of the club involves appointing another ex player and Kenwright gloating about it".
The poor lad was born in 1994 and his best Everton moments were winning a semi-final and a Cup match on penalties at Stamford Bridge. As well as listening to me obviously.
He's just posted me a tweet as I don't do the Twitter thing.
The Esk has spoken.
Robert Tressell
72
Posted 05/01/2022 at 16:50:14
I ask from a position of ignorance. Is it normal for former players to be appointed as NEDs at Premier League clubs?
Maybe it is. But it feels like yet more cosy, old fashioned Everton.
I was reading earlier about Brighton's acquisition of Kozlowski (the excellent young Polish midfielder, not the hottie from Crocodile Dundee) and how Dan Ashworth had secured the deal and David Weir is in charge of his development on loan in Belgium.
They are organised for success under Potter and beyond. It didn't take huge sums of money either.
What seriously is Graeme Sharp supposed to bring to the table?

Andrew Ellams
73
Posted 05/01/2022 at 16:53:31
Robert, the nearest I can think of is somebody like Bobby Charlton at Man Utd.
Jerome Shields
74
Posted 05/01/2022 at 17:02:59
Bill's barefaceness knows no bounds. Is this following Mosihi's idea of appointing Brands to the Board for his 'football knowledge'. The good news is that the new Director of Football muttering now will not fly.
This is the end product of a thread of panic by Bill after the sacking of Brands:-
1. Bill on twitter telling us we are his brothers.
2. The announcement of a Emergency Board Meeting on the Sunday after Brands sacked, which I doubt took place.
3. A New DOF to be appointed.
4. The announcement of a Strategic Review by Bill's PA.
5. Meeting with ESSG( now named something else).
6. Cosy fireside chat at Sharpe's home by Bill having braved lock down. 'Don't worry Sharpy, you won't have to do anything. No problem to you, Players Life time President for a year. ' It's all about DNA with Evertonians. '( Stands for Do Nothing Assholes at Everton. )
We still have the virtual AGM to come for more announcements, God help us.
It just shows you what Moshiri's attitude to a Directorship at Everton really is. We lucky we didn't get the Receptionist, lovely Lady that she is.
Mike Doyle
75
Posted 05/01/2022 at 17:09:26
Andrew # 59] would you play her as left wing back (Seamus's new position) or somewhere else?
Jay Wood
[BRZ]
76
Posted 05/01/2022 at 17:09:30
Brian @ 47.
As others have already pointed out I don't think anyone is slating Graeme Sharp personally for accepting this appointment.
What is legetimately being questioned is the simple: why?
Christine has already shared one definition of a non-executive director. Here is another:
"A Non-executive director (NED) has an important contribution to make to the proper running of companies and, therefore, more widely to the economy at large. A NED should bring an independent judgement to bear on issues of strategy, performance and resources including key appointments and standards of conduct".
Read the official club site's story breaking the news. It lists Graeme's biog, thus:
* a 19 year playing career in England and Scotland
* four fleeting years as a manager at Oldham and Bangor, 24 years ago
* an Everton 'Ambassador' since 2000 until today (a glorified 'meet and greet' position, now ceased with this NED appointment)
* Everton Players' Life President since 2020 (any guesses as to what this title entails?)
That's it.
What qualifies Graeme to fulfill the NED role, described by Chairman Bill from the same club article, as:
"We were determined to have someone join us with not only great knowledge of Everton but also extensive football insight and experience. Someone who could support and challenge. And in Sharpy's case we've got this in abundance."
The article adds:
"In his new role, Sharp will utilise the wealth of knowledge of the game he has been amassed over more than four decades to provide valuable input into the Club's football strategy".
What, in the club's own announcement about his appointment, is there to suggest he is familiar with the very broad issues of modern day professional football in the 21st century, when he himself only last played and managed in the previous century?
How knowledgeable is he on domestic/international players and managers we could be interested in recruiting? The negotiating of contracts and transfers? Modern training, recovery and dietary practices? The business side of football which is deeply interwined with his advisory role on football matters, such as FFP, marketing, sponsorship, finances? Does he have a network of contacts within football he can pick up the phone to and call?
Marcel Brands had all of the above. We've just replaced him with a poorer and powerless 'name'.
Your final paragraph, Brian, is both nonsensical and false. People are NOT 'more supportive of the Caldy clown [Benitez] rather than our 2nd best ever centre forward'.
The appointment is being legitimately questioned without reference to Benitez, certainly in my case, because:
1) he is distinctly under-qualified to offer 'extensive football insight and experience' about football in the 21st century
2) it matters not a jot he is our 2nd highest goal scorer after Dixie
John Davies
77
Posted 05/01/2022 at 17:11:30
Graeme Sharp was a terrific player for Everton FC & has done a steady job as an "ambassador" for the club after his playing days. BUT now an appointment to the Board by Teary Bill? Oh my days!
It's always been nauseating watching and listening to Kenwright at work but now things are getting very disturbing and a tad unnatural. So many funny handshakes going on now in Bill's dimly lit Gentlemen's Club.
What the fuck does Moshiri think he is playing at? Everton is an absolute basketcase of a football club.
Andrew Ellams
78
Posted 05/01/2022 at 17:13:11
Mike @ 75, she strikes me more as an old fashioned enforcer
Jerome Shields
79
Posted 05/01/2022 at 17:16:34
Unbelievable. Paul the Esk would be streets, parks and avenues better.
Mick O'Malley
80
Posted 05/01/2022 at 17:16:54
Brian @ 47 totally agree with you, The Caldy clown, love it. I know who id sooner have at the club between Sharp and Paelladyce, Benitez out.!
Ken Kneale
81
Posted 05/01/2022 at 17:16:57
Jay - 76 that is a very good account.
I respect Graeme and have been to several after-dinner sessions where he was the speaker - should I have the fortune to do so again any time soon the message to him would be clear - be your own man and make every decision based on putting Everton back where they belong and in the long term interests of the club.
One would hope such a comment might be unnecessary if he really has a handle on what is required
Rather than say any more at this time, I will say time will tell on this appointment
Brent Stephens
82
Posted 05/01/2022 at 17:18:22
Andrew - Jackie Weaver! That went over my head initially! Cracker.
John Daley
83
Posted 05/01/2022 at 17:21:35
Non-Executive directors are meant to have an understanding of the interests of the company, while possessing greater objectivity than executive members of the board. Their 'independent' status is (theoretically) supposed to position them to challenge and keep in check the executive directors, as their sole function is to act in the best interests of stakeholders. However, in practice, non-executive directors are often nothing more than a public relations appointment. Which is surely the case here.
Spot of supporter unrest? Stick an ex-player in there so we can say "Hey, here's a guy considered a club legend. He played for us in the glory days, has the clubs best interests at heart, has been a Club Ambassador, the 'Players Life President' for the past couple of years and was even 'Fans Liaison Officer' for a while. This fella's not going to steer you wrong is he?'.
However, in reality, it's yet another example of badly misreading the room. The truth is that someone whose services have been retained by the club for the past 20 years in various token roles, and has previous for shouting down the complaints of disgruntled fans while towing the party line on twattish 'phone-in's', is hardly going to start going against the grain and speaking out of turn all of a sudden. Especially if taking a polar position would put him at odds with those he has a pre-existing personal affinity for and/or long standing 'working' relationship with.

Let's face it, does this sound like a man who is likely to remain objective and hold those directly around him accountable? :
"Someone else who has incurred the occasional wrath of the fans is Bill Kenwright, which I believe to be unfair. I speak to Bill on every Goodison match day and you'd be hard-pushed to find a more passionate Evertonian. Now, I know that passion and enthusiasm don't buy players, but let me say straight away that I firmly believe that if someone comes along with a bottomless pit of money and offers to buy Everton Football Club from him then he would accept it - if he genuinely 100% thought it would be the right thing for the club. He would move aside if he thought it was in the best interests of Everton and he would revert to being just a fan again."
Didn't pan out that way really, did it Graeme?
Two for two?:
"Bill Kenwright is a proud Evertonian and knew all about the past successes and how much the club means to him. It is great to have someone in charge who knows the values and what the fans want—that it isn't just a money-making concern. It's all well and good having the money and riches of the big clubs, but sometimes, you lose the identity along the way, and you cannot accuse Everton of that."
So what is our identity as a club now, Graeme? If the answer's not 'a laughing stock' then I don't think any fucker knows.
It's also ironic that in response to a bit of a ruckus caused by supporters piping up against the board while in the ground, the sop you think best to serve up to the masses is a bloke who previously stated he believes it best that such petty fits of pique be put firmly aside in favour of unyielding public support:
"I think when you go to football grounds and there are people voicing their opinion on matters off the field, it detracts from what's happening on it. All of a sudden players lose confidence and results go against them and it's a downward spiral. So whilst people have grievances, which on occasions you can understand, the most important thing is to back the football team."
How can you believe they're not all going to be doing their best now? It's a case of 'watch out boys and…err Dr…here comes Big Sharpy':
John Davies
84
Posted 05/01/2022 at 17:25:44
Jay Wood #76. Terrific post. Nailed it. And Brian @47.
Brian Williams
85
Posted 05/01/2022 at 17:27:48
I fully agree with Dave Abrahams and have experience of Sharp's refusal to tell it as it is but rather waffle pro-club propaganda.
Another shocking move by you know who to have another person who'll just agree with him on everything he says.
Peter Gorman
86
Posted 05/01/2022 at 17:27:49
As surprising as this is, I am not sure why so many have instantly written him off as some kind of Bill 'yes man' (ok, I do know why they beat that old drum, truth be told).
Reading Sharp's autobiography, he is very much one to hold others to the highest standards. His could be an interesting point of view, if he still has the fire in him and actually has amassed that 'football knowledge' since he was last in management.
The man was a winner as a player, let's see what he has the nerve to attempt before we write him off.
Peter Neilson
87
Posted 05/01/2022 at 17:28:25
The Guardian is reporting that this appointment was planned before Brands left. No details on the source.
Jerome Shields
88
Posted 05/01/2022 at 17:28:55
In an offshore company, a cleaner can be a director. Everton is a offshore company as far as Moshiri is concerned and is running it as so. The Directors at Everton are nominal. Just required as names on company returns. They don't need to do anything as directors, other than pay homage and assist the Chairman or Moshiri, and are appointed on that criteria.
Bobby Mallon
89
Posted 05/01/2022 at 17:30:22
what a joke. 0 knowledge of business or the football world outside of Everton. Kenwright has said that it's a great appointment…he's been an employee for 20 years if he was so good for the role why has it taken this long. Don't get me wrong I love Sharon the footballer, but it just does not feel right
Joe McMahon
90
Posted 05/01/2022 at 17:33:40
I know i've posted already, but I'm seething at Bill Fucking Kenwright. What have we become, this is supposed to be a Premiership Football Club. We have Unsy (Rhino), Big Dunc, endless tales of a striker from the 30's, and players from the 60's and 80's and now "Sharpy".
"One very famous football club said to me two or three days ago 'whenever we have a problem we say 'what would the Everton board do because they always get it right?'"
Other clubs aspire, are professional and have Governance. Several more teams have overtaken us, and they don't any of the above Pathetic Shite.
I have no words.
Paul Turner
91
Posted 05/01/2022 at 17:43:38
Nothing at all against Graeme Sharp, and I really do hope he can be an independent voice in the boardroom, but...
Mentions above of Neville Southall prompts me to ask how many ToffeeWebbers/Evertonians have read Nev's book "Mind Games"? I got a copy for Christmas, and it's an extremely interesting read - Mr Moshiri would do well to read it - in particular, the first few chapters which cover a number of football club management/organisational topics. Forthright and honest.
I reckon anyone reading it without prior knowledge of Nev's history at Everton would think "surely no club could/should be run like that".
I read it and despaired - so much of it reflects our club's situation, on and (mainly) off the pitch.
In over 60 years as an Evertonian, I've never been so disillusioned as I feel now. Not particularly with Senor Benitez nor with certain players, but with the club itself. But I'll be watching on Saturday, as I did on Sunday, hoping for a win, as ever.
Keith Taylor
92
Posted 05/01/2022 at 17:48:42
There are many definitions for non-execs, I think this is one of the most pertinent to the current situation at EFC
"Non-executive directors (also known as external directors, independent directors, and outside directors) are put in place to challenge the direction and performance of a company as well as its existing team. Since non-executive directors do not hold C-level or managerial positions, they are thought to understand the interests of the company with greater objectivity than the executive directors, who may have an agency problem or conflict of interest between management and stockholders or other stakeholders."
This appointment makes no sense whatsoever. Whilst Graeme Sharp was a great player for us, that was 30 years ago. Since then we have witnessed our long slow decline and he has been on the inside for the majority of that time. I struggle to see how he will be able to challenge the executive directors without questioning his own contribution.

Andrew Ellams
93
Posted 05/01/2022 at 17:58:41
Paul @ 91, a fantastic book and probably the reason Nev wouldn't last 5 minutes at a Premier League football club
Danny O'Neill
94
Posted 05/01/2022 at 17:58:43
Barry @56 sums it up for me.
None of us are against a former player who gave those fortunate enough to witness him play some of the greatest moments of our Everton lives.
The quote from McNulty sums it up equally well.
Regardless of whether he's everyone's journalism cup of tea, he's usually very accurate and also knows the Merseyside football scene well prior to his BBC fame.
Michael Kenrick
95
Posted 05/01/2022 at 17:59:31
New directors are automatically up for confirmation at the next AGM. I wonder if there is any merit to be had in orchestrating a revolt of small shareholders voting against this appointment?
It wouldn't stop him being voted back in by the Kenwright cabal but it may be a way of reinforcing Paul the Esk's campaign to see some real professional business acumen on the Board.
John Raftery
96
Posted 05/01/2022 at 18:02:15
While this appointment can easily be characterised as yet another job for the boys and a reinforcement of groupthink within the club, it may be just the start of a complete overhaul of the board. I would hope at least two more NEDs will be appointed bringing diverse backgrounds, experience and knowledge to the table.
If Mr Sharp brings meaningful challenge to footballing decisions, most obviously some of the scattergun transfer decisions made in recent seasons, he will make a difference. The proof will be in the pudding.
Brian Murray
97
Posted 05/01/2022 at 18:03:13
If you live on low ground and there's a chance of the world ( flooding ) getting in and testing your foundations you put up sandbags. That's all sharpy is a sandbag to help this windbag or proud Evertonian as he's laughingly called. We had bit of a feel good factor for a few hours with the full backs now back to shit reality. Imagine Fenway sports group entertaining any such emotional lazy appointment. Not in a million years. Just fck off kenright and leave us alone to finally grow.
Paul Smith
98
Posted 05/01/2022 at 18:06:37
We get what we deserve. NSNO. My arse.
Alan McGuffog
99
Posted 05/01/2022 at 18:14:04
If anyone ever asks the difference between Everton and that lot across the park ( besides the obvious). in 1974 they couldn't wait to see the back of their legend.
Bobby Mallon
100
Posted 05/01/2022 at 18:15:20
It's a complete shit show of a club
Roger Helm
101
Posted 05/01/2022 at 18:15:20
He was a top footballer and he is an Everton fan. I can't think he has any other qualification. In fact it would make more sense to appoint Alan Hansen, who was a top footballer and also has experience of a successfully run club.
Unless he was appointed to bring challenging opinions to board meetings, which I don't for a moment believe is the case.
David Pearl
102
Posted 05/01/2022 at 18:19:53
I know what's been said on this forum board without even reading any of the posts.
Mark Taylor
103
Posted 05/01/2022 at 18:20:03
Is this the outcome of the strategic review?
Gerard McKean
104
Posted 05/01/2022 at 18:20:13
Having worked in and around the lounges at Goodison on match days for quite a few years I have no doubts as to the reason for longevity of Graeme Sharpe in his position as match day host/ambassador/ club legend. While others such as Derek Mountfield and Kevin Ratcliffe fell foul, Graeme always knew who was paying the piper.
Clearly there is space on the Board for at least one person with a knowledge of football and yes, it would be nice to accommodate an ex player but with the caveat that he must put Everton before any personal ambition. From many private conversations over the years I am led to understand that the football brains of the great 80's team were Mountfield, Reid, Steven and, above all, Sheedy. None of these four could be classed as "yes men" which may explain why Mountfield kept on being "sacked" as a lounge host in the hope he'd learn his station and why Sheedy was driven out of FF, leaving FF unfortunately in the hands of those who again know not to bite the hands that feed them.
I think it's nonsense to suggest that Sharpe's elevation paves the way for the CEO to leave. Why? She more than anyone needs someone with some knowledge of football to turn to, and who better than the player she identified (after careful research as to who was playing at the time) in her schtick about when I was a lickle girl my favourite player was Sharpey.
I'll get panned for bringing the CEO into this but is it not the actual job of a CEO to ensure that if you're going to appoint a NED then find someone credible with independence of mind? And no I don't know for sure that she strongly advised the Chairman against this but as others point out the stench of nepotism and cronyism is in the air yet again in the running of our club.
Stu Darlington
105
Posted 05/01/2022 at 18:31:12
It's simple really,Kenwright and Moshiri have picked up on the fact that fans are critical that there is no one on the Board with any knowledge of football.
So they appoint a football man, Sharpy!
The fact that he is THEIR football man is just a malicious rumour spread by one or two disaffected people who are always moaning about something,like results managers,recruitment,performances etc.
So they've listened and done what the supporters asked!
Problem solved!
Trebles all round!
God help us all,we really are a basket case of a football club.

Martin Mason
106
Posted 05/01/2022 at 18:31:12
He has no power only influence. I could say that it's the old boys gravy train accelerating but not sure that is fair. No, it would be fair, NED's should be independent not BK lap dogs. Thinking that we have a managerial problem is wrong; we have a BK problem. We have finance and don't need BK's survival mode but we are in it and it's a downward spiral. We have finance so don't need a luvvie chairman further enriching himself from the club.
Kim Vivian
107
Posted 05/01/2022 at 18:36:57
I've not read all the above thread so the answers to some of my musings may have already been floated but here goes...
I simply don't know what to make of this. I love and respect the Graham Sharp I remember, but in my life, apart from nostalgia, he has just been anonymous for what...30 odd years? I appreciate he has been around the club doing quite what, I've no idea and he's popped up doing a bit of punditry. Maybe it's just been a PR role.
It's not inconceivable that he is being used as a bit of a buffer between the executive board and Benitez who is we know a slighty spiky character. I can't be arsed with the negativity around the historic small club jibe (oh - how the truth hurts) but do scratch my bonce trying to fathom some of his on field strategy. However, It's only surmising but with Benitez seemingly making waves at board level, and knowing he was not BK's preferred choice could it be that Graham Sharp is there, engineered by BK as a foil to Benitez, to quieten his noise?
If these recent and rumoured transfer dealings bear fruit, and we can start pulling it together on the pitch I think we will see more high executive influence from Benitez. The last thing he is, is anybody's yes man and that is what we need (BK excepted). It just feels to me a bit like Sharpey is the oil on BK's troubled water.
That seems absurd but time alone will tell.
Eddie Dunn
108
Posted 05/01/2022 at 18:37:26
Bobby @89, come on lad, tell us more about "Sharon".
Martin Mason
109
Posted 05/01/2022 at 18:40:15
I see a power struggle at the club and we are unlucky in that we now have two boils now that need lancing, Benitez and the super boil Kenwright.
Dave Williams
110
Posted 05/01/2022 at 18:44:18
Moshiri is hardly going to appoint a director who will be awkward and divisive and this is in common with most if not all majority shareholders. Sharp being a yes man( if indeed he is) will make no difference at all because even if Nev was appointed only one man matters and that is the guy who owns 70% plus of the shares. Any vociferous dissenter on the board would most likely be removed pretty quickly.

Colin Glassar
111
Posted 05/01/2022 at 18:48:23
Vaclav Havel led the Czechoslovak 'Velvet Revolution' in 1989(?). This is 'Billy Bullshitter's Blue Suede Shoes Revolution' 2022 style.
This club is a fucking looney bin run by fucking lunatics!!
Dale Self
112
Posted 05/01/2022 at 18:50:08
Decent Kim, probably something Moshiri was willing to give Bill knowing that he is having a bit of a fit for not being able to play the wizard behind the screen. It doesn't seem to have any obvious purpose and without some words from Moshiri laying out his responsibilities then it looks rather like window dressing.
With Benitez gaining responsibilities and turning things around at Bill's expense going forward there will probably be a few ceremonial consolation prizes thrown Bill's way.
Phil (Kelsall) Roberts
113
Posted 05/01/2022 at 18:52:50
Can someone please explain to me why Moshiri has allowed this appointment to be made? We all here are in one voice that this is Kenwright bringing in a yes man onto the board and yet the guy who actually owns the club has sanctioned it.
How did he earn all his millions if he allows a guy whose CV is acting and putting on shows to run rings around him in terms of commercial management?
Or maybe it is a Moshiri appointment? Nah, can't be. Got to be Bill's.
Dale Self
114
Posted 05/01/2022 at 18:54:07
And Colin, Bill is more like LEECH Walesa.
Michael Williams
115
Posted 05/01/2022 at 19:05:04
A less than mediocre appointment by a less than mediocre organization. I looked at the boards of the best well-run teams in the Premier League and they are filled with corporate titans, CEOs and General Counsels, and founding attorneys of large and very large corporations and law firms. There are also people experienced in large modern sports franchises. Some boards also include one former club icon. We have none of the above – except the icon.
Another example of an extremely poorly-run club. Nothing against Mr Sharp but this is just ridiculous. Nothing will change with this guy. He has no power, no serious wealth, he's just a former player. He definitely was (I don't know if he still is) employed as a club ambassador. Agreeing with what many have said above, he is the exact opposite of what a NED should be.
Shambolic. Just more proof that the board and ownership is the real problem.
Martin Mason
116
Posted 05/01/2022 at 19:07:33
Please remember that Moshiri handed over the running of the club to Bill Kenwright. The problem now is Kenwright, who is way past his sell-by date.
The fault is Moshiri's for allowing Kenwright to run the club when he isn't the major shareholder, and knows nothing about football.
John Keating
117
Posted 05/01/2022 at 19:10:58
Just another "jobs for the boys" appointment. Simple.
Does anyone really expect Sharp to go against the World's Greatest Evertonian?
I suppose the only difference Sharp can expect is that there'll be even more freebies in the Director's Lounge than in the Lounges.
Great career. Sign for Everton, don't rock the boat and you've got a job for life.
Unbelievable…
Steve Brown
118
Posted 05/01/2022 at 19:17:20
Sharp does bring football knowledge and knows what standards are needed to win trophies.
I could live with this appointment if Everton also appointed 1-2 NEDs with a strong corporate business background independent of the club.
Darren Hind
119
Posted 05/01/2022 at 19:17:20
Brilliant thread.
Denise Barrett-Baxendale, Alex Ryazantsev, Sarvar Ismailov, Keith Harris, Jon Woods. Robert Earl, Robert Elstone, Philip Carter, Keith Wyness, Alexander Abercrombie – what a crowd of world shakers they turned out to be.
Add Marcel Brands and Billy Boy himself and they haven't generated a brass razoo between the fucken lot of them.
It can't have escaped anybody's notice that, when Sir John's money dried up, we spent years sitting on our hands while other clubs were busy building and developing an infrastructure which would send them into a different stratosphere. We and everybody else were left to make up ground which has been lost forever.
To listen to the outcry on here, you would think the boardroom was full of ex-players. On the contrary, we have tried people from just about every other walk of life and not one of them generated this sort of angst or outcry. If this thread proves anything to me, it's that a certain section of our fanbase will accept any Tom, Dick or Harry as long as it's not an Evertonian.
I don't see what good (or harm for that matter) Sharp's presence in the boardroom will do. As far as I'm concerned, he will be about as useful as the rest of them.
No club has generated the sort of cash needed to bridge the gap with the big boys. That's because it's unbridgeable. You need a rich benefactor. Just ask Man City or Chelsea.
Boardroom? More like the fucken bored room. The steady stream of dead beats we have had over the past 20 years have contributed nothing.
Having shamed our club, Carlo Ancelotti snuck out like a thief in the night, £18M richer. Yet he is still revered by those who thought we were lucky to have him.
Graham Sharp lands a pretty insignificant post which will probably secure free a Easy Jet perk to Majorca for a preseason friendly, and people are screaming the house down.
Wrong. Tree Barking.
Danny O'Neill
120
Posted 05/01/2022 at 19:18:49
Gerard, if we are going to employ ex-players, why Kevin Sheedy is not still at the club is still beyond me. Forget childhood admiration, there is a football man of the highest calibre. A wand of a left foot that Harry Potter would be jealous of. Someone who could remain calm under pressure and slow the game down to dictate what he wanted to do, not be forced into it.
I'm not going to personally criticise Graeme Sharp; another hero of my childhood. My not then but now wife found it very odd (I think uncomfortable to be honest) that, in my Army barrack room, I had a framed picture of him next to my bed (true story), when my mates had Sam Fox and other "stars" of the day blue-tacked all over their walls.
But the appointment just doesn't feel right.
We've debated change of culture at the club. This smacks of more of the same.
And I don't like saying that about someone I grew up admiring and watching. When that goal went in against the post at Wembley in 1984, the world could have ended for me right then as far as I was concerned.
Okay, nostalgic glasses removed and trying to be impartial. I can see similarities in the Charlton and Dalglish comparisons. Ambassadors; or to coin a modern business phrase, "evangelists". Promote the club. Spread to good word.
But that's when the club (business) is established and winning. I could be proven wrong. I hope I'm wrong, but it smells of our owner still allowing the Chairman to call the shots.
I can hear it now: "It's okay Mr Moshiri, this will keep them quiet. He's an ex-Blue who won stuff. They'll love him and stay off our backs."
I was never the most fervent Kenwright disapprover but really this has gone on too long now.
I don't believe for one minute the vast majority of the sentiment here is targeted at one of the greatest strikers to wear an Everton shirt in my lifetime. He always will be.
Ian Hollingworth
121
Posted 05/01/2022 at 19:20:33
Firstly, I love Graeme Sharp the football player who gave us so many great memories in that great team. However, this is a disaster as it is more of the same for the club.
The appointment is aimed at us, the fans, as Kenwright believes this what we want, as in Evertonians and we all share his soppy dreams etc.
We might moan a lot on here but I would bet that, for all us moaners, there are far more who support Kenwright and the club – that's why he gets away with it.
Don't expect much to change in the running of Everton FC as it is not going to change.
Steve Brown
122
Posted 05/01/2022 at 19:24:05
NEDs are also appointed to ensure that the business follows correct corporate governance, manages risk, and reports its financial performance correctly.
They are actually serious and important roles.
I think there is a place on the board for a former player, and ideally a supporter representative, but we also require independent business knowledge.
Andy Crooks
123
Posted 05/01/2022 at 19:30:05
The madness continues. Nothing is unthinkable. Utterly shameless.
Danny O'Neill
124
Posted 05/01/2022 at 19:35:59
I'll agree with you on building and developing infrastructure, Darren. Maybe that's what we're doing. Finch Farm is impressive. The new stadium at Bramley-Moore Dock is going to be stunning.
I'll disagree on the 'lost forever' statement.
I suppose many Manchester City fans circa 1999 could never have predicted where they would be a decade later.
Never say never, but get things right in the organisation and governance of the club first. To re-organise, develop and build the infrastructure.
Maybe (just maybe) that's what is going on.
For the record, I wish Graeme well.
Tony Abrahams
125
Posted 05/01/2022 at 19:39:27
Makes me feel sick, this appointment, with my only wish being that Moshiri & Co have already cottoned-on to this sickeningly smug actor, and they are just slowly feeding him his rope...
Darren Hind
126
Posted 05/01/2022 at 19:48:55
You haven't read what I said, Danny.
I said only those who have rich benefactors. You simply will not bridge the gap by selling a few more programs or getting a nicer shirt deal with Angry Birds. Too many markets have already been cornered. You need a multi-billionaire sugar daddy.
I believe we have one lurking in the background. If I'm right, anybody else who sits on our board is pretty irrelevant.
You may think Man City could have done it without the oil money, but you will be in a small minority. Without the Mansour backing, they'd have still been throwing ashtrays at each other to relieve the boredom on the way to Plymouth.
Daniel A Johnson
127
Posted 05/01/2022 at 19:57:00
Another puppet for Kenwright and Moshiri to control.
Graeme Sharp knows what side his bread is buttered – he isn't going to piss on anyone's chips or rock the EFC gravy train.
Mike Gaynes
128
Posted 05/01/2022 at 19:57:38
If we're going to have a former player on the Board, I have a much better candidate than Sharpy.
Qualifications:
1. Accomplished player for Everton. Has remained deeply involved with the club. True Blue, fiery, passionate about success, painfully truthful.
2. Honoured player internationally for his country. Class A professional coaching license. Popular pundit. Current director of a Belgian 1st division club. Therefore has tremendous footy knowledge that isn't from 30 years ago. And knows how to communicate it.
3. Spectacularly successful business magnate, rumored to be his country's wealthiest ex-athlete. Significant business finance background. Heavy involvement in youth development academies and charitable work worldwide.
4. Mixed-race, and thus would be (I believe) Everton's first non-white board member (which seems way, way, way overdue in this modern world).
Ladies and gentlemen, may I present Director Timothy Filiga Cahill.
Brent Stephens
129
Posted 05/01/2022 at 20:12:25
Mike #128 - interesting shout about Tim Cahill!
Maybe, once we've appointed him to the board, we could give him a wider role... I don't know, something like responsibility for recruitment of players, overseeing the club's playing philosophy, the academy, player contracts etc.
Eddie Dunn
130
Posted 05/01/2022 at 20:15:45
Mike, isn't the owner Iranian?
Stephen Brown
131
Posted 05/01/2022 at 20:18:50
Sharp comes across as an articulate guy with high standards and a winning mentality.
Let's hope he does a good job.
Kunal Desai
132
Posted 05/01/2022 at 20:19:11
I was talking about bringing in people with business acumen and experience of building a successful brand/business in another thread earlier in the day.
Now I read Graeme Sharp has been appointed to the board. This club is very very odd and makes many strange and bizarre decisions.
Kenwright, the weapon, needs to be forced out.
Soren Moyer
133
Posted 05/01/2022 at 20:24:57
The song remains the same!
Tommy Carter
134
Posted 05/01/2022 at 20:26:44
Wow
Amateur hour continues. Jobs for the boys and hearts ruling heads.
Sharpy is undoubtedly an Everton legend. He was a fine old-fashioned centre-forward… but that's about as far as it goes.
His profile on the world football scene after 1985 is virtually non-existent. Certainly in terms of management or administrative functions. An ambassadorial role at the club is the perfect fit for him and nothing more.
We appear to be slowly evolving into a 1980s football hierarchical structure. A fan as chairman. An autocratic manager. And then coaching and administrative roles populated by ex-players, most of whom with absolutely no experience nor track record outside of Everton Football Club. Virtually no credentials.
The only person who doesn't fit into all this seems to be Moshiri and this raises huge question marks for me.
What the hell is going on?
Darren Hind
135
Posted 05/01/2022 at 20:27:34
Eddie,
I wouldn't get too close to Mike's post. The smell of Swiss cheese is simply overpowering.
Joe McMahon
136
Posted 05/01/2022 at 20:27:52
Soren, I didn't know you were a Led Zep fan?
Mike Gaynes
137
Posted 05/01/2022 at 20:31:40
Eddie, in the US, Iranian would be considered a different nationality but not a different race. Not sure how the UK classifies that.
My point there is that in a world where players are kneeling against racism, where players are being suspended and fans are being banned and even jailed for racial abuse, Everton remains a club where (to the best of my recollection) no other color has ever been seen at any level of management or directorship.
Sooner or later, somebody's gonna make an issue of that.
Bill Gall
138
Posted 05/01/2022 at 20:32:06
Brent #129,
The position you are talking about for Cahill, isn't that the same as what Brands had?
Brent Stephens
139
Posted 05/01/2022 at 20:33:08
Bill – you got it!
Tommy Carter
140
Posted 05/01/2022 at 20:36:30
@ Paul Turner 91
Interesting point about Neville Southall. He is certainly his own man, seems to have a very logical and linear way of thinking about most matters.
Some of the work he's doing with marginalised communities is very commendable. And he's doing it because he thinks it is the right thing to do. It's not at all some self-serving and self-promotional exercise.
He's definitely a unique character and I think he either would've made a tremendous manager or an abysmal one. We may never know. He obviously tried to force himself into the reckoning after Royle left the club in 1997 and in hindsight it may not have been a bad idea to have given him the job ahead of Howard Kendall that summer.
His character was such though that he was obviously seen to be too big of a risk. A shame he didn't step out of playing at that point and try and manage at a fairly decent level.
He left it too late, and coupling his image of an overweight and past-his-best goalkeeper with a strong personality, unfortunately Neville was ostracised from the game.
Eddie Dunn
141
Posted 05/01/2022 at 20:37:45
Mike, here it would be classed as an ethnic minority. Much the same as Tim being part Polynesian.
Christine Foster
142
Posted 05/01/2022 at 20:39:38
Forget for a moment who is being appointed to the board. As an individual, I have no doubt Sharp loves the club but that's not the criteria for selection. After hundreds of articles, calls and thousands of posts over the past few years, many of us hoped that the self-serving days of Bill Kenwright had been left behind.
But, like that sixth sense, I have always had the feeling that Kenwright was still the puppet master, playing the owner and the fans. To me, Moshiri left Kenwright to run the club, not just the players echos across Goodison Park.
This appointment to me confirms what I have long suspected but hoped was just the lump of cheese I swallowed the night before. Kenwright's response to calls for change is to double down, smoke and mirrors, jobs for his friends to protect him.
McNulty is right: 'challenge' is the word, but this appointment smacks of lip service.
Last word. If we had a strong board, performing well on and off the field, this appointment would have been welcomed. The reason it's not is because we can see change of leadership is needed and not an appointment made to serve current encumbents.
John Keating
143
Posted 05/01/2022 at 20:41:51
I suppose Bill is trying to create an Everton "boot room". However, in our case, it'll be called the slipper room. Nice and comfy and soft as shit.
Sharp was a great player in a great team, there were quite a few in that team, no doubt Bill's trying to fit them all in somewhere. Ticket office, Finch Farm cafeteria manager, programme seller etc.
Well I suppose it's his idea of making us compete and become a top Premier League team.
Mike Gaynes
144
Posted 05/01/2022 at 20:42:29
Cheers, Eddie. Interesting difference. Here being ethnically Persian like Moshiri would not be classified as a racial minority. Neither would Turkish or Greek or Afghani. However, South Asian is now widely designated as minority status.
Mike Gaynes
145
Posted 05/01/2022 at 20:50:15
Brent #129, he wouldn't have time for all that, too busy. But he'd have time to make all the Board meetings, punch up the other directors like a corner flag, stop by Finch Farm and kick Rafa up the ass, and maybe offer Gordon some more tips on late runs into the box.
Brent Stephens
146
Posted 05/01/2022 at 20:55:06
Mike, I'm sold on the idea now!
Pat Kelly
147
Posted 05/01/2022 at 20:59:18
Presumably Moshiri has approved this. Which is more concerning than Kenwright choosing an old player.
Stan Schofield
148
Posted 05/01/2022 at 21:01:33
There's absolutely nothing wrong with having Graeme Sharp in the boardroom. The problem is the absence, outwith Sharp's appointment, of a well-run football club. If we were well run and successful, nobody would raise an issue with this appointment.
Alan McGuffog
149
Posted 05/01/2022 at 21:01:52
Any Weegies on here? Doesn't NED mean something different in Glasgae?
Dave Abrahams
150
Posted 05/01/2022 at 21:10:13
Stan (148) Stan, I think if you can't be yourself and speak what's on your mind instead of saying what you think other board members want you to say then there is plenty wrong with this appointment, Sharp like Kenwright has always known how to look out for himself and that's why is where he is today and why he was appointed, his appointment suits Kenwright but doesn't do anything to help EvertonFC.
Derek Wadeson
151
Posted 05/01/2022 at 21:13:45
So glad most on here don't sit near me in the Lower Bullens. But then again, it's easier to type than actually go to the game.
Apologies to the few match going Evertonians, but still glad you don't sit near me.
Brian Williams
152
Posted 05/01/2022 at 21:20:18
Derek#151.
Why Derek?
Rob Halligan
153
Posted 05/01/2022 at 21:20:34
Very brave, Derek. Be prepared for a barrage of abuse.
Soren Moyer
154
Posted 05/01/2022 at 21:20:37
Jo #136, Then "you've got another thing coming" lol.
Tony Hill
155
Posted 05/01/2022 at 21:22:58
I veer all over the place in my thinking about Everton at the moment (in fairness, I've done that for many years).
Sometimes, I think we're dead forever, and then I think: a young team is emerging which will reignite our spirit. Sometimes, I am prepared to accept that Benitez is an old fool, and then I think: no, he's a hard case with a plan.
My first reaction to this news was that we have appointed a man who will be a corporate soother. Then I thought: Graeme Sharp was a clever, narky, sneaky, dirty, glorious bastard when he played for us. Maybe some of that will work in the boardroom even if, as others have said, he looks like a makeweight while people leave and others arrive.
What's the truth, if any? Fuck knows. But I do hope that things are taking shape rather than falling apart, because that would be nice.
Stan Schofield
156
Posted 05/01/2022 at 21:23:48
Dave@150: I agree with you, but the appointment isn't a problem in itself, the problem is the underlying one of Everton being run very badly at the top. Sharp's appointment is a symptom of the problem, not the problem itself.
The underlying problem looks unsolvable without a clearout of those at the very top. That's what Moshiri needs to do.
Don Alexander
157
Posted 05/01/2022 at 21:24:59
Apart from one or two of us one here who've found Sharp to be too "corporate-speak" in chance meetings, I can see no denigration of him at all as a person, and nothing but adulation of him as a player nearly 40 years ago, so making another tired old jibe against fellow fans' alleged lack of loyalty to former players misses the point almost everyone else is making by a country mile.
The relevant point is that there's no evidence at all that Sharp has the skillset of anyone I know of who has succeeded as a NED in any other successful trophy-winning football club. He has zero professional credentials.
Like it or not, Dalglish earned his credentials as a manager to sustain his place in their boardroom. Not in a million years would they have appointed Ian Rush instead of him. To have done so would have been ludicrous.
And on a musical note, I live in hope that one day us TWers can use "We Won't Get Fooled Again" as our theme-tune, but I ain't holding my breath with Kenwright still at it.
Dave Lynch
158
Posted 05/01/2022 at 21:27:37
Bill building his little empire again now Brands and Denise Barrett-Baxendale have gone.
Winston Williamson
159
Posted 05/01/2022 at 21:28:48
I've not commented on here for a while, as all things Everton have depressed me for a good while now.
I'm of the opinion that, whatever Kenwright says, I'll believe the opposite. Nothing against Sharp but, if Kenwright thinks this is good, it's good for him and him alone. Egotistical prick that he is.
My love of Everton FC remains, but my interest in Everton FC evaporated during the summer. I'll return to Goodison Park or the new stadium at Bramley-Moore Dock once Kenwright has fucked off. I refuse to subsidise the prick and his accountant, whilst watching the world's most expensively assembled shite performances.
Good day.
Paul Jones
160
Posted 05/01/2022 at 21:38:13
Graeme Sharp gives an interview to the Bleacher Report, 2 February 2015, and says the following...
"I think the Chairman and the Board have to take some credit. Bill Kenwright is a proud Evertonian and knew all about the past successes and how much the club means to him. It is great to have someone in charge who knows the values and what the fans want — that it isn't just a money-making concern."
Everton Legends Sharp, Snodin and Stuart on the Club's Unique Qualities
So here in 2021 – in my bid to join the board of Everton FC with zero qualifications, I've prepared the following statement...
Bill Kenwright is not an arsehole.
He is not a parasite.
He is not a charlatan.
He single-handedly saved this club.
He has never failed to secure a millionaire to allow him to run the club.
He has never made a penny from the club.
He has never failed to secure a new ground for the club.
So if Bill is reading this, I fully expect to gain a seat on the board by the end of this year.
Jerome Shields
161
Posted 05/01/2022 at 21:41:33
Mike #128,
Cahill wouldn't touch such a shambles with bargepole if he knows anything about business. Kenwright would not have anyone who knows anything near the Board anyway.
Kenwright wants a mug that he can manipulate and Moshiri doesn't think of a director other than in nominal terms.
Dave Abrahams
162
Posted 05/01/2022 at 21:43:06
Stan (@156),
Fair enough, maybe it's not Sharp's fault but, to me, he is allowing himself to be used but also benefits by letting Kenwright take the piss out of us.
Stephen Brown
163
Posted 05/01/2022 at 21:43:18
Maybe as a former centre-forward with experience of the running of a football club, then a better appointment might have been Joe Royle?!
Christy Ring
164
Posted 05/01/2022 at 21:50:54
The day the fan confronted Brands was the start of Kenwright licking his lips again. Brands was given his walking papers, Bill is back in charge of negotiating transfers, running the 'Show' again.
And now he's got Sharpy on the board, after Bll brought him back to the club as ambassador in 2000. Reading some of the comments earlier, Southall or Sheedy would say it as it is, not be a Yes-man for Kenwright.
Ian Hollingworth
165
Posted 05/01/2022 at 21:52:07
Derek (151) like Brian I would be interested to know why?
Also I think there are quite a few of us match going fans on here.
Eddie Dunn
166
Posted 05/01/2022 at 22:00:33
Welcome back, Winston.
Neil Copeland
167
Posted 05/01/2022 at 22:01:07
Derek #151, I can appreciate that I may let the odd one rip now again but other than that - why?
Stan Schofield
168
Posted 05/01/2022 at 22:09:07
Dave@162: Agreed mate, they're definitely taking the piss out of us. The quality of Everton's so-called leaders is a world away from the quality of Everton's loyal supporters.
Brian Murray
169
Posted 05/01/2022 at 22:09:35
Can someone tell me: Is ToffeeWeb a good strong reflection of the many Blues on this planet regarding the running of the club or are we a broken record no-one else agrees with or listens to?
The happy clappers at the ground are still the life support drip for the wet drip in the stands. Hand on heart, me personally, I'd find it very hard to continue to go the match if Kenwright has his sights on staying the course to the new stadium at Bramley-Moore Dock with no opposition, doing what he wants.
John Boon
170
Posted 05/01/2022 at 22:19:21
I think that the situation at Everton has become so toxic that any appointment is treated with suspicion and unbounded negativity. It is as though we are preparing for disaster before it even happens.
I have always been an admirer of Graeme Sharp who provided Evertonians with an honest effort and skill whenever he was on the field. I was also fortunate enough to meet him on the field before a derby game a few years ago. I found him to be very welcoming and hospitable, and as outspoken and diplomatic as would be appropriate.
I am amazed how much many ToffeeWebbers seem to know about Sharp. I refuse to believe that he will only be around to drool over Kenwright. Rumour runs rampant.
Such nonsense. He may not be the one to turn our fortunes around but I am sure he will have his own opinions and state them for the benefit of the team he obviously loves. Give him at least a chance.
Barry Hesketh
171
Posted 05/01/2022 at 22:24:21
Brian @168,
I think it's very hard to gauge whether the people who post on TW are a true reflection of the overall fanbase; however, I think there is a significant number of people who go to the games who are less than enamoured with certain members of the board and the way the club has been run for many many years.
As Derek said earlier, it is relatively easy to post stuff on here and elsewhere; however, I think his point about how he wouldn't like to sit next to those who post on here, is a bit reactionary. As many posts usually have something more to them than "I hate Everton" or "I hate the Board" etc.
Many posters seem to post good reasons for their beliefs or ideas even if others don't agree with the sentiments that they express.
Perhaps how the club is run and who it is run by is moot, as Darren pointed out earlier, given the massive economic disparity between Everton and those clubs we'd like to match. Maybe, the opportunity to join the elite has well and truly passed us by, and we should be thankful to be watching Premier League football, week-in & week-out, with maybe an outside chance of getting to Wembley every once in a while, even if it is only for a Semi-Final appearance.
Supporters I think in general don't really care about the finances of the club or who holds what position in the boardroom; they do care about watching a team that is competent and competitive; they do care about the positions on the field and which players occupy them. So perhaps the posters on TW are not at all a true reflection of the overall fanbase.
Kieran Kinsella
172
Posted 05/01/2022 at 22:29:20
Lyndon/Michael
Congratulations for being only people who consistently spell GrayHam Sharpees name correctly
Neil Copeland
173
Posted 05/01/2022 at 22:33:01
Kieran, I'm not the only one who noticed then.
Brian Murray
174
Posted 05/01/2022 at 22:37:12
Barry @176. Unfortunately, a manager's skill-set (or lack of it) is almost secondary to how the club is run and the big calls are made. Arsenal fans I'm sure loved to lock horns with Man Utd at the same time buying the likes of Bergkamp, Henry and Overmars. We were sinking fast as an entity with Kenwright appointing Walter Smith and so on. As soon as David Dein left Arsenal, that was the beginning of the end for them as a serious force. That's just one example of course.
Darren Hind
175
Posted 05/01/2022 at 22:49:34
You raise a very good point, Barry.
Since the day I first logged on to TW, I have always maintained that the thoughts on here have represented a very accurate and true reflection of the varied views within the fanbase. But not on this issue. Nowhere have I encountered this issue were being an ex-player working for the club was considered a crime.
If we had appointed Billy Sharp, Pat Sharp, or even a not very Sharp, nobody would have batted an eyelid. Just as very few have batted an eyelid when the past dozen or so board members were appointed... But appoint an ex-player and all hell breaks lose.
Why does the appointment of one of the most successful and decorated players in our history provoke such an outcry? Has anyone taken a close look at the cut of his predecessors?
I'm no businessman, but I can offer a strategy which will improve this club in a heartbeat.
Stop appointing total merchant bankers who have no interest in our club and have only succeeded in running it aground with mindless transfers and bone idle, cowardly tactics.
Rob Halligan
176
Posted 05/01/2022 at 23:01:21
Like Darren, I'm no business man, nor do I have the background knowledge of the role Sharpie is going to play.
A thought came to me earlier on though, I'm sure I read somewhere that a board must consist of a minimum three members, and we only have two at the moment, following Brands and the other fella (Usmanov's nephew) leaving. Kenwright and L'il Miss Diamond are the only two board members currently at the club.
So maybe this appointment is only a temporary appointment until someone is appointed on a full-time basis?
Don Alexander
180
Posted 05/01/2022 at 23:31:30
Thank you, Jeff, but I feel very well, and in control (to a significant extent if I may say so) of my spelling, punctuation and grammar even given the stress today's appointment to our boardroom of another Kenwright appointed ex-player lackey has caused me.
Hopefully at least Mr Ingles in our boardroom can help Graeme make a massive improvement to the club's welfare on the playing side. After all, Mr Ingles has clearly waved a magic wand on our behalf when it comes to directing our financial provenance, hasn't he, that being his alleged speciality, notwithstanding our dire, ongoing FFP predicament?
Sigh, again, and again, and again.
Derek Thomas
182
Posted 05/01/2022 at 23:52:42
For fuck's sake! Another Yes-man who's sold their souls to the company store.
Don Alexander
183
Posted 05/01/2022 at 23:56:07
No Derek, just another hint of "Derogatory Hind" Derision. Many of us have registered the affliction on TW, but most of us are able to laugh and move on! Happy New Year.
Nicholas Ryan
184
Posted 05/01/2022 at 23:57:35
Soren: 'The Song remains the same '.... especially in 'The Houses of the Holy'... where we go 'In Through the Out Door'... in order to admire the 'Physical Graffiti'!
Don Alexander
185
Posted 06/01/2022 at 00:20:09
Soren, "Sick Again"?
Aren't we all?
Derek Knox
186
Posted 06/01/2022 at 00:38:23
Don/Soren, 'The Song of Fire and Ice' = 'The Game of Clones'?
Peter Gorman
187
Posted 06/01/2022 at 02:00:10
Mike G @ 137 - "Everton remains a club where (to the best of my recollection) no other color has ever been seen at any level of management or directorship."
This incessant obsession with 'race' must be an American thing, Mike. But I can put your mind at rest and remind you that Luis Boa Morte was our assistant manager until he was sacked along with the equally useless Marco Silva in 2019.
Before that, Dennis Lawrence was first-team coach for Roberto Martinez.
Frédéric Piquionne is currently the assistant manager to the Everton Women - not sure if you think that counts.
Don Alexander
188
Posted 06/01/2022 at 02:21:06
Cliff Marshall aside, our club has apparently been seen as racist for decades, but surely now with an owner from somewhere beyond Formby, and a manager from somewhere where olive oil is de rigueur (I've always had my doubts about Caldy though) and an apparently unsackable "coach" who's every word is unintelligible to anyone from without Barlinnie prison, we should, as a group, show a modicum of support for our board's promotion of open, accountable, politically correct endeavour.
Providing they all spout the Piper's tune though, obviously.
Pete Clarke
189
Posted 06/01/2022 at 02:33:18
This latest appointment to our board truly confirms that Boys Pen Bill is in charge again. Moshiri is the biggest dickhead we have ever had at the club.
When are the white sheets going to come out with some half-decent banter to show these clowns that we don't want them here?
Survival would be progress for these bastards.
Eric Myles
190
Posted 06/01/2022 at 02:49:04
Don, didn't we have the first black player (mixed at least?) to ever score a goal in an FA Cup Final? And the first-ever to score two!
Darren Hind
191
Posted 06/01/2022 at 05:10:41
Peter,
The secret he had missed
Was lying at his finger tips.
Tim Cahill "would be a good choice". He may not be half the player Sharpy was. He may not have managerial experience, or won anything like the medals Sharpy has won. but he's mixed-race and its way, way, way time.... What ?
For the record; Here's what Tim tweeted after sitting in Moshiri's seat next to Kenwright - "The man that brought me to Everton and dear friend is as blue as they come. I will always be a part of this cub. It was a pleasure to sit together today."
And as for the oft-repeated claims that Sheedy left because he couldn't stand the culture? Here's his response when Kevin Palmer of the Irish Independent put those very rumours to him:
"The first thing I would like to confirm. Is I left Everton on very good terms and have nothing but good things about the club and the people working there".. So there you have it.
I think the overwhelming majority of Evertonians want Kenwright out, but virtually every club in the world employs ex-players. It's is wrong to tarnish every ex-player with the Kenwright brush.
We don't have a load of bogeymen under our beds. We just have a charlatan in our room.
Mike Gaynes
192
Posted 06/01/2022 at 05:34:19
Peter #203, it's not an incessant obsession. I'm just saying that sooner or later it's likely to be an issue, and it would be a good idea to get ahead of it.
But thanks for the reminder on Boa Morte. I honestly didn't remember Lawrence being with Everton... maybe I just blotted him from my traumatized memory after his Trinidad national team knocked the USA out of World Cup qualifying in 2017.
But despite the snark from our resident sourball, I still think that Cahill's football and business qualifications and international prestige would make him an ideal former player to add to our Board.
Derek Moore
193
Posted 06/01/2022 at 05:38:04
Certainly is easier for me to type than go the match, Derek (#151), because for me it is a 22,000-mile round trip. But you'd probably just see that as me making excuses.
Christine Foster
194
Posted 06/01/2022 at 05:54:15
Darren, if as I said before we had a strong board in place, the appointment of Sharp would be probably considered a good one. BUT, and its a big but, we have debated Corporate Governance, Change at the top, demonstrations and banners seeking a change of board at the ground, articles on strategic reviews, a change of direction with the DoF going, why? because its generally accepted not just by fans, but now by media / pundits and in general, that bad decisions by the owner and board have resulted in where we are today.
So instead of a strengthening of the board with experienced management, (never mind changing the Chairman) we get a fans involvement with a group we have never heard of and replacement of a board member with an ex player with current affiliations to the club and chairman.
Its not Sharp thats the issue, we have been seeking a step change to the board because significant improvement is needed and frankly this appointment as a non exec ( no operational involvement) falls well short of requirements.
Yes, some will see it as jobs for the boys but in truth this feels like a sop to show the fans they care. Sorry Darren, thats how I see it.
Graham Mockford
195
Posted 06/01/2022 at 06:54:46
Quite clearly the Everton governance structure is not fit for purpose. It lacks the necessary experience and heft that you find on Boards of the leading clubs in the PL.
I think there is a role for a non exec director with some actual footballing experience, that's after all why you bring in non execs. They provide some different experiences and perspectives to the Executive. Unfortunately in this case Sharp is far to entrenched in the current culture to provide that perspective.
Danny O'Neill
196
Posted 06/01/2022 at 08:51:36
Apologies Darren, I went offline last night so couldn't respond.
I did read what you'd said and I absolutely know that City, and Chelsea for that matter, couldn't have achieved it without the oil money or shady Russian benefactor.
My point was more that those supporters, City in the late 90s and Chelsea in the 80s / early 90s, would have laughed if you'd have suggested they would be where they are now looking back on a decade (decades for Chelsea) of continued success.
But as well as the injection of money, it took significant change in the way those clubs were run for that to happen. And I get your point, it doesn't mean that we rid the club of anyone with Everton connections. But you have to change the structure of who runs the club. Despite my rantings, I genuinely don't care whether the manager, Chairman or newly appointed board member is an Evertonian or ex-player. They just have to be the right appointment for the right reason.
But it's now the perception we're getting and portraying; that's where the old boys club jibes are coming from. Not just to Evertonians but even outside the club and in the media. And you can now point in one direction, even if some of us didn't see it as early as others. Talk about divide and conquer.
I've said many times that living down here I can get a good feel for what London fans think of us. And London Manchester United fans, even though they are as genuine as the Adidas 4 stripe and "Rebok" I used to buy at knock off prices in northern Cyprus.
The worst insult they throw at me is meant as a compliment. They like us; they don't mind us; good set of fans us. Whereas they despise our red cousins. Cosy and plucky little Everton coming from other supporters of clubs that were beneath us no so long ago. That hurts, because we are not considered a threat. Well, not yet anyway. I should have some tasty conversations when we are again.
Christine Foster
197
Posted 06/01/2022 at 08:58:00
Danny, small point you made may well be significant, divide and conquer, whilst having arguments between each other, the big picture goes unnoticed and they slide under the radar
Perception remains greater than reality.
Derek Moore
198
Posted 06/01/2022 at 09:47:00
Graeme Sharp has been appointed as a non-executive – so non-voting – director on the board. So in effect, it's an advisory role.
That's fine, except Sharp was already working for the club in an ambassadorial role anyway. My logical conclusion is that this is a pre-emptive move to head off the calls for supporter representation at the board level.
More divide and rule 4d chess from a master political operator. Say what you like about Kenwright, he certainly is a shrewd bastard and a true survivor.
If nuclear armageddon ever happens, I remember reading that the only likely survivors would be the cockroaches and rubber trees. They'll have to update that to include Kenwright – and he'll be sellling rubber to the roaches.

Stephen Vincent
199
Posted 06/01/2022 at 09:47:24
Rob #186,
According to Companies House, we now have 4 directors:
Professor Denise Barrett-Baxendale, Grant Ingles, William Kenwright and Graeme Sharp.
Not exactly brimming with business acumen is It?

Danny O'Neill
200
Posted 06/01/2022 at 09:59:36
And Morse Code being one of the few means of communication that would get through Derek Moore.
I bet he knows Morse Code too.
Jerome Shields
201
Posted 06/01/2022 at 10:10:00
The central problem is Moshiri as #27 yars has identified. Nothing happens without his blessing. Running a Offshore Company (Everton) from Monaco may work in some cases, but it will never work with a Premier League Football Club.
Unfortunately Grahame Sharpe has allowed his name to become that of a Nominal Director in reality, rather than a Non Executive Director. The latter which he is clearly no qualified for. Marcel Brands allowed the same thing to happen. Brands became a pawn for Kenwright's and Moshiri's manipulation. Barret Baxendale a Executive Director is in the same boat, being in reality a PA and PR assistent, never a Chief Executive other than name only.
Clearly when Moshiri took over Everton he did with the intention of having a arms length approach specialising in Money Management. Kenwright it was agreed would run the Club.
You could say Moshiri swallowed Kenwrights claims that the Club was well run and only needed money. Kenwright was seen by most as a guardian of the Club's 'DNA'. I thought the same, but knew from experience that such a takeover would not work, becoming more convinced as more information surfaced.
The appointment of any Director at Everton would result in a Nominal Director in thev current setup. IMO no qualified person worth their salt would take a Director position in such circumstances. Probably why Sharpy got he job.
The crux of the problem is that Moshiri having seen his original arrangement go south with his money decided on direct action, rather than necessary corporate and personnel change. He took over the appointment of the Team Manager and direct control of transfer monies, (getting involved on occassions), leaving the running of other areas of the Club to the previous incumbents. This has been the case during the tenures of the last three Managers.
This is obviously the continuing regime, with the appointment of Sharpy and the reported alleged difference of opinion between Benitez and Moshiri regarding Countiho 's possible transfer.
So #27 years is right in it's identification of the problem and who has to be targeted , with objectives, as the perpetuator, to rectify the by now perpetual problem.
Everton can only be run by a suitablity qualiied board and proper structure of accountiablity, not by outside interference , without a Chairman that can do what he wants, rather than be effective and accountable.
Rob Halligan
202
Posted 06/01/2022 at 10:13:43
Cheers Stephen. I suppose a bit of research on my behalf before posting would have helped. Can't say I've heard much of Grant Ingles though. I prefer to pay more attention to the playing and managerial side of the club rather than who's in the boardroom.
Michael Kenrick
203
Posted 06/01/2022 at 10:17:52
Derek @212,
Are you sure non-executive means non-voting? I thought it just means he does not have a role or function within the management of the club.
The Articles of Association state only that "Questions arising at a meeting [of the directors] shall be decided by a majority of votes." It mentions nothing about non-executive directors being excluded from voting; rather it says this (§23.8):
"A Director may vote as a Director in regard to any matter in which he has, directly or indirectly, an interest or duty which conflicts or may conflict with the interests of the Company or upon any matter arising thereon, and if he shall so vote his vote shall be counted and he shall be reckoned in estimating a quorum when any such matter is under consideration."
Which would seem to be the opposite of what you are suggesting?
Derek Moore
204
Posted 06/01/2022 at 10:34:47
You're quite correct Michael, and I apologise.
Different rules apply under NZ law, which is derived from UK corporate law. This was the basis for my mistake. The difference seems to be the definition of "executive" between both jurisdictions, as far as I can decipher. (I'm a tradesman not a lawyer I should definitely mention here)
Obviously, Sharp having a vote on the board is actually much worse than my original summation indicated. This is old fashioned board stacking.
They say it's the hope that kills you. Thank goodness Everton leadership seem to be working on that problem...!
Chris Williams
205
Posted 06/01/2022 at 10:35:51
Michael,
NED attend Board meetings and vote on Board decisions. They just don't have any Executive areas of responsibility.
I'm not at all sure that EFC is run as an offshore company. It certainly isn't set up as such, and the directors are not established as nominee directors. Such companies exist of course, but are established offshore by agencies and underwritten commonly by a Trust arrangement establishing beneficial interests.. Everton shares are held by an offshore company, but that is to do with ownership, not directorship of EFC.
Running it that way, could well be in breach of all sorts of laws and regulations
Grant Ingles joined the Board to take over Finance from Rysantsev, about 3 reshuffles ago. He had been a fairly long-standing Director, below board level. So not a newcomer with a fresh view either.
The only person I've ever seen comment about Ingles is Alan Myers who thought he was a good appointment, but then he also thinks that Sharp's appointment is too!
Brian Harrison
206
Posted 06/01/2022 at 10:42:57
Jerome 215
You say absentee owners will never work in the Premier League, well our neighbours seem to be doing OK with an absentee owner as JJ Henry is hardly ever in this country. Since Abramovich had trouble with his passport he spends very little time in the country. The Glaziers another group of absentee owners. While it may not work for some clubs for others it seems to have worked well. I think Moshiri has also destroyed the myth that if you throw enough money at the problem it will disappear that only happens if you appoint the right people to spend the money you have thrown at the problem. So while providing enough money which should have seen us to be competing for a top 4 we are actually going in the wrong direction. The fact is Moshiri/Usmanov don't want to spend time running Everton, obviously this venture was all about making money and having to spend as little time as possible looking after the business.
For me my question is why did you bother to get involved and spend in the region of £500 million but want little involvement in the project, it makes no sense unless you thought it was to good of a money making venture to miss out on. But being in the lower half of the league and still having to find another £500 million for a stadium this looks to be a financial venture that could go horribly wrong.
Tony Abrahams
207
Posted 06/01/2022 at 10:46:58
Sharps vote will probably count for nothing, which is why I think people are showing anguish at this decision, which seems to confirm that "you know who", is still doing absolutely nothing to improve Everton FC.
The 27 year's campaign will hopefully grow because of this shortsighted decision, with the main question once again being, "why spend all this money on Everton, Mr Moshiri, when you have done nothing to move the club forward inside the boardroom, or on the executive side of the club?
Clive Rogers
208
Posted 06/01/2022 at 10:50:14
This appointment shows the stranglehold Kenwright has on the club. Sharp has been there over twenty years and his opinions could have been sought out all that time. Kenwright's priority no longer seems to be success on the pitch, but rather maintaining his control over the club and staying in the public eye.
Dave Abrahams
209
Posted 06/01/2022 at 11:01:39
I don't think the type of footballer you were, good, bad or indifferent but what type of man you to be appointed to the board, Sharp is a yes man and has been in Kenwright's pocket for years and years and it doesn't matter if there have been plenty of these types previously, we got know about those ones mostly after they had been on the board for a few years, except Mrs. Baxindale we knew about her and now Sharp, who was already part of the clique, he's just moved up a notch looking after himself like his master.
Martin Mason
210
Posted 06/01/2022 at 11:03:22
We have the power to influence change at the club but unfortunately it means not going to the ground unless you've committed yourself with a season ticket. By going we accept what is happening. By watching on Sky we do too but empty grounds make a very strong message. Never mind though I believe we are in for Sean Longstaff from Newcastle. I hope that it doesn't come to it but I hate to see Pinky and Perky cementing total power at the club.
Laurie Hartley
211
Posted 06/01/2022 at 11:23:47
Couple of random things I want to get off my chest.
Darren - I was one of the people on here who thought we were lucky to get Carlo Ancelloti but I certainly don't "still revere him". He done us wrong and I have posted on here to that effect just after he deserted, so stop stereotyping people.
The other thing that has been bugging me for quite some time now - Harvey, Ball and Kendall, all great players that I had the privilege of supporting in the flesh, are not The Holy Trinity.
On to the matter in hand.
I have got no beef with Graeme Sharpe been appointed to the board. What I have got a beef with is the fact that he will be joining two fellow board members who have overseen the squandering of somewhere in the region of half a £billion over the past six years while at the same time on field performance has regressed. Remarkable whatever way you look at it.
Scroll up and have another read of Charles Brewer's post @65 and Christine Fosters @142 - they have got it right.
This club that we all love mixed bunch though we are, is crying out for change. Unfortunately this appointment smacks of "same old same old."
Who is "The Leader" of Everton Football Club? - Answer - we ain't got one, not a real one, and until we get one we will continue to flounder.
I see a glimmer of hope for us in some of the young players we have. The emergence of Gordon, the acquisition of Gray and these two young full backs. We have a few excellent senior players in Richarlison, Doucoure and Allan.
The latter hasn't spat the dummy for being lured to sunny merseyside by Ancelloti and then abandoned. Bravo Allan you are made of the right stuff - he should replace Seamus as our captain.
Farhad Moshiri might not realise it but I reckon we are at a turning point - I wouldn't be surprised if many of us feel the same way.
If he stays on the defensive he could end up seeing it all go down the gurgler. It will take nerves of steel but if he can find the courage to effect change at the top then I am sure he will be rewarded handsomely on and off the pitch.
Dave Abrahams
212
Posted 06/01/2022 at 11:32:40
Chris (206), nice to see you back, hope you are okay.
Regarding Grant Ingles he had worked at Liverpool FC in finance rejoining Everton and worked under Mrs. Baxindale for a couple of years before being asked to become a member of Everton's board of directors, is he part of the clique? That's not a question to you Chris just to the thread.
Barry Rathbone
213
Posted 06/01/2022 at 11:45:08
Brian Murray 169
Always difficult to gauge internet opinion vs that of boots on the ground.
Certainly when I frequented GP the place had it's fair share of opinionated extremists, or lunatics in medical parlance. I just think the internet acts like a magnet for that sort of "black and white" simplistic contributor. So my answer is TW represents a portion of the fanbase but in a disproportionate manner.
Jerome Shields
214
Posted 06/01/2022 at 12:11:38
Brian#206

Moshiri is not a absentee owner. He is very much involved in major decisions:- appointment of four Managers, Two now ex Directors of Football and Directors both Executive and non Executive, including Sharpy.
The problem is though he is the major shareholder Moshiri has not been prepared to taken up any position of responsibility or accountability , even not attending the AGM. Even organising the Club as not to do so. Those he has selected in such positions have not either. They have been bypassed by him on major decisions and allowed to do what suits them or their mates, with Moshiri's blessing and no accountability.
#27 years wants responsibility / accountability and for Moshiri to work through proper structures within the Everton Club.
Jerome Shields
215
Posted 06/01/2022 at 12:30:05
Brian#206
That is the million dollar question. Why did Moshiri, and friend buy the Club? Clearly it has not gone to plan, though they have stuck with their arrangement, through numerous resets. They must have motives that they planned to capitalise, and think they can, further down the line.
Brian Harrison
216
Posted 06/01/2022 at 12:37:42
Jerome
I never said Moshiri was an absentee owner, but I did say he wants to spend as little time as possible with the affairs of the club. You were the one who said running a club like Everton from Monaco wouldn't work and it wouldn't work in the Premier League, and in Liverpool and latterly Chelsea both have absentee owners which works perfectly.
I am sure JJ Henry and Ambramovich make all the major decisions at their clubs; I am not sure Moshiri does or even wants too.
Yes, he has been the person who has selected the managers to run the club along with his mate Usmanov. Now how much interest he has shown in other appointments, I am not sure. Hence why I asked the question: Why did you bother ever investing in the first place?

Jerome Shields
217
Posted 06/01/2022 at 12:55:26
Brian #216
The suggestion of running the Club from Monaco as an offshore company in an informal structure, whilst actively engaging with club affairs without responsibility and accountability, is the only way I can describe what Moshiri is actually doing, in my opinion.
This transfers to Everton FC, as a club with no accountability and officers who are not held accountable. This is the way that Moshiri wants it, with his full blessing. . . Liverpool and Chelsea have a structure that is accountable, run by accountable officers.
Actually, the motives of why they bought the club would be hard to work out and would probably be better for us not to know.
Jay Wood
[BRZ]
218
Posted 06/01/2022 at 12:59:52
Whilst Bill Kenwright is (understandably) drawing the ire of some, Graeme Sharp's elevation to a NED position on the board simply doesn't happen without the majority shareholder Farhad Moshiri signing it off.
As such, it doesn't augur well for a comprehensive reset and the hoped-for revamping of the club, from board room to playing field, on a more professional footing.
Jerome Shields
219
Posted 06/01/2022 at 13:08:22
Jay #218
That is exactly the situation.
Jay Wood
[BRZ]
220
Posted 06/01/2022 at 13:09:33
And, a question as there has been mention of it in this thread.
The '27 for 27' movement.
It was implemented for the Arsenal game a whole month ago on 6th December. We were told on these very pages by one of its organizers, Paul the Esk, that it would continue, for both home and away games, until its objectives were achieved.
Even with CV-19 postponments we have played 3 further games in that time. Two aways to Palace and Chelsea. One home to Brighton.
I didn't see any evidence of another walkout on 27 minutes at any of those games. No chanting. Just a single banner before kick-off away to Chelsea.
Can match-goers confirm this to be the case?
Is the movement still alive, but now applying different strategies?
Or is it already dead in the water?
Genuinely interested.
Danny O'Neill
221
Posted 06/01/2022 at 13:27:05
I was at Chelsea and Brighton Jay and saw no sign of it at either in very different circumstances at both matches.
There was a walk out at Chelsea. A hoard of jubilant Evertonians marching down Fulham Road singing as one after the final whistle, causing irritation and a few handbags from the natives.
There was a walk out against Brighton, but it was the standard end of match pissed off walk out to the the throes of "Cheerio" from the Brighton fans. The ones I then had to sit amongst on the train for 2 and a half hours on the way home. They were alright actually.
But no 27 minute leaving of seat walk outs that I witnessed.
I think general concensus was a reluctance to walk out on the team in the stadium during the match. So yes, the strategy or approach would need to change.
What that is I'm not sure. But the sentiment is there.
Chris Williams
222
Posted 06/01/2022 at 13:33:21
Hi Dave,
Yes thanks, so far so good!
Ingles has had 3 spells with the club going back to 2006. He became Finance Director for the first time in 2013, but not on the board, had a spell away with Sydney FC, then rejoined in 2018, as Finance Director, before joining the board in July last year.
Whether he is part of any clique is hard to tell, and people can draw their own conclusions. For example, who kept employing him? But nobody knows for sure.
Moshiri is effectively a Shadow Director in all but name. His own activities and media statements pretty much guarantee that. That would probably be the perception of other parties. He is however a full-time dabbler.
So you have a remote owner as part-time Shadow Director, a remote part-time Chairman in London, who is Executive Chairman, who is elderly, recently ill by many accounts, but clearly still pulls the strings, as his position allows him to.
So who takes care of the day-to-day stuff?
Jay Wood
[BRZ]
223
Posted 06/01/2022 at 13:37:09
Thanks for that Danny.
I agree. The sentiment behind the protests is there with some Evertonians.
As was discussed at the time of its launch, I don't think an in-game walkout resonated with many. The most noticeable reaction for the one-time it was attempted v Arsenal was to hear supporters sing loudly and getting behind their team, rather than turn their backs on them.
Personally, I don't think the movement's three stated objectives stir the emotions of the majority of Blues, enough for them to take action. Nor are they likely to be taken seriously by the man they are directed at, Farhad Moshiri.
Michael Kenrick
224
Posted 06/01/2022 at 13:43:11
Brian's question to Moshiri:
"Why did you bother ever investing in the first place?"
I think Bill Kenwright is fully aware of a few of these answers:
You may not know much about football but you love the idea, the kudos, the panache of being involved in the game at the highest level, in the greatest league in the world.
You get to mix in some very rarified social circles that no doubt do your ego and self-esteem a power of good.
But, most important of all, you make one hell of a lot of money. A potentially fantastic rate of return on your investment that is pretty hard to find anywhere else. All you have to do is stick it out for a few years.
And you make loads more by investing more to get higher up the Premier League table and into the Champions League... obviously. But that's where it's gone a bit askew at the minute.
Yet we poor humble serfs have the bare-faced audacity to ask Why?
Mick O'Malley
225
Posted 06/01/2022 at 14:00:56
Well I suppose this appointment has at least taken the focus of the absolute muppet we've got in the dugout, til Saturday tea time anyway, I hope he has every intention of taking the F.A cup.seriously as it is the only thing to look forward to this season, I'm starting to care less and less as the weeks go by
Michael Kenrick
226
Posted 06/01/2022 at 14:03:01
Chris asked another good question:
"So who takes care of the day-to-day stuff?"
One of the great misconceptions about football club operations is that the Board of Directors is involved in the day-to-day running of the club.
In Everton's case, yes, some of the Directors have executive positions, and in fulfilling those positions (CEO, Finance Director, etc) they have day-to-day employment and function within the club.
There is also a slew of other staff at Royal Liver Building offices and at Finch Farm. They are doing the day-to-day stuff. In the last Accounts, they listed 456 staff.
Members of the board may be called upon to take decisions on any given day, but unless they hold executive positions, their involvement is not day to day.
Brian Harrison
227
Posted 06/01/2022 at 14:12:40
Michael #224
You may well be right as to what Kenwright may have said to Moshiri to get him to invest in Everton, but I am sure his mate Usmanov is well aware that Chelsea are in hock to Abramovich's companies for well over a billion pounds.
The difference is that Abramovich seems to have a real interest in football and Chelsea in particular whereas Moshiri shows no interest in football at all.
So I come back to my original question: Why did he ever invest in something he wasn't remotely interested in? I am sure he and Usmanov could have used the money they have invested into a better money-making scheme than Everton Football Club. Even when the new stadium is built, I doubt they will recoup anything like the money they will have spent by then.
Brent Stephens
228
Posted 06/01/2022 at 14:23:44
Jay #220,
I've seen no walk-out since the Arsenal game.
Bobby Mallon
229
Posted 06/01/2022 at 14:35:15
Here's a fun fact for you all.
In transfer fees and wages, Cenk Tosun has cost Everton £36M. In five years that he's been at the club, he has scored 11 goals, thus costing £3.28 million a goal.
Sam Allardyce said of Tosun: "He's an all rounder good movement and two footed, for the price he is the best in Europe." 😂😂😂
Soren Moyer
230
Posted 06/01/2022 at 14:37:41
Nicholas #184, Led Zeppelin. What a band. With the current board we could be on "stairway to heaven". NOT!
Don # 185, Lol. Good one.
Derek #186, Ah yes! I had completely forgot about those 2 songs.
Jonathan Tasker
231
Posted 06/01/2022 at 14:38:30
In the same way that Duncan Ferguson is only there to beef up Kenwright's position, I strongly suggest that this largely non-role of Sharp's is to give Kenwright another friend.
Everton has to be amongst the worse run clubs in the Premier League. An absentee owner who knows nothing about the sport he chose to invest in.
A Chairman who relishes his position and the ongoing knock-on beneficial effects on his other businesses.
A manager who is only there to do as he's told.
A former player with the title of Head Coach, who is clueless seemingly about coaching.
Various old players given jobs for the boys.
Finally, one of the weakest squads in the Premier League. Made up of various unaligned pieces. The only common denominator being that they are crap and vastly overpaid.
Bobby Mallon
232
Posted 06/01/2022 at 14:51:44
Can someone answer me one question.
Can Moshiri (at any time) buy out Kenwright's shares completely?
If he can, then he is complicit with everything that's happening in the boardroom. Otherwise, he would just buy him out and fuck him off.
Matthew Williams
233
Posted 06/01/2022 at 14:58:59
A good move methinks,a genuine Blues legend with bags of footy knowledge,we just need to find a younger version of him up front to bang the goals for us!.
Charles Brewer
234
Posted 06/01/2022 at 15:00:16
If I were an Iranian-English financial specialist who had access to very large amount of money in addition to my own I might have taken something like the following view.
1. The essence of business success in the English speaking world for the past 200 years has been leverage; making more money/power (same thing) by co-opting others with more money and gaining a bandwagon of public opinion. Sport is a very effective method of gaining leverage.
2. The UK is by far the best looking economy in Europe, especially if the UK can escape the restrictions of the EU
3. The best place to make money is London.
Ergo Invest in / Buy a London football team. You meet the Great and the Good on your territory and everyone want to be associated with football heroes (the later Roman emperors knew this too, hence circem et panem).
BUT Moshiri couldn't get anything like control of Arsenal and became nothing more than a funder.
3. The UK outside the EU was / is likely to be much more involved with the non-European world so, which cities thrived most in the most economically effective period of British global interaction? Liverpool, Manchester, Glasgow, Bristol.
Glasgow - indeed Scotland - is a basket case, Bristol is a small, politically stupid west country town connected to nothing, Manchester is easily the second most entrepreneurial and industry area of the UK but assets are almost as expensive as London, and buying City or United is out of the question. Similarly Liverpool FC is a well-run successful ergo wildly unaffordable enterprise. Everton FC on the other hand has everything necessary for the kind of leverage an ambitious businessman might find interesting PLUS it is in the middle of a city which has dirt cheap assets, a biddable local council and in cultural terms is second only to London in standing.
Conclusion - Liverpool is the place to invest. The Liver Building, part of probably the most impressive waterfront in the world, is a good start. A new stadium to the north of the main historic mercantile area (a kickback to some functionary will fix any problems - a look at the UNESCO list shows just what garbage can be included. My favourite is probably Caracas University which looks like a version of 1960s Kirkby rejected for being too uninspired).
The city itself is probably the best investment bet outside Asia and unless the government manages to make a complete mess of its "levelling up" programme (which Johnson is more than capable of) if Moshiri can keep his nerve, if he can keep his ex-Russian empire mates onside could be looking at huge return.
But he needs to make the football club a success.
Paul Birmingham
235
Posted 06/01/2022 at 15:03:31
No one yet knows, perhaps won't know the specific duties of Graeme Sharp, in his NED, role, but if I meet, him or more likely Snowy or a Diamond, I will ask them.
No doubt they will have signed NDAs, and I'm as keen as every one is to know what is going to change because of this role.
But rightly so and with gut instinct like picking out the horses, this strongly reeks of an inside plant job, perhaps created to passify and absorb flack and deflect the well proven frustrations of Evertonians performances and team shape, away from the board.
Thinking back to Marcel Brands, and his set up and now that all the international and UK scouts have left the club, then this is a key area which will require back filling. Does any one know if this has happened yet?
If not, then who will direct, and take ownership remains to be seen.
But I'm keeping the powder dry until the club confirms what's happening.
Roll back to 1215 and Magna Carta, but in some ways our beloved football club, needs to start from scratch and get some professional structure and morals.
That was as a result of King John, taking the proverbial piss to the nth degree and led to the building of the constitution for England. On. A smaller scale and specific to EFC, the run down of the club be intentionally or by design is on business performance happening.
On the same basis in my view Everton have to decide who they are and they want to be and why. And in the case of Everton rebuild and restructure properly and professionally. Everton must build there own new constitution, to start and build the club back to a club with aspirations but genuine trophy winning prospects.
Simple basics that any business trying to build success has, but right now EFC, is a stinking mess in terms off a structured football club and at board room level.
I hope Graeme Sharp will be his own man, and tell some home truths but I sense he potentially could be taking a controlling view on recruitment and using his nous from, His playing days to inspire the youngsters.
So is there a need for him to be a NED?
Still more, please team me why Everton board, but I doubt there will be much more, disclosed by the EFC board, so Ill wait till the end of 03/2021, to see what if any thing is being done differently on face value day to day.
Now for Hull City, hope eternal.
Mike Gaynes
236
Posted 06/01/2022 at 15:55:42
Chris #222, you raise an interesting point. That question produces the mental image of a half-empty office, maybe a few secretaries, ringing unanswered phones and maybe an intern packing souvenir coffee mugs into boxes for distribution as late Christmas gifts.
The fact is, however, that day-to-day business is getting done... from the signing of players to the processing of ticket orders to the organization of COVID testing, there is obviously a fully functional business operation here. It's kind of unique that we don't know who's actually running it.
And that, I believe, is exactly how Moshiri would want it. As I've posted here before, he has zero background running companies with a public-facing function. He's perfectly fine with nobody from outside really knowing what the inside is like. And you can be pretty sure that his "media statements" aren't his words -- they are written for him by his media company, and he signs off before they are released.
Paul #235, directors and executives enforce NDAs. They don't usually sign them.
Joe McMahon
237
Posted 06/01/2022 at 16:54:11
Well, it's a day later and I'm still fuming. As pointed out by many yesterday, even sports journos aren't impressed at the Everton Family and Cosy Bill's pathetic set-up. It really is true Everton are a little club, that don't compete.
We could do with Phil McNulty at Everton:
"Challenge" is the key word in the announcement of Graeme Sharp's appointment to the Everton board. What will be more telling is if Moshiri/Kenwright actually look outside the old Evertonian bubble & appoint an "outsider" to challenge them on their record of poor decision-making.
Paul Richardson
238
Posted 06/01/2022 at 17:00:53
I've said it before: Moshiri and co are here for the building development possibilities (with favourable funding support from the city council) between the Royal Liver Building and Bramley-Moore Dock – they are the two bookends of the investment.
That's why he leaves the running of the football side to other people.
Derek Moore
239
Posted 06/01/2022 at 17:26:52
Paul (#238), you're entitled to your beliefs of course. But as far as I'm aware, Everton have received a paltry fifteen million pound contribution from the council towards BMD in addition to a thirty million pound loan facility.
For a project of this scale, and for a man of Moshiri's wealth this is basically peanuts. A rounding error.
The fact is that we are presently in the highest inflationary environment since Gordon Lee was our manager. Interest rates are rising and set to continue after over a decade of historically cheap money.
These circumstances have spooked institutional investors, so much so that Moshiri was forced to underwrite the entire first stage of the project out of his own pocket.
Allied to this is we're going through the largest, fastest and most sustained bull run of all time, across virtually every asset class.
Moshiri is an accountant by trade, and a very wealthy and connected man to boot. Occams razor would hold that there are far easier and more lucrative ways for Moshiri to invest his wealth than get into property development - an enormously complex and difficult industry to make money from, even for those with vast experience within it. (And Moshiri has none as far as I'm aware)
I really doubt your theory, for the reasons I've stated.
Paul Birmingham
240
Posted 06/01/2022 at 17:46:04
Mike, in the UK, and I'm sure as well it's the same in the USA, if you sign an NDA, and that means you don't say anything, if a specific business matter, can't be discussed outside of the executives.
In context I'm referring to Graeme Sharp and potentially Iain Snowden and Diamond, signing an NDA., as they are an inner circle of employees and friends within EFC.
Time will decide what this will mean in terms of improving the status quo, at EFC.

Barry Rathbone
241
Posted 06/01/2022 at 17:50:21
Derek Moore 239
I think you're right people in the Mosh bracket would choose the capitals of europe if serious about the building game. I guess 100 million spent in London would dwarf the return of the same cash spent in Liverpool.
Michael Kenrick
242
Posted 06/01/2022 at 18:41:37
Brian @227,
Since you're asking pretty much the same question again, you don't accept there could be sufficient rationale in what I've suggested.
Based on all that has gone before us to date, the elevation of Everton into the top echelons is the obvious ambition Moshiri has for the club, and the potential rewards (if successful) are huge.
Isn't that reason enough for an entrepreneur to invest?
It hasn't gone to plan… so far… but the true investor knows the upside potential and knows that you have to ride out the rough spots and hang on in for the long haul.
Bobby @232, the premise of your question assumes that Moshiri views Kenwright in the same way as many disgruntled fans do on this thread.
In reality, he almost certainly has a share purchase agreement with Kenwright, through which he has bought the vast majority of Kenwright's shares. And Moshiri retains Kenwright as Chairman by choice or by prior agreement.
Your conviction that Moshiri would just buy him out and fuck him off… I'm sorry but that's simply not how they operate.
Darren Hind
243
Posted 06/01/2022 at 18:55:14
Joe McMahon
Are you actually giving any sort of thought to what you write ?
"What would be more interesting is if Moshiri/Kenwright actually look outside the Everton Bubble and appoint an "outsider" to challenge them on decision making"...WHAT ????.
I take it you are aware that everyone appointed or promoted to our boardroom came is to this club as an "outsider" ? All of them.
If you don't understand that the perception of ex players getting plumb rolls in the boardroom is a total myth. Why not challenge the TW members to put up a list of ex players who have done it before ?...Some hope of getting a response from that one.
Everton has always been a jobs for the boys club, but not our boys... Just look at some of the fucking jokers who have "served" on our board ?.. Kenwright and Moshiri have appointed a steady stream of "Outsiders", chums and "Savi" businessmen. shifty fuckers and relatives. NOT ex players.
There is plenty more where these free loading parasites who brought nothing but a steady downward trajectory came form.
The jobs for the boys culture didnt just exist in the boardroom.
Fat Sam brought all his mates in to share his jolly. Sammy Lee's arse may have been on the ground but he earned a million pound. And what about Carlo ? he didnt just bring his buddies with him. He brought nepotism to a new level.. Koeman brought their kid.
Jobs for the boys ??????. FFS smell the coffee. This is where all the fucking money has gone. It certainly didnt go to the junior coaches. Franny Jeffers fucked off to a lower league club to earn more money.
This is nothing like the "same old. same old". By FINALLY doing what many many clubs do and promoting an ex player. Everton are making a change.
Those calling for "outsiders" Are not calling for change. They are calling for more of the same and they don't seem to be giving any thought to the fact that if we do bring in an outsider. The two people who have got us into this mess will be the ones to appoint him/her -again
Sharp's appointment may not work out, but how can he possibly be worse than all those free loaders who have had the benefit of the now, world famous Everton blind eye.
Its staggering to see Evertonians who have witnessed freeloader after freeloader fleece our pride and joy for decades without accountability, now turning on one of their own and dismissing him as a "Yes man" before he's even got his coat off.
Andrew Keatley
244
Posted 06/01/2022 at 19:11:01
Darren (243) - Jim was clearly quoting Phil McNulty.
Maybe it's you who should give a bit more thought prior to unleashing your typing fingers…
Jay Wood
[BRZ]
245
Posted 06/01/2022 at 19:14:57
For anyone interested in a game of togger involving Everton, the U-23s have just KO away to Sheffield United in the PL Youth Cup.
Interesting lineup, given our cup tie at Hull on the weekend:
Leban, John, Hunt, Campbell, Welch, Warrington, Quirk, Butterfield, Cannon, Mills, Whitaker
No Branthwaite, Onyango, Simms or Dobbin. Maybe a sign they could be involved v Hull for the 1st team.
Had hopes of viewing the game on YouTube on the Blades YT channel, but just a blank screen with no action:
The club site does have a text commentary here:
Blades v Blues text commentary
Not an auspicious start. Spilt save by Leban the keeper after 3 minutes and the home side scored from the rebound. Then 7 minutes in Whittaker takes a knock and is subbed out already.
Darren Hind
246
Posted 06/01/2022 at 19:34:58
Always nice to get a rebuke about paying attention and giving it a bit more thought. Even if Jim is actually Joe.....And he was not just quoting McNulty. He was endorsing what he said. Even advocating him for a job at Everton.
Joe has a long history for complaining about jobs for Everton boys and I have crossed swords with him several times about it.
I quite clearly don't agree, Not in anyway, but they are his views I respect him enough to put in my strongest counter. I think its because when he comes on this footy website. he comes on to talk about Footy
Yeah. That'll be it
Jay Wood
[BRZ]
247
Posted 06/01/2022 at 19:35:38
Blues level on 26th minute, header by Kouyate following good work by Mills and Hunt.
Derek Moore
248
Posted 06/01/2022 at 19:39:00
​Click on Sheffield United home page and then click the live link there. Its playing on main page.
Brent Stephens
249
Posted 06/01/2022 at 19:44:16
Missed Kouyate's goal. Any good?
Brent Stephens
250
Posted 06/01/2022 at 19:47:55
Mills back post goal from the corner. Unmarked?
Jay Wood
[BRZ]
251
Posted 06/01/2022 at 19:54:02
No idea, Brent. No stream available that I can find.
Brent Stephens
252
Posted 06/01/2022 at 19:55:31
Derek Moore
253
Posted 06/01/2022 at 20:00:00
Jay you need a UK IP address through a VPN.
Andrew Keatley
254
Posted 06/01/2022 at 20:02:53
Darren (246) - I know you love this self-serving narrative you peddle out about posters who do not post about football, but it's a myth. We all come on to this site to talk about footy. Most of the time it's polite and civil, and occasionally there are posters who seek to offend and belittle and bellow and grandstand. Sometimes I am prone to sticking a pin in.
If you want to walk around with an over-inflated balloon and demand that everyone marvels at it then don't be surprised when a few pins come out.
Yeah. That'll be it.
Derek Moore
255
Posted 06/01/2022 at 20:08:39
Universal stream for u/23 game
https://www.youtube.com/watch?v=VNGawvRBS_o
You're welcome
Get in. 3-1!
Jay Wood
[BRZ]
256
Posted 06/01/2022 at 20:21:48
That works Brent. Thanks.
Stonking third by Mills. Blades' keeper keeping the score respectable at the moment.
Joe McMahon
257
Posted 06/01/2022 at 20:22:08
Darren, thanks for your comments. The only thing I will say is, the one occasion I have spoken to Greame in the low scoring Moyes days I asked him do you not get frustrated by the lack of goals and strikers we seem to have season after season. He dodged the question and says he's happy with the football we play. This was during a home match with Birmingham City which ended 0-0. Someone else on my table asked him if he feels we are making progress with Bill, and he said absolutely, we were stunned.
Personally I'm not happy with the appointment of Greame, just like the BBC chief football writer. My reason isn't necessarily because he's an ex player, but because I feel he is a yes man that will suck up to Bill. Peter Reid, Nev and a few others would rock the boat.
So that's how I feel. You can attack my views if you want to. But I've been an Evertonian since the days of Gordon Lee, so like all of us I have an opinion, on this
slowly dying club.

Terry Hughes
258
Posted 06/01/2022 at 20:49:06
Sir John Moores will be turning in his grave seeing how our Club is being run nowadays. Sir Phillip Carter and Moores, what a partnership they were.
Darren Hind
259
Posted 06/01/2022 at 20:52:40
Joe
You are not alone. I have never met the guy, but I know loads of people who have and I know he isn't everyone`s cup of tea. I'm told he will blank questions if he cant be arsed answering them, or he thinks they are stupid.... Maybe thats what Uncle Bill likes about him.
I confess to not having a scooby as to whether Sharpy will be any good, but I'm sick of "the alternative to "insiders"....A steady stream of "Outsiders" have stripped this club bare. That much we do know
Dave Abrahams
260
Posted 06/01/2022 at 21:04:56
Brent (252), thanks for the link Brent, I was watching the game on anther thread a bit bigger than a postage stamp on my IPad so you saved me getting an eye strain. Not a bad game with Warrington and Mills having good games, did Warrington get a knock? He went off a bit early, the centre back who came on late in the game looked okay to me, very young as well.
Brent Stephens
261
Posted 06/01/2022 at 21:14:23
Dave, I'm not sure if Warrington got a knock.
Have you had another think about a wee interview, Dave? My wallet's at the ready!
Dave Abrahams
262
Posted 06/01/2022 at 21:26:19
Brent I sent a reply but I'm useless without my daughter giving me a hand so I most probably cocked it up, well I must have done otherwise you'd have replied but it's the same as last time so keep your wallet in your back pocket!!
Joe McMahon
263
Posted 06/01/2022 at 21:40:44
Darren, I do agree with you on your last point. So many outsiders taking huge salaries and pay offs. That is on Moshiri, and now we are skint.
Brent Stephens
264
Posted 06/01/2022 at 21:47:09
Ok, Dave. I respect that. I would have loved to do an interview with you. I think ToffeeWeb is the poorer without it.
At least keep giving us your gems on here, mate.
A question, Dave. What is your first memory of supporting Everton?
Phill Thompson
265
Posted 06/01/2022 at 22:07:48
Dave#260, the young, blond centre back who came on is Seb Kristensen. As ever, he suffered an injury early on as an u18, he was given a pro contract almost as a result of agreeing to sign for us from Norway. But although big and strong he's failed to make an impact at centre back, he's a year older than Welch/ Campbell. Sadly it hasn't worked out for him.
Jerome Shields
266
Posted 06/01/2022 at 22:57:07
Jay #220,
I don't think we will see walkouts by the 27 years campaign. That was an intial move to get attention. They have a banner at games. ("Moshiri: If you want success change the mess. NSNO")
They have established a Twitter account early this week that now has 3005 followers.
As Paul the Esk said, they are going to have questions asked at the AGM. They appear to be organising a group of negotiators or representatives, but will not release names yet. Their target is Moshiri.
I am still trying to get to grips with Twitter and the large array of Twitter social media groups with big followings that seem to be supporting the 27 years campaign.
It seems a bit chaotic, but they seem to all be sticking with it, with a skeleton organisation that appears to be developing. Paul the Esk is very involved and there are other similar people, unknown to me, like him to the fore.
You probably would be able to get a better grip on what is going on than me, yourself.
Jerome Shields
267
Posted 06/01/2022 at 23:09:49
Jay #220
Contact: paul@theesk. org
Paul will get back to you with details and answer any questions.
Don Alexander
269
Posted 06/01/2022 at 00:10:40
Here's a 15-minute long podcast from, to me and many others I'm sure, the inestimable Paul the Esk, a true fan, posted just weeks ago.
His, and my, and many of "our", huge misgivings about the further shambles bestowed upon us by Moshiri after allegedly rescuing us from the self-serving decrepitude inflicted on us under Kenwright for 20 barren, decrepit, fucking years is admirably discussed.
That said, from the podcast of The Esk, the opinion of a/any-number-of mere die-hard Everton fans to our football-plonker owner is way less important to him as is him finally lancing the boil he still supports as chairman of the bored.
That says it all.
We're fucked as a club. The north shore docks development is all that matters to Iran's greatest ever Everton fan. FACT!
Jim Lloyd
271
Posted 07/01/2022 at 09:03:34
I fear it's a move by Kenwright to keep his influence in the club in the ascendancy. I hope it'll be a positive move on the footballing side but my hope is overruled by caution.
If anyone is going to control the doings on the football side, my vote would be with Rafa Benitez. He would fight the board to get the best for the recruitment of players. I'd hope that Sharp would be a positive move in backing the manager: but...
Jim Lloyd
272
Posted 07/01/2022 at 09:12:51
PS, I don't blame Moshiri, like some posts have done, I look right at that fat slug of a Chairman using his position to strengthen his hold on the club. Hope I'm wrong!
I see people blaming Moshiri, I've seen them wishing that Moshiri would never have come to this club, he's ruining etc, I wish he'd fuck off, etc!
Well, those whose thoughts lie along that road, provide some answers regarding the alternatives to Moshiri coming in. For, as far as I can see, Kenwright binned the approach from the Man City owners (reputedly, but I believe that!).
Maybe the Saudis would have come in, but the likelihood is we'd have been sunk long before they ever came sniffing.
The alternative would be Kenwright in sole charge, with the likes of Sir Philip Green and Planet Hollywood stiil sucking the blood out of our club, with Rambo as our cheerleader!!

Jerome Shields
273
Posted 07/01/2022 at 10:12:07
Jim #272
It sure is a move by Kenwright to regain control since the sacking of Brands. Which upset the cosy comfortable scenario. Brands was an amiable and compliant guest at the top table.
Bill has been working overtime since, announcing an emergency board meeting for a Sunday, a Strategic Review, meeting with ESSG (now called the IESC – Independent Everton Supporters Clubs), mutterings of a new DoF (got Sharpy instead hopefully). It may even have originated with the sacking of the Head of Medical Services (a Billite) way back.
But Moshiri allows it to happen, because it suits the way he wants to operate the club. He sees the board and management of the Club as irrelevant and the officers of the club as nominal, since he does not attend board meetings, the AGMs, use the PR Department (he prefers texts to Jimmy White), recruits the manager by his own process, and completely ignores the fans. Kenwright does what he likes within the Club, ignoring governance and accountability.
I am not advocating Moshiri take his money and get out and #27 years campaign isn't either. I support #27 years, who advocate that Moshiri should operate via the internal structures of the club and uphold governance and accountability. This is the main problem area and only by Moshiri changing things can he give Everton 'success by sorting out the mess'.
The #27 years Campaign has now 3229 Twitter followers.
Brian Harrison
274
Posted 07/01/2022 at 10:58:29
I think it's quite obvious why Kenwright is still chairman and that's because it suits Moshiri & Usmanov. They want to run Everton at arm's length and only bothering to get involved to protect their investment when it looks like we could drop out of the cash cow that is the Premier League. Moshiri thinks the best way to communicate with fans is through tweets he sends to Jim White on TalkSport.
The review that is supposed to be taking place is just a sop to make it look like they are really interested in making meaningful change. Let's not forget, it was Moshiri who introduced the Director of Football role to Everton and he has appointed 2 DoFs and it doesn't seem to have worked out well.
Yes, he has pumped in £500 million and will have to invest more in building the new stadium. In his 5-year tenure, he has not only appointed 2 DoFs that haven't worked – he has also appointed 2 managers who are a complete anathema to a large section of fans. So he certainly doesn't listen to our fans, but he is clearly not a football man and will continue to keep making poor decisions while he is still involved with the club. How anyone can absolve him of any blame as some posters have is mind-boggling.
I would hope that Kenwright sees that the only option for him is to resign as Chairman, as there is absolutely no chance that Moshiri will remove him, as he knows then there would be nobody to hide behind and all the critiscm would be aimed at him and that seems something he wants to avoid at all costs.
Dave Abrahams
275
Posted 07/01/2022 at 11:19:29
Brent (264) I always loved Everton had an uncle and a cousin who were Everton fans but not fanatics, a lad who lived next door to my Nin, Harry Myers was a real fanatic and he had a bearing on me being a Blue but I didn't need any persuasion.
I'd been to Goodison plenty of times watching the reserves and schoolboy matches, same as I'd been to Anfield, in fact my first senior football match was watching Liverpool beat Huddersfield Town 4-0 with all the goals coming in the first half all scored by Albert Stubbins. The next Saturday I went to Goodison Park and as I walked up the steps into the Boys Pen and looked all around Goodison, which might have been the best ground in the country at that time,I just felt very happy to be there, never forgot that image, brilliant, that was on the 12th or 13th of March 1948 I was seven, left it a bit late I know, oh and we got beat 2-0, start as you mean to go on, Everton that!!
Those days teams seemed to have the same players week after week or even season after season and the team I remember that I could recite in my head then always stayed with me, I don't say it was the team I watched on that first occasion but many in it would have played that day, it was: Sagar : Saunders: Dugdale: Farrell:TG Jones : Lello : Corr: Wainwright: McIntosh: Fielding and Eglington.
Brent Stephens
276
Posted 07/01/2022 at 11:36:34
Dave #275. Wow, nostalgic. Strange to think back how "normal" it was to go to both Anfield and Goodison, and with no fan segregation.
As you say, in those days Goodison might have been one of the best grounds in the country. Sad to see the state of it now, though it still brings goose bumps going in on match days.
Brian Harrison
277
Posted 07/01/2022 at 11:45:06
As Dave said most guys of our age went to both grounds, I used to go to Goodison with my Dad and Brother and when I got a bit older I started going to watch Liverpool with my mate. I think you have to remember there wasn't any Match of the Day and the only games that were televised live were England International games which were strangely played in the afternoons in midweek.
They did show a couple of games of Wolves against one of the top Russian sides I think it was Dynamo Moscow. So you only saw the great players you read about if you actually went to the game, and probably thats why in that era many used to go and watch both clubs although you only actually supported one of them.
Dave Abrahams
278
Posted 07/01/2022 at 12:09:34
Brian (277), I remember those Wolves games as you say one of was against Moscow Dynamo, a top team at the time, and was versus Honved of Hungary another very good team. They were shown in the evening but only the second half if my memory was correct.
As for going to Anfield yes t was the usual for both fans to go to Anfield and Goodison if you didn't go to the away game and I saw great matches at both grounds especially if Liverpool lost !! One of those games was Shankly's first home game as manager of Liverpool, they lost 4-0 to Cardiff City. I make point of asking avid Red fans if they remember Shankly's first home game and get pleasure out of telling them, although they know me and know it's not going to be a win for Liverpool!!
Ray Robinson
279
Posted 07/01/2022 at 12:23:31
I remember seeing highlights of Rangers v Everton in the British Cup at the cinema during the interval between films. Also some Wolves match highlights. Yes, it wasn't unusual to watch both teams in those pre Sky days but only support one of course!
On the subject of Graeme Sharp, I used to listen to his post match comments on Radio City on the way back from the match and never thought that he provided any particular insight. He seemed to always toe the party line. Not someone to shake up a complacent Board. Great player but agent provocateur? I doubt it. Been on the club's payroll too long to stir things up.
Jim Lloyd
280
Posted 07/01/2022 at 12:53:31
Ray, I was in the Goodison Road, for that one, think I was around 16. With loads of Rangers fans and lots of them had bottles of whisky, bottles of wine..or both! (there were mounds of bottles all round the pitch side, against the wall. I don't know how they could put away so much. a feller next to me offered me a swig of his wine, very nice too...can't remember the score but I think we won!
I've got the same concerns about the new addition to the board!
Danny O'Neill
281
Posted 07/01/2022 at 13:08:26
Interesting talk of going to Anfield.
I'm not the same generation, but my dad did occasionally take me there. I particularly remember going to see Liverpool v City with his good friend from Glasgow who was a huge Celtic fan and idolised Dalglish.
Also, when Everton were away me and a few friends sometimes used to do the sneak in when they opened the gates 20 minutes from the end thing to let people out. Harmless and all you wanted to do was watch football.
It was usually linked to a trip to my Grandad's on Arkles Lane as we got very well fed and watered by my Aunty Doris, his second wife. He was a huge blue, while she had a chair in the corner she said was Shankly's!!
Jim Lloyd
282
Posted 07/01/2022 at 13:24:28
It isn't obvious to me why Moshiri is content to let Kenwright carry on. (this is the feller who who was leaving at 70) There's easier ways of making a few bob than ploughing Half a Billion Pounds of it into EFC run by this "Brother", and even more than doubling that amount when the cost of the Stadium is added. They could have made much more just sticking the dosh in the bank in an offshore account.
I would not be surprised if Kenwright had it in writing that, He stayed as Chairman when Moshiri bought up the shares.
As for the two occasions that Moshiri has brought in men unpopular with some sections of the fans, is 1st occasion, the dread of going down. The 2nd, is his choice as the best available option of the managers available. This is after Ancelloti packed his bags and dunnarunna.
There is an almost total rebuild required of the 1st team squad and the players that Benitez has brought in (except for Rondon,) have proved themselves as assets to the team. The two more he's brought in we'll have to wait and see and any others that he can get, will start, perhaps, undoing that catastrophic collection of overpriced players, that we can't get shut of.
Back to the Board issue. I hope Sharp is going to bring some footballing priorities to EFC...but I doubt it.
Dave Abrahams
283
Posted 07/01/2022 at 13:42:16
Jim (280),The Rangers fans were drinking in town all day before that game, plenty of fisticuffs there and then in Walton Road as the game drew closer, I don't think there was a full house for the game atGoodison which finished as a 1-1 draw. The first leg at Ibrox finished 3-1 to Everton with Andy Rankin having an outstanding game which included him saving a penalty if I'm not mistaken.
Alan McGuffog
284
Posted 07/01/2022 at 14:03:51
Dave...I am probably misquoting but Terry, out of the Likely Lads once opined that there was nothing mellow about a legless jock. Think this was in an episode when the Huns came down to St James Park.
Dave Abrahams
285
Posted 07/01/2022 at 14:21:03
Alan (284), well the Glasgow fans obviously like a good drink before a game, especially a night game, but quite a lot of them don't seem to hold it very well.
Jim Lloyd
286
Posted 07/01/2022 at 14:29:11
Yes, Dave (285) A mate from school lived in Barlow Lane, and I called round for him, you're dead right All round the Royal Oak and every pub down Walton Road/County Road. Thousands of Rangers fans and most of them blathered. spot on with your last sentence.
Darren Hind
288
Posted 07/01/2022 at 17:18:06
Andrew Keatley @254
You strike me as being desperate to be offended. So desperate, that when you don't get the responses you seek. You will ditch all talk of football and revert to being offended on behalf of somebody else. It must be difficult when the person you are offended on behalf of, comes back and freely continues the debate - see above.
You have clearly set yourself up as a TW policeman. but you don't know your Gazza's from your Dazza's. It comes as no surprise whatsoever to learn you cant tell the difference between your Jim's from your Joe's... Not great detective work
You are perfectly at liberty to regularly trawl "your beat" with your little pin looking to burst balloons, But this is a footy forum. People discussing footy will only really be deflated when they have been shown to get their footy facts wrong. It takes more than a little prick to do it
Jerome Shields
289
Posted 07/01/2022 at 18:31:15
Jim #282,
I have always thought that Kenwright had in place a shareholders agreement as part of the Sales agreement. But it will never be made public.
Moshiri is obviously fine with Kenwright as Chairman.
Laurie Hartley
290
Posted 07/01/2022 at 21:20:59
Jim # 280 - I was on the Goodison Rd terraces for that game also - down near the church end. Surrounded by very angry and bevvied Rangers fans much older than myself (I was 14). It was the first time I had felt threatened at a football match. Not a very pleasant experience.
Jim Lloyd
291
Posted 07/01/2022 at 21:36:10
Jerome, you may well be right. as evidently, Kenwright conducted negotiations for the transfer of Nathan Patterson.
Laurie, I felt exactly the same, I was 15 or 16 and the intimidation, well you could feel it. I was by the players entrance, and accepted a drink in case I'd get a belt otherwise. Did you see the mounds of bottles round the pitch!
I think everyone around the ground and walton/county road pubs. and all the way to Kirkdale station were glad to just see them leave.
Jim Lloyd
292
Posted 07/01/2022 at 23:31:34
After reading some, no, many excellent posts on this thread, (with more top read) I'm questioning my own defence of Moshiri;and his aim to wrest power on the board, from Kenwright. I think (maybe "thought" now) that Kenwright has the power and Moshiri is trying to wrest it away. Well, there's better informed and much more knowledgeable people than me; who are pointing to Moshiri being a shadow director, perhaps like that slime Green was.
So I'm, going to read the rest of these posts tomorrow. It gotr me thinking earlier, before reading this article again, about Kenwright doing the negotiating of young Nathan Pattreson's transfer. there's been a good few posts on here and Rays (Bra) was a really good one amongst many good ones that I've read so far.
I hope that Moshiri is not a sort of shadow director and is content with the Board's (and especially that bloody Chairman's ) efforts to make our club a a professionally well well organised club, that knows how to get where it's going! f that's the case, then we're in trouble, sliding into Kenwright's museum that Moshiri once said he wanted to get away from. I'll read the rest of the excellent posts, tomorrow.
---
Add Your Comments
In order to post a comment, you need to be logged in as a registered user of the site.
Or Sign up as a ToffeeWeb Member — it's free, takes just a few minutes and will allow you to post your comments on articles and Talking Points submissions across the site.