Clement lined up as Lampard's No 2
Sunday, 30 January, 2022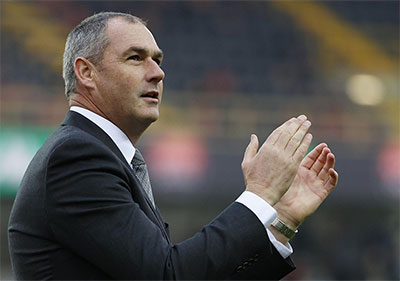 Everton are believed to have offered the assistant manager's role under Frank Lampard to Paul Clement as the Blues' new boss' backroom staff begins to take shape.
Lampard is expected to be confirmed as Everton's new manager either tonight or tomorrow morning and negotiations over his support team have been continuing over the weekend.
Highly-rated Chelsea coach Anthony Barry was one name being linked with a position at Everton, but while those talks are said to have been positive, he is now expected to remain at Stamford Bridge with The Telegraph suggesting Clement will get the No 2 position instead.
Joe Edwards, however, looks likely to make the switch from London to Merseyside and Chris Jones, with whom Lampard worked during his time at Derby County and Chelsea, could also come on board.
Article continues below video content
Clement started out as a coach at Fulham and then Chelsea and has had managerial spells at Derby County, Swansea, Reading and most recently at Cercle Brugge in Belgium but his most successful roles appear to have been in assistant positions.
He was hired by Carlo Ancelotti to work alongside him Paris Saint-Germain, Real Madrid and at Bayern Munich and was a leading contender to become the Italian's assistant at Everton before Ancelotti's son Davide was handed the role.
---
Reader Comments (63)
Note: the following content is not moderated or vetted by the site owners at the time of submission. Comments are the responsibility of the poster. Disclaimer
Tony Twist
1
Posted 30/01/2022 at 17:37:50
So the sort after assistant is not coming, knew it was too good to be true.
Tony Hill
2
Posted 30/01/2022 at 17:44:04
That's all right. Clement has a pedigree.
Tom Harvey
3
Posted 30/01/2022 at 17:53:06
It's not very motivating knowing that you're a second best compromise.
Pat Kelly
4
Posted 30/01/2022 at 17:54:02
We just need to convince Ferguson to stay. It won't be easy but fingers crossed.
Tony Twist
5
Posted 30/01/2022 at 18:00:41
So the up and coming assistant with bright, clever, original ideas isn't coming and the long in the tooth, everybody's read the book on, Paul Clement, is coming to Everton instead. Typical. We will never be ahead of the curve.
Tony Hill
6
Posted 30/01/2022 at 18:03:05
Tom @3, he's 50 so shouldn't be too bothered by that sort of thing, I hope. He has great experience and I would expect him to be another great fit for us. If, of course, it's true at all that we've approached him.
Brian Williams
7
Posted 30/01/2022 at 18:03:15
Moan, moan, moan!
Kieran Kinsella
8
Posted 30/01/2022 at 18:07:53
Anyone consider that Barry maybe wanted to stay at Chelsea where he's well regarded rather than gambling on relegation contenders who sack their manager every six months? Clement isn't exactly slumming it. He supposedly had a big part in Carlo's success but is better as number 2 than 1. Colin Harvey anyone?
Colin Glassar
9
Posted 30/01/2022 at 18:08:09
Clement is considered one of the best football minds in the game. I'd have liked Barry but quite happy with Clement.
Tony Hill
10
Posted 30/01/2022 at 18:09:10
I see Lampard needing a senior figure to be with him, Tony @5.
Brent Stephens
11
Posted 30/01/2022 at 18:12:40
Brian #7. I'm afraid it's some people's moanus operandi.
Ray Roche
12
Posted 30/01/2022 at 18:19:18
I thought that Barry was specialist at defensive coaching in particular, not just a no. 2. Maybe there's room for both? I would love it if Barry comes though.
But right now, no one on TW has a clue what is really going on, we're all just relying on titbits and click bait so, Tony Twist, calm down until you've REALLY got something to whinge about.
Danny O'Neill
13
Posted 30/01/2022 at 18:20:10
FA Cup next week. On our way to Wembley and Frank does his corner flag celebration for a 3rd time, but this time with Everton colours.
There's only 2 Frank Lampards. Simple but there's a tune?
Dale Self
14
Posted 30/01/2022 at 18:27:11
That the club so quickly found Clement after Barry deciding to stay put is the point here. We have suffered the Oh God Who Would Take Us thing and found some decent people to help us rebuild. This also a good development given Frank's profile. It might be a good thing to not have a young coach's preferred choice.
I'm hoping Clement is labour. You know, for balance.
Put down the gavel Danny, that was a joke. Sort of
Robert Tressell
15
Posted 30/01/2022 at 18:28:23
Is that sarcasm Pat? Tony #2, agree, Clement is very experienced and well thought of. Wise move probably given Lampard is still fairly inexperienced.
Glen Anderson
16
Posted 30/01/2022 at 18:28:40
Pat Kelly #4 why do we want Ferguson to stay?
Pat Kelly
17
Posted 30/01/2022 at 18:33:14
Glen, we need someone to step in as manager for a game in 12 months.
Jerome Shields
18
Posted 30/01/2022 at 18:35:28
Pat#4
Duncan will stay and take the role he is given.

Steve Shave
19
Posted 30/01/2022 at 18:40:41
Pat that made me laugh out loud :)
Oliver Molloy
20
Posted 30/01/2022 at 18:48:37
Pat @ 4,
Ferguson has to move on, perhaps not right now because of the predicament we are in.
Now is the perfect time for Ancelotti to make his move !
Pat Kelly
21
Posted 30/01/2022 at 19:18:39
Oliver, Ancelotti knows the perfect time to make a move.
Olalekan Taofik
22
Posted 30/01/2022 at 19:42:47
Good day everyone, I have been offline all this while due to inconsistent performance of our team overtime and sacking of our managers (expect for Mr Carlos resignation).
I wish Mr Lampard success in his job, hoping he won't go the way of others.
And I hope our new recruits will fit in quickly.
CoYB.
AM yours truly from LAGOS, NIGERIA.
Sam Hoare
23
Posted 30/01/2022 at 19:42:59
Shame about Barry (if true) but Clement is a very decent back up. Edwards is good too.
Mike Dolan
24
Posted 30/01/2022 at 19:48:52
The important thing is that Lampard gets to pick who is on his staff. That's the way it goes when you change management and while it seems a bit cruel those coaching jobs only last as long as the manager is successful. Duncan is maybe unfortunate in never being in the position of coaching a successful team.
Tony Abrahams
25
Posted 30/01/2022 at 19:54:35
I've read that Anthony Barry, is a defensive minded coach, and I've read that Lampard's teams struggle to defend, although I'm not sure how long the kid was employed by Lampard at Chelsea?
The rumours were that Reece James, went back to Chelsea, after his loan spell at Wigan, and was raving to Lampard about one of the coaches. What's his name asked Frank? Anthony Barry was the reply, and Lampard said I know him, I've been doing my coaching badges with him, and decided to take him to Chelsea.
It seems Barry has decided to stay at Chelsea, but Paul Clement seems like he's a very good assistant, and has also got a lot more experience, so if he's coming to be our number two, I now expect Duncan Ferguson to move on.
Paul Birmingham
26
Posted 30/01/2022 at 20:01:35
No complaints from me as Paul Clement has a good CV, but let's give all the new management team a fair chance, albeit time is against Everton, in terms of getting points on, the board.
Thanks to the fans perseverance and protests in view that the board did perhaps take stock of the fans protests last week, and in previous games this season.
Fresh hope and hopefully, deliverance - survival in the EPL, and win the FA Cup.
This could be Everton's year in the FAC.
Ray Roche
27
Posted 30/01/2022 at 20:05:35
Mr Taofik, thanks for your good wishes, let's hope Lampard can bring us, eventually, success.
Fran Mitchell
28
Posted 30/01/2022 at 20:06:55
Funny how people who had never heard of Anthony Barry until yesterday are now dismayed at him not arriving at the club.
The power of a few well-written articles I guess.
Clement is a well-renowned coach, respected, and he's worked with great players at great clubs. He'll be a knowledgeable and influential No 2.
On paper, this all looks very promising. A young, ambitious coach with something to prove and an experienced assistant alongside him.
Ray Jacques
29
Posted 30/01/2022 at 20:10:51
The fact that he is bringing his own guys in is the best news of all.
Ferguson has to go. Surely a lower league team will offer him a manager's job if he is such a great coach and motivator.
Bill Rodgers
30
Posted 30/01/2022 at 20:21:41
Can those who want Ferguson to stay explain themselves? What do they want – more top class coaching? Well motivated teams? Great organisation? Superb team spirit? High intensity? Clear communications?
If he stays, Lampard is doomed.
Iakovos Iasonidis
31
Posted 30/01/2022 at 20:22:48
Good appointment. I would like Ferguson to stay only because he was my favourite player, to be honest I don't think his presence is crucial but whenever I watch a game I always have his corinthian 1995 figure by my side.
Oliver Molloy
32
Posted 30/01/2022 at 20:36:02
Sure does, Pat.
He knew there would be no money available and skedaddled pronto!
Tony Hill
33
Posted 30/01/2022 at 20:36:47
Alan Myers is reporting this as definite. I hope so.
Mark Ryan
34
Posted 30/01/2022 at 20:39:17
He's been around and worked at some big clubs coached some great players and worked with a variety if good managers.
Everton have Lampard, Paul Clement is a good No 2, with more experience than Dunc and importantly breaks that old boys network which appears to have hamstrung us for years.
Tony Hill
35
Posted 30/01/2022 at 20:40:25
I can't believe he's the son of Dave Clement of QPR. Makes me feel about 120, which is probably about right.
Alex Gray
36
Posted 30/01/2022 at 20:42:01
Happy with Clement. Good to have some experience around Lampard.
Some rags linking us with a move for Gana now. I'd take him back in a heartbeat!
Andrew Keatley
37
Posted 30/01/2022 at 20:43:29
Fran (28),
I generally struggle to comprehend how fans are able to champion a particular coach. We all have the freedom to judge players, as they play in front of our eyes, but unless anyone has sat in on a good spread of coaching sessions, then any judgement is purely based on hearsay, reportage and extrapolating data from performances.
Good luck to anyone who wants to stick their neck out and vouch for the pedigree of a coach but, truth be told, unless those people are inside the professional game in some way, then they are merely following in the judgements of others. Not for me.
Andrew Bradshaw
38
Posted 30/01/2022 at 20:45:58
Barry was never in the frame for assistant, he was wanted for his defensive and set-piece coaching.
I don't know why people are getting down about Clement. As I understand it, the first choice was Steve Holland. Him or Clement – both are well thought of in the game apparently. As mentioned earlier in the thread, some people are better suited in the Number 2 role – Harvey, Taylor, Queiroz – to name but 3.
Tony Hill
39
Posted 30/01/2022 at 20:54:51
Andrew @38, correct. Ancelotti obviously thought well of him (he was, in particular, highly regarded at Madrid) and so does Frank. I agree with you about the lieutenant role.
I'm not sure what other type of evidence could be available to vouch for the man.
Steavey Buckley
40
Posted 30/01/2022 at 21:01:40
It is a pity Jody Morris did not want to join Frank Lampard as his assistant manager. They were last together at Chelsea, managing the team until they were sacked last year.
Derek Thomas
41
Posted 30/01/2022 at 21:08:58
The slow appointment is to allow for the trip there and back and a night on Usmanov's Yacht.
It's not so much who is coming in, as who leaves...and who gets the blame 'Sorry lads, it all fat Frank's idea, can't help you... teary hankie comes out...new broom and all that.'
Ken Kneale
42
Posted 30/01/2022 at 21:12:24
Mike @24,
Duncan Ferguson is associated with underachievement as both a player and coach at Everton. It might be unfortunate for him if his services are dispensed with but not for the club as a whole.
Gary Jones
43
Posted 30/01/2022 at 21:53:09
Whilst I initially thought that keeping Duncan on (as AM) until summer was the sensible path…..this talk of the back room team has me genuinely excited that we finally have a man who knows what he wants. If the "mykolenko is shit" comments really happened on the train, then 100% time for a spring clean. Right or wrong, there's a right way and a wrong way too.
Peter Carpenter
44
Posted 30/01/2022 at 21:53:50
Tony (35), I didn't know that. The grandson of Ian Wright playing for Stoke makes me feel the same.
Dazz Murphy
45
Posted 30/01/2022 at 23:14:40
Shame about Barry clearly but that's like pity Gareth wasn't available and younger etc.
I'm not sure about Dunc tbf... does anyone know what he brings etc? Passion from the stands and his past non prolific striker stats or something I don't see.
Yes I'd have kept him on without a manager till the Summer because it made sense but I'm not thinking his time here apart from the paper talk Carlo was going to be good for us long term. Maybe I'm wrong...
Mark Andersson
46
Posted 30/01/2022 at 23:30:28
Good luck to all the new people comming in.. my only advise to them is don't read ToffeeWeb...unless your thick skinned or have a warped sense of humor.. I have both and read it every day..
Jerome Shields
47
Posted 30/01/2022 at 00:17:14
I am now actually glad the backroom is getting shaken up. Managers come in and having to work with coaches who are associated with a previous underperforming Everton. It really is the change of a era with Duncan leaving.
But he was on according to Mike Gaynes £2. 5 million a year. It makes me wonder what other backroom true blues are on. Promotions with no interviews or selection process seems to have prevailed. No targets either. Unsworth in particular. Young Waldron another one. Off course there will be a serverence payment for Duncan. What would Bill be on as Chairman. /Executive Director????
Looks like we are going to have a proper Management change or aleast the start of one. No twits in Everton track suits welcoming the new Manager to Finch Farm this time.
Jay Harris
48
Posted 31/01/2022 at 03:10:20
Dont know where all the negativity about big Dunc is coming from. The guy would give his right leg for this club and genuinely loves the fans. Whie I can see him being one of "Bill's boys" which is obviously interfering with the managers approach, I would still like him to have some sort of role at the club.
As for Paul Clement, highly thought of in the football world and an excellent complement to young Frank. From what I have read about Anthony Barry, it's a shame we couldn't get him too but add a couple of quality midfield acquisitions tomorrow and I will be a much happier boy than a couple of weeks ago.
Derek Knox
49
Posted 31/01/2022 at 03:51:17
I remember Paul Clement as Manager of Swansea, and they did play some half decent football, obviously not good enough as the Owners were concerned, but again, he will be a solid addition.
Welcome aboard Paul, hope you have your lifebelt with you for the first few games!
Ajay Gopal
50
Posted 31/01/2022 at 04:34:16
The No. 2 is a crucial position in the coaching set-up. Moyes's best years as a manager were when he had the excellent Alan Irvine next to him.
As someone else pointed out on another thread, Marco Silva's best period as Everton manager was when he had Joao Pedro Sousa as his assistant and things started going downhill after Sousa left.
Paul Clement's credentials as an assistant manager are second to none – he was Ancelotti's assistant at Chelsea, Real Madrid and PSG and has worked with players like Beckham, Ronaldo, Ibrahimovic, Sergio Ramos, etc. He will have the instant respect of our players and if they are willing to learn from him, will improve them tremendously. Nothing negative for me.
If Dunc is being released, I hope he can find suitable employment somewhere – maybe within the Everton Academy set-up or elsewhere.
Bill Rodgers
51
Posted 31/01/2022 at 06:39:08
This morning's report "Lampard has also spoken to Duncan Ferguson and asked him to remain at the club as part of his coaching staff."
Lampard has just signed his own doom.
Jerome Shields
52
Posted 31/01/2022 at 06:53:45
Bill#51
Not good news that if true.
Colin Glassar
53
Posted 31/01/2022 at 07:09:58
Anyone else having trouble loading this site properly? I'm only getting half a screen, the other half blank.
Andy Walker
54
Posted 31/01/2022 at 07:20:57
I thought this was an interesting and balanced read:
https://www.theguardian.com/football/2022/jan/30/frank-lampard-must-learn-from-chelsea-errors-to-make-success-of-everton
Derek Knox
55
Posted 31/01/2022 at 08:12:46
Hi Colin @ 53, I am no PC Expert but it sounds like a browser issue to me, maybe a refresh, or a turn off, then back on again may help too. I know the site has been a bit slow (like our midfield) because of all the activity and hits. I have been timed out a few times myself, but always got there in the end.
Barry Cowling
56
Posted 31/01/2022 at 08:20:05
I am not at all disapointed by Paul Clement and anyone that is clearly does not know their football. He had both Derby and Swansea playing good stuff; the only reason he has not been successful is because he is not, in my opinion, management material, he is far better as a number 2. [ala, Taylor/Clough].
And I see that Duncan has turned down the opportunity to stay at Everton because he has been offered the Sunderland job – good luck to him.
Jerome Shields
57
Posted 31/01/2022 at 09:15:50
Colin#53
Currently being sorted out by Lyndon.
Paul Smith
58
Posted 31/01/2022 at 09:32:50
Asking Duncan to stay ? Lampard out!
David Midgley
59
Posted 31/01/2022 at 09:44:49
Has anyone considered that maybe Mrs. Barry didn't want
to live in the North West. That she was happy where she was and the situation with her children ?
It's not like the army, go where you're posted.
After reading some of the previous comments I didn't realise we had so many savants on TW, any chance of posting the numbers for the Euromillions ?
Joe McMahon
60
Posted 31/01/2022 at 09:51:19
Colin, it may be bandwidth? A lot of people accessing the website at the same time. I sometimes get a message that the website isn't available.
John McFarlane Snr
61
Posted 31/01/2022 at 11:20:29
Hi Colin [53] I am having the same problem, and being a dinosaur I will have to seek assistance from my grandson.
Raymond Fox
62
Posted 31/01/2022 at 11:36:57
Same fault here, it's just the home page.
Clement was spoken highly as far as I recall, didn't he go abroard at one stage?
Will Mabon
63
Posted 31/01/2022 at 16:55:57
There have been server issues for days as shown in the yellow box down below.
The front/home page will have been reduced by Lyndon to lighten the load - nothing wrong with your browser, leave it be!
All that can be done from our end is to wait when it runs slow, then retry page or reload site if timed out.
---
Add Your Comments
In order to post a comment, you need to be logged in as a registered user of the site.
Or Sign up as a ToffeeWeb Member — it's free, takes just a few minutes and will allow you to post your comments on articles and Talking Points submissions across the site.