Everton add Cole to Lampard's backroom team
Thursday, 3 February, 2022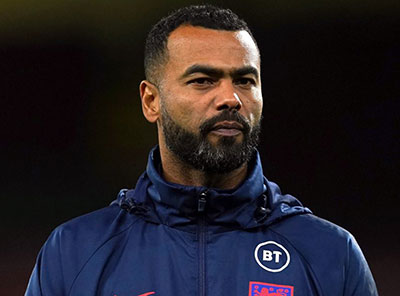 Updated
Ashley Cole has been be added to Frank Lampard's coaching staff at Everton.
The former England and Chelsea full-back was a team-mate of Lampard's at international and club level and has most recently been involved with England's Under-21s setup and Chelsea's U16s.
Cole will retain his role with England on a part-time basis.
And there is more talk of Tim Cahill being handed a formal role with the club having helped with the negotiations that brought Lampard to Everton as manager this week.
It is believed that he may be tasked with helping establish up a new technical department at the club related to player development on a part-time basis.
---
Reader Comments (83)
Note: the following content is not moderated or vetted by the site owners at the time of submission. Comments are the responsibility of the poster. Disclaimer
Andy Wilkinson
1
Posted 01/02/2022 at 22:26:07
Does Cole offer anything additional Baines doesn't offer? Maybe... or not?

Mike Gaynes
2
Posted 01/02/2022 at 22:30:55
Ashley, how's your Ukrainian, mate? Your personal coaching project awaits.
Minik Hansen
3
Posted 01/02/2022 at 22:35:04
Heitinga, anyone? 😆 On the real though, if Cole comes here and brings it to the next level, then he's welcome!
Mike Gaynes
4
Posted 01/02/2022 at 22:40:28
Minik, yep, Heitinga already helped us in this window. He raved about Everton to his protegee Donny van de Beek and convinced him to come.
Jerome Shields
5
Posted 01/02/2022 at 23:04:48
I suppose he will have ideas on improving defending, which is welcome.
Mike Keating
6
Posted 01/02/2022 at 23:23:50
This is a follow up to a previous query on another thread about the retention of Duncan when we've just appointed two new First Team coaches – what would be the point of Baines?
The squad (on and off the pitch) gets more bloated by the day.
Mike Connolly
7
Posted 01/02/2022 at 23:27:50
I'm surprised Van der Meyde didn't poke his nose in, discouraging Van de Beek from joining us...
Mark Andersson
8
Posted 02/02/2022 at 00:42:19
Mike Gaynes...
Do you know that for a fact?
Just curious.
Paul Dewhurst
9
Posted 02/02/2022 at 01:01:54
Mark Anderson (8),
Check the Everton website. Van de Beek talks about Heitinga's role.
Phil Smith
10
Posted 02/02/2022 at 01:21:04
So Baines's greatest international rival might just be a coach rival, too? Ouf!
Mark Andersson
11
Posted 02/02/2022 at 01:49:37
Cheers, Paul... I very rarely go on the official site... more entertaining on here.
Lyndon Lloyd
12
Posted 02/02/2022 at 01:59:25
Heitinga's role was also mentioned right
here
so, you know... 🤷‍♂️
😉
Kieran Kinsella
13
Posted 02/02/2022 at 02:49:39
Mike Keating
Baines is officially working with the Under-23s. He was helping Dunc out as caretaker but presumably he's now back at the academy with Unsie and Jose Baxter.
Mike Gaynes
14
Posted 02/02/2022 at 03:01:29
Phil, #10, not really. Cole's been an assistant to Lampard at Derby and also for the England U21s under head coach Lee Carsley. Baines just got started coaching and he's been working exclusively with the youngsters up to now.
Larry O'Hara
15
Posted 02/02/2022 at 04:48:57
No problem at all with this: does Lampard want to make us the Chelsea of the North? In terms of professionalism and success I'll take that.
Also, while Cole would (presumably) be here on merit, would be no bad thing to have a non-white person as a key member of the coaching staff: the defence is a key weakness and this would help address that.
Dare I say it, the Lampard regime might actually be fun?
Danny O'Neill
16
Posted 02/02/2022 at 05:26:39
Andy @1, you made me think.
I have the utmost respect for Leighton Baines the footballer, but like Jagielka, does he not sum up a generation of Everton and Evertonians?
Baines. Great footballer, nice guy. Was comfortable in his position at Everton, got homesick when he went to play for England.
Cole. Great footballer, nasty shit and not likeable. Pissed off opposition supporters and deflected to his arch rivals to win stuff. A winner.
That's the difference he could potentially offer.
Lampard and Cole could kickstart the culture change this club of ours is long overdue. I'm up for it.
Derek Knox
17
Posted 02/02/2022 at 05:54:24
Anything that helps us is good with me; however, I found there is a certain irony in that allegedly the stumbling block when Nuno Espirito Santo was interviewed was the size of his (ahem) entourage. Now here's Frankie Goes to Hollywood, whose backroom team seem to be growing exponentially!
No doubt he was a very good Left Back, but so was Leighton Baines, does this mean the hoof for Baines? He may let Dunc's tyres down in the Car Park under protest. How come he gets kept on and not me? :-)
Colin Glassar
18
Posted 02/02/2022 at 07:32:28
Hopefully, Cole will teach our left-back how to stop crosses being whipped into our box; something Bainsey and Digne failed to do miserably.
Allen Rodgers
19
Posted 02/02/2022 at 07:51:09
I wonder how Dunc fits in? There can't be anything left for him to do — apart from setting the cones out.
Shaun Robinson
20
Posted 02/02/2022 at 07:57:49
At this rate, the coaching staff would beat our first team.
Tony Everan
21
Posted 02/02/2022 at 08:04:58
If Frank wants Ashley Cole, then he's going to be a happier more confident manager if he comes. It's a matter of what Frank wants and what works in practice. All appointments are experiments and, as with all experiments, it's the results that matter.
The club needs to think about Kenwright and a managed transition away from him and his role within the club. Tim Cahill I can see as being the professional, efficient and effective replacement for Bill Kenwright. I have no doubts he would do an excellent job helping take the club forward in whatever his remit was.
I just wanted to say how happy I am that Duncan Ferguson was retained at Everton. I didn't want him as manager but I think he is a huge asset for the club.
I think he helps more than is documented behind the scenes with advice and encouragement for the young lads in training at Everton. Not getting the manager's job is probably allowing him to get back to what he is best at. Respect, thanks for the ongoing commitment and passion, good luck to Duncan.
Kim Vivian
22
Posted 02/02/2022 at 08:15:44
Shaun - made me laugh. That's very apt. I did wonder whether Frank could fill in at midfield for us.
Eddie Dunn
23
Posted 02/02/2022 at 08:21:48
This all looks great to me. Having specialists and new faces keeps things fresh. Players need stimulus and new ideas to keep them sharp and helping them to learn.
Having guys like Cole around not only give current players a boost but it also balances out the Everton Old Boys clique.
Perhaps we need to look more like Chelsea for Usmanov to come fully on board.
Martin Reppion
24
Posted 02/02/2022 at 09:18:03
We need a defensive coach more than any other area. If any one of the new guys can stop us leaking goals at set-pieces it will be an inspired signing.
Cole is another I loathed as a player. Kept on for England long after his best, but at his best, he was world class. The loathing was for his arrogance. Something seen as confidence when in one of your own.
Now he's here I'd like to see some of that rub off on our nice guys. A bit of edge in our play won't go amiss.
Mark Ryan
25
Posted 02/02/2022 at 09:25:19
I listened to ex Spurs player Jamie O'Hara yesterday talking about doing his own Uefa coaching badges and he said he did it with Ashley Cole.
He said that Ashley Cole was off the scale and that he was amazing to watch in terms of what he knew and what he did. He said he has become an even better coach over the months following and said he is an outstanding defensive coach.
Jamie is not really one for bullshitting, he says it how he sees it and pulls no punches. He also sees this move for Dele as being good for him to re-start and to get some consistency back into his game.
John Pickles
26
Posted 02/02/2022 at 10:10:25
Shaun #20.
That's not saying much. At the moment, the tea lady and the ticket office staff could beat our first team.
How ironic, when we are struggling with money, 'Cashley' is joining.
Mick Conalty
27
Posted 02/02/2022 at 10:13:11
Chelserton & Co Ltd.
Biggest employer on Merseyside.
Michael Lynch
28
Posted 02/02/2022 at 10:26:07
The Euston to Lime St train is going to be packed with all the Londoners in our coaching team at this rate. Mind you, I'm sure they'll all be in the first class carriage with Danny O'Neill, not back in the standard class with me.
With regards to the likes of Ferguson and Baines, we probably need to keep a few long termers at the club because, realistically, the Lampard & Friends appointment is unlikely to be long term.
At worst, we struggle and he's sacked, at best he gets us up into the Top 6 and he'll be the most sought after coach in Europe. The combination of his reputation as a player, his age, and a bit of success will put him in line for one of the top jobs - possibly even a return to Chelsea.
There's no way he's going to turn down a big London job – he's got a £10m house in Chelsea, four kids down there, and his missus has a big career in London.
I'm assuming we get him and Cole etc for 2 years max.
Danny O'Neill
29
Posted 02/02/2022 at 10:35:20
First class? You can take the boy out of Speke but not the Speke out of the boy, Michael!
Coach C. Close to the bar.
The coaching staff can join me in that coach and listen to my words of wisdom!
Anthony Dove
30
Posted 02/02/2022 at 10:36:43
Seems to be getting less cozy by the day. Brilliant.
So we'll be carrying Cole to Newcastle next Tuesday.
Billy Roberts
31
Posted 02/02/2022 at 10:38:35
Can't understand why people are thinking we are top heavy with backroom staff? Assuming Ferguson and Baines drift back to the Under 23s... How many left with Benitez ?
We go from saying "There's only the tea lady" to "Fuck me, where are they all going to sit in the canteen"?
I'm very happy and optimistic with everyone recruited. Lampard and staff, Alli, Van de Beek... an absolute improvement no argument.
Martin@24 I agree I would be very happy to see Cole involved, I can't agree he stayed at England too long. I never remember his form dipping he was that good.
Tim Cahill is another boost, someone who squeezed every drop out of his career and will be welcomed by me in any capacity.
Michael Lynch
32
Posted 02/02/2022 at 10:39:16
Danny, I've passed through Coach C many times, and the words I hear are rarely sober let alone wise!
Danny Baily
33
Posted 02/02/2022 at 10:40:11
Billy, Ferguson is assistant manager in the new set up.
Lord Hughes
34
Posted 02/02/2022 at 10:54:06
Wish big Dunc well but glad we're breaking with the coaching past. Last 5 years hasn't worked.
Quite nice seeing Fat Frank surrounding himself with his own gang.
Lord Hughes
35
Posted 02/02/2022 at 10:55:04
Also hearing Roy Keane mooted to return to Sunderland. Can you imagine him and Big Dunc as a coaching team? Squad will be shitting themselves already at the prospect. 🤣
Danny O'Neill
36
Posted 02/02/2022 at 11:19:24
On the return journey to Euston, mine are usually ramblings in my sleep on the last train from Lime Street, Michael. Sometimes the first one early next morning.
Roy Keane; tried and failed at coaching. Just because you were a great player, are aggressive and shout at people doesn't always cut it in the coaching world. He's better suited to punditry and he knows that.
Martin Mason
37
Posted 02/02/2022 at 11:22:23
Coaching and play management is a complex team effort and the staff have to be at ease with each other. Scouse Mafia replaced by Cockney mafia. Again it is really positive as Frank is absolutely accountable.
Daniel A Johnson
38
Posted 02/02/2022 at 11:25:48
So it gone from jobs for the Everton boys to jobs for the Chelsea boys.
I know nothing about Cole's coaching ability – all I know is he's an absolute fucking cretin I don't want anywhere near our club.
Allen Rodgers
39
Posted 02/02/2022 at 11:39:16
Eel pie and mash being served in the hospitality suites on Saturday. Gor blimey, guv!
Larry O'Hara
40
Posted 02/02/2022 at 12:08:02
Roy Keane is a bellend, putting it politely; Ipswich fans I know will not even speak his name. And I haven't forgotten his disgraceful World Cup antics with Ireland.
As for Cole, frankly (see what I did there), if he can make our defenders nasty aggressive winners like he was, all for it.
Difference with Keane is there is no evidence he actually demotivates players. Think Dunc shouldn't go near him; except perhaps to deliver a Glasgow Kiss…
Bill Rodgers
41
Posted 02/02/2022 at 12:43:15
Lampard has been forced to keep the dinosaurs but he's put them in charge of the laundry.
Alan J Thompson
42
Posted 02/02/2022 at 13:14:58
Michael (#28);
What makes you think they need catch the train or even move out of London as three or four of them together could probably fly by light plane or chopper each day and give Bill a lift every other weekend.
Most southern-based jockeys fly to the bigger northern race meetings so it isn't without precedent.
Michael Lynch
43
Posted 02/02/2022 at 13:31:45
Good call, Alan, I'll be jumping a lift with them in that case. Danny can probably fly the thing with his military background.
Nicholas Ryan
44
Posted 02/02/2022 at 13:47:43
As to the question, what will Ashley Cole bring to the coaching set-up? My tennis-playing daughter reminded me of a [very short] interview with Ivan Lendl when he was unexpectedly hired by Andy Murray.
A reporter said: 'Ivan, you've been out of Tennis for years and haven't done any coaching. What can you teach Murray, that he cannot work out for himself?'
Short pause: 'How to be a Bastard'... end of interview!!
Chris Corn
45
Posted 02/02/2022 at 14:08:17
Danny 33, Joe Edwards is Asst Manager isn't he ?
Mark Ryan
46
Posted 02/02/2022 at 14:08:27
Valerian Ismael sacked by West Brom... fill yer boots, Dunc.
Mark Ryan
47
Posted 02/02/2022 at 14:20:37
Chris @ 45, you are correct.
Duncan is neither the assistant manager nor first team coach. Joe Edwards asst and Paul Clement is the First team coach.
Hoping that Ashley Cole comes to us. Our defence needs sorting. He is the sort of person who could be the difference between Keane being a leader and him being what he is now, a shrinking violet.
People might not like Cole as a person but he was the best left-back by a country mile in England and is, if you believe what people are saying about him, a top defensive coach. Lampard is not giving jobs to the boys here, he's no mug.
Minik Hansen
48
Posted 02/02/2022 at 14:22:57
Heitinga and Van de Beek. Yes, I read that, but my reference to him was when he pushed Cole with his shoulder in the penalty shoot out-against Chelsea in the cup, and then Cole blasted it over the bar!
Ian Nulty
49
Posted 02/02/2022 at 14:29:42
D Johnstone #38,
What do you base this very harsh opinion on? Not a personal friend then... I suggest you do some research on Mr Cole before you make these accusations.
He appears to have worked very hard to get his Uefa coaching badges, culminating in working with Lee Carsley, who heads up the Young England squad, as well as devoting time with the Chelsea Under-16 group. A fine defender at both Arsenal and Chelsea and speaks very well as a TV pundit.
With his all-round knowledge of defensive play at a top level, is it any wonder that Frank has approached him to join up? Like a lot of others, I hope this happens.
Don't be so judgmental, DJ.
Kieran Kinsella
50
Posted 02/02/2022 at 14:40:17
Moshiri pledged patience 2 days ago... now he's sacked the women's team manager after 10 games in the job. LMAO!
Frank Crewe
51
Posted 02/02/2022 at 14:42:41
I would be interested in seeing if Lampard is going to keep Unsworth as manager of the U23s. Unsworth has been in the job quite some time now. It could be time for a new face.
Tony Abrahams
52
Posted 02/02/2022 at 14:45:26
Good story that Nicholas, mate!
Reading that post from Mark @25, then I really hope Ashley Cole, comes to Everton. I've seen many great full-backs over the years, but I'd honestly put this fella in the top three full-backs, that I've ever seen.
An incredible footballer, I remember Chelsea going two goals down, and also down to ten men, against one of the greatest ever Barcelona sides, in the Nou Camp. Cole had to go and play centre-half, Barcelona never scored another goal, and Chelsea ended up getting to the final.
It's a team game I know, but I'm certain Chelsea would have been hit for six that night, only for Ashley Cole, so let him come and teach our defenders, especially because we have been weak in this area for many years now, unless we play with eleven behind the ball.
Anthony Flack
53
Posted 02/02/2022 at 14:46:28
Another serial winner, with experience, qualifications and the all-important 'edge'.
Alli, Lampard. and Cole all have the grit that seems to be lacking at the moment.
So a massive welcome from me if it's true.
Dan Morris
54
Posted 02/02/2022 at 15:06:52
Some great opinions here. What a shame we can't ship some 'fans' out on loan!
Mark Ryan
55
Posted 02/02/2022 at 15:14:31
It's also about his relationship with Frank. You need a worm in Frank's ear saying "This lad is lacking here, this one can't do this, this one needs extra tuition here, this one needs binning, this one has potential, blah blah."
I've not been confident in the past that Baines would even speak with Benitez – nor Dunc for that matter.
Frank needs info not sycophants around him. The team has to have a winning mentality, Lampard and Cole are winners. Bring him on-board
Christy Ring
56
Posted 02/02/2022 at 16:54:29
Larry #40,
I completely disagree with you on both points regarding Keane.
At Ipswich, he signed Gary Ablett as coach; if you read Gary's book, you might think differently. Gary became ill soon after signing, and sadly was diagnosed with Non-Hodgkins Lymphoma – a horrible disease.
Keane brought the whole team down on the bus to see him in hospital. He travelled once a week, a four-hour journey to see him, and Gary said he couldn't do enough for him and his family.
As for Ireland, he was totally professional, it was McCarthy's amateur antics which was a disgrace.
Conor McCourt
57
Posted 02/02/2022 at 17:16:06
Danny @36 the funny thing is he's actually been more of a success than Lampard.
Christy Ring
58
Posted 02/02/2022 at 17:50:06
Cole has been praised for his defensive coaching techniques and is well thought of for England U21s. A superb fullback and a proven winner, would definitely add fresh ideas to our coaching staff.
Dale Self
59
Posted 02/02/2022 at 17:56:10
Nicholas, that Ivan Lendl quote was top-shelf stuff!
Allan Board
60
Posted 02/02/2022 at 18:02:49
John Terry next?
I know it may not go down well, as it's looking an all-Chelsea knees-up, but just consider what winning means to all these guys- everything.
Looks like Everton are joining the 21st Century at long last in football terms. Lampard, Cole and Terry – standout British players in a galaxy of foreign stars... over 10 years at Chelsea. Throw Clement in for good measure too.
Winners only accept a winning and ruthless mentality. Most of the current squad had better take note – and quick! This is going to be captivating stuff, folks!

Colin Glassar
61
Posted 02/02/2022 at 19:55:32
I'm cool with the cockney mob taking over as long as they bring their ruthless, winning mentality with them.
I've been saying for years now, our players are too nice for this league. We need narky little shits like Cole who was always in the ear and face of refs and opposing players. Not soft spoken gents like Jags, Seamus and Bainsey who played by the rules and got overrun.
Paul Birmingham
62
Posted 02/02/2022 at 23:07:36
Hopefully there will be a mentality change starting this week for Everton, and let's hope it happens on Saturday.
Time to stand up and face the relegation challenge and become a proper football team and give their all in every game, and win this season's FA Cup.
Laurie Hartley
63
Posted 03/02/2022 at 03:51:35
In Kenny, Patterson and Mykolenko we have three young full-backs that Cole can really help to develop.

Danny O'Neill
64
Posted 03/02/2022 at 13:06:50
I see the club has announced Cole has officially joined.
Jay Wood
[BRZ]
65
Posted 03/02/2022 at 13:27:03
Confirmed on the club site as a first team coach.
Interestingly, the training staff is listed as:
Joe Edwards and Duncan Ferguson assistant managers. First-Team Coach, Paul Clement.
First Team Coach and Head of Performance Chris Jones. Goalkeeping Coach Alan Kelly.
First official confirmation I've seen of Duncan's job title under Lampard.
On paper, it looks a good mix. Let's see how it looks on the green stuff.
Hugh Jenkins
66
Posted 03/02/2022 at 13:44:12
Just confirmed on the BBC – Ashley is onboard.
Michael Lynch
67
Posted 03/02/2022 at 13:44:44
Is that a larger than usual team? How many assistant managers and coaches did Carlo and Rafa have?
Mark Ryan
68
Posted 03/02/2022 at 13:47:46
Get in, great news, Everton are on the up and up!!!
Alan J Thompson
69
Posted 03/02/2022 at 15:03:31
Michael (#43);
I can see it now, Bill hanging out the chopper door, sorry I'll retype that, standing at the open door, wind blowing his hair, the Z-Cars theme in the background and Bill saying, "I love the smell of paint drying on Goodison walls in the morning."
[With apologies to Robert Duvall.]
Filipe Torres
70
Posted 03/02/2022 at 15:17:56
Frank?? Ashley?? You gotta love the way these guys never played for Everton, and still claim they are proud to come to such a great club.
Fucking hipocrites...
Jay Harris
71
Posted 03/02/2022 at 15:41:49
At least the backroom staff is being structured in a professional way. It may take time for the players to be up to standard. I just hope we've got the patience and confidence to support them.
Brian Wilkinson
72
Posted 03/02/2022 at 16:21:00
Alan J, prefer it if it was a younger Aneka Rice in the chopper with me hanging out of her... :-)
Jay Harris
73
Posted 03/02/2022 at 17:01:50
Raymond Fox
74
Posted 03/02/2022 at 17:36:42
He'll come in handy if any trouble breaks out, Jay.
Well Lampard's got a first-rate coaching team behind him. If things go wrong on the pitch, I'm blaming the players.
Jeff Armstrong
75
Posted 03/02/2022 at 18:11:00
Imagine if a touchline ruck starts at the next derby, Cashley would be front and centre of any fisticuffs with Bingo and Co.
Duncan has had more lives than a Scottie Road moggie.
Daniel A Johnson
76
Posted 03/02/2022 at 19:01:36
Rumours are Lampard is following the NFL model as having specialist Coaches for the team such as GK:DEF:MID:ATK with overall head coaches overseeing the bigger picture?
It certainly seems like a large number.
Joe McMahon
77
Posted 03/02/2022 at 19:06:43
Shaun @20, I nearly spat out my drink! Brilliant.
Mike Gaynes
78
Posted 03/02/2022 at 19:27:54
I'll bet Ashley knows how to set up to defend a corner kick.
I wonder if he'll continue to work with the England U21s under Carsley?
Mark #25, thanks for posting that.
Brian Harrison
79
Posted 03/02/2022 at 19:47:31
With the addition of Ashley Cole, the backroom staff looks a real professional group and Frank has certainly surrounded himself with quality coaches.
What Frank and Cole will bring is an intensity of how Premier League winners train, which will be a big step up for some of our players.
But they haven't got a magic wand and, as Frank said in his press conference, this is a group of players very low on confidence, which is to be expected having won 1 in 14 games.
I know some have joked about the number of coaches now involved with the first team, well in the Derby game I counted 15 non playing staff for Liverpool.
Just talking to fellow Blues around the City, it feels like a cloud has been lifted and there is genuine excitement about going to Goodison again. I just hope we temper this excitement with the reality that over the last 3 months we have been the worst performing team in the Premier League, and even with a good manager and good coaches it will take more than 4 training sessions to turn things around.
Also, I am sure Frank will want us to play front football and that will take the players time to get used too, and to have the confidence to believe in what they are being asked to do.
Peter Thistle
80
Posted 03/02/2022 at 23:57:46
Hate the twat, arrogant bastard. GET OUT OF OUR CLUB.
John Boon
81
Posted 04/02/2022 at 01:18:07
Peter (80),
It is so refreshing that we have Everton supporters who are so eloquent in expressing their perspective on Everton management, players and future prospects.
Do you wake up each morning with an innate ability to express your true feelings with such a mastery of the written word?
Mark Ryan
83
Posted 04/02/2022 at 14:47:42
Peter @ 80 who would you like coaching our defence? Benitez, Ancelotti, Koeman, Bobby Brown Shoes, Silva... or someone regarded as the best left back in the country, top 5 in the world?
None of the above could sort us out, none of them. Set pieces, corners, general playing out from the back, has been consistently shite. Give Cole a chance and, if he proves to be brilliant, fall in love with him a bit.
Mick Davies
84
Posted 04/02/2022 at 16:45:33
Peter @ 80,
I've likened our defensive coaching to the conversation between Stallone and Caine in Escape To Victory "Where do I stand when a corner is taken, boss?"
But at last, I see signs that we have coaching staff who should be able to answer that question, and I couldn't care less if they were despicable creatures during their playing days. It's what they do for Everton now that concerns me.
---
Add Your Comments
In order to post a comment, you need to be logged in as a registered user of the site.
Or Sign up as a ToffeeWeb Member — it's free, takes just a few minutes and will allow you to post your comments on articles and Talking Points submissions across the site.