Dele: I can't wait to get going
Wednesday, 2 February, 2022
Dele Alli was at USM Finch Farm for the first time today after completing a headline-grabbing deadline-day move from Tottenham Hotspur to Everton and spoke glowingly of his new club, new manager and his excitement to for a new opportunity.
The 25-year-old joined the Blues in a deal that could ultimately be worth north of £30m if he makes 80 appearances but won't cost the club anything until next season at the earliest.
That gives Dele, whose sensational early career form has fallen away amid speculation over his personal relationships with Spurs managers since the departure from the North London club of Mauricio Pochettino and doubts over his commitment and motivation, time to bed in at Goodison Park and kickstart his season.
The former MK Dons player burst onto the national consciousness following his move to Tottenham in 2015 and within four years he had starred in the World Cup for England and come agonisingly close to winning a Champions League and Premier League winner's medal,
Article continues below video content
At stage he was being talked about in terms of a move to the likes of Real Madrid and Barcelona but his form dipped worryingly after Jose Mourinho took over at Spurs and never recovered but his first interview with evertontv was all about showing that he is ready to play and fight at Everton.
"It is a perfect match and I can't wait to get going," Dele said. "Speaking to the owners and manager and some of the players… we are heading in the same direction. We want to look forward, and that is how I am as a person.
"I don't ever think anything is enough. You want to achieve as much as you can, score as many goals and get as many wins as you can. To keep building and heading in the right direction. It's what the Club wants and what I want, too.
"Frank is an amazing manager and an amazing person. He knows me very well as a player, I know him and his tactics and how he likes his teams to work.
"I can learn so much from him. He scored a lot of goals from midfield. I will speak to him about that and the way he fought on the pitch and what he did to make the most of his talent."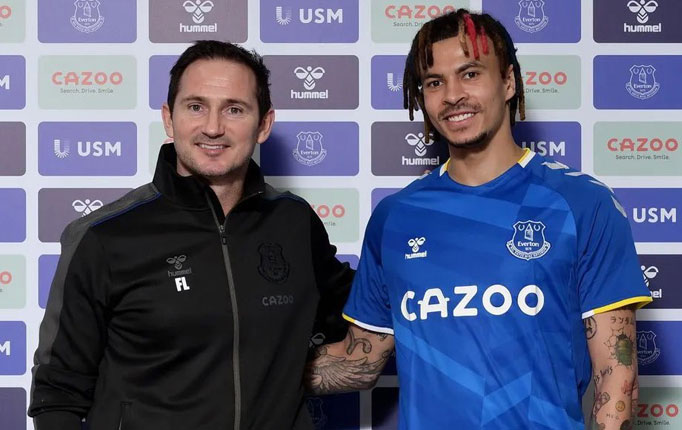 Pundits have speculated about Dele's need for a particularly nurturing environment and attentive man-management and the hope is that under new Toffees boss, Frank Lampard, someone who is a great admirer of the attacking midfielder, he can flourish.
"The owner and Chairman were the first people I spoke to," Dele continued. "I felt very comfortable and confident and wanted. As a player, the main thing is to feel wanted.
"Especially as an attacking and creative player, you want to know you can express yourself and bring excitement to the game, with and without the ball.
That's what I want to do and the kind of player I am.
"I am very ambitious and passionate, so feeling that from the owner and manager drives you on to want to do well for not only them but the whole club.
"I know how much it means to the fans, here, and the team and I want to help as much as I can. I want to play and fight for the team and the Club and I am ready to do that.
"The whole thing about being a player is learning and improving and being the best you possibly can.
"Having all this… amazing teammates, a great manager and very passionate fans, it is a great platform to express yourself and do well.
"I am very passionate when I am playing. It brings the best out of me when I play with aggression and on the front foot.
"Playing against Everton and at Goodison Park, I have seen that's how the fans are — very passionate. They are incredible."
Along with the other signing from Monday, Donny van de Beek, Dele is cup-tied for this weekend's FA Cup clash with Brentford but could make his debut in the vital match at Newcastle next Tuesday evening.
UPDATE It was confirmed on Thursday that Dele Alli would wear the Number 36 shirt, after wearing 20 at Spurs and 14 at MK Dons. The last Everton player to wear No 36 was Beni Baningime.
---
Reader Comments (113)
Note: the following content is not moderated or vetted by the site owners at the time of submission. Comments are the responsibility of the poster. Disclaimer
Shaun Laycock
1
Posted 02/02/2022 at 15:09:09
This could be a fantastic signing. He brings a lot of what we don't have – goals from midfield. He also allows others to flourish as it takes a bit of the heat from them.
Welcome, lad – I am excited.
Rob Baker
2
Posted 02/02/2022 at 15:22:21
If he can rediscover a fraction of that 2017-18 form, I'll be chuffed.
Barry Shearer
3
Posted 02/02/2022 at 15:23:20
Impressive. I am starting to feel optimistic about our manager and our transfers. Everyone is saying all the right things.
Ray Mia
4
Posted 02/02/2022 at 15:34:39
Quite some deal. £10m after 20 games, as he's cup tied that means 18 games this season if he's played and he stays fit... So no money signing for a 25-year-old that – 2 years ago – would walk into any team in Europe?
Bring to that, we have a host of rotting wood leaving the squad through natural contract expiration... And you see that this is a very (very) good deal financially.
If he stays fit, and played in the right position, and given the freedom and the fans stick up for him... He could be quite the player...
So both Dele and Donny are cup-tied for Brentford... 1st home game for Frank... I'm making the trip, can't wait to cheer the new manager on. COYBs.
Jay Wood
[BRZ]
5
Posted 02/02/2022 at 15:41:03
A good interview.
Eloquent. Confident, but humble. Determined. Looks and sounds genuinely pleased to be with us.
Minik Hansen
6
Posted 02/02/2022 at 15:45:07
It feels right, doesn't it. Frank telling Dele Alli we did it. Must feel comfortable this lad, that's the start of making ways forward. COYB.
Nick White
7
Posted 02/02/2022 at 15:58:57
I'm very excited by Dele joining us.
No guarantees of course, we've had our fair share of players joining us to revive their careers only for them to get worse. But at 25 and working with our new manager who he seems to rate, anything is possible if he works hard.
Hope Donny van de Beek and him are paraded on the pitch before the Brentford game. Been ages since I've looked forward to going to the game so much!
I expect a great atmosphere at Goodson and hope we get a result to give us some confidence going in to two 6-pointers! Roll on Saturday!
Mark Ryan
8
Posted 02/02/2022 at 16:00:52
First proper player we've had in this position for years. I cannot wait to see him perform. I hope doesn't fall foul of the Finch Farm curse. He just might be the tonic that the likes of Tom Davies need. This can only help the defence too.
Shit being a defender if you know that every time you win the ball back that essentially fuck all is going to be done with it. The mindset can change everything. Exciting times
Brian Williams
9
Posted 02/02/2022 at 16:14:24
I don't believe, at the age of 25, unless through injury, that a player loses their skillset and ability.
What they can (and some do) lose is their desire and/or confidence to show off those skills. They can lose the love of playing the game for various reasons.
I think that's what's happened with Alli because he's not some washed-up player who has been reaching the end of his footballing life.
I also think that if Lampard can reignite that desire in him, instil him with confidence and get him enjoying his football again then we will have ourselves an exceptional player.
"If" being the all-important factor here, but – unless there's some underlying problem that can't be sorted – I expect him to come good again.
Christy Ring
10
Posted 02/02/2022 at 16:23:14
A great signing in my opinion, a skilful attacking midfielder who will score goals, something we totally lack. Hopefully he'll be back to his best playing under a manager who appreciates him.
When Pochettino left Spurs, Mourinho changed the playing style which completely nullified Alli's game.
Mike Gaynes
11
Posted 02/02/2022 at 16:31:23
Just four years ago, at 21, he was one of the best young players in the world, starring in worldwide Pepsi commercials with Leo Messi.
https://www.youtube.com/watch?v=_65PJwCmMoM
Where it went wrong is anybody's guess, but there is absolutely no doubt about this being a good gamble with spectacular potential upside.
As we saw all too briefly with James Rodriguez last season, a player with this kind of ability can transform this talent-starved club. If Lampard can find the formula to keep Dele's head in the game and his confidence up, this could be one of our best signings in many years.
Ray #4, great post. Enjoy your travels and I hope you see wins.
Update: Ah, crap. I hate posting a comment only to find that Brian Williams just said it better. Now my confidence is damaged and I am no longer enjoying my posting.
Dale Self
12
Posted 02/02/2022 at 16:39:53
I'll take it from there Mike, always willing to set the bar lower with one of my posts.
Alli is a case study in the modern footballer mystery. We've seen so many come up with staggering upside only for it to slip away due to the demands and excesses of that life.
If he comes here and says the right things and gets on with it, as I've said earlier, Everton could be a positive place for some of these lads to rediscover themselves and their form.
When he said he just wants to be happy playing football… I believe him.
Jack Convery
13
Posted 02/02/2022 at 16:40:39
Too much activity off the field and not enough on it, has been the issue with Alli. However, he now has the chance to grab his football career by the balls (pardon the pun) and resurrect his career. If he does everyone wins. Get it done son and become a Blue Legend and make Levy weep.
Brian Williams
14
Posted 02/02/2022 at 16:51:46
Mike Gaynes. Get ter fuck – Lampard'll sort you out. 😝
Olalekan Taofik
15
Posted 02/02/2022 at 16:52:06
You will never hear a player or manager speak ill about his new club while granting his first interview. All what Dele had said is expected. His attitude, discipline, work rate and implementation of coaches instructions while on field will speak volumes.
I expect him to transform his statements into positive contributions towards the success of the club and his teammates. Kudos to him and I wish him well.

David Pearl
16
Posted 02/02/2022 at 16:56:57
Dom, Dicky, Dem and Dele... if all are in form and Frank finds a way for them to click. Well, it's all good going forward. So let's play on the front foot for a change.
Of course he has to change the colour of his hair. My dreds are blue and yellow.
Jay Harris
17
Posted 02/02/2022 at 17:02:08
The lad is obviously very happy with the move. He is grinning like a cheshire cat all through the interview.
A lot to be positive about all round.
Let's see what the players can do with the shackles off and a bit of encouragement.
Barry Rathbone
18
Posted 02/02/2022 at 17:05:11
Reckon we've got a new spin doctor judging by the amount of times "the fans" have been buttered up. First Moshiri, then Frank, now the signings – someone has done their homework but remember "Flattery is like chewing gum. Enjoy it but don't swallow it."
Martin Mason
19
Posted 02/02/2022 at 17:05:17
The club are raising hopes so high with what seem to be perfect moves yet we must be patient too. We have a weak and unbalanced squad. Why am I so ridiculously excited about what's happening?
Robin Cannon
20
Posted 02/02/2022 at 17:10:05
He's a nasty, niggly, little shit, who gets under everyone's skin.
Which is something we've lacked on the pitch since Tim Cahill was playing.
Martin Mason
21
Posted 02/02/2022 at 17:11:19
Olalekan, be positive, the future is Blue. Where are you from in Nigeria? I worked there for a while in Lekki/Lagos and the swamp in Escravos. I enjoyed it.
Ed Prytherch
22
Posted 02/02/2022 at 17:22:59
Jay, thanks for the link, It looks like Dele is ready to make a new start with us.
At the end of the interview it moved to an extended interview between Frank Lampard and Gary Neville and that was fascinating. I ended up in the Lampard camp when it was apparent that Wayne was not coming but I would have been in it from the day Benitez was fired if I had seen that interview.
One thing Frank said about going to Chelsea is that when a new manager comes in he can usually sign a couple of players that signal the way he wants to play and he was unable to do that because of the transfer ban. We can probably read a lot into his choice of Dele and Donny.
Dermot O'Brien
23
Posted 02/02/2022 at 17:22:59
Jay #17 - Spot on about encouragement. Sometimes that's all it takes to get some lads back to their best.
Hopefully Frank has loads of it to go around. I think he does.

Darryl Ritchie
24
Posted 02/02/2022 at 17:37:15
He looks good in Blue... but then again, don't we all?!!
Brian Williams
25
Posted 02/02/2022 at 17:40:17
Spot on about encouragement. Sometimes that's all it takes to get some lads back to their best.
Dermot, I will highlight that to Colin Glassar and ask him to utilise it towards his favourite player: Alex Iwobi.
Bill Gienapp
26
Posted 02/02/2022 at 17:50:45
Feeling optimistic about this. He seems hungry and focused, and I think if any manager can get a tune out of him, it'll be Lampard. If he can regain his form from Spurs a few years ago, that would be sensational, but let's be honest - just a fraction of that would hugely benefit this team.
BTW, did anyone watch the All or Nothing season on Tottenham? I always thought this scene between Mourinho and Dele stood out (starts at 1:38).
https://www.youtube.com/watch?v=xUytJCTRXvI
Sean Roe
27
Posted 02/02/2022 at 17:58:46
Why is it Lampard's responsibility to get Dele Alli's head right?
We appear to live in a society where everything is always somebody else's fault or somebody else's responsibility. I would suggest that the reason we are where we are is partly to do with the players taking no responsibility for their own actions.
We all know how good Dele Alli can be, it's down to him to take the personal responsibility and apply himself. If he wants to be a professional footballer, and a very good one at that, make some effort. If not, piss off and work in a ''normal'' job where you are literally nothing more than a number and, if you don't motivate yourself to fulfill your job description, you get the sack.
Rant over!
Paul Fearns
28
Posted 02/02/2022 at 18:05:15
It's up to him to show his ability, which he has bundles of. Let's see how hungry he is when needed. And to the serial booing ming who sits near the TV gantry... please stay away. This team needs our support. UTFT
Brian Williams
29
Posted 02/02/2022 at 18:11:48
"Why is it Lampard's responsibility to get Dele Alli's head right?"
Not sure anybody's saying it's Lampard's responsibility, more that it's his "challenge".
Fully agree with you over personal responsibility but sometimes a nudge, or a kick up the hoop, is required as well.
Dale Rose
30
Posted 02/02/2022 at 18:13:43
I think it's been a great week for the club. Very glad this lad is on board, just what we need.
Jamie Crowley
31
Posted 02/02/2022 at 18:17:08
Sean @27 -
Great post. Players need to also take responsibility and be motivated.
It's a team game and needs a team effort. But your point is salient and well taken.
Stop pointing fingers and actually do something about it yourself, to the best of your ability.
What's that old saying? When the going gets tough, the tough get going.
Well said man.
Mike Gaynes
32
Posted 02/02/2022 at 18:29:18
Jamie, it's a shared thing. Every athlete needs to be self-motivated:
"The measure of who we are is what we do with what we have." - Vince Lombardi
BUT... he also needs proper guidance and motivation from his gaffer:
"Coaches who can outline plays on a black board are a dime a dozen. The ones who win get inside their player and motivate." - Vince Lombardi
Mike Gaynes
33
Posted 02/02/2022 at 18:40:37
Bill #26, that's powerful stuff. Everything Mou says to Dele rings true.
Especially the part about looking back with regret if you don't make the best of yourself while you have the chance.
Dennis Stevens
34
Posted 02/02/2022 at 18:43:59
According to the Beeb piece on Alli joining Lampard's Everton:
"Alli could make his debut against Brentford in the FA Cup on Saturday, when Lampard takes charge of the team for the first time since replacing Rafael Benitez, who was sacked last month."
Should have fact checked that one!
Olalekan Taofik
35
Posted 02/02/2022 at 18:48:21
Martin @21,
I am quite positive about our team. I equally work edat Lekki Phase 1 as a College teacher for 10 years.
I stay at Mainland area of Lagos (Surulere).
What do you think about my beautiful Lagos? Ha, ha, ha!

Jay Evans
36
Posted 02/02/2022 at 18:50:02
Good luck, lad. I think we're going to need it.
Tony Abrahams
37
Posted 02/02/2022 at 18:53:24
This still makes it Frank Lampard's responsibility though, if he wants to become a successful football manager!
I posted before I read what you wrote, Mike!
Steavey Buckley
38
Posted 02/02/2022 at 19:03:28
Everton still needed a centre-half. Everton are still vulnerable without another centre-half when Mina usually gets injured.
Ed Prytherch
39
Posted 02/02/2022 at 19:12:35
Mike, The Vince Lombardi quote is right on the money. Anyone who coaches athletes can learn much from him.
There is a very good book "Beyond Winning" which should be essential reading for any young or new coach. It covers the beliefs and methods of Vince Lombardi • James "Doc" Counsilman • Woody Hayes • Brutus Hamilton • John Wooden •and Percy Cerutty
Geoff Lambert
40
Posted 02/02/2022 at 19:37:35
At the age of 20 he had the most goal involvements in Premier League history for a player of his age. He had 40 goals or assists; Lampard had 17 and Stevi G had 12 at the same age.
Just hope he can regain that sort of form for us. If he does, we are in for a treat. COYB
Jamie Crowley
41
Posted 02/02/2022 at 19:44:40
It definitely takes a village!
Dele has to own up to his part, take personal responsibility for his actions, and play to his capabilities.
Frank need to motivate, cajole, sympathize, befriend, set up tactics, etc. He's gone and got the player, he needs to make sure the move is successful. And he has to do this with every player under his charge.
As I said, it's a team game. Everyone plays their part. But the underlying situation is they all have a personal responsibility to the collective that is Everton Football Club.
I'm getting very, very excited for life under Frank.
Neil Tyrrell
42
Posted 02/02/2022 at 20:04:45
I watched the Tottenham TV series too and remember Mourinho pegging Dele as lazy in training straight off, but then Jose always starts a feud with someone doesn't he? Hopefully this will be another Demari Gray scenario and we've got a player with something to prove.
Apologies for the archaic baseball reference but this reminds me of when the Jays signed Ricky Henderson circa 92-93, I'd always enjoyed hating the guy and now I've gotta cheer for him? The Jays did win a World Series with Ricky hitting leadoff though, and it was a good lesson in learning to love thy previous enemy. So good luck in blue Dele, show us what you've got.
Cahill mentioned above as someone who always pissed-off the oppo, I'll throw Fellaini's name out there too.
Colin Glassar
43
Posted 02/02/2022 at 20:12:33
Ali could have the same impact Duncan Mckenzie had on us when he came from Anderlecht. Duncan was a forgotten man but electrified us with his skill and rejuvenated his career.
If Dele can do the same, I hope he's not ignored by England like Duncan was.
Peter Neilson
44
Posted 02/02/2022 at 20:16:42
Geoff he also, unsurprisingly, well beat Gerrard and Lampard to 50 goals, as well as beating the likes of Hazard and Scholes. Averaged just under 60 games per season in 3 seasons aged 19-21 (including internationals), which might have contributed to his multiple injuries 2018-19 and he's not really been the same since.
Maybe too much too soon, not so much attitude as playing time. Let's hope this move revitalises him. He was a cracking player and is young enough, with the right coach, to hopefully recover his form.
Jerome Shields
45
Posted 02/02/2022 at 20:48:46
A good signing. Good luck to him on his Everton career.
Danny O'Neill
46
Posted 02/02/2022 at 21:00:36
Change the colour of that hair dye. Blue is your colour now.
Andy Riley
47
Posted 02/02/2022 at 21:02:53
Could be a Peter Reid / Andy Gray type of signing? Good player who lost their way for whatever reason and came to us in the last chance saloon for a knockdown price. Here's hoping!
Mike Gaynes
48
Posted 02/02/2022 at 21:09:22
Ed #39, very interesting. I've never even heard of Cerutty or Hamilton.
I would hope no young coach would absorb any lessons from Woody Hayes, a belligerent bully who had none of the philosophical bent of Lombardi or Wooden.
Laurie Hartley
49
Posted 02/02/2022 at 21:25:17
I am looking forward to seeing Allan win the ball and give it to players who can do something with it.
I have done a black flip on Van de Beek – these two are going to give our front three some proper service now.
Tony Abrahams
50
Posted 02/02/2022 at 21:39:14
Just watching the old firm game, Laurie, listening to the Celtic fans sing "our song". Although it's only Wednesday night, I can't believe I'm already looking forward to going to Goodison on Saturday afternoon!
Gaute Lie
51
Posted 02/02/2022 at 21:41:54
Welcome!
A super player some seasons ago. If he comes back to that, we should be very happy.
I guess Mourhinio interfered too much with him, making his confidence and attitude deteriorate. Litle like Digne and Benitez.
So New manager, New club. I believe he can be a big success!!
Rob Halligan
52
Posted 02/02/2022 at 21:44:17
Tony, and they also sing that turgid song much better than the RS.
Colin Glassar
53
Posted 02/02/2022 at 21:54:09
I was told by someone ITK that, when Iwobi turned up at Finch Farm today, Frank and his boys started to whistle The End by The Doors...
The end is nigh, Alex.
Chris Hockenhull
54
Posted 02/02/2022 at 21:59:14
Ah... now that's more like it. Barry (18).
As I scrolled down this little respite of a slaver of optimism.. hope.. maybe.. a chunk of sunbeams amongst the depressive darkness of the last few months….
I just knew, confidently knew, that eventually.. some soothsayer of grimness would eventually come forth out of the negativity and piss on the chips of that nice little feeling of slight optimism … and drag us back down the tubes again.
Well done. Just when I felt slightly warmer about being a blue. Balloon Popper Extrordinare!!! (Yes, probably spelt that wrong but you get my drift!)
Mike Gaynes
55
Posted 02/02/2022 at 22:11:03
I knew you'd be checking in, Colin!
Your sources are incorrect. The song was was actually Na Na Hey Hey Kiss Him Goodbye.
Ray Smith
56
Posted 02/02/2022 at 22:16:46
Colin 53
Are you being serious?
Schoolboy sarcasm!
Come on, that's way beneath any self respecting (new) manager!!!!
Mick Davies
57
Posted 02/02/2022 at 22:18:05
Dele Alli should become a real asset for us, but if anyone watched the Edinburgh derby, then I think they'll agree, we have an 'oven Donny van de Beekready' replacement if Calvert-Lewin ups sticks in the summer:
Ellis Simms belied his youth and put in a MotM performance that should have earned him a hat-trick, if it wasn't for the Hibs goalie. Strength, athleticism and a determination to run on goal that we've been lacking in recent times.
The future's looking a lot brighter than it did a week ago. "All the young blues..."
Colin Glassar
58
Posted 02/02/2022 at 22:28:41
At least it's a great song, Ray.
I'm running out of candles, prayers, incarnations etc… Mike.
David Midgley
59
Posted 02/02/2022 at 22:32:01
Everybody should be accountable for their own actions but many of us aren't. We are human and fallible.
Nobody on this site knows why Dele lost his form or seemingly his interest in the game and probably he doesn't either.
Have you ever fallen out of love? It doesn't happen overnight, it's a gradual thing and often nothing specific. Who knows he might have just fallen out of love with Tottenham.
Lost in a forest, hundreds of trees every way you look you just need to be guided to a clearing and shown a new path.
He's hopefully found a new love in Everton.
Pete Gunby
60
Posted 02/02/2022 at 22:34:22
Aaaaargh yes. This is what Hope feels like. Naysayers and the doomsday crowd – give it a rest for a few days please.
Laurie Hartley
61
Posted 02/02/2022 at 22:56:03
David # 59 - I am calling you out for plagiarism on that post😉
"In the middle of the journey of our life I found myself within a dark woods where the straight way was lost."
― Dante Alighieri, Inferno
Tony # 50 - yes you will see our midfield full of players which I know will make you especially but also the rest of us very happy.

Mike Keating
62
Posted 02/02/2022 at 23:06:07
Colin @ 44
I hope you're right – Duncan McKenzie was a star with skills no one else could match and I hope Dele established himself in the same way.
I can't be arsed with the usual guff about the club, the fans and the chairman. So predictable and essentially worthless – what else is he going to say?
I'd have more respect if Dele had simply said: "Up The Fucking Toffees!"
David Midgley
63
Posted 02/02/2022 at 23:26:05
Laurie, #59.
Goodison will be like 'Dante's Inferno'.
Bill Gienapp
64
Posted 02/02/2022 at 00:01:28
Danny (46),
I saw several jokes on Twitter about that. Lose the red dread, please – shades of Koeman's Christmas tree!
Paul Kernot
65
Posted 03/02/2022 at 01:24:43
Time will tell no doubt. Ultimately a slightly different price tag but if he can re discover what we've seen of him previously, à la Demarai Gray, I'm sure we'll all be chuffed as Everton mint balls.

Michael Williams
66
Posted 03/02/2022 at 01:28:42
Can we stop blaming Mourinho for Dele's loss of motivation, form or whatever you want to call it? It started under Ponchettino – and I do not like Mourinho.
Ponchettino quoted in 1 November Daily Mirror:
"I think it's normal for him to have a drop in form after two very successful seasons, or one-and-a-half. It was a strange pre-season for him, a difficult pre-season for him, for different reasons. And then he was banned and then, of course, it can affect the motivation about preparing himself to compete."
There's a lot more articles starting to appear in the football press around that time about his motivation that turns out to be the beginning of Dele Alli's slide.
Dale Self
67
Posted 03/02/2022 at 01:59:05
Good point, Michael. I think it was Carlo's fault.
Paul Kernot
68
Posted 03/02/2022 at 02:07:35
If it's anybody's fault, Dale, it's either Kenwright's or Moshiri's.
Mark Andersson
69
Posted 03/02/2022 at 05:34:57
Bobby Mallon
70
Posted 03/02/2022 at 05:43:00
Someone mentioned Fellaini… I really like that fella. Big strong could hold the ball up better than anyone I've seen. I wish we had someone like him now.
Danny O'Neill
71
Posted 03/02/2022 at 06:22:48
I know this is about Alli, so on that, I get it's partly down to the individual to motivate themselves. But it's also partly down to how they're managed and who by.
We all experience that in all walks of life. Maybe Mourinho was doing the right thing in pointing out things he needed to improve on, but I do think his approach destroyed the lad's confidence.
The managerial approach can impact, and Mourinho's has always been about his own ego. He generally picks targets who he falls out with because no-one knows better than him. That's not a criticism, it's just his style. We've just experienced similar.
Some players need handling differently. Some respond to a kick up the arse, others need an arm around their shoulder. That's management and one approach doesn't fit all. In my experience, good managers can manage the team, but also respond and focus on individuals at the same time to get the best out of them.
Not that I was a fan of Harry Redknapp, but the coach who took me through my FA Level 2 coaching course worked for him at Portsmouth and told us that, while he wasn't the greatest coach (rarely took a session, apparently), he was a great man-manager and brilliant at keeping players happy and confident. Usually with big pay cheques (!!) but, on a serious note, his charisma and ability to look after players and get the best out of them was his thing.
On Fellaini, although different players, I draw comparisons with Duncan Ferguson. The so-called experts never gave him enough credit for how good he was with the ball at his feet and focussed on his height and being a "big man". Typically lazy punditry.
He (Fellaini) was excellent at carrying the ball forward at his feet and, for a tall player, had a great centre of gravity to turn quickly and had a great touch.
Mike Gaynes
72
Posted 03/02/2022 at 06:31:01
I loved Fellaini. Hope he's having a wonderful time in China, where 5'-11" is considered a big center-back.
Dave Lynch
73
Posted 03/02/2022 at 06:41:24
Fellaini was a good footballer. Very rarely came out of a 50/50 without the ball and had a good eye for a pass.
Regarding Dele's hair... it's Salmon Pink – not red.
David Midgley
74
Posted 03/02/2022 at 07:43:04
Dave Lynch, Salmon Pink?
A load of cods.
Tony Abrahams
75
Posted 03/02/2022 at 08:33:39
I can't listen to that song, Rob, except on the 15th April, so I wouldn't know who sings it better, although I think Celtic, definitely sing "It's A Grand Old Team" better than Evertonians, and listening to them last night, there is no way they sing "We Shall Not Be Moved" better than Evertonians, because that is definitely our song!
I'm intrigued to watch how Lampard sets his teams out, Laurie. I used to like how quickly Chelsea moved the ball on, but he obviously had some great players, which might not be the case at Everton?
I think we have got some very good attack minded players, but I think you're correct, it's all about filling that hole between the central defenders and central midfield players. This is absolutely crucial for Everton right now.
Dave Abrahams
76
Posted 03/02/2022 at 09:33:10
Tony (75). " It's a grand old team to play for" is definitely a Celtic song although I first heard it in the late forties at Goodison and Anfield whenever St Anthony's school team played there in the schoolboy football finals.
I have a feeling that when National Service was operating Scousers would mix with Jocks and the Scousers brought that song back with them, just my opinion.
Although one night at Goodison that song failed to inspire St Anthony's in a final against their local enemies St Sylvesters (Syllies), Syllies won and to rub salt into the wound paraded the cup along St Anthony's church in Scotland Road two or three times!!
Christine Foster
77
Posted 03/02/2022 at 09:52:48
Dave @76 – made me smile, that one did... but it also made me wonder what has happened to amateur football, it's almost disappeared as this link would suggest:
The rapid decline of 11-a-side football, why exactly are we seeing it die a death in the UK?
Sadly, a whole raft of reasons but the interest has waned. Staggeringly, it says over 180,000 amateur players had left the game since 2005... gone are the days when a player might get a scout on the sidelines watching a Sunday league match... probably harder to find the match, never mind a player or a scout.
It used to be the lifeblood of a community. I remember the games men would have after getting out the pub on a Sunday afternoon in the back streets of Scottie, hard as nails on concrete and gravel...
It's a different game, Dave.
Lynn Maher
78
Posted 03/02/2022 at 09:57:37
I definitely agree – there is an unusual air of optimism on this thread, and long may it continue. I am actually looking forward to going to the game on Saturday.
Watching both interviews with Lampard and Alli certainly made for good viewing and also hope for the future of this club. Something I haven't felt for quite some time.
My 4-year-old grandson has just been over to visit from the USA. He takes soccer classes over there. (Football to you and I.) He calls me Nanna Everton and is now obsessed with Match of the Day. I only record matches we win, so not many of them.
His teachers may be surprised on his new-found skills. And wonder who this Richarlison is.
Paul Armstrong
79
Posted 03/02/2022 at 10:11:09
I love the air of optimism out there but worried that our feeble defence has not been strengthened. We are in for a rocky ride, I fear.
Dave Abrahams
80
Posted 03/02/2022 at 10:14:27
Christine (77), yes organised amateur football has shrunk dramatically over the last ten years or so, I think there was close to ten or more leagues in Sunday Football now there is three or four if that.
On the other side of that five a side football seems to be flourishing at all ages although that is I imagine is just for the sheer enjoyment of playing football.
Going back to my own childhood I remember going to Anfield in 1947 to Liverpool Boys play Stockport Boys in the final of the National Cup and over 40,000 attended the game, the St. Anthony's v St. Sylvesters final drew a crowd of over 10,000 for a local school Derby game.
I don't know if your school, Christine, All Souls ever got to a final but it was a great night out for any neighbourhood whose school made it to a final, my own school, Netherfield Road RC ( better known as The Friary) did so about three times, winning twice and it was great marching home with the team and the cup singing the parish song " Cheer up The Friary You're Noted Everywhere" not just for football I might add.
Jim Harrison
81
Posted 03/02/2022 at 10:19:29
Wow, imagine 4 years ago if someone told you Everton had signed Iwobi and Alli and one of them cost an initial 10 million no on would have thought it was Dele! He was up there as one of the most highly rated players in Europe.
If Lampard can get anything like a tune out of him we have a very tasty front line shaping up.
I watched some best of YouTube clips from Spurs TV. This lad has scored some belters.
I think post 20 sums him up for me. I hated him at Spurs in a similar way to how opposition fans disliked Cahill.
Dave Williams
82
Posted 03/02/2022 at 10:32:48
Paul #79,
It will be interesting to see how much better the defence is with a decent midfield that can retain the ball and create going forward.
Bear in mind too that we have bought two full-backs who may well turn out to be better than what we have had so far this season.
Any defence will struggle if the midfield keeps losing the ball or losing their man; if Frank can sort this out, then I would expect the defence to start to look better.
Mark Ryan
83
Posted 03/02/2022 at 10:37:52
Shame that neither Dele nor Donny can play in the Cup game, a real pity. They need to bin that rule.
Dave Lynch
84
Posted 03/02/2022 at 10:53:46
Our defence is fragile because it doesn't know how to defend. Zonal marking is rubbish and ineffective in today's game, it's too rigid in its application; also, very predictable.
Let's see how we've changed that on Saturday.
David Midgley
85
Posted 03/02/2022 at 11:19:31
Lynn #78.
You have to show him all the matches. This is a hard-knock life and you have to build his moral fibre if he's to be a Bluenose.
How will he enjoy the good times if he hasn't seen the bad? Yes, I know he's 4.
Geoff Lambert
86
Posted 03/02/2022 at 11:23:39
Dave Lynch that is spot on mate, Zonal marking has been our downfall many times.
Larry O'Hara
87
Posted 03/02/2022 at 11:24:20
David (85),
I know what you mean but, speaking for myself, I can never watch MotD if we lose. On the other hand, I do hope Frank and his team have watched in excruciating detail the full matches also available to members. That will show the enormity of what he has to alter.
Danny O'Neill
88
Posted 03/02/2022 at 11:26:28
I'll counter that Dave Lynch. Theoretically and if coached and drilled correctly, zonal marking should be more effective because the defence dictates where it wants to be, not get pulled out of shape by runners and following the man.
Both have their benefits, its all about the execution. We're just not well practiced in it in this country for zonal. It's an alien concept to us. Zonal requires discipline and players taking responsibility, but executed correctly, it is arguably more effective because the defenders focus on the ball, not the man. Ultimately, you want to win the ball.
On songs. I have long disliked Grand Old Team. As one of my red cousins taunts me, it's like listening to Steptoe and Son. I'm no longer a fan of Z Cars to be honest.
I have to admit, Goodison Guys has grown on me. It was great to hear it being belted out at Chelsea. Be unique; be Everton.
We Shall not be Moved. That was and is ours too.
Paul Armstrong
89
Posted 03/02/2022 at 11:31:39
Dave #82,
I hope you are right. Doesn't help with set-pieces though!
Danny O'Neill
90
Posted 03/02/2022 at 11:38:03
Marking has been our downfall. Zonal or man. If you don't concentrate either way, you will likely concede.
Bill Watson
91
Posted 03/02/2022 at 11:39:57
Dave #82,
I absolutely agree and have said many times that any defence would look crap playing behind a midfield two who seldom win the ball and when they do have difficulty retaining it or finding a blue shirt.
The attack suffer, too, as the build-up is so slow and predictable. How many times is a forward played through with just the goalkeeper to beat?
Zonal marking doesn't work, as has been proved time and again. Why managers persist with it baffles me. I hope Lampard isn't one of them.
His selection and set-up v Brentford will be interesting as he basically has the same players available as Benitez and Ferguson.
Lynn Maher
92
Posted 03/02/2022 at 11:59:01
David @85.
True, but at least I can console myself that at such a great distance away, hopefully he will never suffer the misery that my other grandsons go through on a weekly basis.
Let's hope it is going to get better for all Bluenoses everywhere.
Robert Tressell
93
Posted 03/02/2022 at 11:59:14
We now have a talented squad, with a lot of attacking options and goal threats.
It will be a challenge to get 5 new players bedded in and contributing, especially since they are being introduced to a First XI that seemed to change every week.
It's a challenge for Lampard and for Alli – and for both, I'm hoping the initial enthusiasm of a change of scene is enough to get us the handful of wins we need.
I suspect we'll at least see some moments of real quality from Alli – but also some moments where the blend of the team – and his role in the team, look all wrong.
But, compared with the alternative, this is a good challenge to have.

Raymond Fox
94
Posted 03/02/2022 at 12:01:14
With corners or free-kicks from near the corner flags, attackers have an advantage because they can be running in towards the goal.
Defenders are usually on the back foot or stationary not by choice; you can coach till your blue in the face but you cant offset that disadvantage – add to that the opposition trying to block your goalkeeper.
Frank Crewe
95
Posted 03/02/2022 at 12:06:20
Pity he can't play against Brentford. I'll never understand why clubs cup-tie players they may be selling at a later date.
Anthony A Hughes
96
Posted 03/02/2022 at 12:20:20
There's a whole new, upbeat, positive vibe going on with us at the moment.
If only we could have got Lampard, Alli and the other lads in the summer instead of stubborn Benitez. Who knows how the season would have gone?
It's like a dark shadow has been lifted. Onward and upward!
Mark Ryan
97
Posted 03/02/2022 at 12:31:28
It would never have happened, Anthony @ 96. Nobody would have given Frank a chance in the Summer. Even when the latest voting started, they all wanted Potter.
I say 'all', I think it was hovering around 33% with less than 10% for Frank, many wanting other foreign coaches, is it Favre, Ten Hag, I can't really remember. Even until recently many wanted Dunc to be given his "chance" or even Rooney.
Hopefully this change from the Old Blue Boys network will allow everyone to see that you don't need ex-players or fans to be good bosses.
From the top of the Premier League down, how many clubs have held onto the hopes of having an ex-player as their manager? Even Arteta, if you were to count him, is not an Arsenal man. He's a foreign coach who, if anything, is a blue.
Have the best people, people who will attract good footballers. We are finally on the up. The past is the past. We went seriously wrong many years ago. Had Moshiri landed before Moyes left, he would still be with us and we'd be in a much better place on the pitch and off it... but hey ho, onwards and upwards.
Derek Knox
98
Posted 03/02/2022 at 13:24:26
Mark @ 97, Ten Hag used to frequent The Grafton Rooms back in the day, or was it Ten Hags? :-)
Mark Ryan
99
Posted 03/02/2022 at 14:13:47
Derek @ 97, all from the Anfield area, lol.
Filipe Torres
100
Posted 03/02/2022 at 15:11:46
Oh my god!! Another Moise kean...
I don't get it, all the fanfare and trumpets are ridiculous... spurs let him go for free!! they clearly think he is a lost cause.
But only at Everton the fans would sanction such a signing, with all the "there's a player in there", "the manager would mould him and make him shit... er, gold."
Mark my words, he won't make 80 games at Everton.
Kim Vivian
101
Posted 03/02/2022 at 16:15:28
I don't know if it's just the wave of optimism carrying me along but Alli seems to look very cool in our kit. Suits him well.
Tony Abrahams
102
Posted 03/02/2022 at 18:44:10
I was watching Preston play Millwall last night and remember how the Preston manager, Ryan Lowe, was playing Sunday football on the dockers club for our team, The Sandon, before he got his break going to Chester City, to play for Kevin Ratcliffe, and ended up having a great career in the lower leagues, Christine.
Don't let anyone kid us, because the talent will always be out there imo, and another kid, Elliot Nevitt, has made a similar journey, and is scoring a lot of goals for Tranmere right now.
Si Cooper
103
Posted 03/02/2022 at 19:21:31
Obviously hopeful he will discover his best form and become a great player for us but I must admit I don't have a great deal of knowledge about the type of player he is. He's a player who has never really made an impression on my consciousness when I've watched games he must have played in.
Vague idea he can be tricky round the box, good speed from a standing start, but couldn't tell you if he's left or right footed (or both), strong in the tackle, or good in the air.
Donny van de Beek appears pencilled in as an advanced midfielder laying on crafty passes to get the attackers in on goal. Where and how will Dele Alli be used? Not trying to deflate the mood, just genuinely interested in how people are seeing the team evolve for the rest of the season (and beyond).
Danny O'Neill
104
Posted 03/02/2022 at 20:46:44
Apart from the obvious gifted geniuses, Tony, I've often believed there are fine margins in players who make it and those who don't. Very few players fall into the genius category; others have to rely on dedication, hard work, commitment, fitness and yes, luck.
There are many reasons and factors; ability is only one of them.
I'm still convinced my chance will come. But until it does, I will blindly follow the beautiful game and Everton Football Club.
Paul Birmingham
105
Posted 03/02/2022 at 22:16:22
Good vibes, and it proves how life can change dramatically in a few days, in our case as Evertonians.
I'm not gonna get carried away, there's been more false dawns to last a few life times.
But the assemble of the coaching staff and keeping Duncan, looks like there's a plan in place for our great football team Everton FC.
Let's unite and back the team all the way, and beat Brentford.
But I can't wait for the Barcodes away, that's a game I hope we and pray Everton win, and hopefully Everton will turn up.
Paul Birmingham
106
Posted 03/02/2022 at 22:18:45
Colin, yep The Doors were brilliant.
Let's see the reaction from the squad to the new management team.
Days of reckoning for the squad and some of the players in the squad, are beyond reckoning.
Paul Birmingham
107
Posted 03/02/2022 at 22:38:42
Derek Knox, spot on, superb! Those were the days.
Don Alexander
108
Posted 03/02/2022 at 22:41:51
Mike Gaynes (#55) and Colin, and anyone younger than sixty god-dammit, that tune by "Steam" in 1970 was immediately adopted by Toffees to chant "Colin Har-vey, Colin Har-vey, Hey, Hey, Hey, Colin Harvey!"
It was phenomenal to take part in, and the way he played made it a staple for every match!
https://youtu.be/jsaTElBljOE
Don Alexander
109
Posted 03/02/2022 at 22:49:44
Come to think of it, "Dele Alli, Dele Alli, Hey, Hey, Hey, Dele Alli" perfectly fits the tune too!

Don Alexander
110
Posted 03/02/2022 at 23:14:26
And when it comes to The Doors (revered as they are by me) I'm amazed that any Toffee still in bewildering praise of Kenwright hasn't yet cottoned on to "In Celebration Of The Lizard" as their theme-tune.
You see, the last line is, "I am the lizard king – I can do anything".
And don't we know it!
Dale Self
111
Posted 03/02/2022 at 23:29:48
Okay I tried to resist a comment but, since they were my second childhood band after The Who, I must do this. Wait, make that third, it was Mott the Hoople, then The Who, then The Doors.
"No eternal reward will forgive us now for wasting the dawn... out here we is stoned immaculate..."
Some fairly good words from Jim there.
Christine Foster
112
Posted 05/02/2022 at 06:13:13
Tony,
I used to watch a lot of Sunday league stuff, even coached a couple too many years ago.
Tony, I absolutely agree with you, there used to be some brilliant talent, young and old, that I am sure would have been at home in many a senior club but for one reason or another, never got the opportunity.
Today they are coached differently, no contact, limited heading (I wonder how long that will be allowed for?) no man-marking, truely has been the elimination of a contact sport. Which is a shame as it's not all about tactics and skill, it was about a physical contest as well.

Terence Connell
113
Posted 07/02/2022 at 13:27:13
Can't resist putting in my favourite line from Jim:
"There's a killer on the road,
his brain is squirming like a toad".
Not the best quality lyric perhaps but I always think of it when yet another murderous moron makes it into the news.
I thought Hoddle's comments on Dele Alli where completely unnecessary but might serve as a bit of a motivator when we play Spurs.
---
Add Your Comments
In order to post a comment, you need to be logged in as a registered user of the site.
Or Sign up as a ToffeeWeb Member — it's free, takes just a few minutes and will allow you to post your comments on articles and Talking Points submissions across the site.