Holgate: We need to prove we're good enough
Monday, 7 February, 2022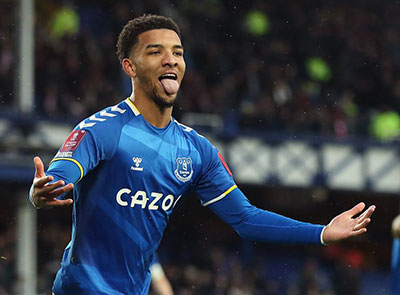 Mason Holgate says that Everton's players need to prove their quality by putting points on the board after Saturday's impressive FA Cup win over Brentford signalled a possible revival in the team's fortunes under new manager, Frank Lampard.
The Blues booked passage to the fifth round and secured a date at Goodison Park with non-league Boreham Wood but their position in the Premier League table remains parlous ahead of a vital trip to Tyneside tomorrow evening.
Everton face Newcastle at St James's Park sitting in 16th position in the Premier League table, just six points off the bottom and four points above a Magpies side that has been bolstered by five new signings during the January transfer window.
Holgate, however, says that the Blues need to grasp the opportunity for a new beginning and turn their League form around after a difficult period for both players and fans alike.
Article continues below video content
"There is no hiding from the fact the atmosphere hadn't been great," Holgate said after the 4-1 win over the Bees in which he scored the third goal. "But everyone could feel this was a fresh start.
"When Brentford scored, the fans could have been nervy, but they stayed behind us. It showed in what we did on the pitch.
"Proving it to people on the outside is not going to make the difference to our position. We need to do it ourselves. People will say what they want to say. We just have to get points on the board.
"We know the quality we have got, but it's no use just saying it. It's got to translate into points. We have to do it consistently.
"There is a huge game at Newcastle and we have to turn it around. It is about winning games. It is really hard when you are not winning and you are getting into that routine. We had to break the run and get a win."
Quotes sourced from MailSport
---
Reader Comments (23)
Note: the following content is not moderated or vetted by the site owners at the time of submission. Comments are the responsibility of the poster. Disclaimer
Mal van Schaick
1
Posted 07/02/2022 at 16:09:51
A clean slate is good for some players who haven't been performing. It's now up to them to prove that they are good enough to be at Everton.
I have a few in my mind that I would still move on, who have had their chance and they are still not good enough.
I'm sure Frank will weed the weak links out and deal with them in the summer transfer window.
Mike Hayes
2
Posted 07/02/2022 at 16:22:15
First of all he has to stop believing he's all that! Just knuckle down and do the job you are paid to do and a bit more. Had a really humble attitude when I met him a few times after U23 games; always happy to sign programmes or pose with my lads for photos. Probably being in the first team and all the hype but if you want to be an Everton first-team player just knuckle down.
Derek Knox
3
Posted 07/02/2022 at 16:22:44
I had to laugh at the "We need to prove we're good enough" as if everyone's played as poorly as he has! I do hope he does come good, but he's left it a bit late, if there is a player in there.
Alex Gray
4
Posted 07/02/2022 at 16:22:55
Couldn't have asked for a better start under Lampard but there's a lot of pressure on them now it's back to the league. It's a coming of age moment for a lot of these players and we'll need some leaders on the pitch against Newcastle. The crowd will be right up for it and the lads will need to be brave on the ball.
Tony Abrahams
5
Posted 07/02/2022 at 17:52:07
Looking at Lyndon's line-up for tomorrow night, and it looks like Holgate has already been dropped!
I thought he looked a lot better on Saturday, and he'd be in my team tomorrow night because of that performance, which was simply just all about having the right attitude, and playing with 100% concentration.
George McKane
6
Posted 07/02/2022 at 18:09:02
Derek and Tony,
You know I do not go in for slagging EFC, players especially, but it is okay to be critical. In the 10 minutes that we wobbled and Brentford scored, watch again and see Holgate lose a tackle and just turn and walk back while play was on. And check out the penalty: Toney just runs away from him and again he stands there... he is, in my opinion, very very weak – lack of concentration regularly.
Tough times ahead, tough games, tough decisions... we need tough players.
Same with Keane – one very good pass does not give him forgiveness for defensive mistakes but I believe we need Keane and Mina in the middle for up-and-coming tough games.
Tony Abrahams
7
Posted 07/02/2022 at 18:19:05
I've just been reading that Eddie Howe is not going to play their best player, Saint-Maximin, up front tomorrow, George.
I wonder if he's thinking we are going to play with a back three again, and he wants him making those little diagonal runs across our very square defenders?
Or if he's thinking down the sides in between the fullbacks and the centre-halves, if we play with a flat back four?
Barry Rathbone
8
Posted 07/02/2022 at 18:36:58
Thought the "nervy fans" comment interesting, seemingly confirming more than one or two are affected by fan angst. Hope Everton forums don't figure in their daily reading – wowzer!!
Kevin Prytherch
9
Posted 07/02/2022 at 18:46:03
I think Holgate gets undue criticism on here.
Mike 2 - you say he used to be humble, is he not now? Genuine question. If you don't know then maybe you shouldn't assume.
Derek 3 – "as if everyone's played as badly as he has" – well yes, several members of the squad have played significantly worse, including possibly all of the defence.
George 6 – I can't remember the tackle you were talking about so I can't comment on that. For the goal, he stepped up to play Toney offside but Mykolenko wasn't concentrating behind him. To his credit, he didn't just stand there, he was back towards the goal line when Toney was brought down.
Not saying he's perfect, but give him a chance when he's doing okay.
Paul Hewitt
10
Posted 07/02/2022 at 18:46:48
A lot of these players have had to many clean slates. A big clear out in the summer is needed.
Danny O'Neill
11
Posted 07/02/2022 at 19:07:43
I've said that I've been reluctant to criticise Holgate.
On Saturday, I initially thought Michael Keane had done a Michael Keane and got caught being dozy and ball-watching as the striker drifted off him. But the more I watch it back, it is Holgate and a lack of communication between the two that created the situation.
In Holgate's defence, he has been playing in an underperforming team under several managers so has been passed from pillar to post during his formative years. Not a great setting for developing a player.
Some have used the same defence with regards to Tom Davies.
The question is are they good enough for what we want? I personally don't know but despite the mitigating circumstances, I'm unsure. But both are good enough to be in the current Everton squad. But good enough to be where we want to be?
Darren Hind
12
Posted 07/02/2022 at 19:14:50
I agree, Kevin.
He played left side of a three yesterday and it was the only part of our defence which looked secure. When you are playing a back three and a players runs from left to right, you pass him over.
Mina worry's the fuck out of me. Scored a great goal, but he seems to misjudge the flight of every ball knocked or chipped over his head. Did it three times against Villa and did it twice again yesterday.
One (just after their goal) presented Tony with a chance most strikers would have buried. I think opposition coaches have sussed this and are targeting him.
Good at attacking a ball in the opposition area, but absolutely riddled with twist or stick when facing the long one in and around his own. It will cost us if he doesn't sort it.
Darren Hind
13
Posted 07/02/2022 at 19:22:00
Just had another look at Brentford's goal.
Mina is supposed to be playing centre of a three. Take a look at where he is when the ball is played in.
John Davies
14
Posted 07/02/2022 at 19:52:43
Yet another player who is happy to Talk the Talk but continually fails to Walk the Walk. I just wish they would all "zip it" and focus their efforts into producing on the pitch. Talk is cheap from these guys.
7 points from our next 3 league games and I might have more time for the rhetoric.
George McKane
15
Posted 07/02/2022 at 20:57:52
Agreed with most - - certainly not slagging anyone - - and really want to concentrate on positives for tomorrow and ongoing survival games - - but - - Holgate is for me weak - -certainly not the only one - - agreed Mina should be totally dominating at the back - - and Keane needs to work on his spacial movement - - but not putting a dim view on a great win on Saturday - - loved it - - love the Cup - -I always believed the Cup run helped Everton's Kendall - - got to keep the winning mentality going - - hope so - - mad day tomorrow hoping to get home in time. Best wishes to all.

Mark Ryan
16
Posted 07/02/2022 at 21:01:31
Holgate is in the last chance saloon. I can't stand his laziness. If he knuckles down and cares, then all the better... but he has a poor attitude.
On some days he wouldn't get into the Boreham Wood side, simple as that. They'd soon fuck him off for not trying
Mike Gaynes
17
Posted 07/02/2022 at 22:58:57
Mason Holgate says that Everton's players need to prove their quality...
Nobody has more to prove than Holgate himself. First time in two years he's played well enough that anybody wanted to interview him afterwards (although the goal was a gift from heaven).
Maybe Saturday will prove to be an overdue first step in Holgate finally starting to play up to his physical talents.
Personally I think we're more likely to see a squadron of pigs flying over Goodison in military formation. But I've been wrong before.
Don Alexander
18
Posted 07/02/2022 at 23:49:42
I know some of us repeatedly say that whoever's been manager for the past 6 years of the "Utterly-Failed-Europe-In-Three-Years-Project" has been massively, and rightly according to them, castigated in failing to "manage the players" effectively. Hmm.
Welcome Frank, hopefully enough sense has now been hammered into our owner and boardroom for you to be given, with your hopefully effective coaches, at least until summer 2023 before they start to consider who'll succeed your contract.
In the meantime it'd be good if young footballers of talent (and Holgate had talent before drowning in the whirlpool of managers thrust on us by the owner and board) can at last develop the core talents that have gone AWOL, to such an extent that we might soon regard them as footballers worthy of a Top 4 club. That'd save many tens of £millions too, as an accountant of any credibility would surely appreciate.
Let's give Frank and his staff some time eh?.... as well as the young players in our haphazard midst, through no fault of their own.
Danny O'Neill
19
Posted 08/02/2022 at 06:51:46
Great positive stuff, George. Nothing like a cup run to build winning momentum for me!!
Mina should be commanding our defence. He's the most experienced we have regardless of age.
Darren; most of our defenders do the watching the ball go over their head thing. It's why I've been screaming (literally) for a centre-back for over 2 years.
For now, they're what we've got and in different ways, they're all decent players. I obviously only reached a certain level, but I don't know how difficult it is. Especially with a 3. Two markers and one always covers the space once the ball comes in. Anticipation; read the game.
That said, I don't want to fall into the trap of "every goal can be avoided" and, as George says, I just enjoyed that on Saturday. If we have to be in a position of scrutinising one goal conceded when we've scored 4 more often, I can live with that!
Jason Pullen
20
Posted 08/02/2022 at 09:21:56
Holgate has had some good spells and is certainly not the only one to have had bad spells. So I think he's as good a chance as any of them to improve under a settled management and coaching structure. Let's hope so.
James Newcombe
21
Posted 08/02/2022 at 10:59:51
There's definitely a player in there; but he's been in and out of the side, deployed in a few different positions, and obviously has seen a few managers! At 25, he's going to have to get some consistency soon.
Jim Bennings
22
Posted 09/02/2022 at 21:41:22
You are not good enough, Mason lad, so don't worry about having to prove anything.
Kieran Kinsella
23
Posted 09/02/2022 at 22:15:29
I've more faith in David Icke...
---
Add Your Comments
In order to post a comment, you need to be logged in as a registered user of the site.
Or Sign up as a ToffeeWeb Member — it's free, takes just a few minutes and will allow you to post your comments on articles and Talking Points submissions across the site.