Mina could be out until April
Friday, 11 February, 2022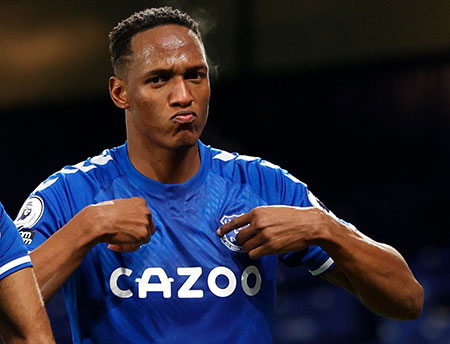 Everton have been hit with the news that Yerry Mina is expected to be sidelined for between eight to 10 weeks with the quad injury he sustained at Newcastle on Tuesday.
The Colombian had to be withdrawn 10 minutes before half-time of the 3-1 defeat with the latest of his muscle injuries having only been able to make seven league starts prior to the game at St James's Park.
His absence compounds that of Ben Godfrey to a torn hamstring a few days earlier and leaves Frank Lampard with just three fit recognised centre-halves.
---
Reader Comments (80)
Note: the following content is not moderated or vetted by the site owners at the time of submission. Comments are the responsibility of the poster. Disclaimer
Kunal Desai
1
Posted 11/02/2022 at 14:34:20
Best to see if we can try and get a deal for him in the summer to move on as I don't think we'll be seeing him play again this season.
Jim Bennings
2
Posted 11/02/2022 at 14:53:42
As much I like Yerry, he's our best defender by a country mile, he's becoming a waste of time.
We need men that are on the pitch more often than not, sadly that's not and never will be Yerry Mina.
Jeff Armstrong
3
Posted 11/02/2022 at 15:28:28
It must be his physical make up that's causing all these injuries, his height maybe, coupled with his unorthodox running style and then his strange drag em down with me wrestling action, all in all a liability and not great when he plays anyway, it's a pretty low bar to be our best central defender.
Matthew Williams
4
Posted 11/02/2022 at 15:29:58
What a fucking surprise?... please sell the man of glass to some other mugs,what happened to REAL warrior Center Half's?...Mick Lyons would bleed for us every game,but this fucking fraud is just taking the piss!.
Still,if it means more game time for young Branthwaite,then am well chuffed.
Dazz Murphy
5
Posted 11/02/2022 at 15:38:01
Waste of time and money. Always injured. Branthwaite and Godfrey at centre-back would be better moving forward. I thought we bought two new wingbacks so play them there and the two above so we have a 4 young, faster more agile defence.
Mina played 3 games in 10 days apparently but injured for us... that was enough for me if true.
Jim Bennings
6
Posted 11/02/2022 at 15:42:17
Matthew
Unfortunately it probably also means persistent game time for the other two weapons, Holgate and Keane, the disaster couple.
Can't really fathom why we never signed a central defender in January, did the people at our club really believe Mina would stay fit??
Michael Kenrick
7
Posted 11/02/2022 at 15:44:02
Come on... you expect us to believe this?
He's faking it. I read lots of highly knowledgeable posters who could see immediately and had no hesitation in repeating their claim that he was just crying off like a big soft Colombian tart. Even though the physio did seem to be taken in by it...
And now he's fooled the entire medical services department to give him 8 to 10 weeks skiving off in the treatment room at Finch Farm. What a shyster!
Kieran Kinsella
8
Posted 11/02/2022 at 15:44:46
Jim
Bigger question is why did we sign Patterson given that while he might be one for the future he isn't one for now according to Rafa, Dunc or Lampard. If we had a ton of cash to blow then great buy one for the future but if you have a limited budget then utilize the money carefully on the priorities now.
Ajay Gopal
9
Posted 11/02/2022 at 15:53:01
One more example of our poor/unlucky recruitment over the past 4-5 seasons. Millions and millions have been wasted on players who were either not good enough or not available enough to make us compete with the top teams. It is culminating in a perfect storm which can quite possibly result in relegation. I heard Lyndon mention on the TW podcast this week that Laurent Koscielny is available as a free agent. Sign him up until the end of the season as a backup.
Ohh… and pray that DCL, Richarlison, Gray and the rest of our forward line score enough goals to keep us out of trouble.
Mike Gaynes
10
Posted 11/02/2022 at 15:57:33
Gee, Jim #6, you really can't fathom it?
Maybe it had something to do with the fact that for most of the window we didn't have a manager and the club was entirely focused on clearing up that chaos. And when Lampard came aboard he had literally one freaking day to bring in players, and pulled off a freaking miracle by getting us two quality midfielders we needed a hell of a lot more than a CB at that moment.
Does that help with the fathoming process?
Geez.
James Flynn
11
Posted 11/02/2022 at 16:06:57
Well, it's enough.
Good defender, but every time he comes back off injury, it's just a matter of time (and not much) before there's a stoppage in play and the camera finds him on the ground clutching a body part.
One year, after this one, left on his contract. We're not going to keep him, so hopefully his agent finds a club and he goes while we can get a small wedge for him. And if Holgate is the defending answer until 2025, someone's asking the wrong question.
Danny O'Neill
12
Posted 11/02/2022 at 16:18:31
In terms of ability, I've been a fan of Mina.
But on Tuesday I saw a player looking like he was trying to say he wanted to stay on the pitch when it was obvious he needed to go off or wanted to go off.
His head had gone more than the body in my opinion.
Dave Williams
13
Posted 11/02/2022 at 16:27:18
Enough please!
If he's out for that long then he was hardly faking injury so he could bale on the rest of the team – his injury record is abysmal but clearly also genuine.
I agree, we can't build our defence around him – we need a young, strong fearsome guy around 6 feet - 3 inches, who will put the fear of god into opposition forwards.
Branthwaite??
Kieran Byrne
14
Posted 11/02/2022 at 16:30:44
We can't keep him fit, it's better to move him on either to another team or with Delph to the glue factory, for fuck's sake!
Matthew Williams
15
Posted 11/02/2022 at 16:38:57
As the lads on the podcast said our recruitment has been so poor with no real planning involved, two players for every position possible should be the minimum, we also need to find more left-footed players too, as we have far too many right-footed players having been played out of position for years now.
I also agree with the podcast lads about young Nkounkou, he should still be with us and we need to see our new full-backs starting games too.
Joe McMahon
16
Posted 11/02/2022 at 16:42:32
Like Darren Gibson (and many others), including James at £200k per week, having them here affects what we can spend.
Rob Birks
17
Posted 11/02/2022 at 16:42:55
Sick and tired now of this bloke.
Cannot keep fit to save his life!
Please get rid to the highest bidder. please
David Bromwell
18
Posted 11/02/2022 at 17:35:29
The problem is he is not an athlete, and has a most unusual style which clearly puts his body under strain. Let's hope that we can sell him during the summer because he clearly is unsuitable for the rigours of the premiership.
Tom Bowers
19
Posted 11/02/2022 at 17:48:19
It's always sad when good players who could really contribute get injured too often.
Everton have had their fair share of them in recent years and this season seems to be the worst.
Yes indeed we are in real trouble at the back now and unless Frank can really get the replacements motivated we will be even more vulnerable than we were.
There has to be a real Spring cleanout in the Summer (exuse the phrase) as too many players just don't play enough games. Some get hurt, are out for a while and then come back and get hurt again too quickly.
With Keane and Holgate being unreliable and prone to mistakes we may have to give Branthwaite a starting role.
What an awful season this has been an the worst may yet to come unless we get some good luck here and there.

Christopher Timmins
20
Posted 11/02/2022 at 17:53:04
If he is out for 10 weeks then I suspect we have seen the last of him in an Everton shirt. You would hardly risk him in the last 3 or 4 games of the season when he would have little or no minutes since October.
He will be better suited to playing in Italy and at this stage it would suit all parties if he moved on.
We must be the best club in the League at signing injury prone players, the list is just endless.
Father time may have caught up with Coleman as regards him being a regular starter but when you consider how he came back from an horrific leg break it does make you wonder about some of our other injured stars!
Mike Allison
21
Posted 11/02/2022 at 17:59:09
He had a poor injury record when he arrived and he's never grown out of it. I like him as a player (but not in a back 3) and he seems a good guy but I'd rather have a less talented player who is more reliable. Unfortunately I'm adding my voice to those who think it's time to sell.
Moyes used to take fitness record and character into account when signing players much more than we have been lately. We need to get back to that.
One problem we might have is that our policy in the last five years has been too pay players more than they're worth, so we may struggle to get a buyer as other clubs may not want to match his wages.
Dave Abrahams
22
Posted 11/02/2022 at 18:01:18
I think he learned a lot from his Colombian mate James,nobody knew whether he was fit or unfit including Rodriguez himself, he was the one who said he wasn't fit, felt a twitch, Ancelotti shrugged his shoulders and raised his highbrows indicating " If you say so mate" then he went to play for his country and told them he was fine to play, they told him " You're not fit enough for us mate, see you"
This fella Minus (my spelling) is the same, desperate to play for his country but not bothered about Everton as long as that pay cheque is sent each month, he was a waste of space for the half an hour was on the field the other night no loss when he went off, he won't be missed by me for one minute.
We need men at the minute who will roll their sleeves up and fight for the team not players who cry off at their leisure.
Phil Bickerstaff
23
Posted 11/02/2022 at 18:09:29
What's going on with all the crocks that play for us
Delph, Mina, doucoure, Gbamin
High earners and always injured
Sort it out Frank
Christopher Timmins
24
Posted 11/02/2022 at 18:09:59
Dave # 22
In order to turn the tide we need some leaders who will go out and turn things around. We need our senior pros to stand up be counted, unfortunately, from what I can see, apart from maybe one or two, I would not bring too many others to the Alamo!
Dave Abrahams
25
Posted 11/02/2022 at 18:25:00
Christopher (24) definitely Christopher, this present squad of players has some decent ones who will fight and graft for the team but nowhere enough to get us through the rest of the season.
How the squad has been assembled over the last few years has been a disgrace and hard to believe how it has been allowed to happen,some of the signings and the money paid for them are staggering and prove it nearly every time they play, or try to. It's hard to see the team and club we love n the position we are in.
Steavey Buckley
27
Posted 11/02/2022 at 18:48:40
Everton were warned about Mina's appalling injury record. Yet, failed to sign another centre half during the transfer window. But were able to find up to 40 million to sign Deli Ali and 29 million to buy 2 novices from much weaker leagues. The mistakes are endless by Everton managers.
Tony Abrahams
28
Posted 11/02/2022 at 19:03:49
That's a fair point Michael K, because Mina's injury has definitely fooled me. He started the other nights game atrociously, and if he would have started a training session like this in my day, then I'm pretty certain the coach would have put the balls away, and just ran the legs off everyone.
This is the second time I've felt like this about one of our defenders, in 2022, (Holgate, being the other player, for the way he started against Brighton) and it did look as though Mina, couldn't wait to get off the pitch the other night, injured or otherwise.
My son told me that in all his years watching Everton, that Newcastle's crowd on Monday, was as loud as anything he's ever heard, and I'd argue this was definitely helped, when they realized Everton, just never had enough players up for the fight.
Benitez was definitely right, when he talked about the lack of character inside our squad, imo, and this is something Lampard has to find a way to fix, rapidly.
Lev Vellene
29
Posted 11/02/2022 at 19:06:37
Well, judging by his reaction after the event, blind optimism should act as a wondrous placebo to get him back to the necessary level of fitness in no time at all! ;D
Tony Abrahams
30
Posted 11/02/2022 at 19:15:39
How this squad has been assembled is very hard to fathom, and also very soul destroying. I remember Liverpool going down the money-ball route with Damon comouli (wrong spelling) and I used to laugh at Liverpudlians, and even give them a little bit of begrudging respect.
Stats are okay for some things, but when you sign players for Everton football club, then the first thing that anyone should look at, is what type of character, the player possesses, and although it's easy with hindsight, some of us have never needed hindsight, to know this.
Phillip Warrington
31
Posted 11/02/2022 at 19:16:32
Oh good... it will be just in time for him to play for Colombia.
Pat Kelly
32
Posted 11/02/2022 at 19:26:20
Just get rid of him. And throw in Gbamin for free.
John Davies
33
Posted 11/02/2022 at 20:12:26
The guy is made of glass. Lampard has to add him to the extensive and embarrassing list of players who need to be shown the door:
Coleman (shame but the lad is shot), Kenny, Mina, Holgate, Gomes, Davies, Delph, Sigurdsson, Gbamin, Iwobi, Tosun, Rondon… but no-one else would want them.
What a bloody mess.

Stan Schofield
34
Posted 11/02/2022 at 20:13:03
Brian Hennessy
35
Posted 11/02/2022 at 20:39:16
When is Mina's contract up guys?
Frank McGregor
36
Posted 11/02/2022 at 20:50:56
Please Everton do your utmost to have Mina played his last game for the club.
Also no more signings from South and Central America.
Jeff Armstrong
37
Posted 11/02/2022 at 20:51:40
John#33, if we're being honest after the Newcastle performance, you missed Pickford, Alli, Townsend,Keane,and Allan off your list, I'm maybe being brutal there, but I would only give Pickford and Townsend another chance based on their average performances this season.
Between us that's a pretty bad indictment of our current squad ,assembled by a combination of Walsh, Martinez, Koeman,Silva ,Brands,Allardyce, Moshiri, Kenwright,Ancellotti, ,Benitez,Lampard .
What a fucking shitshow of a mess.
Probably resulting in one unmentionable and inevitable scenario!
Jeff Armstrong
38
Posted 11/02/2022 at 21:14:06
BTW, IF, we come out of this season still in the same league, I think Lampard should be given the opportunity to rebuild, I just think Alli is his first mistake, that lad peaked 4 years ago, unfortunately their is no desire,ambition,or even the need,in some of these footballers, some just coast after becoming millionaires (Delph,etc), but I live in hope some want to be well paid winners.
Tony Twist
39
Posted 11/02/2022 at 21:45:17
Unlucky Yerry, best of lucky for a faster than expected recovery, keep smiling.
Unfortunately and I have said it before but will say it again, he is the modern day Slaven Bilic. Always seems to be available for his country and rarely available for his club.
Phil Gardner
40
Posted 11/02/2022 at 21:45:27
Never seen a less convincing acting routine than Mina pretending to want to stay on the pitch the other night. Fuck off, you fraud.
He can manage to play for Colombia three games on the bounce but turns up for us at Inbred FC, stinks the fucking place out for 30 minutes, passes the ball directly to the opposition for the sixth time in 30 minutes, then feigns an injury to make up for his dreadful performance.
Fuck off and stay fucked off. I never want to see this phoney in an Everton shirt again. A shithouse… full stop.
Tony Twist
41
Posted 11/02/2022 at 21:50:32
Time for the coaches to get to work on Gbamin. We have a shortage of personnel for both centre midfield and centre of defence and he has played (though probably badly) in both positions. Maybe Jags is available?!
Andrew Merrick
42
Posted 11/02/2022 at 21:54:47
What mountain must we climb next?
Leeds United.
OK the shit has really hit the fan and Frank is now the man to make a fist of what's left
I think we can all see the depth of this challenge, and the only option left to us as supporters uscto back him and the team.
It really is backs to wall, back to basics, get back on track for a survival package.
Character, graft and a good rub of the magic lamp!
Ciarán McGlone
43
Posted 11/02/2022 at 22:05:39
Absolutely impossible to fake an msk injury. He's close to deaths door.
Jeff Armstrong
44
Posted 11/02/2022 at 22:30:04
Don't care if he's faking it or not, he's either physically injured or it's in his head, he's not available, ...again, and a waste of space,salary, squad number, everyone's thought process,.. not worth paying attention to....so let's all move on without him.
Danny Baily
45
Posted 11/02/2022 at 22:47:39
Time to turn our attention to Branthwaite, even when Mina is fit. Too injury prone and will be out the door anway if/when we end up in the championship next season.
Jeff Armstrong
46
Posted 11/02/2022 at 23:39:24
Branthwaite was worrying in that second half, not been great for the Under 23's lately either.
Si Cooper
47
Posted 12/02/2022 at 01:34:00
What's this nonsense about 'failed to sign another centre-half' as if there is a mail order service for them? Price and availability come into it as well. The same people whining would be up in arms if the replacement just turned out to be more of the same.
The injury record is unfortunate and he isn't mistake proof but I think he's proven that we tend to be better when he plays. I've seen nothing to suggest he's prepared to fake an injury so don't know why people are making that claim.
I guess something that could put a player off a whole-hearted effort would be knowing the bile and vitriol that spewed from some fans as soon as you disappointed them.
Ajay Gopal
48
Posted 12/02/2022 at 03:29:54
Jarrad will come good, he needed a game to come up to speed and then he put in some really impressive performances at the end of the 20-21 season under Ancelotti.
Anyone know the situation with Lewis Gibson? Is he back to fitness and is he still at Everton or is he on contract with Sheffield Wednesday until the end of the season? I read an Echo article dated December that he is making 'really, really' good progress and should be back to full fitness by mid-January and the 2 clubs are in discussion about sending him back on loan.
I would suggest that he be given some games with the U23s and a few minutes in the FA Cup tie if he is back to full fitness. He might be a useful backup for the rest of the season.
Kieran Kinsella
49
Posted 12/02/2022 at 04:07:00
Ajay,
The thing about Jarrad that people seemed to miss as he "gradually got into the game" was that he probably had a concussion after being punched in the head.
He's not the finished article, and centre-backs tend to peak later, but I see plenty of promise in him.
Darren Hind
50
Posted 12/02/2022 at 06:04:08
At least we won't start every game expecting to have to reshuffle the entire back line and midfield within the first 20 mins.
The stattos will tell you we defend better when he plays, but there is a clear difference between defending well and defending in numbers. This fella is far more comfortable with a bank of five in front of him, Carlo style, but he is exposed when the opposition don't play ball. He can't even defend long punts without becoming disorientated. A lighthouse without a light.
The injury seems to have masked the fact that he was having another complete Weston. His departure once again left several of his teammates to have to readjust everything they had prepared for.
Danny O'Neill
51
Posted 12/02/2022 at 07:49:09
I have been banging the we need a centre back drum when many said it wasn't a priority for a long time now. The drum is broken so I'll put it aside. I've more than said my piece on that.
On Branthwaite, please don't ruin the lad. He's 19 years old; very young for a footballer and especially for a centre-back. He won't be ready for consistency until his mid 20s and won't be at his best until he's around 28.
Many wrote off John Stones as being a fancy Dan. What I'd give for a centre-back not afraid to be comfortable on the ball and drive forward. He has subsequently won titles and trophies.
Be patient with Jarrad. He's not the quick fix but he can and should be part of the strategy and plan.
Sorry. I get passionate about this stuff. Especially as I'm in the centre-back trade union!!
Fran Mitchell
52
Posted 12/02/2022 at 08:00:07
Mina is undoubtedly our best defender. I like his personality and confidence, but his persistent injury issues are becoming an issue. We can't rely on him, and the key to defensive stability is consistency.
So is time to sell him and target 2-3 new defenders in the summer (should we still in be the Premier League).
Branthwaite was shakey on Saturday, but I think he is worth persisting with. Most young players take a while to adapt. Gordon was being written off by quite a few on here after his first run of games.
Keane and Holgate is a disaster waiting to happen. Both are mentally weak and need a strong personality next to them. Together they are possibly the weakest and most easily bullied defensive partnership I can remember.
Michael Kenrick
53
Posted 12/02/2022 at 08:34:06
Ajay @48,
It seems from this story that Gibson's loan to Sheffield Wednesday is still on through the end of the season:
Lewis Gibson shares five-word message ahead of Sheffield Wednesday's clash with Rotherham
He has apparently returned to The Owls after doing most of his recovery back with Everton, but he still appears to be some way off.
In any event, it would appear that he won't be available to play back-up or anything else for Everton and, with his 5-year contract set to expire in June, he may never do so anyway.
Graeme Beresford
54
Posted 12/02/2022 at 08:43:36
Love Yerry, as we all do; however, the going away for Internationals and playing three games in a week is the bit that gets me.
We always get him back and always within a game or two he's injured. He knows we are in trouble yet he would rather go and play for Colombia.
It's a hard one but, if we can get the same money we paid for him, I would take it. We need a big horrible centre-back who can organise and play 30 plus games a season.
Stan Schofield
55
Posted 12/02/2022 at 09:51:45
When there are international players in the team, and we've had a lot of them, there is always this tension between playing for club and playing for country. It's unavoidable with such players.
The injuries to Mina are unfortunate and frustrating, but shit happens, that's life. Anyone who's criticising Mina for these injuries needs to grow up and get a grip. Do what you suggest Mina should do, and man-up! You're supposed to be adults.
Ridiculous criticisms by some Evertonians of Everton players have unfortunately been happening for donkey's years. I recall when I was 16, and the great Alan Ball getting criticised for his drop-off in form after his efforts in the heat and altitude of the 1970 World Cup in Mexico. I remember turning to my dad in the Paddock, saying to him what the hell are they doing, and his replying that football supporters can be very fickle and right narks. How right he was.
Kevin Prytherch
56
Posted 12/02/2022 at 10:45:17
I hope he never plays for the club again and we get rid in the summer. The sight of him lying on the ground while Newcastle nearly scored, then suddenly getting up and wanting to continue playing was a piss take. He should have been up, limping or not, to prevent them for getting a chance on goal but instead he's more bothered by his own theatrics to the detriment of the team.
Get rid now while we can still get money for him
Dave Williams
57
Posted 12/02/2022 at 10:55:43
Stan- great post with a lot of common sense. If he was faking he'd hardly be written off for 8-10 weeks. We need to focus on today and stop slagging players off before the game has even started. There is just about a team of triers available
Pickford
Holgate Keane Branthwaite
Kenny Allan Donny Gordon
Richarlison Calvert-Lewin Dobbin
Kenny, Dobbin and Gordon would run themselves into the ground which is what we need against Leeds. Slow players will be caught in possession all game. They are without Bamford and Phillips so should be weaker.
Pickford needs a calm and authoritative game to give his defence some confidence.
Mick Conalty
58
Posted 12/02/2022 at 11:08:34
Stan #55,
When we were mauled 6-2 at Goodison against Spurs, Mina was laughing and joking at the end of the game with his Colombian compatriot Davington Sanchez.
That proves to me that he does not give a shit about Everton, just his big fat paycheck. He is taking us for mugs. Injuries???!!!!
Jerome Shields
59
Posted 12/02/2022 at 12:19:08
Surprise, Surprise. He just loves Medical Services at Finch Farm, they intially failed to spot the injury liablity he was and the Rest and Recovery gave a justified easy life.
I have always though he is lazy regarding training and rarely misses his international duties, often arriving back injured. Last time delaying his return to Finch Farm. Lampard got it wrong calling him a big playet, unless a transfer is in the offing.

Dave Abrahams
60
Posted 12/02/2022 at 12:40:38
Stan(55) you are entitled to your opinions and you see what you want to see and so will I, and what I saw was a player who wanted to come off, he'd had enough, did you see him walk off the field down the tunnel and up a few stairs, no limping whatsoever,apart from showing a painful face when he put his foot down on the field, it didn't hurt that much when he was walking off and up the stairs
I saw Godfrey v Brentford hobbling towards the ball after struggling to get up then struggle with every step off the field, a genuine injury suffered by a genuine player who wants to play for the club, that's the difference if the Colombian had been playing for his country everyone would have seen a different reaction.
Stan Schofield
61
Posted 12/02/2022 at 13:00:09
Dave, if you're right and he's pissing about with us, then yes, I'd agree. Any player who does that can fuck right off with their attitude. But I've never seen an Everton player do that. He's either injured or he's not, and Lampard said that he is. Unless there's a conspiracy or Mina is fooling the physios, I have to believe Lampard.
We've had this type of injury issue many times with international players, for example MaCarthy before he left.
I think the problem with Everton is, although we've spent a lot on players, we have a tendency to sign some inconsistent ones, ones who's career is on a downward path, or injury-prone ones. Mina appears in the last category, something which was openly raised on ToffeeWeb when we signed him.
If we are to truly compete at the top (assuming we stay in the PL!), we surely need to sign players who are more robust, resilient and consistent in addition to their basic skills. But those players tend to go to the top clubs.
Geoff Trenner
62
Posted 12/02/2022 at 13:17:13
Dave @57. Dobbin scored for the youngsters last night so won't play today.
Jay Wood
[BRZ]
63
Posted 12/02/2022 at 13:26:10
I get that some are frustrated with Mina. His mixed performances. His injuries. The resultant absences.
But there is some pretty bizarre stuff in this thread.
You cannot 'fake' the quad injury he picked up. The scans, the x-rays, whatever they use, would quickly expose if he was genuinely 'swinging the lead' as some believe.
The bleat about him being fit for Colombia and able to play 3 games in a week for them, but not for Everton, is also not true.
The last set of international games he played one of their two games because he was suspended for the second. The previous block of games he missed completely because...he was out injured and in rehab back at Everton.
Indeed, this season since August 2021 Mina has been in just FOUR of Colombia's ELEVEN match day squads.
Frank Lampard isn't rejoicing as some seem to be that he isn't available. In yesterday's presser he described Yerry as a big personality, an important player who will be a big miss.
Brian Hennessy
64
Posted 12/02/2022 at 13:34:24
I have had a quad injury before while playing and the bit that gets me about Mina is that, yes it's a bit painful, but it doesn't cause you to end up in a ball on the floor.
With Newcastle on the attack, he could have hobbled along on his other leg until such time as the ball went out of play. Gone are the days when a referee has to stop play unless it's a head injury so I still don't know what he was playing at. I think this is one of the reasons there is little sympathy for Mina with most fans, including myself.
Jay Wood
[BRZ]
65
Posted 12/02/2022 at 13:43:46
Brian, that depends on the grade of the injury.
Mild to moderate quad strains take 1-3 weeks to recover from.
A severe strain 4-8 weeks. That Lampard said 8-10 weeks clearly places Mina's injury in the severe grade.
If anything, it was possibly negligent that Everton's match day medical staff allowed Yerry to hobble off unaided as he did, given the subsequent prognosis.
Tony Abrahams
66
Posted 12/02/2022 at 13:56:47
I think Mina grabbing his boot and lifting his heel behind his body to stretch his quad, without looking to be in any discomfort, was why a few people thought he might have thrown the injury in.
Maybe it was adrenaline that helped him do this stretch, because he then bent down twice, to do a completely different quad stretch, which had me thinking "there is no way I could do that, if my quad had gone"
My own view is I will be surprised if Mina, is out for 8 weeks, but sometimes things that look little innocuous injuries can end up being the worst.
Maybe Lampard's short, sharp training has caught up with a couple already, but I'm just glad we have been overloaded with central defenders, although I can't wait to see the back of most of them, if I'm being honest.
Dave Abrahams
67
Posted 12/02/2022 at 13:59:48
Jay (63) Okay Jay he played three consecutive games in three days earlier this season for Colombia, has he done that this season for Everton?
Frank Lampard said he is a big personality, an important player who will be a big miss. Well, that's Frank's opinion and he is entitled to it. I imagine there is a few million Conservative voters who have the same opinion of Dickhead.
Mina will not be missed by me and quite a lot of Everton fans and of course there will be just as many or more who will be sorry he is out of the team, that will always be the case. I've seen him have good games and seen him have plenty of bad ones put the two together and I know he is inconsistent and can't be relied on but that might be enough for some fans.
I think we've got a few of those players... I'd add Mina to that list.
Jay Wood
[BRZ]
68
Posted 12/02/2022 at 14:10:56
Dave, this:
'[Mina] played three consecutive games in three days earlier this season for Colombia.'
Ehrm. No he didn't Dave. NOBODY does.
Time for far more important matters.
The game.
Si Cooper
69
Posted 12/02/2022 at 17:02:29
"When we were mauled 6-2 at Goodison against Spurs. Mina was laughing and joking at the end of the game with his Colombian compatriot Davington Sanchez. That proves to me that he does not give a shit about Everton."
Seems like a very old-fashioned view to me. I'd have thought everyone would have long ago clicked that most players are capable of living in the moment and simply won't continue to fume about the performance or result once the final whistle goes. They will, of course, be expected to get 'serious' about it when next in for training and whenever they take to the pitch competitively.
Some players hate to lose (at anything) but you most probably can't judge a player's overall attitude because he's pally with a compatriot.
What about the sports where you leather each other all game, gleefully inflicting pain and injury (within the 'expected' limits) and then all shake hands and applaud each other off the pitch? Are people crying 'hypocrisy' about that?
Bill Watson
70
Posted 12/02/2022 at 18:20:28
We need players we can rely on for 25+ appearances a season. We have too many we can't rely on and need to get rid.
Dave Abrahams
71
Posted 12/02/2022 at 21:51:09
Jay (68), Jay you are splitting hairs there, an obvious mistake, by me, three games in ten days for Colombia.
But as you say much more important matters. The Game and what a game it turned out to be. Best wishes Jay.
David Currie
72
Posted 12/02/2022 at 22:28:26
Agree with Dave A regarding Mina and I hope we sell him in the summer.
Gaute Lie
73
Posted 12/02/2022 at 00:10:03
Feel sorry for him. A good player.
But sell as fast as any interesse with a decent bud comes.
I mean, he plays more seldom than James. Cant afford, should sell and invest in a more reliable player. Or play Branthwaite, if hes good enough.
Now Mina Just makes the defense ustabil.
Gaute Lie
74
Posted 15/02/2022 at 22:31:21
If he fakes his injuries then fuck him. I don't know, but I really hope he just has a glass physique, like in the film Glass.
But if he really just cries for nothing, stays away for time get well for Colombia, if that is the case, I hope for him to go. And slip in the mud on the way.
Mike Gaynes
75
Posted 15/02/2022 at 00:03:52
Mick #55, bullshit.
That game was in 2018 and Mina didn't play.
And as to the shameful implication that he's faking his injuries... pure crapola.
Laurie Hartley
76
Posted 16/02/2022 at 00:51:50
Slightly off topic but I am glad this fella isn't playing for us.
Don Alexander
77
Posted 16/02/2022 at 01:39:47
Mike Gaynes places his own reputation wholly behind our perennially injured Yerri, and so be it, yet the evidence to anyone not so infatuated as him is that Yerri for Everton is a very real challenger to one of our other "legendary international ever-present for his country whilst hardly ever being fit for us" shysters, namely Slaven Bilic.
Such players are attracted to our cretinous Kenwright for some reason, on mega-bucks for less than fuck all, just like him.
I wonder why?
NOT!

Kieran Kinsella
78
Posted 16/02/2022 at 04:27:49
Don Alexander,
Mate, you know I love you but don't get into a pissing match with Mike Gaynes as he's another poster whose opinion I respect. Don't put me in a tough spot, mate. Mike's an astute ToffeeWeber; even if you don't agree, he usually had legitimate points
Matt Traynor
79
Posted 16/02/2022 at 06:42:48
Because technology knows everything about you, my new-ish phone tends to offer up stories related to the Blues, whenever I open up the browser.
This morning's tenuous link concerns the possibility of Mina moving to Fiamengo, driven by an agent (natch).
The offer would be a loan with an option to buy, but "the Toffees would still keep 50% of a future sale".
The Brazilian transfer window closes 12 April. The loan apparently would cost €2M.
So let's see if this Samsung M12 whatever it is, is trying to annoy me or is bang on the money.
Robert Tressell
80
Posted 16/02/2022 at 08:33:31
I like Mina. He would have been a very good signing had we got him from Palmeiras for the circa £8m Barca paid.
Since we got him very shortly after for circa £25m means he's not really been a good signing, or at least not a good value signing. Pet abuser Zouma and Keane formed our best partnership in recent years.
If he is our best CB (which he probably is) then it just shows how far we've fallen since the likes of Jagielka, Lescott and Distin. Stones too. I know you really like him Mike G but he's nothing more than the best of a bad bunch.
Whether it is to Flamengo or elsewhere he's going soon because he's only got a year left on his contract.
Branthwaite needs a good run of games to settle in - just like Gordon - and I think we'll see the emergence of a tremendous player if we give him that.
As Danny says, we do need another CB anyway - an organiser and leader as Tony @30 says.
Godfrey is not that player, and also needs a leader and organiser (and a better header of the ball) to play alongside while he matures.
I disagree with Frank @36 that we should avoid South and Central Americans, though. The Brazilian Bremer at Torino would be ideal. What we should really avoid is very expensive average players from the Premier League.
Peter Neilson
81
Posted 16/02/2022 at 08:43:54
Mina has played in 56% of our league games since joining and a total of 6726 minutes including the FA and League Cups. He's played in 57% of Colombia's internationals in that time, 24 of 42, 2078 minutes in total.
Unfortunately he is too injury-prone to build a defence around and that's still a fair chunk of his playing time in internationals but his absence from internationals is pretty similar to his club record.
---
Add Your Comments
In order to post a comment, you need to be logged in as a registered user of the site.
Or Sign up as a ToffeeWeb Member — it's free, takes just a few minutes and will allow you to post your comments on articles and Talking Points submissions across the site.