Lampard frustrated by players' mentality and inconsistency
Saturday, 19 February, 2022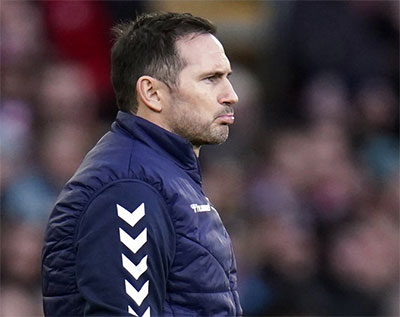 Frank Lampard expressed concern over Everton's lack of belief following their shockingly inept performance at Southampton today that condemned them to their 13th defeat of the season and kept them dangerously close to the bottom of the Premier League.
The Blues fell away badly after making a decent start to the contest at St Mary's and were eventually beaten 2-0 thanks to costly individual errors and a porous midfield that allowed Stuart Armstrong and Shane Long to plunder goals in the second half.
Just as was the case at Newcastle 11 days ago, a handsome home win was followed by a horrendous display on the road and while Lampard is disappointed by the inconsistency and weak mentality shown by his new charges, he insisted that, collectively, the team will work to get better.
"The minute games turn against us, we haven't seen a reaction," the 43-year-old admitted. "We stopped trying to play. When the game turned we reverted to type and lacked belief. We have to have a belief in what we're doing.
Article continues below video content
"[It was a] good first 15, 20 minutes and a good start to the second half but the rest of it I wasn't crazy on," Lampard admitted. "[It was] 0-0 at half-time so we're still in the game but we've seen what we can do last week and I hate inconsistency.
"There's reasons for it… and the players and myself have to put that right. It wasn't good enough today. It was a day when you've got to dig in, win second balls and be much more comfortable on the ball than we we were.
"We didn't support each other, we didn't play with quality, we made mistakes. So lots of bits for us to work go over. As much as we could enjoy a good win last week we've got to go over a not good performance."
"Work and Time"
Admitting that despite the Brazilian being a "warrior player" in an important part of the pitch, Lampard said that replacing Allan at half-time was the only option, given that the player had been walking a disciplinary tightrope since the 15th minute when he picked up a yellow card.
While his replacement, André Gomes, had an awful second half, the manager insisted that it wasn't a "one-player situation" but that the whole team just wasn't good enough on the day.
Asked how he and his staff plan to eradicate the inconsistency from Everton's game which has seen them win their home games under the new manager but twice lose badly away from home, Lampard replied:
"Work. A bit of time and work. It's not always easy to talk about time in the Premier League because I've walked into a situation where we need results but, at the same time, there is no magic wand to change things instantly.
"It means work, it means focus every day. You're only as good as [how hard] you work and prepare. Until this point I thought we'd got that right but today was a reminder of why we're in the position we're in, so there was a lot of things for me to see there today.
"It's [about] belief," Lampard continued when asked whether the reaction on behalf of the players to going behind was a concern. "The players have to feel that themselves, all of them. [When] you go behind, there's only so many subs you can make to change the game. As a group, you have to have belief.
"It's tough to turn that corner. It's very easy [when you fall behind] to sink back into ways of playing longer [balls] and the team getting stretched, things that we addressed very quickly but in moments we've seen them come back so, but by bit, we'll get that right."
The defeat means there are just five points between Everton in 16th and Norwich on the bottom of the Premier League and Lampard was under no illusions about the fact that the Toffees are in a battle for survival over the remaining 15 matches of the season.
"I think it's really clear isn't it?" he said "The position we're in in the table is clear, it's not something we have to debate. As a team and a staff we just have to work on getting results to improve our position.
"When we won last week things looked a lot better and we've lost today and it looks worse. But I don't think we have to deny our position. Our league position explains a lot and is one of the reasons I'm here. It's my job to find the reasons why this has happened.
"When we have been great we have backed ourselves, but the minute games turn against us there can be a mentality issue for the players. And I can totally understand confidence issues, but the only way to come out of that is through work and application.
"We are focused on the job in hand. We have to have a belief in what we're doing, the home games have shown that.
"Today was really eye-opening in the second half, of where we are and where we want to get to. It felt like reverting to type a little bit after we conceded, and I want to change that. So, there's lots to learn for us."
---
Reader Comments (91)
Note: the following content is not moderated or vetted by the site owners at the time of submission. Comments are the responsibility of the poster. Disclaimer
Jim Bennings
1
Posted 19/02/2022 at 20:00:46
We've been frustrated by it as fans for years, Frank, so welcome to the club!
You will soon realise that you are working with a seriously big bunch of mental flakes that collapse unbelievably easy.
Good luck!
Pat Kelly
2
Posted 19/02/2022 at 20:32:39
It's touch and go whether Lampard and his crew can change the mentality of this bunch of serial losers. Even then there's not much he can do about their lack of quality. Two more losses against City and Spurs and the situation could be irretrievable.
Jerome Shields
3
Posted 19/02/2022 at 20:35:26
I didn't see the game, but could give a fair stab at what happened. I have seen it so many times. Everton are in a pattern of one result and one loss instead of two results and a loss, which is a midtable pattern.
Players got a result last week and they and staff slacked off during preparations this week. Gomes under press is a liability, with his stupid fouling. Of course the consistent error raised its ugly head.
Welcome to Everton, Frank.
Mark Ryan
4
Posted 19/02/2022 at 20:37:42
Just keeping playing Gomes and you'll remain as frustrated as the rest of us, Frank.
Tony Abrahams
5
Posted 19/02/2022 at 20:39:26
Refreshingly honest. Too many of Everton's players lack character, which means that, once they are put under pressure, they also lose their composure, and the will to impose themselves suddenly evaporates very quickly, and this is why we are in such a precarious position right now.
John Raftery has just nailed it on Michael's match report, when he said that the 12th man is going to have to find a consistency which is way above our current squad. Lampard has also got to learn very quickly, because I thought our formation was simply too easy to play against, once again.
Dave Abrahams
6
Posted 19/02/2022 at 21:18:23
Frank goes on about our problems, doesn't just brush them away but elaborates on them.
Lots of us could have told him about the problems, and who the players are who make mistakes week after week, but we are not in a position to tell him. Frank kept Duncan on the payroll, surely he could have told him quite a lot about these players and their many weaknesses physically and mentally?
The season is gradually getting shorter and shorter to rectify these self-inflicted mistakes game after game, and a lot of these players never seem too upset over the position we are in.
Barry Hesketh
7
Posted 19/02/2022 at 22:15:33
So many times this season I have read "lacklustre Everton" blah blah blah. There is absolutely no good reason for any Everton side to be lacklustre if that meaning relates to lacking vitality rather than lacking brilliance.
How can any manager get a change of attitude from these players? No wonder Frank and Ashley didn't travel back with the team on the coach, although I'm sure that was due to them driving too and from London rather than any snub to the players.
Dave @ 6
The Duncan factor bemuses me too; if anybody has an insight into this current squad, it should be Duncan. I know that all managers need to form their own views about players, but surely Duncan would or could point out the more obvious traits that some of our players have.
Gomes can't play well away from Goodison and hasn't for an age; two in midfield away from home is almost akin to putting up the white flag before a ball is kicked in earnest; and a myriad of other traits this team and squad has that we are all aware of but seemingly it takes an age for a new manager to learn about.
That's the real problem facing Everton tonight, the lack of time for the manager to assess and act on what he sees, and of course the lack of bodies due to injuries too.

Michael Connelly
8
Posted 19/02/2022 at 22:18:27
I thought we should have switched to 3-4-3 when it was getting so open; Branthwaite for Iwobi.
Allan maybe had to stay on, despite the yellow. Him being off the pitch cost us the goal. Mykolenko for Kenny also, and leave Gordon, Richarlison and Calvert-Lewin up front.
I thought Frank missed a trick by leaving it 4-4-2. Gomes has no place on a Premier League pitch.
Minik Hansen
9
Posted 19/02/2022 at 22:50:53
Potential return from injuries:
Gray: 26 February
Doucoure: 26 February
Godfrey: 7 March
Players that can't be relied on being injury-free:
Delph: 3 March
Mina: 9 April
Davies: unavailable
Next few games:
H Man City 26 February
H Boreham Wood 3 March
A Spurs 7 March
H Wolves 13 March
H Newcastle 17 March
A Watford 19 March
I think we are very fortunate to have Boreham Wood in the cup specifically on 3 March because, all respect to Boreham Wood, we don't have to field all our best players, and the injuries in mind, a few of our players will be given time to get back to the team to face important upcoming games.
Jack Convery
10
Posted 19/02/2022 at 22:54:16
Allan substituted so we didn't end up with 10 men. Well, putting Gomes on felt like we only had 10 men. Having no-one else to put on instead of Allan says it all.
Gomes must have played his last game for Everton in the Premier League today. If Gbamin is really worse, why is he still here? Everton need players who are going to give a minimum of 7 out of 10 for the rest of the season, not just when they fancy it.
The days of performing to 4, 5, or 6 out of 10 are over. If it isn't over, then our place in the Premier League will be. Do we have 14 or 15 players who can consistently score 7 out of 10? That's the question.
Pick the players you trust, Frank, plus 2 or 3 of the kids, and stick with them. Sod the rest off. We know who they are and I'm guessing so do you, now.
Jerome Shields
11
Posted 19/02/2022 at 23:09:37
Just watched Aaron Lennon score a goal for Burnley. Just confirms at Everton they have not got a clue regarding effort and work rate. It goes that far back.
Sam Hoare
12
Posted 19/02/2022 at 23:17:03
I think Lampard is right. It comes down to belief more than anything. There's no reason players of this quality should be making simple mistakes over and over again. The confidence has been totally drained from this bunch and they really struggle once behind.
But something that has slowly, painfully disintegrated over 6 years is unlikely to be built back up over 6 weeks. We are in trouble.
John Raftery
13
Posted 19/02/2022 at 00:02:17
Tony (5),
Yes, we were far too open today. As soon as we lost possession, it seemed like Southampton's runners could drive straight at our back four.
For me, we must be more compact away from home and use one or two of our runners, Gray, Gordon or Richarlison to lead counter-attacks. Eke out a few draws and take it from there.
I think I am right in saying we have only picked up 2 points from away matches since September, against Man Utd and Chelsea, games from which we might normally expect nothing.
Last season, Ancelotti found a way to deliver 11 away wins, mainly by keeping things tight and catching the opposition off-guard.
Mark Andersson
14
Posted 19/02/2022 at 00:02:45
Yet again, I awake to not only a bad result but, more worryingly, a bad performance.
I really like Frank Lampard... he is honest and is articulate when interviwed..
If he somehow survives staying up, he needs to clear out the vast majority of these inept weak players.
Good luck, Frankie!
Jerome Shields
15
Posted 19/02/2022 at 00:07:35
Sam, when you are a player in the Premier League, there are no excuses. No other team in the Premier League has as bad an attitude as most of the Everton players.
On MotD, they looked as if they had not put the work and effort on the training ground during the week. Gomes looked his usual and consistent self when he is tackled and not given time. He is a yard off Premier League pace. Most of the Everton players where chasing shadows in the second half.
I actually doubt if most of them will beat themselves up too much about their performances or worry about their confidence.
Ian Riley
16
Posted 20/02/2022 at 01:11:47
Frank has that look of someone getting off a roller-coaster! Shock, disbelief that he ever went on it!
Welcome to our world, Frank!!
Kieran Kinsella
17
Posted 20/02/2022 at 01:25:47
The 12th man must cheer them on until we are safe; then, if there's another home game left, absolutely let them have it. Boo and jeer for 90 minutes so none of them dare to return next season.
Steavey Buckley
18
Posted 20/02/2022 at 01:32:46
Jim Harrison
19
Posted 20/02/2022 at 02:09:14
First half was okay. An away performance against a team in form, it was solid enough but lacking cutting edge.
Allan was walking a tightrope and needed to come off. The problem is, who replaced him? Gbamin? It's shocking that he even makes the bench this season.
So Gomes is the only realistic option, and it's not unreasonable for a manager to expect an international, former Barcelona player to be able to find a team mate or make a tackle without giving away a free-kick. He's had one good game since Lampard came in, and yesterday he was atrocious.
The second half we had no midfield. There were lots of off-performances. Gordon didn't get on the ball much, Coleman looked tired...
But for me, the second worst performance was Calvert-Lewin. It's a shocking inditement of the state of Everton's transfer policy that the forward Everton pin their hopes on is wholly reliant on other players putting it on a plate for him.
Southampton have three decent forwards, young, hungry. Apparently Dom is a £50 million player we can't do without! He's a good player, but there needs to be an alternative to bring in when it's not working for him.
Carlo figured it out. Get Digne space to put in decent crosses, Dom is a good finisher. Pack the 6-yard box and he is pretty ineffective.
Steve Brown
20
Posted 20/02/2022 at 06:03:46
Agree with John R and Tony A, I simply don't think we can play 4-4-2 away from home.
With intensity, high press and the home crowd, we can perhaps get results at Goodison. Although I think, if we go a goal behind at home, we may see the same passivity as we saw at Newcastle and Southampton.
For away games, I don't think this squad have the resilience or confidence to play in that manner. The players were well drilled in the defensive formation we adopted for away games under Ancelotti.
I think a variation of that is what is needed away from home for the rest of the season to bag some points. Frank can adopt his more attacking approach at home.
Tony Everan
21
Posted 20/02/2022 at 08:44:24
We were lucky to be level at half-time but we were still in it and had a few chances ourselves that we should have done better with.
The game changed irreversibly when Gomes came on for Allan. Donny van de Beek is an attacking central midfielder, he needs two tough tenacious tacklers who can play a bit too, policing the midfield just behind him.
Yesterday, we had Allan playing that role, he is struggling with his play like the rest of them but is still trying his best under pressure. He is 31 now and his best days are behind him; he needs some help in the engine room.
We have to be more resilient a confident in midfield and that means a fluid 4-3-3 in attack, 4-5-1 to defend. Playing Doucouré in a partnership with Allan with Van de Beek more advanced is the key to our survival. We have to keep these three fit for the rest of the season.
Richarlison is a complete natural for this formation on the left, Gray or Gordon for the right.
We have to play to our strengths; yesterday, bringing Gomes on primarily caused the second half dismemberment of our play.
Frank Lampard is highly intelligent, he will have learned all he needs to from yesterday about our midfield and what we need to do to fix it. He will sort it out going forward.
Robert Tressell
22
Posted 20/02/2022 at 09:05:27
Agree, Tony.
Donny van de Beek can play in a two-man midfield at home at a push. But away from home, it doesn't work at all.
I said on another thread I'd stick Holgate in midfield as a temporary measure just to shore things up, with Branthwaite coming in as centre-back.
Iwobi shouldn't play away from home and Gomes shouldn't play at all.
We are missing the energy and aggression of Godfrey and Doucouré. Calvert-Lewin is obviously not yet fully fit. Mina is a miss, too.
Unfortunately we're not getting any return from our acquisition of 5 players in January.
The home games are key – as is playing a very pragmatic, defensive game away.
Mike Doyle
23
Posted 20/02/2022 at 09:13:28
Tony # 21,
I think – and hope – your analysis is correct. We need Donny van de Beek, Allan and Doucouré fit and functioning for the key remaining games (though Allan always seems to get booked so must be close to a suspension).
Ken Kneale
24
Posted 20/02/2022 at 09:21:33
Tony @21,
Yes, that is about the best we can muster with this lot – concern around suspension for Allan given his penchant for yellow cards mind.
I as ever do wonder what Ferguson adds to the coaching team and how much he is listened to. If Calvert-Lewin is an example of his forward coaching, he is drawing wages for nothing, and if Frank thinks Gomes is the answer to midfield, he is not getting any critical analysis from someone who has seen Gomes (under-)perform for his whole period at the club.
Still, as Kenwright said, it's not all bad and I look forward to the good times he mentioned. What an owner – what a Chairman!
Shane Corcoran
25
Posted 20/02/2022 at 09:40:12
If Gbamin is on the bench, then he should have been used, even if it was after Lampard realised how far Gomes was off the pace.
They ran through us at 1-0 and he's the only option to plug that gap.
Hopefully the Everton media will be banished from Finch Farm this week so we don't have to see how happy the players are.
Colin Glassar
26
Posted 20/02/2022 at 09:50:15
Reading between the lines, it's not only mentality and character, it's also the lack of basic skills.
Keane cannot play out from the back, he can't head the ball, and he can't organise his defence. Plus he's as slow as fuck.
Allan, for a Brazilian, is useless with the ball. Yes, he's a busy, industrious player but his passing and anticipation is poor beyond belief, and he's easily dispossessed.
Iwobi is not a footballer. I don't know what he is but he is not a footballer, even at Sunday league level.
Gomes is a complete fraud. He can't continue to be defended with the "career-ending injury" argument. He's a lazy, brain-dead player who was hounded out of Barcelona by the fans. He can't even pass the ball to a teammate standing right next to him!
So, when you have these four on the pitch, you are basically playing with seven men.
I won't criticise any of the other players yesterday (Calvert-Lewin is obviously not match fit) as they are trying to cover for these four numpties who are incapable, or unwilling, to do the basics we are taught in the school playground from the age of 5.
As for the lack of heart and courage, that's for another discussion.
Barry Rathbone
27
Posted 20/02/2022 at 10:13:43
Kudos for being honest about the frailties that most have watched with incredulity and growing despair for umpteen years.
I really think nothing can be done, the die is cast, and we just have to hope the gods smile on us, allowing another fluke survival, because all the training-ground work in the world won't convert gutless, over-the-hill, sicknote-infested, unfit-for-purpose, also-ran, talentless shysters.
Which is what Frank really means with "When we have been great, we have backed ourselves, but the minute games turn against, us there can be a mentality issue."
Good luck, Frank!
Colin Glassar
28
Posted 20/02/2022 at 10:21:00
Barry,
I don't think even The Amazing Kreskin could change the mentality of this shower. But perhaps he could hypnotise them into thinking they are footballers and not a bunch of overpaid frauds!
Barry Rathbone
29
Posted 20/02/2022 at 10:47:39
Col 28
The "mentality" canard is really psycho-babble for players knowing they don't have the skill set or athleticism to play in the Premier League, resulting in masse meltdowns at the first whiff of battle.
The amount of times Everton players mis-control, mis-place passes and scuff chances when under fire is legion. Good players rise to the challenge because their basic technique is sound. They're not thinking "Oh shit, here comes the ball".
We could get top dollar from "Brainfart Inc." sponsorship, if such a company existed.
Gonna be exciting, though… and how many times have we been able to say that in February?
Jerome Shields
30
Posted 20/02/2022 at 10:51:56
Tony #21,
Doucouré firing on all cylinders may be able to perform as you intend, but he can be pretty inept as well. Frank will have to adapt the Ancelotti and Big Sam tactics away from home.
As ever, I think the problem at Everton runs deeper. After the Brentford game, Frank talked about rest and recovery being part of the preparation for the next match against Newcastle. We got an unfit team as a result. Training resumed at the Premier League appropriate level for the Leeds game. Back to rest and recovery for the Southamption game. It will be a different Everton against Man City.
Everton must be the only Club in the Premier League who engaged in rest and recovery preparation. The rest have high-performance regimes. If you try to impose a high-performance regime at Everton, you will get the downing of tools.
As for Gomes and a number of other players, they would not come through a high-performance regime and be selected.
Calvert-Lewin is a mirage rather than a top attacker.
Brian Harrison
31
Posted 20/02/2022 at 10:51:56
Yet another Jekyll-and-Hyde performance from this group of players. Last week, it was high press, high energy with shots raining in from all angles. The first 20 minutes we were the better side, but the Allan booking seem to change everything.
From playing on the front foot, we reverted to what we have done for most of the season and became passive. I don't think there is one player who comes out of that game with any credit.
Last week, Van de Beek was MotM this week he gave the sort of performance he had been putting in with Man Utd, and probably the reason they sent him to us on loan. He hardly put in a tackle and, when Allan was taken off at half-time we needed him to stand up and be counted but, for most of the second half, he was anonymous.
He wasn't alone: Anthony Gordon had probably his worst game for weeks and I think he has to stop looking for soft penalties and concentrate on converting the chance he had early in the game.
I must say I feared the worst when I saw it was Gomes replacing Allan and I am sure most Blues would have had the same thoughts. I can understand why Lampard took Allan off as the ref seemed to punish us every time one of their players went down... yet, when any of our players went down, he waved play on.
Allan, whether you like him or not, is our only real combative midfield player; when he went off, Southampton had a free run in midfield.
Iwobi ran round but contributed very little and it was no surprise to see him being subbed; maybe Lampard is learning what all the other managers have learned: Iwobi looks good on the training ground but can't repeat those performances on the field.
As good as we were defensively against Leeds, again – when put under pressure – the number of misplaced passes from the back 4 kept putting us in trouble.
While Pickford made some very good saves, I thought he should have come for the ball Long headed in. Long isn't very tall and he should never have been allowed to win a header that close to goal.
I thought Richarlison worked hard as usual but nothing he tried came off.
But my biggest complaint has to be Calvert-Lewin: he looked completely disinterested. You can forgive a player for not being good enough or being too slow or missing chances. But what you can't forgive is a player who doesn't try and that's what we got from Calvert-Lewin yesterday. I know he is coming back from injury but that doesn't mean he can't compete.
Yes, coming back from injury could mean he can't play 90 minutes or his first touch was lacking – all perfectly understandable. But to not try and give your best when your club really needs you is unforgivable.
I just wonder if his agent is telling him of interest from other clubs and the money on offer and he is making sure he doesn't get injured, which could put any proposed transfer on hold.
Finally, you can have the best managers and coaches but I don't know how you replicate mindset on the training ground if the game turns against you. Seems this group with 40,000 Evertonians roaring them on gives them the belief in what Lampard and his coaches are encouraging them to do, but put them in an away environment and that belief disappears.
I believe in Lampard and his coaches and I believe he will find a way to keep us up but, with the fragility of these players, it isn't going to be easy. The one thing you can rely on is 40,000 Evertonians at home games giving their all to keep this side in the Premier League.

Dave Williams
32
Posted 20/02/2022 at 11:18:29
Don't you just get fed up of waking up after a defeat and reading the same crap! Weak mentally, lack of effort, no physical presence, can't pass the ball five yards to a teammate, etc.
Frank must be aware now of why we are in danger and who he can't trust. We all hoped Iwobi had at last turned the corner, but clearly he hasn't. We all hoped Kenny might be a left-back, but he isn't. We all hoped last week's formation meant that we could play a two-man centre-midfield, but we can't.
The likes of Iwobi and Gomes are not going to be competitive and we need 11 players who will compete. We lack a natural leader but, for god's sake, can't a few of them start to sort out problems on the pitch without necessarily being a natural at it?
For me, playing Richarlison alongside Calvert-Lewin has rarely worked. Richarlison is better playing wide in a 4-5-1. Play Gray or Gordon on the other flank with Donny van de Beek, Allan and Doucouré in the centre.
Holgate was the only outfield player to do okay yesterday and must partner Keane or preferably Branthwaite. Play a left-back at left-back – Mykolenko – and, if Keane plays, then Patterson at right back.
If Branthwaite plays, then we would need more experience at right-back so either Coleman (if fit enough for so many games) or Kenny.
Dobbin should be on the bench as he would at least put pressure on defenders with his pace and work rate. Gomes, Iwobi and Gbamin should be excluded from the bench as they are not going to contribute.
We need fighters, not guys who can't cope with the pace or physicality. Godfrey must go straight back in somewhere as he is a fighter and has leadership potential.
One question: Why in football does a sacked manager have his contract paid up when the results clearly justify his dismissal? This is just part of why money is ruining the game and creating an environment where players and managers don't have to try if they are that way inclined because, once they sign a 4- or 5-year contract, their money is safeguarded, regardless of how they play, and most of them just go through the motions because it doesn't matter to their financial position how the team performs.
A mate of mine gave up watching us years ago because of this and is now an avid Tranmere fan instead. I could never do that but I can understand why he did!
Dave Abrahams
33
Posted 20/02/2022 at 12:02:22
I get the jitters whenever we try and defend, no matter who we play, because we just cannot defend; the defence is a bag of nerves.
Even against Leeds, the defence was wide open for those two shots that hit the woodwork and the space allowed for them was ridiculous.
Even against Brentford in the cup game and Everton were leading 3-1 with 85 minutes on the clock, I couldn't relax because that jittery nervous defence wouldn't let me.
The only time I relax, slightly, is when the ball is in the other team's penalty area and, even then, I'm afraid of a quick breakaway by the opposition!!
Bobby Mallon
34
Posted 20/02/2022 at 12:23:33
Tony Abrahams @5
You say our players lack character (and they do) but the one player who does have character, he bloody took off at half-time, just because he had got a yellow card.
When are managers ever going to learn? We were 0-0 at half-time... then people are amazed why we fell apart.
I'll tell you why: Gomes is rubbish.
Jerome Shields
35
Posted 20/02/2022 at 13:05:06
The only way that Frank can get the team he wants is to interchange players every other game. Having won, it is a mistake in the next game to play the same team. Those that played well in that game are not up to the extra attention they will get.
A formation with the objective of nicking a goal should be the objective away from home. By all means introduce a more positive counter-attacking strategy later in the game, but close up shop should be order of the day. Dependable player performances are essential.
That way you might get a fit team and a focused attitude. Otherwise, Frank will find he will be trying to flog a dead horse in trying to get the work and effort required at Finch Farm.
He then needs to get in players and staff and get rid of players and staff who are not up to the consistent fitness level requirements of the Premier League. A difficult task given the ingrained culture that exists at Finch Farm and how comfortable they are with it.
Mark Ryan
36
Posted 20/02/2022 at 13:05:55
I'm hearing all the right things from Frank. He's recognising the issues, he's assessing the players and realising what he's got.
Sir Alex, Howard Kendall and Pep Guardiola combined would not be able to get a top tune out of 6 of our players, week-in & week-out, because they are either not up to it or past it. We can all see who they are. Frank can now see who they are too.
He will sort this. No point us all moaning. He sees it like we do. We just need to support these players until Frank can overhaul. He and his staff will know where to axe and where to develop. UTFT
Rob Halligan
37
Posted 20/02/2022 at 13:27:02
Dave # 32.
Remember a few years back when Newcastle gave Alan Pardew an 8-year contract extension? This was in 2012, but in 2015 Pardew moved onto Palace, with Palace paying Newcastle £3.5M compo. Amazingly Newcastle continued paying Pardew right upto the end of his contract, June 2020.
Gary Jones
38
Posted 20/02/2022 at 13:45:32
Normally by this stage after a defeat, I've got out the nark, and started to think positively about solutions. However, today I'm still on a large grump and can't work out what we need to do to fix it. Indeed, I'm no longer even sure that we have the tools to fix anything. We have a bag of hammers and that's it.
I like Dave's @32 idea of going back to a 4-2-3-1, but we can't expect Allan and Doucoure to last every game, and not sure we have another midfielder capable of playing in that 2 consistently. Clearly Frank doesn't fancy Gbamin and Onyango here.
I'd love to go 4-3-3 with bombing full-backs, but again that's going to require a hard running middle 3 that covers the fullbacks and does a job at both ends. I fear we have too many "trotting" players here to do that every week too. I also think it leaves our best player this year (Gray) short of a role, and certainly leaves no space for Dele either.
3 at the back seems to be the most logical, but only if we have one of Godfrey or Mina back to provide competition and cover. Despite Frank's apparent reputation for youngsters, I can't see him giving a Welch, Astley or Anderson a go on the bench.
So, as above, I'm not sure we have the tools to play any system consistently. We're back to Koeman days of having 4-5 good players all best suited to the same 2-3 positions.
I think our only hope now is getting Doucouré, Godrey and Gray back (and them staying back) or there's 3 worse teams than us over the remainder. Unfortunately, I can't see the latter at the moment.
Eddie Dunn
39
Posted 20/02/2022 at 14:21:00
Surely the biggest problem is that we are not creating enough clear chances. Richarlison, Calvert-Lewin, Gordon etc, just don't make enough openings. Our midfielders almost never score.
Lampard has played two in midfield, just like Ferguson did against Aston Villa. Why can't they see that it didn't work for Benitez and, with this team, it will not work in the future. Three across the middle is a must.
Without goals, our slow midfield and gormless defenders cannot be expected to keep us in the game. Even though we crushed Leeds, they still managed to hit the woodwork twice from the gap between the defence and midfield. It's a yawning gap.
Bobby Thomas
40
Posted 20/02/2022 at 14:39:24
Signing Dele Alli instead of a defensive midfielder was extremely foolish and could be the difference between staying up and dropping.
Mike Gaynes
41
Posted 20/02/2022 at 15:37:01
Frank substituting Allan at halftime was the right move in my view. After his yellow, Allan committed another foul that would have been yellow-worthy if he weren't already carrying one. But it was 100% Frank's mistake to put on Gomes instead of Alli or Townsend. He will know better next time.
Dave #6, he didn't have to hear about it from Duncan. He would have watched every game on tape before taking over and would have seen the problems for himself. But only standing on the touchline can he truly experience it.
Robert #22, I don't know what the solution is in midfield, but it most definitely is not Mason Holgate. A midfielder who cannot pass to a teammate is a train wreck waiting to happen. Holgate gifts the ball under no pressure from the back. What will he do under instant pressure in the midfield? No. Just no.
Neil Copeland
42
Posted 20/02/2022 at 16:11:46
Personally, despite it being another dreadful result, I think the sooner that Frank Lampard saw how bad we can be, the better.
Watching video tapes and training sessions is not the same as seeing it played out live when the pressure is on. He at least still has time to try and get some cohesion and consistency.
As others have already stated, we need to make ourselves difficult to break down playing away from home. Back to the Carlo boring-ass type footy and go for a 0-0 with the hope of snatching a winner from somewhere. If that means packing out the midfield, then so be it. We need players that will fight for every ball and give the opposition no peace or space.
The sooner Doucouré is back, the better. Until then, I would play Allan, Van de Beek and Onyango or Gbamin across the middle.
Dave Abrahams
43
Posted 20/02/2022 at 16:22:24
Mike (41),
I think the problem is very apparent – whether you see it on tape, TV or watching it in the ground... much more so when Gomes is one of the two.
Mike Gaynes
44
Posted 20/02/2022 at 16:33:06
Dave #43,
Haha, you don't have to tell me, mate. I'm no expert but I called out the problems with Gomes when we borrowed him from Barca -- where I'd watched him play probably 20 times with no distinction whatever.
I remember after Barca signed him, the readers of the Spanish national sports daily paper voted him the worst La Liga signing of the season. And, except for a couple of games a season and a few golden moments off the bench, he has never gotten any better.
Steavey Buckley
45
Posted 20/02/2022 at 16:39:59
Frank Lampard is experiencing, in a short period of time, what Everton fans have been enduring for years: Everton's lack of consistency and mental fragility.
Tony Abrahams
46
Posted 20/02/2022 at 16:56:45
I think we have tried three centre-backs, and it hasn't worked because they still play way too deep, which just leaves a great big hole in front of our defence.
It's got to be three midfielders imo, with Richarlison or Gray or Gordon, providing the width.
I think this leaves the perfect role for Dele Alli or maybe Donny van de Beek, who didn't look up to the job physically, yesterday.
Our defence also worries the life out of me, and is probably why Benitez ended up playing with three centre-backs but, if games are usually dictated from the middle of the park, then trying to get a foothold in this area of the pitch has got to become Lampard's main objective now, I think.
Paul Birmingham
47
Posted 20/02/2022 at 17:50:30
Hope eternal all matters Everton, but the remaining games left means this squad has got to face up and step up, and starting v City.
I believe that wins can be gained with the same approach as v Leeds, for Wolves, Skunks, United, Palace, Leicester, and Brentford at home, and West Ham, Burnley and Watford away.
But the away games now are massive, but from the remaining fixtures and it could mean winning, one in every two games of those remaining this season.
Massive ask with this squad but at least Leeds lost, and perhaps they are in entering into a worst spiral of bad form than Everton.
Burnley, Watford, will fight tooth and nail to stay up, and so it's going to be one hell of a finish to this season. Turf Moor, will be a good one to win, and Watford. West Ham, away to take a point would be good all considered.
Hopefully Frank and his coaching staff will learn some facts of life about this squad yesterday, and will learn and improve.
It will be interesting to see how he sets up for City.
The Goodison crowd, Lady Luck and the Grace of God, will be needed to sustain Everton, through to the end of May, and to stay up.
42 points hopefully will be enough with a few points spare,to keep Everton up.
Raymond Fox
48
Posted 20/02/2022 at 19:37:38
I keep saying we will stay up and maybe we will but, with these players, you can't be sure of beating anyone.
We haven't one player that you could call 'exciting', one player that can get goals from anywhere. Richarlison scores the odd brilliant goal but not often enough.
I don't like Keane, he gave Southampton their first goal, he can't find a decent pass and he's a liability with crosses; Holgate is no better.
We are a bang average squad that should be just good enough though. I think that Watford and Norwich will be the bottom 2, followed by Burnley, then Brentford and Newcastle, us to finish 15th with 38 pts.
That could be all bullshit, of course, we will see.

Paul Birmingham
49
Posted 20/02/2022 at 20:08:30
With you, Raymond, and let's hope that Everton can pick up some away wins v Burnley and Watford, and scrape to survival this season.
Jack Convery
50
Posted 20/02/2022 at 20:15:55
Points these teams may get upto the end of the season, having looked at their remaining fixtures
:
Norwich 12 Newcastle 18 Watford 15 Leeds 8 Burnley 20 Brentford 7
Giving them the following totals.
Norwich 29 Ncastle 40 Watford 33 Leeds 31 Burnley 37 Brentford 31
If we allow them a 3 point swing either way ie Newcastle end up with 37 to 43 pts.
That means that EFC will need at least 35 points minimum to stay up. That means 13 points from the last 15 games. Are we good enough ? My guess is as good as yours.
Neil Copeland
51
Posted 20/02/2022 at 20:17:24
Raymond #48, that's a reasonable assessment. I think Leeds will be in the mix too, I can see Burnley staying up at their expense.
Raymond Fox
52
Posted 20/02/2022 at 20:40:26
Your right Neil I overlooked them!
There's always shock results like losing ones that look the easiest and winning or drawing the ones we thought we would have no chance.
Newcastle are playing much better they look likely to stay up now.
Andy Crooks
53
Posted 20/02/2022 at 20:59:25
Had we taken Allan off and played with ten men I believe we would have won.
Mike Gaynes
54
Posted 20/02/2022 at 21:34:01
Andy, then we should have just left him on the pitch and let him get the red!
Ray Jacques
55
Posted 20/02/2022 at 21:54:07
I fear that when we lose the next two games we may drop into the bottom three.
Any bets that the spineless halfwits that currently wear the once proud royal blue jersey will have the bollocks to battle out of it. We shall see.
How very modern Everton to open the much heralded BMD in the second tier.
Worrying times.

Jerome Shields
56
Posted 20/02/2022 at 22:18:32
Tony#46
The central defenders all like the ball in front of them and are scared of having to defend on the turn. They play deep and any role they have of supporting the midfield evaporates.
They effectively surrender the space in front of them and Gomes coming deep is a disaster. We all know the details on him. The opposition defensive line pushes up in support of their midfield, ignoring Everton's blunt attack.
By this stage it is all, cracked Gramophone record stuff.

It all just Everton players coasting through a game as easily as possible.
Dave Abrahams
57
Posted 20/02/2022 at 23:29:54
One of the very good things about this thread is the way we are all worried about Everton going down and trying to figure out ways we can do to stop it, we are fretting over the weak mentality and physical side of the players, the lack of leaders on the field, we care because we love the club, too many of the players don't have any affinity with the club, no realisation of what relegation means and what it will do to the club, they care about themselves first and last and while we will be devastated if we go down most of these players will be looking for their next club without a care in the world about us or Everton.
Kieran Kinsella
58
Posted 21/02/2022 at 01:07:13
Dave Abrahams
With regard to the weak minded selfish scum (my words not yours) and relegation. I remember in the mid 90s Palace were relegated and almost the entire team including Southgate got big money moves to EPL clubs. Which begs the question, if they were individually so good why were Palace relegated?
Trevor Cotterell
59
Posted 21/02/2022 at 09:10:27
I've said it before but I'll say it again – why do so few people on here give Andros Townsend a mention? It seems hardly anyone would put our top goal scorer this season in their team!
We may not get many years, matches or perhaps minutes out of him but he does always appear committed and whilst not free of errors (who is in this squad?) he gets far more right than wrong, and has a habit of looking dangerous and worrying people. If nothing else, the opposition know he needs closing down and can free up someone else.
We've got Demarai Gray back soon too – and we seem to be forgetting that. And those two have scored as many as the next four put together (including Calvert-Lewin and Richarlison), and more than all the rest put together. just saying.
I think we can stay up. It's going to be tight and it's going to come down to injuries and getting home points, but it can be done.
We need a huge clear-out though – too many injury-prone players and too many eating up the cash and doing little. But I'm hopeful Nkounkou could prove useful when he's back.
And to end on a name that rarely goes down well here, I'm hopeful that Tom Davies will prove to be the gem we've had all along, that Lampard and Co can bring the shine back to.
A couple of years ago he looked to me to be the one to watch and one that seemed (still seems?) to have Blue Blood running through him – the sort of person we need who, under the right tutor providing the right belief, could do really well.

Tony Abrahams
60
Posted 21/02/2022 at 09:12:32
It points to coasting and also bad coaching imo Jerome, and that's what I couldn't understand about Benitez, who came with a reputation for being able to sort out most defenses.
I know football isn't played on paper, but how hard is it to get two central defenders to push up and just attack the fucking ball, whilst another just sweeps everything in behind?
Football is like life because, if you want to succeed, then it's imperative that you have got players who understand how to play to their strengths. This is hopefully something Lampard has already learned about some of these very weak-minded players.
Iain Latchford
61
Posted 21/02/2022 at 09:32:33
It's about decision-making, and ours is very poor. Lampard alluded to it after the game.
We don't want to go long all the time, but you have to know when and when not to.
When watching my son (14) play I always tell him not to try to make passes that aren't on. Playing balls to players with a man up their arse 30 yards from goal is a recipe for disaster at any level.
If the player is free then fine, if not go long for the strikers to hold the ball up and push out.
Highly technical teams like Man City might be able to get away with playing out from the back under pressure. We most certainly can't.
Drew O'Neall
62
Posted 21/02/2022 at 09:43:30
Trevor @ 59,
Couldn't agree more. He may be unglamorous but he has excellent football nous, he works hard, he can do the dark arts, he can shoot with both feet from outside the area, he know how to manage the game, he's positive on and off the field... and he's our top scorer.
At a time when we need strong characters more than anything, he'd be my second or third name on the team sheet.
Brian Murray
63
Posted 21/02/2022 at 09:51:09
Ray @55.
If that happens, it's Goodnight Vienna. There's no way we can stand toe to toe with, let's say, Burnley.
Trick is avoiding that scenario. I was hoping the Man City game was a free hit. Hate the idea of helping them other shower to a trophy parade. Nightmare on Gwladys Street, Part 2.
Robert Tressell
64
Posted 21/02/2022 at 09:52:51
Drew & Trevor,
Townsend has generally been a breath of fresh air since joining. Hard to see why Iwobi is playing in his place. We need the hardest workers and strongest characters for the run-in – and Townsend is one of them.
Stan Schofield
65
Posted 21/02/2022 at 10:12:42
At least we're inconsistent under Lampard, rather than being consistently shite under Benitez. The away form remains shite, but so far the home form with the 12th man couldn't have been better really. It's only two home games, but it's 7 goals scored with only 1 conceded and high-energy displays.
So there are positives, against the negatives of the traditional mental collapses that are still happening away from home.
I remember under Koeman, we were 2nd in the league for home results but near the bottom for away results. It's definitely a mental thing and underlines the effect of the Goodison crowd. But the latter is a positive, whilst at least Lampard has specifically highlighted the mental frailty in the two away games.
Having said this about these two away games, it has to be noted that the officiating has been awful, leading to two bad injuries in the Newcastle game, and denial of an obvious early penalty in the Southampton game, both of which changed the course of those games. We don't help ourselves with the mental fragility issue, but it's a fact that the officiating is also an issue that often hinders us.
Dave Abrahams
66
Posted 21/02/2022 at 10:30:19
Trevor (59),
I mentioned the other week that it was heartening to see Townsend getting praise off a few Everton fans because he is a thorough professional who knows the game, looks after himself and a good solid team player.
I also wish we had a few more like him in the team; we wouldn't be in this calamitous position we are in now if we did.
Stan Schofield
67
Posted 21/02/2022 at 11:06:49
Re the bad officiating in the last two away games, I'm hopeful that Lampard instills some determination to contest bad refereeing decisions, something we've needed to address for a long time. Refs will get away with the easy option if they don't see resistance.
I'm hopeful because Lampard has always been a competitor, which carried over into his management role, evidenced by the way he spoke to Klopp in that Chelsea v Liverpool match. We need a heavy dose of that 'fuck you' attitude at Everton.
Dave Williams
68
Posted 21/02/2022 at 11:09:54
As one who mostly relies on Sky to watch our games (it's never the same on TV) who does everyone see as the mentally weak and the non-triers? Presumably Gomes, Iwobi and Keane are mentally weak but who else?
Stan Schofield
69
Posted 21/02/2022 at 11:25:20
Dave, the mental weakness is, imo, an Everton thing, a collective phenomenon that's been a problem for years. Players have been coming and going, but the mental problem has been a constant.
Barry Hesketh
70
Posted 21/02/2022 at 11:37:25
Dave @68
I suppose 'mentally weak' is a bad term and acts as an umbrella for a multitude of failings. It has a lot to do with confidence or lack of it, instead of sticking to how the team begins games.
It overreacts to setbacks and, as Lampard has pointed out, reverts to a type of hoofball, which leads to losing the ball more often and putting even more pressure on the already weak defence.
I think that the players themselves have to look in the mirror and be truthful with themselves, because even if they think they are giving of their best away from Goodison, they patently aren't. The lack of courage and bravery on the ball and the lack of movement to create space for each other is a collective failing particularly away from Goodison.
The three players you mention are easily targetted as mentally weak, but perhaps it is down to their lack of basic skills that makes them look like that.
Iwobi, even in his much-vaunted performance against Leeds, didn't create many if any chances for the team and he rarely has an end product regardless how long he's on the pitch or how welll the team is functioning.
Keane and Gomes do have abiltiy but their decision making at times beggars belief.
In the home games under Lampard, the players looked like a team; in the away games, it was back to looking as if Frank had picked up the first eleven guys he could find and thrown them on the pitch and they performed as individuals without any cohesion whatsoever.
Enough of the raw materials are there for Lampard and staff to try and get a tune out of them, but the bad habits that have been formed over the last few years will take a fair bit of time to eradicate, time which in our current position we don't have.
Brian Harrison
71
Posted 21/02/2022 at 12:13:45
I think most of our problems are that this team away from Goodison lacks the confidence and belief in themselves. As much as Frank and his coaches can work on building up confidence, it's really only results that will change that mindset. We have to go back months since our last league win at Brighton, so the slightest setback away from home and this team collectively lose confidence very quickly.
You can replicate many things on the training ground but what you can't replicate is to make players mentally strong when they go away and suffer a setback. At Goodison the crowd will give them that belief but away from home that belief has to come from within each player.
A bit like a golfer who has trouble putting, he will miss from very close and only when he starts to knock a few putts in will that mentality change.
If you could bottle the confidence these players get when playing at Goodison and give it to them all before they start an away game that would probably eradicate the problem. But you can't bottle confidence, that will only come when we stop losing when we go away.
Matthew Williams
72
Posted 21/02/2022 at 14:12:22
Without the faithful cheering us on at Goodison Park, we just look so inept on the road. We can't seem to even do the basics right; even when we do attack the opposition, we seem to look to score the perfect goal!
We still don't take potshots from range, we consistently just hoof it upfield at every opportunity, e never keep the fucking ball on the ground and just build-up play from back to front.
If there's another team that plays more back passes to their keeper, then I ain't aware of them (and I watch Welsh footy and nowadays foreign games, worldwide)... we've just become so fucking obsessed with the back pass to Pickford, who just belts it long; we lose it and the opposition just attack again...why?
This shite has been happening since Bobby Bullshit and am now fucking sick of it! Clough used to fine his players for it!... Christ our lads would be totally skint if our Frankie did the same!
We just need to dig in and battle for every ball, be nasty, competitive, get at the Ref if needs be. Our wonderful away support deserve the lads to show some fucking bottle and grind out the points we need not just at home but away. Even if the opposition is one of the so-called big boys... fuck 'em, we're Everton... give them a fucking good battle and just believe, eh, Blues.
Michael Williams
73
Posted 21/02/2022 at 14:15:30
This is an organizational failure. The first attribute you look for in a player is character. All great coaches/organizations have espoused this principle in one form or another. The player also needs to fit the locker room and style of play (which we do not have as an organizational philosophy).
Our team has been led by on-field weaklings for a long time while our owners have been happy to get a player who has a perceived above-average level of skill even if they do not have the attributes needed to instill a winning culture. Our owners have done nothing to instill a culture of winning on or off the field.
Kim Vivian
74
Posted 21/02/2022 at 15:32:51
One question - who is our club's sports psychologist?

Stan Schofield
75
Posted 21/02/2022 at 15:38:25
Kim, hopefully Frank Lampard.
Kim Vivian
76
Posted 21/02/2022 at 15:45:04
Stan - Well, I take your point but I would like to think/hope we have a qualified person with that specific brief.
Mike Gaynes
77
Posted 21/02/2022 at 15:53:26
Trevor #59 and Dave #66, heartily agree. He's been one of the most consistent players in the club, and he has certainly produced a couple of spectacular moments. He also doesn't get credit for his defensive efforts, but he's really excellent in his own end when necessary.
But Trevor, don't get your hopes up re Nkounkou. He has flopped on his loan at Standard Liege, beaten out for his starting job by an 18-year-old who had spent most of the season in the reserves. Nkounkou unquestionably has talent and pace to burn, but whether he can learn to actually play football is an open question right now.
Stephen Vincent
78
Posted 21/02/2022 at 16:05:04
Mike, we all thought that about Anthony Gordon when he was at Preston and look how he has turned out.
It's really difficult trying to judge these lads on the basis of a loan. If he has learned from his experience, then he may come back a better and more rounded player.
Allan Board
79
Posted 21/02/2022 at 18:35:32
Weak, frail mentally and inconsistent seems to be the summary of most of our squad.
I played enough footy to know a shit-out, lazy piss-taker when I see one, and Everton are overloaded with them, ladies and gents.
Didn't matter what standard you play your sport at – when you play away, your first thought should be to out physical the home team first and foremost, and set the standard for the rest of the game: run harder, tackle harder, pass quicker forwards.
Run the buggers off their feet for 10 or 15 minutes and win your opposition match up early doors. That's how you shut the home support up. All I see is serial piss-takers in blue shirts.
I like Frank, loved his commitment and drive when he played. It would appear he has this in him when he coaches, but I do fear that, if he calls out the serial piss-takers at Everton, because of the old boys network, he will be the one being moved on.
Gerrard is experiencing this at Villa right now, one wrong word and they will turn against him and turn him over.
Whatever happened to just ordinary lads who place winning above money? The irony is, if you work your nuts off every day, you will be successful and then you can name your price anyway.
Our bloody owner and chairman need to keep their grubby fingers out of it and just provide the money for Frank – or in 12 months time, this shit-show will start all over again.
Laurie Hartley
80
Posted 22/02/2022 at 07:41:13
Allan #79,
If we maintain our Premier League status, I would send our lot off to train with these lads as the start of our pre-season. They would learn a lot about a lot of things from these humble lads. They have got nothing in the way of worldly goods but they are rich in other ways:
Derek Thomas
81
Posted 22/02/2022 at 08:52:48
Laurie @ 80; there's no substitute for hard work in the pre-season...and it's a mental thing as well as a physical conditioner too - when the going gets tough, the tough get going; train hard, fight easy, etc.
You can just see our Gold Bentley lot doing that, can't you... they'd be right on to their agents.
Back in the late '70s, our training would start in the middle of July at St Edward's School, Tuesday & Thursday evenings. Then we'd add on a couple of August Saturday afternoons up and down the Ainsdale sandhills... which culminated in you and your mate alternately carrying each other piggy-back in a beep test / last-man standing style thing.
Much of the good work may have been undone in the pub right after though... but jeez it tasted good.
Next would be the St Mary's Crosby Competition; some midweek round-robin games, with the semis and finals (cup, plate and shield) over the Bank Holiday weekend... with the larger than life Westy in attendance.
Laurie Hartley
82
Posted 22/02/2022 at 11:50:13
Derek #81,
"You can just see our Gold Bentley lot doing that can't you... they'd be right on to their agents."
That's why I think it would do them good to spend some time with these lads. They would learn a lot more than how to get fit. I think it would leave a lasting impression on them.
After watching a few YouTube videos of them, it cheered me up after the weekend's disappointment.
Danny O'Neill
83
Posted 22/02/2022 at 11:51:22
For me, the collective mentality stems from the mentality and culture running throughout the club. Smiles on the training ground, great when winning. Of late, collapse like Mo Salah in the penalty box if we concede and clearly suffer from homesickness.
Reading back through the thread, we don't have the defenders to play 3 at the back. With what we have, it has to be 4-3-3 in my opinion. Who is the holding player? Probably Van de Beek for the remainder of this season.
Slightly off track but kind of linked, those who know me or know of me know I also follow Schalke. It's painful to watch a club who play in Royal Blue with a proud heritage and passionate support relegated to Bundesliga 2 last season. But they're doing okay and 2 points off top now.
The reason I mention links to the midfielder discussion. They've got a young 21-year-old who is highly rated: Florian Flick. Last weekend, he had a barnstormer. Just about everyone at the club was raving about him. Defensive midfielder who can also play in defence.
During the last fixture, he covered the most ground of any player (13 km) and at one point was clocked running at 33 kph (20 mph)! Got an assist too, but he gave credit for the run from the forward. Has an eye for a pass too. Different level, I know, but keep an eye out for him.
Back to Everton. There are enough points to be won and we can win them If we believe. I believe, but I'm not the one who needs to.
Brian Harrison
84
Posted 22/02/2022 at 13:20:42
Coming into a struggling club more than halfway through the season is never ever going to be an easy task irrespective of who takes over. I am sure had Lampard and his coaches had a pre season then they would have had time to asses every player in match conditions, but he hasnt had that luxury so has to see how they perform in games. Now seeing as Iwobi has managed to convince every manager to give him a chance then as Lampard eluded with what he has done on the training ground he has deserved his chance. But their is the problem with not having a pre season to evaluate these players in match conditions. I am sure Iwobi looks great on the training ground but sadly as we have seen to often doesnt replicate that form in matches. I am sure he isn't the only one who impresses in training but doesnt match what they do in training to what they do in matches.
Danny in his posts quite rightly says about the mentality of this group and how they crumble when faced with any adversity. I think that will be something that Lampard and his coaches will want to change that mindset and quickly. But he knows that this wont be a quick fix and will take months rather than weeks to change that mindset, but hopefully the more decent results we pick up will help change the mindset.
I think in Lampard and Cole we have 2 serial winners who had that winning mentality and played for teams with it in abundance. They will want to train and the players to play with the same intensity that they did. I remember listening to Danny Murphy who went from Crewe to Liverpool, and he said what shocked him the most was the intensity at which Liverpool trained. He said also the quality they had made you realize just how much you would need to improve to have any chance of getting into the first team.
I am sure Frank must have felt like screaming watching our away performances, but is clever enough to know that he needs to keep their confidence levels high, so tearing into them at the moment would only set back their confidence even more. But they may be in for a rude awakening come the close season when the gloves will definitely be off. Also Frank and his staff will know who has the right make up going forward and who hasnt.
Brian Harrison
85
Posted 22/02/2022 at 13:20:44
Coming into a struggling club more than halfway through the season is never ever going to be an easy task, irrespective of who takes over. I am sure, had Lampard and his coaches had a pre-season, then they would have had time to assess every player in match conditions. But they haven't had that luxury, so they have to see how they perform in games.
Now, seeing as Iwobi has managed to convince every manager to give him a chance, then – as Lampard eluded – with what he has done on the training ground, he has deserved his chance.
But there is the problem with not having a pre-season to evaluate these players in match conditions. I am sure Iwobi looks great on the training ground but sadly, as we have seen too often, he doesn't replicate that form in matches. And I am sure he isn't the only one.
Danny in his posts quite rightly says about the mentality of this group and how they crumble when faced with any adversity. I think that will be a mindset that Lampard and his coaches will want to change and quickly.
But he knows that this won't be a quick fix and will take months rather than weeks to change that mindset, but hopefully the more decent results we pick up will help change the mindset.
I think, in Lampard and Cole, we have 2 serial winners who had that winning mentality and played for teams with it in abundance. They will want to train and the players to play with the same intensity that they did.
I remember listening to Danny Murphy, who went from Crewe to Liverpool, and he said what shocked him the most was the intensity at which Liverpool trained. He said also the quality they had made you realize just how much you would need to improve to have any chance of getting into the first team.
I am sure Frank must have felt like screaming when he was watching our away performances, but he is clever enough to know that he needs to keep their confidence levels high, so tearing into them at the moment would only set back their confidence even more.
But they may be in for a rude awakening come the close season when the gloves will definitely be off. Also, Frank and his staff will know who has the right make-up going forward and who hasn't.
Christopher Timmins
86
Posted 22/02/2022 at 13:22:33
Danny
If you play Van de Beek as the holder, are you playing Allan and Doucouré ahead of him in the three or is there a place for Alli?
I was hoping that all the new boys might be starters and improvements on what we had but it looks for the time being that Patterson, Alli and Mykolenko are not automatic starters.
Danny O'Neill
87
Posted 22/02/2022 at 15:01:40
I would see Dele Alli in more of a right or left of the centre-forward in a 4-3-3, Christopher. One of a few options available. I feel we do now have options when all or most are fit and this can make the manager's job difficult. A good problem to have.
One of my (and others') complaints of recent seasons has been the lack of depth. It's still not great. Now we have to choose between Richarlison, Gray, Alli, Gordon, Townsend, Iwobi (yes, Iwobi) – there's a lot more pace there than we had.
Still light in midfield quality and I still think we need that centre-back, but I've been saying it for about 2 years at least. Clearly Bill and Moshiri have no respect for my scouting abilities or self-proclaimed footballing nous!!!
Now someone, go and find that belief to inject more consistency into them.
Roger Helm
88
Posted 22/02/2022 at 18:34:00
Frank did well in the Championship so he would be well placed to get us back up again, if we get relegated... provided the overpaid slackers (too many to list them all) can somehow be got out of the club.
Tony Twist
89
Posted 22/02/2022 at 22:29:41
"No magic wand", Jesus, what is it with these people, reeks of not having a clue as to what to do... Coach the darn players!
Strengthen by coaching the new left- and right-backs and get them playing. Play left-footed players on the left as much as you can not making do with poor performing right footers and of course play 3 in central midfield away from home! It is not rocket science, have more control of the game away from home.
Of course don't discount what has happened previously… even seek out fans' opinions; I am sure very few fans were surprised by the performance at Southampton.
We know these players, we see the fragmentation within the team; separate the bad eggs from the good eggs and instil pride and camaraderie into the good eggs team and you will be halfway there to getting a good away performance. Nurture the team, not the individuals.
Kieran Byrne
90
Posted 23/02/2022 at 01:29:59
Magic wand? Lampard doesn't need one, just use your magic eyes and see that the back line is a nightmare on Keane Street.
Drop the dozy fucker and results will get better. Play 2 of Holgate, Branthwaite, Godfrey (should be back soon), rotate Kenny with either Coleman or Patterson and play Mykolenko on the left.
It gives us a quicker back line and we should be able to support the midfield better, there wouldn't be the huge gaps between the lines.
We're like the old Rocky movie, we need greasy fast lightning speed to face Creed!!

Paul Cherrington
91
Posted 24/02/2022 at 12:23:47
The problem with trying to change a losing, weak mentality is that it can be nigh-on impossible in lots of cases. I think this is the issue with most of our players! You cannot make people show desire, train harder, show courage or have that fierce will to win. You can demand it and explain why it is so important but, if people don't have it in them or won't develop it, you can't do anything about it.
Trying to get most of the current squad to change their weak, defeatist mentality is a losing battle because it is also so ingrained into them by now. I wouldn't waste my time if I was Lampard – get some of the top young U23 talent into the first team who do have it in them already and don't have to be asked to show some balls.
---
Add Your Comments
In order to post a comment, you need to be logged in as a registered user of the site.
Or Sign up as a ToffeeWeb Member — it's free, takes just a few minutes and will allow you to post your comments on articles and Talking Points submissions across the site.