Doucouré returns to full training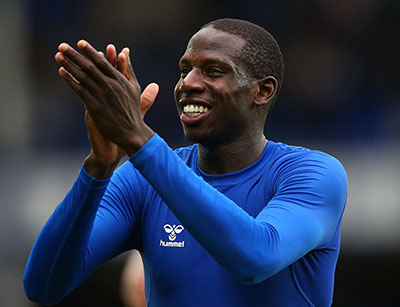 Abdoulaye Doucouré returned to full training on Wednesday, boosting hopes that he can play a key role in strengthening Everton's midfield on Saturday.
The Frenchman suffered a groin injury against Aston Villa last month, the last game Everton played before Frank Lampard took over as manager. He has thus been missing for all four games under the new manager.
The midfielder was pictured having returned to individual training sessions last week, so this appears to be a promising development that could see him selected to start against Manchester City on Saturday, if he is fit enough.
Demarai Gray is also progressing well as he recovers from a hip problem sustained in the defeat at Newcastle a fortnight ago and he, too, could be available for Saturday.
Article continues below video content
Ben Godfrey's return is a little further out but he is said to have resumed light training at Finch Farm with a view to stepping up his training next week.
---
Reader Comments (67)
Note: the following content is not moderated or vetted by the site owners at the time of submission. Comments are the responsibility of the poster. Disclaimer
Dale Self
2
Posted 23/02/2022 at 17:11:45
Groin to be a close call. I hope they don't take the chance against City. Absolutely Abdoulayeted to see him getting close to fitness.
Robert Tressell
3
Posted 23/02/2022 at 17:12:52
With much talk on this site about Rodriguez and Gbamin, nice to have a story about someone who is here and who does make a real contribution.
Doucouré might not be a star player but we're much better when he's fit and available.
I expect Donny van de Beek and Dele Alli to look like better players with Doucouré helping out Allan with the hard / defensive work.
Bobby Mallon
4
Posted 23/02/2022 at 17:23:43
Robert @3 I agree
David Currie
5
Posted 23/02/2022 at 17:30:35
Great news, bring him on for the last 15 minutes to see the game out when we will be 1-0 up.
David Bromwell
6
Posted 23/02/2022 at 17:32:15
Great news if Doucoure can play, but only if he is part of a three man midfield. Time and again when we play with two men in midfield we simply get overrun.
Fellow readers will have a field day picking the team for Saturday, just hope that Frank gets it right and Lady Luck is with us. Just think what a good result would do for the players confidence.
Christy Ring
7
Posted 23/02/2022 at 17:59:46
Robert #3
Good to see Doucouré back but, in my opinion, he's box-to-box, more of an attacking threat. I haven't seen him tackle or be a defensive player?
Colin Glassar
8
Posted 23/02/2022 at 18:26:02
Doucouré usually needs a few games to get up to speed so I wouldn't risk him against Man City, who will murder us, with or without him.
Derek Knox
9
Posted 23/02/2022 at 18:32:23
Good to have Doucouré back – just hope he can stay fit for the rest of the campaign, which is not going to be easy, but achievable.
Fran Mitchell
10
Posted 23/02/2022 at 19:20:21
Give him 20 minutes against Man City, we need him for the run-in and City, unfortunately, is more or less a write-off and not worth risking losing Doucouré.
A midfield of him, Allan and Van de Beek should allow us to play 4-3-3. While he isn't the defensive midfielder we need, he's a midfielder with an engine and covers ground and allow us to press with more aggression.
Derek Knox
11
Posted 23/02/2022 at 19:21:08
Dale @ 2, surely it will be a 'joint decision'? :-)
Dennis Stevens
12
Posted 23/02/2022 at 19:25:51
Aye, Fran #10, that midfield trio is probably the best we can field. I hope they stay fit for the rest of the season!
Joe McMahon
13
Posted 23/02/2022 at 19:29:21
Agree with everyone here. No more than the last 15 minutes against Man City, unless of course we are 3-0 up (yeah, I know).
Dale Self
14
Posted 23/02/2022 at 19:33:29
Derek 11, I hear they work wonders on muscle issues. I think I might sneak off to the house for the afternoon and seek treatment.
Brian Wilkinson
15
Posted 23/02/2022 at 19:39:54
Last 20-minute run-out for me, give him longer in the cup game, where Alli, Van de Beek and El Ghazi are all cup-tied.
Ease him back in.
Robert Tressell
16
Posted 23/02/2022 at 19:47:08
Christy #7, you're right. He is more naturally box to box. He also played quite a few very disciplined, intelligent games as a sitting midfielder under Ancelotti though. One in particular which changed my view of him but I can't now remember which one.
Anyway, as Fran says, not the holding defensive midfielder we need but better than anything else we have – which helps to knit other bits of the team together.
Steavey Buckley
17
Posted 23/02/2022 at 19:54:02
4-3-3 is not a good football formation because there is one less player that can be playing in the middle.
In a 4-1-3-2 formation, one player can be protecting the back 4, leaving the other 3 players to go on the offensive. But if the opposition operate 4 or 5 players in the middle, that leaves 3 against 4 or 5 players.
4-4-2 is the best system because there can be 4 in the middle, 4 at the back and 2 up front, who have more chance of creating and scoring goals than just having 1 upfront.
Where Everton went wrong against Southampton in a 4-4-2 formation is the 2 wider players didn't support the 2 players in central midfield. Yet, against Leeds, when Everton operated the same 4-4-2 system, everything went right because Everton were on the attack.
Robert Tressell
18
Posted 23/02/2022 at 20:46:37
Steavey #17, Guardiola and Klopp are doing very well winning all those trophies with such a bad formation as 433. Let's hope they never cotton on to the benefits of 442.
Tony Everan
19
Posted 23/02/2022 at 20:53:56
We're a better team with the Duke in it. The midfield needs him as others have said above Allan, VDB, and Doucoure should be our first choice midfield three for the rest of the season after Man City. I'd be surprised see him risked from the start on Saturday.
I am looking at Saturday's game like the Chelsea away match. If we can raise that kind of spirit and determination we can get something out of it. We did ourselves proud away at Chelsea so why not have a bit of belief.
Jim Bennings
20
Posted 23/02/2022 at 21:44:23
Don't get me wrong I like Doucoure but only when he gets the chance to play as a midfielder that really pushes up and gets in the box.
There's a player there capable of scoring 7-10 goals a season but we haven't seen enough of what he's good at since he's been here.
He's not really a defensive midfielder, he's not particularly neat on the ball in terms of passing.
He's got load of pace and power when running however and he started the season like a express train against Southampton, Brighton away he was immense and Leeds away.
Let him off the leash I say, don't hold him back.
Christy Ring
21
Posted 23/02/2022 at 21:52:22
Robert #18 Agree with 433, especially with Doucoure beside Allan and VDB, a stronger midfield, because the two wide players aren't physical enough to support the two in the middle playing 442 especially against better opposition.
Ajay Gopal
22
Posted 24/02/2022 at 05:18:31
I agree with those saying don't risk Doucouré by playing him for the full game. If absolutely necessary, play him in the last 20 mins. Give him a longer run out against Boreham Wood, maybe the 1st half and then take him off if we are comfortable in the game.
For the Man City game, I like the calls to either have a Back 3 or Holgate as a holding midfielder protecting the back 4.
Pickford
Coleman Keane Branthwaite Kenny
Van de Beek Holgate Allan
Gordon Calvert-Lewin Richarlison
With Dele Alli, maybe Gray and Doucouré coming on later.
Phillip Warrington
23
Posted 24/02/2022 at 07:10:19
The results haven't gone our way over the weekend. The teams below us have gained points and we are now 3 points off being in a relegation place.
Man City are going to go flat out in the opening stages of the game... man, it's going to be tough. It will sort out who has got the mental strength to take the initiative or, like in the previous game, be intimidated by the opposition.
Laurie Hartley
24
Posted 24/02/2022 at 07:59:26
We have to try to pull off a surprise result against Man City. Big challenge I know but we have to go for it.
Pickford
Coleman, Holgate, Keane, Mykolenko
Van de Beek, Allan, Townsend
Gordon, Calvert-Lewin, Richarlison
We need the forward line firing on all cylinders for this one.
If you don't have a go you will never know.
Neil Lawson
25
Posted 24/02/2022 at 08:38:01
Yes, there will be wide ranging views upon the best team for Saturday.
Just one comment from me: Calvert-Lewin will be on the bench. That's my 50p worth. Will be interesting.
Robert Tressell
26
Posted 24/02/2022 at 08:45:22
Neil, I think you might be right. Not sure what others think, but it seems like a long time since Calvert-Lewin and Richarlison have 'clicked'.
I know both have been injured so not many games together for a while but even so.
Steve Shave
27
Posted 24/02/2022 at 09:22:45
4-5-1 against City and for all away games for the rest of the season for me. If the mentality can't be trusted then bodies behind the ball and fighting it is. We need to get over the line. We need to believe we can get something from this.
Laurie Hartley
28
Posted 24/02/2022 at 10:37:30
Neil # 25 & Robert # 26 - I agree - if Gray was available I would put him on the right and Richarlison in the centre - in which case Calvert-Lewin to the bench.
I actually think our best front 3 is Gordon, Richarlison, & Gray.
Jerome Shields
29
Posted 24/02/2022 at 11:17:57
Good to see Doucoure back in training. He willl have to be rehabilitated into the side and careful in training. I would not expect him to have an immediate impact and it would be risky to play him against Man City.

Mark Burton
30
Posted 24/02/2022 at 11:34:17
We lose to Man City, Burnley and Newcastle win, we are in 18th. Something has to change away from home, attitude of players is worrying. Only positive thing about losing to City is that the Red Shite don't go top.
Paul Hewitt
31
Posted 24/02/2022 at 11:50:39
Why the fuck are people worried about what the rs do? If you haven't noticed we could go down. Let them win everything, I couldn't care less.
Derek Cowell
32
Posted 24/02/2022 at 11:55:30
Mark, I think the position we are in dictates that we forget all about the RS. It is all about us staying in this league as to go down would be a disaster.
Our history is all we have now to be proud of. Any recovery needs to start from a Premier League base. Anything else doesn't bear thinking about. City, Villa, Leeds, Sheff Wed and Sunderland all went to League 1 ffs. Why would it be any different for us? Just hoping it couldn't happen doesn't mean it cannot.
The RS can win the lot and beat us 5-0 in the FA Cup final if it means we can finish 17th this season for me.
This is all about us surviving to fight another day!
Danny O'Neill
33
Posted 24/02/2022 at 11:58:38
I've said many times Stevey @17, there is no good or bad formation. The best formation is the one that suits the players you have available.
Too many coaches try to make the player fir the formation they want rather than vice versa; make the formation suit the players you have.
Derek Cowell
34
Posted 24/02/2022 at 12:04:50
Quite right Danny, we need our best players (sic) in their best positions all fighting with spirit to get the results we need. There is no room for slackers or a team full of right footers. Doucoure is a must and I hope he can stay fit.
Peter Warren
35
Posted 24/02/2022 at 12:40:56
Wait til we're 3-0 up with 10 mins to go then bring him on for match fitness
Ian Riley
36
Posted 24/02/2022 at 12:41:47
Paul#31 spot on!!!
Personally I think it's too late. Funny how fans look at teams thinking we can beat them. No form, no heart and no desire. You can't change that. We need Top 4 form from this lot.
We have bought players from clubs with less wining mentality than we have. That's why we will be relegated. Simply not good enough.
Our only hope is other teams perform as badly. Saturday, we need to perform, fight... oh, it's Manchester City. Who cares!!! In a hole, ya fight, ya support each other. Play your best team, Frank, every game!
Danny O'Neill
37
Posted 24/02/2022 at 14:23:30
That's the spirit Ian!!
Ian Riley
38
Posted 24/02/2022 at 15:28:48
Please please let me be wrong, Danny #37!!!! I do hope so!!!
Steavey Buckley
39
Posted 24/02/2022 at 16:34:54
Danny O'Neill,
4-4-2 is the best system because there can be 8 players behind the ball with at least 2 players upfront who can create something. But no-one complained about 4-4-2 when Everton beat Leeds 3-0.
Steve Brown
40
Posted 24/02/2022 at 16:40:30
Perhaps 10-0-0 could work.
Dale Self
41
Posted 24/02/2022 at 16:50:20
Danny 33, thanks for stating that. There is a religious aspect to formation preferences and it really doesn't account for other dynamics much less selection. I like a 6 sitting in front of the back four but unless you have someone disciplined enough for the role insisting on that formation leaves the back four in confusion.
Joe McMahon
42
Posted 24/02/2022 at 16:53:18
Steve, or we could register Unsworth and get him just to lie in front of the goal.
Brian Wilkinson
43
Posted 24/02/2022 at 17:09:37
With Big Nev just behind him in goal, Joe.
Bill Gall
44
Posted 24/02/2022 at 17:10:17
I agree that he should not be used for the full game and be eased in for future games, as Man City have played against every defensive and attacking formation going and been successful. No matter what or who we use, hopefully we get the desire and effort to get a favourable result.
Against City, you can't afford to carry any passengers, and you can't afford to lose a player through injury if he is not fully fit.
Jerome Shields
45
Posted 24/02/2022 at 17:15:16
I don't think the formation is as important as players knowing their roles as they defend or go forward. It is their tactical and technical ability that enables them to be correctly positioned and their capacity to recover to be effectively involved in play.
Some of Everton's players, when effectively targeted, fall to pieces in this regard, which has a knock-on effect on other players.
Players can look good in training but, when targeted in an actual match, are useless. They may be lucky in an odd game not to be targeted, but in the Premier League, they will be in the next game.
Very few Everton players can pull out a performance when the play is tough. This comes from going through the motions in training, but not actually having the necessary application for the job at hand. Add to that a rest and recovery regime and game preparation will fall far short.
So it is not as simple as formation, there are a lot of other dynamics at work.
Phil Smith
46
Posted 24/02/2022 at 17:26:32
Think he's the missing link to that midfield. Can't wait to see it with him, Allan and Donny van de Beek in it, with Dele Alli coming in when needed.
Robert Tressell
47
Posted 24/02/2022 at 17:48:57
Formations are important but there is no single best formation.
The point is to play to the strengths of the available players and also enable, open up or block passing lanes and enable or prevent overloads depending on whether you're attacking or defending.
4-4-2 can work. For example, Burnley use it to good effect, because it works well with their very limited players. Ancelotti also used it to very good effect in Milan but, with players like Seedorf appearing (at least on paper) to occupy wide positions and Kaka being one of the two forwards.
This was a much more sophisticated version with intelligent, technical players moving into half-spaces between positions and creating passing triangle opportunities etc. In truth, it was probably a hybrid between 4-4-2, 4-4-1-1, 4-3-3 and others, such was the intelligence and versatility of the players.
Honestly though, if you placed the title-winning Blackburn side in the Premier League now, I think they'd finish about 5th to 7th – and that's only on the basis that Shearer could score from anywhere. The game has moved on. I can't remember our title winning side but probably the same.
These versions of 4-4-2 would encounter the difficulties Man Utd faced in Europe in the early 90s, struggling to contend with 3-man midfields and Number 10s like Zidane.
They couldn't get hold of possession, couldn't figure out who should be marking the player in the Number 10 role, and were passing in predictable straight lines when they did have the ball.
Man City have moved things on to such a degree that their goalkeeper acts as a sweeper and Cancealo plays like a Number 10 who starts in the full-back position. You simply cannot rely on 2 banks of 2 to counter this.
Tom Bowers
48
Posted 24/02/2022 at 18:01:10
I think if Man City get 2 men sent off in the first 15 minutes and Everton can play 10 across the box, then we may have a shot at a draw?
All joking apart, we can't be confident of any points from this game but sometimes miracles happen (just hardly ever for Everton).
After beating two teams in freefall in Brentford and Leeds, there can be little optimism for anything against City and, if by chance they do, then they only help Liverpool.
We are caught between a rock and a hard place here but a win has to be our main concern given our position, and screw RS.
Danny O'Neill
49
Posted 24/02/2022 at 18:12:06
I agree Rob, I believe the traditional 4-4-2 to be dated. Modern versions of it are much more fluid depending on whether the team is in attack or defending.
I reiterate my position that there is no good or bad formations and the best one is the one that suits the players you have at your disposal.
But just as Steavey argues for 4-4-2, if pressed, I go for 4-2-3-1 if I've got the players who can play it. In theory, you've always got 6 providing a defensive shield as well as the midfielders creating. And again, theoretically, you always have 4 attacking players. But the 2 midfielders are key to it working.
Best attacking one? 3-5-2, but you totally need to have the right centre-backs and wingbacks or a very good covering midfielder to cover the full-back positions or fill the hole for a centre-back going out there when the opposition hit your channels. Otherwise, you get massively exposed.
Back to the point; play the best formation for the players you have. Don't put square pegs in front holes because you prefer a certain formation.
Steavey Buckley
50
Posted 24/02/2022 at 18:54:03
4-4-2 formation is far more solid, but depends on all players working together, than other variations such as 4-2-3-1 where 1 or 2 players can be isolated.
Having 1 upfront has been ineffective when employed, because the opposition's defence are relieved from marking another attacker.
Shaun Laycock
51
Posted 24/02/2022 at 19:23:09
4-3-3:
Pickford
Coleman
Keane
Godfrey
Mykolenko
Allan
Gordon
Van de Beek
Dele Alli
Richarlison
Calvert-Lewin
Danny O'Neill
52
Posted 24/02/2022 at 19:26:07
But the midfield is overrun, Steavey?!!
Many teams for many decades have achieved success with one striker.
It's what you say though. Regardless of formation, it relies on players working together and working hard.
Tony Abrahams
53
Posted 24/02/2022 at 19:31:42
I think you said everything that needed to be said imo, @post33 Danny.
Christopher Timmins
54
Posted 24/02/2022 at 20:27:48
Some of the great teams and managers have played 5 across the middle in order to control the game. Barca and Spain spring to mind.
Steavey Buckley
55
Posted 24/02/2022 at 21:51:08
Danny, I can't understand why Everton fans want 3 in the middle instead of 4. Even 3-5-2 makes more sense than 4-3-3 because there are 5 in the middle instead of 3. Although 4-4-2 works very well when players are in tandem with each other. I remember the days of Steven Pienaar and Leighton Baines. What a left sided combination. I have not seen any better.
Danny O'Neill
56
Posted 24/02/2022 at 21:58:34
We've probably got a different understanding of 4-4-2 here Stevey mate.
That doesn't mean 4 in the middle to me. It means 2 central midfielders and 2 swashbuckling wingers getting wide, to the byline and getting crosses in.
Steavey Buckley
57
Posted 24/02/2022 at 22:35:55
Danny, it's a misnomer there has to be 2 CM in a 4-4-2 because players should be supporting each other.
When Everton were great in the 1980s under Howard Kendall, there was Reidy in the middle with Bracewell supported by Sheedy on the left and Trevor Steven on the right. Then there was Gary Stevens at right-back supporting Trevor Steven and Pat van den Hauwe supporting Sheedy.
Everton against Southampton was appalling because there was little or no support in the 4-4-2 and the Everton full-backs gave little or no support to those in front of them and vice versa.
Laurie Hartley
58
Posted 24/02/2022 at 23:45:48
This an interesting discussion regarding 4-4-2. I remember reading an article quite a few years ago by Carlo Ancelloti. His opinion was 4-4-2 was best for defending and 4-3-3 the best for attacking. He tried to switch between the two formations.
My team above is 4-3-3. I wonder Steavey what your view is regarding the potential for Gordon and Richarlison getting back to help in midfield when we haven't got the ball?
By the way, if Doucoure is ready he would start instead of Townsend in my pick.
As has been mentioned above I don't think Calvert-Lewin and Richarlison click in a two up front. If we were to go 4-4-2 I would be tempted to go with Gray or Alli with Richarlison.
I have just watched the highlights of City vs Spurs - Harry Kane is some footballer! He tore them apart. What I did notice is that the City defence looked very wobbly with in swinging balls from either wing.
I also agree with Danny's comment about square pegs in square holes and particularly playing to your strengths. We have plenty of attacking talent – we are actually spoilt for choice when we have a full squad. We have six forwards available for this game If Gray isn't ready. Calvert-Lewin, Richarlison, Gordon, Alli, Townsend, and El Ghazi. That is why I think we should go at them. If we sit back they will carve us up.
After watching those highlights, I am even more convinced we should have a go at them.
Derek Thomas
59
Posted 25/02/2022 at 00:28:07
Danny @ 56; (&Steavey @ 57); I think Steavey has more of a grasp of it to be honest.
Back when 4-4-2 was 'new', the top exponents were Man Utd with Coppell and Hill. Now they fitted the bill of Danny's swashbuckling wingers, but these sort sometimes have a tendency to get left up field when the attacking tide goes out. But Coppell and Hill had tremendous engines and were also box to box... well in their case, corner flag to corner flag wide midfielders.
I've always maintained that 'Any full-back is only as good as the player in front of him.' Which fits in with Steavey's Triangle of Pat van den Hauwe, Sheedy and Bracewell... it's just another example of the 'hunting in packs' thing and football is often – or should be – a game of little triangles all over the pitch.

Steavey Buckley
60
Posted 25/02/2022 at 00:42:12
Laurie, football, basically, is a team game where all the players support each other, especially, when players don't have the ball. The major difference between Southampton and Everton last Saturday, Southampton worked their 'socks off' supporting each other, but Everton didn't. So they got the 3 points, deservedly.
But from a tactical point of view and the fact that a football pitch has physical dimensions that players have to cover to intercept the opponents, a tighter formation of 4-4-2 allows players to cover more of the pitch, especially, in defensive areas. 4 players at the back provide more defensive cover than 3 at the back. 4 players in the middle offer more cover than 3 in the middle. Yet, there has to be at least 2 upfront to provide something of an attacking threat when other players can't get forward and provide attacking support.
Before Richarlison came to Everton from Watford, he played on the left side of mid-field and provided an attacking threat. It could be beneficial if he played there instead of playing directly upfront with Calvert-Lewin.
Calvert-Lewin is important winning headers when Everton are on the attack and when Everton are defending corner kicks and free kicks. Such is the lack of authority in the Everton defense.
I agree Demarai Gray should play up front with Calvert-Lewin, because Gray has a good eye for goal and has pace that unsettles most defences.
Si Cooper
61
Posted 25/02/2022 at 01:18:43
If he's sound (ie, the tissue has knitted) then I'd start him as I think he does generally need a run of games to get up to full 'speed'. If we are being spanked anyway, then he can be withdrawn when he flags. If there are any doubts about the injury then he's better not being included in any capacity.You would only use him from the bench to try to hold on to something and he's just as likely to overdo it in those circumstances as any other.
Some one will have to explain what Top 4 form actually is because, at the moment, only 2 teams seem set apart. Everyone else seems to be beatable most weeks.
Yes, we need application, concentration and nerve to be dredged up from somewhere but the way the opposition play seems to matter more than our 'formation' (do four players really stick unerringly to the middle zone when playing 4-4-2?) from what I've seen.
Any team that has a genuine high press, ie, really closing us down in our own half, has better than even odds of unsettling our defence and stifling our midfield. The high press is risky if there are players who can cope with the pressure and feed willing runners (Spurs against City); unless Frank can train that into them, then we are easy meat for teams that use it against us.
If teams are content to mass ranks in their own half and give us time on the ball, then we can do alright (if early chances are converted) Are 'miracles' really more common for other teams? If every time someone said we were doomed, we were actually really in peril, then we've had more miraculous escapes than anyone!
There is a lot of football yet to be played before anything is decided this season. I'd say anyone not yet north of 30 points this season has a chance of it all ending disastrously for them in May.
Laurie Hartley
62
Posted 25/02/2022 at 02:59:26
Steavey, what you said makes a lot of sense to me especially about Richarlison. I think you may have hit on part of the solution to our midfield problems.
Perhaps we can play 4-4-2 with Richarlison on the left of midfield because I agree (despite the fact that, in my opinion, he is a better striker than Calvert-Lewin), Richarlison's best position is coming in from the left of midfield plus he has a terrific work ethic.
So, assuming Gray isn't fit for this one but Doucouré0 may be able to start, we could set up in a 4-4-2 like this:-
Pickford
Coleman, Holgate, Keane, Mykolenko
Doucouré (Gordon if unfit), Allan, Van de Beek, Richarlison,
Alli (Gray if fit), Calvert-Lewin
I don't know why but I am not feeling the same trepidation going into this game as I have been. Maybe it is because nearly everybody expects us to get hammered.
Edit: I just noticed I left Iwobi out of my list of available forwards – so it should be seven?!
Robert Tressell
63
Posted 25/02/2022 at 09:21:56
On the subject of 4-4-2, this is a decent explanation of the strengths and weaknesses.
In reality, many of these formations are just variations on each other. As Slaven Bilic has said, we're often just talking about a 10-yard difference in starting position.
The real issue is how it suits the players, some of whom like Donny van de Beek and Dele Alli have been exposed by 4-4-2 and perform better in 4-2-3-1 or 4-3-3.
Brent Stephens
64
Posted 25/02/2022 at 11:01:36
Robert #63 I don't think your link works. Have you done an underline instead of hyperlink?
Danny O'Neill
65
Posted 25/02/2022 at 13:41:06
Always an interesting discussion.
On 4-4-2 in the traditional sense, I concern over the perception you create more chances because you have 2 up front occupying defenders.
Games are won / lost and chances mostly created from midfield. In the modern game, if you are a man light and overrun in midfield, you can stick as many people up front as you want, but if you don't control the midfield, it won't matter. Strikers create chances through runs, but they have to be supplied. Usually from midfield.
It's all down to opinion and belief. Mine is play to the strengths of your available players, not always your philosophy or preference.
Robert Tressell
66
Posted 25/02/2022 at 16:39:30
https://youtu.be/aH0JMFtpk0Y
Here's another go at the link. It's Tifo football on YouTube: a guide to 4-4-2
They've done a series of generally very good analysis of formations.
This isn't to pick in 4-4-2 either. They also look at why the traditional German sweeper system has fallen out of use with the back pass rule and other issues.
Dale Self
67
Posted 25/02/2022 at 16:47:27
Thanks for the links, Robert. It is a slow work day and, as a colonial, my academic football upbringing was deficient, to say the least.
Robert Tressell
68
Posted 25/02/2022 at 16:54:05
No probs, Dale. The Tifo football series is really good. If you want your mind blown try "What is positional play?"
Something for those that run the academy to ponder over.
---
Add Your Comments
In order to post a comment, you need to be logged in as a registered user of the site.
Or Sign up as a ToffeeWeb Member — it's free, takes just a few minutes and will allow you to post your comments on articles and Talking Points submissions across the site.