Everton mourn the death of Gordon Lee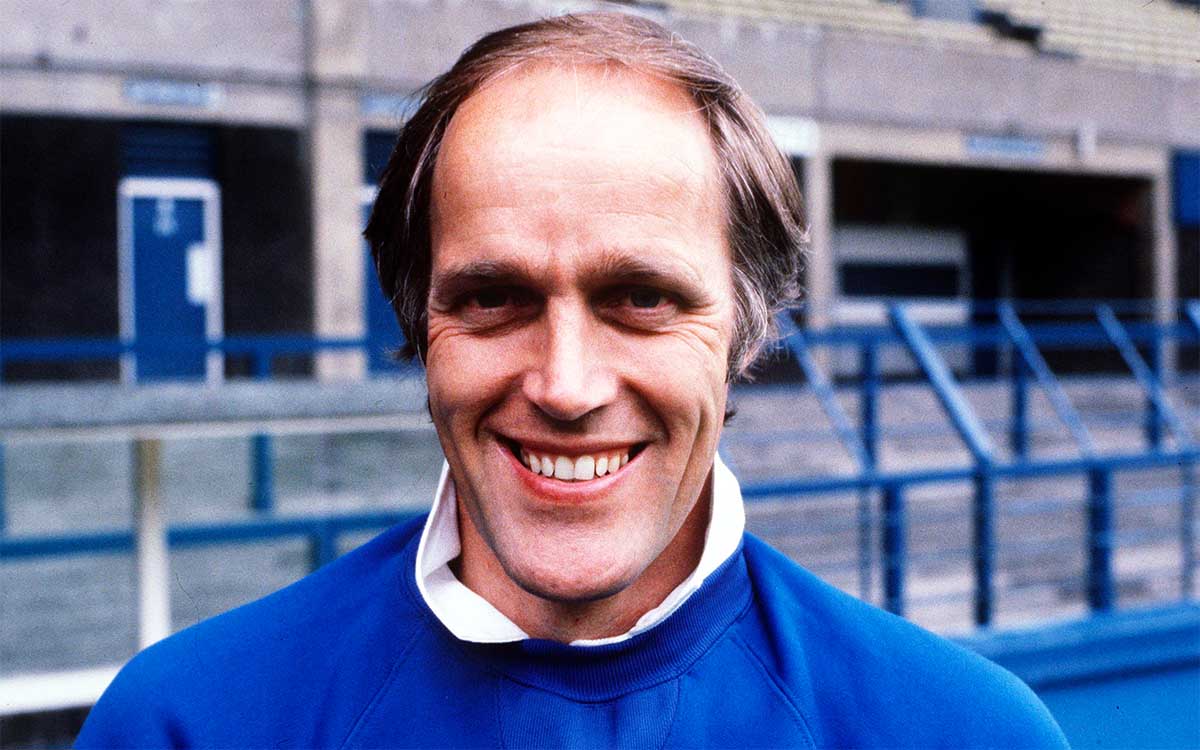 Everton fans are mourning the death of the club's former manager, Gordon Lee, at the age of 87.
Lee was in charge at Goodison Park from 1977 to 1981, succeeding Billy Bingham and preceding Howard Kendall.
He led the Everton team out at Wembley ahead of the 1977 League Cup Final and also steered the Blues to two FA Cup semi-finals and two Top 4 finishes in the old First Division.
In Gordon's memory, we are republishing this old interview which appeared in the Lancashire Evening Post, 6 October 2003:
Article continues below video content
In the definitive history of Everton Football Club, 'The School of Science', Gordon Lee is fondly remembered at Goodison Park.
"Gordon was a passionate, committed and decent man who had garnered an unfair reputation for dour, workmanlike teams rather than — in his words — "coffee-house ball-jugglers" or "Flash Harrys," confirms the author.
"Yet he was a lot better than his reputation implied. He had a great football mind and was a very astute judge of a person."
Living up to his growing repute at the time, Lee had become the hottest managerial property in the business. Think Martin O'Neill or David Moyes today and you've got the picture.
He set out on the managerial path that took him from Port Vale to Newcastle via Blackburn Rovers, whom he led to promotion in 1974-75, before Lee sparked Everton back to life after taking Newcastle to the 1976 League Cup final and Europe.
For all his reputation as a stern and implacable man, Lee is a warm and engaging character, more than happy to talk about the special times in his life that once saw his name touted as the next England coach.
Two decades on, and 70 next birthday, Lee admits he is just content to give the grandkids a cuddle on a Saturday afternoon or take a gentle hike on the sea-front at Lytham St Annes, where he is enjoying a happy and fruitful retirement, rather than perched in a freezing dug-out, breathing fire for 90 emotion-fuelled minutes.
"It is still the best game in the world, but football has gone to another planet now, and I can't say I really miss it too much," said Lee.
"You pick up the newspaper and read that Gerard Houllier is under pressure for his job after two games. I find that quite incredible.
"I managed at the very top with Newcastle and Everton, where the expectation was immense. I do understand the massive pressures and pitfalls of the job, but even now I'd be comfortable handling that pressure the same way that Sir Bobby Robson does at Newcastle.
"Managing a football club is total joy one minute and acute sadness the next. But management gives you a knowledge of people and an incredible insight into human nature. You either have to be a softly-spoken parish vicar or a total bastard.
"If I told the players to do 20 press-ups, I'd know who'd be trying to con me and who'd be doing the graft. I'd often think 'Would I want that fella to marry my own daughter or if there was a hole in the boat, would he try and save me or would he think of himself?' Sometimes there's something about a person that tells you 'yes' or 'no'.
"As a football manager, you have to have that special intuition. I was never frightened to make decisions, but it could break your heart too.
"I had a young Scottish goalkeeper at Goodison who was so close to making it, but one day I had to let him go. He was a clean-cut, dedicated boy, who loved the game and who so wanted to be a footballer. I had tears in my eyes when I was telling him. That was a sad story, but that's football.
"For the life of me, though, I could never imagine me going out to France or Spain and paying £20M for a footballer.
"I don't see that as an enjoyable type of management. I loved nurturing young players and bringing them through. I gave Steve McMahon, Gary Megson and Kevin Ratcliffe their debuts, but nowadays it is all about immediate success.
"I remember at Everton I was looking for a second striker to play with Bob Latchford, and I went to watch Chester Reserves and a young boy called Ian Rush playing as an attacking midfielder.
"The next night, I was at Dumbarton and saw a raw striker called Graeme Sharpe. I went back to the chairman and told him that, paired together, they could be one of the most exciting partnerships in English football.
"Chester wanted £300,000 for Rush, so I signed Graeme for £80,000 because the board said I couldn't have them both.
"There are a lot of outsiders in the modern game, though, and when things go wrong, as they inevitably do when you are a manager, it is usually the home-grown lads who roll their sleeves up and fight your corner when the chips are down. People said I was a negative manager but that never bothered me one jot. I had a tremendous inner self-belief. I believed I was the best and my team was the finest in the land."
He needed that self-assurance by the bucket load when Lee controversially sold England centre-forward Malcolm MacDonald to Arsenal for £300,333.
"The manager has to be allowed to manage, irrespective of who the personalities are. At Newcastle, I felt we needed to sell Malcolm MacDonald to improve as a team.
"Malcolm was a god on the terraces and he was one of the highest-paid players in England. He'd been on 'Superstars', riding bikes with Kevin Keegan and all that stuff, but it didn't cut any ice with me.
"I told the directors I'd guarantee them that he would not last 2 years at Arsenal and Newcastle would be better off without him. In fact, he lasted 18 months at Highbury and Newcastle were a 100% better team.
"I remember Malcolm coming back into pre-season training and telling me he'd lost his enthusiasm. I knew he'd been down to London in the summer and he'd been seen with the Arsenal people. He'd also put his house up for sale in Newcastle.
"I was at my best then, and absolutely nothing upset me. I just sent him home with a few choice words ringing in his ears. He didn't want the Newcastle fans to know that he wanted out. He wanted me to take the rap instead.
"It didn't bother me one bit and when I told the players he'd signed for Arsenal it was like I'd fed them a tin of spinach each, they were so pleased."
By the time he reached the gates of Deepdale on a bone-chilling December day in 1981, Lee must have thought he had seen it all.
But Lee needed a Harry Potter magic wand to revive a comatose North End after the fiasco of the Tommy Docherty appointment, which had lasted just 6 months, and left North End running on empty in their centenary season.
Deepdale boasted the biggest board of directors in the land after 20 businessmen stumped up £12,500 each for a seat on the board to keep North End afloat.
Preston were so broke they had to appeal for volunteers to paint the ground. Around 200 fans turned up and the players gave a helping hand too while Lee, against all the odds, steered North End away from certain relegation inside 4 months.
"The one reason I went to Preston was the chairman at the time, Alan Jones, who was a genuine, hard-working man who I had tremendous respect for. However, it didn't take me long to realise it was the impossible job.
"Preston were in a desperate financial situation. They'd sold Deepdale to the local council and they had no assets. At one stage, there were more directors than players at Deepdale — all wanting to be the Chairman.
"I'd battled tooth and nail to keep them up and then I was told I had to sack half my team in the summer for a cost-cutting measure. I thought I'd restored some hope and anticipation and Preston had a chance of building a foundation.
"I was left with virtually no squad, so it became an impossibility to move the club forward. I knew the end was coming, so it didn't upset me when I left Preston."
A 2-year stint in Iceland followed before a spell at Leicester City, but now his interest in the game is confined to live Sky TV games and chats with his old mate Brian Horton, the Port Vale manager.
"I often think back to all the players I signed or played in my teams, many of them big names as managers today.
"But the one signing who gave me the most pleasure was a kid called Sammy Morgan. He was playing for a non-league club called Gorleston near Great Yarmouth, and the manager telephoned me about him.
"He said 'I've got this big, bruising centre-forward who you might be interested in. The only trouble is he looks like a cross between a vicar and a bank manager.'
"The next day, this smartly dressed boy turned up on the doorstep at Port Vale, wearing glasses and a smart suit. Sammy was training to be a PE teacher and we agreed a fee of £5-a-week as a semi-professional.
"But Sammy was sensational — a real blockbusting centre-forward — who helped us win promotion. I ended up selling him to Aston Villa for £30,000!
"Before he went to Villa, he was picked for Northern Ireland against Portugal and the game was played at Hull because of the troubles in the province at the time.
"The Port Vale chairman was so chuffed, he laid on a coach for the whole first team and we went to watch him play. He was brilliant and Sammy and George Best were the best players on the park that night.
"I came from a school where you had to prove your management ability by scratching and scraping for a living at the bottom rung of football. You had to prove you could handle it with no financial help, and then to improve players and get that club promotion.
"Nowadays, if you've played half-a-dozen games for Manchester United or a couple of times for England, then you can get a job as a manager. I find that absolutely incredible because they rarely succeed."
---
Reader Comments (61)
Note: the following content is not moderated or vetted by the site owners at the time of submission. Comments are the responsibility of the poster. Disclaimer
Rob Halligan
1
Posted 08/03/2022 at 10:17:29
Gordon Lee has died, aged 87.
Barry Hesketh
2
Posted 08/03/2022 at 10:25:22
Rob,
Sad news about Gordon Lee, he was much maligned by many, but probably because I was very young, his teams gave me some of my greatest moments watching Everton, certainly more highlights in his time, than we've had in the last half-dozen years.
Gordon was a straight-forward and no-nonsense type of person, as honest as the day is long, unfortunately his teams didn't get the breaks and he couldn't put a trophy in the cabinet.
Condolences to his family and friends, may he rest in peace.

Danny O'Neill
3
Posted 08/03/2022 at 10:44:36
I just about remember Billy Bingham but the first Everton manager I really remember was Gordon Lee.
My dad disliked both and used to rant about them. His standard was the 60s team and Catterick. He wasn't happy again until Howard Kendall came back. Then I was the adult and he the child, even though I was only 10 when Kendall was appointed!!
I can't comment too much on the Gordon Lee years, but remember having my photo taken with George Wood outside the players' entrance at Goodison and singing "Duncan McKenzie is magic" in the Enclosure.
Eddie Dunn
4
Posted 08/03/2022 at 11:19:23
I started going to Goodison in 1977 at the age of 16. The auld man wasn't interested in football and my mates were mostly reds. I had been glued to Radio Merseyside for several years never missing a commentary.
My first game was the 1-3 loss against Forest, who had just come up and went on to win the league. We had a good season, played some great stuff with Thomas on the wing and Latchford thumping goals left, right and centre.
Gordon Lee got a lot of stick but if we had a team that could challenge in the Top 6 all season, we would all be happy now.
RIP Gordon Lee, you gave us some good times, not great times but good nonetheless.

Peter Carpenter
5
Posted 08/03/2022 at 12:16:28
Sad news. He was so close to success.
Ian Jones
6
Posted 08/03/2022 at 12:21:27
Sad to hear the passing of Gordon. To be honest, I was early teens when he was manager, so too young to appreciate what he had achieved prior to being at the club and during his time with us.
Worth reading the note on the main Everton website.
Whilst not achieving success in the form of titles, I now realise that his time at the club probably laid the groundwork for Howard Kendall.
Tom Harvey
7
Posted 08/03/2022 at 12:22:25
RIP Gordon
Looking back, a League Cup Final, two FA Cup semis and two Top 4 finishes in 4 years wasn't that bad compared to what we're putting up with now, but back then there was no concept of taking a knife to a gunfight; 'nearly' wasn't good enough, today though, we'd be singing his name.
Steve Brown
8
Posted 08/03/2022 at 12:44:34
We came close to success under Lee.
As another poster said, we were a top quality keeper away from having a real chance at the title. The squad fell away when Lee was forced to reduce the wage bill and couldn't meet the salary demands of our top players.
Interesting to reflect that we were close to hiring Brian Clough and Bobby Robson, but ended up hiring Billy Bingham and Gordon Lee!
Bill Watson
9
Posted 08/03/2022 at 12:49:47
Sad to hear about Gordon Lee. His sides scored goals for fun but also conceded. It was when he tried to address the defence that his problems started. We still conceded but the goals dried up.
I well remember him and captain Mick Lyons attending a public meeting at the supporters club, in City Road. He was basically put on trial and full marks and respect to him for doing that.
Brian Murray
10
Posted 08/03/2022 at 12:56:43
Steve. Robson was all but done but he said he didn't want it leaked by our board at that particular time. We done the opposite so it never happened. Incompetent board eh now that rings a bell.
Chris Williams
11
Posted 08/03/2022 at 12:59:42
Boys From The Blue Stuff covers his time with the club in a fair bit of detail. Good book, well worth a read.
Brian Murray
12
Posted 08/03/2022 at 13:05:28
Went the 3 league cup finals ( replays ) and the two fa semis in 77. So close to changing our history. As I said minus a decent goalie and Clive Thomas put paid to that., The following year Colin Todd pejic Thomas latch king Dobo. Brilliant football. Thanks for that Gordon r I p
Lee Courtliff
13
Posted 08/03/2022 at 13:31:56
Well before my time but my Dad told me a few stories about him. Sounds like he did a good job for us, but expectations were much, much higher back then. Was he the one where the taxi was waiting for him outside Goodison?
RIP and condolences to his family.
John Raftery
14
Posted 08/03/2022 at 13:33:02
With the Steve Burtenshaw as his right hand man, Gordon delivered arguably our best season, 1977/78, in the fourteen year gap between trophies. That was the season we managed to notch our first derby win in seven years courtesy of King's Drive in the back of Clemence's net, Latchford scored thirty goals and we finished third.
We watched some entertaining football that season with Dave Thomas, Martin Dobson and Mike Pejic playing clever triangles on the left side. The 6-0 wins versus a decent Coventry team and Chelsea were particularly memorable. Unfortunately we had insufficient defensive strength or consistency away from home to match Forest and the RS.
After Burtenshaw left Gordon steadily lost his way with his headline transfer activity lacking a sense of direction as the recruitment of ready made, expensive players to bolster the squad served only to accelerate its decline.
Away from the headlines of course some valuable groundwork for the future was being laid with cheaper acquisitions like Sharp and Irvine and the development of teenagers like McMahon, Ratcliffe, Richardson, Stevens and Borrows.
As Gavin Buckland points out in his latest book, Boys From The Blue Stuff, Gordon was not the first choice to replace Billy Bingham. While he did a passable job in his first two years the burden of playing in the huge shadow cast by our neighbours ultimately proved just too big for him. He and his players did their best but were not quite good enough.
Mark Ryan
15
Posted 08/03/2022 at 13:37:53
Was my Everton manager as a youth and so I have nothing but fond memories of him and his team. In those days Everton was everything for me. That and smoking 555 State Express ha ha, discovering girls, music, Snake belts and Pans People. RIP Gordon
Trevor Powell
16
Posted 08/03/2022 at 13:48:31
Just think what he could have achieved with Rush and Sharp as a developing strike force? RIP Gordon, you were on of those who really cared about the club.
My Dad went to the AGM when Gordon Lee joined the club and was upset with one of his first comments being, "I am an honest man!; My Dad thought that opinion was for others to make! However, even my Dad conceded that he was as straight as a dye in his dealings at the club!
Niall McIlhone
17
Posted 08/03/2022 at 14:04:45
Just to echo Eddie regarding Gordon Lee. My sincere hope is that history will judge his tenure in a good light. His teams were competitive, and it was a genuine pleasure to look forward to away games, where Everton were often just as effective as at home under Mr Lee. He also took us ever so close to being a Championship winning team. RIP Gordon.
Danny O'Neill
18
Posted 08/03/2022 at 14:06:14
Probably lost in the post match threads, but never my dad's favourite although we did used to love watching Duncan McKenzie at that time. He was magic right?! I think we all agreed on that.
As I had said, I just about remember Billy Bingham. My dad didn't like him either but he wasn't happy until Howard Kendall came home along with Colin Harvey. If he could have had Alan Ball, he'd probably have started all 3 of them even in the early 80s!! I always remember us loosely following Southampton when Ball joined them. He always looked out for their result.
Gordon Lee is the first Everton manager I remember with any kind of knowledge. It didn't quite work out for him, but I guess in the context of the time, a top 4 finish for a team that had been champions 7 years earlier wasn't viewed as good enough. Especially at a time when European Cup (read Champion's League) required you to win the league, not finish top 4.
That Andy King derby winner sticks out for me in that period.
Dave Abrahams
19
Posted 08/03/2022 at 14:23:20
Reading what he says about football then and how he had little time for football when he retired is how quite a lot of us feel about football now with money the god and be all of a majority of people in football, running it and playing it.
I found him an honest man in his assessment of people not just footballers, people he could trust and those he couldn't but looked after themselves first and foremost, selfish people going by his reading of them.
I wrote to him often when he was manager here and always got a reply whether I praised him or not, my name and address plus tel.no. were always on those letters so he knew I wasn't just someone belly aching over something.
A proper football man who understood the game and had good principles and stood by them.

Barry Rathbone
20
Posted 08/03/2022 at 14:24:09
In hindsight, I feel a bit ashamed of giving him grief for his footballing style – or rather lack of – because he clearly bought into the club from his subsequent comments. But selling the magic man was tantamount to admitting the Liverpool style was the better way.
He was right, of course, but hard work and being busy all over the pitch just wasn't a substitute for dazzling ability in the eyes of us Nil Satis boys.
I don't agree with the nearness of his teams to success, the title challenge in particular was never a goer and overall we just weren't good enough when it really mattered.
In retrospect, a good man trying something different at a club still fiercely protective of its perceived identity.
Brian Wilkinson
21
Posted 08/03/2022 at 15:24:48
I always liked Gordon Lee, at the time I never got my head around why he let Dave Thomas leave, until later in life it was down to Dave Thomas demanding twice his wages or he would leave.
Then countless transfer requests from Bob Latchford, for more money, back then there was no salary cap, but there was a wage structure what you were allowed to pay a player a certain amount.
He had his faults in not signing a top class goalkeeper, allowing McKenzie to leave, and playing Colin Todd at right back, out of position, but he had many good points, the oh so nears, the Amber shirt demolitions at qpr and a few other teams, we were still behind Forest and our neighbours, but the football at times were a joy to watch.
Latchfords late goal at Elland Road 1980, Latchfords 30 goals, Andy Kings winner in the Derby, thrashing Coventry, Leicester and the likes, the 77 League cup final epics, the 77 semi, giving the likes of Ratcliffe, Burrows and McMahon game time, signing Graeme Sharp but being denied by the board to bring Rush in alongside Sharp.
His final season went sour, but he gave me a few seasons before that of some very entertaining football, no success but two top 4 finishes, 2 semi final f a cups is not to be sniffed at.
R.I.p Gordon Lee
Gordon Lees Blue and White army.
Peter Mills
22
Posted 08/03/2022 at 15:29:10
RIP, a decent man.
Paul Hughes
23
Posted 08/03/2022 at 16:00:19
As has been stated above, a decent man. What a shame that the board didn't back him with the Chester reserve.
Agreed, he could and should have got us a decent keeper – might have made all the difference – but he really needed was a slice of luck.
If the vile Clive Thomas hadn't been so full of his own self-importance, or the Villa captain, Nichol, hadn't scored a 'once in a career' fluke, we might be looking back a lot more fondly. RIP Gordon.
Jay Harris
24
Posted 08/03/2022 at 16:00:22
I always saw Gordon Lee as a "Moyes" type. Didn't want the polish, just the hard graft, but a very honest man who didn't like "Fancy Dans".
RIP Gordon and condolences to the family.
Bill Watson
25
Posted 08/03/2022 at 16:28:01
Lee #13
The infamous taxi ride was taken by Johnny Carey, in 1961. It was in London and he was going to a Football League/FA? meeting with chairman John Moores.
Carey got into the taxi as the Everton manager and got out at the other end clutching his P45.
Oh to have a ruthless bastard like Moores, now!
Danny O'Neill
26
Posted 08/03/2022 at 16:33:52
Interesting when we mention former managers. No direct link, but I always think of Colin Harvey. At the time, his stint was considered disappointing for finishing 4th and 6th followed by the season he was replaced with Gabriel and then Howard's second coming.
Sorry to go morbid, but it's been a tough 24 hours in honesty and I'm still licking my wounds.
Colin Harvey has me welling up every time I watch Howard's Way. When that fine coach and Evertonian leaves this world, I will be in devastated tears even though I never watched him play. Boyhood supporter, played for us at 16 years old, coached our most successful team ever, managed Everton and then coached the academy.
Sorry. I need Sunday to come around quickly to get this out of my system.
John Kavanagh
27
Posted 08/03/2022 at 16:53:01
I remember most of all everyone singing 'Robots, robots top of the league' when we topped the table and were described as 'boring defensive robots' by one of our opponents (can't remember who). Happy days, even though we sadly didn't stay in top position.
What I wouldn't give for a few of our boring defensive robots at Spurs last night. Energy, commitment, organisation, team ethic. HEART. Although I'll never quite forgive him for Duncan McKenzie leaving, we at least had some pride under Gordon Lee and an Everton identity that is now being rapidly lost.
RIP Gordon Lee, you did your very best.
Barry Hesketh
28
Posted 08/03/2022 at 17:03:56
John @27
It was Billy Bingham's side which topped the league at Christmas 1974 who were labelled 'robots'.
The little known Derby County assistant manager, Des Anderson, was not impressed with Everton's Stakhanovite style. He disparagingly compared Everton's playing style to that of a team of robots. These words were probably music to the ears of Mr Bingham. The London media were highly critical of Bingham's methods. Due to Everton wearing an amber away kit at the time, they were mockingly referred to as the "Clockwork Orange" team citing a highly controversial film of the time. Unlike any Everton manager before him, Bingham's first priority was always not to lose the game with the emphasis in training being on what the side did when they didn't have the ball
Bill Fairfield
29
Posted 08/03/2022 at 18:20:22
Deepest sympathy to Gordon's family and friends. One of football's gentlemen. RIP.

Will Mabon
30
Posted 08/03/2022 at 18:31:48
Thanks to Mr. Lee, and condolences to his family.
I always find when reading back about the '70s, it was never as bad as faded memory sometimes paints. This also applies to BIlly Bingham though less so. It often felt like we were miles behind Liverpool but it was never like it is now, and no massive money disparity, or its effects.
Barry @ 28:
Good linked article. I'm almost sure the "Robot" thing was coined after our 1-0 away victory at Derby (which I attended), with Latchford scoring the winner.
It was the work of the Daily Mail I believe, who always marked us down in their weekly Entertainment League and seemed to have a deep dislike of us. But then, we've never really been anybody's media darlings even in our best times, have we.
Jack Convery
31
Posted 08/03/2022 at 18:54:54
RIP Gordon Lee. A honest, hardworking and thoughtful manager, who was never scared to give youth a chance.
I was 17 when Andy King hit that screamer and the ground exploded - will never forget it. The 3 games versus Villa - I was at them all. A decent keeper and we would have won that League Cup final. The 30 goals of Latchford - another memorable day. The 5 nil demolition of Coventry, when the football was wonderful and the Thomas / Latchford combo worked like a dream. Martin Dobson a dream of a player. Colin Todd total class. I was Very sad when Duncan McKenzie was sold and was in the Gwladys Street when he scored for Chelsea and the St End went wild. Cheering and Clapping him. The Chelsea players couldn't believe it.. Gordon Lees' opinion, was that Jim Pearson was the best player to play alongside Latchford. Not many Evertoians agreed with him on that one ! An FA Cup Final cruelly taken away from us when Clive the Tw*t Thomas saw something no else ever did and still hasn't seen to this day. The days when Clough and Paisley ruled the roost. Those two became legends in the game. Gordon did well all things considered as EFC manager.
Condolences to his family and friends. Once a Blue always a Blue.
Joe McMahon
32
Posted 08/03/2022 at 19:18:14
I know he was old, but this is still sad. Gordon was manager when I became a fan about 7 years old. Reading the article just tells me, we were so close to being very, very good for many years, and what a lovely man Gordon was.
Peter Neilson
33
Posted 08/03/2022 at 19:38:13
RIP Gordon Lee.
My first game was the League Cup against Coventry when we still had Billy Bingham in charge culminating in the Villa finals. Broke my hand smashing it against the bedroom wall in over-exuberant celebration of the radio commentary when Bob Latchford equalised in the first replay. Wish we had the likes of Bob, Andy King and Mick Lyons now.
Thanks to Mr Lee for some happy memories.
Dennis Stevens
34
Posted 08/03/2022 at 19:55:11
So sad to hear of Gordon Lee's death. The wait for silverware from '70-'84 seemed to last forever. In my case, from primary school through to married life!
However, looking back in more recent decades, I've appreciated those teams more than I probably did at the time. We were probably just a couple of players shy of success, both under Bingham & Lee, if only one of them had got hold of Shilton before Clough took him to Nottingham Forest!
Sean Kelly
35
Posted 08/03/2022 at 20:32:08
RIP Gordon Lee and condolences to his family. A true gent and honourable man who earned his stripes and deserved his success. He got his teams of ordinary players to express themselves and play for the shirt.
Unlike other past and present managers he was not a mercenary and put the team and the sum of it parts to the forefront. The mercenaries we have had and have now wouldn't be fit to be in his company.
RIP Gordon
Ed Fitzgerald
36
Posted 08/03/2022 at 20:38:46
I think Gordon Lee was a good manager and was really unlucky in his time with us. I note some have compared him to Moyes in his style which I would personally dispute due to the fact that Lee's team were far more attack minded and pleasing on the eye than any of Moyes teams during his 11 years at Goodison.
I was a teenage Blue for most of the seventies and with the exception of 1970 itself (obviously) we played our best and most entertaining football under Lee in his first full two seasons as manager. Jack Convery it was a 6-0 demolition of Coventry at home and the pick of the bunch was a sublime volley or half volley from Latchford at the park end following a mazy dribble by the brilliant Dave Thomas.
RiP Gordon you gave us some great memories.
John Kavanagh
37
Posted 08/03/2022 at 20:50:22
Barry H @28. Thanks for the correction, much appreciated. Strange how the memories of past seasons merge over the years. Those Blue remembered hills and all that. However, I hope that I soon cannot remember anything at all of the 2021/22 season and the sooner the better.
Lee Courtliff
38
Posted 08/03/2022 at 20:53:16
Cheers, Bill.
Anthony Dove
39
Posted 08/03/2022 at 21:23:34
Danny 26.Colin to me is the greatest. He's everything we would ever want our players/managers to be. I have been lucky enough to be in his company a few times and his
modesty and love of football and EFC is something else.
Paul Birmingham
40
Posted 08/03/2022 at 21:32:14
RIP Gordon Lee, and deepest condolences to his family.
My formative years and the Maine Road game, v Old Nick, to this day rattles me, and Clive Thomas, how life has changed.

Those were the days going the match, and Goodison Park crammed full was a spectacle to behold, And going always on the train was always an adventure.
How Everton got so close under Billy Bingham and Gordon Lee, is one of those facts.
Everton played some good teams in the UEFA Cups, and I remember one tie v Dukla Prague, 1979, and one player Gadusek, stood out in the home and away was for me one of the stand out players in Europe at the time.
If the club had the Everton players of that day in terms of mentality and commitment, the club wouldn't be where it is now.
Thank God for Howard's years.
Bit it's the story of if and if, and so Everton is still in the top tier but in terms of resolve they need to get some and starting v Wolves.
Gordon Lee RIP.

David Price
41
Posted 08/03/2022 at 21:36:15
Jack #31.
Same age mate and went to the same games you mention.
Yes, when Duncan scored for Chelsea, running across the area, fainting one way then the other before drilling into the corner. Think it put Chelsea 2-1 up but we still applauded, much to the annoyance of Lee. We won 3-2, November 78.
Lee signed Nulty, sold Duncan, never warmed to him after that. Should've been Champions with that team.
Peter Fearon
42
Posted 08/03/2022 at 21:59:23
Gordon Lee was one of the ever-lengthening list of "Nearly Men" as opposed to the simple failures we have had among our managers. I never forgave him for his ludicrous antipathy for Duncan McKenzie's brilliant flamboyant individualism and creativity. He just did not understand that football is meant to be entertaining as well as cathartic.
His reputation for dour workmanlike teams is absolutely not unfair. Indeed, dour and workmanlike may be too high praise. The fact that he ended up at Knattspyrnufélag tells you all you need to know.
It was all no doubt rooted in the fact that he had been an indifferent defender himself and likely resented ball-players. That would all have been forgivable if he had been remotely successful. but he wasn't. Football is a zero-sum game. You either win or you don't. He didn't.
Derek Knox
43
Posted 08/03/2022 at 22:42:55
Sadly missed, as some have said not the best Manager we have ever had, but still decent, and a decent man. My only gripe with Gordon was that he was very reluctant to play Duncan McKenzie, when the fans were calling for his inclusion. Okay a bit of a showman, and definitely an entertainer, but he had did have skill and wasn't a bad footballer at all.
RIP Gordon Lee ! 💙😭
Tom Bowers
44
Posted 08/03/2022 at 22:49:53
Lee was another in a long line of managers who was greeted with aplomb at first but we all quickly realized he was just human and made mistakes during his tenure.
All managers are basically the same, not neuro surgeons, nuclear phycisists or rocket scientists but honest hard working stiffs like the rest of us.
We always hope for the best and only those with adequate financial backing can put out a quality competitive squad that has a shot at winning things. This is the most mediocre Everton squad in many a year.
The current situation is indicative of the club's current attitude and with the main emphasis seemingly on the new stadium the field product is mediocre at best despite yet another new manager being appointed.
These are dark days indeed at Everton Football Club.
Bill Watson
45
Posted 08/03/2022 at 23:01:29
Tom #44
The current situation is the culmination of years of mismanagement, from the very top, going back to Philip Carter and continuing with Fahrad Moshiri.
Eddie Dunn
46
Posted 08/03/2022 at 23:13:29
Derek- Lee not playing McKenzie was a bit like Rafa not playing James. Duncan didnfit into Lee's idea that front men had to work hard defensively.
Mind you, Duncan jumping o er Minis and chain smoking probably didn't endear him to our rather austere boss!
Don Alexander
47
Posted 08/03/2022 at 23:47:04
I have no ill-feeling at all to Gordon Lee but the notion that Duncan McKenzie's deserved omission from the first team cost us any sort of trophy is ludicrous from what I saw of him. McKenzie found his main gift as a very accomplished after-dinner speaker rather than as a footballer as far as I'm concerned. In fairness his level of extremely fancy-dan tomfoolery was a joy to behold on the odd occasion the defensive butchers of the 1970's allowed it to happen (George Best and others treated them with contempt by the way) but they seemed to only allow it when he was in our half of the pitch.
Anyway, my condolences to Mr Lee's loved ones. Everton have had way worse than him in the manager's office, and especially the boardroom, during the entire 21st century thus far.
Colin Glassar
48
Posted 09/03/2022 at 00:08:55
He built one of the best Everton teams I have ever seen then broke it up. R.I.P Gordon.
Kieran Kinsella
49
Posted 09/03/2022 at 01:00:22
Ironic he lived just long enough to have the last laugh in the saga of Everton and men named Frank Lampard. I was only 4 when he got sacked but remember him being viewed with derision in the 80s. Funny how perspectives change when youve got many more managers to compare him with. Thoughts and prayers for his family.
Neil Carter
50
Posted 09/03/2022 at 01:14:45
Ah Gordon Lee-gave us the great Dave Thomas crossing the ball for big Bob.
The 77 triple Final loss broke my heart.

Brian Murray
51
Posted 09/03/2022 at 08:28:56
He win the manager of the month in 78 after a 20 game unbeaten run. He was tee total so had his gallon of whisky award made into miniatures. I was one of the lucky 40 drawn out of a hat to meet him in goodison with all the press there ( still got the photo )As a cocky very young teenager I asked him why he prefers Jim Pearson over Duncan ( the original one ) everyone laughed but didn't really get a proper answer. Bit like Benitez with Rodriguez he shied away from flair players to be honest. Rip g lee
Martin Reppion
52
Posted 09/03/2022 at 09:29:44
Brian,
Funny you should use the word 'Flair'. I remember a reporter saying tha t he had questioned Lee over his distrust of 'Flair players' such as Duncan McKenzie. His alleged response was, 'flair is what you have at the bottom of your trousers.' Probably just a made up joke by the hack, but it stuck with me.
Gordon Lee came across, as most on here have pointed out, as an honest and honourable man and a good man manager. Because of the times we were in back in the 70's he remained for a long time a memory of failure. But as others have also said, what would we give now for that sort of failure?
I'd be very happy with the Blues having his record for the next 4 years.
At least my blood pressure would come down.
Andrew Clare
53
Posted 09/03/2022 at 10:07:12
R.I.P. Gordon Lee. The 77-78 team with McKenzie, Latchford, King, Thomas,Pejic, Dobson, Lyons etc were exciting to watch, deadly on the break and full of goals.They came so close.
Gordon Lee did a great job in his short time with us.
Jonathan Tasker
54
Posted 09/03/2022 at 11:21:51
Gordon Lee very nearly won us the League Cup. I still hate that bastard Chris Nicol !
As an aside, Gordon's son, Gary, went to our school so we used to get some gossip.
Let's just say that Gordon wasn't Duncan McKenzie's biggest fan.
Thanks Gordon RIP. You did a good job
Barry Cowling
55
Posted 09/03/2022 at 14:54:36
Oh the Good Old Days...
I remember Gordon Lee and his team well. I remember going to Wembley against Aston Villa and, as I couldn't get a ticket before, I thought I'd try and get one off a tout. (I was only about 14 at the time. I didn't get one, of course, so went home at half-time after hearing all the noise inside.
Mick Lyons was a great idol, so was Dobson and Latchford. I remember singing "Duncan McKenzie is magic", but I think he became infuriating as he would just like dribbling past players all the time. The amount of times we would be screaming at him to pass to the many players waiting with all the space in the world for a tap-in.
RIP, Gordon, I had some great memories. Also remember the many times after a game to get Andy King's autograph which he always seemed happy to oblige.
Howard Don
56
Posted 09/03/2022 at 15:54:42
Gordon Lee used to take stick from some for his supposed dour approach but I think I remember reading that, if his first 42 games with us had been a league season, we'd have likely won it with an impressive points total.
I was at Wembley for the League Cup Final and at Bolton for the semi-final. Fans loved Duncan McKenzie, but he wasn't Lee's type of player, which caused some resentment.
We'd settle for Gordon's win ratio now for sure. A gentleman through and through. RIP, Mr Lee.
Allan Board
57
Posted 09/03/2022 at 17:19:13
Gordon Lee was in charge for my 1st ever game at Goodison, 26 Nov 1977 v Coventry - my 10th birthday present from my much missed bro. If only we had that front 6 now. He would have won the league that season if Cloughie hadn't have grabbed Peter Shilton from under our noses.
Condolences to his family.
Matthew Williams
58
Posted 09/03/2022 at 21:29:58
Thanks for some very happy memories, the '78 side I loved and still do... and I'll take Kingy's beautiful winner in the derby to my grave.
RIP, Mr Lee.
Jack Convery
59
Posted 10/03/2022 at 01:45:49
The mauling of Coventry and a look at Gordon Lee's team in its pomp.
https://www.youtube.com/watch?v=gC-a-rdUMiA
Great commentary too.
Mark Evans
60
Posted 10/03/2022 at 22:38:48
A good manager for Everton & a thoroughly decent man, I was sorry to hear he has passed. His record at Everton wasn't highly praised but he had a couple of top 4 finishes & near misses in the cup. The 77/78 team played some great stuff & should have gone on to win something. I think history will be kinder to him then some of the fans & press were during his time at Everton.
Rest in peace Gordon.
Phil Wood
61
Posted 11/03/2022 at 17:27:05
RIP Gordon.
Some great memories and a time when we feared few.
A lot more heart in the game. Players who you knew would go out on their shield. That passion spilled out to the fans. League Cup final replay at Hillsborough was one if not the best atmosphere I can remember.
Grannies singing and dancing on the seats before the game had started. Amazing!
Thanks for the memories Gordon.
I can even forgive you for selling Duncan looking back.

---
Add Your Comments
In order to post a comment, you need to be logged in as a registered user of the site.
Or Sign up as a ToffeeWeb Member — it's free, takes just a few minutes and will allow you to post your comments on articles and Talking Points submissions across the site.