Everton vs Wolverhampton Wanderers
Friday, 11 March, 2022
Match Preview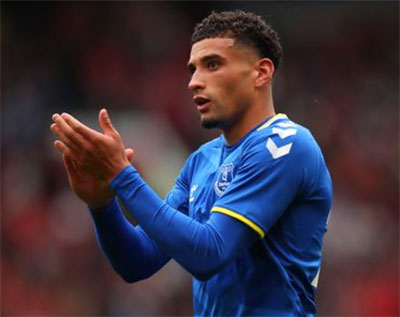 Ben Godfrey is available again after missing 6 games with a hamstring injury
Everton return to Goodison Park for the first of two huge games that offer them a chance to lift themselves away from the bottom three.
The Blues were saved the ignominy of kicking off against Wolves on Sunday sitting in the bottom three after Burnley lost at Brentford and Frank Lampard's side will have at least two games in hand on all the teams around them in the fight to beat the drop,
They're coming off the shock of Monday's thrashing by Tottenham, yet another failure away from home, but they will be heartened by the fact that both this fixture against Bruno Lage's team and Thursday's clash with improving Newcastle will be in front of another passionate Goodison crowd.
Lampard has overseen four games at the Grand Old Lady and won all three, with the outlier being an encouraging but cruelly fruitless display against Champions and League leaders, Manchester City, a reflection of just how much a stadium packed with Evertonians does for a group of players that has won just twice in the Premier League since September.
Article continues below video content
A rocking Goodison will be vital again this weekend against a Wolves side that has defied most expectations during Lage's first season in England. Despite losing three of their last four games, the Midlanders sit in eighth spot at the bottom of a leading clutch of clubs that have broken away from the rest of the division.
They ended a three-match losing blip on Thursday evening by hammering Watford 4-0 at Molineux with striker Raul Jimenez back in the starting XI and, as such, will travel with renewed confidence. They also welcomed back Willy Boly and Jony but Ki-Jana Hoever and Nelson Semedo are ruled out.
Everton, meanwhile, have been boosted by the news that both Ben Godfrey and Demarai Gray have resumed full training and are in contention for Sunday's all-important clash.
Godfrey has missed the last six games in all competitions after suffering a hamstring tear in Frank Lampard's first match in charge early last month and, after a fortnight's individual work, rejoined the first team this past week as the final part of his recovery.
Gray, meanwhile, has only featured for 13 minutes as a substitute since having to come off in the match after the Brentford tie at Newcastle United with a hip problem. He subsequently came down with a virus and was unavailable for the tie against Boreham Wood and Monday's defeat at Tottenham.
Both players could play important roles in a game that has assumed out-sized significance given that the Blues have lost three Premier League matches in succession and come into the weekend sitting just a point and a place above the relegation zone.
Defeats for Leeds, Watford and Norwich yesterday will have helped their cause but, like Newcastle have done under Eddie Howe, Everton now need to start helping themselves by picking up wins in the back-to-back home games against Wolves and the Magpies.
As ever, the key for the Toffees will be a strong start to keep the crowd on-side and a consistent intensity over the 90 minutes. Lampard has hinted that there could be changes to the team that faced Spurs based on performances and attitude but didn't give anything away in his pre-match press conference.
There are cases to be made for a number of players. Dominic Calvert-Lewin could be taken out of the forward line after struggling in North London as he tries to rediscover his sharpness but he performed well against Leeds the last time the Blues won a game. Likewise, Allan and Donny van de Beek have struggled away from home but been impressive at Goodison while Seamus Coleman has betrayed his age at times in recent weeks.
Meanwhile, Dele Alli is still yet to start for Everton and Gray's return adds another option in the forward line.
Kick-off: 2pm, Sunday, 13 March, 2022
Referee: Michael Oliver
VAR: Lee Mason
Last Time: Everton 1 - 0 Wolves
Predicted Line-up: Pickford, Coleman, Keane, Godfrey, Kenny, Allan, Van de Beek, Doucouré, Gordon, Gray, Richarlison
---
Reader Comments (206)
Note: the following content is not moderated or vetted by the site owners at the time of submission. Comments are the responsibility of the poster. Disclaimer
Andrew Merrick
1
Posted 11/03/2022 at 06:51:05
Helping themselves is exactly what's needed, Lyndon.
The manager has to kick ass and motivate this squad which includes too many lightweights. The fans will be up for this on Sunday, it's Frank's job to make sure the team are.
Kunal Desai
2
Posted 11/03/2022 at 06:53:54
One final throw of the dice otherwise we are down and out you feel. Big week. 4 points. Nothing less will do.
Laurie Hartley
3
Posted 11/03/2022 at 07:35:59
This is a bit of welcome news – both of them have a bit of fight in them.
Peter Neilson
4
Posted 11/03/2022 at 07:40:23
I'm hopeful that Goodison will be a cauldron but that alone won't be enough. We saw that against Villa in January. This squad needs to deliver an incredible performance.
Here's hoping that they are capable and professional enough to deliver it. Different kettle of fish to Brentford and Leeds.
Tony Everan
5
Posted 11/03/2022 at 07:43:33
Right now the team needs fighters, Ben Godfrey's return is welcome. Demarai Gray has been possibly our most productive forward this season. Him and Anthony Gordon are the two players who have caused the most problems for defences. Gray and Godfrey must start if fit, also Calvert-Lewin and Richarlison can't be dropped. (Can they?)
Every day, I think what the strongest defensive set-up is for us, but I can't find an answer. Probably because Patterson and Mykolenko are unknowns, coupled with the extremely worrying reluctance of Lampard to play them ahead of Coleman and Kenny at left-back.
Also, what is Mykolenko's mental state like? It must be hugely difficult for him to concentrate on the job in hand. My heart goes out to him.
Is this the best side from our current options? 4-2-3-1 looks good from an attacking point of view but will require heroic, focussed defensive performances from the young lads. The alternative of using Coleman and Keane is maybe even more risky?
Pickford
Patterson, Holgate, Branthwaite, Godfrey
Allan, Doucoure
Gordon Gray Richarlison
Calvert-Lewin
Gary Jones
6
Posted 11/03/2022 at 07:48:44
Next two games are huge. Last nights results were helpful, but with Brentford vs Burnley and Norwich vs Leeds this weekend. Some of our relegation rivals ARE picking up points.
Got no idea why premier league have waited so long to schedule our backlogged games, we're now 3 games behind some, which puts pressure on points situation.
Regarding having Gray and Godrey back….whilst every ounce of common sense says 'ease them back in' I don't think we have that luxury. We will need them both at their best asap.
Starting 11 for me:
Pickford
Patterson Godrey Branthwaite Mykolenko
Doucoure Allan
Gordon Dele Alli Gray
Richarlison
Calvert-Lewin, Van de Beek and El Ghazi or Townsend from the bench. Would be tempted to put one of the latter two in for Anthony Gordon if he can't add goals and end products soon but, for effort alone, he doesn't deserve a drop yet.
Gary Jones
7
Posted 11/03/2022 at 07:51:32
Also like Tony @5 version of the 4-2-3-1… let's it switch to 3 maybe, allowing young Patterson to bomb on.
Derek Knox
8
Posted 11/03/2022 at 07:57:06
Tony and Gary,
Holgate has almost been as culpable s Keane for being so poor in defence, so I hope he is not even on the bench, another liability in defence, we need the 'Dogs of War' attitude for the run-in, not pretty, but effective.
John Keating
9
Posted 11/03/2022 at 08:09:27
Bit of a nightmare in that we could be in the Bottom 3 come Saturday evening. Psychologically, that could be disastrous to this bunch.
If Brentford win, I can see them slowly pulling clear of relegation and one less team joining us in the fight. These next 2 home games are crucial and I think we need the 6 points.
Godfrey's and Gray's returns are most welcome but it appears all our injury returnees need weeks to recover, look at Calvert-Lewin!
Tactics should be a bit more how we played against Man City and less like Spurs...
Gary Jones
10
Posted 11/03/2022 at 08:11:43
Derek, I agree, and it's why I left him out of my own selection. I'd hope that both are invited to look for new clubs in the summer. However, Tony makes a good point about Mykolenko's head and, if it's not right, then Godfrey on the left is a better option than Kenny for me.
If he plays there, then who else would partner Branthwaite? An U23 would be just as big a risk as Holgate at the moment.
Eddie Dunn
11
Posted 11/03/2022 at 08:23:02
Gary,
I agree with your selection. Keane simply cannot be trusted and I also agree with Derek, as Holgate has been positionally very poor.
If Frank sticks with the same defence, the message will be an acceptance of failure.
Gray and Gordon could create something but, if Calvert-Lewin doesn't show some improvement, I would get Rondon on early.
Ajay Gopal
12
Posted 11/03/2022 at 08:42:25
Too risky to play Godfrey in the middle. As I remember, he has not exactly covered himself in glory this season. As fans, it is understandable that we are clutching at straws, but we have to be realistic. For me, Godfrey at left-back, and Kenny at his correct position at right-back to provide us some width.
Pickford
Kenny Holgate Branthwaite Godfrey
Doucoure Van de Beek Allan
Gordon Richarlison Gray
3 out of Calvert-Lewin, Iwobi, Alli, El Ghazi to come on as subs.
Robert Tressell
13
Posted 11/03/2022 at 08:48:33
This is good news but we haven't seen the last of Coleman, Kenny, Keane and Holgate by any stretch.
I'd be surprised not to see at least two of them start against Wolves – along with Van de Beek and possibly (brace yourselves) Iwobi. We should win too.
As shocking as we've been this season the run of injuries and other absences has been very hard.
No Sigurdsson (15 or more goal contributions), almost no Calvert-Lewin (getting on for 20 goal contributions), long stretches without Richarlison (15 goal contributions) and Mina (fewer goals against) – plus Godfrey, Doucoure and Allan etc who all generally make us better when we play.
Add to that the shocking refereeing decisions at Newcastle, Man City etc.
What an appalling season – which has exposed the lousy squad depth to its limits.
Christopher Timmins
14
Posted 11/03/2022 at 09:05:57
If both are ready to go, then they should start on Sunday. Gray was our best player until he got injured and Godfrey is easily one of our top 4 defenders. A back four of:
Patterson
Godfrey
Branthwaite
Mykolenko
This provides a back 4 that are not punch drunk at this stage.
Mal van Schaick
15
Posted 11/03/2022 at 09:07:41
Agree with #6. The results went for us last night.
I watched the Wolves game. The score flattered Wolves, because of some awful mistakes by Watford and Wolves had some tap-in goals.
Maybe we play Godfrey in centre-defence with Branthwaite. Please drop Holgate, put Keane on the bench. Gray should give us more creativity, if the ball doesn't get stuck to his boot?
I would set up to defend and counter-attack. Watford had a few chances doing that against Wolves.
This is a winnable game if we show the same passion and commitment we showed against Leeds, with the Goodson faithful behind us. However, Wolves have a decent away record, 23 points away from home.
We have to defend properly. No mistakes!
Tony Abrahams
16
Posted 11/03/2022 at 09:16:51
Even with the return of Godfrey we just haven't got an aggressive front foot central defender who will just let him get on with something he's got a chance of excelling at.
Charlie Austin bullied Holgate and Godfrey earlier in the season at QPR, when they both played deeper than the ocean, and to bring both Patterson and Branthwaite into the side alongside Godfrey does seem like a very big gamble right now.
I do think Lampard has to gamble though, and the one thing a pairing of Branthwaite and Godfrey would bring to the table is pace. This might give Jonjoe Kenny the confidence to get square-on with his central defenders, instead of playing deeper and keeping the opposition on-side, because I think only the bravest manager in the world would add Patterson and Mykolenko to that back four.
The diamond in attack intrigues me though. Two wide players and a Number 10 playing behind the centre-forward and just in front of two competitive central midfielders might just really change the dynamics of this team.
Robert Tressell
18
Posted 11/03/2022 at 09:35:37
Christopher #14,
I expect that's our most talented back 4 and it might well be the preferred back 4 by the end of next season – but it's not for now.
I say that with a heavy heart by the way because I don't like the alternatives. But that back 4 is the sort of thing you'd use in the early rounds of the League Cup against lower league opposition. Unfortunately, Patterson is clearly seen as far too green and none of us know any better, having not seen him play (apart from a bit of quality in the U23s).
Godfrey is a very likeable player but he's an immature defender. So for him to be the sole experienced head in the back 4 does not bode well.
Fair enough, you may say – but where has experience got us. And I don't have a great answer to that! But I do know that experienced guys like Ancelotti, Allardyce and Hodgson do not dig out results with kids or inexperience when things get like this.
Personally, I'd go with Kenny, Keane, Branthwaite and Mykolenko. Possibly Coleman ahead of Kenny.
Like I say, I'm expecting a win too.
Danny O'Neill
19
Posted 11/03/2022 at 09:45:40
I don't know enough about Patterson. I have a feeling about Mykolenko. We can use Jonjoe Kenny for the purposes of this season and I still think he has a place in the squad. Two from Mina, Godfrey or Branthwaite in the centre.
Public health warning. Do not play 3 at the back with this defence.
Keane is an honest player but scares the shit out of me every time I watch him. Holgate; I just don't think we know his best position and I don't believe it to be centre-back. But I don't know where it is either. A lesser Phil Neville?
If I haven't bored everyone else more than I have bored myself over the past 2 years or so, we need at least one commanding centre-back, who is comfortable on the ball and forces the team higher up the pitch and can defend / recover when playing a high line, pressing game. Which is playing to the system the new manager wants to play from what I see. Just don't do it with these players or defenders.
I think I need therapy.
Mark Ryan
20
Posted 11/03/2022 at 10:13:54
Great news, these are two players who move the ball towards the opposition goal. It's a simple game made harder when you pass sideways and back, sideways and back.
As for Coleman, it is a nice article to read but, if Frank doesn't play Kenny at right-back over Coleman, he deserves all that comes to him.
Sure, Coleman would die in a ditch for the team but can he chase down defenders anymore, week-in and week-out? No, he cannot.
Small steps, heavy-legged... It's simple: Kenny is now right-back. Use Seamus sparingly
Kim Vivian
21
Posted 11/03/2022 at 10:20:05
If we can somehow get 6 points out of the next two games, however ugly we acheive it, then we will see a completely different Everton subsequently. If we slip in the Bottom 3, as someone has mentioned, and then pick up, say, just 2 points, the week characters of most of our squad will make it impossible virtually to claw back.
Frank, or someone, needs to get inside the heads of these players. Do we actually have a Sports Psychologist working with us? and I don't mean the manager as he will always have that brief, but he is not a professional Sports Psychologist.
Michael Lynch
22
Posted 11/03/2022 at 10:26:48
The only chance we have of avoiding relegation is the players keeping their nerve as it gets down to the wire.
Wolves are a great team, and showed last night what they can do to the weaker teams.
If we can hang on for a point, it would be a great result, but a defeat won't decide the season, nor will a defeat on Thursday against a cock-a-hoop Newcastle side who beat one of the form teams last night.
We need a handful of wins over the next 13 games. Home to Brentford, home to Palace, away to Watford are the most winnable for us. Then at least one point from home to Leicester and away to Burnley, and at home to Man Utd. Anything else is a bonus. That's how we stay up.
My main worry if we lose to Wolves and Newcastle is not the missed points – because I don't think these are the games we are most likely to win – but the pressure heaped on the players by the fans and media.
Brian Harrison
23
Posted 11/03/2022 at 10:38:35
At the moment, 4 of the bottom 6 have played 3 games more than us, Could you imagine what this site would be like if we were Leeds, Watford, Brentford or Norwich fans, especially with one of the clubs in the relegation zone having 2 home games on the bounce?
I would imagine that the Samaritans in Merseyside would have to put out an urgent appeal for volunteers to help as they were being swamped with calls.
Look, I admit it's not good when you see us down there but I really can't see Norwich or Watford getting enough points to stay up and I think the 3rd place will be between Leeds, Brentford and Burnley.
For those who think we will go down, then hotfoot to the bookies where I am sure our odds against going down will be the biggest by quite some bit on the others in the relegation zone.
Clive Rogers
24
Posted 11/03/2022 at 10:41:43
I don't know what the answer is, but it is certainly not Kenny. The stats tell us he is not making any tackles. He has been awful.
Tony Everan
25
Posted 11/03/2022 at 10:47:38
Brian, the current markets have us finishing 16th.
They have two near certainties;
Norwich 1/20 to go down
Watford 1/10
Then a big gap to
Burnley and Leeds, both 6/4 for the drop.
Then Everton at 7/2 and Brentford at 13/2
Newcastle are now 50/1
Far from secure but we still have a bit breathing space. Highlights the importance of these next two home games.
Robert Tressell
26
Posted 11/03/2022 at 10:50:13
Unfortunately, Clive, if we rule out players who have bad stats we can probably only field about 3 players.
I think we're more in 'best of a bad bunch' territory when selecting our First XI.
Danny O'Neill
27
Posted 11/03/2022 at 10:54:59
With you all the way Brian Harrison.
Michael Lynch, you forgot Wolves home on Sunday. They best give me 3 points after traumatising me in North London on Monday night. And I've had to book return flights from London due to the train situation. This is what they do to you!
And sorry to be a scratched record, but I'm still annoyed with Wolves for the letter of complaint I got because I sat in one of the home stands at the away match earlier this season. We / I owe them one. Sorry, I can't let that go.
They may be a good team on their day, but so are we. I remember similar trepidation before the Leeds fixture. Confidence, Blues, there are plenty of winnable points and we are Everton Football Club.
Mike Keating
28
Posted 11/03/2022 at 11:00:33
Tony @ 25 - the next two games have to provide breathing space because next month is a killer.
Clive Rogers
29
Posted 11/03/2022 at 11:12:30
True Robert, but he has been really poor and not getting any tackles in as for the second goal. May need to play Godfrey there.
Christopher Timmins
30
Posted 11/03/2022 at 11:14:03
If Brentford beat Burnley tomorrow, they move on to 30 points and in my books they won't go down from that position. Newcastle are safe as things stand. It's one from Burnley, Leeds and us to join Norwich and Watford.
Leeds look the most likely as they are a team full of Championship players who had a manager who got them to over perform for a number of years. They look shot to me.
It's a huge one on Sunday as a negative result might see us going into the Newcastle game in the Bottom 3. I am not sure if we have the characters to successfully deal with such a scenario if it arises.
Steve Brown
31
Posted 11/03/2022 at 11:30:08
Let's be honest, Godfrey has been poor this season.
Brian Harrison
32
Posted 11/03/2022 at 11:31:14
Tony 25
Just been on Ladbrokes site and I think they are about bang on the money regarding relegation.
Norwich 1/18
Watford 1/5
Burnley 7/5
Leeds 17/10
Brentford 11/5
Everton 7/2
Newcastle 15/2
Laurie Hartley
33
Posted 11/03/2022 at 11:33:01
I thought Wolves would finish Top 6 this season but they were terrible against Crystal Palace and made to look vulnerable by forwards running at them. I also thought the scoreline against Watford flattered them. They are definitely beatable if we turn up.
Thank goodness Traore is with Barca. We have to close Neves down when he is lurking on the edge of the box.
Rob Dolby
34
Posted 11/03/2022 at 11:39:59
It's a real head-scratcher picking a starting 11.
This time last year we beat Spurs at home 5-4 with Bernard netting the winner… it seems like a lifetime ago.
Pickford
Coleman Keane Godfrey Kenny
Gray Van de Beek Allan Doucouré Gordon
Richarlison
Defend deep and hit them down the wings. Wolves are no mugs.
George Cumiskey
35
Posted 11/03/2022 at 11:53:04
Paul Cherrington
36
Posted 11/03/2022 at 11:54:31
Very pleased to see Gray might be back as he was easily one of our best players before his absence and one who has performed well overall this season.
Not so thrilled about Godfrey though. Good to have another option in defence but he was not having a good season before his injury. Not much better than clowns like Keane or Holgate for me.
Godfrey gets caught ball-watching, switching off in games and doesn't seem to sense danger like a decent defender would. I have seen him get bullied in games too by more experienced attackers.
We have to gamble and stop picking players who have had their chance but have been poor all season and are just not up to it. It's not actually a gamble to give someone else from the U23s a chance when you think about it.
We are losing most weeks, making costly mistakes and playing badly anyway! Can't get much worse and new blood with some energy/desire might just surprise everyone.
One of the reasons I thought Lampard would work for us is his record for bringing young players through. Time for him to show that now and be brave,

Tony Abrahams
37
Posted 11/03/2022 at 12:09:16
Rob won't be the only person who would select Michael Keane, George. I think Robert T has also done the same thing and, with football being a game of opinions, mine is that if people still prefer Keane, it's because of how bad our recruitment was once again in January.
Benitez had said, on quite a few occasions, that you can't buy character in John Lewis, meaning he was well aware of the flaws in the squad, and nothing was done to rectify this.
Rob Dolby
38
Posted 11/03/2022 at 12:13:40
George - yep, I have picked Keane.
I did say a head-scratcher of a team. He is the best header of the ball we have available and best passer out of defence.
I would love to pick Branthwaite, Mykolenko and Patterson but they are too much of an unknown in situations like this.
Robert Tressell
39
Posted 11/03/2022 at 12:17:08
That's about the size of it, Tony. And I expect Lampard to pick Keane too.
I don't land the blame squarely with Benitez either since I think far too many people have been culpable for our incompetence in recruitment to single just him out. And Lampard had time and brought us the as yet completely non-productive Dele Alli.
Put it this way, though, Keane doesn't feature in the First XI for any of the team sheets I have scribbled down for how I'd like us to shape up next season.
Lewis Barclay
40
Posted 11/03/2022 at 12:29:03
I'd like to see:
Pickford
Patterson | Godfrey | Branthwaite | Mykolenko
Gordon | Doucouré | Allan| Van de Beek| Gray
Richarlison
I'll likely get slated for the defense… but the ones we've tried all season have been shocking – so try something new.
Mark Taylor
41
Posted 11/03/2022 at 12:38:55
What is for sure right now, is that absence makes the heart grow fonder. Anyone out injured or even dropped has their desirability enhanced because they have not been part of the 11 that slumps to another depressing defeat. Most of them have played their part in our slump but even so I can't resist the temptation to do something different on the basis that doing the same thing and expecting a different outcome is the definition of madness.
So while Godfrey and Branthwaite might not settle nerves too much, Holgate and Keane look mentally shot to me and need taking out the firing line. Myko is our only real left back so unless his head has gone, he gets in. Coleman ahead of Kenny but we are definitely in 'least bad' territory there. I've no ide why we bought a reserve full back from Rangers when we have such an immediate need in that area.
The rest is easier. Gordon, Gray and Richie- DCL has been gash since he came back. Probably Duke Allan and VdB in midfield but I might consider Dele in for Duke because the latter has also looked off the pace and then maybe play VdB a bit deeper than usual. I have to say, silk purses out of sows ears comes to mind here. I hope Wolves are off form. I think those odds of 7-2 are quite generous for us right now. Our form is bottom 3.
Gary Jones
42
Posted 11/03/2022 at 12:39:50
Patterson, Mykolenko and Branthwaite are apparently "too much of any unknown"……so let's stick with a back 4 that we all KNOW is shit.
Logic I will never get. Same stupidity that kept the tumour that was Rafa in a month too long.
Sean Roe
43
Posted 11/03/2022 at 12:54:51
Begovic
Holgate Keane Godfrey Mykolenko
Doucouré Allan Van de Beek
Gordon Richarlison Gray


Chris Badley
44
Posted 11/03/2022 at 13:17:19
Fact is, we haven't had a decent organiser in central defence since Jags, to change the subject slightly. Watson was even better. Neither in the Labone or Ratcliffe class but even a journeyman who can organise and out in a decent do or die challenge would be a vast improvement
Rob Dolby
45
Posted 11/03/2022 at 13:17:22
Gary 42 Footy is all about opinions, don't make things personal. It doesn't reflect well on you.
What's your team for Sunday?
Nicholas Ryan
46
Posted 11/03/2022 at 13:30:24
There's an interesting problem for Frank at this stage of the season; does he attack or defend?
Remember, 3 x 1-0 wins coupled with 3 x 5-0 defeats gets us 9 points;
While, 6 x 1-1 draws, gest us 6 points!
Food for thought!
Ian Jones
47
Posted 11/03/2022 at 13:37:16
Nicholas, I've always thought wins and losses were better than draws in some cases.
However, out of 6 games, I'd take 3 x 1-0 wins and 3 x 1-0 losses. 3 x 5-0 losses wouldn't do much for goal difference.
Danny Baily
48
Posted 11/03/2022 at 13:41:56
Gary, we know Branthwaite's passing is awful. It's already fairly clear that Mykolenko isn't good enough and will need to be moved on. That's why we've played the back four we have. They are the best of a bad bunch.
Brian Wilkinson
49
Posted 11/03/2022 at 13:46:09
I think Gordon Lee got past St. Peter, questioned our neighbours pact with the dark side and why he did not send down a bolt of lightning, towards CliveThomas.
Since then our neighbours lost a home European tie, three of our rivals all lost last night, Gray and Godfrey return to the team, we secure the steelwork for our new stadium, and Alan Myrers tweets we are not in breech of ffp, after the Panademic adjustments.
Yes damn right I am clutching at straws, but rather clutch at straws, then have some on here, be next to me in a trench, waiting to go over the top.
Stop the doom and gloom, what will be, will be, I think out of all the teams near the bottom 6, Everton are by far in the best position, I just do not see Watford or Norwich escaping, that for me then leaves Burnley, Ourselves, Leeds and possibly Brentford to fight it out.
Godfrey and Gray back are a big plus, ok not to be rushed right in, but those games in hand will benifit these two players, and surely again, only a matter of time before Calvert-Lewin starts finding the net again.
Like I said, out of Leeds, Burnley, Norwich and Watford, Everton are for sure in the best possible position out of those teams, we all know we need some points in our next two home games, but we got a massive helping hand last night, 3 points against Wolves would be great, even a point, just something out of the game.
I am not worried just yet, I know it is just a matter of time before we start picking points up again, we have been lucky that teams around us have hit an even worse free fall.
Danny O'Neill
50
Posted 11/03/2022 at 13:49:42
Michael Keane is pushing 29. He should be our most experienced and commanding centre-back. He isn't.
After about 2½ games, I don't understand how we are making judgement on a 22-year-old who, as well as settling into an unsettled team in a foreign country against the backdrop of a war in his own country.
Good job we didn't judge Seamus after 2½ games.
Danny O'Neill
51
Posted 11/03/2022 at 14:00:55
Same as Ben Godfrey. Second season, injuries and a struggling team. Still young, so let's not crucify him just yet.
Jim Wilson
52
Posted 11/03/2022 at 14:08:23
I wouldn't make too many changes for Wolves. We have done okay at home so I would stick with 4-3-3 changing to 4-5-1 with the wide men doubling up with the full-backs to give them defensive help when they can.

My main concern in the defence is Keane. His confidence is shot so maybe Branthwaite coming in for him (could be too soon for Godfrey) is a good move.

My other concern is, if Calvert-Lewin is off the pace at the moment, a good idea would be to play Richarlison up front, flanked by Gray and Gordon, if fit.

I truly believe if Allan, Doucouré and Van De Beek can stay fit and together they will only get better as time progresses.

But away from home the midfield clearly needs to be tighter and more defensive. Coleman could play wide right in front of Patterson helping him defensively but would have the freedom to get forward. At the expense of an attack-minded player but we need to grind out some good defensive performances and right now a point away from home is a good point.

The order of the fixtures has not been kind to Lampard. Wolves is now a must-win so the pressure on the players is enormous and mistakes can happen. We saw this in 1994. If we can get a couple of quick wins, I think we will then be fine.

Performances like Leeds and City at home are a must. But away from home, we have to be more defensive and grind out a couple of results.
David Graves
53
Posted 11/03/2022 at 14:12:50
I've previously expressed my concern about Keane's lack of speed, concentration, fight etc. etc. but I think he will play on Saturday alongside Branthwaite. I also think Godfrey will start at left back with Kenny or Coleman at right back.
I agree Danny that writing off Mykolenko at such an early stage is ridiculous.
I posted yesterday that if last night's results went for us and we win on Sunday then the table will look better on Monday. And it will.
Norwich and Watford are gone. Leeds are in freefall and Burnley are struggling to get wins and they only have 4 games at home. Hold your nerve and get behind the team. We are staying up.

Christopher Timmins
54
Posted 11/03/2022 at 14:25:29
If some still think that Keane might still be part of a solution to our many problems then I give up. Apart from being too slow, and so not allowing us to play a high line against the better teams, his confidence is shot to pieces.
I was happy to be wrong when calling the Leeds game a few weeks back and I just hope that I will be feeling the same way at 4.00pm on Sunday.

Nick White
55
Posted 11/03/2022 at 14:27:50
I'd put DCL on the bench and bring him on if needed. He doesn't look anywhere near right at the moment.
Patterson, albeit only seem him Vs Borehamwood, doesn't look anywhere near ready to play in the premier league and must be the most 1 footed player in the squad.
Gray and Godfrey must come in.
I don't like the thought of either Keane or Holgate but have to play 1 of them as we don't have anyone else to play in the centre of defence with much experience and wouldn't trust Godfrey and Branthwaite together.
Pickford has been excellent other than the Spurs game.
My team:
Pickford
Kenny, Godfrey, Keane, Mykolenko
Allan, Doucoure, VDB
Gray, Gordon
Richie
We must get the 3 points or the pressure will become immense.
COYB!
David Graves
56
Posted 11/03/2022 at 14:34:52
Edit: Burnley have 5 games at home; Southampton, City, Wolves, Villa and Newcastle
Andrew Clare
57
Posted 11/03/2022 at 14:35:03
If we win on Sunday it will change the whole complexion of our situation. We will have more points in the bag and 3 games in hand on 4 or the five teams either side of us and 1 game in hand over Burnley.
It's of the utmost importance that we get something out of the next two games as apart from a handful of games we have a very tough couple of months coming up.
David Graves
58
Posted 11/03/2022 at 14:45:17
Christopher who are the two centre halves on Saturday then?
Andrea Jacobs
59
Posted 11/03/2022 at 14:50:24
I predict Leeds, Brentford and us will be relegated, in what will be a miraculous escape for the current bottom three.
I also predicted, when Lampard was first appointed, that the current set of centre backs we have would not be capable of playing Lampard's high defensive line, also that Mina would get injured and be unavailable (really stuck my neck out there) for most of the matches.
We managed to beat a reserve Brentford team and a Leeds side in free fall, Wolves and Newcastle will not be such soft touches.
I never believed we'd be relegated in the 90's, even when sat in the Gwladys Street watching Wimbledon go 2-0 up.
This time feels very different, we deserve to go down this time. The Owner deserves it for all the consistently wrong moves he's made.
We as supporters very much do not deserve this pain and humiliation, but that's what is coming for us.
We are the ones that care the most, so we should own our Club, collectively.
We need to break free from these Capitalist restraints, and implement the 51% ownership model, this is the best way forward. This can be done through constant, vociferous, maybe even violent protest, which the anger of relegation could potentially mobilise. I'll be up for it.
Or, we could beat Wolves and Newcastle, and we'll probably be fine.
It really is on a knife edge.

Rob Halligan
60
Posted 11/03/2022 at 14:52:06
David # 56. Burnley must have six games at home, as we've yet to go there.
Steavey Buckley
61
Posted 11/03/2022 at 14:52:38
Resuming training is one thing, but Lampard can't afford playing Godfrey again too soon after returning to training for the fear of Godfrey getting injured again - a hamstring injury takes 2 months for recovery - another injury would rule him out for the rest of the season.
I hope Lampard does not go for 4-3-3 formation again after Everton got a drubbing 5:0 on Monday. Spurs took full advantage of one less Everton player in midfield. Also 3-5-2 formation leaves 1 less player in defence in another critical playing area.
If Coleman plays again on Sunday from the start of the match that would be a surrender of commonsense, because he has been woeful as a defender all season.
Mike Gaynes
62
Posted 11/03/2022 at 14:53:04
Oy vey.
The instant gratification expectations around here have become truly bizarre.
"...we know Branthwaites passing is awful."
Yes, we know this after seeing this teenager spend 600 minutes on the pitch. 7 Prem appearances spead out over three seasons.
"It's already fairly clear that Mykolenko isn't good enough and will need to be moved on."
Yes, it's fairly clear after 374 minutes on the pitch, under the most difficult emotional conditions imaginable.
(eye roll and head shake)
Kevin Prytherch
63
Posted 11/03/2022 at 14:53:33
I don't see how we can risk Keane. He looks like he's got a mistake leading to a goal in him during every game at the moment. How would we respond at the moment if he makes a howler and we go a goal down?
After that Spurs performance, I would be tempted to replace the entire back 4 and make a concerted effort to play on the front foot knowing that we have pace at the back.
Patterson, Branthwaite, Godfrey, Mykolenko
I also think these games might be good for Ali to start, he's started to look better in the last couple of games and looks to play forward a lot. Although who he'd replace is a totally different debate.
Brian Murray
64
Posted 11/03/2022 at 14:54:14
Andrea. I'm not saying you slow down and rubber neck at car crashes but it's no good for your mental health saying that at the moment. I'm on nervous energy as it is over this but trying to take one game at a time. Coyb Sunday will tell us a lot more.
David Graves
65
Posted 11/03/2022 at 15:00:02
Rob - missed the postponed games when I looked at their fixtures. Not as bad for them as I thought then!

Andrea Jacobs
66
Posted 11/03/2022 at 15:01:11
Brain, very true.
I think the current situation calls for taking it two games at a time.
I'll report back after the Newcastle match.
David Graves
67
Posted 11/03/2022 at 15:05:31
Not a chance that Frank will play Patterson on Saturday. Most likely it will be Kenny but don't be surprised if Coleman starts.
I agree with the concerns over Keane but I don't see an alternative. The returning Godfrey alongside Branthwaite is a non-starter so it comes down to Keane or Holgate.
David Graves
68
Posted 11/03/2022 at 15:08:41
Andrea I'm afraid that you lost me after your suggestion that Norwich and Watford will stay up.

Mike Gaynes
69
Posted 11/03/2022 at 15:10:32
David #67, my thoughts exactly. No way Frank plays a CB combo that has never played together at this point in the season. (Even if they could be our future starters!)
Brian Wilkinson
70
Posted 11/03/2022 at 15:11:22
If Keane starts on Sunday, I am having a dabble on him netting a goal, for Everton of course.
Never fails when a player is shot to ribbons and going through a roasting, they tend to pop up with a goal for us.
Any odds knocking about, on first or anytime goal scorer for Sunday for Keane?
David Graves
71
Posted 11/03/2022 at 15:18:07
20/1 First goal scorer Brian
Brian Murray
72
Posted 11/03/2022 at 15:19:28
David. Depends who's net you mean ?
Andrew Keatley
73
Posted 11/03/2022 at 15:24:03
Iwobi only ever scores against Wolves. Just saying.
Rob Birks
74
Posted 11/03/2022 at 15:25:44
Al Ghazi must be really shit in training if he struggles to even make the subs bench!
Rob Birks
75
Posted 11/03/2022 at 15:28:39
Brian, good shout.

Nick White
76
Posted 11/03/2022 at 15:32:53
El Ghazi must be among the most pointless signings we have ever made. It's the 1 position we actually have strength🤪
David Graves
77
Posted 11/03/2022 at 15:37:21
Brian you cant get odds for own goals. If you could imagine how many you'd see flying in each week!
Dave Abrahams
79
Posted 11/03/2022 at 15:59:07
Nick (76), yes El Ghazi was not only a ridiculous signing it stopped us from getting another player on loan.
For the record Benitez turned him down twice in the past and didn't want him this time, it looks like Mr. Moshiri and his agent mate, can't think of his name, did job of signing while agreeing the deal which took Digne to Villa.
The same two Mr.Moshiri and the hooky agent tried to land us with a different manager as well, can't think of his name either.
I'm trying hard to obliterate loads of data from this season as well and give myself some peace of mind before, hopefully, we end these depressing times by staying up and finish at Wembley with Danny and the FA cup!!
Kieran Kinsella
80
Posted 11/03/2022 at 16:09:22
More chance of a clean sheet in a dysentery ward
Mike Gaynes
81
Posted 11/03/2022 at 16:14:41
Nick #76, I'm still convinced El Ghazi will win us a game with a late goal off the bench. Just one. And those three points will make him worth it.
Kieran #80, ow. That one made me wince so hard I pulled a muscle in my face. ;-))
Bobby Mallon
82
Posted 11/03/2022 at 16:16:54
Calvert lewin must be dropped and we must not fall into wolves trap. We need to keep it tight and do to them what they will do to us. 4/5/1 for me on Sunday we cannot loose if we loose these next two home games we are down.
Christy Ring
83
Posted 11/03/2022 at 16:19:03
Brian #23 Completely agree. Regarding Sunday, love the way most pick Patterson at fullback haven't never seen him play, and listening to Frank today, he's third choice in my opinion. He said Keane was sick and still played at Spurs, he got alot of abuse, but you have to credit him for not crying off. I still believe the abuse Coleman is getting is totally unwarranted, he shouldn't be asked to play every week at 33. I'd play Kenny/Holgate right back, Godfrey and Branthwaite a left sided centreback and Mykolenko, back four with plenty of pace.
Benitez bringing in two fullbacks who weren't ready and wasting a loan signing on El Ghazi, in a position where we totally covered, which meant Lampard could only bring in one more signing on deadline day shows his total incompetence.
Jay Harris
84
Posted 11/03/2022 at 16:25:32
The one lesson I hope Frank has learned is how to play against counterattacking sides with resilient defences. Wolves play just like Spurs but are not as lethal finishing but nevertheless have pace in their side.
IMO we need to beat them at their own game. Stay tight and organized and hit them on the break.
We have the players to do this (Well except for keeping it tight and organized) with Gray, Richy and Gordon all quick on the break.
MF needs to be strong so I would go for Duke, Allan and VDB.
Back 4 is the enigma we all have. Do we play an experienced but error prone and mentallly weak Michael Keane or do we throw a novice in. Do we trust Holgate or go with Brandthwaite. Do we go with Seamus leadership and experience or put JJK or Patto in their. Is Myolenko's head understandably somewhere else or do we play Godfrey there or CB.
There is no easy answer and we have to assume Frank knows best but we certainly need pace and determination no matter which 11 start the game.
Dave Abrahams
85
Posted 11/03/2022 at 16:31:45
Mike (81),I hope you are correct about El Ghazi getting us a goal, I wrote that myself not long after he has signed because he scored some goals for Villa including a cracker against us last season but to be honest it was mostly wishful thinking on my part.
Christy (83) Benitez didn't want El Ghazi at any price knocked him back in the past and doubt the two full backs were wanted by Benitez, rightly or wrongly he said Patterson wasn't ready for premier league football so why would he sign him when we need him now? Not sure it was Benitez's doing that Mykolenko was signed either.
Joe McMahon
86
Posted 11/03/2022 at 16:34:35
We don't pick the teams I know. But please no Keane, Coleman or DCL in the starting 11. DCL on in second half if needed, but I'd also like to see more of Alli and El Ghazi as they're both capable of striking a ball and goals.
Tony Abrahams
87
Posted 11/03/2022 at 16:49:00
Do you genuinely believe that Rafa Benitez, wanted those players Christy? It's water under the bridge, but just another stick to beat up a man who should never been appointed. Unwarranted stick, so to say.
Mike Price
88
Posted 11/03/2022 at 16:59:01
I'd feel a lot happier with Begovic in goal. The sooner we can unload Pickford the better.
George McKane
89
Posted 11/03/2022 at 17:09:10
Sunday is as we all know a big day - - massive - - cannot even contemplate losing - - team selection is as always imperative - - I saw Patterson's only 45 minutes in the FA Cup - - he definitely had pace and commitment and seemingly enthusiasm and desire to do well - - many of those things are lacking in many others - - when I mention to most people that I wouldn't have Keane or Holgate near the first team (something I have felt for a few years now) - - I never get a great defence of their "skills' but mainly "well they're the only one's we've got" - - and so that makes them acceptable - - think of how many points just these two have been responsible for - - admire Keane's courage but have nothing to say about anything else on a football field ( from the first game this Season) and in my opinion Holgate is worse because he lacks even courage - - if your losing and giving away "stupid" goals - - then change it - -
Big Team Selection Frank Lampard - - but no matter what we have all got to get behind this gang at KO on Sunday - - God Bless Evertonians - - everyone of them.

Allan Board
90
Posted 11/03/2022 at 17:46:27
A very tricky few weeks ahead for Frank Lampard. Does he ditch the continual underachievers in our defence and go with youth? If he goes with youth(which should be our future by the way) and gets relegated, the storm of protest and anger would be relentless toward him(unjustifiable in my opinion)and he gets sacked. If he sticks with the current useless incumbents, relegation is assured in my opinion because the games are now ALL high octane,high pressure and they have proved without doubt they can't handle pressure and shit out. He still gets sacked though.
So,stick with player's who it is proved are spineless, and go down or take the opinion that youth, whilst lacking experience, have no fear of the situation and will give it their all and just think fuck it,what's all the fuss about?
Lastly, I know which age group I'd want in the Championship-and it doesn't include the has beens in our 1st team.
Go youth Frank and fuck 'em! I'll stand your corner even if it means the Championship next season.
Time to back a manager/staff for the long term Everton.
Tony Twist
91
Posted 11/03/2022 at 17:54:03
I think it is essential that Frankie opens his mind to changes with the team. They have had most of the week to organise the back four, a defence with players playing in their right positions. So back four should be Patterson, Godfrey, Braithwaite and Mykolenko. Time to be brave, but not foolish. Allen, Doucoure, Van de Been in midfield and Gray, RIcharlison and Gordon up front. Hopefully those players have the spirit to play their hearts out, the result will then come. We can beat anyone, a lot of the time we beat ourselves.
Andrea Jacobs
92
Posted 11/03/2022 at 18:00:11
David, if Norwich beat Leeds it's absolutely on. I can see that happening.
Don't be afraid though, it's just speculation.
Let's hope everything else I wrote is utter garbage as well, that would be nice.
John Boon
93
Posted 11/03/2022 at 18:18:14
We have been having such a nightmare of a season. Even loyal Toffee Webbers are confused about the best team to put out for Sunday. Ideally we could all be right utilising all the suggested players.That way we could have all three goalies start and another eighteen outfield in order to be able to play a tight game.
If we get the type of refs we have been saddled with this season, they probably won't notice that we have twenty one players on the field. I usually lie by putting my confusion down to old age. Not really good enough !!!Every Evertonian from three years to One hundred and three has to be equally confused by this "LOONY" season
Tony Everan
94
Posted 11/03/2022 at 18:21:14
Having watched the Presser, I think Keane is starting. The back four, if it is a four, will be Coleman, Holgate, Keane and possibly Godfrey in at left back. Nearly every suggestion concerns me , including this one . I'll have 10p ew on me being right.
Brian Murray
95
Posted 11/03/2022 at 18:33:26
Need some gallows humour here lads n lasses If same as me everyone is on edge but wouldn't it be boss to go to palace on the march with two big wins. Only way il enjoy a day at the palace. At the moment it means less and less to me. Coyb
Tony Abrahams
96
Posted 11/03/2022 at 18:42:52
God Bless you George, and double up on that 4-0 mate, ever the optimist's that we shall be!
I'm thinking of putting a few quid on us winning the next three games Brian, because I'm like that fella playing music on the titanic, where Everton are concerned!
Rob Halligan
97
Posted 11/03/2022 at 18:51:50
Andrea # 59. I'm currently watching the cricket from the West Indies, Antigua to be exact. Plenty of rum punch is flowing amongst the England fans out in the Caribbean. Are you sure you're not there when you posted that ridiculous comment!!
Tony Abrahams
98
Posted 11/03/2022 at 19:03:21
I think it sounded more like Andrea has been on the liberty caps Rob!
John Crawley
99
Posted 11/03/2022 at 19:04:21
Regarding the defence, I'd be tempted to go back to basics ala Ancelotti and play Holgate and Godfrey as fullbacks with Keane and Branthwaite in the middle. If Mina was available then drop Keane. Whatever Lampard decides, he's got his work cut out with the defenders we have.
Bill Gall
100
Posted 11/03/2022 at 19:05:46
The back 3 means you could go with a 5 midfield of Gordon. Doucoure, Allan, DVB and Gray. Midfield is where we get run over, with Richarlison and DCL upfront.
But I guess that is a bit too adventures and he will go with a 4/4/2.
with a back 4 of Coleman, Keane, Godfrey,Kenny, midfield Gordon; Doucoure,
Allan and DvB with Gray and Richarlison. upfront. There might be a surprise with Iwobi coming in instead of 1 of the midfielders.
But I do know I that 95% of teams I pick the manager picks a different team.
No matter the team he picks, to beat Wolves we will need 100% effort from all players, its not like Wolves haven't lost a game this season.
Robert Tressell
101
Posted 11/03/2022 at 19:07:44
John @ 99, there's a lot of sense to that away especially. Grinding out draws if we have to. Hopefully we can be a bit more ambitious at home though, I hope.
Danny O'Neill
103
Posted 11/03/2022 at 19:30:36
3 points on Sunday followed by proceeding to the FA Cup Semi Final the following week. We will all be in a better place.
My son home safe next month in time for the first trip to Wembley.
14th place finish and Wembley again in May Dave Abrahams.
Then, after I've fainted, cried, told everyone willing to listen about my unreserved commitment and had to have my son take his embarrassing dad home, we can regroup in the summer and look forward to Europe.
Everton. The girl I can't leave no matter what she does to me.
Andrea Jacobs
104
Posted 11/03/2022 at 19:45:06
Norwich, Watford and Burnley to stay up.
You heard it here first. You probably won't hear it anywhere else.
Things never work out the way you think they will.
Even if that doesn't happen, and in all likelihood (trying to be objective) it probably won't, I guarantee you it will not be all three of those teams that go down.
In fact, like I said, they're all staying up.

Brian Murray
105
Posted 11/03/2022 at 20:16:42
Even George mckane didn't sign off with his cosmic grooves. Is that the death knell vibe 👀
Tony Everan
107
Posted 11/03/2022 at 20:41:52
Brian, George will fire up the Cosmic Groove machine on Sunday morning. They'll be wafting out of his writing room window about 10am ish. They will play their part in making it a glorious Goodison day.
Simon Harrison
108
Posted 11/03/2022 at 20:42:53
I've not read any of the comments yet, but I will after posting this.
I've just been able to listen to Frank's presser from earlier today.
The good news is that Godfrey and Gray are back, but will they, can they, last without breaking down again? I certainly hope so, or it's back to square one again.
A worrying thing as well is, that Frank said that he, and his staff monitor and gauge 'confidence' and body language of the first team squad. I've had a quick sqizz on the website (EFC) and I can only find one mention of a Sports Psychologist, and that isn't actually their job title and that they work at the Academy level?
Does anybody know, if the Everton first team have a Sports Psychology department; and if so, what sort of staffing level does it have?
The reason I ask, is that, arguably, the most improved and consistent player in the club over the last two seasons is Jordan Pickford. Who funnily enough saw a psychiatrist and employed his own psychologist after the St. Virgil incident and the ensuing death threats etc.
Surely, looking at the confidence levels and lack of mental fortitude, demonstrated again and again, both home and away, would cry out for the need for fully professional help from a mental services/support team? (I.e. a team psychiatrist or two, and a team of sport psychologists; maybe even some independent and confidential sports counsellors?)
The second thing that stood out to me, was the fact that Frank said that he and his team have identified some unusual and preventable footballing mistakes in the Spurs game; but, this isn't the first time that this has been mentioned by Frank since his appointment. Along with the usual player mistakes that have been mentioned since Ancelotti.
My uninformed conclusion is that either he is asking too much of his players technical ability and or footballing intelligence; or his tactics and game-play instructions are too much for the players?
Is their anything else that could cause this, other than poor execution and the obvious, 'no plan survives contact with the enemy'?
I'm still a very, very positive Evertonian, but, as the games go by, my scepticism of Frank marginally grows. He really needs to cut his cloth according to what he has, and stop some of his more fanciful ideas of what his players can, or will achieve.
Why can't he see what we see regards the players limitations, and some of his formation selection shortcomings, and indeed substitutions?
Personally, between Frank and Kevin Thelwell, they need to start addressing the deficiencies in the back room teams now, and not in the summer. They also need to rapidly sort out a realistic system and style of play for now, which can be progressed as we move forward.
Secondly, that Frank should keep things as simple as possible, and as compact as possible, in order to give these players as much chance to reduce errors or mistakes as is humanly possible.
Lastly, despite his measured protests, at some point; Frank will have to rely on some youth, to replace the serial offenders in the first team.
COYB UTFT
Brian Murray
109
Posted 11/03/2022 at 20:58:56
Il join the straw clutching maybe but can we afford to keep calling Dobbin one for the future. We are not a chelsea. Get him in Pronto. If we revert to a plan b of rondon we are asking for trouble. Or a half fit or half effective dcl.
Chris Allen
110
Posted 11/03/2022 at 22:20:22
How can anyone say Patterson is too green after Coleman's performance on Monday? He's a liability along with Allan. Bang average player.. 4-2-3-1for me …Pickford Mylolenko Godfrey Branthwaite Patterson Van De Beek Deocoure Gordon Richarlison Gray Dixie Dean

Robert Tressell
111
Posted 11/03/2022 at 22:24:00
Mike # 81, weird signing though he is, I expected El Ghazi to contribute. He may yet. But he has to get on the pitch to do that. I wonder if we pay his wages if he plays...
Much weirder however is the Dele Alli signing. I'll reserve judgement till the end of the season but it's a worry.
Tony Hill
112
Posted 11/03/2022 at 22:33:54
I remember Leicester coming to Goodison under Pearson when they were struggling and we got a slightly fortunate 2-2. I thought to myself: you're a good side in waiting even though you're struggling quite badly.
We're not far away from that. Not, of course, to do what Leicester did the next season, but if we survive then we will be attractive and competitive under Lampard. The signs are there.
The older I have got the more I realise it's about holding your nerve.
George McKane
113
Posted 11/03/2022 at 22:44:01
Cosmic grooves sent to all Blues.
Danny Baily
114
Posted 11/03/2022 at 22:44:34
Chris 110, surely Kenny gets in at RB ahead of Patterson? And Godfrey or Kenny beat Mykolenko to LB.
Got high hopes for Patterson but we don't have the luxury of giving him minutes given the predicament we're in. Same goes for Branthwaite but to a lesser extent.
Paul Hewitt
115
Posted 11/03/2022 at 22:50:48
Tony@112. Sorry to disagree, but this squad is totally and utterly crap.
Tony Hill
116
Posted 11/03/2022 at 23:02:47
We'll see, Paul @115. I am assuming a few astute additions. Your view is not, of course, irrational.
I refer to serious evidence so far - in flashes - of a proper Everton style involving precise, one-touch passing and aggressive intent. It is the philosophy more than the personnel.
I would have kept Benitez, but this manager and his team are very promising. We obviously have to survive first, as I believe we will.
We will also win the FA Cup. And yes, I have had a few wines.
Derek Thomas
117
Posted 12/03/2022 at 00:15:55
Robert @ 111; more weirder still is, which idiot first thought it was a good idea - then actually signed him.
I don't know which is worse; If Lampard thought it was a good idea or Moshiri and/or Kenwright have been playing FIFA 2016 again and bought him based on those stats.
Bolasie, Walcott, Iwobi...now Alli ffs, another expensive mistake who wouldn't pull you out of bed.
If he scores the goal that keeps us up then its - I always said he was good, a true Goodison legend.
Brian Wilkinson
118
Posted 12/03/2022 at 00:42:16
Just going off topic for a mo so apologies beforehand, but with Chelsea not permitted to sell match tickets, would this mean, should they get to the f a cup semi, would the other semi final team get a bigger allocation for the Wembley semi.
Pete Clarke
119
Posted 12/03/2022 at 01:14:39
Andrea. Just lately most of the results with the teams around us have indeed gone in our Favour. We still need that to happen given how poor we have been but it won't always go our way.
I may just go out and put a small bet on the bottom 3 all winning today. Still better odds than the lottery which I've had nothing from the past few years.
If this did happen then it would indeed blow the relegation fight wide open and more the reason that we get a win ourselves.
I'll make that a quadruple for all bottom 4 to win 😁
Rob Hooton
120
Posted 12/03/2022 at 01:25:42
Godfrey has played his best games for us at left back IMO - last season when we had no fit full backs and Carlo had to play 4 centre backs coincided with a run of clean sheets not seen since.
Mina is obviously the biggest miss in our back 4, I'd have a solid back four and 5 in the middle switching to 4-3-3 in attack - we can't lose the bid for again:
Pickford
Holgate keane Branthwaite Godfrey
Gray Allan VDB Doucoure Gordon
Richy
Dom doesn't look fit enough yet, give him at least half hour
Si Cooper
121
Posted 12/03/2022 at 03:17:26
Wolves don't play like Spurs in my recollection. I think it might actually be worse if we concede territory to them easily and allow them to dominate possession.
Ait Nouri, Neto, Neves and Moutinho might pull us to pieces if they are allowed to probe and probe; Jimenez, Kilman and Saiss will be threats from set pieces.
I think we have to try to get on the front foot as much as we can.
I'm not sure Kenny has the pace to get forwards and back all game on our right without being hugely exposed at times. Possibly play him right side of a back three with Anthony Gordon in front of him?
Laurie Hartley
122
Posted 12/03/2022 at 06:52:10
I am going to go out on a limb here - 4-5-1
Pickford
Holgate, Keane, Branthwaite, Godfrey
Gordon, Doucoure, Allan, Van de Beek, Richarlison
Rondon
Gray and Calvert Lewin can come on when Gordon or Richy are knackered and Rondon has scored another brace.
Gordon will be first name on the team sheet.
Paul Birmingham
123
Posted 12/03/2022 at 07:29:04
Every player must do his job and play for the shirt to battle for every ball and close down and communicate on the pitch, and take any chances presented.
Same as the City game would be a start but don't be inviting the Wolves players to come on and shoot.
Massive game and Everton must win.

Ian Bennett
124
Posted 12/03/2022 at 08:12:41
Pickford
Branthwaite
Keane
Godfrey
Mykolenko
Doucoure
Allan
Patterson
Vdb
Gordon
Richarlidon
Kim Vivian
125
Posted 12/03/2022 at 08:13:45
Brian - I think Wembley, or the FA or some other entity might be able to sell tickets to Chelsea supporters. What's important is that any proceeds of the club from what ever source do not go to Abramovich.
Their monthly wage bill is £28m evidently so unless the club spirals into administration, as much revenue as possible needs to used to keep the club itself afloat. I guess anyway, a form of adminisration will have to be set up to manage things, and prior to the club being sold - with receipts from the sale, I hear, going to Ukranian relief organisations.
Abramovich will have to write off what remains of his (£1.5billion??) debt but I guess the club will still have that indebteness to someone in the light of the success it's bought.
Tony Everan
126
Posted 12/03/2022 at 08:40:02
Robert 111, Jan transfers
It's conceivable that we have signed five players in January that are not starters for the first team. Patterson, Mykolenko, Alli, El Ghazi - no one would be too surprised if these four didn't start on Sunday. Then VDB who is more likely to , but not completely guaranteed to start.
I think the signings have been made for next season and the longer term and the consensus at the club at the time was that the prospect of relegation was extremely unlikely. It also points to a complete maelstrom of chaos at the club around the time of Brands' , then Benitez's departure and afterwards.
I am praying for 17th or better because I think Frank and his team can give us some stability given an opportunity to structure the team better. Even one summer window and pre season will make all the difference.

Steve Brown
127
Posted 12/03/2022 at 08:46:31
Laurie @ 122, I agree with your formation with one change to the line-up - push Charley into attack and play Gray behind him.
Danny Baily
128
Posted 12/03/2022 at 08:52:40
Tony 126, I agree about the potential for us to do well under Lampard, but only if we avoid relegation.
Staying up this year, as challenging as that looks, will be a hell of a lot easier than finding a way back (and the staying up on our return).
Brian Wilkinson
129
Posted 12/03/2022 at 08:57:04
Kim@125, cheers for the heads up and info.
Sean Roe
130
Posted 12/03/2022 at 09:03:35
My worry if we do stay up is where the money is going to come from to replace virtually the entire squad.
Brian Murray
131
Posted 12/03/2022 at 09:20:18
Sean. Agree a big chunk of the team/ squad have to go but hey let's get to that stage first. I like many will have no voice left at final whistle tomorrow. The post mortem can start if and when we are safe.
Dave Abrahams
132
Posted 12/03/2022 at 09:38:30
Brian (131),
Amen to that Brian, one worry at a time, waste of time worrying about next season, let's get this one over with first. In fact, as the song says: "Why Worry, Why Worry, Worry gets you nowhere at all".
Alan J Thompson
133
Posted 12/03/2022 at 09:59:58
I wouldn't put too much faith in a couple of players who haven't kicked a ball and may not have trained in the last 3 or 4 weeks.
The one man who has to be dropped, or at least moved out of central defence, is Holgate whose defence and positioning is so poor and it has to be said that Keane looks a lot better with Mina alongside.
Unless there is somebody I've forgotten then we must start with Keane, despite his reported illness, and Branthwaite although the problem could be added to by who play as full-backs.
Even Frank must now show that he can earn his crust but I was surprised that Dobbin played U23s the other night and, while Dele Alli has shown one or two nice touches, he is hardly a bundle of energy. Interesting to know the coaching staff's thoughts or who they've been concentrating on at training.
Jerome Shields
134
Posted 12/03/2022 at 10:02:58
The other strugglers have helped a lot. Grinding out results needed by Everton from now on. They may just survive in a straight fight with Leeds. But Everton can't now think they are safe because they beat Leeds 3-0 at Goodison.
Such is the attitude of this team, they really have to knuckle now and realise they are in a fight for survival. Gray and Godfrey coming back does help, but Frank needs to get the tactics right and impress this on Finch Farm.
Should they survive, Everton needs to completely change across the board, to get us all out of the 27-year nightmare. No guarantees that this will happen though.
Andrew Bentley
135
Posted 12/03/2022 at 10:03:09
Not sure why there aren't more questions being asked about the El Ghazi signing. Benitez didn't want him, Frank doesn't want him. So what dodgy deal was struck for us to take him on loan for 6 months when he's not good enough to improve our first team and no manager made that decision? All driven by agents cosying up to Moshiri.
That signing in itself is indicative of the mess we are in.
Brian Harrison
136
Posted 12/03/2022 at 10:29:32
I am sure there will be many twists and turns before the season is finished today Brentford play Burnley and tomorrow Leeds play Norwich, while we entertain Wolves. We can only concentrate on our game and not worry what happens in the other games, we might even start the Wolves game being in the bottom 3 if Burnley get a point at Brentford.
I read the other day that Frank has only had 13 minutes out of Gray who is very influential to us and has hardly any minutes out of Mina and probably wont for the next 4/5 weeks. The defence was poor against Leeds and although Godfrey being fit will give Frank options he hinted that there wont be big changes from the Spurs game. As well as the defence he will no doubt be pondering about his front 3, does Gray start does he start DCL also despite Richarlison saying he prefers to play the main striker role I still think his best position is wide left. But thats also a problem as thats were Gray and Gordon have played although both can swap to the other flank.
I think the dilemma for Frank is DCL is way short of match fitness so does he decide he needs to play him to get match fit or bring him on for 20/25 minutes in the 2nd half.
I am glad Frank has these choices and not me, as he will be criticized whichever way he goes if we don't win, but I guess that comes with being paid the big bucks to make these decisions. But whoever he picks I will be cheering and clapping from my seat in the Upper Bullens.
Laurie Hartley
137
Posted 12/03/2022 at 10:31:54
Steve # 127 - I will be surprised if any of us picks the same team as the manager but we all want us to win. I put sentiment aside and picked a team that I felt had the best chance of beating Wolves.
I know that this is fantasy football and I am a silly 73-year-old git but when we do get the ball we have to give their back three something to think about. My view is that Rondon, now that he is fit, has the physicality, guile and experience to hold the ball up for Gordon and Richy to run on to.
Get the ball up to him as quickly as possible. Get the ball into the box –- he knows out to get in front of his marker and he is in goal scoring form. That is the way to beat this lot.
ps: And don't let that Neves get anywhere near our box with the ball at his feet.
Kim Vivian
138
Posted 12/03/2022 at 11:04:04
I think Richarlison has to start up front rather than Calvert-Lewin, whose head does not seem to be in the right place right now – match fitness or not – with Gray in the midfield hopefully providing useful service to Richarlison. That leaves us with Calvert-Lewin or Rondon as attacking options from the bench, either of who could come on to support or replace Richarlison as Frank sees fit.
I actually think Rondon might do a better job than Dom in support of Richarlison tbh, but if it is Richarlsion who is to be subbed, then Calvert-Lewin on to replace him.
How Frank sorts out some sort of defence is beyond me in the absence of Mina, but it's a lottery as to who is going to be the least risk on the day from the lot of them. I would be playing Godfrey though.
Danny O'Neill
139
Posted 12/03/2022 at 11:11:00
I don't want us going 3 at the back. Not with this team. 3 in the midfield; I'm more inclined to go 4-5-1.
Checked in online for my flight. It feels odd flying up for a home fixture, but needs must with the train situation. I should get to Lime Street from Manchester Airport for about 11am if anyone is around.
Early start with the boy dog tomorrow. I'll let you know which way he goes, but I'm sensing that he feels confident.
Brent Stephens
140
Posted 12/03/2022 at 11:40:10
Danny, have you checked the train times from Manchester Airport? I think you might not be into Lime Street until midday-ish?
Christy Ring
141
Posted 12/03/2022 at 11:48:34
Tony #87,
Let's be honest – he wanted rid of Digne from Day One, so he had to be the one who definitely signed Mykolenko, and he got rid of Brands, so he must have been involved in bringing in Patterson.
Danny O'Neill
142
Posted 12/03/2022 at 11:49:37
I'll check Brent. It might have to be Uber.
At this rate, I'm going to be very light in the wallet department and get into trouble at home.
But we adapt and overcome challenges. No plan survives contact as they say!!
Chris Williams
143
Posted 12/03/2022 at 12:06:50
Danny,
More bad news. Looks like Uber fares going up 20% from April. VAT getting charged apparently.
Danny O'Neill
144
Posted 12/03/2022 at 12:09:05
There seems to be a problem with trains all over the country this weekend Brent. I can get to South Parkway for just past half 11, so I can / will skip town before the match and head straight for Kirkdale. In fact, just out of nostalgia and superstition, I might get off at Hunts Cross and catch the Kirkdale train from there!!
Up at 4:30 to get the boy out for his walk. Land at 8:45, should be around Goodison by midday I think.
Make this worth it please, Everton. Not just for me, but for all of those who are willing you on in the stadium, from near and from far. I wish they knew how much this meant to us.
Tony Abrahams
146
Posted 12/03/2022 at 13:30:30
Christy, I heard Benitez didn't fancy Luca Digne, but to say a manager, who's job must have already been on the line, got rid of the director of football, is absolute nonsense imo mate, and also a perfect illustration of why Bill Kenwright has lasted so long at Everton.
Derek Knox
147
Posted 12/03/2022 at 13:58:57
Danny @ 138, hope to see you at some point (Royal Oak) or even after the match Crown/W/Spoons. Getting the TFW Loop line train to Lime Street to get in about 11.30.
Danny O'Neill
148
Posted 12/03/2022 at 14:14:33
I'll drop you a message Derek. Logistical challenge this week, but I will be around before and after. I'm in the lower Gwladys this week, so back to my youth!!
Mark Ryan
149
Posted 12/03/2022 at 16:10:07
Dominic Calvert-Lewin will be Frank's first name on the team sheet. I just hope that Godfrey and Demarai Gray are second and third. We've missed them both.
Andrew Keatley
150
Posted 12/03/2022 at 16:24:14
If Demarai Gray is fit to start then he has to join Richarlison and Gordon on the teamsheet.
Calvert-Lewin should start on the bench; right now, I'd be happier to see Townsend, Iwobi, El Ghazi or Rondon get a chance to stake a claim, as they bring a higher level of intensity than Calvert-Lewin seems capable of right now. His lack of fitness and form is a worry, but getting minutes off the bench might be the most effective way to ease him back to the form and fitness we know he is capable of.
Jerome Shields
151
Posted 12/03/2022 at 16:42:47
Christy Ring
153
Posted 12/03/2022 at 16:49:44
Tony#146,
I agree completely in your assessment of Kenwright, but I don't think it's nonsense. Benitez had some input, he wanted sole charge of transfers, and should have been gone before he signed the fullbacks.
Paul Kossoff
154
Posted 12/03/2022 at 16:57:04
Brentford 2 Burnley 0. Whoooo!!!!
Matthew Williams
155
Posted 12/03/2022 at 17:12:21
Oh dear, if both Allan and Doucoure start together for us, then we simply won't win it. It just tells the Wolves management that we're happy with a point at home; we're just a reactive team, not a proactive one.
By all means play both in a midfield five away from home... but at home in a must-win game! Do me a fucking favour, be braver, Blues, for fucks sake!
Btw both Kilman and Podence, I would have here in a heartbeat! As for the game... a draw.
Brent Stephens
156
Posted 12/03/2022 at 17:19:32
Matthew #155, what would your team be, then?
Jerome Shields
157
Posted 12/03/2022 at 18:38:33
Burnley result helps a lot.
Colin Glassar
158
Posted 12/03/2022 at 18:47:04
The football gods, for some reason, seem to be offering us an escape route. I just hope we don't open the wrong door.
Oliver Molloy
159
Posted 12/03/2022 at 18:52:14
No matter what fecking team is on the pitch, nothing less than 3 points is required, folks.
Danny O'Neill
160
Posted 12/03/2022 at 18:56:34
Burnley and Dyche. Depsite much admiration of him and his style (glorified Allardyce in my opinion), has his and their time come after hanging on for seasons? No direct comparison in footballing philosophy, but a bit like Eddie Howe and Bournmouth?
Anyway, to Everton. We have everything to play for.
Wolves - winnable and they owe me after the away fixture.
Newcastle - winnable and they owe me after the away fixture.
West Ham - winnable and they owe me after the home fixture.
Manchester United - we're Everton and can upset in those matches.
Frank does Chelsea is written in the scripts. The match I enjoyed the most this season. We can take that one.
Leicester is a difficult one. I'll take a point.
Brentford - we should and they owe me after the away fixture.
Arsenal. I don't care. By that point, we're safe and thinking of the FA Cup Final.
Rob Halligan
161
Posted 12/03/2022 at 19:04:18
Danny, fuck the lot of them. Thirteen wins on the bounce, sixteen counting an FA Cup final win!
Brent Stephens
162
Posted 12/03/2022 at 19:07:43
Danny "Arsenal. I don't care. By that point, we're safe and thinking of the FA Cup Final."
Danny, make sure you have the right cup final date in your diary! Turn up after the Arsenal game and you'll be on your own!
Mike Doyle
163
Posted 12/03/2022 at 19:12:17
Danny 160 & Rob 161] not sure whether to nominate you both as this week's most optimistic or most deluded duo. Hopefully tomorrow will go well and it will be the former. Fingers crossed - and hope you both enjoy the day.
Dave Williams
164
Posted 12/03/2022 at 21:44:21
With us defending so poorly we need a very defensive back four- Holgate Keane Branthwaite and Ben. Five in midfield - Gordon Allan Vdb Douc and Gray with Richi up front. If Gray is not fit to start then Rich on the left and tell Rondon to put himself about for an hour. Tell the back four to defend and not worry about playing it out from the back. I'd make Allan captain as he seems to care passionately and doesn't like losing. It might just bring a bit extra out of him.
Steavey Buckley
165
Posted 12/03/2022 at 23:24:31
Everton need to win to morrow with an attacking momentum that can get at Wolves as soon as they kick off: Everton team in a 4-4-2 formation:
Pickford.
Holgate, Keane, Branthwaite, Godfrey or Kenny.
Gordon, Doucoure, Donny van de Beek, Richarlison.
Calvert-Lewin, Gray.

Subs including: Allan, Iwobi, Coleman, Kenny or Godfrey, MykolenKo
Ian Riley
166
Posted 13/03/2022 at 00:24:29
Just do your job and work harder as a team!
Stopping wolves passing rhythm is a must!!
Keep calm everyone!

Pete Gunby
167
Posted 13/03/2022 at 03:07:39
If Frank does play Keane I hope he assigns someone to mark him whenever he gets near our goal.
Jack Convery
168
Posted 13/03/2022 at 03:46:36
Pickford, Coleman, Keane, Godfrey, Kenny.
Allan, van de Beek, Doucoure
Gordon, Richarlison, Gray,
Substitutes Begovic, Holgate, Townsend, Rondon, Gomes, Branthwaite, El Ghazi, D Alli, DCL.
Picked in hope.
Mike Gaynes
169
Posted 13/03/2022 at 06:39:21
Mike #88, if you really, truly think that Bungles Begovic is a better keeper than Picks... all I can say is, congratulations on smuggling that laptop into your padded cell without your attendants knowing.
Hoooooo-eeeeeee!
Danny O'Neill
170
Posted 13/03/2022 at 06:55:05
I'll take deluded Mike Doyle given that those close to me have diagnosed me mad at best, bordering on insane.
I hoped that I'd be at Heathrow to go and watch Everton in Europe. But Manchester and onto Goodison it is.
That's me getting old Brent. How foolish of me to assume tradition and the FA Cup Final would be the last game of the season!!!
Let's go and do this Everton. There has to be a reaction after Monday.
Steve Shave
171
Posted 13/03/2022 at 08:19:55
Very nervous about today, we have to pick up at least a point from this game. I would drop both Keane and Holgate:
Pickford
Coleman, Godfrey, Branthwaite, Kenny
Doucouré, Allan, Van de Beek
Gordon, Richarlison, Gray
A risk, yes, but those two at the back have been so so poor. Branthwaite has been thrown in the deep end several times and never let us down when up against it. It's a depressing defensive line-up whoever you pick, eh? Fucking useless recruitment.
Gordon and Gray are going to have to work really hard and track back to support the midfield. I am not going to predict anything as I simply cannot work this team out. If I were a religious man, I would just resort to prayer.
Jay Evans
172
Posted 13/03/2022 at 08:27:50
Feeling pretty nervous about today but maybe that is to be expected I suppose. We simply have to start well and it goes without saying that anyone who is going to the game needs to play their part.
Can we do it ? If we go ahead then yes we can. If we go behind then let's try to stay positive and who knows ?
I fancy Richarlison to score today.
Onward Evertonians.
Full support 💙
Graeme Beresford
173
Posted 13/03/2022 at 08:58:55
Don't think I've ever been more nervous for a game of football.
Tony Abrahams
174
Posted 13/03/2022 at 09:07:32
I think nerves are a big part of football Graeme, especially at Everton, because the players are constantly getting on everyone's nerves. I think the nerves have to evaporate before the game kicks-off though, hopefully to be replaced with desire.
Sean Kelly
175
Posted 13/03/2022 at 09:11:35
Sitting here with poxy Covid. Feels as if a steamroller has run over me. Just need 3 points today to start my recovery.
Danny, I salute you. You are my nomination for lead in the remake of Planes, Trains and Automobiles.
George McKane
176
Posted 13/03/2022 at 09:33:28
It's early Sunday morning - - just after 8.00am - - the City and the Sky pale - - dramatic grey clouds beginning to break and, just making it's first appearance of the morning the sun, is pulling the grey sheets back ready for a new start - - A New Day - - a feel of El Greco's Toledo - - the City is silent - - resting I guess and still yawning but preparing itself for this afternoon's dramas - - behind me - over my right shoulder - - St.Peter and Paul - - New Brighton's Duomo - - The Bells Ringing - - Hear Them:
"Oh, that magic feeling
One sweet dream
Pick up the bags and get in the limousine
Soon we'll be away from here
Step on the gas and wipe that tear away
One sweet dream came true today
Came true today
Came true today (yes, it did)"
I will pick up Dave around 10.45 - - early start in TDH - - quick little nod towards St.Ollies in Great Mersey Street (the building is no longer there but Father Winder floats above, looking down, and all my memories of these streets and days are as strong, visible, powerful and as permanent as The Pyramids) - - my heart is full of these places - - my memories are easily and regularly triggered each time I head towards The Dark House and Goodison - - just now the image of My Mum Annie walking up towards Everton Valley on a Wednesday morning with the weekly washing wrapped in a blanket and carried on her head towards The Wash house - - I went with her to help sometimes and the women would chat and gossip together but would also sing - - Bluetiful- - God Bless You Annie/Ma Joad:
"There are places I'll remember
All my life though some have changed
Some forever, not for better
Some have gone and some remain
All these places have their moments
With lovers and friends I still can recall
Some are dead and some are living
In my life I've loved them all ………..
Though I know I'll never lose affection
For people and things that went before
I know I'll often stop and think about them
In my life I love you more."
These are precious times for Evertonians and today and from now until the end of the Season there is only time for "posso waves" - - all our energies - - Fans/Management/Players - must pull our hearts, souls, dreams and visions and thoughts together for just one thing - - survival - - and then we can regroup and rethink - - this little bit from my daughter Helen's ( I will meet her and Liam my grandson in TDH later this morning ) favourite band - - Haircut 100 - - is for Danny O'Neill and all the Blues making the great effort to be at Goodison to get behind "their" Team:
"Well there's a great amount of strain
About getting on that train
Every day and every night
The only thing that makes it good
Is seeing my favourite sight
Prance and flutter stride down that green escalator, yeah
When I'm getting off the train
And my love is on my brain
Every day and every night
The only thing that makes it right
Is seeing my favourite sight
Crying in the night with the summer in her eyes tonight
Fantastic day today
Fantastic day"
I am, allowing for the situation, overly excited about this day - - no matter what - - It's great To Be An Evertonian - - and it's fabulous that we can go to the game - - I guess the last few Seasons' of No Fans really taught us that Joni Mitchell (A Great Evertonian) was right - - so there is never a day - - a time - - a game - - when I think about "not going" - - right now I am sitting in my writing room - - listening to my music - - writing - - I am nearly 73 and I am sitting at my desk in Everton Dressing Gown - -Steady - - Steady - - Stand By Your Beds - - surrounded by my postcards/posters/poetry/drawings - -Everton/Gosia/Vincent Van Gogh/Beatles/Nijinsky/Wordsworth - - each match day - - I sit here – no matter what - - play some music - - read some poetry - - read TW - - lift my spirits - -
"Just like way back in the days of old
Then magnificently we will float
Into the mystic"
Sometimes I get the old gob iron out and just blow - - just putting a bit of music up into the Astral - - my health is so much better than it has been for around 3 years - - like Mc Murphy " I'm a goddam miracle of modern science" - - and so today I can - - and will have a few pints of Golden - - like John Mills I will walk into TDH around 11.15am and order a Golden - - I will stand for a moment and let it settle - - the foam dripping down the side of the glass - - remember the old Liverpool saying - -"put a head on that pint or I'll put a head on you" - - my tongue will run along my dry lips and I will lift the glass like a Golden Chalice - -The Grail Cup - - Sylvia Sims - - behind The Bar will smile - - and so the day starts - - Mick The Bookie - -will tell me what odds I will get for my 4 - 0 - - - I will sit with The Kirkby boys and a bit later Gaff will come in - - we will debate the current situation - - give our differing opinions - - raise our voices - - then wiping the beer from our lips with our arms we will put our coats on and walk - - together - - friends and Evertonians - - mates - - buddies - - greeting to all Blues as we walk up - - Westminster Road - - Spellow Lane - - maybe spot Derek in The Spellow - -up to Goodison - - our hearts and souls full - -full of desire and hope - - tense - - of course - - but no matter what - -Blues and after the game back to TDH and then meet again on Thursday - - no matter what:
"I never felt magic crazy as this
I never saw moons, knew the meaning of the sea
I never held emotion in the palm of my hand
Or felt sweet breezes in the top of a tree
But now you're here
Brighten my northern sky"
Up The Blues - - and God Bless All Evertonians - - Every One:
In light of the current situation in Russia/Ukraine - - I am reminded of a Piece of Work I did in Bootle in 1989 - - at the ending of Communism/Cold War - - Peace Breaks Out - - writing to The United Nations and Declaring Peace on the World - - saying we - - the people of Bootle would not invade any country - - it was an amazing piece of real meaningful theatre with local young people (still doing it today) and we used a track from XTC - - Melt the Guns in the performance - - on the beat of Melt The Guns we marched into the audience but gave them daffodils not guns:
"Programmes of violence,
As entertainment,
Brings the disease into your room.
We know the germ,
Which is man-made in metal,
Is really a key to your own tomb.
Prevention is better than cure,
Bad apples affecting the pure,
You'll gather your senses I'm sure
Then agree to,
Melt the guns,
Melt the guns,
Melt the guns,
And never more to fire them."

And so - - now I have to go and get ready - - I send Blue Cosmic Posso Waves out to All Blues - - via The Astral with a firm handshake - - - your friend - - and here's a quick blow on the old gob iron - - just for you - - there you go - - - George

Neil Carter
177
Posted 13/03/2022 at 09:34:56
COYB
Players owe us fans big style to perform today and next Thursday.
Let's see some pride and tenacity for once!!!
Philip Abbott
178
Posted 13/03/2022 at 09:42:40
Match ticket available for today v wolves, contact Roy on 07894032243
James Hughes
179
Posted 13/03/2022 at 09:46:44
That was beautiful George, thank you. You're bet will be paid today I am sure the boys will come good
Lynn Maher
180
Posted 13/03/2022 at 10:04:34
Thank you for that, George. I can't go to the match today as I have to self isolate, due to an upcoming hospital appointment. Was feeling a bit down but reading that has lifted my spirits. Thank you once again.
Dave Williams
181
Posted 13/03/2022 at 10:12:42
Brilliant, George, I could taste that lager from down here in Devon. See you soon for another beer and look after yourself!
George McKane
182
Posted 13/03/2022 at 10:15:55
Thank you you Bleuties - - lovely - - Cheers Dave.
Andrew Clare
183
Posted 13/03/2022 at 10:17:41
A fantastic post, George. I love your world view and taste in music. My Dad was Bootle born and my Grandad worked at the docks. I remember them when I read your words and I remember going to Goodison with my Dad to see Young, Vernon and all the Everton greats of the early sixties.
Enjoy the game today. I wish I could be there. There is no place like Goodison when the crowd are in full voice. The Goodison roar sends shivers down my spine. COYB!

Brian Murray
184
Posted 13/03/2022 at 10:21:58
George, if the open air swimming baths over your side was still there I'd join Bob latch and think I could walk on it if we escape this mess. Jc almighty has spared us dropping these last few weeks. Time to stand up ourselves now. Coyb
Tony Abrahams
185
Posted 13/03/2022 at 10:23:56
Brilliant George, I was listening to the cranberries earlier, after finding out their classic song called Zombie, had now been watched over one billion times on YouTube, but I'm hoping you played Dylan for us Evertonians, on that wonderful harmonica, and that uplifting song about the times they're a' changin!
Jerome Shields
186
Posted 13/03/2022 at 10:25:08
It will be a difficult game today. The weather is quite stormy. Hopefully the crowd can spur the team on. Godfrey would be a welcome addition.
George McKane
187
Posted 13/03/2022 at 10:26:47
Tony - -was listening to Chimes Of Freedom this morning - - just listening to Judy Blue Eyes CSNY - - Floating Into the Astral - - All The Way.
Laurie Hartley
188
Posted 13/03/2022 at 10:42:24
George that's three things we have in common, both nearly 73, both Evertonians, and both with wonderful mothers. Mine was called Betty. We have been well and truly blessed.
Up the Blues.!!!
Gary Jones
189
Posted 13/03/2022 at 10:45:44
Rob Dolby @ 45 - where have I made it personal? You're not the only one writing off the unknown youth in favour of sticking to known shite.
Danny Bailey @ 48 is just one other example of this line of idiocy. Writing off a 19yo CB who hasn't even had a run, and a 22 LB dealing with war in his homeland is pathetic beyond words. That's not personal, that's just fact.
Danny O'Neill
190
Posted 13/03/2022 at 10:48:23
Thank you for the mention Sean Kelly, although the salute is not required these days!!! If there is one thing we can guarantee, its that about 36000 fans in the stadium will be willing them on, backed up by those around the country and world who are always there in spirit. I wish they carried our spirit.
George, inspiring - can you do the team talk before handing over to Frank please?
Always nervous but equally, always optimistic.
Pit stop in Manchester before the final leg "home". The day is already 6 hours gone since my first coffee this morning, but that optimism will turn to confidence as soon as we approach the place that makes it all worthwhile.
Gary Jones
191
Posted 13/03/2022 at 10:50:40
4-5-1/4-2-3-1 for me today. Not going to get my wish but if I did it would be:
Pickford
Patterson Godfrey Branthwaite Mykolenko
Gordon Allan Dele Doucoure Gray
Richie
Brian Harrison
192
Posted 13/03/2022 at 10:50:50
Wolves are a well organised side and apart from the top 3 have the best goals against in the league, thankfully they don't score a lot of goals just 28 from 28 games. The first goal is always important in games but given how good defensively they are its even more important we strike first today.
Certainly over the last week or so the results of others have helped our position but today its time we helped ourselves, a win today will help with confidence going into Thursdays home game with Newcastle.
I think if we play like we did against City I could see us winning both games, but equally put in anything like the horror show we did at Spurs it will be a completely different scenario. Certainly having Godfrey and Gray back in the squad will help a great deal. I am not going to try and second guess what team Frank will put out but he sees them everyday in training so I trust his judgement. We know that Goodison will be right behind the team as they have been since Frank arrived. Lets hope we can put soe daylight between ourselves and Burnley.
Graeme Beresford
193
Posted 13/03/2022 at 10:51:05
George, you sir are boss. Almost had my crying In Costa.
Brian Murray
194
Posted 13/03/2022 at 10:54:55
Gary @189. I'd go even further and say this 19-year-old is vital now not next year. Branthwaite in straight away. He's the only centre-half I can see with a football brain that doesn't panic.
Tony Abrahams
195
Posted 13/03/2022 at 11:02:29
I am yours - you are mine - we are Everton!!
Johan Elmgren
196
Posted 13/03/2022 at 11:10:38
Coleman has been a great servant for us, but Monday was the final straw. Unfortuntately he's past it now, and won't make my preferred lineup again, unless there is no other option...
Keane need a breather, his confidence is rock bottom. Get him out of the headlights for a few weeks. Also I think we need a leftfooted LB in the team to give us the right attacking balance.
----------------Pickford----------------
Kenny-Godfrey-Holgate-Myko-
--Doucoure-Allan-VanDeBeek--
----Gordon-Richarlison-Gray----

COYB!
Gary Jones
197
Posted 13/03/2022 at 11:11:42
Brian @ 194 - I'd agree that outside of Mina and Godfrey he should be the next name on the sheet for CB. His passing will get better with games and is no worse than Keane or Holgate. Same people writing him off were the ones doing the same with John Stones.
John Kavanagh
198
Posted 13/03/2022 at 11:14:59
No matter who Lampard picks, the attitude players show will determine the result. Only non stop effort and concentration can get us a result, along with a bit of luck for once. The crowd will help deliver that and heads cannot be allowed to go down, either on the pitch or in the stands.
We will also need to be aware that Michael Oliver is the referee, with Lee fu****g Mason lurking on VAR ready to do us in.
Our survival is at stake today so everyone needs to give 100%.
COYB.
Neil Copeland
199
Posted 13/03/2022 at 11:17:49
Come on blues - so important today. With our fantastic support and George's great words we can do this.
UTFT!
Geoff Lambert
200
Posted 13/03/2022 at 11:20:44
Gary #191 Just the team I would have picked myself. Out with the old in with the new. COYB. 3 points today is a must.
Ray Robinson
201
Posted 13/03/2022 at 11:31:14
I may be out on a limb again but for me Keane must play. Agreed, he's a liability recently but I can't see us doing well without him. Mykolenko Patterson and Branthwaite together is too much inexperience to pitch in together all in one go. If Keane plays well - big if - we win. Without him and with the other 3, we won't.
Geoff Lambert
202
Posted 13/03/2022 at 11:32:54
Will Frank have the bottle to change the back line so much?
Coleman,Kenny, Keane and Holgate should all be rested lets give the youngsters a chance. I would give Deli a start also he has the bit of creativity that we so desperately need.
Alec Gaston
203
Posted 13/03/2022 at 11:33:27
Pete #167 that made me laugh out loud- even more so because it's not a bad idea
Stephen Vincent
204
Posted 13/03/2022 at 11:34:00
Tony #195 wasn't it Crosby Stills and Nash who said ' I am yours you are mine, you are what you are. But you make it hard' .
Danny Baily
205
Posted 13/03/2022 at 11:43:24
Gary 189, certainly wasn't writing Branthwaite off, got high hopes for the lad. Just pointing out that he's not ready to be first choice. And Mykolenko doesn't look up to much in my opinion.
Kim Vivian
206
Posted 13/03/2022 at 11:47:47
Great George, great. Uplifting for all of us and poignantly touching as well. We ache for that 4-0 win.
We spend the day in angst, worrying about our fate in the PL and then I hear this morning that my partner's daughter and her husband (in Budapest) in their small flat have just given refuge to two Ukarainian ladies from Kiev, a baby and 5 year old child.....
Tony Abrahams
207
Posted 13/03/2022 at 11:54:59
That was the song ,George, was listening to Stephen, Judy Blue Eyes
Rob Hooton
208
Posted 13/03/2022 at 12:21:19
Wolves can go 6th if they win so they'll be well up for it - doesn't need saying that our lads also need to be up for it.
I posted my preferred line up yesterday with 4 CB's at the back and 5 in the middle with the wingers given license to break forward.
Not conceding is imperative, a clean sheet would be great and I don't care how we score but we must!
Mike Keating
209
Posted 13/03/2022 at 12:21:52
George @ 176
You most certainly are "a goddam miracle of modern science"
UTFT

Joe Corgan
210
Posted 13/03/2022 at 12:46:41
The concept of "must-win games" is overused these days but, if we fail to win this, it's hard to see how we can pick up enough points to get out of trouble. Not least because, if we can't beat Wolves at home, I don't expect we'll be able to beat Watford or West Han Away, or Man Utd at home either.
A win today could give us the belief that we do have the quality, at least at home, to beat the teams we need to.
With our defence in shambles I can see why Frank would want to play three centre backs, but that effectively hobbles our midfield and nullifies any attacking threat.
If necessary, drop Keane and play Branthwaite or Godfrey alongside Holgate. Unfortunately the player we're missing is Mina.
Goodison has to be a bear pit today. Both us and the team have to give absolutely everything for ninety minutes. A failure to win could leave us needing snookers.
Jerome Shields
211
Posted 13/03/2022 at 12:50:09
Ray#201
I think the same, but would prefer Holgate and Keane interchange positions, like both Ancelotti and Benitez did.Keep saying it Keane has a weaknesses on his right side. Keane was suffering for a fever, but was prepared to play in the Tottenham game. With Lampards tactics he wasn't protected at all.Godfrey to be right back and Seamus as a Sub.Reports are that Patterson and Myo haven't impressed in training and Frank finds it strange they were brought in for positions that demanded experience.Though Myo did play well against Brentford, but Kenny has been one of the better backs when he plays.
Tony Heron
212
Posted 13/03/2022 at 12:57:45
George, as always, your words at one inspire me, lift me and reduce me to tears. I agree with the comment that you should do the team talk, if that couldn't get the buggers going nothing would.
---
Add Your Comments
In order to post a comment, you need to be logged in as a registered user of the site.
Or Sign up as a ToffeeWeb Member — it's free, takes just a few minutes and will allow you to post your comments on articles and Talking Points submissions across the site.