Royal Liver Building is up for sale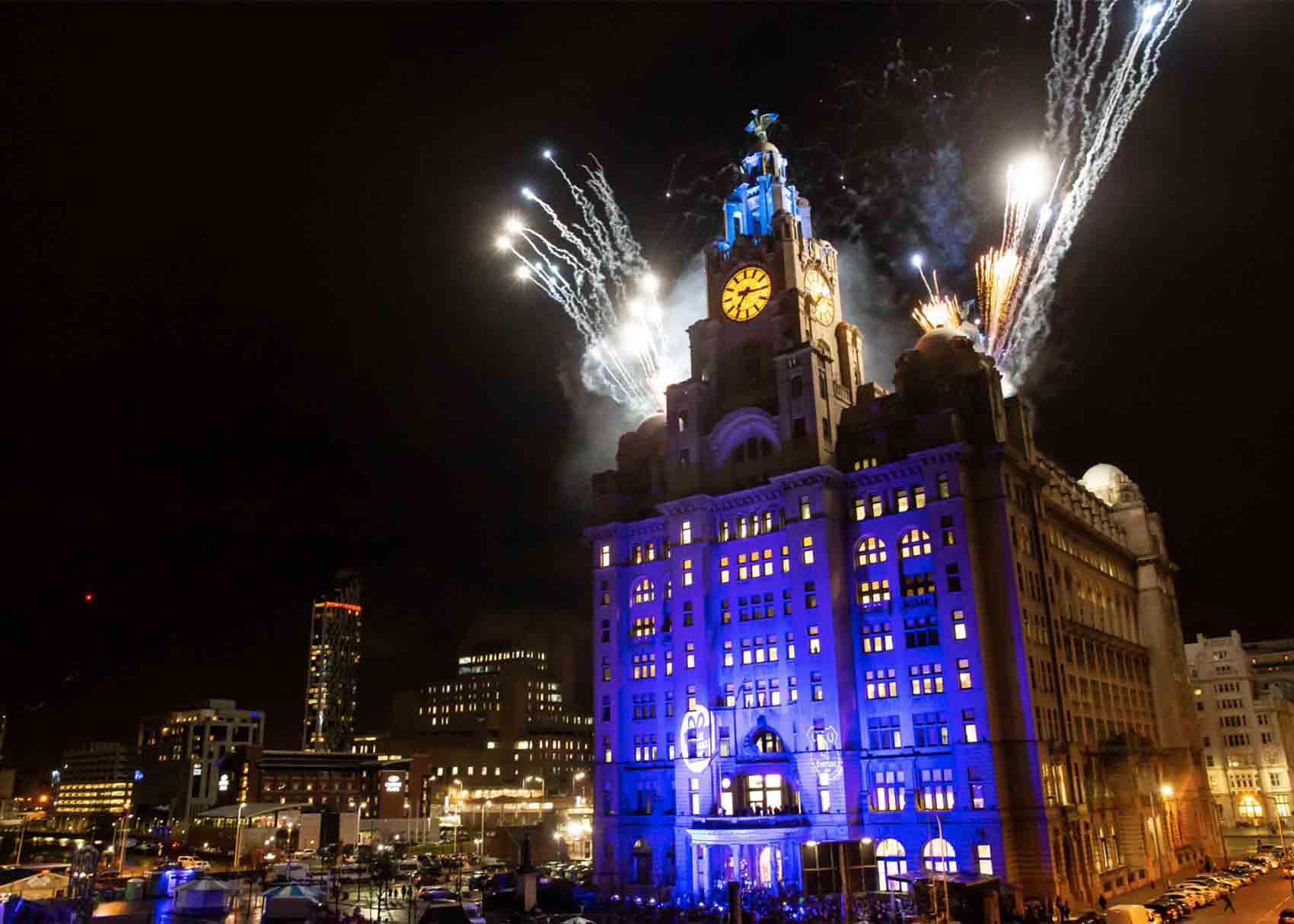 The Royal Liver Building is up for sale for only the second time in its 111-year history but Everton's tenancy in the building is not expected to be affected.
The iconic landmark is a focal point of Liverpool's waterfront and has been extensively refurbished since it was last on the market back in 2017.
At that time, it was purchased to great fanfare by Everton's majority shareholder, Farhad Moshiri, in partnership with German property investment group, Corestate, for £48M.
Corestate has invested millions in the Royal Liver Building to attract several major Liverpool-based companies as tenants, which now include Princes Foods, HSBC, Mott MacDonald, Grant Thornton and of course the headquarters of Everton FC.
Article continues below video content
Those tenancy agreements are set to continue unaffected by the sale, which is expected to see a substantial increase in value to £90M when global real estate mammoth CBRE completes the sale on behalf of their clients.
---
Reader Comments (76)
Note: the following content is not moderated or vetted by the site owners at the time of submission. Comments are the responsibility of the poster. Disclaimer
Kunal Desai
1
Posted 15/03/2022 at 08:29:13
The start of dismantling the club and hopefully servering all ties. Get Moshiri out of this club. An absolute shit stain.
Tony Abrahams
2
Posted 15/03/2022 at 08:32:33
Being conservative, it looks like they are going to make around £35 million out of this property, in around 5 years, I wonder if Bill Kenwright will get another bevy out of this?
John Zapa
3
Posted 15/03/2022 at 08:33:19
I think the sale is to generate funds to keep the stadium construction going. Since Usmanov cannot fund it, and no legitimate sources of finance are currently available, this will be enough to keep it going until the summer sale of a few players can happen.
Brent Stephens
4
Posted 15/03/2022 at 08:41:01
A quick sale followed by the money being moved overseas? Out of reach of government hands as the net widens?
Derek Taylor
5
Posted 15/03/2022 at 08:41:55
The Moshiri Empire starts to crumble as the fire sale is launched. Sell and rent back for Finch Farm will be next and Pickford and Richarlison gone as soon as season is over.
But as relegation and worse threatens, one thing is for certain.... Kenwright will remain to steer us through the gloom. He is indestructable!
Ray Roche
6
Posted 15/03/2022 at 08:45:36
Derek, I thought Finch Farm had already been sold to the Council by BPB and rented back?
Barry Hesketh
7
Posted 15/03/2022 at 08:46:43
So the Echo reports that the Liver Building has been put up for sale – a decision made late last year – which means according to them it has nothing to do with sanctions on oligarchs; however, Everton FC should be able to continue their tenancy there.

Brent Stephens
8
Posted 15/03/2022 at 08:50:13
So that timing puts paid to my theory, Barry.
Colin Glassar
9
Posted 15/03/2022 at 08:55:37
Can Destination Kirkby be resurrected? That would be a good site for our soon-to-be Northern Conference League team.
Bill Fairfield
10
Posted 15/03/2022 at 08:57:52
Hopefully Moshiri will put the club up for sale as well.
We have become a laughing stock under his ownership.
Gary Jones
11
Posted 15/03/2022 at 09:00:33
There were apparently ~20 buyers lining up for Chelsea at £2B asking price. If someone came in and gave Moshiri his £600m back + £100M profit + had £100M deposit for the mortgage deposit on the rest of the stadium, I think it'd be a great win for everyone……
But everything depends on staying up. Need to turn off the noise and make that the goal this year.
Joe McMahon
12
Posted 15/03/2022 at 09:07:20
Derek, there will be roles for Unsworth, Dunc and Sharp.
Derek Thomas
13
Posted 15/03/2022 at 09:24:44
House of Cards or prudent business - time will tell.
Derek Knox
14
Posted 15/03/2022 at 09:46:14
I wonder if this is the start of Moshiri pulling out altogether?
I heard a rumour some time back that he would accept a substantial offer for Everton Football Club, and that was before all this Russian atrocity in Ukraine started!
Makes you wonder what will happen with the new stadium at Bramley-Moore Dock also???
Derek Taylor
15
Posted 15/03/2022 at 09:47:26
Ray @6.
You are right – Finch Farm was hived off before the Russian's errand boy took over. I wonder when we shall hear that the new stadium can only be built if a similar buyer can be found? But will that project be halted if relegation becomes a reality?
David Graves
16
Posted 15/03/2022 at 09:47:33
Gary, it's more like 200 potential buyers for Chelsea – not 20!
The Raine Group have reportedly received bids of £2B which unfortunately makes your suggested £800M for Everton overpriced.
I don't think there's anyway Moshiri can get back close to his initial outlay until the new stadium is built.

Pat Kelly
17
Posted 15/03/2022 at 10:44:53
Moshiri will need the profit from the sale to pay Spurs up to £40M for Lampard's marquee signing — Dele Alli.
Tony Abrahams
18
Posted 15/03/2022 at 10:48:20
The things Kenwright has done to keep hold of Everton, consistently go un-noticed by so many people throughout our fanbase, Derek T.
Geoff Williams
19
Posted 15/03/2022 at 11:06:03
Further proof that Moshiri was only the frontman for the Russian gangster. He never had any real interest in the club or the city.
Ray Roche
20
Posted 15/03/2022 at 11:37:49
Geoff, along with the Swiss consortium, won't he be walking away with a share of £40M profit? I wish I was that stupid!
There is absolutely no known truth in your statement that "Further proof that Moshiri was only the frontman for the Russian gangster. He never had any real interest in the club." – Just ridiculous conjecture on your part.
Steve Shave
21
Posted 15/03/2022 at 12:33:46
Oh dear, I fear this is an ominous sign of what we all feared, the chickens are coming home to roost. What a fucking shit show of how to run a football club. How the man amassed such a fortune is beyond me, he is no more than a well intentioned fool in my eyes.
John Zapa
22
Posted 15/03/2022 at 12:37:56
Make no mistake, the wheels are coming off.
Gary Jones
23
Posted 15/03/2022 at 12:40:09
Season tickets renewed……what else can we do. Moaning ain't going to sort it out.
Paul Hewitt
25
Posted 15/03/2022 at 12:53:05
Gary @23. Least you get more home games next season.
Barry Hesketh
27
Posted 15/03/2022 at 13:05:38
Jim White and Simon Jordan back on the 'Sanctions for Everton' bandwagon due to the latest set of accounts supposedly showing a loss well in excess of the permitted £105m Financial and Profitiablity rules. Jordan believes we will see a points deduction imposed by the Premier League, however, given there is an appeal process, it's likely to be next season before that happens. Personally, I think I'd prefer the deduction - if that happens - this season rather than start the next with minus points. Knowing our luck we'll fail to stay up without the points deduction and start the Championship campaign on a minus points setting.
Honestly, the people within the club must have been living in cloud-cuckoo land for the last few years, don't they do a monthly running total to show how things are trending or do they just wait until the accounts are due and start running around trying to find receipts, invoices and credit notes, what a bunch of cretins they really are.
The only caveat being that if Usmanov was going to pump money into the club last year and that was stopped by the Premier League, then there wouldn't have been much time or an opportunity to replace that possible investment.

Tony Everan
28
Posted 15/03/2022 at 13:15:56
Hasn't there been a relaxation of the rules? Or has that already been taken into account?
Roger Helm
29
Posted 15/03/2022 at 13:16:51
He has somehow managed to ruin our club by pumping in half a billion pounds, I didn't even know that was possible. Whether we stay up or go down, I just wish he would sell the club, preferably to a sports management business who know what they are doing.
And surely Kenwright can't carry on for much longer? Haven't we suffered enough?
Neil Copeland
30
Posted 15/03/2022 at 13:18:46
Gary #11, maybe that should be "turn up the noise"! 😁
Kieran Kinsella
31
Posted 15/03/2022 at 13:28:47
We've had some great times...
Gary Jones
32
Posted 15/03/2022 at 13:30:16
Neil @ 30 - just talking about all this other noise….we've got posters above quoting "Simon 'hates everton' Jordan" as some kind of defacto truth, then alluding to some points deduction being held until next year.
The end is nigh brigade is huge. Worry about it in the summer, worry about points for now.
Neil Copeland
33
Posted 15/03/2022 at 13:33:31
Gary #32, I know mate, being sarcastic. The bandwagon is well and truly rolling with ever more passengers.
100% we need to concentrate on here and now and get the points.
Barry Hesketh
34
Posted 15/03/2022 at 13:34:07
Gary @32
I thought it might be of interest to fellow ToffeeWebbers, but obviously I was wrong. I happen to think that Simon Jordan and company are a bunch of beauts.
Barry Hesketh
35
Posted 15/03/2022 at 13:38:18
Neil and Gary,
I know you are both fantical blues but could you please give me a copy of "How to be the perfect Evertonian" – mine must have got lost in the post.

Jamie Crowley
36
Posted 15/03/2022 at 13:42:29
This is truly a bad sign.
You only sell if you need the money.
We have to stay up. If we stay up we can reset. If we go down, we're not coming back up for the foreseeable future as our finances are a mess now.
Neil Copeland
37
Posted 15/03/2022 at 13:48:39
Barry #35, no need, it's obvious to me at least that you are already as fanatical as anyone else.
Neil Copeland
38
Posted 15/03/2022 at 13:53:12
Maybe the club are trying to demonstrate actions being taken to help address overspending?
Alan J Thompson
39
Posted 15/03/2022 at 14:00:17
Barry(#27);
Receipts, invoices and credit notes are kept with the fax paper, except for those lost down the back of Bill's sofa.
Kevin Prytherch
41
Posted 15/03/2022 at 14:10:23
Will the Arteta money turn up in one of the rooms?
Kieran Kinsella
42
Posted 15/03/2022 at 14:20:39
Interestingly QPR ran afoul of spending rules in 2014 while in the EFL. But as they were in the EPL next season they didn't pay their fines and the EFL couldn't do much about it. It wasn't until they were relegated again that the EFL was able to go after them and even then it was FOUR years of back and forth before they agreed on a 10 year payoff of a reduced fine.
So, if we were relegated, I don't think the EFL could dock us points or fine us as they are a separate entity from the EPL. So we'd be safe unless we get promoted again.
But even then, the points deductions have been used for clubs in administration or in Derby's case, teams that basically committed fraud by lying about their financials. So I don't think -- based on precedent -- that points deductions are a worry based on FFP.
Now, points deductions based on going into administration if Moshiri loses his wallet is another matter.
Brent Stephens
43
Posted 15/03/2022 at 14:31:44
Jamie #36 "You only sell if you need the money."
Jamie, that's not necessarily so. Often people buy low and sell high. And then repeat.
Kieran Kinsella
44
Posted 15/03/2022 at 14:35:27
Jamie,
Moshiri was only a partial owner so the other party would have had to agree to any sale. But financially, it looks like a savvy deal if they make a massive profit on it as opposed to a closing down sale type panic move.
Tony Abrahams
46
Posted 15/03/2022 at 14:49:31
I'm hoping that our ex-deputy chairman, who is allegedly looking for American investment to purchase a football club, has got Everton in mind, although I was thinking that West Ham, might offer the greatest value, because I was reading they could be sold for around £600 million, when I started looking up Keith Harris.
If Moshiri cut his losses and sold Everton for around £500 million, the overall cost of the club, would be closer to £1.2 Billion, once the ground has been completed, so hopefully it's a "once Everton have touched you" otherwise I can only see very dark days, whatever division we are in.
There is a lot of money in our city now though, it's one of the reasons the Tories, are going through the council's misdemeanors with a fine tooth comb imo, and I think the Liver buildings, is a good example of the profits that good investment can bring?

Jerome Shields
47
Posted 15/03/2022 at 15:10:30
Moshiri is not going to put any more of his own money in. He is trying to reorganize the resources he has. The sanctions and potential dirt that may be dug up may have added to this being a good idea.
Jay Harris
48
Posted 15/03/2022 at 15:12:17
Tony,
A close friend of mine is very close to Keith Harris and he told me a few years ago that Harris had said Everton was the most dysfunctial board he had ever worked with and also confirmed that Kenwright's role as chairman was part of the sale agreement.
The world's greatest Evertonian has always had his self interest well before Everton's.
David Graves
49
Posted 15/03/2022 at 15:15:24
If the decision to sell was made last year then this is simply a business decision rather than a precursor to a "fire sale". If we are not actually moving out and will remain as tenants then why the panic?
We have a very difficult few weeks ahead in which we need to start winning football matches but Calvert-Lewin's speeding fine and Moshiri's property deals are not indicative of a club going down the pan.
Mike Gaynes
50
Posted 15/03/2022 at 15:16:32
Jamie #36, some people sell to make money. This is called capitalism.
Corestate is looking to clear a 50% profit in five years. Put in 60, get back 90. Seems like a terrific incentive to me.
And to the folks here who think it's a sign of the wheels coming off, or desperation, or crumbling, or whatever... I would point out that this is only half Moshiri's decision. And Corestate has no connection whatever to Everton.
Mike Gaynes
51
Posted 15/03/2022 at 15:26:45
Jerome #47, I know you love to make up bullshit, and normally I don't bother, but I'm calling that one out.
As a British citizen, Moshiri is not subject to sanctions.
And there is no indication of "potential dirt" or that anyone is trying to dig any up.
Dale Self
52
Posted 15/03/2022 at 15:51:22
Uh, I believe some would have seen fit to take some money off the table after a good run of property value increases. The timing does not rule out some "long term" vision that may be better than other players in the market attributable to inside information but until you have that story researched the move would make sense anyway.
I do think some of these are getting the benefit of the doubt on whether they might have "heard" something could happen but I'm way out on a limb there and would not try to convince anyone else with what I've got on that.
James Flynn
53
Posted 15/03/2022 at 15:51:35
Agree with all comments on what Corestate is doing. They're a central European real estate outfit that buys, refurbishes, then flips properties for profit. It's what they do.
They're doing so now with their Liver Building investment.
Gary Jones
54
Posted 15/03/2022 at 16:59:25
Barry@35 - not sure where I'm telling anyone how to be a blue. Just saying focus on football, don't let all the peripheral commercial negativity distract from immediate points goals, and if 38k keep going every week we'll eventually turn it around. How's any of that deserving of your snark?
Barry Hesketh
55
Posted 15/03/2022 at 17:09:17
Gary @54
When I sign a contract as a professional player for Everton, I'll take your advice on board, being a mere fan, I'll opine about whatever I feel is relevant to me about the fortunes of Everton Football Club. I concentrate on the football for the entire span of each and every game, apologies for being snarky but I thought it an appropriate response to your original reply to my post about Jordan and White.
Sean Kelly
56
Posted 15/03/2022 at 17:23:19
I wonder what Orvill has to say about it. I will get me coat
Paul Smith
57
Posted 15/03/2022 at 17:42:33
Maybe the new owners can fuck those stupid birds off.
Rob Hooton
58
Posted 15/03/2022 at 17:54:41
Kieran, 45,
Steve Gibson has hit back at Chelsea's request beautifully, stating that, "Chelsea and sporting integrity don't belong in the same sentence."
Made me smile, which currently doesn't happen often with the plight of our own Blues.
Will Mabon
59
Posted 15/03/2022 at 18:10:07
It's all been said above, but I will add - how sad to see a city icon flipped for a few roubles in this world of increasingly pie-in-the-sky investment "Valuations".
"...for only the second time in its 111-year history."
Ain't no history no more. It's not "sustainable". They'll be flogging us fans next. Hell, we're already listed as governmental assets anyway, so why not.
Kieran Kinsella
60
Posted 15/03/2022 at 18:20:22
Rob
I saw that and think he nailed the response. Funnily enough, the Chelsea supporters have come out in opposition to it.
Matthew Williams
61
Posted 15/03/2022 at 18:34:10
And so it begins, like rats deserting a sinking ship!.
The bloke's been a fucking Jonah since day one and let's not forget the prick that brought him to Goodison in the first place.
Bunch of clueless bastards... fuck 'em all!
Niall McIlhone
62
Posted 15/03/2022 at 18:41:09
Rob #58.
Steve Gibson. Now thereis a proper chairman.
Tony Abrahams
63
Posted 15/03/2022 at 18:50:14
The more I learn, the more it makes me feel sick Jay H. (If that's possible) I've never had to be convinced that Bill Kenwright was a man who was only in it for himself, but even when he proved how bad he was, a lot of Evertonians were outraged because he hadn't agreed to the conversation being taped.
Would Bill have let his guard down and shown his complete ineptitude, if he'd known the interview was getting taped, or would he have given a totally different interview and brought his acting skills into play?
Evertonians only have themselves to blame for their continued acceptance of William Kenwright, the man who gave us some great times, even helping Everton punch above their weight.
Tony Abrahams
64
Posted 15/03/2022 at 18:52:44
I heard he rings Kenwright on a regular basis, Niall!
Will Mabon
65
Posted 15/03/2022 at 18:54:40
"What would Everton do?"
Niall McIlhone
66
Posted 15/03/2022 at 19:08:24
I just look at how Gibson has continued to steer the Boro on a solid if (so far) unspectacular path, Tony? Rarely does Steve Gibson engage in hyperbole, and a friend who is a big fan of Boro tells me that Gibson has always had good working relations with his managers and players, as well as being accessible to the fan base.
The club now has the excellent Chris Wilder at the helm, and on the evidence of their excellent FA cup showing in the last round, it is no wonder Chelsea are quaking in their boots. The focus at the Riverside is rightly on their very well-motivated team, unlike Everton.
Kieran Kinsella
67
Posted 15/03/2022 at 19:43:58
Niall
Be fair, Steve Gibson has been on Easy Street compared with Kenwright. When Bill joined our board, we were the FA Cup holders. Big deal.
In contrast, Steve walked into an ideal situation with a Division Three team in administration who'd been locked out of their own stadium. Gibson has only embarked on one stadium rebuild albeit a successful one. Bill has embarked on three stadium builds, albeit thus far none finished.
Cynics will say "well Gibson saw Boro win the first trophy in their history and get to a European final." Why would Bill do that? Everton had plenty of success before he came along so it would be churlish to do stuff we've done before.
Moreover, Gibson has seen his club spend a mere few hundred million in 30 years; Bill has signed off on more than that in a single summer, so clearly he is better.
Neil Copeland
68
Posted 15/03/2022 at 19:51:42
Kieran, and don't forget the 'good times' that Bill has overseen.
Kieran Kinsella
69
Posted 15/03/2022 at 20:01:51
Neil
Like that memorable night under the lights vs Fiorentina... when we lost. Good times indeed.
Brian Wilkinson
70
Posted 15/03/2022 at 20:12:57
Kieran @45,
Chelsea can do what Arsenal did when they had fans painted on some cardboard when they were doing up one end of the old ground, behind the goal.
Stick a few cardboard cut-outs of their fans in Lower Bullens, that should do the trick.
Never heard any fuss when the North was playing behind closed doors from the start of the Panademic, while Southerners went about their daily buisness, screw then.
Kieran Kinsella
71
Posted 15/03/2022 at 20:17:38
Brian,
Talking of which, I wonder if the cardboard cutout of Osama Bin Laden who popped up at Elland Road has switched his allegiance to Newcastle?
Karl Masters
72
Posted 15/03/2022 at 21:25:05
I know it's been a dire season in many ways, but all this 'the end is nigh' bollox from some of you???
How about Moshiri and the fellow German investors saw an opportunity to buy, refurbish and sell an iconic building back in 2017 when they took it on?
Work now complete, big name tenants in place, time to capitalise the investment. They are making a £35M profit, so why not sell? Everton aren't leaving, nothing has changed in that respect.
It's just a bit of business, the sort that goes on all the time. Seeing it as anything else like some of the near hysterical posts on here is unfounded.

Philip Bunting
73
Posted 16/03/2022 at 06:56:27
Back in December 2021, it was decided to sell the Royal Liver Building; at the same time, Everton turned down the loan offered by the council of £30M. Maybe this profit will be reinvested into the new stadium at Bramley-Moore Dock for another better return?
Howard Don
75
Posted 16/03/2022 at 08:59:06
It just looks like a savvy investment that has worked out for the owners. No news relevant to EFC here, move on.
Derek Knox
76
Posted 16/03/2022 at 15:57:08
Howard, possibly so, a pity he wasn't 'more savvy' when it came to appointing ill-suited Managers, getting highly compensated, and sanctioning long term contracts to over-priced players too. Perhaps we wouldn't be in the brown smelly stuff now if the same acumen had been applied.
Mike Gaynes
77
Posted 16/03/2022 at 16:14:25
Ah, DK, if only business smarts applied to football smarts.
I wish he had asked us what he should do. I'd have been happy to give him some advice in exchange for some of his investing nous.
BTW, the Guardian reports the latest suitors for Chelsea are the Ricketts family, owners of my own beloved Chicago Cubs. I hope they get beaten out and start looking around for another footy club in Cubbie Blue. I bet Moshiri would listen to an offer.
Alan J Thompson
78
Posted 17/03/2022 at 04:08:56
Why do Everton have offices in the Liver Building?
I'd have thought Finch Farm or Goodison would be more suitable and in the long run, cheaper. Or is it so that the playing and coaching staff don't know when Board meetings aren't taking place at Bill's in London?
James Flynn
79
Posted 17/03/2022 at 19:37:52
Alan (78) - According to the Club,
"The move to new offices at The Royal Liver Building has allowed the Club to bring teams, previously based in different locations, into one place, enabling staff to work more collaboratively."
Have to ask one of the locals if they know where the different teams were housed before moving everyone to the Liver Building.
Regarding the sale of the building, no mention if Moshiri's stake is part of this sale or just Corestate's. Wonder if he'd sell up his piece, just as its value is about to increase so much after just 5 years.
Alan J Thompson
80
Posted 20/03/2022 at 05:25:17
James (#79); Given we've had as sponsors small goods manufacturers, second-hand car dealers, Asian brewers and West African bookmakers and have only in the last few years had a merchandise outlet not on a free corner of Goodison, then I imagine they have all been in the same cupboard as the fax paper.
Or, we've needed the larger offices because those same departments themselves were found to require help in the community.
Michael Kenrick
81
Posted 28/03/2022 at 22:35:20
Seems Moshiri's stake in the Royal Liver Building is pretty substantial: 49.9%, with Corestate Capital holding only 35%.
The remaining 15.1% is owned by a group of unnamed international investors, with the full ownership structure fully disclosed to qualified prospective purchasers.
---
Add Your Comments
In order to post a comment, you need to be logged in as a registered user of the site.
Or Sign up as a ToffeeWeb Member — it's free, takes just a few minutes and will allow you to post your comments on articles and Talking Points submissions across the site.