Everton vs Newcastle United
Wednesday, 16 March, 2022
Match Preview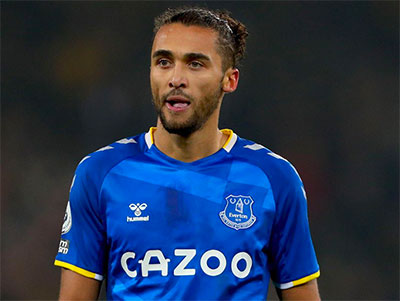 Dominic Calvert-Lewin will be assessed before the clash with Newcastle after he returned to light training yesterday following illness
Everton go into what is the most important game of the season so far looking to arrest a four-match losing streak in the Premier league and bolster their hopes of avoiding the drop this season.
Sunday's defeat to Wolves and wins elsewhere for Watford and Leeds left the Blues sitting on the cusp of the relegation zone, just a point above 19th place but still with games in hand on the teams around them.
One of those is this all-important clash with much-improved Newcastle United under the lights at Goodison Park where, once again, the atmosphere is expected to be fevered, albeit tinged with nerves at the gravity of the situation.
Everton have 12 more matches from which to find enough points to keep themselves in the Premier League. It is up to Frank Lampard and his coaching staff to find a functioning system and a means of elevating morale to the point where this team can start putting points on the board.
Article continues below video content
There has been a feeling at times this season, mostly early on before injuries took a toll on the likes of Dominic Calvert Lewin and Lucas Digne was sold to Aston Villa that Everton's first choice 11 was on paper good enough to challenge for Europe.
Yerry Mina's injury absences mean that, in defence in particular, the Blues are well short of being at the strongest and won't be until the until towards the end of the season at the very earliest by which point it may be too late. Nevertheless, the talent that propelled the team to an unbeaten start at the beginning of the season is largely still there. Likewise the bulk of the side that sat in second place on Boxing Day 2020.
There is, in combination with the Goodison crowd, a combination of factors, a coalescing of intangibles that can still inspire this team to achieve the victories that could yet save them from the drop starting against the Magpies.
But it surely rests on Lampard restoring Allan to a three-man central midfield, bringing Michael Keane back in to counter the height of Chris Wood, moving Ben Godfrey out to left-back where he has played well in the past and possibly even using Mason Holgate at right-back instead of the struggling Seamus Coleman and the suspended Jonjoe Kenny.
Up front, much depends on the condition of Calvert-Lewin who will be assessed before the game after he returned to light training yesterday following illness.
The striker, who has had a stop-start return to the side after missing four months of the season with a serious thigh injury, missed the defeat on Sunday because of a virus that also kept Nathan Patterson and Jarrad Branthwaite out of the squad.
Lampard indicated today that a late decision will be made on Calvert-Lewin while offering updates on the recoveries of Fabian Delph, Mina and Tom Davies. The manager said that there is a chance that Delph could return after the upcoming international break but that Mina and Davies are still a few weeks away.
Newcastle looked doomed in December when they were bottom of the League and coming off heavy defeats by Leicester, Liverpool and Manchester City. However, as Eddie Howe's methods started to bed in and the club were able to strengthen the squad in the January transfer window, things have improved significantly for the Magpies.
Between Christmas and their narrow defeat last Sunday at Chelsea, they went on a nine-game unbeaten run that has lifted them to 14th place and some nine points above the drop zone. They will travel to Merseyside with plenty of confidence and will not be easy to beat at all even if their injury doubts, Jonjo Shelvey and Joelinton don't make it.
For Everton, nothing short of a big performance, one that marries Lampard's possession game with plenty of direct play, will do. And surely nothing short of victory will be enough.
Kick-off: 7:45pm, Thursday 17 March 2022
Referee: Craig Pawson
VAR: Stuart Attwell
Last Time: Everton 0 - 2 Newcastle United
Predicted Line-up: Pickford, Coleman, Holgate, Keane, Godfrey, Allan, Doucouré, Van de Beek, Gray, Gordon, Richarlison
---
Reader Comments (122)
Note: the following content is not moderated or vetted by the site owners at the time of submission. Comments are the responsibility of the poster. Disclaimer
Christopher Timmins
1
Posted 16/03/2022 at 14:26:27
Manage his time carefully, depending on his fitness levels either give him the first 60 minutes or the last 30.
I note that Mina is weeks away at best, he should be back just in time for the lap of honour after the final home game.
Mark Taylor
2
Posted 16/03/2022 at 14:32:00
There's a chance that Delph could return? We wait with bated breath.
Every single player in our squad sees their reputation enhanced for a long as they don't play in a serially losing team, but we are kidding ourselves if we think players like Delph or Davies will make a shred of difference. I'm not even sure, based on current form and seeming mindset, that Calvert-Lewin would.
Mina is the biggest miss. He is far from perfect but he does marginally improve our defence when he plays, which nowadays is not at all often.
Danny Baily
3
Posted 16/03/2022 at 14:39:17
This could be a blessing. He needs to get back up to speed and we can't afford to give him time on the pitch to do that.
Will Mabon
4
Posted 16/03/2022 at 14:45:18
I guess it was fairly
light
training since he spent half the day in Chester.
If it's to be a late decision then he's unlikely to have much impact if marginally fit. Maybe better to leave him out to improve fitness for when we need him even more. After recent showings he doesn't yet look able to provide any more than R... Ro... Ron... you know who.
Not much going for us lately, is there?
Ray Roche
5
Posted 16/03/2022 at 14:57:22
Will, Calvert-Lewin didn't go to Chester, he pleaded guilty by letter.
Minik Hansen
6
Posted 16/03/2022 at 15:14:15
Rondon should be up for it.
Kieran Kinsella
7
Posted 16/03/2022 at 15:22:06
Mark 2,
I had to laugh yesterday when someone posted they'd love for Tom to be fit now for his character. Tom who was too scared to get a tap-in at Man Utd.
And as for Delph? People moan about the fans being critical, he is hardly likely to lighten the mood with "We are all shit"
As for Calvert-Lewin, fit or not, I would play Rondon with Richarlison out wide. Whether he likes it or not, he's more effective wide.
Will Mabon
8
Posted 16/03/2022 at 15:34:46
Ray, thanks. The letter must've been the light training then...
Kim Vivian
9
Posted 16/03/2022 at 15:45:48
Didn't Rondon play for Newcastle Utd? He'd love to bag a couple against them.
Dale Self
10
Posted 16/03/2022 at 16:01:03
Probably not the most professional approach but if we have some positions where more than one is qualified to do the job, put whoever despises the Saudi regime on the sheet and make sure they have some decent studs on their boots.
Paul Davies
11
Posted 16/03/2022 at 16:07:32
The trouble is Frank keeps shifting the deckchairs on the Titanic in the hope that whoever plays can adapt to the high press which most progressive Premier League teams have adapted too.
The only solution is back to basics and 4-4-2 or a flexible 4-3-3 which even this lot should be able to get to grips with. Failing that, it's prayers and candle time.
Paul Cherrington
12
Posted 16/03/2022 at 16:22:44
For me, Calvert-Lewin is a write-off this season – whether fit for the remaining games or not. We just cannot afford the luxury of him taking multiple games to get match fit and get back up to speed. We can't carry any passengers for the rest of the season.
I agree therefore that Rondon must play – especially as players love scoring against their old sides. Getting crosses into the box is key though with him up top. If he is not scoring, try Dobbin instead but naturally with balls in behind to use his pace.
I think we also need to play a 4-5-1 for the rest of the campaign now. Godfrey in at left-back and Patterson in at right-back, with Branthwaite and Holgate the centre-backs. Get some energy and bite into the centre-midfield area with 2 young lads like Price and Onyango in there to look after the back 4. Can we get Warrington back from Tranmere, as he seems worth a go? Van de Beek as the third centre-midfielder to play a more attacking role.
Hell, why not try the Keyzer Soze of Everton, that is El Ghazi, out wide and see what he can do? I'm not sure he really exists though as he has disappeared since joining us. Would stick with Gordon and Richarlison in the wide areas first though but he is worth a look at some point surely?
Just feel it's so sad what has happened to the club recently and where we are now. Feels like we are back where we were pre-Moyes – no passion from the players, poor squad, no identity on the pitch and a bit of a laughing stock for others in football. We've effectively managed to regress 20 years backwards – what a waste of time and money.
Tom Bowers
13
Posted 16/03/2022 at 17:13:23
Paul Davies, I agree with you. If Frank doesn't know the answer yet, who does?
I'm sure he, like his predecessors over the last few years, will need some time but he is in the unenviable position of being in charge of a relegation-threatened team which is playing like it.
We still have a few games in hand but, with very little offensive prowess, we will need some big performances on defence to eke out some draws which may be the difference in the end, if the other dross teams around us don't get points.
Paul Kossoff
14
Posted 16/03/2022 at 17:15:32
Calvert-Lewin has just been charged with speeding in the Lamborghini that we bought him. His excuse was his stiletto got caught in the accelerator.
Watch him do nought to sixty out of Goodison in two seconds if we go down. Over-paid, over-rated.
Bill Gall
15
Posted 16/03/2022 at 17:27:02
In his previous games, he has not looked up to match fitness, so it may be better letting Rondon play and throw his weight around. He may not have the skill level of Calvert-Lewin but he is not afraid to get stuck in and give their defenders something to worry about.
Surely a fit person is better than a half-fit player trying to return to match fitness? We need fighters and don't be surprised if Iwobi gets a start; when it mattered against Leeds, he stepped up.
David Connor
16
Posted 16/03/2022 at 17:47:13
The lad lacks fitness, that's obvious. More worrying is he is hampering the team because, in my view, he doesn't look interested when he has played. He's dreaming of the bright lights of London.
Look at some of our old boys, Dom. The grass isn't always greener. Everton pay your wages – so pull your finger out, son!
Pat Kelly
17
Posted 16/03/2022 at 18:03:15
Don't care if we never see him in an Everton shirt again. He's a busted flush as far as Everton is concerned. He'll be off once we go down anyway. Our goals have dried up and we're no longer fit for the Premier League.
Alan King
18
Posted 16/03/2022 at 18:17:20
Forget Calvert-Lewin for the Newcastle game – not fully fit yet and we cannot afford to wait after the Tottenham and Wolves results. I would play 4-4-2:
Pickford - minus the shenanigans with the Barcodes faithful.
Holgate Keane Branthwaite Godfrey
Gordon Doucouré Allan Iwobi
Gray Richarlison
Bench:- Dobbin Patterson Van de Beek
A team that could fight for our survival? Who knows.
COYB

Grant Rorrison
19
Posted 16/03/2022 at 18:21:55
Who cares? It won't make any difference anyway. Anyone who thinks we'll finish ahead of anyone, except maybe Norwich, is kidding themselves on.
Looks like we'll be starting life in a new stadium playing in god knows what division with hardly anyone in it.
Joe McMahon
20
Posted 16/03/2022 at 18:22:27
Kieran, I'm glad you mentioned that as he passed to Mina who was offside, and 2 points lost as it was late in the game. Add to that Calvert-Lewin's sitter missed at Leeds, and another 2 points lost. Those 4 points lost will be critical at the end of the season. Not to mention the Calvert-Lewin missed penalty vs Brighton.
Nicolas Piñon
21
Posted 16/03/2022 at 18:33:00
For me, this is the team that will start tomorrow; no place for strange things at all in Lampard's head I believe:
Pickford, Coleman, Holgate, Godfrey, Mykolenko; Gordon, Allan, Doucouré, Van de Beek, Gray; Richarlison.
Neil Copeland
22
Posted 16/03/2022 at 18:33:53
Calvert-Lewin suffered a very serious and potentially career-threatening injury, it will take time for his fitness and belief to return.
The problem is of course that we don't have time. So, I would put him on the bench and maybe bring him on for the last 10-15 mins to hold the ball if we are winning,
Richarlison may play Number 9 for Brazil but international football is much slower than the Premier League. He is much more effective wide left, play him to his strengths.
Rondon has looked much fitter recently. He scored a hat-trick for Venezuela a few weeks ago, was unlucky not to score against Leeds and got 2 in the cup game. Forget the level of opposition, strikers gain confidence from goals and he is a more natural Number 9 than Richarlison. Also, playing against one of his former employers may give him an extra edge.
Ian Pilkington
23
Posted 16/03/2022 at 18:42:31
Branthwaite wasn't even on the bench on Sunday. Does anyone know why?
Dave Williams
24
Posted 16/03/2022 at 19:10:50
Ian, he had a virus.
Eddie Dunn
25
Posted 16/03/2022 at 19:41:34
Dom will be best used off the bench. I would start Rondon and give him crosses.
Play three in midfield and forget the obsession with two. I'd also start with Alli.
Mark Ryan
29
Posted 16/03/2022 at 20:03:00
Paul Kossoff @14, very funny! Right now I'd sooner see Rondon up front and that's me being serious. He's been shite but I reckon he's close to finding some form. Him over Calvert-Lewin for me right now if we have to play 1 up top.
Jerome Shields
30
Posted 16/03/2022 at 20:08:51
Don't think he would be up to speed.In the Spurs game he offered nothing.Would prefer that Frank would go back open attacking at home.I would play Rondon he knows Newcastle and probably would play well against them.
The Newcastle game is a crucial game.Probably the most important home fixture in years, such is the situation.
Paul Kernot
31
Posted 16/03/2022 at 21:14:04
Jesus, are we getting desperate or what? Hoping Tom Davies & Fabian Delph will be fit & available soon.
I remember watching an England game in the pub years ago. As usual, we were getting stuffed by Poland or a similar level team.
Down 2-0 with 12 mins to go, a bloke stood up & shouted at the TV 'Get Peter Crouch on'. I'm feeling about the same now as I did then hearing that. What the fuck?
Jim Bennings
32
Posted 16/03/2022 at 21:45:56
People probably forget just how ineffective Delph and Davies were when playing.
As for Calvert-Lewin, frankly I'd be having a little meeting with Newcastle board members tomorrow to see if they might be arsed in splashing a few million our way this summer.

Frank Kearns
33
Posted 16/03/2022 at 21:50:10
I'm 71 years old, been supporting Everton since I was a kid, endured the ups and downs, kickings from supporters of Leeds, the Manchester teams, Chelsea, and, believe or not Blackpool, just for supporting Everton.
If the Board and players (I deliberately put that in lower case) can't be arsed, why should I? This Board has a lot to answer for.
Michael McCabe
34
Posted 16/03/2022 at 21:58:09
Just on the topic of shirt sponsor, I think we have the right sponsor at the moment:
C. Crap
A. And
Z. Zero
O. Onfield
O. Options
Hopefully a better sponsorship in the near future.
Colin Glassar
35
Posted 16/03/2022 at 22:04:28
I think Dom is dreaming of a move to the fashion capital in the summer.
I've supported this lad over the years but his body language (I'm no expert) seems to show he's not bothered anymore.
Paul Birmingham
36
Posted 16/03/2022 at 22:40:28
As much as I believe in adversity bringing out people's strengths, I'd start Rondon, with the caveat that crosses are delivered from both flanks to feed him and cause trouble in the Skunks defence, through the game and loosen them up.
I'm not sure Calvert-Lewin will be in the right mindset, but surely to prove a point to the World he's got something to prove, in football terms.
Everton's biggest game this century, and a squad of players who will battle and fight every ball tomorrow night is needed.
John Boon
37
Posted 16/03/2022 at 23:12:15
I am delighted that Delph may be fit for the next game. Just unsure if the FA will allow him to play with crutches...
Jay Harris
38
Posted 16/03/2022 at 23:53:50
This will be a game for pace so, for me, Rondon misses out and Calvert-Lewin sits this one out. I believe in the front 3 of Gray, Richalison and Gordon and I see the real challenge is to find a strong enough midfield to be a barrier, win the ball and be creative. An odd goal or two from midfield would help too.
At the moment, I'm leaning towards Allan and Doucoure but Van de Beek has not been showing that much in the last 2 so I would start him with a view to subbing him later.
The back 4 needs to be strong and quick so I would go with Coleman, Keane (I know), Branthwaite Godfrey. Let's hope the Geordie Wearsider does not get ruffled by the opposing supporters again.
Phil Smith
39
Posted 17/03/2022 at 01:59:51
I know he's not everyone's cup o' tea, but he is our current top scorer this season; I'm wondering why Townsend isn't getting game time at the moment?
I'm no fan of Iwobi either, but he had a brilliant game under Frank at the start and we haven't seen him since.
Let's go gun-ho with a midfield 5 of Allan, Gordon, Richarlison, Gray and Townsend. Should be goals there. Rondon starting up top – he looks fit now. Calvert-Lewin shouldn't be starting any games at the moment.
Derek Knox
40
Posted 17/03/2022 at 02:01:23
Nicolas @ 21, that is the same team as was against Wolves there, mate, and, of the ones who played, only Ricarlison and Gordon, can hold their heads up. Godfrey and Pickford the best of the rest. Although Godfrey should have been closer to Coady to stop him having the space to head the goal.
Not getting at you, mate, just this will be a game where a lot more is needed from all departments, and more importantly, one where we need to stop the slide, gain points, and rise from the ashes!
Alan J Thompson
41
Posted 17/03/2022 at 04:57:48
I keep getting this strange feeling that things might improve if the midfield could get forward and support the strikers and when not doing that get back to help the defence, must have read it somewhere but fairly sure I saw it at Goodison some years back.
More seriously (that wasn't!?!), can we play with just Richarlison alone in the middle of the attack and both Gray and Gordon wide, seems like having players to put crosses in but little chance of anyone not patrolled by two defenders getting on the end of it while overlapping full-backs just seems to be leaving gaps at the back.
Let's hope Frank has had some revelations on the road to Finch Farm, failing which somebody might let him know there is a church in the corner at Goodison.
Jim Bennings
42
Posted 17/03/2022 at 06:23:13
Quite simply the game is win or bust.
We're running out of games where points are to be had, tonight is one of them.
Don't screw it up!
Dave Evans
43
Posted 17/03/2022 at 06:36:01
As others have said, we need a genuine five in midfield. Most games are won or lost there.
Forget attacking fullbacks. Ours should just dig a trench and sit.
Tony Everan
44
Posted 17/03/2022 at 06:51:51
Full agreement with the comments about the midfield.
My strongest team from players available or maybe available.
4-3-3 and nail the formation and best side down. Let them form an understanding and positional strength over these last twelve games.
A side is needed with the minimum weakness, but still has a goal threat. I think this side is one that the players can understand and function in. It would steer us to safety. Every back line we come up with now is a gamble of sorts, can you name one that isn't?
Pickford
Holgate Keane Branthwaite Godfrey
Doucouré Van de Beek Allan
Gordon Calvert-Lewin Richarlison
If Calvert-Lewin is not fit enough, consider playing Dele Alli in that role as a deeper centre-forward, false 9 position. He's decent in the air and can ghost into the box. Maybe not a bad alternative anyway?
Gray shares the wide roles with either Gordon or Richarlison in the 2nd half.
COY Blues!!!
Sean Roe
45
Posted 17/03/2022 at 06:56:45
I'm sure everyone is aware but, just in case, it is being shown on Amazon Prime, to which you can sign up for a free month if you don't already have it or don't want it.
Ernie Baywood
46
Posted 17/03/2022 at 07:13:20
A few comments on Tom Davies on here. Unfair in my view. He would walk into this team and improve it. But the criticism doesn't surprise me. But I suppose what do I know about midfielders – I was just the guy who got slated on here for seeing huge limitations in both Schneiderlin and Doucouré when they were flavour of the month on here. Who would you pick over a fit Davies right now?
At the end of the day, he's not available nor registered, so I suppose it doesn't matter.
As for who we do have available, it barely matters. They either show up and go for it or they don't. Our issues go so far beyond tactics, formations and selections. None of that will matter if they simply phone it in again.
We'll know soon enough. I hope those who can be in L4 are feeling more optimistic than me. We need them.
Gary Jones
47
Posted 17/03/2022 at 07:21:16
Alan @ 41, first sentence is absolutely spot on. Watching the dark side last night and they have 5 in opposite box when attacking (and 7-8 in the attack total) and then get at least 8-9 back in their own area when defending. It's not rocket science the difference this makes.
Team of people grafting like their lives depend on it please Frank:
Pickford
Holgate Keane Branthwaite Godfrey
Gordon Doucoure Allan Iwobi Richarlison
Calvert-Lewin
Whilst I'd love to include the new fullbacks and tell them to bomb on too, I think both have likely had the confidence knocked out of them over last month. I also think Gray, Townsend, El Ghazi, Van de Beek and Dele Alli from the bench gives us options. Unfortunately the latter two "trot" too much for me to start. Right now, we need grafters, and we need them in the middle.
Jack Convery
48
Posted 17/03/2022 at 07:21:21
As Count Arthur Strong might say
"Picking a team and tactics is beyond my area of expertise, I'm afraid!"
Just sodden win!
Jerome Shields
49
Posted 17/03/2022 at 07:25:37
Newcastle, according to Tuchel's recent assessment, were highly organised and did not allow Chelsea to play as they would like. Their main danger was from set-pieces. Everton were taken apart by them when they last met, with Everton's familiar foibles exposed.
Lampard, prior to the Wolves games, said that Everton needed to not take for granted their recent success at Goodison and then proceeded to change the style and formation of play. This could be only described as panic by him after the Spurs game.
The truth is that from October (after an international break) to January, this was a Everton team that downed tools on the previous manager to get rid of him and may pay the price for that against a team he brought back from the Championship and laid the foundations that will keep them out of it.
Lampard needed to play Rondon, the one player with the most experience in dealing with them. Finch Farm needs to have worked hard defending and attacking on set-pieces. The game will be won or lost in midfield and the Everton backs have to cut out the errors.
Newcastle will be up for this game mainly out of loyalty to Benitez. So Everton will need to be equally up for it at Goodison Park. This is the most important match for Everton for over 20 years and needs to be the basis for a fight-back till the end of the season. Everton need to put the work and effort in that should have got them European Football last season.
Paul Smith
50
Posted 17/03/2022 at 07:58:41
Won't be watching tonight (travelling). Probably could stop and get a stream but can't be arsed. This team is terrible and Lampard selections have been cuckoo. Depressing we're in this situation.

Laurie Hartley
51
Posted 17/03/2022 at 07:58:49
Jerome # 49 - I really hope with all my heart that Frank Lampard plays Rondon tonight. He is the one player we have who can provide the environment in which Richarlison, Gordon, or Gray can play to their individual strengths. That is what we need.
I feel this is the most important game in the history of this great football club.
George McK out there in the cosmic - we will need your finest work tonight.
Sean Roe
52
Posted 17/03/2022 at 08:04:43
Begovic
Holgate Keane Branthwaite Godfrey
Doucouré Allan Van de Beek
Gordon Rondon Richarlison

Christopher Timmins
53
Posted 17/03/2022 at 08:52:29
I know many feel that it's a must-win game, it's most definitely a must-not-lose one. Hopefully, under the lights and with a vocal following, we will stop the run of defeats.
Mike Gwyer
54
Posted 17/03/2022 at 09:00:15
Jerome Shields #49,
"Everton were taken apart by them when they last met"
Yeah, Everton have been battered this season but not by Newcastle. The officials that night were absolutely shocking and our players were undone by the physical tackling dished out by the likes of Shelvey.
Everton will play football tonight, have the crowd behind them and have enough physical presence to deal with that total twat Shelvey. Oh... and we will win.
Kim Vivian
55
Posted 17/03/2022 at 09:00:26
I never thought I would say this but I think this is a game for Rondon. Playing Richarlison up front on his own is not paying dividends given the lack of support from midfield (or anywhere really) and he is not a "target man".
Rondon is looking fitter and if he can bully and upset the Skunk's defence alongside Richarlison, it may just let Richarlison in on a few chances.
It's going to be a tough game, we need battlers on the pitch and my line up would be:
Pickford
Coleman Keane Branthwaite Godfrey
Allan Van de Beek Gordon (Gray)
Richarlison Rondon (Calvert-Lewin)

Ian Riley
56
Posted 17/03/2022 at 09:03:15
My view is this team are not good enough to stay in the Premier League. Relegation will hurt the city of Liverpool big time. The impact to the local community economically and emotionally. How long before we would return?
Tonight, we must make Goodison rock with cheering on the players. Let's do our bit and the players have no excuses on our part.
To the players, be professional and do your job. Remember, your agents will find you clubs if we go down. However, relegation will always be a scar on your career, no matter where you go.
Bill Fairfield
57
Posted 17/03/2022 at 09:08:11
I have no confidence whatsoever about tonight's match.
Only hope the team can put on a good performance. Don't think I've ever felt as low as this about our chances of survival. COYB.
Andrew Bentley
58
Posted 17/03/2022 at 09:09:11
Kim @55,
You've either picked a 10-man team or a 12-man team looking at your suggested line-up.
Presuming you meant the folks in brackets to be alternatives or subs?
We've got enough issues as it is without the need to field less players! I know it looks like we have players missing but you need to add at least one more into your line-up.
Kevin Prytherch
59
Posted 17/03/2022 at 09:23:50
Keane, Holgate and Coleman got run ragged by Newcastle last time.
If we want to win, we need to play on the front foot - and that means pace and power at the back to cope with counter attacks. Pace and power is not Keane, Holgate or Coleman.
Would a back 4 of Patterson, Godfrey, Branthwaite and Mykolenko really do any worse than what we've had recently?
If we do want a midfield shield, and we don't trust Allan there, then is it worth playing Holgate there and letting Allan and either Doucouré or Van de Beek hunt for the turnovers in midfield?
Joe McMahon
60
Posted 17/03/2022 at 09:24:20
I'll be escaping tonight, seeing the very glamorous Dita Von Teese in sunny Manchester.
As the weeks go by, I'm thinking more and more this squad hasn't got enough to stay up. Awful defence and very few goals. Pickford and Keane have both been relegated once, can they find extra belief?
It's gonna be difficult for us all in a few more weeks as the trap door widens for us, our lovely neighbours are gonna love it and give us Hell as they take a trophy haul.
Michael Lynch
61
Posted 17/03/2022 at 09:24:53
I definitely wouldn't play Calvert-Lewin tonight, whether he's passed fit or not. Bring him off the bench for 20 minutes if we have to, but now is not the time to be playing him back to fitness.
Chances are he'll be gone in the summer anyway, so let his new club rehabilitate him.
I'm really not sure if I'd stick Rondon up front. It does feel like a desperate measure, considering how poor he's been, but then Richarlison ain't really doing the business either.
Gray looked miles off his game on Sunday as well, so I'd be tempted to start with Iwobi if Richarlison is our striker.
It does feel like re-arranging the deckchairs on the Titanic though.
Kim Vivian
62
Posted 17/03/2022 at 09:26:17
Andrew - 58 - Whoops, you're right. I left Doucouré out of midfield.
Ernie Baywood
63
Posted 17/03/2022 at 09:26:18
Put it this way. Play a striker with Richarlison deeper and you get two in the box at key moments.
Play Richarlison up front and you get one in the box at key moments.
If you have one in the box, they're against at least two centre-backs. Odds are against you. If you have two in there, you've got more of a chance.
Easy game, this management lark. Surprises me how many struggle with it. Four shots on target in four games... and I honestly can't remember them.
Bobby Mallon
64
Posted 17/03/2022 at 09:27:21
It's not going to happen tonight. The fans have been amazing at home and away but the team just don't have it. From the goalkeeper to the lads on the bench, the attitude and mental strength to not lose is poor.
These players are not bad players – they are just mentally weak. They can pass a ball as good as anyone in the league when they are training. Get them on a pitch and have the opposition chase them down then they get scared, panic and make a mistake.
I can only see a 0-2 result tonight.
Steve Little
65
Posted 17/03/2022 at 09:33:22
There is certainly enough quality amongst the squad to move up the table – as Lyndon reminded us, we were sitting in 2nd place less than 15 months ago - however, I am deeply concerned by Lampard's team selections.
We have been far too open in all three away matches. Lampard is slow to change formations within a game – we were 5-0 down against Spurs before he shored the defence up.
We played exactly the same style against Man City as we did against Boreham Wood. It was probably wise against City but we were lucky to get the win against Boreham Wood. Why wasn't this solid formation also deployed against Spurs?
The formation against Wolves seemed okay in itself but why keep Allan on the bench throughout? He has his faults but he is by far our best midfielder and the only one I can see capable of breaking up opposition attacks.
And why does Dele Alli keep getting thrown on? He seems a million miles off the pace and looks to be very overweight. (I am being very polite here.) Can't Lampard see that Alli's regular introductions have yet to improve anything?
The tactics against Wolves seemed to be to play at as high a tempo as possible but this just led to misplaced passes and a lack of joined-up play. And in the second half, we became so tired we were incapable of anything very much. Surely we needed to be told to just calm down a little after the first few minutes?
I am truly extremely concerned that Lampard really doesn't have much of a clue about game management and this threatens to be the reason that we don't stay up.
Sorry about the rant… but I do feel a bit better for getting it off my chest. :-)
Nicholas Ryan
66
Posted 17/03/2022 at 09:36:05
Calvert-Lewin has to play... any striker who can do 58 miles per hour should terrify a defence!
Apparently, he was going to contest driver identity: 'Honest Officer, it was that other random, stupidly-dressed Lamborghini driver, who hangs around the Runcorn Bridge'!!
Brian Harrison
67
Posted 17/03/2022 at 10:21:14
I see Newcastle have actually sold all their away allocation. This is the first time they have taken their full allocation at Goodison for decades, but according to the media their fans are amazing.
I think, apart from the Brentford cup game and Leeds at home, we don't score a lot of goals. Gray and Gordon, while being very good attacking players who can go past defenders, their goal returns aren't great.
I also think Richarlison playing in the main striker role makes him an easy target for defenders. Because of our lack of goals, I think we all feared the worst when Wolves scored first, especially with their defensive qualities.
I think tonight Newcastle will try and frustrate us and think, the longer they keep it at 0-0, then the anxiety of the crowd will make our players more nervous. So an early goal would certainly help.
I am sure Lampard and the team will see tonight's game as being pivotal in our season.
We need goals and I would play Rondon up top, he is a different player now than when he joined were he was miles off being fit. He is better at holding the ball up than Calvert-Lewin and I would play either Richarlison or Gray just behind Rondon and the other wide left.
This would mean just Doucouré and Allan in midfield; now I know, when we have played 2 in midfield, we often get outnumbered, but tonight I would have them in a more sitting role like they did against Man City.
And I would also tell both full-backs to be very selective when they join the attack.
Dave Williams
68
Posted 17/03/2022 at 10:23:27
Begovic in goal for me as Pickford will be a target for their fans and can't be trusted not to react and become distracted.
Holgate at right-back to shackle Saint-Maximin; Keane and Branthwaite to counter their big lads at set-pieces and provide a threat at ours, which we didn't have against Wolves because we were too small. Ben at left-back.
Three in centre midfield: Allan, Doucouré and Gray as a Number 10, with Richarlison and Gordon as the wide men and Rondon up front.
Tell Rondon to put himself about and rough up their back four and that he will be given an hour to do it. Then if we need a goal (or, heaven forbid, goals) let Dobbin run at their defence and give the Villa loanee a try out wide.
Tell them all to fight like never before, don't give them time on the ball, double up on Saint-Maximin, try shooting at the goal and cut out the passing around at the back. Make use of Rondon's height and physicality.
This management lark is easy, isn't it!
Mal van Schaick
69
Posted 17/03/2022 at 10:56:49
I'm expecting a tough game but, if we can score early and build confidence, we could win this. We have to be more creative. I wouldn't play Holgate, he's a liability.
Whatever team Lampard selects, the players need to toughen up, stop making mistakes on set-pieces, and give their all, because our up-and-coming fixtures are harder than this.
Tony Abrahams
70
Posted 17/03/2022 at 11:11:22
Attitude and desire, commitment, a will to win, a willingness to run, and a formation that allows us to close the fucking space, please!
Brian Murray
71
Posted 17/03/2022 at 11:17:32
Talking of the away fans. Merseyside police have issued gum shields tonight for the horses.
Geoff Lambert
72
Posted 17/03/2022 at 11:23:34
We need 3 points so my team would be 4-4-2:
Pickford,
Patterson Branthwaite, Keane, Godfrey
Gordon, Allan, Van de Beek, Richarlison.
Rondon, Calvert-Lewin.
Tony McNulty
73
Posted 17/03/2022 at 11:28:09
Some people want Rondon. There'll be calls for Iwobi next.
I haven't a clue what the best team is just now.
As the man says in "Wargames", "I'd piss on a spark plug if I thought it would do any good."
Dave Lynch
74
Posted 17/03/2022 at 11:36:49
I agree with Mal @69.
An early goal is essential; if the Barcodes get one, though, we are in big trouble.
P Ron Wells
75
Posted 17/03/2022 at 11:43:06
Brain Harrison, 67, their fans are remarkable, no doubt, but their owners are even more so. Not to be forgotten that they are despotic Saudis, who have just indulged in executions of citizens who only want freedom.
Tim Greeley
76
Posted 17/03/2022 at 12:03:44
This is dogs of war, fighting for our lives while Newcastle is (somehow) in a pretty certainly safe position, on the second of two road matches in 4 days… on St Patricks Day, following up on some damn awful news implicating their new owners in some serious dirty shit.
So, if we can't get 3 points today with numerous factors seemingly in our favor (for once) then I am convinced we go bye-bye.
Come on, boys, pleeease dear Lawd just WIN!!!
Andy Crooks
77
Posted 17/03/2022 at 12:13:10
We are playing Newcastle, for fuck's sake. They are on a good run but they aren't Man City (and we could have beaten them). We will give it our all and we will win.

Danny Baily
78
Posted 17/03/2022 at 12:23:03
It's amazing how this is being seen (quite rightly) as a David Vs Goliath encounter. We've been so hopeless.
I hope we get a couple of early goals and settle in for a comfortable victory like we did against Leeds.
Winning these matches will be a hell of a lot easier than fighting our way back into this league. COYB!
Tony Abrahams
79
Posted 17/03/2022 at 12:31:57
I hadn't looked at the league table since last Saturday, but after reading Eddie Howe say they are nine points ahead of us, I've just had to have a look now.
These were dead and buried not so long ago and this just shows what a few wins can do to a team that are near the bottom of the league.
With a third of the season left, I wouldn't normally be overly concerned, but this is different, our team have been on such a poor run of form that it's knocked every bit of stuffing out of them, meaning they really need the crowd tonight, especially after remembering what Daniel James said after the Leeds game at Goodison the other week

Mark Taylor
80
Posted 17/03/2022 at 12:33:02
Silk purse and sow's ear comes to mind here. The team I'd pick is less about confidence in them, more about recognising the things we want least.
First off, Coleman v Saint-Maximin scares me. We need a pair of legs at right-back so Holgate if Paterson really is as out of his depth as it appears.
Ben Godfrey at left-back for similar reasons, so that means Keane and Branthwaite in the middle.
Richarlison is not effective as a sole striker but Calvert-Lewin has shown zero. Can scarcely believe I'm saying this but give Rondon a start with Richarlison playing off him. That leaves us with a two-man midfield again so play the more energetic wide men, Gordon and Iwobi with Allan and Doucouré in the centre – hopefully the latter will shake off his lethargy. We can always revert to a 3 by pulling Iwobi for Van de Beek and maybe give Calvert-Lewin and/or Gray in the last 20 minutes.
Not said with a great deal of confidence but I think this is the best of a pretty bad job...
Howard Sykes
81
Posted 17/03/2022 at 12:38:00
Einstein said insanity was doing the same thing over and again and expecting a different result. That's where we are now.
For this match, we have to ditch the serial failures, do something different and bring in some of the recent signings, Patterson (give him a chance and don't hook him at half-time, for fuck's sake), Mykolenko, Dobbin, Dele, El Ghazi, and there are more young uns to be considered besides. If we play the old faithfuls, and we all know who they are, then we will fail.
Cry Havoc and Let Loose the Dogs of War.
Joe Corgan
82
Posted 17/03/2022 at 12:57:42
I hope that Kenny's suspension means we're forced to play four at the back tonight.
I understand that our defence is so shit that Lampard feels the need to play three centre backs but that leaves us hopelessly short in midfield.
I'd love to see three in the centre of the park, both protecting the defence and supporting the attack. My line up for tonight would be an attacking 4-5-1:
Pickford, Coleman, Godfrey, Holgate, Mykolenko, Allan, Doucoure, Van der Beek, Richarlison, Gordon, Calvert-Lewin.
Derek Powell
83
Posted 17/03/2022 at 13:19:54
Nothing changes, another manager playing the same players in the same positions, using the same tactics, expecting a different tune.
No fight, no leadership or urgency, for fuck's sake, they're playing for the blue shirt... show some balls!
Terry Downes
84
Posted 17/03/2022 at 13:50:58
If we lose tonight then I'm all for chucking the kids in. The so-called big stars can fuck right off... might as well lose with the kids than them? If they lose, at least they'll run themselves into the ground doing so.
Jerome Shields
85
Posted 17/03/2022 at 13:55:37
Mike #54,
Newcastle were dead and buried in the Premier League. What makes you think they won't be physical again and get away with it? They are a different proposition now.
Jonathan Tasker
86
Posted 17/03/2022 at 14:08:37
Calvert-Lewin – stop-start season?
It's been entirely stop so far.
I wonder if his agent will instruct him to play the odd game so he can somehow get his big money move.
P Ron Wells
87
Posted 17/03/2022 at 14:29:51
See there is a bit of consideration at Preston for the away support. Will it ever cross the minds of our entitled loafers?
"Boss Ryan Lowe confirmed after the match that the players would be reimbursing the 614 fans who travelled to the game."
Bill Gall
88
Posted 17/03/2022 at 15:11:12
Jonathan #86,
Unless Calvert-Lewin starts to play and show people he is a proven goalscorer, that is when other clubs will consider a big money move.
With his present status, he appears to have difficulties, getting minor injuries and lack of match fitness. Until he gets back into goal-scoring form and match fitness (and that needs regular playing time), I think his agent will want him playing as often as possible to increase his value.
Robert Tressell
89
Posted 17/03/2022 at 15:49:10
I spent my teenage years watching crap Everton sides fight relegation.
What got us out of it then? Given the lack of ability in some of those sides, probably team spirit and (mostly?) luck.
I can't help but think our luck must surely change. We've been on the receiving end of terrible refereeing decisions (robbing us of 4 points since Lampard took over) and injuries too.
Unless we're cursed, the law of averages should help us out sooner or later.
Dearly hope it's tonight.
John Hall
90
Posted 17/03/2022 at 16:00:25
Lost a lot of sleep this season, staying up until the early hours to watch a lot of absolute crap. Lack of passion and leadership not to mention half-hearted footballers with little appetite for a fight.
I won't be losing any sleep tonight as I am due off the first tee at 11 am in the morning and will accompany a mate who is 91 years young tomorrow and can still hit scores under his age.
Drives a golf buggy like a lunatic, much like Calvert-Lewin drives his sports car, and fights like hell to win at all costs and really does dresses appropriately for his age!!
Laughs at me a lot as he was once a director of a current Premier League side and says that this Everton side is the worst he has ever seen in his life (yes 91 years).
Knows a bit about footie and has seen the love of his life go up and down a few times in his lifetime and remembers the barren years when they really struggled to get back up.
He has it that word from way down south recently was that some players were laughing at the Everton players after the game and were asking for cut price deals on super cars that would be for sale come June. This was instead of asking for shirt swaps as nobody wanted an EFC shirt.
Just about sums up our current squad.
Will look for the score after the golf is done and we go for the birthday dinner. The birthday boy tomorrow has more fight in him than quite a lot of those who will line up against the Barcodes.
Good to have something to look forward to tomorrow instead of dropping my head onto my study desk in anguish in the morning, as I have been doing for many months.
Can't be arsed even thinking and wondering about tonight's line-up as I am off to bed now and don't expect any miracles tonight.
Another loss tonight may well be RIP, Everton FC. Loved you for 67 years.
Kieran Kinsella
91
Posted 17/03/2022 at 16:10:32
Tony McNulty@ 73,
I would actually like to make the Iwobi call. He at least had a couple of decent (one even good) games in the last few months. I realize he is generally useless but Mason has been useless for 7 years, Keane for 6.
Doucuore hasn't been here as long but almost has the same ratio as Gomes and Iwobi for x number of bad games to good games. Same with Rondon, Calvert-Lewin has been useless all year, Rondon has had a couple of decent games.
Hilariously, the Echo had an article today talking about how injuries to key players have disrupted things for Frank. Before quoting Frank himself, The Echo listed Tom Davis and Fabian Delph as examples... Frank unsurprisingly mentioned neither.
Ray Morgan
92
Posted 17/03/2022 at 16:17:18
No ifs, no buts: If we do not win tonight, we will go down.
Kieran Kinsella
93
Posted 17/03/2022 at 16:26:28
Compare our prior relegation battlers with this lot and you can see the issue: Our 94 last day line up was:
Southall,
Ablett, Watson, Unsworth
Snodin, Ebbrell, Horne, Limpar, Stuart
Rideout, Cottee
Our 98 last day team was
Southall,
Barrett, Hinchcliffe, Watson, Short
Oster, Williamson, Speed, Stuart.
Ferguson, Cadamateri
With the exception of Barratt, all of the other defenders were solid, no nonsense, not flashy but reliable. None of them were elderly except Watson in 98, but he wasn't as exposed as Coleman is at right back. Hinchcliffe also offered something going forward which none of current full backs do.
Speed was better than any midfielder we have now. Rideout and Ferguson better in the air than anyone we now have. Cottee a better finisher than anyone we have now. Stuart more productive than Gordon and Gray. Horne and Ebbrell better at the tough stuff than Docuore and Allan. Only Oster and Williamson stand out as "nothing players" in 98, but they no worse than most of our current lot.
John Kavanagh
94
Posted 17/03/2022 at 16:28:58
Any opponent knows that the key to beating us is to keep things tight, especially for the first 15 minutes, and then wait for the inevitable mistake.
The gutless, heartless performances on the pitch are now causing the crowd to give up.
Everyone attending tonight, please get behind the team 100% regardless of the selections and formation. Only sheer willpower can deliver a result.
PS Snapping the disgusting RS Shelvey in two in the first few minutes would improve crowd morale no end. Getting him sent off would be even better.
COYB.
Luke Welch
95
Posted 17/03/2022 at 16:39:02
This is a massive game! So Frank can't keep putting out the same old players! Therefore, I would like to see some changes. Duke has been awful the last few games, so how about VDB and Alan as holding midfielders? And let Delli at least try to bring some creativeness in the middle? Also, I can't bare to see Seamus out sprinted outfought and unable to pass the ball 5 yards- Seamus is spent! so give Patterson ago- at least he can keep up and cross the ball.
No, Kean, please, and let's not put Ben in the center. Richi needs to be out wide with Gordon- it's the only place he affects the game.
Mark Ryan
96
Posted 17/03/2022 at 16:54:43
Allan is a must, Gordon is a must. Don't play Richy up top. DCL or Rondon but play Richy off a lone striker. Very nervous but if this team gives their all then we'll win
Brent Stephens
97
Posted 17/03/2022 at 17:01:21
Big Nev saying today we need to get behind the lads tonight and if they make a mistake we cheer.
Cheer not boo. That's from a blue legend.
Steavey Buckley
98
Posted 17/03/2022 at 17:05:48
I thought about choosing team without Coleman starting, but then I changed my mind, I just believe Frank Lampard is not up to it as manager with Everton in a perilous situation.
Dave Lynch
99
Posted 17/03/2022 at 17:07:24
Well Brent.
Seeing as Nev probably gets full match day hospitality for for fuck all, he can keep his opinion.
When he shells out his hard earned to watch shite I may listen to him.
Brent Stephens
100
Posted 17/03/2022 at 17:10:54
Dave, I guess it's nothing to do with any match-day hospitality. He's a true blue.
Kieran Kinsella
101
Posted 17/03/2022 at 17:15:37
Brent 97
Big Nev always the contrary one lol
Matthew Williams
102
Posted 17/03/2022 at 17:17:43
I may be in a minority on the hallowed pages of ToffeeWeb (way past caring),but if we start tonight's game with two or God forbid three holding Midfielders then we simply won't win!.
Be braver FFS Blues and take the game to the Toon with a balanced team of five defensive players and five offensive players...that's what needed now to get us out of the shite...Back to basics...4-4-2
Begovic
Pattison
Godfrey
Branthwaite
Mykolenko
Gray
Allan
Gordon
Townsend
Rondon
Richy
Sorted!!!
Dennis Stevens
103
Posted 17/03/2022 at 17:18:22
Hard to imagine Nev as a match day corporate schmoozer, somehow.
Jeff Armstrong
104
Posted 17/03/2022 at 17:29:12
I have a horrible feeling he's going to go back to Gomes tonight,if he does, we are fooked.
Si Cooper
105
Posted 17/03/2022 at 17:32:39
I sometimes feel like I must have watched games in a parallel universe. Not sure why Mason Holgate would be particularly effective at shackling Saint-Maximin, nor why we'd instruct our full-backs to 'dig a trench' (I'm pretty sure fullbacks playing attackers onside has cost us plenty this season). At this level players should be capable of picking defence or attack according to the circumstances. For those who want Richy on the flank, are you not putting Demarai Gray on from the start?
This time, like most times, the midfield (and who dominates it) seems key. Against Wolves I thought we missed Allan with Doucoure reduced to playing pinball with the defence and DvdB off the ball and ineffective for the majority.
To answer one poster, I'm happy to pick Doucoure over Tom Davies, but I don't want him faffing around 5 yards in front of the centre backs 90 per cent of the time. I want him running around like a Duracell bunny so they can't settle into a rhythm.
Which team would I select? Very hard to say when the fitness levels or even the capabilities of some players are pretty much unknowns. I'd pick the quickest guy who can actually stick to the discipline of man marking and not lunging in and stick him on Saint-Maximin.
If Gray and Gordon are fully fit I'd use them as the wingers with Richy central (he may be hit and miss but then so are our other options at the moment). I think Mykolenko is slowly sussing out the pace and physicality of the Prem and I'd want a genuine left footer to swing things in from that side.
Alex Gray
106
Posted 17/03/2022 at 17:42:50
On my way a bit early to Goodison to get up for this. Nervy but we need to make it electric tonight. I love a good moan on here but tonight is way more important than that. COYFB!!
Brent Stephens
107
Posted 17/03/2022 at 17:43:20
Kieran, Nev's a pussycat. A quiet, shy fella!
Si Cooper
108
Posted 17/03/2022 at 17:45:04
Cheering rather than moaning isn't just Big Nev's suggestion.
Unshakeable and vocal supporter or paying customer waiting to be entertained. At times they
are
divisible by choice (especially for 90 minutes or so).
Ken Kneale
109
Posted 17/03/2022 at 17:51:48
Kieran,
I confidently predict future club historians will judge this to be the lowest point of Everton Football Club team-wise.
We thought we had seen the worst in 1998 but your analysis is correct – this team is worse not just in ability but in character too.
Sadly in a perfect storm, it is also a low point in leadership off the field – can you really see a new investor or sponsor of any meaningful reality putting funds into the club under the current management – it is ludicrous to suggest they would do so given the running down of Everton's football standing under Kenwright and the complete financial mismanagement he has overseen under Moshiri.
I await with dread the next instalment from Paul the Esk on his appraisal of the current position and future predictions.
Dave Abrahams
110
Posted 17/03/2022 at 17:52:07
Kieran (93), I think you have got the wrong team selection for that final game versus Coventry.
Farrelly scored the goal, Thomas Myhre was in goal, Barmby missed a penalty – that's just three for starters. I think there is at least three more different players who started that day.
Derek Taylor
111
Posted 17/03/2022 at 17:56:24
I don't imagine Frank will take much notice of the above and will trot out the same old failures rather than risk his already dented reputation on kids and fringe players.
But, whoever he favours, lose tonight and we are doomed and his time as a Premier League manager will be over. What a good job we will have Chairman Bill to steer us back to the top echelon!
Danny O'Neill
112
Posted 17/03/2022 at 18:02:20
Good luck tonight, Blues everywhere. Whoever plays, feel the passion and feel the desire.
You owe us big time.
Nick Page
113
Posted 17/03/2022 at 18:03:57
Derek,
I wonder if all those other clubs who used to phone up Bill when in trouble are wondering what Everton would do in this situation?
Dennis Stevens
114
Posted 17/03/2022 at 18:08:24
Aye, Dave #110. The '98 team v Coventry was:
Myhre; O'Kane; Short; Tiler; Watson; Ball; Hutchison; Barmby; Farrelly [McCann 91']; Madar [Cadamarteri 49']; Ferguson.
Dave Abrahams
115
Posted 17/03/2022 at 18:10:08
Rumours that Pickford is out, it stems from Twitter so could be a load of nonsense.
Derek Taylor
116
Posted 17/03/2022 at 18:12:26
Nick, you read my mind. I was just wondering how we could put the truth of that statement to the test.
The only other Premier League chairman I ever met was Deadly Doug Ellis and I can't imagine he would ever have looked to Kenwright – or anybody else – for advice!
Denis Hignett
117
Posted 17/03/2022 at 18:16:41
Holgate and Keane cannot play together. They don't seem to have any understanding. Play one, not both.
Why did we sign Dele Alli? £40 million and he can't get a game in this side!
Kieran Kinsella
118
Posted 17/03/2022 at 18:16:57
Dave/Derek
Sorry, someone had posted that online. I wondered about Farrelly. I'd still say Ball, Watson and Hutchison had more guts than anyone in this current team and the defensive two had more technical ability too. Ferguson and Madar were better than Calvert-Lewin on this season's form.
Luke Welch
119
Posted 17/03/2022 at 18:20:07
Everton signed Sylvain Distin from Portsmouth for a fee of about £5 million.
Michael Keane completed his move to Everton from Burnley for a fee that could rise to a club record-equalling £30million... let that sink in.
Bobby Mallon
120
Posted 17/03/2022 at 18:21:00
Jesus, Rondon and Iwobi being bandied about for tonight. We need a result tonight we cannot get beat.
Defence should be Coleman, Keane, Branthwaite, Godfrey. Midfield: Townsend, Gordon, Doucouré Allan, Gray; Richarlison up top.
This is not a game for Van de Beek to start. Play 4-5-1; get at least a point.
Rob Hooton
121
Posted 17/03/2022 at 18:26:29
I'll only catch the last half hour as I volunteer at a youth club on Thursday evenings. I will no doubt be checking my phone anxiously when I get a chance.
I am nervous as hell. I am sure all at the ground will try to help our players and spur them on to the win we crave and need.
Not a clue how we'll line up, hopefully nothing too bizarre!
James Flynn
122
Posted 17/03/2022 at 18:42:03
For those looking for a stream, Don Wright posted this a couple weeks ago. I used it and it worked well:
"https://unblockit.cam/
When you get to this website scroll down to "sports streams" and pick one. The best two are LIVE TV and CRICFREE. You will have to navigate some adds but that goes with the territory. Premier League games are on there and a lot of other leagues."
Dave Abrahams
123
Posted 17/03/2022 at 18:44:25
Danny (112), well said. I know if you are not there tonight in person, your heart and soul will be there rooting them on along with every other Evertonian's wherever they maybe. I'm thinking of one in Brazil, hope he is okay because he hasn't posted for a while and that's not like him. Wishing you and your family well, Jay.
Michael Connelly
124
Posted 17/03/2022 at 18:46:00
That '98 side was poor regardless of who was in the line-up, and was lucky to stay up. Problem we have this time is that the competition to stay up is much tougher.

Mike Gaynes
125
Posted 17/03/2022 at 18:52:59
Denis #117, greetings from Earth.
We did not pay £40 million for Dele Alli.
Until he plays in 20 games for us, which will not happen this season, we pay no transfer fee. Zero. Ater 20 games we pay £10 million. He has to play in 80 games before we pay £40 million.
---
Add Your Comments
In order to post a comment, you need to be logged in as a registered user of the site.
Or Sign up as a ToffeeWeb Member — it's free, takes just a few minutes and will allow you to post your comments on articles and Talking Points submissions across the site.