Lampard hails 'special night' after Everton beat Newcastle
Friday, 18 March, 2022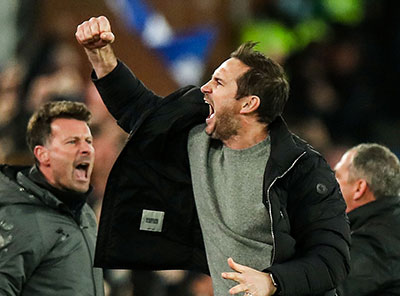 Frank Lampard was basking in the glow of what was only his second Premier League win as Everton boss following this evening's colossal victory over Newcastle United in the midsts of a relentless and deafening Goodison Park atmosphere.
Alex Iwobi slotted home the only goal of the game nine minutes into lengthy stoppage time added on following an anti-oil protest in front of the Gwladys Street End and another infuriating refereeing decision involving VAR.
The result lifted Everton three points above the relegation zone and injected fresh belief into the players that disaster can be avoided this season if everyone pulls in the same direction.
"The whole evening was a big night for us. We've got 11 games to go now but I think we were all waiting for this moment — a night of togetherness and spirit. That sort of exploded all around the technical area when we scored," Lampard said before admitting that he thinks he broke a bone in his hand during the celebrations.
Article continues below video content
Asked how many bones he's willing to break for Everton to climb to safety, he joked: "They can take one every game if they want!"
The end of Sunday's defeat to Wolves was marked by boos from some supporters and angry chants from parts of the Gwladys Street at what was viewed as a passionless and lacklustre display.
Tonight, Evertonians returned to the Grand Old Lady and delivered a noise and backing that eclipsed even that from the win over Leeds United last month and it helped drag the Blues over the line after the team had been reduced to 10 men with 20-odd minutes to go.
"The [fans' frustration] is normal because everyone wants out of this situation," Lampard acknowledged. "It wasn't a game of big quality for either team. It was difficult for the players to have calmness and play. It wasn't that [kind of] game. But I didn't feel frustration; I felt support.
"I thought the start of the game was a bit special tonight. I love the evening games at Goodison. You can feel the crowd. When it got a bit messy, I thought the support was great. If we're going to get out of this, it's got to be together. The fans and all the players played their part.
"In terms of Premier League survival, we have 11 big [games] and the minute we drop from what we did tonight, we can lose games. We lost a point because we didn't defend our box against Wolves and today we won three for defending our box. That's a big lesson for us.
"This game is special and it hasn't felt so special for us in the last few weeks. We had to stay strong and get that little moment that turns in our favour. We got that tonight."
Just as he was by VAR's dereliction of duty in the game against Manchester City, Lampard was incensed by Allan's red card, one that was upgraded from a yellow after referee Craig Pawson was cajoled by Video Assistant Referee Stuart Attwell into reviewing the Brazilian's foul on Allan Saint-Maximin on the pitch-side monitor.
"It's not a red card," Lampard complained. "Alan Shearer — 'Mr Newcastle' — just said it. The frustrating thing is we had the most blatant one 2-3 weeks ago against Manchester City.
"VAR got it wrong and we got an apology. How many things can we lose with the benefit of VAR?"
---
Reader Comments (14)
Note: the following content is not moderated or vetted by the site owners at the time of submission. Comments are the responsibility of the poster. Disclaimer
Chris Williams
1
Posted 18/03/2022 at 07:07:34
The VAR process seemed to move from looking for a clear and obvious error to looking for a reason to send the player off. Not the same thing at all.
The referee should have stuck with the courage of his conviction.
Jerome Shields
3
Posted 18/03/2022 at 09:20:01
Frank is a emotional guy.Watch it Frank we already have a Luvie.A lot of improvement needed and rebuilding.Got the tactics sort of right for Goodison, need to overhaul away tactics.Don't like Bill giving team talks at Finch Farm. I suppose Everton were due a change of fortune against the tide..Looking forward to Frank being plastered up for the next game, Terry Bucther like.
Christine Foster
4
Posted 18/03/2022 at 09:34:34
You can be forgiven for thinking that VAR is being used to find a reason to penalize or disadvantage Everton rather than find a clear and obvious fault. Perhaps the VAR official needs to ask permission of the referee to review his decision first, or at least advise him of a potential error, if the ref says he is happy with his call, end of story.
Kim Vivian
5
Posted 18/03/2022 at 09:52:15
Christine - yes absolutely. Who IS in charge of the game...it's the referee, not some twat a couple of hundred miles away with a cup of coffee. And it should be the referee's decision if he wants to look at the pitchside monitor.
Jon Harding
6
Posted 18/03/2022 at 10:02:04
in his interview on Amazon, Frank said the worst thing about the red card is that it would not be overturned retrospectively and Allan will now miss 3 games - which will be fairly disastrous in my opinion. Does anyone know if that includes the cup tie or only applies to the next 3 league games?
Peter Neilson
7
Posted 18/03/2022 at 11:50:56
Jon it's League and domestic cup games so unless it's over turned he'll miss Palace, West Ham and Burnley games.
Thomas Lennon
8
Posted 18/03/2022 at 11:56:56
Our Premier League survival depends on clean sheets. It's as simple as that.
Barry Hesketh
9
Posted 18/03/2022 at 12:01:06
Peter @7
I too thought a suspension applied to the competition that a red card offence was given, however, you are correct a red card suspension applies to all domestic competitions.
Suspensions - Cautions are now specific to the competition but red cards apply across all competitions
Phil (Kelsall) Roberts
10
Posted 18/03/2022 at 12:11:25
Jerome, not sure Bill was talking tactics at FF but for all his faults, he did grow up watching from the Boys Pen. I am sure all his acting skills could/would have been used to show how much the club means to him - and more importantly the blue side of Merseyside.
Given the chance, you would love to go and encourage the players and tell them what it means to be an Evertonian. Of how much this club is part of your life. But sadly, like me, you are just a mere punter and would never be allowed to talk to the players.
So if him talking to the players, tears in the eyes maybe, can instil in them some measure of the passion for this club that we all have - then I would even have him in the changing room at 14:45 to make sure they go out there and give blood for this club of ours.
Pete Jeffries
11
Posted 18/03/2022 at 12:39:04
Thought VAR stood for Assistant Ref not the Actual Ref
Might as well ref the game from a box 100 miles away
Still job done 3 points and a boost to confidence all round
Barry Hesketh
12
Posted 18/03/2022 at 12:59:27
I bet Frank Lampard isn't too happy to find out that the referee for Sunday's FA Cup tie with Crystal Palace is none other than Mr Stuart Attwell.
According to Paul Joyce via Twitter:
Everton will appeal Allan's red card against Newcastle. If they are not successful in overturning the decision, then they will mount a second appeal asking for a three-match ban to be reduced. The appeal is set to be heard today.
Kieran Kinsella
13
Posted 18/03/2022 at 13:03:11
Barry
Clive Thomas will do VAR on his wooden frame TV with his Betamax as long as the phone operator can get an open line.
Tony Abrahams
16
Posted 18/03/2022 at 13:38:31
We seem to be getting the same little groups of referees for a few weeks, then they change them round to keep up the hatchet job on us.
Chris W @ post 1, that's exactly how I feel mate, and it's sickening me. I said that the worse foul (most cynical) on Sunday went unpunished on Richarlison by Coady. It was definitely worse than either of Kenny's "two tackles" that both produced yellow cards, and I'm sure Coady also got booked on Sunday, but escaped the same punishment as our player.
This amongst a load more decisions definitely thinks there is a witch-hunt going on against Everton right now?
Derek Wadeson
17
Posted 18/03/2022 at 13:44:26
Phil @ 10. Exactly my thoughts if he is going nowhere, play to his strengths.
---
Add Your Comments
In order to post a comment, you need to be logged in as a registered user of the site.
Or Sign up as a ToffeeWeb Member — it's free, takes just a few minutes and will allow you to post your comments on articles and Talking Points submissions across the site.