Crystal Palace vs Everton
Saturday, 19 March, 2022
FA Cup QF Preview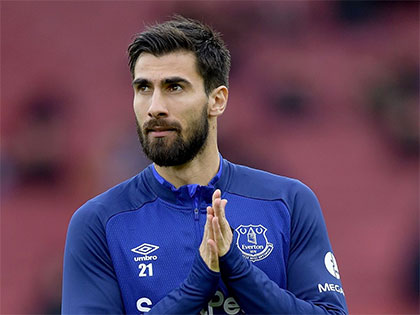 André Gomes is expected to start with Allan suspended and Donny van de Beek cup-tied
Everton travel back to the Capital for a date with Crystal Palace in the FA Cup Quarter-Finals knowing that a rare away win would see them back at Wembley for a cup tie for the first time in six years.
Roberto Martinez was in his final days as the Blues' boss the last time they contested a cup semi-final and Frank Lampard, no stranger to playing under the arch himself, would love nothing more than to emulate Joe Royle by guiding his new charges back there for a major final.
The Londoner first has to negotiate a tricky tie against an improved Palace side made all the more difficult by Everton's dreadful form away from home this season. The Toffees have just one win on the road in the Premier League but have cup victories at Huddersfield and Hull City under their belt from Rafael Benitez's ill-fated few months at the helm.
Lampard will, no doubt, be hoping that the combination of Thursday's emotional victory over Newcastle United, which gave Everton renewed hope in their quest to avoid relegation this season, and the prospect of a win-or-bust cup tie will provide the catalyst for a better away performance.
Article continues below video content
They should certainly look to improve on their last visit to Selhurst Park in mid-December when they went down 3-1 thanks to a limp display on their own part and a superb individual display by Conor Gallagher.
Asmir Begovic has played in all but one of Everton's cup matches this season but Jordan Pickford is, regardless, ruled out because of illness after missing out against the Magpies on Thursday night.
Donny van de Beek is also unwell but is cup-tied, as are Dele Alli and Anwar El Ghazi and the Blues will otherwise be as-is, with Yerry Mina, Tom Davies and Fabian Delph all still ruled out because of injury. The rest of the squad will be assessed for knocks, with Lampard admitting the short turnaround for a 12:30pm kick-off in London was not helpful.
Lampard explained in his press conference that although the win over Newcastle will have provided a lift to the squad, he is keen that no one get too high off the result.
"I don't think the win, other than a good feeling, changes the story if we [had] won or lost last night with 10 men," the manager said. "I had a version of a plan for what Palace might look like. The [Newcastle] result won't sway me either way."
For Palace, Patrick Vieira looks set to be without Nathan Ferguson and James McArthur while Luka Milivojevic and Will Hughes will be assessed closer to the game as they recover from illness of their own.
Since losing to Liverpool at home in January, the Eagles have lost just once in all competitions and managed to shut Manchester City out in their last home fixture so they will not be an easy nut to crack for Everton.
Lampard's biggest headache will be whom to deploy in midfield alongside Abdoulaye Doucouré. The process of unwanted elimination has left him with André Gomes as the only senior player left which explains why Isaac Price is expected to travel with the squad, with Tyler Onyango ruled out because of the hernia issue that kept him out of contention for the tie against Boreham Wood in the previous round now requiring a small operation.
Kick-off: 12:30pm, Sunday 20 March 2022 on ITV in the UK
Referee: Stuart Attwell
VAR: Lee Mason
Last Time: Crystal Palace 2 - 2 Everton (January 1972, FA Cup Third Round)
Predicted Line-up: Begovic, Coleman, Holgate, Keane, Godfrey, Doucouré, Gomes, Gordon, Iwobi, Richarlison, Calvert-Lewin
---
Reader Comments (95)
Note: the following content is not moderated or vetted by the site owners at the time of submission. Comments are the responsibility of the poster. Disclaimer
Dale Rose
1
Posted 19/03/2022 at 15:23:22
This will be a difficult game, quite an interesting one for me from a personal perspective in that Vieras assistant Osian Roberts was manager of the North Wales under 17s, when my eldest lad played for them. So it's good to see someone from a grass roots come to the level he now has. He was a very supportive coach for his lads, and kept their feet on the ground.
Christy Ring
3
Posted 19/03/2022 at 15:25:17
Difficult task tomorrow with no Allan in midfield, we have no other defensive midfielder, and banned for the games against West Ham and Burnley as well. I just read that Gbamin has played four games in a row with Moscow, and they have won every game. In the present political circumstances, and with the international break, why not recall him, FIFA allow the option, he's the only other defensive midfielder we have and he now has games under his belt?
Nick White
4
Posted 19/03/2022 at 15:27:15
That's a nice story Dale, always good to see people progress and sounds like he has done very well! Does your son still play?
For the Palace game we have to keep the back 4 in place. Beyond that just need to battle and hope we can win it! Love to get back to Wembley but this time actually see us win!
Dale Rose
5
Posted 19/03/2022 at 15:31:29
Thanks Nick, no he doesn't, discovered women and beer....
Kieran Kinsella
6
Posted 19/03/2022 at 15:40:52
Echo quote Lampard talking about Isaac Price and Townsend as midfield options. I don't know anything about price but assuming he has two legs and a brain he sounds better than Gomes
Simon Dalzell
7
Posted 19/03/2022 at 15:42:55
Gomes needs a good 90mins, if that happens it's a first.
Derek Knox
8
Posted 19/03/2022 at 15:44:06
I wholeheartedly agree with Christy, Allan will probably be the biggest miss, and when you consider the way he was Red Carded, doesn't make it any easier to swallow before a game of this magnitude. Still, you have to face any opponent, with what players you have available, and with the will to win, despite adversity.
I just hope and pray that a lot of the long awaited feel good factor, and unity amongst the players, after the final whistle on Thursday prevails. Of course Palace will want it as much as we do, and having home advantage will give them that extra edge. Our away form, for whatever reason has to change dramatically if we are to progress.
We don't have a lot to choose from for Allan's replacement, but I suppose Gomes, of whom I have been one of his biggest critics, is the one of few choices. Being the Devil's Advocate, I thought he did well after his introduction on Thursday night late on, but can he reproduce that for ninety minutes with no stupid challenges or rash mistakes ?
COYB We need this 💙💙💙
Mike Gaynes
9
Posted 19/03/2022 at 15:44:47
Tragic story, Dale, but a common one.
Christy #3, that would be great, but to the best of my knowledge, there's no way to physically get him back to England -- no planes flying between Russia and the UK, and the borders are closed so he couldn't even drive it if he wanted. He'd have to be smuggled out by the British Embassy in a very, very large diplomatic pouch.
Simon #7, I've seen Gomes turn in a great 90 minutes. Trouble is, they're spread out over half a season.
Henry James
10
Posted 19/03/2022 at 16:01:47
Borders are not closed in Russia. EU has closed off its airspace. One can still fly to Istanbul/Dubai/Belgrade and then onwards to the UK, for exactly. Or take a land route to Latvia/Finland/Estonia.
Michael Lynch
11
Posted 19/03/2022 at 16:03:35
We have so many midfield options missing - Allan, Davies, dele, VdB, siggi, delph, even Gbamin - and this is a free hit since the only thing that really matters is PL survival. So I would have packed the squad with kids.
Dale Rose
12
Posted 19/03/2022 at 16:05:44
Mike, takes after his mother...
As far as Gbamin goes, the handle on the diplomatic pouch would probably break and he'd be out for the rest of the season...
Will Mabon
13
Posted 19/03/2022 at 16:08:13
As absences go, this will be a big one. Those who've called Allan a headless chicken may see how much we miss a headless chicken tomorrow.
Got to be a solid three in the middle, but who? I can only see Townsend, and hope he finds some of the drive that's deserted him lately. Or, how about a worrying reprisal of past midfield "Roles" for Holgate? No, I'm not serious.
Palace have mostly cut out their fairly regular tendency to a flat, lifeless performance under Vierra. Could use one tomorrow.
Hard to call but I feel we have a fair chance.

Mike Gaynes
14
Posted 19/03/2022 at 16:10:33
Dale, your wife is into women and beer?
I'm so sorry. I've read about situations like yours. Mostly in the grocery checkout line.
Lewis Barclay
15
Posted 19/03/2022 at 16:11:17
Didn't Holgate put in some good performances in a defensive midfield role a couple of years back? Possibly better than he does at CB?
I can see Zaha causing all sorts of problems tomorrow.
Dale Rose
16
Posted 19/03/2022 at 16:14:44
Mike. that just sounds wrong....
Mike Gaynes
17
Posted 19/03/2022 at 16:26:34
Thanks for the correction, Henry.
I still like the pouch idea, though.
Will Mabon
18
Posted 19/03/2022 at 16:32:09
Lewis, he did indeed - but that was then...
I find it very hard to have much trust in the guy nowadays.
Christy Ring
19
Posted 19/03/2022 at 16:48:20
Will#18 If we get Braithwaite back, probably too soon for Mina, after the International break, I believe our only option is start Holgate in midfield against West Ham and Burnley, two clubs with a huge physical presence in midfield, which we are totally lacking now with Allan banned.
Mike Gaynes
20
Posted 19/03/2022 at 16:53:46
I still think that if we have to play someone out of position at defensive midfield, it should be Townsend, not Holgate.
Townsend isn't the tackler that Holgate is, but he's defensively savvy, and unlike Holgate he knows what to do with the ball once he wins it. Townsend can actually start counterattacks, even under pressure. Holgate would just give the ball away.

Will Mabon
21
Posted 19/03/2022 at 16:57:24
Christy, if we knew he would deliver then it would be a possibility. It was a long time ago though, when he last performed there - he's been a bit of a train wreck since.
That said, we are short on options and I bet the staff have considered it. Plus, will Branthwaite be ready?
We can survive but we sure will have to fight hard for it, no slices of luck for us!
Will Mabon
22
Posted 19/03/2022 at 16:59:08
Mike, we could tie the two of them together.
James Lauwervine
23
Posted 19/03/2022 at 17:02:34
I'm struggling to be positive about this one but am obviously hoping to be surprised. I just think our away form combined with Allan missing and 2.5 days since our last energy and emotion-sapping game is too much to ask. Having said that I've just put a quid on a crazy accumulator of Soton, Notts Forest, Boro and us at nearly 3000/1! WTF am I on.
Will Mabon
24
Posted 19/03/2022 at 17:07:50
James, I'm simply hoping for some of that certain cup je ne sais quoi. It can hit differently. Good luck with the bet, that would be fantastic.
Dale Rose
25
Posted 19/03/2022 at 17:13:49
I'd like to see Patterson given an outing. He looks to be a gritty defender.
Mike Gaynes
26
Posted 19/03/2022 at 17:41:28
Yep, Dale, and Seamus left it all on the pitch on Thursday night. Us old guys don't do short turnarounds like that as well as we used to.
So I'm up for Patterson too. Or perhaps Godfrey on the right and Mykolenko on the left.
Danny O'Neill
27
Posted 19/03/2022 at 17:44:08
Allan will be a big miss. I know some aren't convinced, but his presence and experience on the pitch will be a loss. He has his limitations, as do most players. I wish we'd had a 26 year old Allan, but we didn't. One thing I like about him, aside from his tenacious "hunting" mentality and ability to spot a forward pass, is his leadership on the pitch. He may not wear the armband, but he is constantly in the ear of his own players, the opposition and the officials. Something we've lacked over the year.
But we don't have him. No direct replacement, but a shame Lewis Warrington is on loan. I'm not one to throw young players in at the deep end, but I really want to see him closer to the first team sooner rather than later. But we don't have him either.
Let's see what the manager conjures up for tomorrow to get us to Wembley.
James Lauwervine
28
Posted 19/03/2022 at 17:51:12
Cheers Will, the bet's not looking too promising but fingers crossed for tomorrow!
Kieran Kinsella
29
Posted 19/03/2022 at 17:52:26
Danny
I thought your early season prediction of us at Wembley was outlandish but we are almost there. Having picked a bad year to get back into attending league games regularly you're due some good fortune so hopefully your prophecy will be fulfilled
Sean Roe
30
Posted 19/03/2022 at 18:04:39
This is the first time I have reservations about still being in the cup.
This game could make or break our league finishing spot.
A win could exorcise our away form demons and build a bit of momentum, a loss will almost certainly make morale hit rock bottom again.
Bill Gall
31
Posted 19/03/2022 at 18:11:52
Hoping Everton make it to the semi final tomorrow, how many of the other quarter finalists have only had 2 days rest before the game.
The other thing I dislike is because the FA needed the money for the new Wembley stadium the semi finals are played there which gives the London teams and supporters an advantage.
They should revert back to a neutral venue, example if Everton or Liverpool were playing Chelsea play at Wolves or Villa ground.Even out the distance the teams and supporters have to travel, This would make a trip to Wembley for a final more exiting.

Jon Baker
32
Posted 19/03/2022 at 18:12:57
I'm not sure if this is allowed (sorry in advance, mods).
I live in Crystal Palace, and I'd LOVE to support the blues tomorrow.
If anyone has a ticket and can't make it... let me know. Thanks, Jon
Alan McGuffog
33
Posted 19/03/2022 at 18:28:51
Bill...your argument is flawed, totally, as it would involve the FA giving two tuppeny turds about the real fans. I agree with you though.
Chris Leyland
34
Posted 19/03/2022 at 19:02:22
Just been one of those professional fouls in the Chelsea game. Tripped from behind with no attempt to play the ball, the result? A yellow card, no drama, no referral to the screen.
Ernie Baywood
35
Posted 19/03/2022 at 19:05:55
Team selection will be interesting.
I'm remembering 95. We'd been in real trouble, sacked a manager, still weren't safe as we were embarking on a cup run.
Also remember us beating Newcastle at home in a night game. Was that a Friday night? Why did we play on a Friday? Come to think of it, why did we just play on a Thursday?
Joe Royle kept saying the cup was a good distraction from the pressure of fighting against relegation.
Injuries did hit our small squad. But we all know how that season ended.
Maybe. Or maybe it's just too many games and this will be after the Lord Mayor's show.
Will Mabon
36
Posted 19/03/2022 at 19:15:27
Oh well, James. The other three can go your way now and you can say, if only...
Tony Everan
37
Posted 19/03/2022 at 19:25:15
Allan will be a big miss, we needed another Allan type fighting midfielder in January to act as a back up or play in a three releasing Doucoure to play his preferred attacking midfield role.
Tomorrow it will be all about how our midfield performs, particularly Gomes, Palace will be all over him like a rash in possession. Frank will be drilling him about being alert and moving the ball faster. How will it be set up ?, Doucoure in front of the defence with Iwobi and Gomes either side in 451/433.
Begovic
Coleman Holgate Keane Godfrey
Iwobi Doucoure Gomes
Gordon DCL Richarlison
Terry Downes
38
Posted 19/03/2022 at 19:39:57
Fkin hell if we beat Palace they're all be hoping they draw us
Phil Smith
39
Posted 19/03/2022 at 20:15:35
Think he might give Coleman a rest here and bring Kenny in at right back. Hopefully saves Godfrey for the league as well and gives Myka a game if his head is right. Might have an inspired Yarmalenko-like effect.
Will Mabon
40
Posted 19/03/2022 at 20:19:22
Terry, it's a play from Tzu - the art of war. We've been sandbagging them all season. Then we pounce.
Brian Wilkinson
41
Posted 19/03/2022 at 20:22:24
100/30 Everton tomorrow, I think that's a bit generous for a cup game, could go either way.
Forest at 10/1 could pay dividends, not just with it being our neighbours, but the City ground tough place to go, when the fans are up for it, left there many a Time with my tail between my legs, I Can see Forest pushing the shite all the way,unfortunately var is in operation for the game.
Anyway back to Everton, I can see us Nicking this one, will not be easy, but all the same a little more confident than a couple of weeks ago, just have to hope and prey we do not get cheated out of the game.
The semi final draw takes place before the Forest tie, Robbie Fowler doing the draw, may as well let Klopp do the draw.
Derek Taylor
42
Posted 19/03/2022 at 20:48:06
Given what we have seen since August, it's a bit much to expect this lot to string
two
'effort matches' together, isn't it ?
We can only hope that Lampard has found some magic formula to prevent them from dwelling on how well they did on Thursday and thus inspire them to give value for money tomorrow.
We hear the revered Chairman gave a Churchillian speech prior to the Newcy game and stressed how important the FA Cup is to Club finances and their futures. How can they possibly let him down?
Paul Birmingham
43
Posted 19/03/2022 at 21:12:05
Hopefully Everton, can turn up with a game plan.
No decent time to recover and perhaps Palace, will be over confident.
They are a very energetic team, and I pray and hope that if Gomes plays, he plays like his football career depends on this game. Every player tomorrow must give 100%, no less.
No stupid free kick give always in the kill zones, by any Everton players, and Everton have a fighting chance.
But I'm sure that there's a positive twist tomorrow and a trip to Wembley, next month.
Danny O'Neill
44
Posted 19/03/2022 at 21:15:30
So did Tottenham and the cameras in 1995 Terry, when we took 3 sides of Elland Road and sent them packing. They fancied us and we were written off more before that semi-final than we were before the final against Manchester United; which we also won.
Ernie @35, a good example of why the FA Cup and Wembley is not a distraction. It can actually be a morale booster and lift the club. 1984 anyone? The cup runs gave us momentum and belief that had an impact on our league form, not the other way around.
I get the modern game, but at the same time can't get my head around the tinkering because it is a cup match and not a league match. Momentum; consistency; belief and winning mentality in every match you play.
Kieran, I have to keep believing I will see them lift a trophy again. And I do believe.
I have a great photo of the 3 O'Neill brothers and my son outside Wembley in 2009. For both the Semi Final and the Final, I gave up my ticket to my son to have his moment. He got it in the Semi Final, sadly not the final. I watched in a pub near the stadium nearby on both occasions sharing the joy of the semi final and the disappointment of the final.
My son comes home soon and I hope to have another family shoot down Wembley Way. And he will have his moment.
Keep the momentum of Thursday going Everton; it will carry on into the league. Winning breeds winning. Caution breeds caution.
Lee Courtliff
45
Posted 19/03/2022 at 21:16:46
Ernie, it was on Good Friday. Just 5 days after we'd beaten Spurs in the semi-final.
Ashley Roberts
46
Posted 19/03/2022 at 21:25:31
Not sure I would start Gomes. He just does not have the pace or endurance. I would try to take the game to Palace. Could we not play Doucoure as the holding midfielder and then play Gordon and Iwobi in front and then have Gray, Calvert-Lewin and Richarlison up front?
We could then bring on Gomes as an impact sun with 30 minutes to go. I don't think he has the legs for any longer. Maybe also swap Seamus for Jonjoe Kenny.
Mike Gaynes
47
Posted 19/03/2022 at 22:00:38
Bego
Godfrey Holgate Keane Mykolenko
Iwobi Townsend Doucoure
Gordon Dom Richi
Eddie Dunn
48
Posted 19/03/2022 at 22:16:08
Dale, that is a nice bit of background, and Christy, I wo der what stanard that Ruski league is equivalent to?
Mike (G), you can jump on a plane to Istanbul from Moscow and onwards to London, no sweat. My daughter knows a couple of Russians who just did it.
Tom Bowers
49
Posted 19/03/2022 at 22:26:15
With all the players unavailable, it would be a tremendous result to get beyond this game and into the semi-finals.
Who will play the anchor role is anyone's guess but, if they can show the same resilience as they did against the Barcodes, they will have shot at it.
Palace can be indifferent but they did well against Man City and, if Coleman, Kenny or anyone else can keep Zaha quiet, then who knows?
It would be nice to progress but the top teams are still in it and the priority of course is to win the games in hand in the Premier League.
Kieran Kinsella
50
Posted 19/03/2022 at 22:30:30
Ashley,
The problem with Gomes as an "impact sub" is the first word as "impact" makes me think of an asteroid or cruise missile. He is more of a custard pie.
Bernie Quinn
51
Posted 19/03/2022 at 23:24:41
It will be tough but we can win this game.
My worry is with the officials – will they be kind to us for a change?
There was a one-armed referee back in the 1950s – I think his name was Arthur Luty – who was very fair and well respected by both players and crowds. If only we had refs like him nowadays...
Mike Owen
52
Posted 19/03/2022 at 23:39:22
I hope it goes smoothly for all Blues entering the ground. That away end makes the Lower Bullens seem space age, and we have an enlarged allocation.
I trust they are not going to try and funnel everyone through their usual entrance for away fans. Especially with it being a breakfast kick-off.
Nicolas Piñon
53
Posted 19/03/2022 at 23:44:27
Very difficult one this one.
Begovic; Patterson, Keane, Godfrey, Mykolenko: Townsend, Holgate, Doucouré, Gordon; Richarlison and Calvert-Lewin.
(Where is Branthwaite? I don't trust Gomes and Doucoure partnership regards going back.) I don't remember if Patterson was ill but, if not, I believe Coleman should be given a rest and make the bench of course.
Our priority 100% is the Premier League so time to clear up the mess he inherited for Lampard.
Palace will be fresh and at home and we've lost Allan (that red card was as beautiful as I remember the other day, simple amazing and worth it) and we played two nights ago an amazing and long game.
COYB!
Kieran Kinsella
54
Posted 19/03/2022 at 23:45:54
Bernie,
Thanks for giving your perspective. I like to hear tales from the veterans like yourself, Dave and John. It was an elderly school chaplain who brainwashed myself and my classmates into supporting Everton with his tales of watching Dixie Dean in the 1930s.
Kieran Kinsella
55
Posted 19/03/2022 at 23:55:06
Mike Owens
Good point. Usually at Palace I've sat as a fifth columnist among the home fans but they pack the away fans in that little section with the rickety roof. Selhurst Park must be the most dilapidated stadium in the EPL
Bernie Quinn
56
Posted 20/03/2022 at 00:28:02
Kieran - Thanks for that. My Dad told me he played alongside Dixie a time or two (pinch of salt?). I recall Tommy Lawton just after the war. Would love to see him, Matthews, Finney and their ilk playing against modern day footballers, wearing modern gear and no heavy leather balls. Players like Len Shackleton etc – I think the game would be very onesided!!
Kieran Kinsella
57
Posted 20/03/2022 at 00:54:36
Bernie.
Can you imagine if they'd been playing the other night? I guess they'd have been puzzled as to what exactly a red card is, lol.
Laurie Hartley
58
Posted 20/03/2022 at 00:59:14
Gomes is perhaps my biggest disappointment of all the players we have signed in the last 6 years. He promised so much but delivered so little. In any case, he is no defensive midfielder.
I would put Godfrey in midfield and Mykolenko a left-back.
Begovic,
Kenny, Holgate, Keane, Mykolenko
Gordon, Doucoure, Godfrey, Richarlison
Iwobi,
Rondon
Difficult challenge this one but it is the FA Cup – anything can happen.
Up the Blues!!!

Mike Gaynes
59
Posted 20/03/2022 at 02:13:17
Laurie #58, you must not have read my posts when we signed him!
Laurie Hartley
60
Posted 20/03/2022 at 04:49:19
Yes, Mike # 59 - I remember your posts well - you were right.
It's a pity because IMO his long-range passing is very good but he is just too slow for the Premier League where you will get no time to dwell on the ball.
Alan J Thompson
61
Posted 20/03/2022 at 05:05:19
I'd give Patterson a run out as, in his one (last?) game, he got forward very well and I was a bit surprised when he was pulled at half-time.
Does anyone know what this illness is that a lot of the players seem to be catching, or is it just euphemismitis, also known as dropsy, which I think is being a bit wet.
Steve Brown
62
Posted 20/03/2022 at 05:33:30
There is a huge amount wrong with the club, but winning a trophy would make a real difference.
Plus, imagine the mood lift if we went into the international break with a crucial league win and a cup semi-final place under our belts.
UTFT!
Derek Knox
63
Posted 20/03/2022 at 05:39:43
Alan J, good shout on Patterson.
I don't know why there is a reluctance to play him, from a Manager who is known to be not afraid to use youngsters when necessary.
The running that Seamus has been doing recently surely he can't recover with such a short turnaround? Besides the recovery from Seamus, he is showing signs of age when all-out running is the order of the day.
A big shout to all the lads going down today, I truly admire your unstinting loyalty, three games in seven days! I could only manage two, and am still recovering. Give a big cheer for TW and bring back a whiff of the Cup.
Bobby Mallon
64
Posted 20/03/2022 at 05:48:17
One player out and some would have Begovic play in midfield. Our young players have not let the team down when played. This is a one-off game a young Onyango, Welch, Price or whoever plays in midfield can shine. They will give their all. Let's play a proper central midfielder from the young lads or one of the usual suspects, not defenders.
Steve Brown
65
Posted 20/03/2022 at 06:15:20
Bobby, unfortunately Onyango is injured. He's had a hernia operation.
Dave Evans
66
Posted 20/03/2022 at 06:19:04
A halcyon, sun-drenched trip to Wembley, on the train or the charabanc awaits.
If any young fans deserve this, ours do. COYB.
Alan J Thompson
67
Posted 20/03/2022 at 06:33:28
Bobby (#64); I'm sorry but was that directed at me?
My reference (#61) to Patterson does not say, and never meant to, that he should play midfield. He's a right-back and that is where I intended him to play and give Coleman a rest albeit there's a two-week international rest after this game, well, for some.
Otherwise I agree, use players in their usual positions, form and injuries permitting, unless you consider wingbacks as midfield, which is easily done if they are used with three central defenders rather than just overlapping when the occasion arises.
Jerome Shields
68
Posted 20/03/2022 at 06:45:09
Gomes was his old poor self after he came on in the last game. Crystal Palace are unlikely to give him space or time. Hope Frank has his tactics sorted for this game. It could be we see young players tried.
Gary Jones
69
Posted 20/03/2022 at 07:31:54
Shame we're kicking off before the Liverpool and Man City games. If the other 3 semi-finalists were confirmed as them two plus Chelsea, then I'd suggest a few gambles here to see what options we have in the league – perhaps trying Godfrey or Coleman in CDM role, or maybe a front 3 of Richarlison, Calvert-Lewin and Rondon with a bit of 'lump ball' thrown in to bypass midfield issues
However, it's not, and whilst there's still chance of Nottm Forest and Southampton being part of the last 4 too, I think we need to go with 'sensible graft' and try and sneak a KITAP1 and players who know each other:
Begovic
Coleman Keane Holgate Godfrey
Gordon Gomes Doucoure Iwobi Richarlison
Calvert-Lewin
Jonathan Tasker
70
Posted 20/03/2022 at 07:38:09
Play Gomes and you lose.
I think Frank knows that
Brian Murray
71
Posted 20/03/2022 at 07:54:48
Dave @66. Yes our fans really deserve something it's a shame. although I'd rather go out today and survive instead of meeting them other shower in a semi or final. Not going to end well but maybe next season, Frank will cull at least 7 of these players and start again. Again.
Eddie Dunn
72
Posted 20/03/2022 at 08:10:04
Logic indicates that Everton cannot string successive wins together, The team has to be rejigged again and despite the euphoria of Thursday, I fear normal service will resume this afternoon.
My hope is that Calvert-Lewin can pop one in and change everything.
Gary Jones
73
Posted 20/03/2022 at 08:17:27
"Play Gomes and you lose" has got to be up there with the daftest shite about on here. Yes, he's cost us goals and had some stinkers, but he was also a key part of the team that had us sitting in second at Xmas 2021.
He's consistently been asked to play as part of an overrun "2" which just doesn't suit his game at all. Not without an absolute destroyer beside him, and the last one of those we sold to PSG years ago.
For me he's another one who's better on the front foot and with cover behind to catch the mistakes. I'd like to see Doucoure asked to sit (simply because we don't have another option) and see Gomes and Iwobi get up and knit 1-2's with Richarlison and Calvert-Lewin around the box. Don't see anything in Dele or Van de Beek yet to say either are better options, and not available today either.
Damian Wilde
74
Posted 20/03/2022 at 08:24:04
I'm in London for a long weekend, so I'm going to the game; would love it if we won.
Palace are staying in the hotel I'm in. Don't worry lads, I set fire alarms off at 03:00 and 04:00, Veirera was fuming.
COYB
Alan McGuffog
75
Posted 20/03/2022 at 08:37:21
Ernie and Lee. That game against Newcastle, did we win 2-0 with both scored by Amokachi?
His first, if I recall correctly, was an absolute peach. Long ball from right midfield, he took it down and finished with the outside of his right foot. I liked Daniel.
Dave Abrahams
76
Posted 20/03/2022 at 08:40:56
Bernie (51) That referee was Alf Bond, he refereed our semi-final game versus Bolton, an excellent referee.
Kieran (54) that elderly school chaplain might have been in the Upper Bullens Road stand when I was a very young boy, I came out of the Boys pen and sneaked into the stands at three-quarter time and the dozens of priests in that stand amazed me, I thought I was back in The Friary church at ten o'clock mass!!
Good luck to the team and all those fabulous fans, Everton ones, at the game today, my ten pence worth on the team Rondon up-front with Dominic on the bench.
Martin Mason
77
Posted 20/03/2022 at 08:48:29
Just read that our latest midfield signing from Spurs, who hasn't got a decent game of football in him, comes to the ground in a Rolls-Royce.
Mike Oates
78
Posted 20/03/2022 at 08:59:06
They've got Saha and Olesi out wide, both terrific pacey, alert players. We can't go with Patterson or Myklenko, has to be Coleman and Godfrey.
In midfield it's Gallagher which will destroy us and I just can't see any combination or single player dealing with his energy and pace, even if we had a full squad.
It's a grind today with a very very large piece of luck to keep it down to a 1 goal loss, and even more luck to nick it.
Palace have been an extremely good team since January.

Steve Little
79
Posted 20/03/2022 at 09:05:23
If we play the expected 4-2-3-1 formation, then the 3 need to be much closer to the defence; otherwise, once the ball is won, the team is too far apart to play cohesive football.
Did anyone else notice that we only improved against Newcastle (and indeed scored) after the sending off and we were forced into a more compact 4-4-1 formation?
Christy Ring
80
Posted 20/03/2022 at 09:44:44
Gary#73 Agree, Gomes and Doucoure can't play in a two man midfield, completely overrun, need three in the middle. Seamus has to be rested after his superb performance on Thursday night, at 33 he shouldn't be asked to play again, three days later. Patterson or Kenny should start.
Jonathan Tasker
81
Posted 20/03/2022 at 09:45:22
Gary 73.
Gomes is a fantastic footballer but, understandably, he's terrified of getting injured.
Opposition teams would recognise this and consequently target him. Palace would destroy him
Dave Whitwell
82
Posted 20/03/2022 at 09:45:29
Why does everyone say the priority is the Prem? So we can spend another mediocre season with a very slim hope of a European spot being the best we can aim for.
Not for me, go and win the cup, football is about winning things, if we go down then so be it, would still like to take the fa cup with us.
Clive Rogers
83
Posted 20/03/2022 at 09:46:43
Alan, 75, Amokachi was OK up to a point. The problem was he was signed as a striker and played up front but after about 3 months told us " I'm not a striker, I'm a midfield player really". There was a big doubt about his true age also.
Danny O'Neill
84
Posted 20/03/2022 at 09:53:25
That Rolls Royce criticism came from Harry Redknapp Martin. He slated him for turning up at a "proper club" like Everton.
On the other hand we have Richarlison tweeting this:
On the semi final location thing earlier, I too believe in neutral locations. Highbury & Villa Park x 2 are up there with my greatest memories.
That said I won't be complaining next month if we get to Wembley. Ticket or no ticket I'm going for the day out.
Brian Murray
85
Posted 20/03/2022 at 09:54:39
Dave post 82. I take it you live outside the city and hopefully can switch off not surrounded by them shower. Besides that aspect the financial implications mean we may never return plus the stigma/ heartache of it all. We are not Wigan as in relegation shrug of shoulders and win the cup. Having said that hope your right at least about winning the cup. Coyb
Brian Harrison
86
Posted 20/03/2022 at 10:01:08
As some have commented Allan will be a big miss not just today but in the upcoming games, as apart from Delph we don't have anyone in the squad who can play that role. I know its always been the case but I have always questioned why someone sent off in a game misses following games, surely the idea of sending a player off is to give your opponents that day a numerical advantage, not to extend the ban for 3 games.
Anyway back to today, I think Frank gave a clue in his press conference were this might be a game were we arent as open and a little more defensive or as Frank called it compact. I see a 4-5-1 system today, maybe the only good thing is it will give DCL another run out, lets hope he can stay injury free for the rest of the season.
Brian Harrison
87
Posted 20/03/2022 at 10:23:10
Danny 84
I think Alan Brazil and Ally McCoist were the first to call out Dele for turning up to training in his Rolls Royce, but Rednapp also criticized Delle for the same thing. He still believes Delle is a top player and cant understand why there has been such a dramatic fall in his form. How crazy that 3 of our players are cup tied Delle, DVdB and El Ghazi all would have benefitted from a start today.
Danny you are absolutely spot on including that tweet from Richarlison who has always been fully committed to the club. I have seen over the years his inter action with fans that you may not have seen living outside the City. I have seen on numerous times were coming out of training he has given young lads his boots. There was also a young boy who videowed himself walking past Richarlisons house and Richarlison waving to him, then to the boys surprise he comes out of the house and gives the boy his signed shirt.
Yes sometimes he goes down a little easy for me but I can never remember any game he didnt give 100% I don't think you could say the same for many in this squad.
James Hughes
88
Posted 20/03/2022 at 10:39:03
Brian - totally agree with that opinion of Richi and you could see how much the win on Thursday menat to him as the whistle went.
The comments about him being a sulky arse are just ridiculous, is he supposed to play with a stupid grin plastered on his mug.
As for Dele couldn't give a toss what car he drives when or where, would be nice if he could do a bit on the pitch though
Jerome Shields
89
Posted 20/03/2022 at 10:44:07
Johnthan#81
Gomes is OK if left to play untackled and unpressurised.His right front pass on the left wing is alway a petulant hit and hope.He does this repeatedly.
The ball that Colman recovered and passed to goal scoring Iowbi, came from such a poor pass.He does it so often it is his trade mark.
Also defending deep he is sure to foul.Guaranteed.
Geoff Williams
90
Posted 20/03/2022 at 10:49:25
Re Iwobi does scoring a vital goal make up for the deficiencies in his all round game not for me. Playing him in central midfield could prove to be a huge error. He is not a No 10 so the only position open to him is wide right where he will be in competition with Gray and Gordon. Richarlison will be wide left and Calvert-Lewin up front. Doucourè and Gomes have to be the midfield plus a another. I would opt for one of the youngsters. I expect, how, Lampard to select Iwobi aswell as Gordon, Gray and Richarlison and consequently concede midfield and try to absorb pressure and counterattack.
Todd Watkins
91
Posted 20/03/2022 at 10:53:43
How can I stream the game for free. Anyone.
Laurie Hartley
92
Posted 20/03/2022 at 11:03:45
Danny # 84 - thanks for that link. It confirms what I have suspected for a long time - Richy loves Everton.
Frank Thomas
93
Posted 20/03/2022 at 11:12:29
I would go almost with Laurie's team (58) with a few changes
Begovic,
Paterson ( Coleman 55), Holgate, Keane, Mykolenko (Kenny 50)
Gordon, Doucoure, Godfrey, Richarlison
Iwobi,
Dobbin (DCL 45)
The FA cup is the ideal opportunity for unknowns to stake their claim to a place in the first team. I would give Dobbin a chance. You have 45 minutes to impress me play well, score you have a starting position next game. His speed and youthfulness will tire the Palace defence and when (if) subbed the defence will be more tired creating better opportunities for DCL.
As for Iwobi I don't know why he got MotM midweek, yes he scored but his passes were awful his closing down was really poor, he stayed so far off the opposition they were able to choose their passes not hurried into passing. maybe that goal will inspire him.
Colin Glassar
94
Posted 20/03/2022 at 11:16:16
Geoff, Frank, Iwobi got motm for the goal, nothing else. I wasn't even sure if he was still on the pitch until he scored.
He really is an awful player but if he scores the winner today then long may his awfulness last.
Martin Faulkner
95
Posted 20/03/2022 at 11:25:37
Todd it's on 10 play in Oz

Danny O'Neill
96
Posted 20/03/2022 at 11:31:54
Great to hear stories like that Brian. We often forget that a lot of the South American players are from very humble backgrounds so they can connect.
He seems genuinely attached to the club and fans.
I'm not naive enough to think he's here forever but if and when he does, I believe it will be a career move or the club selling for an offer they can't refuse. I doubt you'll get any "noise" from him.
Anyway, for now, he here and ours, to help us to Wembley and stay in the top flight.
---
Add Your Comments
In order to post a comment, you need to be logged in as a registered user of the site.
Or Sign up as a ToffeeWeb Member — it's free, takes just a few minutes and will allow you to post your comments on articles and Talking Points submissions across the site.