Loan Update: Moise Kean at Juventus
Thursday, 24 March, 2022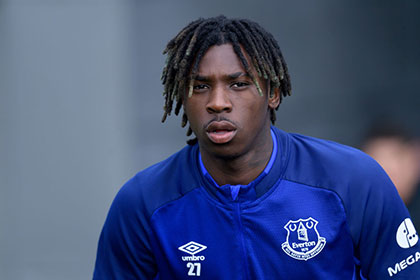 Moise Kean has figured for loan club Juventus in every matchday squad since recovering from muscle fatigue last November. Yet media outlets claim that Juve are somehow looking to terminate the 2-year loan deal they struck with Everton back in August of last year.
There is no question that Moise Kean has been far less prolific with Juve than he was during happier days on loan at Paris St Germain. In 19 Serie A games since coming back from that injury, he has scored just 2 goals, and has not played a single full game, coming on as a sub in most of them. When he does start, he has been withdrawn soon after the hour mark.
It's perhaps understandable then that there are repeated claims the Serie A club are trying to get out of their agreement to permanently re-sign the player. For example, Italian journalist Paolo Bargiggia is quoted by Calciomercato as saying: "Regarding Kean, the signals are not very good. They will try to return him by not continuing with the deal set when they took him."
The persistent rumours have prompted various outlets in the UK to speculate that Kean could be back turning out in an Everton jersey when the 2022-23 season gets under way.
Article continues below video content
However, the Liverpool Echo pours cold water on this, claiming there is no break clause in Kean's 2-year loan deal which includes an obligation for Juventus — who sold the player to Everton for £25m in 2019 — to buy him back permanently for €28m (£24m) plus €3m in add-ons, in the summer of 2023, subject to certain sporting objectives having been met by the end of next season.
---
Reader Comments (41)
Note: the following content is not moderated or vetted by the site owners at the time of submission. Comments are the responsibility of the poster. Disclaimer
Mark Ryan
2
Posted 24/03/2022 at 17:24:27
Now, here's a player who'd be right up for a relegation dog fight. Not.
On a serious note, with a strike force like ours, how did we come to send him out on loan? Moaner, sulker, knob, yes... but there have to be questions asked.
Tony Everan
3
Posted 24/03/2022 at 17:39:58
There's a drip drip drip of rumours about Juve wanting to escape in some way on this loan with an obligation to buy. The theme is they have made an error of judgement and don't want to pay the £30M for him next summer if they can wriggle out of it.
I just hope the deal is watertight legally because that £30M with the FFP etc is a necessity towards our rebuilding plans.
Barry Rathbone
4
Posted 24/03/2022 at 17:52:48
Surprised PSG haven't come in for him. 😂😂😂
The epithet of being one of Europe's brightest young talents demonstrates exactly how far footy standards have dropped. He is a very, very ordinary player and if we get Juve to cough £30M we've had their pants down.
Billy Roberts
5
Posted 24/03/2022 at 18:08:26
Mark @2,
You answered your own question when you weren't being serious. He was sent on loan to buy for around about or possibly more than what we were due to pay for him.
Seeing as he was crap, I would say it was a good deal. Not buying another striker wasn't clever.
Peter Neilson
6
Posted 24/03/2022 at 18:26:00
Wonder if we'll be able to get refunds on our errors of judgement? We'd best have kept the receipts.
Derek Taylor
7
Posted 24/03/2022 at 18:37:20
Surely Juve can't just abandon a watertight deal – that's if it is one?
Mind you, given the morons who run things these days, we can expect him to be back in our U23s next autumn.
Mike Gaynes
8
Posted 24/03/2022 at 18:42:25
We wouldn't want Kean back, and he wouldn't want to return. But any deal, airtight or not, can be renegotiated.
In other loan news, Niels Nkounkou continues to struggle to have a positive impact at Standard Liege, and Joao Virginia has been nailed to the bench at Sporting. No league appearances.
But JP Gbamin has been a tremendous success so far in the tainted waters of sanctioned CSKA. Five starts, five full games, five wins. And a goal and an assist last weekend. The assist was gorgeous, a first-touch chip over the top for a breakaway. What a story he could be... if....
Tony Everan
9
Posted 24/03/2022 at 18:56:09
Mike, you had me at five starts, five full games. Who'd a thought it?
Is the player we thought we were signing and desperately need right now emerging (for the wrong team)?
Peter Carpenter
10
Posted 24/03/2022 at 18:57:19
Mike, JP our 2022 Kevin Campbell? Stranger things have happened...

Will Mabon
11
Posted 24/03/2022 at 20:17:32
Gbamin, wow. What a dramatic upturn in fitness and durability. Shook off those "Will he ever recover his career" doubts like they wuz nothin'.
Not on pay-per-play now, is he? Or is that league really so comparatively gentle on the physique?
Sam Hoare
12
Posted 24/03/2022 at 22:28:41
I remember at the time of buying Kean we were very strongly linked with Rafael Leao.
Two youngsters with a similar profile who went for a similar price. One of them is now one of the hottest young players in Italy and is being tracked by all the big clubs; one has barely featured this year and is in danger of sinking without trace.
No need to guess which one went to Everton! Similar to Funes Mori & Van Dijk or Bolasie & Zaha vibes. Astounding how often we seem to have picked the wrong path.
Bill Gienapp
13
Posted 24/03/2022 at 23:02:24
I was bummed that Kean didn't pan out here (and have the jersey in my closet to prove it)... but pan out he did not, so we move on, and actually managed to come out on top for once re: the deal. If Juve's having buyer's remorse, well – sucks to be them.
Andrew Keatley
14
Posted 24/03/2022 at 23:24:31
Sam (23) - Not sure if it's as simple as us picking the wrong path; I suspect Leao was always likely to choose Milan over us. And there were rumours we were back in for him last summer, with Kean heading out of the door, only for Milan to decide to keep him.
I remember the frenzy on here when Kean signed. The world of football definitely presented the news of him becoming an Everton player as a very unexpected coup, and what felt like the vast majority on here felt like we had signed a world-beater. You yourself were pretty confident he was a good signing.
Sadly he has not delivered and is proving incredibly hard to successfully bring his time at the club to a confirmed end. I just hope we can move him on for good as soon as possible and his strange status as an Everton player can be well and truly a thing of the past.
Paul Birmingham
15
Posted 25/03/2022 at 00:21:47
The only way, forward, Andrew.
It was always doomed, and frightening, scary that Everton have paid good contract money on the most un natural, position based, CF, Ive seen, in modern times.
Barn door Barlow, Brett Angel, a few mote from the 70s, Rod, George, etc Alan Bailey, James Beatie, and Andy Johnson,
In my view Moise, beats them all, and that is a tough line to beat, but history, facts, and TWs, truth statements, of them days will hopefully, serve well.
Brian Murray
16
Posted 25/03/2022 at 00:44:35
Paul, Slight issue with Andy Johnson in that company. Put the other shower to the sword and always dangerous. Not quite the same when accused of being a diver by other managers (fat Sam) his card seemed to be marked after that by refs. Having lived painfully through the 70s he was far from our worst.
Mike Gaynes
17
Posted 25/03/2022 at 03:11:08
Will #11, I've never seen a Russian League game but according to the world rankings the league is on a par with the Championship. If Gbamin were doing this at Huddersfield or Forest we'd be ecstatic.
Tony #9, the five victories are noteworthy too. This is the best stretch of the season for CSKA, who were muddling along miserably in mid-table before Gbamin arrived. They've only given up two goals since he stepped in front of their backline.
Pete #17, I've never seen a worse instinctive defender than Seamus when he came back from his loan, and a few months at the University of Moyes turned him into a capable defensive fullback, and he subsequently became an outstanding one. So I think that's the answer to your Patterson question.
Darryl Ritchie
18
Posted 25/03/2022 at 06:37:30
When Duncan subbed him on, and the subbed him off a few minutes later, Kean's time at the club was done. He might not stay at Juve, but, if Ferguson puts a word in Lampard's ear, he ain't coming back here.
Kenny Smith
19
Posted 25/03/2022 at 06:59:55
There's talk of Juve offering Salah 10 million a year so they probably need every penny for that deal if true
Peter Neilson
20
Posted 25/03/2022 at 07:07:32
At least Kean won't have to worry about his poor form causing him to miss the World Cup. Maybe Ancelotti allowed the Azzurri to train at Finch Farm.
Sam Hoare
21
Posted 25/03/2022 at 07:24:55
Andrew@26 it's never simple but it seems very clear to me that our decision making with recruitment has been faulty in a number of ways for a number of years. Of course there are no crystal balls but good scouting should get it right more often than we have.
Yes, I was excited when we signed Kean. He hadn't played an awful lot but he looked exactly the sort of player we should be aiming at, young, hopefully hungry, highly rated and seemingly with very high potential. It hasn't worked out but (unless Juve get out of their contract) we should still make a small profit on him; considering the amount of players we have made and will make enormous losses on I'd say Kean was (depressingly) one of our more reasonable signings.
Tony Abrahams
22
Posted 25/03/2022 at 08:52:35
Peter M, that's a great question, mate. I believe everyone is suited best, to what they do naturally, and only a few can begin to take other things on board, without losing some of the better parts of their game?
I believe it's why there's not that many great players, in a sport that is now full of athleticism.
Steve Shave
23
Posted 25/03/2022 at 09:08:32
I would absolutely love it (he say's in a Keegan voice) if Gbamin could make it with us next season. Poor fella, he's had a rough time. This was a shrewd move.
Dave Abrahams
24
Posted 25/03/2022 at 09:14:02
John (23),
I just saw bits and pieces of the Scotland game. Patterson was taken off just after he had been fouled with a bad tackle, was the injury serious?
Dave Abrahams
25
Posted 25/03/2022 at 09:32:44
Sam (25),
You are so right with that comment, "There are no crystal balls" with regards to scouting; the two signings Allardyce made fully illustrate the difference.
Walcott always had it in him to be a very good player and, in his first few months at Everton, he looked like he was a good signing. Very early in the start of the next season, he looked to me that he didn't want to be here; his heart wasn't in it – not that he had a big heart when it came to tackling.and The rest of his time at Everton was mostly indifferent form... and that's when he was fit.
The other signing, Tosun, you didn't need a crystal ball – just your eyes. For a scout, two or three times watching him should have been more than enough to tell you that Tosun was far too slow for the Premier League.
How Keane, Gomes, Iwobi and a few others were deemed good enough to spend vast amounts on is baffling to me and most probably many of our supporters. Mind you, to these scouts, it wasn't their money being spent.
I think Harry Catterick always had it in mind that it was his money when buying a player, until he became ill and he made a few bad buys.
Danny O'Neill
26
Posted 25/03/2022 at 12:58:36
I'm with Brian on the Andy Johnson shout Paul. Harsh.
Once opposition managers got into the ears of the officials, he was doomed and labelled. A fast, lightweight player who would inevitably go tumbling if a 6 foot plus bulk of a centre back made contact. The fact he was quick and lightweight always made his fall look "spectacular", but he was no diver.
Dare I say, Richarlison suffers similarly now, but the reputation is there now, so more than often, the ref makes his decision based on the colour of shirt and player, not what actually happened.
Back to the thread. Moise Kean the worst? By god no. We didn't see enough of the 20-year-old player still learning his trade in a foreign country to make that judgement.
Stuart Barlow has been mentioned. I will also give you Mick Ferguson.
Tom Harvey
27
Posted 25/03/2022 at 14:44:53
Sam Hoare @ 21
Hello Sam,
At the time we were buying Kean I thought: "So young and talented, why are Juve selling him?".
I was suspicious, If they had any inkling they could get an Aguero or Ronaldo out this kid they'd have kept him, he must have had problems they couldn't get around. They had him long enough to have a good look at him.
Also no one else was interested in him, he wasn't a seventeen year old who nobody had any idea what he could do, he'd played internationals, there were obvious red flags.
Along comes EFC, "He's a Juve player he must good, let's have him", what Juve knew was that he had head and attitude problems. They've took him back hoping he understands this might be his last chance at a big club and will change his attitude, but he's complete basket case.
I'm always alarmed when a player glitters like Kean does, but none of the big boys show any interest.
Danny O'Neill
28
Posted 25/03/2022 at 15:11:13
A different perspective Tom. Given what happened last summer and the attempted break away by clubs like Juventus to form a closed shop league and the revelation that they were / are financially up the creek, they were more that willing to sell. And are now trying to back out of an agreed deal?
I know what you're saying, but since then it is clubs of the stature of Juventus and Paris St Germain that have taken him on. He's played Champion's League football. But not good enough for Everton even though he is still only 22?
Like Lukaku and De Bruyne were not apparently not considered good enough for Chelsea at a young age, I'd still give this lad a decent crack of the whip if he remains an Everton player. Personal opinion.
Colin Metcalfe
29
Posted 25/03/2022 at 15:12:21
I had never heard of this kid and when Everton and a good few posters seem to think we had signed this super talented young player who was destined for great things so I thought I have to check this kid out on you tube and I was none of the wiser because he looked bang average to me
After a stop start beginning for him at Everton I finally got the chance to see Kean at Goodison and for the 20 or so minutes he was just awful, his basic control was all over the place and at that point I knew we had signed another dud !
Tom Harvey
30
Posted 25/03/2022 at 15:42:11
Danny @ 28
For what Juve will have to pay us for him, all of the big boys could easily afford, but none are interested in this "Super Kid", he's got some serious head problems.
I think PSG began to realise this also, look how much they've paid in the past for their big players, but they would not take a chance on Kean and were trying to mitigate the risk and get his price down to nothing by their own standards.
Yes, he's played in the CL, but as PSG have decided: "MEH? He's not worth the risk, au revoir!". He's not worth the risk for us either. He's about to passed from club to club just like Ademola Lookman, if he's lucky.
Paul Birmingham
31
Posted 25/03/2022 at 17:48:13
I accept that my inclusion of former ale-house strikers included Andy Johnson, who scored important goals for Everton.
For me, the February 2007 early kick-off match at our old ground was the game that grinds to this day.
Everton had fought well and should have won via Leon Osman, easy header over the bar, but Andy Johnson was through one-on-one on Reina midway 60th minuteish, and I was to the right of the goal post in the Anfield Road, and how he didn't burst the net, but hit the chance straight at Reina has stuck.
Still I respect your views and fine margins.
If this squad had the fight that squad possessed, Everton would be in a better place.
Danny O'Neill
32
Posted 25/03/2022 at 17:56:38
I don't think anyone is calling him a Super Kid Tom. I wasn't anyway. He is a young developing player. I personally wouldn't write him off just yet. But I am also under no illusion his future lies elsewhere and not with Everton.
Although the so-called big boys haven't come in for him, the clubs that have shown interest are actually in that category in terms of European football??
Reverting back to De Bruyne. Written off by Chelsea and sent on loan to Werder Bremen aged 21. Eventually sold to Wolfsburg for what now seems like a paltry £18M aged 22. Hardly "big boys" of European football. He was 24 by the time he signed for Man City. Now probably the best footballer in the Premier League in my opinion.
The point being, you can never really judge or tell with most young footballers unless you get a freak like Rooney who almost has it all aged 16. And each player will develop and peak at different ages, sometimes dependent on style and position.
Bill Gall
33
Posted 25/03/2022 at 18:28:17
Talking about our centre-forwards, I wonder how many other #9s have been booked for simulation in the penalty area like Oumar Niasse?
Another good line I heard: I was watching a video on Bramley-Moore Dock, where the new ground is being built, and there was an area where it looked as if a swimming pool was being built. So I phoned my friend who visits the area and he said "Yes, they will be putting a pool in – it's for the Liverpool forwards to practice their diving skills."
Mike Hayes
34
Posted 25/03/2022 at 18:36:00
It makes you wonder who scouted the duds we've bought since Moshiri came – is Kean the worst or is Iwobi given that he's had more game time for us? He's young and developing but will he ever come good?
The likes of Patterson and Mykolenko may need a few more games to prove their worth but, given we are in a relegation battle, will Lampard take a chance and replace the bottlers who have let us down time and again?
As for Andy Johnson, we could do with a few of his goals right now – as for his hounding over diving, I thought that was triggered by arsehole Wenger – yet when they analysed penalty claims didn't they find 8/10 were stonewall? Seems we've been shat upon for decades. 😡
Shane Corcoran
35
Posted 25/03/2022 at 19:32:23
Bill, he wasn't booked, he won the penalty and was subsequently suspended for tricking the ref which, as far as I know, was the first and last case of its type.
ToffeeWeb doesn't need much ammo for a conspiracy theory but even I have to question that one.
Andrew Keatley
36
Posted 25/03/2022 at 21:19:08
Danny (28 + 32),
I admire your open-mindedness and hope but, from what I have seen of Moise Kean, I do not think he deserves either. Kean contributes very little outside of his goals - many of which are swift streaky finishes.
Clubs like PSG and Juventus might benefit from having him – they need flat-track bullies who can find space in the box and take advantage of the space and opportunities that having world-class team-mates can provide.
But in a struggling team, Kean is not going to be very effective. Others have suggested his attitude is a problem, but for me his lack of all-round ability is the more noticeable problem.
And drawing some sort of parallel with De Bruyne – even just in theory – is kind of laughable. De Bruyne was just another speculative buy for Chelsea, at a time when they were very dominant domestically, and he got relatively few chances to prove himself.
Chelsea made a 250% profit on him, and then he kicked on elsewhere to become the extraordinary footballer that he currently is. Same happened with Salah (minus the big trading profit).
Moise Kean was overhyped, based on a handful of goals for Juventus at the tail end of the season that enabled them to win Serie A. Their trajectories are just so very different.
You might dismiss Kean being classed as a "Super Kid", but that's basically how we was billed; he came 14th in the 2019 Golden Boy Award.
Danny O'Neill
37
Posted 25/03/2022 at 22:04:48
The parallel is that you never know Andrew.
If I was to draw a more likely parallel, it would be with Lukaku. Good but probably not top drawer at the top level.
I never like calling another supporters opinion laughable. I wouldn't yours.
At the time, De Bruyne was loaned and sold off to an apparent lesser league and standard. He hadn't made it in the self proclaimed best league in the world.
In hindsight Chelsea done good business and it was a great footballing move by the player.
But at the time, he'd flopped at Chelsea in relative terms of age. He was ineffective and not a Premier League player.
We judge too early.
Tom Bowers
38
Posted 25/03/2022 at 22:23:53
I sometimes wonder who does the scouting for Everton, either now or in the more recent past... Mother Noblett??
Kean was highly touted as a young player (still young), came to Goodison and was basically rubbish although, to be fair, didn't really get a run of games.
However, he was deemed expendable although the likes of Tosun and Rondon were deemed good enough but who in turn have turned out to be poor. Then they didn't want loanee Josh King who also didn't really get a run out and sent him back.
Our troubles seem to have started when Calvert-Lewin got injured, and then Richarlison, which left us floundering in attack for the most part except for the occasional input of Gray and it's been a mess ever since with very little being done to at least get some decent defensive performances in order to preserve a point in some games.
Rafa was left scratching his head and now Lampard may be doing the same.
Man City, Chelsea and Liverpool have proved that offence is the best form of defence and keeping good possession in the middle of the park stops other teams from being too dangerous.
Okay, you do need a quality squad to maintain that approach but the quality is totally missing from this Everton squad.
We have salvaged 6 points in the dying seconds of two games and got another 3 points against fellow strugglers Leeds and that just about sums up our achievements in the last 3 months.
If we stay up (nothing is guaranteed) then the club should release a whole slew of underachievers on free transfers and the scouting staff if necessary to free up some wage space for some new quality players.
Billy Roberts
39
Posted 26/03/2022 at 12:03:17
Shane@35
Sometimes being an Evertonian it just feels that way.
I'm pretty sure the only other time a player was retrospectively banned for exaggerating contact was a West Ham player the same season.
So it wasn't just us, fuckin ridiculous nonetheless.
Time can play tricks on us.
Sometimes you can be paranoid...AND they can be out to get you!!
One of us is wrong.
Steve Shave
40
Posted 30/03/2022 at 20:55:48
I'd like to know if anyone has more info on Gbamin's performances in general whilst on loan? Other than appearances and the assist last week?
Mike Gaynes
41
Posted 31/03/2022 at 15:28:22
Steve, I haven't read commentary on Gbamin's performances per se, but CSKA have been on their best run of the season with him in the lineup, giving up just two goals in the five games he has spent in front of their backline, and winning all five. They were having a miserable season before his arrival.
Strikingly, there has been no discussion in the press around Gbamin's presence there -- amidst all the accounts of Western and Ukrainian players and coaches abandoning their Russian teams, Gbamin actually started his tenure at CSKA right after the invasion, but nobody has mentioned it in the news sources I read.
Back to the subject of loans -- here's a summary of our loanees by Pete Reynolds on Royal Blue Mersey, which in my opinion comes off unjustifiably optimistic about Nkounkou and unjustifiably negative on Mykolenko and Gbamin:
Everton Loan Recap: Spring Report | Is Nkounkou Ready? How are Everton's seven out-on-loan players getting on?
Kieran Kinsella
42
Posted 31/03/2022 at 16:02:45
Remember when we had a watertight 2-year loan deal for Tarashaj to go away until the end of his contract and somehow, he ended up being deported back to Goodison mid-term?
Juve will probably claim that the deal was contingent on Super League money and Bill violated the agreement by championing the rebellion against the project.
---
Add Your Comments
In order to post a comment, you need to be logged in as a registered user of the site.
Or Sign up as a ToffeeWeb Member — it's free, takes just a few minutes and will allow you to post your comments on articles and Talking Points submissions across the site.