Pickford shines in goal for England against Switzerland
Saturday, 26 March, 2022
England 2 - 1 Switzerland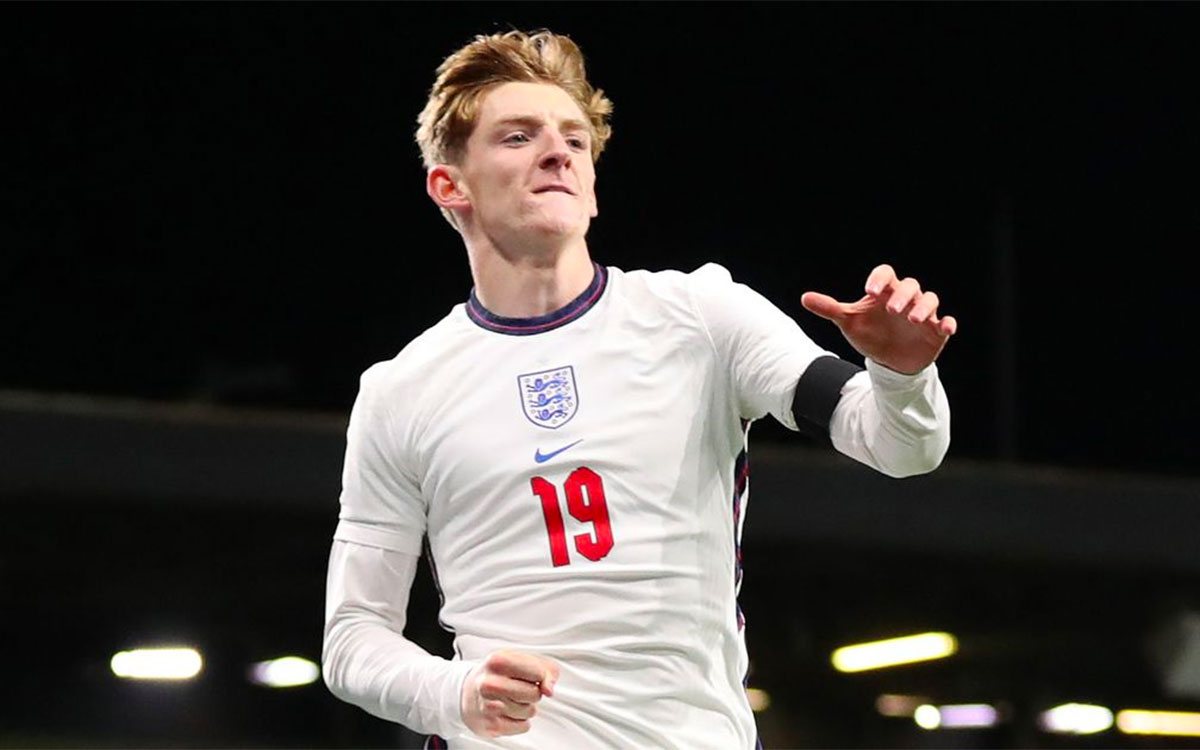 Anthony Gordon scored an excellent volleyed goal for England Under-21s at Vitality Stadium
Jordan Pickford is in goal for England against Switzerland in this afternoon's friendly at Wembley.
Switzerland were on top in the early stages and profited when a header was powered past the Everton keeper off Xherdan Shaqiri's excellent cross to open the scoring on 22 minutes.
In a difficult first half for England, Pickford played his part to keep the score at 1-0 by half-time, after they drew level through Luke Shaw.
Harry Kane won it for England with a well-taken penalty harshly awarded thanks to the VAR for what used to be deemed accidental handball.
Meanwhile, yesterday Anthony Gordon played 45 minutes for England Under-21s against Andorra and marked his latest international appearance with a fine volleyed goal in a 4-1 win for Lee Carsley's side.
Article continues below video content
Elsewhere, Abdoulaye Doucouré played a half for Mali against Tunisia for the first time since he switched his international allegiance from France.
---
Reader Comments (85)
Note: the following content is not moderated or vetted by the site owners at the time of submission. Comments are the responsibility of the poster. Disclaimer
Jeff Armstrong
1
Posted 26/03/2022 at 23:10:18
Ha ha... lots of interest from Evertonians on here for this weekend's internationals. No-one gives a shite about friendly games.
About time the organisers listened to the fans and players, loads of pull-outs, no-marks getting caps... give the players a rest when they can.
Okay, World Cup qualifying had to be completed, but why the friendlies? Ridiculous.

Danny O'Neill
2
Posted 27/03/2022 at 00:15:17
Had it not been for seeing Eng-ur-land fans on the tube this afternoon Jeff, I'd forgotten there were internationals on – even though that's the reason Everton aren't playing!!
Kim Vivian
3
Posted 27/03/2022 at 07:34:31
Yawwwn...!
Oh - the clocks went forward, that'll be it.
But I hear H Kane scored a penalty to take him on towards Rooney's record.
As I said - yawwwn!
Paul Birmingham
4
Posted 27/03/2022 at 09:30:38
It's paying for the Wembley Stadium, that these friendlies are being used for.
Pointless from a football perspective. I'd rather bring back the Home Internationals, but the FA, will say there's no time to fit them in.
Paul Smith
5
Posted 27/03/2022 at 09:35:19
Good keeper Jordan and takes some absolute belters on here. Just last week Begovic was the answer as he's a talker and arranger of defences unlike Pickford. Poppycock! We have lots of problems at Everton but this fella isn't one of them.
Danny O'Neill
6
Posted 27/03/2022 at 09:49:19
He has matured and settled down over the last 18 months or so Paul Smith. He is a very good keeper. I do wish he would command the area outside of the 6 yard box more and stop playing like a Ruby Union player playing for touch and territory with his kicks. Also, stop reverting to Jordan of 2 years ago when we play Newcastle. But that aside, I'm happy with Pickford as our keeper. Not the most commanding but he has matured. And let's be honest, doesn't have the best defence in front of him to protect him.
Paul Birmingham, it's like the FA Cup semi-finals. As great as it is to get to Wembley, that should be reserved for the Final itself, but we continue to pay for Wembley.
Give me Villa Park, Old Trafford, Highbury and dare I say in future Bramley Moore Dock (not for us obviously) any day for a semi-final day out.
Jerome Shields
7
Posted 27/03/2022 at 10:31:59
Agree with Danny, Pickford has improved a lot. But it can't be easy being a goalkeeper in such an error-prone team, who are often not up to the tactics involved. It's now rare for Pickford to be blamed for a goal. Set-piece defending it set up okay, but then you get individual player failings.
I think he is on a different level of application and preparation than the Everton players around him. His distribution could have been better in the Wolves game, but who would be confident in kicking out to most of the Everton players?
Martin Mason
8
Posted 27/03/2022 at 11:35:52
He is the best keeper in England by a mile and one of the best in the world. Only in the mind of a tiny minority of Evertonians is he a poor keeper.
Danny Baily
9
Posted 27/03/2022 at 11:44:51
Martin 8, to paraphrase (allegedly) John Lennon, he's not even the best goalkeeper at Everton.
Each to their own opinion, but I don't think we've had a decent keeper since Robles had that run of games under Koeman. Pickford is too erratic.
Paul Hewitt
10
Posted 27/03/2022 at 11:45:19
Pickford is definitely not one of the best keepers in the world, not even close.
Martin Mason
11
Posted 27/03/2022 at 12:15:27
He is a top class International keeper for a team that is proven at World Cup and Euros to be amongst the top 4 or 5 teams in the world. That makes him one of the best keepers in the world. Sorry but anything else is nothing more than biased opinion and pretty ridiculous at that.
Neil Lawson
12
Posted 27/03/2022 at 12:46:11
I watched a bit of Big Match Revisited yesterday morning with Dai Davies in goal for Swansea City (and Bob Latchford up front).
Now, if we are talking goalies, Dai the Drop is worth pages of entertaining debate. A dreadful keeper who had an exceptional record. In contrast to Pickford, it had something to do with the defenders in front of him.
Brian Murray
13
Posted 27/03/2022 at 12:55:39
Paul @10, yes it's true he's not top class but has been pointed out on this thread I think he's the least of our problems. He will do for now... or even Begovic.
Neil @12, your namesake was on a level with Dai the Drop. Both very average at best and cost us derbies and cups and even a title in 1974. Just as Shilton was up for grabs before Cloughie pounced.
Danny O'Neill
14
Posted 27/03/2022 at 13:01:24
Always an interesting debate on 'keepers. I think most are as good as the defence in front of them. But then you have those who are genuinely great goalkeepers.
It's a generational thing but, in my lifetime, we were blessed with a generation of genuinely great British goalkeepers in Shilton, Clemence and Jennings. We then had Southall.
After that, the best I've seen is Schmeichel senior.
I think Seaman fell into the category of being fortunate to play behind one of the tightest and most effective defences in football history. I don't believe he was that great, to be honest.
Jerome Shields
15
Posted 27/03/2022 at 13:15:06
Seaman got caught off his line a good few times. I always felt he had that weakness. It can't be easy being the England Goalkeeper.
Always remember how Robinson was scapegoated, Stevie Gerard ahead of the pack in doing so, when he couldn't manage the manager's tactics or fed Rooney who was at his Prime. Rooney was never the same after that tournament.
Gary Jones
16
Posted 27/03/2022 at 13:46:38
Pickford benefits from the competition at International level. Last year we saw him back near his best when Olsen was pushing him for the place. On top of a new defence, new central midfielder, new full backs and a new scoring number 8/10 I'd politely suggest a new competitive keeper is needed in the summer too.
Steve Shave
17
Posted 27/03/2022 at 13:50:38
It's so easy to blame Pickford but the reality is he was always a talented goalkeeper prone to errors. Since last season he has worked hard (the Ritalin helped I suspect) on his game and has been a consistent performer. Credit where it's due, he upped his game.
On the highest stage i.e. England he has never let his country down, a top, top keeper. I could see him getting a move to a top 6 club in the next year or so. Ironically, Newcastle are the only other team who could afford him :)
Robert Tressell
18
Posted 27/03/2022 at 13:58:28
Gary, the truth is that none of our players are top class. Not a single one. Pickford is just about the least of our problems. He drops clangers now and again but he's extremely exposed behind an absolutely hopeless defensive unit. DeGea, Alison, Ederson all drop clangers too.
Kind of a combination of what Neil #12 and Martin #8 are saying, captures it for me.
I see the players to build around beyond just next season as:
Pickford
Patterson
Mykolenko
Branthwaite
Godfrey
Gray
Gordon
Richarlison
Dobbin
DCL
It's not especially inspiring but if we reinforce the central defence and central midfield then I suspect the keeper and young full backs will look a lot better.

Jim Bennings
19
Posted 27/03/2022 at 14:03:48
Pointless game with little or no worth or value at the business end of the season when club players need to be focused on bigger things.
In many ways I'm not arguing having a weekend "Everton free" but I still can never work out why international matches can't just be fitted in midweek like many of the European Champions League/Europa League games.
Why we come to a fortnight long standstill at such a crucial point of the season beggars belief.
Paul Birmingham
20
Posted 27/03/2022 at 15:11:58
Danny yes, let's hope so, hopefully Everton can ride the stormy waters now, and in the future, and have an international class stadium to be proud of, the best in class the North West if it the UK.
It would be good for the soul if Everton, can work hard to get stability and growth on and off the path.
Hope eternal !
Brian Wilkinson
21
Posted 27/03/2022 at 16:32:15
Gary@16, spot on, always said this on previous posts, Pickford was at his best when we had Olsen as competition, even back then when at times we had backs to the wall, he pulled out some worldies.
That's why I was baffled we did not hold on to Olsen, because he certainly on most occasions did a very good job, when he came in the team.
Same is happening with England, he is on the top of his game, with Competition for the number one hotting up.
Regardless of Pickfords form for Everton, I am struggling to think of Pickford playing a bad game for England, the defence we have at the moment is not helping, but on the other hand, are the defence nervous of Pickford, the two games with Begovic in, the defence seemed a lot calmer to me, whether that is due to more confidence of Begovic coming to catch a ball, Or more aware of Begovic commanding his area and knowing where he is god knows.
However, no one can disagree, when Pickford pulls on that England jersey, he is near faultless and deserves to remain in goal for them.
Maybe we need to give Pickford some competition, take him out of his comfort zone of being picked every week, it worked before with Olsen, and can work again with Begovic.
Paul Swan
22
Posted 27/03/2022 at 17:52:06
The whole art of goalkeeping has changed over the years. It's extremely rare these days to see goalkeepers catch shots even when annoyingly it seems to be the easiest option but they are trained to block or deflect at every chance. Probably a lot to do with the beach balls they play with these days where the ridiculous speed and movement that can be generated is completely artificial. In my days playing with the old Mitre balls, sometimes it was a struggle as a keeper to get the ball over the half way line particularly in windy conditions but these days even kids can launch these footballs enormous distances.
Pickford is rightly the England goalkeeper, he has something like 20 clean sheets and if what I read today was correct, has not made an error which has led to a goal whilst playing for them. The issue at Everton is that he is part of a defence which is probably about the worst I can ever remember and one which is crying out for a leader. I would much rather see a big Nev type in that sort of situation but we obviously need to stick with Pickford to get us out of this.
Clive Rogers
23
Posted 27/03/2022 at 19:15:50
Robert #18,
I agree with your player selections, but I feel Richarlison and Calvert-Lewin will be sold in the summer. Richarlison now wants to go and I don't think Lampard is an admirer of Dom.
Also our players' wages are about 90% of turnover and a 70% limit for FFP is coming in for next season, so our wage bill will have to be drastically reduced and they are big earners.
Robert Tressell
24
Posted 27/03/2022 at 19:24:09
Clive, you're right, it would be surprising if we still have both Calvert-Lewin and Richarlison at the start of next season.
Hard to say whether Lampard rates Calvert-Lewin because he's not been fit. But it leaves us with a very small core of players indeed for the medium term.
As it always is, it's going to be an important summer.
Tony Abrahams
25
Posted 27/03/2022 at 19:50:03
Pickford often makes great saves, but I've never really seen him talking or marshalling his defenders. I think Begovic's legs might have gone, but it didn't stop him marshalling his defenders against Newcastle, the other week.
Pickford is obviously the younger, more agile and talented goalkeeper, but Begovic can organize, seems calmer, and fills his goal, and our defenders definitely seemed more confident with him behind them last week?
Bobby Mallon
26
Posted 27/03/2022 at 20:22:35
We need to stop wanting rid of our only class player.
Danny Baily
27
Posted 27/03/2022 at 20:34:00
A better side could accommodate Pickford. That about sums it up. It would be a good summer if we could move him on.
Bobby Mallon
28
Posted 27/03/2022 at 21:40:55
Martin Mason @8 👍
Mike Gaynes
29
Posted 27/03/2022 at 22:59:46
Moving Pickford on would be certifiable insanity.
Tom Bowers
30
Posted 27/03/2022 at 23:15:51
I haven't seen any keeper better in the Prem. no matter what nationality.
They can all make mistakes and when they do everyone get's on their case as it usually results in a goal.
We have the number one England goalkeeper so our problem isn't Pickford but the rest of the squad who are way below Prem standard bar a few.
If Frank can sort this mess out soon then just perhaps he can work on some quality signings for next year all things being well.
Some of the players we have who we could have done within many more games (fully fit) may indeed be looking to leave so that may free up some cash. We should also get shut of some dross and reduce the wage bill.
Graeme Beresford
31
Posted 27/03/2022 at 23:22:41
Honestly can't believe people defending Pickford. I would still have Ben Foster over him any day of the week.
Barry Hesketh
32
Posted 27/03/2022 at 23:31:40
I can't really understand why Pickford arouses such negative attention from it seems the whole of the media and now it seems many Evertonians too. He's not even anywhere near his optimum age for a keeper and will improve and if he should leave to join a club that compete for trophies he will be a major reason why they win those trophies.
He does make mistakes, he has made errors but usually he makes up for those by saving at least one certain goal in most games he plays for Everton. We can have a more reliable looking keeper but none that will save as many certain goals as Pickford. It'll be a case of we don't know what we've got till he's gone, when he moves and he will move in the not too distant future.

Mike Gaynes
33
Posted 28/03/2022 at 01:08:08
Ben Foster. The 39-year-old dead standing spruce whose career accomplishments include... um... absolutely nothing. Except, of course, the worst Community Shield nightmare ever seen by a goalkeeper.
And recent whose shining moments under pressure include:
https://www.ToffeeWeb.com/season/21-22/news/41985.html#1234782
(2:19)
https://www.youtube.com/watch?v=VtGQPve7kjo
(:30)
Yes, by all means Graeme, prefer him to Pickford.
Uh-huh.
Bill Gall
34
Posted 28/03/2022 at 03:35:48
Pundits and coaches when talking about the strength of successful teams they all say you have to have strength in the spine of the team, as in keeper dominant center half and center forward.
We have 2 of the best in Pickford and Calvert-Lewin, we just need a domineering center half. Get one of this type player and with the youth we have in the squad we can build a strong side with additions added and we have got rid of the under performing players.
Before criticizing Pickford, check how many other players make a mistake and get away with it. A keeper is the most scrutinized player on the pitch and like every human he makes mistakes but, if it doesn't cause a goal, nothing is said, they are only remembered for mistakes that lead to goals.
Kieran Kinsella
35
Posted 28/03/2022 at 04:24:32
Stephen Warnock RS reject said "I wouldn't want to play with Pickford as he shouts too much" on a BBC hatchet article so naturally that proves he's crap ….
Alan J Thompson
36
Posted 28/03/2022 at 05:04:07
I'm sorry but I don't think there is a better keeper in the Premier League. Sure he has his idiosyncrasies but then nearly all top keepers have. George Best described Gordon Banks's weakness and then proved it in a Home International with a goal that was incorrectly ruled out.
As for kicking for touch, where else is he going to put it? We have nobody in the middle up front and if it did reach the one man we usually have there what is supposed to happen then, but we do have two men playing wide and if he plays it out short to a defender then three passes later it is back to him.
Things are that bad that when we get a free kick near the halfway line it usually ends back to Pickford and similarly, look what happens with this silly idea at goal kicks with a player standing on either side of the six yard box, two passes and it goes back to Pickford and that is where the problem with his kicking is.
But hey, let's get behind and support the team, eh?
Annika Herbert
37
Posted 28/03/2022 at 07:29:50
Anyone who seriously believes Begovic is a better keeper than Pickford really needs to visit SpecSavers at the earliest opportunity. Either that or try a lobotomy.
Talk about can't see the wood for the trees…
Dave Evans
38
Posted 28/03/2022 at 07:35:57
With the scatter gun criticism of some fans, everyone cops it.
It's the roughest of times to support our team. But you don't achieve 'nothing but the best' by hammering and selling our best.
Danny O'Neill
39
Posted 28/03/2022 at 08:27:06
I get your sentiment Dave Evans, but you can sell your best providing you re-invest wisely. That lot across the park have demonstrated that very well over the past decade or so. And I think Villa have traded well recently also. That's our issue, not necessarily the fact we've sold; we haven't replaced or, we have replaced with random, lesser players. We have no plan or strategy. We send several people to the shops with no list and they all come back with the first things they found on the shelf. That's about as coordinated as I can describe our transfer policy.
I hope we keep Pickford. I won't go through an extensive list and it's all down to opinion and views, but I can only think of 2 keepers in the Premier League I would replace him with. One is on the dark side and the other is Schmeical at Leicester.
If we end up selling and looking, here's a tip for you. Keep an eye on Alexander Nubel. Currently on loan to Monaco, he came through Schalke's academy and was signed by Bayern as a potential successor the Neuer (himself a Schalke Academy graduate). He's still only 25 as well.
Danny Baily
40
Posted 28/03/2022 at 09:07:23
I remember a few years back, when Burnley were struggling with Joe Hart in goal. He was the first name on the team sheet and I'm sure their fans were saying similar things to some on this thread (one of the best keepers in the league, England's Number 1 etc).
Burnley dropped him around Christmas (I think after we put 5 past him on Boxing Day?) and turned their season around. At some point, you've got to see past the reputation and look at what's in front of you.
Mark Ryan
41
Posted 28/03/2022 at 09:07:33
I think Jordan Pickford is an excellent keeper. If you put De Gea, Allison or any of the other Premier League keepers behind Holgate, Keane etc, they would look rubbish.
If you said to any of them, "We're playing Man City this week and here are your back four" they'd shit a brick. Jordan has to contend with our poor defenders, week-in & week-out. He's an excellent keeper but it's a debate that can rumble on.
Tony Everan
42
Posted 28/03/2022 at 11:27:09
A bit of good news today:
"Everton defender Yerry Mina has stepped up his recovery from a quadricep injury. The Colombian is due to start very light training at Finch Farm"
He would have been an asset for the crucial Burnley game, but it may come just a bit too soon.
Paul Cherrington
43
Posted 28/03/2022 at 12:32:47
Sorry but we should be dropping Pickford and putting Begovic in goal for the rest of the season. Then we should get as much as we can for Pickford in the summer and buy a truly top-class keeper with the money.
It's no coincidence to me that we look a lot calmer at the back and concede less when Begovic plays. Yet with Pickford there we look jittery and ship goals currently. Pattern is there for all to see.
Pickford pulls off some excellent saves which I think fools a lot of people. Trouble is he makes a few howlers most games too and often costs us goals.
There have been several goals I would consider him at fault for just this season, for example (such as the first Southampton goal which he let sneak in at his near post or Trippier's free-kick when we played Newcastle earlier in the season).
Good keepers gain you points each season – Pickford, on the other hand, costs us points.
Dave Evans
44
Posted 28/03/2022 at 14:44:49
Danny O'Neill @ 39. I get your sentiment that it's O.K to sell good players to re-invest. Our best players, in my opinion, are Pickford, DCL, Richie and Gordon. For the short term, maybe, Allan and Mina.
A problem with the sell/reinvest strategy is that our unusual leaders have managed to piss up the wall the best part of 250 million, trying to get the dross who are floating around these few. Why trust them now to sell and re-invest a baked bean in a butty?

You gave examples of 3 keepers who could replace Pickford. The easy part is identifying a personal list of players who can replace our best. As you say, it is a matter of opinion and, perhaps, a little bit of basic research.
Even if we avoid relegation, the difficult bit in the sale of our best players will be to get any of the comparable replacements to come here.
Geoff Lambert
45
Posted 28/03/2022 at 14:51:46
Some bloody numpties on here, Sell Pickford, Drop Pickford and buy a top class keeper, Ben bloody Foster. LMFAO.
Stan Schofield
46
Posted 28/03/2022 at 16:22:06
I've been on ToffeeWeb for about six years, and some of the comments still reflect the fact that Everton are mediocre to shite.
Sell Stones, sell Lukaku, sell DCL, sell Richarlison, sell Pickford. Sell any player who is outstanding and in his prime.
Our mediocrity and general shiteness appear to be mirrored by some on here not only accepting, but actually wanting, our best players to be sold. It got tedious a long time ago, but now it's predictable and sad.
Not only is Pickford an outstanding keeper, he's a bloody legend the way he's handled scrutiny from those looking for mistakes, and the way he handled the ridiculous and childish response of the media and LFC to the injury to St Virgil last season. He is a mental rock of a keeper playing for a shit team, whether the team is Everton or England.
Larry O'Hara
47
Posted 28/03/2022 at 16:29:23
Stan (46) I fully agree. Why sell Gordon & Richarlisson who love the club. Madness!
Dale Self
48
Posted 28/03/2022 at 16:34:34
Yes Stan, some of these posts would surely make David Mitchell's head explode.
Dave Abrahams
49
Posted 28/03/2022 at 17:19:37
Stan (46)I don't think Pickford is a poor goalkeeper but he is not a great 'keeper either, no goalie can be called great if he can't control his six yard area and Pickford doesn't.
He got too much criticism over the Liverpool incident with their centre back but Stan would you trust him to play in the Derby game in a few weeks time?
Ray Robinson
50
Posted 28/03/2022 at 17:28:55
Funny how Begovic is being praised to high Heaven all of a sudden -deservedly so, he's a good goalie. You should have seen some of the comments about him though in here after the QPR Carabao Cup game!
Another example of how some always see the solution to our problems being in the players who don't play - rather than in the ones that do play, playing better.
Stan Schofield
51
Posted 28/03/2022 at 17:32:09
Dave@49: He's one of the few players who I would trust to play in that Derby.
Mike Gaynes
52
Posted 28/03/2022 at 18:02:19
Danny #39, perfectly said. And I've seen some other great young keepers as well. Leeds snagged Meslier, but Dragowski at Fiorentina and LaFont at Nantes are worth watching. Most of all, however, I'd love for us to try to sneak in on Onana at Ajax. He's back from suspension and supposedly he's locked in for a free transfer to Inter this summer, but he's one of the few I'd be happy to see replace Picks. Massive talent.
Ray #50, spot on. TW's most cherished players are the ones who don't play, the ones we sold and the ones we failed to sign. In the words of the Roman poet Sextus (the inventor of Sexting, I believe): Absence makes the heart grow fonder.
Dave #49, I think he does a perfectly adequate job of controlling his 6-yard box. But he doesn't go out 12 yards and lots of folks here can't see past that. Anyway, all keepers make mistakes and give up goals they shouldn't, but I would point out that the last true howler Pickford committed was the one we watched together. I would certainly trust him not to make another one in the Derby.
Unrelated but shocking: US media reporting that Abramovich and several Ukrainian officials were poisoned in Kiev this month while meeting with the Russians for "peace" negotiations.
Brian Wilkinson
53
Posted 28/03/2022 at 18:05:18
I think some are judging Pickford on his England games, and not Everton games.
Yes no doubt he is a better goalkeeper at shop stopping than Begovic, that is Pickfords strength, reaction saves, his weaknesses for me are shots in the higher end of his nets, and not commanding his area, defenders left in no mans lands.
Begavic although had a stinker in the Carrabea cup, since then, I thought even when down to ten men, our defence looked more relaxed and organised against Newcastle, I was not shitting myself as much, when we gave a corner away, there was a lot more communication, whether that is down to Begovic organising the defence and defenders knowing his presence, I just do not know.
So the golden question is not about who is the better goalkeeper, but which goalkeeper helps the team more.
For saving you have to go with Pickford hands down, if you pick someone who has more influence on the people in front of him, then Begovic for me wins it, I would rather have the lesser goalkeeper there with 4 defenders playing better, than the better goalkeeper there, and the defence shot to pieces all over the place.
Devil and the deep Blue sea, in a way of making sense of the above, you could put many class players in midfield over the years, far superior, but most on here would pick a less flair player in Gareth Barry, he did a job there and was not a one man star man, he was a team man, where others excelled alongside him.
Pickford is the star man, but certainly not a team man, if he cannot have the support and confidence, of his defence.
Mike Gaynes
54
Posted 28/03/2022 at 18:10:39
Brian #53, I suggest you add distribution to your calculations. Pickford has become quite good, both with his quick throws and his improved kicking accuracy. Begovic has no ability in this area at all -- he thumps it out and it comes right back.
Dave Abrahams
55
Posted 28/03/2022 at 18:52:40
Stan(51) Stan I was thinking about Pickford's temperament for the Derby game, he goes off his head and loses his calm when the Newcastle fans have a go at him, imagine what the Liverpool fans will be like when he comes out for the Derby game, they've waited over twelve months for this game, I hope but doubt he will be able to keep it together when these bastards kick off on him.
Mike (52), you think Pickford does perfectly adequate job of controlling his six yard box, the lad is rooted to his line most of the time and some of his punching the ball out is hit or miss, I'd hate to see him if he was inadequate, for me he needs to improve that part of his game considerably.
Danny O'Neill
56
Posted 28/03/2022 at 19:05:59
He's been pretty bad for that against Newcastle Dave. I know it was billed as illness, but I wonder if that was a tactical move by the manager in the Newcastle home match? He can't help himself and get's drawn in and distracted by the Toon fans.
I'm with you. I don't even think he commands his 6 yard box. Very reluctant to come off his line.
I'll maintain that I think he is a very good keeper and I can't think of many that we could realistically replace him with. But he isn't a great, just very good.
John Crawley
57
Posted 28/03/2022 at 19:12:22
Paul (43) & Brian (53) nail it for me. I'd be playing Begovic for the run in, we need a calm organising goalie more than we need an on edge shot stopper.
Mike Gaynes
58
Posted 29/03/2022 at 01:32:06
Unbelievable. Begovic has played two league games for us -- a 3-0 loss and a 1-0 win -- the only two Prem games he has played in the last three years.
And you guys think he's our #1 keeper.
If my eyes were rolling any higher they'd pop out the top of my head.
Graeme Beresford
59
Posted 29/03/2022 at 01:42:30
August 2020,I posted this..
It's mad how much I totally disagree with you there. Young French lad hasn't kicked a ball for us yet, could be a Baines, could be a Galloway.
Kenny when he played for us looked slow and lacked positional sense. Did okay for Schalke who didn't win any of their last 15 games.
Keane is a squad player, Mina is often caught out of position at the back and the other two are again completely unproven. Gibson hasn't kicked a ball for us either.
Everton need to sell Pickford and replace him with one of the star performers from this season. If not, Ben Foster will do for a year. Pickford concedes a goal a game which he should do better with. It can't happen anymore.
Everton need a new right back, not as cover for Coleman, but to replace Coleman. Loyalty is great but football moves quickly.
We need a new left-back as competition for Digne and then we need to sell Mina and replace him with a young-ish centre-back who has played regular football for the last few seasons.
We then need to sell Bernard, Walcott, Sigurdsson and replace with better quality whilst also purchasing a defensive midfielder, but maybe Gbamin may come good and finally fill that gap. If not, then Allan or Gana back would be my choice.
Walcott and Bolasie have stolen a living with us. Get them off the books. Go out and get young upcoming wingers who will work hard for the team and provide some creativity for a change.
I would even be tempted to tell Tom Davies he's going on loan all season next year to a Championship club so we can find out what he's really made of and his best position. It worked for Leon Osman many moons ago.
I know it's unrealistic to try and replace the whole team but we certainly need 5/6 players and some to leave. You know what, while we are at it, stick Iwobi on the transfer list as he is the biggest waste of £30million.
Tosun too.
Long gone should now be the days where we go out and get United rejects and players who are 35 years old. If we ever want to challenge we need to be buying proven players and not getting ripped off. Sigurdsson imo has been a good servant to us, but again loyalty gets you nowhere in football. He has been worth about £30 million, 100% nowhere near the 50 odd we paid for him. Swansea must be laughing their socks off.
Complete overhaul. War chest open. Break FFP, take the fine. Get rid of the dead wood and the none-tryers. It's time!
Brian Wilkinson
60
Posted 29/03/2022 at 03:00:03
Mike no one has said Begovic is our number one keeper, not me anyway, we are looking at the Newcastle game and saw a big difference in our defence, for me it looked a lot calmer and organised.
You can roll your eyes at a 3 nil loss and a clean sheet, you can also roll your eyes at Palace knocking 4 past us, Spurs 5 past us, our neighbours 4 past us, Watford, yes Watford putting 5 past us, as you say, unbelievable, each time Pickford in goal.
We can blame a shambolic defence til the cows come home and praise Pickford for some great saves, however if you see an improvement and organisation in the defence, then surely you have to at least ask the question, is Begovic better at organising his defence out, if that is the case then surely for the sake of the team, you have to give it some thought of picking him for now.
Karl Masters
61
Posted 29/03/2022 at 03:19:01
The people who want Pickford dropped in favour of Begovic are the same sort who were saying Lukaku couldn't trap a bag of cement and should be sold.
That one worked out well didn't it? Those goals would come in handy now!
Magnifying one perceived fault (trapping a ball or not coming off the goal line enough) and ignoring all the good stuff is crazy. No player is perfect, especially younger ones.
'One of the most knowledgeable crowds' or a load of arl arse moaners who get on the players' backs at the drop of a hat? The latter is true, but is it a fault or just a weakness which overrides the first statement?
Maybe the club should sell us because we are full of arl arse moaners and bring in the Crystal Palace fanbase instead, because they play drums all through the match instead of moaning…?
Alan J Thompson
62
Posted 29/03/2022 at 05:09:31
Danny (#56);
Would that be the same tactical move that saw Begovic dropped for the same reason?
Tony Abrahams
63
Posted 29/03/2022 at 07:30:25
Ray @50, that's a good point, mate, although I'm sure the people who might be wanting Begovic to play, will possibly be having that opinion because of how much better Everton defended against Newcastle.
The formation obviously helped that night, but so did our keeper imo, simply because he looked like he was talking, and trying to get his defenders to play higher and maybe even tighter, which is how I viewed his hand signals, admittedly from the back row of the stands!
I suppose we defended in a similar way against Man City, when Pickford was in goal, and although I think Begovic's legs have gone (a decision I made after the QPR penalties), I sometimes view Pickford as a goalkeeper who might not have to make so many saves if he organized the defenders in front of him better, and also gave himself a better starting position.
Geoff Lambert
64
Posted 29/03/2022 at 08:38:22
Does Pickford organize the defenders in front of him better when he plays for England? Or is it the England defence. Or could it be that the Everton back four are shite.
Ray Robinson
65
Posted 29/03/2022 at 08:59:55
Tony, the arguments for Begovic instead of Pickford are actually quite compelling, especially when it comes to crosses. Begovich was much more commanding and effective in the punch against Newcastle than Pickford could ever be.
My own opinion is that Pickford is too short with insufficient reach to be a truly world-class goalkeeper. Against that, Pickford is a better reaction goalkeeper and better distributor – so it's swings and roundabouts. There's temperament to consider also.
I guess the point I was making is that for many contributors, the answer to our problems seems always to lie in the players who are not playing. At various times this season, Iwobi, Gbamin, Davies, Tosun or an all rookie defence of Patterson, Branthwaite, Godfrey and Mykolenko have been our salvation when clearly they are not. The key is in the better players playing better.
The Pickford / Begovic argument is far more nuanced admittedly. Begovic might be a better option for the Burnley game, for instance?
Ray Robinson
66
Posted 29/03/2022 at 09:03:29
Geoff, a combination of Everton back four being crap and international matches rarely if ever being involving sustained aerial pressure maybe?
Dave Abrahams
67
Posted 29/03/2022 at 09:25:50
Ray (65), I think your suggestion of replacing Pickford for certain games is a valid one, Burnley for instance who play mainly to win from dead ball efforts, corners and free kicks as well as centres from the wing, Pickford is definitely dodgy on these occasions along with his defenders while Begovich is the better man dealing with them, but I doubt this will happen although I'd have a good think about playing Pickford in the Derby game.
Stan Schofield
68
Posted 29/03/2022 at 09:50:41
Dave@55: I agree totally that the RS will go out of their way to be as unsporting and unpleasant as they can. Not just focusing on Pickford, but trying to get a rise out of Everton generally, which they tend to succeed at. They also don't like Lampard after his disagreement with Klopp.
That Derby is likely to be a very unpleasant affair with or without Pickford in goal, and Everton must resist Liverpool's cheating and try to play their own game with the best team available, which must include Pickford.
It will be either a success or, more likely, a disaster, because the RS are what they are, cheating bastards, and unfortunately Everton are prone to rising to their unpleasant bait regardless of the team selection.
Mark Ryan
69
Posted 29/03/2022 at 10:07:56
Off topic, but all those on here wanting Mancini or even saying " he wouldn't come to us because he's too good" Italian National Team in tatters. His fault or players. Discuss ? ha ha, only jesting. I just found it interesting how a man's value can be affected overnight. I expect he'll be okay
Tony Abrahams
70
Posted 29/03/2022 at 10:12:47
Pickford is reactionary, (another good point Ray) great for making saves, but not always great for organizing everything in front of him maybe?
England's back four is obviously much, much better than Everton's, Geoff, but in the two biggest games they've played/lost, they have ended up camping on their own 18 yard box the longer both of those games went on. This will have been more to do with England's inability to keep the ball, although Pickford never really pushes his defenders out either, imo.
I've just been on the phone talking to a couple of match going Evertonians, and both have said although they think Pickford is the better goalkeeper, they'd play Bergovic at the minute because he seems a lot calmer than his teammate.
Dave Abrahams
71
Posted 29/03/2022 at 10:19:50
Stan (68) Stan when it comes to Derby games, off the field we can be just as nasty, and have been, as them but Pickford is right on the edge of the Kop and he will feel it instantly when he goes to that goal, the Liverpool players on the field will add to that discomfort every chance they get, it doesn't bode well for Jordan no matter how good bad or indifferent he is as a 'keeper.
Yes on the field Liverpool players are cheating bastards, as you say, and will again use every occasion to try and cheat their way to a win especially getting in the referees face for every perceived foul along with the crowd on the Kemlyn Road side getting into the linesman to go their way.
Let's be honest here Liverpool are an excellent team so why they still try and cheat so much is pathetic and is one reason, along with their supporters tunnel
vision of only seeing one team is why they are possibly the most hated team in England.
I'd leave Pickford at home for this game if only for his peace of mind.
Tony Abrahams
72
Posted 29/03/2022 at 10:25:26
I'd say that Everton's players are the biggest cheats in the league right now. They are cheating the fans and they are cheating themselves, and when it feels like the officials are cheating them, which is quite often, they just seem to accept it.
Tony Everan
73
Posted 29/03/2022 at 10:41:30
Interesting comments from Digne about the open revolt in the dressing room against Benitez.
"In relation to the style of play, especially. I thought we had a team that could have a lot more possession, which we had the quality for. He asked me the question, I gave him my answer," the France international stressed.
"I know my place. I felt legitimate to give him my feelings and those of the other players in the locker room. The group was unanimous. The sequel proved me right, since he was fired because of the poor results. I think he also had a bad philosophy. He didn't fit at Everton."
I'm not sure Lucas is quite right about us having the quality of player to play a possession based game. It's often proven that we go sideways sideways back and hoof it when our players are tasked with it and lack the creative penetration required from midfield.
Ancelotti came to the same conclusion. The difference was that Benitez was a powder keg appointment from the start, that a large majority didn't want , Carlo was the opposite. It was therefore a bit easier for the players to down tools and blame the manager .
Frank Lampard is has given them an opportunity to prove they were right . Now though he will also have to adopt the pragmatism of his predecessors. At least until the summer when he can sign some players and get a preseason into them.
Brian Harrison
74
Posted 29/03/2022 at 10:48:23
Certainly Pickford hasnt done much wrong when playing for England and despite that there are pundits who want him replaced. I think he is a very good shot stopper and this season has probably been his best as an Everton keeper. But like any player he has his deficiencies, obviously he isn't comfortable coming for crosses from corners so that puts a lot of pressure on defenders. He is also easily distracted and allows some opposing fans to impact on his demeanour, Newcastle and Liverpool fans especially, I tend to think someone told Frank about how the goading by Newcastle fans effects him and that's why he selected Begovic for that game.
Certainly Begovic is better a dealing with crosses and seems a calmer influence behind his defenders, and certainly there will be games that his ability to deal with crosses will be a big benefit to the team. I would certainly consider him for the games at Burnley and Liverpool
Christine Foster
75
Posted 29/03/2022 at 11:38:57
There surely can be no doubt Pickford is a good reactive goalkeeper, the problem, as has been pointed out, is that we have a dreadful pair of centre halfs and from set plays you fear every cross into the box.
This has become a crucial problem that is being capitalized by teams and Pickford does not command the penalty area or more specifically his six yard box. It may well be that Lampard cannot make improvements to the centre backs situation but may be able to offset it a little with a keeper who can deal with crosses. It's Pickford Achilles heel which is a serious problem when the centre halves cannot deal with crosses. (As a matter of interest, I cannot recall the last time I ever saw Holgate win a header, or mark anyone, from an opposition corner, I am not jesting either!) If Lampard feels it's critical enough, Begovic may win the vote.
Paul Cherrington
76
Posted 29/03/2022 at 12:16:07
Pickford is not a world-class keeper - I know people like to defend their favourites but it's delusional to think he is. World-class keepers do not make the howlers he has made regularly for the last few years. I know all keepers make mistakes but not as often as he does and not how bad some of his have been.
But yeah it's just coincidence we ship goals when he's there, look all over the place at the back and have been on a general downward slide defensively with him between the posts.
People talk about him being one of our 'best' players who can't be sold - why not? We are rubbish with him in nets anyway so what real difference would it make? If we were challenging for trophies and actually winning games, I would understand this view of him being untouchable more.
It's like Richarlison - I know people like him but actually look at his stats for the last few years and his performances in general over a whole season. You rarely get a full season of good performances out of him and his goals return is generally poor. He spends most of his time on his backside or losing the ball. Look at how poor we have been this season with him being part of that. He is not untouchable and not unsellable. Him and Pickford are not elite level players who are putting in consistently high level performances every week.
It's common sense to get good money for players like Pickford and Richarlison who are not irreplaceable to revamp the squad/refresh things. This is even more true in out current situation when the whole squad needs overhauling. All teams do it - look how Utd sold Beckham or our neighbours moved on Coutinho or Suarez when they needed too. We need to bring some money in to buy new players and avoid another relation battle next year - there is only one way to do it for us right now.
Geoff Lambert
77
Posted 29/03/2022 at 15:29:24
For all the facts not guesswork on high crosses claimed or mistakes leading to goals why don't you find the truth here https://www.premierleague.com/stats/top/players/error_lead_to_goal
Might stop all the stupid howler remarks and cant claim high ball nonsense.
Hes not the best and not the worse and very close or better than most of the world class keepers
Danny O'Neill
78
Posted 29/03/2022 at 16:08:24
Manuel Neuer is a world class keeper.
Jordan Pickford is a very good keeper.
A lot of the most successful teams have very good keepers. Very few have a world class keeper.
But they have a very good defence in front of that very good keeper. That's what we lack.
David Seaman looked good because he had a solid defence in front of him. He wasn't that great in my opinion.
Shane Corcoran
79
Posted 30/03/2022 at 08:23:50
England fans booing their own player. They're great entertainment.
Paul Cherrington
80
Posted 30/03/2022 at 12:32:59
Everyone is entitled to their opinion on the merits of Jordan Pickford – even those who do not view him as highly as others. He is a good keeper for me – nothing more or less. If we want to improve, I think we must upgrade in that position.
Pointing out the bad mistakes he has made regularly each season since playing for us and the weaknesses plain to see in his game is not stupid. It is obvious and common sense. It is more stupid to pretend he is perfect and try to ignore poor errors like the derby win he cost us.
If people really think he is good at claiming high balls and hasn't made lots of bad mistakes that shouldn't be happening so often, they must be watching a different side or have very low standards.
Tom Bowers
81
Posted 30/03/2022 at 12:52:25
We have to leave Pickford alone. It's easy to blame a keeper when things are going badly. The rest of the squad has been poor.
Offensively we have been inept since DCL got hurt and Richarlison followed.
Add to that the ineptitude of Rondon and the apparent injury to Tosun who really wasn't good enough anyway.
Richarlison is an enigma. Still not the best striker around but number one starter for Brazil (scored again yesterday) but all we have,
If he is set to leave then maybe we can get Werner on loan with an option to buy.
Kim Vivian
82
Posted 30/03/2022 at 19:01:58
Is "...very close or better..." the same as " not quite as good" ?
James Flynn
83
Posted 30/03/2022 at 21:30:07
Richarlison with 2 more goals for Brazil. He looks good in an attacking team. Ah well.
He's 25 in May, this his 4th season with us. Our team is weak and the club run terribly. I'd like to think of a reason he'd stick around. The only one I can come up with is pretty weak. That the World Cup has been moved to the Winter and staying at Everton means he'll be playing regularly up til then. Closer to my wishful thinking than an actual good reason.
We'd get a fair wedge for him, though. I'd be surprised he's still in an Everton uniform come August. I wonder if Ancelloti will make a move for him in June.
Sam Hoare
84
Posted 31/03/2022 at 14:09:43
Pickford is fine. But there's a reason none of the big teams are after him. We will probably sell a good player or two this summer but not him, because there is no demand.
He's been much better this season but his stats over the last 3 years do not make for great reading. I'd rate him pretty midtable in the Premier League.
Right now, a new goalkeeper is nowhere near a priority.
Alan J Thompson
85
Posted 31/03/2022 at 14:38:07
I wouldn't be comparing keepers' statistics until they've all played behind the same defence for quite some time. And I'd suggest that most of those clubs willing and able to spend 30M on a goalkeeper have been looking for an adequate keeper for some time and will settle for what they have, but if we are relegated then watch the rush albeit that those from European clubs may be considerably cheaper.
So how many suitors may there be?
I think we can rule out Newcastle.
United, City, Arsenal and the neighbours seem content with theirs, I don't think Levy would pay that much for a keeper and are Chelsea allowed to bid. Even Barca, Real and Juve are baulking at these sort of prices. And the other "big" clubs are?
No, Pickford won't be going anywhere unless Everton have reason to start a fire sale.
---
Add Your Comments
In order to post a comment, you need to be logged in as a registered user of the site.
Or Sign up as a ToffeeWeb Member — it's free, takes just a few minutes and will allow you to post your comments on articles and Talking Points submissions across the site.