Lampard pleased with Everton's fight
Saturday, 9 April, 2022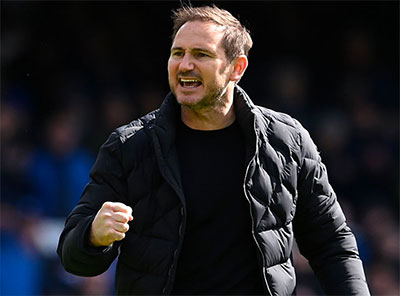 Frank Lampard was full of praise for the effort put in by his players as Everton bounced back from the shock of their defeat at Burnley in midweek to beat Manchester United amid another passionate Goodison Park atmosphere.
Anthony Gordon's ceaseless graft was rewarded with a touch of overdue fortune when his 27th-minute shot deflected off Harry Maguire and past David de Gea but it took a committed and stubborn stand by the whole team to make sure of three precious points in the Blues' bid to avoid relegation this season.
Lampard admitted that his longer-term ambitions for how he wants his side to play are on the back-burner for now as he and his staff concentrate on trying to get enough points on the board to stay up but he credited the Goodison faithful and his players for making it so difficult for a United team brimming with talent even if they continue to flatter to deceive under Ralf Rangnick.
"[I'm] very proud," Lampard told BT Sport after the final whistle. "At Goodison we've been good; I think that's our fifth win in seven. Away from home is a different aspect but, at the same time, when we come together with fans and players alike, we're hard to beat here.
Article continues below video content
"It always starts with our physical output and our fighting spirit which the fans demand here — rightly so. When you give them that, you give yourself a chance and we did that from minute one until minute 95.
"You have to fight for it. Beautiful football can come later on. I've got ambitions for this club to stay up, move on, play well and change some things but in the position we're in, fighting comes first and foremost.
"There's loads [still] to do," Lampard admitted, however. "It's one win. We should have got a result in the week [at Burnley] but we didn't and that's the reality when things go against you. But you have to keep going.
"My job, first and foremost, is to lift everyone, be positive and try and go again but they're a good bunch in that dressing room. Some people question that about these players but come and watch them [play] like they did today, bodies on the line… they're a good bunch.
"But it's one win. We've got a lot to do."
The manager singled Fabian Delph and Gordon out in particular for their efforts in his immediate post-match interview but he also made special mention of Ben Godfrey, Alex Iwobi and Jordan Pickford in particular in his comments to media pool later on after the England international pulled off three excellent saves to earn a vital clean sheet.
"I've got to give the lads a lot of credit because it's not easy [after] two defeats in a week. To go again on Saturday morning against a team that are fresh and have the fight, desire to bring the fans in... they got what they deserved.
"I'm so pleased for [Godfrey and Iwobi] as Ben's a top lad and an absolute pleasure to work with. People can see how I rely on Alex. You could see the way the crowd reacted to his energy. I don't know how many kilometres he's got through in the past week.
"I think we've been due one of those [types of goals] and I'm pleased that it's Anthony. He loves the club. For him to get that is just a culmination of those things together and no wonder the fans love him.
"It's always a team effort and Jordan made two big saves in the first half and an outstanding one at the end. It felt outstanding. His quality makes the save. Jordan is England's No 1 for a reason and he absolutely showed it today."
---
Reader Comments (39)
Note: the following content is not moderated or vetted by the site owners at the time of submission. Comments are the responsibility of the poster. Disclaimer
Mike Hayes
1
Posted 09/04/2022 at 18:27:45
One of the better displays I've seen - good to see a smile on Lampards face for a change - hope to see more of both in next 8 games COYB UTFT ETID NSNO - KENSHITE OUT!!
Joe McMahon
2
Posted 09/04/2022 at 18:40:35
Fully agree Mike! Some good performances today. I hope Delph can keep fit as he has quality and calmness. Alex Iwobi again performing! Brilliant day and good to see our manager smiling.
Si Pulford
3
Posted 09/04/2022 at 18:59:02
Delph really needs to be fit for the run in. His calmness and professionalism set the tone today. Big call from Lampard to drop Doucoure and play Allan and Delph together but they complimented each other perfectly.
Iwobi again giving the energy we have lacked. Maybe we've stumbled on the midfield three for the rest of the season.
Allen Rodgers
4
Posted 09/04/2022 at 19:15:53
To walk away from Goodison and see smiling faces on the way to Kirkdale station gives me a real lift. To see our fans young and old enjoying the day is like a tonic to me.
I've noticed our crowd seems to be getting younger or is it me getting older? Anyway, we have plenty of young fans to carry on the tradition. COYB!
Nick White
5
Posted 09/04/2022 at 19:34:14
Fantastic result today against the odds and a great team performance. 6 more points I think will do it this season (assuming Burnley don't go on a big winning run).
Sadly I missed being there today in my usual season ticket seat due to a sickness bug but the atmosphere sounded fantastic! I was shaking all of the 2nd half watching on TV!
We need to stay positive now for the rest of the season (at least until we are safe) and the board protests can wait until then.
I may have dreamt it but I am sure I read on here before the game that someone had said they'd rather a defeat than a draw so we could sack the manager! I can't buy in to that at all! Just get behind the team, and on today's evidence, the crowd were!
Paul Birmingham
6
Posted 09/04/2022 at 19:41:17
Great Day, good committed performance from the squad aside in my view Calvert-Lewin, who looks increasingly to be going through the motions, and isn't committed enough to the cause these days.
Mr Moss was as usual as he is, and today he gave red card card immunity to Wan-Bissaka.
But it's a start and the hopefully the start of the Everton winning fight to recovery and staying in this League.
Enjoy the break and same effort vs Leicester.
Mal van Schaick
7
Posted 09/04/2022 at 19:57:16
I hope that we string some more results together and stay in the Premier League, because I think Lampard could be good for the club going forward.
He shouldn't get too attached to some players (eg, Holgate, Delph, Kenny, Doucoure) because if we do stay in the Premier League, we need to replace some of these players with better quality and Lampard can build his own team. I can see Calvert-Lewin leaving.
Jerome Shields
8
Posted 09/04/2022 at 19:57:39
Hopefully this is the start of a climb out of relegation danger. Everton getting relegated would be a disaster.
Lee Courtliff
9
Posted 09/04/2022 at 20:37:38
Great stuff all round today, barring Calvert-Lewin. The lads gave everything and Alex Iwobi could be on the brink of 'winning the fans over'.
Some of his running today was what I like to think I would play like if I ever got the chance to represent our club!
The only thing lacking was the composure to kill the game off. Same as Burnley, we got into good positions but couldn't capitalise.
There were some really committed performances all over the park but Mykolenko deserves a mention. I think this lad could be a real favourite amongst the fans in the future. His best game for us by far.
And Lampard could well be a good manager for us, I like him a lot. We just need to stay up this season, then he can put his stamp on the club.
Jerome Shields
10
Posted 09/04/2022 at 20:51:55
The really good thing about today was the emergence of players who suit Lampard's style of open attacking football and are prepared to work with him.
Also, the fact that this may be a bigger positive to carry Everton through to next season in the Premier League than the negatives of the flaws that he has still to learn to overcome and which he will be given the chance to do.
Mark Ryan
11
Posted 09/04/2022 at 22:24:00
I hope more Evertonians would stop moaning about Frank and get behind him and the team. He's having to work with a team that has been put together by several different managers. He's inherited a team that hads been left bereft of confidence by Benitez and has had significant injuries to contend with too. Just support him and moan like at the end of the season. Negativity is like a cancer, it spreads. Just support, for 9 more games, then bitch if you have to UTFT
Tony Hill
12
Posted 09/04/2022 at 22:36:11
Quite right, Mark @11. His post-match press conference was superb, including his wise comments about Sean Dyche.
Lampard is fluent and obviously wholly committed to this club. We should listen to him.
Stephen Yule
13
Posted 10/04/2022 at 01:04:59
Great fighting performance. Iwobi must have run from here to Manchester and our new left-back is beginning to look a very good buy.
Frank has passion for the job and needs to be supported by all.
Paul Kernot
14
Posted 10/04/2022 at 05:07:25
Today was a brilliant start but the fat lady hasn't even put her costume on yet. In fact, she's only just got the call to tell her she might need to cut her holiday a bit short.
It was quite scary how much difference Delph made. Hopefully he can beat the odds & give us an 8-game, injury-free run of equally impressive games.
Ian Jones
15
Posted 10/04/2022 at 07:07:37
Thought the whole team defended as if their Premier League lives depended on it.
Mykolenko looked useful... it's difficult to just come in as a youngster from abroad and settle immediately so fingers crossed.
MotD highlighted Iwobi's closing down of Man Utd's players, specifically a near 170-m run which took him all over the pitch. Looked slightly comical but did show commitment and he eventually got in the way of a potential Man Utd attack.
Not sure if I would welcome all outfield players taking that approach. Reminded me of younger schooldays where we just chased the ball.😀
Jerome Shields
16
Posted 10/04/2022 at 08:24:53
Mykolenko and Iowbi have always played well for Frank. He has been able to get the best out of them. Delph in that game played probably his best game for Everton. His play was a total contrast to Doucoure's look on play. He really did help the defence. Allan prevented Man Utd going through the centre.
Both Pickford and Richarlison were determined. Gordon deserved to be on the scoreboard. Coleman was solid. The two central defenders benefited from the extra support. The performance that was needed. Makes MotD great viewing.
Brent Stephens
17
Posted 10/04/2022 at 09:37:46
We have "Sixty Grand..." to sing for Seamus.
We have "Oh, Frankie, Frankie..."
We have "He's Btrazilian..."
We have "Oh, Anthony Gordon..."
Never thought I'd say this but we need one for Alex Iwobi! Any offers? "I Wanna Be Iwobi" after Katy B?

Si Pulford
18
Posted 10/04/2022 at 09:48:14
We have too many players that have three 'mares followed by a good performance leading to false dawns. Think Keane, Colman, Gomes and even Doucoure. Players that are horrific one game but can come in and play well the next. If we could just get a little more consistency we wouldn't be in this mess. I believe if we stay up we should sell anyone we can get a fee for and start again. The likes of DCL, Richie (although I really rate him) etc will have to go and we will have to fill the side with less talented but more consistent fighters and build from there. I can see a lot of loans in the next season or two but the new 70% of income wage structure will make sure them loans are of a sufficiently low quality as to not allow teams outside the top 4 to upset the elite.
Charles Brewer
19
Posted 10/04/2022 at 09:51:13
I have always liked Delph, I thought he would bring stability and confidence in midfield, but sadly he's proved as fragile as all too many of our players. Iwobi is another one who on the right day will play an excellent role but off form or out of position is a disaster.
We have a large number of players who excel in one position (often when supported by some very specific skills in others) but are very poor playing elsewhere.
DCL is certainly one of these as Ancelotti discovered. Six yards out with a first class winger (such Digne or Baines) he will score regularly. Otherwise he isn't even "championship at best".
Frank Lampard could turn out to be our ideal manager. He's intelligent, ambitious but has had enough setbacks to realise that hard work, fitness and the ability to use players to fit their skills is imperative.
On 20 February 2021, Everton destroyed Klopp's orcs at Anfield (I have the newspaper cutting "Anfield in ruins" pinned to my whiteboard in my office) and the BBC report says "Jordan Pickford and Michael Keane were excellent" and Ancelotti's team outplayed, outfought and above all, outthought Liverpool. The team today is virtually the same (Sigurdsson was a late sub).
What is different?
Kim Vivian
20
Posted 10/04/2022 at 09:56:51
I know he's only been here a couple of months but other than Duncan for a few games, Lampard seems to actually care a hell of a lot more - win or lose - than any of the previous gaffers since Moyes.
That's possibly because of his young age so he still has to experience a wealth of emotions connected with managing a top flight football team which perhaps makes the older brigade a bit more "bomb happy" to use the old metaphor, but I honestly believe if we can stay up and consolidate, Frank could be fantastic for Everton.
He does genuinely seem to "get" us.
Rob Halligan
21
Posted 10/04/2022 at 10:08:02
Brent………..
Oh Alex Iwobi, Iwobi, Iwobi
He should have been a goalie, a goalie, a goalie
If only someone had told me, had told me, had told me
He's just a one trick pony, a pony, a pony
Whoa woah wooooo whoa woah woooo!
Sorry mate, best I could do! 😁😁😁😁
Danny Baily
22
Posted 10/04/2022 at 10:10:21
Kim 20, I'd take Carlo not giving one and winning 50% of matches over a bit of passion from Frank. But he does appear to be invested.
Delighted with yesterday and nervously looking at the Norwich match today.
Brian Harrison
23
Posted 10/04/2022 at 10:10:47
There were many smiling faces walking down City road after the game, I think after Burnley many me included wondered how do you come back from that inside 3 days. Things could have gone horribly wrong had Pickford not made 2 great saves from Rashford early in the game, but they hung on and battled.
I have been saying we don't shoot enough from outside the box and yesterday Anthony Gordon did and got his reward, yes it was a deflection but if he passes rather than shoots we don't score.
I think Allan and Delph playing together in midfield gave us structure and a calmness that we havent shown for a long time. Listening to Lampard its quite interesting to hear him say he will have to put the style he wants to play on the back burner for now and adopt a more pragmatic approach. Maybe he has put a phone call into his old boss who knew the only way to get this team winning was to not play an open game and keep your defensive structure. Again just like at Burnley Richarlison and Gordon ran themselves into the ground and I think Iwobi yesterday covered more ground than any other player on the park. The defence looked solid and without doubt that was Mykolenko,s best game since joining the club.
The only downside for me was DCL, I understand he has been out injured and it takes time to get back into match fitness. But there was no excuse for his lack of effort, he didn't seem to want to close players down, and since he has come back I don't think he has won many headers, and he certainly isn't holding the ball up at all. Only he and his agent know if the stories about him joining Arsenal in the summer are true but since he has come back he looks like a player who is doing his level best to make sure he reduces as much physical contact as he can. This looks to me like a player who doesn't want to jeopardise any potential transfer in the summer by picking up an injury. I can tell those that cant get to the game that most around me in the Upper Bullens were screaming at Lampard to get him off a lot earlier than he did eventually take him off.
The one thing Evertonians wont tolerate is anybody not trying, and unfortunately thats the impression that we are getting from DCL. I hear some posters saying he doesnt get any service, but he has to do a lot more than he is, Iwobi played a brilliant ball for him to run onto but he was to slow, he didnt anticipate the pass and by the time he did the chance had gone. This is a player who has never scored from further than 9 yards out and has 1 assist in nearly 2 seasons, and some are blaming his team mates for not creating tap ins for him.
Rob Halligan
24
Posted 10/04/2022 at 10:16:49
Ah, come on now Brian, I think you're being a bit harsh on DCL. That penalty spot is most definitely twelve yards out!!
Ian Jones
25
Posted 10/04/2022 at 11:01:30
Brent @17
Songs for Iwobi
Waniwobi - Spice Girls
Waniwobi Starting Something - Michael Jackson
Brian @ 23
I saw that pass from Iwobi to DCL. I saw a level of disappointment on DCL's face. I think he realised he had missed that opportunity.
Generally re DCL. I think it's a lack of fitness, assume having had the kind of injury he's had he may not feel as confident in his body's ability to cope with it and doesn't want to overdo it
Hoping form will return. Confidence will come with a goal. It's also hard to come back into a team that's struggling.
Also, we don't know if Lampard is asking him not to run around like a bull in a china shop and ease his way into games.
Kim Vivian
26
Posted 10/04/2022 at 11:15:11
Ian - I honestly don't think a manager, faced with impending relegation, is going to send any of his players out with the remit to hold a bit back. If that's what he needs to do before becoming a viable playing asset again (which he isn't at the moment), perhaps he should be doing it with the U23s.
Ian Jones
27
Posted 10/04/2022 at 11:22:10
Kim
Agree
It was just a thought.
Martin Reppion
28
Posted 10/04/2022 at 12:20:15
The last 2 games have been interesting in so many ways.
Mykolenko is starting to be the player we were told he is. He is still very young but has been his country's first-choice left-back for 3 years.
At Hull, he looked flat-footed and lost. A new club, new country, new teammates and a big fee all seemed to have an effect. Then his country is invaded and nobody can complain if his thoughts are not wholly on football.
But now he is looking full of confidence. Faster in thought as well as in action. Add some shooting boots and it could be a case of "Lucas Who?"
Alex Iwobi has been underwhelming since he arrived. Just occasional flashes of brilliance. But he has suddenly had a fire lit under him. If he could just take a bit more care in possession, he could have a real influence.
I have always thought that Ben Godfrey is a real talent. Like all players, his development will involve two steps forward and one back. But he bounced back and looked like a real rock at the back as well as having the pace, skill and attitude to actually play football when the time was right.
Jordan Pickford continues to do what he does best. If anyone wants to repeat on here the trite and ridiculous comments that ignorant pundits bandy about on Sky TV, I won't write it every time, but be sure I'm shouting "Fuck You" at the computer screen.
He had a dodgy few weeks in the 2020-21 restart season. Since then, he has been, week-in & week-out, a very good goalkeeper. Often breathtaking. All players make mistakes, and goalkeepers' mistakes often end up in a goal, but he makes fewer than most.
Finally. Can someone please help me find something negative to say about Anthony Gordon? His development this season has been the one real high spot of a turbulent and disappointing season. I can't remember the last time I saw such growth over one season in any player. Future captain?
As fans, we can forgive players if they aren't good enough as long as they leave everything they have on the pitch. He gives his all every game. His skill set is now as good as any wide player in the team. And he is refreshingly honest and committed in interviews. I'm glad we have him.
Brent Stephens
29
Posted 10/04/2022 at 12:27:28
Rob #21, hang your head in shame.
Brian Harrison
30
Posted 10/04/2022 at 12:30:20
Rob @24,
Yes, sorry forgot about scoring from the penalty spot, but from general play, it's still only 10 yards. For those suggesting he may still be nursing his injury, then if that's the case, he shouldn't be playing... but I don't believe that.
As Lyndon in his post quotes Lampard: "It always starts with our physical output and on our fighting spirit which the fans here rightly demand." I saw none of these attributes from Calvert-Lewin yesterday, or the Burnley game for that matter.
We need to start with 11 committed players prepared to run themselves into the ground; without that from all the players, it makes the job so much harder. I genuinely think Lampard believes in Calvert-Lewin but he has to give more than he has in the last 2 games.
Barry Jones
31
Posted 10/04/2022 at 19:59:55
Brian #30. On that note, I watched the Norwich vs Burnley game. Why hasn't any other club snatched up Teemu Pukki? He puts in great runs and his finishing is top-notch. I also think that Mathias Normann would be a fabulous acquisition.
Robert Tressell
32
Posted 10/04/2022 at 20:06:58
Barry, Pukki is free this summer. At 32 he's no spring chicken but could play an effective role for another couple of seasons. I'd be quite pleased to have him on board.
Normann was linked to Man Utd a fair bit under Solskjaer (fellow Norwegian) but not convinced he's that good. Strikes a ball well though.
Mike Gaynes
33
Posted 10/04/2022 at 20:56:53
Pukki is a no-thanks for me. A monster in the Championship but little production in the Premier League. He goes through long dry spells, doesn't create much for others. I just don't see how he makes us better.
Jerome Shields
34
Posted 10/04/2022 at 22:00:25
There was some turn around in results today. It just shows you anything can happen. The table with Burnley a game in hand and fortunately now four points behind Everton shows how tight it is and how important the United result is. See Moyes is gravitating to his normal level. A month ago he was challenging for the top 4, now he will struggle to stay in the Top Six. I know Frank has flaws, but he does have potential and is a young Manager. This gives me some optimism. A up and coming Manager with potiential. It took fan pressure to get him. Keep the faith.
Karl Meighan
35
Posted 11/04/2022 at 09:29:55
I would be one of the last to give support to Calvert Lewin, photoshoots talking of Champions League wont get him many fans who support are Club.
But lets not go over the top he has missed a large chunk of the season is obviously struggling for match fitness, things that take time to comeback from. Had are position been better he may not have played the last 2 games.
That being said he doesn't fill me with confidence in a 1 on 1 with the keeper but to say he's not working hard and trying in games in order to save himself well I'm not having that.
Lampard and coaches need to tell him the day job comes first that means working defenders and scoring goals, the other nonesense you havent earned.
Martin Clark
36
Posted 11/04/2022 at 15:31:42
I think Calvert-Lewin is struggling with fitness and confidence. His remit when he first got into the side was his high work rate and determination. He needs some time on the bench so he can get his spark back and come on for last 30 or so and bust a gonad.
I heard someone suggest playing Dele Alli as a false 9 with Richarlison and Gordon either side. I'd like to see it, or Richarlison in the middle with Gray and Gordon either side. Just feel he's out of form. Hopefully it's not because he's thinking of where he'll be playing next season.
Also, feel we should offer Delph a pay-as-you-play contract. Maybe he wouldn't be so fragile if he only got paid when available.
It is just one win, but how needed it was – I was really starting to lose hope on staying up. Just seem to be having no luck and nothing really going our way. Getting used to mistakes and losing.
Hopefully, this is a turning point, with a short break and hopefully a fully fit squad to choose from and a plan or formation the team seemed comfortable with, we can get some continuity and results. Hopefully, we can play with the same determination in away fixtures.
More hopeful now anyhow.
Justin Doone
38
Posted 11/04/2022 at 21:53:18
It's all about the results and I have enjoyed reading all the positive comments but it's time for some reality.
That first half was awful.
Both teams giving the ball away cheaply. So many misplaced passes.
Keane doing his belt to screw us over coming out of defence with the ball only to lose it, shock! An awful advert for Premier leagues football.
Utd had better chances, so well done Pickford with a few good saves and a clean sheet. As for our goal, we can't score without luck and a big deflection. We are poor but that's why we need to shoot and be direct more often. Create your own luck.
Strikers, we don't have any real out and out strikers. Dom is a work in progress, not a natural striker. Ric and Gray both wide forwards. Rondon is the old school big lad but never Premier league standard.
Whoever suggested Puki, go have your head examined. We had and failed with Tosun, a similar player. Not good enough or suited to the Premier league.
Likewise, those expecting Delph to remain fit is like waiting for Christ to return. If Mina and Delph had remained fit all season we would be higher up the league table. We also would still have Rafa in charge, perhaps even Silva. It's never going to happen.
Justin Doone
39
Posted 11/04/2022 at 21:57:50
Also before the end of April I suspect we will be in the bottom 3 as Burnley have more April games and a few winnable games at that.
What that will do for confidence I have no idea. But be warned, things could get worse before they get better.
But never ever give up or stop trying.
Bill Fairfield
40
Posted 12/04/2022 at 08:25:07
Gritty performance, more needed if we are to stay up. Man of the match once again were the passionate Goodison fans.
---
Add Your Comments
In order to post a comment, you need to be logged in as a registered user of the site.
Or Sign up as a ToffeeWeb Member — it's free, takes just a few minutes and will allow you to post your comments on articles and Talking Points submissions across the site.