David Unsworth to leave Everton role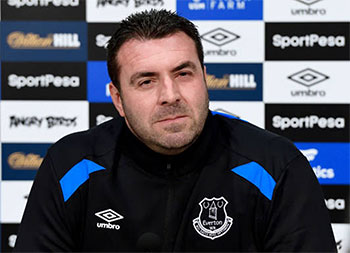 David Unsworth is set to leave his position as Everton's Academy Director and Under-23s manager to pursue his ambition of becoming a first-team manager, the club have confirmed.
Unsworth was appointed as Everton's assistant Under-21 manager in 2013 following roles in the Championship, including as assistant manager at Preston North End and Sheffield United.
He progressed into his current role of Academy Director and Under-23 manager and enjoyed success, winning the Premier League 2 title in 2016-17 and 2018-19 the Premier League 2 and Premier League Cup double in 2018-19.
He has twice taken caretaker charge of Everton's first team — first, at the end of the 2015-16 season and then for 8 games in 2017.
Article continues below video content
In terms of player development, Unsworth has overseen progression to the first team of several young players, including current regular first-team players Tom Davies, Anthony Gordon, Jonjoe Kenny, Mason Holgate and Dominic Calvert-Lewin.
No timescale was revealed for Unsworth's departure but it appears as though it will be in the near term, with John Ebbrell taking charge of the U23s until the end of the season. Unsworth described how hard it will be to leave the club he has represented as a player and coach for 30 years.
"This has been one of the hardest decisions I have had to make in my career," he said. "Everyone knows what Everton means to me.
"However, to give me the best chance of achieving my aspirations and becoming a first team manager, I believe now is the right time for me to move on."
Chairman Bill Kenwright said of Unsworth's impending departure: "Since coming back to Everton, Unsie has shown everyone what he is — a great coach, a great Evertonian, and a winner.
"While we're sad to see someone with his talent and love for the club moving on, we completely understand and respect his decision."
---
Reader Comments (164)
Note: the following content is not moderated or vetted by the site owners at the time of submission. Comments are the responsibility of the poster. Disclaimer
Danny O'Neill
1
Posted 12/04/2022 at 09:50:19
The belated clear-out has begun.
Bobby Mallon
2
Posted 12/04/2022 at 09:50:45
All the questions about Unsworth have finally been answered.
Danny O'Neill
3
Posted 12/04/2022 at 09:53:34
He was never Academy Director. Only in title. He managed the U23s and never moved on.
He should have left his comfort zone long ago. For the benefit of him and for Everton.
I wish him well.
Sam Fitzsimmons
4
Posted 12/04/2022 at 09:56:03
So David Unsworth is set to leave his position as the Club's Academy Director and Under-23s manager to pursue his ambition of becoming a first-team manager.
Change is afoot!
Kevin Prytherch
5
Posted 12/04/2022 at 10:00:36
I hope that, in the light of Unsworth leaving, this doesn't become a bitter insulting thread towards him.
He managed to win the U23's league twice with the players he was given, including the first ever league and cup double.
He is credited with some stellar U23 signings, including Calvert-Lewin, that could make us a fortune.
He stepped up twice to manage us, the second spell in dire circumstances.
Since becoming Academy Director and having an overall say in the whole youth process, we have seen the average age of the U23 squad decrease dramatically and greater opportunity for younger players to prove themselves against older opposition at an earlier age.
I, for one, would like to thank him for his service to the club and hope he becomes a success as a manager.
Jay Evans
6
Posted 12/04/2022 at 10:07:42
So it begins 👍🏼
Good luck for the future 🦏
Clive Rogers
7
Posted 12/04/2022 at 10:10:17
That doesn't make good reading. Holgate and Calvert-Lewin were bought in while Kenny and Davies haven't established themselves in the first team.
Brian Murray
8
Posted 12/04/2022 at 10:11:34
Jumped or pushed? Wonder who's next. Are we about to be dragged kicking and screaming into the 21st Century?
Good luck, Rhino.
Danny O'Neill
9
Posted 12/04/2022 at 10:15:21
I suspect the latter, Brian. Too coincidental with the announcement of Kevin Nicholson's appointment and I don't see a link or rumour to a future appointment. I hope he gets something but fear he spent too long in the comfort zone of Finch Farm.
Like you say, maybe we are finally waking up and starting to restructure. Finch Farm revamp. New stadium a few years away. Get this season over the line and the future could just be bright.
Sam Hoare
10
Posted 12/04/2022 at 10:15:41
Interesting. Left, or asked to leave, I wonder.
Credit for the work he has done and winning the PL2 etc though I (and others) have been open in the past over our doubts as to whether enough valuable first team players were graduating from the academy. That is not Unsworth's fault alone of course but it seems pertinent perhaps that he is leaving so soon after the appointment of a new DOF and Academy Coach Educator.
If I have any doubt about Unsie it was that perhaps at times he wanted to win games so badly it came before his primary remit to develop players; but if that's true then that desire should serve him well as first-team manager. Best of luck to him.
Christine Foster
11
Posted 12/04/2022 at 10:17:28
I wish him well. Like all of us, we have a time span in jobs, I suspect it's no coincidence that the new appointment has led to a Hobson Choice: walk the plank or jump ship. I am glad he chose the latter. Good luck, Rhino!
Allen Rodgers
12
Posted 12/04/2022 at 10:21:15
Did he jump or was he pushed? Should have moved on years ago but good luck to the lad. I remember The Rhino stepping up to take a few crucial penalties in his playing days.
John Keating
13
Posted 12/04/2022 at 10:21:49
Good luck to him and I sincerely hope he is a success wherever he lands up.
The club needs a massive overhaul from top to bottom.
Fingers crossed the present board follow very soon...
Christine Foster
14
Posted 12/04/2022 at 10:26:56
I said on a post the other day that Duncan's time at Goodison is done, he has to leave despite the fact he loves the club, there is no place for him at the table anymore.
As a coach with strikers? That's not a full-time role for him, he needs to grow and show he has developed to a point where he is in demand as a first-team manager at other clubs. He has been passed over with the appointment of Lampard and his team; sentiment is short-lived.
I would love Big Dunc to grow and develop into a first-class manager and then come back and do the business for us.
Peter Mills
15
Posted 12/04/2022 at 10:27:28
Good luck to David.
Brent Stephens
16
Posted 12/04/2022 at 10:38:25
Reads as if he's leaving without a post to go to. Interesting. I would have thought he would await an offer and then resign. Suggests something else, then.
Andrew Ellams
17
Posted 12/04/2022 at 10:40:02
Just read a thread elsewhere calling for Duncan Ferguson to move into the vacant role. I despair sometimes.
Derek Taylor
18
Posted 12/04/2022 at 10:43:03
I'm with Kevin @5 – no cause to slag off and discredit a good servant of Everton both as a player, coach, and Academy Manager. Some people on here would like to see a never-ending churn of club personnel when, apart from Chairman BIll, backroom appointees already last for months rather than years.
Unsie, thanks and wish you well!
Danny O'Neill
19
Posted 12/04/2022 at 10:44:19
It's symbolic of Evertonians that we wish him well. Likewise, Duncan, who I think also should move on. And then we know what / who is next.
Sentiment and nostalgia? That's for idiots like me who know no better.
Let's get this club set up for the new stadium and future success. Enjoy and rejoice our history, but look forward, not back. Make new history Everton.
Jerome Shields
20
Posted 12/04/2022 at 10:52:32
Unsworth was a great player for the Club, but I have been uneasy for years with his role or roles at Finch Farm. I also agree regarding Duncan.
Paul Hughes
21
Posted 12/04/2022 at 10:54:54
I wish him well. Good luck, Rhino.
But like others, I think it is time for a clear-out of the old guard, who need to go and stand on their own two feet, outside of good old Everton.
Ken Kneale
22
Posted 12/04/2022 at 10:57:50
Jerome, that is correct. I think it has tarnished his reputation that he is seen as part of the problem, not the solution.
On a human level, I wish him well; as a supporter, this is the correct move and others must follow in a full review of activity within all areas of the club.
Peter Gorman
23
Posted 12/04/2022 at 11:01:21
Kevin P - spot on. Nothing more to be said.
Derek Taylor
24
Posted 12/04/2022 at 11:02:19
Christine, I'm surprised that you conveniently overlook the fact that only former Everton players have brought honours to our club since the war. Britton, Catterick, Kendall and Royle are our only successes in over 70 years. So go ahead and demean ex-Evertonians for their temerity to return to our club in coaching and managerial positions!
Andrew Ellams
25
Posted 12/04/2022 at 11:02:32
To defend his role a little bit, who would want the responsibility of developing the young talent in modern Premier League football when owners demand instant success and bringing in multi-million-pound players from overseas.
On the other hand, the likes of Chelsea and Liverpool have been able to turn young talent into a revenue stream, selling them on for good money to fund some of those multi-million pounds overseas players… so why aren't we doing that?
Eddie Dunn
26
Posted 12/04/2022 at 11:03:28
Good luck, Unsie – I hope you get your chance to prove what you can do.
Danny O'Neill
27
Posted 12/04/2022 at 11:06:53
Come on Derek, that's living in the past.
Even our cousins eventually realised the "Boot Room" had had it's day and moved on.
The problem with that strategy is that we can't even call upon ex-Everton players who are winners.
Let's look forward just like other clubs have done so and not with ex-players.
Robert Tressell
28
Posted 12/04/2022 at 11:06:54
Unsworth gets a lot of unfair stick because he's viewed as a Kenwright crony (which he may be, I don't know).
What I do know us that the style of play adopted by our U23s (the sole thing he is in charge of) is very unsophisticated and not a good education for Premier League football.
It is lower-League style football based on forcing errors, set-pieces and counter-attacks.
There are no passing triangles, no structured movement of the ball up the pitch etc.
Players of ability / intelligence need more than what we are offering.
Hopefully this is the start of an improvement.
Mike Hayes
29
Posted 12/04/2022 at 11:07:13
Definitely suggests something other than wanting to go into football management – never been mentioned before. U23s were imitating the first team and not winning many matches...
I wonder if the rest will follow? Beginning of the end of jobs for the boys. Good luck to him wherever he goes.
Tony Abrahams
30
Posted 12/04/2022 at 11:12:36
Andrew @25, that's a good question, mate. The managerial merry go round hasn't helped anyone who is trying to bring players through into the first-team squad, but Liverpool get top dollar for a lot of players, whilst Everton even with Under-20 World Cup winners, never seem to do that well.
Christine Foster
31
Posted 12/04/2022 at 11:28:39
Derek, not demeaning anyone. I want the best for the club, whether or not they have been a player or not. Duncan has been passed over by the club, not by the supporters.
If memory serves me correctly, he admitted himself he does not have the experience to manage the club. So he has the decision to stay and be content or gain that experience and come back with it. Nothing demeaning in that, rather insulting to insinuate it, to be frank.
Nick Page
32
Posted 12/04/2022 at 11:30:35
Tony, Andrew, I think the market has cottoned on to Liverpool ripping them off for "talent". Clubs have said as much. They've also been poaching a lot of that talent from other clubs which has also likely stopped.
Good luck to David Unsworth. It's not his fault Everton is run like a boys club. It's a typically Kenwright romantic notion having the place full of ex-players but it has no place in the 21st Century Premier League, whether they "get us" or not (whatever that means). Change needed throughout the entire club.
Paul Birmingham
33
Posted 12/04/2022 at 11:38:23
Good luck to Rhino, and I would also expect John Ebbrell to follow him, to pastures new.
As many have already said, the club has got to take the blinkers off if it aims to progress, on and off the park.
Steve Brown
34
Posted 12/04/2022 at 11:49:31
He has been in the job a long time and must be ready for a challenge.
A great servant to the club who, in my opinion, did the job well.
Joe McMahon
35
Posted 12/04/2022 at 11:50:00
Glad he's leaving, but I wish him well, and I hope he takes a few steps down in lower leagues and take it from there.
Now is the correct time for us to be changing the old way of doing things.
Gavin Johnson
36
Posted 12/04/2022 at 11:50:25
I hope Darren Hinds is okay today. I bet he'll have his Everton flag at half-mast today after hearing this news.
Christopher Timmins
37
Posted 12/04/2022 at 11:55:23
The best of luck to the guy!
Dennis Stevens
38
Posted 12/04/2022 at 12:04:24
Unsworth should have really been looking to move on ever since Allardyce was appointed. The Club could have stuck with the man who had dragged us out of the relegation zone to see whether he could be the man we need, seeing as Moshiri couldn't get his target, Silva.
Instead, they spent a huge amount of money on a superfluous appointment who failed to improve our League performance, despite having a lot more time & money to work with.
This could turn out to be the best thing to happen to Unsworth, even though he may not feel that way at the moment.
Peter Carpenter
39
Posted 12/04/2022 at 12:05:00
Good. Good luck to him. Duncan next.
Mark Ryan
40
Posted 12/04/2022 at 12:05:28
Good luck, Rhino.
Now that Duncan has shown Frank around the place, he needs to do the same and either become a manager or not. Loitering on a bench is no place for him or are they too scared to tell him?
Best of luck, Rhino, you'll be a manager somewhere before the season's end, watch this space... Cheers, big fella!
Justin Doone
41
Posted 12/04/2022 at 12:11:54
All the best of luck to a top Evertonian.
I think he's the kind of coach that can get good results from an average group.
I was never convinced any of our Academy (or first team) coaches actually improve or develop individual players.
Like Stubbs, Weir and many others, he has proven himself as a good but basic coach. Time will tell.
A bit of luck at the right club and he may prove to be much better than that.
Alan McGuffog
42
Posted 12/04/2022 at 12:14:13
Good luck to Unsworth... always grateful for that early goal against Fulham 20 years ago, from Duncan's knockdown.
Cruising at two-nil and Tommy Gravesen has his rush of blood. Squeaky derriere for an hour. Everton that!
Thomas Lennon
43
Posted 12/04/2022 at 12:21:36
Winning something is going to take professionalism, ruthlessness, focus, determination and money.
There is room for former players if they are the best we can get.
Bear in mind that, once we go down this pathway there will be much less emotional attachment to the club, much less looking after less-well-off fans, fewer moral lines drawn in the sand and a distinct rise in prices in the new stadium at Bramley-Moore Dock.
Danny O'Neill
44
Posted 12/04/2022 at 12:22:06
Some great sentiment and humility towards a servant of the club.
But let's look at this as something that should have been done several years ago. A reset. A setting of foundations, vision and strategy. That's my hope.
Out with the old, in with the new. Still work to do at other levels of the club in that respect. We know where.
Jack Convery
45
Posted 12/04/2022 at 12:22:11
Football is a results business. We need results from our investment in youth. Hopefully this is the start of seeing youngsters coming through and really impacting on the first team scene.
Best wishes to Rhino. This could be the making of him.
Danny O'Neill
46
Posted 12/04/2022 at 12:28:53
I'm not so sure about that, Jack. He's nearly 50 and Duncan is 50. Moyes only has 10 and 8 years on them both respectively, but look how long he has been managing.
Agree or not, they've safely sat in their comfort zone behind the gates of Finch Farm and hiding in the dugout at Goodison for too long. Who will take on a manager with no experience at the age of 50??
You can't even call them busted flushes. They are non-starters.
Brian Harrison
47
Posted 12/04/2022 at 12:35:24
I think everyone will wish David all the very best in whatever he does in the future. I think as for his Everton career, he has probably got as far as he was going to go, and it's absolutely the right time to fly the nest and try his hand at first-team management.
I also think this is something Duncan Ferguson should consider very carefully as, just like David Unsworth, he has gone as far as he is likely to go here at Everton.
Although supposedly still part of Everton's first-team coaching set-up, it's quite obvious even in the player warm-ups there is no role for Duncan in the present set-up. I know having been here a long time and like David Unsworth his family is settled here and may not want the upheaval of moving, but that's part and parcel of being a player or a coach.
So seems part of the revue into how the club operates is starting to make changes, and probably like David and Duncan, it's probably now the best time for Bill to step down from his Chairmanship and the board.
I don't have the same animosity to Kenwright that a lot of our supporters have, and he at least rid us of Johnson and, despite his protestations, Moshiri went ahead and appointed Benitez, who has nearly singlehandedly took us to the edge of relegation.

Kevin O'Regan
48
Posted 12/04/2022 at 12:49:03
Nothing wrong with sentiment or nostalgia, Danny (19) - don't we regularly sing about knowing our history?
But the past is the past – and, while it should be respected, we have to be able to detach from those things, including loyalty which is often blind – and make the best possbile objective decisions. If emotions and sentiment get in the way, then we're in for trouble.
Keep the emotions, loyalty, history, nostalgia and sentiment (in fact that's mostly our job as fans) – but not when it comes to 'business' decisions and getting in the best people for the job. Good luck to Rhino.
Andrew Keatley
49
Posted 12/04/2022 at 12:50:50
Robert (28) - I agree with you about the unsophisticated style of play in the Under-23s. Players seem to play in their designated position on the pitch and that is it. There is very little interchange or abandon or movement beyond the structure.
Sadly, in this day and age, while it may help young players learn positional discipline and responsibility, it stunts any development in terms of expression and discovery.
Kevin Molloy
50
Posted 12/04/2022 at 12:53:56
'Unsie'. All just a little too cozy down there, and has been for years and years. I suspect Bill has moved him on now whilst he can still squeeze between the bollards at the entrance of our elite sports academy rather than wait another year and have to airlift him out.
Colin Malone
51
Posted 12/04/2022 at 13:08:21
Long overdue, in my opinion. Tom Davies and Jonjoe Kenny, says it all, in my opinion.
It's nothing personal, Unsey. Just strictly business.
Good luck for the future, David.
Robert Tressell
52
Posted 12/04/2022 at 13:12:52
Thanks Andrew # 50. I look at a tidy footballer like Whitaker and see someone who looks capable of quick passing, close control etc - but games pass him by. He's not given the chance to get on the ball and show what he can do.
Simms and Onyango have stood out because really they are bigger than everyone else. Also good but the physicality is a huge advantage.
I know you have fairly asked why Price is highly rated because he doesn't seem to dominate games.
I wonder if it's because he's able to shine in first-team training where (I hope) the style is more sophisticated.
Hard to know but I hope that we see a sophisticated style emerge from the academy which then drives the style adopted by the first team
For the sake of long term consistency, I think it should be that way around, rather the first team driving the style adopted by the academy.
Steavey Buckley
53
Posted 12/04/2022 at 13:15:47
The days when all kids were mad about playing football in the streets have long gone. Even today, where football pitches are available there are not enough kids or very few playing football on Merseyside. So, football talent has inevitably dried up as less kids practise their skills in football teams. So less talent means that Everton will find it more difficult to attract gifted young football talent into their academies.
Everton youth team managers in the past did not have this problem. In the 1960s, the golden era for local young talent, not just on Merseyside, but the whole of the north-west of England, Everton could pick and choose who they liked. The Everton back four in the successful 1969-70 title-winning side had 3 players who came from the youth team. 2 of them played for England. Then there was Colin Harvey and Joe Royle who also played for England. Everton also added Alan Whittle and Jimmy Husband also going from the youth team to their successful title-winning team.
If you believe it is just football that is suffering less playing time from kids kicking a ball in the streets, cricket has completely dried up. No wonder the English cricket team is finding it very difficult to beat any of the top cricket countries in the world.
Len Hawkins
54
Posted 12/04/2022 at 13:23:32
Thanks, Rhino, for your past service and I hope you soon get a job.
Having said that, it is not before time that the ex-players club was dismantled, why employ ex-players who have won nothing, bringing through our future losers?
They are not stupid; how many young lads over the last few years have seen the light and cleared off to make a decent career elsewhere?
Having coaches who were players at successful clubs is surely more beneficial than Tiny Tears heartthrobs.
We need winners coaching our future players, not losers. Like it or not, Frank Lampard & Ashley Cole were winners, they must wonder what has hit them since coming here... not also-rans – the youngsters need winners to look up to.
I'm hoping the club is given a top-to-bottom clear-out. I'm looking forward to the day when a straight-jacketed Kenwright is dragged kicking and screaming to the ambulance.
John Davies
55
Posted 12/04/2022 at 13:32:20
Smashing player for the club but long overdue – time he moved on. I wish him all the best and hope he makes a big success of whatever he does next.
Kenwright next out of the door, please!
Paul Birmingham
56
Posted 12/04/2022 at 13:41:20
Steavey, that's a good point.
In my view, Men's football, and cricket in terms of youth and development nationally is on a decline and the women's game, and fair play to the women's games in football and cricket, is on the ascent.
For me, there's less and less grass fields to play now than 40-50 years ago, and the last few years has forced some grass roots club to close down, due to Covid.
For all the money in the game, at the top level, there's not enough quality 3G and grass pitches left in the UK.
In Europe, climate driven Scandinavia, and in Holland, Germany, there's high standards and cultural importance given to football at grass roots level.
Sadly I don't see it getting that importance in the UK, at the moment.
Danny O'Neill
57
Posted 12/04/2022 at 13:49:12
Paul, Steavey, don't start me on the grass roots debate. I've bored everyone enough on here about how the continentals surpass us at every level.
We complain about not giving English / British talent a chance. I would counter that by saying we don't give them a chance by making them try to play football on uneven mud baths.
I challenge anyone to go to a local village club in Germany or Holland and compare the facilities as well as the way they are coached from a young age. Gravel / clay pitches to keep them on their feet and pass the ball, move the ball. None of this "get stuck in" or "get rid". Care for the football. Look after the football. And work hard to get it back.
I'm here all night.
I do miss coaching. I'm hoping to do a bit when I'm next out in San Antonio, Texas. I'll convert a few to the US Evertonian gang!!
Steve Shave
58
Posted 12/04/2022 at 13:53:35
Good luck Rhino, thanks for your service. I recognise there will be many who would despair of the appointment of Big Dunc in his role but we need to do something with him and I cannot see us giving him the heave-ho. His involvement with the first team is an embarrassment under the current set up, he's on a fair whack too apparently so I expect the job to be given to him. He says putting on his tin hat and ducking.
Steavey Buckley
59
Posted 12/04/2022 at 13:55:14
Danny, practise makes perfect, usually, now done by kids on their computer screens. Although, not being done in the streets by enough kids playing football.
Brian Harrison
60
Posted 12/04/2022 at 14:12:47
Danny @57,
I can't agree with you saying the biggest difference between English or British and other European countries is down to the quality of the playing surfaces.
As you well know, Danny, most British players playing in the Premier League and most other leagues in Britain, have or had been in many academy teams from the age of 10 and upwards and some even joined academies at an even younger age.
These kids will have been playing on beautifully manicured playing surfaces at the different academies. Now compare that to the South American kids who play most of their games on the worst possible pitches, so they learn very quickly to control the ball much better than British players. They always seem to have a better first touch than many of our players.
No surprise that we have to go back to 1966 since we last lifted the World Cup as most of those lads couldn't join a professional club till they were 15. But had learnt their trade playing in the street or on old bomb sites, not the perfectly manicured pitches of the academies.
Also, most of the Premier League teams are managed by Europeans so it just isn't poor British coaches who are to blame.
Danny O'Neill
61
Posted 12/04/2022 at 14:21:12
Brian, I'd argue that is an old argument.
My gripe, and I accept, it's a personal one, is watching lads at grass roots play on utterly appalling facilities.
I agree, those fortunate enough to make the academies have the privilege of playing on the best facilities available. But what is that in terms of the percentage of young players who take to the pitch throughout this country. I guarantee, in Germany, most young players are afforded way better conditions and facilities regardless of whether they make it to an elite academy or not.
We've tried to build from the top down, not the bottom up. I used to take my Hayes and Yeading Youth team onto a 4G pitch to coach them. £100 an hour out of my own pocket. I didn't mind as I wanted to teach them how to play football the right way rather than kicking mud around.
In my opinion, the proof is in reference to your comment. Since 1966, what have England done? In a similar manner to Everton, rested on old fashioned laurels and stood still whilst others surpassed them. Look at the trophy count. England since 1966? Everton since 1987 and a by chance FA Cup in 1995?
Having experienced playing and coaching in England, Germany and Holland, I know which methods and facilities I prefer.
Brian Harrison
62
Posted 12/04/2022 at 14:39:06
Danny
I think my concern is more the poor facilities that these kids have,e to change in rather than the state of the pitches, which are a lot better now than I ever played on and that's after we had removed the dinosaur droppings. I am talking about kids' football, not academies.
Yes, the game has moved on, players are fitter than they have ever been, and the game is quicker than it was back in the day. But I am not convinced the players are better, in fact ,I tend to think that those players from the '60s and '70s were generally better.
I know both Messi and Ronaldo are special talents but ,for me, not in the same league as Maradona or Pele; you could also throw Cruyff into that argument. Maybe I am living in the past but there are very few in the modern game that truly excite me, and considering we seem to have the 2 best teams in Europe in the Premier League, apart from a couple of exceptions, they aren't full of brilliant players.
Mike Gaynes
63
Posted 12/04/2022 at 14:43:09
New DOF Thelwell brings in new "coach educator" Nicholson, and a day later Rhino is gone. Elementary.
I wonder if he ever gave up his dream of managing the Everton first team, which was never going to happen? But now he has no choice but to pursue managerial ambitions in the lower leagues. At age 48, he's still young enough to build a new career there. I wish him the best.
Danny O'Neill
64
Posted 12/04/2022 at 14:46:56
Maradona was a unique player but Cryuff for me every day Brian!
I have a ticket for Leicester home and have just got one for Chelsea home as well. Meet up for a drink and a debate / chat?
I have a season ticket for next season too. My middle brother has donated. I'm made up. First time since 1989.
Jamie Crowley
65
Posted 12/04/2022 at 14:49:05
Good luck Unsy. Hope you do well.
I think Dunc will be next. Frank has his team. Duncan frankly turned down the managerial job, and because Frank has a team he wants, Duncan needs to move on and push himself to become a better manager elsewhere, in my opinion.
Rennie Smith
66
Posted 12/04/2022 at 15:00:13
Good luck Rhino lad, I really hope you do well in management. He was an easy target for many on here without much evidence to back up the criticism, there are very few academies that produce the bulk of teams these days.
Daniel A Johnson
67
Posted 12/04/2022 at 15:11:27
Very limited player who lacked ambition and given the lack of anything coming from the U23s a coach who way outstayed his welcome for nearly 10 years.
Good luck to the bloke but a change in that department is way way overdue.
Tony Abrahams
68
Posted 12/04/2022 at 15:13:14
Most accadamies start playing football games at under 7, so kids are getting coached from 7 years of age. I think I'd have retired at twelve if that had happened to me, and I think that's one of the reasons standards might have dropped, although I'm not 100% convinced this is the case right across the board though?
They take all the best young players away at age 8, meaning standards at grass roots instantly drop, then they slowly get rid of those best players over time, with a system that isn't beneficial to at least 95% of these young kids imo.
Jay Harris
69
Posted 12/04/2022 at 15:16:27
Maybe "Billy's boys" clique has been sussed at last but no-one can deny Rhino's love for the club and successes with the U23s.
Good luck Unsy and thanks for your time with us.
Justin Doone
70
Posted 12/04/2022 at 15:35:54
It's all about money, mentality and love for the game.
Technology in the last 20 years has changed youth culture beyond recognition.
Secondly the over the top safety culture doesn't help. Only playing in safe environments, rather than the streets.
Smaller softer balls and smaller pitches to encourage control, skill and team work isn't encouraged. It's just less running which helps the big strong lads.
But there's still thousands of children who happily play football wherever they can with whatever they can for hours on end.
In term's of comparing coaching, we'll it's a global game. Most of the best players, managers, coaches, owners, fans are no longer 'local' or even British / Irish.
I'm struggling to think of a single Premier leagues team where the best players are British. Kane (a world class player) and Crystal Palace buck the trend, even if Zaha no longer qualifies. They have some very good ex-Chelsea youngsters... wink-wink, Frank.
Danny O'Neill
71
Posted 12/04/2022 at 15:36:23
Tony @68, you shouldn't be coaching them at 7 or 8 years old. Just teach them to enjoy football. Maybe that's just me. They shouldn't be near academies until they are 14 or 15 years old. 16 even.
Jerome Shields
72
Posted 12/04/2022 at 15:52:01
Forgot to wish Unsworth good luck in the future. He probably thinks he wasted some years at Everton now, as he starts out on his first team management career. But years are never wasted when you finally realise you need to move on.
I have two friends who spent over 20 years each in family businesses, holding it together as they seen it, only to get the inevitable kick in the arse. I told them the same and they were able to move on and are now doing very well.

Mike Gaynes
73
Posted 12/04/2022 at 16:15:34
Tony #68 and Danny #71, you're both right of course, but that ship sailed long ago. Safe parks are less available for kids to play in. Academies are big moneymakers, and money drives the model. And ambitious parents are easy to convince that their little ones won't get a chance for university scholarships and pro careers if they're not in the academy system.
Just the way of the world today. There's no going back.
Neil Copeland
74
Posted 12/04/2022 at 16:35:04
A good move for the club and Dave Unsworth. Allows EFC to move on and freshen things up and Dave to pursue his ambitions.
Good luck Dave and thanks for your service and efforts in the past.
Is this the start of things to come maybe?
Paul Tran
75
Posted 12/04/2022 at 16:40:53
I'd like to wish him all the best.
It's all about competence, rather than whether they 'know the club'. Once there's more competence throughout the club, we'll be more successful, and therefore happier.
I also think in the past 20 years, the club has got into the habit of not making the distinction between legend and loyal stalwart and that also affects recruitment and competence.
I did some work at the Etihad not long after Man City were bought out. While I was waiting in the 'green room', Mike Summerbee was waltzing around, waiting to be recognised. I was the only person old enough to recognise him. He was a club ambassador, not on the coaching staff. They recruited competent people at all levels to instill good winning habits throughout the club.
It's our club. We always know what we stand for. I'd also like us to stand for competence. If we don't stick to that soon, there'll be none of us around who remember success...
Danny O'Neill
76
Posted 12/04/2022 at 16:54:12
I like that Paul Tran.
It's why I counter the "only Evertonians win things with Everton" debate.
No they don't. Probably only Joe Royle was the only boyhood Evertonian that fits that mold.
It doesn't matter who they are or where they come from or who they supported or who they played for.
We just want winners in charge of the club.
Paul Birmingham
77
Posted 12/04/2022 at 16:59:21
Danny, yep the facilities and coaching methods abroad were always in my view impressive.
Watching Everton preseason tours for years was a good insight into the facilities and coaching methods across Europe.
I recall years ago and meeting up with somE Ajax fans going to their supporters club which is right by their training facility. Pienaar was there and Litmanen, amongst others.
Even then, they had the right-size kits, bibs and footballs for the kids age groups and the right-size pitches for their age group.
This is now standard in the UK over the last 20 years, but the Dutch, Germans and Swedish, Norwegian, Danish teams were ahead of their time in view of football facilities, for their youth teams.
But I hope over time, looking on the bright side of life, there will be a day when some of the mega books drop directly into. grassroots football.
If this doesn't happen, I see the flatlining of youth football in the UK going downhill fast.
Paul Tran @75, that's a very good call out. And in my view spot on.
Hopefully Everton will become professional in the total running of the club at football and business, commercial levels.
Hope eternal.
Danny O'Neill
78
Posted 12/04/2022 at 17:00:46
I'd agree on your ambitious parents comment Mike. It was my pet hate. Absolute shocking behaviour from parents on the sidelines. How are these kids supposed to enjoy the beautiful game if the parents are behaving like animals?
Yes, rabid savaged animals. I make no apologies for that comment. I take no pride and I'm no hard man, but I could always turn on the scouser when I needed to down here in West London, but the behaviour at times needed it.
Dale Self
79
Posted 12/04/2022 at 17:01:03
Before we get to a 'stayed too long' narrative let's remember or imagine how hard it would be to leave your club, your club, when it was in such dysfunctional condition. Perhaps they were not aware of where the rot was coming from or did not know how to address it but felt that they must stay until a safe transition was in sight.
Good luck to Unsworth and Dunc, without them it could have easily been worse at several junctures.
Paul Tran
80
Posted 12/04/2022 at 17:04:20
Danny, Bingham and Harvey were ex-players. Harvey is a legend, one of the best Everton players I have seen. One of them threw away a title, the other inherited a title-winning team and failed to re-generate it.
By the way, I won't hear a word against Harvey, I'll criticise the people who 'persuaded' him to reluctantly take the job.
Let's have competence. The more of that, the more chance we have of success. Our lack of success has led to too many creating myths about our success and our 'curse'. The three title-winning sides I have seen oozed competence.
These days, 'knowing the club' means knowing failure and a lack of accountability for it. That must change.
Danny O'Neill
81
Posted 12/04/2022 at 17:05:45
Dale, we generally have similar views, and I get what you are saying. I could never leave Everton but I would if I was in a position of influence and I wasn't achieving.
It's a bit like Kenwright. Never been a hater, but after many years of underachievement, his time was done years ago and he should have gone by his own accord.
Frank Crewe
82
Posted 12/04/2022 at 17:10:22
Check this out. It is how Ajax do it.
https://cbcdutchtouch.com/images/TheAjaxYouthDevelopmentScheme.pdf?msclkid=11a01b15ba7a11ec9a0fc9f8e4d47b4c
Somehow I doubt Unsworth was doing any of this.
Brian Harrison
83
Posted 12/04/2022 at 17:10:57
Danny 64
Danny I would love to meet for a chat, but I take my 2 Sons and my Grandson to the game, but if you ever get a ticket for the Upper Bullens, that's where I have my season ticket, and we get there at least 30 minutes before kick-off.
Danny O'Neill
84
Posted 12/04/2022 at 17:12:14
Paul, when ever I watch Howard's Way, Colin Harvey makes me cry. There is no greater Evertonian.
When that blue heart parts this world, I believe there will be no greater outpouring of grief.
If I could only be half the Evertonian that Colin Harvey is, I will go to Goodison in the sky a happy man.
Steve Hogan
85
Posted 12/04/2022 at 17:21:03
The club are hell-bent on 'sugar coating' this move. No-one leaves a club at this stage of the season, with seemingly nothing lined up, unless an appointment is imminent we are unaware of.
The probability is he was 'asked to leave' as part of a wide-ranging change in the backroom staff behind the scenes.
It was long overdue, the number of young players ready to challenge for a first-team place is negligible.
Viva the revolution...
Dale Self
86
Posted 12/04/2022 at 17:31:31
Fair enough, Danny. I'm way out on a limb here but just thinking about their mindset, they may have thought more about risk aversion on the downside rather than some true form of progress. Kind of a 'less worse is better right?' way of convincing yourself of a purpose.
I think one's sense of honour which is what you are appealing to is a bit warped on the inside of institutions. Not that values and principles are mutable but that outcomes are not fluid and one person leaving a position can shift things in a rather drastic fashion.
Paul Birmingham
87
Posted 12/04/2022 at 17:31:41
Paul, and Danny indeed.
If we can all keep believing and keep the Everton faith, and try and do our best in life and be decent people, then we've done our best.
Peter Neilson
88
Posted 12/04/2022 at 17:33:53
The figures for academies are pretty daunting. It's a very tough journey to the top and only part of the solution to building a first team squad.
In January it was reported that 97% of players who come through top (elite) academies never play a minute of top-flight football and 70% are not even handed a professional contract at a Premier League or English Football League club. One in ten has gone on to make more than 20 league appearances in the top four tiers of English football. Fewer than half received a scholarship deal at a Premier League or EFL club, the contracts awarded at 16 years old when a player leaves education to train and play full-time.
The analysis was of academy players born 1995 to 2000 — 4,109 players who were registered at Category One academies.
Mike Gaynes
89
Posted 12/04/2022 at 17:46:22
Peter #88, striking numbers, and a necessary consideration when people talking about building a top club through its academy system.
I recently read two books at the same time -- "Journeyman" by Ben Smith, an Arsenal academy player who washed out into the lower leagues, and "The Bottom Corner" by Nige Tassell, which is rife with similar stories.
Finding talented youngsters and training them up properly is the objective of every academy system, but no system can identify in advance whether a kid has that indefinable "something" that projects to top-level success.
Most don't.
And many that do never get the opportunity to prove it.
Michael Kenrick
90
Posted 12/04/2022 at 18:24:23
Those numbers are daunting, Peter. They show how incredibly hard it is to come through the Academy system – but does that really mean the system (recruitment, coaching methods) is at fault, as many seem to suggest? Or is it the fact that the full package needed within himself for the individual to succeed is just so incredibly rare?
But the myth of course is anyone can make it. They just have to be better, try harder, track back more diligently... etc. Just 3% making it to play at least a minute of senior football. Depends how you start counting, of course. Is that everyone age 7 or up who enters an elite Categrory A academy?
From my records for Everton's senior Academy sides, which go back about 20 years, I think we are probably doing better than that 3% figure – but that would ignore the attrition rate from 7 to 17 which will skew the percentages. And then the real problem is so many of the 3% leave for a career of lower-league football.
But that's what Unsworth got such unremitting stick for – holding on to the better players so he could win games "at the expense of player development". So he could win trophies. So he could be a winner. So they could all be winners.
Isn't that the 'identity' we say we want for our club? I'm confused.
Derek Knox
91
Posted 12/04/2022 at 18:33:57
Has been a decent servant to the Club, as both a player and a coach. However I do think he overstayed his usefulness and welcome, I wish him all the best for the future. Bye bye, Undies!
Martin Mason
92
Posted 12/04/2022 at 18:40:58
But the reality is that Unsworth has been sacked.
Rennie Smith
93
Posted 12/04/2022 at 18:49:40
Stark but not surprising stats Peter@88, especially as you consider the size and the intake of academies these days. I've been involved in grassroots coaching for over 10 years and seen many a kid hoovered up by clubs at ridiculously young ages. I think there's even a Man City Elite Under-7 team.
The bigger problem these days is development teams, most smaller and even some of the bigger clubs have them. They invite kids to join, but they're not the elite, they're just good players. The parents pay to send them into these development teams so they think it's the big time, it's not, it's just a money-making scam.
They spend 4-5 years there and nothing happens. Yes, they get coached; yes, they can tell their mates they're in so-and-so club's academy, but they'll probably never be promoted to the real elite academy. If a club gets 1% of entry moved onto bigger things, it's a result for them, but they never lose out financially.
The difference between those that make it and the vast majority that don't is between their ears, not in their feet.
Danny O'Neill
94
Posted 12/04/2022 at 18:53:54
Michael, I think you touch on a good point. The aim of development football isn't to win trophies. It's to develop players. That's all I was ever interested in. I didn't care too much for winning the Harrow U-12s Challenge Cup to be honest. I wanted to make players realise their potential.
I don't care if we win the U18s league, the PL2 (or whatever its called) or the FA Youth Cup. The aim of the youth system is to produce and develop players for the future. Ideally for Everton, but if not then so they can have a career in the game.
Stan Schofield
95
Posted 12/04/2022 at 18:57:46
Peter@88: Interesting numbers. They appear to reflect the notion that to be a professional footballer at the top, ie, Premier League or Football League, you need very unusual talent and other attributes. Most who want to achieve don't have such talent, even though they are very talented compared with most other people.
I think the same applies in any elite activity. There is a fashion for saying that anyone can reach their dreams if they work hard enough, but of course it's not true, and it can do a great disservice to youngsters. Working hard is a necessary condition for reaching the top, but not a sufficient condition. You can't put in what Nature left out. You can train a donkey to run faster, but you can't turn it into a racehorse.
Peter Neilson
96
Posted 12/04/2022 at 19:14:16
Maybe academies have a simple but brutal financial logic to them. Discovering the 3% makes it economically viable.
A couple of newspapers have been running investigations into academies over the past year or so particularly around what happens to youngsters when they are released or told they won't make the grade. Especially so since the suicide of a youth player at Man City. Crystal Palace has started a 3 year aftercare package for those who are released. This may become the standard for other clubs.
Christy Ring
97
Posted 12/04/2022 at 19:17:26
Wish Unsy all the best, hope he gets a managerial appointment. I think Martinez gave him the job, was it Dunc who told him he was unemployed?
Personally I don't see why all the bitterness by bringing in Unsy, Ebbrell and Dunc, former players, if they have their coaching badges.
Lee Courtliff
98
Posted 12/04/2022 at 19:27:27
Good luck to Unsie. He was immense in the 94-95 season, he only had a handful of poor games that season. Usually when he'd just had his haircut (true story). He looked like he would go on to be an England regular but never recaptured that form, unfortunately.
As a coach, I think he's stayed far too long without testing himself elsewhere but hopefully I'm wrong and he can go on to have a successful career somewhere. He could be another Sean Dyche type?
Whoever he manages, I'll be keeping an eye out for their results and wishing them well.
Robert Tressell
99
Posted 12/04/2022 at 19:28:43
Frank # 82, as you say, there is a level of sophistication way above what Unsworth was serving up. Ajax is a prime example.
However, that sophisticated approach cannot start and stop with the U23s - which is all Unsworth has ever really been in charge of (despite his title).
It needs to be the part of the DNA of the academy right down to the elite U7s. I think Ajax work on the basis that you must master technique by age 8. Everything beyond that is about understanding of team dynamics, tactics etc.
That's how the very best academies do it. The buck doesn't stop with the gut overseeing the end of a conveyor belt. The person at the start should be at least as accountable.

Danny O'Neill
100
Posted 12/04/2022 at 19:51:09
That's exactly how it works, Robert. I keep going on about Schalke and there are many other examples, but it's a philosophy and system stamped on the club.
Look at what Schalke have produced over the years even though they probably went too far in cashing in on the academy. Likewise Ajax. Oh to have the current Ajax academy coach and former Everton player at Finch Farm?
Danny O'Neill
101
Posted 12/04/2022 at 19:59:38
I've said it myself and will echo the sentiment. I wish David Unsworth best wishes.
But mostly, I wish Everton Football Club better wishes. Maybe now we can move on from this '90s / 2000s trap we have been trapped in.
Brent Stephens
102
Posted 12/04/2022 at 20:00:17
Robert #99 "The buck doesn't stop with the gut overseeing the end of a conveyor belt."
Gut?! I guess that is a typo but many a true word, as they say.
Colin Malone
103
Posted 12/04/2022 at 20:59:47
Crewe have sacked their manager today.
Paul Birmingham
104
Posted 12/04/2022 at 21:26:11
Interesting the timing, of this announcement of this decision, but the new DoF, is perhaps taking ownership and starting the restructure of the football stràtedgy at a EFC.
Regards John Ebbrell, it perhaps is that he's staying with Everton, as there's been no mention of him leaving.
I also wonder if there will be changes within the Everton board as well, in lieu of changes to the under 23, set up, as also the Everton Ladies are hiring a new coach in the summer.
Hopefully if the very harsh lessons of where the club is are now at, and lessons are being learnt, then there may be some deliverance and a fresh course on the road to a better place for Everton FC.
Andy Crooks
105
Posted 12/04/2022 at 21:29:52
Good luck to him. The only success we have had in a long time has been down to David Unsworth.
What should an academy do? Build silky ball players, comfortable with both feet, put some sand down at Finch Farm and find the new Pele.. or win, win and win and produce winners.

Andy Crooks
106
Posted 12/04/2022 at 21:33:21
Martin @92. Unsworth sacked? Fact, opinion or uninformed bollocks?
Kunal Desai
107
Posted 12/04/2022 at 21:42:59
Good riddance. Only another half a dozen to go. Ebbrell, Ferguson, Sharp, Ingles, Barrett-Baxendale, and Kenwright. Get shut of the stench that has been stinking the place out for some considerable time. In some cases, decades. Cull the lot.
Bernie Quinn
108
Posted 12/04/2022 at 21:49:27
I have been an Evertonian for 76 years and can't believe the 'waffle' written here, Rhino is leaving – so thanks very much Mate and all the best for the future. Now let's move on.
Christy Ring
109
Posted 12/04/2022 at 22:05:20
Kunal#112 Just a question, the first three names, Ebbrell, Ferguson, Sharp, I'll include Unsworth, did you ever see any of them in an Everton shirt?
Robert Tressell
110
Posted 12/04/2022 at 22:13:34
Brent, very funny. Yes, an unfortunate typo. Joey Barton would have enjoyed that one.
Rob Dolby
111
Posted 12/04/2022 at 22:34:57
I would love nothing more than Unsworth doing well at a lower league team and coming back here to manage us.
He wore the shirt with pride, Had Mark Hughes in his arse pocket during the cup final. Was nailed on whenever we got a penalty, He even forced a move back to us. (How many players have done that). He Managed us with pride and was dignified in all of the shenanigans that have gone on over the last few years.
I wish him all the very best.
On the academy debate. We are in a position of being 4th choice in the North West and probably about 15th nationally and maybe 100th in Europe pre Brexit.
I think most of the points above are valid, nice pitches, good facilities, coaching instinct out of kids. Though the national team is doing well with some great young talent playing in the biggest games in world football.
As a club I can't see us being able to compete locally with City, Utd or Lpool any time soon.
We need to innovate and think about things differently. Whether that is specialised coaching per position, having a strategy that runs throughout the entire academy, paying more for youngsters or just recruiting more scouts and paying them more than the competition.
The new academy manager has his work cut out!
Ernie Baywood
112
Posted 12/04/2022 at 22:53:39
Good luck to him.
I've never been comfortable with the 'jobs for the boys' approach.
But I'll throw a counter in that Evertonian credentials do matter. If you've got two good candidates then it's reasonable for a Blue to have the edge. Culture, passion, caring about the club, continuity can be positives.
Don Alexander
113
Posted 12/04/2022 at 23:27:21
Unsworth, Ferguson and all the rest of the ex-player alleged coaches appointed by Crawlers-R-Us Kenwright are symptomatic of a lot of what's wrong with our club. To preserve their personal position they've all chosen to kiss more ass than a "red-hot" porno king.
Unsworth is nearly as old as Ferguson, who is now 50. 50! And yet neither of them has ever sought to advance their "careers" from beneath Kenwright's skirts.
Contrast them with Neil Critchley, a total no-mark as a player, who's now the manager of Blackpool. Critchley won a place with THEM as a youth coach with zero affinity with THEM beforehand.
He is one of only sixteen coaches worldwide to have obtained UEFA's elite badge, unlike anyone under Kenwright's umbrella.
Critchley after a few years with THEM then resigned to guide Blackpool to promotion, via the playoffs, from League One to the Championship in 2020–21, in his first full season in charge of the club. This season he has them safe and playing well on their limited resources, and, not least, he's developed young Josh Bowler into one of the Championship's best midfielders, and young Shayne Lavery into a Northern Ireland international striker. At Everton under Unsworth neither of them ever got a game before being moved out. Critchley's also displays the knack of signing players for next to nowt and then visibly improving them in the first team.
Still, let's applaud "Rhino" eh, so named in the previous century by fans at the time on account of the expanding vastness of his arse.
Yet some still term him a good servant to us. Jeez!
To Kenwright, deffo - to the club meh!
Kieran Kinsella
114
Posted 13/04/2022 at 00:40:23
Ernie
It sounds like we are on the same page. I've been critical of charity cases like Jose Baxter finding refuge under Unsie etc. But, he was part of our FA cup winning team. He was a decent, heart on his sleeve Evertonian as a player. And he may become a good manager so I wish him well. But I think it's time for a change. His stock has fallen as he is no longer the first choice caretaker boss. So he can accept a diminished role or try and move on up. Seemingly he's chosen the latter so good luck to him
Si Cooper
115
Posted 13/04/2022 at 01:45:57
Following on from some of the posts, what is the best route for a former player to get into coaching management? Are Everton anomalous in offering their own former players good opportunities? Is it sentiment or standard business practise, especially for lower profile journeymen (who presumably have as much chance of being a top gaffer as anyone else)?
Kieran Kinsella
116
Posted 13/04/2022 at 02:11:13
Peculiar news coming out of Spain — slightly off topic — but apparently dinosaurs rule the Earth again. This must be fake news because Ian Edwards and another poster exposed Carlo Ancelotti as a busted flush and yesterdays man. But there are reports that even without Big Dunc as his number 2 that the dinosaur is on course to win La Liga and in the CL semis. Must be fake news.
Steve Brown
117
Posted 13/04/2022 at 03:34:53
Kieran @ 116, when Ancelotti wins La Liga, he will be the only manager in history to win titles in Spain, England, France, Italy and Germany.
Shuffle off and get your pension granddad.
Alan J Thompson
118
Posted 13/04/2022 at 03:38:58
Rob(#111); I think it may have been Mrs Unsworth who forced the move back North.
Mike Gaynes
119
Posted 13/04/2022 at 06:02:40
Kieran... "another poster"??
Subtle.

James Hughes
120
Posted 13/04/2022 at 07:30:47
@116. You may be interested to know that many in Madrid are very unhappy with the dinosaur and want him sacked. The chairman Perez has dropped several hints that it may happen at the end of the season.
They are not happy with his inflexible approach and over reliance on Benzema. The exit in the Copa del Rey and the trouncing by Barca were low points.
There have also been complaints that they should be further ahead as Barca and Athletico have imploded.
Brent Stephens
121
Posted 13/04/2022 at 07:30:58
Kieran, a happy-clapping strawman?
Brian Murray
122
Posted 13/04/2022 at 08:14:38
Once Kenwright is gone, there will be no more sentiment at L4.
Imagine them shower giving Sammy Lee a job because he gave good service and is now a half-decent coach. No chance. Albeit I think some other club tried him out!!
David Bromwell
123
Posted 13/04/2022 at 08:28:13
I think David is right to move on and I hope he finds success in a new club. As for his time at Everton, I will always remember him as a committed player who gave his all. He also had some success as a coach and during the recent turbulent years of managerial changes he and his staff have provided some stability and continuity.
Importantly I also remember when his playing days were finished he would sit near us as an ordinary supporter. I think it would be fair to think of him as a True Blue Evertonian.
Gaute Lie
124
Posted 13/04/2022 at 09:19:52
Good luck to him!
Derek Knox
125
Posted 13/04/2022 at 09:25:57
Rumours doing the rounds are Fleetwood Town, not sure if he still lives in the Preston Area, but that would tally, as I remember when he went to Villa his missus was anxious to get him to get nearer home! The rest is history, as they say.
The other club that has a Managerial Vacancy (recently) is Crewe. Like many have said, I will always look out for results at clubs, for ex-players, and coaching staff alike.
Unfortunately to date, not many have been ripping up trees, or setting fires.
Danny O'Neill
126
Posted 13/04/2022 at 10:42:54
I would think he would prefer a North West club too Derek. Going back years now, but he lived in Gateacre, opposite the lady who used to look after my son, so I used to bump into him occasionally. I never did ask him what exactly happened when he moved to Villa for about 23 minutes!!
Joe McMahon
127
Posted 13/04/2022 at 10:55:05
Don@113, once again a very good post!
Maybe, just maybe we are slowly looking like a professional serious club and less embarrassing, but more need to leave (and yes we know who they are).
Jerome Shields
128
Posted 13/04/2022 at 11:21:00
Over the years I have known a number of young players who signed for Scottish and English Clubs.Whilst good footballers none of them made it.Whilst visiting my son in Glasgow I attend a Raith Rovers match.My son's student accomodation overlooks the Fir Hill Stadium.Talking to a man who was taking in a game, having watched his son play for Hiberanian midweek.He told me his son got signed by Morecombe.He knew the Manager being involved in football himself.He, when young, had been signed but didn't make it.He said he was guiding his soon through the pit falls and had thought he had it sorted.The Manager left Morecombe over some dispute with the Board.Luckily he went on to Manager Hiberanian.The Father kept in contact with his son and detected changes in attitude to the son and other young players.Luckily the Manager at Hiberinian was prepared to take the son on.He is starting to get games in the first team.He told me he had to be proactive in his sons career.His wife and daughter where with him at the Raith Rovers game He said it was important to have family support since the young player had to develop a certain type of character to succeed and maintaining there education.progression was part of that.
It brought home to me the importance of who coaches the young player and family Involvement.
Through reports I have not ibeen mpressed by Unsworths handily of young players.
Kunal Desai
129
Posted 13/04/2022 at 11:47:20
109 Christy. Yep seen all of them play. Ebbrell and Unsworth were average at best.
I'm not scrutinising there playing careers, it's more what they have offered post playing days but largely thats due to Kenwright.
Personally I hope the tide is turning, for the better. No more jobs for the boys.
Joe Bibb
130
Posted 13/04/2022 at 12:01:20
Hopefully the start of the end of the Family Corner Shop mentality.
Nothing against Rhino, Or Big Dunc or the other ex Player backroom staff but Everton need to be run as a multi National Company, with top executives and people who have experience in the World of Commerce and can take us to the Top Layer Of Business Deals.
Danny O'Neill
131
Posted 13/04/2022 at 12:40:44
There are so many factors that go into the development of most young players.
Only once in a blue moon do you get freaks like Rooney, but in general, the output of our academy has not been what it could be over the years in my opinion. For most, coaching is crucial in the formative years. It's why I think Barkley never hit his potential and is now unlikely to.
Not restricted to Everton, I still think there is too much emphasis on results rather than player development at youth level.
I too was underwhelmed by John Ebbrell. I had hopes for Michael Ball - he was a classy footballing full back if I recall. Shame injuries got the better of him. Do we overplay these youngsters too much, too young, as they come through and burn them out? I know each individual is different.
Another I had hopes for was Francis Jeffers. Now, whether it was him throwing a strop and getting above his station or the club managing him out to cash in, I'll never know. But at face value, it always struck me as he went too soon rather than establish himself and play football. Scott Parker done similar in leaving Charlton to sit on Chelsea's bench and dare I say, Fabian Delph when he moved to City. Always a balance between taking the big move or playing regular football. Some of these players literally wasted years and subsequently their careers in my opinion.
Rodwell; another one. Unfortunate or just didn't want it enough? Or wasn't coached and motivated properly?
Let's hope Anthony Gordon continues his development and I'm hopeful that Lewis Warrington isn't too far behind in being involved next season.
Ernie Baywood
132
Posted 13/04/2022 at 13:10:34
Good question Si #115.
I think quite a few stick around and get a job at their playing club. It might even have been in a contract offer in their last year or so. I doubt we are unique in that regard.
Jose Baxter was a bit of a special case. I'm sure he wasn't given great responsibility so I'm happy that we help out where we can.
The only issue I've had is that we've invested in the development of guys like Ferguson only for him to seemingly show a lack of ambition. What was the investment in him worth then? Did anyone ask him what his plans were? Or have we just been a source of employment? That role could have used on an up and coming leader at the club.
Brian Wilkinson
133
Posted 13/04/2022 at 13:27:05
Danny Cadamarteri, Phil Jevons, Shane Duffy, James Vaughan, Michael Branch, Ian Bishop, Tony Grant, Nick Chadwick, Nathan Broadhead, a few others who looked to have something about them Danny, yet none went on to have long careers and game time at Everton. Could also throw in Garbutt, and Dowell, who we brought in when they were young.
Anthony Gordon is for me another Rooney type, who just has the gift, Tom Davies is another who could have benefited from proper coaching.
Bringing in Nicholson could be the start for Whittaker, Warrington, Dobbin, Mills, Ellis, and the likes to advance and improve.
Would like to wish Unsworth all the best in his next job, he served us well, however we need to be dragged into the 21st centuary, and bring in professionals and phase out jobs for former Everton players.
This is a good start, I just hope we continue right throughout, from top to bottom, weeding out amateurs, and bring in professionals, who know how to run a football club.
David Israel
134
Posted 13/04/2022 at 13:41:39
New DoF stamping his authority and vision. The opposite would have been odd.
There's been too much complacency and laziness when appointing academy coaches. Too much of an old boys' network, instead of a fully-fledged professional approach.
That said, Dave Unsworth has been a great servant of our club, and I wish him well.
Phill Thompson
135
Posted 13/04/2022 at 14:08:28
Don Alexander #113, far be it for me to get in the way of a good rant but Shayne Lavery made his international debut when an Everton player and really made his most progress at Linfield from where Blackpool got him 9 months ago.
To say Josh Bowler never got a game under Unsworth is just daft. He suffered with injuries but played regularly and when he did play he was one of our best U23 players last season. The question is really why we let him go.
Joe McMahon
136
Posted 13/04/2022 at 14:51:54
All those saying Unsworth has been a great servant to the club. Wouldn't we all if we had that cushy number for several years? I assume David was also paid well, with plenty of benefits also.
Jay Harris
137
Posted 13/04/2022 at 15:14:32
Let me first of all say I welcome the opportunity for previous players to come back and have a role in the club but rather than the hangers on and no hopers it should be people like big Nev and Tim Cahill and the roles should be ones that fit in with their abilities.
I could never understand why we have all these ambassador roles on inflated salaries for example and as for some of the coaching staff enough has already been said.
Danny O'Neill
138
Posted 13/04/2022 at 15:15:39
What happened to Garbutt?
I've liked what little I've seen of Mills, he's impressed me too Brian.
Phil Smith
139
Posted 13/04/2022 at 16:03:12
He's holding his own in the Championship with Blackpool, Danny. Another who should have got more game time with us. Who knows how he could of developed.
Good luck to Rhino. Great servant to the club, but should have left a wee while ago.
Mike Gaynes
140
Posted 13/04/2022 at 16:35:59
Phil, gotta disagree on Garbutt. I know the chubby kid was great with the U23s, but I never saw anything in his dozen or so appearances in the first team that interested me in the slightest, certainly nothing to challenge Oviedo as Baines'S deputy (let alone Bainesy himself).
He was given a clear shot to show his stuff on loan at Fulham and was so crashingly bad he was subbed out a couple times in the first half. Subsequently flopped at Wigan and Oxford as well.
Glad he finally pulled himself together and salvaged a career (unfortunately he's out for this season with a knee injury), but I don't think we missed anything there.
Brian Wilkinson
141
Posted 13/04/2022 at 16:43:03
If ever a player threw a career away, Danny, it has to be Billy Kenny, that lad had everything and threw it away.
Dale Self
142
Posted 13/04/2022 at 16:45:00
Maybe I'm just showing my disdain for the prima donnas but he never seemed the same after Samuel E'to god no stole the ball off of him in a threatening dribble against Chelsea or maybe it was one of the Europa games not sure. He could have helped us at the time but seemed distracted after that incident.
Nicholas Ryan
143
Posted 13/04/2022 at 16:54:06
Unsworth, not only a footballer, but a more than handy cricketer. As you can imagine, he hit the ball very hard!
Danny O'Neill
144
Posted 13/04/2022 at 17:11:13
Literally a crying shame that one, Brian. Retired from professional football barely beyond his 20th birthday if I recall? Unfortunately a tortured soul as much as he was a lost talent.
I by no means am an apologist, but it is very easy to slate these young players and accuse them of being privileged, which they are. But they also sacrifice the normal things in life we take for granted.
At 17 or 18, having lived in a bubble, they are injured and sat at home with time and money to burn. Sounds great, but I just hope the support network is there for young players coming through now that perhaps wasn't in the past.
Phil Smith
145
Posted 13/04/2022 at 17:38:11
Got to disagree with you, Mike. He was very well thought of at Oxford and they wanted to sign him. He also played very well at Ipswich the season after. He has a very good left foot and I saw enough of him to see, with regular game time (something he never really got at Fulham or Wigan either) he could of developed.
Not saying he could have been a Premier League player, but, as stated, he's more than holding his own at Blackpool. Well, he was before the knee injury in January. He's more of a wingback and, in the right team, he's a good player.
Christy Ring
146
Posted 13/04/2022 at 18:42:58
Sadly, our best under-age coach, in my opinion, was Sheedy, and I still wonder why he really left? I remember my brother Ger getting his autobiography signed by Kevin, and thought he was so nice.
Peter Carpenter
147
Posted 13/04/2022 at 18:53:03
Danny O'Neill
148
Posted 13/04/2022 at 18:56:14
Contrary to many a voiced opinion, my own included, I don't have an issue with ex-players providing they are employed on ability. Whoever gets employed by the club as a coach should be done so on coaching ability regardless.
I too wonder about Kevin Sheedy, Christy. I wish Colin Harvey was younger and, to repeat myself, I think Leon Osman is wasted as a pundit and would much rather see him at Finch Farm. Alongside Steven Pienaar, who is currently plying his trade at the Ajax Academy. Now there is an ex-Everton dream team.
Christy Ring
149
Posted 13/04/2022 at 19:09:27
Danny #148, I completely agree about Pienaar and Osman, and Harvey as a coach and Howard making him his No 2 definitely was the turning point.
Robert Tressell
150
Posted 13/04/2022 at 19:27:32
A few positives:
- the academy structure is already better than it was, with 18- to 20-year-olds in the U23s and after that out on loan.
- the current crop shows some promise. I could see 3 or 4 of the current U23s and U18s making it in the first team squad. The classiest I've seen play is Samuels-Smith.
Some negatives to address:
- standard of coaching, style and sophistication of play. And given Nicholson's resume it sounds like this is what he's here to address.
- unlike top academies we don't seem to buy in much talent, especially from abroad (which can include Scotland and Ireland). Okoronkwo looks a good signing. Where are the others?
It took Chelsea about 15 years and a few false dawns to get it right. Man City have also taken time. Both now have a pipeline of really good players - although City's are only just coming through now, like Palmer, McAtee, Harwood-Bellis and Doyle.
It won't be overnight and it won't make much of a difference just replacing Unsworth. Hopefully that's just the visible bit of a lot of hard work behind the scenes.
Danny O'Neill
151
Posted 13/04/2022 at 19:31:29
That first comment, Robert, wasn't that Brands's initiative? To push the U18s into the U23s and likewise the younger age groups into the U18s?
Bjorn-Ivar Pedersen
152
Posted 13/04/2022 at 19:44:18
Kevin Prytherch #5 Agreed and Amen.
But people, is it really so important if he leaves, or being pushed?
Okay, he has never showed the passion like Duncan, but still he has done a decent job for us. And he is at an age where he really has to try something else before it is too late... probably a League One club, but it will be a place to start.
So I wish him well for the future and thanks for the job well done, he has three trophies to show for in his time at U23.Thank you, Unsie!
Dave Abrahams
153
Posted 13/04/2022 at 19:49:45
Robert (150),
Where has Okoronkwo gone to, he hasn't played for the U18s for the last few games and there hasn't been a mention of him on the club's website, is he injured?
Graham Mockford
154
Posted 13/04/2022 at 20:40:02
Kieran 116
My thoughts and prayers are with 'another poster' tonight
Don Alexander
155
Posted 13/04/2022 at 21:14:05
Graham :) I can only assume you mean the one featuring Raquel Welch in the Shawshank Redemption!

Robert Tressell
156
Posted 13/04/2022 at 21:33:02
Dave # 153, I've no idea what's happened to Okoronkwo. He must be injured or got covid perhaps. Doing well then disappeared.
I know it's very early days but I thought he had a real spark about him in the couple of games I saw him play.
Paul Birmingham
157
Posted 14/04/2022 at 00:33:57
Brian@141, Billy Kenny, in my view was the best Everton youth player, by miles and could have been world class.
But crazy how the years fly by, but remember Roonies shot at Spurs when he cracked in a 34 yarder, in the youth team, Everton won 2-3.
I was there at Spurs, that night with a few lads, as we were working away, in London.
Billy Kenny, Billy Wright, and more If.. and there's, more players, be it by injury, bad luck, bad injuries.. but it makes a life time, with Everton.
That's Life!
"Whats Our Name?"
UTFT!
Paul Birmingham
158
Posted 14/04/2022 at 00:55:41
I'm positive and very hopeful, that the club is at last building plans at all functions and requirements to go forward.
But let's see the plan to start the next season. That's my view, but till it's seen, can it be true?
If..
UTFT!
Mike Gaynes
159
Posted 14/04/2022 at 01:26:19
Phil #145, Garbutt got 26 games at Fulham. He was a train wreck. As I said, I'm glad he has found himself. It was never going to be with us.
Robert #156, didn't somebody post here about Okoronkwo scoring in every FA Youth Cup match? Has he not played since then?
Robert Tressell
160
Posted 14/04/2022 at 10:32:33
Mike, I have lost track slightly but I don't think he's featured in the last few U18s games. Not sure why.
Michael Kenrick
161
Posted 14/04/2022 at 11:42:01
Mike,
His stats are weird. He arrived in September but didn't get selected for the U18s until the end of November. then, In a run of just seven games (U18 Premier and FA Youth Cup) he scores a goal in six of them. He also plays just once for the U23s.
That takes us through to mid-February. He plays in 4 of the next 5 games with the U18s but fails to score, taking us to mid-March. Then over the next month, he plays no part in the next 5 games, bringing us to mid-April, and not a word of explanation for his 'disappearance'.
Robert Tressell
162
Posted 14/04/2022 at 11:52:06
Michael, I'm hoping he is being readied for the U23s next season because he has real talent, personality and physical attributes. Without getting carried away, he really looks like first team potential based on (admittedly) a couple of viewings. He can come deep, play wide, dribble and make things happen for himself. Fingers crossed.
Phil Smith
163
Posted 14/04/2022 at 18:01:39
How many managers did he play under that season though, Mike? 4? He started off well under Symons but when Jokanovic came in, he didn't fit in the system or he just didn't fancy him. Most of those appearance were from the bench, I think you'll find. He had a few injuries as well, so he never got a decent run.
Dave Abrahams
164
Posted 14/04/2022 at 20:08:09
Robert (162), yes Okoronkwo looked like he plenty of potential, played with a big smile looking like he enjoyed playing for the Blues.
I think we paid a decent sum of money to get him from Sunderland with a few add ons if he continues to improve, when he finally arrived here after a long wait he brought an injury with him which delayed his debut, then he looked like he had been well worth waiting for, now he has gone missing again!!
Michael (161) you'll have to get your private detective on the case, mind you if he is like that word checker of yours it will be a waste of time, he couldn't find a gas leak with a match.
---
Add Your Comments
In order to post a comment, you need to be logged in as a registered user of the site.
Or Sign up as a ToffeeWeb Member — it's free, takes just a few minutes and will allow you to post your comments on articles and Talking Points submissions across the site.