Everton have 'clarity of costs' with Laing O'Rourke agreement
Wednesday, 13 April, 2022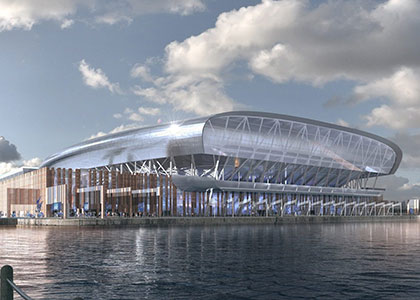 Everton Chief Executive, Denise Barrett-Baxendale has written to supporters to share news that the club has signed a contract with construction partners, Laing O'Rourke, that provides "renewed clarity over the costs for the remaining stages" of the Bramley-Moore Dock stadium project.
In her email, Professor Barrett-Baxendale explained that the club now have an agreement in place with Lang O'Rourke that establishes the financial framework of the remainder of the build.
The Press Association understand that the contract pegs the overall cost of the 52,888-seater stadium at the £500m estimate originally reached in 2018 and protects the clubs from escalating material and construction costs.
The CEO also provided assurances that the club hierarchy continue to seek new commercial sponsorship partners after Everton were forced to sever ties with USM Holdings in the wake of sanctions imposed on Alisher Usmanov following Russia's war of aggression against Ukraine.
I am delighted to tell you that we have finalised and signed a contract with our construction partners, Laing O'Rourke, which gives us greater certainty as to the costs of the remaining stages of our stadium project. The agreement ensures the work on bringing our new home to reality will continue apace.

Article continues below video content

To explain the significance, this agreement means we have renewed clarity over the costs for the remaining stages of the project - and that clarity is in line with our budget and cost planning. In short - we have certainty in these uncertain times.

Our accounts, released last month, revealed the profound scale of the impact the pandemic has had, and continues to have, on our Club. They also demonstrated, though, the scale of investment we have already made in our new stadium - and the unwavering commitment of our owner to finish what he has started.

To put it into financial terms, this is the biggest investment and the biggest commercial deal and partnership we have ever struck in our Club's history.
---
Reader Comments (80)
Note: the following content is not moderated or vetted by the site owners at the time of submission. Comments are the responsibility of the poster. Disclaimer
Derek Knox
1
Posted 13/04/2022 at 17:35:28
Well to a layman in Financial Matters or awareness, such as myself, it sounds like good news. Usually Stadium Projects, or any Projects for that matter, quite often double in costs. While I am happy, I am also surprised, as everything in everyday life is increasing, Fuel, Energy etc, which has the knock on effect of everything else increasing as a result. This has another two years or so to go as well. Hmm !
John Keating
2
Posted 13/04/2022 at 17:39:31
I thought her letter was just to me
Danny O'Neill
3
Posted 13/04/2022 at 17:46:00
John, you flatter yourself!
I'll keep it simple. Get this wretched season over the line and the future is bright. The future is blue. Take the city and dominate literally from the banks of the Royal Blue Mersey.
Allen Rodgers
4
Posted 13/04/2022 at 17:54:47
Could have been John, on my copy your name had been tippexed out and Allen written in biro.
Peter Neilson
5
Posted 13/04/2022 at 17:57:18
I also received the email but not sure it adds much. Surely "greater certainty" is the key term. For something with so many dependencies and risks it's unsurprisingly not a fixed price/outcome project. We now need the private placement investment for the next phase. That's been discussed in another thread.
With interest rates only heading one way as well as the cost of materials it'll be a challenge. The uncertainty over our Premier League status is in our own hands. The attractiveness of a long term investment loan/bond to fund the build is one for Moshiri and Co.
Bobby Mallon
6
Posted 13/04/2022 at 18:06:26
It's getting built, for fuck's sake, be happy!
Nick Page
7
Posted 13/04/2022 at 18:07:08
Kenwright's mob will botch this. Guaranteed.
Kieran Kinsella
8
Posted 13/04/2022 at 18:12:44
I am assuming "clarity over the costs" and "that clarity is in line with our budget" is significant with respect to inflation, rising oil prices, rising metal prices etc. So in a nutshell it's not going to exceed our original cost estimates.
Nicholas Ryan
9
Posted 13/04/2022 at 18:27:13
Maybe I'm overanalysing and reading too much into this, but here goes.
1. 'greater certainty as to the costs...'. You cannot have greater or lesser certainty; certainty is an absolute, you either are certain or you are not. Does this mean that there was formerly NO certainty as to the costs?!
2. 'work will continue apace...'. NOT work will continue to finality or to fruition. Work can 'continue apace' but still fall well short of the target!
3. 'We have renewed clarity' over the costs. Again, you either have clarity or you don't. 'Renewed' implies restated, the same as before: Why? To say 'We now have clarity, which we did not have before' makes sense - 'renewed' clarity does not.
4. 'That clarity is in line with our budget and cost planning...' These words sent a shudder down my spine. Remember, this is the 'renewed' clarity. Stripping away the 'Management-speak' I believe this means: 'We're broke, therefore the NEW clarity is in line with our NEW [i.e. vastly reduced] budget and our NEW [i.e. increasingly desperate] cost planning.
As I say, I may be reading far too much into this; but I think the words actually mean something quite different to that which they appear to mean.
Love to know what Paul the Esk thinks about this?
Pat Kelly
10
Posted 13/04/2022 at 18:28:31
They may be very clear how much it's going to cost but do they know where the money is coming from? And would relegation scupper the funding?
Saying the latest cost figures are in line with the budget doesn't mean the funds are all in place. A carefully worded statement.
Bobby Mallon
11
Posted 13/04/2022 at 18:42:07
Nicholas 9, once again stop the analysis. It's getting built that's it. Be happy.
Jerome Shields
12
Posted 13/04/2022 at 18:45:07
Getting built, that's the main thing.
Brent Stephens
13
Posted 13/04/2022 at 18:46:54
Nicholas #9 - re your Point #3, I'm not entirely clear what you mean.
"I think the words actually mean something quite different to that which they appear to mean."
So they "appear" to mean one thing to you. But they also appear to mean something different! Not total clarity on that?
Brian Murray
14
Posted 13/04/2022 at 18:53:21
If this is from Lil' Ms Dynamite, I'd take it with a pinch as she and her mentor will just be a memory when it's unveiled.
Philip Bunting
15
Posted 13/04/2022 at 18:54:57
Exactly Bobby. Just like the reading on this not all of what DBB sent out on the email is clear above. Another great point being that Farhard is committed to seeing this built and will see it through. For that, I applaud the man and, if he pulls it off, we stay up, then he should go down in very high esteem.
Mike Hayes
16
Posted 13/04/2022 at 18:57:01
Can't she post a letter of resignation from herself and the other crap on the board? 🤷
Christy Ring
17
Posted 13/04/2022 at 19:02:44
7&9,
It's getting built.
Why the cynicism?
Derek Knox
18
Posted 13/04/2022 at 19:03:11
Brian @ 14, if that does happen, that would be what I call good news!
Neil Copeland
19
Posted 13/04/2022 at 19:11:30
I really struggle to see anything negative about this news at all, it is almost as if some want the stadium build to fail.
There are lots of questions regarding Farhad Moshiri's handling of the club but this isn't one of them. He deserves nothing but credit for the commitment he has shown and desire to give us a world class stadium.
Billy Bradshaw
20
Posted 13/04/2022 at 19:12:15
Nicholas 9- maybe I'm overanalising and reading to much into this, you should have stopped there.
John Chambers
21
Posted 13/04/2022 at 19:14:07
In addition to the email there is an update on the website. That includes the following statement:
" A main construction contract, signed by both parties, will see Laing O'Rourke complete construction of the Club's new 52,888-capacity waterfront stadium, while also providing Everton with greater certainty as to the cost of the remaining stages of the project."
Surely to say this they must have the finance arranged and it is not dependent on which League we are in?

Paul Hewitt
22
Posted 13/04/2022 at 19:16:29
If we go down it ain't getting built.
John Keating
23
Posted 13/04/2022 at 19:17:17
Laing O'Rourke won't lose a penny on this.
They've locked in build costs but, as expected material prices go up, they'll just cut back on finishing and workmanship getting cheaper material.
Brian Harrison
24
Posted 13/04/2022 at 19:20:23
I think to have agreed a deal with Laing O'Rourke on the cost of materials to finish the stadium, at this time of spiralling costs, is quite an achievement. Most building projects of this size nearly always massively increase from the initial costing, so this has to be a real positive.
I also noticed that in her letter Denise said that she is also excited that the club will announce in the next few months a new financial package for the club. So I guess they have got on board new shirt Sponsors to replace Cazoo and maybe also a sleeve sponsor to replace the Angry Bird sponsorship that expired last season.
So in these uncertain times for our club a little bit of positivity.
Neil Copeland
25
Posted 13/04/2022 at 19:21:18
John #23, inflation will be factored into the contract, it would be unfair and naive not to. There will be no need for Laing to make cutbacks.
Tony Mace
26
Posted 13/04/2022 at 19:22:21
Could have borrowed the money at 1% interest
Now more likely 5% interest
Is this what you call success Bill?
Brian Murray
27
Posted 13/04/2022 at 19:25:29
Don't mind any building or monument named after Bill but preferably the rocket flyover on the way out of Liverpool in his rear view mirror.
Billy Bradshaw
28
Posted 13/04/2022 at 19:30:04
Some won't be happy on here until the dock is filled back up with water and fish again.
Pat Kelly
29
Posted 13/04/2022 at 19:31:34
John #21, while there may be a construction contract between Everton and Laing, I'd like to see the contract between Everton and those providing the financing. The first isn't happening without the second.
Maybe it's in place but has there been any statement that all of the funding is in place and guaranteed? And is it contingent on Everton's Premier League status?
Brian Harrison
30
Posted 13/04/2022 at 19:34:44
Wonderful how some posters are more happy to piss on your chips than admit this must be a good deal for EFC.
No wonder our brilliant??? local newspaper, the Liverpool Echo, aren't carrying the stadium news as the main story about Everton. Instead, they are running a story about the new city commissioners are investigating into who proposed the possible EFC loan fees. EFC turned down this offer over 12 months back.
This is a local council issue and nothing to do with EFC, no wonder Blues in this City hold this rag in such contempt.
Danny O'Neill
31
Posted 13/04/2022 at 19:41:44
It's happening Brian. What a venue this is going to be to host European nights.
Dave Abrahams
32
Posted 13/04/2022 at 19:43:17
I think Denise Barrett-Baxendale deserves a pat on the back, the way she is still conducting Everton's affairs and writing to us fans to save us worrying about the cost of the new ground and at the same time she is still not sure of her own future while she is still searching for a new job and has been for the last few months since Mr Brands threw his hand in.
It must be heartbreaking and very stressful for her in these hard times for her. Thank God she has Billy Boy looking after her interests. What a pair they make always seeking the best for Everton FC and us fans!!!
John Chambers
33
Posted 13/04/2022 at 19:48:52
Pat #29. I agree nothing has been made public about the financing but I don't see how we can sign a contract to deliver the stadium without the financing being in place.

Philip Bunting
34
Posted 13/04/2022 at 20:01:48
John. Moshiri is worth 2 Billion pounds, he is committed to building it. If it cost him £350M to finish it now, it is hardly a dent into his finances really, is it? He is not immortal expecting to live forever on his stash. He might as well enjoy spending it but having something of value at the end.
All speculation and negativity with the blue fan base, I think more of the keyboard warriors need to get out of the house a bit more and lighten up.
Derek Knox
35
Posted 13/04/2022 at 20:06:24
If they're struggling for costs as it progresses, they may suggest bring your own seat !
No Armchairs, Sofas, Settees etc! :-)
Ed Prytherch
36
Posted 13/04/2022 at 20:17:13
One way that contractors make money on fixed price jobs is "change notices". The agreed price is based on a detailed specification. If the spec changes in any way, the contractor has the club over a barrel and can make up costs.
Brent Stephens
37
Posted 13/04/2022 at 20:30:32
Tony #26
"Could have borrowed the money at 1% interest. Now more likely 5% interest. Is this what you call success Bill?"
It's not your money, Tony, so relax.
Jonathan Haddock
38
Posted 13/04/2022 at 20:40:24
Clearly this must mean that the club has secured the loans necessary to complete our project. Good news, but the club haven't revealed any details of this. Hopefully details will become clear soon.
Of course the issue will be paying it back and relegation remains the main issue for the future sustainability of the club.

Jimmy I'Anson
39
Posted 13/04/2022 at 20:43:12
For everyone worrying about the cost of steel. It is currently being fabricated ready for installation. To have steel fabricated you need to buy it and, after you've bought it, the cost of steel is irrelevant. This will be the same for all of the prefabricated items which are at Laing O'Rourke's facility in Nottingham.
There will already be a significant amount of material purchased because if it wasn't, the job would soon come to a standstill. This is probably why Laing O'Rourke could happily sign the contract.
Also, I believe now that this contract is signed, the financing from JP Morgan or whoever will follow because the main risk has been eliminated.
Nick White
40
Posted 13/04/2022 at 20:52:24
Some really good news for us I'd say! Can't wait to be sat in the new stadium.
For those criticising the running of the club, the playing side is one thing, but on the stadium, I can only see positives and it being a very well-run project.
Pat Kelly
41
Posted 13/04/2022 at 20:52:32
John #33,
Those providing the financing would want to know in advance, with some degree of certainty, what it is going to cost. The "clarity on cost" statement may be more about securing the funding.
We don't know what conditions are attached to the building contract. It could all be contingent on finance being provided.
Danny O'Neill
42
Posted 13/04/2022 at 21:07:54
It's economics. I'm getting my garden done at the moment and the worker is sucking teeth, taking intakes of air and telling me how material costs have gone up since he first quoted me.
Come 2024, we will be dominating the skyline of our city whilst they are shoehorned into the streets of Anfield. Our city, our Royal Blue waterfront.
I will still visit the Arkles out of respect for my Grandfather even if I do so with contempt for the regulars.
Our club, our city. They are the tourist attraction.
Paul Kossoff
43
Posted 13/04/2022 at 21:08:33
Everton Chief Executive, Denise Barrett-Baxendale.
Bill's influence stands proud! No wonder we are a fucking laughing stock!
Christine Foster
44
Posted 13/04/2022 at 21:08:53
Jimmy l'Anson, I think you are correct. Before financing the club and lender would require confirmation and assurances of costs, I would imagine just like building a house, it will be subject to progress payments and agreements over interest rates and loan limits.
The contract with Laing cannot be a fixed cost because of the inherent risks, but it can give a reasonable expectation of the most likely outcome which, as work progresses, reduces in risk. Leeway and contingency narrows as we get closer to completion, so I agree, this "clarity " is sensible planning and a basic requirement set in place before confirming loan details.
P.S. just a minor edit, additional thought, stepping back a little, what was the point of the email? Just letting us know that they are doing what they should be doing? That's hardly news... (Mind you, thinking about it, given the recent financial decision-making record of the board, it probably is newsworthy!)
News flash! We are doing our job...
Tom Harvey
45
Posted 13/04/2022 at 21:11:29
What an utterly vague statement about a complex financial agreement.
The costs may well be acceptable at this time and "Clarified" as our sales girl of the month puts it, but should cost take an upward trend, it won't be Laing O'Rourke who volunteers to foot the bill and I would be very surprised if they've agreed to a fixed cost project. What happens to her clarity document then?
To sum up we don't yet have the funds to build the thing, but we do have a document that says come on down "the price is right" and there's Brucie bonus if we can build it now, the bonus being today's prices, but they could rocket tomorrow if we don't build it today!
Somebody give her a bucket and spade so she can play about in our marvellous new sand pit.
Bill Gall
46
Posted 13/04/2022 at 21:22:34
Dave #32
I don't believe that Denise Barret-Baxendale is looking for a new job, this article she has given is part of her present position.
"26 July 2019: Denise Barret-Baxendale, will oversee the work of Stadium Development Director Colin Chong, and take responsibility for the new Stadium Project, including the delivery of the community-led legacy at Goodison Park."
Seems for once she may be doing something right.
Don Alexander
47
Posted 13/04/2022 at 21:42:47
Nicholas (#9),
I hope you don't take my admiration of your post as bad news given my adversity with all things Kenwright and his L'il Miss Dynamite as a follow-through, but the comments you and a few others have made cause me to be highly sceptical of the lass – even if she truly believes in the provenance of what she said.
Outside of her life of Riley in Everton's boardroom, and further charity to others beyond, she has about as much football and finance credibility as Nero had to fire extinguishing.
Bill Gall
48
Posted 13/04/2022 at 21:49:46
Don't some people realize that this is not a house they are building where costs can be reasonably factored in?
This is not the first contract that Lang O'Rourke have negotiated on a project that takes a number of years to complete, so I imagine they have a number of clauses in to cover any increases that the club has agreed to.
Let's be thankful that we are getting a brand new modern stadium and hope we can get a great team to play in it.
Andy Crooks
49
Posted 13/04/2022 at 21:51:25
Is she the best person we could get for the money? Genuine question. Did Bill Kenwright have any part in her appointment? What qualifies her to be CEO? Is she any good?
Brian Murray
50
Posted 13/04/2022 at 22:12:02
Andy. Don't ask such awkward questions. Sharpy's mantra.
Paul Hewitt
51
Posted 13/04/2022 at 22:19:18
As someone who works in the building industry, I can tell you working on a fixed price in these times is madness. Prices of building materials are going through the roof.
Jerome Shields
52
Posted 13/04/2022 at 22:20:20
I am not a supporter of the Chairman or Chief Executive and the point that they have brought the club to.
But someone managed to get the Premier League to accept that the Covid pandemic had an effect on Everton breaching FFP rules and were able to curtail the effect of sanctions on the club. The result is Everton live to fight another day, probably in the Premier League, and the stadium project has not beeen affected, and looks like it will be completed.
Who is responsible for all this happening?
Dave Abrahams
53
Posted 13/04/2022 at 22:21:16
Bill (46), sorry, I know she isn't looking for another job, I was taking the piss out of her and Billy Boy, that was the story the club, boardroom gave out when Brands left the club, protecting themselves as usual. She hasn't got the experience to run a multi-million club like Everton.
There is a lady in New Zealand from Scotland Road, comes on here with bucket loads of sense who would show her how to do the job, a proper job, but doubt she would work with or stomach Kenwright.
I hope you are keeping okay Christine!!
Phillip Warrington
54
Posted 13/04/2022 at 22:27:34
Surely this should have been sorted before any contracts were signed.
Mike Hayes
55
Posted 13/04/2022 at 22:31:02
Paul Hewitt - we won't put a roof on 🤷
Mike Hayes
56
Posted 13/04/2022 at 22:33:04
Wouldn't surprise me if Bullshit Bill had the ground made of Lego - so when he finally goes he can pack it up and take it with him to luvviland 🤡
Mike Hayes
57
Posted 13/04/2022 at 22:38:01
Derek Knox - how about cushions 🤔
John Raftery
58
Posted 13/04/2022 at 22:49:39
People moan that the club fails to communicate. The club communicates. People still moan.
David Vaughan
59
Posted 13/04/2022 at 23:03:04
Bean bags maybe??
Paul Birmingham
60
Posted 13/04/2022 at 23:05:28
Dave @32, brought a good laugh, the Dynamic duo, doing their best for the Everton cause.
There's a common denominator, let's see where the events and announcements these last few days, take the pendulum for Everton FC.
John Ebbrell, will be able now to have some freedom with the U23s, and I'm sure the catering managers, will be pleased at Finch Farm and Goodison Park, that Rhino is looking for a fresh grazing ground.
I'm sure the U23s are at Goodison, this Friday, if so a good chance to look at new set up.
Good luck to Matty Mallon, if his move to Blackburn is true, as he's stood out and worked hard after injury.
Like some others, in that team, all considered, it will be interesting to see who opts to resign, stall and potentially leave the chance for other clubs to come in.
UTFT!
Si Pulford
61
Posted 13/04/2022 at 00:04:36
The conspiracy theories are in full swing I see. No way this could just be a bit of good news in a sea of absolute shite. The amateur accountants are at it again: 'I wonder what the Esk thinks….'
Who cares what he thinks, he's the most anti-Everton Evertonian on the planet. The man's a loon who claims to know more than the national and local press. Pretty much everything he says is going to happen doesn't happen. He's a melon.
Is it Bill Kenwright or Bill Gates? Either way, it seems Zuckerberg and Kenwright are probably in this together.
Sometimes, just sometimes, we can take a story on face value and act like football fans, sports fans even – not accountants or conspiracy theorists.
Christine Foster
62
Posted 14/04/2022 at 00:38:05
Dave #53,
Haha... whilst I may have the experience of running multinationals at a senior level, it's not the full requirements needed to run this once mighty club! In years gone by, I would have done it for nothing for a chance to do so, but life goes on! And you're right too, I could never support Bill Kenwright – Evertonian or not (not bitter, just my principles).
I think she is a competent executive, but her specialities are not running a football club. I think Everton in the Community is a fabulous initiative and well run from what I can see. But I think the running of a club with the ambition, finances and day-to-day operations are something else where experience is vital. But that is a failing of the board and specifically of its chairman, not solely the responsibility of DBB as it was the same under Elstone.
Keeping busy, Dave, trying not to think of football, painting, decorating, planning, gardening and wondering how I ended up here... again lol... it has a certain pull does New Zealand...
Mike Gaynes
64
Posted 14/04/2022 at 02:22:34
I'm the farthest thing from an expert on stadium construction, but I do know a thing or two about corporate communications.
To me the reason for the announcement is obvious. Everton just confirmed a three-year loss of £372 million, and our owner's former patron was sanctioned by the West. That immediately triggered a storm of speculation, like some of the more clueless comments above, that the stadium was doomed. So DBB put out the statement. Elementary.
Here's the Guardian article on the contract: Everton sign contract to complete new stadium construction
"The new 52,888-capacity stadium on Liverpool's waterfront is expected to cost in the region of £500m and, despite rising prices throughout the construction industry, the contract gives Everton greater financial certainty over the remaining stages of the build."
Makes sense to me, but then I'm not "someone who works in the building industry".
Eddie Ng
65
Posted 14/04/2022 at 04:01:29
Now it is time to make sure that it will not become the best stadium in the Championship.
David James
66
Posted 14/04/2022 at 06:30:17
For me the most telling line in this communication from Denise was the last one:
"Our owner made a commitment to deliver a new stadium for Everton, and he meant it. He will finish what he started."
This seems to pour cold water on the idea he might be looking to sell up… if he's staying on, I only hope someone explains FFP rules to him so that he doesn't take us even further into the financial mire… but given his day job is as an accountant, I'm sure he's got this covered. 😬
Lewis Barclay
67
Posted 14/04/2022 at 08:46:27
Looks like PR management during a quiet time for the club.
Nicholas #9 - just for argument sake:
Certainty and clarity are binary, but only at points in time. I might be certain of something today but not tomorrow, and the same with clarity. So renewing either is positive but really doesn't tell us much at all!
It's going to be interesting to see what happens this summer.

Michael Kenrick
68
Posted 14/04/2022 at 09:11:55
Nicholas #9,
For what it's worth, I'm certain you have this quite wrong over degrees of certainty. Anything to do with future projection has degrees of certainty or uncertainty associated with it, from stadium costs to being struck by an asteriod, to being relegated.
Let's take that last one: at the moment there is a possibility that Everton will be relegated. In terms of 'certainty', it's not 100% but it's not Zero% either – it's somewhere in-between. And as Lewis @67 says, it is subject to change, not every day but as each set of matches affecting the lower places are played.
It seems the more widely reported £500M now has much-increased certainty which (if true) would be fantastic. I have to admit I find that really surprising in these hugely uncertain times, with the highest rates of inflation we have seen in 30 years, and a lot more still coming down the pipeline while construction forges ahead.
It's like almost every episode of Grand Designs – they say they absolutely have to complete the build within budget… but they hardly ever do.
John Raftery
69
Posted 14/04/2022 at 10:43:31
Meanwhile, in today's Times, Paul Joyce has repeated his assertion the stadium will not be ready until after the start of the 2024-25 season. The club has been silent on this, as far as I know.
Allen Rodgers
70
Posted 14/04/2022 at 11:48:40
As per John Raftery's post, I managed to copy & paste this even though I am not a subscriber to The Times.
''Work on the 52,888-capacity waterfront stadium started in the summer of 2021 and is scheduled to be completed after the start of the 2024-25 campaign. That will leave Everton officials with a decision on whether to leave their present home of Goodison Park mid-season.
The Everton owner, Farhad Moshiri, is committed to the project even in the event of relegation from the Premier League. The club are in 17th position, four points above the cut-off, and have already underwritten some of the funding for the project.

The club are in the process of completing further funding options with the private sector.''
Michael Kenrick
71
Posted 14/04/2022 at 15:50:00
Danny O'Neill
72
Posted 14/04/2022 at 16:51:35
With 7% inflation and cost-of-living increases, I suppose it was inevitable, Michael, notwithstanding that builders never stick to the original quote in my experience. There's always something!
If it offers any comfort, my Garden job just cost me £350 more than I got quoted last month because the price of slabs has gone up!!
My garden woes matter not. The stadium is happening and long-term, that's what matters.
Anthony Dove
73
Posted 14/04/2022 at 18:55:18
Pretty wishy-washy statement and let's hope we don't end up with something second-rate due to cost-cutting.
Best news is that I see that Leicester are not only playing tonight but also on Sunday afternoon. Roll on Wednesday.

Paul O'Neill
74
Posted 14/04/2022 at 23:18:33
I'm a "glass half-full" kind of person and, on the face of it, this is good news.
I do think Denise Barrett-Baxendale is one of the worst culprits for prosaic nonsense management-speak in the business... every time she opens her mouth it seems. However, it's good to get some clarity.
In line with some other posters, though, it does worry me that, if the costs are 'locked in', will this now be done on the cheap? This stadium is going to be buffeted by all weathers every day. Surely the best quality materials and specs are essential? Let's hope corners are not cut.
Kieran Kinsella
75
Posted 15/04/2022 at 02:11:09
Si Pulford
Your character assassination of Paul th Esk is a bit Trumpesque, mate. I don't think he's claimed to be Mystic Meg.
If you read his posts, about 80% of the data is public knowledge and the rest is what seems like educated guesses based on comparable data from other clubs.
The bit where he makes suppositions is when he says our financial plan isn't viable. And he's been proved right with multiple bail-out cash injections from Moshiri and the publicly acknowledged fact the club are "working with the Premier League" to avoid sanctions on our Profitability and Sustainability issues.
Do his articles fill me with joy? No... but that is because he is talking about finance – not 'cause he is an "anti-Everton loon".
Eric Myles
76
Posted 15/04/2022 at 04:16:12
Pat #41, it's not uncommon to issue a Letter of Intent to a contractor while providing limited funding for an initial phase of a project to get spades in the ground. Once the final Contract Terms and Conditions have been agreed, then the contract can be signed by both parties. I assume that's what the Club has done in this case; it certainly looks like it.
As it's a Design and Build contract, it will be Lump Sum Turnkey and there may be some clauses for material price escalations, or not; usually not, so the contractor takes the risk.
Again nothing unusual in that, but the delay in signing may be due to T&C negotiations on escalations or substituting specification changes, or due to securing finances. The club are unlikely to tell us.
On the whole, it looks encouraging that we have got a fixed-price contract* which would also mean finance is in place.
* This doesn't mean the cost cannot increase though!
Barry Hesketh
77
Posted 18/04/2022 at 13:09:00
As you all know, I'm an old cynic when it comes to most things communicated by the club and its staff. The stadium will be built, the funding will be raised and we will watch our team run-out there. The question is: When and at what cost?
Denise's communication is carefully worded to make something look far more positive than it may be... could it be because the season ticket renewal deadline is not too far away?
I hope it is built for the start of the 2024-25 season; I hope the costs don't impinge too much on the necessary re-build of the first-team squad.
But in the closing paragraphs of Denise's email, I see some issues: jam tomorrow or in the future, but some pain in the near term?
And, on the subject of commercial partnerships, we will have some exciting news to share in the coming months. We have strengthened our commercial team – and put in place a new structure. Our team here in Liverpool, as well as our staff in offices in London and the United States, have been working diligently to ensure we turn challenges into opportunities.
The team has been operating in a dynamic and determined way to identify and secure new partnerships. In trying times, that also means acknowledging a need to be pragmatic in order to serve the Club as best we can...
I did tell you that I was an old cynic.
Mike Owen
78
Posted 18/04/2022 at 19:39:48
If the construction of this stadium relied upon nothing more than optimism and diehard loyalty to Everton, we'd be putting the finishing touches to it by now.
However, it relies on the club finding half a billion pounds... with an unknown amount of that being loans. A pity that, despite this 'renewed clarity', we still don't know how much the club (not Moshiri) is looking to borrow, from whom, or at what rate of interest.
And I am left curious by this phrase in DBB's statement: "In trying times, that also means acknowledging a need to be pragmatic in order to serve the Club as best we can."
What might be this pragmatism? A partnership or sponsorship with a less than ideal company?
Of course, we could get more clarity if we could have an AGM where we could ask such questions. But we may have had the last one in the history of EFC.
Next, I must offer a word in support of Paul the Esk. I'm very grateful to him for analysing all those dry figures and offering his thoughts. What he says isn't what we might want to hear. And I am sure he would love to paint a brighter picture. Sadly, however, the facts don't lend themselves to such.
Finally, surely a funding deal for the new stadium at Bramley-Moore Dock – and hence any further significant work – should be on hold until it is known what league we will be in next season.
I always thought that, if we had gone down in 94 or 98, it was highly likely we would quickly be back up. But the football world has changed. Now the Championship is like a swamp.
And to proceed with stadium construction after relegation could be running the risk of another Nou Mestalla. (Work started on a new stadium for Valencia in 2007, a large concrete frame was built, money ran out in 2009, and there it stands today…)
And if we do stay up, I still see the new stadium at Bramley-Moore Dock as a gamble. But I'll save that for another time.
UTFT.
Tom Hughes
79
Posted 19/04/2022 at 08:03:36
Mike #78,
I agree with your assessment of Denise Barrett-Baxendale's email. She appears to say a lot without saying very much at all.
Greater clarity achieved, while releasing no actual figures apart from somehow the cost will not rise above the original £500M, despite the substantial hikes in material and construction costs of recent times?
That alone may suggest one of two things: the original costs were either grossly exaggerated (or included a substantial contingency or whole-project costs, as is often the case with stadium projects), or that some severe value-engineering, cost-cutting or rationalisation is taking place in the name of "pragmatism". It will be interesting to see how that translates itself in the next phases and onwards to completion.
You're right, the Valencia example should be a stark reminder to everyone. As you say, we still have no idea what the actual loan deal is and how it will all affect our parlous financial state going forward. Even more so if (god forbid) that trap door opens!!
In some ways the message has all the hallmarks of a 2022 version of the infamous: "Don't worry, the money is ring-fenced" statement. The main difference being of course, currently there is no reason for that not to be the case. Moshiri has the readies to push this over the line under his own steam, but the issue is if and how that is then loaded onto the club.
Given those recently released financial performance figures, his further required injections of cash and conversion of debt to equity etc, it really isn't that clear (to this financial simpleton) where any substantial additional debt fits.
I also agree wholeheartedly with your AGM point. A re-run of the same tactic used last time our dealings and financial state came under great scrutiny.
Jerome Shields
80
Posted 19/04/2022 at 09:02:03
Mike #78
All of Denise's statements are the same. They are more Public Announcement and Public Relations statements with no clarity, full of optimism and phases like 'clarity of costs' without substance. They are never going to be actual Chief Executive type statements, where she will actually answer questions.
What you have deduced is closer to the truth, but Evertonians live in the world of Premier League survival, a new dawn, and a turnaround in fortunes; unfortunately so do those that run Everton. Substance gets lost as a result and even I welcome any new statements of progress in the stadium, though I do have doubts.
Justin Doone
81
Posted 24/04/2022 at 21:21:26
No leadership on or off the pitch.
Clarity of the teams Premier league status is more concerning.
Yes we need a new stadium but it will be a hollow home ground should we be hosting and getting beat in the championship.
---
Add Your Comments
In order to post a comment, you need to be logged in as a registered user of the site.
Or Sign up as a ToffeeWeb Member — it's free, takes just a few minutes and will allow you to post your comments on articles and Talking Points submissions across the site.