Clement: 'We've got a lot of belief in this group of players'
Friday, 15 April, 2022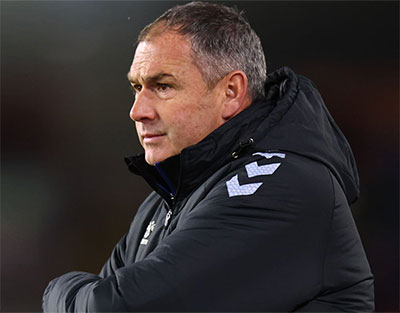 Everton first-team coach, Paul Clement, has spoken of his intense introduction to life at the club having joined in the middle of a battle against relegation, how much he is enjoying working with such a diverse group of coaches, and his faith in the players that they can steer themselves away from danger in the coming weeks.
The 50-year-old former Derby, Swansea and Reading manager sat down with evertontv for his first full interview for the club's official video channel and started out by talking about how he got the job with the Blues.
"Frank called me when things started to get serious in the discussions with Everton," Clement explained. "I think he was close to agreeing but not quite and he asked me if I was interested in coming.
"I always thought that if I was going to go back to being an assistant again it would be in this kind of role… having been a manager the last five or six years that it would be for someone like him.
Article continues below video content
"So, it wasn't a difficult decision to come work with Frank and a great coaching team in my opinion and also at a fantastic club like Everton."
Clement explained that Lampard is "very inclusive in the way that he approaches management" which allows all the first-team coaching staff to collaborate on a day-to-day basis at Finch Farm and how they all have input on coaching, tactics and team selection before the manager makes the final decisions.
"It's been really good [coaching in the new group of coaches]. It's been one of the things I've enjoyed more than anything. There's lots of enjoyable things about this job here at Everton but that has to be one of the standout ones for me.
"We all know each other in various capacities. I've known Joe (Edwards) since he was a young academy player and I was a young coach. Myself and Chris Jones worked together at Fulham, at Chelsea and now here at Everton. Ashley (Cole) and Frank were obviously players when myself and Chris Jones were on the coaching staff.
"So we're a tight group and along with Duncan and Alan as well we've got a strong coaching staff and I think it's one of the best staffs I've worked on.
"In my time at Chelsea and as manager of Swansea, they were always difficult games against Everton. You know, playing at Goodison, especially midweek under the lights is quite daunting, especially for the players. Having had lots of discussions with players over the years, they always talks about Goodison — you know, that traditional English stadium. There's not many of them around now.
"It's got a passionate, incredible atmosphere and we've experienced that in the short time we've been here. So, I think between the two, it is a powerful combination.
"The game against Newcastle, with how that turned out in the end. You know, we were hanging on at the end when we went down to 10 men. But then to finish off with that 99th-minute winner was as good as atmosphere as I've ever experienced.
"I think the manager has really tried to embrace that when he came in. He understood very clearly, having played many, many times as a Chelsea player, he understands what the demands are of playing for the club and what the demands are of the supporters — what they expect from the team and from the players."
Clement was asked about his particular responsibilities around coaching set-pieces and he expressed his belief that there was some initial success in that regard, particularly against Leeds where Michael Keane scored with a header, but he admitted that things had "plateaued a bit, even dipped slightly" since and that he intends to work with the players in the coming days and games to improve.
"On the defensive side I would say there was certainly some improvement early on. When I refer back to the Newcastle game against one of the best set-play teams in the country, I think we defended 17 set plays in that game and I thought we were immense in that game.
"And that's the attitude and the kind of level we've got take forward into the next game. We're working hard on our organisation defensively and we're also trying to come up with some creative ways to make opportunities on the attacking side."
Asked what the feeling was like in the dressing room and among the coaching staff with regard to the club's chances of getting away from relegation danger this season, Clement said:
"Our last Premier League game was just a fantastic feeling. It was brilliant in the dressing room afterwards and that's the feeling we want to recreate now as many times as possible between now and the end of the season.
"I've got to say, this group of players — and I've worked with lots of squads over the last 12, 13 years — is a really good group of boys. They're working hard every day, they're focused, they're very compliant in following the ideas of the manager and the coaches.
"They're a really good group to work with and they want it. They really want to do well and I think they're going to do it. We've got a lot of belief in them. Obviously some of the performances have been a little bit up and down but they're hard-working, they're focused and they know what needs to be done.
"Obviously, the more and more the games go on, that pressure and intensity grows but we're all going to be fighting until that very last game of the season"
---
Reader Comments (28)
Note: the following content is not moderated or vetted by the site owners at the time of submission. Comments are the responsibility of the poster. Disclaimer
Derek Knox
1
Posted 15/04/2022 at 08:58:13
It sounds like good news, let's hope we just survive this season and then get down to the real business afresh next season. I just hope we can get this away form blues eliminated, being more positive, as well as being almost unbeatable at home.
Jerome Shields
2
Posted 15/04/2022 at 09:07:01
It is interesting that Frank consults with all the coaches before making a selection. I wonder who coaches Calvert Lewin and why they do not favour Rondon, given
CL recent performances. I suppose this explains the 'look good in training', selection criteria.
Paul Kernot
3
Posted 15/04/2022 at 09:15:11
Agreed Derek. We supporters can play a massive part now. Of course there will still be mistakes on the pitch an we don't have enough games left to say 'we're improving gradually' so we just have to grind out enough points with blood & guts effort & our support it vital. Just like with our kids, unconditional.
Paul Birmingham
4
Posted 15/04/2022 at 10:58:56
Good to see some honest feedback and hopefully the squad is now galvanised for the final push for survival in this league.
One step at a time and hopefully Everton can rebuild in the summer.
Tony Everan
5
Posted 15/04/2022 at 11:31:54
We have a quality coaching team now, all is in place to stabilise the club on the playing side and make good progress next season. The struggles for he coaches have been made worse by injuries in key positions, basic mistakes and trying to overcome that. I'd like to think if we escape relegation, and I am more confident now we will, that Frank will make three or four key first team signings in the summer, probably partially funded by sales.
But first Frank needs to get us over the finishing line this season. I think he has hit on a midfield winning formula. With Allan, Delph and Iwobi complimenting each other with tenacity, composure and energy, I'm way more optimistic about our midfield. Richarlison and Gordon add some midfield strength defensively as well as being primarily attacking players.
Ashley Cole is making a difference with Mykolenko who is started looking the part now, credit to them both. Patterson will follow suit next season under his tutelage. Mina returning next week will be a boost too. If DCL can tap into his previous form after this ten day break we could well look like a different team and find that elusive consistency. I hope the coaches are working on him as we speak. Roll on Leicester, COY BLUEBOYS. Fight and win.
Daniel A Johnson
6
Posted 15/04/2022 at 11:32:36
He's not exactly going to come out and say this group of players is the biggest pile of lazy bottlers he's ever worked with is he?
Dave Williams
7
Posted 15/04/2022 at 11:57:39
Daniel- agreed. Talk is cheap and I well remember us being told what a brilliant and innovative coach Denis Lawrence was when Roberto arrived, Ferguson was another outstanding coach so we were told and the coaches big up the players accordingly. Let's get to the end and stay up- then we will see who they really rate.
Paul Kossoff
9
Posted 15/04/2022 at 16:27:02
Pitty the players don't have the same belief because, if they had, we wouldn't be in the position we are in now.
Danny O'Neill
10
Posted 15/04/2022 at 16:37:17
I'm normally Danny the optimist, but being cynical, I guess he has to say this.
Let's see take 2 in the summer once we've avoided the trap door.
John Raftery
11
Posted 15/04/2022 at 17:11:18
Without a significant injection of better players, who can stay fit, I am afraid we are in for another season of struggle in 2022-23. There has never been an issue with the work ethic of this squad. We just don't have enough players of the standard required in the top half of the table. Without quality additions in every area of the pitch, intelligent coaching will take us only so far.
Danny O'Neill
12
Posted 15/04/2022 at 17:20:32
John, to recount Danny the scratched record of 12 months ago when many were blaming the manager.
We need better players.
The problem isn't the head coach / manager. It lies either side. Players and board room.
Mal van Schaick
13
Posted 15/04/2022 at 20:05:13
After the Man Utd win, I think this group will play at a high tempo and be better organised. However, this the same group who got us in the crap in the first place, assisted by previous dodgy manager tactics.
Let's get the points on the board and stay up this season, but I wouldn't retain a lot of players in this squad, and I want to see Lampard build a squad challenging for the top six at least. Whether the FFP system will allow that, who knows?

Bernie Quinn
14
Posted 15/04/2022 at 20:54:54
From my point of view, I think a breath of fresh air came in when Frank and his team arrived at the Club. Before that, I was afraid we would be relegated but now I think we are definitely going to remain up. With the news from Burnley, I am even more confident.
Tony Twist
15
Posted 15/04/2022 at 21:32:05
To be honest, I have been disappointed by the impact of the new coaching entourage. Impact has been minimal and I can't see us cruising away from the relegation zone at all.
It will be interesting to see what sort of bounce Burnley get with their new manager. Our bounce was underwhelming and we seem over-dependent on the influence of the crowd than the team being a more complete, strategically influenced, competent, coached unit.
We are still in the shit and, from the outside looking in, hoping on the failures of others. The team just doesn't work: unsure in defence, uncreative generally in midfield, and toothless in attack.
The players do share the blame but the impact of the new coaches and their techniques and regimes aren't anywhere near effective enough.
Tony Abrahams
16
Posted 15/04/2022 at 21:51:44
I think it's easy to be disappointed by the new coaching entourage, until you analyze what they've had available most games. I thought we had begun to play better at West Ham and Burnley, but you can't legislate for such calamitous mistakes, although maybe being naive could be labeled at the management, for not playing more defensively in the circumstances.
I'm also glad we are over-dependent on the Goodison crowd, and I hope this not only stays but it also grows, because it's definitely one of Everton Football Club's greatest assets. Once the players get used to winning more games, I'm sure it will also stand us in good stead away from home.
Will Mabon
17
Posted 15/04/2022 at 22:29:09
I thought it was Coleman's job to say this?
Jay Harris
18
Posted 15/04/2022 at 23:35:00
Personally speaking, I've seen a big improvement in the quality of our play. The let-downs have come predominantly from mistakes by the usual suspects combined with injury/suspension of key players in key games.
Stabilize and get safe this season and bring some new faces in in the summer to reinforce the weak areas.
Ben King
19
Posted 15/04/2022 at 23:40:31
I like Paul Clement and his appointment actually had me feeling that Frank was working on the right lines.
Clement managed to help an awful Swansea side escape relegation (when a certain Icelandic midfielder played his nuts off, scored & created goals and was generally brilliant).
Frank's backroom staff do give me confidence and apparently he's trying to add another coach from Chelsea: clearly Frank's thinking is progressive.
I appreciate that we need to see an impact. I think we are seeing a gradual impact in respect of performances: we're definitely playing better than under Benetiz and look more confident. And hopefully the Man Utd game is the start of better results… god knows we need the results
Fingers crossed it's a new positive dawn for Everton!
Jerome Shields
20
Posted 16/04/2022 at 04:35:52
Daniel and Dave #6 & #7,
Agree.
With Lampard we were always going to get better play, but it is an improvement in the blood and guts end of Everton football we need to stay up. Maybe the Goodison faithful provide this, as do the travelling fans, but we need a bit more than happy campers at Finch Farm to more consistently competitive.
Phil (Kelsall) Roberts
21
Posted 16/04/2022 at 21:46:43
Derek #1
20-21 away - Won 11 Drew 4 Lost 4 - conceded 15 plus 5 on the last day at City.
21-22 away - Won 1 Drew 3 Lost - 11 - conceded 33.
Most played back 5 /midfield in 20-21: Holgate, Keane, Godfrey, Mina, Digne, Allan, Doucouré, Sigurdsson
Most played back 4 /midfield in 21-22: Holgate, Keane, Godfrey, Coleman, Allan, Doucouré, Gray, Townsend,
Is it as simple as playing 4-4-2 not 5-3-2 or the loss of Mina and Digne or just the general tactics? But largely the same players or maybe a certain Icelandic player did more than just take lousy free kicks?
Dave Abrahams
22
Posted 17/04/2022 at 14:30:38
Colin (22), l'm glad that Gylfi has been bailed especially if the lad has a good defence of these charges, I think the reason the case is taking time to come to court is that there is a huge backlog of cases and loads of people waiting for their case to be judged are remanded inside prisons waiting for their day in court some them waiting a lot longer than Gylfi.
Jim Bennings
23
Posted 17/04/2022 at 14:43:12
I like Clement, he seems an intelligent man.
I do hope however though we don't spend another summer dishing out new contracts to these players that are essentially failures.
It has to be close to the end for many of them and it's been proven that they aren't good enough to move this club in the direction we need.
No more new deals for Kenny, Holgate, Keane, Gomes etc.
There needs to be no sentiment and also make a quick decision on the likes of Calvert-Lewin; if he's available, then get a decent fee for him and then go and sign someone.
Joe McMahon
24
Posted 17/04/2022 at 16:20:47
Jim, not only do we need to win, we need to start scoring more goals. If comes down to goal difference (like most seasons) Everton's is pitiful. Then go compare the goal difference of the top 3, it's a different world.
Just as well we have had all these good times Bill speaks of.
Jim Bennings
25
Posted 17/04/2022 at 18:00:39
Joe
It's always been a problem for Everton scoring goals, this season just worse than most.
I can only think really of the Lukaku years under Martinez and maybe one or two other seasons when we have surpassed our usual average total of a modest 50 odd.
Derek Knox
26
Posted 18/04/2022 at 14:06:23
Jim @ 25, the other factor being, we only have a few who 'can score'. In the more successful sides of the past, they have come from all departments, including defence. I know we get the odd goal from time to time from a player normally not expected to deliver, but these genuinely are very rare 'Blue Moon' occasions.
Mike Owen
27
Posted 18/04/2022 at 19:14:44
5, Tony, you say: I think he has hit on a midfield winning formula. With Allan, Delph and Iwobi complimenting each other.
I tend to agree with you (regards the run-in), but what worries me is that we finish the season with five games in 15 days (May 8 to 22; three of them away).
Given the injuries and suspensions we've had this season, I'll be interested to see how many players we have fit and available for the last couple of games. Perhaps we'll have a hero stepping out from the sidelines.

Tony Graham
28
Posted 19/04/2022 at 08:48:13
Actions not words... glad he's got faith in the players, I ain't...
Justin Doone
30
Posted 24/04/2022 at 21:37:12
A little clarity would go along way. Faith in them to do what?
Win?
---
Add Your Comments
In order to post a comment, you need to be logged in as a registered user of the site.
Or Sign up as a ToffeeWeb Member — it's free, takes just a few minutes and will allow you to post your comments on articles and Talking Points submissions across the site.