Calvert-Lewin out of next two games
Wednesday, 20 April, 2022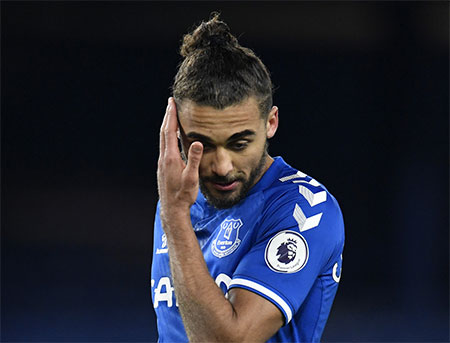 Dominic Calvert-Lewin will be sidelined for the visit of Leicester City this evening as well as Sunday's Merseyside derby and could miss the home clash with Chelsea as well.
The striker felt a reaction in his troublesome quad muscle in training this week and he has been ruled out for "the next 10 days to 2 weeks", according to manager Frank Lampard.
Calvert-Lewin missed 4 months of this season after seriously damaging the muscle back in August and he has had a stop-start return to action since as he tries to work his way back to fitness.
---
Reader Comments (73)
Note: the following content is not moderated or vetted by the site owners at the time of submission. Comments are the responsibility of the poster. Disclaimer
Pat Kelly
1
Posted 20/04/2022 at 21:23:24
Dropped but you can't say that anymore. Especially if you want to sell him.
Soren Moyer
2
Posted 20/04/2022 at 22:28:02
Fingers crossed he is fully fit for Paris Fashion Week next month. Tom too.
Ben King
3
Posted 20/04/2022 at 22:30:23
Why are so many down on Calvert-Lewin?
No one questioned his commitment until this season….the season in which he's been badly injured, didn't have a proper pre-season (due to England) and also had a broken toe.
Realistically he's been rushed back too soon….he's probably shown too much commitment for the cause to help out but he's just not been right and it's shown.
So we question his commitment… any chance his performances are related to the injuries? No surprise, Sherlock.
So he does a GQ magazine whilst injured… so what??? Better than drinking, playing video games, beating his wife or doing stuff that one of our other players is alleged to have done.
Are we expecting him to rehab 24/7 'to show commitment'?
The guy's been injured, he's been pretty poor since coming back, he's obviously not 100% and it's clearly impacting him psychologically as well.
But he's half-decent so we'll turn on him like we did with Stones and Lukaku.
He's our best source of goals (when fully fit) – I hope he can drown out the noise and stays and gets back to his best with us. But I also bet he won't forget the way we spoke about him when he needed support.

Paul Birmingham
4
Posted 20/04/2022 at 22:49:47
Seriously, all considered, what is the point of the Everton Doctors, Medical Staff, and Physios, as Everton, for the last 15 years, always seem to be down, consistently, with players available?
Fitness, and reliability.
Likewise with soft tissue injuries.
This adds to the general malaise of EFC.
Kunal Desai
5
Posted 20/04/2022 at 23:03:57
He's gone. Fuck him. Take the money in the summer and run. Let him focus on his fashion shows.
One season has gone to his head thinking he's Billy Big Bollocks. He'll soon be falling flat on his feet at a bigger club.
Sean Kelly
6
Posted 21/04/2022 at 00:04:40
Spot on Kunai and PK. He's not with us in any shape or form. He may as well be across the park with that lot. He finished with us and we are finished with him. No bottle for the battle.
Rob Dolby
8
Posted 21/04/2022 at 00:27:49
Haters got to hate. He has had a serious injury and is being rushed back because of the mess Benitez, Moshiri and Kenwright created.
Ben King
9
Posted 21/04/2022 at 00:51:03
Kunal #5, Sean #6
Don't you understand he's had a serious injury that's he's not recovered from. Clearly his body has been overcompensating leading to other niggling injuries.
What's he done that's caused so much hatred from you? Basically being injured and playing when not fully recovered?
Jim Bennings
10
Posted 21/04/2022 at 08:41:25
We need to cash in this summer while there is still some value to DCL.
Nobody knows what this kind of injury will do to him long-term but for a player who's game is predominantly about jumping high and athletism, I can't imagine that the injury won't be aggravated at some stage once again.
He's replaceable for the actual skill set he possesses, it's just about getting the right amount for him and doing it early enough in summer.
John Raftery
11
Posted 21/04/2022 at 12:42:33
I doubt any club will be interested in signing DCL until he proves he has regained fitness and form. As there seems little chance of him doing either in the last month of the campaign we can only hope is that he fully rehabilitates this summer and is ready to make a contribution from 6th August or 30th July depending on which league we are in.
Terry Hughes
12
Posted 21/04/2022 at 16:18:48
Grossly overrated, lazy and technically inept. Hopefully we won't see him in the Royal blue shirt again.
Derek Moore
13
Posted 21/04/2022 at 16:24:50
"The New Lukaku"
I actually do hope we see Calvert-Lewin in an Everton shirt again, if for nothing else, then it means we will be playing in the Premier League.
As a counterpoint, after umpteen managers in as many years, disastrous DoF appointments, enormous financial losses, bizarre pivots in strategy and direction – after all of this, do so many Evertonians not at least understand why Calvert-Lewin (and/or his agent) might like to get the hell out of here?
James Flynn
14
Posted 21/04/2022 at 16:33:14
Ben King - Of course he's had a bad injury and has attempted to play on it. This is the second time since he came back, he had some little setback in his quads. The Club needs to shut him down and let the injury heal completely.
Bill Griffiths
15
Posted 21/04/2022 at 16:36:37
Well said, James.
Dale Self
16
Posted 21/04/2022 at 16:45:55
Yep, stayed off of this one hoping someone like James would capture my sentiment on trashing your own. And to think a few of those appeared right after getting a much-needed point against Leicester City.
Disclaimer: I did get a few low-end jokes in on Calvert-Lewin – not for his fashion, although that was the punchline, but for his really bad timing in making an appearance while the team was struggling.
He's young and deserves to make a mistake but I was still a bit bothered about James tweeting from 10,000 feet as the team struggled and he was the temporary target of my ire.
Geoff Lambert
17
Posted 21/04/2022 at 16:54:16
Terry Hughes. Spot on mate.
Joe McMahon
18
Posted 21/04/2022 at 17:00:22
Terry and others, I had the radio on last week and it was being discussed if it would be a bad move, Calvert-Lewin going to Arsenal, as he isn't what they need? They need someone who can shoot from distance and create their own goals, and Calvert-Lewin is a poacher who is good in the air, but not one-on-ones or shooting.
They need another Aubameyang or (even harder to find) Van Persie (wouldn't we all).
Allan Board
19
Posted 21/04/2022 at 17:14:27
Just play Rondon up front for the last few games. Calvert-Lewin is clearly not fit, I doubt he will be until after the summer. All this stuff about his attitude, his off-field activities are completely irrelevant to our current plight and can only be negative.
I like Frank, but has he the bollocks to just play a fit, proper striker up front in Rondon or Dobbin, or will he bottle it and shoehorn our best player into the position and not get the best out of him?
Rondon for me because of his experience.
Howard Don
20
Posted 21/04/2022 at 17:36:15
Ben King, James Flynn - spot on.
Geoff Lambert
21
Posted 21/04/2022 at 20:03:41
It's no wonder we are in the position we are at the moment. Too many people not only willing to accept mediocrity but revel in it.
What happend to "Nil Satis Nisi Optimum"? It's been replaced by Bang Average is the New Everton.
Dave Evans
22
Posted 21/04/2022 at 21:25:25
Not slagging the living crap out of someone who is still in recovery from serious injury, has nothing to do with the acceptance of mediocrity.
Similarly, for instance. Some no-mark sloth who spends their days on a well-worn sofa scratching them and shouting 'I want only the best!' would not be my go-to person for advice on quality.

Tony Smith
23
Posted 21/04/2022 at 21:59:57
Calvert-Lewin made up his mind last summer to leave, probably tapped up and has had no interest in playing for this club all season.
Issues with his toe, and quad muscle, 2 weeks recoveries turned into months, due to start then pulling out just before a game... nah, too many people sticking up for him when he's let the whole club down.
A motivated and committed Calvert-Lewin all season and we wouldn't be in this mess. When we needed him most, he downed tools.
Geoff Lambert
24
Posted 21/04/2022 at 22:45:44
If he is still in recovery from serious injury, why would some of the best medical minds in the Premier League play him??? For fuck's sake, some right mugs on here now.
Fingers in ears, head up arse, Lalalalalalal. You can take the poster off your wall now, son.
Geoff Lambert
26
Posted 22/04/2022 at 01:23:37
Don't hate him but don't rate him; if you don't like it, jog on. I think it's the happy clappers that deserve to go down with the sinking ship. Your like a lead weight pulling it down.
Just watched a yard dog centre-half for Burnley do something Calvert-Lewin could only dream of doing. Control a ball 25 yards out then curl it in to the top corner. He has never done that in all the years he has been playing for us. That's one of the reasons I don't rate him.
Brian Wilkinson
27
Posted 22/04/2022 at 01:29:29
Well known Arsenal are after him, could a pre deal be struck last game of the season, nudge nudge, wink wink.
Kieran Kinsella
28
Posted 22/04/2022 at 02:46:06
Kunai and Sean may be a bit over the top with their criticism but the responses "low life" "piece of shit" "so called supporters" are equally unwarranted lads. I don't know about Sean but Kunai has been on Toffeeweb since time began and he wouldn't be here if he wasn't a proper fan — diplomatic or not.
Derek Moore
29
Posted 22/04/2022 at 03:01:00
This is a repost this from the Kenrick match report thread Kieran. (#28) But I think it deserves to be here also.
Posters turning on each other here for "ignoring reality" or "being too negative" are striking examples of, in psychology terms, transference and displacement.
These internecine quarrels are a perhaps an inevitable byproduct of a long and difficult period in which to be an Evertonian.
Objectively and somewhat obviously, both sides are very much in the wrong here. Neither side of the argument can win because it's an inherently flawed argument to begin with. Unless Kenwright or Moshiri or Koeman are on here under a pseudonym then it's fairly clear. None of us are responsible for what has happened to our once great football club.
Thus nobody here should assign blame to a fellow poster for what has sadly transpired. Turning on each other or losing ones rag are excellent real world examples of defense mechanisms in operation - examples my second year psych student niece is gleefully using in an assessment she is doing for her course - but they don't stand up to intellectual scrutiny.
I'd just like to urge all the posters here to try and think a bit more before posting. The only place that really suffers is sadly this actual website itself. A few have recently noted the departure of regular voices and the falling number of comments across the site. An environment where people go to routinely lash out at others is very much an environment most of us would try to avoid in our physical, day to day lives. The online space is not so very much different.
We all care, and we're all hurting. But let's not damage this website or drive away any more of our wonderful userbase. Because our club has been seemingly ruined on and off the pitch does not mean we have to extend the same treatment to here, or indeed to each other.
Whatever will happen on the pitch will happen. For those who are not match going Blues we have no influence over events there whatsoever. The players shall not hear cheers or boos from those of us who are forced or choose to watch on a screen.
But we certainly have control over our actions and words on here. Let's make ToffeeWeb great again, that's entirely within all of our sphere of influence. Let's build ToffeeWeb back better.
Let's drop the misguided if entirely understandable in the circumstances blame game. For if our worst fears are realized, many Evertonians will need this site more than ever.
Kieran Kinsella
30
Posted 22/04/2022 at 03:54:05
Derek
It was worth reposting mate. Totally agree
Laurie Hartley
31
Posted 22/04/2022 at 03:56:44
Derek # 29 - I agree with those sentiments however, personally, I would have preferred it if you had stuck with the expression "make ToffeeWeb great again instead of adding "build ToffeeWeb back better". 😉
Derek Moore
32
Posted 22/04/2022 at 04:14:03
Thanks KK. (#30)
Just trying to be even handed Laurie (#31) and not cause any more needless division, god knows we have enough of it. Typical Derek Moore though if all I do is change what we're arguing about... !
I will take into account your feelings if I ever shamelessly play at being a peacemaker wannabe Freud on here again though.
Admittedly, that's as likely as us turning over the neighbours on Sunday!
Ross Jones
33
Posted 22/04/2022 at 04:37:34
It's the first time I have posted a comment but I do read them all I admit. There is no time for bickering or having a go at anyone. We are all in this together and we have to remain together and stay strong. We are Everton, we are the best fans in the world!
I believe Burnley will get another 7 points but so will we, so that leaves us safe. 1 of those points is coming on Sunday at Anfield. Be positive, be strong, we are Everton!
Laurie Hartley
34
Posted 22/04/2022 at 05:19:47
All good with me Derek # 31 -nothing wrong with trying to be a peacemaker if it's for the right reason which I believe it is in your case - I just have an unusual sense of humour.
I have to admit there are a couple of things I have posted on here over the years that I wish I hadn't.
Brian Murray
35
Posted 22/04/2022 at 06:14:55
Feelings running high on here and probably after Sunday. We are all blues and express it in different ways sometimes. This train wreck happens when a non-football man entrusts his empire to another non-football man. No more, no less.
Mike Gaynes
36
Posted 22/04/2022 at 06:17:23
Derek #29, I'm deeply disappointed by your post, because I enjoy arguing with you so much... and this time I can't find a word to disagree with. It's perfect.
I'm one of those who has been posting less in recent weeks, simply because the relentless negativity drives me away. I log on ready to play, and I read garbage posts like #23 and just say, ah, fuck it, I'll go do something else.
If we do go down (and I still don't think so), I'll probably bail for quite a while just because I don't want to spend months reading pointless arguments about whose fault it is and who fucked up the worst and who lined their pockets or downed tools. It's boring. And depressing.
It has become harder and harder in recent years to find an online space that hasn't been taken over by keyboard warriors spewing insults from behind their laptops that they wouldn't dare deliver in person. TW has generally been one of those spaces. I hope the recent slippage is merely a symptom of our overall frustration with the club's performance and not a sign that the widespread perversion of social media has begun to poison this haven. I guess time will tell.

Derek Moore
37
Posted 22/04/2022 at 06:18:14
I may have been Buffalo Bill in a previous incarnation Laurie (#34) - I'm such a trick shot that every time I shoot my lip off it somehow ends up hitting me in the foot!
About a third of the board won't speak to me because I thought it was more important to be right than to be generous of spirit. I can't undo any of that sadly, but I can at least try and learn from it. Growth is life in many ways.
Eddie Dunn
38
Posted 22/04/2022 at 07:37:58
Well said, Derek.
On the subject of Calvert-Lewin, if he really was looking for a move, then surely he would be desperate to play to do well and show potential suitors what he has in his locker.
I have seen the recent training video at Finch Farm and he looked fantastic. I think he has been unfortunate and, if anything his keeness to play, added to our desperate situation, has resulted in him coming back too soon, hence injury niggles.
We saw in Gbamin that quad injuries can be very complicated. It is frustrating for us but I believe that the lad is a good pro and has simply been unlucky.
Trevor Peers
39
Posted 22/04/2022 at 08:41:40
Calvert-Lewin didn't do himself any favours by doing his infamous fashion shoot wearing a skirt and brandishing a handbag.
Quite how the club allowed this to happen is a mind-blowing, but this is modern-day Everton and anything is possible, I don't think any other club in the league would've allowed him to do that.
It's all very sad and an insult to all the truly great players we've had down the years, little wonder we're in such a mess!
Paul Cherrington
40
Posted 22/04/2022 at 08:59:47
Well said Derek @29 - the issue lies I believe in how many of us interact now in modern society. People seem to have lost the ability to a) discuss different opinions in a reasonable way, without resorting to personal insults or insisting anyone who doesn't agree with them is 'wrong' and b) accept that it is perfectly fine for others to hold a different view on something.
Until that changes, we will see what we seeing on here sometimes and in life in general. It is fine for example to hold your own view on Calvert-Lewin and express it – but it should be done in a calm, reasonable way that does not attack those who might think differently.
I can see both sides, to be fair. He is a decent player who has been hit by serious injuries this season, no doubt – but then he doesn't look particularly interested when he has been fit enough to play.
I think all the extra stuff outside of football hasn't helped either – it just doesn't look good to be focusing on things outside of the game when we are having such a bad season and he is meant to be 100% focusing on getting fit again. I'm not saying injured players should live like hermits but not sure modelling and doing fashion magazine photoshoots is wise.
I do also wonder if a deal has already been signed to move him on in summer and he is playing within himself somewhat, to avoid further injury which could scupper it? Just my take on it all though.
Rob Halligan
41
Posted 22/04/2022 at 09:22:16
Calvert-Lewin is taking an awful lot of stick for his attire. Justified or not, doesn't really bother me, yet his mate Tom Davies is just as bad.
Was it 2 years ago, when they were both in New York, walking the streets, and Tom Davies was wearing what looked like either a dressing gown, or a smoking jacket?
Even the latest Tunnel Access video from the Leicester game shows Tom coming down the tunnel wearing again, what looks like a smoking jacket and a ridiculous pair of trousers. Take a look on the link, it's about 5:55 in. Not as bad as Calvert-Lewin, but skin crawling none the less……..
https://www.youtube.com/watch?v=BlFwOAU59nw
Anthony Murphy
42
Posted 22/04/2022 at 09:30:51
Having only Rondon as back-up to Calvert-Lewin has cost us big time. Had Calvert-Lewin stayed fit and even had a poor season, we would be nowhere near the relegation places.
To have only Rondon as an alternative striker for a Premier League campaign is criminal.
Sam Hoare
43
Posted 22/04/2022 at 09:45:21
Couldn't care less what DCL (and Tom Davies) wear off the pitch or how they choose to spend their spare time, so long as they're not offending people (and in my view anyone who is offended by what they are doing needs to take a good look at themselves). None of that matters so long as they are producing on the pitch.
Sadly this season they are not. Obviously that is down primarily to injury and they have both been unlucky in that respect. By all accounts, Calvert-Lewin especially is someone who keeps himself in prime physical condition and works hard to stay in shape, so surely no blame can be attributed to him for this misfortune.
In terms of attitude, it is hard to say; it did seem like he was not busting a gut in recent appearances but whether that was down to injury fears or the manager's instructions to stay central, we can't really know. Maybe his head has been turned by a bigger club, though surely if that were true, he'd be fighting to prove worthy of a bigger contract?
It hasn't helped that Richarlison has struggled too in the centre-forward position that he has previously looked fairly competent in. His finishing at crucial moments has been awry and he seems to do better coming off the wing currently.
Rondon will undoubtedly get more game time over the next few weeks and in some ways it's a no-pressure hit for him as expectations on him (and perhaps the team) are so low in this tricky run. He always works hard and, if he is able to hold up the ball and help facilitate counter-attacks, then he may prove an asset.
Trevor Peers
44
Posted 22/04/2022 at 10:13:18
I can't believe anyone would condone the actions of Calvert-Lewin and Tom Davies, which IMO have badly damaged the morale of the club. Imagine Peter Reid being in the dressing room with the pair of them! He'd have sorted them out long before even considering their 'fashion shoots'.
But he was a warrior – something sadly missing from the present bunch of misfits. I saw him recently speaking at an Everton Legends show in Warrington. Still hugely charismatic and wearing his Everton heart on his sleeve, his winning spirit is what is missing from our present dressing room.
Kunal Desai
45
Posted 22/04/2022 at 10:49:21
We were once a professional outfit back in the '80s, coinciding with winning trophies. We couldn't be poles apart right now and possibly over the last 25 years.
This situation around Calvert-Lewin is symptomatic of the club and the malaise in general that's fed down over the decades. It's nice and easy and cosy, no need to put in any effort, down tools whenever it suits you and it goes unnoticed. All traits stemmed down from a chairman who is an abject failure but many still respect and hold in high regard.
I imagine Calvert-Lewin will be up and running come August at a new club. Little effort and big reward as already seen over the years with players, and it's still happening and will continue to happen.
Everton is easy money.
Derek Moore
46
Posted 22/04/2022 at 11:47:15
Mike G (#36), I somehow knew you would get what I was trying to say even as I was writing it. I'm touched by so many on here generosity of spirit and, in that regard, I consider you first among equals. I too hope it's merely a consequence of a truly dismal season, but as you rightly say. Time will tell.
I share your hope in a resumption of spirited but respectful debate in the near future.
Eddie (#38) - thanks, I do appreciate it.
Paul C (#40) - again you just get it. The way we feed our ego through the ubiquitous phone and device has not been properly studied, let alone understood. As a species, we are all too often off leaping before we look, and the smartphone era if anything appears to have accelerated that.
We're years and years from being able to properly quantify the effects of this digital age. I have a suspicion that an unwillingness to compromise and much shorter attention spans may well be a price we – as a species – have paid without ever being asked if we wished to pay it.
To everyone who read my post, may I thank you and apologize if it seemed excessive or otherwise indulgent. That was not my intent – although I understand lack of intent often provides limited mitigation. Let's just try to be as patient and kind as we can to each other until we get to the other side of this thing.
When we get there, normal service may resume again.

Des Farren
47
Posted 22/04/2022 at 12:25:08
Mike # 36. Could not agree more. I have withdrawn from TW for some months now for the very reasons you state.
Chris Leyland
48
Posted 22/04/2022 at 12:39:06
Rob Halligan - if what someone is wearing is "skin crawling" for you, that probably says more about you than them. Who cares what Tom Davies wears? How does it impact on anyone's life and what bearing does it have on how the team are performing on the pitch?
He can wear what he wants as far as I'm concerned because I'm more focused on hoping we get enough points from the remaining games to sneak over the line.
Kieran Kinsella
49
Posted 22/04/2022 at 14:19:11
Mike Gaynes
To your point on the blame game, I thought about this last night in Danny O'Neill mode while walking my dog and, after about 5 seconds, I realized the list is so long going back to Philip Carter that there's no point trying to narrow it down.
Rob Halligan
50
Posted 22/04/2022 at 14:31:47
Chris #48,
Yes, you're probably right, it probably does say more about me than Calvert-Lewin or Tom Davies, in that I wouldn't be seen dead in what they wear, as long as they do the business on the pitch. As I said, it doesn't bother me one bit, they can walk around wearing just a fig leaf for all I care.
Is it skin-crawling? Maybe not, as that would appear I'm contradicting myself when I say I'm not bothered what they wear.
Steve Brown
51
Posted 22/04/2022 at 14:59:18
"I can't believe anyone would condone the actions of Calvert-Lewin and Tom Davies, which IMO have badly damaged the morale of the club."
What actions are you talking about, Trevor? The only thing they done wrong is have the temerity to get serious injuries after 4 seasons of being constantly fit and available. If they want to photo shoots in their spare time, or push their fashion sense then go for it. Honestly, they could play with a white mini skirt as long as they played well.
As for Geoff Lambert, when I read his posts I am reminded of Jack from Father Ted - 'drink, feck, arse!'
Mike Gaynes
52
Posted 22/04/2022 at 17:07:54
Trevor #39 and #44, can you explain how Dom's attire was an "insult" to all our great past players? No, of course you can't.
Or how he and Tom have "badly damaged the morale of the club." Been talking to the players about it, have ye?
Or how you know how Peter Reid would have felt about it 40 years ago (or how he feels about it now, for that matter). Pal of yours, I presume?
Nah. None of the above.
It's YOU who feels insulted and whose morale is damaged. It's you who thinks it's still 1982 when clubs could forbid players' outside commercial activities. You wanna project your feelings onto the club as a whole? Sorry, not buying it.
Not one bad managerial hire, not one injury or arrest or absence, not one missed shot or defensive blunder, not one overhit cross or underhit corner or missed connection can be blamed on two young men posing for pictures in silly outfits. There are many, many reasons why this club is doing poorly. That ain't one of them.
Andy Crooks
53
Posted 22/04/2022 at 17:19:37
The only concerning thing about what any of our players wear is how it angers some posters. That is strange indeed.
Calvert-Lewin has been luckless with injuries and that is one reason why we are in this mess, in my view.
Not everything that happens is sinister.
Trevor Peers
54
Posted 22/04/2022 at 17:47:45
Posing like clowns doesn't help our battered image, but hey if you're all okay with it, good luck to you all. Let's see where it leads us, eh, Mike @52.
Michael Kenrick
55
Posted 22/04/2022 at 18:16:50
I just saw Rob mention something on another thread and it got me thinking.
Yea, we say it's alright for them to wear what they like to "express themselves"... but what if, for the sake of argument, it attracts the kind of negative comment we have seen posted here – only on the field, in the game, from opposing defenders???
Sledging by any other name.
What if merciless on-field banter from the opposition is having an effect on Calvert-Lewin's game? And it's a direct result of what he has been wearing to express himself, and it has so impacted his game that he has been next to useless (bar one assist) for Everton since he came back?
Or can't we even ask the question?
Dave Lynch
56
Posted 22/04/2022 at 18:25:04
If he had any balls he'd smack anyone who took the piss out of him. Or at least put a tackle on him during play. Or at least let his football do the talking.
He does none of the above, and I don't give a shite how he dresses, just show you care, Dom.
Dale Self
57
Posted 22/04/2022 at 18:27:09
If that's the case (see: Zouma) then that is a case of if the dress fits wear it, sorry had to do it. And deal with it. It is okay to do whatever as long as you can bear the weight of the response to your actions especially considering you represent the team even with your personal public displays.
Brent Stephens
58
Posted 22/04/2022 at 18:33:00
Tell them to zip it.
David Thomas
59
Posted 22/04/2022 at 18:43:26
Calvert-Lewin has been playing for Everton's first team for 6 seasons and has only ever scored more than 15 league goals in one season. He's not some kid breaking into the team. He will be 26 next season.
If anyone's stupid enough to bid big money for him then snatch their hands off. Would anyone on here be happy if we were paying huge money this summer for a 25-year-old with his scoring record?
Joe McMahon
60
Posted 22/04/2022 at 18:59:47
No matter what division we are in next season, I just want him gone. I have been given stick before for not believing he will make a proven goalscorer, unless it's 5-yard tap-ins, I just can't see it.
Even an inform Danny Ings would have been more effective. I still feel instead of all the Lukaku money being spent on Keane, Sigurdsson and Pickford, maybe should have offered a big sum for Vardy. 5 years ago, he was scoring a lot of goals, and yes from outside the 6-yard box too.
Brian Williams
61
Posted 22/04/2022 at 19:29:58
How quick we are to turn on our own players in times of trouble.
How quick we are to judge when we basically have no facts to back up our judgement.
How depressing it is to return to ToffeeWeb to witness it.
John McFarlane Snr
62
Posted 22/04/2022 at 19:43:26
Hi Mike [36],
I believe that I may be one of the posters who communicate less frequently because of the negativity and character assassination that prevails on this site.
There's nothing wrong with criticism if it's constructive, for me it's sufficient to say, "I thought player 'X' had a poor game today" but I find it difficult to accept some of the descriptions of a player's performance, by some posters who have hardly kicked a ball in earnest.
It's also my belief that anyone who earns a living playing football can 'actually play football', maybe not to the level of top flight players, but better than the 'fantasy footballers' who deride them.
Geoff Lambert
63
Posted 22/04/2022 at 20:03:21
Steve #51,
You religious sanctimonious god-fearing types always amuse me. never watch anything with priests or hymns in it. Especially that shite Mrs Brown's boys.
Michael Lynch
64
Posted 22/04/2022 at 20:21:33
Michael @55,
Calvert-Lewin is a big strong lad, and if a centre-half whispered "go on, hit me with your handbag" at him, the worst that could happen would be that he'd piss himself laughing at the bellend and take a few seconds to recover.
The only thing that might upset him would be the defender turning it into a racist comment as well, but that would lead to a massive ban for the defender. Probably be the same outcome if it was a homophobic comment (not that I'm suggesting Dominic is gay because of the way he dresses – but he strikes me as the kind of guy who wouldn't stand for homophobia on the pitch).
I hope he turns up to Goodison next week dressed in a leopard-skin thong and a pink fedora, just to wind up the bigots.
Rob Halligan
65
Posted 22/04/2022 at 20:32:50
Michael # 55.
Sledging is only allowed in cricket in-between balls being bowled. Fielders are not allowed to "Sledge" once a bowler is in his run up to bowl. However, in football, sledging can occur at any time during a game, although I've never heard of it happening.
When I was playing, it happened all the time, just to try and wind your opponent up and get some sort of reaction from him etc.
I can well imagine Calvert-Lewin getting some nasty comments from defenders, just to try and put him off his game, and it's something I can well believe Pickford will receive on Sunday, and he is probably the one to react for something said to him.
George McKane
66
Posted 22/04/2022 at 21:08:57
I couldn't care less what anyone wears- it is their choice - me - I am nearly 73 - wear long white "Dress" type shirts - 7 or 8 ribbons around my neck - unusual colour and style coats and very colourful scarves and have had a shoulder bag as well as sort of baskets to carry my stuff - have very long hair - wear headbands - some with flowers on them - I have dressed this way in all circumstances - including going to the match - home and away - for more than 28 years - of course I get the odd bit of stick and abuse - I do not accept it but I also don't care - I am here to do what I want - without hurting anyone else - but although not a footballer I make my living by my wits/skills - but it is for me about getting on with my work rather than being obsessed about my looks - there are many reasons for the ribbons/hair/dressshirts - having said all that - I really couldn't care less about DCL's image but I simply do not rate him very highly as a goal scorer - I guess Alan Ball's boots offended some - but he had the sublime skills to carry anything off.
Will Mabon
67
Posted 22/04/2022 at 21:19:40
Tom Davies can wear what he wants. The various opinions however, are elicited by
his
choice of clothing. The expression of freedom to dress as he wants must be balanced with the fair understanding that people are equally free to have their opinions about such expression - and to state them.
My view is, in that tunnel shot he is a poor representation of the club at a professional football match; at his place of work. There is a time and a place for making a fashion statement. He looks like a clown. He's also well aware of the impression made on the match officials there.
We're all "Free" - but try going to work on Monday in a purple skirt. Or attend a funeral in a banana yellow jumpsuit.
Bobby Thomas
68
Posted 23/04/2022 at 01:13:41
That's Calvert-Lewin pretty much done for the season as he hasn't looked anywhere near 100% fit since coming back way too early.
Danny O'Neill
69
Posted 23/04/2022 at 08:28:06
As you call it George, an individual can dress as they want and that includes footballers. I'll judge them on their footballing ability based on my own views and opinions on the game.
Maybe catch you at Chelsea home next week.
Will Mabon
70
Posted 23/04/2022 at 16:11:14
Danny, how about DCL and Tom wearing a skirt on the pitch while playing?
James Hughes
71
Posted 23/04/2022 at 16:27:48
A strange thread, if this was the late '70s and Tom and Dom were Punks and sporting mohawks, would we care?
Or the Early '80s and New Romantics? I will happily admit I thought I was as cool as Spandau Ballet at the time but probably looked liked like a dick to most other people.
The point being fashion changes and sometimes so do opinions. However, most people do not like being challenged by things outside of their comfort zone.
I do doubt that a few remarks on the pitch by opposing players would be anything new to either of them.
Will Mabon
72
Posted 23/04/2022 at 17:14:50
James, I know what you're saying. I've had my moments too. Having lived through those eras, I would say, yes, people would have made comment about how people dressed/looked in certain settings.
If any injured players had turned up to watch at Goodison in 1977 with yellow hair and covered in zips, safety pins and paper clips, it wouldn't have gone down so well. It's not that people have to comply with any sort of dress code, but at their place of work and as a representative of the club, it's sort of grown-up and respectful to do so.
As to Tom and Dom – I don't think Tom was setting any sort of trend there, he just looked comical. Calvert-Lewin is playing push-the-gender-boundaries as much as trying to be "Fashionable". We'll see if he ever turns up to watch a game in his skirt and with handbag, and how it's received.
But anyway, what would you think to them playing in a skirt?
Danny O'Neill
73
Posted 23/04/2022 at 18:23:49
Forget punks and skirts. Footballers have always been champions of fashion. George Best, his big long fur coats and flares. And those awful perms of the 80s (sorry to anyone who had a perm and wore flares).
Will, as long as they don't go back to those uncomfortable to wear / uncomfortable to look at incredibly tight and high riding shorts of the mid 80s!!!
Mike Gaynes
74
Posted 23/04/2022 at 18:37:09
Brent #58, tell them to button up.
Will Mabon
75
Posted 23/04/2022 at 18:46:00
Danny, those shorts, terrible, definitely could do some damage.
---
Add Your Comments
In order to post a comment, you need to be logged in as a registered user of the site.
Or Sign up as a ToffeeWeb Member — it's free, takes just a few minutes and will allow you to post your comments on articles and Talking Points submissions across the site.