Liverpool vs Everton
Match Preview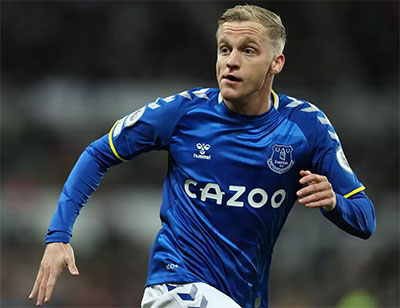 Like André Gomes, Donny van de Beek has a slight groin problem while Dominic Calvert-Lewin remains sidelined with further issues with his thigh
Everton cross Stanley Park for what might be the least anticipated derby by the Blue side of Merseyside in living memory.
The team with the best home record in the Premier League hosts the worst away side in the 240th edition of this historic grudge match, with the Reds chasing the title and the Blues scrapping for their lives to stay in the top flight.
Rarely, if ever in the modern game, has this fixture appeared so lopsided on paper but Frank Lampard will, no doubt, be drumming into his players the fact that, in football, anything can happen and that, when it comes down 11 vs 11, there is always hope of springing a surprise, particularly in a local derby.
Though it was done behind closed doors last season, the Toffees have at least ended that painfully long run without a win at Anfield and, while James Rodriguez won't be around to lay on defence-splitting balls for Richarlison, the Brazilian will be there to hopefully repeat his heroics, this time in front of a packed house.
Article continues below video content
Three players who won't be in the line-up are Donny van de Beek, André Gomes and Dominic Calvert-Lewin, all of whom have been sidelined by knocks picked up in training.
"We've got a couple of small injuries," Lampard said in his pre-match press conference at Finch Farm. "Donny van de Beek won't be fit. He's got a small injury in his groin area, his pelvic area. Andre Gomes is another small one this weekend."
Yerry Mina may also be rested after playing the full game against Leicester City on Wednesday. It was the Colombian's first action since being forced out of the defeat at Newcastle in February and, given his injury record, the club's medical staff are likely recommending caution to ease him back in.
"That's a decision I'll have to make closer to the game, because of the tight turnaround," Lampard explained. "He's an important player to us and we've got to understand we've got six more games after this."
Calvert-Lewin, meanwhile, has been dogged by niggling problems in the thigh he so badly injured last August. The striker returned from a 4-month lay-off earlier this year but has looked far from his normal self and has been in and out of the line-up in recent weeks.
"I think every player has potential underlying problems," Lampard said of the England international striker. "No one's a machine and this is a tough, demanding industry. I think Dominic's like every other player. He's had a bad run."
Whether the manager goes with a straight swap and centre-forward and deploys Salomon Rondon remains to be seen. The Venezuelan played the last 25 minutes against Leicester in midweek and had a hand in creating a chance for Richarlison to put the Blues' first shot on target soon after coming on. He was also involved in the dramatic equaliser that the Brazil forward scored in stoppage-time.
"[It's good] when you have some options at the front end of the pitch," Lampard said of Rondon. "He's trained well and I know what he can bring for us. He's a smart player, experienced player and a good player."
The other option is to go with a similar line-up to the one that started so sluggishly against the Foxes, and use the pace of Demarai Gray and Anthony Gordon either side of Richarlison, which would mean a greater reliance on the counter-attack as a strategy as opposed to Rondon's added physical presence and aerial ability.
A point for Everton would represent an excellent day's work but the first priority, with goal difference in mind, must be keeping things tight; a win would be the stuff of miracles but then that is what football is all about and why they play the games.
Kick-off: 4:30 pm, Sunday, 24 April 2022 on Sky TV in the UK
Referee:Stuart Attwell
VAR: Darren England
Last Time: Liverpool 0 - 2 Everton

Predicted Line-up: Pickford, Coleman, Keane, Godfrey, Mykolenko, Delph, Allan, Iwobi, Gordon, Richarlison, Rondon
---
Reader Comments (236)
Note: the following content is not moderated or vetted by the site owners at the time of submission. Comments are the responsibility of the poster. Disclaimer
Marc Hints
1
Posted 22/04/2022 at 13:46:08
Great... Van de Beek and Gomes injured now as well!
Bill Gall
2
Posted 22/04/2022 at 13:56:08
They will not be missed. I can't remember the last time Van de Beek played to really rate him.
Christy Ring
3
Posted 22/04/2022 at 14:49:01
Van de Beek injured again. Injuries have hit us hard in specific areas. Across the road, none of their main men have missed a game.
Rob Halligan
4
Posted 22/04/2022 at 15:03:08
Christy, they lost one player last season through injury, and have never let anyone forget about it.
It's the reason why I think Pickford should not play on Sunday, because he will get slaughtered by the steaming RS because of that injury. I understand that professional players should be able to laugh off any abuse thrown at them, but I think Pickford will bottle it up, before exploding in one way or another and do something rash.
I don't know if sledging occurs in football matches, but if it does then Pickford could be in for a torrid time.
Alan McGuffog
5
Posted 22/04/2022 at 15:12:44
Leaving aside serious injuries, if players suffer a minor niggle and they play for a successful barnstorming side, then they will tend to hide it and play through it.
If, on the other hand, a player is expected to play in a shower of shite, he will look for any reason to hide in the treatment room.
Chris Leyland
6
Posted 22/04/2022 at 15:47:41
Rob, I agree. Pickford should be nowhere near this game. The circus that will engulf him and the bloke he collided with will be a distraction.
He will be goaded by the crowd for the whole game and could then have one of his rushes of blood where he comes steaming off his line when he doesn't need to.
He did it against Burnely and we conceded from the throw-in and he did it the other night against Leicester in the 2nd half but got away with it.
Kieran Kinsella
7
Posted 22/04/2022 at 16:14:14
Rob & Chris,
I don't get the logic. Pickford can be exceptional but may have a mishap. Begovic is old, slow, at best a modest keeper. So you'd rather settle for the modest option rather than the option which could be a game winner?
Alan
Yes it's amazing how we have so many "niggles" in this squad. Imagine if a medal was on the line. Would Gomes and Co be skiving off so often?
Mike Gaynes
8
Posted 22/04/2022 at 16:40:25
We need to use our best keeper.
Joe McMahon
9
Posted 22/04/2022 at 16:51:15
No Pickford for me either. He also doesn't perform well at Anfield (do any of them). But twice he's gifted them last minute goals (and gifted they were too).
Tony Abrahams
10
Posted 22/04/2022 at 16:57:28
He's not my favourite player but I'd play Pickford. Maybe if we play very deep, Begovic might be the better bet, but with nothing to lose maybe Jordan Pickford could have one of those games which might even highlight who are the bitterest set of fans in this city. Because he'll take even more stick if he plays well!
Michael Lynch
11
Posted 22/04/2022 at 16:57:57
Yes to Pickford, he's our best goalie and we're getting beaten anyway so the odd mistake won't matter compared to the shots he'll stop to (hopefully) prevent them getting double figures.
I agree about the little injuries - if we were going for glory they'd play through the pain, and if they cared whether we stayed up or went down, they'd play through the pain. Donny and Gomes aren't really that arsed - the former is going back to Old Trafford soon, and the latter going to a Portuguese or Spanish side I should think.
We need a complete clear out of this dreadful squad. Pity we ain't got a pot to piss in.
Gary Jones
12
Posted 22/04/2022 at 17:08:33
I don't think we'll see Van de Beek again in blue. He can see Ten Hag landing at Man Utd, and will be fancying a couple of months chilling with his new kid ahead of pre-season. Whether he plays for us again or not, will have zero bearing on his career from here. He'll join Tosun on the "free gravy" train for the next two months.
Gomes has never (and will never likley) recover from the injury by Son. He's also in contract for another 2 years+ so has no need to risk further issues by playing with a niggle cameos in the Championship next seaso, or a freebie move in the summer beckons – and playing this week or next makes no difference.
I think there are also big questions on whether the likes of Delph, Kenny and Dele Alli will be risking injuries, even if they play, but I think the first two will need to show they are worth another club coming in.
Dele is similar to Gomes in he's getting his £100k a week for the next 2 years, regardless of division, so does he really need to chance an injury running at 100mph and fighting for the ball?
Think we're on a hiding to nothing Sunday anyway. I think the only hope we have is getting pace up top (to exploit that horrendously high line they are going to play), getting players in who must or will graft, and telling the defence and midfield to "boot it towards the furthest away enemy corner flag you can, every time you can".
I'd still go 4-5-1 in defence, with a strict, 4-3-huge gap-3 when attacking:
Pickford
Holgate Keane Branthwaite Godfrey
Gordon Allan Delph Doucouré Richarlison
Dobbin
Dave Lynch
13
Posted 22/04/2022 at 17:08:45
It doesn't matter who is fit. This is going to be damage control, they will want to boost their goal difference in case it goes down to the wire with Man City. This could be very, very embarrassing for us as a club.
The thought of that vain German twat's face with his plastic teeth, hair transplant, lasered eyes and Botox forehead gloating to the press and walking on the pitch, fist-pumping after the game is making my blood pressure erupt already.
The Teutonic twat hasn't got an ounce of class in his body.
Terry Hughes
14
Posted 22/04/2022 at 17:12:53
No Pickford for me either. He gets wound up a treat whenever he plays the barcodes at St James Park and he'll get wound up a treat at Anfield too.
He's always prone to episodes of rashness, lapses in concentration and just downright weird actions only he can explain, in fact as I've always stated I think he's on the autism spectrum and needs testing for it. I get the argument that Begovic is old and slow but I'd still play him.
Look, whichever team we do put out we're still gonna get slaughtered.
Tony Abrahams
15
Posted 22/04/2022 at 17:21:52
I heard Benitez thought he could get Gomes out the door when he first came in but then, just like he did with a few of the others, he realized that he had no chance once he heard how much money they were on.
I'm obviously being serious when I say I heard Iwobi was supposed to be one of those players, but I'm actually glad he's still playing for us now.
Is this how bad things really are, or is this because Iwobi has suddenly turned into one of our few energetic players? I'm not sure, but I hope he can keep his massive improvement going, now he's beginning to look like a real footballer.
Mike Gwyer
16
Posted 22/04/2022 at 17:26:03
Tony #10
I think its a given that we will play deep. We got right arsed kicked when Benitez had our back four sitting on the half way line for the Goodison derby. Surely Lampard will be well aware of that.
With Lampard also stating that Mina will not be rushed, I'm guessing it's Keane and Godfrey holding the centre-back fort. Now turning, speed and a high back line will have Keane breaking out in sweats so I'm confident we will be sitting deeper than deep at Anfield, probably in line with Pickford if I'm being honest.
Can't see further than Pickford in goal, for me it's something that will piss the choir boys off sitting in the Kop, absolutely nothing wrong with that.
Tony Abrahams
17
Posted 22/04/2022 at 17:35:19
I'm trying not to think about it for long, Mike, because however many defensive permutations I can think of, none of them make me feel any better.
I've already said on one thread, I wouldn't play Mykolenko because I think he's very weak on his right side, and this is the exact area that Salah loves to exploit, although the kid is definitely improving.
Gerard McKean
18
Posted 22/04/2022 at 17:44:22
Gary 12, I like your team and its set up. We can't expect miracles of Dobbin (yet) but his pace would mean that he'd keep two defenders occupied just by being on the pitch.
Dave 13, I share your distaste for their manager but by making reference to his nationality you are perhaps inadvertently crossing a line into racism. There are many on TW who appreciate German football and some of us actually like Germans. I even married one!
Dale Self
19
Posted 22/04/2022 at 17:58:28
Tony, Iwobi's movement and improvement is down to playing a No 10 role. We desperately need someone running through the middle to drag coverage with them at minimum and he has decent vision for laying a productive pass into space.
Frank is willing to use Iwobi there because he wants a possession style game to reduce the exposure of our back line in transition. Iwobi realized this was his chance at this club and has taken to it well.
If Frank can figure out how to limit turnovers from the back line or prevent quick out passes from the opposition on change of possession, it is a decent proposition. He hasn't figured that out yet which is my main concern, we are playing a high-risk strategy and we don't have the midfield to cover the breakdowns when they occur.
Dave Lynch
20
Posted 22/04/2022 at 17:59:12
Gerard @18.
It was a veiled reference to Mel Brooks movie Blazing Saddles.
No racism intended, I still fucking despise him though.
Mike Gwyer
21
Posted 22/04/2022 at 18:02:46
So glad to hear the shout for Dobbin, with his pace alongside 2 of Richy, Gray or Gordon we can lump the ball into space and give their back 2 something to think about. That lot do it all the time, lumping balls over the top for Mane or Salad to chase.
Not long ago, Wimbledon did the same thing and everyone slagged it off as long ball but Liverpool do it all day long and the media now seem to love it...
Tony Abrahams
22
Posted 22/04/2022 at 18:13:56
Yes, Dale, playing inside has definitely helped Iwobi, but one of the reasons I love going to the match rather than watching on the telly is because you can see everything. I know it's easier from the stands, but if Iwobi had a bit more vision, he would have definitely played Gordon in during the first half the other night!
But he's definitely improving, and my own opinion is that Lampard will only be able to play a possession-based game with different players, Dale, although he could protect the back four a lot better with a change of system, just like he did in that Man City game a few weeks ago.
Lee Courtliff
23
Posted 22/04/2022 at 18:31:16
Not sure where to post this so I'll just put it here.
Being from Burnley I'm currently hearing numerous stories/rumours about why Sean Dyche was fired. Today, I was talking to a local businessman who has ties with the club and he was telling me all kinds of tales about Dyche.
The main one being that Alan Pace (owner of Burnley) found out that Dyche has informally agreed to take over at Everton in the summer!! So, he immediately fired him.
How much truth there is in this is probably Zero but I thought I'd share it with you all.
Other stories about him include being an absolute tyrant behind closed doors, a real My Way or the Highway kinda guy. And how he doesn't allow his players to give their opinion on a game, they just sit there and listen to him pointing out what he likes/dislikes about the game then he immediately stands up and leaves the room!
This is along with him getting into a fight on the training ground with Max Cornet and Wout Weghorst but my favourite was when he went out on the piss with Duncan Ferguson after our game there a few weeks ago and both of them ended up in a nightclub and got into a fight with a bunch of lads!
They're almost all complete and total fiction but quite entertaining. Especially when you've had to listen to Burnley fans banging on about him for the last decade, like I have.
Gerard McKean
24
Posted 22/04/2022 at 18:33:43
Dave, 20, my apologies mate; now you mention it I remember the line. One of the funniest films of all time, it couldn't be made today!
And I do not take to the guy either. For me it's the artificialness, on the inside as well as what we see on the outside. I was at a party when he was also there. It was full of RS fawning all over him. I was stood there having a beer and obviously someone set him up to come and speak to me in German. He came over, introduced himself politely and asked why I was an Evertonian. He looked gobsmacked when I simply recited in his language some famous lines that begin, "Evertonians are born, not manufactured…."
I finished by saying that I was born in Liverpool not Oslo and to be fair he took it all in good humour. But I still detest him!!
Dave Lynch
25
Posted 22/04/2022 at 18:37:32
No worries Gerard, stay safe buddy.
Kieran Kinsella
26
Posted 22/04/2022 at 18:51:25
Lee
Somewhere on Twitter someone is reading each of those tall tales and taking them as gospel.
Gary Jones
27
Posted 22/04/2022 at 18:56:43
Mike @ 21 - agree completely. That "very" long diagonal ball is a massive part of their armoury. Pins teams back, and stretches defenders to leave space for whoever is on the other flank to get in the box.
Richarlison or Gordon 1:1 after a long ball would be so much better than Richarlison or Gordon vs 6 after CB1 passes to CB2 seven times before Pickford lumps it anyway. We're in denial.
Villa once mullered them 7-2 with a young Watkins, Barkley and Graelish exploiting that ball over the top. No idea why others don't do it more to them and try and pin them back a little too.
Alan McGuffog
28
Posted 22/04/2022 at 19:27:26
No Gomes or Van de Beek eh? Klipperty will sleep easy this weekend... he must have been wetting himself.
Phil Smith
29
Posted 22/04/2022 at 19:43:20
Dave (13). Is that a Blazing Saddles reference? Hahaha.
I really don't want to watch this game. We'll get nowt from it.
Maybe play someone like Dobbin for this as it'll be the last thing they'll expect. Just constantly hit long balls over the top and have Richarlsion spin in behind also (although he's always offside). Gray and Gordon are also pretty pacy. We need to use this but we probably won't.
Brian Murray
30
Posted 22/04/2022 at 19:45:05
Let's cause uproar/ outrage and leave a shiester with cruciate damage again so they can focus it in parliament. Anything to leave our mark and at least help Man City before we take our bow out of this biased Red Sky Premier League. Sorry – just feeling sorry for my / ourselves,
Lev Vellene
31
Posted 22/04/2022 at 19:54:14
So, no one can have any excuse for not stepping up, right? I don't care if we lose (I sort of expect it...), but I really hope the lads will fight until they fall over! Anything less is beyond the pale!
I totally disagree with those thinking Jordan will be a weak link, though! He did silly things, especially while taunted by Newcastle's fans that one time, very long ago. He seems to have quickly learned from that feast for the media, though... :)
Nick Page
32
Posted 22/04/2022 at 19:59:10
Lucky as fuck deal with the devil long ball kick and rush caffeinated asthmatic cheating win at all costs gloating bastards. Absolutely despise them and the big red media love in. It's sickening. Average 1 red card every 43 games under Bingo. Most penalties in the Premier League. Most injury time goals but it's still "Fergie time". Laughable.
Only one team could get ever away with this behaviour.
David Bromwell
33
Posted 22/04/2022 at 20:36:00
How depressing can this week get? Sadly I know the answer, it can get much worse. Anyway, we have to give it a try so Frank let's start with our best available eleven on Sunday and hope that we can put in a performance and just maybe!!!
My team, Pickford, Godfrey, Keane, Branthwaite (big lad, left foot, performance at Chelsea etc) Mykolenko, Delph, Doucouré, Iwobi, Gordon, Rondon, Richarlison. And on the bench and to be used depending on how the match progresses: Coleman, Mina, Allan, Alli, Gray, Dobbin.
I think Frank has generally not used his substitutes well and, in this game, he really needs to up his game. As I am thinking, at some time, we may need to go to Plan B – always assuming that unlike on Wednesday we will have a plan. Feeling better already.
Matthew Williams
34
Posted 22/04/2022 at 20:36:23
No great loss with the three above...all below average this season anyroad.
Peter Carpenter
35
Posted 22/04/2022 at 20:39:32
Leave out your best goalkeeper and play your second best goalkeeper? Good idea, that…
Pickford has coped with loads of flack recently. He will be fine. Give him some credit for putting that issue right.
Ashley Roberts
36
Posted 22/04/2022 at 20:43:55
How on earth do we get so many players injured during training. Calvert-Lewin, Van de Beek and Gomes all out through injuries that they did not pick up in an actual game. What is it with Everton and injuries this year?? We certainly have been cursed.
Sunday has to be a 4-5-1 set-up for me. I am going with the following using Dele as a false #9 since Rondon just doesn't have any pace.
We need legs in midfield and that is why it has to be Doucoure instead of Delph for me. Also Mykelenko should be rested for this game as, at the moment, he won't be able to cope with the intensity of the game.
Pickford
Coleman, Keane, Mina, Godfrey
Gordon Doucoure Allan Iwobi Richarlison
Dele
Rob Halligan
37
Posted 22/04/2022 at 20:50:12
Peter, Pickford is a certainty to start on Sunday.
Just because I think he should be taken out of the firing line doesn't mean it's going to happen. I would play Pickford every game, and I just hope he can laugh and smile at those steaming red shite bastards behind the goal, and take all the abuse that's coming his way.
It could well work in our favour, and make him doubly determined to keep a clean sheet, and shut the bastards up.
Paul Birmingham
38
Posted 22/04/2022 at 20:52:13
I hope Everton turn up and wipe the floor with the smug RS, can't do anything wrong perfect players, playing the perfect game.
If Lampard watched their game v Manure then hopefully he will have learnt some of the basics of not what to do, at any level of football.
The Everton midfield centre concerns me but I'm thinking of playing Rondon, as a lone striker, to rough up their defence, but where will the feeds come from, to get to Richarlisons and Gordon on the flanks.
Them two players will give their all, as they do, but the RS shower will perhaps be overly confident, they could slip up, and their keeper is as calamitous as some of their former keepers.
Focus on the game and give their best, take the chances, shoot on site, and hopefully the officials won't take the piss.
So start with the same team as Leicester, and start from the off like their playing careers are on the line.
UTFT!
Ian Riley
39
Posted 22/04/2022 at 20:55:33
Sounds like the players are fighting more in training than in matches. Let's hope this trend changes before the season is over!
Paul Kossoff
40
Posted 22/04/2022 at 21:03:04
How come those twats never get injured? Any type of injury? Doesn't matter how big or small the team they are playing, that side will always have injuries or suspensions.
God help us on Sunday, they will have the VAR and the ref with them. I would give them the 3 points and not bother turning up. Hate them with a vengeance!
Tony Abrahams
41
Posted 22/04/2022 at 21:08:54
I was thinking something along the same lines as that team, Ashley, but would maybe start with Rondon, and tell him to try and just give us a good hour, before maybe replacing him with Alli, who I think is much better, quicker and more effective running forwards rather than backwards. (But maybe play Holgate in midfield, for a bit of defensive discipline, honestly!)
I'd swap Gordon for Gray around the same time, and look to then play off Alli, who has got the potential to play people in, or ghost into the box, and although this would be my dream scenario, I'm also very aware that football is a much harder game than this in real life.
Liverpool are definitely going to try and hustle and bully us early on, and this is when we have got to stand up strong, but we have also got to look to counter-attack them, otherwise it's going to be a very long afternoon.
Effort can definitely go a long way in these games, and can definitely hide a multitude of sins if we are lucky!
Mike Owen
42
Posted 22/04/2022 at 21:28:34
I'd go:
Pickford;
Coleman, Branthwaite, Keane, Godfrey;
Gordon, Doucoure, Allan, Delph, Richarlison;
Rondon, Dobbin.
I know it's 4-5-2, but they'll have the ref on their side.
Probably need plenty of height in the side, given the number of goals I hear they are scoring from corners.
And I'd be happy to see Kenny playing; he'll know what to expect and will have the right mindset.
Clive Rogers
43
Posted 22/04/2022 at 21:29:54
Iwobi is playing with more energy but he is still poor. There is no end product. No dangerous crosses, no telling through balls.
All the midfield were poor on Wednesday and Iwobi gave the ball away countless times.
Neil Copeland
44
Posted 22/04/2022 at 21:44:25
Mike #42, looks good to me but why not throw Gray in as well? We can then have 3 on the half-way line during their corners and still have 9 men back defending. The VAR will be on their side too so only fair to even things out a bit.
Mark McDonald
45
Posted 22/04/2022 at 21:50:03
It maybe an unpopular move but lets face realitity - does anyone think we will get 3 points?
If not lets at least pick up a point by playing 10 men behind the ball. Put 2 men on the posts for corners. Hardly cross halfway. Defend for our lifes.
I would love to hear the commentators/red shite pundits not getting their predicted 4-5 nil victory.
Frank ask Simeone for a gameplan. If you want to walk away with a point. We need all we can get just do not throw 3 points away.
Kevin Prytherch
46
Posted 22/04/2022 at 21:55:16
Man City showed how to trouble Liverpool the other week, they defend that high that balls over the top can trouble them.
Knowing this, we either play Rondon as a centre forward to hold up the ball and rely on Richarlison or Gordon to break from the wings, or we play someone pacy like Dobbin for balls over the top. I fear that if we do the latter, Van Dijk will be to clever for him and completely nullify him, so I would go with the former.
As for the rest, a back 4 of Holgate, Keane, Mina and Godfrey would be my choice, with Delph, Allan and Iwobi in midfield.
Pete Jeffries
47
Posted 22/04/2022 at 21:58:39
I don't want to see Holgate or Kenny on the team sheet, both get too caught up in narks and bad fouls at Anfield.
If we can survive the Klopp blitzkrieg for the first 30 minutes, that's when they usually run round like madmen, score a couple, and finish the game.
While Van Dijk sits in his armchair asleep, our only hope is to push up and attack.
As mentioned by the late Jimmy Harris, how can you play with one attacker versus a back four and a ballplaying keeper. We must start with Rondon helping Richarlison or else.

Sam Hoare
48
Posted 22/04/2022 at 22:07:51
It's gotta be deep block, with a team full of players who will run their asses off and then some pace on the break and height to resist set pieces. I'd be tempted to go for the Ancelotti back 4 but Coleman maybe gets in as skipper.
Pickford
Coleman Keane Mina Godfrey
Doucoure Delph Iwobi
Gordon Rondon Richarlison
Rondon may not have the pace but he has the strength to potentially hold off their players and get a ball to Richarlison, Gordon or Iwobi bursting forwards. Someone is gonna have to hold onto the ball at times and he's probably our best bet.
Phillip Warrington
49
Posted 22/04/2022 at 22:08:22
Why do Everton players pick up so many injuries during training and pre-game? We must have the worst physios on the planet or players are faking it so they don't play against the big teams.
Neil Copeland
50
Posted 22/04/2022 at 22:15:52
Rondon definitely needs to play, if only to stand on Van Dijk's toes, give him the odd elbow in the ribs, and caress his groin from time to time.
Rondon is a seasoned professional who can get under St Virgil's skin, which may just pay dividends. We need to try everything we can to get anything from this one.
Derek Thomas
51
Posted 22/04/2022 at 22:20:05
Van de Beek may have picked up new manager-itis, the Ten den Hag strain, or the other variant: now I can't be arsed-itis; if that's his attitude, good riddance.
Gomes had a decent game in his debut derby while on loan. In fact, the red shite brother-in-law said, "If you don't sign him, we should."
Then he got the full contract and the injury – game over.
And, like Lampard – or any derby at theirs, for that matter – Yes, I'll take the draw, thank you.
Jeff Armstrong
52
Posted 22/04/2022 at 22:29:49
Van de Beek has been a waste of time at Everton anyway, been decent for about 60 minutes total since January. His head is back at Man Utd now, so I'd send him back tomorrow and say "Do one, thanks for nothing."
Gomes? I'm gutted (not); he epitomises Everton over the last 4 years.
Ian Hollingworth
53
Posted 22/04/2022 at 22:33:14
Donny van de Beek is now only a sub for us as he will be a shoo-in at Man Utd under the new manager. Let's hope we are looking for the right replacements but I guess all that depends on what league we are in.
As for Sunday, we need to be aggressive and game spoiling, who cares what the purists say. We will get slaughtered however we play and whatever the result, so fuck 'em and get stuck into the bastards.
Paul Smith
54
Posted 22/04/2022 at 23:03:17
Van de Beek a shoo-in at Man Utd? Jesus, their fans must be as worried as us. He is shite.
As for Sunday, if we perform like we did on Wednesday, we'll be spanked. I'm looking forward to it – after all, it's a derby.
Tom Bowers
55
Posted 22/04/2022 at 23:11:39
VDB like may others has been a waste of space at Everton this season and is in part a big reason we are in such a mess.
They are brought in having been in some kind of slump with their clubs and just pick up good wages at Everton whilst continuing to contribute nothing.

An awful scenario may present itself and that is whilst Marco Silva's Fulham get promoted, the club that booted him out may just pass them on the way down.
The expected result on Sunday open's up another chance for Burnley to improve their position with a home game against Wolves.
We will be lucky to get a shot on goal on Sunday but if we put eleven behind the ball and they don't score in the 96th. minute we may just get a draw.
After that we have 3 home games left and we may have a shot at getting points in the other two at Leicester and Arsenal but with Burnley suddenly getting points and this despite being managerless it may indeed come down to the wire with that game at Arsenal. Shit, I hope not.
Laurie Hartley
56
Posted 22/04/2022 at 23:52:31
Ninety minutes of football to play and a lot of people think it's a foregone conclusion we will get beaten. The odds are definitely against us but I hope the manager and the players don't have the same mindset.
Despite the debacle of the past 6 years we are still a premier league club. Yes we are looking down the barrel but now is not the time to throw the towel in.
Gomes and Van dev Beek are definitely not what we need for this game and I wouldn't start Calvert-Lewin anyway.
Strange as it may seem we have plenty to pick from. I would play a team with a mixture of fight and experience.
Without Alli chasing that lost cause at the death we would be a point worse off.
My team:
Pickford
Coleman, Mina, Godfrey, Mykolenko
Godfrey, Allan, Delph, Richarlison
Alli,
Rondon.
Paul Kernot
57
Posted 22/04/2022 at 00:06:15
Tony #41. Gave me a good laugh there mate, using the words Holgate & Discipline in the same sentence. Put him in mid field tomorrow & he's odds on to get sent off.
Kieran Kinsella
58
Posted 23/04/2022 at 00:52:36
Tom Bowers
Silva will have a chuckle seeing Watford go in the opposite direction but will it be a double whammy? Meanwhile Fulham may have a laugh seeing Scott Parker trailing in their wake. Personally I'm not convinced by Silva. Once again as in Greece and Portugal he's a year into a job with a team someone else built. Yes Fulham we're relegated but they were improving under Parker. And as Norwich keep showing us being good in the EFL often equates to being relegation fodder in the prem. Regardless Silva was just a brief sideshow in our long demise. I honestly don't bear him or any ex manager ill will. None of them, not even Kendall in his prime was able to operate without board interference.
Bobby Thomas
59
Posted 23/04/2022 at 01:01:39
Laurie, I do understand where you're coming from. However, I assume you know - in fact I know you will - exactly what our post war Anfield derby record is?
I'm 45 yrs. Getting beat by 10 men, twice in 3 seasons, in the late 00's - when they weren't even any good - did it for me. We barely laid a glove on them as well. I realised then that the club had developed a serious problem playing there. Prior to that we didn't win many but you could rely on them to have a go, at least.
I didn't go to the semi-final as I knew what was coming and couldn't face it. True to form, with half an hour to go I knew we'd lose. You could see the players wilting, crumbling psychologically. I haven't seen one since the Pickford game. It's pointless. There's something seriously wrong in there. It's not normal.
These shithouse surrenders have been going on for 15 years - 15 YEARS FFS - and I just can't watch them anymore. I can't handle it. The club is spooked. It has a complex. We seem to have driven down the cul de sac of defining ourselves in terms of what they're not, completely losing our identity in the process.
We haven't won a home derby for a fucking DECADE.
A home 0 - 0 is celebrated like 3 points. It's so small time. So fucking embarrassing. So pathetic. Klopp must think we're a fucking joke. It isn't even a rivalry anymore. Our record at Anfield is a stone cold disgrace.
There is absolutely no chance that this rag tag bunch (and that's being polite) with seasons worth of previous for folding when the going gets tough, will produce at an Anfield full house. None whatsoever. As soon as pressure arrives, they crumble. They can't even get a point at fucking Burnley in a 100% must not lose.
It is 99% a foregone conclusion. Liverpool's squad is light years ahead of us in terms of talent and mentality. I'll take a 3 - 0 now to protect the goal diff for the down to the wire relegation battle ahead.
Pete Clarke
60
Posted 23/04/2022 at 01:49:55
In the second half of the Liverpool - Man Utd game, the man said we're starting to get a foothold in the game and Klopp was losing it on the touchline and screaming instructions. Liverpool very quickly organized themselves and took the game by the scruff of the neck again.
They can change tactics to suit any game so the best hope we have is to frustrate the shit out of them and defend in numbers. We also need to be disciplined, stay on our feet and not dive into tackles because they will get one of us sent off easily with their evil ways.
Delph and Allan worry me with their lack of pace and inability to tackle properly. They are pivotal to keeping these bastards at bay though, and being the older heads in the team, they should sit deep to make sure the rest hold their positions because we will get battered otherwise. I'm fuckin' terrified but praying for an Andy King moment.
Looking beyond Sunday, there are two games involving Watford that will be crucial to our survival. We need to beat them and hope they beat Burnley as there is 6 points taken from Burnley.
I might just watch Blazing Saddles instead of the derby and hope that all of the righteous people out there forgive me given the alternative horror movie being shown at Anfield.
Laurie Hartley
61
Posted 23/04/2022 at 01:53:43
Bobby #59,
You are right that this fixture is all about mentality and they have it in spades as well as a devastating forward line. That is why I picked the team I did (by the way, I didn't mean to put Godfrey in twice – it's Gordon on the right for me). It is also the reason that Keane and Iwobi don't get a look-in.
I hope he plays Mina if he isn't injured.
We are suffering big time at the moment. As I see it, we either have to try and pick ourselves off the canvas or vanish into obscurity. That is the stark reality facing this once great club and its fans.
I suppose that the reason I won't give in (like a punch-drunk fighter) is that I was brought up on the Everton of the '60s – I can't let go.
Fortunately I have only ever been to Anfield once – we won 4-0😳 – everyone thought we were going to get hammered that game. Have 5/- on Everton at 14/1 - it will make you feel better.😉
Kieran Byrne
63
Posted 23/04/2022 at 05:34:55
We beat this opponent by getting it up them, not giving them no room. For me, Godfrey has to man-mark Salah and I'd play Holgate or Branthwaite with Mina as our 2 centre-backs.
Coleman has to start as there's no-one else. Pack the middle with who? They were gash against Leicester: Allan looked leggy and this was 11 days between games; Delph I've got no time for, he's a cheat, a mercenary, he's a Kenwright player.
On the wings, Gordon and Richarlison with Iowbi in front of our invisible midfielders. Rondon up front and I hope that he tackles that twat and puts him out for another year.
I want Klopp's extensions to pop out of his cap, the horse-toothed twat. Fuck, I hate them almost as much as I hate us right now, for fuck's sake.
We need this, there's a time and a place to step up and be counted, with this bunch of players it'll be divine intervention. I've never seen a team so fucking afraid of success, it's like it's beyond their grasp, look at Richarlison in the last game, for fuck's sake... he should have had a hat-trick but was lucky to get 1.
Jerome Shields
64
Posted 23/04/2022 at 05:43:52
Neither Van de Beek nor Gomes have been in contention lately. I think like Alan (#5) that they could be shying away from playing.
Van de Beek, because his thoughts are with a Man Utd future, and Gomes smarting over being dropped and not fancying playing against Liverpool.
I did think that Van de Beek should have started the last game, but Dele Alli proved a better sub than him.
I expect Delph to start on Sunday. The other changes will be Mina out on risk grounds and Rondon to start on the strength of his last outing.
Steve Brown
65
Posted 23/04/2022 at 06:13:54
Well, the Daily Mail is predicting that Everton will be relegated.
Do we need any more incentive than that to prove everybody wrong? Journos will all be gutted if we survive as they love the big story. Everton going down is a bigger story than Burnley.
Let's show them and get behind the team. UTFT!!
Steve Brown
66
Posted 23/04/2022 at 06:45:41
Here's the team we played when we beat them 2-0 at Anfield last season:
Pickford
Coleman Holgate Keane Godfrey Digne
Doucouré Davis Gomes
Richarlison Calvert-Lewin.
I would go for something similar:
Pickford
Coleman Holgate Mina Godfrey Mykolenko
Doucoure Delph Iwobi
Richarlison Rondon.
Going to put a bet on a win, not because I am being too optimistic. I just think that any team can beat another on a given day and I like the crap odds being quoted for an Everton win.

Mike Gwyer
68
Posted 23/04/2022 at 07:37:54
Laurie #61,
Absolutely spot on. If it wasn't for Alli chasing Pickford's clearance and then crossing a ball that could be attacked, Everton would be sitting in the Bottom 3 right now. But we are not.
Bring it on.
Steve Shave
69
Posted 23/04/2022 at 07:42:06
Ashley 36 - yes I'd be happy with that line up. Whilst I have massive reservations about Dele, he may just offer a bit more than Rondon as a false 9. Why not?
I am fearful of a stuffing but trying to be optimistic, imagine if we did win? It would be glorious, I hate them so much!
Paul Birmingham
70
Posted 23/04/2022 at 07:58:38
Mike @42, I'll go with your starting line up but I'd start Gray in place of Dobbin, and bring Dobbin or Alli on later, for Gray, if there's no impact.
Hopefully a siege mentality and "Thou shall not get past an Everton shirt" approach will be used tomorrow.
And hopefully the Everton players don't take the bait from them shithouse divers that they have in their team, and keep Salah on his right side, and Rondon lays into their near-post defending and rumbles them.
UTFT!
Graeme Beresford
71
Posted 23/04/2022 at 08:02:47
My team:
Pickford
Coleman Keane Holgate Mina Godfrey Mykolenko
Allan Delph Doucouré
Richarlison
That's right. 6 at the back. Sod it. Play for the draw. Tell Delph and Allan to sit and tell Doucouré to make the odd run forward.
I wouldn't want to be Lampard though. He's in a no-win situation. Play defensive and get beat – everyone will say he should of went attacking. Play attacking and get beat – everyone will say that was the wrong choice. Unfortunately this time around I have no confidence in our ability to not ship goals and I fear they will beat us by 5 or 6 goals.
Steve Shave
72
Posted 23/04/2022 at 08:12:26
Kieran (63) "I want Klopp's extensions to pop out of his cap, the horse-toothed twat" - made me spit my tea over my laptop! Brilliant, just brilliant :)
Mark Siddons
73
Posted 23/04/2022 at 08:34:09
Fact. I did not support Frank's appointment
Opinion. Have not always agreed with team selection, formations or substitutions.
Fact. He's been hamstrung by countless injuries, some serious, some light and questionable, unnecessary or dubious suspensions, a missing in action no 10 whose name you may not mention but here in Cape Town I can call Gyllfi out, some players just not interested or too busy dressing up.
Fact. Missing for tomorrow are at this stage. Tom, Andros, Dominic, Donny, Andre, Nathan, potentially Yerry, did I miss anyone?
Fact. The Norwegian mob are going to give Jordan and Richie a real roasting...for that reason I would add Jordan to the missing list for his own good
Opinion. My team would be
Begovic
Coleman, Godfrey,Branthwaite, Mykolenko
Allan, Doucoure
Gordon, Iwobi, Richie
Rondon
JJK and Mason will be walking reds tomorrow.
I'm behind Frank, he's our manager.
David Bromwell
74
Posted 23/04/2022 at 08:39:42
The song says "It's a grand old team to support..." Well, currently we know that's not true. In my over 70 years of supporting this team, I cannot remember a more depressing feeling prior to a match.
Okay, it's a derby, and if we get beaten again, I can accept that, just. But on Sunday they in all probability will put us in the bottom three.
So play with pride, stay in shape, keep 11 players on the pitch, and take the odd chance that may come our way and a near miracle may happen.
Also, Frank has a big part to play, let's see him on the pitch during the warm-up, wind up Klopp and thank your supporters before and after the game, whatever the result. We can do this!!!
Danny Baily
75
Posted 23/04/2022 at 08:46:49
Of the players that are unavailable, Van de Beek has hardly kicked a ball anyway, Gomes is only good for a cameo late on (if we're still in a game) and Calvert-Lewin has stopped scoring. Dele, Delph and Rondon can come in and no doubt do a better job than those three.
Hoping for a result which would quite literally make our season tomorrow. It's a great opportunity. And we should enjoy the high-profile games while we can.
Tony Abrahams
76
Posted 23/04/2022 at 08:57:29
Possibly Paul@57, but my worry is playing Delph, because I just think the game will be way to fast for him. It was during the first half the other night imo, and as bad as Allen was (he was) I thought that whilst he wanted to get after Leicester, Delph sitting so deep made this virtually impossible? Also because Iwobi was doing some stupid pressing imo, which did seem to impress a lot of the the crowd, I just felt we had three midfielders who were just not in tune with each other, making us very, very easy to play against, - again imo.
I know we all see a different game, and although I thought Delph improved the longer the game went on the other night, I also think Liverpool love playing against players who are not quite up to it physically, and that's why I'd genuinely go with Holgate.
Whoever we play, I just want to see an Everton team understanding each other, rather than looking at the floor, shaking their heads and accepting that we are not good enough to compete with Liverpool, and that's why I'd go as physically robust as possible tomorrow.
Jerome Shields
77
Posted 23/04/2022 at 09:01:08
Steve #65,
The whole media has pulled in behind Burnley's survival in the Premier League. Burnley have always had a welcoming open access to the fans and, according to recent reports in the media, to them as well. Burnley are using that to good effect now.
Everton's claims of being The People's Club and pronouncements by Barrett-Baxendale, with connections to oligarchs ring hollow in comparison.
Only months ago, The Mail was singing the praises of our 'brother' Bill. Obviously Denise thinks that is better PR than allowing any access at the moment. Probably wise given that the rats will be running for cover, herself and Bill leading them.
Jeff Armstrong
78
Posted 23/04/2022 at 09:17:16
If Lampard had been able to manage the second 45 minutes at 2-1 up against Burnley – yes, just 45 minutes of game management whilst ahead – we would be sitting here this morning still 7 points clear of them with a game in hand.
Most likely lose the derby, Burnley maybe beat Wolves, we would still be 4 points clear with a game in hand. Sobering thoughts. The whole season probably comes down to them 45 minutes, and we had it in our hands.
Ken Kneale
79
Posted 23/04/2022 at 09:20:43
I doubt many of these niggling injuries would keep the same players out of a team competing for Europe or the title. It seems many simply don't want to play or have little stomach to fight to the death to preserve our status.
Interesting comments by the interim Man Utd manager today around the club needing 'open-heart surgery and other honest assessments. Nobody at Everton ever seems to express such sent sentiments, especially at board room level.
Win lose or draw tomorrow, let us see a team that is at very least organised well and fighting for each other and more importantly for Everton Football Club
Jerome - like most comments from our management committee they are simply self serving
Anthony Murphy
80
Posted 23/04/2022 at 09:25:38
I'd start Dele - at some point, he's going to get a start and hopefully play well. I'd pull him to one side and big him up – tell him this is the game you've been holding him back for – tell him he can still make that World Cup squad etc.
We need end product, not just hard work – he may be the one tomorrow
Dave Abrahams
81
Posted 23/04/2022 at 09:33:18
I don't know what team will be selected but I'd have Branthwaite in it, as young as he is. I saw Mina the other night and realised he is slightly better Keane, not for the first time. Branthwaite is calmer than both of them and better in the air.
So, for me, it's Branthwaite and either one of the other with Godfrey right back and the improving, with each game, Mylolenko at left back.
Rondon must start with Dobbin on the bench, even though it must be a very defensive performance by Everton, bringing us a draw.
Tony Hill
82
Posted 23/04/2022 at 09:47:50
Tony @76, fully agree about Delph. I think he'll play Doucouré.
James Marshall
83
Posted 23/04/2022 at 09:48:21
It doesn't really make any difference does it? Whatever team we put out is in all probability, likely to get a hiding. I'd be happy if we get out of there losing by 2 goals - the way things could quite easily go we could easily ship 5 against them.
If, by some miracle, we don't lose, I'll be stunned, regardless of what team we put out.
I can feel it now – we get thumped tomorrow and go down on goal difference.
Jerome Shields
84
Posted 23/04/2022 at 10:03:33
Dave #81,
Agree regarding Branthwaite.
Kunal Desai
85
Posted 23/04/2022 at 10:18:51
#79 Ken Kneale - very much in agreement with most of those comments. We need more than just open heart surgury, probably a full body transformation.
We'll have done well to keep the score below three. My guess is it will be similar to there midweek performance – anywhere between four and six lashed passed us.
Andrew Clare
86
Posted 23/04/2022 at 10:51:09
To put things in perspective, tomorrow, two teams will be contesting a football game. One team is arguably the best team in Europe at the moment and the other is an awful bottom-of-the-table outfit likely to get relegated.
The outcome? 0-1 to Everton. COYB's.
Shane Corcoran
87
Posted 23/04/2022 at 11:02:50
Yeah, Liverpool never have injuries. I could have sworn they had no centre-backs for a period last season along with their captain.
The fuckin' state of some of us moaning about Liverpool and how unlucky we are compared to them… Boo fucking hoo.
They're run well, recruit well and play and compete brilliantly.
We're a joke of a club, top to bottom, and such comments only strengthen this argument.
My advice would be to forget our biggest rivals and discuss us and only us as there's loads here to moan about.
Roll on Sunday evening when the ref, Sky, BBC and God get a bit of the blame for poor old Everton's plight.
Rant on hold.
Pat Kelly
88
Posted 23/04/2022 at 11:04:16
They can't run but they can hide.
Dale Rose
89
Posted 23/04/2022 at 11:17:08
It's great to see all the negative stuff on here. Invariably when it's like this, the boys put in a great performance. This is not a game you can predict, derby games are like cup ties.
I think things have come together lately and I am optimistic for the future. So the three Fs:
Fuck the board.
Fuck the red shite.
Fuck the naysayers.
Get behind the boys.
Alan McGuffog
90
Posted 23/04/2022 at 11:52:43
Pat, excellent.
Julian Exshaw
91
Posted 23/04/2022 at 11:58:05
Pickford has to play and I'd also go for Rondon, even if just for nuisance value for old Virgil. I doubt whether Van de Beek or Gomes would have been chosen anyway.
I don't think Klopp will play a full-strength team with their Champions Leaue game coming up, so expect to see Origi and Milner and the like. Let's get after them! Come on, you blue boys!!

Bobby Thomas
92
Posted 23/04/2022 at 12:12:32
Dale #89
It's one of the most predictable fixtures in the division and in recent times possibly the most one-sided derby in world football.
Ian Bennett
93
Posted 23/04/2022 at 12:15:30
Hard to plan a team, but here goes.
I want Doucoure, Richarlison, Iwobi, and Gordon to chase them down - and not give them a minute on the ball.
Godfrey to man mark Salah, and Coleman to man mark Mane. Mina and Keane in the middle, with Mykolenko staying at home at left back with a brief to stop the right back crosses.
Pickford
Coleman
Mina
Keane
Godfrey
Mykolenko
Delph
Doucoure
Iwobi
Gordon
Richarlison
Raymond Fox
94
Posted 23/04/2022 at 12:37:22
I think thats as good as we've got Ian.
If Salah and Mane play I cant see it going well for us though.
16/1 us to win with 6/1 a draw is about right, we kept City quiet for long spells so we have some hope.
Dave Abrahams
95
Posted 23/04/2022 at 12:44:02
Paul (70), I agree we'd have a better chance with Mike's (42) team it's got twelve players in it.
Danny O'Neill
96
Posted 23/04/2022 at 13:00:04
It's not like we have many options, but I'd go with the earlier comments on Branthwaite alongside possibly Mina (over Keane) with Godfrey and Mykolenko as the back 4.
Midfield, not Delph for this one. Are both Allan and Doucoure fit?
Stranger things happen. Here's hoping.
Ajay Gopal
97
Posted 23/04/2022 at 13:34:29
I like Coleman, but I fear that he will be the weak link if played at right back. We need someone solid, who will not get out-run and out-muscled. I would play Godfrey there, even though he is not a great passer of the football. Bring on Coleman if we are still in the game with about 20 minutes to go to shut shop. On the other hand, Coleman is the one leader we have in the team and one with the most derby experience. I would go bold and start Godfrey over Coleman. Centre backs would be Keane and Mina ( if Mina is unfit, then play Branthwaite) and Mykolenko as LB. I would go with a midfield trio of Allan, Delph and Doucoure - supported by Gordon and Richarlison on the flanks. Iwobi would be all alone up front and I would also have Doucoure joining Iwobi to press from the front. My team:
4-5-1
Pickford
Godfrey Mina Keane Mykolenko
Gordon Doucoure Delph Allan Richarlison
Iwobi
Bring on Alli and Rondon for Gordon and Iwobi, if - as expected - these 2 have run themselves to the ground.

John Hall
98
Posted 23/04/2022 at 14:05:19
I agree with some of you about Pickford shouldn't play and Mina shouldn't be risked. Give him a rest for the more winnable game against Chelsea.
4-5-1
Begovic
Coleman Keane Branthwaite Mykolenko
Gordon Doucouré Delph Allan Richarlison
Rondon
Bring on Dobbin, Alli and Iwobi in the second half.
Paul Birmingham
99
Posted 23/04/2022 at 14:22:16
Dave, agreed and for Everton, any help natural or divine, is welcome at their place and in fairness when we play them at our place.
We live in hope eternal. Fekk the RS, - UTFT!
Christy Ring
100
Posted 23/04/2022 at 15:22:34
Ajay#97 So Seamus is the weak link in the Everton team, Wow, if the other 10 players put in the same effort, energy and attitude as Coleman, we wouldn't be in a relegation scrap.
I'd also like to see Branthwaite start tomorrow, he's good in the air, quick and he's the only natural leftsided centreback we have. We need battlers in midfield tomorrow, to close them down, they destroyed Utd who had all ball playing midfielders, and gave them way too much space. Iwobi and Alli in my opinion are not physical enough for this game.
Watched Football Focus earlier, and Lawrenson the twat, said to Alex Scott, Everton haven't won a derby for years, maybe before she was born. Was he not at Analfield last season 0-2, no one even corrected him.
Tim Sherwood on Sky, talking about our big earners in the Championship next season, another twat.
Justin Doone
101
Posted 23/04/2022 at 15:29:30
Too soft the lot of them. Get rid.
Rondon although slower and isn't about to press the centre backs too often is a better finisher and should be given a few games to see if he and Ric can form a strike partnership.
DCL is athletic and good in the air but he's not shown it this season possibly due to injury or the managers tactics.
So if we are not going to put crosses into the box for Dom and he's not (forever what ever reason) closing down defender's there's little point of him being on the pitch.
VDB and Gomes goods technical players but just not Premier league standard.
If, as many fans argued, we can't afford the luxury of a far superior player in James R, these two are never going to bring what the fans and managers demand.
Alan J Thompson
102
Posted 23/04/2022 at 16:14:52
Again, not much point trying to second-guess the manager's team but I can't agree that you don't play the best keeper in the Premier League.
I'd have the four, Delph, Allan, Iwobi and Doucoure in midfield and whoever plays up front must be able to match Richarlison's usual effort without the ball.
Holgate nowhere near the pitch at any time and anyone who thinks they need a rest for games to come are asked not to come back.
A point here, or unthinkably three, will send a message to Burnley, especially if they lose to Wolves, that we are here to stay.
Brian Wilkinson
103
Posted 23/04/2022 at 16:59:58
Every single punter, Red shite fan, has put this down not just as a gimme but a damn good thrashing, they may be right.
We have been in this position before, always found a way out, you can go back to the Joe Royle derby in 94-95, no-one gave us a hope in hell.
You can then fast forward to a rampant Man Utd going for the title, going 3-1 up against us on their own patch, then 4-2, we ended their title dreams with a 4-all draw.
We ended the Red shite's title run a few years back, with a draw at Goodison, the last points they dropped to hand Man City the title.
We were very unlucky against Man City at our place, blatant handball denied us a deserved penalty, so it can be done.
Every single neutral will be rooting for us tomorrow, apart from Burnley; discipline is a must tomorrow, because if we are holding our own, they will have the officials and the VAR looking for any minor justification to give them a helping hand.
If Pickford can hold his shit together, and we do not pick up any silly yellow cards, then we can frustrate them. On current form, I cannot think of a tougher game we could come up with, but not impossible. We have gone there in recent years, won last season, Jagielka thunderbolt to give us a point, Siggy equaliser in the cup.
All the pressure is on the shite, it is a game no-one is expecting us to even pick up a point, that is our strength, play basic football, frustrate the life out of them.
Forget the quadruple, if Everton stop them winning the title again, and at the same time stay up, that will hurt those shithouses and keyboard warriors more than anything.
This is a chance for a hero to step up, a chance to put one on them, a chance for a team performance, instead of rolling over.
This will come down to every single player rolling their sleeves up, and backing one another up. Can you imagine being able to come out of that game tomorrow with a point or three? Near impossible, but not impossible.
No better time than these group of players to stand up, keep the faith, and hope we do not get shafted by the VAR.
Up The Toffees.
Dale Rose
104
Posted 23/04/2022 at 17:14:54
Brent Stephens
105
Posted 23/04/2022 at 17:19:31
Brian #103,
I've half toyed with the idea of not even going tomorrow and selling my ticket. Your post has just confirmed my attendance. Feck 'em.
(But I might just take a sofa with me to hide behind, if I can smuggle it into the ground.)
Kim Vivian
106
Posted 23/04/2022 at 17:20:58
Brian, that's made me feel better.
True – every word.
Wish it could be posted to every player's Twitter feed, Instagram,p WhatsApp or whatever so they see it.
It won't though...
James O'Connell
107
Posted 23/04/2022 at 17:22:09
Brian #103,
Can you do the pre-match team-talk tomorrow, please?
Fantastic positivity! COYB
Derek Moore
108
Posted 23/04/2022 at 17:28:52
The game is played on grass, not on paper, and you just never ever know, as my old man texted me yesterday.
It's the New Zealand and Australian equivalent of Remembrance Day on Monday and, unlike the UK, we antipodeans get a bank holiday for it. I actually have a dawn remembrance service to go to and the game starts 3:30 am NZ time so I won't be watching live.
There'll be no point trying to avoid the score as my WhatsApp gets fairly busy at derby time, with family back in the UK from both sides. They'll just have to win it without me watching for once, I suppose. COYB!
Brian Wilkinson
109
Posted 23/04/2022 at 17:29:20
Brent, you make sure you go, mate. It could end in tears but, if we come out of that place with something, you will be living off it for years to come.
It will go down in Bayern Munich style folklore history of "I was there!"
If you are still in doubt, go onto YouTube and type in Everton equaliser at Anfield, put it on full volume, and listen to the roar and sheer passion, when Sigurdsson slots the cup goal in, right in front of the Evertonians, in the Anfield Road end. The stewards get swallowed up and even some guy with crutches manages to clear a couple of rows of seats.
In fact, I would ask all fellow Evertonians to watch that YouTube clip, makes the hairs stand up on your arms.
Neil Lawson
110
Posted 23/04/2022 at 17:33:13
Yes, excellent post, Brian (103).
The problem though is that this lot haven't displayed any depth of true spirit and fight. Add that to the fact that, on current form, the Redshite will turn any team over (it was very painful to write those words).
We will all cling on to the hope of a truly spirited performance and a miracle but fear the very worst. I won't be able to watch (cos I am a coward and cannot face the prospect).
Team selection? Pickford or Begovic? Probably both required (Pickford). Desperately need Wolves to turn up on form in the hope that we just might still be above Burnley by close of play.
We are all desperate for a result but, if we avoid a good beating, I wonder if many of us will be relieved and consider it to be the best worst-case scenario. How desperately sad is that?
David Nicholls
111
Posted 23/04/2022 at 17:34:47
My prediction: In years to come, this will be forever known as the Rondon derby.
John Keating
112
Posted 23/04/2022 at 17:35:43
If Mykolenko plays, I think Salah will roast him for pace. I'd play Godfrey at left-back.
We definitely need height to combat Matip and St Virgil at set-pieces so Keane and Mina or Branthwaite as centre-halves. 5 across the middle with Rondon up top. Richarlison is no centre-forward.
Rob Halligan
113
Posted 23/04/2022 at 17:36:29
Brent, you've got to be there, mate. I am feeling physically sick even now with the thought of how tomorrow, and the season overall is going to end up but, if nothing else, our away fans will not give up.
I will be in the Winslow before the game, around 2 pm if you fancy meeting for a pint.
Jay Harris
114
Posted 23/04/2022 at 17:37:36
The only thing that's certain is that nothing is certain.
I remember in the 60s we had to play them there and we had a ton of injuries so I was dreading the game so much I wouldn't even listen to the radio.
Then the paper boy came to deliver the Echo and said it was 4-0. I said I knew we'd get battered. He said no 4-0 to the blues.
COYB – make this our cup final.
Brent Stephens
115
Posted 23/04/2022 at 17:43:52
Rob, I'll see if I can get away early.
Kieran Kinsella
116
Posted 23/04/2022 at 17:47:58
Just imagine, we will probably get two men sent off, those lot doing all kinds of dirty tricks and diving with arguably the world's best player in their team.
What hope is there? Well that exact scenario worked out well for Cameroon v Argentina in 1990...
Colin Malone
117
Posted 23/04/2022 at 17:51:32
I just hope Wolves do us a favour tomorrow.
David Hallwood
118
Posted 23/04/2022 at 17:59:59
A couple of points: What do we do in training? Jousting? Unarmed combat? Cage fighting? I cannot remember a time when we had so many injuries that we've had in the last two seasons.
Some posters mentioned the RS 60/70 yard diagonal 'Wimbledon ball', I'd like to ask why the fuck don't we use it? We've got pace up front, it gets the ball as far away from our goal as possible, it might even give them something to think about.
Brian (#103), great post, but the teams you mention had bollocks, and would run, harry and sweat blood – something this shower of overpaid wasters think is beneath them.
As vs Leicester – a perfect example; they've got nothing to play for in the Premier League, and one eye on a European semi-final... Did we tear into them, get in their faces, put a few tasty ones in? Get to Fuck! We looked like we were playing an end-of-season dead rubber.
Compare and contrast to Burnley vs Saints; Saints had nothing to play for and rolled over nicely to a Burnley side fighting for their lives; I really fear that 1st May will be Mayday! Mayday!
So on to the game; it's a sobering thought that when Klopp arrived, we were above them in the Premier League, and Moshiri came to the club 2 months after. And like everyone, I've never seen such a chasm between the two teams, both off and on the field.
Sure, anything can happen, 11 vs 11 and all that, but last week I jokingly posted that we put an Ancelotti back 4 out: 4 centre-backs: Holgate, Keane. Mina, Godfrey; 5 in midfield: Coleman, Doucouré, Iwobi, Delph. Mykolenko, with Richarlison up front and hope to bore them to death. Looking at it now, it doesn't look bad.
If we're going to go 4-3-3, I'd keep the back 4, Delph, Doucouré and Iwobi and have Richarlison & Gordon flanking Dele Alli playing as a false 9.
I'm expecting absolutely feck all in the way of points but please give us a fighting performance, with mistakes kept to a minimum, and the odd forward pass going to a blue shirt would be nice.
Brian Wilkinson
119
Posted 23/04/2022 at 18:08:36
Until that final whistle goes, I will never waive the white flag to that shower of red shite.
Let's hope the players step up, and go into the game with the same mentality.
Danny O'Neill
120
Posted 23/04/2022 at 18:15:11
Far be it for me to tell a man of your standing what to do Brent, but you get yourself there!!
They went on an attempt at an earlier version of Arsenal's "the invincibles" in 1987-88, only losing their first match in March.
At Goodison Park to Wayne Clark's goal. I was beaming all the way back to my mum's Auntie's in Croxteth. These things can and do happen.
I didn't manage to get anything for tomorrow unfortunately or I'd have been there. But I will be there in spirit, probably sat in a London pub surrounded by many "lifelong" reds (since 2018) declaring love for Klopp and how they can't wait to go to their first match at Anfield. I may have my son and brother alongside me. 3 Evertonians in that setting is strength in numbers.
Good luck, Blues. Good luck, Evertonians.
I'm up for Chelsea home and at Watford. See you all there. Come on, Everton.
Brian, stop it. You'll have me putting my war paint on.
Gary Jones
121
Posted 23/04/2022 at 18:17:00
Dear Frank, Read David @118 and play pace up top. Instruct defenders not to play around the back, but aim every ball towards their Opposite opposition corner flag. Tell those on the flanks to get ready for a race, and tell whoever is in the other flank to get their arse in the box. Would rather get beat 4-2 than 4-0.
Steavey Buckley
123
Posted 23/04/2022 at 18:31:34
Pickford in goal, because he can save a few, but please no Coleman tomorrow, he is far too slow to deal with the pace of Robertson and Mane, and whoever drifts over to their left side of the field.
Holgate was one of the successes last season when he played right-back. He should be a good fit with either Keane or Mina with Ben Godfrey the other centre-back alongside Mykolenko, who has settled down into becoming a decent left-back, but not great.
Allan should play in front of the back four, because that's where his limited abilities are best suited, stopping the opposition getting any further forward.
Doucouré should replace defensive-minded Delph, because Everton desperately need midfielders who can get forward along with the much rejuvenated Alex Iwobi.
Dele Alli is a far better player than Rondon to replace Calvert-Lewin, who can drift in towards the far post, where he scored goals for his previous club, Spurs.
Anthony Gordon will be one of the first names on the team sheet because he is playing well consistently, along with Richarlison, who has proven he can score goals once his mind is in the right place.
Bill Gall
124
Posted 23/04/2022 at 18:32:28
Brian #119,
Your comments are the comments of every Everton supporter, but as noticed it never seems to get into the players' or coaches' heads, except in a certain ex-player from Scotland, and even he seems to just sit on the bench saying nothing.
Kieran Kinsella
125
Posted 23/04/2022 at 18:39:04
In all honestly, I'll be relatively pleased with a win – even if our performance isn't great.
Andrew Ellams
126
Posted 23/04/2022 at 18:39:56
If the next month doesn't go our way, this could be the last derby for a while.
The players need to get into them, like they did last season, and hopefully nick one on the counter.
John McFarlane Snr
127
Posted 23/04/2022 at 18:45:26
Hi Shane [87],
Having read your post, I don't think any Liverpool fan could have surpassed your rant. Having attended games at Goodison since 1948, experience has taught me that anything is possible in a game of football.
Only a couple of weeks ago, fans who share your anticipation of results were wide of the mark, when they predicted a Manchester United stroll in the park. It may well result in a heavy defeat for Everton, but no victory or defeat has ever occurred prior to the game being played.
Dennis Stevens
128
Posted 23/04/2022 at 19:07:27
I'd be exceedingly happy if those luvable reds set a record for the number of times the woodwork is hit during a Premier League match whilst the only goal of the game comes right at the end from a long punt downfield by our 'keeper that catches a lucky bounce & into their net with pretty well the last kick of the game!
James Flynn
129
Posted 23/04/2022 at 19:28:16
Just watched the ending of Spurs-Brentford. NBC quick advert for our game tomorrow shows one of those side-by-side pictures of the managers. Picture of Klopp, all smiles. Picture of Frank looking sad/worried.
Maybe it is a media conspiracy against us.
Tony Twist
130
Posted 23/04/2022 at 19:43:47
These first-team players won't produce anything of note in this game, in fact, they probably think and have been told that it is not a significant game.
I think we should play extremely deep and just crowd central areas. Unfortunately we have very little choice in the centre of the park so can't rest the regulars.
My team would be:
Begovic,
Kenny, Holgate, Mina, Branthwaite, Godfrey,
Doucoure, Delph, Allan,
Dele Alli, El Ghazi.
It is time to unleash the front two, invisible men. This won't be the team, play as many players that haven't contributed that much in the season and try and hold them at bay.
But I think we are going down anyway and let's just take a chance and roll the dice. It seems to work for the RS but no doubt we will crash and burn.
Best of luck, Toffees.
Dale Rose
131
Posted 23/04/2022 at 19:45:21
John McFarlane Snr.
Hooray.
David Chappell
132
Posted 23/04/2022 at 19:49:32
Brian @103 – Just wish some of the team will read that.
Keiran @125 – Funny as made me chuckle.
Christopher Timmins
133
Posted 23/04/2022 at 19:54:07
We have to stand up and be counted tomorrow or we will take a hiding, therefore, Seamus is the first name on the team sheet, followed by Allan and Richarlison.

Jack Convery
134
Posted 23/04/2022 at 20:17:52
Park the buses and nick one. Cost the smug gits the Premier League title. Give it your alll Everton.
This is a free hit. You are expected to get thumped. Well, stand up, be counted and give us all the opportunity to put a smile on our faces as wide as the Royle Blue Mersey. COYBs!!!!!
Pickford
Holgate, Mina, Keane, Godfrey.
Gordon, Allan, Iwobi, Delph, Richarlison.
Rondon
Peter Hopkins
135
Posted 23/04/2022 at 20:32:08
We are desperate for the points and we want to stop those horrible shits from winning the Premier League. I say play Delph, Allan and Doucouré in the middle and tell them to kick and tackle anything that moves. Gray, Gordon and Richarlison as they work the hardest.
I don't care if we end up with 8 men on the pitch. Why should we just roll over and let them tickle our belly? Let's get at them and kick them all over the place!!
Dave Lynch
136
Posted 23/04/2022 at 20:53:55
I've said in another post that this will be damage limitation. We have a tendency to just collapse under pressure and pressure we will get. I would willingly piss my own pants in the middle of Tesco if we won this.
Chris Leyland
137
Posted 23/04/2022 at 21:25:41
I say really surprise them and put Pickford upfront to do a job on Van Dijk
Graeme Beresford
138
Posted 23/04/2022 at 21:31:10
For all of the playing out from the back and keeping possession, we scored against Leicester from a long goal kick to a chasing attacking midfielder, almost winger like, who actually put a cross in, to two players in the box.
I couldn't believe it, what everyone has cried out for all season! I'm sick to death of this Pep/Klopp way of playing which every team has adopted, it bugs the hell out of me.
The goal is at the other end of the field!!! Give me the way we used to play, Baines and Pienaar over-lapping, Coleman bombing on as a winger, and us actually crossing the ball.
Cross the bloody ball. Get men in the box and cross the ball! Go long ball, win the flick-on headers, give the opposition something they haven't had all season because every team has adopted this weird way of playing.
Boot the ball long and put crosses in. I hate this playing out from the back tippy-tappy stuff, I haven't seen anything good come off it other than putting your own defenders under pressure which usually results in a throw-in or corner to the opposition.
How Liverpool press, and with Anfield behind them, I hope we don't do this tomorrow. Go long.
Marc Hints
139
Posted 23/04/2022 at 21:34:33
I will go 8-1-1-1 for tomorrow's formation.
Brian Wilkinson
140
Posted 23/04/2022 at 21:52:34
Funny you should mention war paint, Danny. I've got my Braveheart face paint, thousands of Evertonians, side by side, raring to go and stick it right up the Red Shite.
I've had enough of the Red Shite, Norwegian tourists belittling our club. I'm sick of hearing and reading how they are going to put 5 past us, how every single pundit is kissing their smelly Red arses. Tomorrow, we can put that to bed, we can finally silence them, we can stand up and be counted.
Every single Evertonian on here, we need you, the nation needs you. Let's all do our bit, forget any negative thoughts, believe, and pray like hell. But let's not do their job for them, by doubting our dream. Only then, when the game is over, can we then hold court.
But please for once, let us all stand up as one.
I do not have a ticket for tomorrow, but for those going, give it your all, we are right behind you.
Let's hope tomorrow, instead of shouting 'Freedom', I will be shouting '3 points!'
Ian Riley
141
Posted 23/04/2022 at 22:09:34
It's like Christmas Eve. Everyone is excited. What will the day hold?
We just don't know! Liverpool need to win and we don't have anything to lose. If anything, our lads can relax and play their own game. Actually don't!! Work hard and, if individual mistakes can be cut out, you never know.
Try and sleep well. Not long to wait. Remember – anything is possible!!!
Matthew Williams
142
Posted 23/04/2022 at 22:27:57
Even though I was just a kid back in '78, Liverpool were the best club side on God's green earth (much better than today's penalty-loving twats). They still couldn't stop the most beautiful goal being scored in our history by the little lad from Luton!. (I simply adored Kingy!)
It's high time we found another hero!... they can be beat, Blues, just be brave for once and believe!!!
Brent Stephens
143
Posted 23/04/2022 at 22:39:07
Marc "I will go 8-1-1-1 for tomorrow's formation."
8 keepers?! Innovative.
Paul Hewitt
144
Posted 23/04/2022 at 22:55:28
This is the biggest mismatch in sporting history.
Jonathan Tasker
145
Posted 23/04/2022 at 23:06:51
The derby is a nothing match.
Burnley v Wolves is far more important
Andy Crooks
146
Posted 23/04/2022 at 23:25:05
Jonathan, you have provided the most reassuring post on this thread. Tomorrow is not Judgement Day.
Also, it is disappointing to see so many Blues give this Liverpool team some sort of unbeatable, mythical status. They will not win the Premier League and we should have beaten the team that will. There is realism, yes, they are very strong favourites, but why the lily-livered cowering from some supporters? Why the fear?
This is the best chance our players will ever have to be heroes, to be counted when it matters, to go to Anfield and rip their fucking hearts out. Be legends.
Ian Riley
147
Posted 23/04/2022 at 23:31:40
Apparently Wolves' bogey team are Burnley, according to a friend, but if Everton win and Wolves win. What a day!!!
Tom Harvey
148
Posted 23/04/2022 at 23:34:51
For the past couple of weeks, I've been fantasising about a draw, that says it all really.
Usually I believe we can steal a win or settle for a draw.
Even if there's a lack of guile or lack of anything else for that matter, I will not tolerate a lack of effort. How can they go into the Chelsea game with any belief if they get rolled in this one?
Paul Hewitt
149
Posted 23/04/2022 at 23:47:10
Andy @146. The simple fact is Liverpool are one of the best teams in the world, we are utter shite. That's not bigging them up, it's facts. So yes, I don't give us much hope tomorrow. I hope I'm wrong, but I fear not.
Neil Copeland
150
Posted 24/04/2022 at 00:15:50
Every game is winnable, show some belief for fucks sake! It doesn't matter how shite we are, tomorrow may just be our day – as unbelievable as that sounds. Let's hope they bottle it, we get some luck and produce something miraculous!
We can do this UTFT!
Brian Wilkinson
151
Posted 24/04/2022 at 01:21:00
Well said Neil, all the pressure is on them, let's just say the Red shite fans are more nervous than ourselves.
They will never live it down, if we stop them picking up three points, the closer the game gets the more they will be twitching.
We have to hope against hope, that we get a fair crack with the officials and we keep our discipline.
Couple of early saves by Pickford to settle him down, those shite will be targeting him from minute one.
James Flynn
153
Posted 24/04/2022 at 02:01:35
Brian (103 & 109) – Great posts below. I took your advice and added my favorite video clip of Sigurdsson's goal at the bottom.
"If you are still in doubt, go onto YouTube and type in Everton equaliser at Anfield, put it on full volume, and listen to the roar and sheer passion, when Sigurdsson slots the cup goal in, right in front of the Evertonians, in the Anfield Road end. The stewards get swallowed up and even some guy with crutches manages to clear a couple of rows of seats.
In fact, I would ask all fellow Evertonians to watch that YouTube clip, makes the hairs stand up on your arms."
"We have gone there in recent years, won last season, Jagielka thunderbolt to give us a point, Sigurdsson equaliser in the cup."

Speaking of Jagielka, he's near post on the RS's corner. The ball hits him. Look who's up the other end setting it on a plate for Sigurdsson.
Steve Brown
154
Posted 24/04/2022 at 03:05:15
Just put on the movie Zulu to get your in the mood for how the game will play out.
Kieran Kinsella
155
Posted 24/04/2022 at 03:18:42
PSG fans booed their team off at half time then left en masse 15 minutes before full time so the stadium would be empty when the team clinched the title.
Fucking hell, can you imagine if these lot supported Everton?
Derek Moore
156
Posted 24/04/2022 at 03:23:55
Steve Brown (#154), in Zulu though the rear guard at Rorkes Drift held up.
Ian Jones
157
Posted 24/04/2022 at 03:30:16
We won last season at Anfield, we'll win this season too.
Danny O'Neill
158
Posted 24/04/2022 at 06:30:33
John Snr has said the most sensible thing on this thread. Anything is possible in a game of football.
It's a game of football. An important one - they all are - but a game of football.
Zulu, what a film. The references to that and today reminded me of my favourite clip and some of the sentiment on the thread:
Drunken Christian Priest (i.e. ToffeeWeb Doom Mongerer): Death awaits you. Don't you realise, you're all going to die (repeat several times)
Worried Soldier (young Branthwaite): He's right. Why us?
"Sarge" (Seamus): Because we're 'ere lad. Nobody else. Just us
When my dogs smell fear, it makes them overly confident. When they see confidence, they are more reserved and show respect. Don't let lucifer's children smell fear in the Devil's Den today. Heads high, chests out. Let's get on with this.
I'm not buying this is a nothing game. It's the Merseyside derby against our historic city rivals and a club I despise. The moment we suggest that it is not important is bowing to their narrative. If we win this, I won't come down until I land at Goodison Park for the next home match.
Santosh Benjamin
159
Posted 24/04/2022 at 06:40:20
I am generally a pessimist by nature but Everton games are one of the few exceptions to this rule. I have always believed (despite evidence to the contrary) leading up to each game, that we would win it.
I am aware that we are in the worst form in ages and Liverpool are at the opposite end of the spectrum. I am also aware that the confidence levels in the two teams are also poles apart.
I want us to stride out with confidence, be completely committed in every challenge, avoid/reduce stupid decisions and be brave. This is easier said than done with our present bunch of players. I also feel that the team selection needs to be sensible:
1. Rondon must start up top to give their centre-backs something to deal with. Gordon and Richarlison should be on either side of him to get the flick ons and passes.
2. Flat back 4 only with Coleman and possibly Godfrey and fullbacks with Keane and Branthwaite as centre-backs – hate 3 centre-backs + 2 wingbacks.
3. 3 in midfield – Along with the striker decision, this remains a key to the game. Allan, Doucuoré and Iwobi for me. I just feel that Delph will be tired and too slow today.
4. Despite all the drama around Pickford and the crowd, I have no doubt that he must start for us.
Derek Knox
160
Posted 24/04/2022 at 06:55:28
Hoping as always for the best possible outcome, but also prepared for the unthinkable too. I know that seems a contradiction, but having watched Everton for nearly 60 years I have experienced The Good, The Bad and the downright Coyote Ugly too.
More recently we have become a Jekyll and Hyde side, by that I mean the way we played against Man Utd then a few days later when you would have thought that confidence was not only high but in the ascendancy, we capitulate against Leicester. I was at both games, and couldn't believe how things panned out in the latter, with minimal change to personnel, we played like strangers for the most part. Not taking anything away from Leicester, who did play joined up football.
Experience has also taught me that current form generally goes out of the window when it comes to a derby match, let's hope that is the case later on this afternoon.
COYB 💙💙
Brian Murray
161
Posted 24/04/2022 at 07:05:29
The outrage and ripple effect of one injury finished their season is like if nothing else to do the same again. If we can't manage a cruciate at least put one or two out the run in. They are by no means a Man City in that respect.
In other words get into this shower from start to finish. Sky arse Klopp has already put the ref and the VAR on red alert over the potential for it.
Sam Hoare
162
Posted 24/04/2022 at 07:21:02
Of course we can get a result. But it's not the likely outcome.
There has to be a balance between aggression and practicality. If we try to go toe to toe with them they will love it and will exploit the space with world class forwards to score 3 or 4.
We have to primarily cede possession and territory; press at the right time and counter effectively. Hope to grab one on the break or at a set piece. Of course better teams than us have tried this policy and failed but it remains our best shot.
For it to work we will need players who work extremely hard and who can dig in. Plus some height will be crucial if we are to nick a set piece.
Pickford – I'm not his biggest fan but his distribution could be a weapon today.
Coleman – an argument to start Holgate but leadership and experience required.
Keane – effective in a low block. Need the height.
Mina – our best defender. Need the height.
Godfrey – harsh to drop Mykolenko but need the height and harder for Salah to breeze by.
Doucouré – will have to cover lots of ground and get forward on ocassion.
Delph – tough one, but a more natural 6 than Allan.
Iwobi – one of our best players in last month, will cover lots of ground and is capable of holding ball when pressed and finding a forward pass
Gordon – need his hard work and pace
Richarlison – need his hard work and pace
Rondon – the most likely to be able to hold the ball up with Van Dijk behind him. Need him to be a warrior.
Pickford
Coleman Keane Mina Godfrey
Gordon Doucouré Delph Iwobi Richarlison
Rondon
Paul Birmingham
163
Posted 24/04/2022 at 07:37:16
Well in Neil et al.
Fekk the RS, Mr. Ed, and the Sky cronies, - UTFT!
Bernie Quinn
164
Posted 24/04/2022 at 08:13:48
After we beat the Dark Side, I shall return and profusely apologise to all ToffeeWebbers 'cos I'm a miserable pessimist. COYB
Marc Hints
165
Posted 24/04/2022 at 08:18:48
From someone on Twitter:
"Nobody fancies us, let's change the perception of us and start moving onwards to better things. Let's beat those kopites and stop people laughing at us COYB"
Love the positivity.
Laurie Hartley
166
Posted 24/04/2022 at 08:51:40
David Nicholls # 111,
"In years to come, this will be forever known as the Rondon derby."
I heard it first from you. BTW, your post number could prove quite prophetic also.
Up The Blues!!!!
Dave Abrahams
167
Posted 24/04/2022 at 08:58:30
Laurie (166), that's the spirit!
We can win possibly ,but can get a draw definitely, and if any fan doesn't believe that it's not worth going to the game or watching it on the box, sticking with a 1-1 draw but hoping for a later winner from anywhere and anyone.
Geoff Williams
168
Posted 24/04/2022 at 09:00:18
Rondon? Have those putting forward his name ever seen him play in the flesh?
A 10-minute cameo appearance hasn't turned the cart horse into a thoroughbred horse. Maybe it was the two goals against Boreham Wood?
Van Dijk will have it easy against Rondon. The only way to cause Liverpool the slightest concern at the back is through pace and movement.
Ian Hollingworth
169
Posted 24/04/2022 at 09:04:44
UTFT
Robert Tressell
170
Posted 24/04/2022 at 09:15:57
I scribbled down the same team Sam # 162 but with Mykolenko for Godfrey and Allan for Iwobi.
I did wonder about Dele Alli as a false 9 instead of Rondon, too.
I'd quite like Rondon to be a battering ram for 60 minutes and run himself into the ground, with Alli or Dobbin to come on for the last 30 minutes.
The key thing is, is remaining compact and working tremendously hard.
If we do that then we have enough quality on the pitch to get a good result. We shouldn't rule out an against the odds win.
Mal van Schaick
171
Posted 24/04/2022 at 09:26:06
Let's hope the redshite, see the red mist, have a sending off or two and we romp to victory. We can only dream.
Other than that, 5-3-2 keep our shape, defend for our lives, and Richarlison will nick a goal on the break.
Brian Murray
172
Posted 24/04/2022 at 09:30:47
For once, can we please have Dobbin at least on the bench? I've got a feeling this lad has something. Coyb, let's have this shower.
Paul Birmingham
173
Posted 24/04/2022 at 09:36:28
Fighting spirit, and true Everton Blue Faith, can see this day come good.
This could be a game too many for the RS.
UTFT!
James Hughes
174
Posted 24/04/2022 at 09:37:22
If a few more than just Seamus, Richi put in a shift we can get the three points today. The RS will be thinking this is a given and just have to turn up. They will also have on eye on the semi-final on Wednesday.
We just need a few posso waves from George to set the tone. Also another reason to be cheerful is that Burnley don't play Manure as they are relly dire and have got their beach head on.
UTFT
Mike Gwyer
175
Posted 24/04/2022 at 09:38:32
Geoff Williams #168.
Great shout. Rondon was gasping against Leicester, after what, about 20 minutes!!! I can't get my head around how Van Dijk will have it tough playing against him, another factor being that Lampard takes forever to make a change, so if Rondon does play he will get at least 60 minutes. It doesn't bear thinking about – Rondon against Van Dijk for 60 minutes.
The only thing that will scare their back line is pace and, for me, Dobbin has it in bucket loads.
Kim Vivian
176
Posted 24/04/2022 at 09:40:40
Off topic, but is anyone else having problems with TWeb on their laptops/computers? I'm okay on phone (Android) but very intermittent on Windows. Not sure if it's my laptop or TWeb that's got the glitch.
Bricking it for this afternoon but I have a feeling... so have decided to watch!< I was watching Midway on catch up last night and said to my (very non-football savvy partner) this could be a metaphor for Everton's game with RS tomorrow (she does know who they are).
COYBUTFT

Tony Waring
177
Posted 24/04/2022 at 09:42:49
Let's just do "a Ukraine" on them. Can't fail.
Steve Brown
178
Posted 24/04/2022 at 09:58:34
Derek @ 156, exactly!
You never know.
Brian Murray
179
Posted 24/04/2022 at 10:02:46
Oh and Benitez was surprised by the hostility he got apparently. Really these people are on a different planet than us and for someone who supposedly knew the fan base. Another idiot to the collection.
Clive Rogers
180
Posted 24/04/2022 at 10:02:56
I think Lampard will bring Doucouré back and pick Alli at the expense of Allan and Gordon, who was quiet on Wednesday.
Geoff Lambert
181
Posted 24/04/2022 at 10:08:42
Bookies have given up on us 14/1 for a Everton win, and 40/1 for Everton to nick it 1-0. Had to put a few pennies on that. COYB
Dave Lynch
182
Posted 24/04/2022 at 10:11:05
Well the day has dawned.
I'm not like I am usually on derby day because I honestly don't give a fuck anymore. I'm not even gonna go into hiding when the unthinkable inevitably happens. I've come to the conclusion that some things in life are inevitable and a fierce beating by them is on its way.
Stay safe and sane lads, we don't deserve this. I don't deserve having my emotions and passion sucked dry by a club I have followed with pride and passion for 60 years but I'm hollow and empty of any sort of caring.
For those lads brave enough to attend today's game... conduct yourself with dignity and don't rise to the inevitable baiting you will receive at the hands of the most ungracious fans on the planet.
Anthony Flack
183
Posted 24/04/2022 at 10:12:35
Stating the obvious but we must avoid the standard derby pattern of being 2-0 down after 25 minutes, and take any chance we get.
Simple!!'
James Marshall
184
Posted 24/04/2022 at 10:24:20
I know it's regarded as treason on here, but I honestly can't see us getting anything out of the game today. If we get out of there inside 3 or 4 nil I'd say we're getting off lightly.
Whether we like it or not, Liverpool are light-years ahead of us. One of the best teams in world football against our pile of shite can only end one way – blue tinted glasses won't save us today I'm afraid, and no amount of positivity on the Internet is going to change that.
2-0 to them would be a good result I reckon. Goal difference could be a major deal now.
As an aside, I don't even think the derby is the important game today – Burnley v Wolves has more significance in my view.
Neil Lawson
185
Posted 24/04/2022 at 10:28:11
I so truly admire all those posters who still have faith and who believe that the unlikely may just happen.
Of course I too cling on to that vague hope without any real thought that any outcome will be positive.
A win? A draw? Redshite out of title race? Don't think even Bill Kenwright could put on a musical with that happy ending. But, for the next 6 hours, we can dream.
Sean Kelly
186
Posted 24/04/2022 at 10:29:13
We are deluded if we think we are getting anything other than a hiding today. I'm already reconciled with playing Championship football next season in the Championship. After all... we've been playing that level of football all season.
Jonathan Tasker
187
Posted 24/04/2022 at 10:29:28
I wonder if the result of Burnley v Wolves will have an impact on the derby match? Many expect us to be in the Bottom 3 at kick-off. If we're not, then the match becomes something of a free hit.
I'm predicting a Burnley draw and a narrow defeat in our match. By the standards of this season, that would make it a successful day. This shows how low we have become.
Still, one day we will be rid of Kenwright. That will be one of the greatest days in the history of Everton. The curse will be gone.
Terry Downes
188
Posted 24/04/2022 at 10:32:21
Sunday paper says, if we go down, Moyes is coming in for Keane?
Fuck that – if we stay up, he can still have him surely??
Brian Williams
189
Posted 24/04/2022 at 10:36:30
It's not Kenwright who's been playing absolute shite for most of the season. Blaming him alone for our present predicament is shortsighted, to say the least.
Tony Abrahams
190
Posted 24/04/2022 at 10:45:28
Football is about attitude, and the only two words on the minds of every single member of the Everton squad today, should be "Fuck them!"
Ian Bennett
191
Posted 24/04/2022 at 10:47:35
I hope it is more Zulu than the normal Bill Murray and Groundhog Day.
Danny Baily
192
Posted 24/04/2022 at 10:48:58
Neil 185, brilliant. I'd pay to see it in the West End.
Joe McMahon
193
Posted 24/04/2022 at 10:49:06
Jonathan @187, cheer up dude. We will always have the cringeworthy song "Grand Ole Team"...
Gary Jones
194
Posted 24/04/2022 at 11:08:21
If you find 'grand old team' "cringeworthy, you're either an utter pleb or a kopite. Give your head a wobble ffs
Rick Tarleton
195
Posted 24/04/2022 at 11:08:33
A lovely comment on Facebook:
One supporter, seeing the 14-1 odds, called on all true blues to get their money behind the team, as he had.
A reply backed him and said he had it in a double with Elvis returning on a unicorn, carrying a leprechaun with a pot of gold from the end of the rainbow.
I think that sums up our prospects and, for the sake of the rest of his career, give Pickford a day off.
Danny O'Neill
196
Posted 24/04/2022 at 11:11:48
I just hope the players don't go into the match with that resigned to defeat mindset, Sean.
I am a realist, but on match day, I personally don't see the point of supporting or playing football if you don't go into every match thinking and believing you can win.
We need the points as much as they do. It's a local derby. It's 0-0 at kick off. We need no motivation.
Rosary Beads were held this morning. Good luck to those entering unholy territory today. I wish I was there.
Ian Bennett
197
Posted 24/04/2022 at 11:12:08
What was that paying, Rick?
Tony Abrahams
198
Posted 24/04/2022 at 11:14:02
He's been the biggest curse put on our club, since that Gypsy stopped us winning at Elland Rd for so long, Jonathan, but as much as I despise what we have become under his stewardship, I sincerely hope his legacy isn't something that the lying, deceitful, nepotistic fraud, deserves.
Good sensible post Danny, imagine being on the battlefield with some of the attitudes showing on this website. It's only a football match, but the white flag of surrender is truly nauseating, because even if we get absolutely destroyed today, never will I give any Liverpudlian an inch, because I'm a very proud Evertonian, who's just waiting for the curse to disappear!
Dave Lynch
199
Posted 24/04/2022 at 11:35:47
Klopp is a prick.
Just seen his interview on SSN.
Mentioning the injuries to VVD and others in past derbies.
Presenter even mentioned he was pre empting the refereeing of the game.
Danny Baily
200
Posted 24/04/2022 at 11:40:22
An article in the guardian suggests we'll never catch LFC, and implies we'll be away from the top table altogether from now on, and that we'll be better off for it. Nonsense.
Got a feeling we'll upset the odds today and have people eating their words. COYB!
Tony Everan
201
Posted 24/04/2022 at 11:41:50
The RS start like a house on fire, a massive thing in todays game is being 100% ready when he first whistle blows. Get ready for the pace, aggression and assertion. We have to be ready and try like hell to snuff it out for the first 15 -20 mins, frustrate them and get some kind of foothold. Strange things can happen, a set piece goal for us, a pen, a sending off for them, very unlikely but they all could happen. Often hard graft and professionalism earns you a bit of luck at some point during a game.
Most of all, whatever the outcome, I want to see our lads working as a team, having no fear and enjoying the challenge. After all it's these attributes that we need to harness to stay up. I want to see a result, also visible progress that will help us through our last six games.
COYBLUES !
Whatever the team it has to be a fighting 451.
Derek Knox
202
Posted 24/04/2022 at 11:42:27
Tony @ 198, how right you are, both Danny and I have served in the Forces, albeit Army and Navy (no jokes please folks about stores and clothing ?) and I personally would have hated to have been at sea with any white flag wavers. It's all hands to the pumps, no passengers, yellow bellies, and ideally no RS among the crew ! 😜
Andy Crooks
203
Posted 24/04/2022 at 11:43:35
Sean @186. I think I get the point of that post and I understand. I suspect you are preparing yourself for the very worst to make tomorrow more palatable if the very worst happens. I've done it for years and it really doesn't work.
If we get thumped, I will be no less gutted for predicting it, so I won't. I despise Liverpool FC, their fans their players and ex-players. So, I will not be miserable before the game, nor anxious.
If I have to face that tomorrow, I'll take it, my God we all know how to. Today, I will believe that our players will find it in them to lose their fear, show their worth, and make us proud.
Bring it on.

John Boswell
204
Posted 24/04/2022 at 11:47:58
When Everton won the league in season 69/70, we recorded a victory over every other team in the division, we were that good. When Liverpool came to Goodison we had played 10, won 10 and were red hot favourites to win the game. They won. The score was 0-3, a total shock.
That memory gives me optimism for today now that the form going in to this afternoon's match is reversed. We are no hopers on form; our boys need to be disciplined and narky and focused. COYB.
Oliver Molloy
205
Posted 24/04/2022 at 11:49:15
Don't think there is any doubt the majority of Everton fans expect zero points this afternoon, in my opinion that is not being negative - it is being a realist.
However, it will be the performance of the players in blue that is going to matter. By this, I mean if we fall to pieces and give in, then today could be the final nail even with 5 games remaining.
Burnley playing early and knowing the result is the only positive Lampard has in terms of motivation.
I say good luck to us, hoping for a miracle, a huge surprise but fearing the worst.

Brian Denton
206
Posted 24/04/2022 at 11:55:33
John 204 we recorded a victory against Liverpool too in 1969-70, in the return game at Anfield 2-0.
Brian Harrison
207
Posted 24/04/2022 at 12:00:11
Listening to the managers being interviewed in the week, Frank was saying that he would have to be careful with Mina only just coming back from injury and hinted he had the same concerns over Delph.
Klopp suggested, with Villarreal in midweek, he would have to be mindful of balancing the players for both games, I wouldn't be surprised if he rested Mane and Salah and played Firmino, Jota and Diaz up front.
So team selection will be interesting to say the least, for both teams. Liverpool tend to come out quick and try to blow teams away inside the first 25 minutes, so it's important we are switched on from Minute 1, unlike we were against Leicester.
I was just thinking if the roles were reversed, and looking at some of the comments above, I can imagine some of these posters suggesting Liverpool haven't won away since August and haven't picked up a point away since December, don't let them ruin our season by getting anything from the game.

John Kavanagh
208
Posted 24/04/2022 at 12:11:32
Let's face it, we are on a hiding to nothing. The only issues for us will be sendings off, penalties and the VAR. Burnley will overtake us, I fear, with their easier run-in. Our best chance lies with overtaking Leeds. Their goal difference is worse than ours, so it's essential that we avoid a massacre.
Let's at least stick the boot in and destroy their quadruple chances. I hope we have Klopp frothing on the touchline and Lampard smashes those piano keys masquerading as teeth.
COYB.
Brian Murray
209
Posted 24/04/2022 at 12:17:10
Brian post 206, I was there. The kop Boys Pen that day. All hell broke loose when Whittle bagged the second. Luckily enough, my older bro's skinhead boot boys more than held their own. Scary stuff, haha, those where the days my friend.
The opposite end even as a kid was a joy to behold. A sea of blue and white. Ah well we have our memories. Oh and apparently good times recently.
Tom Bowers
210
Posted 24/04/2022 at 12:20:42
We are gonna need 3 keepers in this game – and even that may not be enough!!!
David Hallwood
211
Posted 24/04/2022 at 12:23:11
For the posters who are calling for Rondon to start: with apologies to W B Yeats and movie title, "That is no country for old men" – we need legs and a lung-bursting 90 minutes if we are going to get anything out of the game.
I feel a bit more optimistic/childish naïve today; after all ,we put in a good performance vs Man City, only to be undone by a freak goal with an assist by the calamity kid.
Obviously, we're a different team away from Goodison, I think we've changed our nickname from the Toffees to the Agoraphobics but, to state the bleedin' obvious, we need a Mourinho 'park the bus' disciplined away performance and defend like our lives depend on it; and please no high line, leave nothing to run in to.
Speaking of high lines, if the RS have a weakness, and that's debateable, it's they play such a high line. That's why I'd start with Gray or even Dele Alli and play balls behind them. We need an out ball, Liverpool play the 70-yard diagonal ball all the time, why we don't do that as opposed to the lazy lob up the middle is a mystery to me.
Like most of you, I'm looking forward to the game like the prospect of septic haemorrhoids, but football can also surprise and delight, not just permanently piss you off.
Jeff Armstrong
212
Posted 24/04/2022 at 12:27:32
Derek 202, my mum used to get our school uniforms from the Army and Navy store.
Me and our kid got some funny looks at school with me dressed as a Japanese sea captain, and him as Korean fighter pilot!😂😂
Pete Jeffries
213
Posted 24/04/2022 at 12:31:40
If it goes to form we've had it. Pinned down on the edge of our box like the Alamo.
Forget trying to play it out from Pickford, it's suicide against these, every team has tried that and failed.
Best hope is the long ball over the top and fight for it in their half and then to stay up and get any free kicks or corners.
Please no Holgate or Kenny and some others like Allan could be red cards but we need battlers nevertheless.
As for Mykolenko, he stands too far off his man, fatal v Salah on a run.
All we can really ask for is 100% from every player, sound tactics, a bit of luck and fair reffing.
Craig Walker
214
Posted 24/04/2022 at 12:37:04
For the first time ever, I won't be watching this derby when I have the chance to do so. I'd be watching from behind the couch anyway. Everton is affecting my health and I need a break.
I can't stomach watching Kelly Dalglish, Carragher, Souness gloat and 50,000 RS fans taunt our long-suffering and amazing away support.
The breakaway 6 is never mentioned now: like it never happened and we're staring into the football abyss.
I hope that Pickford keeps his head and they're not claiming that we're the nasty club after today. Stranger things happen in football but I've not known the gap between us to be this wide in my time of being a Blue.
I hate the RS and all they stand for but they're a phenomenal team with a brilliant manager. We've got problems all over the pitch and need a miracle.
Andrew Clare
215
Posted 24/04/2022 at 12:46:25
I am still hopeful we will win then go on a great winning run.
I feel this way for every game and I have been a Toffee for over 60 years, like my dad and grandad before me.
Tony Hill
216
Posted 24/04/2022 at 12:48:58
The Red Tourists are massing in town. Pouring out of the motels, with lovely new scarves and shirts. Authentic.
Barry McNally
217
Posted 24/04/2022 at 12:50:32
The Rondón derby!
Mark Frere
218
Posted 24/04/2022 at 12:52:19
I'm sorry to say I'm more interested in the Burnley vs Wolves game! I can't see us getting anything out of this game.
Lampard doesn't seem capable of pulling off a tactical masterclass, like Ancelotti did in this fixture last season. I fear that some very naive tactics could be deployed, à la Spurs away match.
Rob Hooton
219
Posted 24/04/2022 at 13:03:53
We all know that we are odds on favourites to get a hiding, but I'm still eternally hopeful that we will somehow get a result.
Worst away form in the country and no win on the road since August, time to upset the bookies and ruin many a weekend coupon!
Anthony Murphy
220
Posted 24/04/2022 at 13:06:14
The high line they play is less of a gamble with the VAR – without being childish, the VAR will always favour them in those tight offside decisions – armpits, noses offside etc – they will get those calls.
John Atkins
221
Posted 24/04/2022 at 13:07:40
I'll also be glued to the tele tomorrow night as, if Palace beat Leeds Utd and Man City also beat them Saturday, then, if we lose today, we go into Sunday's home game against Chelsea 4 points behind them with 3 games in hand!
Leeds then face Arsenal and Chelsea ….. Leeds are also very worried... we have to win our home games and beat Watford and we'll be fine.
Colin Malone
222
Posted 24/04/2022 at 13:19:04
Allan is the first name on my team sheet. Against Leicester, we had Allan and Delph in midfield, with Allan in front of Delph, and he did not play well.
For fuck's sake, it's like telling Kante, Fernandinho, or Idriss Gueye to play in front of another holding midfielder, it doesn't fucking work.
Can you imagine Reidy or Carsley getting told to play out of position? Carsley got put on the wing in his early days at Everton, then put in his rightful holding role, and he was great.
This is why I have my doubts about Paul Clement as a coach and manager. But he coached at Real Madrid, Bayern, Chelsea. With the fantastic players these team had, my Granny could coach them.
So it's either Delph or Allan. I will go for Allan, not both.
Dale Self
223
Posted 24/04/2022 at 13:49:55
What Dale 89 said. Not a self reference by the way.
Andy Crooks
224
Posted 24/04/2022 at 13:59:14
can't remember doing this before but it's a while to kick off.
Picforkford,br>Holgate,
Mina,
Keane,br>Godfrey,br>Allan,
Doucouré,
Iwobi,br>Richarlison,br>Dele Ali,br>Gordon
What will Frank do? Probably not what we think. Hope he gets in Klopp's face. Hope our players show these cheats no respect. Hope the officials are something approaching fair and not dying to be Klopp's mate.
David Hallwood
225
Posted 24/04/2022 at 14:00:26
I'm agonising whether to go to my dominatrix for not one but two sessions of ritual humiliation and pain, or watch both the Derby and the Burnley game.
Brian Murray
226
Posted 24/04/2022 at 14:03:32
David. Hope she can whip up a storm and cause uproar
David Hallwood
227
Posted 24/04/2022 at 14:06:09
Brian #226🤣
James Marshall
228
Posted 24/04/2022 at 14:10:13
Gary@194
There are more than a few of us who can't stand the 'grand ole team' song. It's outdated starry eyed rubbish in my view. I really hope they bin it off for the new stadium.
We're a relic, a museum as someone once said. Soon to be a museum that nobody wants to watch anymore.
Danny O'Neill
229
Posted 24/04/2022 at 14:24:19
I'd ditch Grand Old Team. It's not even ours is it?
Dennis Stevens
230
Posted 24/04/2022 at 14:29:14
I think you're right, Danny. Celtic springs to mind, although Spurs do a Chas&Dave-ified version, as I recall.
James Marshall
231
Posted 24/04/2022 at 14:51:53
Exactly Dennis - it's a Celtic song anyway. If they play it at the new ground it'll be even more cringeworthy.
We need modernising in every way, and that goes for the fanbase as well. All this 'istory bollocks does nothing for the present or future. I couldn't care less if we were good 40 years ago.
Chris Hart
232
Posted 24/04/2022 at 15:00:24
The injuries we've sustained this season seem to be the result of a curse. Across the Park they have hardly had any despite all the extra games their players have played for both Club and Countries. They are supposed to have something like 16 players with asthma as well. Surely they are getting away with some serious doping over there. It just doesn't add up. Maybe that is why Klopp wants to go in 2024. It may all catch up with them by then and many of them will be ready for the knackers yard.
Danny O'Neill
233
Posted 24/04/2022 at 15:02:13
As I keep saying, respect history and heritage. Never forget your roots or where you come from. I do that as an individual.
But don't live in the past or wallow in history.
Go and make history. Go on to better things. That's what those teams we fondly remember done.
Joe McMahon
234
Posted 24/04/2022 at 15:07:20
Gary@194, I don't need to give my head a wobble thanks. It's an awful dated song, thats stuck in the 60's. It's Kenwright misty eye all over.
Paul Kossoff
235
Posted 24/04/2022 at 15:24:07
These players are no more than money grabbing bastards!They don't give a toss if we get relegated or not. DLC with his mystery Injuries is more interested about his next modeling job and buying his next handbag.
Time was when footballers were pumped full of painkillers to play. The only loyalty left is from the supporters. I'll still support Everton no matter what league we are in. Coyb.
Terry McLavey
236
Posted 24/04/2022 at 15:26:04
As Ped said on Toffee TV, it's the biggest chasm between the teams for a long time, but we did beat them at Mordor 2 0, and as Greavsie said' it's a funny old game' I'm just hoping I don't find it funny at 6 o'clock!
As for Klipperty talking about the VVD injury, he never mentions the damage to James testicles needing treatment for two weeks done by that animal does he?
Let's hope we stop them playing so Klipperty gives ones of those after match interviews frothing at the mouth :)
Dave Williams
237
Posted 24/04/2022 at 15:28:28
Burnley one up!!
Mark Frere
238
Posted 24/04/2022 at 15:30:02
We are gonna be relegated now I'm afraid.
Paul Kossoff
239
Posted 24/04/2022 at 15:33:47
These players are no more than money grabbing bastards!They don't give a toss if we get relegated or not. DLC with his mystery Injuries is more interested about his next modeling job and buying his next handbag.
Time was when footballers were pumped full of painkillers to play. The only loyalty left is from the supporters. I'll still support Everton no matter what league we are in. We are at the moment bottom three by two points, we need a second coming to get out of this one! Coyb.
Colette Black
240
Posted 24/04/2022 at 15:35:50
David @ 225. There's some space on my subs bench.
I just hope our players are up for it today. I'm so over Everton playing second fiddle to that lot. Time to stand up and be counted.
---
Add Your Comments
In order to post a comment, you need to be logged in as a registered user of the site.
Or Sign up as a ToffeeWeb Member — it's free, takes just a few minutes and will allow you to post your comments on articles and Talking Points submissions across the site.