FA to ask Lampard to explain criticism of derby officiating
Monday, 25 April, 2022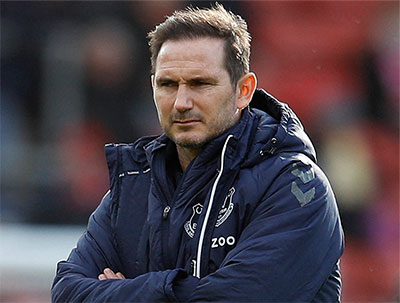 The Football Association could decide to fine Frank Lampard for comments he made in the wake of yesterday's Anfield derby where he vented his frustration with the match officials' refusal to fully assess a penalty incident involving Anthony Gordon.
The 21-year-old winger appeared to pushed over in the Liverpool penalty area during the Blues' 2-0 defeat and video replays indicated that the defender had also trod on Gordon's foot but referee Stuart Attwell waved play on. Meanwhile it was unclear how much analysis of the incident was conducted by Video Assistant Referee, Darren England.
England did not instruct Attwell to view replays on the pitch-side monitor, leaving Lampard and Everton fans aggrieved at the kind of situation that is all too common on the grounds of the biggest clubs.
The Blues were awarded only their third penalty in over 40 years at Anfield in their 2-0 win over the reds last season, albeit in a behind-closed-doors contest with Liverpool's fans not in attendance.
Article continues below video content
Lampard implied in his post-match comments that teams like Everton don't get favourable decisions in matches like this and suggested that had the incident occurred at the other end, the home team would have had a more favourable decision from the officials.
"You don't get them here," the Blues' manager said. "If that was Mo Salah at the other end, he gets a penalty. I'm not trying to create conflict; it's just the reality of football. It was a penalty. It was a clear foul."
According to The Independent, Lampard will be contacted by the FA to explain his comments and could be censured with a fine if they conclude that he breached rule E3 and brought the game into disrepute by questioning the integrity of the officials "and/or implied bias."
The report says that Everton have also contacted PGMOL, the body that oversees match refereeing in the Premier League, to inquire why the penalty was not awarded. It follows complaints made by the club at a clear penalty that was not awarded their way in a match against Liverpool's title rivals, Manchester City, when Rodri clearly handled in the box and rebuffed appeals against a controversial red card shown to Allan in Everton's game against Newcastle United last month, a decision that meant the Brazilian had to serve a three-match suspension.
Despite the defeat, one which left his side sitting in the relegation zone for the first time this season, Lampard was generally happy with his team's performance and charged the players with maintaining those levels over the final six games of the campaign.
"I was pleased with the way we competed in this game and in terms of performance," Lampard said. "I am more positive [about our prospects of avoiding the drop].
"There are 18 points to fight for, that is a lot of points.
"It is important for the players and fans and Club not to get sucked into that in a negative way. Be realistic, yes — but there are a lot of games for us to try to win.
"With the attitude we showed today, the togetherness and spirit, and if a few things go our way, which didn't today, we'll get the results.
"We showed great organisation away from home, which is something we've been striving for," he continued. "Every game [from now], we have to be spot on, we have to fight and believe.
"The whole club has to do that, there will be some negative [external] chat, but we've been in this fight since I've been here.
"If it goes to the end, let's stand up and take it to the end."
---
Reader Comments (260)
Note: the following content is not moderated or vetted by the site owners at the time of submission. Comments are the responsibility of the poster. Disclaimer
Gavin Johnson
1
Posted 25/04/2022 at 19:04:31
I'm sure Frank won't be bothered about a little fine.
Frank is right to say what every Everton supporter is thinking. There is a clear bias towards the so-called top 6 clubs.
The frustrating thing is that the VAR should have stepped in once the ref bottled it.
Tony Abrahams
2
Posted 25/04/2022 at 19:14:59
I think the FA will be opening a can of worms if they fine Lampard, especially when you look at how long it's been since Liverpool actually conceded a penalty?
Also it wasn't that long ago that they apologized to him for a disgraceful decision against City, and then Everton got three players sent-off in consecutive games, where it could even be argued that the game's officials decided to pull rank?
Bill Gall
3
Posted 25/04/2022 at 19:21:43
I hope that what they are saying is, no other manager has ever said nothing about the referee's performance. And Everton are again going to be the first to be punished for questioning the integrity of an untouchable.
Nick White
4
Posted 25/04/2022 at 19:29:11
I'm sure every fan outside of Liverpool FC agree fully with his words.
Dennis Stevens
5
Posted 25/04/2022 at 19:33:38
As soon as Lampard was appointed, I thought that the goal he scored for England that was outrageously not given was probably the best preparation he'll have had for being at Everton!
Brian Wilkinson
6
Posted 25/04/2022 at 19:35:11
He is spot on with what he said, about time someone spoke up about it, getting ridiculous now.
Duncan McDine
7
Posted 25/04/2022 at 19:37:28
Sounds like the FA are taking pointers from Putin.
Christy Ring
8
Posted 25/04/2022 at 19:56:05
Hypocrisy at the highest, total dictatorship. When Riley apologised after the Man City game, what disciplinary proceedings were applied to the ref and the VAR? None!
They probably agree with the Pompous arrogant Klopp, Gordon should have received a 2nd yellow.
Neil Copeland
9
Posted 25/04/2022 at 20:01:31
Christy #8,
I am not defending Klopp but I think he was making the same point as Frank by saying if it wasn't a penalty then it must have been yellow. In other words the officials got it wrong – again.
Allen Rodgers
10
Posted 25/04/2022 at 20:06:39
It's almost as if the powers that be want us to be relegated. Hmmm.
Neil Copeland
11
Posted 25/04/2022 at 20:08:27
Allen, they are not the ones missing goalscoring chances every game, but it still feels that way, I agree.
Larry O'Hara
12
Posted 25/04/2022 at 20:09:10
Good on Frank!
Christy Ring
13
Posted 25/04/2022 at 20:15:07
Niall (#9),
No, Klopp was adamant and arrogant on BBC yesterday after the game, he said it was no penalty, and he should have got a 2nd yellow for diving.
Neil Copeland
14
Posted 25/04/2022 at 20:18:22
Christy, okay, fair enough – yes, he is an arrogant prick then!
Tony Abrahams
15
Posted 25/04/2022 at 20:29:36
Remember Klopp making an absolute fool of himself when Calvert-Lewin got a penalty at Anfield, and whilst he was fuming and saying that it was a ridiculous decision, every single person in the studio disagreed with him and his mad eyes.
I only have a problem with just one referee explains everything, and these words were uttered by Klopp, who would have been absolutely incensed if the same thing had happened at the other end of the pitch, I'm sure.
Kieran Kinsella
16
Posted 25/04/2022 at 20:37:22
Dennis @5,
Lampard was also in the Chelsea team that lost the Champions League semi final against the RS for a shot that didn't cross the line.
Ian Hollingworth
17
Posted 25/04/2022 at 20:49:05
Just like Niasse only player to be punished for simulation Lampard will be only manager to be fined for making comments about officials
There is one very bitter kopite in charge somewhere.
Fuck em all and well done Frank for stating the obvious.
It's about time the Everton hierarchy got vocal about this as we need to make a stand against the constant injustice
Barry Thompson
18
Posted 25/04/2022 at 21:02:02
"brought the game into disrepute by questioning the integrity of the officials "and/or implied bias."
Those incompetent wankers that the FA are defending bring the game into disrepute every fucking week and you can't question their integrity when they don't have any to question. Implied bias what a joke - that stonewall penalty would have been given by Twatwell without any hesitation if it had been any of the redshite players hitting the deck following that challenge. Where the fuck was the VAR ref, nipped away for a piss and missed it did he, oh well thats ok then. Let them fine Frank for having the audacity to call them out over his team getting fucked over yet again by a biased, incompetent or cowardly officials. How come Twatwell nearly wet his knickers chasing over to check the ball was positioned correctly for our corner but not once, as far as I can recall, do it for any of redshite corners. Fuck them and the FA. I'm sure Frank can afford to pay the fine and at least he's calling them out yet again over it. These piss poor reffing decisions have happened too often this season for it to be put down to pure coincidence. Questioning their integrity - my arse.
Will Mabon
19
Posted 25/04/2022 at 21:05:24
"The Untouchables".
Corporate culture now well and truly ensconced into the PL and its supporting machinery.
Christy Ring
20
Posted 25/04/2022 at 21:09:12
Isn't it ironic all the pundits coming out today, criticising Gordon, and saying he's a diver, are former redshite players, and saw a clip from the "Red Echo", columnist Aldridge on about Gordon diving, and definitely no penalty and has the audaciity to suggest Lampard should apologise to Salah for his comment!
Will Mabon
21
Posted 25/04/2022 at 21:16:55
Christy, it's the hypocrisy that kills ya...
As if Aldridge isn't fully aware of Salad and his spring steel spine diving technique.
I have to say it was getting ridiculous to the point that he has actually reeled it in a little this season.
Barry Thompson
22
Posted 25/04/2022 at 21:26:30
Aldridge the biggest Bobby Hunt of them all, oh sorry, apart from Beglin,Creasehead, Phlegm Boy, Bingo, Robertson, Thiago, Sourpuss, sicknote Owen, Jimmy Jimmy Jimmy Jimmy Shithouse Case - oh fuck it, better stop or I'll be here all night.
Tony Abrahams
23
Posted 25/04/2022 at 21:31:24
Christy, I remember the replayed game after the Hillsborough disaster at Old Trafford, and Aldridge going over and rubbing Brian Laws head in celebration after he scored an own goal, and would therefore expect nothing less coming from the mouth of a classless man like John Aldridge.
The PR machine is despicable. Carragher's comment immediately after Kevin Campbell said the referee bottled it, was incredible, and when one goes against Liverpool, he won't be so quick to take the heat off the referee, by switching the gear, away from the ref and onto the Everton players, like he did yesterday?? (Nice one Stuart, Atwell we will look after you👍🤮)
The players have bottled it, Gordon also dived in the first half yesterday, but Carragher's comments took the decision completely off course, and that was absolutely scandalous when looking at the overall picture, and summed up the acceptable/necessary bias, which definitely favours certain teams.
Nick Page
24
Posted 25/04/2022 at 21:38:45
Why are the FA fuckers not answerable to anyone? Why do we never hear from them when they have got something wrong which is often (hence why they haven't been at recent UEFA/FIFA events, not that they're any better)? Closing ranks the way they do just breeds conspiracy theories …. which to be honest look well founded. The top/Sky 6 were the same six clubs that tried to break away a year ago. The same top six "they" are protecting via the ridiculous FFP rules and the new UEFA CL qualifying rules. The game has gone to absolute shit. Why do people bother, it's a closed shop and everyone else is just there to make up the numbers - nobody has any real hope of winning anything anymore and if they do it's an aberration. Either that or "they" will use their new toys like VAR to help to chosen ones, that's what you see at Anfield. The other way round and they're looking at VAR incessantly to give them something. These cheating bastards haven't conceded a penalty for God knows how long and are averaging 1 red card every 43 games. That's not normal. Their manager is a complete gobshite but gets away with it because he's a comedy Kraut and says boom (actually it's because he's their manager, and it's been the same with all their managers since Shankly). If the top 6 teams finish in the top 6 every years they get more money. And they qualify for Europe. And get more money. And buy better players. Which increases interest from the corporates looking for a return on their marketing spend. And thus we have a never ending and unbreakable cycle that can't be broken because all the power has been consolidated at the top in those teams and their associated parties with vested interests, and the FA/PL support this because they are selling their "product" hence they want the "biggest" teams - the ones they have largely created via the pyramid system - to be at the top. And to reinforce your participation in this scheme, they fill the media with stories about said clubs and have ex-players from said clubs (one in particular) working for them. To ram it down your throat even more. It's fucking bent to high heaven. Compare this to US sports where they recycle winners due to the draft system. People need to stand up this, call bullshit and stop giving the thieving bastards their money. And that starts with the other 14 clubs plus the entire football league, if they haven't already been driven out of business by this fucking diabolical Ponzi scheme with promises of riches that simply don't exist.
Christine Foster
25
Posted 25/04/2022 at 21:48:50
For too long we have heard managers toe the line in after match comments where decisions made by officials and often compounded by an inappropriate use, or absence of any VAR, cost a club playing against the elite, dearly. Lost points cost money, and mean relegation for some. That's the truth that no-one can talk about.
Bias? Corruption? Incompetence? Take you're pick, it's one or the other or a combination of all three. But one thing is certain, it's lying or deceitful to say it's not happening.
It's Brand football, where winning is assured for a select few under the guise of the EPL brand. It's been decided by money, media and the EPL itself that the brand is more important than the integrity.
Clubs such as Everton are not"just unlucky " when decisions are not made, when penalties not awarded. How often have we heard of poor decisions going against struggling clubs playing a title chasing one with no sanction on officials, no replay of a game, no review of an error that cost a club points?
Never. No examples are ever made of an elite club or its players. Ever. The EPL look for fall guys for that one.
Frank Lampard was right to say what he did, as a club we are right to ask for an explanation. If we are made an example of, again, for asking what every other club knows, what every other club sees, then it confirms the uncomfortable truth that such decisions are not chance or Incompetence, but by design.
Question a decision but never the integrity model only works with trust. That's gone, fans know it, clubs know it. Everton FC could end up with a fine, be sanctioned with a sudden ffp points deduction assuring relegation ( wouldn't that be a first for the league showing teeth under the guise of fairness?)
Far fetched? No, I don't think it is, as a club we are making them uncomfortable, rather than review or respond, look out for sanctions and fines, look out for a couple of non game changing penalty awards at Anfield for a bottom six club before the end of the season.
The "rub of the green" no longer exists at Anfield, or The Etihad, no, for lesser teams it's been replaced with either no decision made by officials, no review by VAR or a VAR intent on finding fault.
It's Brand football. An inbuilt elite designed to ensure bias towards a few and stuff the bit players. It's about time someone said the unspeakable truth about the officials, the league or its actions. I have no doubt there will be reprocussions against the club and manager, a very public one, and at a match level one too. Can't have a club questioning our integrity or brand, can we?
Nick Page
26
Posted 25/04/2022 at 21:54:59
Tony @23. Regarding the PR, they're a despicable bunch of twats. The leaked emails regarding how ripe the PL was for exploitation show you that (dressed up as an outstanding business opportunity). Then we had the Suarez t-shirts. Flying Daglish to the US to sack him (actually quite amusing). The Furlough scheme and u-turn. The ticket price hike and u-turn. The super league and er….u-turn. I'd also say, controversially they did very well out of Hillsborough too. And then they lucked out massively with Klopp just as the rest of the Sky 6 ex-City started to falter, and Europe too (like the late 70's).. The LFC PR machine. Customers not fans. How Everton could do with a bit of that, lol.
Tony Abrahams
27
Posted 25/04/2022 at 21:57:02
Not everyone likes the truth Christine, and when Lampard said his own players lacked bottle, loads of people didn't agree with him then either. I think he's been a bit naive with some of his team selections, not making enough substitutions and his tactics, but I like his honesty, and hope he stays in charge of Everton, and gradually builds us back up playing his type of football, eventually.
Customers and not fans is a great description Nick, for a good percentage of the Liverpool crowd
Neil Copeland
28
Posted 25/04/2022 at 21:59:01
Christine #25, good post as always. You make a very good point and put across what lots of us are also trying to say but not as clearly.
Everton should present their evidence, we already have an apology in hand, and use it to make life as uncomfortable as possible for the powers that be. I agree that it is likely to end badly for us if we refuse to simply lie down but we have to make that stand.
Peter Carpenter
29
Posted 25/04/2022 at 22:06:38
Just give them the Cantona treatment, Frank; 'idiot, idiot, idiot.'
Dave Abrahams
30
Posted 25/04/2022 at 22:12:56
Christine (25), excellent post Christine, Everton should fly you over from New Zealand and ask you to represent them while they wait for the answer from the head of referees as to why VAR didn't have a look at the penalty incident involving Gordon in yesterday's Derby and also instruct Frank Lampard how to answer the FA into why he made the remarks he did over the same incident.
The FA seem to think the best form of defence over VAR is to attack anybody who, rightfully, criticises it, it not working fairly because of incompetence, bias or downright dishonesty in too many incidence's.
Will Mabon
31
Posted 25/04/2022 at 22:14:23
Two options:
1. Accept that you can be negatively controlled or influenced with no recourse to a proper system of overview, correction or explanation, and eat it.
2. Question it and run the risk of further negative consequences.

Scant consolation, but If nothing else, the veil is being lifted and people are starting to see real world examples of how things really work - across the board. Not much left today that doesn't have the same old fingers stuck up it one way or another.
Brian Wilkinson
32
Posted 25/04/2022 at 22:29:51
Nick@24, cracking post, can I just chip in something else towards your post.
The 5 sub rule next season, now I wonder which clubs will benefit more than others, from that rule change.
In regards to the big six breakaway, who even though doing a u-turn, they broke the rules, by signing to a breakaway league, before informing the Premier League first of their intent.
Get a small fine, which is then waived, without them having to face a points deduction, oh yes it was not the players' fault, nor the fans, it was the owner's... try telling that to Derby County.
Bernie Quinn
33
Posted 25/04/2022 at 22:31:21
I wish I could write as well as Christine, but if I tried then I would be swearing terribly (not saying you do Christine!) and I don't use foul language. All I can say is, though the team are a shambles this season, it will not upset me if we go down. It is clear the FA, the Premier League, and match officials are corrupt and definitely out to get rid of us.
I am Proud of Frank and his comments – I think he is a true Evertonian – a good manager, and with all our young capable players, he will build a good strong team next season. I just think the Premier League, Sky Sports, and the ridiculous amounts paid in transfers and wages, have ruined the game that I love.
Nick Page
34
Posted 25/04/2022 at 22:34:12
Exactly Brian. It's a total farce. Beyond belief.
Neil Copeland
35
Posted 25/04/2022 at 22:40:24
Bernie #33, that's a very good post too. A part of me wishes that the Super League had gone ahead because in some ways it would make the Premier League better. I wonder how much our vocal resistance to that scenario has impacted the continual poor in game decisions?
Tony Everan
36
Posted 25/04/2022 at 22:41:52
All Fans of the 19 clubs other than Liverpool in the Premier League will tell you that what Frank Lampard said was 100% accurate. Roughly:
If Salah at full tilt, in front of say Holgate inside the Kop penalty area, gets a push in he back, gets his ankle stood on, there is at the very very least a VAR review. A penalty would ensue.
If the FA think this is not true, they are in cloud-cuckoo land. In fact,they know it's true and are just going through the motions for the necessary optics. It's a charade and our Frank will be fined as part of it.
Neil Copeland
37
Posted 25/04/2022 at 22:42:33
Brian and Nick, the wage rule (74 or 75%) of turnover benefits them too, surely a set figure would be much fairer?
Brian Wilkinson
38
Posted 25/04/2022 at 22:43:21
Another great post, Christine.
Brian Wilkinson
39
Posted 25/04/2022 at 22:56:03
I'm sure someone on here will be able to say how many penalties Everton have been denied this season, or have been on the receiving end of some shitty decisions. I know there was the one yesterday, the one v City, pretty sure as well the game against Wolves, but for the life of me, I'm finding it hard to think back to more we have been denied.
We also had the Spurs fiasco, where the ref blew for a penalty, as Richarlison got back up, had the goalie in no man's lands, but game stopped before he could get a shot off.
There was also a game where Michael Keane jumped up, landed on a player's foot and a penalty was given.
Brian Wilkinson
40
Posted 25/04/2022 at 22:56:46
Yes, I forgot about that, Neil.
Ian Riley
41
Posted 25/04/2022 at 23:09:51
The Premier League is a brand first which makes billions of pounds. It must protect the top clubs first as they have the worldwide fanbase to please for revenue.
Over the past 4 years, I have watched more lower league televised matches than Premier League games. It's boring, predictable and, as long as the top clubs are winning, everyone is happy.
The Premier League must continue this trend even more as the threat of a Super League is hanging over them. Keep the top clubs competing against each other for trophies and the brand marches on.
Televised sport now is branded and not competitive. The next 10 to 20 years will be the same clubs taking the trophies for worldwide audiences. Simply the television revenue is where it's at.
Everton have no standing and it's pointless fighting something that is unjust. Frank will be told to shut up and go away. There is no room for the little man anymore! What is right and fair is not important anymore. This is big business!
Shane Corcoran
42
Posted 25/04/2022 at 23:34:41
More nonsensical replies.
Many managers have been fined for their comments over the years. Mourinho more than once I imagine.
It's fairly simple. You can say that you think the referee got every decision wrong but you cannot accuse or imply that they do it intentionally.
Jack Convery
43
Posted 25/04/2022 at 23:44:20
Christine you nailed it. Well done.
I see their keyboard warriors are out and about in force today. I wonder why. The comments I've seen are so laughable it's untrue. We dive, dive and dive again. Excuse me Salah. Mane, Suarez???
Apparently one EFC fan appears to have smashed a TV screen in one of the Mordor Stands. RS saying we are the most disgusting fans in Britain. We should be relegated. EFC fans don't know how to behave - animals.
Well I have this to say to these saddoes - 39. Remember? Or is it still an inconvenient truth best forgotten? Hypocrites!
Bill Watson
44
Posted 25/04/2022 at 23:46:25
Atwell is, at best, an incompetent referee who, I'm sure, has previously been demoted for being just that. He shouldn't have been anywhere near a derby game.
The official VAR explanation for Mane only receiving one yellow card after striking two players was that Atwell didn't see the second incident, so it wasn't a 'clear and obvious' mistake. So why didn't the VAR advise him to take another look at it? Isn't that what the VAR is supposed to be for?
I think Attwell was the VAR who encouraged the match ref to change Allan's card from a yellow to a red in the Newcastle game! Go figure!
If these refs aren't incompetent, then the only conclusion to be drawn is that they're corrupt.
Ernie Baywood
45
Posted 26/04/2022 at 00:30:53
I'm not going to defend our diving reputation by accusing others. Unfortunately Gordon and Richarlison have earned that reputation by doing it too much and they're not very good at it.
I take issue with the Premier League's stance though. There is clear bias and incompetence in officiating and the VAR system. And yet no-one in the game is allowed to challenge it? How's it going to improve then?
Referees used to have to make big calls in big moments in big games. We always suspected some bias, but now they have the safety net of the VAR. In that key moment, they don't have to be the one that invokes Klopp and the Liverpool media mafia's ire. They can just let the call go to the VAR... who will inevitably allow the original cowardly decision to stand because they don't really know what basis the ref used to assess the incident.
Did Atwell see the foot on foot contact? The hand on the shoulder? The arm in the back? If he saw all that and decided it didn't warrant a penalty then he's incompetent but it's not the VAR's job to get involved.
If he didn't see it then the VAR should be sending him to the screen. But this decision was all reached in seconds without the game stopping. They didn't know what he saw and they didn't stop to check.
And this is the system that we can't complain about for fear of sanction?
It's a disgrace. It's inherently biased and broken.
Then you go back to Rodri where they did check what the ref saw. He said he thought it was on the sleeve line and the logic was that he was wrong but it was close enough to not be a clear and obvious error. It's a massive balls up.
Kieran Kinsella
46
Posted 26/04/2022 at 00:43:21
Christine is correct, of course. But, while that issue needs addressing, it's a bit of a strawman right now. If, as seems likely, we are relegated, the worst thing we can do is obsess over the Liverpool game and that call. We need to accept the shortcomings of the club and fix them.
In 1994, we overlooked all that and just focused on that last day win over Wimbledon. Consequently, nothing was fixed. A few months later, we were rock bottom without a win after 11 games.
The second half of last season, we were dreadful but we got hung up on Carlo leaving instead of realizing the team was in serious trouble. If we somehow survive, we need to have a complete overhaul. If we are relegated, we need a complete overhaul.
Let's not give Kenwright, Moshiri, the coaches and players a way out by banging on about this injustice as if it's the be-all and end-all. If we become good again, then we complain about the reffing as Mourinho did and Mancini did when their sides first dared to compete. Right now, it's the least of our troubles.
Also why are people upset by people are criticizing our tactics? We set out to be spoilers and did it well for 60 minutes. People noticed but we are upset they comment on it?
And why the fuck are people upset neutrals no longer see us as their second favourite team? Have you ever had a second favourite team that threatened your real team? No. I'd quite happily see us be pantomime villains and universally hated cause my only concern is Everton.
Steve Brown
47
Posted 26/04/2022 at 02:19:01
Agree with Kieran, let's move on (although not sure about the 'straw man' argument you deployed. Seems Darren influenced you last season!).
We played well against one of the top sides in the world. Frank go the tactics exactly right, but you cannot buy a penalty at Anfield. The referees simply don't have the bollocks to give one - not corruption, just everyday cowardice. I thought we'd get 4 points from Man Utd, Leicester and Liverpool, but you can't legislate for the like of Soton and Wolves getting the summer flip-flops on against Burnley.
We have 6 games left and 18 points to go for. If we secure 12 points we will definitely be safe (I think we will need less). So, it is all in our own hands and we should only panic when that is not the case.
Leeds play Man City (H), Arsenal (A) and Chelsea (H) in their new 3 games, so let's see what the table looks like after those matches.
Tony Mace
48
Posted 26/04/2022 at 02:37:06
FA - Q: Frank, why the criticism?
Frank - A: Did you watch the match?
FA - A: Frank, you do remember don't you that LFC were the instigators of the European Super League and they were the last to pull out. In fact they only pulled out because we promised them the earth if they stayed in the EPL. Then we gave them a £2.50 fine to make it look like punishment. LFC are our cash cow - we can't upset them Frank. LFC asked for 5 subs per game and we had to go along with it. What can we do Frank?
Frank - Q: Just ask 99.999% of the population (including the most biased red pundits) if it was a penalty and they will tell you - yes it was a penalty. Why was this incident not referred to VAR? You are taking the fans outside of those clubs wanting to join the ESL for idiots.
FA - A: Frank you are getting far too close to the truth. We apologised for the Man City penalty and we cannot apologise again. We will see you and your club in several years time when you have served your punishment for having the audacity to question us. Meeting over.
I imagine the above meeting would be carried out in a scenario similar to the meeting between Dorothy (Frank) and the Wizard of Oz (FA). Unfortunately Frank didn't take his dog to the meeting.
Having said that and notwithstanding VAR we have been a big pile of shite this season
Whether we stay up or go down IMO Frank should stay and be given some time to have a clear out and establish a team of his own. Half the problem stems from the fact that we have had so many different managers trying to play so many different formations that the players heads are fucked. Not to mention injuries and the lack of leadership on the pitch.
Anyway what do I know. Bill calls this "good times"
COYB - A win against Chelsea and the bottle is half full again
Martin Faulkner
49
Posted 26/04/2022 at 03:43:55
Brian #39
Coleman fouled in the build up to Newcastle's first goal at their place, clear foul, he was going to win the ball and got fouled, no foul, they switch the ball to the far wing and then score from the cross.
Not reviewed
Bill #44
Yes Atwell was demoted a while back 2012-2016 for being rubbish
"Attwell demoted from Premier League refs list after series of blunders
Referee Stuart Attwell has been demoted from the select group of Premier League officials after a four-year spell dogged by controversy."
Attwell became the youngest referee to officiate in the top flight when, aged 25, he took charge of a match between Blackburn and Hull in 2008 after one season in the Football League.
However, a month later he awarded a 'ghost' goal in a Championship match between Watford and Reading.
Attwell has been involved in a number of controversies:
In 2010, he awarded Liverpool a controversial goal against Sunderland at Anfield when the away team believed the ball to be dead. He had awarded the Black Cats a free-kick inside their own half and Michael Turner touched the ball back to Simon Mignolet, apparently for the goalkeeper to take the set-piece.
But Attwell ruled the ball active, allowing Fernando Torres to steal it and set up Dirk Kuyt to finish into an empty net
Most recently, he came under fire in December for sending off former Bolton defender Gary Cahill for denying Tottenham's Scott Parker a goalscoring opportunity, despite the offence taking place near the halfway line.
The red card was rescinded."
"Attwell became the youngest referee to officiate in the top flight when, aged 25, he took charge of a match between Blackburn and Hull in 2008 after one season in the Football League.
However, a month later he awarded a 'ghost' goal in a Championship match between Watford and Reading."
Following the Watford-Reading game, further controversies followed when he was accused of 'losing control' of a Derby-Nottingham Forest derby, having disallowed two Derby goals in the final stages, booking eight players and sending off Forest's Lewis McGugan.
"He has also attracted the ire of Wigan manager Roberto Martinez, who accused the referee of lying about his reasons for sending off Gary Caldwell in April 2010, while Stoke's Danny Higginbotham claimed Attwell could be too easily influenced by players."
Guys got serious form
This is the guy that got Allan suspended for 3 games after the Ref gave him a yellow in the Newcastle game and he convinced him to overturn it.
Christine Foster
50
Posted 26/04/2022 at 04:37:31
Martin 49#
You should take a look at a study into referee bias done by the Footy Stats website in November last year. It's extraordinary.
Not only that, which referee has the worst bias against Everton? I wonder who that could possibly be... then look at Liverpool's ranking for bias from all the referees, 3rd highest as shown over the last 10 years, 5 times more favourable than Everton... worth a long look:
Alan J Thompson
51
Posted 26/04/2022 at 05:58:36
Surely the FA (how appropriate) should be asking the Referee and the VAR to explain their officiating and, if they have already, as they should have done, then they should be making any such information public. Or would that be considered bringing the game into disrepute?
Meanwhile, Everton should be insisting that Lampard only reply through the club's lawyers.
Danny O'Neill
52
Posted 26/04/2022 at 06:16:01
I said on the other thread that, if researched, we could produce a long, long list of injustices in this fixture alone. Although this season in particular has been harsh on Everton (no sour grapes just face value), it's not a new phenomenon.
Forget the VAR, the incompetency of the officials in football is stark and clear to see for all and everyone outside of the elite club. Something needs doing because for way too long, we have officials who are not up to standard and more interested in their own egos or having their bellies tickled by their idols. Star struck.
I was vocal against the attempted breakaway in the summer. I now wish they had to gone and done it and left us to it so we can have our game back. Reclaim it from the men in grey suits who feed from the trough and feel their own self-importance. Shamelessly bowing to the few whilst shitting on the many. All animals are equal, but some are more equal than others.
I'm still hurting. I'm taking the dogs out. I want Sunday to come around quickly. I need Sunday.
Peter Mills
53
Posted 26/04/2022 at 06:35:17
Tony#23, I've never forgotten watching Aldridge do that to Brian Laws, mocking him for scoring an own goal. After weeks of (correct) sympathy towards his club, Aldridge did that. And, when questioned about it, said he was consoling his opponent.
A football club personified.
Tony Abrahams
54
Posted 26/04/2022 at 07:26:08
Shane@42, I think the key words in your post are "every decision". The referee got loads of decisions right on Sunday, booking Gordon, was one of them imo, but he got a few "key decisions" wrong, again imo, and surely the best narrative would be for them to explain themselves?
My own view now, is that football now being such a major television sport, it needs controversy, why else do sky have a program called "ref watch?" My own guess is that it keeps people talking, even though the man in the studio is only offering an opinion, and although it's gospel to many, I'd much rather prefer to hear words coming from the horse's mouth, because I feel that referees are now getting more protection than an endangered species.
The only logical question to ask imo, is why don't referees have to explain themselves? Stop and think, because that's exactly what these refs would have to start doing, once they knew they had to start explaining their thoughts on a very regular basis. (Bang-bang-bang, I know)
Bernie@33, I was genuinely shocked when a couple of genuine never miss a game, die-hard Forest fans told me they couldn't wait to get back out of the Premier League, years ago, because they said their days out were much better and a lot more enjoyable in the Championship.
Danny O'Neill
55
Posted 26/04/2022 at 07:30:42
When I lived in Woolton, John Aldridge used to live just around the corner. I used to bump into him most Fridays in the off-licence on Hunts Cross Avenue. I'm genuinely not just saying it because of the obvious, but such a jumped up arrogant shite. He looked at you as if you wanted his autograph.
The thing is, my aunties knew his family quite well having grown up with them in the Garston Tenements, so I knew his background. We all want to better ourselves but we never forget our roots or where we come from. Humility beats arrogance.
I always remember a Sunday night out in Woolton (it was a big thing back in the day for those who remember). There were a few players in one of the pubs but I distinctly remember Steve McMahon. The bar was 4 or 5 deep and he gave it the "do you know who I am" to get served ahead of everyone else. Small things, but total arrogance.
And there was a boyhood Evertonian from Halewood who my best friend's Grandad used to take to Goodison on the bus when he was a kid.
Shane Corcoran
56
Posted 26/04/2022 at 07:30:44
Tony, my point is around Lampard being sanctioned. If he had said he thought the referee had an awful game, then there's no issue.
He questioned his integrity, which needs explaining.
Tony Abrahams
57
Posted 26/04/2022 at 07:44:09
Fair enough, Shane, but I honestly didn't see it like this, I saw it more that he was questioning the integrity of the whole system, because like Tony E has already said on this thread, a lot of genuine football supporters right across the board would probably agree with what Frank Lampard said.
I think it's good to question integrity because it gives people a chance to explain themselves, but it's like these referees are being protected by the 5th Amendment right now, and once again – nothing is going to change, until they are made to speak on a regular basis, imo.
Danny O'Neill
58
Posted 26/04/2022 at 07:44:30
Tony, Shane,
This is something that has been a problem for years. The officials in football are not held accountable. They never have to explain their decisions and hide behind the protective shield they are afforded.
When the VAR came in, there was outrage and suspicion, mostly generated and fueled by the ex-player pundit community. Why? Because they viewed it as a threat to their job. They need the controversy to fuel and justify their existence. They have cleverly used the VAR to re-invent themselves. Give me sports journalists over ex-players any day.
Why can't football go down the Rugby Union route and hold officials accountable? Use the technology but make them explain and talk through the decision making process. The majority of supporters would mostly be okay, even if they don't agree, if it is explained and we see the logic behind the decision making process, as we see in Rugby. I really can't see what is difficult about that suggestion other than they and the authorities are scared of their own incompetence.
Scratched record for the umpteenth time,
Tony Abrahams
59
Posted 26/04/2022 at 07:49:25
You explain it better than me Danny, and the longer this goes on, especially because we are still getting these inconsistencies, even with video technology, then it's obvious that people are going to question if something more than incompetence is at play.
Mal van Schaick
60
Posted 26/04/2022 at 07:55:35
Never mind just Frank taking these control freaks on, the club should be publishing statements condemning the officials and challenging the FA regarding those decisions.
Attwell and England should suspended pending an enquiry into their failure to collaborate in their decisions.
The FA would challenge players at the drop of hat regarding foul play and behaviour on and off the pitch, why is it different rules for officials?
If there is no consistency across the board for the whole game, then the game is open to bias and officials should be making decisions without fear or favour.
Shane Corcoran
61
Posted 26/04/2022 at 08:11:58
Danny, surely they're assessed internally?
I'm sure I've heard of refs been demoted to a lower tier for poor performance.
As Mal suggests and as the club has done, a formal complaint or clarification request is fine. But Lampard has questioned the ref's integrity.
If his explanation stands over his initial point then he'll likely be fined for effectively calling the ref a cheat.
Personally I think this has to stop. The rights or wrongs aren't important, at least for the next month. This is a sideshow that nobody at Everton needs. We're enough of comedy act without adding to it.
Chelsea next Sunday is all that anyone should be thinking about.
Tony Abrahams
62
Posted 26/04/2022 at 08:21:53
I agree, it's got to stop, Shane. The last time we got an apology, we got three red cards in three consecutive games, with the referees pulling rank to show us who the real bosses are.

Mick Roberts
63
Posted 26/04/2022 at 08:25:44
Fetching the game into disrepute – what a joke. The FA and Premier League are doing a fine job of this themselves.
Bill Fairfield
64
Posted 26/04/2022 at 08:32:56
Christine @25,
Excellent post, couldn't agree more. The corruption in the game now has become overwhelming.
Martin Mason
65
Posted 26/04/2022 at 08:33:12
The penalty was a poor decision but, to be fair, Anthony Gordon had set himself up for it by some of the most embarrassing simulation you could ever see. He isn't alone in that and I'm sure that he is encouraged to do it by the coaches but he is better than that and he will be better for not doing it.
Another thing we need to realise is that the penalty didn't lose us the game. Liverpool with 88% possession and a very clever set of substitutions and change in tactics deservedly won the game. We did very well but, if a team parked the bus like that against us, we would criticise them.
We also need to get over what is almost an irrelevancy, we were always going to lose to Liverpool and we need to get over this, we are on the verge of going down and we are the side with the downward momentum.
Danny O'Neill
66
Posted 26/04/2022 at 08:36:36
They probably do Shane, but it's all cloak and daggers, behind closed doors. No accountability, no visibility, no explanation. No admission of guilt or wrong doing. Demoting them for a week or two smacks of brushing the problem under the carpet until everyone forgets and then the culprits will be back. Nothing to see here until the idiots forget about it. That's their approach.
I too can't wait until Sunday. It can't come soon enough for me. It will be a long day as I need to be at Gatwick by 7:30am, which is the wrong side of London for me. But return flights to Manchester and the train to Lime Street were a lot cheaper and also quicker given the ongoing engineering works which means a weekend journey from Euston is taking 5 hours plus both ways.
Enough of my travel woes. It's self-inflicted Evertonian-itis. Back on topic. I like the fact our manager has called it out. Let's get vocal and stop this meek, compliant, plucky Everton shite. Let's not be liked. When people like you, it means you are not a threat.
Excuse me. Still emotional and it will probably take until we win on Sunday to bring me down.
Mick O'Malley
67
Posted 26/04/2022 at 08:50:02
Peter 53 Aldridge was definitely taking the piss when he rubbed Brian Laws head, I've always despised Aldridge he is one horrible biased kopite, the list above about Atwell's cockups is staggering, he was abysmal on Sunday as usual.
Pat Kelly
68
Posted 26/04/2022 at 08:50:28
Give it up, Frank, you're a busted flush.
Dave Abrahams
69
Posted 26/04/2022 at 09:00:20
Well going by the comment section in the Daily Mail quite a lot of fans from all over the country and beyond are agreeing with Frank having a go at the referee and of course some having a go at Lampard with a lot of them Red fans from Liverpool and plastics from afar.
Finn Taylor
70
Posted 26/04/2022 at 09:05:24
Aldridge. Cant stand the man.
As well as the pathetic Brian Laws moment, I also recall David O'Leary consoling him when arsenal won 2-0 to snatch the title - he brushed him off, aggressively so.
Michael Lynch
71
Posted 26/04/2022 at 09:18:59
Whatever fine Frank gets, I hope he pays it in bags of 10p pieces.
But, unfortunately, the outcome of this latest outburst will probably be that we don't get a decision in our favour for the rest of the season. The refs look after their own, don't they? It's human nature I suppose, but it's a fucking disgrace considering what's at stake.
Rob Halligan
72
Posted 26/04/2022 at 09:29:27
We'll all be singing a different song after we beat Chelsea on Sunday. I'm reading on another thread that Burnley have to play Villa twice, and slippy will more than likely be sending his team out with their summer flip flops on. Well, in that case Chelsea will more than likely "Roll over" for Frank.
Sunday was always going to be difficult, we all know that, but I think Frank has every right to question why that penalty was not at least reviewed? VAR were quick enough to overturn the Penalty we were awarded against Spurs, VAR were quick enough in their decision that the stonewall penalty against Man City was in fact not a penalty, and VAR were quick enough to decide Allan's yellow card should be upgraded to a red against the skunks. Shelvey threw in a challenge far, far worse on Anthony Gordon up at Newcastle but only given a yellow, and guess what, no VAR review, or if there was, the decision stood as a yellow. There have been countless other VAR decisions go against us this season, and it's getting more than beyond a joke now. Paranoid, maybe, but I've seen soft penalties awarded to the RS for far far less, notably the one at Palace when Jota leaned into the goalkeeper and then fell over, or the one against Watford when two opponents tangled in the Watford penalty area from a corner, both went to ground, and guess what, penalty awarded to the RS.
So yes, Frank has every right to question these decisions. Of course, we would still have had to score the penalty, but at least gives us the opportunity to score and have something to hold onto. Can see a soft penalty coming our way this Sunday!!
Brian Harrison
73
Posted 26/04/2022 at 09:59:16
Maybe Everton need to say we will no longer be putting anyone up for interviews to Sky directly after the game. I know its in the agreement that clubs sign that they have to put forward the manager right after the game. And what's the first question any reporter will ask a manager? Obviously anything contentious that happened in the game.
Now either you want an honest response but in doing so you risk a fine so now most managers say you saw the incident you make your mind up, although even when they say this the reporter often follows with, "Well, do you think it was a penalty?"
I know Everton will be fined if they don't put anyone forward so what at least it will make a point to Sky and the FA.
Also say but we will give interviews if first the referee is interviewed immediately after the game. Not going back to the changing room to have a look at replays to concoct a story a bit like our politicians but to be put on the spot about his decisions.
They wont because it will make them look even more shambolic than they already are. The VAR was introduced to supposedly help rectify their mistakes but it seems that the VAR can pick and choose what is checked, and would anybody trust this lot of making an honest decision?
Leighton Cooper
74
Posted 26/04/2022 at 10:40:34
Martin #49.
My missus is a Watford fan, and she still goes on about that phantom goal whenever she hears Atwell's name mentioned. It potentially cost them promotion back to the Premier League that year. How he became a top-flight ref is beyond belief.
To anyone who hasn't seen it, go on to YouTube and search "Watford Reading Atwell phantom goal". It wasn't even a case of the ball nearly crossing the line, the ball was nowhere near the goal at all!!
Len Hawkins
75
Posted 26/04/2022 at 10:48:47
The powers that be are deciding that they and their dubious officials are above criticism and anyone who does point out the glaring failures of them and their officials are fined.
I thought football was a game which originated here not in Russia.
Kim Vivian
76
Posted 26/04/2022 at 10:57:24
Frank's got nothing to answer for. The officiating in the PL is simply sustandard. They're weak, cowardly narcissists and most fans would agree (red plastics excepted). If anything it's the other way round - they have the explaining to do.
I'm right behind Lampard. He was handed a poisoned chalice when he arrived here, so is on a hiding to nothing really. He's not a Kenwright brown nose and is his own man and whatever league we find ourselves in I hope he makes a good fist of the job.
Barry Hesketh
77
Posted 26/04/2022 at 10:57:32
Leighton @74,
That's the area of concern I have about Everton being relegated, as I worry that the Premier League officials who are often parachuted in to officiate crucial Championship matches and play-off games will be able to influence / choose which clubs earn promotion. Hopefully, we won't have to experience any of that and will remain in the Premier League.
George Carroll
78
Posted 26/04/2022 at 11:16:44
Frank should take Christine's post @50 with him and ask the FA to digest it. All the evidence you need.
Terry McLavey
79
Posted 26/04/2022 at 12:59:07
The FA should move to the Kremlin, they'd feel at home with their opinions and turning a blind eye to what's happening and creating their own truth.
As I said before has anyone ever seen the position of the ball being checked for a corner by the ref before ?
Surely that's the linesman's (sorry assistant referee ffs!) job?
Controversial I know but I wonder if I want to be part of this corrupt premiership?
Rob Halligan
80
Posted 26/04/2022 at 13:06:28
Officials for the Chelsea game are as follows……..
Referee: Kevin Friend. Assistants: Adrian Holmes, Simon Beck. Fourth official: Andy Madley. VAR: John Brooks. Assistant VAR: Mark Scholes.
I suppose they are all as bad as each other, so I guess it doesn't really matter who we get. The name John Brooks on VAR doesn't ring a bell with me though.
Rob Halligan
81
Posted 26/04/2022 at 13:11:50
Terry # 79. Daft as it may seem, but the ball doesn't have to be in the quadrant, or even touching it when a corner is being taken. As long as part of the ball is overhanging the quadrant, then it's ok. We're talking literally millimetres here, yet you see the crowd of the defending team going ape shit when the ball is not where they think it should be, and where the rule says it should be.
Danny O'Neill
82
Posted 26/04/2022 at 13:18:35
I don't think you're being controversial at all Terry in drawing those parallels.
The Premier League is reminding me of far left socialism and Communism at it's best. The elite make the masses believe they are subservient and go as far to convince everyone that they are equal when the reality is there is an elite few and then the rest. They control the messaging and the narrative to look after their own backs, keeping the majority under control as we should be grateful for what we have. Others suffer and starve whilst they preach solidarity as they greedily eat and fill their snouts from the pig's trough. George Orwell, 1984; read Premier League.
Sorry Terry, now you've made me sound controversial!!
Derek Moore
83
Posted 26/04/2022 at 13:42:10
Danny (#82) "Nineteen Eighty-Four" had nothing to do with socialism. It was a novel warning of the dangers of totalitarianism.
Orwell's fictional take on socialism was "Animal Farm".
Danny O'Neill
84
Posted 26/04/2022 at 13:55:56
I stand corrected Derek. I knew what I meant, just didn't do my checks and balances.
Derek Moore
85
Posted 26/04/2022 at 14:03:05
No knowledge is truly wasted Danny.
George Orwell is my all time hero, and my favourite author of all time. Not just Eighty-Four and Animal Farm, but Down And Out In Paris and London, The Road To Wigan Pier, Homage to Catalonia...
He didn't just talk the talk, he walked the walk. He went to Spain to fight fascism. He tramped around Paris and London to give the middle classes a true account of what it was like to be poor. The greatest journalist of the twentieth century.
Apologies for the pedantry, but he's Derek Moore's version of Kevin Sheedy.
Kieran Kinsella
86
Posted 26/04/2022 at 14:06:59
Danny
Never met Aldridge but did know his Dad who was salt of the Earth. I imagine John was over compensating got his humble roots by being an arse hole. Sadly lots of people fall into that trap
John Raftery
87
Posted 26/04/2022 at 14:10:22
VAR is crap. So are the officials who run it. They make it up as they go along.
Paul Cherrington
88
Posted 26/04/2022 at 14:13:41
I think it's absolutely scandalous that the FA have the brass neck to pull a stunt like this. Lampard said nothing wrong in his post-match comments and did not express himself in an offensive or over the top way. He just told the truth and said what every football fan knows - what is there to explain?!
As Lampard said, if that incident had happened down the other end to one of their players, the ref would have given a penalty instantly - never mind VAR having to get involved. The FA just don't like the fact we have a manager who is not afraid to highlight the very poor/biased standard of Premier Leagues referees and calls them out when they get it blatantly wrong.
Carry on Frank, I say, it's about time the club started making some noise about the raw deal we get regularly from refs!
Christy Ring
89
Posted 26/04/2022 at 14:24:49
Martin#65 Firstly why do our supporters criticise our own, have redshite fans criticised Salah Jota and Mane for their diving. No.
Secondly just because we didn't do what Utd did and allow them to play and got hammered, Souness and some pundits threw the toys out of the pram.Souness said we only had 17% possession, but we still created the better chances, the 2nd goal was lucky, Diaz tried the spectacular,. We should have had the penalty, so instead of using 12% stat's give a bit of credit instead of saying we were always going to lose and they were the better team
Christy Ring
90
Posted 26/04/2022 at 14:24:49
Martin#65 Firstly why do our supporters criticise our own, have redshite fans criticised Salah Jota and Mane for their diving. No.
Secondly just because we didn't do what Utd did and allow them to play and got hammered, Souness and some pundits threw the toys out of the pram.Souness said we only had 17% possession, but we still created the better chances, the 2nd goal was lucky, Diaz tried the spectacular,. We should have had the penalty, so instead of using 12% stat's give a bit of credit instead of saying we were always going to lose and they were the better team
Christy Ring
91
Posted 26/04/2022 at 14:24:49
Martin#65 Firstly why do our supporters criticise our own, have redshite fans criticised Salah Jota and Mane for their diving. No.
Secondly just because we didn't do what Utd did and allow them to play and got hammered, Souness and some pundits threw the toys out of the pram.Souness said we only had 17% possession, but we still created the better chances, the 2nd goal was lucky, Diaz tried the spectacular,. We should have had the penalty, so instead of using 12% stat's give a bit of credit instead of saying we were always going to lose and they were the better team
Matthew Williams
92
Posted 26/04/2022 at 14:37:34
First of all...Frank is spot on with his comments but why has it taken so long for our club to finally show it's anger at these piss poor decisions that have been going on for far too long now?
I've said it before,unless A CLUB makes a real stand about the sheer unfairness of decisions by our so-called officials,then this shite will just simply continue...the answer is so fucking simple too,refuse to play certain BIG Sky/B.T/Amazon games!... if we survive the drop,then Citeh and the r.s away fixtures would be ideal!!!... but leave it until the eleventh hour,take the fine...but make a fucking stand!...real footy fans would thank us,we could rock the comfy,greedy footballing establishment for good...we,plucky little Everton could just change the game we all love forever!
Another Everton first!!!

Barry Hesketh
93
Posted 26/04/2022 at 14:37:35
Christy
Absolutely spot on, every fan deep down wants the system and officals to be fair, but the hysteria surrounding every Derby game in recent years, because Everton have tried and mostly failed to employ the same tactics as the other lot, their fans and friends in the media go overboard and exagerate the incidents and they become the victims, when in most games they often get the calls in their favour and it has a profound effect on their fortunes.
On another note, some on other social media outlets are starting to believe that Everton dropping into the Championship will be good for the club, I beg to differ, to my mind trying to win all of the last six games will be far easier than battling it out in the Championship next season.
P Ron Wells
94
Posted 26/04/2022 at 14:40:45
Elon Musk to take over the Premiership and restore freedom of speech anyone?
Tony Abrahams
95
Posted 26/04/2022 at 14:44:25
Totalitarianism is what's happening in the world right now Derek, with the slow eradication of cash. How would Liverpool have survived Thatcher without a black economy? Never is my answer!
Derek Moore
96
Posted 26/04/2022 at 14:51:58
Tony don't even start me. The world has never looked more like Orwells nightmarish dystopia.
The west as Oceania, Russia as Eastasia and China as Eurasia. Mobile phones for the telescreen. The rewriting of history...
It's a much larger subject than we can probably cover here though mate!
Jamie Crowley
97
Posted 26/04/2022 at 14:58:03
P Ron Wells -
Maybe he'll buy Everton?
Clive Rogers
98
Posted 26/04/2022 at 15:01:10
Barry, 93, you are correct. Relegation would be an absolute disaster for EFC especially with the financial problems the club has. It may be 20 to 30 years before we get back up. The new ground will probably not be completed and the worst scenario is that we could be sold on to small time owners without the funds to resurrect us. This could be the end of Everton as a big club.
Shane Corcoran
99
Posted 26/04/2022 at 15:02:10
Christy, I hope the irony of trying to be like the Liverpool fans isn't lost on you.
What does it matter if right-minded fans criticise our players for blatantly diving when they blatantly dive? Who do you think is reading this stuff that it would make a difference?
Jamie Crowley
100
Posted 26/04/2022 at 15:14:12
Gordon went down far too easily. He did it multiple times in the game.
All of this is just whining. Who really cares if Frank is fined?
You're never going to get that call in a derby. It was nominal (if any) contact and never a pen. Gordon made a meal of it, and the pen wasn't awarded. Frank sticking up for his player and bemoaning not getting a call doesn't equate to some cosmic injustice.
We were outplayed by a better team. We set up correctly for the game, played to the plan - which was spot on under the circumstances - and came up short.
This is all drama. What we need to do if find 12 points from the remaining 6 games. The rest of this is non-sensical noise.
I don't see us beating Chelsea frankly. We'll need to win the three winnable games, then hopefully win at Leicester against a team that won't have very much to play for, or win at Arsenal who hopefully have a Champions League spot wrapped up and have nothing to play for.
Or miraculously beat any of Chelsea, Leicester away, or Arsenal away.
All this other chatter about XYZ is mute for me.
Si Cooper
101
Posted 26/04/2022 at 15:20:32
I don't see that Frank's comments were questioning the ref's integrity as much as his bottle. He's saying he's influenced by the crowd (subconsciously) which isn't the same as saying he is deliberately biased. It does render him useless as an impartial arbiter unfortunately.
This is the point that those citing Gordon's prior behaviour are missing. It shouldn't matter to a truly impartial and competent official. Each incident is separate and taken on it's merit, and they even have the resource of VAR to fall back on. Without the conversations (or lack of) being broadcast any contrast of who gets what decisions can be portrayed as an attack on the referee's integrity when it is merely an honest observation.
Martin Mason, it is all speculation but none of us can be sure of what may have happened if a penalty had been awarded as it should have been. It's not impossible it would have been converted and we then hold on for a win.
Shane Corcoran
102
Posted 26/04/2022 at 15:24:37
You're correct Si, but the officials are imperfect like us all.
It'd interesting to hear Dermot Gallagher (?) on Sky mention on a couple of occasions that "the player didn't help his cause by making a meal of it" which implies that it, unfairly, plays a part in the next decision.
Si Cooper
103
Posted 26/04/2022 at 15:44:28
Jamie, I and several others (and the vast majority of the ex-player pundits) strongly disagree.
On the second penalty incident (and the TAA push in the first half) you just don't need that much contact (and it can be clumsy rather than intentional) to unbalance the player, which is a foul. Anthony Gordon didn't have the time (and certainly didn't anticipate it) to 'react' to the contact by deliberately going to ground. To paraphrase Tony Abrahams, you haven't played the game if you can look at that particular incident and declare Anthony Gordon milked it..
I'm not claiming we should / would have won the game. It is not about that. It is all about the standard of refereeing and the supposed benefit of having VAR.
Christy Ring
104
Posted 26/04/2022 at 15:52:26
Shane#102 Gallagher is still the same arrogant self as he was when refereeing. How often has he disagreed with Sue and Warnock, making some excuse for the ref or VAR when they are wrong, and saying the player did himself no favours, is a copout. He never mentioned a thing about Matip standing on Gordon's foot, never mind the push in the back?
Si Cooper
105
Posted 26/04/2022 at 15:57:02
Shane (102), I get that making a meal of it can be counter productive for an incident as it happens, with the arched back, out flung arms and triple roll on the ground just not being natural, but I don't think a highly paid professional should be incapable of judging each separate incident on its merits.
Especially not, and this is the salient point, when he has a mate to check things with. The video ref system in almost any other sport seems to work better than the premier league one and what helps immensely is being able to hear the conversations the officials can have. The reluctance to do the same for football is really strange considering how many bad decisions there still are.
Ed Prytherch
106
Posted 26/04/2022 at 16:03:52
I am not in any way defending incompetent or corrupt officials but there is no such thing as a completely objective decision if it is made by a human. All decisions are to some degree subjective and a players history influences the decision.. Players from less favoured clubs are not helping the cause by hitting the deck every time someone touches them or when they anticipate that they might be touched. Gordon and Richarlison are the main culprits at Everton this season.
Tony Abrahams
107
Posted 26/04/2022 at 16:08:00
Jamie@100 Anthony Gordon has posted two pictures on the internet today, with the caption "he goes down to easily" Try and find them mate, because I'd be very surprised if you still had the same opinion once you do.
Neil Copeland
108
Posted 26/04/2022 at 16:12:24
If the FA or Prem or Referees association were to make an attempt at openly tackling the ongoing poor decisions it would go a long way in sorting the problem out.
Why can't they introduce some sort of rating system based on the officials performance (including VAR) on a game by game basis? The worst performers could face red card type suspensions and maybe even relegation at the end of the season.
In many games the referee makes himself the centre of attention whereas when they perform well you hardly even notice they are. A rating system would certainly make them focus more and up their game.
Perhaps promotion from league to league as per the teams would help improve standards. It may even encourage refs to take VAR to task and vice versa, this could lead to open dialogue that the fans and players can hear as used by other sports.
Having said that we have no one to blame but ourselves for our current plight. Too many wasted chances combined with excessive mistakes and poor tactics are the real cause.
But, by taking the bull by its horns and addressing the dreadful officiating the authorities can go a long way in removing the excuses and more importantly improving the game.
Raymond Fox
109
Posted 26/04/2022 at 16:30:40
It happens every season, the top teams your City, Utd, reds, Chelsea, Arsenal have at least 10pts start over the also rans.
Take the none penalty for us against City, the officials think oh my god if I give the penalty City might lose 2pts and there might be hell to play. Its only poor old Everton so its not a penalty.
You see similar incidents involving the top teams each season, it stinks.
The officials should be at least fined or even sacked if they make a number of blatant wrong decisions.
Gerry Quinn
110
Posted 26/04/2022 at 16:37:24
FACT: it has now been 46 games since a penalty was awarded against Liverpool and 24 since Man City faced a spot-kick – the two longest runs in the Premier League...
https://thisisfutbol.com/2022/04/blogs/premier-league/everton/liverpool-everton-highlights-penalty-incident-jamie-carragher-fan-sky-sports-efc-rumours-live-on-air/
Christy Ring
111
Posted 26/04/2022 at 16:39:15
I've just seen where Delph is reportedly injured again after one game, the timing couldn't be worse, his experience was a big asset.
Tony Abrahams
112
Posted 26/04/2022 at 16:54:04
Sensible Neil, but do you not get the feeling that professional referees in the EPL, are part of an elite club, and this club also appears to have a large dollop of nepotism running right through it?
Bill Hawker
113
Posted 26/04/2022 at 16:59:41
Good. He can bring an absolute laundry list of decisions that the referees and VAR have completely gummed up. Hopefully the FA will give him an hour at the very minimum.
Brian Wilkinson
114
Posted 26/04/2022 at 17:05:58
Not sure who said it Gerry, but someone mentioned that in one of the next few games, when the shite or City are playing, and have a very good lead, a penalty will be given to the other side,it will not be given if the scores are level, or just a goal in it, but rest assured one will be given.
Nothing will happen at Goodison, the officials will be aware of the crowd, but I will not be suprised that our next away game, we will end up having a player sent off, for two petty yellow cards.
From now until the end of the season, the officials will be after us even more than they were, after the apology for the Rodri handball.
3 Red cards followed, Christ knows what they will throw at us now, after calling them out a second time.
Be afraid, the Barstewards are coming for us big time.
Graeme Beresford
115
Posted 26/04/2022 at 17:09:46
The whole thing is a joke. There is an agenda against us and there has been since the Russian invasion. It's clear and obvious to me that the FA and the league want us gone. There are too many costly decisions. If I were Frank I would simply show them the video of all of the bad decisions in the derby.
Jota unpunished elbow
Trent unpunished push
Mane unpunished second yellow
Matip unpunished penalty
There it is
Martin Mason
116
Posted 26/04/2022 at 17:13:53
Cristy@90 Sorry, I don't try to criticise our own, I criticise any player who dives though regardless of who he plays for. The 12% I only include as a general indication of Liverpool's dominance. My real point was how we would react to a side who did that to us? I actually believe that we played really well until Liverpool changed the game and we didn't change with it.
I may be completely wrong about AG's simulations btw and if I am then I apologise to him. He is fast and his movement brilliant and as Tony pointed out it takes nothing to put him down but that nothing is a foul.
It's great to have him in the team and he isn't even there yet, what a prospect.
Stephen Vincent
117
Posted 26/04/2022 at 17:14:03
So much to agree with on this thread and so much to disagree with. Yes it was a penalty, but there is no point bleating on about it, no matter how much we complain and how many apologies we get, it is not going to get us any more points and it is points we need. So let's get over it and focus on getting points from the remaining games anything else is just unnecessary distraction.
As an aside these decisions affect more than EFC. Had the Man City pen been given and scored and we escaped with a draw then the shite would now be in pole position to win the title.
The reason we are where we are is that we don't take chances. Playing the way we do, consistently surrendering the majority of possession (we are joint bottom of the possession table for the season at 40%) we have to convert the chances we create and we simply don't do that. Sunday 18% possession we create 3 good chances and don't even hit the target with any of them. Leicester at home, 32% possession, two fabulous chances created for our £50m Brazilian, self styled centre forward, who can't hit the target with either. That is why we are where we are and it isn't going to get better until we start working opposition goalkeepers.
Graeme Beresford
118
Posted 26/04/2022 at 17:23:17
Stephen 117
Been saying this all season. How many games do we have like 2 shots on target. When was the last game that we had like 8/10 shots on target. I simply cannot remember it. You test the keeper and usually you get lucky with a weird bounce or deflection. KDB deflection goal against Liverpool, Richy against Leicester, Diaz setting Origi up against us….. we seem to be screaming out for shots on goal every single game. Drives me mad.
Kevin Prytherch
119
Posted 26/04/2022 at 17:24:42
All this talk of players diving influencing the refs. Yes, it will undoubtedly influence the referee on the field of play as they won't be sure whether the player has actually been touched or not. But this shouldn't have any bearing on VAR who have the technology to analyse each individual incident on merit.
Everton have had 6 yellow cards for diving this season (half of the total number fished out in the premier league all season) and, whilst I get frustrated at the theatrics and wish they'd stop, I doubt we are 6 times worse than the nearest team.
Also, I don't necessarily think it was the dive that influenced the refs first yellow card, more the rolling about clutching his shin like Richarlison does every game, regardless of where the contact actually is. If Gordon goes to ground but doesn't roll around, I don't think he gets booked and think we stand more chance of getting the penalty call.
Danny O'Neill
120
Posted 26/04/2022 at 17:30:50
I'm trying to focus on the next one. Due to the train situation I'm flying (yes flying) to watch us on Sunday. I know, don't tell me, I'm mad bordering on insane. My wife will gladly take your sympathising messages and point them at me with scorn. Sorry, I just can't help myself. I'm actually thinking of parachuting in with my boots after I retrospectively looked at the positioning of our centre backs for the goals.
Everyone else was actually holding a decent line. Our centre backs, who should be commanding the line were lost at sea. Or just lost.
Calma, it's about the next match now, even if I do have an obstructed view.
Danny O'Neill
121
Posted 26/04/2022 at 17:41:12
It's a good point Stephen. We play with a centre forward who isn't a centre forward. Even when we have our centre forward, he is only effective in the box - I know it's harsh but Calvert-Lewin is no Graham Sharp or Harry Kane. He's never smashing a 30 yarder, so relies on chances being created in the box. Right now, we are not a team that can create like that. I thought one of our best chances yesterday was a curler from Gray that wasn't too far. That and, although it didn't end up threatening, there was a free header in front of the Anfield Road. Might have been Iwobi? Whoever it was, I thought they could have done better.
But to your point, we don't threaten enough. As much as that has been our problem, it has been compounded by defending because with better defending, we may have turned some of those defeats into draws. And subsequently points.
Crown after the match on Sunday?
Paul Tran
122
Posted 26/04/2022 at 17:45:11
I hope Frank asks for a personal hearing, compiles a DVD of the poor refereeing/VAR decisions that have cost us and says 'That's why I made my comments.'
The reason why we're struggling is that there are very few goals in this team. We have consistently bought midfielders who don't score goals. Bernard, Gomes, Iwobi, Delph, Gbamin, Doucoure, Allan, etc do not score goals. Richarlison's goal scoring record has been below par these last two seasons. This means we're over-reliant on DCL, who has missed most of the season. Our last two single goals were deflections, before that we scored two penalties. We buy Kean, bring in King on loan, neither of them got a game, despite the chronic lack of goals.
Wherever we're playing next season, we must start buying players with the interest in/ability to score goals.
If we stay up, it'll be because someone will step up out of the blue and score a couple. I'm not holding my breath.
Si Cooper
123
Posted 26/04/2022 at 17:51:24
Stephen (117), this thread is about our manager having to justify his fairly straightforward post match comments so that is obviously going to be the focus of most posts.
Ed (106), sorry but I think that is simply a nonsense post. Human beings are incapable of examining clear evidence and coming to the correct conclusion? It is amazing what the species has accomplished by pure flukery isn't it?
Attitudes like yours are what give people in authority a free pass when they deserve being held to account.
Frank Sheppard
124
Posted 26/04/2022 at 18:28:53
There is obvious bias towards certain clubs, always have been always will.
The authorities have to continue adopting their ridiculous stance pretending they have integrity.
On another front…….. controversially……I am getting sick of Gordons falling over like Zaha for penalties…….. if he hadn't dived for the first one, we would have got the real one……..
And while I am saying that,I want to say that as much as I admire Richarlisons skill, and efforts and ability, I am even more sick and disgusted by his sulking and cheating.He does our club no favours, and when he is conducting himself like this, he is a disrespecting our great club, and his profession.
Andrew Ellams
125
Posted 26/04/2022 at 18:34:06
Maybe Frank can ask them how a Twitter post (now been taken down) had been allowed through their official profile apparently celebrating Liverpool's win?
Ed Prytherch
126
Posted 26/04/2022 at 18:35:12
Si, 123
I am a retired functional safety engineer in the nuclear industry. Any system that involves a human action is called an administrative control. In a perfect, non-stressful situation humans get it right 90% of the time. In stressful situations it is no better than 50%. The Nuclear Regulatory Commission in the US say there are two kinds of administrative controls - those that have failed and those that will fail.
VAR does not remove human error because a human still has to interpret the video, but if it is performed honestly it reduces the error rate..
Billy Roberts
128
Posted 26/04/2022 at 18:56:38
Ed @126
As always with these impressive posts it's what you don't day is more impressive. your figures are based on the average population I imagine?
We expect our top level referees to be from the percentage who don't fuck up under stress.
We then expect our VAR officials who are in an even less stressful situations to be from again the percentage who don't wilt under pressure to make a correct decision.
Combined I'm sure you could give me an impressive percentage as to how they should come to a correct decision?
Like the Nuclear industry we expect higher than average results ?
It was a penalty. all day long. and everybody knows it
Brian Wilkinson
129
Posted 26/04/2022 at 19:05:34
Some good points from Steve and the others, it is just not the shots on target, you look across the Park, if the opposing goalie makes a save or a defender half clears, it always falls to one of their players, they have a sense of where to be, they anticipate where the ball is going to, yet game after game we have head tennis in the opponents box, a defender clearing a corner, we never have anyone waiting for the second or third ball.
Same if a half chance that bounces out, falls to a player getting a shot off, it's always Allen, those half chances fall to, for once when we get a corner, have Gray standing just outside the area, waiting for a half chance clearance, to come his way.
Match after match you have a ball pinging about in the opponents area, have a player stand back a few yards, knock the ball to him, in the less congested area of field, not rocket science.
Frank Sheppard
130
Posted 26/04/2022 at 19:17:54
Andrew at 124, who do you mean by "they" ?
Rob Halligan
131
Posted 26/04/2022 at 19:27:10
This piece is on red echo website. Ten VAR decisions against us this season which could easily have gone the other way.
https://www.liverpoolecho.co.uk/sport/football/football-news/everton-var-problem-liverpool-breaking-23786485
Si Cooper
133
Posted 26/04/2022 at 19:48:32
Ed (126), I'm a Quality Assurance Officer in the Pharmaceutical industry with nearly 20 years experience in the QA role itself.
Don't know how long you've been retired but your expectations look out of date compared to our training on root cause analysis and corrective / preventive actions.
For instance, for over 10 years now selecting human error as the ultimate root cause has been 'frowned upon' at most places as most of the time those mistakes can actually be found to be attributable to one or more of a range of underlying factors including training, fatigue, distractions, complications, poor visibility, and over reliance on memory.
Yes, there are a variety of 'sayings' around the subject that line up with what I think can be termed as Murphy's Law: Whatever can go wrong will go wrong, or Things sometimes go wrong because most of the time they go right.
That is why VAR is now available and that should have been the deciding factor on Sunday.
I'm sorry but I still think it is a nonsense interpretation of statistics to say human beings are incapable of appropriately interpreting clear evidence / data, and it is letting the officials off the hook by saying what they missed on Sunday in that penalty incident was within an acceptable error rate given their enhanced training and the technology available to them.
Graeme Beresford
134
Posted 26/04/2022 at 19:48:42
Rob @131….. everyone of those incidents cost us. Also, we are forgetting Villa being allowed to take and score a corner 15 seconds after extra time had ended. This also happened at Burnley away. It was 30 seconds after, the corner broke to Gordon, 1 player back for Burnley, Gordon knocked the ball past, the ref blew for full time. I was incensed. How can you let a team take a corner 30 seconds after the half has ended yet don't let the counter attack play out.
Frank @124…. Honestly I don't get it. Every team does this. I've seen the rolling around, the time wasting, I've seen loads of it from teams against us this season. I've said for years Everton are far too honest. Nobody wants to see people rolling around yet Salah, Mane, Ronaldo etc do it every week. We need to get with the times. The times are, you feel contact you go down. It only seems to be Everton that get punished for this, 6 bookings this season for diving…. Mane dived in the derby aswell. No booking. I just think this view of 'old school' football where you can crunch someone and a player doesn't go down is a dated view. Sorry to say it because I agree with you but it's not how football is now. I bet you could watch most penalty decisions this season and say 'he could of stayed up there', problem is if you stay up you don't get the pen, or foul.
Brent Stephens
135
Posted 26/04/2022 at 19:51:35
Frank, #124, with you entirely re Gordon and Richarlison not staying on their feet (that's a euphemism!). Some other teams get away with it. We don't. So it's counter productive (yellow cards; refs on the look out for it etc).
Rob Halligan
136
Posted 26/04/2022 at 19:55:03
Graeme, yes they did, even when you consider the Burnley and Newcastle home games which we won, but wasn't Richarlison out for a few weeks with injury following the Tarkowski challenge, and Allan missing two important league games after his sending off?
Okay, Richarlison would still have been out with injury and Tarkowski being banned would have had no affect on us, but still, should have been a red card for him.
Bill Gall
137
Posted 26/04/2022 at 20:08:39
Graeme # 134,
That point of people rolling around as if they had been shot. I listened to Don Hutchinson say, He hates to see it but if the Everton players had fell to the ground rolling around and holding their face they would have got more reaction from the ref and the VAR. That's the way the game is going and I, along with thousands of others, hate it.
Will Mabon
138
Posted 26/04/2022 at 20:12:54
Ed @ 126:
Whilst I'm glad that understandably pessimistic 90% figure was used in the nuclear industry for obvious reasons, it should be pointed out that such figures are derived and set based on myriad factors.
No need to list all wider ones here, but relevant to the VAR check is the immediate removal or reduction of almost all elements that led to the check; speed of play, game pressure, view available to officials, time pressure, direct pressure from players etc.
As you say it can never be perfect with humans involved and without honesty. Nor with the nature of some of the decisions. However 90% would be nowhere near good enough IMO. Also, accountability and outside access to the decision in real time (as in rugby union) would be positive influence.
Much room for improvement.
Will Mabon
139
Posted 26/04/2022 at 20:21:25
Si:
just read your post 133 after responding to Ed.
I agree with both of you in some way to some degree. Certain decisions will be forever subjective and humans will never get them "Right". By the same token, there can never be agreement on what is right. Other decisions are essentially black & white.
All about extent and making the best of it. They certainly aren't doing that.
Si Cooper
140
Posted 26/04/2022 at 20:46:04
Will, I've tried to be clear about when we should be able to get non-subjective analysis (clear and obvious evidence) and stressed that I think a professional ref plus the VAR is a significant factor.
Never said there won't be times when it is a judgement call, just that we have come a long way in supposedly taking the subjectivity out of the referees' decision-making. For some reason, the authorities are loathe to making it as fully transparent as they easily could.
Will Mabon
141
Posted 26/04/2022 at 20:53:17
"
For some reason, the authorities are loathe to making it as fully transparent as they easily could.
"
Yep. "Some reason" is the whole crux of it...
Christy Ring
142
Posted 26/04/2022 at 21:24:55
If the FA would treat players like adults, this status where referees and VARs can't be questioned, and Lampard having to explain his comments, is a disgrace.
The Rugby Union are a credit to their profession, where the referee treats the Captains with respect, and serious and controversial decisions are discussed between Ref and his fourth official on screen. Everyone in the ground and on TV can hear every word and it takes about 2 minutes, everything 100% correct.
But FA and FIFA in general are still in the dark ages, where they are untouchable, and answer to no-one.
Graeme Beresford
143
Posted 26/04/2022 at 22:50:58
Having the arguments tonight with my red half of the family. They just don't understand. My wife said 'even if you scored the pen, you wouldn't of won anyway'. I was like 'how can you even say that?!?' It's just madness. They are sitting with me tonight talking about the decisions they haven't been given and talking about how Salah very rarely gets pens. Honestly, I think they are deluded. I explained the Mane incidents, they just brushed it off with, 'he was booked for it'. My reply was 'he was booked for one of the two incidents'. Then they hit me back with 'Richarlison should of been sent off'…. I agreed. Then complete silence. It's like they can't admit when they are wrong and touched lucky.
Alex Carew
144
Posted 27/04/2022 at 03:46:10
The rest of the league should come out as support for Frank's comments, it's what we all think. He wasn't the only pundit to say the same thing but they should all come out and make official statements saying that there are definitely decisions made throughout the season that favour the so called bigger clubs, decisions that depend on what kit you are wearing. They should follow this up with video evidence of such decisions, there must be hours worth.
Richard Lyons
145
Posted 27/04/2022 at 07:58:20
Andy Robertson (ugh, I can hardly bear to type or even think his name) is probably the dirtiest player in the Premier League. He even grins and winks at his team mates whenever he gets away with a foul (which is nearly all the time) – just like the way Boris Johnson smirks whenever he tells a lie (which is nearly all the time). Kai Havertz is probably the second dirtiest player.
Jerome Shields
146
Posted 27/04/2022 at 08:10:31
You can't beat the referee, Frank, and feeling hard done by is not going to get you points in a relegation dogfight. The authorities are letting you know that.
Tony Abrahams
147
Posted 27/04/2022 at 08:17:29
I'm sure Lampard already knows this better than anyone, Jerome, but don't you think our manager has got a right to question why his team have been hard done by once again?
Mike Doyle
148
Posted 27/04/2022 at 08:37:15
"...the biggest battle of our professional lives."
"...we are in hell right now gentlemen. Believe me.."
"...on this team we fight for that inch."
Perhaps Frank could do worse than play Al Pacino's rousing pre-match speech from Any Given Sunday in the changing rooms this Sunday. I guess most TW posters have seen - but its always worth a second watch.
Link
Bernie Quinn
149
Posted 27/04/2022 at 09:09:37
As a teenager in 1951, I was naturally upset when we dropped down to Division 2 but the feeling disappeared quickly as the team hit a goal fest on their way back up to Division 1.
There was also the thought that we held the distinction of spending more years in the Top Division than any other Club. And come to think of it, apart from Arsenal, we have the longest unbroken spell in the top flight as well.
I've read posters on here, moaning we may end up playing clubs like Blackpool, Blackburn, Wigan etc. So, didn't these cClubs play in the Premier League not too long ago?
It's sad but no disgrace to be relegated – after all, over two-thirds of the presen Premier League clubs have 'enjoyed' the big drop – it happens!! Hopefully if the worst happens, our useless Board of Directors will either resign or start to show some interest in the club. At least we may some respite from the corrupt FA etc and the anti-Everton Media.
I am in my twilight years now and in very poor health & in and out of hospital. (The staff in A&E call me by my first name as they wheel me in!) They know that I am trying to collect my Police Pension for every year I served in the Police (33) so they have to keep me alive for 4 more years.
They said they would ensure I would see Everton win at least one trophy – and I believe them as I have converted most of them into Evertonians!!
COYB and keep smiling everybody The days are dwindling away.
James Hughes
150
Posted 27/04/2022 at 09:11:11
Watching the game last night and apart from the top drawer football on display, the standard shown by the referee was excellent. He did not try to be friendly with the players and let the game flow.
Contrast that with the clown we had and Craig Pawson on Saturday and no wonder the trefs don't go to the big games anymore.
Steve Oshaugh
151
Posted 27/04/2022 at 09:30:33
@ Bernie 149... thanks for that...nothing like a little perspective and experience. I find myself hoping we stay up, mostly as it means we will finally win a few games on the trot, but not that bothered if we do go down. If we do go down it will be because we didn't get enough points after 38 games so it will be deserved. There are no guarantees of coming straight back up but we should win more games and we would start the season with a chance of winning the league unlike the EPL.
Having said that. come on boys and lets hear Goodison roar us to victory on the weekend.
Rob Halligan
152
Posted 27/04/2022 at 09:37:06
Mike # 148. That's possibly the most awe inspiring pre match talk in any sport, not just football. I have a way of getting that video to the club, and have already sent the video to someone who can get it into the dressing room at Finch Farm and Goodison. Quite honestly, if that speech doesn't get any player motivated to go out and win, battle, or whatever, until they drop dead, then nothing will.
James Brand
153
Posted 27/04/2022 at 09:41:32
Ha! The irony that Frank is being asked to come out and explain himself and never referees after games...
Barry Hesketh
154
Posted 27/04/2022 at 09:48:22
Bernie @149
Firstly and most importantly, stay healthy and get that pension for as long as you can, everything else pales into insignifcance.
On the football side of things, it might be easier for some of us, even the likes of me as an old cynic to accept 'relegation' as we have been lucky enough to see Everton in their pomp and nobody can take any of that away from us. But it is still galling that not only have we failed to challenge at the top table for nigh on 35 years, and helplessly watched on as Man City and Chelsea took what used to be Everton's place in the football hierarchy, but we now find ourselves unable to compete with the other also-rans of the top division.
Things today are very different to the 1950s, because relegation wasn't enough to blow the club off course, it still had a huge fan-base and that helped to ensure the club kept it's place in the financial pecking order, nowadays, although there are parachute payments to help, it means that the squad will likely be decimated by sales and we will probably end up with a significant number of highly paid players who we can't shift.
For the younger fans who have witnessed nothing of note for twenty years, and have borne the brunt of their classmates and workmates jibes for most of that time, what incentive do they have to keep going and to follow the club in the lower league? It's been hard enough during the last six years to keep the faith and I fear that for many fans relegation will be the straw that breaks the camels back.
There's no escaping football now that it's become the national sport on a huge scale, gone are the days where you could slope off to a quiet pub and get away from the game, it's all pervasive and everybody has an opinion about it, whether they attend the game or not, that for younger Evertonians must be torture at times.
If the worst does happen, it could, if the club bounced straight back, be the catalyst for better times and normally that would be the hope that I'd have, but with the financial shenanigans of the last few years at the club, there may be more unpalatable news to come, that may scupper any chance of an immediate return to the top divison, should we go down.
We still have eighteen points to compete for, we probably need a dozen to stay up and whilst that's still a possiblity we should pray for that and try not to dwell on the ramifiacations of not gaining enough points.

Dave Abrahams
155
Posted 27/04/2022 at 09:49:55
James (153),
Absolutely, speak when you're spoken to is the mantra of those who run the Premier League, while they do double somersaults to help the big clubs clean up the silverware.
Brian Harrison
156
Posted 27/04/2022 at 09:58:48
Yes Frank is right to question some of the decisions by the ref, but I just wonder if refs who either referee the game or adjudicate on VAR after the phone call from Riley over the Man City penalty that wasnt given, resent the fact that Riley had to offer an apology made them even more resolute to give us nothing. So I think this may make them even less likely to look favourable on any further games this season.
Despite us being on the end of some poor decisions this season, the real reason we are where we are is our away form is the worst I can remember from any Everton side I have watched. What is even worse is they couldnt beat Norwich home or away, allowed next to bottom Watford come from 1-2 down after 78 minutes to win 2-5. Just recently went to Burnley were leading 1-2 and lost the game. So yes some refereeing decisions have been awful but lets not hide away from the fact that Lampard and our previous manager have struggled to get an away win since last August and the last time we picked up a point away was at Chelsea in December.
Christine Foster
157
Posted 27/04/2022 at 10:06:24
Bernie, sorry to hear your health is a bit fragile, it's been a crappy year all round I think, in fact I have been in hospital more times this year than ever before in my life... bloody stress! I am sure being a Blue doesn't help, indeed it's probably the cause.
Like you, I get up at ridiculous hours in the morning to shout like a loon at the television. Even the next-door neighbour knows if we win or lose now. I think this side of Hawera does – not much happens here!
I've never known Everton outside of the top division. Stay safe Bernie, there ain't too many of us down here!
Danny O'Neill
158
Posted 27/04/2022 at 10:42:04
Bernie, total perspective. I wish you good health.
Only 3 teams in the current top flight have not been relegated in my lifetime and Everton are one of them.
I do care which league we are in next season but regardless, we will all be there. Be it at Goodison, the Emirates, Blackpool or Preston.
Whatever happens, surely now the club and it's owner must realise the need for a reset.
Although I was on the fence with Lampard, I actually like the changes on the football side. A clear out seems to have started. Things are changing.
We know which target the sights should be set on next. Belatedly.
When we win on Sunday Bernie, I will send a message. God bless you.
Graeme Beresford
159
Posted 27/04/2022 at 10:47:51
Sorry to hear about your health, guys, and I wish you both well, Christine and Bernie. Perspective is massive really, isn't it.
Rob Halligan
160
Posted 27/04/2022 at 11:08:38
Danny, like you, only three teams have never been relegated from the top flight in my lifetime, us, Arsenal and the RS. However, only two teams have been in the top flight during my lifetime, us and Arsenal. The RS were still in the old second division when I was born. So it's a record I would like to remain for the foreseeable future.
Brian Murray
161
Posted 27/04/2022 at 11:34:17
The fact that we are born not manufactured might as well be in Chinese to the post 1992 football fan. Sad end to a club that makes a mockery of that Latin on the shirt. Same if we somehow manage to escape. Off the pitch we are getting so close to dare I say it having a strategy. Just one or two white nellys still in the way.
Danny O'Neill
162
Posted 27/04/2022 at 11:34:23
When we wake up in June, Rob, this nightmare will be over.
Benitez will be as distant a memory as Allardyce. In my head, neither will have tainted the corridors of Goodison. If I ignore it, it didn't happen.
Lampard and his DoF will have been allowed to get on with restructuring the football side of things, free from interference with the board, most of whom have been relieved of their duties and replaced with competent people.
Having been elevated to Tier 1 status, and subject to my invite to apply on 10th May, I attend the opening fixture at Goodison with my new season ticket against Manchester City at home. The quest for European football starts.
I've just woken up again. Maybe catch you in the Brick before Chelsea.
Kim Vivian
163
Posted 27/04/2022 at 12:26:43
I think I am becoming resigned to our fate. If we stay up then that's brilliant. If we drop, we drop - so be it.
When I started watching football it was back in the early 70s with Pompey in the old second division, I enjoyed going to the matches just as much although nothing compares with the Goodison atmosphere.
If we do drop, although he is culpable to an extent I will not blame Lampard. In fact I think he would be a great manager to have if we do find ourselves in the championship. Rebuild from there if we can find the finances, hopefully with BK just a memory... however that is achieved (I have my own theories), enjoy the additional games, (hopefully easier to get to see them), and enjoy also the euphoria of promotion.
I can't see our support waning if we have a spell away from the increasingly vitriolic premiership so long as we can manage the finances without points deduction or other sanction.
Onwards and upwards/downwards you blues.
I'm looking forward to an fa cup derby draw and a win against the RS at Mordor.

Wake me in the morning...
Tony Abrahams
164
Posted 27/04/2022 at 12:44:35
If we were playing at Goodison and Everton were one-nil down after 30 minutes, how many people would be resigned to defeat if we were playing against Burnley or Leeds?
Many have been fearing what's happened for months, some think that once we go in the bottom three, we are never coming back out of it?
Maybe we won't, but at least we've got a chance, and the biggest chance we have got is if Everton can win as many games as possible. So there's the only answer for now - let's just get behind the players - and try and help make them run and fight for every single ball. Remember what the Leeds player said about Goodison, and how much it helped our team.
Rob Halligan
165
Posted 27/04/2022 at 14:39:02
The following is an extract taken from the official website, from the "Everton together for fight". It's the last paragraph that I love, as we all know what he means by it.
Lampard additionally sourced encouragement from his players' desire to stand up for each other when matters grew heated during the 240th all-Merseyside clash.
"That is what my team has to do… it is what Evertonians want from their team," said Lampard.
"Stay the right side of the line, with no stupidity in it.
"But when there is so much at stake and they [Liverpool] are a team that wants to fight... you have to stand up to that.
"I was very pleased with that side of the game.
"Not only did we stand up, we kept our hands down, we didn't go over the line."
No doubt the Premier League will want an explanation from Frank as to what he means by it.
Brian Wilkinson
166
Posted 27/04/2022 at 16:12:07
If Arsenal have nothing to play for last game of the season, we could be faced with 2 scenarios.
It is well known Arsenal are keen on Calvert-Lewin, cough, cough.
This could throw up an interesting theory, could Arsenal take a dive with the knowledge, we play ball and allow Calvert-Lewin to sign for them, or worse case scenario, Arsenal know if they win and it costs us safety, they will get their player at a reduced price.
Anyway 5 games before that game, I just hope we do not have to go there on the final Day, having to win.
Graeme Beresford
167
Posted 27/04/2022 at 16:27:44
Brian, it's weird that I've been thinking similar. If Arsenal already have Champions League football and we need a result. Surly it's time for Usmanov to pick up the phone and instruct Arsenal to be beaten by Everton. Imagine the scenes... haha.
Jerome Shields
168
Posted 27/04/2022 at 16:49:11
Tony #147,
He does have the right to ask. But he needs to concentrate on getting Everton to play better. Brian Clough did not allow his players to query a referee's decision. He thought it wasted time, because it only takes a second to score a goal.
Everton at the moment are looking for decisions and a little bit of luck. That is how they are scoring. They need to be applying themselves more. Frank is feeding that distraction, rather than managing better football.
Martin Mason
169
Posted 27/04/2022 at 17:23:29
Kim @163, That is the correct viewpoint. My opinion now is that we are almost down but, if we go down, then that is something that the club has to manage. Not only the club who have gotten us into this mess but us fans who are partly but not near completely innocent.
Going down will be a financial disaster but one which will necessitate the club clearing out its acres of deadwood and to become a professional organisation rather than a crony-ocracy. In this respect, Frank Lampard is key because the way he will develop is only in a club that develops with him not his being swamped by a veritable pile of pony that he has had no part in developing.
Did anybody see Allan's stats from Sunday? He effectively didn't have any. His Liverpool opposites were taking the mickey out of him today.
Alan J Thompson
170
Posted 27/04/2022 at 17:29:37
Some on here are questioning why we are complaining about the refereeing as it won't get us any more points and that is quite true. However, I am reminded of that old saying; "For evil to flourish, good men need only do nothing".
Paul Smith
171
Posted 27/04/2022 at 18:32:26
Didn't he have 2 touches Martin both from kick off ?
Danny O'Neill
172
Posted 27/04/2022 at 18:36:50
We do have more than a chance Tony and it's still in our hands.
To your point, I sat in the Upper Bullens (no half time drink - sore point) and watched us go a goal behind against Burnley around the 50 minute mark. I could sense the doom mongers, but just over 10 minutes later, we were 3 - 1 up.
I'm no prophet and football is too unpredictable as is life. So I won't predict whether we go down or stay up. I'm just going to watch the rest of the season and support the club that is my life in the way I always have done.
See you all Sunday.
Will Mabon
173
Posted 27/04/2022 at 18:36:50
"
...but us fans who are partly but not near completely innocent.
"
I have to ask, Martin. What are fans guilty of here?
Danny O'Neill
174
Posted 27/04/2022 at 18:45:19
I have to echo Will here Martin. What are the fans guilty of here?
I see nothing but dedication, commitment and passion that any club would be envious of.
We all may have our spats on here on our different views of the club, but I genuinely don't know a more dedicated support base. Genuinely 100%.
Clive Rogers
175
Posted 27/04/2022 at 18:54:18
Paul, 171, he had only 2 completed passes and they were from kick offs played back to him. Effectively we played with ten men, he did absolutely nothing.
Brian Harrison
176
Posted 27/04/2022 at 18:59:16
Nobody knows how this season will pan out, and as Lampard has said its not really a story if Norwich, Watford, Burnley or Leeds get relegated as they have all been relegated and returned to the Premier League.
But the big story would be if Everton got relegated, not only because we are the biggest club by far in this years relegation battle, but because of the money that's been spent, it's as if people want a club that has spent a fortune to be relegated.
But we have 6 games to show that we won't be pressurised by press or pundits who would love this to happen, and will with the help of the best supporters in the Premier league avoid the drop.
I would also like our owner to come out and say, whatever happens, Lampard and his coaches will be in charge next season, and we finally put a stop to the managerial merry-go-round that this owner has perpetuated since he took over.
He has experience of managing in the Championship, if it comes to that, which is important, but we hope that won't be necessary and we will still be in the top flight next season.
Like most, I have renewed my season ticket for next season, would be nice to see our owner in the stands for the remaining home games, but I doubt that will happen.
Tony Abrahams
177
Posted 27/04/2022 at 19:04:24
Jerome@168, Clough was clever, he manipulated referees in a different way, and would often be heard telling his players to shut-up, because the ref had a hard enough job as it was. Most people in football were also scared of him, meaning he could skin the cat in loads of different ways.
I understand what you're saying, Jerome, but if anyone could explain to me how Gordon could have stayed on his feet, with either the Matip or Arnold incidents, I'd love to hear their thoughts.
My own being that I'd never tell Anthony to stop being so aggressive. The type of running he produced surprised both Liverpool players, imo, and he should have been rewarded with both a free-kick and a penalty.
Kieran Kinsella
178
Posted 27/04/2022 at 19:16:25
Danny 174
"What are the fans guilty of here?" Come on mate, own up. It was your suggestion to Colin Harvey that we bought Ian Wilson.
Danny O'Neill
179
Posted 27/04/2022 at 19:18:48
Clough's approach was to get the ref on his side, not intimidate in a Ferguson type of way.
Stroke their bellies and make them allies, even though he could be has hard faced as anyone.
Danny O'Neill
180
Posted 27/04/2022 at 19:22:57
Ian Wilson. I still shudder Kieran.
Tony Abrahams
181
Posted 27/04/2022 at 19:45:53
Brian @176,
I've heard twice in two days from a very good source that Moshiri wants to sell. I heard yesterday that there is American investors talking to Everton, and I heard today that Moshiri is desperate because he's lost his banker.
I believe this story, and although we have got more serious matters at hand, I just hope Kenwright's legacy isn't relegation, because it finally/hopefully looks like the end of his despicable reign is nigh.
Andy Riley
182
Posted 27/04/2022 at 19:54:39
Kieran / Danny - mention of Ian Wilson reminds me if a quote about him at the time - a very deceptive player even slower than he looks!
Danny Baily
183
Posted 27/04/2022 at 20:08:50
Tony, despicable reign? We were widely regarded as a well run club under his stewardship.
Who will we turn on after Bill Kenwright has gone?
Chris Leyland
184
Posted 27/04/2022 at 20:15:12
Danny Baily – "well run" but not to the extent of ever actually winning anything or seriously challenging to. The very essence of comfortable, mid-table mediocrity and knowing the glass ceiling and your place.
Searching 24/7/365 for years for an investor who would allow him carry on playing with his trainset and then getting us Moshiri who allowed Bill and Denise's chaotic cliques to carry on.
Ray Jacques
185
Posted 27/04/2022 at 20:31:55
No doubt chaotic Moshiri, bullshit Billy and Little Miss Dynamite haven't got a contingency plan of we go down.
The usual farce that is the running of EFC will then ensue and no one will know who the manager is going to be or have any idea on player sales of keeping hold.
In simple terms they won't know what to do and we will sink to championship obscurity.
I look at all three of them and cringe.
David Currie
186
Posted 27/04/2022 at 20:38:36
Martin,
We are in 3rd or 4th place in the table of fans with the highest percentage of having the ground full. We are equal with Liverpool, Chelsea are in 14th place despite winning 20 trophies since Abramovich's takeover. If Liverpool went 27 years without winning anything, they would be outside the top 10 in this fans table.
Everton fans are loyal and support the team in numbers at home and away.
Tony Abrahams
187
Posted 27/04/2022 at 20:42:35
A well run club Danny? I could give you loads of reasons why we wasn't quite as well run as perpetrated, but what have we won under Kenwright's very long and unsuccessful reign? Which also happens to be the longest barren spell without a trophy in our entire history.
He's clung on and clung on, and if you think life is about blaming people mate, that's your prerogative, but I'd just personally sooner have a united club myself, which has never been the case under the actor.
Disagree, Chris, not even really that well run imo mate, and not just because of the pathetic deal that continues to cost Everton a fortune over Finch Farm.
Joe McMahon
188
Posted 27/04/2022 at 21:02:39
Danny, by who? No trophy since 1995, never played in Champions League, most seasons negative goal difference and our biggest rivals are globally celebrated and could win their 7th European Cup this season. Oh sure we are well run alright 👍
Ken Kneale
189
Posted 27/04/2022 at 21:06:11
Danny,
What evidence do you have it was well run??
That is an incredible comment to post given the last 27 years!!
Ian Bennett
190
Posted 27/04/2022 at 21:11:47
Tony 181 - you rarely lose a banker. Bankers are like drug dealers, they don't give up clients as they generate them revenue and bonus.
The only way the banker is turning his back, is he's gone bust or under sanctions. File under Bullshit I would think.
Tony Abrahams
191
Posted 27/04/2022 at 21:16:18
I was thinking the same thing, Ian, until I realised that Usmanov's assets have been frozen.
Bernie Quinn
192
Posted 27/04/2022 at 21:17:19
Thanks Friends for your kind comments; Touch wood I am in reasonable health at present apart from the terminal illness of old age.
I was just trying to point out that relegation – though upsetting – is not the end of the world. We will bounce back. I've seen it happen before and it will happen again.
Christine mentioned stress –strangely, I had a heart attack when Benitez was appointed manager but my pacemaker is working fine now that Frank is in charge - long may he remain so.
We just have to get rid of Good Time Bill and his minions in the Boardroom and we will be back on top. Everton are a Great Club and I love you guys and all your viewpoints – they keep me going!
Thanks again and God Bless.
Chris Leyland
193
Posted 27/04/2022 at 21:22:45
Tony 186 - I don't actually think we are well run at all. I put it in quotes as it was Danny who said we were well run and I was quoting him.
I think we've been appallingly run for years. Probably since the late eighties when we decided not to kick on after winning the Championship for a second time and settled for Top 10 after that.
John Atkins
194
Posted 27/04/2022 at 21:25:05
Off topic … and a bit of straw clutching, Leicester are away in Rome on the Thursday night before they host us on the Sunday …. Surely an opportunity to get a surprise 3 points from hopefully a jaded team?
Neil Copeland
195
Posted 27/04/2022 at 21:37:33
John #194, I think that could work either way dependant upon their result. If they make it to the final Leicester and their support will be full of it, if not then I think we have a great chance. Mind you they may still be hungover if they win!
Neil Copeland
196
Posted 27/04/2022 at 21:41:59
Andy #182, Michael Keane is the Burnley greyhound when compared with Ian Wilson who looked about 85 to me and was even slower for that age.
Tony Abrahams
197
Posted 27/04/2022 at 21:49:32
I only read the first part of your post before I went back on my own post and added a bit more, Chris.
I should have read it all, like I've just done now, mate. You wrote what I feel, but in a much better way, and I should have known better because I don't think you've ever been a fan of Kenwright
Paul Birmingham
198
Posted 27/04/2022 at 22:13:30
John, a good point and hopefully Everton, can take advantage and beat Leicester.
They'll be loads of twists in the perms of fixtures left impacting Everton, but hopefully Everton will prevail, by hard work, and good luck, and win this battle for survival.
Chelsea, next, and a massive weekend of fixtures.
UTFT!
Jerome Shields
199
Posted 27/04/2022 at 22:24:35
Tony #177,
Gordon's second penalty claim was 100 percent a penalty, but it is never going to be a penalty.
The Everton squad at various times during this season have downed tools, not put the effort in, they also have been a disgrace. Lampard backing their excuses or giving them reasons is not the way to go.
Neil Copeland
200
Posted 27/04/2022 at 22:25:38
Paul, strangely enough I am really looking forward to the game at the weekend,
We always seem to struggle when there is anything more than 7 or 8 days before games. I think I am right in stating there are no more long breaks now so hopefully that will work in our favour too. The team should take a lot of heart from Sunday too and I am sure Frank will be telling them to go and show the rest of the football world they will not get rid of us easily.
UTFT
Don Alexander
201
Posted 27/04/2022 at 22:28:40
There's mention above of Ian Wilson. All I can say is that, having seen Davy Klaassen, I'm certain that Wilson must've had a dirty weekend in Amsterdam just after the 1992 season.
Neil Copeland
202
Posted 27/04/2022 at 22:29:45
Don #201, ha ha, love it!
Paul Birmingham
203
Posted 27/04/2022 at 22:44:41
Great spirit Neil, and hopefully the combined spirit, will and the great wit of Evertonians, everywhere, will make this weekend the start of the Everton recovery.
Don @ 201, spot on: Klaassen is Willo Mk 2.
Everton can and will stay up.
UTFT!
Neil Copeland
204
Posted 27/04/2022 at 22:52:58
Paul, absolutely mate. If wit alone earned us points, we would be Champions every season!
UTFT
Jerome Shields
205
Posted 27/04/2022 at 23:11:03
Neill #200,
No breaks is definitely an advantage with this squad. Pitch time rather than Finch Farm time.
Pete Clarke
206
Posted 27/04/2022 at 23:46:21
I personally find the actual theatrics of Richarlison and Anthony Gordon completely embarrassing. The whole arms flailing in the air, mouth wide open with a pain riddled twist in the face just does not belong in football at any level.
Was Anthony Gordon not only saying the other week that he was Scouse and would "stand up to anyone".
I know they are far from alone but it all does my head in because it is supposed to be a working-class man's game (no offense to the ladies game).
I watch Rugby League and I squirm when I see the tackles these guys put in and often wonder what these men think of football players. Little girls or something like that I assume!
We did not deserve anything from that game because there were a few times that we got into good attacking positions, including the penalty appeal and we just fluff it all too easily and we don't know what to do. We can't defend when it matters and we can't score due to the incompetence of our players and that's why we are in this fucked up position. I hate the VAR and most officials but we need to learn how to get them on our side too by being clever.
So, based on our general form, we are pretty much down unless Frank Lampard can come up with some plan on how to manage each game for maximum points. He's slowly getting there with this awful team but the sheer will and intelligence he had in abundance is missing from most of our players and deep down it's got to be hurting him. Injuries have not helped him of course but all of our hopes are on him getting us out of this.
Best wishes to you all as I know Loving Everton is not good for our health.
COYB
Paul Kossoff
207
Posted 28/04/2022 at 00:29:14
Now Frank, explain yourself!
"Well, you lot, the FA, the Premier League, the referees, the VARs, are all cheating bastards, okay!"
Nuff said, Frank, can't argue with that!
£10,000 fine.
Laurie Hartley
208
Posted 27/04/2022 at 01:07:46
Living 12,000 miles away is not helping me handle this. I wish I could be at Goodison on Sunday. The thought of watching it on my own in the middle of the night is unbearable.
Six games to play – let's make it three points under our belt and five to play by Sunday night. It is still in our hands.
"We will Fight, Fight, Fight, with all our might for the boys in the royal blue jersey."
How many times have I sang those words with all my heart with my dad (God rest his soul), home and away during the '60s before I emigrated. I hope those words rattle the stands at Goodison on Sunday and summon the spirit of days gone by.
Kieran Kinsella
209
Posted 28/04/2022 at 01:55:00
Pete Clarke
I agree Richarlison and Gordon are poor divers. But, if you look at instances of minimal contact it's a penalty if Salah goes down versus them because he's a better actor.
But since it's not the Oscars surely it's the contact from the defender that determines the call rather than the acting ability of the opposition player.
To my mind, in this era, a dive is like Huckerby from Materazzi when there was no contact at all and Materazzi famously got sent off before losing his rag.
Danny O'Neill
210
Posted 28/04/2022 at 06:13:32
I have said that I was concerned that Anthony Gordon was gaining a reputation. I stand by that. Just as Richarlison has and, going back further, Andy Johnson before them. I don't think they are divers. I think they are lightweight players who under contact will go down. And yes, sometimes rather spectacularly.
But those who have played the game know 2 things. Firstly, at pace, even the slightest of touch on a quick player will knock them off balance and, in full flight, send them flying (literally). Second, a fouled player will always try to make sure they get the decision. That's football.
Jack Grealish (darling of English football) wasn't called a diver at Villa. He was called the most fouled player in the league. Different, I suppose??
And if you want to see a player who goes down like he's been shot by a Stalingrad sniper from the really big stand, watch the YouTube footage of Salah with circus music in the background. It is, well, comical. In fact, don't. If you're angry now, you will be more so after watching that.
So, yes, Anthony needs to watch his reputation, but at the same time, he is not getting decisions because they are reserved for elite clubs and England internationals.
Taking the dog out.
Martin Mason
211
Posted 28/04/2022 at 08:33:17
Will @173,
Generally the fans are really exceptional but I believe that we are guilty in two areas. I don't know how serious the effects have been but these are the boo-boys at the ground and the demands for management change when it may well have been better to suffer the incumbent rather than the massive disruption of managerial change.
Fat Sam left us in 8th place.
Danny O'Neill
212
Posted 28/04/2022 at 08:52:00
I'll give you that Martin.
As a club, we have been far too impatient with managers. I don't know how many times I can say it; the problem isn't the manager.
Even though he didn't seem to want to be there, would Koeman really have got us relegated? We have done it more than once; panicked rather than see something through. I hope we afford Lampard that even though I was on the fence and regardless of what happens.
I will disagree on Allardyce. Red flag for me. As would Dyche be. You are not building for the future with those type of coaches. Just surviving on excuses and playing down of expectation. Sorry, but my expectation for Everton is not to be like Burnley or Bolton.
Kevin Prytherch
213
Posted 28/04/2022 at 09:04:37
Peter 206 and Kieron 209 - I think the issue lies somewhere between both of you. If someone fouls you, especially at full speed, then you can get easily knocked off balance and go down - so I don't necessarily think it's poor diving.
But the theatrics afterwards - the rolling about clutching the shin regardless of where the contact it, is the part that refs will associate with trying to deceive them and will result in less decisions being given.
Fair enough, if you've been fouled then go to ground - but don't roll around in apparent agony for no reason. And especially, Mina is the most guilty of this, don't stay on the floor looking for sympathy when you could actually get up and help the team if the foul hasn't been given.
Tony Abrahams
214
Posted 28/04/2022 at 09:24:42
That's fair enough Jerome. It looks like you don't rate the job Lampard has done up to now mate, because he has got quite a few things wrong, but he was criticised in some circles the other week, because he said the Everton players lacked bollocks. This doesn't sound like a manager who is giving players any excuses imo, although a lot of people saw this differently, such is the way life is now, meaning I think there is an excuse for everything nowadays?
I've heard Duncan Ferguson does nothing once again, which means he's become a token appointment, just like he appeared to be, when Martinez promoted him to the first team squad.
I say this because even if Duncan's input is severely limited once again, surely he should have been pointing out to Lampard, that the only way Ancellotti got points out of this team, (Ancellotti has said this week that getting 59 points was a miracle) was by playing the way we have played against City and Liverpool?
Maybe this has been pointed out? And if so, I can see why people can have reservations against Lampard, but I want to give him time because he's come into a nightmare scenario, with a squad of players that were all over the place, otherwise Benitez wouldn't have got sacked.
Jerome Shields
215
Posted 28/04/2022 at 09:26:19
Everton are not in a relegation dogfight because of referees decisions. They are in it this season because:
Because of a £100, 000 Summer Transfer budget.
The fallout from a dispute with the Manager over the Oct International break. Enough players downing tools, to force the Manager out.
A Manager walking in January unsupported in the transfers in January.
A Manager selection procedures that was for the birds.
A team of players that did not apply themselves in training or coached correctly or willingly.
Medical Services dept that was underperforming.
The perennial problem of 'after the break' blues. More coming back from a holiday than work overload.
Players who shied away from selection. Probably using Medical Services to do so.
Some bloody naive tactics.
A squad who are in new territory, having been on holiday from March on most previous seasons.
A Club that is in denial that it is in a relegation dogfight.
Lastly but not least a Club run into the ground and now a Shambles. Run by Muppets, who think they can and believe they have the genes to do so. Read any thread on ToffeeWeb for details.
That is why I have no truck with this' Stand Together', and taking seriously anyone advocating this for this Squad, Management and Coaches as if it is going to happen.
If Everton survive it will be by luck or a dubious decision. That is what they are playing for and it appears so is the Manager.
Martin Mason
216
Posted 28/04/2022 at 09:29:55
Danny@212 I completely agree, Fat Sam was just an awful example.
Brian Harrison
217
Posted 28/04/2022 at 09:46:08
I wonder if any of our fans who watch the Under-18s or younger sides can tell me if we have any young lads from South America or America or Africa in these teams?
The reason I ask is Marcel Brands supposedly appointed scouts in all these Continents to bring young talent to our club, but I have never read anything about any youngsters arriving.
Now I realize it takes a bit of time when you introduce a new scouting system but this was set up a couple of years ago, so I would have expected at least a couple of boys from these countries to have come over at least for a trial.
Martin Mason
218
Posted 28/04/2022 at 09:55:51
Many instances of total incompetence have dragged the club down. I believe that the appointment of Benitez and the damage that he did with his power struggle was key but the major destabilising factor was the appointment of Moshiri.
Even though he bought in masses of money, we didn't have the professional framework available to convert that into improved team performance. In fact, it was a case of the inverse Midas touch where everything he touched turned to shit.
The other massive problem was the continuing cancer of Bill Kenwright at the top. The days of broke and Moyes seem to be golden days looking back.
Danny O'Neill
219
Posted 28/04/2022 at 10:02:05
I was having this fight with my brother on Sunday. Not that we would fight as we are brothers and fellow Evertonians.
He places the blame at Moshiri. My point was that this decline started over 30 years ago. The complacency set in not long after we last won the league title. Rest on your laurels and stand still rather than build on what you have just achieved?
Tony Abrahams
220
Posted 28/04/2022 at 10:17:25
Thinking about what you said Danny, and Chris L, did say the same thing last night, where we even a well run club, whilst we was the champions?
I ask this because we sold Linekar before the World Cup, although this might have been because Kendall thought he was also going to Barcelona, (I know we came second that season) and only two years before we turned it around by winning the FA CUP, the club was that skint, the fans were having a whip around to sign Terry Curren.
Good post Jerome, I just hope Lampard gets that contentious decision, because he's certainly had a few go against his team since that Manchester city game.
Tony Everan
221
Posted 28/04/2022 at 10:22:25
Jerome, Good points, add on the January transfer window, which was a glorious opportunity to strengthen and make ourselves safe. We signed five players and only one plays. On top of that the senseless delay in sacking Benitez and the weeks of delay until only appointing Frank Lampard on deadline day.
Strip all these issues out and you get down to bare brickwork of the current incarnation of EFC after 27 years of Bill Kenwright's stewardship. There are amateur clubs that are better run.
I am always hopeful that the corner has been turned, Lampard and his coaching team and Thelwell look a good long term fit to me. I am desperate for the club fight off relegation and build.
No matter what, the future has to be one without Bill Kenwright's omnipresent shadow of failure hanging over it.
Regardless of his love for Everton , he must go, for the good of the club. He must allow us to press the reset button and enter a professionally run era with renewed belief and fresh optimism.
Anthony A Hughes
222
Posted 28/04/2022 at 10:31:44
Even if Arsenal bent over to let us win, I still think we'd lose the game with the state we are in at the moment.
Brian Harrison
223
Posted 28/04/2022 at 10:37:23
Danny 219
I have to agree with your brother that the owner has to take the lions share of the blame for the predicament that Everton are in. He came in 6 years ago and despite spending the best part of £500 million the club has gone backwards under his ownership. For those suggesting that its Kenwrights fault is a bit like if Abramovich had failed despite spending hundreds of millions, their fans blaming Bruce Buck who is the Chairman.
Moshiri/Usmanov took over at Everton because Kronke had made it abundantly clear that he would never sell Arsenal to Usmanov, so he decided to put his money into Everton via his employee Moshiri. I think their rational for taking over at Everton was that they seemed a well run club, that were massively under funded. So pump in a few hundred million and they will be competing with the top 6/4 over a couple of years. I think us fans were just so delighted to have a billionaire on board that we became more demanding and wanted success tomorrow and wanted managers changed if that success wasn't forthcoming.
Lets not forget 12 months after becoming the owner Moshiri said he thought owning Everton would only take up 5% of his time, that should have sent alarm bells ringing in us as fans. Asking why were you only prepared to allocate 5% of your time to our club, begs the question why did you buy it in the first place if you only intended it to take up to 5% of your time. Some quite rightly point to Kenwrights faults and rightly point out to the Kings Dock fiasco or the attempt to move to Kirkby. But I don't think Kenwright would have appointed Allardyce and was openly hostile to the appointment of Benitez.
So lets lay the blame were the problem is and thats an owner who knows nothing about football, and has listened to agents who have a vested interest in their players not EFC. He is on his 3rd DOF and his 6th manager, does that strike anybody as a man who knows what he is doing in 6 years.
Christine Foster
224
Posted 28/04/2022 at 10:50:22
Martin, #218,
I couldn't let this slip. I was around here in the days were Kenwright and Co were being condened here on ToffeeWeb, and many times many crossed swords with you on your utter refusal to accept that the club was run by incompetent management, in particular Kenwright.
From 10 years ago, here you set out your opinion on the running of the club by Kenwright in response to many posters' incredulity over your stance...
"I can think of many words to describe the workings at EFC but gross mismanagement and incompetence wouldn't be on the radar."
Or another from the same thread, in response to the question:
"You don't consider gross mismanagement and incompetence a justification for change?"
Your response...
"No because that hasn't been proven, it's an opinion of a minority of fans and that is all. A team that is consistently finishing as high as us is not being run by incompetent people. Judge it on what we are winning then we are relatively unsuccessful but then so are 99% of teams."
I have to ask, Martin, what happened on the road to Damascus? When did you see the light? At what point or incident did you realize what was said so long ago might just be correct?
Genuinely interested in what changed your view.
Tony Abrahams
225
Posted 28/04/2022 at 11:18:38
The sale of Everton must have depended on Kenwright staying on as chairman otherwise I don't think it would have took so long for him to find a buyer.
Danny O'Neill
226
Posted 28/04/2022 at 11:21:52
Looking back, I don't think we were well run even back when we were successful in the short-term.
We were drinking from the short-term celebratory glasses and resting on our laurels.
Small things, but the club that pioneered the triple decker stand and undersoil heating. Goodison once a pioneering stadium but now known as woodison.
We were on the brink of something special but stood still because we thought it would be served to on us on a plate because of who we are. Blame Heysel - I do - but it didn't hold back United or Arsenal.
Sorry, blame Moshiri for his efforts and investment all you want. The rot set in 30 years ago and bar Howard's achievements, probably before that. Look in the mirror; it tells you a lot.
That is why Manchester United now have 20 titles and a few European Champions League wins to their name compared to only having 7 to our 9 back in 1987.
A failure to invest and capitalise on the name and build a brand. It isn't the last 6 years. It's arguably the last 30 or 40. Lack of vision. Lack of strategy. That was the debate I had with my brother.
Robert Tressell
227
Posted 28/04/2022 at 11:22:04
There's a fairly long list of people to blame for our predicament - because the rot probably set in about 1990 - possibly earlier.
We missed the boat with financials / commercials of the Premier League. Failed to build a stadium. Failed to modernise etc.
In some ways Kenwright (and Moyes) arrested the inevitable slide to relegation. In some ways they both then became the solution and part of an ongoing problem.
The club reinvented itself as mediocre instead of finding a way to modernise / innovate (like Arsenal did in the 1990s).
Since Moshiri took over we have been a shambles. He therefore takes a lot of blame.
Kenwright is also now very much holding the club back by presiding over the very old fashioned, cosy culture at the club. With Moyes and no money, that worked to keep us as best(ish) of the rest.
Post Moyes and with money it does not work at all.
We are now a hopelessly old fashioned club and the list of upstarts overtaking us lengthens every year.
We need a new stadium (which is 20 years too late) and the club management needs a complete clean sweep.

Michael Kenrick
228
Posted 28/04/2022 at 11:35:06
Good Question, Brian @217:
"I wonder if … we have any young lads from South America or America or Africa in these teams?"
For the U18s, the answer is a resounding No. Issac Price hails from Northern Ireland and looking at the latest rumoured link, that's still about as far afield as we venture.
Katia Kouyate has links to Ivory Coast but he was born in Manchester. And there's a lad called Shae Cahill who has links to Australia... and maybe Samoa, but you can probably guess the stronger Everton connection!
There is a bit more of a variety in the U23s – but nothing outside of Europe:
Zan-Luk Leban (Slovenia... via Poland)
Joao Virginia (Portugal... via Arsenal)
Niels Nkounkou (France... via Marseille)
Einar Iversen (Norway... via Stord)
Seb Kristensen (Denmark... via Lyngby)
Rafael Garcia (Spain... via Fulham)
Nothing really among recent departures:
Nathangelo Markelo (Netherlands... via Volendam)
Thierry Small (UK/Panama... via West Brom)
Con Ouzounidis (Greece/Australia)
Nicolas Hansen (USA/Denmark)
And the most foreign-sounding of all:
Francis Okoronkwo... English, born in Blyth, Northumberland!
Dave Lynch
229
Posted 28/04/2022 at 11:45:55
Imo 80% of the blame lies with Kenwright.
He is our very own Moriarty, always in the shadows scheming and meeting his own needs.
He needs to be in control, he needs sycophants around him, hence why he employed DBB and Sharpy, so they can defend and back him.
The man is a self serving narcissistic cancer on the club, he cares only for his own image and needs.
The faster he is out of the club the better.
Tony Abrahams
230
Posted 28/04/2022 at 11:51:41
I'm pretty certain Isaac Price grew up in Yorkshire, Michael, and came to Everton when he was around ten years of age?
Brian Harrison
231
Posted 28/04/2022 at 11:56:40
Michael 228
Thank you for the update I suspected we didnt have any youngsters come from where brands set up our new scouting bases. Again a club spending money on scouts but no return as yet. I applaud the idea of having scouts especially in South America and Africa were some very talented players come from, but if its producing nothing what's the point.
Martin Mason
232
Posted 28/04/2022 at 12:36:37
Christine@224
It is very easy to print selective quotes without them being seen in context. If I said that at the time then that was obviously my opinion at the time and it doesn't necessarily need to be at odds with what I'm saying now. Most importantly my comments about Kenwright in the past have typically been to correct the statements made by some fans on what he did and didn't do on issues such as DK and KD. If I said that there was no evidence of gross mismanagement at the time then that is because there was no evidence only opinion. Would you say that it isn't fact now? The gross mismanagement has become evident for me only since the club has had such a high level of funding since Moshiri came on board. In terms of keeping Everton in survival mode before then there was no evidence of gross mismanagement, exactly the opposite. Damascene conversion? I don't usually have them sorry but if the facts change then it is correct to change my opinion. Gross mismanagement has been something that has only become obvious over time since Moshiri's billions came to the club and they began to accumulate assets. Keeping the Club in business until then was actually pretty good?
Danny O'Neill
233
Posted 28/04/2022 at 13:02:56
You don't have to justify yourself Martin. We all adjust our opinions and views over time.
A point in time view is just that.
We all learn in life and adjust our views. I do.
Robert Tressell
234
Posted 28/04/2022 at 13:31:22
Tony / Brian / Michael - seems to me that we do a very little bit of recruitment from British Isles + Scandinavia at youth level. The Scandinavian recruits have so far been very average - Iversen, Kristensen and Jagne (albeit the latter may yet come good).
Most of those with foreign credentials are really British but just qualify for other nations due to parents / grandparents etc.
Leban and Ouzounidis might be exceptions. Don't know their back story - but presumably they were hawked about for trials by agents (this is how Cahill snr did it).
Nkounkou wasn't bought for the academy and Virginia, though Portuguese, was bought from Arsenal.
We did have Ali-Cho on our books for a bit - possibly because we spotted him in a youth tournament in France. I can't quite remember.
Whatever the case, it is peculiar that we haven't shopped in persistently good value markets either before or after Brands.
Blame often gets levelled at the scouts for not uncovering hidden gems. Personally I don't really believe in hidden gems in this era of vast availability of data.
It's more a question about business operations designed to bring in and develop quality that is hiding in plain sight for professional scouts.
Martin Mason
235
Posted 28/04/2022 at 13:32:56
Thank you Danny@233
Robert Tressell
236
Posted 28/04/2022 at 13:36:53
ps: Possibly undermining my point a bit but for completeness - I spotted that Sherif (the U18s striker) is Dutch / Liberian.
Not sure how he found him.
Christine Foster
237
Posted 28/04/2022 at 13:49:29
Martin, sorry but I was not asking for justification of your stance, then or now, I just wondered what if any incident, comment or observation, changed your perspective?
We all change or modify opinions when facts present themselves or become evident. You held a view that has evolved over time, I get it.
Bob Parrington
238
Posted 28/04/2022 at 14:06:45
How does it go? For he's a jolly good fellow. for he's a jolly good fellow. for he's a jolly good fellow, and so say all of us!!!
Well said Frank!!!
Martin Mason
239
Posted 28/04/2022 at 14:16:23
Christine@237
Apologies are mine.
Jack Convery
240
Posted 28/04/2022 at 14:20:53
Anyone see the headline on the BBC Sports page - Manu fined £8420 by UEFA. However if you read the rest of the article, half way down you will discover the RS were fined the exact same amount and Klopp has received a warning from UEFA. Rangers were also fined - £39k., but you would never know about the RS or Rangers unless you read the whole article. Can't have anything negative said about those lovable reds !!
Derek Powell
241
Posted 28/04/2022 at 15:41:50
About time we had international unbiased officials answerable for their decisions, unlike the bent fa and their bent officials favouring the top six wel they don't want the likes of Burnley Brentford etc in the champions league do they
Paul Birmingham
242
Posted 28/04/2022 at 16:50:03
Tony correct, -Sheffield.
Will Mabon
243
Posted 28/04/2022 at 17:00:58
Martin @ 211,
OK, thanks. Personally, I don't see any scenario for blaming fans, short of smashing the place up or similar.
No decision is ever made by the supporters, despite our right to have views and express them however loudly. Our influence is limited at best by all methods of protest ever used hitherto.
In terms of the current poor situation and more recent decisions, the Pereira event caused the loudest fan activity, but the influence on the decision is never known for certain - whether owners or directors say they listened or not.
The buck stops with the management. Whether they did listen to fans or not is on them too.
Martin Mason
244
Posted 28/04/2022 at 17:56:18
Will@ 243,
I have always said that we have little chance to influence things but I believe now that I was wrong on this.
The atmosphere at the ground is critical and I believe that Moshiri, with little real knowledge, picked up on what was often blatant hostility. Similarly in the media, the people like White pick up the hostility on Social Media, and he has the ear of Moshiri.
You are correct about where the buck stops though, I'm just thinking about influence that's all. I think that whatever happens though we must break the cycle by not sacking Lampard, what do you think?
Dave Abrahams
245
Posted 28/04/2022 at 19:09:51
Michael (228), were any scouts officially named who were looking for talent in South America for Everton FC?
Regarding Okoronkwo the lad we got from Sunderland, is he still with us? There has been no mention of the lad for the last few weeks, is he injured? He hasn't played for the U18s or U23s for over a month: have you heard anything about him?
Brian Wilkinson
247
Posted 28/04/2022 at 19:34:07
I just do not get the no mismanagement from our Chairman until only recently.
Kings dock, money ring fenced, shafting Philip Green, destination Kirkby, Goodison will not pass a safety certificate.
Even Lord Grandchester said he would not put one penny into the club, while Bill was Chairman, and that was over 20 years ago.
We have had good times, what would Everton do.
He took over from a Chairman who had already built the new Park stand, landed us our last trophy, then sold Everton which left Everton in the Black, within a year or so we were in the red, we had to sell off finch farm and then rent it back.
He got very lucky with David Moyes.
I might be wrong but it is around £5.6 Million net spend under Moyes, from incoming to outgoings, over his time in charge that's assuming we found the Arteta money.
Since his time on watch, Everton have stagmented.
The guy might be the nicest bloke in the world, I have no personal vendetta against the guy himself, but when he is ripping the life and soul, out of my football club I cannot stand by, Moshiri has to be accountable as well but at least he has dipped his hand into his own pocket, his lack of football knowledge has cost him a lot of money, being ill advised.
Many saw this around 10 years ago, if not longer, at least now, others are finally seeing the way our club has gone.
But hey, we've had some good times.
Kenwright out.
Will Mabon
248
Posted 28/04/2022 at 19:48:44
Martin,
I agree re. not sacking Lampard. Obviously that wouldn't happen til season's end now at the earliest. It's a topic for longer discussion but there is no mileage in anymore knee-jerk stuff, it simply hasn't worked and has compounded with each increasingly desperate and ill-considered action.
It's been a perfect storm really, that began with the wrong choice to replace Martinez, in the face of plenty of evidence, had anyone really looked (In my easy-from-a-keyboard opinion).
Following that misfire was the time to sit back and fully take stock, to plan for the next few seasons and not the next few months. But those controlling the club tried to quickly not be Everton - and here we are.
Bernie Quinn
249
Posted 28/04/2022 at 22:10:15
Brian @ 247 - Fully agree with you mate He has to go. but how do you make it happen ? He is so full of himself. I do wish posters would stop moaning about Frank Lampard. He was appointed at a terrible time. End of a transfer window no money to spend anyway - inherited a losing team who seemed to have lost interest. There was a long injury list and he has had to struggle every game to field a team of players who play in their normal positions. Personall I admire his efforts and hope the Club give him the chance next season to build up his own team, without interference.
Neil Copeland
250
Posted 28/04/2022 at 22:19:36
I can't see BK going anywhere soon unless the club is sold and the new owners have a clear out.
Paul Birmingham
251
Posted 28/04/2022 at 23:32:02
Neil, agreed.
Bill is on the Land Registry for Goodison Park, Finch Farm and BMD.
It's a nap.
Hopefully Everton FC, will stay in the EPL, this season, and learn well the lessons of that last 40 years, plus of company neglect.
Now for Chelsea, a worthy foe, and to beat them on the park, this Sunday, and to remember the games over the years were Everton have beaten Chelsea, at Goodison Park, very well.
Frank, your Finest 2 Hours, as a manager, is a must this Sunday afternoon. Everton players to convert the chances, and score goals!
Evertonians, this is the time, to make the difference.
From St Lukes, the Spellow, Brick, Wilmslow, Royal Oak, Glebe, Black Horse, and all the County Road Everton pubs, and Carisbrooke etc and all,the Everton ale houses. And from the Radio waves and TV Stations of the world TV screens.
This is D Day, for Everton FC, all Evertonians near and far, in this Universe, are embraced and welcome to make this a very special day for Everton FC, to beat Chelsea.
"Whats Our Name?"
UTFT!
Paul Birmingham
252
Posted 28/04/2022 at 23:55:53
And from the grounds of the former Pubs around the Blue mile radius, around Goodison Park, and further, so many are now restaurants and flats, but the spirits of all Evertonians past, present, and departed are required for this Sunday's game.
"Whats Our Name?"
UTFT!
Derek Thomas
253
Posted 29/04/2022 at 01:41:32
Martin & Christine; That there has been mismanagement is now obvious.
Some spotted it earlier, some later.
Some...only a few...argued that it was deliberate financial thievery.
I would think it was just being out of their depth - ignorant mismanagement, making mistakes, then making things worse trying to fix the mistakes.
But pure Ego is well in the mix too, Kenwright, Moshiri and Usmanov.
Moshiri & Usmanov must rue the day that Bill talked him into this.
But that is what Bill does, that's his day job, he talks people into investing in his productions.
One of his productions just happens to be Everton. These people are called in the trade 'Angels'
..."listen, me and Moyesie have got Everton there but not quite, I just haven't got the money, sod Arsenal, come in with me, etc, etc."
Then with the extra money, 'Mismanagement through Ignorance and Ego' on a small scale by Tweedledum.
Became 'Gross Mismanagement through Ignorance and Ego' on an epic scale, with the added bonus of Tweedledum and Tweedledumber both pulling at the wheel trying to steer at the same time.
Christine Foster
254
Posted 29/04/2022 at 08:16:59
Derek, I have no doubt the interaction with Moshiri has exacerbated an already bad situation regarding the management of the club. However, the gross mismanagement that has happened since Moshiri took over does not eradicate that which went before. The gross mismanagement started many years before he was hoodwinked into buying London Bridge. I would hate for the revionists to declare that we were a well run club before hand, nothing was further from the truth.
Tony Abrahams
255
Posted 29/04/2022 at 08:29:08
A lot of people would sooner be kidded rather than admit they were wrong Christine, and I think the dismantling of the truth is happening every single day on the 24/7 internet. (The misdemeanors of Liverpool fc are a great example) The best thing that could happen with Bill Kenwright, is if he just left and we could slowly begin to forget about him,🤞
Jerome Shields
256
Posted 29/04/2022 at 08:44:31
The truth is that there are a complication of reasons for the situation that Everton is in.Self interest and the weakening of professional systems and Line Management system to promote it.All small weaknesses contributing to poor performance at all levels.Gloss over by unsubstantiated profesdional sounding Club prouncementsThere are probably some people trying to do a honest day's work swamped by the scum around them.This all results in the familiar template of Everton performance we are all familiar with.Moshiri offshore throughout the recent past.
Interesting question on young South American footballers.I did try through Everton in Uruguay to get information on Everton's rehashed, from Johnson's reign , Satellite Clubs idea.Got nowhere. A blanket site for Everton in South Amercan did not reply, probably run by someone now on the ESSG.From what I can gather Clubs received penants with the their Clubs name on them.Home Farm Everton ( Dublin) where the original satellite Club from the 90s. They are now connected to Leeds.After all the attempted research came up with nothing.I should have known anyway. Jay Wood( Braz) would have given us a detailed analysis if anything was being produced.
By the way have not been attacked by Jay for a long time???? Hope he is keeping OK.
Bobby Mallon
257
Posted 29/04/2022 at 09:09:23
Jerome, I was thinking that about Jay also. Hope you're good, Jay.
Martin Mason
258
Posted 29/04/2022 at 10:20:41
Christine, now who is the revisionist?
Nobody has claimed that the club was well run, that isn't the same question as whether there was gross mismanagement or not.
One thing that is for certain is that you don't know how well or badly the club was run given the conditions under which it was operating; you can only only state an opinion. Remember, respectfully, that this is opinion – not fact.
My opinion is that, since the arrival of Moshiri and his working capital, gross mismanagement by my standards and opinion has been demonstrated. Pre-Moshiri, it certainly hadn't. That is my opinion and I believe that this has some basis.
Derek Thomas
259
Posted 29/04/2022 at 11:17:23
Martin Mason in - 'Opinion vs fact sophistry' shocker.
(Sophistry; an argument apparently correct in form but actually invalid.)
My conclusion:
Pre-Moshiri, we were badly run.
Post-Moshiri, we were and are really badly run.
And in my opinion, that's a fact... which is, in fact, my opinion.
So, for that reason – I'm out.
Just beat Chelsea and stay up please... we can then all kick Kenwright and Moshiri at our leisure.

Martin Mason
260
Posted 29/04/2022 at 11:57:38
Derek
My conclusion:
Pre-Moshiri, we were badly run.
Post-Moshiri, we were and are really badly run.
A very fair opinion and one I would gladly agree with except you should perhaps have said "my opinion" – not "my conclusion".
Whilst some would say that the poor running of the club was since Kenwright, I'd say it goes back to the '70s, perhaps the time we started building the new Main Stand.
Yes, please get a result on Sunday and please stay up so we can do it all again next year.
Best wishes guys, I love you all
Christine Foster
261
Posted 29/04/2022 at 12:04:08
Martin, my views have never changed regarding Kenwright, yours have. It's quite something to listen to you after all these years to accuse me of being a revisionist. You argued that nothing ever had been proven.
Despite an inquiry, you still refused to apportion blame or responsibility to Kenwright. "It's just opinion" became and still is your mantra. Now, you consider the man to be an absolute cancer on the club.
I never called you a revisionist, merely asked what had happened to change your views. A fair and reasonable observation after so many years of refusing to question his performance, then condemning him.
You answered that question, thank you.
Bernie Quinn
266
Posted 29/04/2022 at 20:31:19
Christine and Derek - Let it drop - no way are you going to change Martin's mind - even if he is wrong.
Alan J Thompson
267
Posted 01/05/2022 at 06:40:18
Is there any updated news?
Has Frank (or should it be Everton?) been contacted and is the reply in the papers, sorry, The Mail?
And have the FA broken their own rules and questioned Attwell and the VAR as to how they reached, or didn't, their decisions? Or is that opinion and the truth considered irrelevant?
---
Add Your Comments
In order to post a comment, you need to be logged in as a registered user of the site.
Or Sign up as a ToffeeWeb Member — it's free, takes just a few minutes and will allow you to post your comments on articles and Talking Points submissions across the site.