Richarlison in no rush to decide his future
Monday, 30 May, 2022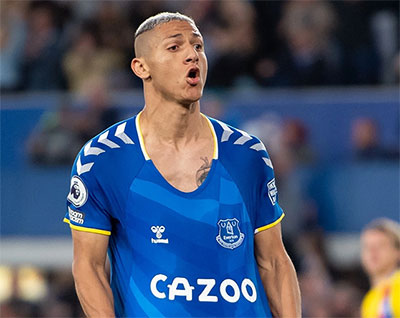 Richarlison has been asked about his immediate plans now that the season is over and talk has surfaced of him being a transfer target for the likes of Paris Saint-Germain and Real Madrid, but he indicated that he doesn't plan to have further talks over his future until next month.
The forward is on international duty with Brazil at the moment and in a press conference he fielded questions about the speculation given Everton's struggles in 2021-22 and the fact that he has two years left on his existing deal with the club.
Prior to the Italian's departure from the Blues a year ago, the 25-year-old pledged to give Carlo Ancelotti and the Blues one more season to see if they could qualify for Europe. Richarlison has made no secret of his desire to play in the Champions League and his dream to do so with Everton but with the Toffees now on a rebuilding footing following the appointment of Frank Lampard and the narrow escape from relegation, that goal appears further away than ever.
Nevertheless, Richarlison forged an ever deeper bond with Everton's fans this past season during what was an emotional battle against the drop, with the Brazilian putting his heart, soul and body into doing everything he could to ensure the club remained in the top flight.
Article continues below video content
He appeared to leave the door open to staying with his comments to the media today but suggested that he has already communicated his wishes to his club manager and the Everton board.
"When we talk about changing clubs, it's a little bit complicated due to the history I have there at Everton," Richarlison said. "The fans like me a lot. And where there are these talks about changing clubs, I feel like I don't have anything to say.
"But I made myself clear to the Board. I have talked with [Frank] Lampard as well. He knows what I want.
"So, no matter what happens, it won't disturb me at the national team. It won't be a problem at the World Cup. I am totally focused on football so, no mater where I am I will be playing football with joy."
When a reporter remarked that it seems as though he wants to stay at Goodison Park, Richarlison smiled and said:
"We will see. Let's wait this month. I am focused here on the national team and let's wait this month and for the talks with my representative and Everton's board to see what they will decide."
Richarlison changed representatives earlier this year, a move that journalists suggest was a precursor to arranging a move away from Everton this summer.
According to Fabrizio Romano, a number of clubs are monitoring his situation.
---
Reader Comments (77)
Note: the following content is not moderated or vetted by the site owners at the time of submission. Comments are the responsibility of the poster. Disclaimer
Steve Shave
1
Posted 30/05/2022 at 18:52:38
Please stay, Richy!!! My favourite player alongside big Yerry. The boy just loves kicking a ball around, he seems to genuinely love it here. I wonder if he will sign a new contract?
If we don't offer better terms he will go as his stock is high and we can't let the contract run down. If he stays then I guess it's either Calvert-Lewin or Pickford (or both) on the move. I could live with that if we sign quality replacements, à la Pope and Broja.
Paul Hewitt
2
Posted 30/05/2022 at 19:05:51
No chance is he staying, and I don't blame him. He's 25 now should be playing Champions League football.
Pat Kelly
3
Posted 30/05/2022 at 19:22:38
I reckon we're waiting to see if any offers come in as we'll need some transfer funds given the extent of the overhaul required.
Tony Everan
4
Posted 30/05/2022 at 19:26:48
It's a sensitive situation, because if he decides to go in 4 or five weeks time our 1st, 2nd and 3rd choice replacements may have already sailed off to West Ham, Aston Villa etc. Also, the club can't afford such a high-value player to run down his contract, if he wants to stay we need to extend it by a year or two.
I'd love him to stay and give Frank a chance to strengthen with the necessary midfield signings, plus a centre-back.
I thought the team grew a bit in the final 6 weeks (forget Arsenal) – even the Brentford match, we looked well on top. With smart strengthening, we can build on that better form and with Richarlison we have a better chance of a Eurosport and / or a cup.
If Richarlison wants to go, well, good luck to him, he was one of the main factors (along with Pickford and our incredible support) why we stayed up.
To allow us to strengthen, just tell us sooner rather than later, Richie.
Clive Rogers
5
Posted 30/05/2022 at 19:29:48
Reading between the lines, he is going.
Christy Ring
6
Posted 30/05/2022 at 19:38:12
I hope Richarlison stays, he's a class act, and put in a massive shift in the latter part of the season to keep us in the Premier League, and he loves the club and fans.
I don't agree with the comments we have to sell our top players. With Tosun, Delph and Sigurdsson on their way, that's nearly £15M off our wage bill, and we can shift 4/5 other players who are surplus to requirements, and hopefully Frank has a few targets lined up.
Will Mabon
7
Posted 30/05/2022 at 19:48:45
The "No rush" scenario doesn't often end well. Ditto the cryptic statements circumstance.
Here's hoping.
Brian Murray
8
Posted 30/05/2022 at 19:51:05
As good and adored that he is, it leaves us very vulnerable waiting until he or his agent decides what's best for him.
Marc Hints
9
Posted 30/05/2022 at 19:54:30
I feel depressed already:
Man Utd manager to get £120 million to spend.
Chelsea new owners have more money than Abromovich and seem to know what they are talking about as to what model they want to put in place.
Manchester City saying they are going to spend big.
Newcastle will be spending big, they have also put in a great Technical Director.
We are so far behind and looks to me very little money. Unless a miracle happens, we are really going to be struggling again…
Mal van Schaick
10
Posted 30/05/2022 at 20:05:12
Richarlison staying with Everton is a priority. We know what he does, but he's not on his own and other Premier League players do it.
173 appearances, 48 goals and 16 assists. Keep him and build the team around him, with better quality players.
Will Mabon
11
Posted 30/05/2022 at 20:14:30
Marc, for the foreseeable future, we might have to satisfy ourselves with competing for the "Best of the teams that aren't advantaged by dosh and overt favourable FFP engineering" - Cup.
(Having blown our small chance at the getting onto the fringes of that club.)
Marc Hints
12
Posted 30/05/2022 at 20:20:45
I think you're right, Will.
Barry Hesketh
13
Posted 30/05/2022 at 20:27:46
Will @11
You are of course correct, whether Richarlison leaves or stays, Everton won't be able to compete with teams like Chelsea and Manchester United for quite some time and we should be more concerned as to whether we can have a squad good enough to keep our place in the Premier League for the last few seasons at Goodison Park.
It's pointless worrying about what other clubs are spending, or which players they recruit, we are back in an era of make do and mend and we have to hope that somehow there are players available to us that can perform well above their current status.
Evertonians are going to have to dig deep once again next season by urging the team on in many a game and not just those games against the elite clubs. Every single point gained next season will be priceless just as it was for the last few months, it's not what we all want but it's the price we have to pay for so many poor decisions made by the club's hierarchy in the last 6 years.

Iakovos Iasonidis
14
Posted 30/05/2022 at 20:36:22
Reading his comments, the only thing I understand is he is going, can't explain it any other way. I wish he stayed but can't see it happening.
Mike Gaynes
15
Posted 30/05/2022 at 20:45:23
I'm gonna disagree with the consensus here and say that Richarlison's top priority is not the Champions League. Right now, it's securing his starting position up front for Brazil in the World Cup. That's why he's not gonna talk about his Everton future until after the upcoming friendlies with Korea and Japan.
The thing is, if he stays at Everton, Richarlison is assured of starting every game. If he goes to Man Utd, he's second string behind Cristiano. If he goes to PSG, he's second string behind Mbappé. And he's certainly not a guaranteed starter at Man City or Chelsea or Real Madrid.
So if he moves to a big club now, he risks spending big chunks of the autumn on somebody's bench, which is not a good look for the Brazil manager, Tite. To stay on the Brazil team sheet, he needs to pile up games and goals. Only Everton can promise that.
My prediction: He stays with us until November. Goes off to Qatar, bangs in 4-5 goals, maybe dances with the trophy, and comes home having enhanced his value by £20 million.
And then puts in a transfer request for January.
Will Mabon
17
Posted 30/05/2022 at 20:50:30
There's a lot of irony, Barry.
I was sort of proud of how well we did for a time, based on the relatively small resources we had a decade back. No doubt, we stretched that to as far as it would go, better than anyone else. For a short while under Martinez, we upset the apple cart. I actually was cool on the money coming in, a take-it-or-leave-it view.
Well, it didn't work out, and we're right back there, aren't we? As you say, dig deep and hope long... a post-Dogs of War era reboot, with less of the good stuff, and more disadvantaged versus the monied clubs. Hopefully no trouble from FFP.
Perhaps there's a lesson from the last six years, after all. Looks like we're getting a stadium out of it though.
Kevin Prytherch
18
Posted 30/05/2022 at 20:51:15
Mike 15 - that makes perfect sense. If we somehow managed to attain European football, that would also give him something to ponder next season.
Qatar could be a saving grace as the same should apply to Calvert-Lewin. Regular starter for Everton or bit part player elsewhere to force your way back into the England squad.
Will Mabon
19
Posted 30/05/2022 at 20:53:28
Mike, that was a funny ending, and possible too.

Mike Gaynes
20
Posted 30/05/2022 at 21:02:40
Kev #18, that's a good point about Dom. He needs that playing time too, and the regular goals -- especially after a disastrous season like this one.
Kevin Campbell says all three stars will stay.
Eddie Dunn
21
Posted 30/05/2022 at 21:16:18
Mike G, I'd go further and say he will stay till the end of the next season.
Paul Birmingham
22
Posted 30/05/2022 at 21:29:06
Mike G, good wisdom, and I really hope he stays as he is the lion that has along with the greatest football supporters in the world, spirited and dragged Everton over the safety line to survival last season.
Tommy Carter
23
Posted 30/05/2022 at 21:30:49
Richarlison is comfortably one of the very best players to have worn an Everton jersey in the Premier League era.
Good luck to him, he will be even better in a good team and when not surrounded by utter dross.
Has always given his all, an incredibly brave player who willingly takes on a huge physical burden in most games. When surrounded by players who will share this with him, it will release much more of his ability.
Great attitude. Great player. Wrong time for EFC unfortunately.
John Chambers
24
Posted 30/05/2022 at 21:34:55
I think he is leaving if the right club, ie, a Champions League club, come in for him. I'm sure that was what was discussed with Lampard and the Board, alongside the type of fee we would want.
Personally, I would wish him well if he were to leave as I don't think any player at the club gave more to ensure we survived in the Premier League last season.
Sam Hoare
25
Posted 30/05/2022 at 21:35:01
It's important that, given how much terrible business we've done, we get bucks from our sellable assets. Richarlison has had a decent season and is probably worth around £50-60M now. If he runs down his contract or sustains an injury, that amount could severely diminish.
He's probably my favourite Everton player but I feel this might be the right time for both sides to part ways. Though, as Mike G says, a good World Cup may always boost his value.
I had hoped PSG might fancy him but don't love the idea of him going to another Premier League team.
Will Mabon
26
Posted 30/05/2022 at 21:41:35
Edit - think I misunderstood.
Mike Gaynes
27
Posted 30/05/2022 at 21:42:47
Eddie #21, maybe so... especially if we're 6th when he gets back from Qatar.
If we're 12th, I'd say probably not.
Tommy Carter
28
Posted 30/05/2022 at 21:53:43
Scott Twine, MK Dons playmaker. Good price.
It really isn't that difficult. Anybody who's followed my posts over the years will have seen my highlighting of players such as Soucek, Reece James, Berardi etc. at times when Everton could've snapped them up for decent money.
Scott Twine is the latest.
Terry Downes
29
Posted 30/05/2022 at 22:01:29
£50M or £60M? He's worth more – we paid £45M for him. If he was at Liverpool, he'd be £80M or more.
Time our board got like Levy — if he must be sold, then only for the best price possible.
Sam Hoare
30
Posted 30/05/2022 at 22:20:09
Terry, but he's not at Liverpool. Man City are asking £50M for Gabriel Jesus and I'd be pretty surprised if anyone out there thought Richarlison was worth £30M more than him. I'd say if we got £65M for him, we'd done well, but I guess we'll see.
I think we paid £35M for him, with the rest on clauses we have probably failed to achieve.
Kunal Desai
31
Posted 30/05/2022 at 22:20:52
He's given us four seasons and now he's ready to play for a Champions League team, let the lad fulfill his dreams. We will remain a bottom-half side for the foreseeable future.
Just hope we can get the best deal; however, that will no doubt be put towards our horrendous losses. With our financial predicament, we have no option but to cash in.
This one will probably work out for both parties.
Neil Cremin
32
Posted 30/05/2022 at 23:16:44
I read recently that we were offered Haaland for something like £80k and a year later for something like £5M.
Why do we have such poor upcoming talent recognition scouting structure or when they do identify a gem they fail to recognise value?
Forget about big names, we need hungry young talented players who are looking to prove themselves on big stage.
Terry Downes
33
Posted 30/05/2022 at 23:26:01
Sam, if Man City only want £50M, that's cheap by today's prices. Pity we couldn't sell Richarlison (if he must go) and get Jesus in.

Bill Gienapp
34
Posted 30/05/2022 at 23:29:38
I'd obviously love Richarlison to stay, but we also have to be smart about things.
If it's ultimately a question of matching his ambitions, well of course we all want the same thing, but getting reckless with short-term thinking and trying to gate-crash the Champion's League is how we got into this whole mess in the first place. So if we get into a game of trying to appease our top players by showing we mean business, it's unlikely to end well.
We've wasted far too much money on buying good-not-great players in the £20-30 million range (Schneiderlin, Gomes, Bolasie, etc...). There's plenty of hungry, young talent out there to be tapped, as well as smart deals to be made (Demarai Gray proved that).
We need to walk before we can run (or in our case, crawl before we can walk).
Christopher Nicholls
35
Posted 31/05/2022 at 01:55:44
Do everything reasonable to keep him. Frank deserves to show what he can do for a whole season. With Calvert-Lewinback. Mykolenko coming good, and Patterson to come back, we might actually start to see the endangered species of crosses back at Goodison.
For me, pace, crosses and a big Number 9, Goodison rocking, lights, cameras, action. That will always get me out of my seat.
The rest is simply down to good, honest hard work. Alex Iwobi has become the model for that.
Brian Wilkinson
36
Posted 31/05/2022 at 02:00:02
Neil, we had the best scouting on Haaland, he got Everton to take him on a 2-year trial, he even said whatever you do, make sure you keep hold of him.
Everton being Everton did not take up the option of keeping him for the second year, and sent him back after the first year.
Alan J Thompson
37
Posted 31/05/2022 at 03:25:10
As Richarlison says he has already spoken to the Board and Manager (DoF?), I'd say there's a lot more to it and at least Everton should have decided by now which way they favour.
But is it a case that the silence is deafening, except from the player, who also says he doesn't wish to speak about it while on international duty?
Tangled webs – or the lesson that we wouldn't sell Our Kid for £50M???
Derek Knox
38
Posted 31/05/2022 at 06:28:47
Good advice, you take your time to think it over, Richie, about 4 or 5 years should do it!
Joking apart, like some have said, what's better, being involved every week and being the star act, or spending a lot of time on someone else's bench?
I know players want to win things but I have a feeling that the next couple of years, if Frank is given his way, we could well be at the other end of the table, have a piece of silverware and have a decent blend of players.
Jay Harris
39
Posted 31/05/2022 at 06:53:26
Does anyone really believe that Richarlison would even think he is gonna spend time on the bench at a new club? The lad is full of desire and confidence and, even when he gets 7 bells kicked out of him, he still gets up and puts a shift in.
For me, he would be the biggest loss since Alan Ball and we would struggle to replace him with what we get for him.
Jesus doesn't put anything like the shift that Richarlison regularly puts in with defending, moving the ball forward, creating chances and scoring goals.
I dread the day we lose him.
Neil Cremin
40
Posted 31/05/2022 at 07:02:20
Thanks, Brian, for clarification. Do you know who made that decision?
I also understand that we got a second chance to buy him a couple of years later and didn't take up the offer. Is that correct? If so, there is something fundamentally wrong at Everton.
We seem to be always looking at marquee signings (at club and also TW) whereas other clubs seem to pick up gems.
Eddie Dunn
41
Posted 31/05/2022 at 07:55:38
Spurs have signed Perisic. So Richarlison is unlikely to be on their shopping list. Man City don't need him. Liverpool? (Never!)... Arsenal?Chelsea perhaps.
I would think West Ham would suit him best: in Europe and battling for Top 5. Just where we would like to be.
James Newcombe
42
Posted 31/05/2022 at 08:45:31
Arsenal and Chelsea are being touted this morning as potential destinations. If Arsenal can pay ~£70M for that Pepe, then we should be able to charge whatever we like.
Ray Smith
43
Posted 31/05/2022 at 09:18:25
Mike G 15
Totally agree with your assessment in respect of Richarlison keeping his place in the Brazilian team.
After Qatar… who knows?
Denis Richardson
44
Posted 31/05/2022 at 09:21:08
Much as I'd like him to stay, every player leaves at some point. He's given 100% in every game and provided much needed goals and a goal threat.
However, provided we get a high enough fee, and more importantly it's not wasted on dross like Tosun, Walcott, Niasse etc, then we should cash in whilst his stock is high.
If he stays for another year then he'll only have one more season left on his contract and we risk getting much less or he runs it down to zero.
We paid I think £50M(?) for him so would expect a profit on that – maybe sell for £75M+.
Get a massive fee, eg, from PSG, and reinvest wisely.
Ray Roche
45
Posted 31/05/2022 at 09:35:26
Jay @39
'would be the biggest loss since Alan Ball'
Surely that's Rooney? And given away by Teary Bill for a pittance. Man Utd couldn't believe their luck. Let's not make that mistake again with Richarlison. Or Branthwaite.
Jim Harrison
46
Posted 31/05/2022 at 09:37:10
He is off, and who could blame him?
He has given more than pretty much anyone else in terms of commitment and effort. And his fee should help the club at a sticky time.
I would love him to stay, but it's not likely. Unlike Lukaku, who shot his mouth off at any given moment, he has just gone about his job.
Tony Everan
47
Posted 31/05/2022 at 09:39:47
Brian & Neil.
From what I understand Erling Haaland was at our academy for only 4 days. He was invited over after very positive reviews from our scout in Europe, Bryan King, who had been tracking him for a while at a small Norwegian club.
Our academy staff looked at him for the 4 days and decided to pass on him.
Stu Darlington
48
Posted 31/05/2022 at 10:05:08
I'm with Tony Everan @4 on this. I would love him to stay, but wouldn't stand in his way if he wanted Champions League football somewhere providing it wasn't in the Premier League!
He would leave a big hole in our team though. We would need to replace his energy, enthusiasm and goals, unlike when Lukaku left and was never replaced.
I prefer it happens sooner rather than later, however, so we can use the funds without last-minute panic buying, and don't miss out on any available talent.
James Marshall
49
Posted 31/05/2022 at 10:14:01
4 years is a long time these days and he's the right age for a top club to buy now. His form is good, he's improving year on year and worth a ton of money to us right now – his stock will never be higher. He gave everything he's got to keep us up, and without him we'd be in the Championship now.
To my mind, and if he does decide to leave this summer, he surely goes with the blessing and thanks of each and every one of us. The guy even has his Evertonian chant tattooed on his neck so he clearly loves the club and nobody could legitimately say he hasn't earned the right to play at the top.
Of course we all want him to stay, but the reality of the situation surely leans pretty heavily towards him going if the right club and right offer comes up.
He'll surely forever have a place in all our hearts either way.
Steve Carter
50
Posted 31/05/2022 at 11:43:00
Jay [39] and Ray [45] don't forget Lineker too.
Danny Baily
51
Posted 31/05/2022 at 12:12:17
Looks like he's off. Leaving on a good note and freeing up more of the financial headroom we need to balance the squad.
Colin Metcalfe
52
Posted 31/05/2022 at 12:32:43
I wouldn't blame him if he goes, although can't see him staying in the Premier League, I don't think he's good enough for the very top teams in Europe but certainly a second-tier Champions League team such as Atletico Madrid or maybe one of the Portuguése clubs – and as for the price, he will probably go for around £35-40M.
Robert Tressell
53
Posted 31/05/2022 at 13:02:21
Tony @ 47,
In fairness, Haaland was hawked around loads of clubs around the age of 15 when he debuted for Molde. But he's been very choosy about where he plays his football and where he develops.
He specifically chose Salzburg as a club that would give him top flight games and European opportunities in his teens. It was a good decision.
He moved to Dortmund for similar reasons and included a low sale price in his contract to give him freedom to join the right, top Champions League club when the time was right. He'll have taken lower wages to get that option.
Everton would probably have been interesting (as per Leeds and various others) but probably never in the running in reality.
Stan Schofield
54
Posted 31/05/2022 at 13:31:51
Eddie@41: West Ham?! They finished on 56 points, around our average in recent years and three points below our finishing position last season.
No, if Richarlison leaves, it won't be to a comparable midtable club (which is what West Ham are in relation to Everton), but to a top club regularly in the Champions League. He'll want to move up, not sideways.
Christy Ring
55
Posted 31/05/2022 at 14:14:12
Sam and Terry, there's no way Jesus is in the same league as Richarlison. He has no work rate, and considering the quality players all around him at Man City, he didn't do enough upfront.
Colin Malone
56
Posted 31/05/2022 at 14:23:04
Richarlison's work rate all over the pitch has been top class. We are so awful, he needed to do it, helping out in midfield and defence. Imagine him in a side where he didn't have to cover for the shite around him?
I love him and hope he stays.
Bjorn-Ivar Pedersen
57
Posted 31/05/2022 at 14:58:55
Okay, Richy, take your time. But I do need an answer by 15 June 2030.
Brian Murray
58
Posted 31/05/2022 at 15:14:22
I'm sure our new top-notch DoF, Mr Thelwell, has both scenarios covered. This is the new Everton, don't ya know!
John Keating
59
Posted 31/05/2022 at 15:26:29
Honestly, I really could cry.
We had the golden Kendall days when we really were unbeatable. Kendall could have done a Klopp and introduced one or maybe two players a year to improve us and continue our dominance. It was all taken away by our neighbours.
Then we had Rooney. The once-in-a-lifetime talent to build a team around. Unfortunately, we had the World's Greatest Evertonian, so that was fucked!
Now we have a billionaire! Let's get a team together. Build around Richarlison and Calvert-Lewin – another fuck-up and we're looking to sell our jewels…
When will this shit end?
Brendan McLaughlin
60
Posted 31/05/2022 at 15:28:24
Bjorn-Ivar #59
Why do you need to know by 8:30 pm on 15th June? Is that the deadline for returning your "Richarlison" emblazoned replica shirt?
Stan Schofield
61
Posted 31/05/2022 at 17:42:33
John @60:
Absolutely, no wonder we're shite. Everton are addicted to selling our best players, starting in my era with the ridiculous sale of Alan Ball which totally undermined the then best side in British football.
EFC does not deserve its supporters.
Tommy Carter
62
Posted 31/05/2022 at 18:12:24
@ 53 & @47
Robert and Tony.
I'm comfortable with the Haaland situation. This was a player who at that age needed to develop, I have huge doubts about whether he'd have developed to this stage had he joined Everton.
This is a different situation all together had the chance been available to sign him when he went to Dortmund. Which it wasn't.

Roger Helm
63
Posted 31/05/2022 at 18:56:01
We have sold other good players like Stones and Lukaku, but don't all clubs other than the very richest sell good players, like Suarez, Modric, Ronaldo, Bale and others? All the best players are going to want to play at the highest level.
Mike Gaynes
64
Posted 31/05/2022 at 19:02:15
Gotta stop moaning about Haaland, folks. If we'd signed him and he had developed as he did at Molde, there's no way he would have stayed. And whatever profit we got for him in 2017 would have been wasted on bad players, just as the Lukaku profit was.
If somehow we had bagged the lad, we weren't equipped to benefit. Let it rest already.
Alan McGuffog
65
Posted 31/05/2022 at 19:06:13
I seem to think we missed out on an Everton mad kid who wore his blue top at training at Anfield. Fowler?
Probably wasn't any good…
Neil Cremin
66
Posted 31/05/2022 at 20:48:19
Thanks, Brian, for clarification. Do you know who made that decision?
I also understand that we got a second chance to buy him a couple of years later and didn't take up the offer. Is that correct?
If so, there is something fundamentally wrong at Everton.
We seem to be always looking at marquee signings (at the club and also on TW) whereas other clubs seem to pick up gems.
Neil Cremin
67
Posted 31/05/2022 at 21:04:16
Stan #54
I note your post with amusement: "It won't be to a comparable midtable club (which is what West Ham are in relation to Everton)". Have you not noticed the final Premier League table in 2022?
Our problem in Everton is:
1. We delude ourselves that we are still a Top 6 club.
2. We are always looking for marquee players but being a Bottom 4 club makes us unattractive.
3. What we need now is a Moyes-like pragmatism of building a team without egos who are hungry for success. Then hopefully we can compete again at the top table just in time for the move to Bramley-Moore Dock.
4. Hopefully Frank is the man to build the team from hungry, committed players who get what a privilege it is to play for the Toffees.
We need to get real with our expectations. It will take a few years and we must be patient.

Brian Hennessy
68
Posted 31/05/2022 at 21:25:57
With Lukaku coming back to us on loan next season, Rondon better look for a new locker.
Stan Schofield
69
Posted 31/05/2022 at 21:31:38
Neil @67:
We're habitually midtable with the occasional foray into the relegation zone. It's been like that for several decades.
Last season was only one season. You need perspective, not knee-jerk reaction based on one season.
Eddie Dunn
70
Posted 31/05/2022 at 22:02:23
Stan, we need to do some astute business to get mid table next season.
As for Lukaku, you're probably right, his ego won't let him go to any team that is not in the Champions League.
Will Mabon
71
Posted 31/05/2022 at 22:13:01
Brian - you made me look through the rumours...
Will Mabon
72
Posted 31/05/2022 at 22:15:53
Mike @ 64,
I see you fully understand the irony of Evertonianism.
Mike Gaynes
73
Posted 31/05/2022 at 22:28:11
Too much time on TW, Will. It's turning me into a cynic.
Lester Yip
74
Posted 01/06/2022 at 01:35:03
Neil @67 - Totally agree with what you said. I know some people dislike Moyes for his football style. But his pragmatism brought us years of top half finish and a good defence core. Now he's doing similar things with West Ham.
All of David Moyes's 74 Everton signings rated
My favourite top buy:
1) Cahill (I'm an Aussie. I'm biased.)
2) Martyn
3) Coleman
4) Arteta
5) Baines
6) Jagielka
I can see Benitez has started recruiting shrewdly. I know people dislike him. But what he purchased so far seems good business.
Hopefully Frank can do the same. Pick up some youngsters and also a couple of experienced player on the cheap. eg, like Martyn or Barry.
Brian Murray
75
Posted 01/06/2022 at 09:24:08
I've said on previous posts, this coming season doesn't have to be about survival with or without our 3 big players. I'm pinning my faith in this new regime already doing the un-Everton thing and having players and even replacements lined up.
All sounds a bit far fetched but other clubs do it and go from strength to strength – or, at the very least, don't nosedive. Leicester being one.
Robert Tressell
76
Posted 01/06/2022 at 09:57:55
We spent the season just gone without Calvert-Lewin, Sigurdsson and Mina. If these three had been fit / available, we'd probably have finished mid-table under Benitez.
As it is, we have better spirit under Lampard, who really matured as a manager in those critical final few weeks.
We also have Dele Alli to replace Sigurdsson.
If we sign reliable, fit replacements for Mina and whichever of Calvert-Lewin or Richarlison leaves (maybe both), then we should finish top half.
The season after, we can start pushing seriously for Europa League places. That is a major improvement on 12th, 10th and 16th positions.
Tommy Carter
77
Posted 01/06/2022 at 11:31:26
@ 76 Robbie
It's a good point Although I'd be more skeptical about how well Benitez would've done with a fully fit squad.
However it cannot be emphasised enough how important the level of robustness for a player is.
Mina just cannot stay fit for long enough. And no matter how good any player may be, if they aren't available week in week out then they are no good and will hardly ever feature in a successful side.
It is not difficult to do your homework in this area. If a player is prone to muscle injuries then I'm afraid they should be avoided. Likewise if they have a recurring injury to a specific body part.
Impact injuries are part of the game and will always happen and cannot be avoided. However the robust players will recover from these and there will be no lasting problem (Van Dijk, Coleman, Van Nistelrooy, Carragher)
But for players with muscular issues or weakness of a body part - they just aren't built for the rigours of Premier League football and you'll always be struggling to get them on the pitch, at 100 %. And for this reason, no matter what the ability - they will always be a liability and cannot be relied upon.
Neil Cremin
78
Posted 01/06/2022 at 14:07:15
Brian,
It's a good point and I hope you are right. We have already seen many clubs have identified and signed their targets, eg. Villa.
With Everton, we only hear about players we are linked with often as a result of agents' media work.
---
Add Your Comments
In order to post a comment, you need to be logged in as a registered user of the site.
Or Sign up as a ToffeeWeb Member — it's free, takes just a few minutes and will allow you to post your comments on articles and Talking Points submissions across the site.