Mykolenko and Ukraine take big step towards World Cup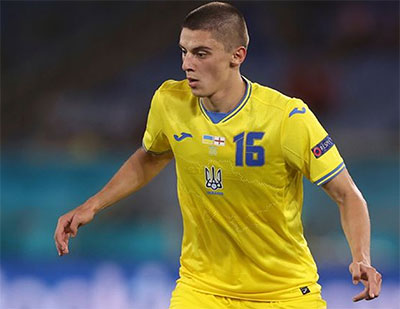 Vitalii Mykolenko's hopes of playing in this year's World Cup Finals in Qatar remain alive after Ukraine beat Scotland in this evening's qualifying play-offs semi-final match at Hampden Park.
It was Ukraine's first competitive fixture since the Russian invasion on 24 February and Mykolenko was in the line-up alongside his fellow Premier League representative, Oleksandr Zinchenko of Manchester City.
Everton's Nathan Patterson was ruled out for Scotland after being out of action since sustaining ankle ligament damage in April.
The Ukrainians powered into a 2-0 lead behind goals from Andriy Yarmolenko and Roman Yaremchuk in a game that became a metaphor for the beleaguered nation's brave but lonely fight to halt Russia's war of aggression.
Article continues below video content
The Scots pulled a goal back following successive errors by goalkeeper Heorhiy Bushchan and Callum McGregor's shot was adjudged to have crossed the line by the goal-line decision system.
However, the hosts were caught on the break in stoppage time as they desperately sought an equaliser and Artem Dovbyk converted to make it 3-1.
Ukraine now face Wales in Cardiff on Sunday 5 June for a place in Qatar where they will be in a group with England, USA and Iran.
Meanwhile, Salomon Rondon scored for Venezuela in their 1-0 friendly win over Malta and Richarlison notched his 14th international goal as Brazil hammered South Korea 5-1 in Seoul.
---
Reader Comments (56)
Note: the following content is not moderated or vetted by the site owners at the time of submission. Comments are the responsibility of the poster. Disclaimer
Mike Gaynes
1
Posted 31/05/2022 at 00:50:49
Kieran Kinsella
2
Posted 31/05/2022 at 04:07:48
Mike,
It's unfortunate they must go through Scotland (my mother's homeland) who haven't been to the World Cup since 1998. This is one where I can't actively root against either side but for very different reasons…
Mike Gaynes
3
Posted 01/06/2022 at 19:41:00
Very best wishes to our Mykolenko, in the starting lineup for Ukraine at Hampden Park, their first game since the invasion. What a miracle it would be for those brave lads in blue and yellow to make it to the World Cup.
And well in to the partisan Scottish fans, applauding the Ukrainians and some of them singing along with their anthem.
Mike Gaynes
4
Posted 01/06/2022 at 20:31:21
Understood, Kieran. Mixed emotions.
Too bad our lad Patterson is out injured. He and Mykolenko would have been having a helluva duel out there on the far touchline. As they no doubt have many times in training.
Ukraine dominating. 0-1 at HT.
Michael Kenrick
5
Posted 01/06/2022 at 20:32:09
That was quite the finish from Yarmolenko. Brilliant first touch and superquick chip/lob to convert.
Should make it into a good contest – unless the Scots have agreed to 'fix' this one...
Rob Halligan
6
Posted 01/06/2022 at 20:39:32
Ian Bennett
7
Posted 01/06/2022 at 20:42:36
Zinchenko would be a real good addition. Cover at left-back and a good central midfielder who can pass, tackle, run and dribble. Good injury record.
If he wants regular football, it's a Yes from me.
Rob Halligan
8
Posted 01/06/2022 at 20:46:35
He would be a good addition, Ian. Always looks comfortable on the ball, and never seems to panic.
Michael Kenrick
9
Posted 01/06/2022 at 20:54:48
No messin' there! 2-0 Ukraine.
Mike Gaynes
10
Posted 01/06/2022 at 20:57:44
Rob and Ian,
He's also on a very friendly contract -- two more years to run on a salary of only £20k/month -- but would a Premier League Champion transfer this far down the table at age 25?
Tony Everan
11
Posted 01/06/2022 at 20:59:28
Good performance this, loads of energy and composure, not that easy in a packed Hampden Park.
Mike Gaynes
12
Posted 01/06/2022 at 21:05:25
McGinn could easily have been sent off there. Studs up and over the ball.
Tony Everan
13
Posted 01/06/2022 at 21:07:30
A terrible tackle, the Ukraine player got lucky he walked away from it. Frustration creeping in now, sending off soon?
Brian Williams
14
Posted 01/06/2022 at 21:17:45
If Zinchenko comes to us, I'll eat Mike Gaynes's incredibly large hat! 🎩
Michael Kenrick
15
Posted 01/06/2022 at 21:22:33
Exciting stuff, excellent extended possession play from Ukraine... until they gift it to Scotland who break quickly and almost score — but don't.
Michael Kenrick
16
Posted 01/06/2022 at 21:22:34
And finally they do, despite a desperate goalline clearance by Ukraine, ball is 2 inches over the line!
Bill Gall
17
Posted 01/06/2022 at 21:24:29
Zinchenko would be nice, but this Ukraine team is well-coached.
Talking about young players, when Patterson is fit along with Mykolenko, we could end up with the 2 best young backs in the league.
Bad play from the keeper gives Scotland a goal.
Michael Kenrick
18
Posted 01/06/2022 at 21:36:48
Scotland desperate for a late equalizer.
Michael Kenrick
19
Posted 01/06/2022 at 21:39:25
Brilliant play from Zinchenko sets up Zubkov but he lashes wide instead of scoring a third. Tremendous stuff.
Michael Kenrick
20
Posted 01/06/2022 at 21:42:15
And Dovbyk finally does it for Ukraine in the very last minute of added time.
Rich drama, and no match-fixing, Ukraine were superb. Scotland were crap.
Andrew Ellams
21
Posted 01/06/2022 at 21:45:00
Zinchenko had been told they'll consider offers, hasn't he?
Jamie Crowley
22
Posted 01/06/2022 at 21:55:39
The Scotland keeper, Gordon, was terrible in my opinion.
The better team won.
I know this is awful to say, but I want Wales to beat Ukraine. I do not want the USA having to play Ukraine in the group stages. Ukraine will be a beast if they make it in as they'll be pumped with such emotion.
I don't want Ukraine in America's group, fairy tale / cosmic justice be damned.
Michael Lynch
23
Posted 01/06/2022 at 22:00:24
Ukraine goalie was a different level of terrible. Wales just need to pepper him with crosses and shots.
Zinchenko was brilliant tonight, he'd be perfect for us. Won't happen of course, but you can dream.
Mike Doyle
24
Posted 01/06/2022 at 22:10:42
Rob # 6 & 8,
I'd be surprised if Zinchenko joined us – very pleased as he is a proper footballer who can play in several positions – but certainly surprised as I expect he would have quite a few Champions League teams interested.
On the other hand, he's not 'first pick' at Man City so maybe Frank has asked Mykolenko to have a word?
Wonder what his transfer fee would be?
Rob Halligan
25
Posted 01/06/2022 at 22:14:06
Fully deserved win by Ukraine. Couldn't fault any of their outfield players, especially Mykolenko who I thought was outstanding (not biased!!).
But my god, their goalie was like Daffy Duck, flapping at everything. Even some of his short kicks to his defenders were ending up at the feet of a Scottish player.
Big big miss by John McGinn which, had he scored, would have given Scotland a lot more time in their search for an equaliser.
Robert Williams
26
Posted 01/06/2022 at 22:16:34
Wales v Ukraine – c'mon, Wales, let's get to the World Cup for a change.
Cymru am Byth.
Rob Halligan
27
Posted 01/06/2022 at 22:18:47
Mike, like I said, I would just be surprised if he left Man City, never mind joining us. City do owe us a few favours though, after all we sold them two of our better defenders in the recent past in Joleon Lescott and John Stones, but then they made us suffer Delph for a few years, so it's about time they gave us something good in return. Stranger things have happened.
Brian Murray
28
Posted 01/06/2022 at 22:29:17
Said before and say it again, the well-known media targets are not for us anymore. We are shopping at a different level but, with this DoF, we can still be a force. Blind optimism maybe. Up to you, Mr Thelwell…
Andy Meighan
29
Posted 01/06/2022 at 22:41:28
Delighted for Vitaliy obviously, but the thing that's given me most pleasure is not seeing that arrogant thing Robertson not playing at a World Cup... Despicable human being alongside Dalglish, Aldridge, Hughes, Thompson and Murphy. Bitter moi, you bet your sweet life.
Ian Bennett
30
Posted 01/06/2022 at 22:50:18
Mike 10, probably right. Agent talk to give him a good contract at City. They'd be crazy to lose him.
Ed Prytherch
31
Posted 02/06/2022 at 01:56:13
Andy,
At the end of the Champions League final, the Real Madrid team and coaches made two lines and the Shite players walked between on their way to get their loser's medals. One person from their squad approached Ancelotti and congratulated him. It was Andrew Robertson.
David Currie
32
Posted 02/06/2022 at 06:10:19
Andy 29,
You forgot Smith, Souness, Suarez, Gerrard, Carragher, Owen, Mcmanaman and Beglin.
Andy Meighan
33
Posted 02/06/2022 at 06:48:41
David 32. Apologies for my ignorance. All them you mentioned as well. Especially Smith, my god did that man make my water boil.
Terry Farrell
34
Posted 02/06/2022 at 07:23:33
Chuffed for Ukraine and Mykolenko. They brought a lad on, Mudryk – sign him now!!
Remember the name – I think he's going straight to the top quickly!
Jeff Armstrong
35
Posted 02/06/2022 at 08:12:00
Zinchenko for Branthwaite straight swap? I would.
Tony Everan
36
Posted 02/06/2022 at 08:24:56
Ed 31, I took notice of that. He was the only one who showed some humility. All the others just blanked Ancelotti as he applauded their efforts.
Derek Thomas
37
Posted 02/06/2022 at 08:33:09
Congrats to Mykolenko, but this was, their Cup Final (like it was Scotland's) – can they get up for another so soon?
On form they should, but Wales may run them closer than Scotland.
We all know who has the sympathy vote - and rightly so.
Michael Kenrick
38
Posted 02/06/2022 at 08:39:32
Why do people have to post the names of Liverpool players on a nice thread about a fine victory for Ukraine???
Isn't there enough mention of these utter shysters all over the sports pages wherever else you look on the internet already? Why do you have to sully our pristine kopite-free corner of t'interweb with this shit???
If you really hate them as much as you claim, why keep talking about them? That's the bit I don't get...
That has put me in a really foul mood this lovely Jubbly morning. Thanks.
Dave Abrahams
39
Posted 02/06/2022 at 09:18:38
I wanted Scotland to win because I've always had a soft spot for them, they've had some great teams in the past but sadly not now, this game was a sport same as the Wales v Ukraine will be.
I understand how much the Ukrainian people are suffering at the hands of Russia and so the sympathy vote but you can't get that sort of vote in sport or there is no point in having the competitions, just give them the cups and the medals and leave the rest of the participants to applaud them.
Winston Williamson
40
Posted 02/06/2022 at 10:02:57
Well done Ukraine!
Michael, I believe it is a symptom of the conditioning in the media.
Some avoid the non-Everton related media, some don't. Those who don't, have them lot rammed down their throat in most articles. It's an infectious Disease.
Talking of annoyances. Our own blue histrionics covering past glories from the 60's and 80's push my buttons. I don't find them relevant at all. I find them boring and a little bit Kenwrightesque. Weeping about how we were once great.
I get the nostalgia and the hope for a return, but it won't happen and if it does it'll be different next time around as it will be against greater odds than in the past.
Anyway, thanks for a cracking site. It's helped in the past through a fair few physical and mental health situations and is a great form of escape (into a different kind of misery).
Andy Mead
41
Posted 02/06/2022 at 10:05:30
Great story but we've waiting 60 years already. Come on Wales!
Andy Meighan
42
Posted 02/06/2022 at 10:26:38
Sorry Micheal. Won't hear another peep from me about their players or ex players from now on. UTFT.
Michael Kenrick
Editorial Team
44
Posted 02/06/2022 at 10:43:49
That would be great, Andy.
Thank you!
And I empathise somewhat with you, Winston, when it comes to overly dwelling on the nostalgia for past glories. It's understandable but, if I've read it once, I've read it a hundred times on here. Still, not something I would dream of asking people to stop doing – heck, it's the only thing keeping some of our elderly folk going!
I don't include articles with a historical theme or content in that broad category of 'nostalgia' – they are often of the highest quality and very informative.
That's something else that irks me... repetition. But I may have said that before.
Jack Convery
45
Posted 02/06/2022 at 11:56:07
Well done to Ukraine and Mykolenko. After the tatties now for some leeks, leaving the Roast Beef for later in the year.
Danny O'Neill
46
Posted 02/06/2022 at 12:11:56
As I sit watching the Queen's Birthday parade at Horse Guards, there is nothing wrong with a bit of tradition and nostalgia.
As long as you don't live in the past. Respect history but don't live in it. Continue to make history. That's what our Evertonian forefathers done that gives us the memories we cling to and want to repeat for the next generations.
I'm proud of what our 80s side done and was fortunate to witness it first hand. I will talk about Kevin Sheedy all day to anyone willing to listen, just as my dad's generation did about the Angel Gabriel, Brian Labone, Alex Young and the Holy Trinity.
But I always look forward. That's why next season we move on from this one and look to Wembley and European qualification.
Pleased for Mykolenko. A tough start for him and some prejudged him after a game or two. I thought he really settled in and looks a good solid, traditional full back for those who prefer that. And still very young so still room for development.
Winston Williamson
47
Posted 02/06/2022 at 13:49:02
Michael,
I agree, the nostalgia threads are a great read. It's the relevance of looking back where it usually falls down for me.
Danny,
I don't recommend censoring people, and I have no problem at all with the reference to former players when relevant.
It's more when a nice current topic thread escalates into a trip down memory lane. I constantly question the relevance and how it applies to today.
For example, when talking about possible signings and Reid, Gray etc are mentioned about signings pushing us into being contenders again. It's not relevant in my eyes, as if those players were signed today, they'd be too slow and not have enough endurance and stamina. Times have moved on..
Michael Kenrick
48
Posted 02/06/2022 at 14:51:08
Yes, Winston, talk of slotting old legends into the current team by way of improvement doesn't do anything me.
On a literal level, it is patently ridiculous. These players are old, retired or dead. Why even think they could do anything?
The idea of them boosting the current side "when in their prime" also fails as a meaningful suggestion. They are not, even by some astounding miracle, going to magically reappear as they were – it's just not a meaningful scenario.
That leaves us with a wistful memory, an invocation of past glories and deeply felt emotions that could somehow embolden the current side... sorry but how does that even work?
No, as Danny says, the past is the past, it's never coming back, no matter how much we pine for it. It's gone and as a football club, we must always be looking forward because that is what we can influence, what we can change – by choosing new players who are their own individual personalities and skillsets that are more than complementary to the construction of a better team that can challenge for future honours.
John McFarlane Snr
49
Posted 02/06/2022 at 15:07:17
Hi Winston [38] I believe that just about every thread strays away from it's intended subject. Regarding Peter Reid and Andy Gray, I think you're missing the point, you say, "If those players were signed today they'd be too slow, and not have enough endurance and stamina. Times have moved on".
Of course they would be exactly as you describe them, but if the words, "Players like Peter Reid and Andy Gray" were inserted, it would make perfect sense, because they would be today's players with the necessary levels of pace and stamina. You are correct in saying that times have moved on, and I have no doubt that the same words will be spoken, when Ronaldo and Messi are no longer playing.
Michael Kenrick
50
Posted 02/06/2022 at 15:43:47
Of all people, John, you should know there are no "Players like Peter Reid and Andy Gray". They simply don't exist and never will.
Move on, get past it. Look forward. And show some respect to the new individual talents and personalities of the players we do have, or will have in the future, rather than indulging in this ridiculous comparative substitution lark that has no place in the game going forward.
There's far far too much of this backwards-looking nonsense with this club and it gets us absolutely nothing and absolutely nowhere.

Mike Gaynes
51
Posted 02/06/2022 at 17:02:14
If Ukraine does beat Wales, their first game at the World Cup will be against.....
The United States of America.
No disrespect to some of the Welsh folk here, but under the circumstances I'd MUCH rather play Wales.
Bill Gall
52
Posted 02/06/2022 at 17:18:03
I am looking forward to next season and believe, with Patterson and Mykolenko, we are going to have the 2 best young full-backs in the league already under contract.

John McFarlane Snr
53
Posted 02/06/2022 at 17:28:57
Hi Michael Kenrick, [50] I'm not going to get involved in a slanging match, you have your opinion and I have mine. I can't see anything in my post to suggest that I was disrespecting the players of today. I was merely stating that players who had the quality, skill, and attitude of Peter Reid and Andy Gray would succeed in today's game. There are many of today's players that I admire, it may be that my poor explanatory, is the real villain in this instance.
Stan Schofield
54
Posted 02/06/2022 at 18:00:12
In the real world, as opposed to the restricted world of debating society-style personal comments about the opinions of others, we always look back at the past and towards the future. We look at past players not just as a memory independent of the present, but as a benchmark that contributes to our assessments of what constitutes the attributes of good players today.
In this sense, when we consider past players like Peter Reid, or Alan Ball, we do so in terms of the attributes they showed in their time, and project such attributes onto the present and future, whilst being aware that the requirements on such players in terms of training today would be different from the requirements in terms of training then.
Rather than 'living in the past', such an exercise augments our experience of living in the present and our anticipations of what might lie in the future. It is a natural process that is both unavoidable and useful.
Martin Mason
55
Posted 02/06/2022 at 18:18:22
Michael @50,
Those who do not learn from history are destined to repeat its mistakes, first as tragedy and then as farce. Surely football is one game where the past is a very good reference for the present and the future?
John McFarlane Snr
56
Posted 02/06/2022 at 22:17:50
Hi Stan [54[ & Martin [55],
Am I right in assuming that I am not alone?
Stan Schofield
57
Posted 02/06/2022 at 23:20:41
John, yes, you are right.
---
Add Your Comments
In order to post a comment, you need to be logged in as a registered user of the site.
Or Sign up as a ToffeeWeb Member — it's free, takes just a few minutes and will allow you to post your comments on articles and Talking Points submissions across the site.