Richarlison charged for 'flare'-throwing incident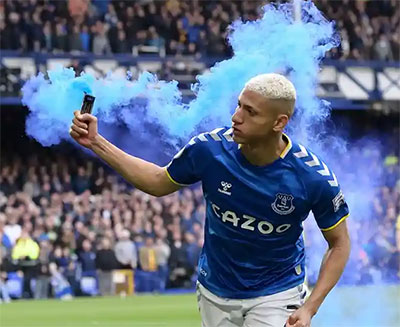 Richarlison has been charged by the Football Association for throwing a smoke canister back into the stands during the crucial victory over Chelsea last month that played a key role in ensuring Everton's Premier League survival.
Having scored early in the second half of the contest at Goodison Park, the Brazilian picked up the blue "flare" that had been hurled onto the pitch and threw it back into an empty area in the corner of the stadium.
Though match referee, Kevin Friend, took no action, Richarlison has been censured by the FA, with a statement posted to Twitter today saying:
"Richarlison de Andrade has been charged with a breach of FA Rule E3 following Everton's Premier League fixture against Chelsea on Sunday 1 May 2022.
Article continues below video content
"It is alleged the forward's conduct in the 46th minute of the fixture was improper. He has until Wednesday 8 June 2022 to provide a response."
Richarlison's immediate response was to post to the social media platform an image of himself holding the smoke canister, one of the enduring images of what was an emotionally-charged campaign to avoid the drop this past season.
---
Reader Comments (62)
Note: the following content is not moderated or vetted by the site owners at the time of submission. Comments are the responsibility of the poster. Disclaimer
Michael Kenrick
1
Posted 01/06/2022 at 12:27:39
Looks like he may be banged to rights... I've seen the photos.
Nice that they kind forgotaboutit for a whole month. But they must've been busy figuring out Lampard's fine.
Brian Williams
2
Posted 01/06/2022 at 12:36:58
If he's been charged for throwing a flare, that's great. Not guilty! He didn't throw a flare at all – he threw a smoke dispenser? (Idon't know what they're called.)
Does it matter? – you may ask… Well, a flare creates heat and has a naked flame which can cause a fire. The smoke thingy he threw creates no heat at all and works purely on a chemical reaction.
Does it matter? I think that it matters to be clear what he actually threw and he be charged correctly.
Should he have picked it up? No, he was at fault for that.
Did he endanger anybody by his actions? No, he didn't because he threw it in an unused (by the public) part of the stadium. It could be claimed he was removing it from the pitch to a place of safety.
Still in the wrong and he still shouldn't have picked it up? Am I glad he did? Yes, I am – because he created some iconic photos that'll last forever.
Christine Foster
3
Posted 01/06/2022 at 12:37:44
Now isn't that a surprise... one could be forgiven if you thought the FA were looking to punish the club at every opportunity. Sorry but when I first saw this on TV I saw him throw it not back into the ground but into the part by the church, which is pretty much empty?
Technically he threw it back into the terraces, so never mind truth or common sense, as you say, Michael, bang to rights... a fine, suspension, extraction of teeth?
I hope the club has CCTV and it shows where he threw it exactly. I hope it clears him, vindictive bar stewards!
Christine Foster
4
Posted 01/06/2022 at 12:45:46
Christine Foster
5
Posted 01/06/2022 at 12:56:57
I would also ask, exactly what was improper? It's actually not stated. Picking up a foreign object and removing it to safety from the playing area? Throwing it to an empty section of the ground for safety? The fact it caused iconic pictures they dislike?
The charge is so open-ended, they can decide any reason they like...
Or was it because he was in blue?
Peter Carpenter
6
Posted 01/06/2022 at 13:18:09
Lampard one day, Richarlison the next - they're coming for all of us one by one! Tossers.
Brian Murray
7
Posted 01/06/2022 at 13:37:39
As Kenneth Williams once said, "Infamy, infamy, they all have it infamy!" Fight this on two fronts. Lampard's fine for telling the truth.
Joe McMahon
8
Posted 01/06/2022 at 14:12:07
Mmm, it does seem like it's continuously Everton that gets the punishment. Certainly over the Sky & BBC Darlings.
Peter Carpenter
9
Posted 01/06/2022 at 14:14:04
Ashley Williams said it too.
Michael Lynch
10
Posted 01/06/2022 at 14:20:22
The most iconic image of the season, and Richarlison's reaction to the FA charge was to repost it on his twitter account.
The man is a hero. Whatever he chooses to do in the summer, he's a great Evertonian.
Rob Halligan
12
Posted 01/06/2022 at 14:36:44
Rob Halligan
13
Posted 01/06/2022 at 14:46:04
Richarlison has until 8th June to provide a response. I'll do it for you Richie, seeing as you would no doubt get another charge thrown at you if you said what you felt……..
"Shove your fucking charge right up your fucking arse".
Anyone know where I can send that too?
Brian Wilkinson
14
Posted 01/06/2022 at 15:11:33
For me, the Lampard fine was wrong, but I cannot say the same for this one.
The throwing it in an empty section of the crowd is all good and proper, however that part is located towards the disabled section of the ground, as it happened his aim was spot on, but the people in the section below could have caused panic or stress.
I know someone said it was not a flare, does not generate heat or a flame, that's fair enough, but doubt if I was sat there I would suddenly turn into Einstein and think "Hey, that's not a flare!"
It is a great iconic moment him holding it, I just thought it was wrong even though an empty section that he threw it towards there.
Young kids will not know the difference between a flare or the blue smoke bomb, one generates heat as mentioned by another poster, a young lad tries to recreate this with a flare, kid then gets badly burned, that's the kind of scenario it could cause.
Put it another way, if an opposition player was taking a corner, and one of those blue smoke bombs landed near his feet, the opposing player picked it up and threw it in that empty section, how many would be screaming from the Gwladys Street and demanding he faces a disciplinary charge?
Had Richarlison then put it down by the side of the pitch, that for me would have been fine, it was the throwing into a section of the ground, empty or not, that was wrong in my view.
Barry Hesketh
15
Posted 01/06/2022 at 15:19:47
I suppose we should be thankful that the FA took their time to decide that Richarlison faces a charge following the flare incident as he could have missed games in the run-in.
I'm also not too sure if that area of the ground is completely empty, it's certainly not as full as other places in the ground but isn't it an area reserved for disabled supporters?
The flares do look good, but they do provide an extra hazard and can be dangerous, particularly in a stadium that has lots of wooden stands.
It was a spur-of-the-moment reaction by Richarlison and initially it looked as if he was going to throw it directly into the Street End, but paused for thought and threw it towards the church, no damage done as far as I know.
A lad at the Palace match fired up a flare right in front of me, and for the next few days I had that horrible taste in my mouth and every time I washed by hands and face the white towel turned blue.
I'm not complaining as it helps me to remember the game, but I'm not sure that flares have a place inside the stadium, or amongst large crowds... can we see a return to good old-fashioned ticker tape?
Alan J Thompson
16
Posted 01/06/2022 at 15:31:05
It is all really rather pathetic. The FA might want to look like they are doing something but they are confusing movement with progress and perhaps could better spend their time sorting out the dung heap that is their own house.
Jamie Crowley
17
Posted 01/06/2022 at 15:59:11
Christine mentioned this previously, just after the incident, on TW.
I went back and watched multiple times after this game a few weeks ago, intrigued by Christine's assertion that the area he threw it to was an empty space. I don't know Goodison Park well, so I was very curious.
Christine is 100% accurate. The area, and again I've watched this multiple times, is sparsely occupied. Were I Richarlison, I'd counter that he picked it up as a safety measure and deposited it where there were very few bodies. If anyone counters with the "gusto" he showed while throwing the smoke bomb, if I were him, I'd say he was emotionally charged from the goal, and then anger got the best of him as he was upset that an Everton fan would endanger the players and other fans by throwing this, and it took away the moment a bit for him, causing the anger and the aggressive throw of the smoke bomb.
That's what I would do and how I would respond.
I'm beginning to really detest the powers that be who run the Premier League and the FA. There's such a double standard it's sickening.
Ian Hollingworth
18
Posted 01/06/2022 at 16:09:54
What a surprise?
This will soon be followed with a charge for the pitch invasion at the Palace game.
Brian Williams
19
Posted 01/06/2022 at 16:13:11
Rob #13,
I've got an email address for you you can send that message to: dickheadincharge@thefa.com
That should get it to the right person, mate.
Lynn Maher
20
Posted 01/06/2022 at 16:21:48
We could be on our way to a quadruple of charges against us!
John Kavanagh
21
Posted 01/06/2022 at 16:32:18
The Putinite gangsters running the FA are determined to get us out of the Premier League. They're sore that we stayed up despite the best efforts of their puppets at PGMOL and their VAR fixes. They have now developed a plan whereby we potentially start next season without our most consistent player whether he stays or not.
No doubt an 'independent' panel will come up with a lengthy ban to start next season.
Now just wait and see what they come up with in terms of the pitch invasion after Calvert-Lewin's goal (this will be so as to differentiate us from the other pitch invasions that took place after the final whistle). Will the 12th man also get a ban? I'd put nothing past these bastards.
Advice to Richie – take some heat-generating flares to their 'impartial' hearing and ram them right up the panel where the sun don't shine. I'm looking forward to seeing those iconic photos.
Brian Williams
22
Posted 01/06/2022 at 16:38:57
Barry #15.
The flares do look good, but they do provide an extra hazard and can be dangerous, particularly in a stadium that has lots of wooden stands.
Barry, it wasn't a flare. Read post No 2.
Barry Hesketh
23
Posted 01/06/2022 at 16:47:18
Mike Riley, the head of referees for the Premier League, is reportedly fighting to keep his job amid a possible return to the English game for Howard Webb.

The Telegraph have claimed a number of top-flight clubs are pushing for change after another season filled with VAR controversy. A potential avenue to be explored is said to be the re-appointment of Webb in a senior position to the Professional Game Match Officials [PGMOL].
Webb is currently in a similar role in the MLS, where the current league season does not end until December.
Brian @22
Thanks for informing me once again, I did reply to you on the other thread. Message received and understood.

Brian Murray
24
Posted 01/06/2022 at 17:02:26
It's looking like we really got under their skin by staying up and that's no paranoia.
John McFarlane Snr
25
Posted 01/06/2022 at 17:03:50
Hi Brian [14],
I can't recall the day I first noticed the area in the corner of Gwladys Street had been altered, I would think that it would have been on the first day of a season. My initial thought was that it would be for disabled fans. I must confess that I have never noticed anyone sitting there, but I pay no attention to it once the game gets underway. Perhaps someone who sits in the vicinity, could shed some light on the matter.
From my seat in the Park End, 100+ yards from the smoke-bomb incident, I would be unable to say with any conviction whether or not there were spectators in that area. I think that it was a rash thing for Richarlison to do, but I can understand his reaction, a vital moment in a highly-charged fixture; however, I also think that the FA will come down strictly on the 'offence', to justify their position of authority.
I can see both sides of the argument, and I also think that,t rather than a fine or suspension, a stern warning should be inflicted, should the decision go against Richarlison. A slap on the wrist would be a sensible thing to administer, but 'sensible' is not the way of the FA.
Mal van Schaick
26
Posted 01/06/2022 at 17:10:29
Whatever? It's an iconic, historical photo that will stay with Everton fans forever.
Plead not guilty, string it out and make the FA a laughing stock.
Stephen Vincent
27
Posted 01/06/2022 at 17:11:12
I thought he picked it up and waved it at the crowd as if to say 'don't be such dickheads' then launched it as hard as he could towards St Luke's.
Mike Gaynes
28
Posted 01/06/2022 at 17:21:45
Barry #23, that's great news. Webb was unacquainted with anything resembling humility, but as a ref he was head and shoulders above any of the clowns whistling games right now, and he'd be the right man to crack down on the VAR inconsistencies. (BTW his autobiography
"Man in the Middle"
is a great read.) As for Riley, he's been in over his head ever since he was promoted beyond youth games.
Brian #14 and Barry #15, I reluctantly accede to your view of this incident. The charge does seem silly on its face, but personally I wouldn't know that a flare is hot but a smoke bomb isn't, and if I saw that thing headed at me, I would be ducking and running.
Certainly the fact that Richarlison aimed his toss into an empty area should work in his favor but, if it had accidentally gone in a different direction, it might have produced a bit of panic -- and as we've seen too often this year, his accuracy cannot always be counted on!
Jamie #17, in certain corners of our bizarre nation, throwing a smoke flare towards a church would be considered domestic terrorism.
Stu Darlington
29
Posted 01/06/2022 at 17:49:31
Naw, he'll get away with this. Throwing a flare/smoke canister off the pitch is not really improper conduct...
"Improper conduct" is attacking the visiting team's bus as it approaches the ground, a manager running to the centre circle to celebrate a goal, and they were all heavily punished... er, wait a minute, maybe I've got that wrong!
Brian Williams
30
Posted 01/06/2022 at 17:51:47
Mike #28,
Jamie #17, in certain corners of our bizarre nation, throwing a smoke flare towards a church would be considered domestic terrorism.
Mike, might that depend on the denomination of the church?
Brian Williams
31
Posted 01/06/2022 at 17:53:27
Jamie Crowley
32
Posted 01/06/2022 at 19:11:51
True Mike. Not applicable with Richiarlison here, but very, very true.
If they do fine him, it should be a slap on the wrist. Same with Frank. This is getting ridiculous.
Someone needs to start a VAR mess-up list followed by no action from the FA in response to said mess-ups, starting with Man City no-call-handball incident.
I honestly wonder how long that list would be for the season past? 25 incidents? 50? 100?
Mike Gaynes
33
Posted 01/06/2022 at 19:33:46
Jamie, every Merseyside Blue is now ecstatic with the "Man City no-call-handball incident."
We stayed up without that penalty, and if it had been properly called, the RS would have been parading the Premier League trophy through downtown Liverpool.
As my Buddhist wife says, everything happens for a reason.
Christy Ring
34
Posted 01/06/2022 at 19:34:25
It's embarrassing and biased to say the least, the way the FA have targeted us, they must have FA else to do. If the Merseyside police, who they left to deal with it, had no complaints, why are they charging him now?
Neil Copeland
35
Posted 01/06/2022 at 20:20:45
Mike #33, sounds you have educated your wife very well in all things Everton.
John McFarlane Snr
37
Posted 01/06/2022 at 20:54:52
Hi Mike, [33]
You are no doubt correct in stating that "Every Merseyside Blue is now ecstatic with the Manchester City no-call hand-ball incident". But at the time it was a disgraceful decision, which could have sealed our fate.
It seems to be true that "For every action, there's a reaction" but having to wait a number of weeks for it to be proven isn't ideal.
Bernie Quinn
38
Posted 01/06/2022 at 21:31:20
This is pure discrimination against Everton. The FA has a vendetta against us and want us out of the Premier League.
I asked a couple of weeks ago what was Ronaldo's punishment for assaulting that boy at Goodison Park and breaking his phone? Did the FA ever charge him? But of course he plays for a Sky Sports Team!
Christine Foster
39
Posted 01/06/2022 at 22:09:53
The FA cannot penalise Everton without penalising Man City for their pitch invasion. I am sure though they will try to find a mitigating circumstance that makes City's allowable and ours not.
In truth, Harvey Elliot's celebration with a smoke canister is worse than Richarlison's, his was a celebration, Richarlison was a removal, not a celebration. One gets a smack on the wrist, the other a probable ban. Two-faced.
Geoff Cadman
40
Posted 01/06/2022 at 23:15:07
Jamie #32,
Are you just counting incidents in our games.
Mike #33,
Yes, I am surprised the RS haven't lodged a complaint. Maybe the Gordon penalty wasn't given to even things up. Two wrongs making it right in the FA's eyes.
Bernie Quinn
42
Posted 02/06/2022 at 07:48:46
They say football's governing bodies are corrupt and I agree. Love of money is the root of all evil, and when you look at the Premier League there are about 8 rich Clubs chasing all the trophies and the gold whilst the other 12 clubs struggle to make mid-table. What's being done to create an even playing field?
In the 1990s, I was a President of a local successful football club which won the South Island Top Division, 3 years on the trot. The Football Association tried to bully us, making fresh rules so we would lose. However, we had a Barrister QC on our Committee and we warned the FA that, if they refused to follow the existing rules, then we would see them in Court. Guess what? The FA backed down.
Now why can't something similar happen in the UK? If those 12 Clubs agreed to take a Class Action to sue the FA, Premier League, Referees etc, or demand action from the Minister of Sport, I am sure action would be taken quite soon. Trouble is nobody in our club seems to have the courage to start the ball rolling.
I don't really blame Moshiri – after all, he bought the shares to become the owner. Who from, I wonder?! And how much of that money did that person put back into the club?
And Moshiri as ploughed millions of pounds into Everton on some very bad advice from his Chairman, I hope he has learned his lesson now and finds a new Chairman and Board of Directors. This anti-Everton has to stop.
Rob Halligan
43
Posted 02/06/2022 at 08:36:37
Richarlison has until 8 June to answer this charge.
At the moment he is in South Korea with Brazil, with South Korea being 8 hours ahead of us. They play each other tonight. Brazil then play Japan next Tuesday, with Japan also 8 hours ahead of us.
So how exactly is he going to answer this charge, or will the club do it on his behalf?
Andy Meighan
44
Posted 02/06/2022 at 08:54:27
A couple of months ago, I was of the opinion that a lot on here were paranoid about refs, the FA etc were out for us. Now I'm absolutely convinced of it.
This is a conspiracy after what Lampard said first about his little girl knew it was a penalty against Man City, and the non-penalty at that hell-hole. How many decisions went against us? I'd be here all day naming them.
Like Christine said, that was thrown into nowhere, an empty space. What's to answer. It's the latest in a long line. Why doesn't our board or whoever stand up to these morons?
Jamie Abbott
45
Posted 02/06/2022 at 10:31:43
A couple of things here, in my opinion. The FA may well have gone slow on this action as they didn't want to overtly deny Everton of an important player at a crucial part of the season. The slow action was because we have rightly caused them grief by highlighting many mistakes, not only in our games, but other non-Sky teams as well.
Without knowing the player that well, we all know how passionate an Evertonian he is. He picked up that blue item, as he knew it would endear him to the crowd and show that he is with us. Maybe not a sensible action for club PR, but what a sight for the fans and we are rightly making the most of an iconic moment.
He will probably get a two-game ban and a fine. Who cares, it was fantastic, no-one was hurt… pay the money and move on. It is a great tee-shirt! COYB.
Paul Birmingham
46
Posted 02/06/2022 at 10:52:49
The EPL, FA, and Referee association and VAR officials make their translation of the so called rules up, as it suits their diaries for their jollies and jaunts.
It's the sewer pipe of the English game and consistently adapts double standards and Everton the last 5 years have been disadvantaged, consistently.
Frank speaks up after the RS game and gets fined.. Slippy speaks up about Moss after Villas game with the RS, and gets off with no fine.
But in adversity it makes the spirit of Evertonians, more resilient and so on to this pre season.
Let's see what happens in the next couple of weeks in the transfer market.
Jay Harris
47
Posted 02/06/2022 at 11:16:42
There is no doubt the authorities and the media have us in their sights.
Leeds fans to a man threw thousands of objects at the opposing team and onto the pitch and it hasn't been mentioned since.
We need a good PR executive with the sole role of putting the same questions that the fans are asking to the various bodies with a request for equality and consistency.
Brian Murray
48
Posted 02/06/2022 at 12:05:11
Jay @47.
Surely a competent club would have a proper PR to point out the Leeds example plus Gerrard's outburst and so on. We really need to wise up on that score and not let us be their whipping boys.
Jack Convery
49
Posted 02/06/2022 at 12:06:21
How about charging Klippity with inciting 1000s of fans without tickets to travel to another country to watch a final.
Also the Hull fans throwing cups of god knows what at EFC players taking throw ins during the 2nd half of the FA Cup tie last season.
Anthony Murphy
50
Posted 02/06/2022 at 12:28:08
We should contact whoever oversees PR for the shite and offer to double their wages.
Christine Foster
51
Posted 02/06/2022 at 12:33:42
There are numerous examples of transgressions by players and managers on almost a weekly basis, resulting in no action or comment. It is clear too that, every now and again, the FA want to make a statement, make an example of a player or a club, just to show they have teeth.
Not for them their bread and butter, nor the Top 6 – they choose a big club without the clout of Sky or the media... Everton. Patsy. Perfect for the FA.
Time and time again, whatever the flavour of the month, Everton fit the bill. Niasse, Lampard, Richarlison… what's the betting we will be the only club fined for pitch invasion in the Premier League? Or fined for FFP?
We need to say enough, is enough, we need to get legal, employ quality barristers to challenge them. Change is required, transparency in decision making, fairness and commonsense. We need teeth. Sometimes, if you keep rolling over, you become an embarrassment or you get hurt.
Part of any Strategic Review should be how to counter insinuation, alleged issues and charges as a club. Fight everything, do not give an inch.

Brian Denton
52
Posted 02/06/2022 at 12:50:17
This is why we could do with American ownership, business savvy, ruthlessness, and an army of corporate lawyers.
Tommy Carter
53
Posted 02/06/2022 at 12:58:05
@52 Brian
Nationality has nothing to do with it as any club could only appoint a legal team who are able to practice law in England and Wales.
Unless it was an international issue, which in this case, it isn't.
Si Cooper
54
Posted 02/06/2022 at 15:28:59
I thought his action in picking the smoke bomb up and then returning it to the terraces in a safe and relaxed way sent a clear message that it's nice to have the support and celebrations but things should not be thrown onto the pitch. I'd think that should be defence enough.
Anybody who thinks he, or anybody else who acted in such a calm and non-threatening manner, should be carpeted for it is an authoritarian nut in my opinion.
Worrying about kids getting the wrong safety message is a bit pointless as many of the parents have (rightly) no issues with the smoke bombs – as was clearly shown by how many kids were wafting them around at The Emirates. Maybe we should ban the Olympic torch if we are really concerned they might confuse the smoke bombs with a hissing, spluttering and heat-radiating flare?
Mike Gaynes
55
Posted 02/06/2022 at 18:22:18
Here's Richarlison scoring in Brazil's 5-1 friendly win over South Korea today:
https://www.youtube.com/watch?v=Q2l_vxMGI4Y
The play starts at 1:15. It's Richi's fourth goal in his last three national team games.
Brazil looked like world-beaters.
Brian Denton
56
Posted 02/06/2022 at 18:45:09
Tommy (53) I didn't say the lawyers had to be American - though I'm sure there are plenty licensed to practice in the UK - but have American ruthlessness, and willingness to use the law at the drop of a hat.
Charles Brewer
57
Posted 02/06/2022 at 20:13:37
Frankly, whatever it costs Richarlison, it will be worth it for what is probably the best ever photograph of an Everton player!
Bernie Quinn
59
Posted 02/06/2022 at 21:18:50
Well I've said my piece and it seems that others agree with me – but will there be any action by the clubs to bring the official bodies to order?
I doubt it very much if our own club is any example. They never make any comments at all apart from acting as Yes men to Bill Kenwright – and he just thinks we have had 'our good times'. This Premier League is a stinking mess and nothing will be done to clean it up.
Justin Doone
60
Posted 03/06/2022 at 07:30:57
I agree, we should always fight back when we are in the right but the fact our own fans keep throwing objects onto the pitch as well as pitch invasions (which must stop before heavier punishment), we just need to accept and move on.
Frank's comments in comparison to other managers are soft but still question referees' independence and fairness, something that will always bring a fine. He just needs to word his disappointment and disagreement differently.
Bernie Quinn
61
Posted 03/06/2022 at 07:44:10
Justin @ 60,
I try not to swear – but with reading that post, I just give up! Methinks though a certain lady will be sending a post in reply.
Christine Foster
62
Posted 03/06/2022 at 12:35:25
Bernie, l just might...
So Justin, he should just bend over and take it like a man? No mealy mouth words or thinly veiled critiques of referee.
Lampard is telling the truth as he and most of the rest of the Premier League see it. He, of all people, having played at the top level, speaks with the credibility of experience – something we don't have – which makes his viewpoint even more succinct.
"We just need to accept it and move on."
Why? Because, until somebody says "No", nothing will change and we will acquiesce next time and the next... The Mugs of the Premier League.
Not for me Justin... not for me.

Barry Thompson
63
Posted 03/06/2022 at 13:59:23
Sounds like a case of Justin Do one there then Christine.
Paul Burns
65
Posted 03/06/2022 at 17:43:16
Don't accept it and don't move on. Fight this and everything else every step of the way.
We've "moved on" countless times and got nowhere; time to grow a pair and stop being pathetic victims time and again.
Bernie Quinn
66
Posted 03/06/2022 at 21:54:57
Thank you, Christine.
I woke up shivering this morning, then read your post and that warmed me up! I still have a gripe with the FA though.
They are asking Richarlison for a "Please Explain" – an incident that happened after the incident with Ronaldo with the boy's broken phone. Will they ever charge Ronaldo with anything? Like I said, it's anti-Everton.
Christine Foster
67
Posted 09/06/2022 at 12:59:12
Being widely reported in the press this morning that Richarlison has told the club he wants to leave. Figures of £65M are supposed to be the price and the host of usual suspects.
Sad if true, but I cannot blame him. I hope he goes to Real Madrid though, I would hate to see him playing against us.
---
Add Your Comments
In order to post a comment, you need to be logged in as a registered user of the site.
Or Sign up as a ToffeeWeb Member — it's free, takes just a few minutes and will allow you to post your comments on articles and Talking Points submissions across the site.