Kenny among those leaving as free agents
Friday, 10 June, 2022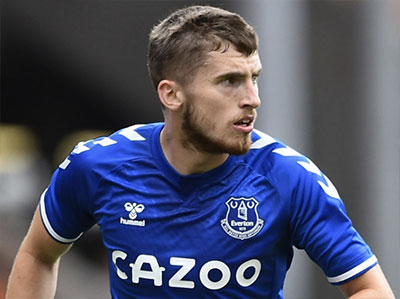 Everton have released Gylfi Sigurdsson, Cenk Tosun and Fabian Delph this month now that their contracts are up while Jonjoe Kenny has elected not to renew his terms with the club.
Kenny had initially been offered a 12-month contract extension and then a new three-year deal to extend his stay at his boyhood club after impressing manager Frank Lampard with his attitude and versatility over the second half of the season.
However, the 25-year-old, who spent a productive spell in Germany with Schalke on loan in 2019-20, has decided to look for a fresh start away from Goodison Park where has greater guarantees of regular first-team football.
Everton have decided not to extend Fabian Delph's time with the club, that despite the midfielder making important contributions in crucial games towards the end of the Premier League campaign as the Blues successfully avoided relegation with a game to spare.
Article continues below video content
Delph, who joined the club from Manchester City three years ago and turns 33 this year, has struggled with injuries during his time at Goodison and was expected to leave this summer, as were Tosun and Sigurdsson.
Sigurdsson remains Everton's club-record signing at £45m after joining from Swansea City in the summer of 2017. In all he made 156 appearances for the Toffees, scoring 31 goals but didn't play at all during the 2021-22 season.
Tosun, meanwhile, was another expected departure this summer after failing to impress following a £21m move from Besiktas in January 2018. He had loan spells at Crystal Palace and his former club in Turkey but both opportunities to earn a permanent move away from Everton were scuppered by serious knee injuries.
He leaves having made just 26 starts and scoring 11 goals in 61 appearances overall and it is thought that he will return to Turkey this summer, perhaps to Besiktas once more.
Everton are retaining the services of goalkeepers Asmir Begovic and Andy Lonergan, however, by offering them one-year extensions on their deals and they are in negotiations with Lewis Gibson over a new contract.
The young defender's bid to break into the Blues' first team or build his experience elsewhere on loan has been dogged by injury over the past three years but the club remain confident he can be an important player as he matures.
Update Kenny joined Hertha Berlin in Germany on 14 June. He posted an emotional farewell to Instagram, saying:
"Just an Everton fan who lived all of our dreams. I'm leaving the city, but my heart is not leaving the club. Thank you for everything, Everton!"
---
Reader Comments (138)
Note: the following content is not moderated or vetted by the site owners at the time of submission. Comments are the responsibility of the poster. Disclaimer
Bryan Houghton
1
Posted 10/06/2022 at 13:11:42
Just reading on the official Everton site that Jonjoe Kenny has decided to move on, after knocking back the deal offered him (no details of what that was tho)
Surprised he's going, tbh. Thought he'd stay.
Paul Smith
2
Posted 10/06/2022 at 13:16:10
Wow Bryan. Maybe Kenny hated the deal with Stake and made the ultimate stand?
Brian Wilkinson
3
Posted 10/06/2022 at 13:18:56
Tosun and Sigurdsson alone will save us close to £10 million in wages, just bin Stake off and have Everton in the City on our shirts.
Kids shirts with sponsors name on will reel some of the money back in.
James Newcombe
4
Posted 10/06/2022 at 13:20:28
That's a shame if true about Jonjoe Kenny. Not a world-beater or anything, but people forget it's a squad game; and players who can drop in and play different roles are very useful.
Danny O'Neill
5
Posted 10/06/2022 at 13:22:01
You're not the only one, Bryan. I didn't either. But I don't tend to visit the official site too much.
I guess he's got to make the right decision for his career and get more playing time. A shame but I guess it was never meant to be.
Brian Hennessy
6
Posted 10/06/2022 at 13:36:46
On Jonjoe Kenny. Maybe this is another sign of us tightening the purse strings and the contract offered to Kenny was modest. Or maybe Kenny just wants more first-team football.
Either way, I hope this means we will try to make use of someone from the U23s. If the academy can't produce someone good enough to be third choice right-back, what's the point in having one?
Michael Lynch
7
Posted 10/06/2022 at 13:37:15
I think the Kenny thing was only announced today, when the club released their "retained" list at the start of the transfer window season.
I liked Kenny very much as an Evertonian, less so as a full-back. I just hope he's replaced with someone better - we can't start the season with only Patterson and Seamus at right back. The former is way too young, and the latter too old.
Robert Williams
8
Posted 10/06/2022 at 14:07:29
That should save a few quid. Delph and Jonjoe made a contribution, albeit small, but the other two did fuck-all to justify their high wages.
Well off the books and will enable us to get better in.
Mike Gaynes
9
Posted 10/06/2022 at 14:12:52
Good for Jonjoe. Fine young man who has been with the club since age 9 and captained the U-23s to a title. Understands that he's not going to play much here and at 25 he needs to move on. Quality professional who will have no problem finding a new employer, maybe in the Championship or back in the lower end of the Bundesliga.
All the very best to him.
Bill Gall
10
Posted 10/06/2022 at 14:15:47
It seems that Jonjoe Kenny refused the contract offer that he was given and rather than give him a better offer they have let him go; hope someone makes a reasonable offer for him.
Winston Williamson
11
Posted 10/06/2022 at 14:30:59
£69M fees on Tosun, Sigurdsson and Delph… Wow! That's a serious bit of money on not a lot. That's not even including wages!! Just wow!
I've roughly worked out wage costs too:
Sigurdsson – £100k p/w – £26M
Tosun – £45k p/w – £9.36M
Delph – £80k p/w – £12.48M
Total:– £47.84M
Total cost:– £116,84M
Now that, is just absurd!!!
John Zapa
12
Posted 10/06/2022 at 14:32:54
It's going to be a huge challenge to assemble a new midfield for next season considering Van de Beek and Delph are gone, Allan and Davies cannot be relied upon, Gomes is unwanted, and Alli hasn't worked out. Nobody from the youth system is ready to step up.
A poor-performing Doucouré is all what's left.
Martin Reppion
13
Posted 10/06/2022 at 14:33:16
Nothing unexpected here.
I wish Kenny good luck in the future, he seemed to grow up a bit last season and will be an asset to someone.
Delph remains a very useful player, when fit, but, along with the other two, his wages can be put to better use.
I keep seeing snippets suggesting we may get a fee for Gomes, Mina and even Keane (though I would keep him). I am just concerned that everyone knows we are broke so won't offer the true value.
If we can get the success and spend value we had with Townsend and Gray, I will be pleased to see some shrewd incoming replacements.
Mike Gaynes
14
Posted 10/06/2022 at 14:37:35
Robert #1, yes, we overpaid for Gylfi, but he played 156 games for us. 31 goals, 25 assists. That's not 'fuck-all'. That's a solid, valuable contribution. And without him, we almost went down.
Denis Richardson
15
Posted 10/06/2022 at 14:39:02
Sometimes you need to step back and just let some of the figures sink in to realise how ridiculous the club is.
Including wages, the club basically spent around £100m on just Sigurdsson and Tosun over the last 4-5 years. £100m on just those two players, with little return.
Then add the likes of Walcott, Bolasie, Niasse, Schneiderlein, etc, and you begin to understand the basket case that Everton has been the last few years.
Any normal company would have sacked those in charge many many years ago. So much easy sky money sloshing around and it would appear the owners of Everton also got their money easily as they certainly don't seem to know the value of it.
Half a billion pounds wasted in such a short time - reminds me of Brewster Millions. How fast can spend it!
Yet Kenwright is still there… bonkers!!!
Brian Wilkinson
16
Posted 10/06/2022 at 14:50:09
Can we not let Bill leave as a free agent, just a thought.
Fair play to Kenny, rather than sit on his wages for the next few years, he is looking to play first team football instead.
He will be one of the first of our free agents that will attract interest from other clubs.
Brian Wilkinson
17
Posted 10/06/2022 at 14:51:34
Dennis, don't forget the £12 Million we paid out for Ashley Williams.
Christopher Timmins
18
Posted 10/06/2022 at 14:54:44
Best of luck to Jonjoe Kenny, I am sure he will find himself a new club in the near future.
Phil (Kelsall) Roberts
19
Posted 10/06/2022 at 14:57:15
Denis
We did sack those responsible.
Koeman, Allardyce and Walsh. Not sure Kenwright wandered into Finch Farm and said we needed to buy any of them. Or do you think he was responsible for not saying "No"?
Last time a chairman said No was when Kendall said he wanted Dublin and so he resigned… and then Royle wanted Flo and he resigned.
I know you do not like him but signing these cannot be laid at his door.
David Bromwell
20
Posted 10/06/2022 at 14:58:52
At last we seem to be taking the obvious decisions, all these players have had more than a fair chance to succeed. The older three have not proved to be value for money and we can no longer afford their totally unrealistic wages.
Kenny is obviously keen to play more regularly and I wish him well as he has always shown that he will try his very best for the team.
Lewis Gibson is a strange one as he clearly has talent and is naturally left footed but his injury record is appalling. Let's hope he can keep himself fit because he has natural talent.
Not sure why we have kept the two reserve goalkeepers as we have a number of young talented keepers who are all short of match day experience. Loan moves perhaps.
But it is good to see the serious work of restructuring the squad has begun.
Jerome Shields
21
Posted 10/06/2022 at 15:25:14
Sigurdsson, Delph and Tosun – no surprise. Sigurdsson and Delph did make a contribution. But all three did very well getting the contracts considering their ability and, in Delph's case, fitness.
Ajay Gopal
23
Posted 10/06/2022 at 15:33:36
I'm sorry to see Kenny go. He is a good professional and was played on both flanks and did what was asked of him by Frank Lampard.
A true Evertonian, but probably not at the level that Frank wants to build at the club. I wish him all the very best, and will keenly look out for him wherever he plays next.
Mike Keating
24
Posted 10/06/2022 at 15:35:37
John @4,
Gbamin is still in the squad and may yet prove a useful signing.
Robert Tressell
25
Posted 10/06/2022 at 15:35:46
In addition to cost etc it's also worth noting that these 3 big earners with hefty price tags will:
- see out their original contract term with no extension. This has an adverse impact on squad stability and means we're repeatedly entering the costly risky transfer market to cover the same positions.
- generate no money to reinvest in their replacements. This means we deteriorate in quality over time.
The same thing happened with Walcott, Bolasie and Schneiderlin.
These 6 players have a lot in common in terms of age and other profile.
It's a recipe for where we are now.
We must avoid similar fairly obvious mistakes going forward

Jerome Shields
26
Posted 10/06/2022 at 15:40:12
As for Kenny he was always a good developing player and recently showed his worth. At 25, he has to go if he is to get playing more regularly. Which he will. Sorry to see him go. Even in cameo appearances, he was worth his wages.
Dave Abrahams
27
Posted 10/06/2022 at 15:42:47
Best of luck, Jonjoe, and hoping you get a good club and a good deal wherever you go.
Stu Darlington
28
Posted 10/06/2022 at 15:49:58
Good for Jonjoe. Obviously a young professional footballer who chooses to play football rather than sit on the bench and pick up the money. Credit to the lad.
I think he's made the right decision as he is unlikely to get many minutes at Everton. Pity his early promise didn't translate into Premier Leagus quality.
Bobby Mallon
30
Posted 10/06/2022 at 15:53:29
What is it with the Sigurdsson bashing. He has paid his way with some crucial goals and as Mike Gaynes says he has contributed to us staying afloat.
The others, yep, a waste of money.
Kieran Kinsella
31
Posted 10/06/2022 at 16:03:40
Credit to Kenny for rolling the dice. It would have been easy for him to stay in a comfort zone as a squad player. Good luck to him.
Tony Everan
32
Posted 10/06/2022 at 16:22:32
Best of luck to Jonjoe Kenny, he gave his all for the club. He needs a club where he is a starter every week.
"In professional age groups, Joe Anderson, Jack Barrett, Elijah Campbell, Liam Higgins, Mackenzie Hunt, Einar Iversen, Mathew Mallon, Sean McAllister and Patrick Nash have all been offered new contracts.
The Club is also in negotiations with Lewis Gibson over a new deal. "
Hopefully the kids sign up and progress. Everton will be a good place for them under Frank.
Danny O'Neill
33
Posted 10/06/2022 at 16:34:03
I always said I like Kenny and wanted him to succeed at Everton. Although I didn't think he'd be good enough for where I want us to be, I'd certainly have liked him to remain for where we are now the possible challenges we'll have next season.
Wherever he goes next, the receiving club are getting a dedicated and professional player with a great attitude. On more than one occasion this season, he was first over to the away fans even when it got volatile, ahead of the senior players.
Good points on Sigurdsson, Mike and Bobby. If we judge him on the football, I too rated him. One of our most creative players and we missed him last season, both his goals and assists.
Annika Herbert
34
Posted 10/06/2022 at 16:36:54
At long last, Sigurdsson has gone. Not only did we overpay for him, he was a huge disappointment. Take away his penalties and his scoring record isn't impressive for an alleged creative, attacking, midfielder.
He would have gone missing in action, as he regularly did anyway, during the relegation battle we just went through. We would have struggled just as much with him in the team, as without him.
Disappointed to hear both backup keepers have got contract extensions too, we must be really desperate to have extended two washed-up keepers, who were never very good in the first place.
Mal van Schaick
35
Posted 10/06/2022 at 16:41:33
Good luck Jonjoe.
I hope there are more to follow with listed players. There is still a core of players who don't deserve to be at Everton after last season.
If Lampard wants to build his own team, he knows who to keep, and who to show the door. I'm hoping he has his own targets even if they are loan players from Chelsea, and may be a marquee signing or two.
Denis Richardson
36
Posted 10/06/2022 at 16:52:05
Phill 11,
It's been noted several times that Bill Kenwright gets closely involved in transfers. As an example, it was his call to bring Rooney back – not Koemans (who didn't actually want Rooney).
An old girlfriend of mine used to work for him in his theatre company, many moons ago, and said he was (and presumably still is) an absolute control freak. Why do you think it took so long to 'sell ' the club?
He was only ever going to sell to someone who still handed him a large say in what happens. I've got no idea what the legal docs say but I'm amazed he's still there after all this time.
Andy Meighan
37
Posted 10/06/2022 at 16:57:27
I'm afraid I've got to agree with Annika on Sigurdsson. A massive disappointment for me and used to go hiding when the chips were down.
As for Jonjoe Kenny, well, if he ever comes back and plays against us, he'll get a great welcome, that's for sure. Limited, yes, but loads of heart and bottle. Hope he gets a good move.
Ed Prytherch
38
Posted 10/06/2022 at 17:03:04
I agree with Mike Gaynes re Gylfi and his return would have been even better if he had not been played out of position for so much of the time. He is not a winger and he is not a holding midfielder but he was in a team with a surplus of Number 10s.
Dale Self
39
Posted 10/06/2022 at 17:08:55
So many of the results during Carlo's tenure were down to Sigurdsson's quality which was a level above everyone but James. When James was not available, Sigurdsson was willing to do crazy positions just because Carlo asked and, when given the chance to open up the game late, typically did so with aplomb.
Putting aside the fiasco outside the game, he was a respectable professional and at times a sublime footballer in a painfully obvious mediocre side.
Mike Gaynes
40
Posted 10/06/2022 at 17:19:26
Nine of Sigurdsson's 31 goals were gamewinners (per Transfermarkt).
8 of his 25 assists were on gamewinners.
Not exactly hiding or missing.
He wasn't great. But he didn't suck either.
Gary Jones
41
Posted 10/06/2022 at 17:26:28
Sigurdsson regularly "marked" the opposition players to stop them turning back towards their own goal, which had a consequence of pushing them towards ours. Other than good set-piece delivery, and the occasional decent game, he offered little for the £45m free and £120k a week wage.
Agree with Annika about backup keeper disappointment… surely better to have a Leban, Virginia or Tyrer given a go than a washed-up Liverpool reserve who never was or never will (sorry pal, no point beating about the bush here).
Hardip Singh
42
Posted 10/06/2022 at 17:33:30
Post 10 Winston - that is sobering! Unreal investment in mediocrity. Kenny has great spirit but mediocrity again, the club should aspire for the best youth, onwards and upwards. I trust Lampard, a smart guy.
Steve Brown
43
Posted 10/06/2022 at 17:46:15
Sigurdsson's main skill in open play was to move into positions where he was guaranteed not to receive the pass - particularly when we were under-pressure. He constantly hid whereas a player of lesser ability like Tom Davies always showed for the ball.
He always struck me as a 'special-teams' type whose main contribution was on set pieces. Later in his time here, he was even replaced in this duty by Digne.
At a £45 million transfer fee and £100,000 weekly salary, he was a symptom of the disastrous decisions made in the summer he was signed. A massive waste of money.
Ed Prytherch
44
Posted 10/06/2022 at 17:47:30
Our midfielders this last season – Gomes, Van de Beek, Allan, Iwobi, Delph and Doucoure scored a total of 5 goals and had 9 assists.
That total would have been a normal season for Gylfi. We would not have been in the relegation scrap if he had been available.
Kieran Kinsella
45
Posted 10/06/2022 at 17:54:06
Lads you're confusing the two different suckiness scales. There is the suckiness scale of if you generally suck relative to other players. On that scale Gomes and Denis Stracqualursi both score 10 out of 10.
Then there is the suckiness relative to cost, expectation and perceived ability. On that scale Gomes also scores a 10 but Stracqualursi scores a 1 as he didn't suck based on those metrics.
Sigurdsson scored a 3 on general suckiness but on the cost, expectation and ability metric he was a 7 which is pretty bad,
Tom Bowers
46
Posted 10/06/2022 at 18:14:21
No surprises here. None of these four played much of a role last season for different reasons. Kenny the only one who may have stayed but Everton have a few options including the aging Seamus and Kenny's game time would have been limited again.
Fran Mitchell
47
Posted 10/06/2022 at 18:20:29
Under normal circumstances, Sigurdsson would have got a new 2-year contract. He was never worth the fee paid but, if he had cost half the price, we'd have been satisfied and considered him an important member of the squad.
He provided goals and assists from midfield, and has been sorely missed.
However, it's not under normal circumstances, and hopefully we get our wages paid back through insurance once the legal matters are closed.
Kenny would have been a solid squad member, but fair play to the lad on seeking first-team football. Expect him to move abroad and hope he does well.
Delph redeemed himself when we needed him. So good for him and us that he leaves with our blessings, but overall he's been a let down due to injuries.
Tosun, well that fascist supporting cumbersome Allardyce mistake can do one.
The first of what I expect will be a good few exits this summer. A leaner squad will await us, but hopefully one where every member can be relied upon.
Ian Bennett
48
Posted 10/06/2022 at 18:35:13
Let the clear out commence. Many more to follow from my list.
Already Out
1. Delph
2. Sigurdsson
3. Kenny
4. Tosun
5. Van de Beek
6. El Ghazi
Departure Lounge:
7. Richarlison (Unfortunately)
8. Kean
9. Keane
10. Gomes
11. Allan
12. Virginia or Lonergan
13. Rondon
14. Alli
15. Broadhead
16. Gbamin
Bill Gienapp
49
Posted 10/06/2022 at 18:46:11
Well good for Kenny. I had said if he had any ambitions of actually playing regular football, he should be the one rejecting this deal... since he's never going to be more than a backup at Everton. Hope he finds the right landing spot.
Glad to see Annika (33) got her last licks in re: Sigurdsson, LOL.
Kieran Kinsella
50
Posted 10/06/2022 at 18:47:39
Ian
Lol poor old Lonergan is the least of our troubles – he's probably on a fiver and bag of crisps a week. Though apparently we've offered to extend his deal. You're always going to need a few warm bodies to bulk out the squad and he is one.
Christine Foster
51
Posted 10/06/2022 at 18:49:42
It had to happen, the cull. It's really only the start too as there will be players we want money for in order to replace what's gone.
In truth, anyone of the playing staff going would not surprise me, it's going to be a sell-to-buy, rebuild and recover monies approach I think. There will be a core that Lampard won't want to sell but, if the offer is big enough or in some cases if there are any offers, then it's about the money...
It should keep the accountants happy, I just hope there is a rebuild plan of sorts to replace those going.
Mark Ryan
52
Posted 10/06/2022 at 18:53:08
Just like Christmas. Good luck to Jonjoe, perhaps a club like Burnley might want him. I hear West Ham want Keane, interesting.
Mike Gaynes
53
Posted 10/06/2022 at 19:07:32
Kieran #44, I should have known that you of all people would pick up on my use of that one particular word -- and parse it into a full analysis. Suckiness. I like it.
Ed #43, agreed.
Fran #46, I don't think there's any way in the world we will get back the £5 million we paid Sigurdsson this year. He wasn't in jail or otherwise physically unavailable. The insurance company will look at it and say hey, sorry, Everton, but it was your choice to shut him down until his contract expired.
Robert Williams
54
Posted 10/06/2022 at 19:25:22
Mike G,
I see we beg to differ on Sigurdsson's worth and his contribution and whether Everton got anything near value for money. So be it.
Christy Ring
55
Posted 10/06/2022 at 19:25:24
Agree with Annika @33,
Sigurdsson for £45M + £120k a week definitely didn't justify the fee or wages, too often disappeared in games.
Delph and Tosun were a total waste of money and wages.
I hope it works out for Kenny, and he gets a good contract elsewhere.
Mike Gaynes
56
Posted 10/06/2022 at 19:33:20
No, Robert, we agree that he wasn't worth what we paid.
We disagree that he was useless.
Jack Convery
57
Posted 10/06/2022 at 19:41:49
Best of luck to Kenny, wherever he ends up. Thank you for wearing our shirt with pride.
Tony Everan
58
Posted 10/06/2022 at 19:58:08
Sigurdsson signed 4 years ago, the time has gone nowhere. I remember at the time there was widespread comment that £45M was way over the top and £20-25M was the mark. I think the fans were more clued up as to what he was really worth.
Being fair, Sigurdsson has not been a £45M world beater, but he has contributed a whole lot more than some players who we signed for massive £20M + fees in recent years.
Brian Harrison
59
Posted 10/06/2022 at 19:59:40
I wish Jonjoe Kenny well in whichever club he signs for; he could have stayed, picking up decent money, but wants to play first-team football. Good on you son.
I see that Delph, Sigurdsson and Tosun who cost £88 million in transfers and heaven knows how much they have earned since being here, have left and Everton don't get a penny for any of them.
Colin Glassar
60
Posted 10/06/2022 at 20:06:28
Any chance that Kenwright will be released as well?
Robert Tressell
62
Posted 10/06/2022 at 20:36:05
I think a lot of Everton fans expected a De Bruyne-like return from Sigurdsson for the investment. I'm afraid that's another level altogether. And price tag too.
Sigurdsson gave us goals and assists – and a lot of running to close down passing lanes.
If he'd have been played this season, we'd have put relegation worries to bed much earlier.
If you want a better player than this, you have to speculate outside of the Premier League. If you want a Premier League player, you have to pay the premium for someone that good.
Chris James
63
Posted 10/06/2022 at 20:42:33
To be honest, this sounds like the (belated) start of sensible practises at the club.
Jonjoe Kenny tried hard but not a single person on here would have him as their first choice in defence, so no doubt we offered him a deal commensurate with a squad player and he clearly didn't fancy it. No hard feelings, let's all move on.
I will watch with interest the new signings.
nb: I think it's a little premature to say "Alli hasn't worked" – yes, he didn't make an immediate impact, but he's hardly had a run out yet. Without question, his arrival turned the game that mattered most at the end of the season. There's clearly still a player there, just need to give him a chance.
Barry Rathbone
64
Posted 10/06/2022 at 20:43:27
Good signs of a long overdue proper clearout and potential revolution in the offing. Hopefully Frank has sussed he gets one shot at building a team before the natives turn and it is this summer.
Previous incumbents fell at this very first hurdle.
Steve Shave
65
Posted 10/06/2022 at 20:47:35
I have long aligned with Annika on here in wanting us shot of Sigurdsson a long time ago. In fact, I was dead against the signing in the first place. I have held a lot of unfair resentment towards Sigurdssson in fact, much of which is not his fault.
He did not ask the club to pay such a ridiculous fee, absolutely preposterous it was… and my resentments with him are actually displaced, it is the Koeman-Walsh-Moshiri shit show that is underpinning it all. I know that isn't Sigurdsson's fault but somehow I still held it against him, I certainly never warmed to him.
I think if I dig a little deeper, my displaced frustration is that I was annoyed how we treated Barkley (hung out to dry by Koeman – and yes, I know he acted like a shit over the injury and transfer… but still) and lost him, only to spunk £75M on No 10's!
This splurge set us back years – I am of the view it derailed the 'great Everton project' before it really got going and we had to shoehorn him into every bloody side even when he didn't fit. Again, not his fault.
To add insult to injury, we could have got money for him last summer, if he hadn't got arrested. Once again I feel annoyed with him. I think it's awful that the club can't get some compensation for this.
Either he is guilty in which case we should be allowed to sue the arse off him for all those wages and loss of transfer fee. Or, he is innocent and we should be allowed to sue the accuser for lost transfer fee and wages over the past year.
Some may think that's harsh. Needless to say I am pleased he has gone, if only for the fact that, to me, he symbolically represents that ill-advised, feckless, clusterfuck of a transfer splurge.
Michael Burke
66
Posted 10/06/2022 at 20:55:19
I think we saw this season how useful Sigurdsson has been over the last 4 years. There was absolutely no link between midfield and attack. He provided us with that.
Sigurdsson didn't choose the fee that was paid, that has nothing to do with him. Why are we having a go at him for what he cost. The blame for that is laid at the feet of our board.
Kevin Prytherch
67
Posted 10/06/2022 at 20:58:52
Sigurdsson was only ever decent when he had time and runners. He often looked good against the bigger teams when we sat back and hit them on the break as this played into his hands. He scored a few and assisted a few.
However, he was often devoid of any ideas when he didn't have time and space, he didn't have a clue what to do against a team that defended deep, although he ran a lot out of possession he was rarely actually doing anything and most of his set-pieces were crap. He was the complete opposite of what we needed at the time.
Up until the second half of this season, I would say, considering the fee, he was up there with Iwobi, Tosun, Schneiderlin, Gomes, Niasse and Bolasie as the worst value-for-money signings we've ever made – although I'm not sure about Iwobi being on this list anymore.
Ed Prytherch
68
Posted 10/06/2022 at 21:29:42
Kev,
Sigurdsson's best season was 2018-19 with 12 goals from open play and 2 pens.
The open play goals were against Rotherham, West Ham, Fulham (2), Cardif (3), Spurs, Leicester, Southampton, Chelsea, Man Utd.
Spurs, Chelsea and Man Utd probably qualify as 'bigger teams'.
Bill Watson
69
Posted 10/06/2022 at 21:30:51
Good luck to Kenny. I hope he finds a decent club.
Overall, Sigurdsson has been a very expensive mistake but, having said that, he was a huge miss last season.
Everton have absolutely no grounds for any insurance claim. He hasn't been found guilty of any crime and the choice not to play him was Everton's alone.
Mike Gaynes
70
Posted 10/06/2022 at 21:48:58
Steve #64, anybody can sue anybody for anything, but if he isn't convicted of any crime, somehow I can't see the club suing a family whose child may have been victimized.
Andy Meighan
71
Posted 10/06/2022 at 21:59:18
I got told by a lad in work today who's good mates with Kenny's cousin, that there's a couple of German Bundesliga sides interested in Jonjoe.
Hope it works out for him. Great lad and great Blue.
Kevin Prytherch
72
Posted 10/06/2022 at 22:03:18
Ed,
He did have a knack for goals in that season; however, in the next 2 seasons he contributed 11 goals from 82 games (including penalties) and was frequently poor against the weaker teams.
Paul Birmingham
73
Posted 10/06/2022 at 23:01:30
Ed @44, zackly.
His assists and goals scored ratio seriously impacted Everton's chances before last season started.
But now hopefully a clean slate for Everton to start fresh, and take the tempest of last season's cauldron of Goodison Park into next season, both home and away.
UTFT!
Kieran Kinsella
74
Posted 10/06/2022 at 23:27:46
Danny Drinkwater might be worth a punt to replenish our dead wood. 32 years old, wants top dollar, injury-prone, bad attitude. If Walsh was still here, we'd have already signed him.
Shane Corcoran
75
Posted 10/06/2022 at 23:38:05
The replies to Jonjoe Kenny's imminent departure on the announcement are depressing but not surprising. But he's rich so he has no feelings.
If the club suspended Sigurdsson for a full season without being in some way covered financially, regardless of the verdict in any future trial, then surely there's a fuck-up in there somewhere.
Ed Prytherch
76
Posted 10/06/2022 at 23:49:35
To put Sigurdsson's 14 goals in 2018-19 into perspective…
In the past 10 seasons, the only other Everton midfielders to make double figures are Barkley in 2015-16 and Fellaini in 2012-13 with 12 each.
This past season in the Premier League, De Bruyne was the top-scoring midfielder with 15, followed by Madison 12, Mount 11, and Raphina 11.
What would we have to pay to get one of them?
Lev Vellene
77
Posted 11/06/2022 at 00:10:08
Kieran #74.
I usually just read stuff here without making judgments, but that made me chuckle!
Dan Parker
78
Posted 11/06/2022 at 00:16:15
It's best for all parties we move on. Good on Jonjoe Kenny for looking for more football rather than sitting on his arse for a paycheck which the likes of Cenk was happy to do.
I suspect the club offered a contract but with terms geared towards a minor role in the first team. I don't think either party will have regrets in the long-run
Mike Gaynes
79
Posted 11/06/2022 at 01:01:28
Andy #71, doesn't surprise me.
His Bundesliga season was the best of his career by far. Scored the only two goals of his senior career, and they were both screamers.
He was one of the few impressive performers in a truly horrendous Schalke side that has now been promoted back up.
Danny O'Neill
80
Posted 11/06/2022 at 01:34:20
As Bundesliga 2 Champions at the first time of asking as well, Mike.
Jonjoe done well there, in the first half of the season, which reflected the Königsblauen in general. And he was popular with the Schalke fans.
One of his goals was a beauty too. Low hit first-time shot rifled in from the corner of the box into the far corner. If you haven't seen it, Google it.
He faded a bit in the Ruckründe after the Christmas break but so did Schalke, and badly. They dropped like a stone and got dragged into a worrying relegation fight. Not quite as dramatic as ours this season and the end table looked more comfortable that it was in the closing weeks. It flattered them. They pulled away avoiding the drop only to go down the following season.
Big gulp.
For obvious biased reasons, if he goes to Germany, I'd like him to return. Not just the colours. It's his type of club. Our type of club.
Mike Gaynes
81
Posted 11/06/2022 at 03:41:00
Danny, hasn't Schalke changed managers three times since Jonjoe left there?
Actually both his Schalke goals were nearly identical. Low rockets from the right corner of the box, across the keeper and into the side netting. One a first-time crack, and one off the dribble.
Also had some very nice assists.
Danny O'Neill
82
Posted 11/06/2022 at 04:39:52
I think he only played under Wagner, Mike, but that's without backing up my facts and going off still jet-lagged memory.
It was the following relegation season that, Wagner included, they actually went through 4 managers in a season. The players didn't know if they were coming or going. Okay, we haven't been as extreme but a familiar theme? Lack of stability and a plan or strategy that we stick to?
There is always a balance in looking after business interests and assets, but I will always question how much this interference from non-football people simply disrupts team and player progress. So by default, disrupts their own investment.
Our owner said lessons have been learned. Well, employ the right people and give them time to deliver before triggering on the advice of an incompetent panicy board worried about their own comfortable positions. Long-term benefit over short-term survival always trumps in my view.
Hold your fire. Keep your powder dry and don't panic. Step in occasionally when you need to steer the ship back on course. But generally, leave the troops to it. They will win the battle.
I know times are different, but Howard Kendall wouldn't have survived under this. Joe Royle didn't.
Back on topic, I'm not making excuses and I have questioned Jonjoe's ability based on him being a top player. But he's played in the Premier League and Bundesliga. I haven't and I played to a half-decent standard. Credit to the lad. He never gives up and to get to even being considered for the likes of Everton, Schalke and Celtic, you've got to be a very, very good player.
I gave the jet-lag warning…
Iakovos Iasonidis
83
Posted 11/06/2022 at 09:24:15
My opinion is that Kenny should have gone some years ago, he is not Premier League level.
To be honest, Everton is not Premier League level either right now but trimming and trying to replace this kind of player will only do good.
As for Sigurdsson and Tosun, both of them represent how bad our transfer policy has been. Sigurdsson had a good season when James was here but overall he is easily in the top 3 worst signings we ever made.
As for Tosun, we should never have signed him in the first place. I hope more will go so we can sign younger hungrier players.
Paul Hughes
84
Posted 11/06/2022 at 11:52:34
Fair enough if Kenny wants to try his luck elsewhere. I think it's no great loss. I'd had enough of him after the Burnley game, where he was culpable for two of the goals.
And, hopefully, a fit Patterson turns out to be a good 'un.
Andy Crooks
85
Posted 11/06/2022 at 12:31:22
Iakavos @83, believe me, Sigurdsson is by some distance not near our worst three signings. I think he was overpriced but he actually played alongside worse signings, never mind delving deeper. Schneiderlin springs immediately to mind.
It is not a competition I want to nominate candidates for, the options are simply too numerous to contemplate without spoiling a day off.
Justin Doone
86
Posted 11/06/2022 at 12:40:32
Good luck to Kenny, I'm sure he'll have a fine career and will probably be back in the Premier League at some point.
He was a good full-back, has all the basics (awareness, first touch, passing, crossing) but isn't the toughest or best tackler and lacks pace and creativity. If he'd have been around 15 years ago he'd be more appreciated.
But full-backs in the modern game are expected to do so much more these days. Good defenders who can play as wingers.
I'm sure a Wilder type coach would get the best out of him.
Justin Doone
87
Posted 11/06/2022 at 12:54:33
We are all guilty of using a players price and salary against them when the team are not performing.
Take that away as it's not my money or decision I try and simply judge a player. Are they good and do they put the effort in.
Sigurdsson was good and tried hard. Delph was good but injury-prone. Mina and Gbamin were good but injury-prone. Tosun was a failure as not suited and didn't try hard. Same for Schneiderlin, Moise Kean to name a few.
Did I want Sigurdsson? Yes, for his goals from midfield and creativity. Would I have paid that for him or moved into other targets? Definitely moved for other targets.
Many think James was a failure. But I witnessed a slightly aged, but definitely top class player who scored, created, tried hard and was, in my opinion, a joy to watch.
Ian Riley
88
Posted 11/06/2022 at 12:56:49
Good luck to all those players leaving and thank you for your loyal service.
Colin Malone
89
Posted 11/06/2022 at 13:12:15
What's the present situation with Sigurdsson, legally?
We hear stories of blackmail. If innocent, it's a very long time to have this in your head.
Mark Rankin
90
Posted 11/06/2022 at 13:21:37
I think, in the modern world of FFP, you have to judge signings on a mix of performance and the business side.
Sigurdsson wasn't our worst performer but he was a financial disaster and a bad signing that most of the fans knew at the time.
Best of luck to Jonjoe Kenny but, to be fair, I can't ever see a time when the Blues are in trouble and I think, "If only we hadn't let Kenny go!"
Frank Sheppard
91
Posted 11/06/2022 at 13:28:40
Kenny, he usually got dog's abuse on TW. Good luck to him.
Gylfi, he also often got dog's abuse on here, but he was a big miss last season, and too many on TW seemed to blame the player because idiots holding our purse strings seriously overpaid for him. Good luck to him.
Danny O'Neill
92
Posted 11/06/2022 at 13:50:05
Fair assessments Andy & Justin.
Sometimes us fans get het up with supposed price tags and speculated wages.
Some seem to really study that and have access to detail.
I try to judge on football ability. Most of the time. I'm no saint in not using a players alleged price tag in my criticism on occasion.
But I do try to keep it to the football.
If we'd have had the Sigurdsson who frustratingly only turns his true ability on for 10-15 games or Rodriguez only available for the same, even off the bench, that would have been a very different season.
Ed Prytherch
93
Posted 11/06/2022 at 14:13:34
Iakovos #83 – why don't you check the facts before you post.
Sigurdsson's 14-goal season was under Marco Silva when he played in his preferred position. He was moved into a more defensive role when James arrived to help us stop leaking so many goals.
Craig Harrison
94
Posted 11/06/2022 at 14:56:49
I hear Nottm Forest have Kenny lined up if Spurs get Spence.
Paul Jones
95
Posted 11/06/2022 at 15:05:33
Sigurdsson was the cream in a hard-working Swansea outfit whose limitations were exposed when he was signed by Spurs. Good for Iceland and Swansea, where others were prepared to take up his work off the ball.
Not good enough for Spurs who expected more than just a "football quarterback". A lot of money for a player who only looked useful striking a dead ball.
The common denominator for Everton's lack of value for money in buying and selling players is the inappropriate appointment of Directors of Football. We pay £20M+ for players who don't improve our team; Liverpool manage to sell players for £20M+ to the likes of Bournemouth and Sheffield United who will never kick a ball again at the highest level.
I hope the current appointment proves a better fit than those before. If Moshiri appointed someone to make his clothes for him he would be walking round naked at great expense – somewhat like our teams have in football terms.
Iakovos Iasonidis
96
Posted 11/06/2022 at 15:05:42
Ed Prytherch @93,
I stand by my opinion, Sigurdsson was a total failure for the money we paid. Goals is the essence of football.
I remember well how much stick Lukaku received, he scored plenty of goals too but he had the touch of an elephant etc.
When James was here, Sigurdsson raised his game and he was actually quite useful.

Sam Hoare
97
Posted 11/06/2022 at 15:10:03
Will any club ever spend so much money as badly as we did?! Breathtakingly poor decision-making.
Good luck to Jonjoe Kenny, he's better than some on here will credit him and would have been a good third-choice full-back. He'll be first choice somewhere and do alright.
Interesting turnaround on Mathew Mallon who was due to leave but is now staying. An Unsworth decision reversed?
James Flynn
98
Posted 11/06/2022 at 16:41:41
"Not good enough for Spurs who expected more than just a 'football quarterback'"
Let's get another opinion.
Spurs' manager Pochettino:
"Gylfi Sigurdsson would have been perfect for me at Tottenham"
"I think after he moved to Swansea and we saw his development at Swansea, he was a perfect player for us,"
Sigurdsson was a first-rate midfielder who did whatever was asked of him during a chaotic time with the Club.
And did so while lugging that £45M millstone Moshiri draped around his neck.
Kristian Boyce
99
Posted 11/06/2022 at 17:56:51
Not too sure why people have an issue of the resigning of Bergovic and Longeran. Bergovic has been a fairly solid backup for Pickford and other than the Arsenal game, did ok in deputising for him.
Longeran is here more for the coaching aspect more than anything else. He knows Alan Kelly well and is providing that coaching support for all our keepers. He's on probably next to nothing and isn't really taking th eplace of our younger keepers as Tryer has been featuring more on the bench than he has.
Michael Kenrick
100
Posted 11/06/2022 at 18:28:47
Tony @32,
Significantly no mention of the following young names from last season's U23s (henceforth reverting back to U21s from next season) – and therefore by my calculation set to be or already released are:
Rafael Garcia
Rhys Hughes
Harry Hagan
Sebastian Kristensen
I thought Hughes was a decent prospect; I'm surprised about him if true.
Garcia can sniff out goals but he has not played much these last few years. Hagan and Kristensen also played very little last season.
Tony Twist
101
Posted 11/06/2022 at 18:55:43
Promising comments were made regarding Kenny when coming up the ranks at Everton. When I saw him in action I was flabbergasted, his positional sense and decision-making were so poor.
Maybe he has turned over a new leaf with the correct decision to leave. Let's hope he has a long and fulfilling career away from Everton. I wish him every success.
Eddie Dunn
102
Posted 12/06/2022 at 07:41:43
Good luck to Jonjoe Kenny, he gave his best, which is more than some of his colleagues.
We obviously overpaid for Sigurdsson, but I enjoyed many of his contributions and like others here, I think he did okay.
Perhaps Gomes will thrive if we can get a busy boy in next to him. With a lad like Gallagher on board, Gomes might come to life. He needs people to do his running. No-one expected Pirlo to run around making tackles.
Rob Dolby
103
Posted 12/06/2022 at 07:52:23
Good luck to the lad and fellow Toffee. He has shown more ambition than all of the hangers-on seeing out their contracts.
I felt he was pretty unlucky to be behind such a player as Coleman and, whenever Coleman got injured, Kenny never grasped his chance as he also got injured.

Tony Everan
104
Posted 12/06/2022 at 08:13:20
Michael #100,
Everton releases list from the Mirror, but Lonergan and Gibson have recently been offered a new contract I think, they forgot Sigurdsson:
Fabian Delph, Rafael Garcia Ferreira, Lewis Gibson, Harry Hagan, Rhys Hughes, Jonjoe Kenny, Sebastian Kristensen, Andy Lonergan, Cenk Tosun
I am surprised at Rhys Hughes being released as he was a player who was always involved in matches. He could make something happen. Who knows?
We may have offered him a low deal and he thinks he can get better elsewhere? Or they just didn't think he had enough. A bit disappointed that we can't see more of this player, another season, to assess his development more.
Also surprised, but slightly less so, about Garcia, this was his return year after a bad cruciate injury and 2 years out, he looked a live wire. The injury will have set him back and next season he could improve again. I think he will have a career in the game.
I wish them both the best of luck, and will look out for them wherever they end up. There's other more knowledgeable posters Phill, Brent amongst them, who will have an interesting take on this.
Michael Kenrick
105
Posted 12/06/2022 at 09:33:37
Thanks, Tony, I missed that list in the Mirror, so I'll take that as confirmation.
Just messes with my mind when the official Everton website and their own news releases once again totally fail in terms of openness and transparency.
Instead of telling us who are leaving, they write this at the end of their "new contracts" piece:
Everton wishes to thank all departing players for their contribution throughout their time at the Club.
Utter shithouses – not even bending the knee to name them in such a two-faced anonymous 'appreciation'.
Stephen Brown
106
Posted 12/06/2022 at 10:52:46
Although obviously not worth £45M, Sigurdsson was a good player for us. If he'd been available last season, I doubt we'd have been in such trouble as I'm sure he'd have chipped in 8 goals and 8 assists which would have made a huge difference.
All the best to Jonjoe Kenny.
Soren Moyer
107
Posted 12/06/2022 at 15:30:37
Jonjoe Kenny is to complete a free transfer move to Hertha Berlin according to The Times.
Rob Halligan
108
Posted 12/06/2022 at 15:39:10
It's also being reported that Benfica and Porto are interested in Andre Gomes.
Michael Kenrick
109
Posted 12/06/2022 at 17:45:31
Soren,
The Telegraph say it's back to Schalke for Kenny.
So someone's telling porkies.
Jeff Armstrong
110
Posted 12/06/2022 at 17:53:10
If we could get rid of Gomes for £5-10 million that would be good business, he's just not suited to the Premier League.
Robert Tressell
111
Posted 12/06/2022 at 18:26:41
The sooner Gomes is not on our books, the better. There is only so much of his slow, ineffectual, unproductive elegance I can handle. My heart sinks each time I see his name in the First XI.
Please, Benfica or Porto – make it happen.
Soren Moyer
112
Posted 12/06/2022 at 20:12:36
Michael, now Sky Sports backing what The Times was claiming lol.
Also how the hell did we pass on the chance to sign a 15- year-old Haaland for £60k!!!!!?
Soren Moyer
113
Posted 12/06/2022 at 20:25:58
Jeff, I think the problem here is his silly wages which are £100k/ week or thereabout! Neither of those Portuguese clubs can afford that IMO.
Danny O'Neill
114
Posted 12/06/2022 at 20:36:03
Must be true if Sky say it, Soren!!
Sarcasm aside, I hope he goes to Schalke. For selfish reasons I'll get to watch him when I go to see them next season.
Your point on Haarland. It's one of those things. You can never truly tell at a young age if a player has what it takes. Similarly when clubs have a player but at the time don't consider them good enough so sell or release them.
Kevin Sheedy: Liverpool reserve, Everton great.
I'd bet Chelsea fans cringe every time they see Kevin De Bruyne now.
There are probably many more examples. The ones that got away. All about judgement at the time.
Tony Everan
115
Posted 12/06/2022 at 20:36:03
Michael, it's a ruthless business and it looks heartless. You would hope there is a lot more sensitivity and support nowadays behind the scenes when the young players are told they are not wanted.
My best mate was released by Howard Kendall in 1983 after playing in the FA Youth Cup Final that year. He didn't recover football-wise, he had offers but it had torn his heart out.
Jeff Armstrong
116
Posted 12/06/2022 at 20:46:50
Soren, it'll end up a loan with us paying 60% of his wages, like so many of our terrible buys over the last few years, Tosun, Bolasie, Walcott etc, just to get him out of the club and off any future team sheet will be enough for me.
How Lampard picked him against Palace after his previous performance against Brentford was a major concern about his judgement, IMO.
Robert Tressell
117
Posted 12/06/2022 at 20:49:40
Danny, with Haaland it was clear he was going to be a star from age 15. I expect the reality is that he passed up on us, not the other way around.
He had similar trials / spells at lots of clubs and chose his route from Molde, Salzburg, Dortmund to Man City very wisely and carefully – passing up much bigger pay packets along the way.
Danny O'Neill
118
Posted 12/06/2022 at 20:53:19
I'd go with your assessment, Robert. And I'm sure he was being advised.
Soren Moyer
119
Posted 12/06/2022 at 20:54:42
Danny, I know but, considering we are not Chelsea, I think it was a big opportunity lost. Imagine if we said no to a 13-year-old Messi! Fof fuck's sake, man! This club is in tumult!
Jeff, I hear you loud and clear.
Robert, he was being trialed by us when he was at Bryne prior going to Molde!
Danny O'Neill
120
Posted 12/06/2022 at 20:55:59
My wife and sister worked at Anfield in the 90s Tony. My sister still does.
Before anyone starts, I always described it as taking money from them. They were paying my mortgage.
When I was home, we'd meet for lunch and I'd wait outside the Kop. My memories of my then very young son calling Robbie Fowler "Fish face" as he bent down to say hello, and turning his back on and refusing to talk to Roy Evans live forever. I don't know where he got that from. There are bad influences out there.
I digress but there is a link.
It is ruthless. As an employee, she got to go to the Cup Final. I don't remember the year, but it was the one Cantona scored the winner in an uneventful 1-0.
She told me that on the train back to Liverpool, all the youth / academy players were told "You're staying", "You're going to Oldham [or whoever]", "You're released".
She was really upset as it was ruthless, without any compassion and done in front of everyone.
A lot of the young lads broke down. Understandably.
Danny O'Neill
121
Posted 12/06/2022 at 21:02:56
Soren,
Mate, I keep saying, at the time he came through, had Messi been English, he'd have been dismissed at a young age and never made it. Too small. I can hear the scouts now. We had a few from Tottenham down to watch a lad who played for me. They were more obsessed with his physicality than his footballing ability.
We are getting better but still have a long way to go on youth development.
And it's about development of young players, not winning a meaningless league or trophy.

Soren Moyer
122
Posted 12/06/2022 at 23:19:57
Roger that, Danny. 😁
It's a shame though.
Brian Murray
123
Posted 13/06/2022 at 10:05:15
We are lucky Kenny has something about him and wants to further his career or we would be stuck with a lower level full back and an ageing one.
Embarrassing start to the Thelwell era if he obviously thinks he can't or won't find a proper back-up for Patterson on this planet.
Phil Smith
124
Posted 14/06/2022 at 17:39:18
Risky move by Kenny there. They only survived in a play-off game. I guess we weren't much better but still...
Lee Courtliff
125
Posted 14/06/2022 at 20:00:30
Good luck to Jonjoe. We know he wasn't quite good enough but he always tried and obviously had it in his heart. He'll do well over in Germany.
Paul Kossoff
126
Posted 15/06/2022 at 20:11:49
Another rat leaves the sinking ship. Nice going, Jonjoe. Make sure you have bigger pockets in your pants to put your signing-on fee in.
Brent Stephens
127
Posted 15/06/2022 at 20:24:15
Paul, if Kenny was moving for the signing-on fee, why hasn't he done this before now?
He's never going to be in the starting eleven, apart from in injury situations, and he clearly wants first-team football.
Best of luck to Jonjoe.
Steve Shave
128
Posted 15/06/2022 at 20:32:30
Really cynical comment that, Paul @126,
Kenny has been nothing but professional; he may not have yet fulfilled that early promise but he deserves his shot at first-team football. Berlin is a fine city (I used to live there) and I really wish him well with his footie next season.
Alan McGuffog
129
Posted 15/06/2022 at 20:49:48
Given the opinion that many posters on here voice about him, can you really blame him for leaving?
Good on you lad, you've never let us down, enjoy your career!
Tony Abrahams
130
Posted 15/06/2022 at 20:59:12
Someone very close to Jonjoe told me that he would play for Everton for nothing. I replied that he's made a lot of money out of Everton, but I also thought that it had cost him a fair chunk of his career, football-wise, and I personally think this is why Jonjoe has now decided to leave.
You don't get better sitting on the bench, so I hope Jonjoe gets to play every week because he's a very genuine kid, who has now arrived at a cross roads in his career. With him being a free agent, I'm sure Everton would have also had to give him a signing on-fee if he'd have signed another contract at our club.
I thought Brands should have sold Kenny to Burnley around 18 months ago for a few million, so maybe he's partly to blame now Kenny has left for nothing?
Paul Burns
131
Posted 15/06/2022 at 21:52:33
Everton are in the diabolical state we are in because we have demanded nothing from any player for the past 12 years at least, apart from showing up and trousering massive wages, then laughing all the way to the bank, just like Kenwright.
Annika Herbert
132
Posted 16/06/2022 at 17:32:17
James @98, if you really believe Sigurdsson was a good midfielder, then I would seriously have to question your eyesight.
He was poor and never lived up to the billing. Slow, drifted out of games, rarely showed in big games etc, etc.
If he had been available this season, he would have his usual act, created nothing, fluffed his free-kicks, and gone missing for large parts of the game. He won't be missed.
Dave Lynch
133
Posted 16/06/2022 at 17:46:18
Annika @132.
We all have opinions. I thought Sigurdsson was a decent midfielder, an organiser and solid but not Hollywood in his game.
Same as Neville for us, a motivator and gave it his all every game. People had it in for Phil from the off but, for me, he was a great servant despite his short time with us.
Dave Abrahams
134
Posted 17/06/2022 at 12:38:05
Didn't know where to put this but just read Jonjoe Kenny's goodbye letter to Everton fans well worth a read from a kid to a man he loved the Blues, still does and always will.
Thanks for your efforts Jonjoe, as you say maybe you could have done better but you always did your best.
I hope you succeed in Germany but you were never a failure for me at Everton.
Danny O'Neill
135
Posted 17/06/2022 at 17:16:47
I've just read his statement having been sent it by my son.
I know John Senior will shout at me for expletives, but I don't mind admitting, fucking emotional.
Best wishes, Jonjoe. The Bundesliga fixture list was released today, so I'll look at the Shalke - Hertha date.
Mike Gaynes
136
Posted 18/06/2022 at 07:08:29
Lovely, simple farewell letter from Jonjoe Kenny to the fans, as he departs after 14 years.
I'll always remember the journey to Goodison for the Crystal Palace game at the end of last season. We were driving in from our hotel, and you go down Scotland Road and past the little football cages where I used to play as I kid.

I know that game was nerve-wracking and none of us wanted to be in that situation, but to go from that kid playing in those cages to playing for Everton Football Club in such a big match…I just had a moment where I thought, 'You've done alright'.

I'll never forget those last few weeks of the season. I think it was in that moment when I knew that I was ready to maybe move on for a new chapter, because I felt like I kept getting a bit emotional, especially when I was seeing the fans.

It did keep bringing a little bit of a tear to my eye because I knew that might be the end. They were lovely moments that were great for me and to see that reaction of everyone coming together. The funny thing was, I knew a lot of the people who were outside cheering on the team coach. I knew who they were and what it meant to them.
Yes, Jonjoe, you've done more than 'alright'... all the best wherever you go from here.
Danny O'Neill
137
Posted 18/06/2022 at 07:42:45
It was a lovely message, Mike. I got very emotional reading it. But then I'm an emotional fool at heart when it comes to Everton.
On a serious note, sound words from Jonjoe and I'll go to watch him when Schalke play Hertha. Like all Evertonians, I wish him the very best.
Is it 6 August yet?
Eddie Dunn
138
Posted 18/06/2022 at 08:10:00
Jonjoe's message shows why Frank trusted him. Good luck to the next chapter, Jonjoe. You did what we all could only dream of doing.
Dale Rose
139
Posted 18/06/2022 at 09:05:50
Good luck, Jonjoe, a shining example of what football was about, pride and passion.
Brent Stephens
140
Posted 18/06/2022 at 09:24:39
"I just had a moment where I thought, 'You've done alright'."
More than all right, Jonjoe. More than all right.
Seems to be a lad who is still aware of his roots and his merited rewards.
Barry Rathbone
141
Posted 18/06/2022 at 09:38:14
I've never gone in for the vitriol some seem to revel in against our personnel and the letter from Jonjoe is a good example why.
Justifiable criticism is one thing but the incessant competition to hate on members of our own club makes me despair of some Evertonians.
---
Add Your Comments
In order to post a comment, you need to be logged in as a registered user of the site.
Or Sign up as a ToffeeWeb Member — it's free, takes just a few minutes and will allow you to post your comments on articles and Talking Points submissions across the site.