Report: Kenyon-led consortium will commit to stadium build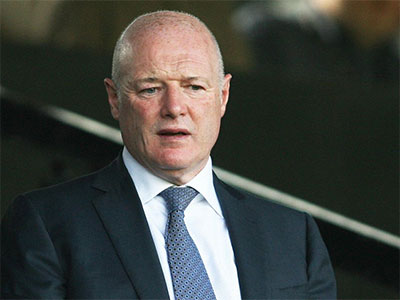 The consortium led by Peter Kenyon is prepared to back their bid to buy Everton to the tune of £1bn according to the latest claims made in The Telegraph.
The former CEO of Manchester United and Chelsea was revealed earlier this month to be heading up a group of US-based investors to buy out Farhad Moshiri but question marks surrounded the Iranian-born billionaire's valuation of the club and the extra funds it would take to cover debt and the cost of construction of the new stadium at Bramley-Moore Dock.
The latest suggestion from Matt Law in The Telegraph, who has been the lead reporter on the speculation surrounding the proposed takeover, is that Kenyon's group has committed to completing the £500m stadium and to providing "significant" transfer funds to improve the team.
While any change in ownership and investment wouldn't alter the club's standing vis-a-vis the Premier League's profitability and sustainability regulations and, in the short term, Everton would still need to raise cash either through player sales or a sizeable uplift in commercial income, this later report at least indicates that the Kenyon consortium is serious about making the club a success on the pitch.
Article continues below video content
Kenyon is the lead figure in a consortium that reportedly includes Polish-born real estate magnate Maciek Kaminski and hugely influential finance and mining businessman John Thornton.
The Telegraph continue to maintain that while there are other interested parties who have registered informal interest in buying the Blues — there have been rumours of enquiries from the Middle East and China — the Kenyon group are in a period of exclusivity and that heads of terms have been signed on a proposed deal.
"An auction would obviously be to Everton's advantage, but Kenyon's consortium got exclusivity and it is still theirs to lose," a source told the newspaper. "The feeling is they are much further down the line than any other group at this stage."
It is not clear whether Kenyon, who has been more of a facilitator of takeover deals in recent years having been involved in the recent changing of hands of Newcastle United and a bid to buy Chelsea, would take a position as chief executive or whether Kaminski or Thornton would take seats on the Board of Directors.
---
---
Reader Comments (77)
Note: the following content is not moderated or vetted by the site owners at the time of submission. Comments are the responsibility of the poster. Disclaimer
Paul Hewitt
1
Posted 24/06/2022 at 15:33:27
We do need new ownership. But the yanks don't have the best track record.
Joe McMahon
2
Posted 24/06/2022 at 15:37:52
This seems an awful lot of money for a team with no Champions League history. Yes, I know Man City didn't either, but they had the stadium given to them (and yes, like West Ham).
Brian Williams
3
Posted 24/06/2022 at 15:42:09
I wonder "how" the club would be able to spend the "significant" transfer funds without putting us into more trouble with regard to FFP.
I don't think we would be able to, would we?
Dave Lynch
4
Posted 24/06/2022 at 16:01:24
Jesus... Chinese interest.
The record they have with human rights would put me right off.
Plus red is a lucky colour in China.
Brian Murray
5
Posted 24/06/2022 at 16:16:32
Dave lynch. My human rights have been violated the last 27 years.
Mike Gaynes
6
Posted 24/06/2022 at 16:17:52
Dave, it's possible there's some Chinese connection even within the Kenyon group.
The primary money man in the group, John Thornton, lives part-time in China and is involved in US/China investment funds, and he is longtime friends with Chairman Xi and other top Party officials.
Andrew Ellams
7
Posted 24/06/2022 at 16:18:33
Dave @ 4.
Checkout Thornton and Kaminski's links to human rights issues in Tanzania.
John Chambers
8
Posted 24/06/2022 at 16:42:09
Brian,
I agree it is difficult to see how, at least in the short term, we can spend significantly on transfers given our position re FFP. Indeed, I seem to recall that was one of the points made about Newcastle and their takeover that they would still have to meet FFP regulations – although, given their financial performance over previous years, they have a lot more scope than us!
I believe all we can expect of any new owners is the commitment to develop the club infrastructure (ie, the new stadium at Bramley-Moore Dock), expand our income sources (eg, Anfield has just hosted Rolling Stones, Elton John and Eagles concerts), and generally run the club in a much more business-like manner that will, over time, significantly improve our finances and allow us to compete at the top again.
In my view, this has to be the approach we look for as increasing the club's financial capability is required both under the current Premier League regulations and potential new UEFA regulations where player wages and the amortisation of transfer fees can only be up to 70% of revenue.
James Flynn
9
Posted 24/06/2022 at 16:47:16
Heads of terms are used in a variety of loan finance and other transactions, including public mergers and acquisitions, joint ventures, project financing and private equity investments.
They are used for a number of purposes:
As written confirmation of the main terms agreed in principle.
To outline the timetable and obligations of the parties during the negotiations.
As a framework for certain preliminary legally binding clauses such as an exclusivity agreement, where such an agreement is permitted.
Heads of terms are commonly entered into at the beginning of a transaction, once preliminary terms have been agreed and before commencement of detailed due diligence and the drafting of definitive agreements (which is where the parties will begin to incur significant costs). The parties may enter into a series of heads of terms throughout the negotiations, particularly when negotiations are prolonged.

Tony Abrahams
10
Posted 24/06/2022 at 16:47:39
Hopefully an auction will be beneficial to Moshiri and he just wants rid of Everton Football Club now. Otherwise, it's just going to be investment, and my guess is that this will entail the person who has leaked all this to the media will get to stay involved, yet again?

Stu Darlington
11
Posted 24/06/2022 at 16:49:00
This crew just scream "chancers, opportunists, manipulators" to me, and any other dodgy adjectives you care to use to describe them.
Their business dealings are, to say the least, questionable. I don't believe their ownership of Everton would be in the best interests of the club in the long run.
Just what does "due diligence" mean if it doesn't look at and judge the past business dealings of prospective buyers?
Tony Abrahams
12
Posted 24/06/2022 at 16:55:50
I hope I'm wrong, Stu, but when have things had to be in Everton Football Club's best interests, when a certain person is involved?
Dave Lynch
13
Posted 24/06/2022 at 16:59:30
Oh God!!!
Being a mere nurse, I have no idea about consortiums, leveraged buyouts, and overseas dodgy chancers.
My spider sense is tingling already with regards to this ending up as another shit show.
Dale Self
14
Posted 24/06/2022 at 17:07:29
Now that numbers have been attached, other prospective bidders will know to come in with Kenyon's offer + epsilon down the line.
It needs to be communicated to Moshiri that the club is best served by not necessarily taking the best offer from the worst crowd.
Brian Murray
15
Posted 24/06/2022 at 17:08:55
Tony @12.
I've just seen a bit of light of a new beginning and you just reminded us he won't walk away easily. In fact, he will fight tooth and nail to cling on to HMS Good Times.
Kieran Kinsella
16
Posted 24/06/2022 at 17:14:11
Lyndon, Brian & John,
Like you, I assume FFP would constrain us regardless of owners. But I keep reading articles indicating that somehow or other a takeover would remove the spending constraints. Is there a definitive source on this matter?
Tony Abrahams
17
Posted 24/06/2022 at 17:14:25
This is what David Moores did when he sold Liverpool "for a few dollars more", Dale, so I'm not sure how a total outsider like Moshiri might be different?
Oh yes, I forgot, he's got his mate to advise him. But hopefully now Farhad has stopped being the man who just kept giving, although something doesn't feel right about this just now.
Stu Darlington
18
Posted 24/06/2022 at 17:24:26
No, you're not wrong, Tony. That certain person's record speaks for itself.
Maybe I'm being a bit naïve thinking any consortium with enough money to buy a football club will have an unblemished business background but I have to live in hope, or try to remember where I put that bottle of Mount Gay XO!
Ron Marr
19
Posted 24/06/2022 at 17:29:25
I read that the new owners are expecting to attract more sponsorships that will increase the club income, allowing the club to spend more on transfers while keeping within FFP.
We shall see on that one. I'd like to hear The Esk's view on that.
Tony Everan
20
Posted 24/06/2022 at 17:43:44
Can they please send the Esk a copy of the takeover terms?
We need to know where the money is coming from.
Is the new stadium to be mortgaged for 50 years so we can service the debt that this consortium is taking on?
How will that affect the club long-term?
How much of their own wealth are these people investing?
I am hoping Paul can shed some light on the risks and benefits involved with this particular group.
Mike, the Chinese connection is intriguing and how that could develop.
Peter Mills
22
Posted 24/06/2022 at 18:18:23
As an aside, but pertinent to a discussion about the business of football, Everton yesterday announced a partnership with Christopher Ward watches.
The CEO and co-founder of the company, Mike France, is a big Blue. I went to the match at White Hart Lane with him (safe-standing, not prawn sandwich); he stuck the game out with me. He was very complimentary about the Everton commercial team he dealt with, describing them as extremely professional, and he is also genuinely interested in the work of EitC.
Danny O'Neill
23
Posted 24/06/2022 at 18:22:28
I thought that too, Kieran. What does it matter how much money they make if we are constrained?
But then it depends where that money comes from. Say perhaps from sponsorship.
Didn't Man City do something like that?
I don't confess to be an expert on these matters but I seem to remember them securing a particularly eyebrow-raising and dodgy sponsorship dealing that must have been bordering on breaking the rules?
Hugh Jenkins
24
Posted 24/06/2022 at 18:33:32
I don't think it is FFP so much as the Premier League's Profit and Sustainability" rules that we are in jeopardy of breaching.
I might be wrong and it could be both – but I do believe there is a distinction between the two and our biggest problem in the transfer market is with the Premier League version.
Hugh Jenkins
25
Posted 24/06/2022 at 18:39:11
Danny (23),
What Man City did was "land" a bumper sponsorship deal with Etihad Airways – which happened to be owned by Sheikh Mansour – just as Man City was. In other words, one of his companies was sponsoring another of his companies and, of course, its value was way above what might have been reasonably expected in an "arms-length" sponsorship deal. However, their lawyers defended it – and won.
Andy Meighan
26
Posted 24/06/2022 at 18:40:50
Brian @ 5. Nice one.
Hugh Jenkins
28
Posted 24/06/2022 at 18:51:06
Whilst I can understand the moral handwringing that is taken place on this forum over issue like "human rights" and "worker exploitation", I have seen enough summers to know that no amount of personal flagellation is going to alter the outcome of this type of scenario by one "tittle or jot".
I believe that it is impossible to amass a fortune, in any walk of life, and do so without exploiting your fellow man in some way, shape or form. Consequently, anyone rich enough to be sitting at the table in a consortium of this nature, is never going to be "whiter than white" nor "holier than thou". Sadly, it is the way of the world.
Sacrificing our moral indignation is the price, we, as supporters, must pay, in order to attract the level of investment and success at EFC that we want to see.
The alternative, in the modern day, is to return to supporting true grassroots football, where the players love to play and so much so that they pay a fee to hire the training ground twice a week and also chip in to get the kit washed.

Dale Self
29
Posted 24/06/2022 at 18:55:05
Wrong. We do not have to accept whatever is served up by those who've failed to lead the club forward.
Neil Thomas
30
Posted 24/06/2022 at 19:09:00
Will some of you make up your minds whether you want our owner out or not?!
Because one minute you're screaming he's clueless and should sell up, and now you're moaning about him being bought out.
Will Mabon
31
Posted 24/06/2022 at 19:11:37
True words, Hugh.
Perhaps in past times, a more favourable cast might have been, a tilted symbiosis. A "Deal" of sorts. It's all a matter of extent. Now, power just squeezes the absolute pips out as standard practice.
Anyone wanting to really express morality to the full would have an almost empty wardrobe and no electrical goods or tech at least (I don't claim to be that person, by the way).
Will Mabon
32
Posted 24/06/2022 at 19:13:31
Neil - gotta cover all bases :)
Alan McGuffog
33
Posted 24/06/2022 at 19:18:05
Dale... Happy with your sentiment but how, exactly?
Mal van Schaick
34
Posted 24/06/2022 at 19:36:16
Ironically, it may be the end of Corrie Bill, which would satisfy some pundits, but at what cost?
Do we know what we are getting? Are they in it for the love of the club? Are they hard nosed business people in it to make a fast buck?
If the consortium are serious and want to invest in the club, the fanbase, and a new stadium, then we will only find out if the takeover goes ahead. Let's hope due diligence serves its true purpose and we have the right owners in place, who care about the club and take us to the next level.
Will Mabon
35
Posted 24/06/2022 at 19:44:39
Mal, with luck we will one day see results on the pitch as fans, and just have to try to ring-fence it mentally.
Everything behind that – there'll be no comfort and warmth from there. Love of the club, highly unlikely to figure; bygone times.
Dale Self
36
Posted 24/06/2022 at 19:53:13
Fair enough, Alan, and I don't know what is appropriate here. I live in California and thus limited in what could be backed up with action.
As I alluded to on another thread, what we do to help reform the club could also take it into a bad place reputation-wise. I'm not sure this is where the locals who live Everton the most would want it to go at this point, so my talk is somewhat cheap.
On the other hand, I believe we can credibly infer that the Dyspeptic Duo do not like bad press and cannot stomach it for long. Should there be another taking of the pitch against the FA's ivory tower wishes to get a good black eye on those two for again joining forces and bank accounts with shitty people looking for an easy mark and payday, it should be a dandy media event.
Whether it would ultimately affect their choice is an open question but tactics like that would bring down the cushiness of the payoff.
Colin Glassar
37
Posted 24/06/2022 at 20:05:03
Remember when we used to say, the day we get a rich owner we will probably be hit by an asteroid – or something similar? Well we were hit with a double whammy with Moshiri and Kenwright at the helm.
I know things can be worse but to see the back of these two divs, in my view, will be well worth it.
Jerome Shields
38
Posted 24/06/2022 at 20:28:37
In this offer, it can be seen what Moshiri wants. An alternative source of finance for the stadium and transfers, whilst maintaining a shareholding. He just doesn't fancy going into another season and risking his investment avoiding relegation on his own.
Tim Locke
39
Posted 24/06/2022 at 20:37:54
Not sure why the cost of the stadium comes into it. The cost should be debt against future tickets sales, look at Tottenham's stadium – over the 25 years of the debt, it will make a profit.
The club needs good leadership and an owner who doesn't buy big-name players who don't fit in on huge wages. Everton have this one last opportunity to sort themselves out – poor decisions now won't just cost us derby losses, they will cost us Premier League status, and with it, many many years of heartache.
Jerome Shields
40
Posted 24/06/2022 at 20:39:55
Hugh #24
'The Premier League, Football League and UEFA each has its own regulations governing club finances. The most widely known FFP policies are probably UEFA's. These pertain to the licensing system for teams who wish to take part in European club competitions. '
So it is the Premier League Profit and Sustainability rules that Everton is dealing with, as you state.
One wonders if Ancelotti had have got Everton a European place, what would have materialised???
Derek Knox
41
Posted 24/06/2022 at 20:47:59
Colin, @ 37,
"Remember when we used to say, the day we get a rich owner, we will probably be hit by an asteroid"?
Was that a typo ?
We got hit with a haemorrhoid, a 30-year one !
Forgot to mention that the Astronomical Society even named the haemorrhoid, Kenwright Narcissist!
Mal van Schaick
42
Posted 24/06/2022 at 20:49:01
Will @35.
I think that in the past, people have come to our club, and once associated with it, they learn to love the club.
If the consortium feel the passion of the fans, it could be a good fit.
One thing is for sure, time is running out for some of our fans seeing the return of our glory days. Let's hope that at last we can bring them back, sooner rather than later.
Bill Gall
43
Posted 24/06/2022 at 20:55:27
I agree with Hugh @ 28.
Why are we going on about the negatives with this takeover, are there no positives. As he says, there are no such thing as Lilly white billionaires. I think that we all may have done something in our past that others may have found to be disrespectful or worse.
What we should be looking at is: Is this beneficial to the Club and most of all the supporters? Will we be able to bring in a better standard of player? Is the future of our showpiece new ground financially secure? And will this, or any other consortium, ensure that the club will be professionally run as a football club.
Obviously there is no guarantee – no matter who takes over – that they will tick all the boxes, but it should not be too difficult to improve on what we have.
There are some regimes that should be avoided but I think they have already been accepted by the FA.
Will Mabon
44
Posted 24/06/2022 at 20:56:20
Mal, maybe in the past. I think that kind of bond most likely grows amongst playing staff. All very hard-nosed out there today.
As you allude, our hopes are for success on the pitch.
Justin Doone
45
Posted 24/06/2022 at 21:15:36
I'm less concerned about who and where any new owners may come from as long as they are legitimate, passionate and are ready to lose another billion pounds within 4 years with little to no return.
But... I would feel so much more comfortable with any deal if the stadium was already built and was Everton's.
The fact that so little is known and yet so much concern and negativity surrounds this group is a worry. I agree with an earlier post, always trust your spider senses.
I think we all agree football has changed and not all for the better.
I sense the Russian invasion will be used to excuse any over spend from last season. I wonder what world event may happen next and how many more excuses Moshiri and Co can come up with. Apologies are of little comfort to me.

Tony Everan
46
Posted 24/06/2022 at 21:33:14
Derek, Colin, Comet the hour comet the man. We did have a rich owner in Usmanov, but the fireballs from the sky landed on Ukraine.
Len Hawkins
47
Posted 24/06/2022 at 21:50:58
Asteroids... Haemorrhoids... Perhaps Tiny Tears has a black hole too.
Gary Jones
48
Posted 24/06/2022 at 21:53:32
Just imagine how bad it all could have been with a Skint Moshiri in Championship!
We've already come out the shit smelling of roses. Let's hope the luck has turned.
Bill Gienapp
49
Posted 24/06/2022 at 22:40:07
I'm just sort of holding my breath while all this plays out. New ownership *could* be a godsend... but when people claim "It can't really get any worse!" — oh, it most certainly can.
Gavin Johnson
50
Posted 25/06/2022 at 01:37:07
I read John Thornton has a lot do with business in China. I think this group will come in and will bring in more lucrative sponsorships. They will know the situation with FFP so I'm sure they'll have a plan on how to relieve that, and that could be some sponsors waiting in the wings.
Hugh Jenkins
51
Posted 25/06/2022 at 09:06:51
The fear, in any potential takeover of this kind, is that the new owners will have no true love or feeling for the club, its history, nor its supporters, but be in it merely to strip any profit from it at every opportunity.
This is underlined by today's headline where the Man Utd fans are up in arms because the Glazer family have taken an £11 million "dividend" out of the club, this year, having saddled the cub with massive debt by using a leveraged buyout when they originally bought the club.
Martin Mason
52
Posted 25/06/2022 at 09:25:01
Hugh, that is possibly an advantage as they can be objective. Anything they do to make the club successful makes them successful too. I mean, it really worked having the greatest Evertonian in the world at the helm… :-)
Bob Parrington
53
Posted 25/06/2022 at 10:22:17
Hugh @51,
Yes. Do we sell our soul to the devil? I'll likely be savaged by some of the US-based guys but I've never known a US company with a heart and I've been dealing with many of them in my 54 years of business.
Difficult decision, this one. IMO, if it's just about money, £1 billion is not enough – that figure is "just about the money" no goodwill.
Anthony Murphy
54
Posted 25/06/2022 at 12:27:58
On the footballing side, the club is probably the worst run club in the Premier League – whether it's Kenyon and Co or another, I can't wait. We need wholesale changes to both governance and mentality.
We are approaching 30 years without silverware and in that time the gap between us and those we used to measure up against has widened massively. The sooner the better.
Colin Glassar
55
Posted 25/06/2022 at 12:45:46
For those saying Bill Kenwright will try and throw a spanner in the works to delay, or stop, his ousting from power, I say this;
1) Name him honorary Supreme Commander for all eternity
2) Let him keep his club tie and Dave Hickson memorabilia
3) Give him a 60% discount on his season tickets
4) Name him our roving international ambassador to increase our international profile. May I suggest he visits Afghanistan, the Donbas, Yemen and eastern Syria for starters?
5) Feed Bill's ego. It's the only way we will ever get rid of him.
Will Mabon
56
Posted 25/06/2022 at 12:53:33
Colin, you forgot the bronze statue atop the new stadium at Bramley-Moore Dock.
Brian Williams
57
Posted 25/06/2022 at 12:55:12
Anthony #54,
We're 9th in the "league table" of time passed since winning a trophy. I wonder where we can realistically hope to be in that?
I'm cynical in my viewpoint and often think "Just because we were successful in the mid-'80s doesn't mean we'll be successful again any time soon" – as much as I want and dream that it will happen.
It's like the financial warning usually used for shares or investments "past performance does not guarantee future results".
Anthony A Hughes
58
Posted 25/06/2022 at 13:01:25
Will this be another attempt to waken this sleeping giant?
Moshiri barely got a murmur out of it.
We're more comatose than sleeping with a Kenwright nightmare on repeat.
Tony Abrahams
59
Posted 25/06/2022 at 13:20:18
Tell him it's a gold statue Will, and how it's going to make everyone aware of how instrumental Sir William Kenwright was in making this ground possible.
How the child pauper who had holes in his shoes came to the resurrection of those fallen giants, Everton, out of nothing but love. How he begged, stole and borrowed, whilst never taking a penny for himself.
A remarkable achievement, which has taken him to the same revered heights as Dixie Dean and the Holy Trinity in the eyes of those fanatical Evertonians who continue to sing the Spirit of the Blues, because under the guidance of Bill Kenwright, Everton have never shone so brightly.
Dave Williams
60
Posted 25/06/2022 at 14:21:26
Kenyon knows better than most how football operates and how to run a club.
Americans are pretty shrewd and as someone else posted you don't amass millions or billions without ruffling a few feathers and having a ruthless streak.
A wind of change throughout the club will hopefully be just what is needed.

Paul Smith
61
Posted 25/06/2022 at 14:51:21
The two investors have never ran a sports club before, unlike FSG over there, so Kenyon can help out there.
Has he kept up to date with the changing face of football, analytics, incremental gains, agents and media, since he was at the top of his game in the late 1990s and early 2000s? Who knows... But we need someone who can run a modern business and understands football at the same time.
The next few years will be tough with no funds and loan deals, unless our best assets are sold and replaced – unlikely. Moshiri will likely make a loss if he sold now but, if he waits, it could get worse before it gets better.
Pete Clarke
62
Posted 25/06/2022 at 15:01:30
Bill has made enough money from Everton. He can buy Goodison Park, move his office from London and build his new office right where the Boys Pen used to be.
He can also freely walk up and down Goodison Road every day with a placard reading "We've Had Some Good Times".

Raymond Fox
65
Posted 25/06/2022 at 16:26:50
Whoever buys the club will view us as an investment opportunity, forget all this soppy stuff about loving the club.
They don't have to, they will obviously want for us to be successful because that increases the value of their investment. Over time they will likely warm to us, lets hope so.
They will face the same problems that Moshiri has faced, ie having to trust hired 'experts' to perform their tasks well.
Thats what has brought us to this, experts throwing Moshiri's money around on players that have proved not good enough.
Mark Ryan
66
Posted 25/06/2022 at 19:57:45
Bitterly disappointed that this is clearly going to mess up our potential incoming and general transfer business and I'm saddened that Moshiri won't get to build his legacy stadium himself but if 2 things happen I'll be happy.
Firstly, someone takes us over quickly and that secondly, Kenwright is put through the stage trap door and disappears from the club. Poisonous, greedy, selfish, idiot and they're his good points. I don't care who takes us over, it could be the owner of Johnny-Bag Condoms for all I care, so long as the crying clown gets his marching order and fucks off.
Billy Roberts
67
Posted 25/06/2022 at 20:35:28
Mark @66
That made me laugh out loud... superb.
Good point as well as being funny.
John Keating
68
Posted 25/06/2022 at 20:37:42
An established Premier League club sale doesn't happen every week and Moshiri should hold out to see who else comes to the table. He should hold out to get the best deal for both himself and the club.
Whoever finished up as owners should on the first hour of the first day bin every half-wit on the Board, which is everyone there.
A total clear out and professional experienced people brought in to run the club.
Will Mabon
69
Posted 25/06/2022 at 22:30:23
You know what, Tony (59),
It occurs to me that Bill may be the longest-serving board member in the history of the club. I don't know enough about the very early days to answer that, but certainly in more modern times.
He might actually get some sort of monumental acknowledgement at the new stadium... imagine that - Oo-er.
Tony Abrahams
70
Posted 25/06/2022 at 22:53:26
I thought he laid out his plans when he changed the Park End into the Sir Phillip Carter stand, Will, but I might be mistaken?
Will Mabon
71
Posted 25/06/2022 at 23:31:21
What plans, Tony? I might be misunderstanding.
Brian Wilkinson
77
Posted 26/06/2022 at 19:20:44
I swear to god Bill is the snake out of the jungle book and when anyone questions his judgement, he uses his eyes and suddenly the other person is hypnotised and swallows his bullshit.
Either that or the guy who spouts shite, then clicks his finger and thumb and says back in the room.
He has even done it to me, every man and his dog knows my feelings on the guy, yet I'm transfixed thinking season ticket holders have had affordable tickets and tickets priced to accommodate the younger fans, will these be priced out for any future owners, raising ticket prices.
Even now his dark forces are out, to get inside my head, sod it still want him gone.
Tony Abrahams
78
Posted 26/06/2022 at 20:02:44
Look at the players who have played for Everton, but it's Sir Phillip Carter who got a stand named after him, is what I was meaning Will. This is something I never really understood. A marker for the new stadium at Bramley-Moore Dock, maybe?
Brian Murray
79
Posted 27/06/2022 at 08:06:19
Will post 71, Well there is a water treatment site close by. That's as nice or as near to our new gods little acre he should be. Fill in the blanks on that'.
Allen Rodgers
80
Posted 27/06/2022 at 15:57:14
No idea if Football Insider is a reputable source but this popped up earlier today:-
"The Peter Kenyon-led group are now in advanced talks to buy Everton, Football Insider has learned.
"The former Manchester United and Chelsea chief executive is fronting a group backed by American businessmen John Thornton and Maciek Kaminski, who is the chief executive of a real estate company.
"An Everton source has told Football Insider that discussions have moved on in recent days and have now reached an "advanced" stage."
Will Mabon
81
Posted 27/06/2022 at 22:02:38
Tony, thanks. I thought along that line but was thinking there maybe was more to it from the time, that I missed.
Brian, we all know it - there's a high chance that he will feature in some way...
Brian Murray
82
Posted 29/06/2022 at 12:24:22
Echo saying by the time we are Stateside then Kaminski and Co will have the club. Shame it wasn't a month or so earlier, they may have come up with proper sponsorship and we could have stopped all this turmoil selling our gems etc. I'm sure they would've found a way, being professional as they are.
Kevin Molloy
83
Posted 29/06/2022 at 13:02:48
If I had to come up with my worst-case scenario, it would be American 'investors' with no money of their own you can point to, and no background in sports. Which seemingly is what we're going to get. I am a little surprised that there is not more of an alarm amongst the fanbase about this prospect, but I suppose we are just at a point of exhaustion.
Well, there we are. You can just write what's going to happen from here. Moshiri will do a Rumpelstiltskin and never be heard from again. Our investors will in a few weeks leak that there are 'real concerns' with the state of Everton, and that a lot of the problems have only now come to light. The ground move will be put 'on hold' pending a review of viability.
It's clear now that the reason Farhad has been dragging his heels and didn't take the council up on the rock bottom loan was that he knew the figures didn't stack up, and he didn't want to be the one to tell the fanbase that it won't work.
Better to sell, and let the new guys downscale everything. Meanwhile, down on the Docks, Peel and all the other 'investors' are toasting the fact the Council got rid of the Unesco limitations, so everyone is free to build a load of shite along the riverside.
Brian Murray
84
Posted 29/06/2022 at 13:09:29
Kevin, I'm no expert on this but it's surely a two-way street as in it's very much in their interest to invest on the playing side. As you say, we have gone past the point of no return.
If these Yanks say "We have our own people," that's music to my ears. If it all goes Pete Tong, at least there will be only people the opening of the new stadium who deserve to be. You know the rest. That will do for me.
Sam Hoare
85
Posted 29/06/2022 at 13:53:12
Sounds like we will have new owners pretty soonish. Not sure how I feel about this. They have little history in sports that I can see and I don't remember Kenyon being held in especially high regard when he left Chelsea. Plus some dubious history for Thornton.
All-in-all, it doesn't sound like a dream come true!
But then the current lord hasn't exactly been a fairytale either! As Kevin above says, I think there is a general exhaustion within the fans and a certain unsurety at how these things will work out.
Moshiri's arrival was greeted with much fanfare only for us to spend a fortune going embarrassingly backwards. Hard to imagine this new lot could do a considerably worse job but never say never. Strange times.
Ray Smith
86
Posted 02/07/2022 at 00:44:00
Brian 77,
Until Kenwright goes, we are going nowhere.
He's the evil fly in the ointment, and can't wait for his next payoff, at our expense again!!!
---
Add Your Comments
In order to post a comment, you need to be logged in as a registered user of the site.
Or Sign up as a ToffeeWeb Member — it's free, takes just a few minutes and will allow you to post your comments on articles and Talking Points submissions across the site.