Report: Kaminski family aim to have buyout in place next month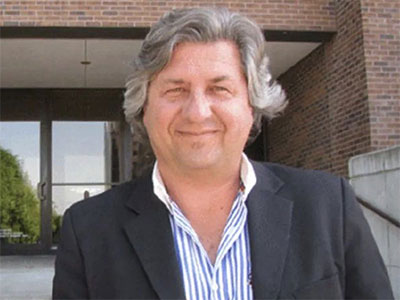 Maciek Kaminski, whose family are reported to be the primary financial player behind a proposed takeover of Everton FC
According to the Telegraph's latest reporting, Maciek Kaminski would like to have an agreement for the proposed buyout of Everton by the consortium headed up by Peter Kenyon in place by the time the Blues play Minnesota United next month.
In another claimed exclusive, Matt Law says that the Kaminski family, the main financial players bankrolling the takeover, are hoping to have everything in place so that Maciek can introduce himself as the prospective new owner — if not the confirmed owner should clearance come through from the Premier League in time — to Frank Lampard and his players when they are in Minneapolis, where Kaminski and his real estate firm Talon Real Estate and Kaminski Asset Management,Inc. are based.
Everton will play one of two friendlies in the United States this summer in Minnesota, a few days after they play Arsenal in Baltimore, the club's latest effort to build its following across the Pond.
Kenyon has reportedly been handling negotiations on behalf of the consortium that also includes gold mining baron John Thornton with a price in excess of £500m said to be under discussion, a total that would cover Everton's debts while the group are reported to have made commitments to fund the rest of the construction of the new stadium at Bramley-Moore Dock.
Article continues below video content
Law reports that Polish-American Kaminski has already travelled to the United Kingdom to hold face-to-face talks with current Blues owner, Farhad Moshiri, and has visited the dockside site where Everton's £500m new stadium is starting to take shape.
Born in Poland, Kaminski graduated with a Bachelor's degree in Biology and Physics from the University of Minnesota. He has an estimated personal wealth of around $1bn and according to Law's report, both Maciek and his son Mikhail would be registered directors of the club with Everton being the flagship holding of their new venture, Kam Sports, LLC.
A source is quoted as saying: "As a family, they are passionate sports fans and have watched the Premier League for a number of years. While new to football as prospective club owners, they understand and respect the emotional power of the game and Everton's values and history. They share with the club's supporters a deep-rooted passion for the future success of the club, both on and off the pitch, and want to be good custodians of 'the People's Club'."
Kenyon himself will also have a role at the club but there are no clear indications yet whether he would assume the position of Chief Executive in place of Denise Barrett-Baxendale who is said to be looking for alternative employment.
---
---
Reader Comments (107)
Note: the following content is not moderated or vetted by the site owners at the time of submission. Comments are the responsibility of the poster. Disclaimer
Soren Moyer
1
Posted 29/06/2022 at 14:37:59
Thanks Lyndon. Yes. It was on a few news outlets yesterday. Let's hope they get it done ASAP. We really need stability and, professionals in control of our great club.
Brent Stephens
2
Posted 29/06/2022 at 14:42:16
So in the next two weeks!
Brian Williams
3
Posted 29/06/2022 at 14:44:29
For fuck's sake, I can't believe I'm gonna get it in first!
Kenwright Out!
Paul Hewitt
4
Posted 29/06/2022 at 15:10:29
Not sure about this. He doesn't seem to have a great deal of money when it comes to buying a Premier League club.
Jerome Shields
5
Posted 29/06/2022 at 15:10:54
This seems to be a serious proposition. I doubt Kenwright will be out. He probably is the main contact at Everton for the Consortium.
Brian Murray
7
Posted 29/06/2022 at 15:15:48
Go 'ed, Kammy lad, we are at the point of no return. Do us proud or do us over – just get your own crew in and we take our chances. Get your CEO to cut the tape for the new stadium at Bramley-Moore Dock... woo hoo, the Blues are back.
Tony Abrahams
10
Posted 29/06/2022 at 15:35:02
You're looking good just like a snake in the grass, one of these days you're gonna "finally" break your glass. Don't bring me down, no, no, no, please don't bring us down - Mr WE HAVE CERTAINLY FOOTED THE "BILL", or should that say paid the price? No no no don't bring me down!
Just getting in the mood Brian, I've already got new shoes, just gonna need plenty of booze, Manny, no no no don't bring me down!
Mark Ryan
11
Posted 29/06/2022 at 15:42:41
Not Russian is he?
Stu Darlington
12
Posted 29/06/2022 at 15:47:02
Is that Kaminski family in that they made us an offer we couldn't refuse??
Danny O'Neill
13
Posted 29/06/2022 at 15:47:31
The time is coming.
Whatever happens here, bring in the change needed to maximise the opportunity we have ahead of us.
With the size of this club. The new stadium and the existing fan base that simply cannot be rivalled. the management team looks fresh and promising.
The ingredients for success are in place. With the right owner and the right board.
Looking at flights to Chicago now.
Will Mabon
14
Posted 29/06/2022 at 15:48:18
Mark, I think he's being as quick as he can.
Don Alexander
15
Posted 29/06/2022 at 15:48:37
Mark, (#11) definitely mate, if he's en route to taking over within mere weeks.
I'll get me coat.
Andrew Clare
16
Posted 29/06/2022 at 15:50:54
It's about time Qatar owned an English football club. I know that they are football mad. So Everton would be the ideal acquisition because we are all football mad too.
Once Kenyon's mob have had their period of exclusivity, hopefully they (the Qataris) will step in. I hope they do as we have had a bloody awful time of late (30 years).
Mark Ryan
17
Posted 29/06/2022 at 15:53:23
Ha ha, nice one, Will!! So long as he gets shot of Kenwright, I'll he happy.
He can stay on in a pensioner ambassadorial non-paying way but I want Kenwright away from the sharp end, away from any business.
He's had his "good times" he said so himself, well fine, now it's time for the clown to hang up his red nose and put away his big flowery shoes and step aside.
Andy Meighan
18
Posted 29/06/2022 at 15:54:09
Tony 10. When it comes to Everton, I think of a different ELO song altogether. Confusion, just about sums our board up

Will Mabon
19
Posted 29/06/2022 at 16:03:46
Mark, to be honest I'm starting to get takeover fatigue. I don't know that delving more deeply into the details would either placate or inspire me, it's all just a nest of vipers anyway.
So I'm just gonna hope that whatever comes out of it is in the direction of benefit on the pitch, on the back of the team as it is, not being totally decimated before we start the new season.
Of course I'll change my mind later, will be back in a few hours with more...
Christy Ring
20
Posted 29/06/2022 at 16:10:42
I know new owners would be a breath of fresh air, but show me US owners who have spent big and are not in it for profit.
Danny O'Neill
21
Posted 29/06/2022 at 16:21:14
Will, last summer it was new Manager fatigue. This summer it's going to be ownership.
Then we've got transfers.
Strap in for the ride. It's going to be bumpy!
Cristy, I guess as we've learned, spending big doesn't often equate to success. Rarely in fact. Spending and investing wisely does.
There's a club not too far away that are testimony to that who have American owners.
Brian Murray
22
Posted 29/06/2022 at 16:21:49
Wonder if Betty still needs a hand preparing the hotpot in The Rovers. Her grandson may need a start.
Brian Murray
23
Posted 29/06/2022 at 16:25:40
Christy @20, please show me an owner that lets the custodians of a club blow half a billion while he sits on a yacht. Anything is an upgrade.
Tony Abrahams
24
Posted 29/06/2022 at 16:27:02
I heard Levy was helping him write out a new CV the other night, Brian, no no no, don't bring me down!
Paul Kossoff
25
Posted 29/06/2022 at 16:28:11
Maciek Kaminski's net worth could be upwards of $1 billion, Maciek along with a few other businessmen has formed a consortium to negotiate a deal to take over Everton FC.
Maciek Kaminski is the President and Founder of Kaminski Asset Management, Inc. He is also the Portfolio Manager for the Kaminski Poland Fund, where he provides investment advice through private account management in Central European markets.
Kaminski has worked in the worldwide investing industry for almost 15 years, previously with Paine Webber and Piper Jaffray. He is now in a consortium to negotiate a takeover deal with the Premier League Club Everton FC.
According to this report, he'll be skint by the time he's bought Everton and paid all the debts and the stadium costs. Nothing changed then, maybe he'll do us the biggest favour and get rid of Bill.
Clive Rogers
26
Posted 29/06/2022 at 16:33:36
Don't trust this guy, his eyes are too close together.
Brian Murray
27
Posted 29/06/2022 at 16:38:23
Paul. Your last comment will do for now.
Raymond Fox
28
Posted 29/06/2022 at 16:39:03
That made me laugh Clive- now you mention it!
John Chambers
29
Posted 29/06/2022 at 16:40:46
Andrew #16, I'm with you.
I've said elsewhere I'm surprised with Cahill's connection at the club and his involvement with Qatar they haven't been mentioned.

Nick White
30
Posted 29/06/2022 at 16:40:48
Let's hope this is positive and those who are causalities of the takeover are on the last train to London.
Jonathan Oppenheimer
32
Posted 29/06/2022 at 16:51:16
What's scary to me about this proposed takeover is how little we know about Kaminksi. Even here in Minnesota, no-one has heard of him.
We have no real idea how much he's worth, he clearly has no experience owning a sports club of any size, and we don't know the first thing about his motives or how involved he'll be in the day-to-day. <:>I get that most people are happy to see the back side of Moshiri and Kenwright, but I sure hope we're not regretting this decision in a year or two.
And all of that says nothing about John Thornton, with what appear to be pretty questionable ties to China, Steve Bannon, and human rights issues through his mining operations. We should be careful what we wish for.
Darryl Ritchie
33
Posted 29/06/2022 at 16:56:11
What is the total net worth of everyone involved in the purchase?
Not just Kaminski; all the players.
Mike Gaynes
34
Posted 29/06/2022 at 16:58:56
Will #14, good 'un.
Christy #20, you mean besides Henry, Werner, Edens and Boehly?
And Leeds got back into the Preier Leaguem on a big injection of American money from the 49ers.
Not all Yanks are Gillette/Hicks and the fucking Glazers (who I am happy to see wreck Man Utd).
Darryl #33, there are no published estimates on any of these guys.
Mike Gaynes
35
Posted 29/06/2022 at 17:03:09
Jonathan #32, as you know from my previous posts, I couldn't agree more. Especially about Thornton.
I asked my friend, a Minneapolis business executive, about Kaminski, and he knew nothing either. This guy's profile is so low he barely exists.
Jim Potter
36
Posted 29/06/2022 at 17:11:43
Given their lack of sporting background (and any mega bucks), I think I'd want other parties to bid. Nationality doesn't bother me as long as it's not dirty money. (Again)? But at this level, whose money is truly 'clean'?
Professionalism in running the club and a desire to see success, on and off pitch, is what we need.
An austere view on short-term yields; screwing up our squad and down-grading the new stadium build are my fears concerning all bidders.
Just because this bunch are in first doesn't mean exclusivity to a successful takeover.
Surely Moshiri wants the most he can get whilst also ensuring a good personal legacy? (Naive maybe).
The only part of their bid I think we definitely benefit from is Kenyon's know-how of running successful clubs. If he actually got a role come completion his experience could be beneficial.
Middle Eastern oil backers have been whispered about in certain quarters. Their deep pockets would be better than the tighter reigns of businessmen, but then we're back to questions of morality, human rights, etc,.
Whatever happens, it comes down to us hoping we end up with the right fit.
I want change, but not a change for the worse, just because it looks all shiny and new.
My fingers are firmly crossed, and that's all any of us can do.
Alan McGuffog
37
Posted 29/06/2022 at 17:13:48
Dodgy news this. 35 years of unparalleled mediocrity could go up the wall.
Billy Roberts
38
Posted 29/06/2022 at 17:20:41
Tony @24,
Superb, maybe he was applying for a job running the micro-brewery at the Tottenham Hotspur stadium?
Ye know... to prove to his detractors he could indeed organise the proverbial.
Jonathan Oppenheimer
39
Posted 29/06/2022 at 17:22:12
And I'd add that, similar to the Stake.com debate, I wish it wouldn't be such an either/or thing among supporters. It doesn't have to be that we either have shady ownership or Moshiri, either a gambling sponsor or we get relegated and break FFP. Or at least it shouldn't have to be that way, maybe it is.
Unfortunately these announcements (about sponsorship, ownwership) get sprung upon us after being hashed out behind closed doors, and there's little room for supporters to push back and be part of the dialogue. At this point, our only recourse is a petition that goes nowhere or graffiti on the walls at Goodison, which works only if there is enough anger and we have enough lead time to scare those in charge into thinking there might be real blowback.
With the ownership, by the time we realize we're in deep shit, it will be too late. And we don't even know what level of involvement each partner would have, so we don't know how upset to get, ie: if Thornton was going to own 60%, I'd probably be much more up in arms than if he owns 10%.
And of course for all we know Kaminski has ugly political ties, assuming anyone cares, but like Mike said, this guy is a complete mystery.
Gavin Johnson
41
Posted 29/06/2022 at 17:27:47
I've mixed feelings about this deal.
Like others have stated, I have concerns that, in Premier League terms, they don't seem to be very rich. Then again, it's a consortium so we don't know if there's other people's money behind it, like Thornton's China connections or the mining group he's president of.
You would think they have big financial backing to commit to £1 Billion, but are they going to do a Glazier-like deal and buy us with loans?
Money isn't everything as we've found with Moshiri. Someone who knows how to run a football club would be a great start. I still hope the Qatari's come in though. You then get lots of money and professionalism.
Joe McMahon
42
Posted 29/06/2022 at 17:30:42
I assume Kenwright will be Maitre d'. He can lavish the Kaminski family with Creme de Menthe and a Cadbury's Milk Tray whilst playing them VHS tapes of the '60s and '80s teams.
Danny O'Neill
43
Posted 29/06/2022 at 17:32:08
Is it August 6th yet? The dogs are fretting.
Jack Convery
44
Posted 29/06/2022 at 17:40:07
This lot sound definitely fishy to me. My gut is doing cartwheels and I trust my gut more than anything else.
Stay away from them, EFC! Something is very wrong with this lot. Just don't ask me why, as I have no idea. It just smells very, very off.
Brendan McLaughlin
45
Posted 29/06/2022 at 17:44:16
Alan #37
That's actually quite profound.
Tony Abrahams
46
Posted 29/06/2022 at 17:44:42
I've also got massive mixed-feelings because if there are other interested parties, then surely Moshiri should listen to them all?
It's possibly a game of bluff right now, but it reminds me of the time I went to Thailand to watch Everton, and one of my "desperate mates" who had never had it so good, didn't realize that he had a choice.
Desperate men do desperate things, and since his boss was struck by sanctions, I've had a feeling that Moshiri is very desperate, and even in his letter to Evertonians, he mentioned Ukraine quite a lot?
Ed Prytherch
47
Posted 29/06/2022 at 17:45:05
The personal wealth of Kaminsky is not that important. He has set up an investment company which will purchase shares from Moshiri.
The investment company has money from individuals or other companies who want to invest in sports teams. They have identified Everton as a team with potential for growth.
If they run the team successfully, then the value of their investments will increase which will be good for them and the club. I don't see much downside to this.
It might be different if we were a successful club and an owner was cashing out at a good time to an outfit that only needed to maintain the status quo, but that is clearly not the case with this proposed deal.
Mike Gaynes
48
Posted 29/06/2022 at 18:23:55
Ed #47,
Wow, how do you know that Kaminsky has set up an investment company that will buy the club?
And that other investor money besides his own will be involved?
That's huge news if true, but I've seen nothing about that anywhere.
Jim Potter
49
Posted 29/06/2022 at 18:28:29
Perhaps Mike, Ed's middle name is Prytherch, and his surname's Kaminsky?
Kim Vivian
50
Posted 29/06/2022 at 18:29:40
I think this Kaminsky fella and his cohorts need to enter the domain of T/web, look back a bit and be happy what they might be faced with. Find horses heads on here.
Colin Glassar
51
Posted 29/06/2022 at 18:29:45
Filthy rich or broke. Crooks or saints. Saviours or scavengers etc… I no longer care. As long as Moshiri and his puppet master are banished forever from Goodison, I will take what comes.
Kenwright Out!!! Moshiri Too!!!
Neil Copeland
52
Posted 29/06/2022 at 18:40:34
Jim #49, in that case then all I can say is "go 'Ed".

I'll get me coat…..
Gary Jones
53
Posted 29/06/2022 at 18:45:57
- Palace adding Doucoure.
- Brentford adding Lewis Potter
- Villa with several buys
- Southampton with a few high potential buys
- Leeds buying before the £100m
I guess we should be glad Forest, Wolves, Bournemouth, Fulham, etc not doing much yet.
Whatever happens, it needs to conclude quickly, and we need to strengthen before we get left behind.
Barry Rathbone
54
Posted 29/06/2022 at 18:53:06
Perhaps we don't know a lot about him because Kaminski could be a bastardised form of Kosminski to disguise family history.
Why so, matron?
Because Aaron Kosminski was Jack the Ripper according to experts.
A cutting edge at last?
Derek Taylor
55
Posted 29/06/2022 at 19:13:00
We read that Kenwright dined with Levy last evening – no doubt to negotiate the Richarlison deal. What price he is still around as football adviser to the new Yankee owners?
Ian Pilkington
56
Posted 29/06/2022 at 19:25:03
How long have we heard the words "careful what we wish for" from certain contributors?
I've been wishing for anyone but Kenwright since the Kings Dock fiasco. Moshiri's arrival appeared to signal the end of his disastrous regime but of course the charlatan was stupidly retained to damage our prospects for another 6 years.
Champagne now at the ready.
David Wight
57
Posted 29/06/2022 at 19:25:24
Tell you what, lads!!! It's been a while, I've been on ToffeeWeb a while, it's time to post!!
Be careful what we wish for!!! Look where the Iranian's billions have got us!! Fuck-all!!
I'm not Bill's biggest fan but when Moyes had him doing the right thing, building gradually, we were moving in the right direction. His time's now up, we need business leaders in the sports field to be on the Board. Forward-thinking, innovative, motivated people who are leaders in the field of sports management, and brand management.
Look at where the other lot were only a few years ago!! Now they're selling players past their best for more than they paid, having had the best years of their careers.
It only needs good planning. No knee-jerk reactions to minor bumps in the road. A single-minded attitude that the plan we have will work – or what's the point in planning in the first place???
I just don't want us to piss the Richarlison money on has-been journeymen looking for their last big contract. I'd rather fill the academy with potential and hopefully come good, eg, Gordon, Calvert-Lewin. Isn't that something worth watching and supporting rather than 11 players like Tosun or Delph or Walcott?
We want success now but success won't be bought in 2 windows. Hopefully Frank and Kev will have the vision, forward-thinking and then the nerve to so see it through... and we as blues will have the nerve to give them the time if we can see the fruits of their labour!!
[Future posts won't be so long.]

Marcus Reynolds
58
Posted 29/06/2022 at 19:57:35
Can someone tell me what is the total net worth of the consortium who's looking to buy Everton?
$1 billion is his personal net worth so how is he supposed to invest in the stadium and buy the rest of the shareholders out with that valuation?
Bobby Mallon
59
Posted 29/06/2022 at 20:00:08
Gavin Johnson @40. I wouldn't worry about how much debt they want to lumber us with we can only afford £200 a month. 😂😂😂
Bill Gall
60
Posted 29/06/2022 at 20:16:05
So what we read is that this gentleman's personal wealth is supposed to be 1Billion and the cost for the takeover is supposed to be 1Billion, so is this man to go broke or is he fronting for the real money people behind the consortium. From what I read about him he seems a private person, that is hard to find out his actual wealth.
As far as the Qatari,s go, don't you think if they were interested they would have made an approach to Everton before anyone else.
We don't know anything about consortium's when they first start negotiations, but I am sure Moshiri and his representatives will have done a full investigation of their financial backgrounds before any agreements are made.
I believe Moshiri has realized that owning a football club is not as easy as he may have thought, and has been let down in dealings by himself and others. I still think he is an honorable man and will try not to sell to people that are unable to run Everton F.C. financially sound, and ambitious, and realize the difficulties in running a premier league club that takes more than a couple of seasons to become successful.
It would be nice to know who the other people are interested, but would Moshiri not be aware of who they are and believe they may not be better than what is on the table, we may never be told.
Kevin Molloy
61
Posted 29/06/2022 at 20:16:39
Paul Joyce is running a story that kaminski's main company defaulted on its loans a couple of years ago, and that auditors raised doubts about its longterm viability.
We are back in the killing zone, barely a month after Palace. if this deal goes through, we could well be Burnley max. Problem is of course, Farhad will not give a flying one about anything but whether they come up with the Reddies to buy him out. Bill's true legacy.
Stu Darlington
62
Posted 29/06/2022 at 20:20:25
Jack @44
I'm with you on this.It doesn't feel right to me They don't appear to have the money to me and they may or may not have the backing of an investment company I don't know.
What worries me is that they leverage massive loans against the clubs assets and then saddle us with big debt and interest repayments a la Glazers at Man Utd.
They seem to have no knowledge of sports ownership which makes me think it's just another money making thread in their portfolio to me.
I hope I'm wrong and they genuinely see Everton as a sleeping giant who only need the right backing and ownership to succeed.
Time will tell.
George Freeman
64
Posted 29/06/2022 at 20:50:00
Jack@44 This was in today's Times
"The commercial property firm run by the American investor said to be bankrolling a proposed takeover of Everton defaulted on loans and auditors raised doubts about its future, the company's financial documents have revealed."
Stephen Williams
65
Posted 29/06/2022 at 20:52:23
I'm flabbergasted by the sheer naivety of those binary thinkers - Moshiri or anyone else. Does that mean that if 'anyone else' saddles the club with unsustainable and unserviceable debt that results in Administration, relegation and years in the wilderness, then that is preferable to someone who admits he has failed but at the same time has invested his own money and not created an Adminstration scenario? Complete buffoonery!
Whoever is our owner needs to have the wherewithal to fund the acquisition out of own funds and not via a leveraged buy-out. That is far more important than the 'name' of the owner.
People have to get their heads around that simple pre-requisite. (Shakes his head).
Paul Birmingham
66
Posted 29/06/2022 at 21:01:01
For me I'm not convinced by this sketch, as if true it looks like a legal minefield in terms of ownership outright, and liabilities etc.
But all matters in the fall from Grace and Decline of Everton have been going on for 50 years.
Are there more, and other interested parties in the wings?
Well I'd rather have a solid proven legal entity with some serious financial clout.
But no one knows what's going on, but my instinct regardless of benefits in terms of change of staff in the board room, tells me this is a take over for the sake of it, but is there actually a rational for this take over?
Not a clue as to the impact of the future of EFC, but this makes me think of a potential set up and immediate aftersale as soon as BMD is completed.
But, there's too many buts and what ifs...
Is this a partial take over or an out right take over, or a gradual take over?

For Everton to be stable and succeed on the Pitch, is it too much to ask for?
David Wight
67
Posted 29/06/2022 at 21:12:08
I've got feeling this is all about funding the new ground its 1bn min if including the stadium build.. this group don't seem to have much more than that as we have seen you don't get much for your money in football compared to other businesses.. so I think they are in to finance the stadium for a slice of equity in EFC They will relinquish their stake (no pun) when their investment makes a suitable profit ie Everton in bigger stadium bigger turnover etc
Ian Donnarumma
68
Posted 29/06/2022 at 21:18:34
Two words really:
Frying pan and fire.
Okay, that's actually four .
But you all get where I'm coming from.
Paul Hewitt
69
Posted 29/06/2022 at 21:30:35
This guy is a property developer, he's only interested in BMD and the surrounding area. The football club is just a distraction.
Bernie Quinn
70
Posted 29/06/2022 at 21:31:27
I'm saying sorry to the 'doubters' but I have the 'warm fuzzies' over this news. I just want the Club to have a change of ownership.

Gary Jones
71
Posted 29/06/2022 at 21:36:14
Yes Ian, your bitching we may be losing the owners that just nearly got us relegated and have since been trying to flog our talisman for half of Jack Graelish. Ffs.
Robert Tressell
72
Posted 29/06/2022 at 21:38:07
Paul @ 69, why else would anyone buy? Would you prefer another 5 years of Kenwright and Moshiri?
Gary Jones
73
Posted 29/06/2022 at 21:43:09
If Moshiri stays we WONT be finishing the stadium, and Pickford and Dom (and probably Gordon too) will be following Richie out the door. Ukraine changed everything.
Anyone who thinks it's the frying pan and not the fire is deluded. We are in dire straights. If it CAN get worse, the benefit is a quick death instead of the slow death we are currently suffering under the muppets running us now.
Brendan McLaughlin
74
Posted 29/06/2022 at 21:43:48
Bernie #70
Cos the last one went so well?
BTW
"warm fuzzies"...nudge, nudge, wink, wink,...I know thats an ingeniously hidden New Zealand weather reference to fool Michael K.
Jimmy Hogan
75
Posted 29/06/2022 at 21:44:39
Kenyan needs to be CEO. No more amateurs. As long as that's the case, I'm OK with Kenwright staying on with less responsibilities. DBB needs to be given her P45. Nice woman, but not a CEO of a Premier League football club.
Ed Prytherch
76
Posted 29/06/2022 at 22:02:51
Mike #48. It was on one of the British news sites. It gave the name of the investment company which would focus on sports teams and Everton would be the "flagship". You can believe it or not.
Bernie Quinn
77
Posted 29/06/2022 at 22:03:54
Brendon at 74 - Wrong Brendon - its actually an Ormskirk expression I used when Everton returned to the 1st Division back in 1954 - when Wally Fielding was playing. Sorry - I'm back in the ancient times!
Ed Prytherch
78
Posted 29/06/2022 at 22:07:04
I am from Ormskirk and I understand "warm fuzzies". I did not realize that it was a local expression.
Dale Self
79
Posted 29/06/2022 at 22:13:22
No man is an Isle of Wight David 57. Whether you know what you're talking about or not TW is fair game. Get in there! (ok, you did at 67 again, good move)
Ian Hollingworth
80
Posted 29/06/2022 at 22:15:00
Why don't we just do what all the other football clubs would do and ask what would Everton do?
Ed Prytherch
81
Posted 29/06/2022 at 22:19:57
Mike,
It is in the 5th paragraph of Lyndon's article that we are discussing
Born in Poland, Kaminski graduated with a Bachelor's degree in Biology and Physics from the University of Minnesota. He has an estimated personal wealth of around $1bn and according to Law's report, both Maciek and his son Mikhail would be registered directors of the club with Everton being the flagship holding of their new venture, Kam Sports, LLC.

Mike Gaynes
82
Posted 29/06/2022 at 22:22:45
Ed #76, just caught your reply, thank you. Law's article doesn't say if the Kam Sports venture will include other investors, but I'd sure like to know if it will.
Paul #69, no, he's not a developer, and I have no idea why you would say that. He's a real estate investor. His company is a commercial real estate investment trust or REIT. It buys and manages portfolios of office buildings. It does not build them.
From their website: "Talon seeks to acquire properties that meet our cash flow or total return objectives."
If anybody's interested, this is when Kaminski moved from running a US/Polish investment fund into real estate investing, 17 years ago:
https://www.bizjournals.com/twincities/stories/2005/01/03/story2.html

Maciek (M.G.) Kaminski is about to complete a journey from Polish immigrant to manager of a Polish mutual fund to Minnesota real estate mogul.

Real estate sources expect Kaminski to purchase a 1.5 million-square-foot package of office properties for $110 million to $115 million sometime in January. New York-based Colonnade Properties put the portfolio on the market this summer.

The portfolio comprises more than 24 buildings and includes the Pentagon Park office complex in Edina, The Parkdales office complex in St. Louis Park and 501 Marquette (formerly the Soo Line Building) in downtown Minneapolis.

Firms that now operate as Colonnade purchased the buildings in 1997 and 1998 for more than $125 million.

With the purchase, Kaminski, known mostly for managing Polish investment funds, will rank among the Twin Cities' top owners of office buildings.

The Minneapolis office of L.J. Melody & Co., a sister company of CB Richard Ellis, is expected to finance the purchase with Kaminski, who real estate sources say is putting about 10 percent of equity into the purchase and financing the rest. It is not clear whether Kaminski has partners in the deal.

Kaminski and L.J. Melody could not be reached for comment. Colonnade is using Rockwood Realty Associates, New York, to list the property. A Rockwood representative also could not be reached.

Kaminski's Minnesota roots

Kaminski gained prominence in investment circles in the late 1990s, when he started the Kaminski Poland Fund, which at the time was the sole Poland-only investment fund in the United States.

Kaminski's physician parents immigrated to Redwood Falls, Minn., in 1967 when he was 8 years old. He studied science at the University of Minnesota, but ended up in the investment business.

Kaminski worked as an investment adviser for Minneapolis-based Piper Jaffray Cos. before joining PaineWebber, now New York-based UBS Financial Services, as vice president in 1992. He founded Wayzata Capital Management Inc., where he is president and chief investment officer, in 1996.

Kaminski's first noteworthy real estate purchase was the Minnetonka Boat Works, an office building with a restaurant in Wayzata, which he bought from prominent entrepreneur and former technology executive Rick Born in 2001.
Gavin Johnson
83
Posted 29/06/2022 at 00:06:15
Contrary messages coming out this evening:
One saying one of his companies defaulted on a loan.
Other sources from within the group saying there is no leveraged buy-out and the £1 Billion take over won't touch the sides of the wealth behind the takeover.
Ed Prytherch
84
Posted 29/06/2022 at 00:18:03
Kam Sports LLC was registered in Nevada in February 2022.
Kaminski's business interests are not limited to real estate.
Mike Gaynes
85
Posted 30/06/2022 at 00:25:20
Yep, Ed, he also has an investment advisory/management firm, the above-mentioned Wayzata Capital Management.
Colin Glassar
86
Posted 30/06/2022 at 00:35:44
Gillette and Hicks or, Moshiri and Kenwright? Who's been the worst owners (on Merseyside) of all time?
Jim Potter
87
Posted 30/06/2022 at 00:36:12
Kamikaze Sports more like it.
They'll fit right in.
Mike Gaynes
88
Posted 30/06/2022 at 02:17:52
Colin #86, you've got to be kidding.
Gillette and Hicks lied about leveraging debt, backstabbed each other in the papers and almost put Liverpool into administration when they stiffed the bank. I remember the laughter here when Hicks went on Sky Sports live from Texas to fire Parry. Who wouldn't go.
Laurie Hartley
89
Posted 30/06/2022 at 04:50:24
The Minnesota friendly is scheduled for the 20 July – so three weeks by which time, according to the OP, this will be a done deal.
The sooner this is sorted out, the better as far as I am concerned – the last thing we need is our players (whoever they turn out to be) starting the season under a cloud of uncertainty.
If it does turn out to be this mob, I hope they have taken a long hard look at who was involved while Farhad Moshiri was getting his fingers burned.
Yes, our owner has made mistakes but my view is that the board should hang their heads in shame at the huge amount of money that has been squandered on their watch while the playing squad has deteriorated to probably the worst team we have had in 20 years.
I reckon I could pick a board from ToffeeWeb posters that would have done a far better job.
I am a one-eyed Evertonian with blue-tinted glasses but it finally dawned on me for the first time in 60 years, just before Brands went, that we are garbage.

Jerome Shields
90
Posted 30/06/2022 at 07:02:12
Looks like Kaminski Family are going to be hands-on with two on the Board. They have no sports experience, so Bill may stay as Chairman. Kenyon may take a role possibly as Chief Executive Officer.
People's Club… custodians… real fans… and Barret-Baxendale looking for alternative employment – We have heard it all before. The hand of the Everton PR department is on this one. They even got Minnesota in the mix.
Sam Hoare
91
Posted 30/06/2022 at 07:29:21
Interesting article in the Echo this morning claiming we could be the first in a multi-club portfolio for this group, like City Football Group. I'm not sure if there's any truth in this but I do find that model quite appealing when done well, like someone like Red Bull has managed.
To have strong affiliations with other leagues and clubs can be very beneficial (if done well) when it comes to player and manager recruitment and placing. All pie in the sky at the moment, I guess, but sounds like it could move quickly.
Here's the article:
Everton takeover latest as 'multi-club portfolio' plan emerges
Robert Tressell
92
Posted 30/06/2022 at 08:07:10
That's interesting, Sam.
Certainly an affiliate club in the States could be a good opportunity for us – brand, access to US talent and developmental loans for our players.
I'll be pleased to see some innovation and structure around recruitment and development. Clearly we cannot just go on indefinitely trying and failing to compete with now 7 clubs with much more money than us.
As I said on the other thread, the fact that Richarlison is going to Spurs and not Champions League royalty really says a lot.
Brian Murray
93
Posted 30/06/2022 at 08:35:22
Jerome @90.
Please enlighten me what sports experience we have on the board? They are a total abortion, whatever they touch – be it marketing sponsorship, choice of manager, negotiating transfers – you name it.
Ian Bennett
94
Posted 30/06/2022 at 08:55:16
Another article saying that they've defaulted on loans and auditors have concerns over the going concern of business interests.
Sound like a bunch of shite hawks.
Jerome Shields
95
Posted 30/06/2022 at 09:11:57
Brian #93,
They, the existing Everton Management, have been engaged in running a football club. This can be done well or badly. Though there is and was an absence of performance targets or accountability for results. Whether that changes on the takeover is a central question.
By the way, Brian, I agree with your opinion and there are figures provided by Paul the Esk to prove it.
I do find it strange that it is all being presented as a fait accompli, with no competitive bidders. Early on, exclusivity was granted.
Jerome Shields
96
Posted 30/06/2022 at 09:27:33
Bets are off that Bill will remain as Chairman, should the takeover go through.
Has the Premier League got any monitoring of approval role regarding the parties involved in a takeover?
Since Everton are working with the Premier League Profit and Sustainability Committee would they require information on suitability and finances, since a takeover would alter the situation on the agreement with Everton that was reached last year?
I know that regulation is always too late, but does anyone have information on what regulation that exists?
Jerome Shields
97
Posted 30/06/2022 at 11:59:19
'The Times reports-
'The most recent annual report for Kaminski's property company Talon Real Estate Holdings, in 2017, reveals it defaulted on several loans and that auditors raised "substantial doubt about its ability to continue as a going concern".
A spokesman for Kaminski declined to comment but a source close to the Kaminski family insisted that they have many different companies and investment vehicles they use to manage their money and assets, and that the financial commitment to Everton would not "touch the sides" of their wealth. The investment would be in the form of equity, not via loans, the source said.
The source said that the Kaminski family have deliberately remained private and there is limited publicly available information about their wealth. Yet some of the financial documents surrounding Kaminski's business activities which have been seen by The Times have raised concerns among Everton fans.
The independent audit of Talon Real Estate Holdings, contained in the company's 2017 annual report, states: "The company has suffered recurring losses from operations and has defaulted on the terms of certain of its secured and unsecured loan agreements. These factors raise substantial doubt about its ability to continue as a going concern. "
Talon itself states in that annual report that "we currently do not have available cash and cash flows from current operations to provide us with adequate liquidity for the foreseeable future. Our current liabilities exceed our unrestricted cash and we have very limited cash flow from current operations. "
In 2020, Kaminski and his wife, Brenda, were defendants in a lawsuit by a lending company called Gamma over a $51. 6 million (£42 million) loan. The source close to the Kaminskis said the couple were not being directly sued in that case, but had historically acted as guarantors to the assets being used to secure the loan, and that such legal actions are very common in the American real estate sector.
Other documents show that in April 2020 Kaminski and his wife each applied for and had approved 24-month loans of $20, 883 under the Paycheck Protection Programme brought in as a result of the Covid-19 pandemic. Brenda Kaminski also applied for, and had approved, a 60-month loan for $20, 883 in February 2021.
Asked if Kaminski has already provided proof of funds for the takeover, the source added that he was going through the process of seeking regulatory approval, having the investment signed off by financial institutions and going through the Premier League's owners' and directors' test. The source said "no red flags" had been raised. '( I suppose this answers my earlier queries)
Kaminski family seem to have to be giving a lot of qualified answers to auditor reports, IRS court proceeding and loan defaults regarding other businesses they are involved in according to the Times.
As always nothing relating to Everton is straight forward.
John Keating
98
Posted 30/06/2022 at 13:28:48
Hopefully this shower are going to be the catalyst for real investors to come out the woodwork.
We really need backers who not only have a shed full of money but the professionalism to use it to best effect, unlike our present incumbent.
Without serious personal wealth behind him, I can only see this guy doing a Kenwright and putting is in masses of loan debt and multi-lawnmower ownership
Brian Wilkinson
99
Posted 30/06/2022 at 16:47:38
Anyone else seen this today.
Everton's minority shareholders will not be forced into selling their stake in the club if Peter Kenyon's consortium buy the club. The consortium are in talks with Bill Kenwright about his shareholding moving forward. (Source: Liverpool Echo)
Hope it's fake news
Jerome Shields
100
Posted 30/06/2022 at 19:05:19
Brian #99
I don't think it is fake news. There is a lot of haste pushing this takeover forward, with a lot of pre-announcements. I expect with The Times reports and other such reports, even more urgent progress.
It really is unusual that there are no other bidders, even with exclusively. It seems that this Consortium was preferred by Club representatives early on.

Howard Don
101
Posted 30/06/2022 at 20:18:54
I'm obviously being very naive or missing something. If the guy is worth £1 billion, that just about buys him the club and builds the stadium, so there's just something about this deal that worries me. Kenyon has vast experience, we have to hope he knows what he's doing.
George Cumiskey
102
Posted 30/06/2022 at 22:38:54
There's a big rumour these people haven't got any real big money that they're the new Glaziers, and are big friends of Trump, I'd be very very wary of this lot !
Tony Everan
103
Posted 30/06/2022 at 22:55:32
Jerome 97; After reading that I'm seriously worried.
Taking it one step further what happens in the forthcoming recession with higher interest rates causing property devaluations. Are these people here for the good of Everton or do they see us as a way of raising long term loans to keep their other investments afloat?
Also, why do we seem fixated on this one consortium? Surely there must be more interested parties who would possibly be better for the club. As John @98 says is this a proxy for a serious investment? Chinese maybe? There's more questions than answers at the moment.
Paul Birmingham
104
Posted 30/06/2022 at 23:30:31
For me this is a bad sketch for Everton, i but only based on TW and the media.
There's a lack of structure and planning, and after all the last 30 odd years of poor business management of the club, and last seasons escape.
I hope this isn't going any where soon, as the consortium, seem to have no alignment and credibility.
Which company or stake holder will control Everton, and how would this impact Frank Lampard and the squad?
Preseason start season on Monday with this festering pile, as last season, the quest to replace Carlo was on.
Sadly it's become standard for EFC. In the EPL years, and beyond.
But hope eternal, for EFC.
Jim Lloyd
105
Posted 01/07/2022 at 00:38:30
Well, it looks like I'll be having a party! The Independent are posting that Kenyon will come in as Executive Chairman and, as far as I can see, that in over a quarter of a century, we will be free of Kenwright!
As if any of us can sit back and say, " I don't fancy this lot, or "they've got no real money" or theyre even supposed to be friends of Trump. There is bugger all we as supporters can do, other than carry on supporting our club, or not.
Moshiri has been castigated by a a number of fans on here. He certainly made mistakes, and in my view his biggest one was not shifting Kenwright from the Chair of the club. Probably his first mistake was listening to Kenwright in the first place. Then he made the big mistake on the football field by getting a world class footballer, but a lousy manager, in; who spent money like a spoilt kid at Christmas. I feel sorry for him, he's put £500 million into the club and began the dream that's now a reality of our stadium down by the docks. Sorry he's going but I don't blame him, for all the stick he's got, good luck to him. And I think one thing's for certain in an uncertain world. After Kenwright told the Sheik "not for sale, thank you" we would have gone down long ago.
I think the Yanks will be a lot more businesslike and it will be very interesting to see how much American interest there wil be in the naming rights or Bramley Moor. And seeing as The Peremier League is a massive seller in the states and going to get bigger, I think there'll be plenty of commercial interrest in our club.
Kenyon has been Chief Exec in 2 top clubs and I think our club will be run by businessmen. So the Board will have a number of proper businessmen running the club.
Some have posted that the "buyers" don't have much money of their own, well, as far as I've read in the reports, they will not be seeking any funds from elsewhere to buy the club.
So, it's a new future and one that might have uncertainty until we see what actions the new board take in the coming years. I don't usually drink; but I'll be having a bottle or two of Abbot Ale as soon as kenwright steps down from Chairman.


Alan McGuffog
106
Posted 01/07/2022 at 07:57:44
I cannot claim to understand the terminology of big business. Due diligence, leverage, loan defaults etc.
I only care about how the club is run and what happens on the pitch.
What I will say, though is that the next time Levy comes a- calling, wanting get Pickford or Gordon or DCL on the cheap the new owner tells him to get off his arse and travel to L4 to dine at the Goodison Supper Bar.
Failing that why not redesign the badge to show the Toffee Lady, skirts up and bent over a barrel.
Joe McMahon
107
Posted 01/07/2022 at 08:07:15
Alan, agree fully. Why is it every club seems to take the piss out of little old Everton. Can someone please inform the Everton (current board) that it is no longer 1962 and players don't have names such as Billy "the tickler" Bradshaw anymore. The game has moved on!
Jim Lloyd
108
Posted 01/07/2022 at 08:25:23
Well said Alan. What we've had to do many times, is sell at a position of weakness. added to that, there's another reason and that is our best players don't want to stay with an underperforming club. They want to play for teams that win trophies and also the club itself has had to sell to keep afloat.
Well these five years we have had money but not spent it wisely culminating with the situation of us having to sell Richie for at least two of those reasons.
To me, the Chairman of the company, plus the Chief executive, are responsible for all aspects of running the club. I've not or seen any comment or action from either of our two major posts that would stop us ending up where we are. No other major club in the Country would put up with such amateurish behaviour.
Roll on the takeover and like you say Joe, lets have a board that are professional and to stop Alan's fear of a redesigned badge!
Brian Williams
109
Posted 01/07/2022 at 08:39:27
The good news on the potential buyout is that it looks very likely that Kenyon would become the club chairman.
Jerome Shields
110
Posted 01/07/2022 at 09:19:50
Tony#103
The only thing is that there is no mention of Thornton and his input. A lot of real estate riets are partnerships. Kaminski family maybe only a front. It seems there is a lot of unlimited liability secret backing to theractivities, the actual limited companies being the investment vehicles and holding involved in the risk end of the investment. In America risk. And failure are thought of differently. The money that is being put into the company that is taking over Everton seems to be from unlimited sources, individual investors. So that business could have a different profile than other Kaminski companies. But there is a lack of transparency and competitive bidding. . . Everton appear to be very much facilitating this takeover from the start.
Brian#109
If Kenyon really becomes Executive Chairman it really does change and will change the Skill level of the Management team. . But I won't believe Kenwright is gone until he is gone. If it does happen Moshiri has just decided to cut and run as fast as he can leaving Kenwright with no room for manoeuvre. If so, Moshiri really is a well intentioned Accountant who dappled in business management. I have a Accountant like that who's advice I would never follow regarding running a business. Maybe at last Kenwright has decided to step down and become a Club ambassador to remind us of the ' good times'. I do think that Kenyon contact was Kenwright in the Club and on past form I am very suspicious of Kenwrights motives and still am.
Brian Williams
111
Posted 01/07/2022 at 10:44:27
Jerome. I'd rather Kenwright became the ambassador to Moldova!
Ray Smith
112
Posted 01/07/2022 at 14:32:05
Jerome 110
I would love to disagree with you, however, until Kenwright is actually gone and says so himself, he will be like a millstone hanging around our necks.
Kenwright is up to his old tricks: "Look at me negotiating the Richarlison transfer". Glory hunting, again!!!
When have/did you ever see Levy conducting business in public, having a meal in a London restaurant with Kenwright?
I'll be the first to say I was wrong, but we haven't seen the back of Kenwright yet. He will be tied in, in some capacity, if the takeover occurs!
Jerome Shields
113
Posted 01/07/2022 at 15:16:39
Ray #112
I would tend to agree with you.
---
Add Your Comments
In order to post a comment, you need to be logged in as a registered user of the site.
Or Sign up as a ToffeeWeb Member — it's free, takes just a few minutes and will allow you to post your comments on articles and Talking Points submissions across the site.