Phil Neville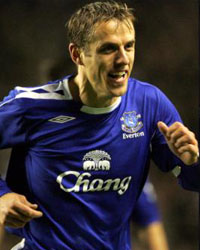 Squad number
18
Position
Centre Midfield/Full-back
Joined
4 August 2005
Joined from
Manchester United
Signed by
David Moyes
Transfer fee
£3.5M
Full debut
v Villarreal (H)
9 August 2005
Contract duration
5 + 4 years
Contract expired
June 2013
Finalé
v Wigan Athletic (H)
9 March 2013
Left Everton
30 June 2013
Destination
Man Utd (coach)
Transfer Fee
None [Released]
Born
Bury, Lancashire
Date of birth
21 January 1977
Height
5 ft 11in (1.80 m)
Nickname(s)
Not the ugly one
Honours
50 England Caps
Champions League winner;
6 Premiership titles
4 FA Cup Winners medals
STRENGTHS
Experienced
Composed
Calm and confident
WEAKNESSES
Picks up silly bookings
Mis-placed aggression
Poor distribution
Can go quiet in games
Website
Soccerbase Datafile

Opinions were highly polarized when David Moyes acquired Phil Neville from Manchester United — the odd one out in a long list of missed transfer targets that haunted Everton through the Summer of 2005 as player after player failed to complete a move to Everton when they had the chance. Though he boasted plenty of experience and a moderate price tag, he was hardly the exciting singing Evertonians had been hoping for as they prepared for their first crack at the Champions League.
What his acquisition for £3.5m did promise, however, was to re-establish strength and dominance in the central midfield position that had been weak since since the sale of Thomas Gravesen at the beginning of the year. Of course, he was not as dynamic going forward but his versatility, evolving leadership qualities and experience would eventually make Neville one of Moyes's most astute signings.
"It was a hard decision (to leave Manchester United)," the then 28 year-old said upon leaving his boyhood club, "but I looked at it from a football point of view and I needed to play regular football. Everton stood out more than anyone."
"I was desperate to join Everton; Everton were desperate to sign me. The contract [reportedly worth £28k per week] took five minutes to agree. There has never been any fuss with me, the most important thing is that I wanted to play for Everton and nothing was going to stand in my way".
Often regarded as on the periphery at Old Trafford despite over 300 starts in a success-laden decade for Manchester United, the younger Neville's move along the M62 certainly offered the chance to play regularly but he was unable to prevent the Blues' controversial exit from the Champions League qualifiers at the hands of Villarreal and Pierluigi Collina.
As the side reeled from the disappointment and their form dipped in the aftermath, Everton needed leadership and Neville was one of the better candidates to provide it, but just did not seem to be delivering.
As Everton recovered after a dreadful start to become the first team to take any points off Chelsea, Neville was forced to spend more and more time at left-back, where he did not overly impress. But the switch back to midfield came on his return to Old Trafford, where he put in a towering performance in the centre of the park. He made numerous interventions, breaking up United's play with sheer guts and willpower. He covered every blade of grass, and was quietly a huge influence on the rest of the team. His distribution was also good.
Yet while fans remained divided about Phil Neville, David Moyes clearly loved him, appointing him team captain after David Weir left the club, and was astounded when Sven Göran-Eriksson finally dropped him from the England squad.
As Moyes started adding more quality to his squad, it became clear that Neville's best position was at right back where he provided much of Tony Hibbert's defensive ability but offered far more in attack. This was exemplified in Everton's first win at White Hart Lane for two decades when he provided the ammunition for Andy Johnson to score one of two goals in an impressive victory by 10-man Everton.
Although he is not by any means an elegant footballer — his main strengths are harrying the opposition and rallying his teammates... and occasionally picking up silly yellow cards — Phil was devastated when he missed out on the World Cup for a third time in succession.
At Goodison, the transition of Neville to captain seemed to inject a greater steel and coherence into Everton in the 2006-07 season as they slowly crept back up the table and finished a very creditable 6th in the Premier League.
Expectations were raised for the following campaign but the failure by Moyes to inject either more flair or steel into central midfield — Manuel Fernandes's startling U-turn towards the end of the summer transfer window put paid to the former — and injury to the returning Thomas Gravesen meant that Neville was tasked with running central midfield, first alongside Lee Carsley and then Phil Jagielka. Both partnerships proved ill-advised as Moyes struggled to find his best XI in the autumn of 2007 and Neville again found his best form at right back.
Phil continued to grow into his adopted role as captain of Everton, and this renowned Manc did a lot to win over battle-hardened Evertonians with his undisputed commitment to his new club.
A 50-50 clash with Dickson Ehtuhu of Blackburn Rovers in September put paid to the Everton captain for a signioficant part of the 2009-10 season, ligaments in his knee requiring months to heal. But he returned to the bench early and without fanfare for the Boxing Day trip to Sunderland, and did his part as a second half sub in the Bank Holiday win over Burnley.
From that point onward, Everton's form in the second half of the season was very good, and it has to be down to getting the injured players — including the much-maligned Phil Neville — back in the side.
Neville was back in and playing very much the Captain's role again throughout 2010-11, despite the distinct under-performance that underlined a poor start to the seaon. And it was pretty much business as usual for the Everton captain the following season when he became more of a spokesman for the club while sitting out a handful more games on the bench, with talk of progressing into coaching...
But a fter playing a crucial but often overlooked role in the excellent start Everton made to the 2012-13 season, Neville was suddenly sidelined with knee surgery in November that was expected to keep him out of the team until the New Year, and tellingly, performaces started to suffer immediatley, from his first game out — an annoying loss at Reading. But Capn Pip returned earlier than expected to get Everton back on the winning track over Christmas.
However, it became increasinglky obvious that Nevillle — Moyes's trusted field commander — had outlived his usefullness, and should no longer be playing the game at this level. It took Mopyes longer than most to appreciate this, and ignominious final performance oim the dreadful capitualtion at home to Wigan in a crucial FA Cup Quarterfinal would finally drive the point home.
A bright future in coaching clearly lies ahead for the ex-Everton captain. Offered the Everton manager role by a distraut Bill Kenwright when the truth became known re Moyes's final bout of dithering over a contract he never had any intention of signing, Pip instead chose to follow his his manager back to Old Trafford as one of his new coaches.
By Michael Kenrick and Lyndon Lloyd
Last updated July 2013

Everton Career
Season
Squad
Number
League
Apps (sub)
League
Goals
Other
Apps (sub)
Other
Goals
Total
Apps (sub)
Total
Goals
2005-06

18

34 (0)

0

9 (0)

0

43 (0)

0

2006-07

18

35 (0)

1

3 (0)

0

38 (0)

1

2007-08

18

37 (0)

2

12 (1)

0

49 (1)

2

2008-09

18

36 (1)

0

10 (0)

0

46 (1)

0

2009-10

18

22 (1)

0

6 (0)

0

28 (1)

0

2010-11

18

31 (0)

1

4 (0)

0

35 (0)

1

2011-12

18

24 (3)

0

8 (1)

1

32 (4)

1

2012-13

18

18 (0)

0

6 (1)

0

32 (4)

0

Totals
237 (5)
4
58 (3)
1
295 (8)
5
Note: Everton Career Stats on ToffeeWeb are updated after every game.
Prior Club Record
Season
Team
Appearances (sub)
Goals
1987-2005
Manchester United
210 (53) & 94 (32)
5 & 3