Everton History
"We Were Surrounded By Wonderful People"
Real Footballers' Wives – Maureen Harvey
My parents were Irish but we were born and bred in Prestatyn, North Wales. Dad was very ill with tuberculosis when I was little and he couldn't work for three years but he made a full recovery and worked as a wages clerk and a bookkeeper until he retired at the grand old age of 79, but mum worked all the time. She'd trained as nurse at Walton hospital during the war and her claim to fame was that she'd met General de Gaulle who'd come over to visit the injured French troops. She would plan her shifts to fit in around us. I had a sister and two brothers and mum would take us to a little café in the morning and make sure we had our breakfast then go and get the bus to the hospital. We'd get the bus home after school and she'd be back about an hour later. She was very good like that and we had a lovely innocent childhood.
It was 1966, I was studying for my A levels but getting a bit disillusioned with it towards the end of the first year. Proper jobs were few and far between in a place like Prestatyn and my sister Kathy had gone up to Liverpool to train as a nurse at Walton hospital.
She'd moved out of the nurse's home and into a flat above a corner shop just off Rice Lane with a couple of other nurses. I went up to visit and they threw a party; it all seemed so grown up and exciting in the big city and I didn't want to go home. Kathy knew I was miserable at school and she said I could move in with them if mum and dad would allow me. I went home and asked them and they said if I could get work in Liverpool then I could go; I couldn't believe my luck.
I went back to Kathy's and looked through the Liverpool Echo for a job. A few people had told me good money could be made at Littlewoods Pools, so I went along for an interview. They were based in Walton Hall Avenue and I was such a small-town girl, I thought an avenue would be a little short tree-lined cul-de-sac, so I set off walking down to Queens Drive and turned left. I walked and walked and walked for about three miles, I couldn't believe how far it was and was starting to panic that I was completely lost, but I got there eventually.
They gave me a test and said they would take me on but thought I would be bored with the work and could do much better for myself. They suggested I keep an eye out for a job that would offer me a brighter future. Buoyed with confidence I found a civil service job and started work as a clerical assistant in the Department of Health but probably on less money than I would have been at Littlewoods.
World Cup fever had gripped the nation and I couldn't have arrived in Liverpool at a more exciting time. Brazil had played at Goodison Park and Everton had just signed Alan Ball. I remember the Brazil fans banging their drums and doing the samba down County Road.
We lived a 10-minute walk from Goodison and nearly everybody in the street was an Evertonian; they were such lovely people and they really looked after us. My sister went out with a lad from around the corner who was a rabid Blue – he used to sort out tickets for us although he would go in a different part of the ground. He said the Gwladys Street End wasn't suitable for girls because it was too rough but we'd walk down to the ground with him and then take our places in the Paddock – we still had to stand but I think it was a bit calmer.
You could have a great time in Liverpool but nowhere would beat Rhyl in the summertime because it was full of lads from the cities so I would go back home to see my mum and dad most weekends. I'd get on the train after I finished work on a Friday and come back on the Sunday evening ready to start the week again.
Rhyl was only three miles along the coast and that was where it was all happening. The trendiest place to go was a hotel on the promenade called The Palace; there was a downstairs cellar type club and in the summer it would be full with kids from Liverpool and Manchester on their holidays. It was just before people started going abroad for their holidays and it was rife for holiday romances.
I was out with my dad and my brother Terence one Sunday lunchtime and they'd gone on ahead of me. A few lads from Liverpool were sitting around and they called me over and we started chatting. One of them walked me home and I met him for a coffee later that day. He told me there was a crowd of them staying in a friend's caravan in Talacre and they were down for a week or two
He offered to give me a lift down the following weekend, met me from work and dropped me at my mum and dads. The next night I was with my friends in The Palace and that same gang of lads were all in there again – this time Colin was with them. It was June 1967; three weeks after my 18th birthday, Colin would have been just short of 23 and already an established footballer. It was his Grandma's caravan they were staying in.
We were all introduced to each other and stayed together for the evening as a crowd. Those lads were really funny and boisterous and great company, but what struck me about Colin was that he was just so normal and unassuming.
We didn't make another date or anything, we just went our separate ways, but I saw him from time to time through the summer. Rhyl was his retreat and he made good use of his Gran's caravan - it was part of his routine really, especially during the close season. I thought he was absolutely lovely and so handsome.
Like any girl with a crush, I knew Colin's car by sight, it was a silver-grey Jaguar and the registration number CBN 220B was etched into my mind. I fancied him like mad but never thought I'd have a chance of going out with him in a million years, but every time I saw a car that looked like his I would do a double take, just in case. This one day, I was standing at the bus stop outside Walton church. I was on my way to meet my friend to go to the cinema and sure enough, this time it was him. He looked over to the bus stop and waved then he stopped to give me a lift into town. I found out later that he was only going as far as Goodison Park but he didn't let on. When I got to know him better I used to kid him on about that Jag; he was such a quiet and modest sort of fella and yet he had such a flash car.
Colin and Tommy Wright were best mates; they were both local lads and always used to room together. Colin had been Tommy's best man and they're still friends to this day. On our very first date we went out with Tommy and his wife, Gwen, and Andy Rankin and his wife. It was a six-some and we met at a hotel in Liverpool then went on to a nightclub called The Beachcomber, in Duke Street. It was the most popular club in town and they used to say you needed a letter from God to get in there – or to be an Everton player.
I started going out with Colin regularly from the November of 1967 and Saturday night was the absolute highlight of the week. Sometimes we would meet in a lovely little hotel called The Shaftsbury at the bottom of Mount Pleasant. It's not there anymore but it was quite an elegant hotel in those days and we would go into the lounge bar until about 10 O'clock with whoever happened to come along. There might be four or five football couples there some nights. Other times we'd go to a lovely cocktail bar just up behind the Empire. In places like that you didn't get bothered at all, and I'm sure that's why they went because there was nobody wanting to come up and discuss the match or anything. It was different if they were all out with the lads, but if it was with wives or girlfriends they were nice places to go to and from there we'd move on to The Beachcomber.
The Beachcomber was a nightclub on two levels, and the third floor was a really nice little Chinese restaurant. I think they sometimes had live music but they mostly played Tamla Motown. It was owned by a lovely man called Jim Ireland, who was a big Evertonian and a great fella, and the chap who managed it was Len McMillan - he's still very well known today. Jim was a lovely man and a real gentleman - they called him Gentleman Jim.
We met during The Beatles' and the Beach Boys' era but it was Motown sound that we loved the most. Colin would never dance, in fact, you wouldn't get him up to dance if his life depended on it because people would look at him and he's so shy. It always used to amaze me that they could run out onto a pitch in front of 60 000 people and play football where they scrutinise your very last move and yet I never met a footballer who would get up and dance. Colin said the size of the crowd at a game was irrelevant and it wouldn't have made any difference if there were a million people or none at all because his mind was so focussed on the game.
I went to Wembley to watch the 1968 Cup final against West Brom but we weren't married then and so I had to make my own way. A neighbour took me, my mum and dad and Kathy in his car. Jeff Astle ruined that day for us all, God rest his soul. When we won the League in 1969/70 there was a big dinner at the Prince of Wales in Southport. I have some great photos from that night. I don't know where I got them from but they're lovely.
Colin wasn't very superstitious but he always had a small glass of Harvey's Bristol Cream and a sandwich before he left for the game. It would just be the smallest liquor glass and it was the only time he would ever drink sherry. I think his mum used to roast the Sunday joint on the Saturday and cut off a couple of the slices and make him a hot sandwich at about 12 O'clock. They didn't have much knowledge about diet and nutrition back then, but it seemed to do the trick.
I was so tense and nervous at those games. I'm hopeless on football and I couldn't understand why because I've been to so many games, then it dawned on me that I was only watching Colin and not taking in the whole spectacle. Even if he wasn't on the ball I was watching him and praying that he didn't get injured.
In the close season of 1968 we had a touring holiday in southern Ireland. It was my 19th birthday and we had a lovely time exploring and looking around then in the August I was diagnosed with tuberculosis of the right lung. My whole world fell in around me.
I was in Fazakerley hospital for three months but I was more worried about losing my boyfriend than losing my lung. I was in partial isolation and I had what they called an 'antibiotic umbrella' so once you were on all the right drugs they would allow visitors.
He didn't let me down; he was there every single day except when he was away with the team. Eventually, they let me go home but only if I promised to go and stay with my Mum in Wales, where I could get the sea air and recuperate. I was there for another 3 months so I was off work 6 months in all. Colin would come down and see me when he could and if I was feeling well I would sneak the odd weekend up in Liverpool with him.
My hen-night was in Liverpool about a week before my wedding and a big gang of us landed on the doorstep of The Beachcomber. Everybody had to queue to get in there, even the members because it was so popular, but Len Mc Millan gave us special treatment that night and we were straight in the door. I remember him saying "Maureen Murray and all her guests are in courtesy of Mr Ireland tonight". I still bump into Len occasionally and it's always good to see him, he's a fabulous man too. They were really good to us.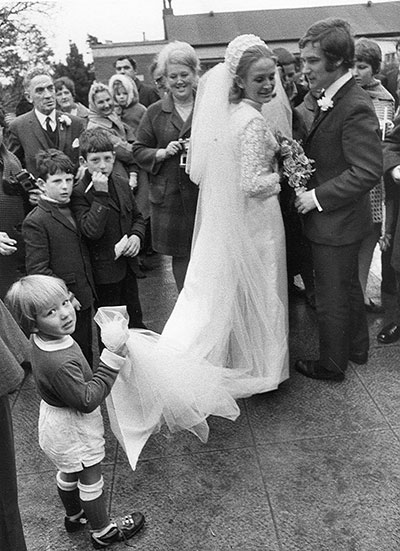 Our wedding day was a bit hectic. We'd arranged a white wedding in Prestatyn and had tried our best to keep it quiet but coming from a small town it was impossible. We married on a Wednesday in January 1970 and Harry Catterick gave Colin a couple of days off work.
Prestatyn is on a bit of a hill and we lived at the seaside end. The church was inland, so the drive there was right through the town and all the people had come out of their shops to wave to us and wish us well. It was only a small church and it took mostly our families to fill it but there were absolutely loads of people outside - mainly Evertonians who'd come to see Colin and to wish us luck. It was nerve wracking for me because I wasn't used to any attention but it all went fine and we had a great day.
We didn't go on honeymoon because it was the football season but we stayed in Rhyl for a week in our friend's holiday bungalow and Colin commuted to Liverpool for training; they only trained in the morning so he could drive back again in the afternoon.
He'd already been away with the England squad and was hoping to get selected for the 1970 World Cup squad but had developed a problem with his eye. It wasn't as serious as the papers made it out but it was inflammation of the optic nerve and he had blurred vision. He didn't have an operation but he went into St Paul's eye hospital for treatment and it healed itself in the end. It was an ongoing thing though and lasted for a few months; I think that dashed his chances of getting a call-up.
I had to learn to cook a Sunday roast, it was his favourite meal and he was used to having one every week. I hadn't the vaguest idea where to begin and I remember phoning his mum to ask how to cook mushy peas because I'd never cooked them before in my life. They were in a box and you had to soak them overnight in a net bag.
House-hunting took up a lot of our spare time and while we were looking we'd rented a flat in Aigburth Park. One day we were coming back from visiting Colin's family in Cheshire so we drove over the Runcorn Bridge and into Liverpool through Gateacre. We happened to see a little close with new houses being built so we went and had a look. They were half-finished and it was a nice peaceful little road so we ended up putting a deposit down and that was our first home.
There wasn't a lot of spare money around and when we first got married I didn't even have a washing machine. The highest wage back then was £100 a week but workers at Fords would earn about £50 or £60 a week, so although it was a bit more it wasn't massive amounts. Now you move into the house and it's decorated from top to bottom and has all the mod cons, but then you built it up.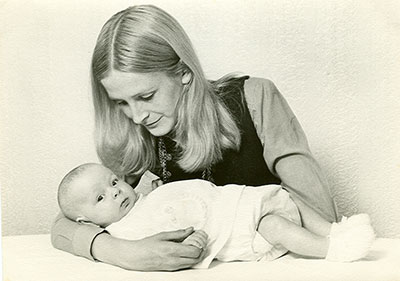 Maureen and baby Joanna Harvey, 1970
My friends were Val Husband and Janet Royle. We all got married in the same year: Janet and Joe in the June and Val and Jimmy in the September. Most of the players in those days used to live in Maghull, Lydiate and Aughton, but hardly any lived in south Liverpool. Jan and Joe moved straight out to Ormskirk but Val and Jimmy moved to Woolton, so they weren't far from us, and Val and I would spend a lot of time together. I didn't drive then, so she would pick me up every week and we'd go and do our grocery shopping. I didn't work at that time, but Joanna came along pretty quickly so I soon had my hands full.
Like a lot of the Everton babies, Joanna was born in Park House, Waterloo. It was July and pre-season training had just begun. I started with the pains late at night and Colin drove me in. The nuns told him to go home, get a good night's sleep and to come back the next day after training because the baby wouldn't arrive until the following afternoon but Joanna had other plans and was born at 7 in the morning.
We didn't even have a phone so we couldn't contact him but we had an arrangement with a neighbour that we could ring them and they would pass on the message. He got the call and hotfooted it over so we had a couple of hours together with the baby before he went off to work. She was the absolute image of him when she was born and I couldn't stop looking at my miniature Colin Harvey.
Melanie was born 2 years and 2 days after Joanna; they were due on the same date but she was a bit late. Park House had stopped doing maternity by that time and had become a nursing home, which was a shame because I wanted to go back there, but she was born in Oxford Street maternity hospital in Liverpool. Emma was born in Oxford Street, too, but not until 1980 so there was quite a gap. There are no boys in our family, we've got three daughters and one granddaughter and Colin's brother Brian has got a girl too, its funny how it works out.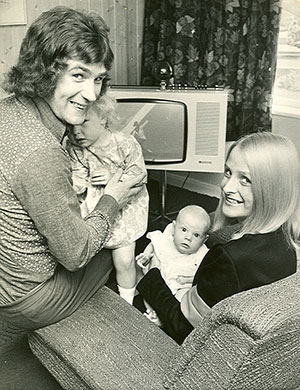 Colin, Maureen, Joanna and Melanie in 1972
I went to as many games as I could, certainly to every home game but mainly Cup games away. We had a good friend called John Gallagher who would drive us all over the country. Colin's Dad would go to the games so it was his Mum who took the babies and she would have them absolutely every weekend if need be. She was just wonderful like that.
Occasionally Colin would go to the races but only when it was a day out with the club. He's not a racing or a betting man, so it might only be once a year to Chester and he would go along for the camaraderie. He really enjoyed playing and watching tennis, though and would play for hours with Brian during the close season. He was an absolute fitness fanatic and he couldn't wait for the season to start again.
I didn't have anything at all to do with the club; I liked it that way and was very happy to remain anonymous. Before we married I would make my own way to the match. Most of the wives will tell you that we would sit in the car waiting until it was time to go in. The players had to report two hours before kick-off so once we were married a lot of the time I would try and get a lift in with somebody else then I wasn't sitting around on my own. We'd get into other people's cars and chat until it was time to go in. I remember when they first opened the players' lounge and they had a bit of a party. We thought it was wonderful although Manchester United had had one for years.
The Shakespeare was a cabaret club just off London Road and it was a great night out. It used to be a theatre that dated back to Victorian times but by the 70's it had moved with the times and even had go-go girls dancing in cages. The resident compere was Pete Price; he was brilliant and so funny. They had big names appearing and I remember seeing Tommy Cooper there one night. The stars would stay in a hotel and appear for the whole week because the club was open every night and was really popular
We would all go as a group and occupy big tables near the stage, and Pete Price would be absolutely merciless ribbing the players but we all loved him and got on really well. In 1971 Georgie Fame and Alan Price came. We used to see Peter in the club between shows and we got talking. I told him that Georgie Fame was my absolute favourite and didn't he just arrange for me to meet him? It was wonderful. Georgie was staying in the Adelphi and we went back there and sat in the lounge talking to him for hours. Colin was a big fan of his, too, and we had a wonderful evening.
We lived in Gateacre for four years until Colin was transferred to Sheffield Wednesday in 1974. Billy Bingham had come in as manager and I think he wanted to build his own team and maybe he thought those boys were past their best. Managers like to do things their own way and put their stamp on the club. Maybe they were a bit jaded and he felt he should gradually change the side. Alan Ball went off to Arsenal, Howard Kendall to Birmingham City and Colin to Sheffield Wednesday. The fans were furious and I remember there was an outcry about his transfer but the players were powerless to say no back then. I heard that the Evertonians had unfurled a flag at the next game calling Colin 'The White Pele' and I was so proud and flattered.
The transfer came as a real shock it was completely out of the blue and I was absolutely terrified because I'd only ever lived in North Wales and Liverpool and to think of moving to another part of the country was so frightening. I needn't have worried though because when we got there everyone we met was lovely and once again we were surrounded by wonderful people.
Colin went ahead of me and stayed in a hotel while he was house-hunting. I stayed behind with the children to sell up the house and moved over in the October with the girls. He'd found us a place in an old pit village called Pilley somewhere between Sheffield and Barnsley. There were 3 newly built houses between the local village pub and the farm where we got our milk in the mornings. It was right out in the countryside and we absolutely loved living there.
There was one aspect of being a footballers wife that I hated and Colin would probably say it didn't even exist, but I hated going out and girls would come up and be all over him. Men don't really understand when women are being like that but we do and it used to make me furious. I might go to the Ladies and when I came back they would be hanging off him. I would be seething inside but would keep cool and just say, "you haven't introduced me to your friend." My sister used to laugh at me because I would get jealous so easily but until it happens to you, you don't know what its like. I could have scratched a few eyes out over the years, I can assure you of that.
Everton is entwined in our lives. Colin has done literally every job from an apprentice, cleaning Brian Labone and Alex Young's boots to manager. I can't name a job he hasn't done apart from scouting. Howard Kendall's days as manager were magnificent and Colin was very much involved with that side and it was a great time to be a Blue, but from then on it's been pretty much downhill. When Colin took over as manager they were doing really well and never went below eighth in the league but he never reached those same heights as the mid 80's.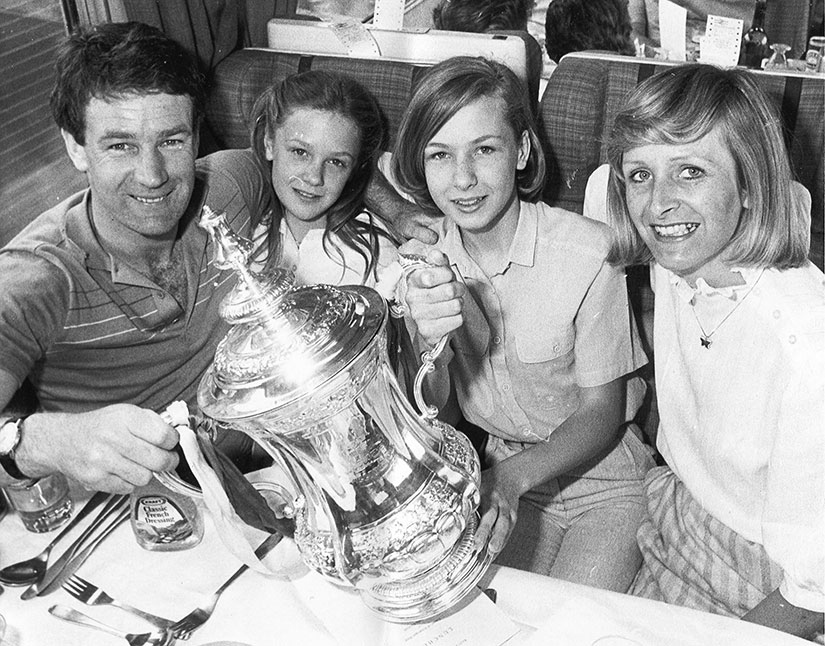 We lead a very quiet life and always have done, but I went to a function in the Adelphi in 2003 and there were six hundred fans in the room. They introduced the Old Boys one by one as they came in and I couldn't get over the noise; it was just incredible. It was amazing to hear them, especially as it's been so long since he played, and it just totally overwhelmed me.
I was never especially ambitious; all I ever really wanted to do was settle down and be a good wife and mother. Colin was a good provider and I was happy with that. I loved having the children at home and spending time with them. It was different then, women didn't go out to work because there was nobody to look after the kids. The footballers wives are different now; I can't imagine any of our generation modelling underwear or anything outrageous, the men would have been mortified for a start because their wives were drawing attention to themselves.
The Daily Mirror wrote an article about the old Leeds manager Don Revie and they mentioned his wife; they said that 'unlike most footballers wives, Mrs Revie is an educated lady'. I took umbrage at this and wrote to the Daily Mirror. I told Colin I'd written and he didn't say anything. The Mirror printed my letter, which I didn't really want them to do, but then they sent a reporter round to speak to me and take a photograph. That was the only time I ever drew attention to myself and I didn't really mean it to go that far.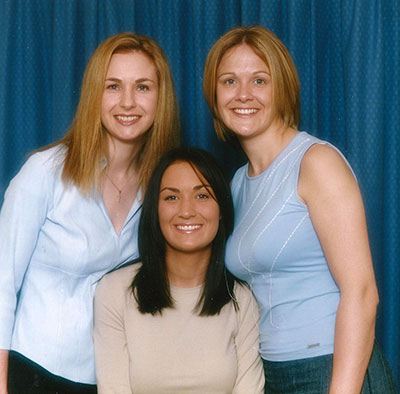 The Harvey girls in 2003
It was when we were at Sheffield that Colin was diagnosed with an arthritic hip; it came as a terrible shock to us all. He's had three hip replacements so far, his left hip was about 20 years ago and that's still working well. Then he had his right hip replaced in 1995 in Wrightington, but had to have that replaced again in 2001 and it was in a pretty bad way. One of the reasons is because he trains too much. He's addicted to training even now he's retired; the doctor has said he can still go on the static bike in the gym and you can bet your life he's there now. His fitness was a challenge and he wanted to still be the fittest at the club even though the players were 30 years younger than him
I think I fell for Colin when I first met him and when he asked me out I just couldn't believe it was happening. I can still remember that feeling of excitement waiting to hear from him and my heart beating too fast whenever the phone rang
We've had a great life; we live in Ormskirk now and we've got three successful children and a beautiful granddaughter, Bethany. I don't know if there will ever be any boys in our family to carry on the footballing tradition and maybe that's the way destiny says it should be. Football has given us a great life and given the chance, I'd do it all over again and I wouldn't change a single minute.
---
Joanna Marie passed away peacefully, surrounded by her loved ones on 23rd September 2012 after a valiant, two-year battle against cancer. She was 42 years of age.
Her memorial service was an uplifting celebration of her life and her spirit lives on in her beautiful daughters, Bethany and Rebecca.
Taken from Real Footballers' Wives — the First Ladies of Everton, still available for purchase in book or Kindle form. Copies are also for sale by contacting Becky directly via Twitter at @bluestocking63 or by email.

© Becky Tallentire 2004
Reader Comments (37)
Note: the following content is not moderated or vetted by the site owners at the time of submission. Comments are the responsibility of the poster. Disclaimer
Gerry Quinn
1
Posted 10/01/2020 at 07:39:30
Oh, those were the days, my friend - we thought they'd never end...
Colin Harvey - still my most favourite Everton player EVER - had his number 10 on the back of my shirt playing "centres and headers" on the fields in Crosby with my school mates. Even tried to copy his running style and his tackling from behind (although not as successful with the latter!).
Wonderful story Becky - you provide such sheer enjoyment in reading of their simple and lovely lives from way back when - thank you
Rick Tarleton
2
Posted 10/01/2020 at 10:05:40
I echo Gerry's sentiment about Harvey's quality. Possibly the best all round player, I've seen at Goodison, if he'd have been able to shoot he would have been better than Charlton. Young, Vernon and Ball had more charisma, Collins was more aggressive, but Harvey could dribble, tackle and give fifty yard passes, how he only got one cap is a total mystery.
chris williams
3
Posted 10/01/2020 at 10:16:33
Colin is an Everton great, and a wonderful club servant, as well as a thoroughly decent man. One of my all time favourite players
Don't these articles reveal a lost world almost?
Simple, down to earth people living their lives in a way that most of us could recognise, and a far cry from the world inhabited by the modern footballer.
Another lovely story thanks, Becky.
Gerry Quinn
4
Posted 10/01/2020 at 10:18:16
Rick - have you inadvertently forgotten his "ability to shoot" against Man Utd in the Semi?????? :)
Jay Wood
[BRZ]
5
Posted 10/01/2020 at 10:24:41
Another great read Becky about the women behind the players. Just a great social insight into the times.
The idea of today's PL players holidaying with his mates, all crammed into a caravan owned by his nan in North Wales, causes me some mirth.
I'd forgotten about Colin's eye problem around the time of our 1970 Championship winning team. I recall there were real concerns he could have lost his sight in the infected eye.
What a player, what a servant to the club Colin was. And what another lovely lady in Maureen he married.
Well done again, Becky. Great read.
Stan Schofield
6
Posted 10/01/2020 at 10:36:07
Colin Harvey was the epitome of our footballing style in the 60s, where we elegantly played the ball from the back and through midfield, whilst other teams were booting the ball upfield. It was just great football, in fact beautiful.
What's this business of him not being able to shoot?! The goal he scored from the edge of the penalty area in the match against West Brom that clinched the 69-70 league title was a cracker.
I wasn't naturally very good at football, but Harvey inspired me to spend hours and hours practicising ball skills, like ball juggling, and shooting and passing with both feet. I was still never very good, but improved a lot, then could dribble and pick a pass. Such inspiration is important for youngsters.
Harvey would grace any top side in the world, in any era.
Lenny Kingman
7
Posted 10/01/2020 at 11:55:18
Superb Becky.
They say behind every great man there is a great woman. I think the great Colin Harvey story shows that, in this case, its a true sentiment.
A super stylish player who fittingly made his senior début in a European cup tie for the Blues in the glamorous setting of the San Siro stadium against Inter Milan.
I watched him his whole time at Everton and I suppose that moment in the FA Cup semi at Burnden, when he skilfully placed THAT shot into the corner, was the one for me. A career of brilliance leading ultimately to the historic league title win in 1970.
That reference to their wedding day in January 1970 made me think! Fifty years ago this very month. Life has rocketed by. God bless Colin and his loving family.
Steve Ferns
8
Posted 10/01/2020 at 12:23:27
Becky, thanks for that. Another wonderful article. I believe one of Colin's daughters is a high school teacher in Merseyside and is extremely well respected. They seem like lovely people and a real credit to one of Everton's greatest ever servants, who in turn is a real credit to the club. I wish Colin a long and happy life with his family.
Tony Abrahams
9
Posted 10/01/2020 at 12:29:17
A lovely story about love, and not surprising really because I've never heard many people say bad things about Colin Harvey, a true Evertonian and also a proper football man, who was obviously a much better coach than he was a manager!
Alan McGuffog
10
Posted 10/01/2020 at 13:31:20
Not a prolific goalscorer but I recall a goal he scored into the St End in 67 or 68. Against Albion, he made a diagonal run from half way beating defender after defender ( may be wrong but I'm sure he lobbed one of them ) before belting it past Osborne.
Memories eh !Then again I was rolling them a bit thick in those days.
John Davies
11
Posted 10/01/2020 at 13:43:32
Becky, a smashing read. Thank you. Lovely memories of a bygone era when everything about the game, for me, was wonderful.
What a player Colin Harvey was. I first "fell in love" with him in the 1966 FA Cup Final when his long pass was mis-controlled by a Sheffield Wednesday defender, allowing Derek Temple to score the winning goal for us. That goal made this 9 year old boy cry tears of pure joy.
As someone else has pointed out, how on earth he was only capped once for England beggars belief. Harvey, Ball & Kendall were the best midfield trio I have ever seen at Everton. For those of you who were lucky enough to see Steven, Reid, Bracewell & Sheedy in full flow, imagine how blessed we 60+ year olds were to have watched the "Holy Trinity" as well.
Harvey was - and remains - a true gent and a true Blue. His likes are a very rare breed nowadays. But his time was back in the day when the game was so very different - and so much better - in my opinion. Oh for a few the likes of him in our team now.
Peter Mills
12
Posted 10/01/2020 at 14:10:40
Colin must be in the Top 10 most important men in the history of Everton FC. A wonderful player, and a great coach.
Dave Abrahams
13
Posted 10/01/2020 at 15:32:00
What another lovely down to earth story from Becky Tallentire about an Everton footballer and his wife who lived the same sort of life as ourselves, even though Colin was worshipped bythousands of Evertonians every week at Goodison and all over the country when we travelled away.
What an innocent girl Maureen was and so in love with Colin, the places they went and drank in, I never knew The Legs of Man was a lovely little cocktail bar, and The Shaftsbury hotel in Mount Pleasant was a nice place to have a drink, then The Shakespeare club, all places we were used to were special to Maureen from a little town in Wales, as I said earlier, just the same as us, happy and content with what they had and not wanting to be in the limelight. All the better for being like that and better thought of for being so easy going.
So sad to hear about Maureen and Colin's daughter, Joanna Marie, passing at such a young age. I hope they both continue to have many more happy years together.
Colin a brilliant footballer who most of think deserved many more caps than he was awarded, but that's life and England's loss.
Dave Brierley
14
Posted 10/01/2020 at 16:15:17
Colin was one of my favourite all time footballers. As well as tremendous skill he had style and for such an unassuming man he played with a confidence that exemplified the 'holy trinity'. I still feel privileged to have seen that wonderful midfield section grace Goodison.
Such different times then and it's great to read that Maureen and Colin were very happy together. Long may it continue.
Brings back many happy memories of the Shaftesbury and the Shakespeare Club.
Loved the bit about professional footballers not being particularly good dancers. There might have been one or two with some moves but I do remember seeing Jimmy Gabriel in St Pats social club many years ago proving the point. An early contender for 'dad dancer of the year' if ever there was one.
Love these articles Becky. Please keep them coming.
Dave Williams
15
Posted 10/01/2020 at 17:36:58
In my opinion a better footballer even than Ball but he couldn't inspire and lead others like Alan did.
Incredible skill level, great tackler, tremendous work rate, marvellous passer both short and long.
He would be priceless today and would transform our team at a stroke.
Mike Gaynes
16
Posted 10/01/2020 at 19:11:04
Lovely article, Becky, thank you. I never saw Colin play, of course, so I can't relate to him in the way so many here can, but your "wives" articles give me a window into Everton history and English life that I very much appreciate.
Darren Hind
17
Posted 10/01/2020 at 19:56:41
You'd have love him Mike.
Natural born footballer who knew the value of hard graft.
Humble always, but Quite possibly the greatest Evertonian. His natural humility would disappear once he crossed the white line.
He just knew he could play.. and I mean properly play.
Dave Williams
18
Posted 10/01/2020 at 22:21:59
Darren #17 spot on. Once he crossed that white line he could outplay anyone and look after himself too, but a humble, almost retiring person away from it all.
Paul Tran
19
Posted 10/01/2020 at 22:28:01
A lovely article about a wonderful player and man. The word legend is thrown around way too much these days, but Colin Harvey fits that description perfectly.
Stephen Brown
20
Posted 10/01/2020 at 22:39:23
Colin Harvey - Evertonian No 1
Steve Ferns
21
Posted 10/01/2020 at 22:41:59
I spoke to my mother before, and asked her about Colin Harvey's daughter, the teacher at my old secondary school. She's the one who passed away. Very sad. A lovely lady according to my mum who had the pleasure of meeting her in a professional capacity on a few occasions. The only reason my mum knew it was Colin's daughter was from conversations about watching Everton and me being Everton mad. Very humble lady and a big loss to the teaching profession at a young age.
Len Hawkins
22
Posted 10/01/2020 at 23:40:25
Yes another wonderful insight into the lives of our heroes when they were just ordinary people living their lives unlike the untouchables today. As for goals in the championship clinching game against West Brom in 1970 he certainly had a great shot which beat Osborne all ends up at the Park End.
Derek Thomas
23
Posted 11/01/2020 at 00:55:29
All of Becky's pieces peek through a window at the life of people 50, 60 yrs ago.
In general terms this is, depending in your age, how your Mum or your Nan lived. How far removed we are now - too far. How much we've lost - too much.
We all focus, probably too much, on just the goals scored and missed, the score, the result.
I'd like to thank her and all the wives for getting this historical and gender perspective down before it is lost.
Bill Watson
24
Posted 11/01/2020 at 04:08:38
Great read, Becky, and such a different life to what they have, today.
Just on Maureen's comment that Ford workers were on £50-£60 a week, in 1970.

I wish; I was there in 1970 and our pay was £18 on days and £24 on nights!
Alan J Thompson
25
Posted 11/01/2020 at 12:11:31
I am of the same age and lived just across Newt's Field from their place in Cherry Tree Lane but it still sounds like a different world even for such a wonderful footballer. Oh, and Bill, it got up to that much when you got a Sunday in but usually a Sunday in meant a Monday off.
Dave Abrahams
26
Posted 11/01/2020 at 13:05:37
Darren (17), yes, Colin wasn't afraid of anyone on the pitch, as you say " he knew he could play" and if they wanted to play he was more than happy to go against them fairly, if they wanted to intimidate and bully, he would face up to that as well. One game, a mid week night match at Old Trafford, he tackled Dennis Law, a good hard fair tackle, Dennis didn't like it, and was right in Colin's face, Colin stood up to him and gave him loads back, " You'll do me lad" I thought. I never had any problems liking Colin's all round and stylish game after that incident. It never bothered me that Colin never scored many goals, eighteen league goals in total, the rest of his game was top class and always, always for the team, that was what mattered most to Colin Harvey,E V E R T O N.
Tony Abrahams
27
Posted 11/01/2020 at 13:43:05
Such an interesting analogy of Colin Harvey, that Dave W, especially because you put Harvey, top of the tree, but say he couldn't inspire and lead, like Alan Ball.
I trained at Everton for a couple of months, which just happened to be Colin's last 2/3 months in charge at Everton, and he amazed me when playing in the gym. He was tough, he was as fair as the age gap could allow, and he was Everton's first team manager, rolling up his sleeves, talking, fighting, working, and just doing the thing he probably done best, which was just playing football.
I mostly trained with Mike Lyons, and couldn't believe the stick he was taking for Everton's poor form at the time. Lyons was a cracker, and he was getting loads, even though he had nothing to do with the first team, and his training sessions were both interesting and enjoyable, and much more technical, than you would have expected from a man who had played as a centre-back, for all his career.
Harvey's training was also really good, and he struck me as much more of a coach, than a manager, especially because it was mostly "possession football" at Everton, and I thought Harvey's team was very good until the final third, possibly because of the way the way they trained, and it's why your comments really resonated Dave.
My abiding memory of those sessions in the gym, was that I'd have loved to have seen Colin Harvey play when he was younger, because even though he must have been at least 40, you could see how much pride he had in himself, because the effort he put into his game, to stay with us 20 year olds is something I still remember to this day.
John Burns
28
Posted 12/01/2020 at 14:54:58
Like me, Colin Harvey lived in Fazakerley with his mum and brother Brian, (who I think played for Chester). I was 11 or 12 and had been nominated by friends to perform the task of asking Colin if we could start his fan club? We had drawn straws to decide who would be the spokesperson. I lost.
I remember being very nervous as I walked slowly to the door before knocking. My two friends were standing behind urging me on. Colin's mother answered.
'Is Colin in please? We want to start his fan club'.
'He's not in son', his mother said.
Brian, who was coming down the stairs shouted, 'I'll let you start one for me'.
'No thanks', we said and walked away, never to return.
Is it too late to start one now?
Ray Atherton
29
Posted 12/01/2020 at 20:08:17

Colin Harvey brilliant player for Everton. George Best
was his favourite player, he knew a star footballer.
Peter Mills
30
Posted 12/01/2020 at 20:43:26
Moving very slowly away from the FA Cup final on the coach in 1966, one of the senior men jumped off the bus and picked up a toy white rabbit that was sitting on a garden wall.
With reference to the famous Jimmy Stewart film about a giant white rabbit, and to one of the heroes of that day, the toy was instantly christened Harvey, and became a mascot on away days for a number of years afterwards.
This small piece of Everton history may still be lying hidden away in a Crosby attic somewhere.
Mike Doyle
31
Posted 12/01/2020 at 21:03:28
Tony 27] slightly off topic, but I played for the Sunday League side that Mike Lyons ran. His training sessions were all skill-based - and quite different from long-ball approach that people often associate Mike with. And no bad language allowed - he wouldn't tolerate it.
Anthony Dove
32
Posted 13/01/2020 at 18:56:11
Only just seen this item, but however late just wanted to say he is the greatest Evertonian, for all sorts of reasons.
Rob Halligan
33
Posted 13/01/2020 at 23:49:23
Like Anthony 32, I've only just read this. A fantastic, but also very sad read re: the death of Colin and Maureens eldest daughter, which I was unaware of. Regarding Alan's post @ 25, I don't know if he refers to where Colin lived when he lived in Gateacre, but the Harveys moved into a house in Cherry Vale, just off Halewood road on the outskirts of Gateacre village. I remember we would go and knock on his door asking for autographs, which he was always more than willing to do. Jimmy Husband, who lived nearby, I think it was Vale road in Woolton (or somewhere just off), and again Jimmy was always willing to sign autographs. I think we also went to Jimmy Husband's house just to look at his E Type jaguar!!
Alan J Thompson
34
Posted 14/01/2020 at 04:44:01
Rob(#33); May be my memory playing up but yes, the street opposite (across Halewood Road) from the old Gateacre Hall Hotel. As for Vale Road, would that be the old cottages that used to be part of Strawberry Fields and, I think, Henry Newton also may have lived in. Used to see Jimmy Husband in, of all places, the Coffee House in Woolton Village although I don't know what I was doing in there.
Bill Griffiths
35
Posted 15/01/2020 at 19:18:22
This is my favourite article ever and I've got tears in my eyes having read it.
For me personally, Colin Harvey is the best footballer I have ever seen in an Everton shirt, even shading Bally, "The White Pele" being a fitting description.
I think he's right up there with Dixie as one of the greatest Evertonians ever.
Graham Hammond
36
Posted 20/01/2020 at 16:36:12
Colin Harvey should have had a stand at Goodison named after him. Bollocks to the 'Sir Phillip Carter Stand'.
Gerry Morrison
37
Posted 22/01/2020 at 18:12:12
What a great read about a great Evertonian.
When I was at St. James', we won the cup in 1970 and Colin Harvey came to the school to present us with our medals. He stuck around afterwards and had jellies and fairy cakes with us; it was an unforgettable day.
After reading a couple of earlier excerpts from Becky's book, I couldn't wait for the rest, so I found a copy on ebay. It only cost a couple of quid and every chapter is as good as this one.
---
Add Your Comments
In order to post a comment, you need to be logged in as a registered user of the site.
Or Sign up as a ToffeeWeb Member — it's free, takes just a few minutes and will allow you to post your comments on articles and Talking Points submissions across the site.
---
© ToffeeWeb