Everton History
Everything You Wanted To Know About Portugal (But Were Afraid To Ask)
The roughly 47 different articles I have on the go at the moment can be classified into three groups.
The first group are the subjects where the timing is unimportant; they don't really need to be tied to a date or an anniversary. The second group are the ones like the commemorations of the Everton players who were killed in WW1, the 100th anniversaries of each one I missed completely. The third group are those articles like the ones for the players who died in WW2. The 75th anniversaries are still in the future, although I wouldn't bet your life savings that I'll have the research done in time to mark those dates either.
Every now and then something happens to move them from one group to another, often to bump them up the list to the top. This article is an example.
I'd been thinking about writing something about Portugal and Brazil since the appointment of Marco Silva and the arrival of Portuguese-speaking players like Bernard, Gomes and Richarlison. However, a piece of graffiti on one of the industrial units adjoining the Blue Base just off County Road jolted me into something as close as I get to action. It said "SILVER OUT", and I'm assuming it wasn't a comment on holding the precious metal as an investment in these uncertain times. I wouldn't think many hedge-fund managers live in Walton, so I think it is a spelling error and refers to our Marco; or our former Marco, as he now is.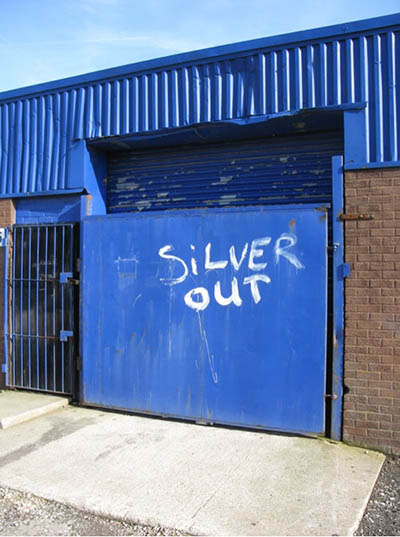 A call for the axe or a commentary of holding precious metals? (Author's collection)
Before the appointment of Silva, Goodison connections to Portugal and Portuguese speakers were few. Pele and Eusebio graced the ground in the 1966 World Cup, and there was the Brazilian lad that Howard Kendall tried to sign whose name escapes me. The Mike Walker - Agent Johnson period saw the fiasco over trying to sign Muller and more recently there were the Manuel Fernandes cameos and the signing of Jo, which were little more than footnotes.
Everton's short period under Portuguese management is in sharp contrast to the relationship between the UK, and before it England, and Marco Silva's country of origin. This goes back to a treaty of perpetual friendship signed in 1373, so 646 years up to the date Marco Silva's reign came to an end; it is the oldest active treaty in the world. Written in Mediaeval Latin it includes the following words, committing the two countries to -
true, faithful, constant, mutual, and perpetual friendships, unions, alliances, and leagues of sincere affection.
The king of England at the time was Edward III and it arose from the involvement of England in the dynastic conflicts in the Iberian Peninsula during a lull in the long struggle with France we now call the 100 Years War. The prime mover was Edward's son John, Duke of Lancaster, usually referred to as John of Gaunt. Gaunt is a corruption of his birthplace, Ghent, in what is now Belgium but was then part of the Duchy of Burgundy.
John's second wife was a princess of Castile, the northern kingdom in what is now Spain and at one point John claimed the Castilian crown through her. Portugal was regularly in conflict with neighbouring Castile and the English signed the treaty to gain an ally in the area. The relationship was cemented when John of Gaunt's daughter, Philippa of Lancaster married King John the First of Portugal. John, or João in Portuguese, was an illegitimate son of the previous king and, with English help, took the crown to prevent Portugal falling into Castilian hands.
Queen Philippa would have nine children with John, six of whom survived to adulthood, including Edward or Duarte who succeeded his father, and Henry or Henrique, known to modern historians as Henry the Navigator. Philippa's children are still referred to as the Inclita Geração – the Illustrious Generation – by Portuguese historians, while Philippa's brother, Henry Bolingbroke, would become King Henry IV of England and found the Royal House of Lancaster. His namesake and nephew, Henry, would have the most far-reaching influence on Portugal as he is credited with starting Portugal's rise to become the first of the great European maritime empires.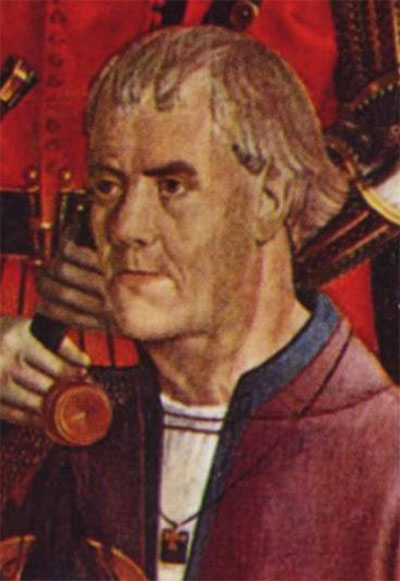 Possibly a true likeness of Henry the Navigator from a contemporary painting (public domain)
When Henry was born in 1397, Europe was largely cut off from Africa and Asia by the Ottoman Turks in the Eastern Mediterranean and the Moors and Barbary pirates in North Africa. The Algarve had only been wrested from the Moors in 1249, creating what is now Portugal, while Andalucía in southern Spain would remain in Moorish hands until 1492. Algarve comes from al-Gharb, the Arabic for 'the west'.
Henry sent explorers down the Atlantic coast of North Africa to gain direct access to the wealth of tropical Africa beyond the Sahara. Little was known of what lay beyond Cape Bodajor which is 130 miles south-east of Grand Canaria, indeed for mediaeval sailors, the cape had a terrible reputation as the end of the world. Sailing ships hugging the coast found strong winds prevented them turning north and shallow water made the area treacherous. To the superstitious mediaeval mind, the area beyond the cape was the realm of sea monsters.
Henry ordered his captains to overcome the superstitions and, in 1434, Gil Eames was able to pass Cape Bodajor at the second attempt. Over the next 25 years, the Portuguese were able to explore the African coast down to where the coast runs east-west in the Gulf of Guinea. They were helped by the development of improved navigational instruments and a new type of sailing ship, the caravel, which could sail much closer to the wind and was better suited to the open ocean. Henry's sailors discovered that, if they sailed west out into the Atlantic, they could pick up winds that would take them back to Europe; it was a circulation of winds and currents that they called the Volta do Mar, literally 'the return of the wind'. As they exploited this, they discovered Madeira in 1419 and the Azores in 1427.
Henry died in 1460, but the pace of exploration did not slacken; if anything, it accelerated. By the 1480s, the African coast beyond the equator had been explored and, in 1488, Bartolomeu Dias rounded what is now the Cape of Good Hope in South Africa. Ten years later, Vasco da Gama reached India, and between 1519 and 1521 the Portuguese explorer, Ferdinand Magellan, led a Spanish fleet in the first circumnavigation of the globe. By 1542, the Portuguese had trading posts all over the Indian Ocean, in China and had even reached Nagasaki in Japan. Equally important was the discovery of Brazil by Gonçalo Coelho and Bartolomeu Dias in 1500, although it is possible that the coast had been sighted earlier by Portuguese ships using the Volta do Mar to find favourable winds when returning from the Indian Ocean.
Although Henry the Navigator hardly left Portugal during his lifetime, his importance in the history of exploration and of Portugal is pivotal. That significance is recognised on Merseyside with a statue outside the Palm House in Sefton Park, alongside other great explorers like Columbus and James Cook.
But the first half of the 16th century marked the high-water mark of the Portuguese empire overseas. In 1580, the Portuguese and Spanish crowns were merged due to one of the many fortuitous marriages by the Hapsburg dynasty who dominated Europe. This meant that Portugal was now in conflict with England and, in 1588, it provided one of the five squadrons of the Spanish Armada which assembled in Lisbon before sailing north.
One of the causes of the war was Elizabeth I's support for Spain's Dutch rebels, whose sea power was turned on the vulnerable Portuguese empire from 1602. Much of Portugal's Indian Ocean possessions were seized, including the Cape colony in Southern Africa, leading to the settlement that would become the Boer Republic. The Dutch also made a determined effort to occupy northern Brazil. In 1640, the Portuguese took advantage of the Spanish being massively overstretched with war in the Netherlands and Germany, to begin a struggle to regain their dependencies.
The period of the Commonwealth of England (1649 to 1660) and the post-restoration reign of Charles II saw tensions with the Dutch result in three naval wars between England and the Netherlands. Not for the first time, Portugal had common cause with the English, having been in conflict with the Netherlands for most of the century. This resulted in Charles II marrying the Portuguese Princess Catherine of Braganza in 1662.
As part of the marriage contract, English troops, many veterans of the Parliamentary New Model Army, helped the Portuguese finally force the Spanish to recognise Portugal's independence. The marriage also gave England a brief foothold in North Africa with the gift of the port of Tangier, but of much more importance was the ceding to England of the Portuguese trading base off Bombay (now Mumbai) in India. Charles II rented this to the East India Company in 1668, and it became a key part of the company's operations in the sub-continent.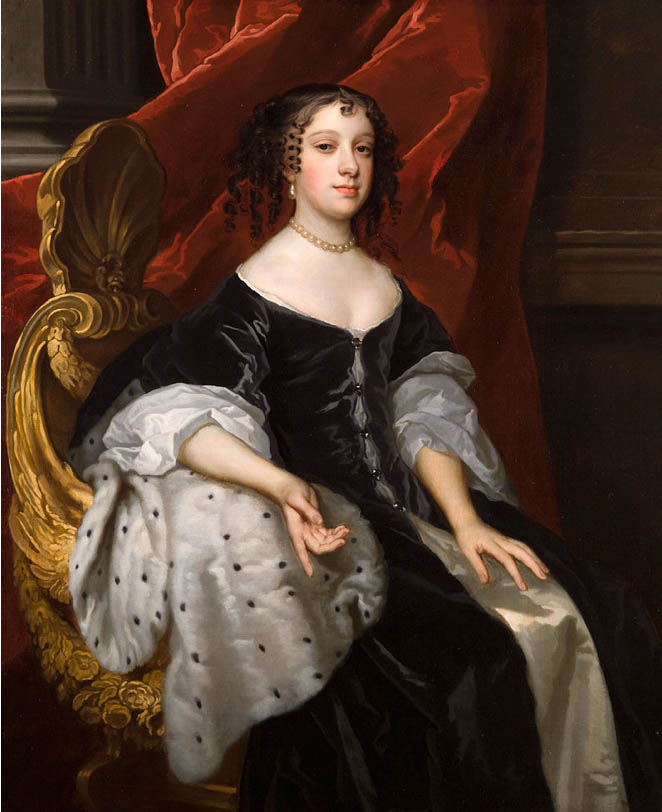 The long-suffering Queen Catherine (public domain/Wikipedia)
Catherine was unpopular in England due to her Catholic faith and her husband was serially unfaithful to her with a string of mistresses. She was unable to provide him with an heir and would eventually return to Portugal after Charles's death, but remained a supporter of close ties between the two countries. This relationship would be maintained through the wars of the 17th Century with Portugal mostly supporting her old ally against France. This continued with the Revolutionary wars against France and led to French forces occupying Portugal in 1807, with the Portuguese royal family having to flee to Brazil in Royal Navy vessels. The British landed a force under Sir Arthur Wellesley who defeated the French and liberated Lisbon.
Over the next 6 years, a seesaw struggle took place with a combined British and Portuguese force defeating the French in a series of battles but unable to drive them from the Iberian peninsula. The French would invade Portugal twice more, finally being stopped short of Lisbon by a defensive system built by the British and Portuguese in the hills north of the city called the lines of Torre Vedras. With his Portuguese base secured, Spain in revolt and following Napoleon's catastrophic invasion of Russia in 1812, Wellesley was able to liberate Spain and invade southern France in 1814.
The 99 years that followed Napoleon's final defeat at Waterloo in 1815 had a few of what Mr Moshiri would call 'bumps in the road' for Anglo-Portuguese relations but, with the outbreak of the First World War, the old allies were again on the same side. German attacks on Portugal's African colonies and U-boat raids on their Atlantic islands resulted in Germany declaring war on 9 March 1916.
In April the following year, Portugal sent two divisions to the Western Front and they were put into the line in a quiet sector near the village of Neuve Chapelle. They suffered badly from neglect from home and the northern European climate, and were about to be withdrawn from the front line on a very foggy day, 9 April 1918, when they and the neighbouring British divisions were struck by the second of the German Spring Offensives. The Portuguese have long been blamed for the German breakthrough that day, but recent detailed research suggests that they were not wholly to blame. The initial breakthrough took place just to the north where an exhausted British division was in the line, and the Portuguese would have been attacked from in front and from the flank.
Some of the Portuguese troops fought hard in the face of the German attack, most notably a man from northern Portugal called Anibal Milhais. He was a Lewis machine-gunner and distinguished himself by covering the retreat of Scots and Portuguese troops alike in the face of heavy enemy fire until his ammunition ran out. He then escaped capture and evaded the Germans for 72 hours, eventually reaching the Allied lines with a Scots major who he had rescued; all the time carrying his 28-pound gun. Two months later, he performed a similar feat covering the withdrawal of Belgian troops and was awarded Portugal's highest military honour.
At the ceremony, his commanding officer described him as one in a million men, and he became known as Soldier Millions, a play on words as his name, Milhais is close to the Portuguese for millions - Milhões. Despite his celebrity, he was faced with serious poverty on his return to Portugal, despite his name being added to his home village. He emigrated to Brazil, where the Portuguese expatriate community recognised his exploits and raised enough money to allow him to return to his home. The government was shamed into providing a small pension which allowed him to support his family until his death in 1970.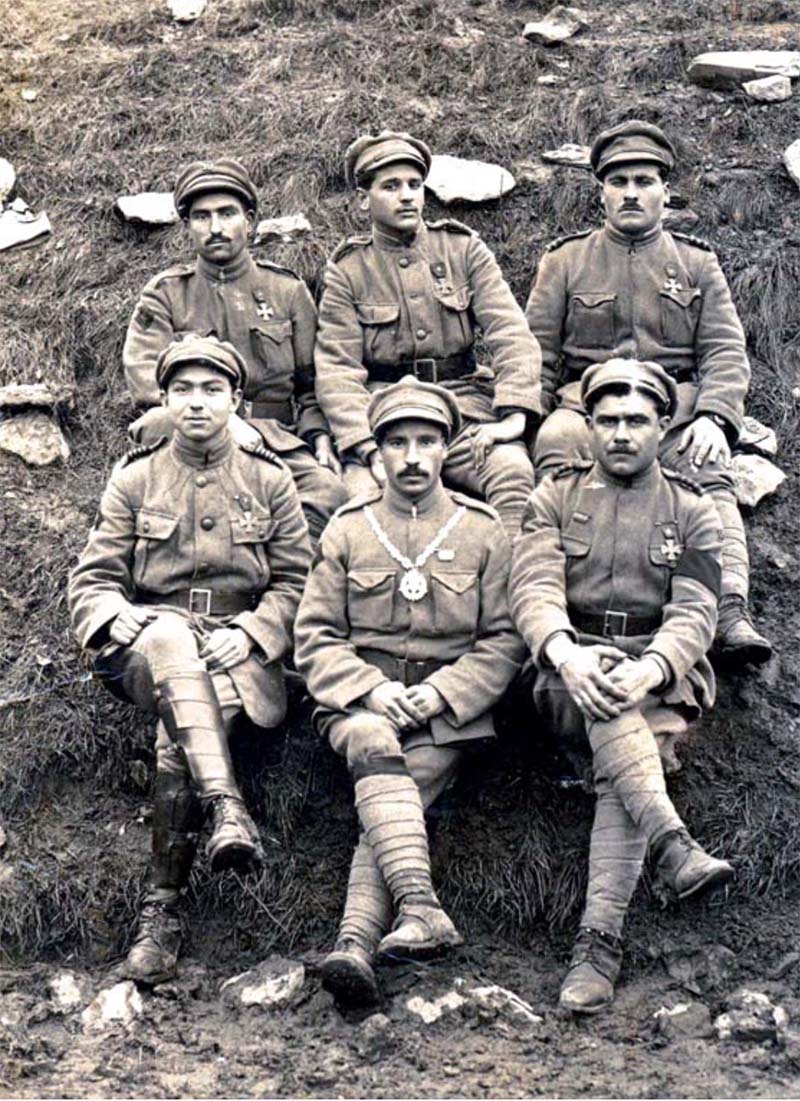 Anibal Milhais, in the centre of the front row with five other decorated Portuguese soldiers in 1917 (Wikipedia Commons)
Brazil had been independent of Portugal since 1822, part of the wave of South American independence movements triggered by the problems of Spain and Portugal in the Napoleonic Wars. Prior to this, it had been a colony producing first sugar, later rubber, and also saw a gold rush from the late 17th Century in the south-eastern province of Minas Gerais (which means general mines). From the late 18th Century, coffee began to be grown and, by the middle of the 19th Century, Brazil had become the world's largest producer, a position it still holds.
Brazil had also entered the First World War on the Allied side and provided naval patrols in the mid-Atlantic after Brazilian shipping had been sunk by German U-boats. In the Second World War, Brazil entered the war on the Allied side in 1943 and provided a division that fought in Italy. Portugal remained neutral, playing a delicate diplomatic game to keep Spain out of the war on the German side and avoid provoking the Germans to invade. By 1943, the threat was sufficiently reduced to allow the Allies to use the Azores as an air base for the Battle of the Atlantic. Winston Churchill, as ever with a view to history, invoked the original treaty in the House of Commons:
"I have an announcement to make to the House arising out of the treaty signed between this country and Portugal in the year 1373 between His Majesty King Edward III and King Ferdinand and Queen Eleanor of Portugal."
The bases made a significant contribution and, in 1983, Portugal would again give support to their ancient ally during the Falklands War. By this time, the friendly relations between the two nations included millions of Britons visiting Portugal and its islands for holidays.
The more I look at Portugal and Brazil, the more interesting they get. There is the fascinating question of why an Anglo-Saxon village name is a common boys' name in Brazil, something that has been raised on ToffeeWeb before. Let's say this research is ongoing, as is trying to understand how Portugal and Brazil relate to each other through language and culture. The parallel between Britain and America is something I'd like to know more about.
As for Everton, the Portuguese and Brazilian players seem to have settled in really well, and seem to 'get' what Everton is about. Hopefully they will play a key role for years to come, and they and the fans will have what the 1373 treaty calls true, faithful, constant, mutual, and perpetual friendship… and leagues of sincere affection.
Pete Jones – Copyright 2020.
This is dedicated to all our Portuguese and Brazilian players, indeed to all our Portuguese and Brazilian fans. Most especially it is dedicated to Andre Gomes and his ankle; it's great to see him back in training. Come back soon amigo.
Acknowledgments
Alison Jones
Reader Comments (41)
Note: the following content is not moderated or vetted by the site owners at the time of submission. Comments are the responsibility of the poster. Disclaimer
Derek Thomas
1
Posted 14/02/2020 at 06:40:28
Well done, Pete, yet again we learn something new on ToffeeWeb. There's a thriving Portugese population here in Brisbane, enough that they've built a big social club out in the western suburbs.
Gerard McKean
2
Posted 14/02/2020 at 07:05:26
Fascinating, Pete, thank you. I was particularly interested to read about the contribution of Portuguese troops in WW1. Next time I visit that hallowed ground I'll pay respects at their resting places.
And yes, let's hope that this connection to Everton continues to thrive. It's always interesting to read articles like this and the views of the likes of Jay in Brazil and Steve Ferns on our growing Portuguese and Brazilian contingents.
Alan McGuffog
3
Posted 14/02/2020 at 08:45:58
Excellent work, Pete. Is it true that Portugal and Sweden are still, technically, at war?
Someone told me this in a boozer on Rice Lane so I'm sure it is. (Ahem!)
Brian Harrison
4
Posted 14/02/2020 at 09:08:51
Brilliant, Pete, who would have thought reading ToffeeWeb would be so educational?
That was some team the Portuguese put together back then starting with John o' Guant as the sweeper, Henry the Navigator and Ferdinand Magellan in midfield with Anibal Milhais up top. I see Milhais was a gunner I guess this was before Wenger. I also see from the picture that even back then 4-3-3 was the preferred option.
Dave Williams
5
Posted 14/02/2020 at 10:18:51
Is it just me or could Duncan McKenzie be related to Henry the Navigator – see the picture above!
Tony Everan
6
Posted 14/02/2020 at 10:55:38
Very interesting Pete, thanks for the History lesson, I find it fascinating too. Especially as my great grandad, 'Senhor Lopes', was Portuguese.
With regards the precious metal graffiti commentary, maybe if there was more context like ''SILVER OUT!'' , ''PALLADIUM IN!'' we may be able to say for certain.
Jay Wood
[BRZ]
7
Posted 14/02/2020 at 11:36:52
I do love it when the first thing I read on a new day is as cracking as this. Sets me up nicely for the day.
You've excelled yourself one again, Mr Jones.
As someone who has lived and worked in both Portugal and Brazil, there is so much for me personally to enjoy in your piece, Pete. Including stuff I never knew.
For example, I wasn't aware that Henry the Navigator has a statue in Sefton Park!
I like how you portray the long-standing and historical tension that exists between the two Iberian countries, Portugal and Spain.
It's very much akin to how England and France circle around each other with suspicion, even today.
Did you come across the following popular phrase the Portuguese still use with regard to Spain in your research Pete? It always makes me smile:
'Only ill-winds and bad marriages come from Spain.'
Nice to hear you continue to research why Everton (and all its variations) is such a popular name in Brazil.
Push it to the top of your 47 articles to write, Pete! I can't wait to read that one.
Well done again on a superb contribution. Thanks.
PS - Dave Williams @ 5.
Curiously enough, there is little known Portuguese sea shanty that goes:
'Todos concordamos
Henrique o Navegador
é mágico...é mágico...é mágico'
Who would've thought it!
David France
8
Posted 14/02/2020 at 11:42:32
Congratulations to you and Ali on a fascinating and beautifully crafted article.
Dennis Stevens
9
Posted 14/02/2020 at 12:18:42
Marvellous stuff, Pete! Although, I suspect there's a few Scots might claim the Auld Alliance with France as even older – many argue it has never been formally revoked.
Steve Ferns
10
Posted 14/02/2020 at 13:29:02
Brilliant stuff. As someone who spent a lot of time in Portugal and loves his history, I didn't except to learn so many new things. I take my hat off to you. Not only was it informative but it was also well written and entertaining. Thanks for taking the time to research and write this.
Mike Gaynes
11
Posted 14/02/2020 at 14:07:15
Thank you, Professor Jones, for a distinguished and enjoyable addition to my lengthy list of Wonderful Stuff I Never Expected To Learn On A Football Website.
And I note you have earned a plaudit from Dr France, which is the TW equivalent of the Nobel Prize.
Brent Stephens
12
Posted 14/02/2020 at 14:28:57
Interesting piece. Well done, Peter. And I notice you managed to work in a reference to our owner.

Rob Dolby
13
Posted 14/02/2020 at 14:52:14
Interesting and enjoyable read, Peter.
You missed Nuno out of the introduction, a very efficient under rated left-back.
I love the Algarve, the people, culture, food and golf.
Funny that as a kid I was only ever interested in history around wars and explorers, I didn't see the fascination with royalty. 35 years later, I am still only interested in War and explorers! The only Royle I have ever respected is Joe.
Tony Hill
14
Posted 14/02/2020 at 15:26:25
Lovely piece, thanks. The sort of thing that sets this site apart.
Phil (Kelsall) Roberts
15
Posted 14/02/2020 at 17:19:55
Alan #3 - it seems that the only time Sweden were at war with Portugal was the 7 years war back in 1756-63 but there were no blond haired Scandiavians trekking down to Iberia. It was a sort of world war conflict and Sweden was on the France/Spain/Austria/Russia alliance against the Brits and Prussians, who won.
However the comment could relate to the great battle of 2013 and for European Championship Qualification with similarities of David and Goliath where two armies were largely anonymous except for two men, Ronaldo and Zlatan.
Derek Knox
16
Posted 14/02/2020 at 21:45:43
A very welcome and enjoyable read, Pete, and as many have referred already an indicator that ToffeeWeb is a class above other websites with a knowledgeable fan base too.
So many thanks for both entertaining me and educating me in equal measure when there is another break in football matters. Please keep them coming, although I do appreciate the amount of research that must have been involved in its production.
ps: There was also an Abel Xavier who played for us, and defected to Mordor afterwards.
Bill Watson
17
Posted 14/02/2020 at 22:00:55
Fascinating article and a great read. Thanks Pete.
Nicholas Ryan
18
Posted 15/02/2020 at 00:31:52
We have a friend who is a Portuguese lawyer; my son asked him, what was the difference between Spain and Portugal? He thought for a minute, and said: 'The Portuguese are Explorers, the Spanish are Conquerors'!
Michael Coffey
19
Posted 15/02/2020 at 09:00:17
The guy Kendall was rumoured to be trying to sign (in about 1983) was João Batista Nunes. For some reason, a very fuzzy picture in the Liverpool Daily Post sticks in my mind. Fortunately, we got Andy Gray instead.
Pete Jones
20
Posted 15/02/2020 at 12:38:41
Thanks to everyone for their kind comments, it's really impressive how much information and wisdom has been added. What other football website can have mentions of the 7 Years War (which has a very distant Everton connection) and palladium (currently worth more than gold)?
Just to respond to some of the interesting points made - the Portuguese WW1 cemetery is at Neuve Chapelle very close to the magnificent Indian Memorial which can be found on the CWGC website. All military cemeteries have a sadness but the Portuguese one is particularly so for me. I did think about mentioning the Auld Alliance between France and Scotland, an excellent expression of the dictum 'my enemy's enemy is my friend'. Thanks also for reminding me of Nuno Valente, Joao Nunes and Abel Xavier, I can remember an Echo article about Nunes from around 1984 explaining why Kendall didn't sign him. I wonder what became of that Gray bloke?
And yes, Duncan McKenzie and Henry the Navigator - could the possibly be related? I searched the electrical interweb for a recent pic of Duncan and I can see what you mean.
Gerry Morrison
21
Posted 15/02/2020 at 23:11:33
Great stuff, as usual, Pete. Thanks for a thoroughly good read.
Nicholas Ryan
22
Posted 16/02/2020 at 01:53:34
Isn't Prince Henry 'The Navigator' somewhat ironically named, as: if my memory is right, he took an army, to what would now be Morocco, but had to come home, because they got lost!
He set up a school of Navigation at Sagres [there's even a beer named after it] which is apparently the most westerly point in Europe. We were there this summer, and there is a really atmospheric feel, as you stand on the cliffs staring out at the Atlantic; it's easy to understand how all those explorers set sail.
As to the treaty, the Portuguese take the 'our oldest ally' thing, very seriously. The treaty says, that each country shall be friend to the other's friends and enemy to the other's enemies .... so I guess that must mean, that for the last 700 years, the Portuguese have been obliged to hate the French!
Pete Jones
23
Posted 16/02/2020 at 16:57:16
By coincidence the Echo site has a piece about Everton and Brazillian players by Dave Prentice - https://www.liverpoolecho.co.uk/sport/football/football-news/everton-transfer-collapse-enabled-duncan-17734736
I'd clearly forgotten more than I remembered.
Jay Wood
[BRZ]
24
Posted 16/02/2020 at 23:44:53
Pete, after reading your latest piece, I sought out some online genealogists here in Brazil and fired off an email to some of them.
I briefly explained the history and origins of the name, it's association with the city of Liverpool, our maritime trading history with Brazil and the curiosity as to why Everton and its derivatives is a popular name in Brazil.
I've got one reply so far, but it is a laughably bad one and doesn't encourage me to think the study of genealogy is a particularly sophisticated or developed here in Brazil.
The response?
"Unfortunately I don't know anything about the reason. I believe it could be because the name Everton is a beautiful word in the ears of Brazilians."
A very studious analysis!
Martin Nicholls
25
Posted 17/02/2020 at 13:40:29
Great article, Pete – thanks for your efforts.
Nicholas Ryan (#22) - I have visited the Algarve on many occasions and like you, was in Sagres and Cape St Vincent last year – I know exactly what you mean about the atmospheric feel about the place. I just love Portugal and it's people!
Pete Jones
26
Posted 17/02/2020 at 21:21:22
Jay, that's brilliant; I've been trying to think of how we could get the big collective ToffeeWeb brain working on this.
Your local knowledge is priceless. I did spot something about scouse sailors and the Brazillian navy during the independence struggle of the 1820s but I've yet to follow it up. If Lyndon is agreeable, we can use these comments to swap info.
Jay Wood
[BRZ]
27
Posted 17/02/2020 at 21:27:39
Anything I can do to help on this one – translation work, mediation with Portuguese speakers, etc – just let me know, Pete.
In the meantime, I'll fire off some more emails and hope I strike gold.
Steve Ferns
28
Posted 17/02/2020 at 21:35:17
Can't it be that the travelling Everton side of the very early 20th Century left such an impression on South America they called their kids after us? No?
John P McFarlane
29
Posted 17/02/2020 at 21:41:36
Jay,
The name Everton is a beautiful sound to the ears in any language. There's a PR / soundbite opportunity somewhere in that phrase, I'm sure.
Jay Wood
[BRZ]
30
Posted 17/02/2020 at 22:10:30
John @ 29.
I too liked the sentiment of the reply I got. But it really wasn't very scientific or helpful on learning more!
Steve @ 28.
Highly unlikely, methinks. They only called in at some Brazilian seaports en route to games against Argentinian and Uruguayan opposition. We played no games on Brazilian soil, or faced any Brazilian teams on that tour.
I think it was only in the 1960s we played a couple of Brazilian clubs at Goodison who were touring Europe.
Steve Ferns
31
Posted 17/02/2020 at 22:29:12
Jay, I was told that Brazilians like to be unique in their names. You don't get loads of kids all called John or whatever. They like to be inventive and so you get Richarlison.
I recall Murray Walker, the F1 commentator, talking about Ayrton Senna's name. He said he had been ignorant and called him Ayrton as the British would being a British name, but Ayrton and the Brazilians pronounced it differently. Apparently, and I'm going off an old memory here so I may be mistaken, but his parents got the name from Britain and liked how it read and then pronounced it how a Brazilian would. Giving their child an individual name.
Could Everton not just be an example of this? A somewhat unusual and unique name. Before globalisation, Everton FC would barely register with Brazilians. Would you have been able to watch the Premier League on TV in 1996 (when Soares was born) as this was when Juninho was playing for Boro and I recall there being limited coverage available in Brazil.
Is this on the right lines, Jay?
Jay Wood
[BRZ]
32
Posted 17/02/2020 at 22:52:03
Steve, it's true that Brazilians borrow the names of their children from both America and British culture, be that sports, music or cinema.
As you also say the spelling and pronunciation of such names warp into something unique, almost unrecognizable from the original it was based on.
In this piece from the Guardian a few years back, it suggests as previously speculated that the name arrived with migrants from Liverpool.
To quote the relevant part:
"a large number of German immigrants headed to the southern states of Brazil in the 19th and early 20th centuries. But there was also a large influx of Anglo-Saxons (remember that Brazilian-born Charles Miller, who was educated in England, is believed to have brought the game to Brazil in the first place), along with Americans fleeing from the civil war. As a result, the name 'Ewerthon' is common, derived from the Merseysiders who immigrated to Brazil, while 'Washington' comes from their American counterparts."
The quoted spelling of Everton as 'Ewerthon' is one I've not personally encountered.
It still doesn't explain the wide distribution of the name, from north to south, east to west, in an extremely large country.
Nicholas Ryan
33
Posted 18/02/2020 at 11:05:57
This talk of Scousers in Brazil reminded me of my Dad. He died last year aged 88. He had advanced dementia, and had very little awareness or memory. He had a visitor from a mental health charity, who used to come once a week, and just sit with him for an hour. This lady was Brazilian.
My Dad had been a merchant navy officer, and was on a ship that docked in Rio during the 1950 World Cup. The visitor told me that, when she said she was Brazilian, and from Rio, my Dad said he was there in 1950, and went on to describe walking up from the dockside to the Maracana Stadium. He said they stopped for a drink at a cafe opposite a small park. He told her the match was Brazil v Sweden, and he had never seen so may people, as the crowd was 150,000!
The visitor was almost in tears, as she told me, that the cafe and the little park are still there. We looked up the 1950 World Cup, and guess what. ... Brazil played Sweden at the Maracana, and the crowd is recorded at 139,000.
So my Dad, who didn't know what day it was, and couldn't recognise me, had a perfect recollection of a football match 60-odd years ago, and 5,000 miles away!
Chris Williams
34
Posted 18/02/2020 at 11:16:25
Nicholas, that's both very sad, and somehow uplifting. There still remained a spark of your dad somewhere, despite that awful disease.
'Everton' also exists as a name in the West Indies, with the likes of Sir Everton Weekes, and others. A bit closer to Brazil geographically I suppose, so maybe related?
Brent Stephens
35
Posted 18/02/2020 at 11:22:45
Nicholas. As Chris says, both sad and uplifting. The sort of story I'm sure more than a few of us can identify with.
Jay Wood
[BRZ]
36
Posted 18/02/2020 at 13:26:34
Nicholas that is a beautiful post and one I can totally relate to, having lost my own father to dementia aged 89.
Like your own father, at the end my dad could barely recall anyone from his family, was confused as to why his wife of 60 years wasn't with him (she died 10 years earlier), couldn't recall that he'd just had his breakfast-dinner-tea five minutes earlier, etc.
And yet, get him on the subject of football, horse racing and cricket and memorable events of 50-60 years ago and his recall could at times be astonishing.
A dear friend of mine who lost his own mother to dementia summed up the affliction perfectly when he said 'we lose them twice'.
First, when the person, the personality, the memories slowly fade until their bodies and mind are occupied by an unrecognizable alien. Then, when they breathe their last breath.
How uplifting for you and your family that he had such vivid recall of that day in Rio. Your real father gaining ascendency over the alien who was trying to lay claim to his mind and body as his own.
Thanks for sharing such an intimate moment.
Dave Abrahams
37
Posted 18/02/2020 at 13:37:17
Brent (35), yes a very sad and also uplifting at the same time, and dementia is so common now that most of us know friends and family with this horrible illness, known as the " long goodbye" it can last for years, but even in the sadness there is laughter and funny moments, not enough unfortunately.
Pete Jones
38
Posted 20/02/2020 at 15:21:15
A sad but somehow inspiring set of comments if I may say so. They resonate with me because I've had a bit to do over the years with EitC's Pass on the Memories initiatives and have got to know quite a few of the attendees and their carers. I know how positive the attendees feel about what the club do; they don't suffer with memory loss, they live with it.
On a related note I don't know if anyone saw the video that the club posted about Andre Gomes giving a lift to the match to three supporters; it was brilliant. He is a real hero off the pitch as well as on.
John Hughes
39
Posted 20/02/2020 at 16:56:01
Re the name Everton and Brazil. I do know that the name Everton derives from the saxon word ' Eofor', meaning "wild boar that usually roam in forests". Also, places where wild boar or pigs are grown and bred (Eofor -town / Everton).
There are a lot of wild boar settlements in south america, including Brazil. I'm not aware of any significant migration of the saxons to south america at any point but as a surname is it feasible that people from such settlements would bear the name through some tenuous connection ?
As far as the UK is concerned there is an Everton in Lincolnshire, a county well known for its pig industry and an Everton in the New Forest, Hampshire.
I can only imagine that something was going on in Everton, Liverpool a wee while ago that involved pig breeding or something related to the pig trade in general. Perhaps more learned Blues than me might be able to shed further clarity on the subject.
Dave Abrahams
40
Posted 22/02/2020 at 17:17:50
John (39), the three blocks of flats built in Everton in the early sixties, between Everton Brow and William Henry Street, were known (locally) as ' The Piggeries'.
Pete Jones
41
Posted 03/03/2020 at 20:07:42
John - 39, that's a really interesting idea, that the meaning of the word rather than the place could be the source. I'd not considered that. It also made me think about other routes into Brazil and I remembered what was British Guiana which had a mutual border.
As far as Eofor tun is concerned it is the most plausible origin of the name, and is the one that the dictionary of English place names goes for, but there are other theories. The tun suffix probably meant a farmstead in the Anglo Saxon era. If the Everton you mention is the one I'm thinking of it is just over the Trent in Nottinghamshire, and it is thought to have the same name origin. The one in Hampshire is interesting in that it doesn't appear to be derived from the presence of wild boar, it is a bit of a mystery. I've seen a suggestion that it might have started out sounding like Yeovilton in Somerset.
I believe that the wild boar disappeared from Merseyside around 200 years before what is now Brazil was sighted by the Portuguese, and while words like pig, swine, hog, boar and sow are Germanic in origin and tend to refer to the domesticated animal as well as its wild close relative. I wonder if eofor as a description may have disappeared with the animals it referred to.
And Dave, I'd completely forgotten the Piggeries, ironic or what?
---
Add Your Comments
In order to post a comment, you need to be logged in as a registered user of the site.
Or Sign up as a ToffeeWeb Member — it's free, takes just a few minutes and will allow you to post your comments on articles and Talking Points submissions across the site.
---
© ToffeeWeb