Everton History
The Age of Illumination – The Story of Goodison Park under Floodlights
Rob Sawyer

16/02/2020
25

comments | Jump to last
There is something truly magical about a football stadium under lights. The glow guides you from miles away. From within, there's an enhanced - almost animated - quality to your view of proceedings. The artificial light glistens on the fabric of the players' shirts and picks out the moisture on the freshly watered, bright green pitch. And, of course, the electricity seems to energise the crowd - adding a few extra decibels to the crowd's roar. 
It's hard to imagine that, as recently as the 1950s, winter kick-off times had to be set so that matches would conclude before dusk, whilst midweek fixtures were a rarity. However, as far back as the Victorian era, innovators were seeking a solution to the issue of playing after sunset. In 1890, Everton's Anfield stadium played host to trial matches using gas-fuelled Wells Lights. Although an interesting novelty which drew the crowds to the exhibition matches, the illumination produced was insufficient for competitive sporting contests.
As Britain emerged from the Second World War with record crowds coming to watch the national sport, developments in electrical technology finally made floodlights a viable option. The conservative football authorities were wary, however. The Football League argued vociferously that floodlit evening fixtures would hit weekend attendances. It fell to clubs outside the League to spearhead the adoption of the nascent technology.
South Liverpool FC pioneered the use of 'permanent' floodlights at Holly Park in a friendly against a Nigerian team in September 1949. The FA and Football League gradually softened their stance -allowing matches to take place if both teams competing in a match agreed to play under the lights. In 1956, Fratton Park hosted the first floodlit Football League fixture - giving impetus for other clubs to follow Portsmouth's lead. Another factor in the adoption of floodlighting was the dawning on club officials of the potential for lucrative midweek European fixtures.
Everton directors had visited Vicarage Road in January 1954 as part of the initial research process into floodlighting for Goodison Park. A dedicated sub-committee was formed under director Fred Micklesfield to weigh up the options. In 1956, supported financially by John Moores, the club ordered four floodlight pylons. They were fabricated and erected by Harry Peers and Co of Bolton. Delayed by a shortage of steel girders, they were eventually ready for use in the autumn of 1957. The bill came to £38,000 (just shy of a million pounds at 2020 prices).
The coverage in the local press gave a raft of statistics. Each of the four 160 foot high towers (just eclipsing those at Hillsborough - the tallest at that time) held 36 GEC 1,500-watt tungsten lamps.  The lamps were aligned in such a manner that the light coverage was uniform over every blade of grass. No one spot had less than the power of four lamps on it. The foundations for each tower consisted of 240 tons of concrete, going no less than 11 feet deep into the ground. The design allowed for a 'flex' of up to three inches at the top of each tower in the event of gale-force winds.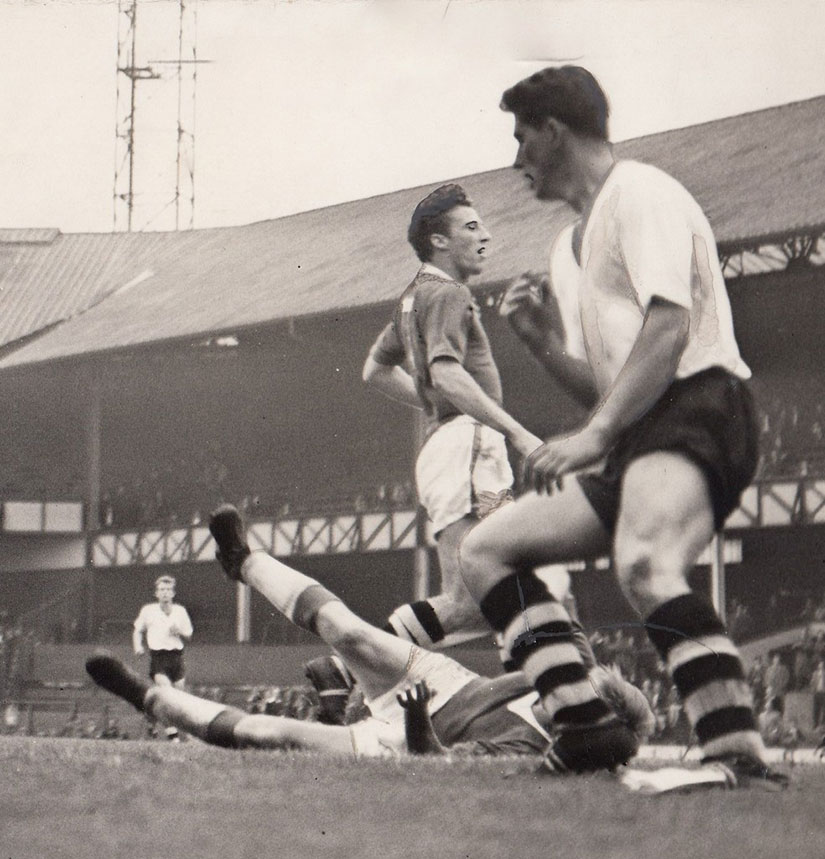 Goodison Park in 1957 with pylon on the corner of Bullens Road and Gwladys Street visible
The electricity consumed during a 90-minute match was said too equal that used by a typical home in six months. A transformer substation was built on site, able to provide the 6,000-volt load. Lighting within the ground (on terraces, in entrances and exits etc) was also upgraded to permit safe pedestrian circulation in the hours of darkness. An operational protocol was drawn-up for a phased switch-on before a match (a third of lights switched on initially; two-thirds lit for the pre-match warm-up, and all lights blazing just in time for kick-off). A back-up diesel generator was installed to supply emergency power to essential lighting within the ground. The Merseyside & North Wales Electricity Board (MANWEB) gave assurances that the floodlights' supply could be switched to an alternative source within 5 minutes should a failure occur.
In early October 1957, Ian Buchan's squad took part in a practice match at Goodison Park to test the players' reaction to the artificial lighting – the feedback was positive with only one player claiming to have lost the flight of the ball in the bright lights. Everton had considered a fixture against continental opposition, but with Anfield also having lighting erected, it was agreed that a Floodlit Cup match between the Merseyside rivals would be staged at each stadium to mark the commissioning of the systems. The matches also marked the 75th anniversary of the Liverpool County FA. A silver-gilt cup, valued at £300, was commissioned to be presented to the winners.
9th October was set for the date of the Goodison fixture (Liverpool's lights would make their bow three weeks later). 58,771 spectators came to the match on a hazy night. For the Blues, Jimmy Harris and Brian Harris were unavailable - through flu and an Army match commitment, respectively. Liverpool had a young John Morrissey making a promising senior debut on their right flank. Eddie Thomas - who came on for the injured Wally Fielding for the second half, grabbed two goals for the Toffees as the hosts won 2-0. Ranger, writing for the Liverpool Echo, described the play as 'hard and vigorous... but all perfectly fair and above board'.
A week later, Goodison Park's first competitive match under lights took place when Arsenal were the visitors. Everton twice came from behind to level the score at 2-2. Watched by 52,000 supporters, it was a stirring game, described by the Daily Post's Leslie Edwards as a 'match with everything in Technicolour'.  Several months later, 20 lamps were added to each tower – doubling the luminance.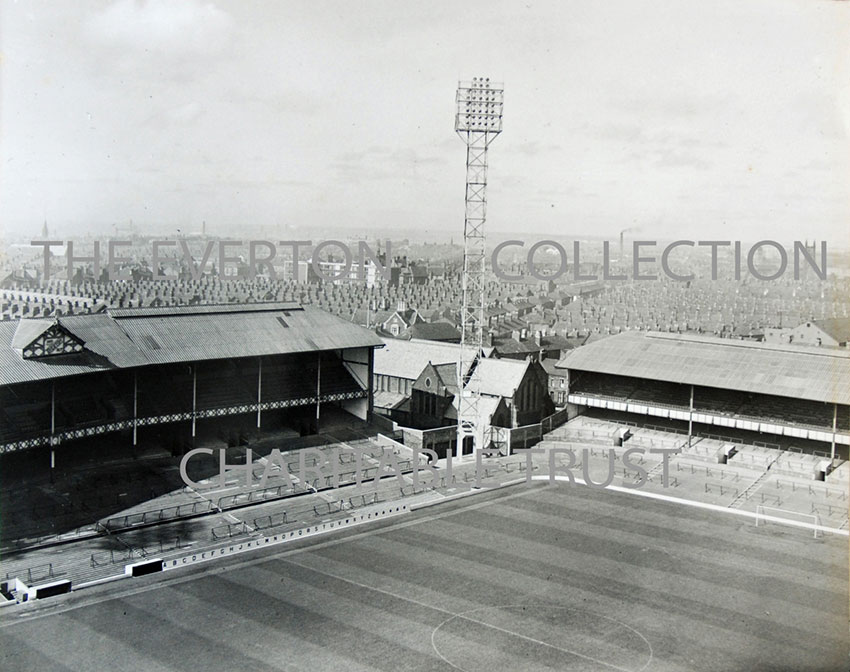 Goodison Park floodlight, circa 1960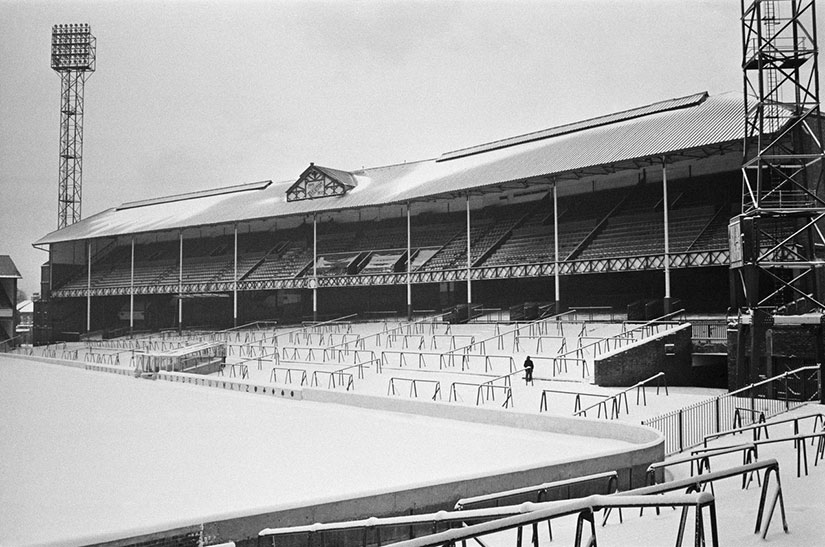 Goodison Park with snow and floodlights, early 1960s
The four steel goliaths stood sentinel over Goodison Park for a surprisingly short period of time. In 1970, lighting was placed along the rooflines of the new Goodison Road stand and the Bullens Road stand (the latter stand had its roof raised in the mid-1960s). The £45,000 investment delivered state-of-the-art lighting, suited to the adoption of colour TV broadcasting.
The new system first saw use on 18th August in the midweek fixture against Burnley - John Morrissey netting in a 1-1 draw. The previous week, the players had a training session commencing at sunset with the new lights turned on. With the 10-kilowatt bulbs (far more powerful than those used on the pylons) sited lower than before, concerns were raised by some players who were – according to the 'Soccerscope' column in the Echo – 'disturbed with the dazzle and glare'. Nonetheless, players soon adapted. The tower in the Bullens Road-Park End corner of the ground outlived the others (photographic evidence showing it extant in late 1974).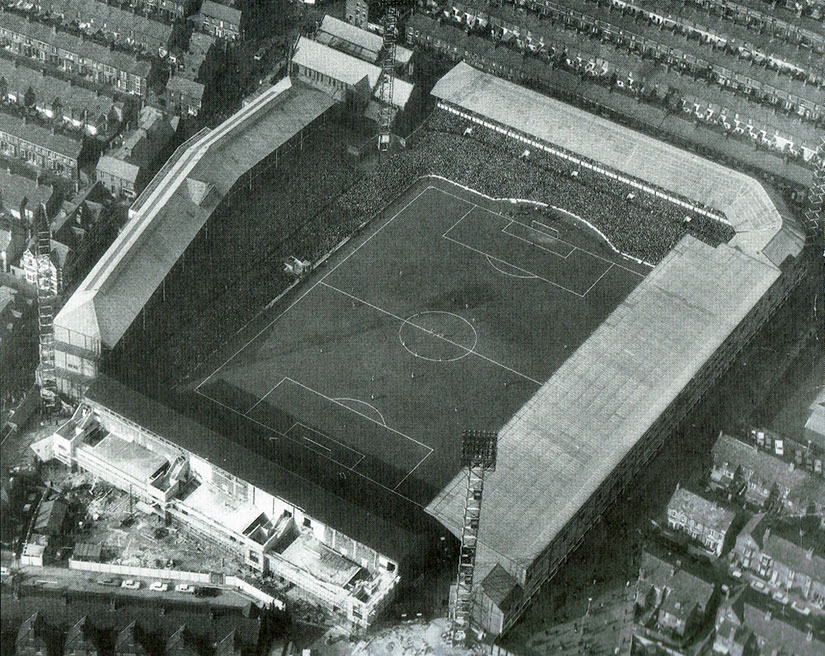 Aerial view of Goodison Park, circa 1965
In December 1989, a £70,000 upgrade to the system by Philips was marked by a friendly match against PSV Eindhoven - a club originally founded in 1913 for employees of the Dutch electronics giant. Five years ago, the lighting system was further bolstered with additional lamps installed in order to satisfy the requirements of broadcasters using HD technology.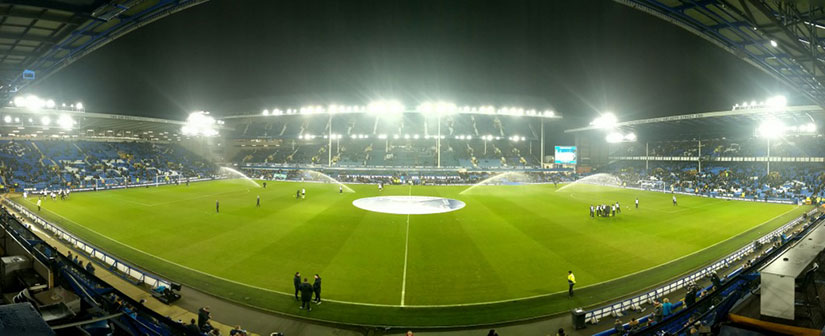 Acknowledgements/Sources
Newspaper reports from bluecorrespondent.co.uk (Billy Smith) and findmypast.co.uk
Everton matchday programme
Richie Gilham
Photo from c. 1960 used with kind permission of The Everton Collection (copyright applies)
Versions of this article previously appeared in the Everton matchday programme and The Black Watch

Follow @robsawyer70
Share article:
Reader Comments (25)
Note: the following content is not moderated or vetted by the site owners at the time of submission. Comments are the responsibility of the poster. Disclaimer
Dennis Stevens
1
Posted 16/02/2020 at 01:02:30
Ta, Rob. That was a most illuminating piece!
Derek Thomas
2
Posted 16/02/2020 at 02:19:32
Rob, I've seen that 1949 S. L'pool date before and we all know the internet and by extension wiki is never wrong.
But unless there were 2 games (and I suppose it is possible) both under floodlights, both Vs a Nigerian 11 (who played barefoot in Nov) Then the one I saw was in 1954. 13,000 crammed into that little Holly Park ground next to Allerton station.
Can any of our more mature readers or those with access to newspaper archives confirm this?
Other than that Rob, keep em coming.
Chris Williams
3
Posted 16/02/2020 at 09:33:02
Thanks Rob,
We lived in Hans Road, about 5 minutes walk away from the ground, through the jiggers. My bedroom was at the back of the house, so if the lights were on for some reason my bedroom was lit up like daytime. Great for my illicit reading, having gone to bed early because of school tomorrow.
The atmosphere at night matches was always great, and as a kid it was always a thrill. Even watching the Reserves on occasion, maybe Lancashire Senior Cup matches or something.
The Dunfermline match in 62 sticks in my mind as it coincided with the Cuban Missile Crisis. Eeriest atmosphere ever, and probably one of the filthiest matches.
Alan McGuffog
4
Posted 16/02/2020 at 11:00:26
Grandparents lived in Langham Street, by the Bluehouse. Used to go for my tea after the game. The lights took a few hours to diminish and my folks used to say it caused poor tv reception till about 8pm.
The good news was that it bolloxed the Mike and Bernie Winters show
Ian Smitham
5
Posted 16/02/2020 at 20:35:05
Great article, well researched. I can only add that I was at the best game played under those lights, Bayern Munich... seen a few other greats too.
At night in Top Balcony, there is not much better sight.

Dave Abrahams
6
Posted 16/02/2020 at 20:45:12
Chris (3), with reference to your posts on another thread, I think John Moores helped to finance both Everton and Liverpool with loans for the installation of their floodlights. I attended both the matches for the Floodlit Cup, Everton appeared in both games wearing blue silk or satin shirts, we won the cup 4-3 on aggregate and presume we kept it forever as it was never played for again.
Peter Mills
7
Posted 16/02/2020 at 21:49:24
Always loved the players having four shadows.
Alan J Thompson
8
Posted 17/02/2020 at 06:34:20
Anyone remember the bloke who climbed the towers after a game threatening to throw himself off such was Everton's poor performance (maybe we lost 1-0, to Leeds?) and one of the ground staff had to climb up and talk him down. I'm trying to remember if he was the bloke with alternate blue & white enamel teeth so he could smile in the club's colours.
Chris Williams
9
Posted 17/02/2020 at 09:59:26
Cheers Dave,
I think you're right about John Moores.
I don't recall the Floodlit Cup for some reason. I was a regular at Goodison by that time, either with my Dad or my mates. Maybe past my bedtime!
Phil Parker
10
Posted 17/02/2020 at 11:59:02
It was Tommy Clarke, Alan, a local Everton legend. We lost 2-0 at home to Leeds and he climbed up the pylon after the game, threatening to throw himself off. The lads at the ground knew him and kept asking him to come down so they could go home. Which he did. I think it was 76-77 season for Rob's timeline on the last pylon. It was left up as a marker for the stadium.
Teddy Draper
11
Posted 18/02/2020 at 17:25:33
I'm 83 now guys so bear with me, as a very young Blue I can ( in the mist of time ) remember going to Holly Park in Garson to an ex Everton v ex Liverpool match and distinctly remember it being played under floodlights. I might be wrong but seemed to recall ( unless it's wishful thinking ) Dixie Dean coming on for a very short cameo. Don't be silly guys, of course he scored, or at least my old brain tells me he did, a header, naturally. Please someone tell me I'm correct. God bless you all.
Dave Abrahams
13
Posted 18/02/2020 at 18:19:24
Teddy (11), if you google ' did Dixie Dean play at Holly Park" you will get a recollection by a reader confirming your story, although it states that he only played a cameo role, he scored a goal, as you stated, but it also says the opposition allowed him to score, maybe as a mark of respect. Teddy you and your memory go to the top of the class.
The next test is " what did you have for your tea tonight'?
Mark Andersson
14
Posted 19/02/2020 at 18:25:43
Thanks for an interesting read...
My first experience at Goodison was under the floodlights... a European affair in 1971.
Alan J Thompson
15
Posted 20/02/2020 at 04:33:47
There was a game at Holly Park in the '60s when Dixie kicked off but that was all he did in his next best suit. There was a full house but I can't remember who played and what it was in aid of.
John McFarlane Snr
16
Posted 20/02/2020 at 19:27:55
Hi Dave [6] I wanted to answer in response to your post, but I had problems relating to my registering to the ToffeeWeb site, thankfully after four days Lyndon sorted it out for me.
I was serving in Cyprus when the floodlights were installed, and my first floodlight experience was in December 1958, when I came home on leave. I was demobbed in July 1959, and I was sure that I attended a Floodlit Cup game, and on researching it appears that the fixture was last played in 1961, a 2-2 draw. It appears that Liverpool's promotion in 1962 did away with the need to continue the fixture, it was, after all, a money-spinning exercise.
I found the article extremely interesting, but the highlights for me were the photographs of the ground in all its splendour, the view of the Goodison Road stand is breathtaking, younger fans may appreciate why we 'Old' uns take issue with those who call Goodison a dump.
Dave Abrahams
17
Posted 20/02/2020 at 20:53:22
John (16), as far as I know John those two games, for the Floodlit Cup, were played to celebrate the first ever games played under floodlights at Goodison Park and Anfield. I personally don't remember any further games for The Floodlit Cup but there were some games for The Liverpool Senior Cup, including one match when Ian St, John made his debut for Liverpool and scored a hat trick, although Everton scored four in reply, with left winger Jimmy Fell getting two of them, possibly Bobby Collins scoring another. They used to get huge crowds for these games. Maybe some of the older fans can recall the game you refer to.
John McFarlane Snr
18
Posted 20/02/2020 at 21:54:23
Hi Dave [16] according to my records the Floodlit Cup was contested 8 times:
09/10/57 2-0 Eddie Thomas [2]
30/10/57 2-3 Jimmy Harris, Dave Hickson'
01/10/58 1-2 Dave Hickson
29/10/58 2-3 Jimmy Harris, Eddie Thomas
30/09/59 0-3
28/10/59 2-0 Brian Harris, Jimmy Harris
05/10/61 1-3 Jimmy Gabriel
13/10 61 2-2 Bobby Collins, Roy Vernon
I don't know what happened to 1960, I'll have to do a bit more research.
Michael Kenrick
19
Posted 20/02/2020 at 22:31:59
John,
From my records, it looks like the Floodlit Cup lasted for 5 years and was a two-legged affair for the first 3 years. But in 1960 (at Anfield Road) and 1961 (at Goodison Park), it was settled in just one game.
Some of your dates don't agree with the ones I have:
09/10/57 @ Goodison Park
30/10/57 @ Anfield Road
01/10/58 @ Anfield Road
29/10/58 @ Goodison Park
30/09/59 07/10/59 @ Goodison Park
28/10/59 @ Anfield Road
05/10/61 05/10/60 @ Anfield Road
13/10 61 18/10/61 @ Goodison Park
Alan J Thompson
20
Posted 21/02/2020 at 09:55:31
Dave (#17); I was at that Senior Cup Final when St John debuted for the other lot and scored a hat trick while Micky Lill scored the winner for us.
If memory serves, I think the attendance that night at Goodison Park was 42,000 but stand to be corrected.
Chris Williams
21
Posted 21/02/2020 at 12:00:06
Yes Alan I was at that game too. It was one of the only ways you could see a local derby then. And we even won them!
I remember the result but not Everton's scorers. I do remember St.Johns hat trick. I told my Red mate he wasn't fit to lace Alex's boots.
And he wasn't, narky little get.

John McFarlane Snr
22
Posted 21/02/2020 at 13:53:34
Hi Michael [19] I checked my records and found that I typed 15/10/61 when it was indeed 15/10/60, regarding the dates that do not correspond I'm prepared to accept that it's quite possible that the records I sourced could be incorrect. The overall comparisons prove that there were 8 fixtures from 1957/58 to 1961/62, if you read my response to Dave [6] you will note that I was serving with the Army in Cyprus when the first 4 games were played, and on being demobbed in the summer of 1959 I would have seen the latter 4, but like Dave I have no recollection of them.
I owe you an apology Michael, because somehow or other I failed to see that my article 'Treasured Memories of a Bygone Age part 7' had been published. That together with a post that was deleted, compounded by my numerous logging on failures, led me to believe [wrongly] that the one or two issues that we had shared, had resulted in me being denied access to the ToffeeWeb site. Lyndon, however sorted the problem for me, so once again apologies.
John McFarlane Snr
23
Posted 21/02/2020 at 14:07:22
Hi Michael again [19], correction 05/10/60. Best wishes John.
John Raftery
24
Posted 22/02/2020 at 12:29:10
There were many who voiced doubts in the early fifties that floodlit football would ever catch on. In an Everton match programme from that era, Don M Kendall of the Evening Express wrote:
"It is impracticable so far as these islands are concerned. Floodlighting is all right for countries not having the British climate, and while many workers would welcome evening matches (particularly those who have to work on Saturday afternoons) there remains a doubt as to whether they would brave the winds, rain and cold to see an evening match at a ground where protection is limited."
He went on to argue that, rather than investing in expensive floodlights, clubs would serve their supporters much better by devoting the money to the provision of more covered accommodation and seats. Kendall acknowledged that "Everton, with the best club ground in Britain, could stage floodlit matches better than any other" but asked "would a match at Goodison on a cold evening be preferable to the usual Saturday afternoon gathering?"
John Jones
25
Posted 24/02/2020 at 10:46:47
Just a quick mention on the subject of the first floodlit game at Goodison.
Does anyone else remember the Everton kit – shiny silk, glittered under the lights – absolutely awful!!!

Dave Abrahams
26
Posted 24/02/2020 at 17:03:56
John (25), yes, I mentioned those shirts (6), they seemed to be very heavy, either silk or satin, they used them again in the return game at Anfield. Not sure if they were ever used again, I imagine the players must've sweated and lost a few pounds both times they used them.
---
Add Your Comments
In order to post a comment, you need to be logged in as a registered user of the site.
Or Sign up as a ToffeeWeb Member — it's free, takes just a few minutes and will allow you to post your comments on articles and Talking Points submissions across the site.
---
© ToffeeWeb