Everton History
The Hillsborough Disaster Documentary
Rob Sawyer

14/04/2020
87

comments | Jump to last
Rob Sawyer in conversation with Director Daniel Gordon
Casting aside partisan rivalries, Evertonians have stood shoulder to shoulder with Liverpool supporters for 28 years in seeking justice for those affected by the Hillsborough stadium disaster. Merseyside's sense of solidarity is a key factor whilst Everton supporters don't forget that, had the semi-final draw been different, they could have been in Sheffield that very day.
It is a lifelong Sheffield Wednesday supporter, Daniel Gordon, who has produced, what is held to be, the definitive documentary about Hillsborough. Embargoed from being screened in the UK until the new inquests in Warrington were concluded, it finally aired on the BBC in May 2016. I caught up with Dan to get his personal perspective on the disaster and the making of his landmark documentary. This article is dedicated to the campaigners for justice over the Hillsborough Disaster and to the memory of The 96.
---
Early Years
I was born in Sheffield on a Wednesday. It was very much a proper football background in that you are given the team you support and taught loyalty to it through thick and thin at a very early age! I grew up in Manchester as a Wednesday fan in the late 1970s – you can imagine what that was like surrounded by United and City fans. Quite a few of my mates supported Liverpool as they were winning everything back then.
I started going to Hillsborough in 1978-79 when they were under Jack Charlton. I was a season ticket holder from the second season I went — going to home and away matches with my dad. By the time I went to Goodison in 1984, it was my 35th ground visited. I am still in exactly the same seat at Hillsborough in the South Stand and I take my two daughters along with my mum, my sister and her boys.
I wrote a book on Wednesday in 1995 and from there Sky Sports asked me if I could set some Wednesday-related questions for a sort of fans "mastermind" programme they were doing. The official club historian had wanted payment for doing it so they sought someone else who would set the questions… someone young and knowledgeable – and most importantly who wouldn't charge! I agreed to do it as long as I could attend the show being filmed and meet the producer. Then I badgered them to give me a job. So that's how I ended up working for Sky Sports for 3 years from 1996.
I worked on Soccer AM and a documentary series. Then I moved to Chrysalis who were covering Italian football at the time – I did a couple of projects including the 'Michael Owen's Soccer Skills' series (I still have a photo of me and 'Big Nev' Southall from it somewhere). In 2001, I decided to form my own production company, VeryMuchSo; its first project was a documentary on the North Korean football team at the 1966 World Cup (which featured Goodison Park). Since then, I have been doing feature-length human stories with a sports background.
Match-Going before the Hillsborough Disaster
Everyone going to matches was aware of the dangers of terraces but took it as 'normal'. The surge, especially after a goal, was quite a thrilling thing to be part of — it was a really intense emotion that you went through. Now you look back on all the near misses you have had and you realise every ground's away end (with the possible exception of Highbury — which had no fencing) was an absolute shit hole. I think that the clubs have always treated the fans with utter disdain, home and away. If they had given a monkey's, they would have provided better facilities.
These were grounds that were getting older — Hillsborough was 90 years old in 1989 — and clubs were more focussed on "security" features. They would be happy to put a fence up but not a kiosk for half-time or covered toilets. It's ridiculous. The comfort of fans was never a priority. Once they stopped serving alcohol in the grounds, it made it even less appealing to be in the ground early. I wasn't 18 until 1990 but even for me, there was nothing to get in early for. If you were standing, there were no proper toilet facilities, nowhere to buy a drink or eat anything decent. My dad used to be quite prepared with a flask and biscuits for half time but not everyone was. That's what it was like.
In the mid to late 1970s, clubs began to erect fencing – especially for away fans who were felt to be more 'problematic'. The fence at the front of Leppings Lane went in during the late 1970s with the penning added in the 1980s to meet Division One 'standards'. I never went into the away terrace at Everton as it was very shallow. I remember The Dell at Southampton - you could only see about a fifth of the pitch. At Newcastle in a promotion game in 1984, I had a really bad crush injury from a concrete crush barrier - that was horrendous. We also got crushed outside Grimsby's ground on Boxing Day that same season as we had so many fans and it couldn't cope. You were always aware that this was how you were treated — I got hit by a police truncheon at Old Trafford for climbing up on the fence as I celebrated a Wednesday goal — I was only 13 or 14.
What shocked Wednesday fans about the Hillsborough disaster — apart from the sheer scale of deaths and injuries of course — was that we prided ourselves on having one of the best stadiums in the country. But if you speak to any away fans they will tell you how shocking it was in the Leppings Lane end but, of course, as home fans we never went in there, and if we did it was never on an occasion where the end was a sell-out.
My recollections of The Disaster
I was meant to be at the semi-final game at Hillsborough in 1989. There were no neutral tickets on sale so the only way to get to the match was to help out. I was going to help my mate at the Supporters' Club — either stewarding or selling programmes. At the time, I was studying for GCSEs and, the night before the game, for whatever the reason (probably my mum nagging at me!), I decided not to go. I later found out that my mates were counting programme money in the gymnasium when they started bringing the bodies in.
At the time, I was out delivering leaflets for my mum and I'd seen through someone's lounge window a TV showing a Norwich player walking off crying at full time, so I knew Everton had won their semi-final. I then called my Dad to pick me up. He told me that he had some bad news. The only bad news I could think of as a 16-year-old was that Liverpool had also won and that it was going to be yet another all-Merseyside final. Then he told me, 'There has been a problem at Hillsborough and seven or eight people have died.' By the time he picked me up, the figure was over twenty. That was just staggering, like everyone else, I was utterly stunned. The following Thursday, I went to Anfield with three of my schoolmates and I put my Wednesday shirt and scarf on the Kop — it was really sombre.
I never wanted to go to a football match again. At the time, Wednesday were in a relegation fight and the next game played there was two or three weeks later against West Ham. They beat us 2-0 but I really didn't care. I stared at the tarpaulin they had draped over the Leppings Lane terrace fencing. I just felt sick and really not bothered if we stayed up or went down. Nothing mattered. As well as the loss, I could feel what every football fan was feeling — it could have been me.
On the last Saturday of that season, we played Middlesbrough at home — winner takes all — whoever won stayed up. We won 1-0 and the way we reacted both to the goal and the final whistle reminded us that it did matter again. We hadn't got over it but we had got back to being football fans — very tribal. They closed the Leppings Lane terrace for a couple of years after that — there was a whole season with nothing there until they installed seating. It was ghostly.
Football fans in that era knew how the police were and how you could be treated. So I could never understand how football fans generally thought it was the Liverpool fans' fault. Personally, I just didn't get it, especially in Sheffield, also a working-class city — and they had seen how South Yorkshire Police had dealt with the miners. But there was this whole thing that it was the outsiders who caused it. There was — and continues to be — an element of denial that our away end was a death trap — we might not have gone in it ourselves but it was our ground and our club.
The biggest legacy of the Hillsborough disaster is the all-seater stadiums and the formation of the Premier League — neither would be possible without Hillsborough. It's a better era now — purely because of the standards both of the grounds themselves and attitudes to health and safety — but it's not necessarily a better experience and the traditional fan has been priced-out.
The problem that I have is that I will go to any Wednesday away game, I'll know anything from 20-50 people who will be there, but I won't be sitting with them. That's what I miss most. Before, with standing, you could meet up with your mates and go together where you wanted to. Now, the ticket allocation is random. I don't agree that 'safe' standing will be any better though. Rail seating/standing is safer than traditional standing but it does not solve the fundamental issue — if you're all pre-allocated seats (which you have to be for safety reasons), you can't stand where you want with your mates.
Hillsborough itself has barely changed since 1989. The North Stand is exactly the same apart from the wooden seats being replaced. Leppings Lane, to all intents and purposes, is exactly the same - which will be very difficult for Liverpool supporters if we ever do play them again — probably in a Cup as promotion feels like light-years away. Weirdly we've never played Liverpool since we were relegated in 2000. It feels even more remarkable that we played Liverpool at Hillsborough in November 1989, so soon after the disaster. It really was a case of "got to get on with it" at the time…
These days at Hillsborough, the away fans access the lower tier seats (the old standing area) through that same tunnel. It is uncomfortable when I filmed there, I wouldn't want to be there on a matchday as an away fan. A sizeable number – I'm not saying a majority – of Wednesday fans have always wanted to knock down that end of the ground and build something more suitable with a proper memorial included. But it just never happened — the Club officials of the time can give reasons why it didn't happen — but they won't.
Making the Documentary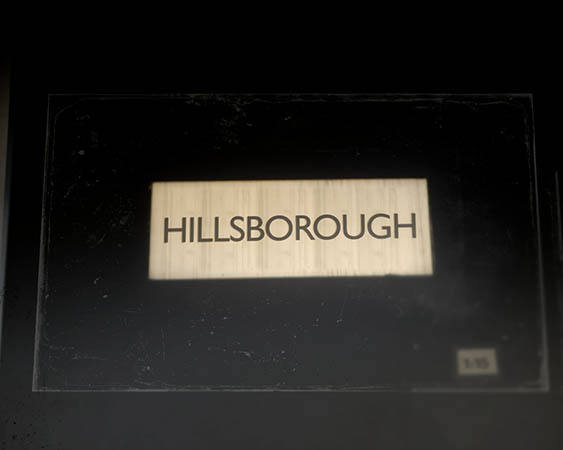 I wrote a chapter on the Hillsborough Disaster in my first book in 1995. Then, in 2008, with the 20th anniversary on the horizon, I first approached the BBC about making the definitive documentary. They passed on that because they thought 'What's new?' I am now really pleased that they did say "No" as, then, I could not have made the same documentary that I eventually did. It is only since the findings of the Independent Panel and the new inquest that everything can be said and not be legally challenged.
In 2011, I was working on two projects for ESPN and I heard that they wanted to make a film about Hillsborough. I pretty much immediately flew to New York and said, "I'm your man — don't look anywhere else." Then it was a case of getting the BBC on board as they held all the crucial archive footage and it ended up being a co-production. We finished it in 2014, ready for the 25th anniversary and it was broadcast in the USA but over here it was embargoed until the inquests had finished.
Professionally, as a filmmaker, it was frustrating, but to wait a little while was nothing so long as the inquest got the right verdict. With hindsight, it was a much better film with the inquest findings and the exoneration of the fans being the conclusion (the previous incarnation of the film finished with the families going into the start of the inquest).
I was trying to be clear from the outset that I was going to be showing how the disaster happened. Over the years, many people outside of Liverpool had been so flippant about Hillsborough and had no idea, really, as to why, or how, it happened. You have to see the gravity of what unfolded: to see, firstly, how people died and secondly why people have carried on fighting like they have for justice. If you saw what happened and then saw how everyone was treated, you couldn't just move on — and I wanted to get that across. I tried to keep as open a mind as possible going into the project — that's why you see four policeman telling you very human stories of their experiences on the day and beyond.
How the tragedy all came together was almost like a "Sliding Doors" moment. One incident in October 1988 (a prank by some police officers) led to the removal of the key man who understood how football crowds worked. This led to the bringing in of a completely inexperienced person (David Duckenfield) to police a game of incredible complexity. If everything had gone fine, nobody would have minded that Duckenfield only had 3 weeks' experience. The only time that Duckenfield had been to Hillsborough before was for a match against Millwall and they only brought 200 fans and there were only 18-20,000 in the whole ground. Although Duckenfield really needed an experienced second-in-command, that man had only been in place that season.
So you have a catalogue of factors but we should not forget that this incident was coming and Hillsborough was particularly bad in almost being ready-made for this disaster. You had a ground that rarely got massive crowds — you might get 40,000 for a visit of Manchester United and over 30,000 for Everton, Manchester City or Liverpool. But here we had 55,000 people coming to a stadium that they didn't really know. You had that added factor that, whereas at a Wednesday home game, even if it was completely full, you could access the North Stand from the Kop End so there was less pressure on Leppings Lane — even if the opposition brought 10,000 away fans.
So a semi-final at Hillsborough was always going to be problematic. At the semi-final the year before, when Forest met Liverpool, people thought that. The Leeds-Coventry semi-final game in 1987 had to be delayed. Those who say that it would not have happened if Liverpool hadn't been given that end are wrong — the numbers don't work. Whoever had that end would have had a problem — it was nothing to do with Liverpool being a bigger club. You can't process 24,000 through 23 turnstiles in the time given. 7 of those turnstiles were for the 10,000 serving the Leppings Lane Terrace – that's 1,300-1,400 persons per turnstile. The Green Guide (safety for football grounds) stated that a fully functioning turnstile with fans having their tickets ready or the right change (if paying cash) can process 750 persons per hour. So, on that basis, it would have been 3:40 pm before they had everyone in.
Had they announced that they had delayed the kick-off, it would have stopped any crush outside. It's a big game and you want to get in — people weren't charging, they were just moving forward. The ticket wasn't particularly helpful in terms of a map and when you got there you didn't know which bit of this massive crowd you were supposed to be in. Nothing was particularly helpful for these 24,000 people. So you were relying on the club and the police to guide you in — and that didn't happen. The year before there had been ticket checks on the approach to Leppings Lane — this was not so much to check that people had tickets as to break up the flow of the crowd a bit and make people more aware of where they are headed. This time, none of that was in place. Even with all that, it could have been averted by closing the doors leading to the Leppings Lane tunnel.
As for the police — there was no leadership. Back then, South Yorkshire Constabulary was organised along military lines — you waited for your leader to tell you what to do. The infantry don't make decisions — they wait for the order. If they weren't told anything, they didn't do anything. A few police officers did act on their own initiative but most were waiting on their sergeant who was waiting for the superintendent to give the order, who, in turn, was waiting on the Chief Superintendent. It was this whole hierarchical thing.
I have seen everything that was filmed that day – the BBC was covering it for Match of the Day and there was an ITV news crew there. The BBC also sent down a local news crew when they heard something was happening. Finally, there was a police video team present on the day, an early sort of spotter surveillance unit — in fact, they were the underwater rescue unit. I really wish I could 'unsee' some of it but I can still picture a lot of it.
When making the documentary, we agreed that we would go as far as what was tasteful and subsequently took the opinion of Professor Phil Scraton and some family members as to what was acceptable. In the end, we didn't need to take anything out as we had got it pretty much right in the initial edit.
All of the footage was available to the Popper Inquest and Taylor Inquiry, which begs the question — why wasn't this all cleared up beforehand? Only they can answer that but the implication was obvious. If the footage had been used quickly, it would have been quite easy to clear up what had happened, as it is all there. Taylor saw it and came to a correct conclusion early on, but the rest of it was establishment manipulation.
What really shocked me was not so much the footage of the day — and that was very distressing – but two items of footage from later on. One was of South Yorkshire Police manipulating coroner Stefan Popper by plotting on a map all the pubs in which the fans had been drinking — the fact that they were happy to be filmed doing that just shows you how invincible they thought they were. The other clip was when Lord Justice Stuart-Smith gets out of his car when he goes to meet the Hillsborough families in 1997 – and he says — and I'm paraphrasing - "Are all the Liverpool fans here? It's not like them to be late." I had heard the story a few times but I had naively thought that it was apocryphal and it had been slightly misheard — but then we found it in the archive and it was a case of, "Oh my God, he did say that???"
The police did not look at the evidence and decide what had happened — they thought they knew already and then sought out the evidence to prove it. For example, they took a camera up to the Snake Pass to film cans of beer alongside the road – it could have been anyone tossing out a can from their car but they said, "That shows you what the Liverpool fans were like." The Hillsborough Independent Panel Report put everything online and you can read there that South Yorkshire Police asked every pub landlord across the city of Sheffield a series of questions about what happened that day. And they all said that supporters left their pubs around 2 pm, so not that late. They weren't turning up drunk en masse at the stadium.
The UK Broadcast
I don't particularly engage with Twitter but I did follow the Twitter feed when the programme was broadcast on the BBC. There was a massive spike on social media as people switched from the BAFTA Awards on BBC One to watching Hillsborough on BBC Two — which was an amazing thing to witness. Had we broadcast before the inquest verdict, some people might still have had doubts. Some people will never change their minds – they are lost causes – but it is a very different environment now in which to be screening it.
The Hillsborough families watched it — they are very proud of the film. That's very flattering but also a hard one for me to take. Any recognition for the film is as much recognition for them. I would like the film to be remembered as being dedicated to them — and to all those who fought for justice. But especially For The 96.
Author's note:
Although written in 2017, the publication of this article was held back pending the conclusion of legal processes. My thanks to David Gordon for sparing the time to talk with me at length.

Follow @robsawyer70
Share article:
Reader Comments (87)
Note: the following content is not moderated or vetted by the site owners at the time of submission. Comments are the responsibility of the poster. Disclaimer
Tony Abrahams
1
Posted 15/04/2020 at 08:51:47
Such a sad story that had to be told, because the cover-up that was started by that most evil of women, Thatcher, was and still is a national disgrace. Some South Yorkshire policemen got paid a lot of money for damages, whilst the families of the Hillsborough victims got pushed away and lied to on a consistent basis.
Thanks for helping with the truth Daniel, thanks to Rob, Michael and Lyndon, for the continued great work that this website produces, and fuck off to David Duckenfield, the South Yorkshire Police, Gordon Taylor, and the Thatcher Government, who preferred to tell lies rather than the truth, the evil lying bastards.
Bob Parrington
2
Posted 15/04/2020 at 09:03:00
This was just 3 years in to my wife, 3 kids and I arriving in Australia. It was difficult from so far away to fully come to terms with what had happened but the media did read that it was the Liverpool fans who had caused the problem.
One particular thing really came home to me while reading your article. It was the fabrication of so called evidence by the police. This last weekend, I have read a lot about the acquittal on appeal of Archbishop Pell. Now, don't get me wrong, I am not a religious person. But the police evidence seemed to have been exactly as you reported for the Hillsborough situation. I was convinced by the ABC coverage that he was a corrupt pedophile. But the ABC reporting and the police fabrication seems to have been arrogantly and negligently incorrect. As you say, make the accusation and create the evidence.
So, it's not just in the UK or just Yorkshire that this occurs. Somehow, we never change. We never learn. There will always be corrupt people in positions of power and this will be a blight to the honest, hard working guys and gals who want the truth out there so that we do learn.
Coming back to the Hillsborough disaster, regardless of age, team loyalty, religious creed, political bent and wage level, I think all football fans would have been horrified by the events and felt deeply for those who died and their families and friends.
Thanks for posting this article.
Tony Shelby
3
Posted 15/04/2020 at 09:34:23
I was at Wembley with my Dad for the 1984 FA Cup Final against Watford.
We were stood quite near to the pitch and when Andy Gray scored everyone surged forward. I got trapped against the fence that stopped you from being able to get onto the pitch and for a good 15-20 seconds wasn't able to breathe.
This happened a few times more afterwards and was terrifying. Eventually my Dad and another guy lifted me up so that I was at head height gripping the fence.
I'm sure this was a common experience for match goers at the time and was part and parcel of the government's attitude of caging us in like animals.
Like the rest of us, I'll never forget the 96 that died. More importantly, I'll never forget the family and friends of the victims that have had to endure a lifetime of suffering as a result of something that should never have happened.
When it comes to Hillsborough, we are one city.
Tony Everan
4
Posted 15/04/2020 at 10:07:53
I still find this a difficult subject to handle after all these years. A good Liverpudlian friend of mine died there and seeing him dead in the coffin was devastating. I cannot imagine the strain on the families. It is still raw and heartbreaking.
I would like to also send good wishes to Kenny Dalglish, who has Covid-19, and his family. He was a giant of a man through that crisis and deserves the utmost respect for it.
Dave Abrahams
5
Posted 15/04/2020 at 10:47:44
Everton v Aston Villa in the replay of the League Cup Final, 1977, I was stood on the Lepping Lane terrace. I was pretty tall, around 6 ft, and it was a terrifying place to be. Glad to get out of it.
So the ordeal was repeated time and time again for every big game there and, let's be honest, at grounds all over the country, including Goodison Park and Anfield. But, as Daniel says in his excellent report, we fans just took these experiences for granted.
It definitely doesn't excuse the way we were treated and even more so the way Liverpool fans and the families of the bereaved and injured were lied to and ignored for 25 years by both sets of government. Until Andy Burham (sic) promised an inquiry to the Hillsborough game, a disaster that will never be forgotten on Merseyside.
Mike Benjamin
6
Posted 15/04/2020 at 11:41:50
I remember being at Villa Park that day and, when more news filtered through shortly after the final whistle, the walk back to the car was very early.
Personally, I think what happened 4 years earlier at Heysel contributed to this disaster. Attitudes of the police, the Tory government, and the establishment generally, were never going to be anything other than it was the fans' fault.
Trevor Powell
7
Posted 15/04/2020 at 12:19:52
I was not at the Villa for the Blue's semi-final v Norwich. I was at home in the garden, digging my veg patch with the radio on. The much missed commentator Jimmy Armfield, about ten minutes before the game made the comment to the effect, "Something very odd is happening in the Liverpool fans' section (ie Leppings Lane End). There seems to be crushing in the central two pens but the two outer pens are almost deserted."
I have tried to check these comments and did I really hear them, but then I found this link on Tomkins Times!
Now if Jimmy Armfield could see that, why couldn't the incompetent Dukinfield and his lying cronies see it? Why has the BBC not kept the radio commentary of Armfield and published it?
Roger Helm
8
Posted 15/04/2020 at 16:26:12
I was going to Goodison Park and other big grounds through the seventies and eighties and it was scary at times with big crowds packed in. When the crowd surged, I often thought "If I trip here, I have had it." And that was without the pissing on the terraces, throwing of missiles, obscene and violent chanting, casual hooliganism etc.
I think it is missing the point to blame the government of the day (if the Labour Party hadn't been so useless, we would have had a different government anyway). The rottenness was in the football community itself, clubs, fans and administrators. We should have put our own house in order before Hillsborough, then we wouldn't have needed the police to keep us safe.
BTW, good news on the BBC about Kenny Dalglish, who is recovering well from Covid-19.
Tony Abrahams
9
Posted 15/04/2020 at 17:15:51
"We should have put our own house in order before Hillsborough and then we wouldn't have needed the police to keep us safe."

That has got to be the biggest load of unadulterated shite I've ever had to read on this website.
Brian Williams
10
Posted 15/04/2020 at 17:18:59
Dave #5.
I was in the Leppings Lane end for that game as well. I actually got dragged out by a Bobby as I'd nearly passed out from the crush. When I'd recovered my senses, pitchside, he just said "Right, get back in there if you're okay."
We were treated like animals. Having said that, there were lots who behaved like animals too. I know in our game at Hillsborough there were hundreds, if not thousands, who'd left the pub at five to three after having a semi skinful and then tried to get in by hook or crook. It was commonplace then at big games to try'n "force the gates".
The disaster could so easily have happened to us.

John Cook
11
Posted 15/04/2020 at 17:23:52
Agree with you, Tony, the Police were the worst culprits at the time.
This lockdown is addling a couple of brain cells on here.
Tom Bowers
12
Posted 15/04/2020 at 17:27:13
Many years ago the emphasis on public safety was very rare in many walks of life, sports, food, drugs, workplace, and the air that we breathe etc. Many things have changed but only due in many cases to tragedies and I suppose will continue to do so as newer things evolve in our daily lives.
I recall when in the sixties many grounds packed everyone in like sardines in big games especially and I had many a harrowing moment at Goodison Park and Anfield but thought nothing of it as long as I was still standing and able to go to the next match.
Many problems also occurred outside the ground waiting to get in and sometimes waiting for hours queuing up to get tickets for big games with little or no police control except the odd bobby on a horse.
Sometimes only being able to catch the derby match in the Kop it was just a constant back and forward surge up and down the terrace that one couldn't really watch the game with any continuity. We called them the good old days. Yeah right!
Hillsborough and Hampden were tragedies waiting to happen.
Don Alexander
13
Posted 15/04/2020 at 17:28:56
I've read the long-suppressed, eventually disclosed, police investigation papers. The culture of total sycophancy to the Chief Constable of police was mandatory if you sought promotion. Duckenfield sought promotion.
The South Yorkshire superintendent who'd been in charge of the same fixture one year earlier was not seeking further promotion. His performance was excellent. He knew the ground, the behaviour of fans, and how to deploy officers. He was stunned at the time that Duckenfield, a favourite of the Chief Constable, was chosen as ground commander. He was left to work in Sheffield on other duties as the calamity unfolded.
And the police papers show that, from the get-go, the biggest "initiative" the police pursued in trying to apportion blame was to seek "evidence" from anywhere of excessive drinking by scousers, rather than anything else.
Mind you, Norman Bettison was at the game and in a very prominent role in the incident room from that day onwards.
Hmm...
Brian Wilkinson
14
Posted 15/04/2020 at 18:16:31
Don,
Brian Mole, who was in charge the year before, was transferred to Barnsley, due to a prank some of his officers played on a new cadet.
He should have been in charge again but, weeks before, he was transferred away from Sheffield, leaving Duckenfield to take over.
Jay Harris
15
Posted 15/04/2020 at 18:55:43
I was at Villa Park that day and all we knew was a message they put over on the Tannoy saying the game had been delayed,
As we left Villa Park we came across Evertonians sitting on the kerb by the side of their cars, crying, who then told us what had gone on.
It's fair to say all Evertonians went from the euphoria of winning the semi to a numbness I have not known since.
In the following months and years, all respect for the authorities went out of the window.
It still leaves a big scar on the justice system.
Eric Haworth
16
Posted 15/04/2020 at 20:59:41
Brian #10, I assume your recollection of Dave #5 reference to the Milk Cup Final replay in 1977 against Villa at Hillsborough has suffered the vagaries of time and our age, coz it was actually a midweek night game. So we weren't in the pubs getting hammered till 2:55 pm. Most of us were racing to get there straight from work.
My overriding and strongest recollection of Hillsborough's Leppings Lane end that night and every other occasion we played there was the approach, which was just like a narrowing funnel straight down the lane to the turnstiles. There was no way out via side roads as an escape route. This was exploited by the mounted South Yorkshire Police and would never be admitted in public, and definitely not at a formal enquiry. But they liked nothing better than hearding a load of "scum scousers" into the area at the bottom of the lane outside the turnstiles and crushing us against the walls & gates with their horses, dishing out their abuse while grinning down at us from the back of their mounts.
This hostile "macho" attitude increased post what they saw as the "war" they'd won against the miners, with many even referring to themselves as "Maggies Marauders", believing they'd been given licence to do as they pleased and were "fire-proof", and as such were always itching for conflict. Sad times and a disaster that was sadly inevitable.
Jay Wood
[BRZ]
17
Posted 15/04/2020 at 22:19:06
Eric @ 16. Correct. It was a breathless dash across the Pennines to make the replay after work and no time at all for a session before hand.
I remember the train journey back to Lime Street and most of the carriage I was in being pleased that at the same time we played, Liverpool beat St Etienne in the European Cup to progress to (I think...) the semi-finals.
No rancour. No seething. Just pleased for the city.
How times change, eh?
Roger Helm
18
Posted 15/04/2020 at 22:27:07
Tony, did you want to add any reasons or argument to your shouting? Yes, I know that the victims were innocent and the police behaved badly at the time and afterwards and that most fans are decent and sensible but, in those days, the game had a very nasty streak.
Do you not remember the threatening, racist and homophobic chanting, the occasional violence, the fear in the faces of people in the high streets when visiting fans marched through? It took an army of police to keep order in big games – this was never needed in crowds just as big in other sports, like racing and both codes of rugby.
Like Tom says, these were tragedies waiting to happen. The only wonder is that there were not more of them.
Brian Williams
19
Posted 15/04/2020 at 22:38:53
Eric (#15).
I was using 2:55 as a generalisation, though I must admit my memory is bad. I should have posted "five minutes before kickoff" to be factually correct.
And although you and Jay (#17) say there was no time for a session due to rushing to get there after work there was time for lots of others who were in the pubs hours before kickoff, just as thousands were in the pubs before most games, getting tanked up.
It was quite commonplace for there to be a rush from the pubs as late as possible before kickoff and that caused problems in itself.
Patrick McFarlane
20
Posted 15/04/2020 at 22:41:44
It was a tragic event and it was inevitable and it was a direct result of the the then Government's view of the working class, football supporters and Scousers in particular who were seen as the enemy within.
Of course, the culture of hooliganism didn't help but most fans of that time tried to steer clear of that element but the media portrayed every fan as being a potential hooligan and the police responded to that portrayal.
Even to this day, football supporters are treated differently to other sports fans; it was wrong then and it's wrong now. We pay our money just like fans do to enter Twickenham and Ascot but the rules and treatment of fans twixt the sports are very different.

Derek Thomas
21
Posted 16/04/2020 at 02:16:54
After the fact, on Sunday afternoon around 4 pm, we were watching the TV and Duckenfield came on to make a statement.
I forget the words, which were neither here nor there, but the whole tone, demeanour and body language screamed - "Nobody is going to say anything (of importance) until we've all gone away and got our stories straight."
That stood out then and as has been shown was exactly what happened – they all went away and agreed on the 'official' version.
The arl fella went to Rome... part of the cause of Heysel... went to Heysel, saw them bringing the bodies out, did an about turn and drove home. He was supposed to have gone to Hillsborough too. So when I got back I phoned up.
"Why didn't you go?"
"Don't know, I got up and just didn't fancy it, so I didn't go."
That pretty much finished him as a match-going regular. He'd go to Goodison on a Boxing Day, which was a long-standing family tradition, both the red and blue halves, but that was it... and even then, his heart wasn't in it.
Eric Myles
22
Posted 16/04/2020 at 05:16:21
Bob #2, watch the movie "In the Name of the Father" about how the police fabricated evidence against IRA suspects in The Guildford Four case, even though they knew who really did it!
Alan J Thompson
23
Posted 16/04/2020 at 06:07:50
I was at the League Cup Final replay having taken the day off and I'm fairly sure that all the pubs reasonably close to Hillsborough were closed. We passed one pub that was closed and one of the lads being a journalist said that all pubs within a certain distance from the ground were closed on police orders. Police also confiscated flags on canes as they considered them to be weapons. I'd bought one (which I still have) at Wembley and I was allowed to take the flag off before being made by Yorkshire police to hand over the cane.
At that time, I was working for one of the large national bookmakers and, during training, they used to hit on what was and wasn't allowed by law and where they were particularly strict on the matter. In those days, it was supposed to be illegal to hang around betting shops, the idea was that you would put your bet on and leave. It was also illegal to encourage people to bet and, if you wanted to advertise a certain bet or odds on events, then you had to use the words "For Example" which then rendered it allowable. The police force that was quoted as being keen on enforcing these laws were the Yorkshire, in particular Sheffield, police who were known to close betting shops for the afternoon for any breach. Most other police forces in the country overlooked minor infringements, having better things to do in the days before "zero tolerance".
Most police forces in Britain in the early '70s enforced the law as they saw fit. Indeed, Liverpool police had a quota system and officers were told to meet a certain number of arrests and convictions in a given time. A friend of mine was arrested in the City on a Monday night and charged with being Drunk & Disorderly and Assaulting a Police Officer. He said that, to add insult to injury, the Magistrate the next morning was Billy Liddell and, on pleading Not Guilty, he was to appear before a bench of three magistrates at a later date. These were known as Magistrates Courts and Police Courts as if it was your word against a solitary officer then Rumpole's "golden thread of English justice – beyond a reasonable doubt" went by the board and the Policeman's word was taken.
At that trial, six police officers gave evidence against his sole voice but he was found not guilty of assault but guilty of being D&D. His barrister stated that this was British Justice at it's best, they'd just taken the word of a drunk against that of six police officers.
John Cook
24
Posted 16/04/2020 at 08:49:59
Patrick @ 20,
I agree with the perception of how football supporters are viewed differently but, to my way of thinking, the worst supporters are the gobshites that follow England. Usually supporters from clubs like Southend, Portsmouth etc, congregating all over Europe, getting pissed and hassling locals.
Remember the dickheads throwing bikes in a canal in Amsterdam. These "supporters" give the rest of us a bad name... one of the reasons I have never been that passionate about international football.

Tony Abrahams
25
Posted 16/04/2020 at 12:52:34
I remember everything about those times Roger, and I remember everything about that day, because I was actually at Hillsborough, on that fateful day.
What Jimmy Arnfield was saying at ten to three, had already been pointed out to me at 2.35pm, and the police were totally to blame for their disgraceful ineptitude on the day.
A bit like our government now, where failing to prepare, hopefully doesn't lead us to preparing to fail, although try telling that to the families of the doctors and nurses working on the front line without enough proper equipment, right now.
Your statement was crass imo Roger, totally crass considering it was said on the 31st anniversary of the disaster, writing about needing the police to keep people safe, when it was their negligence, that contributed to things getting totally out of hand, and resulting in so many deaths imo.
It got me thinking of Boris Johnson, and him telling people in the future, that it was a good job his government had chosen not to sell off the NHS, otherwise they might not have helped to save his life!
Tony Abrahams
26
Posted 16/04/2020 at 13:15:28
Brian W,I was at Anfield for the cup game two years ago, and I couldn't believe the way that it was set-up, for Evertonians to gain entry into the stadium. Apparently it was even worse this season, but I wasn't there so I don't know how true this was.
Anyway I asked the steward, "do you do this for everyone?" "No, he said, youse are the only ones that turn up late-so we only do it for youse"
I never thought it made much sense, especially because as I said to the steward, we haven't got far to travel, but looking back maybe it was more sensible than I thought, even if I personally thought there was an ulterior motive, and I sensed a little bit of that control I remember in the eighties, when it was common place for people in authority to pull rank?
Tony Abrahams
27
Posted 16/04/2020 at 13:17:12
Brian W,I was at Anfield for the cup game two years ago, and I couldn't believe the way that it was set-up, for Evertonians to gain entry into the stadium. Apparently it was even worse this season, but I wasn't there so I don't know how true this was.
Anyway I asked the steward, "do you do this for everyone?" "No, he said, youse are the only ones that turn up late-so we only do it for youse"
I never thought it made much sense, especially because as I said to the steward, we haven't got far to travel, but looking back maybe it was more sensible than I thought, even if I personally thought there was an ulterior motive, and I sensed a little bit of that control I remember in the eighties, when it was common place for people in authority to pull rank?
Colin Malone
28
Posted 16/04/2020 at 13:22:36
I remember the previous round, when we played Barnsley. We where allowed to go into any turnstile. That was a scary time. It was no coincidence, it was Yorkshire police.
After a lot of shouting from the Everton fans, the stewards opened a gate, pitch side to relieve the crushing and let Everton fans into another part of the ground.
Tony Abrahams
29
Posted 16/04/2020 at 13:22:46
And the judge said they would have hung for treason Eric@22 even though they knew they were putting innocent men in jail. What was the name of the Bizzie, who was running around with a gun pointing at his forehead shouting Giuseppe, to Gerry Conan?
I'm not taking the rap, was his words when the truth finally came out, and it's a scene that often has me thinking about that ineptitude bastard Duckingfield.
Chris Williams
30
Posted 16/04/2020 at 13:28:46
That particular police force had previous. They used the same shitty tactics against the miners after the trouble at Orgreave Coliery. Massively politicised, a law unto themselves.
Paul Tran
31
Posted 16/04/2020 at 13:32:00
Tony, in a way it does make sense. When I run courses, it's usually the people who live closest, or actually work in the same building, who turn up late. It's human nature; when you're closer, you relax a bit more. In the mid-80s most Blues I knew had their 'local' around Villa Park, we were there that often. And there was the last pint rush for the stadium that many of us did.
The arrangements for this season's derby sounded terrible, as if the teams were from different cities. When I lived back home, we'd go the pub and sometimes into the stadium together. Does that not happen anymore?
Tony Abrahams
32
Posted 16/04/2020 at 14:23:05
Not much Paul, no. When I left school, maybe fifteen lads (half red, eight blue!) would meet up for the derby, especially at Goodison Pk, have a few pints, go the game, back the pub, slaughter each other for two hours and then get on with the rest of our night. Now I don't even speak to a Liverpudlian on derby day, except for maybe one or two close friends.
Back to the 89 cup final, I remember being in a pub in Harrow after the game, again with our crowd being a mixed bunch. This Irish fella was commenting on everyone being on the pitch at the end. Did it look bad, I asked? Are you kidding me, he said, it looked absolutely beautiful, look at yers now, reds & blues together, don't underestimate yourselves, it both looked and was fantastic.
Tell me which other city, could have done what you boys did today? None- he said answering his own question, and yet the last time we played Liverpool at Wembley, even our trains left from separate train stations!
John Boon
33
Posted 16/04/2020 at 18:28:09
What happened on that day was dreaful for all supporters of football. In fact a blot on our society for everything that occured, because it never needed to happen. Reading through the posts it is sad to have to recognise that what was once a rivalry seems to have deteriorated into a bitter football war.
From the early fifties I was used to go to Anfield one week and Goodison the next. Even then I was a staunch Blue, who only wanted to ever see Liverpool lose. After the game I would walk home for teatime to a divided household regarding football. One brother as Blue as could be and another one Red to the eyeballs. Arguments would rage and nobody ever won. What was interesting was that neither team was particularly good.
This rivalry existed right through the to the 1990s although it was becoming more partisan. Hatred has replaced rivalry and the thought of Blue and Red actually mixing during a match would be unthinkable. Today after a game I do not want to meet any Liverpool supporter in any pub anywhere. I don't want to discuss the game with anyone other than an Evertonian. I can then let loose about how useless so and so was. However I don't even want a RS to praise any of our players let alone criticise them.
Today's football has become so global that teams just don't have many locals playing for them. In fact, even Brits are a rarity. This means that many of the so-called fans are from all over the world. I cannot abide having Hans Allover from Munich or Luigi Botomelli from Sicily telling me how good Liverpool are. I don't mind Wally the Red Wanker from Anfield telling me he hates Everton.
However, this well written article should be read over again. The fact that over ninety scousers died was a very sad day for all those who have to realise it is just a game, whoever you support. Personally, I was devastated on the day it happened in1987.
You have to be a fanatic to be prepared to travel far and near to just watch your team play and to want to talk about them everyday of your life. I am such a person. I am now missing football a great deal. I would even prefer a Liverpudlian than someone who doesn't follow any team. However the devastation and death from Covid-19 should make us accept that football is not really that important.
Danny ONeill
34
Posted 16/04/2020 at 18:43:39
Does anyone remember the 5th round tie away to Barnsley that same season in February. As many have said here, the way in which fans were treated back then and the conditions of the stadiums were asking for a disaster to happen.
We had a near miss that day in my opinion. The crush got that bad in the away end at Barnsley that people passed out and were having to be passed over the crowd to the front (my younger brother included). Fortunately that day, the Police acted and opened the gates to relieve the pressure.
The early action meant that, yes, fans spilled onto the side just off the pitch but were treated in a controlled way alongside the fence and advertising boards. I remember Neville Southall looking on at what was happening, but fortunately, it didn't escalate into a tragedy that our red cousins were to sadly experience only 2 months later.
David Currie
35
Posted 16/04/2020 at 20:35:32
Danny 34, I had a similar experience in 1985 at White Hart Lane when we won 2-1 in the game that really won us the League. We were getting crushed big time before the kick-off and shouted at the stewards and police to open another gate. We were lucky that they did and the relief was enormous.

Jerome Shields
36
Posted 17/04/2020 at 08:25:52
Obviously over the years, there has been stalling and cover-ups in relation to this disaster. No doubt football grounds prior to Taylor were dangerous, unsafe and fans were handled like a flock of sheep, without much care and skill, but Hillsborough was a complete episode of mismanagement and incompetence.
The cover-up to avoid blame, the whitewash investigation, and the treatment of relatives over years, just added to the initial mismanagement and incompetence. It all became a total injustice against innocent fans and their relatives, and still is.
Charles Brewer
37
Posted 18/04/2020 at 08:18:40
I remember the first time I went to Goodison after the barriers were put up to stop pitch invasions. I was up in the stands and my first thought was that these things were going to be the cause of a disaster. I never went behind the goals again.
At the time, I thought it would be a fire behind the crowd and that hundreds or even thousands might be crushed or burned. And I was reminded of that thought when I saw film of the Bradford City fire. "Only" 56 died at Bradford because the pitch was accessible; with barriers, it would have been thousands.
There were all sorts of errors at Hillsborough, and blame can be attributed to many participants, but in my view, the only real cause was the deliberate creation of a space designed for thousands of people which had no escape route. The police clearly made mistakes under pressure, but the trap was made inescapable by people making calm decisions which were reviewed and approved by others. If the barriers had not been there, there would probably have been no deaths.
John Wilson
38
Posted 18/04/2020 at 12:16:01
Hillsborough could have been Everton. Had we not played Norwich at Villa Park on that day, this documentary could have been Everton.
Ref cover-up:
The police and politicians were always going to cover it up. It is business. The police were not guilty of gross negligence or manslaughter. What they were guilty of was a conspiracy and aiding and abetting.
The problem was, in my view, about money. Yes, 96 people died but the professionals think about liability. Psychiatric damage would likely have been the claims. Even the law made it harder to sue someone by imposing really difficult criteria. The professionals also are just going to benefit.
Causation: blame. Police, design of ground, fans. Incompetent head police officer. Medical professionals. Could they have acted faster? How many were trained in CPR?
Tony Abrahams
39
Posted 18/04/2020 at 14:50:28
Incompetent head police officer = gross negligence, and to deny this, is to deny the truth?
John Wilson
40
Posted 18/04/2020 at 21:01:59
Tony, I meant it was not and never should have been guilty of manslaughter. Lying in statements and changing statements is not manslaughter.
John Wilson
41
Posted 18/04/2020 at 21:11:02
Gross negligence manslaughter is the most controversial type of human killing. It is not unlawful death with intent, ie, murder. It means a breach of duty of care and is sufficiently serious to go from civil negligence to criminal for manslaughter.
He did not know it would be certain death of 1 or 96. Why didn't the fans see the problem and not force themselves in? They were likely not sober, many of them, as we were not sober in Villa Park. We drank cans of lager. Let's not pretend fans are Mother Theresa.

Tony Abrahams
42
Posted 18/04/2020 at 21:37:08
Let's not pretend anything, John. I'm sure the gates had to be opened because it's quite possible that people might have died outside the stadium.
The middle pens were overcrowded at 2:30 pm, so the fact that the police never communicated this to each other, and blocked the tunnel to those middle pens, is gross negligence of the highest order imo, especially considering that they still hadn't done anything about it, once they decided that they had to open the gates.
Something always comes back to me whenever I think of that day, and it's a horrible thought every time it enters my head. Beardsley had a shot that hit the bar and I often think: How many more people would have perished if his shot had ended up in the net?
John Wilson
43
Posted 18/04/2020 at 22:29:03
How many fans were expected to turn up? How many Liverpool tickets were sold? How many turned up without a ticket?
It was a semi-final as I remember.
Tony Abrahams
44
Posted 18/04/2020 at 22:58:02
It's easy to see why nobody has ever been found guilty of gross negligence, resulting in so many deaths after reading what you wrote, John W.
At the same ground, with the same two teams playing the year before, everything passed off without any problems, but the fans never had a bevy that year, just in case the police weren't organised, and then obviously got lulled into a false sense of security and thought it was going to be the same officer in charge, who had organised his staff so well the previous year.
Duckinfield was not up to the job, and Duckinfield has been protected by the authorities for over 31 years, unfortunately. I know his guilty verdict would not have brought any of the deceased back to life, but I'm certain it might have relieved a little bit of the pain, for some of their family members, especially after so many lies had been told by the powers that be.
Maybe he was also protected because the ground never even had a safety certificate? And yet some people still try to partly blame the fans.
John Wilson
45
Posted 18/04/2020 at 23:54:25
I am looking at this from the legal view. I couldn't convict him of said manslaughter as the standard for that offence is high. It is not an intent type of offence. He didn't kill anyone personally. He was officer in charge. He was stuck in a situation because the fans were herding in large numbers.
The fans were determined to get into that game, they had no regard for others lives at the time. They just wanted to get in and that road was so narrow. Causation is not one thing, it's several events on that day.
Don Alexander
46
Posted 19/04/2020 at 00:35:54
Duckenfield had to be proved "grosslessly"' at fault to a criminal level by way or either, or both, "negligence" and "recklessness". All three words in italics are surrounded by text book definition, and that's conflicting text book definition ad nauseum, on the legal accountability of a defendant.
Lawyers get off on it, to their massive financial and reputational benefit and, obviously, sometimes guilty defendants, and the political systems underpinning them, get off on it too, leaving the innocently truly fucked to bear all the pain.
Paul Birmingham
47
Posted 19/04/2020 at 01:34:22
For me this is a case than went on and on and in view of legal legislation and changes in laws over the time elapse, this must be the most false descision case in history, and is a disgrace to the British Legal System.
Excuse and cover up, after cover up and lives came and went, and decades and lives, passed and the unqualified and incapable CIC of the Yorkshire Police on the day, gets off, Scot free, and with no meaningful indictment.
Surely the CPS, will also admit the falseness and perhaps Mr Burnham, could relight his baton, which was fantastic to get the case to the starting gate, but thus warrants a further review and his backup.
Where's the justice?
It's a rotten, stinking false disposition of facts, and Duckenfield, was and is to this day a fraud.
The sense of injustice will be eternal.
Bearing current times with COVID19, it's more important than ever for every one to protect them selves in terms of health and safety.
All stay safe and well, we will prevail.
Alan J Thompson
48
Posted 19/04/2020 at 05:43:02
And Police changing witnesses statements to protect themselves is the work of those who think themselves innocent? Quite a few should be gaoled for that alone which wasn't the work of an individual acting on his own dishonest initiative.
John Wilson
49
Posted 19/04/2020 at 08:14:21
Law is law. Recklessness is an intent type crime. Gross Negligence Manslaughter is not intent, as I recall. You can be reckless and still murder someone again as I recall. Been a while since I studied criminal law.
Causation applies to GNM as it has to be civil test before adding the criminal element. Stop thinking as a fan and take yourself out of the equation.
Put yourself in his situation. He was not an experienced head officer. Law test is an equivalent in his position the hypothetical or reasonable officer in that sense.
What should the reasonable officer have done. What about for causation the contributing factors? I outlined them above. What about their reasonable equivalents? It's not so simple but the fans and public want simplistic answers.
Society is set up so that the person in authority has to fall on his sword whether that head had mens rea, or intent as it's known. This is called authority mentality and known in psychology as social influence in terms of obedience, compliance and conformity. It is blame the authority in charge. It's like Saddam Hussein and Osama Bin Laden and Milosovic. In former Yugoslavia there was bottom-up genocide. As prosecution put it, our case is not 'against that whole village'.
Tony Abrahams
50
Posted 19/04/2020 at 08:23:43
It's obvious which way you are looking at this, John, because you kept moving the argument away from the main subject. It's why a lady who I've never met, and who his no longer with us, and who fought so hard for the truth, never once ever letting the phoney laws stop her turning over some grossly inhuman decisions in the end, is honestly one of the most inspirational characters of my lifetime.
Anne Williams🙏, what an absolutely inspirational mother, and human being. She told Bill Kenwright (I don't ever give this man credit, but this was magnificent 👏) her son had actually bought her the record, "He Ain't Heavy, He's My Brother", not long before he died. It was reproduced so beautifully before Everton played Newcastle, and the boy and girl dressed in blue and red wore the numbers 9 & 6!
John Wilson
51
Posted 19/04/2020 at 08:32:04
Before I studied law, as an uneducated young man, my thought was "Blame the police, the corrupt bastards". Why? Because I was listening to others and couldn't think for myself.
My law degree means I think like a lawyer now; to a certain extent, I do.
John Wilson
52
Posted 19/04/2020 at 08:41:53
I know it is not a popular opinion, it is my legal opinion. It is probably civil negligence, part of GNM at best. So, not meeting the full criteria, GNM is not satisfied.
By the way, I am working class and stuck on benefits because am severely dyslexic. I am not a Tory minded person. I don't fit into the "speed, efficiency, timing, without concern for the person" capitalist country or world largely, as the sociologist and economist, Max Weber, may have put it.
Eddie Dunn
53
Posted 19/04/2020 at 09:02:17
David @35,
I was at the game at Spurs in '85 behind the goal, and though it was full, I don't recall any problems. I also attended Whitehart Lane in '89, just a week after Hillsborough. I was in the Everton end behind the goal, getting in there 25 mins before kick-off, the section got very full and we called to the police to open the empty section on our right. It took them till nearly half-time to open it, much to our relief.
Many were shouting at the coppers "Don't you know what happened last week?" etc... The crowd was only 28,000. An example of how the chain of command was very slow and how, even in a below-capacity attendance, away fans in particular were treated with disdain.
Tony Abrahams
54
Posted 19/04/2020 at 09:31:44
John @51, I genuinely don't think you wanted to sound condescending, so – even for an uneducated person like myself (wasted education) – I will give you the benefit of the doubt and say right now that I've never been swayed by anything but my own thoughts on this matter, especially because I witnessed what went on with my own eyes.
I was a young professional at Nottingham Forest at the time, and was asked on the Monday was I going the game? Before I could reply, I was told I was the first on the coach (staff members, players wives) because there was no way I was going to Villa Park.
On the day, a scout from Ireland was on the coach, lovely man. We talked football, he told me how much he was looking forward to the game and, when we got to the stadium, I said "I'm going to find a few red mates, I will see you in the ground."
I got in the stadium around half-two, because I couldn't find any mates (no mobiles back then) and happened to be sitting next to the scout. Standing up talking, he said, "Look at those middle two pens, Tony, that doesn't look right to me."
The time was 2:35 pm – I know because I checked my watch, and because I have a "football education" and was thinking "Those pens look overcrowded now, and there is still nearly half-an-hour to kick-off."
Something should have been done then; surely one policeman in the crowd should have also noticed this and, to my mind, I'd question: Did they even have a Wilkie-talkie between them?
If the answer is, they didn't, it would honestly make more sense, because their failure to (a) notice or (b) act accordingly, is gross misconduct in my view.
I've already said, I think the police had to open the gates, but I would have to question what they learn people in law school, if not shutting off the tunnel to the middle pens, (taking everything into consideration) was not gross misconduct of the very highest order?
The South Yorkshire policemen had batons and not white sticks – even the uneducated could see this.
John Wilson
55
Posted 19/04/2020 at 10:00:34
Tony, not patronising at all mate. I don't have a pot to pee in. I didn't bother attending my graduation ceremony. To me, it's just a piece of paper.
You put a good argument. I'd have liked to have seen the prosecution's case and defence. The problem with evidence is not all of it is admissible or the judge refuses some of it.
You present a case of the police not being equipped. Is incompetence also the same as guilty of unlawful killing?
Okay, I help families in the family court situation only online to keep my mind busy. I don't charge them.
I know there is a secret system where fake identities are used and sometimes children and parents go to foster care and prison under fake names. I have seen evidence of police involvement. It keeps professionals in jobs and no-one knows this foster care system has corruption.
MI5 protects paedophiles in government. Hansard, where politicians talk on public record, stated in the 1970s they protected Northern Irish politicians. Look corruption goes on at all levels because...
I digress. I still don't know if GNM applies unless I could go through everything. The likelihood is the police could not withstand a public scandal on that scale. So, like MI5 use the Official Secrets Act, I think they did something like that in 1989. 30 years later, as consigned to history, the public mind has moved on and can now tolerate an investigation, as in the recent situation in Warrington.
Tony Abrahams
56
Posted 19/04/2020 at 10:22:39
Thanks, John, it's pretty much how I see the law, mate. (Some of what you describe is absolutely sickening, who'd want to be a part of that?)
Going off the subject and onto another, then praise to KEIOC, who took on and beat the millionaire lawyers of both Everton and Tesco, thank god!
John Wilson
57
Posted 19/04/2020 at 11:15:49
I only have my Everton as a distraction. The world I see is, just for one family or sometimes one child's case alone, several thousand page family court bundles. These parents are often young mothers aged on average 18-25. Social workers get court orders whilst mothers are still in hospital beds after just giving birth as they can't get a lawyer as legal aid is triggered by 'Letters Before Proceedings.'
Some families are dangerous and children are seriously harmed. Okay, I don't touch those cases. Most who come to me social workers remove for 'future emotional harm'. Ex domestic abuse victim etc. All this is classed as harm sufficient to remove a child. There are no appeals in the family courts as once a decision is made it's like a train that cannot be stopped unless derailed. The body for social work said that of the UK's child adoption scandal. The media never report it.
This scandal is going on in several European countries and every English speaking country. European Parliament said 96% of UK adoptions are without parent consent. UK Gov leaked it by accident under the Dept of Education and PhD from Cambridge assigned to investigate. Council of Europe said stuff too. Everything is in secret as families go to prison if they tell anyone. Judges are paid about £150k to £250k. They use limited companies to protect from liability.
Tony Abrahams
58
Posted 19/04/2020 at 14:19:10
So sad, John, the master makes the rules, for both the wise man and the fools, but all under the flag of democracy, of course!
Eric Myles
59
Posted 19/04/2020 at 15:25:16
Charles #37, I remember a Granada Reports story from Maine Rd. After the fencing had been installed.
Bob Greaves was talking to a safety expert who said words to the effect that "These fences will kill someone."
Tony Abrahams
60
Posted 19/04/2020 at 15:44:38
Which definitely shows us how important the policing should have been to help prevent such a tragedy, Eric. The animals are in the cage, and under no circumstances are we to ever let them escape.
Don Alexander
61
Posted 19/04/2020 at 17:19:23
Tony (#54), suppressed police papers unarguably show Duckenfield had a perfect view of the Leppings Lane stand from the police control box in the ground. He was at the end of the stand, looking down from a considerable height throughout. He saw it all as it unfolded. More than a few officers had no radio.
Outside, those who did were imploring Duckenfield to ease the pressure of the crowd to get in. One inspector got so desperate he literally transmitted "Just open the fucking gates" (transmission of four-letter words to a superintendent is career suicide btw). Of course that inspector had no idea of the state of the four pens compromising Leppings Lane interior.
Duckenfield had seen the centre pens get full to bursting whilst the two nearer each corner had easy visible capacity. Officers inside the ground transmitted to him that he do the obvious to relieve the two centre pens. He did nothing, and then the gates outside gave way, fans charging inadvertently into the jam-packed two centre pens.
By any standard of Justice he and his Chief Constable should have been on trial in 1990 charged together with manslaughter by gross recklessness and/or gross negligence.
Tony Abrahams
62
Posted 19/04/2020 at 18:03:31
Yet even on this website we have lawyers making a case for the ineptitude of Duckinfield, Don!
John kept moving my thoughts around; fair-enough, he understands the law a lot more than me. But not closing the tunnel was gross negligence of the highest order, and men would have been punished for their ineptness in many other walks of life.
The man responsible for the herald of free enterprise disaster died a broken man, but not David, not an ounce of remorse or empathy has ever been shown by this man. Maybe his way of hiding his guilt?
Ray Roche
63
Posted 19/04/2020 at 18:06:34
Some powerful arguments put forward on here, but I can't help thinking that if, whoever had the powers to do so, they had just postponed the start for 30 minutes, none of it would have happened.
No mad panic once the gates were (had to be) opened. Time to check that everyone had a ticket etc. Time for an inexperienced officer to get his head around what he should be doing. If only.

Tony Abrahams
64
Posted 19/04/2020 at 19:31:54
Like Daniel writes Ray, it was like a sliding door, just another error, in a complete catalogue, and then a Prime Minister, who hated our city, especially because we backed her arch enemy, the striking Yorkshire miners, more than any other part of the country, who also happened to be the enemy of the South Yorkshire police force, and who were Thatchers biggest friends!
She never went to Hillsborough out of empathy, simply because the Iron Lady never had any, and certainly not towards us scousers, for the reasons I wrote up above.
The stories were collaborated, the families got inexplicably pushed aside, whilst so many policemen received compensation, and how the fuck is this even possible to even begin to try and work out?
Gross negligence of the highest order, and still they received compensation, whilst the families, had to scrimp and save, to begin the long fight for justice, but fight they certainly did.
For the truth, but not the whole truth, because that has always been just a little step to far!
Ray Roche
65
Posted 19/04/2020 at 19:58:59
Yes, Tony, a perfect storm. All the stars aligned to create the (avoidable) disaster.
Don Alexander
66
Posted 19/04/2020 at 20:03:24
And if that's not enough to sicken any normal person, Tony, the totality of the legal expenses incurred in Duckenfield's defence were unwittingly paid for, always, by the South Yorkshire taxpayers. He never had to once put his hand in his own pocket, in stark contrast to the family and friends of the victims, of course.
Kevin Molloy
67
Posted 19/04/2020 at 21:37:42
I think you are both right.
Duckenfield had never been in charge of a game like that before, it was a complete hospital pass from his superiors. And on the day, he bottled it, and clearly was out of his depth. But I suspect the jury baulked at putting the whole blame for that dreadful day on his shoulders. As an institution, however, South Yorkshire Police are wholly to blame for their piss poor management from start to finish, and then their lamentable attitude post the event.
I was at Villa Park that day, and you couldn't get near the ground without being slowed down and herded into slow lines of traffic, basic police procedure for crowds.
Brian Wilkinson
68
Posted 20/04/2020 at 02:51:14
Everything has been covered already on here and no doubting leaving those pen gates open from the back was a huge mistake.
Moving forward to 2007, it was shown on the news of hundreds of Liverpool supporters running past the first lot of ticket checks at the 2007 Champions League Final, with supporters interviewed afterwards of how good it was to get into the ground without a ticket – not a care in the world for those in the ground, or those genuine fans with tickets.
This came out later about the night. The report paints a damning picture of the Anfield club's fans' behaviour at last month's Champions League final in Athens.
Uefa insist those alleged incidents – with many supporters who held genuine tickets complaining of being denied entry into the stadium – were the latest in a long line of transgressions.
Uefa spokesman William Gaillard said: "The incidents involving Liverpool fans have been well known to us before the trouble at the Champions League final which involved Liverpool fans last week.
"That was just the latest example. What other set of fans steal tickets from their fellow supporters or out of the hands of children?
"I shook my head in disbelief as hundreds of fans stormed past the security gate check."
Eric Myles
69
Posted 20/04/2020 at 05:06:57
Brian #68, I remember those reports and also the head of the Hillsborough Families Action Group (or whatever they were called) saying he was disgusted with the behaviour of the LFC fans and that he would never go to another European away game.
Si Cooper
70
Posted 21/04/2020 at 02:04:56
For me, only one thing would get Duckinfield off the hook; if he hadn't chosen to open the outer gates. I thought that was a conscious decision and, if it was, then surely even the average person, never mind a senior police officer, would have foreseen the surge straight towards the already filled central sections.
To allow a mass inlux without even attempting to divert those people into the outer pens must constitute negligence.
I think you will find plenty of lawyers who have very little good to say about the police when it comes down to protecting their own reputation or deflecting criticism.
John Wilson
71
Posted 21/04/2020 at 17:16:07
If you're blaming the police for 'piss poor management,' was Duckinfield liable? I believe the police as public authority are not liable for something: Act or omission. It requires making matters worse as I understand.
I am not for supporting the police I just like to look at the other angle. For me blaming the police or said Duckinfield for that matter is the easy answer. If it were a law degree problem question it would be a 3rd class, ie D grade or 2.2, ie C grade at best. To get 2.1 or higher it would require scrutinising every possible tortfeasor.
Had the police apologised straight away and sacked Duckinfield, not covered up anything which lawyers would call a conspiracy offence or perverting the course of justice, would those now or since calling for his head on a platter have accepted it as negligence and not a negligence + murder related offence?
Tony Abraham et al, the Zeebrugge ferry incident concerned one man at the helm the captain and no contributing causation tortfeasors, ie blameworthy others as I recall. It was inevitable opening a ferry's doors, where there are motor traffic onboard, in open water is obvious GNM as water comes gushing in and people will foreseeably die. This is what we call the evidence speaks for itself, prima facie or res ipsa loquitur principle.
GNM cases
Medical negligence case for GNM normal precedent. Now this technically a professional negligence matter and not public authority. Public authorities have more protection as they're more likely to be sued than private professionals. Ok, I think this GNM case was a dentist or may have been a surgeon. Anyway, this medical professional had taken excessive risks and the patient died and it was deemed to be criminal standard. Duty, Breach, Causation, & the criminal element for GNM.
Actually the precedent for public authorities is on old case where the controller at a train station opened the gate and people died. This is res ipsa loquitur obvious for the same reasons.
The Res ipsa loquitur principle came about as a private mini bus was involved in an accident with an ambulance, the public authority dimension. The facts were not so obvious on the prima facie level,ie on the face of it. But res ipsa loquitur the evidence which apparently spoke for itself was the mini bus hit the ambulance and not vice versa. It meant the ambulance service could not be liable. The private company we as made liable. I think I recall the private driver was not to blame actually.
Brian Wilkinson
72
Posted 21/04/2020 at 19:36:00
Sil I think he made the right choice opening the outside gate, kids were getting crushed in the bottle neck.
The big mistake was not closing those central pens, once fans were relieved of pressure, there was only one way they were heading and that was straight on, those entering did not know those pens were already full.
All it took was to put the match back 30 mins, have police inside directing the supporters to the outer pens.
Leaving those central pens open was a huge, huge mistake, add to that and Aldridge hitting the crossbar is for me was where many fans in those pens where the surge forward caused the damage.
Ray Roche
73
Posted 21/04/2020 at 19:51:20
I agree, Brian, the gates had to be opened, people would have died outside. But, as I said earlier, delaying the kick-off for half-an-hour would have meant there'd be no crush, no panic rushing, no one without tickets would have forced their way in, and no deaths.
John Wilson
74
Posted 21/04/2020 at 20:39:01
Ray, that is important for a contributing factor of cause. If Liverpool fans did not have tickets, they had no legitimate right to be there and someone said above the same thing was done by the same club fans in a European country in a Champions League final. Had they not done what they did, there would not have been a problem at Hillsborough.
The likelihood is also some or many of the reds fans were also affected by alcohol which may have made them not so thoughtful about cramming into a limited space with ensuing tragedy. The police may have been negligent in this in how they dealt with the matter but, were it not for the avid red fans rushing their way in without tickets, there would have been no issue.
Tony Abrahams
75
Posted 21/04/2020 at 20:53:11
Yes, John, the evidence did speak for itself, but didn't stop the boss of P&O getting another type of promotion, albeit with another title to his name, within the year off his friend Margaret Thatcher.
I said the man responsible died a broken man, but not Duckinfield, who showed or accepted no guilt whatsoever.
A conspiracy, John, I always thought it was a bad charge, and usually helps the police rope in loads of people who might be on the fringes of a crime, funnily enough!
Tony Abrahams
76
Posted 21/04/2020 at 21:05:01
Back to blaming the drink again, I see, John. Maybe the middle pens were full early because the fans who had been inside the stadium a year earlier knew that it wasn't the biggest end in the world, and the only way to get a decent speck behind the goal was to get in early?
Maybe if the police would have been on top of things (even remotely), they would have noticed that the two middle pens were full at 2:30 pm, and put a few officers at the back of the tunnel, to prevent any more fans going into the middle two pens?
The fact that they never did was gross negligence of the highest order possible, resulting in countless needless deaths. If some fans had been drinking, then how come it was the chief inspector who acted like he was "blind drunk"?
Ste Traverse
77
Posted 21/04/2020 at 23:38:48
Justice Taylor, in his report on the disaster less than 6 months after it, said drink played no part in it, yet we've some idiot 31 years later still peddling the myth drunken Liverpool fans played a role in that horrible day.
Unbelievable. Is this person a Sun reader by any chance??
Tony Abrahams
78
Posted 22/04/2020 at 09:56:57
I think calling John an idiot is to completely miss the point, imo, Ste. He's just giving us an insight into how the law can work, especially when someone in power needs to be protected, which has definitely been the case with Hillsborough, in the minds of many.
Ste Traverse
79
Posted 22/04/2020 at 12:47:22
Tony,
For someone to rehash something which has !ong since been disproven about drink playing a role in the disaster is idiotic for me, as is the pathetic defence of Duckenfield.
John Wilson
80
Posted 22/04/2020 at 17:10:58
I don't know the answer, as I said, not without seeing all skeleton arguments and defences, and of course all the evidence. This judge justice, is he a medical doctor? What is a judge, a privileged former lawyer, an out-of-touch middle-class bastard, in other words? The judge decides on the experts' reports. If the judge decides alone, isn't that a kangaroo court, a bit like the family court.
Ste, don't call me an idiot. You either debate or you just shut up and go back to your video games or whatever simple-minded people do these days. Read the Sun. Fella, don't you understand the Sun is just a business and sensationalises for money?
I like to think I would read a newspaper, at the time when I did, where there are more words and less pictures. I have never read the Sun, not for many years since I learnt to read.
You lot think corruption is just Hillsborough. FFS corruption is around us every day. Most of you live in a bubble.

Tony Abrahams
81
Posted 22/04/2020 at 19:23:11
I'm living in a bubble at the minute, John, hoping and trying to keep everyone safe, and I'm glad you acknowledge that Hillsborough was/is corruption, with the authorities creating the biggest bubble of all, even though I agree that it was enough for what I would also describe as his pathetic defence, which John has spelt out clearly.
Imagine what the families of the victims have had to put up with down the years. But they never went away, and it's why I described Anne Williams in the way I did, because the hardest part about the truth sometimes is that, even when it comes out, the authorities have a great way of dealing with it, in their favour of course.
John Wilson
82
Posted 22/04/2020 at 20:09:06
I know,Tony, I know many who were affected by Hillsborough and are to this day. I was looking at it like a lawyer would.
The whole country, politicians – as I said previously – blocked any real investigation. Also, as I said earlier, claims for compensation for psychiatric damages were restricted to the professionals, police ambulance services, players. Everyone else had to meet a very stict test as a witness.
A friend thought he was getting paid out. It turns out the professionals in the case were instead. In 9/11 and the UK version, even though it was terrorist. Business as usually. Compensation was economic in that, if you died a cleaner, you got cleaner compensation or businessman, what a businessman would have earned for life.
The thing was, these deaths were linked to foreign policy of governments. But they paid as though it were death through negligence. Human rights as a concept is an illusion. There are just businesses and then comes the so-called liberties.
Tony Abrahams
83
Posted 22/04/2020 at 20:30:38
Liberties, as in taking the piss? Incredible what you've just described, John, and the perfect illustration that some lives are worth more than others. Although it would have obviously been cheaper if they would have just had to pay the cleaners rate, right across the board, so maybe they're not as bad as they seem after-all!
Interesting some of the things you describe in this thread, John, cover-ups in every part of society. I honestly think Guy Fawkes had the right idea.
Sad, John, it must be heartbreaking working in a family court, watching kids getting used as pawns. The human race is the same at every level, just different bastards, with different agendas.Sometimes I wish I was in that bubble all the time.
Dave Abrahams
84
Posted 22/04/2020 at 21:08:24
Tony (83), get over onto the movie channel no 14, Midnight Run has just started.
Tony Abrahams
85
Posted 22/04/2020 at 21:48:13
Nah, I'm gonna go to bed and watch a box-set, Dave. The kids will have me up about half-six, they think they're on their holidays, especially Joseph. He's still running round doing somersaults, he's just gone in the back kitchen to have some toast because his iPad is dead, he's even harder work than the duke!
John McGimpsey
86
Posted 26/04/2020 at 23:15:07
FFS, I never read such a load of shite.
Tony Abrahams
87
Posted 28/04/2020 at 08:33:29
The whole thread, John, or just me talking a bit of shite to Dave about one of his grandkids?
---
Add Your Comments
In order to post a comment, you need to be logged in as a registered user of the site.
Or Sign up as a ToffeeWeb Member — it's free, takes just a few minutes and will allow you to post your comments on articles and Talking Points submissions across the site.
---
© ToffeeWeb