Ben Godfrey's long battle against effects of Covid-19
Thursday, 21 October, 2021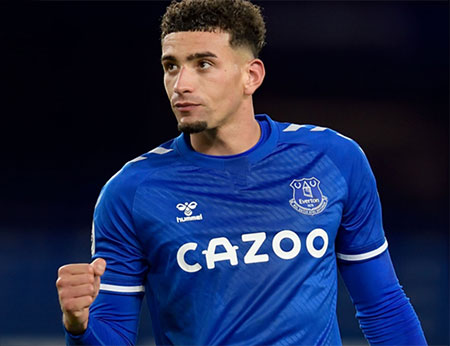 Ben Godfrey is still suffering the effects of having contracted Covid-19 as he prepared for the new 2021-22 season in the Premier League, and it has seriously affected his game.
According to a story by Greg O'Keeffe and Patrick Boyland in The Athletic, the 23-year-old Everton defender has had to battle some concerning side effects that have significantly affected his recovery and impacted his performances on the field as he looks to be the player he was last season.
His unexplained absence from the team for the first four games of Everton's new Premier League campaign under new manager Rafael Benitez was shrouded in the mystery of secrecy over his bout with the disease, which he contracted a few days before the start of the season.
There are signs he has suffered from swelling of the heart, a condition which has had to be closely monitored as it affects his ability to train effectively and perform on the field.
Article continues below video content
"It was like you had someone else's body," the player has admitted. He now struggles with pace and gets easily fatigued momentarily after sprinting.
It is expected to take a while for him to get back to full fitness as he continues to recover from the debilitating effects of the disease.
---
Reader Comments (54)
Note: the following content is not moderated or vetted by the site owners at the time of submission. Comments are the responsibility of the poster. Disclaimer
Ajay Gopal
1
Posted 21/10/2021 at 09:36:35
Wishing him a speedy recovery both for his sake and Everton's sake. He is a terrific athlete and, when playing at his peak, he can put fear into opponents.
Given all the health issues, injuries (and 1 unmentionable absence) of key players, it would be foolish on our part to hope for anything other than Premier League survival this season – mid-table at best.
Jerome Shields
2
Posted 21/10/2021 at 10:13:27
I came across people with similar after-effects. Wish him well and a recovery. It may take some time to fully recover.
Paul Hewitt
3
Posted 21/10/2021 at 10:55:30
So people saying he wasn't as good as last season. Well this is why. Maybe we shouldn't just jump in on people playing badly without knowing why?
Kevin Prytherch
4
Posted 21/10/2021 at 11:06:06
I sincerely hope that there are no Everton players refusing to get vaccinated when they can see the long-term effects of getting Covid for themselves.
On second thoughts, this is clearly a conspiracy between Davies and Kenwright to give Godfrey a placebo to try and make sure one of Bill's luvvies gets more game time. We know your games, Kenwright….
Paul Hewitt
5
Posted 21/10/2021 at 11:10:27
Each to their own, Kevin.
Paul Hughes
6
Posted 21/10/2021 at 11:40:12
That explains a lot about his apparent drop-off in form. Let's hope he recovers fully soon. I agree with Ajay (1), we must have run over a few black cats in the summer. With the run of injuries we've had, this season is fast becoming one in which we need to lower our expectations.
David Pearl
7
Posted 21/10/2021 at 11:52:37
Or you don't feel like subsctibing to read the athletic just watch this instead.
Everton (@Everton) Tweeted:
Happy Birthday, @kevin11sheedy! ✌️
#GoalOfTheDay https://t.co/AsfAB0TYFz https://twitter.com/Everton/status/1451080817392996356?s=20
Niall McIlhone
8
Posted 21/10/2021 at 12:58:54
I'm also with Ajay on this one. With Godfrey not at his full playing capacity, uncertainty over the likes of Gomes, Gbarmin, Tosun and Delph, and the continuing situation with Sigurdsson, we are extremely depleted.
Add to this the intermittent absences of both Coleman and Digne to repeated injuries, and the sudden loss of Doucouré, it must lead to the manager knocking on the DoF's door for some reinforcements in January.
With Pickford, Keane, Mina, Allan, Townsend and Gray, plus the fit-again Richarlison all reliable performers, we have a core of six players for Rafa to build around.
I would hope the time has now come to give Anthony Gordon and Tyler Onyango their chances, at least an hour for each in the next two games.
Personally, I am not reading much in to the West Ham game, it could have gone either way? No, the task now is to beat a poor Watford team looking for a "dead cat bounce" under Ranieri after that shellacking by the Reds.
Colin Malone
9
Posted 21/10/2021 at 13:02:32
Don't wait for these idiots in power to tell you what to do. Keep wearing your masks in crowded places, ie, buses, trains, shops, pubs. I had my two jabs and still got Covid-19. Not nice.
Stay well, Ben.
Robert Tressell
10
Posted 21/10/2021 at 13:11:29
Niall # 8. We definitely need reinforcements but I think it will be limited to Maitland-Niles and maybe Van de Beek on loan. The former covers a few positions which is good.
The other main regular rumours seem to be:
- Finn (a teenage striker of Irish descent at Getafe in Spain)
- Pye (a teenage left back at Morecambe)
- Patterson (the teenage right-back at Rangers)
- Crawley (teenage right-back at Aberdeen)
- Lingard
- Souttar (the giant Stoke centre-back)
- Cisse (the giant Olympiacos centre-back)
- Villar (the Spanish midfielder at Roma)
But I really doubt we'll do a lot of business in January.
Summer could be another matter, since we could have (unfortunately) the prospect of big fees for Calvert-Lewin and Richarlison along with £28M from Juve for Kean.
Niall McIlhone
11
Posted 21/10/2021 at 13:27:20
Some interesting options there, Robert #10.
For all I have said about uncertainty over a section of our squad, I am also quite looking forward to an infusion of new blood, coupled with the departure of several under-performers at the end of the season.
I can think of at least six of the current squad who need to go. I also have complete confidence that our manager knows what he needs to do, and hope he is fully supported.
Best wishes to Ben for his recovery.
Nicholas Howard
12
Posted 21/10/2021 at 13:57:10
Kevin (4),
My gym fitness coach (28 years old) suffered from Covid, despite two jabs. He has since recovered for about 2 months now. He shared with me that his stamina level, after 2 months of stamina rebuilding program, is only at 50% what he used to be.
I guess Ben is in similar situation like my fitness coach.
Jay Harris
13
Posted 21/10/2021 at 14:03:12
I really feel for Ben. He obviously had it bad and it will be a long recovery.
We seem to be plagued by injuries moreso than other clubs. There has to be a reason and someone needs to find the solution fast.
Tony Everan
14
Posted 21/10/2021 at 14:33:54
Robert, you are right, I think we will be loaning Villar or Van de Beek, or maybe both if one of Gomes and Delph can be moved on.
Lingard to replace Iwobi would be good business if Brands could somehow pull that off by offloading Iwobi to the likes of Palace or Southampton.
Connor Pye is a possibility to give us some potential after losing Small. Patterson, I think we will be back in for In January, 8-10m, it's big money for him.
Onyango has had some games behind closed doors as well as the U23s match, so he may be a bit closer to full fitness than otherwise would be the case. It will be interesting to see how he gets on this Friday against Arsenal U23s.
Robert Tressell
15
Posted 21/10/2021 at 14:40:37
Yes, Tony, the contributions of Simms, Gordon, Dobbin, Onyango and Branthwaite could be very important. And also rehabilitation of Iwobi, Holgate, Davies, Gomes and others who seem to have fallen away.
Like others, I'm quietly confident Benitez will get something out of this group, reducing our need possibly to bring in new players (which we can't really do anyway).
Roger Helm
16
Posted 21/10/2021 at 15:45:47
Hope Ben gets well soon. As for avoiding trouble, we can just hope that the new fitness and conditioning coach will improve the physicality of our players, and vaccinating all the players will mitigate the effects of Covid-19, which we all are going to run into sooner or later, as it is now endemic.
Michael Kenrick
17
Posted 21/10/2021 at 15:51:21
And as we head into the seemingly tough Autumn run of Premier League games, no fewer than 8 of the next 10 are now to be shown live on TV in the UK:
Everton Fixtures (and UK TV coverage)
You can stay home with the wife and hounds, Danny, at the cost of panoramic views of what you would have seen with your own eyes. Allow the filter of television to step in!
Kieran Kinsella
18
Posted 21/10/2021 at 15:58:38
Michael
Did you see during the Euros, ESPN3 had a viewing option that was directly overhead the whole stadium, I guess the proverbial bird's eye view?
Looked even better in widescreen although it was difficult to distinguish between the ant-sized figures moving around the pitch. There was no commentary either which in some respects was a bonus.
Tony Everan
19
Posted 21/10/2021 at 16:18:22
Robert,
I'm hoping the young lads can step in too. Gordon looks a better option in the team right now than Iwobi. Branthwaite is still really young and is a quality Rolls-Royce of a defender but may have to wait a bit longer. Still, I wouldn't be concerned if he was called in.
It's the forwards that concern me, the Premier League is so tough for any forward. It's a huge ask for Simms or Dobbin to make an impact. I think the biggest thing for us is to keep Richarlison fit to play through the middle until Calvert-Lewin is back.
Rondon is now a question mark, and is not doing enough. Improved fitness now may help him and, if he is selected for Watford, has to improve markedly. The excuses are wearing thin. If not, Simms or Dobbin could well be given an opportunity ahead of him.
Andrew Keatley
20
Posted 21/10/2021 at 16:27:02
Robert (10) - I don't know who Crawley is, but I think the Aberdeen full-back we've been linked with is called Calvin Ramsay.
Will Mabon
21
Posted 21/10/2021 at 16:37:57
Swelling of the heart?! Don't like the sound of that. I hope that's an incorrect rumour. Myocarditis has been a recorded side effect of the vaccine.
Jerome Shields
22
Posted 21/10/2021 at 16:46:55
I thought he played well on Saturday, covering the space behind Seamus. West Ham where probing for a break through in that area as they got last season.
He was forced to defend deep, clearing his lines outside the 6-yard box, because Keane would not help move the defensive line forward, preferring to stay deep. Godfrey was not the only one to have problems with this; Doucouré was defending inside the penalty area.
Dale Self
23
Posted 21/10/2021 at 16:48:35
Given Rafa's penchant for coaching, we are obviously better situated than with the previous gentleman, ahem. Good take Robert and Tony, I needed an upside.
Kim Vivian
24
Posted 21/10/2021 at 19:08:57
Damn - it all gets a bit depressing when 4 of the last 6 headline articles have been about injury or illness.
Obviously we need to collect points wherever we can but with very little optimism at the present dire time I'm hoping we do get the opportunity to see one or two of the oft' mentioned fringe players.
Not looking forward to grinding our way through the next few fixtures and just praying the remaining key men can stay injury clear. The second half of this season could see us just clawing our way back up a slippery slope if things go from bad to worse.
Brian Williams
27
Posted 21/10/2021 at 20:02:19
@21.
What rumour about "swelling of the heart"?
And does anyone know whether Godfrey's been vaccinated or not?
Mike Gaynes
28
Posted 21/10/2021 at 20:26:27
Will, you're at it again.
"Myocarditis has been a recorded side effect of the vaccine."

Um, well, yeah, sort of.
In the largest study so far of that complication, out of two million vaccinated patients in California, Oregon and Washington, there were a couple dozen cases of myocarditis or pericarditis.
No deaths or serious consequences. About half the patients admitted to hospital, none for longer than two days. Zero patients admitted to intensive care.
Jack Convery
29
Posted 21/10/2021 at 20:34:05
I hope Ben Godfrey recovers fully soon - we need him playing at full speed asap.
As regards transfers in January:
Longstaffe looks a cert as he's cheap.
Lingard – it's a no brainer. He would fit in perfectly with the way we are set up. Van de Beek – I'm not so sure about him; loan only. (Will Man Utd let them leave?).
Aarons would be perfect but he'll cost more then we can pay at present so a bargain purchase from Scotland.
Maitland-Niles loan could be on, especially as we need a player who can cover a few positions but as with Man Utd, will Arsenal let him leave – especially if we are in contention for Europe come the New Year?
Transfers out? Given our financial issues, it could be anyone if another club makes an offer EFC can't refuse.
Barry Hesketh
30
Posted 21/10/2021 at 20:36:54
Brian @27
It's right here in the main body of the article written above:
There are signs he has suffered from swelling of the heart, a condition which has had to be closely monitored as it affects his ability to train effectively and perform on the field.
I understand that some folk don't have the time or inclination to read each and every post and some are prone to responding to individual posts, but surely it would be better to read the article and then respond/comment to individuals?
Brian Williams
31
Posted 21/10/2021 at 20:49:28
It was time in my case Barry. 😁
Barry Hesketh
32
Posted 21/10/2021 at 20:50:47
Fair enough Brian. 😁
Derek Knox
33
Posted 21/10/2021 at 21:39:33
Michael @ 17, I heard from a fairly reliable source that the game against Spurs was being moved to Sunday to accommodate TV, maybe I, or he got it wrong, but I'm sure you have more info than we get on these matters.
Tony Abrahams
34
Posted 21/10/2021 at 22:05:31
Michael K, when was the last time you watched Everton from inside a stadium?
I know you take us straight to a match report, as soon as the game ends, but if you ever want a day off give us a shout, because I'm sure I'd be able to find you a ticket, if you ever needed one, as a reward for letting me talk loads of shite, on your website!
Barry Hesketh
35
Posted 21/10/2021 at 22:11:46
Derek @33,
I think the Spurs game is scheduled for a Sunday due to their participation in Europe as Arsenal v Watford is live on Sky at 14:00 and the neighbours trip to West Ham at 16:30 on November 7th.

Brent Stephens
36
Posted 21/10/2021 at 22:16:06
Tony "I'm sure I'd be able to find you [Michael] a ticket, if you ever needed one, as a reward for letting me talk loads of shite, on your website!"
Tony, you'd be owing him tickets for three games given all the shite you talk. And that Dave would owe him for four games.
And I'd be prepared to give up my five tickets!
Will Mabon
37
Posted 21/10/2021 at 23:16:18
"
Will, you're at it again.
"
Mike – and so are you. I think the last time was to tell me being vaccinated gave 95% protection.
"Sort of"? Er, no, widely confirmed. It depends where you want to look.
I think as a fit young sportsman with a one in many, many thousands chance of dying or damage from this virus, versus the vaccination, I know what I'd do. Seems around a third of the players feel the same way and are fighting the pressure.
Dale Self
38
Posted 21/10/2021 at 23:26:23
How people feel doesn't stop the virus from mutating, Will. That is how protection slips from an estimated 95% protection.
I can see some debate around the 95% but are you not convinced that the virus mutates when circulated among the unvaccinated? That seems to be the persistent problem here – not some vague paranoia about the vaccine.
A third not getting it seems to be a persistent thing as well. Maybe you can talk the delta down, give it a shot if you won't get a shot.
Bob Parrington
39
Posted 21/10/2021 at 23:43:55
Blimey, that wicked witch of LFC has been really busy with her pot of hubble, bubble!
Derek Knox
40
Posted 22/10/2021 at 00:19:50
Barry @ 35,
Thanks for that confirmation!
Brent @ 36, only five ? Jeez. :-)
I could be up for a lifetime ban!
Danny O'Neill
41
Posted 22/10/2021 at 00:22:44
I groaned when I saw those fixture date changes, Michael. Sundays are okay but the Monday ones make it challenging.
To echo Tony's sentiment though, it would be good to meet you if you get the chance. I'd buy you a drink or 2 for your match reports (still don't know how you do it) and the effort you put into bringing people together on this website even if there is the occasional locking of horns. Genuine thanks.
Oh and for the occasional pulling me up on my spelling & grammar!!!
Mike Gaynes
42
Posted 22/10/2021 at 00:54:34
Will #37, yep, that's what I said, and it's correct. Your side-spin on the vaccine is not.
Per the article, young Mr Godfrey is suffering from the effects of the virus. Not the vaccine.
And if he is, in fact, among the 32% of Premier League players who didn't get vaccinated... I will absolutely guaran-damn-tee you that right now he wishes he had.
Kieran Kinsella
43
Posted 22/10/2021 at 01:42:05
Mike & Will,
I hope Godfrey isn't among the 32% of arrogant pricks that Boris Johnson moved Heaven and Earth to keep gainfully employed when the rest of us were in lockdown facing layoffs, wage reductions and hardship.
I hope he's not in the 32% of arrogant pricks running out in front of people earning less in a year than he earns in a week who are required to be vaccinated to see him play.
Moreover, given that he is a fit healthy athlete struggling with the illness 2 months on, I hope he's not in that 32% because just think what the virus will have done to his grandparents, neighbours, friends that aren't fit sports stars if he's been out there spreading it about.
Jerome Shields
44
Posted 22/10/2021 at 07:46:34
He is stupid if he didn't get vaccinated. Long Covid is still being investigated to see how long it will last and how it should be treated. Those I know affected with similar symptoms where not vaccinated. All prior to their time of getting it. No excuse for Godfrey. It could take time to recover, duration unknown.
I also know people who where vaccinated who got Covid and had a tough time of it, though not hospitalised. Anyone I know who had a reaction to the vaccine had an underlying health condition, known or unknown. Some who had a reaction to the vaccine thought they may have been positive with Covid.
Derek Knox
45
Posted 22/10/2021 at 08:20:45
I am not condoning not getting vaccinated, but initially cast your mind back to the awareness that Covid-19 existed, and I must hasten to add, when the Government did absolutely nothing by way of shutting borders, airports and terminals to Foreign Travel, until it was too late.
Also, when it was intimated that eventually, precautions were to be observed and a lockdown would be implemented, mid to late March, I remember prior to that clearly, the Government saying it would only affect older people, especially those over 70 years of age. This instilled a feeling amongst younger ones that they were in some way 'exempt' from any chance of contraction of the disease.
They have back-pedalled since the onset, and ignored to a degree the advice of scientific and medical experts, instead believing that a 'herd immunity' would somehow miraculously see the disease diminish and eventually dissipate. How arrogant was that?
I know it was a hitherto unknown virus, so no prior knowledge or precedents could be used as a yardstick, but surely in this age of technology and computer sharing among nations, more prudence could, and should, have been observed by those who we are led to believe are leading the Country!
Kim Vivian
46
Posted 22/10/2021 at 09:46:23
Derek, 45 - and yet...(without trying to make this a political debate)...herd immunity appears to be the current strategy.
Danny O'Neill
47
Posted 22/10/2021 at 10:16:58
I had a reaction to the first vaccine, Jerome. Day 1, I thought I was fine, it was the next day. Just very tired and groggy, but only for half a day. Second vaccine, no reaction.
And nothing I've not experienced with other vaccines I've had stuck into me over the years. Not a vaccine, but malaria tablets were pretty awful for the first few weeks.
Like with that and vaccines in general, the other factor is everyone reacts differently in my experience.
Michael Lynch
48
Posted 22/10/2021 at 10:42:07
I know perspective is hard to get when we're constantly bombarded by propaganda from both sides of the political divide, and from our generally useless media (what do they teach in journalism colleges these days?), so if you want to get an overall view of what is happening in the UK compared to the rest of the world, can I suggest this particular statistic:
https://www.worldometers.info/coronavirus/weekly-trends/#weekly_table
Go to the "deaths in the last 7 days/million population" column and use that to put the table into order. For example, right now, the UK is 50th in the world for deaths over the last week, equal with Ireland (which, by the way, is currently in the equivalent of Plan B ++, with seating only in pubs and no standing at gigs, in addition to all the other measures like masks and working from home).
Worldometers in general is a great resource for unbiased stats.
Anyway, I've just had the call for my booster jab and I'm getting it asap. Current research is indicating the booster gives you 95% protection, which sounds good to me. And I agree that footballers should get the jab. First time and hopefully last time I'll ever agree with Klopp.
Michael Kenrick
49
Posted 22/10/2021 at 14:00:53
Kieran,
I missed that EPSN3 facility for the Euros. I know the BT App has a lot of viewing options for live games… I've been slow to take advantage of them but they could go some way to make up the credibility gap between gamers and gawpers that Darren has fomented.
Derek @33, thanks for flagging that. It is indeed on Sunday 7 November. For the traditionalists of this parish, they will be horrified to learn that this now means Watford is our last 3 pm Saturday kick-off of the year!!!
Tony @34, That's a very handsome offer, good sir. Since returning to these shores from afar, I was set up to attend our game at the new White Hart Lane in April of last year but that all went tits up, thanks to the virus.
Brent, duly noted – I might have to attend a U23s game with you!
Tony Abrahams
50
Posted 22/10/2021 at 14:08:09
Also duly noted Brent, and I think it might be easier if you just give Michael, your season ticket, mate!
Brent Stephens
51
Posted 22/10/2021 at 14:14:37
Michael #49 "Brent, duly noted – I might have to attend a U23s game with you!"
Michael, that genuinely would be good. Let me know if you're ever coming over. You have my contact details.
Tony #50 - you're a bit free with other people's season tickets, aren't you! No respect these days. I blame the parents.
Jerome Shields
52
Posted 22/10/2021 at 18:51:12
Danny#47
It was the opposite for me; Ok with the first and groggy with the second. You are probably right different for different people.
Will Mabon
53
Posted 22/10/2021 at 18:55:12
Mike @ 42,
95% protection from/against what, Mike?
Mike Gaynes
54
Posted 22/10/2021 at 19:09:04
Getting real sick, Will. Hospital. Death.
In the US, more than 96% of all deaths and critical COVID cases are unvaccinated people.
And again, you're missing the point. Per the article, Godfrey's cardiac issues were caused by the virus. Not the vaccine. We don't even know if he's vaccinated. But statistically the odds are good that he isn't. And even better that he would have avoided this problem if he had been.
Michael #48, yep, that Worldometers site has been my go-to source for clear, unbiased COVID statistics ever since the pandemic began. Deaths per 1M population is a particularly jarring column to peruse when you want to assess the effectiveness of a particular country's pandemic efforts.
Will Mabon
55
Posted 23/10/2021 at 14:03:18
Mike, OK, thanks.
Glad to see no claims for protecting from catching or transmitting then. From the article, correct - no mention of whether Godfrey's vaccinated. Statistically, if the apparent 2-1 ratio is correct, the odds are better that he is.
Justin Doone
56
Posted 23/10/2021 at 14:37:14
Stay safe, protect your self and those around you. Get vaccinated.
He's definitely not seemed as switched on and determined but is young and still learning. His pace is a massive asset but there's more to defending than sprint speed.
---
Add Your Comments
In order to post a comment, you need to be logged in as a registered user of the site.
Or Sign up as a ToffeeWeb Member — it's free, takes just a few minutes and will allow you to post your comments on articles and Talking Points submissions across the site.