Brands to leave Everton 'with immediate effect'
Sunday, 5 December, 2021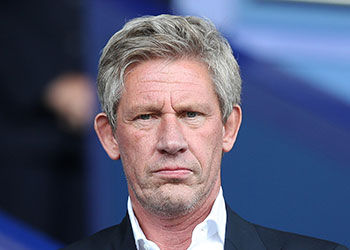 Marcel Brands's 3½-year stint as Everton's Director of Football is over after he agreed to leave the club by mutual consent due to a clash of visions for the future of the club.
Shortly before midnight, Everton finally confirmed media reports earlier in the day that started with The Mirror claiming that the Dutchman, who also sat on the club's Board of Directors and only signed a new 3-year contract earlier this year, has agreed to leave Everton with immediate effect.
The Blues' hierarchy have come under mounting pressure for the club's declining fortunes in recent weeks and a section of fans are planning on staging a walk-out during tomorrow's clash with Arsenal to send a visible message of their frustrations.
Though many of the problems that led to Everton being unable to spend more than a paltry £1.7m over the summer in the transfer market pre-dated Brands's arrival, he has nonetheless been seen as part of the issue.
However, given the opaque nature of the club's structure and general lack of communication on the division of responsibility, it's not clear how much power Brands had when it came to player recruitment and the hiring of managers.
In a statement, Brands explained his departure:
"On Friday, following a personal conversation with the Chairman and my fellow Board members, we agreed that I would step down from my post as Director of Football and as a member of the Everton Football Club Board.
"This decision has taken some time and some consideration and was one of the most difficult I have faced in my career.
"The Board and I agreed that there is a clear difference in the vision and direction for this beautiful club and, with that in mind, the decision was taken.
Article continues below video content
"I want to thank everyone in the club who I have worked closely with over the last three and a half years. There are a lot of talented people at Everton with huge passion and commitment to move the club forward, both on and off the pitch.
"I want to wish all of the squad every success, and I am convinced that there is enough quality to improve the current situation quickly.
"It has been an honour for me to work at this fantastic club and I wish everyone associated with Everton the very best for the future."
According to Simon Mullock's report, manager Rafael Benitez will now be handed full responsibility for player recruitment but Everton's own statement pledged a "strategic review" of operations on the playing side:
"A strategic review of the football structure will now take place which will inform the best model for the Club to proceed with in the long-term.
"In the meantime, the Owner and Board of Directors will continue to provide our manager, Rafa Benitez, with their full support. "
In the meantime, Everton's Chief Executive Officer, Denise Barrett-Baxendale is rumoured to have been "seeking alternative employment" for some time now and could be the next board member to move on.
---
Reader Comments (470)
Note: the following content is not moderated or vetted by the site owners at the time of submission. Comments are the responsibility of the poster. Disclaimer
Luke Welch
1
Posted 05/12/2021 at 15:42:07
Who's next?
Alex Gray
2
Posted 05/12/2021 at 15:45:25
Hopefully we get the next appointment right. Good news in my books though.
David Connor
3
Posted 05/12/2021 at 15:46:02
Good riddance.The man has been a dissaster. Rafa wont last much longer I suspect.
Phill Thompson
4
Posted 05/12/2021 at 15:46:26
First of the Power battles resolved then, sounds like Benitez will get a dreaded vote of confidence. Surely Bill has to go too if we're having a clean up.
Kunal Desai
5
Posted 05/12/2021 at 15:48:02
Bizaare. Got to question how he got a new 3 year deal. Probably been made a scapegoat out of the lot of them.
Moshiri's probably done an Alan Sugar apprentice special.
This makes no difference whatsoever. Same circle of shite with Kenshite and his sidekick DBB still there.
Will Mabon
6
Posted 05/12/2021 at 15:48:35
Not that I was an advocate of the DOF position for us, but gradually we're reverting to where we were six years or so back. A half billion pounds circle of "Discovery" without the discovery and now, without the money. Just a better player or two to be sold and the job is almost complete. Stadium cancellation for the win.
Barry Hesketh
7
Posted 05/12/2021 at 15:48:38
Luke @1
I think that will be it for any changes at the boardroom level, how important it proves to be is debatable unless Brands had negative influence over some of his recruits, although he probably lost some respect when he castigated the Everton players following the defeat at the Etihad in the final match of last season.
In Moshiri and Benitez we trust?

Bill Gall
8
Posted 05/12/2021 at 15:50:15
Feel sorry for Brands, thrown under the bus, brought in to start a new Model of football and had to work with 4 managers all with different philosophies, and tactics, and never given the proper backing from them, or an understanding of what his position was.
Alan McGuffog
9
Posted 05/12/2021 at 15:50:49
And, in our relegation battle, results today seem to be going our way
Tony Hill
10
Posted 05/12/2021 at 15:51:57
It's bleak and brutal, Will @6, but it's required. Benitez is the ruthless fucker to do it for us. I don't think many on here realise what this fella is made of. It's the material we've been lacking for ages and he will make new, belated foundations for us.
Matt Henderson
11
Posted 05/12/2021 at 15:52:21
Totally agree with Kunal. This move shows how ridiculous this Club is. Extend his contract a few months back and now fire him. he hasn't done his job any worse in the last 6 months (in fact Gray may prove to the best purchase he has made value for money wise) so why get rid now. I suspect this means that he is either being made a scape goat or that Moshri going all in on Benitez to run the show.
Who extended his contract and wasted yet more money on a pay off to him? Sack them as well. This change means nothing to the long term success of the Club and much more change required higher up the chain.
Luke Welch
12
Posted 05/12/2021 at 15:52:22
But does that mean BK will have even more influence?
Dale Self
13
Posted 05/12/2021 at 15:54:33
Of course this is it for now. But they're not sitting pretty are they? And they need Rafa to come through to prevent more ahem, ugliness from the plebes. Rafa can squeeze them at the mic and they know it. I think this is a bottom and not a local one. We start to turn it around here for real
Kieran Kinsella
14
Posted 05/12/2021 at 15:54:44
Brands is to Everton as John Hume was to the N Ireland peace process. A guy with authority on paper. The real issues are with Paisley and McGuinness AKA Kenshite and Benitez. With him out of the way it puts the focus on those two.
Kenny Smith
15
Posted 05/12/2021 at 15:55:38
What are we now, 5 years into Moshiri's reign and we're fuckin almost as worse as I can remember in my 39 years of going to Goodison. It's time to clear the decks and if Brands is being binned then there load of shite players to go as well. Yes we'll take a hit on the Iwobi's and the Tosun's but so be it.
We're a mess and we've wasted riches we could of only dreamt of 5 year ago on absolute crap.
I for one hope we look at someone at the top end of the scale to replace brands or you might as well fuck the whole DoF role off. I can't see Benitez surviving either…..

Will Mabon
16
Posted 05/12/2021 at 15:57:02
I admire your confidence, Tony. Someone, somewhere in the club needs to step up - and drag the rest with them. From here forward will be what they call "Interesting times".
Robby Burns
17
Posted 05/12/2021 at 15:59:06
Kenwright next please.
Danny Broderick
18
Posted 05/12/2021 at 16:00:28
No more Directors of Football! Walsh and Brands have been an absolute disaster. We are worse of after spending £500 million. Unbelievable!
Mark Evans
19
Posted 05/12/2021 at 16:01:01
I have some sympathy for Brands, looks like he's being made a scapegoat for the collective failings of the board. Recently given a new contract, now they're looking to give him the bullet. Doesn't seem to me that he's been allowed to do the job he was hired for. If Mr Moshari's prepared to give the manager & his predecessor autonomy over football matters, then there is no point in having a DoF. Clearly Brands had no say in the hiring of the managers which is one reason why we've had no consistency in playing style or recruitment.
The whole set ups a mess, no wonder we are where we are.
Andrew Ellams
20
Posted 05/12/2021 at 16:01:07
How about whatever clown gave him a 3 year contract in the summer?
Matt Henderson
21
Posted 05/12/2021 at 16:01:37
Who does the negotiation with Clubs now moving forward? Rafa, BK, our CEO with all her experience in football?
Dale Self
22
Posted 05/12/2021 at 16:01:37
Good Grunty photo of Marcel by the way!
Ian Linn
23
Posted 05/12/2021 at 16:02:04
Got to be a good thing, very flawed recruitment under Brands, more misses than hits, let's just get through this season without going down.
Jay Wood
[BRZ]
24
Posted 05/12/2021 at 16:03:50
I'll await club confirmation of this story, but if true it makes us look even more ridiculous and rudderless, as if that was even possible.
So much wrong with this. So many implications for the past, present and future since Moshiri came on board.
Gary Smith
25
Posted 05/12/2021 at 16:05:55
Tony, the defensive dinosaur hasn't lasted longer than two years at any club he's been at since the shite (except Toon - 3 years). What possible evidence do you have to assume he can gut and rebuild the club successfully? Does his player breaking micromanaging just look 'stern' to you?
Will Mabon
26
Posted 05/12/2021 at 16:06:46
Coming next: Miss Dynamite recruits England Women's team player to increase inclusivity and broaden fan base.
John Zapa
27
Posted 05/12/2021 at 16:07:26
They found their scapegoat. How poorly does it reflect on the leadership and top management when they just recently rewarded Brands with an improved 3 year contract that they suddenly realise its not working out and he is the reason for the poor season.
Darren Hind
28
Posted 05/12/2021 at 16:07:47
Just when he wasn't getting the hang of it...
Matthew Williams
29
Posted 05/12/2021 at 16:08:47
I just heard this news...good, one down three to go!.
Mark Rankin
30
Posted 05/12/2021 at 16:08:56
Another casualty of the Koeman/Allardice era and he wasn't even there!
Carlos Nunes
31
Posted 05/12/2021 at 16:09:17
What a complete disaster we are of a club! We're a comedy of errors.
How do we give him a 3 year contract to fire him 7 months later!
Steve Hogan
32
Posted 05/12/2021 at 16:09:19
He's been made the scapegoat for Kenwright's failings over the last 20 years. The club was happy to promote to the guy to the full board only 18 months ago, then sack him when the mess of a scattergun recruitment policy by other's fell to pieces.
Must be wondering how he was persuaded in the first place to join this bunch of absolute clowns.
We'll never get to know now, just which player's were his choices and which were 'Corries finest'.
Matt Henderson
33
Posted 05/12/2021 at 16:09:29
No doubt the severance package will include a non disclosure agreement so we will never know the real story on the goings on at the Club
Tony Hill
34
Posted 05/12/2021 at 16:09:41
Barrett-Baxendale gone as well? Fucking hell.
Paul Davies
35
Posted 05/12/2021 at 16:10:17
Brands a sacrificial lamb. Agent Rafa in charge of recruitment, it just gets worse.
Will Mabon
36
Posted 05/12/2021 at 16:10:54
John, we have a history of excellence in nonsensical contract decisions. At least he's not going with the money of full contract duration, it seems.
Tony Hill
37
Posted 05/12/2021 at 16:10:57
If true, I consider this excellent news.
John Keating
38
Posted 05/12/2021 at 16:10:59
If true Brands out...Good
Baxendale "looking to leave" Good
Now the main one. Kenwright
This imposter should have gone first
Close season, all the Finch Farm hangers on
Joe McMahon
39
Posted 05/12/2021 at 16:11:00
Steve H fully agree. The ones I want gone Kenwright and (for fresh ideas) Unsworth and Ferguson.
Andrew Bentley
40
Posted 05/12/2021 at 16:11:08
Where have you heard that Tony about DBB?
Tony Hill
41
Posted 05/12/2021 at 16:12:36
From my son, Andrew, who follows these things obsessively. Sorry I can't give a reference.
Danny Baily
42
Posted 05/12/2021 at 16:12:47
Brilliant news. Don't reappoint, let's leave the job of balancing the squad to the manager.
Neil Thomas
43
Posted 05/12/2021 at 16:14:40
I personally don't agree with having DOF, surely it's only the manager who knows what type of system he wants, and what sort of players fit in with that. Always believed that if you're picking the team, that you pick the players to buy too suit.
Will Mabon
44
Posted 05/12/2021 at 16:14:41
Now we just need Elstone back.
Pat Kelly
45
Posted 05/12/2021 at 16:14:47
It was never going to work between Brands and Rafa. Rafa signed his own three so far. Brands was left with no input to recruitment to the senior squad.
Someone was going to take the fall and with our recent history of signings it had to be Brands. Hopefully he'll move on to a new Club and sign Iwobi.
Simon Dalzell
46
Posted 05/12/2021 at 16:16:00
Good news. How people can call him a scapegoat is beyond me. He has been atrocious. Hopefully just the start and the other clowns will follow before too long.
Brian Ronson
47
Posted 05/12/2021 at 16:16:04
So who does the business side of transfers in the coming window? My guess is that it will be Kenwright! Raffa presumably will dictate which players to sign. It was clear that Brands or Benitez had to go. Benitez true to form now dictates the transfer policy. Has no one to blame if it goes tits up from here!
Steve Brown
48
Posted 05/12/2021 at 16:16:26
He probably feels relieved.
Derek Knox
49
Posted 05/12/2021 at 16:16:29
Now that there is only one left in the Boardroom, can we flush it with Domestos, it allegedly gets shut off 99% of Germs that's Kenwright down the pan ! :-)
Ciarán McGlone
50
Posted 05/12/2021 at 16:16:43
Barry Hesketh
51
Posted 05/12/2021 at 16:17:04
If any of the stories about DBB and Brands are true - although the Brands story seems to be all but confirmed - are they being fired or are they leaving of their own accord? It makes a huge difference for the club if it is the latter.
Tony Everan
52
Posted 05/12/2021 at 16:17:04
So now it's the Rafael Benitez show, hiring and firing staff, signing players of his own vetting and choosing. The new Kublai Khan of Everton FC. Bill Kenwright is still there but now he may as well be a stuffed parrot sitting in his director's seat. He's next for the Moshi Chop if he doesn't do the honourable thing.
Win Lose or Draw it looks like we've got Benitez until January at least. Moshiri is giving him every chance to turn it around and sign a few players early next month.
He's living a charmed life because of the injuries and FFP restrictions, but still the fans will only take so much. I don't think the fans will give him until mid January so he has to start turning things around now before things get very messy.
John Keating
53
Posted 05/12/2021 at 16:17:50
Jim White and Dave Prentice will be really pissed off if true.
Paul Birmingham
54
Posted 05/12/2021 at 16:18:54
God only knows, what going on in the board room, at Everton.
Some how seems this is the start of a clear out, - cull, and whom will be next.
For me, Brands has been made a scape coat but whom adjudicates and signed the cheques for his recruits?
Whom vetted and checked our scouts and will the Everton scouting system be overhauled?
Rotten to decay and stinking of a rats nest, but hopefully a new dawn can be heralded at a Goodison Park, very soon, after the rising damp that's engulfed all matters Everton, is removed.
Systemic neglect and dereliction of duty at board room level has made Everton's management, be the benchmark of how not to manage a football club to be successful.
Will it happen, God only knows, but let's hope so.
But let's ride the storms, and beat the Arsenal tomorrow night.
"Whats Our Name?"
Peter Neilson
55
Posted 05/12/2021 at 16:18:57
One down. Scapegoat for past mismanagement or not he's achieved little. If he was undermined he was still happy to stay in the role. Judged just on his own performance it's the right decision.
Michael Williams
56
Posted 05/12/2021 at 16:19:42
I feel bad for Brands. It appears He did not have much power when it came to transfers and the club's transfer was a shambles before Brands and will probably continue. Benitez was responsible for Gray, Townsend and Rondon for sure and most likely Begovic. Conte was responsible for Alan, Doucoure and Rodriguez. Just like these two managers signed their own players, so has every manager under Moshiri.
Instead of having an overall philosophy or plan, this club is moves in an ad-hoc, jumbling, fits and starts manner that drove the Everton jalopy off the side of the road. Brands was in no position to prevent this as it's clear he was not in charge of football matters at the club.
If this move means that Rafa will be in charge of everything football-related than I am satisfied. I believe he wants to build something special here just as he wanted to at Newcastle. I don't trust the owner and the board to get us out of this decades-long mess at all.
Ed Prytherch
57
Posted 05/12/2021 at 16:20:40
I imagine that Brands is happy to take the settlement and escape the asylum.
Will Mabon
58
Posted 05/12/2021 at 16:21:30
Do I remember correctly, about a year back United were rumoured to want Brands. Or Arsenal, was it? Funny old game.
Robert Williams
59
Posted 05/12/2021 at 16:22:01
Let's hope that the 'night of the long knives' has the effect we are all looking for. CHANGE at the top - next Baxendale and Kenwright. That will leave three empty seats in the Main Stand. Then a sweep of the back room - first out Ferguson - about time he earned his own living, next the fat fellow in charge of the U23s. and any other hangers-on you can think of.
Oh yes - that means half the team for starters.
Barry Hesketh
60
Posted 05/12/2021 at 16:22:16
Michael @56
I know you meant Ancelotti rather than Conte, nevertheless, I had to re-check to make sure I hadn't missed the hiring and firing of Conte :)

John Pickles
61
Posted 05/12/2021 at 16:23:28
Doesn't solve the problem that there's no-one one with any football intelligence running the club. The only sensible decision anyone at the top table has made in the last 5 years was by Ancelotti. He correctly decided to jump into the Titanic's 1st lifeboat.
Steve Shave
62
Posted 05/12/2021 at 16:24:38
Wow what a total and utter clusterfuck. We are an embarrassment, run by amateurs! We have to be thankful I guess for the finance but the execution of it by him was nothing short of a disaster. We are a busted flush. Even if by some miracle we sell to a buyer who still wants to finance the stadium, FFP will prevent us buying players! We have no choice but to back Rafa and give him control, we have no choice but to bring kids through, we have no choice but to watch this horror show unfold further from the sidelines. Brands has been totally chucked under the bus, Moshiri's incompetence and naivety with too many cooks at the pot is and was always the problem.
Tony Hill
63
Posted 05/12/2021 at 16:24:38
DBB "actively seeking employment with the Board's blessing" and has been for months. No way back from that.
Allen Rodgers
64
Posted 05/12/2021 at 16:25:01
Not making this up, because I told my mate about it at the time. While entering the ground on derby night at gate 9/10 Brands came out of a side door and crossed the lobby to the Brian Labone suite entrance. I nodded and said hi, he said hello but looked very downbeat.
After the match he had that conversation with a fan which ended with Brands saying ' do you think it's just the players ? '. Looks like he and Benitez haven't been in tune and he's gone. Benitez won't be far behind him unless there's a dramatic upturn in form.

Colin Glassar
65
Posted 05/12/2021 at 16:25:23
Chairman Bill, Dame Edna, Unsy, Ferguson and the rest of the old boys gang should follow him out of the door. He should've been sacked for buying Iwobi but that's water under the bridge now. A total clearout of all the deadbeats, losers and hangers on is required.
A word of warning; Benitez's record in the transfer market is spotty to say the least and the FSW is a Machiavellian conspirator without equal. Careful Moshiri. You are surrounded by snakes.
Peter Salisbury
66
Posted 05/12/2021 at 16:25:34
Strengthens Benitez - at least until any run of defeats goes on for a while yet - and protects Moshiri, Kenwright and Kenwright's clan within the club: DBB, Unsworth and assorted other ex-players producing little in the youth set up. Only a properly empowered DoF could have swept them away and managed the changes an alternative approach would require. Kenwright wouldn't have that, Moshiri couldn't face that, so it's "over to you Rafa" and squeaky bum time for the next six long months…
Mike Owen
67
Posted 05/12/2021 at 16:28:28
A scapegoat.
Never been a big fan, simply because I am unconvinced about the DoF role.
But a struggle to see how he could do the DoF job when strong-minded, big name managers were brought in.
I think it is difficult to judge him, especially if he signs a non-disclosure agreement and doesn't give his perspective.
I wish him well back in the normal world.
Steve Shave
68
Posted 05/12/2021 at 16:28:47
I have always (to a degree) defended Kenwright but agree now he needs to walk away too.
Rob Halligan
69
Posted 05/12/2021 at 16:30:04
If DBB "has gone", then surely kenwright will follow, after all, how's he going to cope without his L'il Miss Dynamite?
Robert Williams
70
Posted 05/12/2021 at 16:30:13
Bill@8. 'Feel sorry for Brands, thrown under the bus'
Why feel sorry for him, for whatever reason he has not delivered the goods that he was meant to - was he over-ruled? was he afraid to stand his corner, either way the writing was on the wall.
He will have learnt from his time a Everton, he will have prospered from his time at Everton and he will take a nice Xmas break and step straight into another lucrative job, that he may or may not be up to.
Sorry for the man? You're having a laugh - both you and him!!
Kieran Kinsella
71
Posted 05/12/2021 at 16:30:27
Reports that Lofty from Eastenders and Jose Baxter will be given board seats.
Frank Crewe
72
Posted 05/12/2021 at 16:30:35
I've never been big on Directors of Football. Never really understood their role. Seems to me managers should manage, They decide who should be bought or sold, tactics etc.
Brent Stephens
73
Posted 05/12/2021 at 16:30:43
Bill Gall #8 sums it up for me.
Sean Roe
74
Posted 05/12/2021 at 16:31:46
The manager signing the players HE wants, how it should always have been.
Michael Lynch
75
Posted 05/12/2021 at 16:32:16
I don't feel sorry for Brands. Either he was really terrible at his job and should go, or he wasn't being allowed to do his job properly so should go. There is no logical scenario in which he should stay, unless everyone else goes including the owner.
Do we need a DOF? I haven't got a scooby, but the successful teams all seem to have them or a Sporting Director don't they? Maybe we're going to bring in another ex-RS to join Rafa, Michael Edwards. If only.
Ian Horan
76
Posted 05/12/2021 at 16:33:06
What a shit show of a club, Brands signings since he joined in June 2018 are far superior to those before then. Iwobi was a Moshiri signing. Kenwright has more Teflon coating than any cooking pans, absolute disgrace if Kenwright remains !!!!!!!
Jacques Sandtonian
77
Posted 05/12/2021 at 16:34:23
So this means to negotiate in arguably the most important transfer window in recent history, we need to rely on Benitez? Kenwright? DBB?
James Flynn
78
Posted 05/12/2021 at 16:34:51
Well, it's not as if he did a great job, other than dumping players and wages; which needed doing.
My own feeling is that he was similar to Marco Silva. Both made good names for themselves in two of Europe's minor leagues. Both found wanting when moved up into a ruthless, cut-throat football league. Happens all the time. This time, unfortunately, to us.
The main problem stays the same, Moshiri. My belief is that he cannot keep his hands off the football side and has proven beyond doubt he doesn't know what he's doing.
Hopefully, [That's all I do these days; hope] he's going to give Rafa the same authority on the football side that Kenwright gave Moyes and Roberto. That worked and it didn't, but we did have clear, distinct lanes of responsibility.
If that's the plans for the next 2-3 seasons, Rafa runs the football, it'll do for me.
Bill Fairfield
79
Posted 05/12/2021 at 16:36:11
So Brands has left the madhouse and Benitez gets to rule the roost. I hope the owner has made the right decision, it'll be the first since he took over.
Tony Hill
80
Posted 05/12/2021 at 16:36:23
Shows you what protest, and the threat of further protest, can achieve. For the first time in a long time, we have shaken the complacent incompetence of the Board.
The self-serving mediocrities are being rumbled. Later than it should have been, but full credit to Benitez who knows where the roots of the damage lie. I wonder if he insisted upon this sort of backing from Moshiri/Usmanov before he agreed to join.
Colin Glassar
81
Posted 05/12/2021 at 16:38:00
John Pickles 61, spot on. Ancellotti saw what was coming and ran for the hills. Despite still being mad at him I can understand his decision. Who'd really want to work for this freak show?
As for Brands, his job was not only recruitment but overhauling the entire club structure from academy to first team, top to bottom. He's failed miserably on both counts so needed to go. Plus the fact that he never got a decent replacement for Seamus is nothing short of criminal.
Brent Stephens
82
Posted 05/12/2021 at 16:39:06
If Brands got a new three-year deal in the summer (?), the this sounds like he's being made a scapegoat; or the victim of a power struggle between Rafa and Brands (Rafa wins); or both.
Gary Smith
83
Posted 05/12/2021 at 16:39:26
He made his position untenable by arguing with the lad in the stand and saying "you think it's JUST the players?"
Whatever he meant by that, we'll likely never know now there's an NDA, but the unprofessional comment is the reason he's gone. If Moshiri is daft enough to think this will placate the growing anger, he hasn't a clue.
Hopefully more dominoes fall too. DBB has been great for the community side, but she's hardly got 'Enterprise CEO' history either. Maybe a chance to get a top class CEO to replace them both, and lead negotiations, contracts, and commercial expansion.
The real gems would be removal of BK and FSW…..not likely for either, at least not until Moshiri sees us in bottom 3 over next couple of weeks, and even then I think he'll try to ride it out, until or unless Jose becomes "free"……and that'd be a disaster too, more park the bus negative football. No thanks.
Tom Harvey
84
Posted 05/12/2021 at 16:40:48
Do any of us really know the true role Brands played?
Did he ever have full control?
How many of his buys were actually his? I doubt Iwobi, James and Alan were. How many more?
This conveniently distracts our attentions away from those nasties that still lurk in the shadows at the liver building and it should not.
This club is in a mess with or without Brands, don't expect the sun to suddenly just start shining.
The club has now put an extra huge responsibilty on Beitez's shoulders, he's now DOF and coach. If we sack him we'll have to go out there and find a new DOF and Coach all over again (mid season?) and then enter a new "Project", yet again.
Benitez barked back at Mike Ashley and I'm hoping there's more of the same here, one thing is certain, I trust Benitez's ability to choose players over that of Uncle Bill, our boney fingered accountant owner and Miss Dynamite.
We are where we are!
Dean Johnson
85
Posted 05/12/2021 at 16:41:38
My take, Rafa bought 2 players for 1.7mill and they're better than all the rest that brands spent millions on. Showed the board how terrible previous recruitment had been
At least we know now why the players aren't giving a shit, the guy that bought them has been fired.
We really want to see kenwright out tho as he has presided over all of this crap. Got lucky with Moyes and has been milking it ever since
Soren Moyer
86
Posted 05/12/2021 at 16:42:05
And the main vilain is still remaining as club's chairman while they are blaming others!!! Well done Mosh.
Now at least hire Luis Campos as DoF. He is a free agent atm.
https://talksport.com/football/632851/who-is-luis-campos-transfer-jose-mourinho-martial-mbappe-pepe-tottenham/
Kieran Kinsella
87
Posted 05/12/2021 at 16:42:37
Echo the last to report this even though Prentice was in the directors box on Wed. What a joke. Completely controlled by Kenshite as a PR machine.
John Skelly
88
Posted 05/12/2021 at 16:43:39
There is more than brands at fault in this club worrying times indeed,religation becoming 😞
Dave Lynch
89
Posted 05/12/2021 at 16:45:18
Raffa is well known for having plenty of scouts all over Europe.
The players will now know that he has total control over the playing staff and will realise, hopefully, that if they continue to underperform they are history.
As for his Newcastle days... he was hampered by Ashley's minge- baggery and the fans knew that.
Please God Kenwright is next to step down followed by his old boys network.
As for the Brand's statement, how do you know he wasn't talking about the board?
Let's face it, we've been shit a lot longer than Benitez has been in charge.
Robert Williams
90
Posted 05/12/2021 at 16:45:28
"Here y'are Bill, sign that."
"What is it now?"
"Oh, just a little three year extension"
"For who this time, Iwobi?"
''No, yu daft plonker - it's for me!"
"Thank God for that, for a minute I thought the Ayatolla was giving that Spaniard a ten year run."
Simon Dalzell
91
Posted 05/12/2021 at 16:45:56
Signing Iwobi for 40 Million is a sacking offence by itself.
Danny Broderick
92
Posted 05/12/2021 at 16:47:01
I keep seeing the word scapegoat next to Brands. There's no doubt he didn't sign all the players, but the ones he seems to have been responsible for have mainly been a disaster!
Where are the gems that a Director of Football is supposed to unearth? Why did we not get up and coming South American players? Or young talent from France/Holland etc? Why did we put in deadline day bids for Romero, Rojo and Van de Beek from Man United under his watch?
Surely anyone labelling him a scapegoat must also admit that his recruitment, when he was responsible for it, was very poor?
Off the top of my head:
Iwobi - miss
Lossl - miss
Mina - hit and miss
Digne - hit
Gomes - miss
Delph - miss
Gbamin - miss
Bernard - miss
Nkounkou - jury's out
Branthwaite - jury's out
Godfrey - hit
Doucoure - hit
Kean - miss
King - miss (Ancelotti's fault)
I haven't included Richarlison, Rodriguez, Allan, Begovic, Townsend, Gray, who appear to have been signed by managers.
Where is the right back we need?
Our recruitment, and squad, is all over the place. Brands didn't deserve to stay, but there will need to be further changes, not just him…
Tony Twist
93
Posted 05/12/2021 at 16:47:34
Jesus, the trust in Benitez is truly scary. Words fail me.
Barry Hesketh
94
Posted 05/12/2021 at 16:48:31
Dutch newspaper AD report that following Farhad Moshiri's 'remarkable' decision to appoint Benitez as manager, against Brands' wishes and after the director had extended his contract with the club, relations at the club were 'quickly on the edge'.

AD point out it's the first time Brands has not fulfilled his contract with a club, having held previous roles at RKC, AZ and PSV.

De Telegraaf, another Dutch newspaper, report that Brands was 'sidelined' after Benitez's arrival, with the Spanish manager dealing directly with Moshiri when it came to recruiting players at Everton.
Ray Roche
95
Posted 05/12/2021 at 16:48:51
According to Royal Blue Mersey, Barrett-Baxendale is next!
Christopher Timmins
96
Posted 05/12/2021 at 16:49:56
Danny # 92
Iwobi - disaster!
John Raftery
97
Posted 05/12/2021 at 16:50:25
Tom (#84),
I think the answer to your first two questions is a 'No'. That has been the root cause of our failure to operate the Director of Football model successfully.
Terry Ankers
98
Posted 05/12/2021 at 16:50:28
That has to be a positive move, now Barrett-Baxendale to go, we need to have a big shake-up. We have far too many people in all different jobs. Let's get back to the old system and have the manager in charge of recruiting new players.
I also think we need to do better with our youth system. I was a big fan of Unsworth but we do not get enough young talent coming through.
Mike Keating
99
Posted 05/12/2021 at 16:50:31
Brands becomes the fall guy in this comedy of errors.
Brings to mind Geoffrey Howe's resignation speech when he used a now famous cricketing metaphor to ridicule Thatcher's meddling in foreign affairs:
"It is rather like sending your opening batsmen to the crease only for them to find, the moment the first balls are bowled, that their bats have been broken before the game, by the team captain."
Thatcher resigned shortly afterwards – let's hope Bill follows suit.
Lyndon Lloyd
100
Posted 05/12/2021 at 16:51:20
Kieran (87), to be fair, Prentice is no longer Head of Sport at the Echo. He's moved higher up the ladder at Reach.
Simon (91), Iwobi was signed for £28m (rising to £35m, though I don't know what triggers those add-ons) and no-one will ever convince me Brands signed him. All the hallmarks of a Moshiri panic-signing through Kia Joorabchian from his former club when we couldn't get Zaha.
Paul Birmingham
101
Posted 05/12/2021 at 16:51:47
Gary@83, agreed.
Brands it seems, cut the grass with his statement, but the timing, tone and under lying stench means hopefully Everton FC can reform and become a functional football club.
The best part of 30 years to happen.
In some ways, I feel like this could be the start of the new beginning, the road to the promised land! I know it's not by miles, but hopefully it's a start, and no supporters deserve that more than Evertonians.
Life times in pergatory in football terms, let's hope, and starting tomorrow night, a new era.
Likely few will really know what's gone on but let's see what filters through on the media and social media.
Everton!
Mike Owen
102
Posted 05/12/2021 at 16:53:33
Lyndon, is this a new ToffeeWeb record? For fastest 100 posts on a Sunday?
Derek Knox
103
Posted 05/12/2021 at 16:55:34
Colin, Ancelotti may have run for the hills, but he had the treasure of The Sierra Madre in his saddlebags!
Just poured a gin and tonic as the good news keeps coming in... Champagne is on ice for when we get rid of the real rat!
Geoff Williams
104
Posted 05/12/2021 at 16:55:56
If Benitez is in sole charge of recruitment, then we are well and truly up the creek without a paddle.
Moshiri is the problem; he has no idea about football and his judgement on footballing matters is truly awful.
I attended my first match at Goodison over 60 years ago and I have been a season ticket holder for years but I am struggling to associate myself with the club.
Brands has gone because he had the temerity to suggest that the problem didn't lie simply with the players or even Benitez.
Alan McGuffog
105
Posted 05/12/2021 at 16:56:28
If only Catterick had had a DoF to help him. We could have signed Wilson, Ball, Kendall, Scott, West, Morrisey et al.
Oh... hang on, he didn't and we did.
Ian Bennett
106
Posted 05/12/2021 at 16:56:37
Let's see if Brands spills the beans on this mess.
Two directors out in a month, Bill for a hat-trick?
Adrian Evans
107
Posted 05/12/2021 at 16:58:13
I can't remember Brands picking 4-4-2 against the best press in the world. Or Barrett-Baxendale having any say in coaching, Monday to Friday.
Kenwright is trying to save his position as Everton's saviour. Moshiri and Kenwright don't get it.
Rafa Benitez has been found out. How naive not to understand the players' abilities you have, set them up to get cut to bits.
Rafa has lost the players, any idiot can get athletes running around, 10 km for 90 minutes with 7 km of sprints at 87% fullpace etc. Use your Spanish Sunday League footballing brain, Rafa.
90% of the supporters could set up for games better than he has. Rafa is the problem we got 15 points. Injuries yes, but we should be 9 points better than 15 points.
He is an average coach at best now, past his sell-by date, conning Mr Moshiri again. He goes or I am going Farhad, panic. Beggers belief.
So Brands gone, Barrett-Baxendale, Big Duncan by Friday, 3 more defeats, 2 weeks wasted.
God help us if Rafa brings in his picks then gets sacked. Just a joke. And it won't stop what's going to happen on Monday night.
Kevin Prytherch
108
Posted 05/12/2021 at 16:59:49
Brands didn't cover himself in glory at all. But out of Brands and Benitez, I think we got rid of the wrong one…
Ciarán McGlone
109
Posted 05/12/2021 at 17:00:57
At least Benitez is free to bring in John Joe Shelvey now.
Cosmic.
Tom Harvey
110
Posted 05/12/2021 at 17:01:51
Lyndon @ 100,
Totally agree, Iwobi was a last-minute panick by Moshiri, Arsenal I'll bet couldn't believe their luck when we took him and for what we paid.
No other club showed any interest in that lemon.
Moshiri probably is our biggest problem, even greater than Uncle Bill.
Matt Henderson
111
Posted 05/12/2021 at 17:02:12
It's almost irrelevant that he has gone unless Moshri finally puts a firm plan in place for the future or employs someone who can.
They need a top-class CEO to manage the entire business and also need to hire quality people to the Board. The Club has been allowed to deteriorate so much that change is required everywhere and that will bring real risk to get the new appointments right.
I cannot believe the finance director can keep his job after sanctioning a spending spree that drove losses leading to FFP taking hold. So you can argue Brands, Bill, the CEO and the finance director should go... but we cannot lose them all at once; we need a plan of how and when they are replaced.
It will be a massive job to turn this club around from the dysfunctional mess it has been allowed to become.
Hugh Jenkins
112
Posted 05/12/2021 at 17:02:31
Lyndon (100).
I am hoping that Brands leaving will mean that he opens up about what has really gone on in the transfer market within EFC. Many of us think that he has been thwarted in his role and it seems likely that he is being made the proverbial "scapegoat" for the failings of the entire management team. Hopefully he has not signed a "gagging" clause as a part of his severance package.
Colin Glassar
113
Posted 05/12/2021 at 17:03:17
Brilliant piece by Elton Welsby in the Echo about how far Everton have fallen. It's sad but true.
Might be controversial but, if Moshiri wants to clear out the Kenwright gang, I'd like to see Wayne Rooney come back in some sort of position. Love him or hate him, Wayne's a true blue who has a growing reputation amongst his fellow coaches.
He can't do a worse job than Ferguson and I'd bet he'd clear out the likes of Iwobi and give the rest a kick up the arse.
Tony Hill
114
Posted 05/12/2021 at 17:03:26
Tony @93, wait and see.
John Raftery
115
Posted 05/12/2021 at 17:05:00
It seems to me Moshiri has only one sensible option. He can appoint a CEO to run the club as a whole in the way Daniel Levy has done at Spurs. Plainly he lacks the wherewithal to run it himself.
The questions for me are whether he has the ability to identify a suitable candidate and, as important, the sense to let them get on with the job without his interference.
Brent Stephens
116
Posted 05/12/2021 at 17:05:17
The sacking is a clumsy and short-lived attempt to distract against other ills?
Danny Broderick
117
Posted 05/12/2021 at 17:06:01
Adrian (107),
A bit over the top with your criticism. You think Rafa should have got us 24 points, after injuries to half a team? (Digne, Mina, Richarlison, Doucouré and Calvert-Lewin). Not just half a team, most of our best players!
Bit over the top to say "Rafa is the problem" at our dysfunctional club. I didn't want him. But he is probably the least culpable at the minute, after only being given £1.7 million to spend and 14 league games into his tenure…
Barry Hesketh
118
Posted 05/12/2021 at 17:06:37
I don't believe that the Denise Barrett-Baxendale rumours have any merit.
I fear El Bobble or whoever he is, has decided to piggyback nonsense on the back of the Brands news, but we'll find out soon enough, I suppose.

John Raftery
119
Posted 05/12/2021 at 17:07:50
Hugh (#112), I will be amazed if his severance package is not conditional on his keeping his mouth shut.
Christopher Timmins
120
Posted 05/12/2021 at 17:08:01
Lyndon #100,
Moshiri has so little knowledge of the game that I doubt that he ever heard of Iwobi, never mind being the one that signed him.
Brands was effectively made redundant when Carlo was appointed and the DoF position died a death at that time. He should have done the decent thing and resigned at that point. Indeed, it could be argued that, from Day One, Moshiri did not understand the role of a DoF.
Brands should have been tasked with finding a replacement for Big Sam but we all know that Moshiri wanted Silva and got himself in hot water with Watford when he tried to poach him to replace Unsworth.
The man who brought Moshiri to our club has a lot to answer for!
Like a lot of individuals who left the club, Brands will survive and will build his career again. I felt he had to go solely on the basis of his signings, be they permanent or on a loan basis; however, I wish him well in the future.

Alan Moss
121
Posted 05/12/2021 at 17:08:23
Tony @10.
Can't really agree. The board hired someone many of us didn't want and, at the point many more are demanding his removal, the board reacts by giving him more control and power. Highlights how little the board cares for the fans.
I have no faith in him to lay foundations that support the club's growth. As you pointed out, he's selfish and single-minded so anything he implements will support his own agenda with little concern for us.
Derek Knox
122
Posted 05/12/2021 at 17:12:58
Colin,
Although not really in favour of the old players coming back policy, I would make an exception for Rooney and Tim Cahill. Both get what Everton is all about and I don't think either would tolerate familiarity and complacency. Plus the added bonus with Wayne would be his pulling power for players being a globally recognised name!
Tony Hill
123
Posted 05/12/2021 at 17:14:31
I understand and respect that view, Alan @121. I think it's wrong. We'll find out.
Barry @118, I think it's pretty clear that she's going but I agree we need to be careful before assuming anything. My earlier e-mail on that was hasty.
Tom Harvey
124
Posted 05/12/2021 at 17:15:06
C Timmins @ 120
"Moshiri has so little knowledge of the game that I doubt that he ever heard of Iwobi, never mind being the one that signed him."
Moshiri was on the board of directors at Arsenal and would have seen more than a few games that Iwobi played in.
Colin Bell
125
Posted 05/12/2021 at 17:15:07
I've read so many posts on here about Brands and his ineptitude and now people try to defend him. How fickle we are. Nobody likes to see someone lose their job, not that Brands's Bank Manager will disagree, but he had oversight of some player changes that just beggar belief.
I mention Iwobi as an example. I'd be happy having him as a £5 million addition to the squad but any more than that??? The Arsenal board must still be howling laughing at that one.
And then, how long have we been needing a replacement right-back? Why was that not a priority over another wide player? We saw evidence of the need for a change here on Wednesday night. Love Seamus Coleman, club legend, but one-on-one with Mo Salah?
Why was this not more of a priority than a wide player, resulting in Iwobi as a sop to missing out on Zaha, who'd have been another Crystal Palace sell-out for us, another £30 million waste for us in the shape of Bolasie.
Honestly, and I expect some backlash from this; the academy position is dire too. I don't doubt the efforts of Gordon and many others, they are good... but not good enough. Unsworth should be a casualty before Benitez. Yes, the first-team manager needs to pick these players to test them out but who has properly come through since, wait for it, Tom Davies???

Mike Gaynes
126
Posted 05/12/2021 at 17:15:59
Interesting news to wake up to. I don't think Moshiri is panicking, but it certainly looks like panic to the rest of the world.
Pat #45, that was my first reaction as well, and confirmed by the article Barry shares at #94. But as Gary says at #83, Brands' comment to the fan might have been the final shove.
Tony #52, there won't be a turnaround on the pitch until Christmas. The injuries, schedule and lack of momentum will see to that. Moshiri knows that and will give Benitez a timeline that extends at least through the January window.
Tony #80, what protest? What threat of protest? Where were the banners imploring "Brands Out!"?? I think you're living a fan fantasy. This was a Moshiri decision, not a Board decision, and we fans had absolutely nothing to do with it.
Danny #92, you can't count subsequent injuries against Brands' record. Mina is a huge hit. Gbamin's jury is still out, but I still think he was just the player we needed. His injury catastrophes weren't Brands' fault at all. And as Lyndon points out, it's highly unlikely that some of those worst signings, like Iwobi, were in fact his.
Tony Twist
127
Posted 05/12/2021 at 17:16:02
Tony (114),
I truly hope you are right but Benitez isn't even doing his daytime job properly. Moshiri's decision making looks to me like someone who doesn't know the answer himself and asks totally the wrong people for answers and takes their word like it is gospel. Brands unfortunately wasn't a strong enough character to tell Moshiri to sod off, "I do all the player buys". That's why he failed.
Bill Watson
128
Posted 05/12/2021 at 17:16:48
Hopefully Brands won't have a 'secrecy' clause in his settlement and may actually tell us which incoming players he was actually responsible for bringing in.
Recruitment has been piss-poor for years but so has the unfathomable retention of fringe players who were never going to make the step up. An example of this was the U23 side of a couple of years ago. To his credit Brands has moved on around 60-odd such players thus reducing the crippling wage bill.
Mike Gaynes
129
Posted 05/12/2021 at 17:20:16
Colin #125, It was a priority, and we had an excellent right back all set to come in. Dumfries was in fact a Brands recruit. We couldn't close the deal because of our financial situation. How much blame does Brands deserve for that? I don't know.
Adrian Evans
130
Posted 05/12/2021 at 17:20:53
Sorry, Danny, just an analysis.
Duncan took over a sinking ship if you where there. Change the system to fit who he could put out. Look what Rafa did v Watford. Liverpool??
Of course he has had bad luck, but he is limited in his imagination, and trust in young players. He used games to get Rondon half fit. Threw away points, no threat up top, awfull.
Yep, we are a squad 9 points better than what we got, I'll stick by that. Harsh. Will Benitez still be our manager if he gets beat v Arsenal, Palace, Chelsea, Leicester, then the big one: Newcastle at home.
I think Moshiri won't have any choice. We all watched the Deer Hunter and Russian Roulette at the table.
I really don't want to go down to the Championship saying it will be okay – Rafa brought Newcastle straight back up thanks.
Sam for me; I know he will keep us up. Then sort out the flipping mess properly.

Phillip Warrington
131
Posted 05/12/2021 at 17:21:23
Benitez to bring so-called safe over-aged players on ridiculous wages and we will be in an even worse mess. The wankers across the Park could not have scripted this better, the demise of their closest rivals.
Conor McCourt
132
Posted 05/12/2021 at 17:23:09
The problem is we as fans are absolutely clueless about what goes on at Everton so can't really judge Brands justifiably with precision and fairness.
My belief is that he had an excellent first summer with Silva and, if the club were to go another way with Ancelotti and then Benitez, Brands should unquestionably have been sacked alongside Silva for leaving the Portuguese with an unbalanced squad and not getting him the type of additions he asked for.
It was then his termination would have made perfect sense as he was, IMO, the chief architect of that poor season due to outgoings, ingoings and strategic cock-ups (notably the Zouma - Smalling fiasco). However, it was Silva I believe who was responsible for Vlasic and Lookman leaving the club.
Since this time, Brands was given a new contract with the powers-that-be seemingly pleased with his impact. What's even more peculiar is that his only real contribution in his transfer dealings was culling players and recruiting two signings in the shape of Doucouré and Godfrey which have proved decent additions.
His sacking now only shows to me that Moshiri is the biggest fool ever to be associated with our club and Benitez has succeeded in doing what he does best in blaming others for his own deficiencies and attempting complete control.
In trying to hold Brands to account, it is quite difficult because we know he inherited a mess and his biggest success was Silva's choice in Richarlison yet his biggest disasters, Iwobi and Delph, were apparently not his doing either. I would love to hear a fly-on-the-wall documentary by Brands but, as usual, it will all be swept under the carpet.
Tony Hill
133
Posted 05/12/2021 at 17:26:21
Mike @126,
A significant number of fans made their feelings plain on Wednesday by leaving after about 20 minutes and at stages thereafter. The atmosphere was toxic and was directed at the Board, and the fans have threatened to do similar again tomorrow.
I have rarely seen such a furious Everton crowd. Why do you think Moshiri – who is gliding in for the Arsenal game – has made these moves the day before?
Tony @127, this isn't about Moshiri who is indeed clueless; it's about Benitez: the nastiest, most pragmatic manager you could find – and perfect for us – for now.

Will Mabon
134
Posted 05/12/2021 at 17:26:21
Adrian,
Did you really just suggest a second sitting of Allar-dicier?
Give my poor 'eart a break, will ya?
Michael Kenrick
135
Posted 05/12/2021 at 17:32:59
So this news was out when? 3 pm on Sunday afternoon? Still not a word on the Offical Everton Website.
In the interests of clarity and transparency, let's set the timer going on how long it actually takes the highly professional PR team at Everton to issue the official Club Statement – that's assuming they eventually do. Normal process is to find a bucket of sand and insert head until the furore dies down...
Not hugely impressed with this as a smart decision. Yes, at least it is line with the common knowledge that Brands's DoF role has been rendered next to useless with the last two managerial appointments; however, it means Kenwright probably has even more power and is that much further from being ousted.

And how much is this just an easy sop to the baying mob? Limited impact to the management hierarchy while appearing to respond to the disquiet amongst the fans?
Brands is the flaccid carcass selected for defenestration from the 7th floor of the Liver Building, while the cancerous cabal remains in place, with increased power and control.
Geoff Williams
136
Posted 05/12/2021 at 17:34:30
Brands will soon find another job but this will be the last job for Benitez as he will soon have two relegations on his CV. No other club was interested in Benitez – that's why he ended up in China. Allardyce, Ancelotti and Benitez – all dinosaur appointments made by the clueless owner.
Mike Gaynes
137
Posted 05/12/2021 at 17:35:12
Conor #132, that's an excellent post.
Tony #133, you were there and I wasn't, but I think there's a vast gulf between "fans making their feelings plain" and a "protest".
Also, by accounts here, Brands was the only Board member interacting with the fans, so I continue to doubt their impact. We'll just have to disagree on this one.
Tony Hill
138
Posted 05/12/2021 at 17:37:48
Michael @135, not if Barrett-Baxendale goes. Kenwright looks like being paralysed. He can cry his tears alone.
I think this is a major shift.
Agree with you about the pathetic response from the Club.
Danny Broderick
139
Posted 05/12/2021 at 17:38:01
Mike (126),
Are you defending recruitment under Brands??
Adrian (130),
I agree with a lot of what you say about tactics and keeping Rondon in the team. I just don't think Rafa is "the problem" at Everton. There is far more wrong than that. With the disarray off the pitch, it doesn't matter who the manager is. We have no strategy in terms of recruitment and what happens on the pitch.
My choice is to have a clear-out and then give Rafa a chance to make a go of it, probably until the end of the season, so we can get some players back fit and give him a fair chance.
I would say the changes off the pitch are more important than changes on it at the moment. We are trapped in the same cycle at the moment – we need to break the cycle.
Martin Mason
140
Posted 05/12/2021 at 17:38:22
No, no, no. The poison will still be there and the boil needs lancing.
If Benitez has to handle all aspects of transfer activity then he will fall down on what he needs to do which is to get the best out of a poor squad.
Is there no limit to high low the snake can go, how many more he's willing to stab in the back to save himself.
Kim Vivian
141
Posted 05/12/2021 at 17:39:06
OK guys - watch Brands go to Newcastle as DOF? And with a skip load of money and some decent direction to boot. Just watch them pass us now
Neil Lawson
142
Posted 05/12/2021 at 17:39:50
So recruitment down to Benitez. Rondon ? Begovic ?Several clowns at Newcastle.
I keep banging on about it but under Benitez we are going down. Currently there are not 3 teams worse than us.
Adrian Evans
143
Posted 05/12/2021 at 17:42:14
Danny, yep Big Sam.
I ll take the Premiership in 22/23season 23/24.
He was paid to do a job, near bottom to 8th.
Actually enjoy some of his set ups, certainly the points secured,victories and pain he,we inflicted on others with billions spent.
He has his critics, England trusted him, employed him.
Never been given a chance really.
I ll go pick him up from where we are.
I ll ask the question.
Big Sam, safe this season, next into stadium.
Sort out the mess that is the club whilst residing in the Premier League.???
The Mirror is quoted as saying Mouriniho is being considered.🤯🤯
Big Sam will be discussed if we git 15 points in four games.
Could we, would we do a swop.Rafa to Toon, Eddie to us??
Mike Gaynes
144
Posted 05/12/2021 at 17:42:49
Michael #135, great catch, and I was just about to comment on that myself. I have always considered the Everton PR operation to be a bunch of rank amateurs, but in this case they can't even aspire to that. I have no idea what Kenyon and McLeod actually do, but it sure as hell isn't communicating with the world.
Danny #139, nope, not at all, just saying that he wasn't entirely at fault. There were events and signings that he had no control over, and as Conor points out, we'll never know exactly which blunders were his and which weren't.
Peter Neilson
145
Posted 05/12/2021 at 17:43:08
By the time Moshiri sold up at Arsenal Iwobi had only played 8 games and only started in 3 of those. I'm not convinced he left a direct impression on Moshiri, surely not enough to then wait over 3 years to sign him. He was sold a pup but surely someone advised him as well, DoF?
Nicholas Ryan
146
Posted 05/12/2021 at 17:43:27
Everyone is assuming he was pushed... but what if he jumped?
Barry Hesketh
147
Posted 05/12/2021 at 17:44:21
Geoff @136
Benitez has eased Brands' pain by utilising his old contacts to find the Dutchman a new position.
Barry Hesketh
148
Posted 05/12/2021 at 17:46:04
Nicholas @ 146
That is a question I'd like to know the answer to as well, it might also explain the delay in any official announcement by the club surrounding today's events.

Tom Edwards
149
Posted 05/12/2021 at 17:48:09
Well, I can't say this news was entirely unexpected. One thing you can guarantee is that Kenwright will outlast EVERY single one of the wasters currently making up our board and backroom staff. The man is truly coated in Teflon. We often say the RS have got into bed with the Devil, but I am not convinced it isn't Kenwright who is cosying up with Beelzebub! He seems untouchable. As long as his shadow is being cast over proceedings I don't see us making any real progress. Mid-table anonymity seems to suit him.
Peter Neilson
150
Posted 05/12/2021 at 17:49:20
It's a mutual agreement, a settlement. It's neither a resignation nor a dismissal.
Brent Stephens
151
Posted 05/12/2021 at 17:50:09
If he jumped, then no payoff?
Jay Harris
152
Posted 05/12/2021 at 17:50:09
Days it all about DBB's ability when she has been looking for another job for months Why isn't she just let go like Brands.
I believe Brands has had enough and resigned. Benitez was appointed against his wishes and his position has been constantly undermined by the "meddlers". Chiefly Kenwright and Moshiri.
Let's hope we appoint a strong CEO who can clear out Kenwright and his entourage.
The muppet show continues.
Mike Gaynes
153
Posted 05/12/2021 at 17:51:54
Nicholas #146, top corner volley. You're the first to bring that up, and it's a terrific question. And Barry #148, great point too.
Barry Hesketh
154
Posted 05/12/2021 at 17:53:20
Peter @150
Even the Director of Football's departure is opaque then? Brands: I want to resign!
Moshiri: I want to sack you!
Both agree to the departure by mutual agreement!

Peter Neilson
155
Posted 05/12/2021 at 17:53:21
Also settlement agreements to mutually agree the end of employment usually contain confidentiality clauses along the lines of don't speak about your ex-employer or we will take your payoff back. I don't expect we'll be hearing from Brands again.
Ian Bennett
156
Posted 05/12/2021 at 17:53:27
I'd expect Richarlison and Doucoure were Silva signings. I doubt Brands will have put those forward independently.
Certainly we could of done those deals without Brands.
Brands will have been heavily involved in Gomes, Digne, Mina, Bernard, Delph, Iwobi, Gbamin and Kean.
Nearly all have been expensive flops. Think of the alternative players that could have been bought for that near £200m.
Benn Chambers
157
Posted 05/12/2021 at 17:53:36
This is a start. Kenwright MUST be next and so must Denise Barret Baxendale. Unsworth needs to go as well and the academies record of feeding first team players to the first team, is as bad as it's been.
I agree a little with Conor #132 in that we will never know the full Story but at the end of the day, Brands has spent a fortune on the likes of Mina (a crock) Gomes, Delph and what's been spent on Iwobi and Gbamin is criminal. It's a sackable offence alone. I'm not sorry to see him go. Mainly because I'm not a fan of the director of football model anyway. Not in this country. I'm a firm believer that the manager and his team should scout, recruit, coach and manager the players. Much like Moyes did and is doing now. The director of football model is fine if you're Chelsea and City and you give managers a 2 years stint max (Excluding pep) and you're signing proven world class champions league players, so the conveyer belt of managers doesn't matter because he has a squad that anyone would dream of. It's different at Everton and I firmly believe that the manager should manage the lot, not just coach.
Like him Or loathe him (and he wasn't my choice) but Benitez is a ruthless bastard who will rid the club of cling on's and he wouldn't be spending £35m and £25m on the likes of Iwobi and Gbamin. I really do believe that if he's backed and allowed to sign the players he's scouted and wants, the club will have an identity, a way of playing and much better squad for it. I'm not saying we'll be playing Man City football but we'll be a lot more sold and we'll win more than we lose.
As I say, Benitez was not my choice, because of his Liverpool connections alone, but he's here and he's been given a squad that consists of a mish mash of 6 different managers shite than Brands and Walsh before him, have slung together. Klopp or Guardiola couldn't get better results with this squad, especially missing our 4 best players and spine for most of the season so far.
The one decent player we have signed, was scouted and buttered up by Benitez all summer, even when he didn't have a club, and that was Gray for £1.7m.
I think it's time to do a 360 now. Allow Benitez to manage the lot like he did at Liverpool, from the academy to recruitment to coaching and then the buck truly stops with him.
This truly feels like the last throw of the dice now …. If this doesn't work, we're done for and so will Moshiri be.
Call it blind faith but I think this could be the beginning of the tide turning and January under Benitez, should show us where we're going.

Derek Knox
158
Posted 05/12/2021 at 17:54:56
Just checking in again, has anyone else joined the Boardroom Exit Conga ? :-)
Brian Williams
159
Posted 05/12/2021 at 17:56:48
Was Brands the problem though?
We'll never really know what goes on behind closed doors so we'll never really know who needs to be culled (apart from the obvious).
Brands may have been trying to do all the right things for us but getting the bums rush by "others."
One things for sure we're in one hell of a mess which, though it pains me to say, will probably only get worse.
Matt Henderson
160
Posted 05/12/2021 at 17:57:19
Colin 113:
Can we move past employing people purely because they have an affiliation with the Club. I couldn't care less if we employ True Blues like Rooney, what I want to see employed are high calibre people. We have enough 'true blues' working at the Club (BK has seen to that) and it seems that, rather than any demonstrable experience at actually being any good at your job, is the key qualification you need to get a job under BK's regime and it is getting us absolutely no where.
Brian Hennessy
161
Posted 05/12/2021 at 17:57:24
I was never a fan of the Director of Football model and it clearly hasn't worked at Everton. Of course we will never know how many of the signings were in fact Brands signings and there in lies the problem with the DOF model.
The manager picks the team and in my opinion should pick what players he wants to sign. A proper CEO should be able to deal with budgets and wages so I am not convinced a DOF is needed for a club to be successful.
The removal of Brands is a start, if the rumours that DBB is on the way out that's good too. But we all know the person who has been here since 1999 will be the hardest one to remove. Only then can we be sure that real change is on the horizon.

Robert Tressell
162
Posted 05/12/2021 at 17:58:21
Jacques #77 - very good point. With an important January window now looming, we've just lost the guy that concluded our deals. That's a concern. As is the youth system restructure which is already showing very positive signs.
Longer term, I have mixed feelings.
Like many, I think we'd be in better shape if he'd been allowed to do his job without the very obvious intervention. In fact it's often been difficult to know what his job is.
However, the longer he goes on putting up with that intervention, the more he contributes to the mess.
The fact that this departure is (so it seems) mutual consent means maybe he's had enough.
This is unlikely to be the end of the DoF model though. Because pretty much all Premier League clubs have one (albeit the job titles and duties vary).
It might just mean we get one who is more compatible with Benitez - or worringly just some other stooge who's prepared to be repeatedly undermined for money.
Peter Neilson
163
Posted 05/12/2021 at 18:00:21
Barry I think Brands will have had the nous not to even mention resigning. This way he gets a payoff and into the next gig or even retirement. On the other side Moshiri avoids sacking him and potentially having to fight a legal action to pay up the bulk of a 3 year contract. They used to be referred to as compromise agreements as that's what's needed on both sides.
Rob Halligan
164
Posted 05/12/2021 at 18:01:16
Nick, # 146, and Barry # 148. According to the daily mail, Brands resigned, but as yet there is no clarification as to whether he was sacked or resigned?
Matt Henderson
165
Posted 05/12/2021 at 18:02:13
I hope that this move can focus any anger on Monday night toward BK alone so that the owner can get that message too. BK has probably advised the owner to make this move today and the fans will be fine on Monday.
Tony Hill
166
Posted 05/12/2021 at 18:02:39
Brent @151, correct.
Michael Lynch
167
Posted 05/12/2021 at 18:02:46
The Daily Heil suggesting Mourinho is being lined up if Rafa gets the tin tack. Almost certainly bollocks but it does show what the media thinks of our board. Only interested in big names, even when they're so far past their sell by date that they reek of last week's kebabs.
It's a grand old team etc
Ken Kneale
168
Posted 05/12/2021 at 18:05:27
This is deckchairs on the Titanic if it is not accompanied by other removals and importantly, some strategic appointments along the lines of what paul the Esk has educated us on over many months.
Mike G - he did have control so he must be held accountable and responsible - he was not just a highly paid DoF he was a club director with all the accountability that goes with such a role in any company. He has never been his own man that is his problem, and as Nick asks, if he did walk, why now when if he was truly being stifled, he ought to have done it months ago if he had any self-respect.
Bobby Mallon
169
Posted 05/12/2021 at 18:06:19
I will just say this. What has sacking him actually achieved. Are we miraculously going to be a better well run team. No we are not. There should have been 4 sackings Kenwright, Benitez and Unsworth should have went also.
Pat Kelly
170
Posted 05/12/2021 at 18:06:25
It's gathering pace now. Moshiri reported to have invited Kenwright to join him at BMD tonight before the infill is completed.
Mike Gaynes
171
Posted 05/12/2021 at 18:07:19
Derek #158, I think it's the Hokey Pokey.
Brian #159, spot on, my friend... unfortunately.
Ian #156, sorry, I don't buy that. I never saw evidence that Silva was the recruiting maven responsible for Doucoure and Richarlison. Mina's had some bad luck, but he isn't a "crock" when he's played three-quarters of the games since he's signed. And how you blame Brands for Gbamin's situation is beyond me.
Anthony Jones
172
Posted 05/12/2021 at 18:09:24
This is very interesting.
Did he initiate it himself? I know I wouldn't want to carry on in that role if dickhead fans were shouting in my face.
Has Benitez pushed him out? He is single minded.
Did Moshiri want a scapegoat? He is ruthless.
We may have to wait for his memoirs.
Brent Stephens
173
Posted 05/12/2021 at 18:11:33
Pat I think Moshiri would wait until they started pouring the concrete!
Sam Hoare
174
Posted 05/12/2021 at 18:12:59
Looks like he is being made a scapegoat but I guess we'll never know for sure.
Big question is what happens next. In theory this move may just increases the power of Kenwright and Benitez.
Personally I think the DOF model when done properly (a crucial proviso) is a good thing. So if someone is appointed to create a unity of style and identity whilst ensuring sensible recruitment then I will be pleased. But recent history tells me this may well turn out another way.
Kieran Kinsella
175
Posted 05/12/2021 at 18:18:02
Mike Gaynes
Why do you assume Silva wasn't behind getting Richarlison and Doucoure when he worked with both successfully at Watford? Gbamin looked terrible before his injury. Not just slow or getting used to the pace but absolutely dire. And Brands said he'd been wanting to sign Gomes for years. Obviously plenty of others did more wrong but He certainly isn't blame free
Pat Kelly
176
Posted 05/12/2021 at 18:18:36
Brent, personally I think it's pure speculation and totally without foundation.
Stephen Vincent
177
Posted 05/12/2021 at 18:18:51
Danny# 92, so Brands signed all the shite and managers signed everyone who is acceptable, how deluded are you.
I have absolutely no evidence but I suspect Brands said to Moshiri let me do my job, or I'm going and
Moshiri said bye-bye.
We will now be saddled with a whole raft of over 30 has beens on huge wages and with no sell on value and we will be screwed for a long time.
Mike Gaynes
178
Posted 05/12/2021 at 18:19:04
Pat #170, is Iwobi giving him a ride there?
Ken #168, agreed on the accountability -- if it's on his watch, he bears the responsibility. I'm just pointing out that we will never know how much control he actually had.
As for Brands quitting earlier out of self-respect, have you ever made the decision to quit a job you love and are heavily invested in, especially right after a major promotion (in this case to the Board)? It's not a decision you make in haste. Benitez only arrived six months ago, and the wheels only started coming off in October. I don't blame Brands for giving things a little time to perhaps work out. It's like a divorce -- you don't call your lawyer on the first day you realize it's not working.
Pat, agreed, I would wait for some concrete evidence on that.
Tom Harvey
179
Posted 05/12/2021 at 18:20:15
Brian Hennessy @ 161
Was the DoF model give any chance to work at EFC?
We're a basket case of a club with too many chefs stirring the pan.
Jim Baker
180
Posted 05/12/2021 at 18:23:22
So we know for sure who has the power, or most of it.
Are we happy now or have we gone backwards?
Martin Mason
181
Posted 05/12/2021 at 18:25:13
They resigned him by mutual consent.
Steavey Buckley
182
Posted 05/12/2021 at 18:27:47
Moshiri has been very unfortunate signing managers one after another who made very bad transfer signings. Those bad signings are taking Everton towards relegation. And there is little that can be done during the next transfer window because most clubs don't want to transfer or loan their better players during the middle of the season.
Brent Stephens
183
Posted 05/12/2021 at 18:27:47
Pat everybody will want to pile in.
Mike Gaynes
184
Posted 05/12/2021 at 18:30:08
Kieran #175, my assumption is that Silva asked Brands to bring them in. I never heard a peep that Silva was involved in actual recruitment.
You are right that Brands is nowhere near blame-free. I remember the comment about Gomes and wondered what he was thinking, because I had watched Gomes many times and didn't see him helping us much.
As for Gbamin, say what??? Absolutely dire? He had made exactly two appearances for us before the injuries. A bad-looking 45 minutes against I can't remember who, followed by what I recall to be a very good full 90 against Watford or Burnley or somebody in a shutout win. I liked what I saw that day. And I certainly don't recall you writing him off after 135 minutes. I pay attention to you.
Pat Kelly
185
Posted 05/12/2021 at 18:31:46
Down to 16th now
Anthony Jones
186
Posted 05/12/2021 at 18:32:10
As DoF, he oversaw the purchase of a pile of shite.
It wasn't all down to him, but his role demands some oversight.
If he was a serious DoF with professional pride, he would have walked years ago.
Don't feel sorry for him.
Brian Murray
187
Posted 05/12/2021 at 18:33:04
If this leads to Benitez getting more power or say-so, then he surely will give the important decisive blow and ask for Kenright's removal ASAP so we can finally get in professionals from top to bottom.
Dave Lynch
188
Posted 05/12/2021 at 18:33:30
Moshiri must be shitting bricks, go down and where does that leave the build?
I expect a power battle between Kenwright and Benitez, one wanting to rebuild the club and the other stamping his feet and refusing to let go of his toy.
Remember those words from all those years ago: "The cheque's in the post"?
That was the start of this shit show.
David Pearl
189
Posted 05/12/2021 at 18:34:26
I heard it's all Jimmy the kit man's fault; he switched laundry detergent on the request of Bill Kenwright. Let's all have a lynching.
Facts a plenty.
Pat Kelly
190
Posted 05/12/2021 at 18:35:17
Dave, with Moshiri shitting bricks, the build should be okay.
Tony Abrahams
191
Posted 05/12/2021 at 18:35:23
I think he's been thrown under the bus, whilst others remain, but once I heard Unsworth call him an Evertonian this summer, I had a feeling he'd have trouble with Benitez.
Let's face it, nobody looks like they've been doing a good job at Everton for years, and yet still they all remain?
One message I'd give to whoever is in charge of recruitment at Everton is to stay away from those fucken cloggies, because we've had a few down the years, and every single one of them has been a waste of time, unfortunately.
Dave Williams
192
Posted 05/12/2021 at 18:35:25
Mutual consent is usually the employee being told he has to go and he is allowed to resign to save face and make it easier to get another job.
The DOF model has been a disaster for us and hopefully we won't see it again. Hopefully, there is a replacement CEO lined up who can run the club properly.
I can't see this being the last departure – Brands was a disappointment but is not responsible for selecting, coaching and motivating players at any level in the club.
Gerry Clarke
193
Posted 05/12/2021 at 18:35:51
I think Brands realized in his short time on the board that it is totally dysfunctional. He was probably asked to explain his comment made to a fan at the end of the derby – 'Do you think it's only the players?' – and they didn't like the answer.
Barry Hesketh
194
Posted 05/12/2021 at 18:40:32
Paul the Esk making a point that I was unaware of:

Assuming Brands has left the club, we can not lose any more directors without replacements. Articles of Association require a minimum of three directors.
Colin Glassar
195
Posted 05/12/2021 at 18:41:38
Derek 122, Tim and Wazza could go around the squad and do an Oprah, you're out, you're out and you are definitely out!!
Joking apart, I doubt if either of these two would suffer fools gladly – unlike, apparently, Ferguson.
John Raftery
196
Posted 05/12/2021 at 18:46:44
As regards the Communications Team's failure to publish anything, I wonder if anyone has actually told them?
Given Moshiri's preference for talking directly to his mouthpiece on TalkSport, it would not surprise me if they are waiting for some information themselves from the decision-maker.
Matt Henderson
197
Posted 05/12/2021 at 18:51:26
This move is not going to change anything. Let's face it, it's our luck to have one of the dumbest billionaires in the world as an owner.
Moshri knows nothing about football, which is fine; what isn't fine is that he seems to think he does know something and involves himself in decision-making that inevitably leads to failure. Nothing will change at this club until:
1. Moshri recognises he knows nothing about football and stops involving himself in football decisions.
2. Moshiri realises the same about Kenwright and stops him getting involved.
3. Moshiri finds a high calibre person who does know something about football and business to take over as CEO with a mandate over the entire running of the club and the ability to make changes. This person should then report to a high calibre board.
The worry is that normally you would expect point 3 to be the most difficult part to implement as high calibre people are hard to come by. But, in this case, the top two points may be even harder to implement as both these fools can't see past their own egos.
Even if they do nail all of the above points, it will be 3 years minimum before we see any tangible progress as there is so much to sort.
Tony Abrahams
198
Posted 05/12/2021 at 18:52:04
Gerry @193,
I think if Brands would have been made to explain whose fault he thought it was, we might have begun to make some progress. But this sacking on its own does nothing of any real significance, and feels like it might have only been made to protect others...
Simon Harrison
199
Posted 05/12/2021 at 18:54:07
The wrong person has left EFC here; it should have been Kenwright for all the massive errors he has made, the lies he's told, the selling off of the club's assets, and making it look like he was and is the club's saviour.
Since August, the board has lost Sacha (Poor financial planning and oversight leading to the Profitability & Sustainability issue we have now!).
Ismailov has gone, despite being Uncle Alisher's eyes and ears at Goodison. He was more interested in his own affairs, and could have brought the club into disrepute.
Brands has gone, because... although he was hitting KPIs for getting shut of players who needed to go, or go on loan; his main jobs of recruitment has been interfered with, and managers, executives and the owner have gone over his head.
And lastly, his attempts at remedial work with the academy have been hampered: when he tried to oust Rhino, Rhino cried to Bill, and all stayed the same till Rhino got his promotion, but still had his U23s to play with..?
Barrett-Baxendale, who should stay in a capacity as Director of EitC and the liaison Director for the Stadium project, should just be taken off the board, as she is in reality Bill's 'catspaw'. Now, just when the stadium project needs a steadying hand, and a positive image, we're left with this debacle.
The board is now solely consistent of Chairman Kenwright and is Blue book. All the intellectuals and students, anyone of competence has been executed, and only his acolytes and his hatchet man and foreign patron, Moshiri, remain. (Moshiri equals the old USSR to Bill's Blue China.)
Benitez will no doubt find himself hoisted by his own petard, as his colossal ego and self-confidence blinds himself to his short-comings as a 'modern' manager.
Fundamentally, Everton is run like a Monday to Friday, 9-5 business, hence why even at 18:50, we still have no statement on the club website!? Maybe it's not a done deal yet, if at all...?
If I may spam from another post I commented on;
With the removal of Brands more money as been pissed away. I don't think it was on a dud, as Marcel Brands's track record shows that, when given free rein, and a full remit, he is a very impressive operator... if given enough autonomy!
However, this just highlights the major issues at Everton:
i) Kenwright prior to Moshiri, who was taking money out of the club, and relying on Moyes to do all the work.
ii) Kenwright post Moshiri, who believed that it was he and not Moyes who made EFC competitive in the top third of the table.
iii) Kenwright through lack of investment in the club; and the lack of aggressive commercial and financial operations, has allowed a gulf to open up between us and the now Top 6 or Top 8 (Man City, Liverpool, Chelsea, Man Utd, Spurs, Arsenal, West Ham & Leicester City!)
That's with Wolves and Villa being given funds from their new owners, and now the bloody Barcodes!?
So, in reality, we are 'realistically' aiming between 10th to 12th, or hope one of the above under-perform! Also, we're hoping that other clubs, like Palace with their new owners, don't catch us up...
iv) Moshiri has left Kenwright in charge of the trainset that is EFC now... Gross incompetence in my book.
v) The club needed to be swept clean with a new brush, to get rid of all Bill's barnacles, and the under-performing dross, and bloated department personnel within the club.
vi) Finch Farm needs to be completely re-evaluated, along with the academy by an expert in the field. Maybe arrange a couple of days (weeks?) visit by a Red Bull specialist?
vii) Decide if we need an academy and how to identify and progress the youth through the ranks to the 1st XI.
viii) Determine exactly what strategy the club will follow, and how to get there with immediate steps, short-term plans (3-6 months), medium-term plans (one season), and finally long-term: Where do we want to be in 2 years? Are we getting there? If not, readdress the immediate, short-term and medium-term goals?
ix) Recruitment, Recruitment, Recruitment!!! Hire the best person available for each position required; and only recruit players that fulfil a role in the club's, team's and manager's strategic plan!!! No more spending on names!
x) Consider investing in a lower league feeder club, when EFC have been stabilised?
Lastly, the owner (majority share-holder) has to decide to either be hands-on, or appoint a competent or better (footballing!) CEO, and let them get on with the job...
If he's going to stay hands-on, we're well and truly stuffed still.
Why can't he realise that Brands was never the problem, a) his lack of controling footballing matters was, and ii) Bill is still there!!!
Just my tuppence worth!
Tony Hill
200
Posted 05/12/2021 at 18:55:22
Barry@194, it just means another director is appointed if needed.
Mike Gaynes
201
Posted 05/12/2021 at 18:55:42
Simon... tuppence?
That was a full bank draft!
Kieran Kinsella
202
Posted 05/12/2021 at 18:56:41
Tony Abrahams
I guess Heitinga was the best of them. Stekelenburg had his moments. Atteveld, Drenthe, Van der Meyde, Koeman… yeah, not a great record, even if most of them had success elsewhere.
Julian Exshaw
203
Posted 05/12/2021 at 19:01:23
Could it simply be a case that Brands and Benitez just don't get on and one had to go?
Rondon was clearly Benitez's buy which may have put Brands's nose out of joint. We'll never know.
These are nervous times. Such a big game tomorrow for all kinds of reasons!
Mike Dolan
204
Posted 05/12/2021 at 19:04:25
I really do believe strongly that Benitez, who started today on the proverbial ropes, comes out of this as the new archbishop. The real loser is Kenwright whose time has gone already.
It was a crime to go into this season with the squad that we had. No back-up full-backs, no creative midfielder, no back-up goalscorer – all positions that we knew needed filling this time last year.
Benitez is just what we need: totally focused and ruthless. He will not roll over for the front office and I really can't see him putting up with Bill's shenanigans when we do bring new players in.
This could be the bottom; from now on, there is only up. Love your team tomorrow.

Tommy Carter
205
Posted 05/12/2021 at 19:05:53
@ Simon and others. The wrong man has definitely been shown the door.
He's become the fall guy as for some reason, a few of the pundits and media types have highlighted him as the reason for failings at the club.
Clearly a wider agenda at play here and Brands has been sacrificed as a thinly veiled disguise of a club trying to put its house in order and solve problems.
Brands was arguably world-class at what his main remit is: getting people in the door once talent has been identified.
A variety of signings you could never say he was responsible for: Rodriguez, Allan, Gray and Townsend were obviously the choosing of the managers.
So why do people assume he also identified Iwobi and others too?
The club has a large scouting network that identifies the talent. You could argue that Gretar Steinsson is just as culpable but nobody is calling for his head.
Then we have the influence of the old boys' network within the club. A lot of people with a lot of different influences.
And basically almost every target identified for Brands, he has delivered upon. Which includes the complex effort in getting James Rodriguez both in and out of the club.
Ancelotti and Moise Kean are also 2 further examples of Brands being able to get the deal done. As stated, world class performer in this sense.
Another disappointing chapter in the Everton story.
Andy Walker
206
Posted 05/12/2021 at 19:06:03
Moshiri finally ditching his failed DoF model. Good.
Bobby Mallon
207
Posted 05/12/2021 at 19:10:30
Moshiri is British-Iranian right? And he's very close with Usmanov, who used to own a huge stake in Arsenal.
There's a British-Iranian called Kia Joorabchian who apparently has huge influence over the Everton board and is a personal adviser to Moshiri.
He also owns a company called Sports Invest UK Ltd and one of the footballers that he acts as an agent for – and brokered the deal on the Arsenal side – is Alex Iwobi. Bernard and Richarlison are also on the books... who else is?
Money laundering at its best.
Simon Harrison
208
Posted 05/12/2021 at 19:11:24
Matt @197, very accurately put.
I hope that Moshiri had decided this on his flight to the UK, slept on it last night, and has employed the best recruitment consultancy company to find our next CEO, and a couple of excellent non-executive board members.
Otherwise, it's back to Bill's trainset, which he occasionally shares with Farhad.
Michael Lynch
209
Posted 05/12/2021 at 19:11:31
I agree with Matt #197.
Until Moshiri lets someone with a brain look after his trainset, the engine will never leave the station. He needs to just sit back and watch the trains go round. He can wear a stationmasters hat if it makes him feel better.
The dumbest billionaire indeed.
Simon Harrison
210
Posted 05/12/2021 at 19:12:55
Mike @201, yep, even into my overdraft too, which I was going to donate to EFC for January...? ;) hehe
Bobby Mallon
211
Posted 05/12/2021 at 19:13:15
Matt @165,
The fans will not sing bad songs about Kenwright; they mostly think he's been great for us.
Will Mabon
212
Posted 05/12/2021 at 19:17:35
This could all be moot with little or no dosh forthcoming. Or if dosh is only available by selling our better players.
When this (first lot of?) dust settles, I hope the resultant operational changes aid Benitez as a manager in getting the best from what we currently have for a squad – 'cos so far, that's all that's been changed by today's ballyhoo. There are only so many bargain players of enough quality, á la Gray and Townsend.
Dale Self
213
Posted 05/12/2021 at 19:20:04
How low can you go, Mr Knox?
And yes, that was a well done post, Conor, just so you know it's the positions and prose, not anything personal.
And overall a good cynicism that doesn't bum me out. I get it but the shits most responsible have never had so much pressure on them. I see the fear of trusting Rafa but who else do you have on the inside?
And yes I'm a bit concerned about his transfer failures even though he likely won't be in the range for a big scale bad buy.
Billy Bradshaw
214
Posted 05/12/2021 at 19:27:44
Bobby @207, long may it be laundered as long as a new stadium comes out in the wash.
Jay Evans
216
Posted 05/12/2021 at 19:30:38
The main problem remains... and that (unfortunately) is our manager.
All I heard from anyone with an opinion about him in the summer was -
'He'll sort them out.'
'He won't take any crap,
'He'll have them well drilled.'
'We'll be difficult to beat under this fella.'
Yeah right.
He's an imposter.
Barry Hesketh
217
Posted 05/12/2021 at 19:32:17
If Bill and Bennie are the main operators in the transfers of players, how's that going to work, seeing as many said that Bill was opposed to the appointment of Bennie in the first place?
Soren Moyer
218
Posted 05/12/2021 at 19:34:23
Farhad Moshiri, Billy the sick, and FSW!
Not a good combination!!
Sean Kelly
219
Posted 05/12/2021 at 19:46:21
Pat Kelly @185 – this is the most relevant post today.
Rob Halligan
220
Posted 05/12/2021 at 19:49:55
Please let this be a wind-up, and Kenwright didn't really say this.
Sky Sports News
Twitter › SSN401
Bill Kenwright:
"Tomorrow's protest isn't about me. Us Blues are a brotherhood. The fans know full well I'm the biggest Evertonian & they appreciate I've worked my way from The Boys Pen to this position. Following today's events, we now have clear direction at the club" #EFC
Twitter • 8 minutes ago
Chad Schofield
221
Posted 05/12/2021 at 19:52:37
There's some incredible 2 + 2 = 8... it could be a host of things, many of what has been described as previously... a power struggle.
An angle could be that Brands signed the extension in good faith, with guarantees that never materialised.
I still don't see how his videod comment is throwing Benitez under the bus... it could be any number of the board, or them as a collective. He may have left for his own professional integrity... or he may have just been called out as a incompetent leech. As has Denise Barrett-Baxendale.
2+2.
Maybe it's 22? Maybe, these highly rated people arrived and just coasted, taking the money. Or maybe it's all a bit more deep-seated.
Is it Bill clutching on and turning the blame onto anyone he possibly can?
Is Moshiri, the billionaire accountant who can't do FFP maths, really a blithering fool who gets hypnotised like Mogli every time a player's snake agent is nearby... or he bothers to phone or text TalkSport?
Has Benitez come in to chew gum and whoop ass, but he's out of gum? Or is he blood brothers with Klopp and just waiting for the Mordor return fixture to rip off his blue suit and show he's been wearing a red latex LFC unitard all along?
Honestly, we won't ever really know for sure. Well perhaps that last one, if it happens, but probably not worth sticking a massive bet on.
Even when someone does (ghost)write their memoirs, it's only one side of the story. Even if it's collaborated that Brands or Barrett-Baxendale was this or that, maybe that's because they weren't given authority.
Someone did have to go. Bill undoubtedly won't want to go yet though given the state of the trainset.
Brent Stephens
222
Posted 05/12/2021 at 19:53:01
Kenwright "we now have clear direction" suggests this was a battle between Rafa and Brands, which Rafa won.
Ciarán McGlone
223
Posted 05/12/2021 at 19:54:58
Christ... if what Rob has posted is true then I hope tomorrow's protest is bigger than before.
Full-on defenestration of Prague.
Barry Hesketh
224
Posted 05/12/2021 at 19:56:12
Did Bill expand on which direction we are heading? I fear it is down!
Joe McMahon
225
Posted 05/12/2021 at 20:02:12
Did Kenwright really say this today on Sky?
"Bill Kenwright: "Tomorrow's protest isn't about me. Us Blues are a brotherhood. The fans know full well I'm the biggest Evertonian & they appreciate I've worked my way from The Boys Pen to this position. Following today's events, we now have clear direction at the club."
If so, I just have no words!
Gary Smith
226
Posted 05/12/2021 at 20:02:21
To those who think that's real; I have the deeds to London Bridge and I need to sell quickly. Can any of you take advantage?
Jerome Shields
227
Posted 05/12/2021 at 20:04:55
Moshiri is determined to keep Benitez and Brands – 'never his own man' – has become the scapegoat to save the rest of the hierarchy.
Head of Medical Services gone and now the Director of Football and a Board Director; Benitez has certainly had a impact so far. But Brands allowed himself to be painted into the corner of being expendable. I think that his actual impact on Everton has been minimal; it is those around him that are the real culprits.
Wonder if this decision took 'one spin of the Z-Cars record'?
Does this mean that the Director of Football Operations, Director of the Academy and the Head of Recruitment and Development are now under Benitez Remit? Could this be related to Benitez's ' 5-10% improvement in all departments'?
Barry #147
Very good.
Barry Hesketh
228
Posted 05/12/2021 at 20:06:29
Gary @226,
If the Nigerian bloke repays the money I loaned to him, I'm definitely interested in purchasing the deeds to London Bridge – I'm sure he'll get in touch to say he's transferred the money back into my account with relative interest fee.

Gerry Clarke
229
Posted 05/12/2021 at 20:09:38
Tony @ 198. I fear you may be correct.
Barry Hesketh
230
Posted 05/12/2021 at 20:12:39
Apparently, the discussions between Moshiri and Brands were going well, until 27 minutes into the meeting. Brands decided to leave... and when he returned 5 minutes later – he was axed!

John Armstrong
231
Posted 05/12/2021 at 20:15:36
Forget about Brands, I'm thrilled to see the word 'defenestration' make an appearance in this thread!
Jerome Shields
232
Posted 05/12/2021 at 20:20:27
Rob #220
If true, it shows Kenwright as a real snake in the grass. He must be really shitting himself, just when he is trying to get back into bed with us Evertonians.
Barry Hesketh
233
Posted 05/12/2021 at 20:20:39
John @231
I do hope it doesn't signal the start of another Thirty Years' War.
Rob Dolby
234
Posted 05/12/2021 at 20:21:39
Other than empty Moshiri of a couple of Million euros, can someone tell me one thing that Brands did at the club?
Reshape the Academy? Errm... no, it's worse now than when he signed.
Bought better players? Errm... no, they are pretty average besides a couple.
Introduced a philosophy across the club? Errm... no, in fact, the opposite has happened.
He was riding the gravy train. Good riddance.
Hopefully the manager is next followed by The Biggest Evertonian and Little Miss Dynamite.
There isn't a winner amongst them... parasites, the lot of them.
John Armstrong
235
Posted 05/12/2021 at 20:22:01
Not once but twice!
Jon Wit
236
Posted 05/12/2021 at 20:26:34
I'm sure Brands is happy enough to get out as this mess isn't going to be cleared up any time soon. I'd say he did better than Walsh but he's spent plenty of money for a mid-table squad.
Not sure why some posters are happy with Benitez being given free reign – 2 points in 8 games and the worst run in a quarter of a century.
Phil (Kelsall) Roberts
237
Posted 05/12/2021 at 20:28:38
He got a new contract because he was coming to the end of the old one.
Danny Baily
238
Posted 05/12/2021 at 20:30:06
Presumably Brands was behind the wheeling and dealing, the likes of which we saw when Allan, Doucouré and James were brought in last year.
What's less clear was his influence on identifying and deciding upon the players we brought in. If he was responsible for the latter, he really can't complain.
No more DoF; let's trust our managers to build a balanced squad to get them through a season (Moyes was good at this, Martinez was abysmal).
Jerome Shields
239
Posted 05/12/2021 at 20:40:15
I posted this on the Everton v Arsenal thread this morning at 10:20 am:
"The problem is the club itself: how it is being managed, the personnel still being promoted in October and probably plans to employ and promote more in the pipeline: no accountability throughout the club and having the manager as the only scapegoat. Though we get 'not his own man' Brands this time. "
I never expected it to happen so fast, but the reason still holds true. But it just shows the impact of that fan at the last game and the threat of the 27th-minute protest has had.
Brands was the weak link, with the lame blame answer to the fan that tackled him and the others sensed the blood of a scapegoat to save themselves.
Benitez is now a real threat to them all. They just have to get him now. Benitez needs to hold his nerve and keep Moshiri on side. There is still tough work to be done.
Kieran Kinsella
240
Posted 05/12/2021 at 20:40:21
Rob, Joe & Barry,
Romanian dictator Nicolae Ceaucescu released a similar statement about protests in 1989 before going on his balcony to rally his supporters. The next day (Christmas) he was shot against the wall.
Simon Harrison
241
Posted 05/12/2021 at 20:41:57
In response to the poster re Paul the Esk's point about needing three board members. Phil McNulty has announced that Director of Finance, Grant Ingles, has been promoted to the board.
So, we do have three Board members now, Kenwright and now two of his stooges. Should that be a theatrical performance of the 'Three Stooges'? Larry, Curly (Sue) and Moe'Money Blue(s)

Colin Glassar
242
Posted 05/12/2021 at 20:44:32
Why are people surprised by the bullshit Billy bullshitter comes out with? Didn't he say other clubs look to Everton as a perfect example of how a club should be run? Didn't he lie to us about the King's Dock? Destination Kirkby? Moutinho? The Arteta money? And so on and so on?
The man is a pathological liar yet some people still give the teary-eyed fat bastard the benefit of the doubt. He can only take us for fools as long as we are prepared to be fools. This fool has had enough!!
Christine Foster
243
Posted 05/12/2021 at 20:52:24
Three days ago on another thread I wrote this.. more in jest and frustration, but scarily almost word for word accurate!
Moshiri to Benitez: Can you do this?
Benitez to Moshiri: But of course, the team is right behind me and I think we played well in the derby except for some silly mistakes.
Moshiri: we lost 4-1you said it would not happen.
Benitez: No.. I said it should not happen, but what can I do?
Moshiri: The fans are losing belief now and blaming me!
After all I have done and all the money I have spent!
Benitez: That is not my concern, I have only spent 1.7 m and most of the fans are not blaming me, it was the same at Newcastle, they loved me there! If you are looking for someone to blame, blame Marcel!
Moshiri: Thats difficult
Benitez: Why?
Moshiri: Because he didn't actually buy most of the squad
Benitez: Well who did?
Moshiri: Well Bill and I sort of picked who we thought we should have
Benitez: Did you not discuss it with Marcel first, he is the DoF?
Moshiri: No no, Bill makes all the team purchases most of the time, well every now and again I get offered a player..
Benitez: So what does Marcel do?
Moshiri: He reviews videos and looks for players we cannot afford or ones Bill doesn't like.
Benitez: This is crazy! I will chose the players then you can get rid of Marcel, I will get the praise, Marcel will get fired and we can all blame it on Marcel. never liked him anyway!
And it takes the heat of you!
Moshiri: Yes the perfect fall guy!
Benitez: Well not the perfect one..
Moshiri: You mean Bill? I cannot, we have an agreement.
Benitez: What sort of agreement?
Moshiri: He has compromising pictures
Benitez: Oh.. that sort..
Moshiri: I am afraid so.. I didn't know he was a journo from the S*n. I should never have given that interview. Besides bill has a sunset clause.
Benitez: What is this sunset clause?
Moshiri: Well although I own the club, I agreed in the contract that any decisions to do with the actual football would be his to make without review.
Benitez: But that is crazy, how long for?
Moshiri: Thats just the point, I did not understand what "in perpetuity" meant. I have already tried paying him off but..I am sure he is wanting me out, he is all smiles to me.
Benitez: This club is a basket case, but the fans love me! They chanted my name at the derby!
Moshiri: That was the other lot, they were being sarcastic
Benitez: What is this "sarcastic?"
Moshiri: You are a great manager.
Barry Hesketh
244
Posted 05/12/2021 at 20:56:53
Simon @241
Grant Ingles was co-opted onto the board in July of this year. I assume people were wondering about whether or not DBB was to step down, she wouldn't be able to, until another person was appointed to the board.
Tony McNulty
245
Posted 05/12/2021 at 20:57:10
I suspect Brands will have a non disclosure agreement.
I guess it will be a long time before we find out his role in some of the transfers.
Was he behind the five or six of seven "Number Tens" on the books, for instance?
I would (does a Kevin Keegan) "love" to know who was involved in the decision about Iwobi and its pricing. Someone's finest hour.
Tony Abrahams
246
Posted 05/12/2021 at 21:00:03
You might be in New Zealand, Christine, but you have always had an Evertonians perception, except for in perpetuity, because not even the minx, is going to last forever🤞
Tony Everan
247
Posted 05/12/2021 at 21:02:01
Everton have been Mr. Creosote. Getting fed non stop with an assortment of managers and players of every description. Smiling agents have acted as the enthusiastic waiters , feeding their ever bloated and hapless customer non-stop, "just one more no.10 sir, you know you want it " …."B, b, but, I've already eaten four of them " …"Oh go on then, I'm sure I can find room for one more " ……"wise choice sir, here's the bill"…."We have a lovely trolley of injured midfielders for dessert sir ", " I'm guessing you would want them all". " Oh yes lovely, I'll take three "… " splendid sir, here's the bill."… "Turkish delight to finish the evening sir ? " "burp, I just couldn't, oh, err, why not"…"super sir, here's the bill".
Mr Creosote became so fat and bloated he couldn't operate as a human anymore. He lost his mobility and coordination. His belly became rotund and taut, morbidly distended with junk food, when finally it reached bursting point. The half digested remains of the hundreds of unhealthy meals he had eaten started to be uncontrollably vomited out of every orifice.
When the bilious purge was finally over, the poor, deflated Mr Creosote, for his long term health, had to think a lot more carefully about what he eats. His doctors gave him no choice.
Danny Nicholson
248
Posted 05/12/2021 at 21:04:07
Yes to Elstone back, yes to anybody back from the time there was a bit more head than heart behind the scenes, Wyness is out of work I see, Rounds is looking for a job etc etc etc etc etc
Dave Abrahams
249
Posted 05/12/2021 at 21:04:52
Who make up the board of directors now with Brands gone and I'm presuming and hoping that Baxindale has gone?
Barry Hesketh
250
Posted 05/12/2021 at 21:06:59
Dave @249
Apparently, just Bill, Denise, and Mr. Ingles are currently board members.
If anything sums up Everton FC it's this tweet from Phil McNulty earlier today:
Everton chairman Bill Kenwright when Marcel Brands signed a new contract in April: "It took us around about one play of 'Z Cars' to reach an agreement." Wonder what lament is accompanying his departure?
Sean Kelly
251
Posted 05/12/2021 at 21:08:38
When you back a rat into a corner they will come out bitiNg and attacking anything in its sight. Step up BILLY BULLSHIT.
He can keep the rickety old train set. Its useless without the tracks and moronic Moshiri has them. My biggest fear is that Moshiri's tracks are heading over a fucking cliff.
Shaun Laycock
252
Posted 05/12/2021 at 21:11:06
Jesus, Mary, Joseph and the wee Donkey, we are all in with Rafa. The only way this becomes the slightest bit palatable if Kenwright & Baxendale go too.
Barry Hesketh
253
Posted 05/12/2021 at 21:15:34
Shaun @252
Maybe with the first three names in your post but not the wee Donkey (he's needed up front on the pitch) on the board, we might have a chance!
Rick Tarleton
254
Posted 05/12/2021 at 21:18:09
So we sack Brands, who is the halfway house between the board and Benitez. I think Zeus has misdirected the thunderbolt.
James Flynn
255
Posted 05/12/2021 at 21:18:15
Rob (220); Joe (225) and any "Me Toos" falling in behind them.
sky sports news on Twitter is the equivalent of The Onion we have over here. A legitimate fake news site with an eye towards humor. The first thing you'll read if going there is: 24 Hrs A Day, Every Now & Then, Complete Fabrication From The Sky Sports Couch #Parody Not Associated With Sky Sports News #SSN
Dave Abrahams
256
Posted 05/12/2021 at 21:21:12
Barry ( 250), thanks Barry.
Going by a previous post on this thread three directors constitutes a board, does this mean they can propose, second and vote in anything they want, for instance: Mrs. Baxindale proposes that Benitez is fired, Mr. Ingles seconds that and Benitez is fired with Sly Boots, keeping his hands clean voting against the proposal and wins and loses at the same time.
Joe Digney
257
Posted 05/12/2021 at 21:23:34
It's a start.
Just hope blue balls bill isn't pushing anyone and everything under the bus to help himself come out unscathed. Be a man bill and step down so we can finally have a full on restructure from top to bottom.
Barry Hesketh
258
Posted 05/12/2021 at 21:24:28
Dave @ 256
I wouldn't rule anything in or anything out with regards to Everton FC but wouldn't the owner have to put forward a motion to sack Benitez first? or would the Chairman - who has no power - be able to put forward the motion himself?
Barry Rathbone
259
Posted 05/12/2021 at 21:26:41
Amazed really.
Never really understood what a DOF does (I suspect fuck all ) but is this a case of unwarranted blame for the crap Mosh and his long line of managers wanted?
This looks like the blood sacrifice of ancient civilisations desperately appeasing the gods.
What a laugh the boardroom meet must have been a recreation of that scene in the charge of the light brigade movie. Lord Raglan and chums attacking each other searching for a scapegoat - fantastic.
He's the second previously successful dof to go - d'ya think it might be us??
Dave Abrahams
260
Posted 05/12/2021 at 21:30:35
Barry (258) I don't think there would be much of a problem getting Mr. Moshiri to put the motion forward he listens to and agrees with anything Sly Boots tells him.
Neil Copeland
261
Posted 05/12/2021 at 21:30:59
Barry #258, I was wondering about that too. How does the whole thing work and who actually has the authority to do what?
Derek Moore
262
Posted 05/12/2021 at 21:34:15
Sacking a director can be problematic.
"A director can be removed from a limited company but it must be in accordance with the terms contained in the Companies Act 2006, the company articles of association, the shareholder's agreement (where there is one in place), and the service agreement between the director and company..."
Much easier to demand a resignation and call it mutual consent. Being blasted out takes time, and has to follow a process.
Ken Kneale
263
Posted 05/12/2021 at 21:34:26
Barry, it could indeed be us - and alone, this departure means nothing but a continuum of the sad state of affairs that has gone before.
Having said that, Brands must have known what he was stepping into, he did little to help himself, and his tenure by any professional standards was a failure - if we see BK taking 'early retirement on 'health grounds' and the so called coaching staff at FF packing their kit bags, it may give optimism a chance to flourish again. Personally, I don't intend to hold my breath on it at present
John Davies
264
Posted 05/12/2021 at 21:38:36
I'm 60 years a Blue. Been a season ticket holder since 2000.
I live in Reading (400 miles round trip for every home game ). The club is a complete basket case. Rotten. Ruined. Top to bottom. I have never felt so disconnected and abused by my football club. Where the fuck do we go from here? Relegation, that's where. It breaks my heart. I'm lost. And so is Everton F.C.
Gavin Johnson
265
Posted 05/12/2021 at 21:50:54
Good riddance! Now take Baxendale and Bill with you!
Tom Harvey
266
Posted 05/12/2021 at 21:52:43
You'd have thought boys pen Bill would have kept quiet and hidden in some dark corner until the heat was out of the situation, but no, he comes out with that statement today?
Either he's deluded or we are?
Kenn Crawford
267
Posted 05/12/2021 at 21:54:17
Sorry I just don't get it. Most of our problems stem from Koeman's era when he needed 5 No.10s and all of them were shite. This is just a sacrifice to try and appease the fans.
My biggest concern is if you look at Benitez's signings in the past they do not instill confidence, and let's face it Rondon is the perfect example.

To be honest Townsend is now showing why he couldn't get into the Palace team but, hey ho, he's good enough for us.
Kenwright should have been the first out of the door followed very closely by Benitez. The club is a disgrace.
Neil Copeland
268
Posted 05/12/2021 at 21:55:56
Based on the need for a minimum of 3 directors, will the next move be to appoint another such that DBB can go? It would be interesting then if a further 2 directors were appointed.
Neil Copeland
269
Posted 05/12/2021 at 21:59:40
Tom #266, see post 255, it's a wind up
John Kavanagh
270
Posted 05/12/2021 at 22:00:03
Brands has now fulfilled his primary purpose i.e. to wait in the school book depository while Blue Bill and Moshiri make their getaway from the grassy knoll.
My sympathy for Brands is limited because if he had any professional pride he should have resigned months ago, refused any non-disclosure agreement and given a full account of who exactly was responsible for what in his time here, particularly in recruitment and contract negotiations.
Those who are posting that Rafa will now sort things out should take a long hard look at the league table and try to work out where the 40+ points are going to come from. We can look forward to the sale of some of our better players and their replacement with more Rondons in January. And the same bizarre team selections, tactics and substitutions.
As for the Board, the only football 'expert' is now Blue Bill and Moshiri is free to continue with his knee jerk appointments from Monaco. Kenwright is wholly responsible because he brought in Moshiri as an investor when the club should have been sold. At least Mike Ashley buggered off having trousered the cash on offer for the Barcodes.
So my message for Blue Bill and Moshiri in these Covid afflicted times is 'A plague on both your houses'.
Dan Parker
271
Posted 05/12/2021 at 22:00:58
Change is needed but is Marcel the problem? Hard for us on the outside to see but difficult to look past the CEO and Bill. Rafa notoriously doesn't like the DOF model but how much is it Brands failures vs inability to do the job due to meddling from above?
John Reynolds
272
Posted 05/12/2021 at 22:06:26
Kieran Kinsella (14). A long way back but I've only just seen it. Your comment remarkably manages to be both insightful and wildly ill-informed. John Hume had little authority on paper or anywhere else. Through sheer force of personality, determination and stamina he dragged intractable enemies into a room and eventually persuaded them to get to the point where they were forced to find common ground. He was a giant.
Brands has been incidental at best.
The key players aren't Kenwright and Benitez either, they're Moshiri and Benitez.
Tom Harvey
273
Posted 05/12/2021 at 22:12:36
Neil @ 269
I thought that was a strange statement to come from him, Bill is a bit too savy and has more devious methods of communication.
Anthony Hawkins
274
Posted 05/12/2021 at 22:13:32
Brands did well at Ajax but suspect he emptied his ideas before leaving. Joining Everton he didn't appear to have any fresh ideas.
I would have preferred Kenwright leaving as he seems to be the one causing the issues.
Barry Hesketh
275
Posted 05/12/2021 at 22:14:59
Gregg O'Keefe gives his take on the removal of Marcel Brands.

Marcel Brands has carried the can for not only his mistakes, but other people's too.

Let's get that straight.

The director of football had to accept some of the responsibility, but was not solely to blame for an imbalanced squad, and a team going backwards.

Sadly for Brands, many of the other architects of the mess are no longer around to share the blame. He was left exposed.

For Farhad Moshiri, that means paying with his job and, on Sunday night, Everton and Brands were thrashing out the terms of his exit.
Tom Harvey
276
Posted 05/12/2021 at 22:17:45
John Kavanagh @ 270
"if he had any professional pride he should have resigned months ago, refused any non-disclosure agreement and given a full account of who exactly was responsible for what in his time here"
John the problem with this kind of candor is that his next club will not be his next club, because they've witnessed how he shoots his mouth of in public about private affairs. He might do it them also?
Derek Moore
277
Posted 05/12/2021 at 22:18:48
Brands was never at Ajax mate, he was PSV and AZ Alkmaar.
Brendan McLaughlin
278
Posted 05/12/2021 at 22:19:42
Tom#273
I thought that was a strange statement to come from him
Course you did...that's why you fell for it, hook, line and sinker!
Soren Moyer
279
Posted 05/12/2021 at 22:27:48
JUST TELL US WHO WAS RESPONSIBLE FOR SIGNING IWOBI! WE WILL FORGIVE THE REST.
John Kavanagh
280
Posted 05/12/2021 at 22:32:05
Tom @276. I think most other clubs throughout Europe know what a train wreck Everton is and wouldn't be put off appointing someone generally held in high regard - and if Brands had been savvy, he could have lined up his next job in advance. Maybe he already has.
Mike Gaynes
281
Posted 05/12/2021 at 22:40:40
John #280, Tom is correct. An executive who publicly trashes his employer on the way out the door in order to cover his own ass will find himself not subsequently employable. Nobody wants to hire someone who will do that.
Barry #275, that's a strong article, and this one from Chris Beesley at the Echo provides some interesting perspective as well:
"In many ways, the clip of the awkward interaction between Brands and the fan proved to be something of a microcosm of his time at the club as it left more questions than answers and epitomised the ambiguity over what his duties actually were.

As former television sports presenter and lifelong Evertonian Elton Welsby told the ECHO in an interview only published earlier today: "I don't know what he (Brands) does."

Perhaps Brands could have been an astute sporting director for the Blues if he'd just been given the autonomy to fulfil his duties in a similar manner as he'd done in his homeland?

Just how big a say, if any, did he really have in the appointments of Silva, Ancelotti or Benitez?

We might need the pin to Jim White's mobile phone to find out.

Instead, Brands becomes the latest in a growing line of his compatriots in the Premier League era to exit Goodison Park without scaling the heights expected of them."
https://www.liverpoolecho.co.uk/sport/football/football-news/marcel-brands-everton-breaking-22371558
Pete Clarke
282
Posted 05/12/2021 at 22:42:18
What we are doing is the equivalent of changing the tyres on a car and ignoring the problem with the engine plus the boss of the Mechanical business is letting the cleaner run the show.
I'm afraid with Bill Kenwright in any capacity at that club will mean progress will never happen. He is blindingly loved by the owner.
If we don't take at least a point against Arsenal then I don't see a way back even with DCL in that team. Benitez has his back to the wall now.

Jerome Shields
283
Posted 05/12/2021 at 22:44:38
Denise actively looking for a alternative position. Kenwright cannot survive this. I wonder how airtight the agreement with Moshiri is now or maybe it is close to ending.
Benitez in his 'improvement in all departments speech' did attack the Board. No wonder he was looking he was fighting for his job, he was a real threat to the whole lot.
At this stage Brands could be the start of the long awaited clear out.
Christy Ring
284
Posted 05/12/2021 at 22:50:10
Iwobi was the final step for me, to pay £30m+ unbelievable, he had to go. KENWRIGHT should be gone, he's had too much say, and the man who hasn't wo in eight games, his team selections and tactics have been awful, and if we lose tomorrow night should be given his P45 promptly.
Barry Hesketh
285
Posted 05/12/2021 at 22:50:23
Jerome @282
It will be interesting to see what happens in the next few days and weeks, Everton's results on the pitch may determine how things will pan out, but I would think that things will remain the same from this point until the end of this season, even if the rumour about Denise Barrett-Baxendale proves to be true.
Kenwright may have enhanced his role at the club with Brands going, and who would replace him as Chairman if he did leave?
I think Benitez possibly only wanted the removal of Brands to give him more power over transfers, but if he doesn't manage to get his team to earn at least a couple of victories in the next month, his own position will become untenable.

Jerome Shields
286
Posted 05/12/2021 at 22:53:13
Apparently Brand's mate from his days at AZ, Steinsson, Head of Recruitment and Development and Boy Waldron's boss, is next in line to leave.
Wonder how the doubling jobbing Unsworth is at the moment, Director of the Academy and Under 23 Manager Manager. Brands released a statement on his promotion to his second job, which could be described as groving homage.
Ray Smith
287
Posted 05/12/2021 at 22:56:58
Bye bye Brands.
Take Kenwright with you.
Bring Uamanov on board!
No bullshit, no half hearted measures, he'll sort the wheat from the chaff.
Keep Usmanov on board and we will come through this!
It's not gioing to be an overnight revolution, but BMD is the carrot, and we will get there, not this year!!!

Mark Ryan
288
Posted 05/12/2021 at 22:58:37
Good news. The effort to go and get Moise Kean sums up his tenure. That one signing says it all.
We will look after your boy for you Mrs Kean" he said whilst handing over an Everton shirt. What a absolute cluster fuck of a signing he's proven to be. A disaster of a signing. Big fanfare including his own press conference. What an absolute shit signing. He is an average footballer who went straight off the rails ( right under our noses whilst the club and Brands were meant to be "looking after your son Mrs Kean" Then he couldn't get a game, then he could hit a barndoor, then he wanted out and so the saga goes on. Good riddance to a man out of his depth. He has wasted millions and took us backwards just like Walsh did
Brendan McLaughlin
289
Posted 05/12/2021 at 22:59:03
Jerome#283
So now the agreement that you alleged Kennwright had...that he sold his shares at a discount for...ain't as watertight as YOU once argued it was.
BTW Benitez in his "10%" improvement speech did attack the Board...show us the quote; perhaps it was subliminal?
Don Alexander
290
Posted 05/12/2021 at 22:59:22
Sad sod I might be for watching him but an eminently successful Scottish chef, Gordon Ramsey, has a TV show in which he attempts to save failing restaurants for their useless owners. Mega-bollockings are dispensed, head-chefs are sacked, premises transformed etc etc, but the one cure he's never ventured to restore profitability has been to sack the guy who merely preps the veg.
That's what our owner, head-chef, sous-chef etc etc did today.
Pathetic.
Jamie Sweet
291
Posted 05/12/2021 at 22:59:51
What's Latin for "We don't know what we're doing"?
Get that on the badge.
Ashley Roberts
292
Posted 05/12/2021 at 23:00:03
Let's be honest, Brands has been the sacrificial lamb. This will not change anything and for me is quite worrying because it means Moshari has given the reins to Rafa and that means he is going nowhere soon irrespective of results. It also means Rafa will now be in charge of recruitment in January. So we can expect to see more players that are well over the hill and who are totally unfit. I have a big problem with Tafa's philosophy about playing young players. He should have brought some of the youngsters on against City to give them some experience with 20 minutes to go as there was nothing to lose. Pep is always bringing youngsters through and making them international players. You only have to look at what he has done with Foden and he is still a baby in comparison to Everton players. These are very worrying times and if he plays Tosun against Arsenal then I think all is lost for any young blood. It has to be 4-4-3 against Arsenal with Doucoure Deiph and Gomes given the nod in midfield. Allan needs a rest. Also Richi Gray and Townsend up front.
Derek Thomas
293
Posted 05/12/2021 at 23:03:02
Apart from confirming yet again if proof was needed that - Yes, we are officially a laughing stock.
It might indicate that in the purported "Civil War" Moshir and Benitez's Roundheads - "Right but Repulsive" have defeated King Billys "Wrong but wromantic" Caveliers and that that Benitez is going now where...well not this week.
But as Harold Wilson never said - A week is a long time in Football.
After further historical ruminations; the Cavalier/ Roundhead thing is not quite accurate.
It's more of a Stephen Vs Matilda thing were 15 battles were fought, the score being W5,L5, D5 and no obvious result or change in circumstances.
The circumstance being we still need the 3pts and will be very lucky if Arsenal oblige us.

Anthony Murphy
294
Posted 05/12/2021 at 23:06:09
I've no issue with Brands being relieved of his duties as he's totally ineffectual, but he is somewhat unfortunate to be ousted by a manager who has overseen a dreadful run of just 2 points from 24, 1 win in 11 and a catalogue of simply awful tactical decision making game by game. Moshiri has rolled the dice for the final time - placed all his chips on Benitez. A huge gamble. I think we are truly f*cked tbh
Danny Nicholson
295
Posted 05/12/2021 at 23:12:25
While we are having a clearout any chance we can get rid of that stupid song as well?
Bob Parrington
296
Posted 05/12/2021 at 23:12:28
Wouldn't surprise me at all if the board discussion went something like:
Well gentlemen and lady, it looks like we're really in deep sewerage! So what are we going to do about it.
Most responders. Err I don't have a clue!
Brands: Err, folks, I've had enough, pay me a decent settlement and I'll gladly leave!
Job done.
We can now close the meeting. Err, sorry, Rafa you now have full control over the players and transfers but, err, just run your thoughts through Billy and Mosh before making a commitment. eh!
Meeting closed.
Danny O'Neill
297
Posted 05/12/2021 at 23:12:38
Wrong sacking / parting of ways in my opinion.
There are different views on the DoF role. Most regulars will know mine. Call it DoF, call it Director of Sport, but the modern successful clubs employ it. And they succeed. Pep doesn't bother himself with getting involved in transfer negotiations. Klopp tells them what type of player he wants, but just focusses on the first team squad at his disposal.
The first team coach is exactly that in the modern game. Yes, he dictates what he wants, but the DoF implements the strategy throughout the club. Top to bottom. It then, in reasonable terms, almost becomes irrelevant who the coach is. Look at Chelsea over the years. It didn't matter how many times they changed manager. Once the system was in place, they won trophies.
We totally screwed up trying to have a DoF. Managerial merry-go-round and a way too comfortable gang of ex players on Finch Farm accepting no responsibility whatsoever, continuing to do what they've been doing for several years and achieving little.
Harsh? Okay, I'll give them the same leeway our previous DoF has just had in terms of managerial changes and lack of leadership or vision from the very top. But I still don't think they're good enough. They simply are not.
The DoF model works if you embrace it and implement it properly. And for us, that means overhauling this club top to bottom. A clear out.
We initially brought in a glorified scout who we got rid of and then handicapped a respected European DoF through a combination of alpha managers and board room interference.
Okay, let's go back to Catterick signing Ball etc. Let's give Big Dunc a go because he won a match once and made us "happy clap" to coin a phrase. Mike Bassett, England manger. If you shout loud enough you win right?
The game has moved on. So has management, structures and organisation.
But we're Everton, so as long as we have a fist pumping ex-player or, dare (dread) I say, Sam Allardyce, we're good aren't we?
I still have ambition for MY club. I always will have. I wish the club would too.
Apologies for the emotional outburst. No offence meant to anyone. I'm despairing but will be there to be served my glory or punishment over the course of the next few matches.
They say you can hate those you love the most; a fine dividing line. Sadly, I can't hate Everton. As much as I try, I just cannot.
Sean Kelly
298
Posted 05/12/2021 at 23:14:08
I think the only way the board will be cleared out is through relegation. I don't want it but the purge will come when Billy's only plant which is to stay in the league is finished. Billy will return just like the Phoenix with moshiri and his buddies charging us extortionist rent for Brantley Moore docks. Billy has shown all too often in the past that he will stoop as low as shark shit to get his way. What a tramp
Bob Parrington
299
Posted 05/12/2021 at 23:14:50
Well said Danny!
Brendan McLaughlin
300
Posted 05/12/2021 at 23:16:24
Don#290
Sad sod doesn't do it justice but when the Veg Guy spends 300 odd million on shallots...you have to ask questions? No...
Tom Bowers
301
Posted 05/12/2021 at 23:23:01
I am beginning to think that Rafa doesn't have a magic wand and most managers don't. They genarally do the best with what they have and their coaching and strategies depends largely on the players performances.
Everton do have a lot of talent but like last season the inept attacking options leave them struggling even against so-called weaker teams.
They had Richarlison (no Messi) and DCL who improved tremendously but there has been very little else to supplement the offensive side of things.
We had Romelu who many disliked, Tosun and Niasse, both flops and then this useless article Rondon for whom Rafa and his superiors must take the blame for.
Yes it appeared that we brought in two big bargains in Gray and Townsend but neither are prolific goalscorers.
A few seasons back Coleman and Baines provided so much to the attack especially when Romelu was around but our attacking has had only one dimension since, which now that DCL has been missing has made it much easier for any team to deal with Everton.
It's hard to foresee when things may change as the confidence is low and the defence is stuttering with ineffectual performances all round.
Rafa does not seem to be able to lift the team and if he starts Rondon again tomorrow, Arsenal will be laughing.
Nick Page
302
Posted 05/12/2021 at 23:26:26
Brands bent over by Big Bonking Blue Bill. Another notch on the bed post. Who couldn't see that coming! FFS. What an absolute disgrace this football club has become. I see that lucky, ugly horrible RS devil spawn is doing his usual pox at Villa too. Getting one over on Godgers and his LFC teeth. Maybe if he gets the LFC job the yank PR machine will get him a new forehead.
Derek Moore
303
Posted 05/12/2021 at 23:27:46
Danny, if the most unsatisfying and confusing relationship in your life is the one you "enjoy" with Everton...
...then you're doing really well.
Brendan McLaughlin
304
Posted 05/12/2021 at 23:33:19
Danny O' #297
Knew you wouldn't be happy but Ancelotti & then RAFA...the DOF model wasn't surviving. I don't think it'll be coming back soon. Not saying thats a good outcome..btw
Brian Wilkinson
305
Posted 05/12/2021 at 23:35:55
I knew it Kenwright calls a meeting, throws Brands under the bus and suprise suprise Bill still Chairman with probs more power now Brands has gone.
Next he will call another meeting to get rid of Benitez.
Until Bill has stepped down, we will never move forward.
For Christ sake get Bill out of our club.
Nick Page
306
Posted 05/12/2021 at 23:37:17
Why weren't Everton in for Ralf Rangnick, again as many on here suggested? Brands didn't make the poor signings that Kenwright oversaw, including Rooney but was (allegedly) instead charged with getting rid of all the terrible signings. Iwobi is and was a low point he can't escape but I doubt even that was his. The real issue though is that massive blood sucking parasite Kenwright who has still been involved in transfers and negotiations throughout…in fact has done exactly what he said he would - bring in an investor and spend his money - remains and so Brands efforts were curtailed anyway and really only stopped at getting rid of the dead wood.
Danny O'Neill
307
Posted 05/12/2021 at 23:37:45
The sad thing Derek is that it isn't confusing at all in my probably warped mind. And I enjoy my relationship with Everton. My earliest memories are Everton. I hope my last ones will be. The only other woman in my life apart from my good wife.
Blind faith, false hope and downright foolery. No excuses.
See you here tomorrow. I'll be on US Eastern time before heading home. Palace and Chelsea to come. I see 7 points in the bag!
Don't start me Nick Page. Said it in the summer and have commented since. United have landed a gem. Watch them nab an up and coming German coach to work under him now too.
Gerry Clarke
308
Posted 05/12/2021 at 23:38:10
Danny @ 297. I tend to agree with you that if properly implemented a DoF can work well but not when the board appoint a manager who doesn't believe in it.
Derek Knox
309
Posted 05/12/2021 at 23:38:38
Don @ 290, that analogy with Gordon Ramsay would almost fit the Bill, (no pun intended) and what is required if the Head Chef, actually knew how to boil an egg in our case !
How could you advise, control or indeed run a Football Business, and have little or no knowledge about the game ?
I am sincerely hoping that tomorrow, and it is obvious to me having listened to the Twitter Podcasts on the subject that NOT everyone will do the same thing.
Some will walk, and not come back at 27 minutes, some will leave their seats temporarily, go to the concourse, and then return. Some will turn their backs, some will clap, some will boo, and others will hold up a Placard or Notice declaring their displeasure at what has been allowed to happen, unquestioned by that Machiavellian Kenwright.
I just hope and pray that no-one is injured in any rush for the exit, it's bad enough leaving normally, but one thing is sure, we are mostly united in whatever we as individuals, choose or elect to do. I also hope that most of it will be picked up by the cameras, and enlighten the watching neutral public, what this is all about, and who the real culprit is, that has brought this all to a head.
Bobby Mallon
310
Posted 05/12/2021 at 23:43:08
Just watched spurs and nearly cried. That's the manager we should have broken the fucking bank for.
Bobby Mallon
311
Posted 05/12/2021 at 23:48:37
Derek 309. I hope you are correct, but I guarantee you the sky pundits will just slaughter the fans for daring to blame poor boys pen bill.it will be he got you what you wanted a billionaire he's amazing leave him alone poor old bill.
Jerome Shields
312
Posted 05/12/2021 at 23:49:43
Duncan will be running around permanently carrying a kitbag, even when it is empty.
Danny#307
Brands was Director of Football. in name only. He was never strong enough to forge out his position and was made a, Board Director , a job he was not fit for.
He just became a pawn for Moshiri , to put in as a nomial Director where it suited him and by Kenwright to advance his mates and tughten his control on the Club , aided by the Chief Executive , another pawn , way out of her depth.
In hindsight he was being set up as a scapegoat , though his Management decisions had alot of input from these two cowboys.
IMO it is not Moshiri who is taking the decisions , it is his mate Usmanov who has decided that enough is enough and is the real backer of Benitez.
Brendan McLaughlin
313
Posted 05/12/2021 at 23:53:56
Jerome #283
One hour later...no quotes
I wonder why?
(PS Quote me in the morning cos I'm off tae bed)
Derek Knox
314
Posted 05/12/2021 at 00:02:04
Bobby, totally agree regarding Conte, I wanted him when he left/got fired from Chelsea !
Danny O'Neill
315
Posted 05/12/2021 at 00:03:52
Jerome,
Pep, Klopp, Conte and Tuchel are all roughly (on average) the same age as Duncan Ferguson, but look what they have achieved.
The current first team coach of Bayern Munich is 34 having served an impressive apprenticeship under the then RB Leipzig DoF, Rangnick. He will go far.
Duncan is 50 this month and has yet to step out of the dugout in terms of real coaching or management. He likes his comfort zone in my opinion.
I personally don't see why many of our fans promote him on the basis he loves the club.
So do I. Appoint me if that's the criteria.
Mike Gaynes
316
Posted 06/12/2021 at 00:08:37
DK and Bobby, as if any amount of money would have lured Conte here.
You might as well fantasize about waking up with Halle Berry.
Danny #315, amen. Dunc hasn't taken one step towards proving he can actually manage a club. Not one.
Neil Carter
317
Posted 05/12/2021 at 00:09:06
Now end the DOF bollocks that has been a half a billion disaster.
Stop being the fucking charity that buys unwanted over the hill players content with sitting on their arses on a big final salary. Go find some hungry players wanting to prove themselves if we don't have them in the reserves and get some passion, grit and determination into the backbone of this team of wimps.
Benitez is now given his chance to prove he's not over the hill and should retire. This won't happen overnight-stabilise this season and start to build. SinceBenitezarrived we have bought OK excluding Rondon who was only meant as cover anyway. This rate am needs a leader and characters on the pitch as a priority to survive.over to youBenitezto prove yourself worthy of managing Everton without confusion and interference if Moshiri truly backs you and is giving you the space to make your own football decisions-you haven't got long -results in weeks not months.
Jerome Shields
318
Posted 06/12/2021 at 00:10:39
Brendan #313
No need to quote.
The truth is now unfolding before our eyes.
Gavin Johnson
319
Posted 06/12/2021 at 00:10:57
Who's betting Brands ends up at Newcastle and actually does the DOF job, buys all the players and Eddie Howe coaches them. I don't think Amanda Staveley and the Saudi's will sign their own players like our Farhad.
Kieran Kinsella
320
Posted 06/12/2021 at 00:14:02
Brands official statement says the parting of ways was due to differences of vision. He also says the team has enough quality players to be doing better.
Sounds like he is looking at Rafa for wasting talent.
Derek Moore
321
Posted 06/12/2021 at 00:24:42
Brands contract would presumably include a time limited non compete clause. If he ends up at Newcastle or elsewhere in the PL it'll be after the end of this season.
Derek Knox
322
Posted 06/12/2021 at 00:31:39
Mike G, @ 316, how are you buddy ?
In reply to your comment we did actually/allegedly have money then, well we must have we paid Ancelotti £19M/Year for his, and his Team's Services !
Simon Harrison
323
Posted 06/12/2021 at 00:36:58
"You never change things by fighting the existing reality.
To change something, build a new model that makes the existing model obsolete."
R. Buckminster Fuller
This is exactly what Everton Football Club need to do.
Paul Birmingham
324
Posted 06/12/2021 at 00:40:05
Brands arrived via PSG, and has no Ajax connections.
But for me he has some burden but not all for the abject failure of EFC, preceding and including his tenure at EFC.
This day and the next few weeks will be interesting times for EFC.
For me there's got to be a club communication, as to the new layout and function of the football side of the club.
No doubt it will take years to get clarity on events but, the demise is not sustainable and the long term neglect and suffering to Everton supporters, by piss poor management of the club won't be accepted.
The final countdown to a new era or continued demise is near.
Riders of the storm mentality, and get behind the club, today.
Brendan McLaughlin
325
Posted 06/12/2021 at 00:41:32
Still like to see the quotes Jerome#318
I'm questioning your credibility but you still don't feel the need to reveal any direct quotes. You made the claim but 'm guessing cos there ain't anthing to back you up. you're deflecting. Again show us the quotes and prove me wrong!
Laurie Hartley
326
Posted 06/12/2021 at 00:44:54
Danny # 297. I am inclined to agree with you that in the modern game, the DOF role is the way to go. The idea of someone being responsible for the style of football played by the youth team all the way up to the first team Is common sense when you really sit down and think about it. Implemented properly you have a pool of young players coming through that can be called on a) when needed and b) when they have developed into premier league players. You also only go into the market for players that fit into "the system".
Unfortunately it hasn't worked out that way under Brands. There can only be two reasons for that in my view. Either he has failed to deliver because he was not up to it and/or there has been too much interference from the first team manager, the owner, and the other board members (or all three). Regardless of the reasons, in my view he had to go but also I have to say he is better off out of it. It hurts when you are sacked, especially if those around you are incompetent ~ I know. He will lick his wounds, another club will pick him up, and he will be a better and wiser DOF for it.
Brendan McLaughlin
327
Posted 06/12/2021 at 01:01:23
Jerome#283
Now two hours later..any chance of the quote
🤣🤣🤣🤣
Derek Moore
328
Posted 06/12/2021 at 01:07:13
Paul Birmingham, Brands arrived via PSV, not PSG.
To my knowledge, Brands has never worked in France.
Phil Lewis
329
Posted 06/12/2021 at 01:08:31
Hopefully this is the beginning of the exodus. Until Kenwright, Baxendale, Unsworth and all the other hangers on, are shown the door, we will continue on our downward spiral.
As I've stated elsewhere on ToffeeWeb, how can we possibly hold lofty European ambitions, when the club continues to be run with the parochial nepotism of a non-league social club.
Chris Corn
330
Posted 06/12/2021 at 01:15:46
Reminds me of the Blue Kipper and TW days when Keith Wyness was a "charlatan" and "fraud". Then he left, said a few disparaging things about the club and he was then he was a paragon of virtue.
Brands, total fraud. If he was being undermined and was happy to take a seat on the board, various sub committees and a new contract then that is the textbook definition of stealing a living to me.

The players get slaughtered for doing the same. Good riddance. DBB and Bill next please.
Chris Corn
331
Posted 06/12/2021 at 01:18:50
Kieran at 320, so who was he blaming when Silva and Ancellotti were "wasting talent". Talent bought on his watch.
Si Cooper
332
Posted 06/12/2021 at 02:01:05
'The idea of someone being responsible for the style of football played by the youth team all the way up to the first team Is common sense when you really sit down and think about it.'
Laurie, not sure it's that simple that it constitutes common sense. For a start who decides the style of football is a debating point in itself. Some embedded club mandarin, a 'specialist' of some sort, or the cleaning lady? Can't be the current manager as they aren't generally around long enough. But aren't they the ones who are going to instruct the first team players in how to play??? My head hurts already
Then there is your implication that the style has to be inculcated at a very early stage in the player's development. Is it proven that an 18 year old can't learn a more disciplined style? Surely it's only the transition from junior teams to first teams that has to be absolutely seamless. Otherwise why are we recruiting young players over the age of 16? Or do we only get those younger players from clubs who train to the same style as we do.
Just because some clubs have a track record of producing homegrown talent doesn't necessarily mean there is a simple 'formula' to follow; that's supposition not established fact otherwise everyone would do it.
Let's all just accept that recruiting the 'best' players means they are ones who are capable of following the brief, and the very richest clubs tend to hoover up the 'best' players. For the rest of us it's going to be largely a case of right place / right time good fortune for the right (team)players to end up with the right mentor.
By definition, Marcel Brands must believe he has the correct vision for the playing side of the club, and so he is saying whichever executives are left behind have a false/ undeliverable vision. I worry that a guiding light has left the club, and what is left are those that have no clue but far too much influence.
Ron Marr
333
Posted 06/12/2021 at 02:01:29
Brands needed to go along with BK and DBB. Although BK appears to be 'Teflon Bill'. Rafa will soon be fired if the Blues drop in to the bottom 3.
I was watching the Beatles 'Get Back' movie on the DIsney Channel which was filmed in January 1969, I was saying to my wife that at that time Everton had great players (Ball, Kendall and Harvey), very good players (Morrissey, Labone, Royle, Wright) and all we have now is few a few good players if they're fit and in the mood.
Si Cooper
334
Posted 06/12/2021 at 02:14:46
Simon Harrison (323), a fine quote for inspiring budding scientists or political firebrands but not really applicable in the footballing world.
Who do you suggest we replace Brands with, Dr Who?
Jack Convery
335
Posted 06/12/2021 at 02:41:50
I would have had more empathy towards Brands if he had resigned as DOF. It was quire obvious he wasn't getting the chance to do his job and should have told Moshiri to shove it. We really are a shambles.
Rafa wants to run the whole club as at Valencia. His way or the highway and Moshiri appears to be letting him have his way.
He isn't however the only one I want to see go. I hope to see a few more outgoings from the board / management structure and the playing staff before long.
Derek Moore
336
Posted 06/12/2021 at 02:48:14
Kirkbride in the Red Echo openly alleged tonight that it was Moshiri who completed the transfer of Alex Iwobi.
My question is who briefed him? Brands? Kenwright? A.N Other?
Shambles doesn't really do justice to the state we're in right now.
Laurie Hartley
337
Posted 06/12/2021 at 03:06:02
Ray # 95 - more importantly how are you doing? Well I hope.
Simon Harrison
338
Posted 06/12/2021 at 03:16:43
Si Cooper (334) Why I posted the quote, was because EFC have struggled along for 22 years of Kenwright slowly eroding the club's ethos and culture, and selling off the club's assets.
Even when looking for a new 'buyer', (read investor) for the club, it was still with Kenwright putting himself first.
Hence, even if, or hopefully when, Kenwright exits stage left and out of our club, it is going to be no easy feat unravelling what has become a complex and Byzantine organisation.
Therefore, surely the easiest thing to do, is exactly what an asset-stripper would do. That is to identify what works and to what extent, then develop it. Whilst what doesn't work gets 'dumped'.
This is how I perceive Mansour went about his take over at City; and to this day, what I believe Moshiri should have done with EFC. Or even, much more simply, he could have loaded the Board with more of his people than Kenwrights, to keep him in check.
As they say though, hindsight is 20/20...
That is why I 'suggested' that Moshiri discards with the current failed system that is the 'old model', and be brave, and create a club/company, that has strategic thought, expert and specialist personnel, and the short to long term ability to enhance the playing and financial performance of the 'new model'.
I think earlier in the thread, someone commented on Roundheads versus Cavaliers, how I see it, no-one is being the pragmatic 'Cromwell' in this period of our clubs history; whereby he took a demoralised, untrained levy/mob, led by incompetents; and created the New Model Army.
I would suggest that that is exactly what is required now.
My only worry is I don't see Moshiri or even to a degree Benitez, being anything like Cromwellian enough? May I apocryphally say, more Nero-esque I imagine, unfortunately...
I hope that explains the reason for my post better Si?
Oh, and as for replacing Brands; who said he needs replacing? What strategy are we going to implement? What is the future vision for our club? How are the footballing operations going to be modelled going forward?
Any answers yet Mr. Moshiri?
Jack Convery
339
Posted 06/12/2021 at 03:24:26
sums it up perfectly for me.
https://www.youtube.com/watch?v=sRJby3PCfbo
Laurie Hartley
340
Posted 06/12/2021 at 03:55:37
Ray # 95 - more importantly how are you doing? Well I hope.
Laurie Hartley
341
Posted 06/12/2021 at 03:57:07
Si # 332 – My heads hurting also but I will have ago at answering your questions - here is what I think:-
"who decides the style of football" – I have to answer the DOF. Pick a good one.

"Can't be the current manager" – Agreed. So the DOF picks the manager based on the style of football you want to play. Picking a good one is more likely to happen if you have a top DOF and he is certainly going get the support he needs.

"Is it proven that an 18 year old can't learn a more disciplined style" – I didn't say it was however the answer is no – but I'll guarantee a kid will never be able to do algebra if he hasn't been taught arithmentic.
" do we only get those younger players from clubs who train to the same style as we do" – no we scout players that will fit into our style.
"doesn't necessarily mean there is a simple 'formula' to follow" - could be luck I suppose but I doubt it. What I do know is that successful enterprises in any field of endeavour always have a plan. If you haven't got a plan, or have a plan and don't follow it, chaos is likely to ensue. We've seen that first hand haven't we?
"Let's all just accept that recruiting the 'best' players means they are ones who are capable of following the brief, and the very richest clubs tend to hoover up the 'best' players." No don't agree with that – Wolves.
"whichever executives are left behind have a false/ undeliverable vision." Well he and they certainly haven't delivered so far. That leaves two of the old school of chaos and the new manager.
That's probably why I have got a headache.
Eric Myles
342
Posted 06/12/2021 at 04:17:05
If DBB really is actively looking for another job then why hasn't Moshiri found another CEO to replace her immediately and sack her / leave by mutual consent / go on gardening leave?
Alan J Thompson
343
Posted 06/12/2021 at 04:23:32
"Benitez will be handed full responsibility for player recruitment". For me that indicates where responsibility for Brands final straw lies, this man will ruin this club on the field and even more off it. Say goodbye to our best players while he brings in his elderly former employees. And if rumours are true we shall, very shortly, have a Board consisting solely of Kenwright and in more ways than one there will also just be seconds rather than minutes of Board meetings.
Derek Moore
344
Posted 06/12/2021 at 04:32:11
Firstly, I've only seen an unconfirmed Twitter report in regards to Barrett-Baxindales alleged impending departure.
Second, we presently only have the minimum three members on the board required under company law. My understanding is someone else would have to be appointed at the same time as another directors departure to maintain a quorum.
Brian Murray
345
Posted 06/12/2021 at 04:33:09
The majority on this site know that The chairman is the real problem but the echo survey of fans say over 90 per cent blame the transfer strategy ( in other word brands) so I hope that doesn't mean that Buffoon is getting away with it yet again. It won't end until we are out of the premier league then his happy clapping fans penny will drop.
Kieran Kinsella
346
Posted 06/12/2021 at 04:34:26
Rafa said we need to sell players at the right time and the media are saying he's trying to sell Pickford as well as DCL rumors. I'd wager he's wanting to sell the Crown Jewels as it were whereas Brands thought that's fucking stupid. I'm betting this all blew up Friday and Mosh came down on Rafa's side. As Kenshite once said "watch this space."
Derek Moore
347
Posted 06/12/2021 at 04:36:31
It was very telling Brian that in the Red Echo survey on who is responsible for the mess at Everton Kenwright wasn't even listed!
They had Brands on there, the players, Moshiri, Benitez, all of the above and "other". But neglected to include an option for "chairman".
Unbelievable.
Kieran Kinsella
348
Posted 06/12/2021 at 04:41:07
Si Cooper
Dr Who might be an improvement on Rafa as he can handle the box. But he seems a lot like Marco Silva, drops in for a bit then leaves without getting into the nitty gritty. Sort of a journeyman Tommy Docherty type. Plus with Brexit I'm not sure he'd get a work permit.
Eric Myles
349
Posted 06/12/2021 at 04:53:12
Danny# 258, if you go the game tonight you'll see Steve Round and his powerpoint presentations on the Arsenal bench.
Could be a good time for Moshiri to tap him up as well as he has DoF experience with Villa on his CV.
Jim Harrison
350
Posted 06/12/2021 at 05:15:53
Well.. . can't say massively upsetting! He did a 50/50 job, half seemed ok, half seemed crap. He can point all he likes to being sidelined, but we havent managed to sign a right back in his whole tenure, when one was needed at the time of his arrival.
A lot of crud to get off the books, and he did that well. But if he didn't have a voice strong enough to talk over Rafa then he wasnt the right guy anyway.
A lot of blame on Kenwright, and it is time for him to go. But it is worth noting, under his ownership the club consistently finished in the top 6 on a modest budget. Since Moshiri has come in the trend has been downwards and with millions spent we are finding the club to be going backwards. Villa get Ings, we get Rondon!!
Brian Murray
351
Posted 06/12/2021 at 05:16:10
Kieran. Don't need dr who to exterminate the problem at efc. The fans need to force this idiot out before relegation becomes too real and bmd just a fancy car park. Bk out not just out out but out to coin a mickey Flanagan phrase.
Mike Gaynes
352
Posted 06/12/2021 at 05:18:28
Right, Brian and Derek. One old guy is
the
problem. He's caused all those other problems. And when he's gone, everything will get better.
Got it. Thanks.
Pete Clarke
353
Posted 06/12/2021 at 05:29:43
Kenwright is winning this tug of war and the fans have to give it to him tonight.
It may be best if the Banners Read
' Moshiri, it's you or Bill that has to go.
Show us who is the boss'
The big problem we have now is that Moshiri doesn't know what he's doing and the slimey one from the boys pen knows exactly what he's doing.

Derek Moore
354
Posted 06/12/2021 at 05:42:27
Oh, okay Mike, Kenwright is doing a great job. Outstanding.
The case you put forward in Kenwright's mitigation was first-rate. Airtight. What sensible impartial observer could fail to be swayed by the case that you mounted?
You missed your calling, Mike. Journalism's gain is most definitely the legal industry's loss. I despair when I think of all the wrongly convicted who could have benefitted from your mesmerisingly articulate arguments, unique common sense, and overarching intelligence.
You've changed my mind, and I'm actually off to write an apology note to Mr Kenwright right now. Thanks for clearing that up for me.
Andy Walker
355
Posted 06/12/2021 at 06:59:57
Moshiri deflecting beautifully, yet he's the fella who's been making the bad calls since he bought in:
Deciding we needed to adopt a DOF model.
Appointing multiple managers who'd never previously worked, and didn't want to work, under a DOF model.
Stating that ' we've invested heavily into a group of players – they're all internationals so we think they would benefit from someone with pedigree.' In other words Moshiri thought he's done his bit and bought good players they just needed a better manager. Total nonsense, he's wasted a fortune on numerous bad buys. He can't bring himself to acknowledge this stark reality though and instead of looking in the mirror, keeps flaying around making bad decision after bad decision.
Moshiri didn't want our best manager in the past 20 years, Moyes, back. We'd have been in a much better place if Moshiri had made that call and got him back. But like his judgement about our squad, it was misplaced.
So please let us all remember it's Moshiri who's made the bad strategic calls (Brands position), appointed multiple managers that don't fit our managerial structure, is deluded into thinking we have a good squad of players and talks total nonsense anytime he gets near the media. Our apparent saviour has turned out to be pretty hopeless at investing in a football club. More of his money may yet get us out of the downward spiral once the FFP chains currently around our club slacken, but he's now well and truly put all his faith in one bloke, that being a former Liverpool manager with an inconsistent past record. It's high risk to say the least. Oh, and don't forget what Moshiri said about us fans, it wasn't all exactly complimentary.
I'd be much happier if he'd sell up and get out of our club. Sure he's invested a huge amount, to his great credit, but his decision making has in my opinion been extremely poor. Makes me wonder how he managed to make so much money in business. That's another story though.
Jonathan Tasker
356
Posted 06/12/2021 at 07:03:19
My understanding, reading between the lines, is that Kenwright has an agreement with Moshiri, that he, Kenwright, has a job for life whilst Moshiri remains at the club.
Yesterday's removal of Brands was a desperate attempt to take the edge off what looks like a noisy protest tonight. Kenwright has senior mates within the media so it's unclear how the protest will come across on telly. For the protest to get true momentum, it's imperative that there's a mass walkout on 27 minutes.
Given the ineptitude of the EFC team, it's highly likely that Arteta's lads will already be destroying Everton by then.
Colin Glassar
357
Posted 06/12/2021 at 07:07:45
Win tonight and the fans will leave happy, the tv cameras will focus on a beaming, proud chairman, and his money man, and all will be well again (for a few days) in Evertonia. What a club!!
Bob Parrington
358
Posted 06/12/2021 at 07:14:34
Everton will win this evening. The players will be so pissed off having read TW for the past few days and will be pleased that Brands put his head on the chopping block, thus taking the blame off them. Everton 2 -1 Arsenal.
DCL's angel will fly down in to the Arsenal area and take over Gordon's persona to head the first goal.
Is this as realistic as some other comments on here? But more positively fanciful?
Eddie Dunn
359
Posted 06/12/2021 at 07:38:15
For those thinking that this is the start of the big clearout, don't hold your breath.
I think Brands is carrying the can and his sacrifice is timed to diffuse protests and buy the manager time to right the ship.
The DOF model is surely designed to allow the club to operate it's policy regardless of managerial changes.
At Everton the roles have been compromised and no doubt meddling from Chairman and owner have middied responsibilites.
We will never know the details but I suspect Brands had to sit on his hands once his bosses and managers(of status) interfered. He could have resigned but like many people decided to continue tucking into the thick PL gravy.
I would be surprised if BK was removed, as for DBB, she is a patsy.
We will limp to January and Mosh will throw Rafa a few crumbs to bail out the water. Only a succession of painful hammerings will get Benitez the chop.
The players have now had a wake-up call. The cozy life at FF is suddenly less certain. Expect greater effort tonight and a surprising win or at least a point.
Oh, and Ashley Roberts @292, how do you play 4-4-3 ?
Darren Hind
360
Posted 06/12/2021 at 07:40:17
I find it astonishing that people would use a thread about a DoF's departure to attack the coach.
Duncan Ferguson stepped in when we were in an even worse situation than we are now. We were lower in the league and we had just taken an even bigger hiding from the Red Shite.
The only thing he knew was he was facing Chelsea, Man Utd and Arsenal in quick succession and he was doing it with a team heading for the Championship... He looked these mega clubs in the eye and didn't lose to any of them.
People have been screaming for years for the removal of, first, Calvert-Lewin, then Tom Davies, and more recently Mason Holgate. Well they are not playing now and they are now seeing what an Everton team without them looks like.
£500M has been spent by clueless managers and wasteful DoFs. What they have achieved is there for all to see. We have an ageing full-back who would struggle to catch a cold. Two lighthouses who get stretched easier than an arl pair of knickers. Forwards who get to less balls than Cinderella, and The "Brazilian Peter Reid" buying more dummies than Lewis's window dresser.
The only thing this lot have got going for them is Alex Iwobi. He will always make them look a little less crap. Remind me again? Which of these dreadful, dreadful players were signed by Big Dunc?
Too many of our fans will happy clap cowardly non-football which will always... always be found out and send us in one direction. Yet they turn their anger on the one guy who didn't lose a game, didn't take a backward step, and had no part in signing any of the dross we see every week.
"Six years Ferguson has been part of our first-team coaching staff and I see no sign of him turning Rondon and Tosun into Messi and Ronaldo. Duncan Out!!!!"
Sigh...
Mick O'Malley
361
Posted 06/12/2021 at 07:56:07
I could just imagine Benitez the treacherous snake filling Moshiri's head full of shit, I know Brands hasn't been a success but the thought of Benitez filing the squad with the likes of Longstaff and other players he trusts is a frightening one to me, he bought plenty of duds for RS and Newcastle, I still can't believe he is our manager, I have zero faith in him doing anything here except causing division between the fans
Peter Brogan
362
Posted 06/12/2021 at 08:10:21
Kenwright has been part of Everton's board since the mid 90s. I have only seen our club go backwards in many areas. Brands had to go not only on recruitment but the youth set up is a shambles. I have read posts indicating unsworth and Dunc should go also. I agree they need to move on as simply not good enough. Used Everton to get their badges and also been part of this shambles over the last few years. MoshrI be ruthless- get rid of this dross which have led or at least aided you in the wrong direction for years.
Barry Hesketh
363
Posted 06/12/2021 at 08:38:58
From the outside, Everton Football Club has similar traits to a mafia family. Only those who are fully-fledged members are allowed to go about their business unhindered, those who arrive from the outside are scrutinised in everything they do and say.
The outsider will immediately arouse suspicion if they have the temerity to question the head of the family or if they advocate changing the way the family operates, in that case, they usually end up at least metaphorically 'sleeping with the fishes. So few family members are forced to leave, so many outsiders are left to flounder and fall by the wayside.
Everton FC is a proper family club, but not necessarily in the way, we would like it to be.
Ernie Baywood
364
Posted 06/12/2021 at 08:46:34
It's very poor to appoint a leader and then not give them the ability to drive the improvements needed.
But then again you wouldn't expect a highly paid, proven leader to need their autonomy recognised. They take it. Leaders lead and people get on board.
So we can have some sympathy for Brands. We can also acknowledge that he wasn't strong enough to drive the kind of improvement that was required.
The sad thing is, look around, who's doing it now? We're weaker, not stronger now.
Certainly no day for celebration.
Craig Walker
365
Posted 06/12/2021 at 08:52:43
Never understood the respect for Brands amongst the supporters. I was excited when we got him but I felt the same with Steve Walsh's appointment. Can't see what he brought or added. If he wasn't allowed to be a true DoF then he should have left anyway. Another one who seemed happy to take his large salary without affecting any change. He did give Moise Kean's mum a shirt though.
Michael Lynch
366
Posted 06/12/2021 at 08:57:55
Another depressing dawn for Evertonians. Benitez runs the whole show now, at least until he falls out with Moshiri - which will be sooner rather than later judging by both men's track record. Meanwhile, Boys Pen Bill gurns in the background, pulling a few strings here and there.
So, when Rafa is fired in January, what structure are we left with? Will we be forced to bring in a similar manager - a power-hungry relic of the past? In which case, the rumour might be correct - welcome to Everton, Mr Mourinho?
Ian Pilkington
367
Posted 06/12/2021 at 08:59:45
Jim@350
At least you want Kenwright to go, but you compliment him by saying that whilst he was in charge the team consistently finished in the top six.
So you think five seasons out of sixteen is consistent?

Robert Tressell
368
Posted 06/12/2021 at 09:02:23
Michael #366. There is absolutely no way Mourinho would leave Roma to manage Everton. Newcastle, with all their untold wealth, could only attract Eddie Howe for goodness sake. Everton, with a deteriorating squad and no money, is an excellent place to ruin a managerial reputation. There won't be many who fancy it. You could certainly rule out Potter and probably even Lampard.
Derek Knox
369
Posted 06/12/2021 at 09:03:42
Ernie, one of the biggest problems especially where Everton are concerned, and let's face it the one, We as Fans are only really interested in, is the total lack of transparency and Accountability.
Transfers, considering the immoral amounts that have been spent over the last five years, not to mention the ridiculous length of Contracts and Salaries that have been on the Table, have given us what exactly ? Virtually nothing.
So I'm sorry mate I can't have any sympathy for Marcel Brands, who is another who has seemingly failed spectacularly and yet walks away with a Lottery Win as Compensation. The same goes for many or all of the players, they are paid a fantastic amount of money, and what do they produce ?
I am also not in any way apologetic for stating that we have been starved of any success for too long, and all this has happened under Kenwright's Watch.
Most Chairmen try to move hell and high water for success at the Clubs where they preside, what does our's do. Throw anyone under the Bus as being the one responsible for failure, while averting the pointing fingers of blame away from himself.
Gary Smith
370
Posted 06/12/2021 at 09:13:54
Robert, every team in every top flight in every country in the world manages to attract managers. The idea that they are as scarce as rocking horse shit is almost as naive as thinking the control freak, micromanaging defensive dinosaur taking our club towards relegation is the 'best we can get'. #RafaOut
George Cumiskey
371
Posted 06/12/2021 at 09:14:28
It might be true Kenwright and Moshiri have friends in the media but listen to Andy Gray and Richard Keys on Bein sports about what they think of Rafa and the board.
Chris Corn
372
Posted 06/12/2021 at 09:18:13
Robert, 368, failing at Everton never did Koeman, Silva, Martinez and Ancellotti any harm did it ?
As for Potter, on a 11 game winless run himself. I wouldn't be paying significant compo for a man who doesn't win many games himself. Circa 22 PL wins across his tenure.
Ah, but with a striker and some money etc, etc I hear everyone say. All the same stuff we heard with Martinez and Silva. Until they started losing. Then the knives were out.
Michael Lynch
373
Posted 06/12/2021 at 09:32:27
Chris, exactly - PL managers are like Chief Executives at the big corporations. Once you've had a top job, your "experience" is seen as more important than your failure.
As for Mourinho, it ain't exactly going well for him at Roma and if Moshiri waves millions at him, he'll be happy to return to the Premier League.
Mark Ryan
374
Posted 06/12/2021 at 09:38:05
If the exchange between a fan and Brands is taken as gospel – and we have all seen the picture and been given the dialogue – then the man has to be an idiot or wanted to be sacked.
By suggesting that others were to blame and not laying the blame solely at the feet of the players, he is clearly suggesting it is either Benitez's fault or at least trying to deflect the blame from himself. That is a shithouse thing to do and Moshiri had no option other than to strongly sanction him or fire him. He has turned on his colleagues at the club publicly.
I suspect he said it because he wanted to be relieved of his duties and knew deep down that, if the report got into the media, he would get just that. He's a coward and has fucked up wasting millions.
Conor McCourt
375
Posted 06/12/2021 at 09:44:33
Danny O @297- Do not apologise for that post, it was a cracker. I even agreed with the majority of it.
As I've woke this morning I actually feel more annoyed and unhappier with the Club than even before. Let's be clear if there was one poster who should be enamoured with yesterday's decision then it should be me as I was highly critical of the Dutchman's work that disastrous second season, foresaw the deficiencies he left for Silva and held Brands accountable when he was virtually untouchable, second only to Ancelotti on these pages in popularity and vociferousness of support.
Like yourself Danny I believe the director of football is essential in the modern game and the last time I got really excited by what was happening at our Club was this guys appointment, his vision for the Club, his primary summers work and Silva's decent maiden season in which he moulded Brands signings quite well, improved players, resulting in some excellent stuff being played at the climax of that campaign.
For me one of my chief objections with the appointment of Ancelotti was that we effectively made Brands role, as outlined on his arrival, defunct and I viewed this as a terrible backward step. I am upset this morning, not because of Brands personal input, but because it signifies a deviation from his ideology and what he represents. Ancelotti signified the death of the DOF, Brands sacking has effectively put the nails in its coffin. We won't be looking for a Ragnick type as you and I favoured in the summer but instead we are giving a baboon with one of the worst transfer histories in world football total control, should he survive to implement it, and most likely favouring this short termism approach which has been the scourge of Moshiri's reign in my view.
Many will argue that Brands will be no great loss, that he deserves to go and that his the DOF model has been a disaster at Everton. All of which may have a fair amount of credibility. However what I would say to counter this. is that, in selecting five consecutive managers NONE of whom would have had any notion in bringing through young players who the DOF would have brought to the Club was farcical in its concept. Moreover, because the likes of Brands was either negligent, constrained or a mixture of both in delivering out the initial vision and promises he outlined, doesn't necessarily follow that the baby should automatically be thrown out with the bath water.
What is more ironic and could make me cry is that we are playing a side tonight who have a director of football in Edu who brought three uncut diamonds to Arsenal in the shape of Tavares, Lokonga and Timoyasu and employed a manager we should have done so (Pre-Ancelotti) in Arteta who fought for Ramsdale and White because they were crucial to how he wanted to play and were consistent with Edu's model. Arteta is a superb coach, has great character, gives youth its head and is a perfect fit to work in tandem with a Direcor of Football. If only we had Edu and Arteta rather than Brands and Silva and were able to keep Moshiri and Kenwright out of football matters this club would be in a far healthier state and be a source of genuine hope and excitement for us of a blue persuasion.
Rennie Smith
376
Posted 06/12/2021 at 09:54:36
This sacking just means Benitez has got his way and is in full control, which is a worse position. Do you think Rondon was a Brands signing?
I'm not sticking up for Brands, he can't call himself a success whatever restrictions he faced, but don't dream that things will get better from here.
Anthony Murphy
377
Posted 06/12/2021 at 10:06:21
Concerned as to who will oversee the internal review of the football structure. We probably need to appoint a replacement for Brands to objectively undertake this and to be given a clear remit, but that seems unlikely.
Over to Rafa and Kenwright then?
Julian Exshaw
378
Posted 06/12/2021 at 10:08:22
So Moshiri is allegedly giving Benitez 'carte blanche'. That is a risky move with us sliding down the league. I'm not convinced at all. Yes, the squad is poor but we've gone backwards.
I would imagine frustration, lack of ambition and a clash of personalities led to Brands's departure. Only time will tell but it's getting very messy.
Clive Rogers
379
Posted 06/12/2021 at 10:12:15
So Brands has walked away from the shambles. The real culprit is still there.
You just cannot run a football club the way Kenwright is trying to do. All lovey-dovey, touchy-feely, back-slapping, the "Everton Family". It's a cut-throat business that has replaced the rag trade as the most ruthless.
Kenwright has had over 20 years trying to find success. Are we going to have another 20 years of the same? Yes, if he stays.
Barry Hesketh
380
Posted 06/12/2021 at 10:12:34
Anthony @377,
It seems that David Harrison, currently Head of Football Operations, will take on some of Marcel's duties, for the short-term at least.
Everton are set to hand increased responsibilities to David Harrison in the wake of Marcel Brands's departure, according to The Athletic.
Harrison, Head of Football Operations, is highly-regarded at Goodison Park and the Englishman will assume some of the Dutchman's role in the short-term following the Director of Football's exit last night (5 December).
Rafa Benitez is set to take control of other aspects as the Blues weigh up their next move.
Mick O'Malley
381
Posted 06/12/2021 at 10:13:07
Connor @375,
I totally agree with all of that, the thought of Benitez in charge of transfer dealings is frightening as far as I'm concerned.
"Benitez Out!"
Si Cooper
382
Posted 06/12/2021 at 10:25:17
Laurie (#341),
You put your 'musings' as obvious common sense, a self-evident truth as it were, but that makes it look like you think there is a simple route to guaranteed success. I just think that 'conclusion' and your 'model' for a successful club are highly debatable.
Unfortunately, your explanations don't really make me think "You know, I think he's on to something." I remain unconvinced. "Who decides the style of football?" – I have to answer, the DoF. Pick a good one – Well okay, but how do you know who will be (surely more important than 'was') a good one?
Are they guaranteed to work as well as they have before when transplanted from club A to club B? Don't a whole lot of variables unique to individual clubs count a great deal too; are there dozens of them out there just chomping at the bit to join EFC?
"Can't be the current manager" – Agreed. So the DoF picks the manager based on the style of football you want to play. Picking a good one is more likely to happen if you have a top DoF and he is certainly going to get the support he needs.
Huge assumption that the DoF you've picked (because he's the 'best') has a couple of sure-fire managers sitting on their arses waiting for his phone call. Do you have proof Moshiri didn't try this with Brands?
"Is it proven that an 18-year-old can't learn a more disciplined style" – I didn't say it was; however, the answer is No – but I'll guarantee a kid will never be able to do algebra if he hasn't been taught arithmetic.
True that basics should be taught early on so other bits can be developed later on… but still not actually a justification for layers of teams from schoolboys to first team all playing to the same plan. Why not just have that implemented for the top two junior teams and recruit your scouted players into them?
"Do we only get those younger players from clubs who train to the same style as we do?" – No, we scout players that will fit into our style. But your reasoning implies they will only fit into our style if they have been 'monochromatically' coached that way for years beforehand.
"Doesn't necessarily mean there is a simple 'formula' to follow" – It could be luck, I suppose… but I doubt it. What I do know is that successful enterprises in any field of endeavour always have a plan. If you haven't got a plan, or have a plan and don't follow it, chaos is likely to ensue. We've seen that first hand, haven't we?
God, I hate it when people treat team sports like any other business. Makes me wonder whether they have actually spent significant time inside an aspirational club, or just haven't ever worked out the most variable and unreliable 'component' in their own workplaces. The 'product' relies on the proper melding of gifted human beings, which is not something as mundane as just having a plan ever guarantees success with.
Again, your assumption is that, at no point since Moshiri arrived, has any planning been made or applied. You see the fruits of some endeavours and assume they had a good plan, the failings of others and assume they had a bad plan or no plan at all, without necessarily having any proof at all.
"Let's all just accept that recruiting the 'best' players means they are ones who are capable of following the brief, and the very richest clubs tend to hoover up the 'best' players." – No, I don't agree with that – Wolves.
Wolves??? Sorry, you will have to explain how they back-up your 'common sense' football factory that hardly anyone seems to get guaranteed success with. For real success we are still a million miles away from, you can't really look beyond the likes of Liverpool, Man City, Chelsea and the wholly unrelatable Spanish giants. We could still easily be one inspired managerial appointment away from being as good as… Wolves(!!!).
Brian Harrison
383
Posted 06/12/2021 at 10:31:29
Very interesting reading Phil Kirkbride's piece in the Echo about Brands and obviously the local journalists often know a lot more than they let on sometimes. So the myth about Brands signing Iwobi has been put to bed as, if Kirkbride is right, it was Moshiri who pushed through the signing; may be he had fond memories of Iwobi when he was an Arsenal shareholder?
So again, the incompetent accountant gets involved with transfers, so why employ a DoF? I feel a little sorry for Brands as it's becoming quite obvious that he was never allowed to do the job Moshiri hired him to do, and again just highlights the muddled thinking from the owner. Why employ a DoF but give him very little influence in transfers or having a say in the appointment of managers?
It will be interesting to see if Moshiri sticks to his DoF strategy. I doubt he will and instead will hand all the power to Benitez. Well... good luck with that strategy.
Seems many want Kenwright and Barrett-Baxendale removed. I have no strong feelings either way but, even if these two do step down, is that going to make us rise up the league? Obviously not.
I hope that Kenwright and Barrett-Baxendale do step down because then there is no hiding place for the two men who will be responsible for where we finish this season.
Mind, to be fair to Moshiri, he is probably only following the orders of his boss, Usmanov. Let's not forget, Ancelotti had a meeting with Usmanov before agreeing to take over and Benitez spent several days aboard Usmanov's ship before deciding to take the job.
John Keating
384
Posted 06/12/2021 at 10:35:08
Brands is a recent contributor on our downward path. If the guy had any honour or professionalism, he would have walked after a few months when he saw the lay of the land regarding the club.
No, just like the "jobs for the boys" team at Finch Farm, he was quite happy taking the money. He's only been gone a few hours and already some are giving him sainthood!
The main culprit is still there. No doubt organising this year's panto, Pinocchio, in which he stars.
This club wasn't in the best of health when he got control; however, this charlatan has overseen the worst years we've had. In any other business, he would have been run off years ago. Had the fanbase been more united, he would have been run out years ago… yet, we still see many supporters, supporting him regardless of the lies and deceit.
He has set the tone and direction of the club for years, manipulated the fans, installed "his boys" and finally got a fool to part with his money, and done very nice out of it too.
Until Kenwright retires, we'll never move on. Kenwright thinks of one thing and that's what's best for him. If indeed we need to have 3 on the board at any time, then me and my dog will volunteer until Moshiri gets the right people in. Anything to get Kenwright, and his blonde sidekick, out.
Steve Brown
385
Posted 06/12/2021 at 10:51:35
The strategic review of the football structure announced by the club – who is conducting it and who will it report to?
Peter Neilson
386
Posted 06/12/2021 at 11:06:36
I'd imagine the review will be conducted by Kenwright, reporting back to Kenwright, and then the conclusion reported back to Moshiri. Without any fresh faces on the board, it will be farcical and the buffoons who got us in this position will conduct this.
Paul Hewitt
387
Posted 06/12/2021 at 11:07:09
Say what you want about Benitez, but he's certainly showing who's boss. He's changed the medical team, and now Brands has gone.
Robert Tressell
388
Posted 06/12/2021 at 11:18:00
Here's a completely baseless conspiracy theory.
Moshiri wants to bring fellow Iranian, Sardar Azmoun, to Goodison from Zenit St Petersburg. He's available for a low fee due to his contract expiring in June.
Benitez is broadly supportive because Azmoun, though not great, is much more mobile than Rondon and gives him another option up front.
This clashes with Brands's vision because it just saddles us with another average player on a big wage for the next 3 years or so – and yet again prevents the recruitment and development of younger (potentially excellent) players.
As part of his last act, Brands is quoted as saying we already have 4 strikers and don't need another.
That might be the point at which everyone (including Brands) decides it's just not working.
Barry Hesketh
389
Posted 06/12/2021 at 11:18:04
Paul @387,
Brilliant isn't it? unfortunately, his main job, the reason that he's in the hot-seat, is to motivate the players to win football games. When he starts to do that, I might give him some credit. If he fails to do that, and soon, he will be following Brands out of the door and all of his political machinations will have been for nowt.
Dave Lynch
390
Posted 06/12/2021 at 11:22:24
Why, when the vast majority on here have been moaning and groaning about the corrupt state of the club and its under achievement for decades, are they now moaning about the change that was needed years ago?
It took a manager with balls to say "This is a shit show with no direction." Things had to change and I for one embrace it.
Barry Hesketh
391
Posted 06/12/2021 at 11:33:50
Dave @ 390
Because the removal of Brands does not address the issues that the club faces, yeah it's great that a self-serving Dutch guy who was happy to take the money and do nothing for it, has gone. He was only following the tradition that Bill and company have set in stone – do very little, take what you can in terms of power and influence, and don't worry about the consequences of your inaction.
Also, note the glowing terms that the Chairman referred to Brands when he signed his new contract earlier this year, although that happened prior to Ancellotti leaving and Benitez arriving. Moshiri cooked Brands's goose when he gave Benitez the vote of confidence text via Jim White, even the Dutch hanger-on must have thought that to be a step too far.
Brian Hennessy
392
Posted 06/12/2021 at 11:36:40
In his parting statement, Brands said re the squad, "I am convinced that there is enough quality to improve the current situation quickly."
For that statement alone, I am glad Brands is gone. A blind man can see that this squad is so lacking in quality that there is little chance of a quick change to the current situation… in fact, it could get a whole lot worse.
Sounds to me that Benítez has told the board how bad he thinks our current squad is. Brands, on the other hand, seems to think we are not too badly off and it's all Rafa's fault. Brands may not have signed all the players bought since he joined the club, but he had a hand in some of them and the lack of quality across the squad is just shocking.
One of the reasons teams get a boost from a new manager is the fear it strikes into players when they know the manager that may have signed them is now gone. With the DoF model, players still have their buddy that signed them, even when the manager gets the boot.
Let's be honest, many of this group of Everton players have been complicit in helping many Everton managers to get the sack. The few talented ones we have, have been coasting along in second gear.
Brands going will not solve all our problems but it's a start.
Si Cooper
393
Posted 06/12/2021 at 11:50:50
Simon (338), it's still just a fancy sound bite of questionable relevance to our clubs current situation. Might as well have been, 'Ah Grasshopper, when you are in trouble all you have to do is think of a guaranteed way to get out of trouble and you'll get out of trouble (as long as getting out of trouble doesn't require something you can't actually get hold of, in which case you're screwed mate).'
"EFC have struggled along for 22 years of Kenwright slowly eroding the club's ethos and culture, and selling off the club's assets.
Even when looking for a new 'buyer', (read investor) for the club, it was still with Kenwright putting himself first
Therefore, surely the easiest thing to do, is exactly what an asset-stripper would do. That is to identify what works and to what extent, then develop it. Whilst what doesn't work gets 'dumped'." (Eh, what?!? Isn't Kenwright an asset-stripper? But he was the problem, not the heroic businessman. This is getting more confusing )
"This is how I perceive Mansour went about his take over at City; and to this day, what I believe Moshiri should have done with EFC. Or even, much more simply, he could have loaded the Board with more of his people than Kenwrights, to keep him in check." Eh, what, again?!? So now Mansour is the asset-stripper?? Not someone who has been able to plough a massive amount of money into his vanity project? That's a view I haven't heard before. But the 'asset-stripping' approach to guaranteed sporting success doesn't matter anymore anyway, because Farhad had a much simpler approach he could have applied but for some reason he didn't. You don't think that maybe Mosh and BK had a plan they both agreed on but things just haven't worked out according to their plans?
"As they say though, hindsight is 20/20..." Yes, but you are trying to turn hindsight into foresight.
"That is why I 'suggested' that Moshiri discards with the current failed system that is the 'old model', and be brave, and create a club/company, that has strategic thought, expert and specialist personnel, and the short to long term ability to enhance the playing and financial performance of the 'new model'." Yes, but it wouldn't actually be 'brave' if it were that obvious/ easy to do, it would just be sensible; and if it is neither obvious or easy to do then there remains the possibility it is really hard to get right and/or could take a long time / a series of incremental steps/ some trial and error.
"I think earlier in the thread, someone commented on Roundheads versus Cavaliers, how I see it, no-one is being the pragmatic 'Cromwell' in this period of our clubs history; whereby he took a demoralised, untrained levy/mob, led by incompetents; and created the New Model Army.
I would suggest that that is exactly what is required now."
Oh yes! Obviously identical situations. Mosh just needs to 'be' Cromwell. Problem(s) solved.
"My only worry is I don't see Moshiri or even to a degree Benitez, being anything like Cromwellian enough" Well, at least you are not saying he just has to follow some undefined standard business model to guarantee sporting success, but no, I'm still not getting the 'quod erat demonstrandum' moment and it reads as a patently apples and oranges comparison to me.
"I hope that explains the reason for my post better " Sadly, no. The Buckminster Fuller quote still doesn't strike me as anything other than inspirational puffery that probably has no real world application.
"Oh, and as for replacing Brands; who said he needs replacing? What strategy are we going to implement? What is the future vision for our club? How are the footballing operations going to be modelled going forward?
Any answers yet Mr. Moshiri?" Oh, now you are asking questions!? That's really unfair! I thought you had the answer with creating a new reality or whatever.
Laurie Hartley
394
Posted 06/12/2021 at 11:55:08
Si # 382 - paragraph 1 - I don't think there is any guarantee for success but having a plan is a start. It seems to be working for tonight's opponents. See the last paragraph of Conor's post @ 375.
Paragraph 2 - I didn't say he was the best just a good one but no I haven't got any proof and didn't know I was trying to prove anything - just trying to answer your questions.
Paragraph 3 - is there any point in youth teams then?
Paragraph 4 - does it really?
Paragraph 5 - no I have never worked inside an aspirational club - but I am guessing you have judging by the way you are coming across. I have however trained and managed the sales and operations teams of a company that was bought for AUD 6 million just before I was appointed and was sold 10 years later for AUD 134 milliong*. I was either very lucky or knew what I was doing.
I have to say I admire what Wolves have achieved over the last few years. I think they have some very good players. I do agree the good ones get hoovered up from among their ranks by the "successful clubs though - for example the guy who scored the 4th goal in the derby.
I agree with you we are a million miles away from the success of the clubs you named. How would you go about achieving that sort of success?
* in case any of you are thinking of tapping me up for a sub forget it. The owners got it all :(
John Keating
395
Posted 06/12/2021 at 12:01:43
Brian 383
Brian I see Kenwright lazy journos in the Echo are coming out with the "inside" scoops.
One bunch of wasters who long ago showed their true colours and personally I give them shirt shrift
As long as they get their free pies and treble G.T's on matchdays they'll write whatever the Club want them to write.
I'm amazed they've actually mentioned the proposed demo for tonight's match and even more surprised they didn't slag it off!
Tony Byrne
396
Posted 06/12/2021 at 12:11:50
"It's not enough to say you are a special club and a great club, we don't want to be a museum."
Moshiri speaking at the club's general meeting on January 5, 2017.
Almost five years on...
Barry @ 363 nails it.
The cancer remains in the fabric of the club, from the boardroom to finch farm.
As a club, we are unravelling like QPR in 2013, 8.5 years & they are still in the championship. This really could be us this season.
Jonathan Tasker
397
Posted 06/12/2021 at 12:15:04
Have just listened to a great podcast on Forecasting so let me try to predict what will happen.
Basically, nothing.
The main culprits of this mess are Moshiri and Kenwright.
Neither of these know anything about football so until they are removed, nothing good will happen.
Benitez is a busted flush. He will be gone by the end of January.
Are there three teams worse than us ?
No.
Will we go down ? History suggests not. Dcl will probably score just about enough goals to keep us up.
Will the next manager be any good? No.
And so it goes on
Si Cooper
398
Posted 06/12/2021 at 12:17:31
Kieran (348), not a fan of the current female version then?
The utterly non-scientific science fiction portrayed on the post-Christopher Ecclestone Doctor Who, just seemed a match for Simon Harrison's random "inspirational poster quote which didn't seem to make much sense when scrutinised closely.
Adrian Evans
399
Posted 06/12/2021 at 12:19:21
Rotherham, Plymouth Argyle, been to Wigan in the League and besides they aint the weekend break needed to watch us at Argle.??
Everybody day dreaming on these bloggs.
The immediate issue is we aint won in 8, anyone take my money tonight.Put a £100 on the table against my mine for us to win??
Indeed my £100 against others we win 3 out the next 6??
Benitez job was,is to win football matches not get involved in behind the scene crap.
Yes, its needed sorting.
But Benitez wont be here soon if he cant win, matches at best not get beat.
I for 1 don't want to ve in the championsip, playing stuff you gotta play to get out of it.
Rather watch it in the Premier League with Big Sam in charge thank you.
Everyone see the fixture list 3 games 8 days with our injury prone, red card prone Brazilian super star.
6 games coming up, 18 points, anyone got confidence in Benitez to gather 12 points minimum.That will do it for me, give the man a chance.
3 points, well 0 in the next 3 games hes gone.
People just gotta wake up, 3 defeats and where are we.

Game by game now things changing so fast.
A week today 2 defeats worst record in how long 30 plus years.
You think 35 0000 Toffees inside Goodison are going to put up with that.
Then hello Chelsea, irony if Rafa goes to Chelsea needing to beat them to keep his job.
Peter Neilson
400
Posted 06/12/2021 at 12:22:26
Brands could have been judged as not upto the role in April, instead he was handed a new 3 year contract. Kenwright was very proud about this at the time. CEO and Chairman should be ashamed but their lack of humility or self awareness will almost certainly mean they see themselves as blameless.
The only difference since then, personnel wise, is Benitez joining which makes it look like Moshiri is now putting all his trust in him.
Ian Horan
401
Posted 06/12/2021 at 12:22:55
JK@384 Kenwright purchased Everton off Johnson. At the time the club had a brand new Parkend Stand, had recently won the FA Cup and the club were operating in the black, I would suggest Kenwright couldn't have wished for a better starting position. The increases in TV revenue meant Kenwright should not have failed, yet we have gone 27 years without a trophy, we now have nothing to sell as anything not nailed down Kenwright sold. The club then built a state of the art training ground at Finch Farm sold it for a pittance then rented it back for over a million pounds a year on a 50 year lease... Kenwright has been responsible for a mismanaged decline of our club !!! Brands was a symptom of our problems. Kenwright is the cause of our problems, Sadly he isn't going anywhere until his dying day. Kenwright to Everton is the same as Doug Ellis was to Villa a stain on our history
Eric Myles
402
Posted 06/12/2021 at 12:26:17
Jim #350, maybe it wasn't BK that got us consistently in the "The Top 6" but the manager? After all, BK didn't identify the transfer targets, train the players pick the teams and set the formation, did he?
Just maybe it was that guy that's gotten West Ham into "The Top 4"?
Nick Page
403
Posted 06/12/2021 at 12:26:55
Great to see the supporters massing and pulling together. It's been a while!! Any money Kim Jong Bill will give The Old Lady a swerve tonight as he's come down with the usual mystery illness. Would not surprise me one bit.
Derek Moore
404
Posted 06/12/2021 at 12:31:56
For those of us with experience in corporate finance, it's clear that Kenwright performed a management Leveraged Buy Out (LBO) of the club.
Put simply, this is when you borrow most or all of the money you need to buy a business with the plan being to use the businesses own cashflow and assets to clear the debt for you.
Without getting too moralistic about it, this sort of behaviour is not altruistic in any sense of the word. Nor does it take into account the business future needs or it's standing against direct competition. Kenwright is and never was a saviour.
He is nothing more or less than a wealthy opportunist.

Eric Myles
405
Posted 06/12/2021 at 12:37:33
Andy #355, "Moshiri didn't want our best manager in the past 20 years, Moyes, back. We'd have been in a much better place if Moshiri had made that call and got him back."
The return of "The Moysiah" would have been as popular as Allardyce and Benitez on these pages!
Sam Hoare
406
Posted 06/12/2021 at 12:39:40
It seems increasingly clear that Brands was not allowed to do his job properly due to intrusion from Moshiri (and Kenwright?). The Echo article is very revealing and suggests that some of our least prudent moves came from Moshiri and not Brands. No wonder we are in such a mess!!
Why hire someone to oversee the footballing decisions and direction of your club if you are just going to consistently overrule or supersede him on important judgments.
Brands wanted young managers/players and Moshiri wants proven, more glamorous options. Clearly they were not singing from the same hymn sheet and the resulting disharmony has been most damaging.
Personally I wish Brands had got his way and we'd likely have Graham Potter as our manager and a few more younger talents breaking through, but I know that's not everyone's cup of tea.
I suspect Benitez (if not sacked in next month) will be given more control now, even though it's often thought that it was his insistence on transfer dealings that saw him sacked from Valencia and Liverpool.
I think the only way back may be if Moshiri (and Kenwright) stops getting involved in football decisions. Not sure that's going to happen.
Daniel A Johnson
407
Posted 06/12/2021 at 12:47:02
David Unsworth next to go please
Mark Ryan
408
Posted 06/12/2021 at 12:48:08
Well thankfully, whoever comes in this January we will all know for sure that the purchase will be down to Benitez and we won't be able to keep asking the same old questions " who brought him in ?"
This has been half the annoyance when we have signed players, we are consistently asking ourselves " who signed him ?"
This can now stop
If things don't improve and rapidly, I think Benitez will be be gone too and I think Moshiri will go and get Mourinho at whatever cost to him.
He's saying to Benitez, "over to you then, shit or bust" but I think it will only be for the short term, I don't think he'll give Benitez long to turn things around.
Worrying but interesting times ahead. I for one am glad Brands has gone. His role and his silence muddies the water and I am still confused about his his handling and signing of Moise Kean. What a joke
Daniel A Johnson
409
Posted 06/12/2021 at 12:48:10
Think it's Obvious Benitez wasn't a Brands hire and he's gone
Adrian Evans
410
Posted 06/12/2021 at 12:50:23
Really not bothered about how the vlub is run, structured from tonight until the end of the season.
Just want to see 43/48 points on the board asap.
That seems a million miles away from 15 points, 6 games until the 30 Dec.
How do we get to that target is all we should be talking about.
Moyes aint coming.
Sam Alladyce probably would and stand a decent chance of doing what hes asked to do, for a substatial fee.
Anyone got anyother ideas that have more than an 80%chance of working.???
Will Mr Moshiri put us up for sale with 15 points on the board in a couple of weeks time.
I here Mike Ashley is looking to re invest in football.
Cut price bargains his speciality.
Mouriniho, could just see him in the Championship he really would be the special one.
OGS, Carrick 🙈🙈
OK, Waynne.??I genuinely think hed do a lot better than Rafa with 23 games remaining.
Gotta headache.

Tom Harvey
411
Posted 06/12/2021 at 12:50:45
If Moshiri pushed thrrough the Iwobi signing of his own volition, then he to me is the biggest danger this club faces.
There's too many on here obsessing about BK, yes he's got to go, but Moshiri hired Koeman, Walsh, Silva, Allardyce, Ancelotti and interfered with recruitment.
He's clueless and an Absolute Mr Bean of an Owner.
Daniel A Johnson
412
Posted 06/12/2021 at 12:54:58
It's becoming more apparent that Moshiri is an egotistical little fiddler who can't stop meddling and if we get relegated he will be the worst thing to ever happen to the club.
Matthew Williams
413
Posted 06/12/2021 at 13:12:49
We've been lined with a loan move for Barkley,with an option to buy...ok,do the same with Cantwell at Norwich and Williams at the r.s and we might just survive the dreaded drop,all the above players aren't getting game time for their clubs and could definitely do a decent job for us for the remainder of the season,recall also Nkounkou from loan to replace the woeful Digne too.
Piece of piss this D.o.F lark!.
Terry McLavey
414
Posted 06/12/2021 at 13:29:02
'clash of visions for the future of the club'
Did they have one?
Mick O'Malley
415
Posted 06/12/2021 at 13:32:22
Dave @390 I'm going to continue moaning til Benitez has gone, he is a shitbag of the highest order, hopefully he will get punted soon, I am absolutely flabbergasted that Moshiri hired him, as far as I m concerned Moshiri has stuck 2 fingers up at the fans, I've never really hated anyone but I can't stand him being our manager, a devious snake of the highest order#Benitez out
Colin Malone
416
Posted 06/12/2021 at 13:37:06
Moshiri has got to step back and leave anything to do with football, to the people who know. Otherwise his going to waste another half a billion pounds plus wages OMG must be three quarters of a billion pounds.
Tom Harvey
417
Posted 06/12/2021 at 13:42:37
Mick O'Malley @ 415
Mick, you won't be inviting Rafa around fo Christmas dinner then?
Kim Vivian
418
Posted 06/12/2021 at 13:43:29
Colin - 416. Who, now that Brands has left, are those people? Brands knows football so that leaves Benitez on his todd?
Mick O'M - various. I think we've heard you now. You don't like Benitez. Anything else to say?
Tom Harvey
419
Posted 06/12/2021 at 13:46:12
Kim,
This being EFC kia joorabchian and the tea lady will no doubt have some input.
Steve Brown
420
Posted 06/12/2021 at 14:19:42
Kim @ 418 and Tom @ 417, respectfully suggest that the the question could be posed to you.
As far as I understand, you would prefer to retain Benitez as manager until he gets us relegated because a) it's not his fault b) he inherited the mess c) he didn't have transfer funds this summer d) it's the players e) it's the board f) there is no alternative g) who could we attract? h) and now the latest one for the collection - he is the only person at the club now who knows football (someone better let Ferguson, the coaches and the entire Academy staff know).
If you are going to try to be condescending to Mick, at least have something more substantial to your argument than passive defeatism.

Andrew Bentley
421
Posted 06/12/2021 at 14:22:32
To support Mick, you may want to take a look at this article on Football365; https://www.football365.com/news/feature-everton-v-arsenal-tactical-preview-rafa-benitez-arteta

Alan J Thompson
422
Posted 06/12/2021 at 14:36:31
Even more frightening is that when, that's when not if, Benitez is shown the door his replacement will be appointed by the same two blokes who've appointed the last six or seven managers and the only safeguard being that they probably won't agree on the replacement.
Don Alexander
423
Posted 06/12/2021 at 14:38:17
Marcel Brands got the opportunity of his lifetime when he became Everton's Director of Football.
However, the reality very quickly became apparent to him, and then to nearly all of us, on the day when he was co-opted into the bullshitting boardroom that's defined us for decades in the world of football.
He immediately became a Moshiri & Kenwright pawn and knew it – salary enhanced though. He'd already seen the lie of the Finch Farm land.
My question is: What was such a professional person to do? Work from within a totally inept boardroom? Even attempt to drag the club into 21st-Century success? Or suck up the money in the way his fellow board-members do?
His few words to an irate fan when he attended what would become his last match at Goodison Park deserve to resonate.
They go to the heart of the quagmire that is our owner and his boardroom, a quagmire that continues to consume any chance of success as it blunders on in its years-long ineptitude and self-indulgence.
The chances of any new manager being able to deliver what us mere fans want are minimal whilst ineptitude prevails at the top.
The Bloody Meaningless Dockside stadium will be an enigma the way we've long been going with Moshiri & Kenwright in charge.
Andy Walker
424
Posted 06/12/2021 at 14:42:04
When Moshiri sacks Benitez, he can reintroduce and employ a new DOF and then employ multiple new managers (12-18 months each) who have never worked, and don't want to work, with a DOF and the circle will be complete.
Mal van Schaick
425
Posted 06/12/2021 at 14:45:22
Someone had to pay for the wasteful 300 million on crap players. Previous wasteful managers have gone, Brands should of gone earlier.
Barry Cowling
426
Posted 06/12/2021 at 14:46:57
been made the scapegoat. Brands is not the problem. I think its terrible news, what they needed to do is let him get on with a his main responsibility like player and manager recruitment, but clearly that didnt happen, so now we go backwards and let the manager pick the players which means when he goes so will most of his players have to go because they wont suit the style of the new man coming in. But I suppose Moshiri had to do that to take the flack off himself and his manager. Dissapointed
Justin Doone
427
Posted 06/12/2021 at 15:50:11
I don't know what Brands responsibilities were but he seemed to do very little or at least had little success in his 3+ years.
Moshiri seems to agree, it's his money, his mistake and his responsibility to get it right.
The problem being he's proven to know little about how and who to entrust with running a successful football club.
another's DoF or will Rafa be given move freedom and responsibility for all thing's football?
I believe a manager needs to be involved in player recruitment, possibly have the reserves replicate style, formation of their first team etc. but after that it's the training pitch he's needed the most.
January could be interesting. I'm hoping he avoids recruiting any Newcastle player's unless it's Saint-Maxim.
Colin Malone
428
Posted 06/12/2021 at 15:55:32
Kim #418.
Rafa has come in and looked at the set up. Seen Ebbrell, Unsworth, Jose Baxter, Franny Jeffers, who has now moved on and Baxendale and thought, what the fuck is going on. Its not working, its jobs for the boys and Brands done nothing. Maybe Kenwright over ruled Brands. If so he should have walked years ago.
Chris Jenkins
429
Posted 06/12/2021 at 15:59:41
#Andy 355- you are absolutely correct David Moyes has been, without a shadow of doubt, the best manager in the last 20 years- head and shoulders above all his successors including the present incumbent.
The removal of Brands will solve nothing as Benitez picks the team and, from all accounts, hasn't been doing a very good job for a couple of months now.
Moyes' West Ham are now sitting in 4th place having spent a fraction of the money that the three teams immediately above and the three immediately below them have in recent seasons.
The evidence speaks for itself.
Whether Moyes would come back if approached is unclear but in my opinion Moshiri should eat humble pie, admit he should have reappointed him rather than Benitez after Ancelotti threw in the towel and make every effort to persuade Moyes to return.
The spectre of relegation cannot be allowed to become reality.
Jim Lloyd
430
Posted 06/12/2021 at 16:27:20
Spot on Colin (428)
As a Director of Football, I haven't seen Brands do much more than nod his head and keep schtum. If he wanted to ensure his reputation as a top DoF then he should have resigned ages ago and publicly said why. But he didn't and it's no use having a director of anything, if he doesn't believe in himself.
I wondered why Ryantsov and then Ismael had resigned from the Board, and it seems a fair bet, to say they were not impressed with a fair number of that elite group and reported back to Moshiri of their findings.
As for rafa Benitez, to say that he has to go after what 13 games or so, is highly risky, or are we expecting either of two long term Old Boys to lead us to salvation? Neither of which have had a go at managing, Like Gerrard did at Rangers. Dunc is an ex Rangers player, he could have tried for that post. I think Benitez (as Colin has said) is looking at the set up we have, full of the Old Boys, minus Sheedy, who was probably best of the lot, and Bainsey. Otherwise, what have they done?
I'd rasther Rafa stayed and had the rest of the season, and the summer transfer window; if he felt there would be enough money to bring in 3 or 4 good players.


Eddie Dunn
431
Posted 06/12/2021 at 16:42:12
A proper DOF should give continuity and reduce the losses o players deemed unsuitable bt subsequent managers.
Now we go back properly to the old system and once Rafa gets the boot a new man will trot in and discard Rafa's choices to install his own.
Being stuck with over-paid duds is surely something we have had enough of.
If Rafa was to stay 5 years then it could be feasable but if he is gone in the summer then wwe could have to spend that cash all over again.
I really think this club has made a hash of things. Moshiri has to take some of the blame for interfering in DOF matters. Kenwright apparently didn't want Rafa, so now we have another battle when everyone should be concentrating on the immediate threat of relegation.
Brands has been thrown under the bus(whether he deserves it or not). It is a cynical attempt to deflect the growing unease and the scale of the proposed walkout.
Tonight, I hope the team put on a show worthy of the shirt.
Johan Elmgren
432
Posted 06/12/2021 at 16:47:55
"clear difference in the vision"
Wow, I know which one of these visions I would have preferred... Championship, here we come!
The incompetence on board-level is incomprehensible!
Brian Wilkinson
433
Posted 06/12/2021 at 16:52:26
Ian@401, that is one of the best posts I have read for a long time and agree 100% with you.
Joe McMahon
434
Posted 06/12/2021 at 16:52:40
The ones I want gone are Kenwright, then Unsworth and Ferguson. We've had decades of them, decades of nothing.
To think no striker since Rooney nearly 20 years ago has been produced by the academy. If Kenwright was the greatest Evertonian (self proclaimed) then he would be appalled by this. Is Ross Barkley the only PL standard player from the academy in 20 years?
Robert Williams
435
Posted 06/12/2021 at 16:53:08
CJ 429. What's all this about Moyes. He's been, he made his decision, he went and he certainly ain't coming back. So what's the big beef about Moyes?
I don't understand. Perhaps he was good, perhaps he still is good by what's the good of harping on about the Ginger Twat?

Christy Ring
436
Posted 06/12/2021 at 16:54:23
I firmly believe Kenwright still has too much say and influence with Moshiri. He should be gone, he nearly brought the club into administration. I'd say Brands will have his say shortly, just waited for the severance pay. I read where it was Moshiri who wanted Iwobi, Brands was against it, and the appointment of Benitez. It's also reported Brands wanted to sign Dumfries but Benitez said no? Unbelievable and now he has total control of transfers after Moshiri / Kenwright backing. It Stinks.
Brian Wilkinson
437
Posted 06/12/2021 at 17:00:22
Nick@403, not a chance Bill will miss tonight's game, got skin thicker than a rhino, far as he can see he has got rid of Brands and the problem has been solved.
Yet there will still be people in the ground who will clap, if Bills face comes up on the big screen.
At first I thought it was just me that had a distinct dislike for all Kenwrights misdealings over the year, however after speaking to fellow ToffeeWebbers during a meet up in the pub match days, seems we are all in agreement.
The Blue union divided fans years ago, some in support, some sympathy for Bill, ten years on and now I feel a good 80% are seeing right through Bill and see him as a problem.
Joe McMahon
438
Posted 06/12/2021 at 17:00:33
Chris@429. I don't know the exact amount but Pellegrini spent nearly 200 million in 3 transfer windows, before Moyes came back. Then Moyes has spent again.
Why are we still talking about Moyes FFS. Everton 0 Wigan 3, no wins in 11 years at Anfield and of course he is also a relegation manager, just like Martinez (but without the FA cup).
John Keating
439
Posted 06/12/2021 at 17:03:32
Jim
I think Ryantsov, or whatever his name was, went back into the Usmanov/Moshiri business world
As for the young lad I think he walked cos he was arrested with his brother or cousin for beating the shit out of someone down in London
The young lad should get Kenwrights job. We need a hard arse to sort this shower out
Derek Moore
440
Posted 06/12/2021 at 17:04:32
Kenwright has more cheek than a sumo, more neck than a giraffe. Miss one of the two matches his mug...err investor turns up to? Unthinkable.
He'll be there tonight.
Allen Rodgers
441
Posted 06/12/2021 at 17:33:07
Robert @435 , bringing Moyes back wouldn't have been popular given the way he baled out , didn't even wait for the end of the season. He got a great send off nevertheless. He's doing well now I admit but let's not forget it's taken him 8 years.
Brian Wilkinson
442
Posted 06/12/2021 at 17:33:19
Nice one Derek, worded it a bit better than me.
Jim Lloyd
443
Posted 06/12/2021 at 17:57:44
Brian (437) Your right. Kenwright is the horrible spider in the little web he's woven with acolytes around him. However, don't make the mistake that the action tonight is going to shift that slimy sod. What it might well do, is unsettle an already fragile confidence within our team. If we're goin to get our protests out about that double dealing get, who lost us the Kings Dock, may well have sent the Saudi's up the road when they came knocking. saw Moshiri and hooked him.
I think Moshiri's learnt (at long last!) what's been going on in the Boardroom, from Ryantsov and Usmanov's nephew.
For a Chairman, who's always said I don't interfere in playing staff when Moyes was around, he interferes in the Recruitment process, as does Moshiri.
Johan Elmgren
444
Posted 06/12/2021 at 18:01:17
It's clear that the Moshiri/Kenwright-combo don't have a clue about the concept of DoF. They seem to have tied both Brands hands behind his back, overriding the true purpose of his position time and time again. If they think things will change by sacking him, they are more deluded than I ever though previously. In my eyes they are both totally clueless and now they have made him scapegoat in hope to deflect this "supporter animosity" from the fans.
The concept of the DoF is for him (or her) to have a clear strategy on how the team should play their football, and then hire managers and purchase players to fit into that strategy. One big purpose of this is so that the team/players won't be very affected if the club needs to change managers. With a "unified" strategy like this, if a managers quits or gets sacked, it means that the players can keep playing in a system with a brand of playing that is already in place. Instead the anticipated effect of the managerial change is only to get a new voice in the dressing-room, someone who can motivate the players and bring freshness in the way of thinking, when the current managers powder has run dry. This will affect results in a lesser degree than a usual manager-change.
It's obvious that Brands hasn't been able to work in such a setup. A playing-strategy isn't set within the team, and it changes with every changing manager. Every new incoming manager has also been dead-set on players he wanted to recruit, and instead of bringing in players fitting to the playing-strategy the DoF has implemented, they've brought in "favourites" from earlier teams they've managed.
The two men mainly in charge clearly haven't given Brands freedom to work within the frames of the role that a DoF should have. Now they have sacked the only person on the board with any footballing-knowledge, using him as a scapegoat for the teams failings... It is quite simply embarrasing... Those two in charge are utterly, utterly embarrasing and the main reason the club is where it's at right now.
Bobby Mallon
445
Posted 06/12/2021 at 18:04:28
So cooper, why is it a debating point. The DOF should come into the club, and it should be his decision alone as to how each age group play. He should be given a free role to get all age groups playing the same system. So when a player is deemed good enough he can just transfer into the first team and know how they play. He should also scout and buy players for his system and the first team coach will exactly be that a coach.
Jim Lloyd
446
Posted 06/12/2021 at 18:16:08
John (439) :) we should have kept him!
Chris Jenkins
447
Posted 06/12/2021 at 18:17:00
Joe #438
The rationale as to why I have consistently argued in recent weeks for the reappointment of Moyes is based on the precariousness of our present league position and, heaven forbid, the increasing prospect of relegation if Benitez is not removed sooner rather than later.
I have little confidence, despite the signing of Gray and Townsend, in Benitez' ability to reverse the current position. According to reports coming out of the club, regardless of the FFP situation there is no cash available to strengthen the team. Rumours have surfaced in the media that Benitez is prepared to sell Pickford to raise funds for his transfer targets. If this was to come about it beggars belief that the two goalkeepers left on the staff would be Bergovic aged 34 and Lonergan 38 - Benitez in his wisdom decided to let 22yr old Joao Viginia, a very reasonable prospect by all accounts, go out on loan to Sporting Lisbon. Hardly inspiring and reassuring if the rumour became reality. Perhaps more credence should be given to the expression "Agent Rafa"
Moyes has proved time and time again that he has the ability to unearth hidden gems at extremely low cost. Names that spring to mind include Tim Cahill, Mikel Arteta, Joleon Lescott, Steven Pienaar, Leigton Baines and John Stones all on the right side of 30 and the man he rated as his best ever signing [on a free transfer] although he was in his late thirties, Nigel Martyn.
We need similar reinforcements now and David Moyes has proved that he has the ability to find these bargains. Benitez is essentially the opposite on the basis of his longer term record.
Whilst I very much hope that a desperately needed three points can be picked up tonight I am extremely doubtful that Benitez, with his innate stubbornness with regard to team selection, is the man to stave off relegation.
Changes are desperately needed at the club and the most immediate one has to be the manager. Rightly or wrongly my preference as a replacement is Moyes taking into account our current seemingly impoverished circumstances.

Anthony Hawkins
448
Posted 06/12/2021 at 18:19:33
@bobby - that doesn't make any sense. Teams should play to their strengths and for the players they have. Team players and managers will change, as will the formation and methods so it makes no sense for the DoF to dictate anything like that because they're so far removed from the pitch. Plus it should be the managers job to pick the strongest team. I would have expected the DoF to dictate the strategic direction and approach for football at a high level.
Si Miles
449
Posted 06/12/2021 at 18:37:59
Thank fuck...now let Rafa do his job, that is if the boo boys leave him alone(morons) or we will have allardyce back.
Colin Glassar
450
Posted 06/12/2021 at 18:39:09
Will it take the physical demise of David Moyes to finally stop some people pining for his return? He's never coming back. Get over it. Move on. He has departed this earthly coil. He's an ex-Everton manager. He's gone, never to return. He's a dead parrot!!!
Neil Lawson
451
Posted 06/12/2021 at 18:45:17
It's tempting to have my two penneth worth. However, kickoff is approaching and the team will be announced shortly. The outcome will likely inform ongoing debate. A win, however achieved, will come as a huge relief to the board who will trumpet it as positive evidence of their reasoning and their " faith" in Benitez. A draw will leave parties divided by a wide fence. A loss, especially a poor loss, will reinforce the stupidity and hopelessness of leaving Benitez in charge with greater powers.
Sadly, all outcomes are potentially depressing in the mid to longer term..
Dave Lynch
452
Posted 06/12/2021 at 18:45:41
Correct Colin@450.
And some people have it against Raffa because he managed the other lot and called us a small club.
.ones was supposed to be one of our own, stabbed us in the back and tried to rob our best players for fuck all.
Dave Lynch
453
Posted 06/12/2021 at 18:52:22
ITV 4 7pm. Live 3rd round draw by the way lads.
Bill Hawker
454
Posted 06/12/2021 at 19:57:02
Don't know who was in the right or wrong here, Brands or Moshiri. All I know is that there is something dreadfully wrong with our club.
Si Cooper
455
Posted 06/12/2021 at 20:52:02
Bobby (445), Anthony Hawkins at 448 reinforces my point beautifully.
Unlike Laurie I really don't believe there is one 'common sense', guaranteed success, model to follow as not all successful clubs have followed the same model.
The key to all of them is having the right people in the right positions, but I very much doubt that is as simple as some people seem to think it is seeing as there are so many fluctuating factors that can adversely affect the performance of the team including the performance of the opposition. That just doesn't fit into the business models most people will have experienced.
I certainly think raising a football club from mid-table mediocrity to true competitiveness is vastly more complicated and fraught with the potential for unexpected reversals than putting together a good sales team.
Sorry Laurie, I really can't assess your personal business acumen from so little actual data presented. I've no idea whether your firm was simply really badly run before you turned up, or whether the timing of your appointment coincided with some hitherto unavailable markets opening up for you to exploit.
Brendan McLaughlin
456
Posted 06/12/2021 at 23:21:35
Jerome
How many hours. no quote...FFS!
Not expecting one BTW
Laurie Hartley
457
Posted 07/12/2021 at 03:21:03
Si # 455 - I didn't say, and I also don't believe, that there is a model that guarantees success. I just believe having a plan increases your chances of success.
Also, I wasn't trying to make out that I am a business guru. The business was in a mess and I had to figure out how to fix it. I developed a simple training plan for winning business and delivering on what we promised. It was just based on my experience in the industry. The staff bought into it and delivered on our promises. The customers liked that - so it kicked on from there.
I like this observation of yours "The key to all of them is having the right people in the right positions,". There is something we can agree on.
Eric Myles
458
Posted 07/12/2021 at 06:02:36
Chris #447, do you really think Moyes would leave a top 4 side to come to a relegation dogfight side?
Especially after reading all the vitriol on this site?
Justin Doone
459
Posted 07/12/2021 at 07:13:48
Never say never, look who our manager is!
The role of DoF is unknown to us so we can only guess at what the requirement and setup at our club may have been.
It's probably fair to say he was less hands on than at PSV as generally British club manager's like to have greater control of recruitment and playing style.
In Brands 3+ years, there was very little communication or evidence of success. He's gone and I can be considor his time here a failure. Another Moshiri mess.
Si Cooper
460
Posted 07/12/2021 at 07:47:24
Laurie (457), you posted at 326:
"The idea of someone being responsible for the style of football played by the youth team all the way up to the first team is common sense when you really sit down and think about it."
I've just questioned both the practical difficulties of imposing such a system on anything other than a start-up, as well as whether it is guaranteed to give you everything you'd want. I just don't get the 'common sense' of it.
We just don't have the 'football factory' approach in England, yet it doesn't stop absolutely world class teams from developing.
I just don't think the clubs that do have DoFs have them dictating the style of football down to youth team level; I just don't see the necessity of it and I really don't think you can ever guarantee you will always have the right players to play to an unchanging system.
I think a hybrid system of trying your best to develop the individual strengths of the youngsters you can attract and supplementing as replacing them as and when necessary is fine.
Teach the kids the basics, let them play to their overall strengths and learn what it is to be part of a cohesive and hopefully successful team, and then with some luck, at 18 or 19, you'll have some home-grown gems to make best use of as you will know then whether they fit into your overall vision and expectations.
My view of the DoF is of overseeing the junior coaches but of being an equal partner with the manager who will have the final say over the first-team tactics and his coaches. Ideally, you will at some stage hit upon a fruitful combination. I don't see either role as sacrosanct.
I questioned your 'model' club premise and you came back with your impressive business track record. All power to you but, as I say, I can't judge the relevance to Everton's current needs or evolution.
Peter Neilson
461
Posted 07/12/2021 at 08:47:25
There's a decent article in The Athletic from a couple of months ago about how Man City replicate the style of play from youth teams upwards. It's the same at Liverpool. If a teams going to play, for example, a high pressing game, it makes sense to coach the young players how to implement it. We just have a high sack rate so no discernible style to replicate. Maybe one day...
Laurie Hartley
462
Posted 07/12/2021 at 10:01:28
Si,
I wasn't trying to impress anyone but I thought this remark you made warranted a response from me:-
"God, I hate it when people treat team sports like any other business. Makes me wonder whether they have actually spent significant time inside an aspirational club, or just haven't ever worked out the most variable and unreliable 'component' in their own workplaces."
Teaching your youth teams upwards to play a certain way was certainly not my idea – it was just an idea that, when I thought about it, seemed common sense to me.
I have given this quite a bit of thought to see if my opinion was flawed. So I had a look at where I might find evidence to confirm my "musings". I came across this article:-
What do you make of that?
Chris Jenkins
463
Posted 07/12/2021 at 11:42:52
Eric #458,
Your point is extremely valid but, with the right incentives offered, I think he would certainly consider any offer very carefully and seriously.
It was a tremendous relief to get 3 priceless points last night and players deserve every credit for their tenacity and spirit.
However, one swallow doesn't make a summer and there are some very difficult matches coming up over the next few weeks.

Benitez's appointment was never a sensible one and I for one just hope he is replaced sooner rather than later.
Si Cooper
464
Posted 08/12/2021 at 05:46:00
Laurie (462), what do I make of that?
Well it's not news to me, for a start. You could have picked Ajax as another example but they are not as successful as Barcelona are they?
I already know about the fact that some clubs use that system but I also know that not all successful clubs use it anywhere close to that extreme, so it just doesn't rate as common sense to me. To me there is clearly more than one way to skin the cat, to you only one way makes sense (which you call common sense).
The style of football has often been termed tiki-taka, although Pep Guardiola has disavowed that description, and as far as I am aware no English club has ever wholly embraced it and yet the top English teams continue to do well in Europe on the whole.
You are also missing the point that Barcelona is a Catalan club and that comes with both restrictions and bonuses. One 'restriction' is they tend to be relatively small in stature so they have developed a style that suits them best.
One bonus is they are almost a national club and have fabulous drawing power and resources. Those are things that just don't translate to a lot of other clubs so why should it only be sensible for them to try to follow Barca's lead to the nth degree?
I very much doubt hordes of English kids would commit to playing the Everton way the way Dutch or Catalan kids will commit to the Ajax or Barca styles. It's just not something they are culturally accustomed to.
You left this part of my earlier post out;
" The 'product' relies on the proper melding of gifted human beings, which is not something as mundane as just having a plan ever guarantees success with.
Again, your assumption is that, at no point since Moshiri arrived, has any planning been made or applied. You see the fruits of some endeavours and assume they had a good plan, the failings of others and assume they had a bad plan or no plan at all, without necessarily having any proof at all."
That was the full answer to what you posted and shouldn't have been excised.
Last thing I'll say on Barca. They also recruit into their first team from other clubs and I wouldn't say all of those recruits are necessarily of one style of play.
Nobody really operates the 'pure' system that you are advocating as the one true way if they can use cash to shortcut things by cherry-picking when the players are fully fledged.
Laurie Hartley
465
Posted 08/12/2021 at 08:55:08
Si # 164 - No off the top of my head Ajax have not been as successful as Barcelona but they have one the European cup a few times.
I have never ever said only one way makes sense. Barcelona's way is one way. The Ajax way is another way so is the Borussia Dortmund way. Why not an Everton way.
I am certainly not suggesting we play the tikka takka style (and once again I didn't say that) – just a style. For example "the get the ball up the field as quick as you can style."
I have never assumed or said Moshiri didn't have a plan. Appointing a DoF at Everton (something we never had before) suggests to me that his plan was to appoint someone who would bring success to the club because he didn't know how to do it but had seen it work at other successful clubs.
I have to say in your penultimate paragraph it seems to me you are making a lot of assumptions about what I have assumed. I haven't assumed anything.
On the human beings being important thing – I did say this to you in an earlier post. "I like this observation of yours "The key to all of them is having the right people in the right positions,". There is something we can agree on."
I have had another look at my post @ 326 which was a response to Danny's post at 295. I was basically agreeing with what Danny had to say about the DOF role.
I called it common sense and you seem to have taken exception to that expression. As I said in my last post that has prompted me to think about what I had said and so I started looking into it.
In my latest excursion into the world of the DOF and how it relates to success, I came across this on the Manchester City web page:
Begiristain - Director of Football

Aitor 'Txiki' Begiristain joined Manchester City as Director of Football in October 2012.
As a player, he played for Real Sociedad, Barcelona, Deportivo la Coruña and Urawa Red Diamonds before retiring in 1999. During his years at Real Sociedad and FC Barcelona, his team won eight major titles, including four La Liga championships and the 1992 European Cup. Begiristain also represented the Spain national team in one World Cup in 1994. After retiring as a player, he became the Director of Football at his former club Barcelona in 2003.
Borrusia Dortmund have got one also -
So what I have gleaned so far is that Barcelona, Ajax, Borrusia Dortmund and Manchester City have three things in common:-
They all have a Director of Football
They all play and are known for two different but particular styles of football.
They are all what I would call successful clubs.
I hope the DOF role isn't the only way to success because I don't think we will be seeing one at Everton any time soon.
Shaun Laycock
466
Posted 08/12/2021 at 16:45:38
Oh for a bit of forward thinking like this...could Marcel have accomplished this?https://www.bbc.co.uk/sport/football/59482715
In the fullness of time, it will be interesting to see which signings were his and which weren't. I bet they will be more good than bad.
Si Cooper
467
Posted 08/12/2021 at 18:52:54
Laurie, you can't say something is basic common sense without that meaning it should be everyone's first option.
Your posts are full of assumptions unless you have actually been working at EFC under Moshiri.
In your first post I responded to, you said the DOF must pick the style of play and all teams must play according to it. Do you have any proof that all of those clubs you have listed strictly adhere to those restraints? I have not said clubs shouldn't have a DOF, just that I don't think most clubs that have them give them the absolute control over the playing side of things that your presented model implied was necessary, and I can understand why.
It is just far too simplistic to state that Everton should copy what City and Barcelona do. They are basically state funded. We just don't have the money to maintain squads / have feeder clubs on the scale they do, which you ignore, and yet they still go out and buy ready-made 'total footballers' at prices we can't afford and on wages we can't match.
Ajax and Dortmund don't really give you an unbeatable hand unless you can prove that LFC, Chelsea, PSG, Real Madrid, Bayern Munich and a few more don't belong in mine. At all of those I expect the managers actually have the final say on first team tactics and targets for their squads.
I've had enough of this. If you don't get the real world practicalities that mean your purist model is a remote dream for most clubs then I guess you will be accusing the club of ignoring common sense for a long time. Be happy telling all and sundry that if only the club contacted you all could be easily sorted.

Laurie Hartley
468
Posted 08/12/2021 at 21:23:45
Shaun # 466 - thanks for that link - a very interesting read. I recommend anyone who has the time to read it.
I also followed the link in the article to the Leipzig web page. That was even more interesting.
One way to run a football club
In my opinion Leipzig are on to something.
Dale Self
469
Posted 08/12/2021 at 21:59:48
While Leipzig are a well run club, they are despised among the German supporters. The attempts to buy other clubs when they initiated their plans were clumsy at best. If we could adopt some of their better moves without becoming a company club, fine.
Robert Tressell
470
Posted 08/12/2021 at 22:05:44
Laurie, it is fascinating looking at how they go about it, and other clubs like Nordsjaelland. And then you look at Everton with zero innovation, zero strategy and therefore zero to show for the last 27 years (and longer really).
Laurie Hartley
471
Posted 09/12/2021 at 04:49:56
Robert - I long to see Everton great again. I live 12,000 miles away now but seeing the way our fans lifted our players on Monday night made me feel proud to be an Evertonian.
It seems to me that Moshiri has decided by appointing Benitez, to try to stabilise things while he builds the stadium. I think, for this season at least (unless things get absolutely desperate), he will just have to let him get on with it.
Until recently I thought all we needed was a good manager with an eye for a player and the financial backing to buy them. The more I have become involved in this thread the more I have come to believe that the club needs to be reformatted from top to bottom.
So the question for me is how can Farhad Moshiri instigate change on that scale without upsetting the apple cart with Benitez?
Paul (the Esk) has started another thread on this topic and that may be the best place to discuss it.
---
Add Your Comments
In order to post a comment, you need to be logged in as a registered user of the site.
Or Sign up as a ToffeeWeb Member — it's free, takes just a few minutes and will allow you to post your comments on articles and Talking Points submissions across the site.